Birds And Life Quotes
Collection of top 50 famous quotes about Birds And Life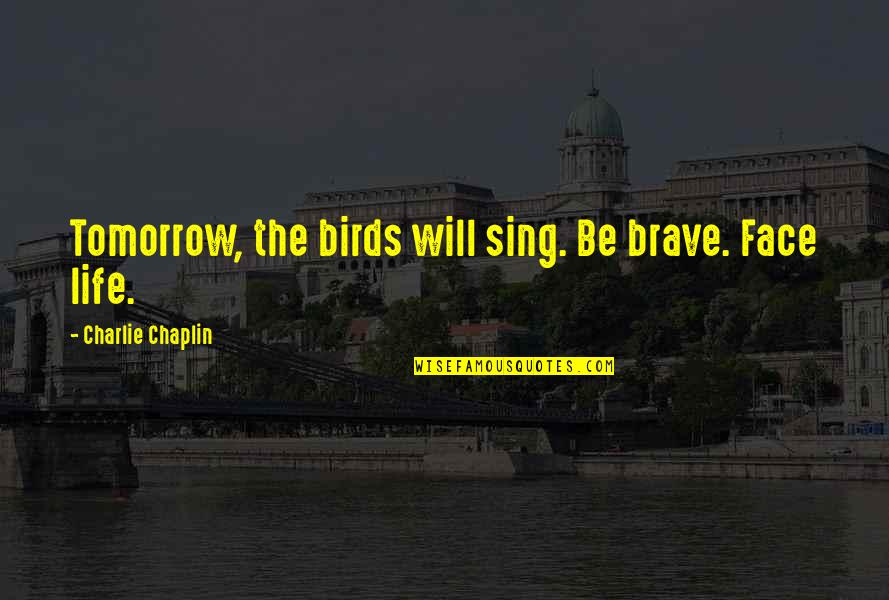 Tomorrow, the birds will sing. Be brave. Face life.
—
Charlie Chaplin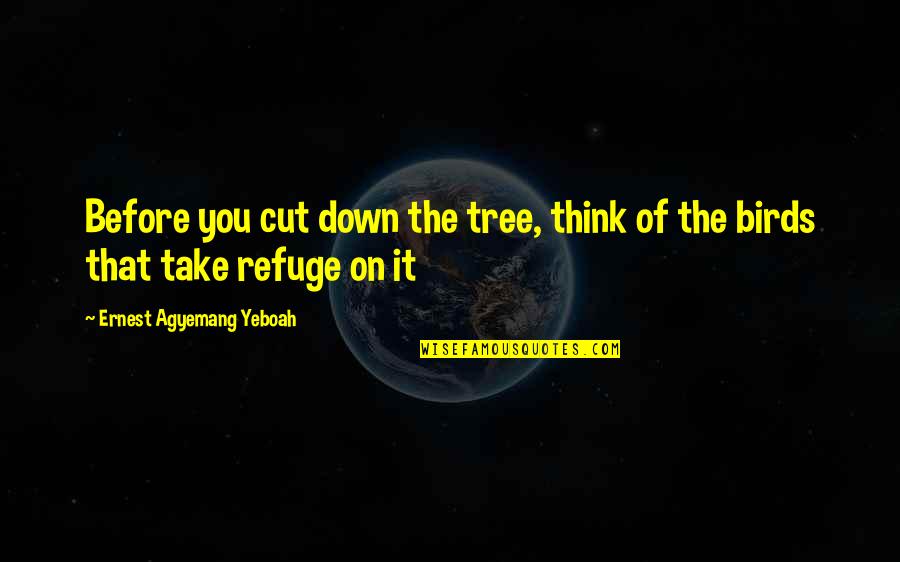 Before you cut down the tree, think of the birds that take refuge on it
—
Ernest Agyemang Yeboah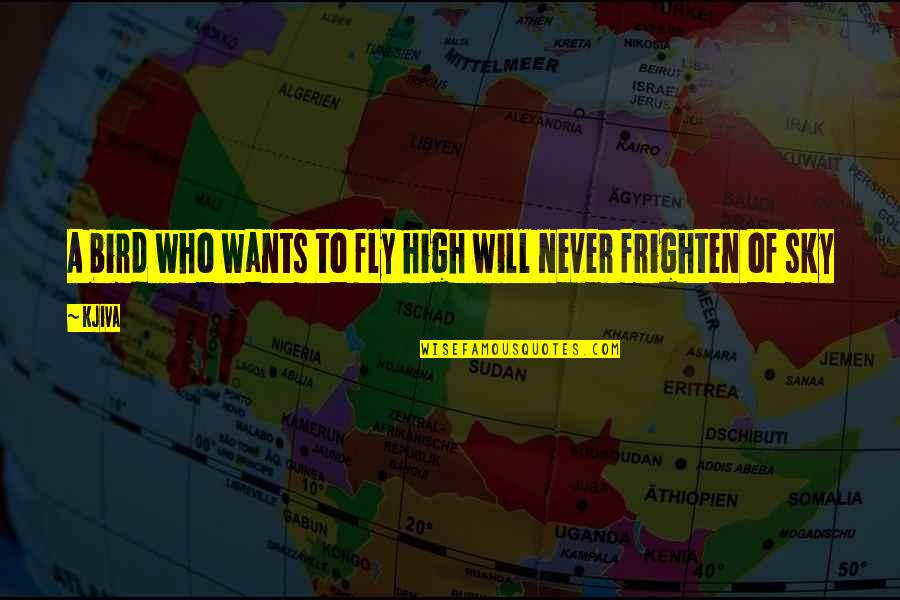 A bird who wants to fly high will never frighten of sky
—
Kjiva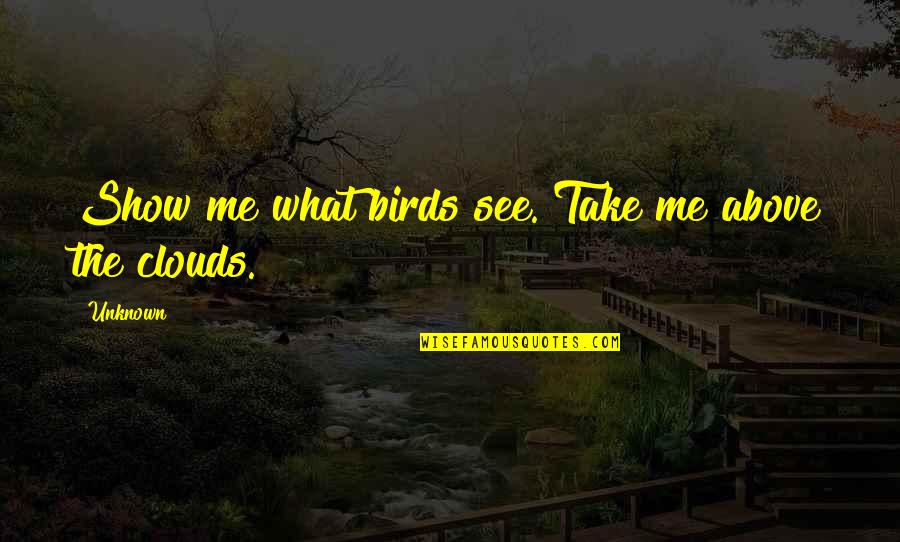 Show me what birds see. Take me above the clouds.
—
Unknown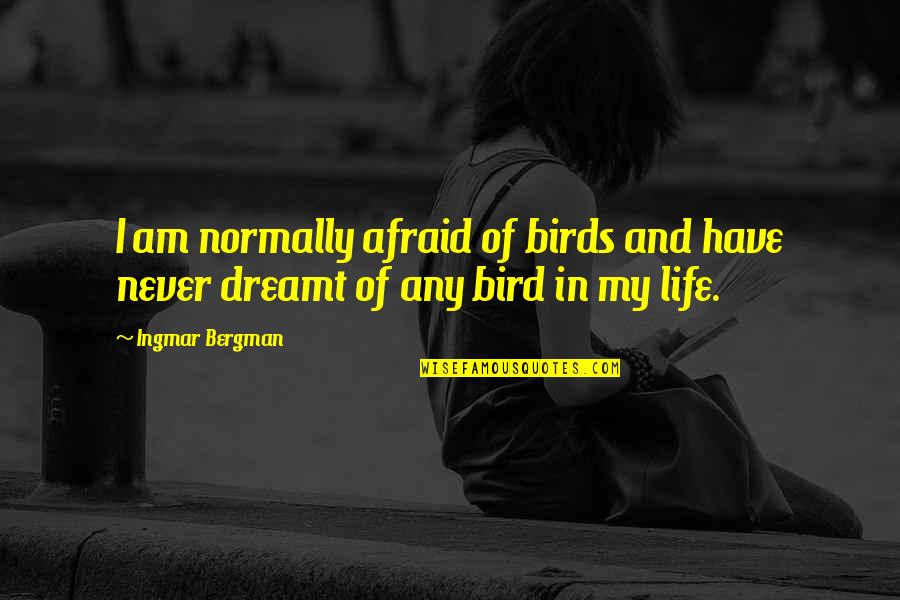 I am normally afraid of birds and have never dreamt of any bird in my life.
—
Ingmar Bergman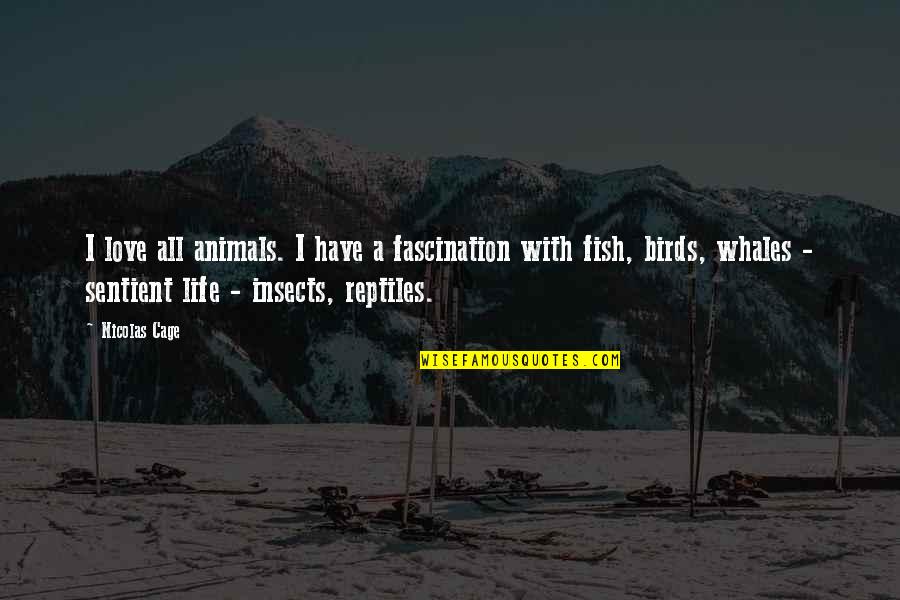 I love all animals. I have a fascination with fish, birds, whales - sentient life - insects, reptiles.
—
Nicolas Cage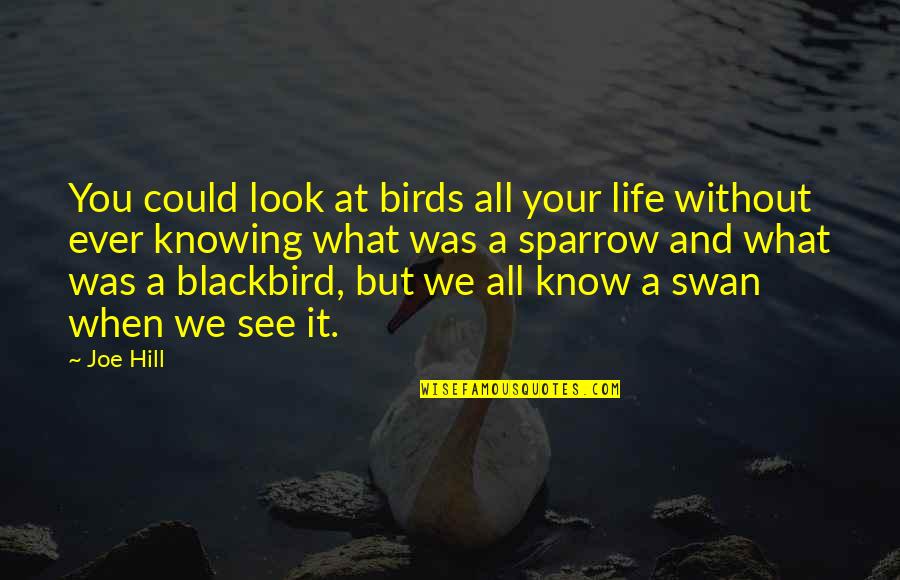 You could look at birds all your life without ever knowing what was a sparrow and what was a blackbird, but we all know a swan when we see it.
—
Joe Hill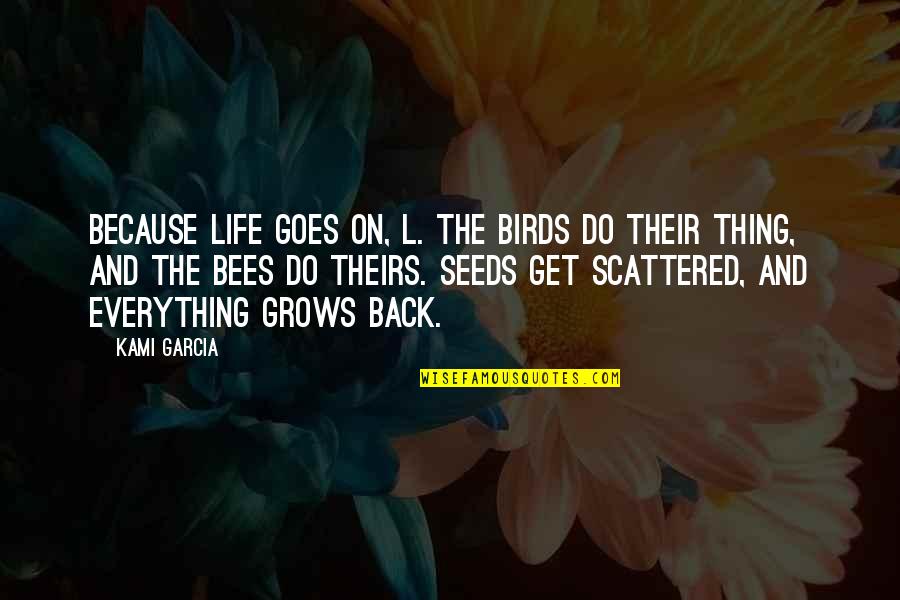 Because life goes on, L. The birds do their thing, and the bees do theirs. Seeds get scattered, and everything grows back.
—
Kami Garcia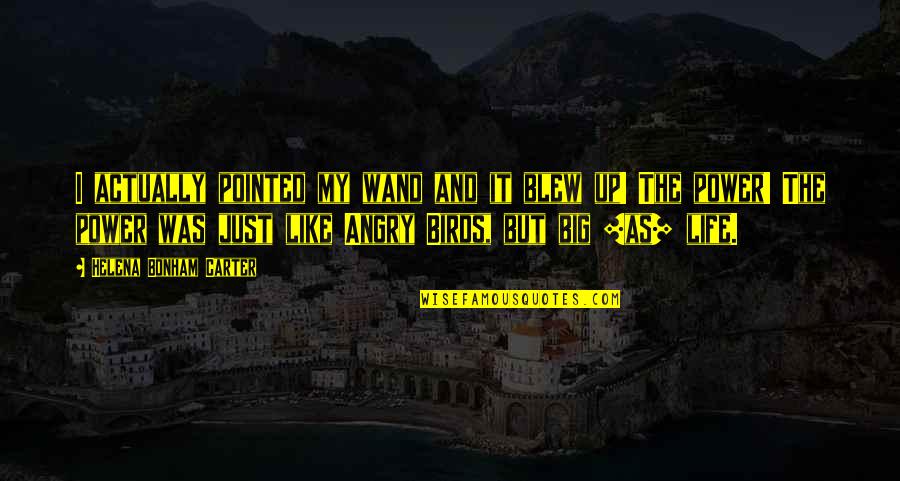 I actually pointed my wand and it blew up! The power! The power was just like Angry Birds, but big [as] life.
—
Helena Bonham Carter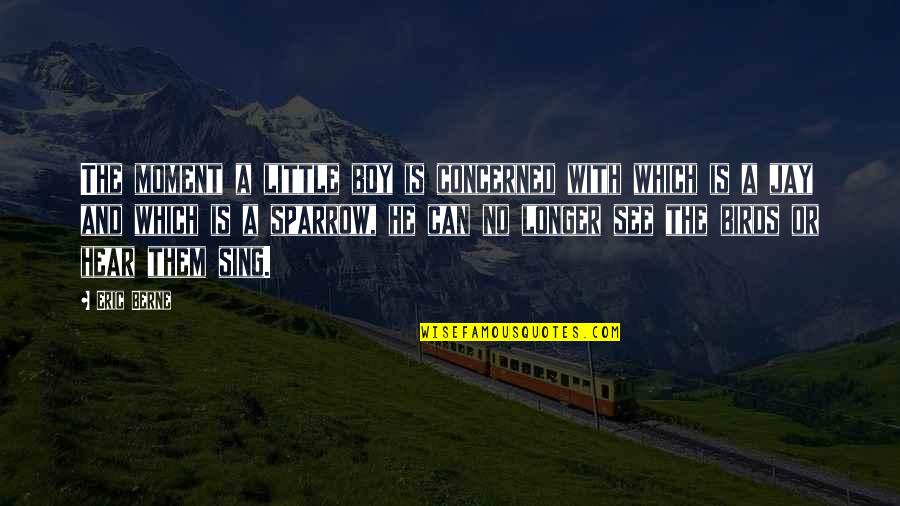 The moment a little boy is concerned with which is a jay and which is a sparrow, he can no longer see the birds or hear them sing.
—
Eric Berne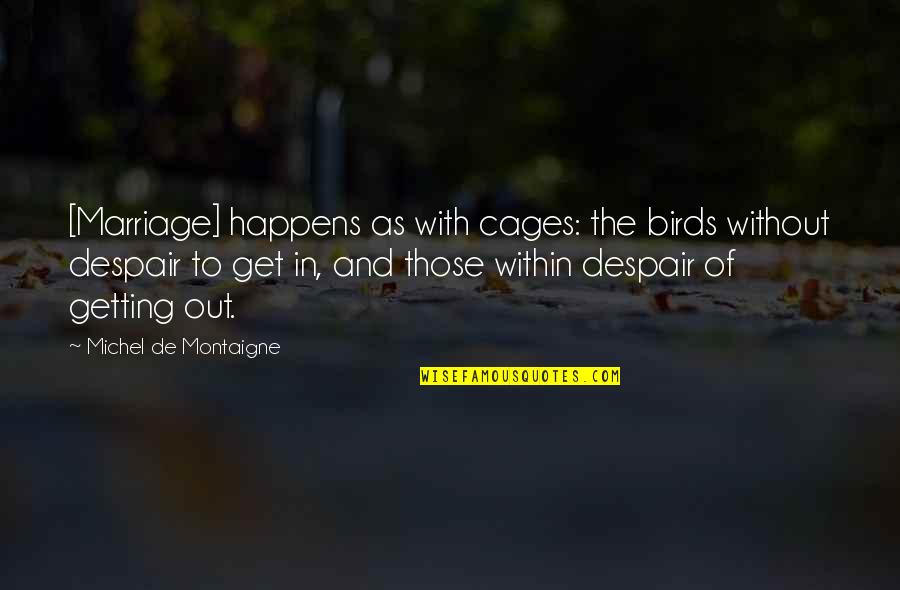 [Marriage] happens as with cages: the birds without despair to get in, and those within despair of getting out. —
Michel De Montaigne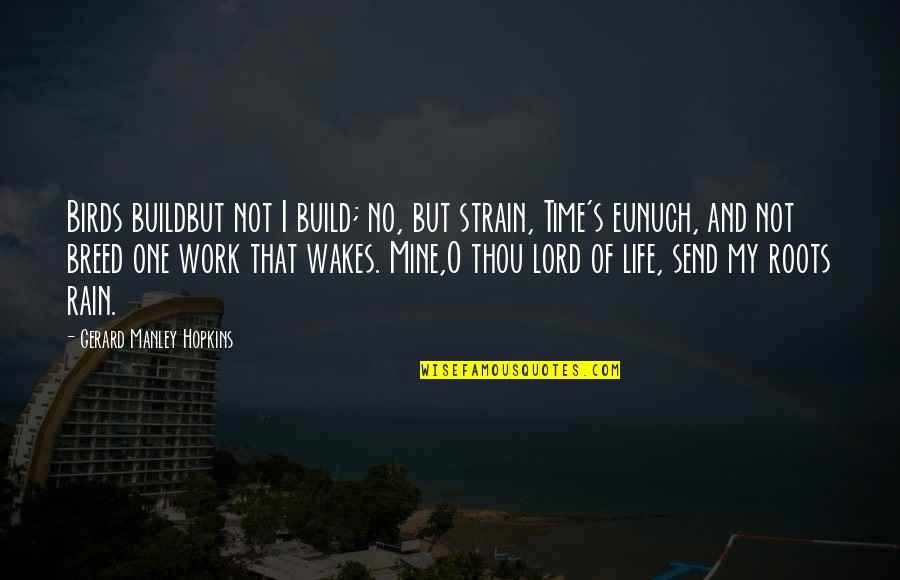 Birds buildbut not I build; no, but strain, Time's eunuch, and not breed one work that wakes. Mine,O thou lord of life, send my roots rain. —
Gerard Manley Hopkins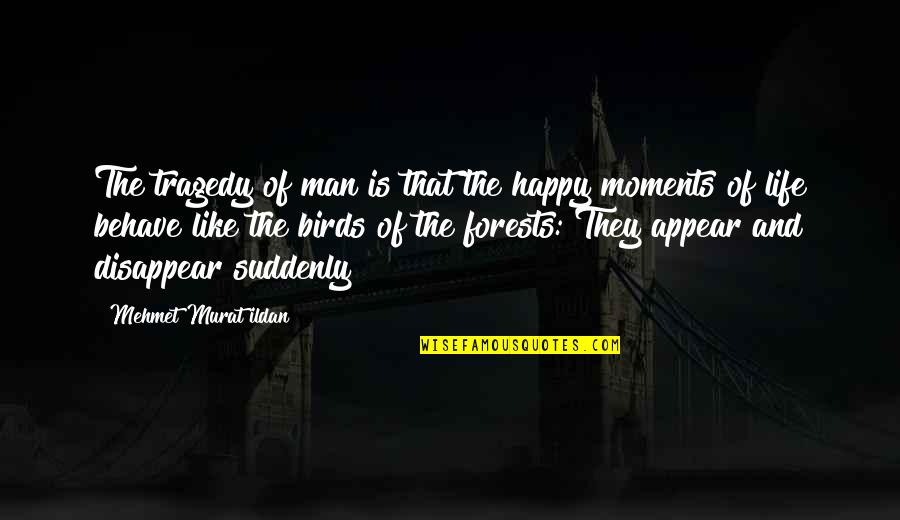 The tragedy of man is that the happy moments of life behave like the birds of the forests: They appear and disappear suddenly! —
Mehmet Murat Ildan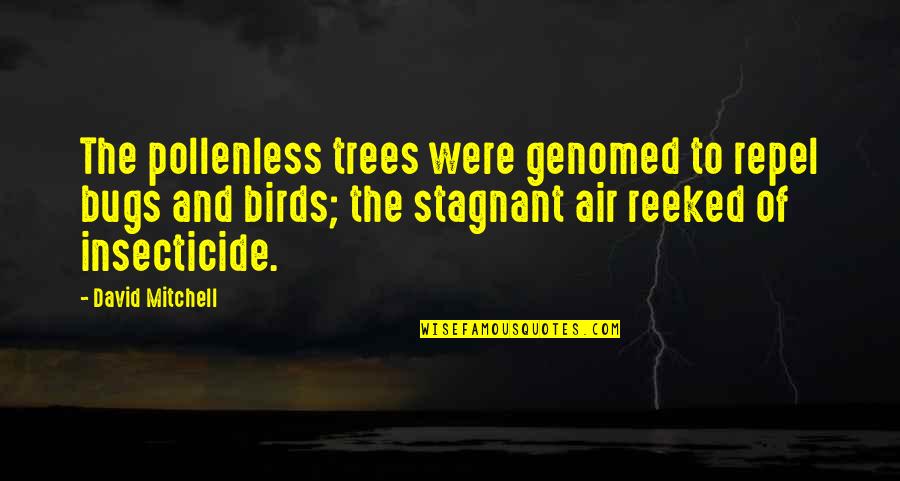 The pollenless trees were genomed to repel bugs and birds; the stagnant air reeked of insecticide. —
David Mitchell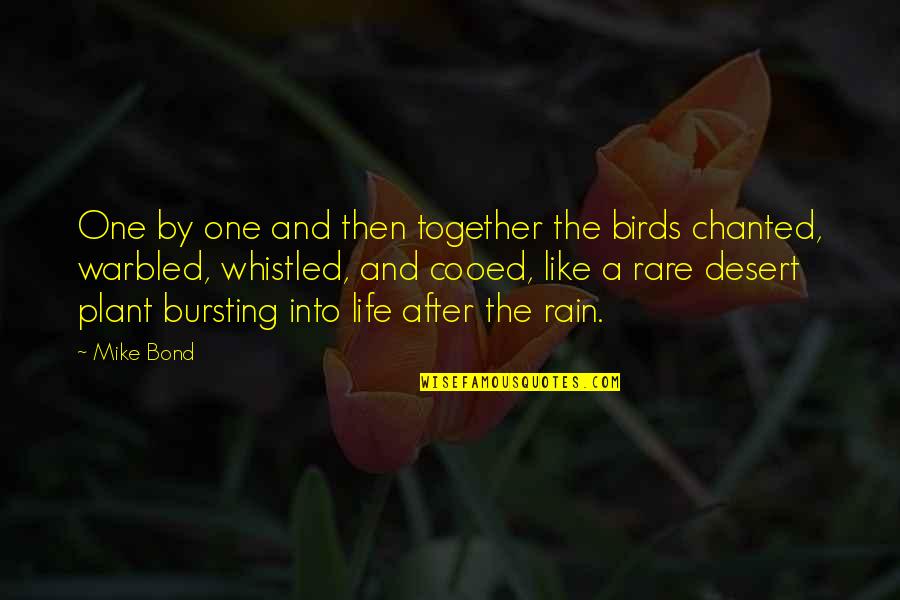 One by one and then together the birds chanted, warbled, whistled, and cooed, like a rare desert plant bursting into life after the rain. —
Mike Bond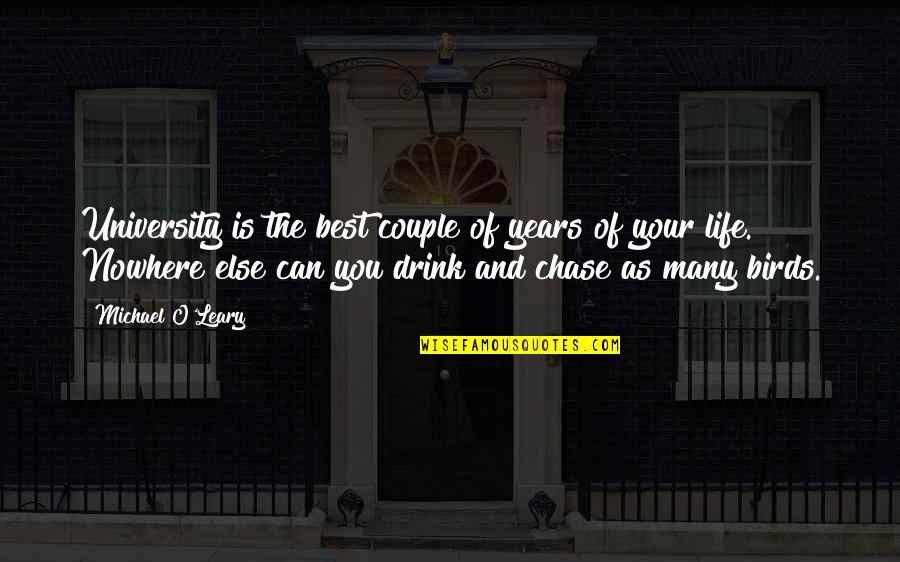 University is the best couple of years of your life. Nowhere else can you drink and chase as many birds. —
Michael O'Leary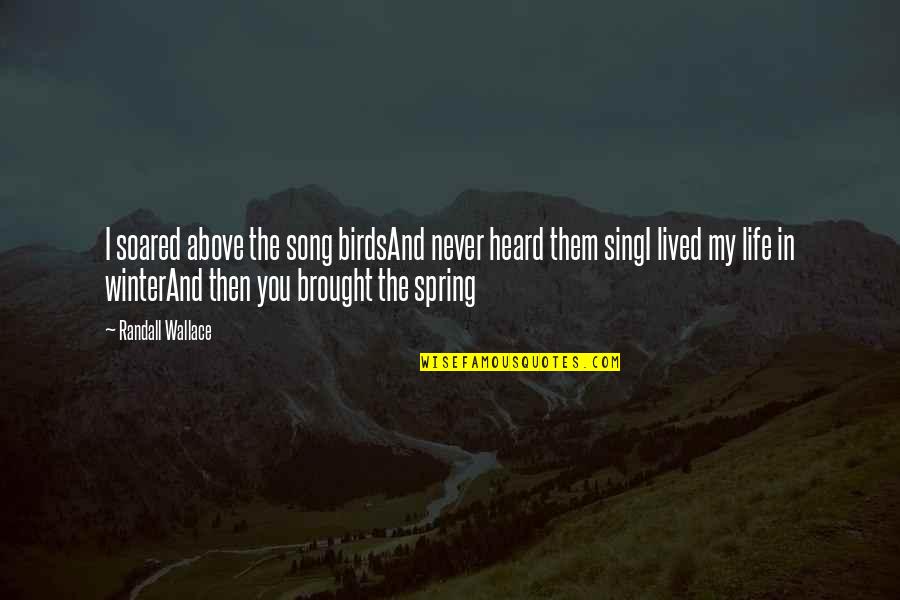 I soared above the song birds
And never heard them sing
I lived my life in winter
And then you brought the spring —
Randall Wallace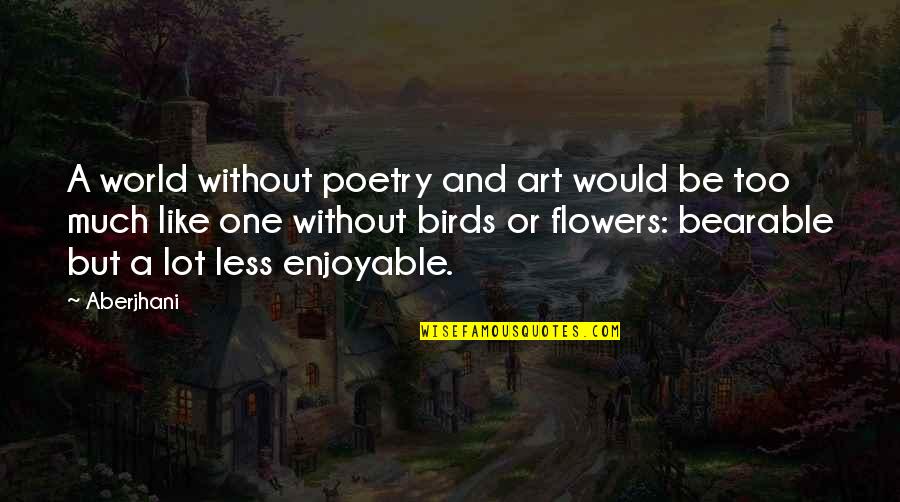 A world without poetry and art would be too much like one without birds or flowers: bearable but a lot less enjoyable. —
Aberjhani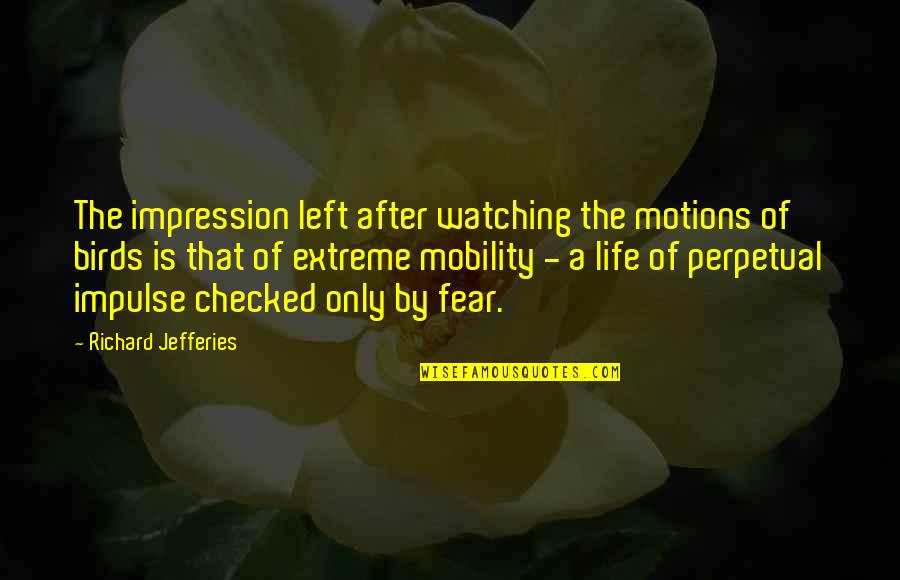 The impression left after watching the motions of birds is that of extreme mobility - a life of perpetual impulse checked only by fear. —
Richard Jefferies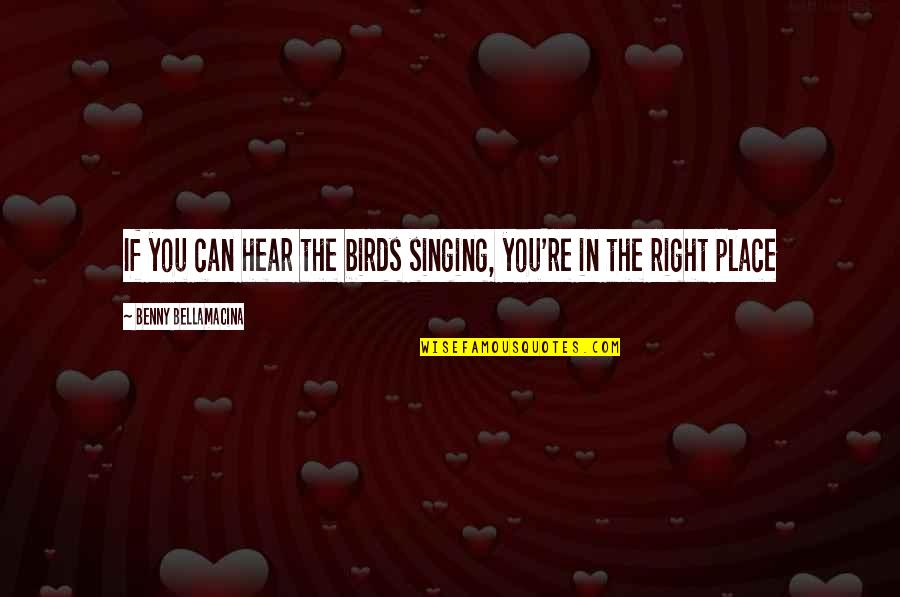 If you can hear the birds singing, you're in the right place —
Benny Bellamacina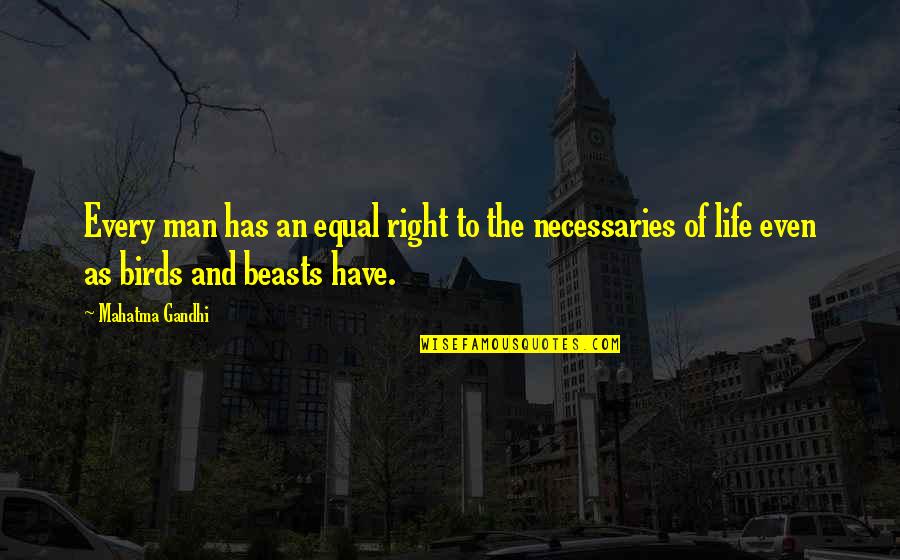 Every man has an equal right to the necessaries of life even as birds and beasts have. —
Mahatma Gandhi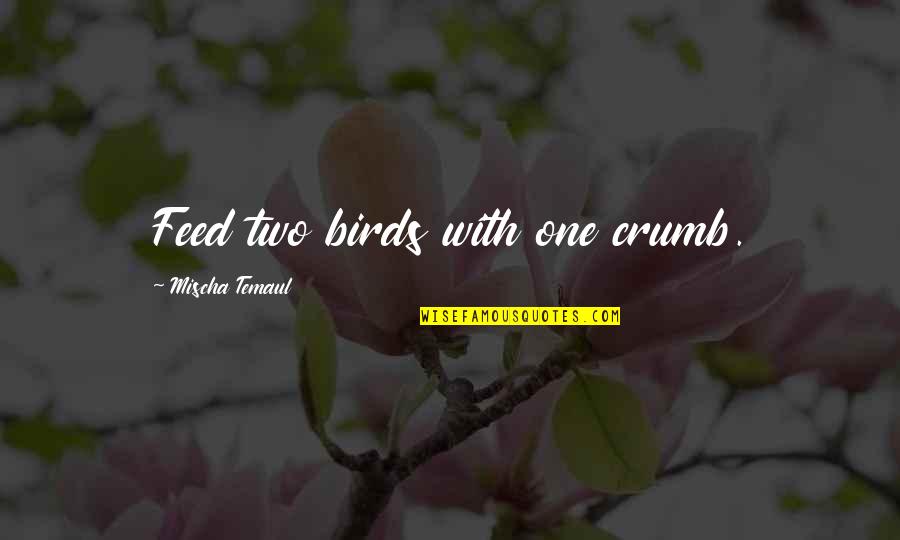 Feed two birds with one crumb. —
Mischa Temaul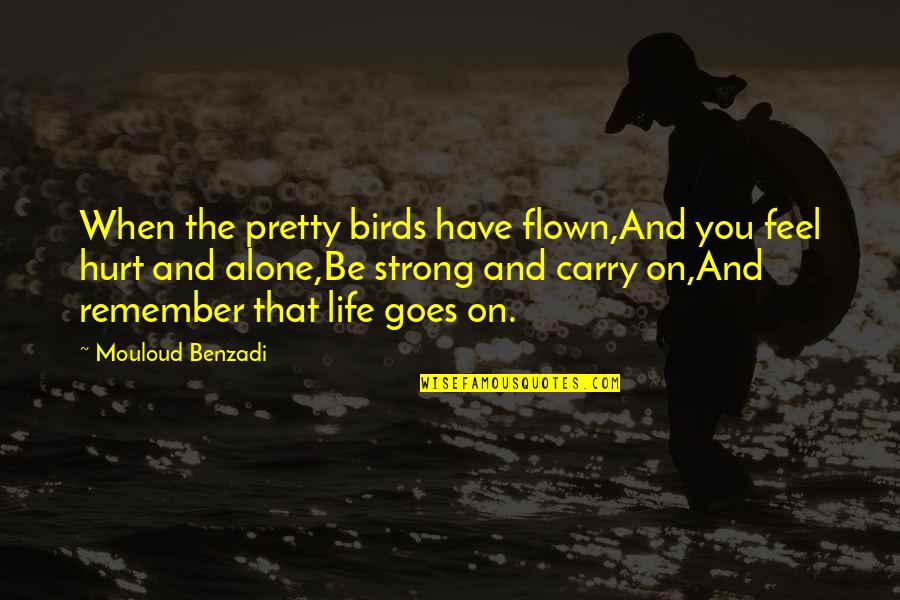 When the pretty birds have flown,
And you feel hurt and alone,
Be strong and carry on,
And remember that life goes on. —
Mouloud Benzadi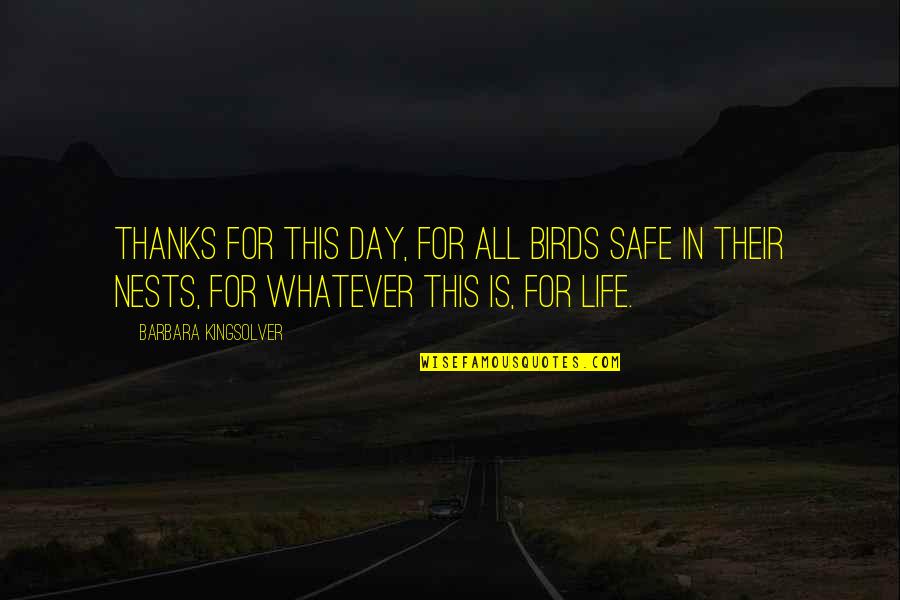 Thanks for this day, for all birds safe in their nests, for whatever this is, for life. —
Barbara Kingsolver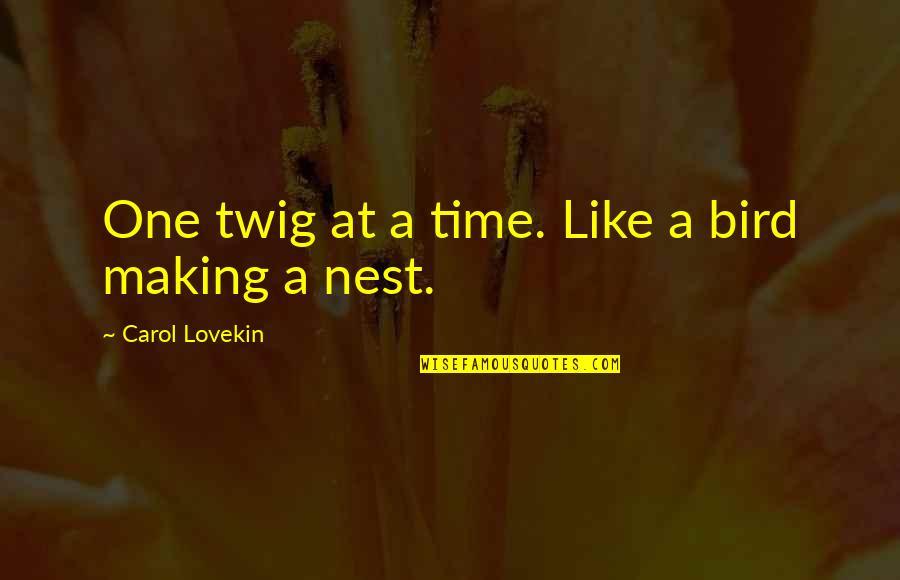 One twig at a time. Like a bird making a nest. —
Carol Lovekin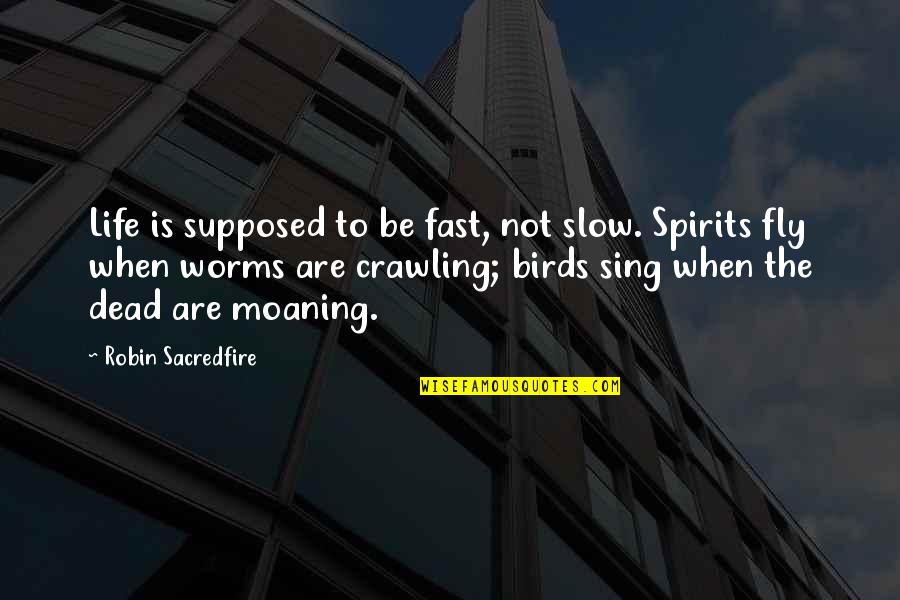 Life is supposed to be fast, not slow. Spirits fly when worms are crawling; birds sing when the dead are moaning. —
Robin Sacredfire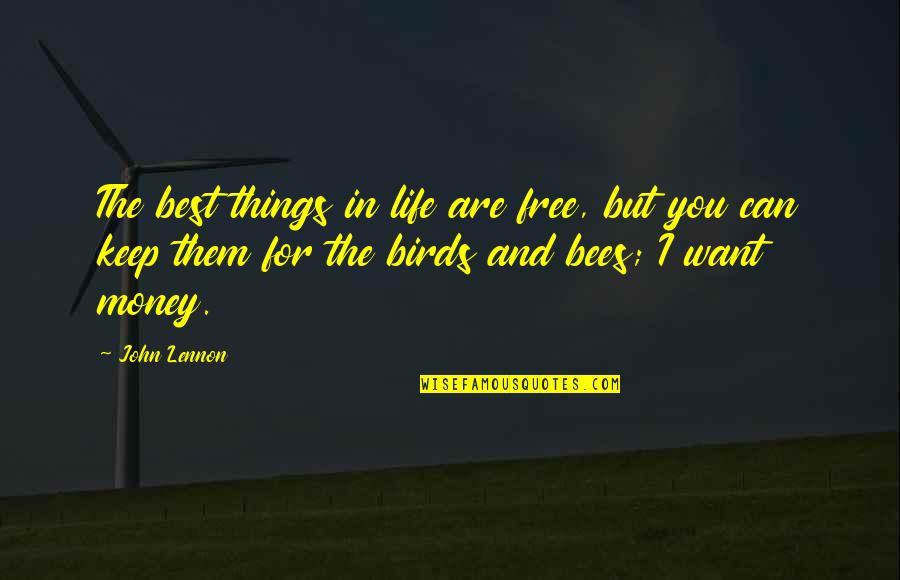 The best things in life are free, but you can keep them for the birds and bees; I want money. —
John Lennon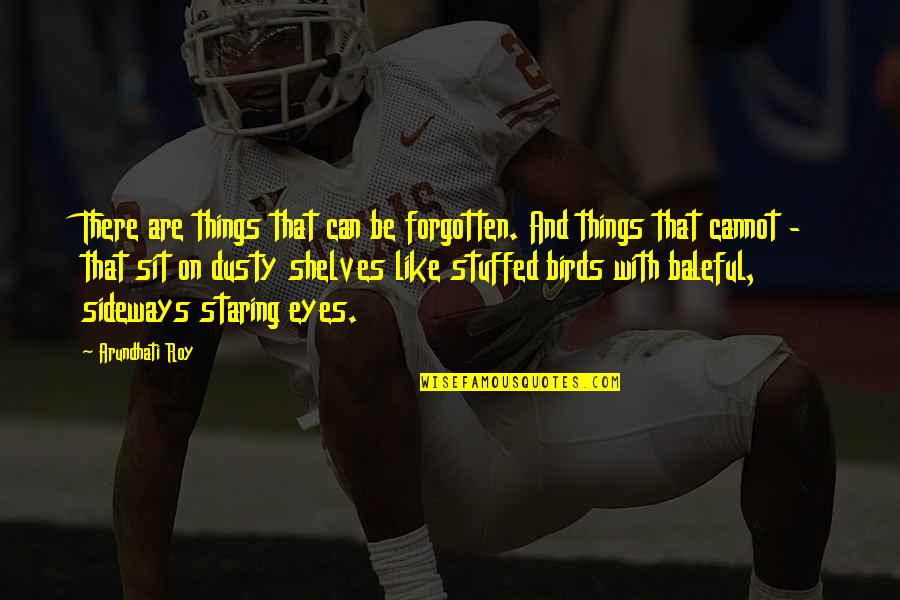 There are things that can be forgotten. And things that cannot - that sit on dusty shelves like stuffed birds with baleful, sideways staring eyes. —
Arundhati Roy
A Rule: Life without Islam is a naked tree,
Birds without trees can never feel free. —
Leena Ahmad Almashat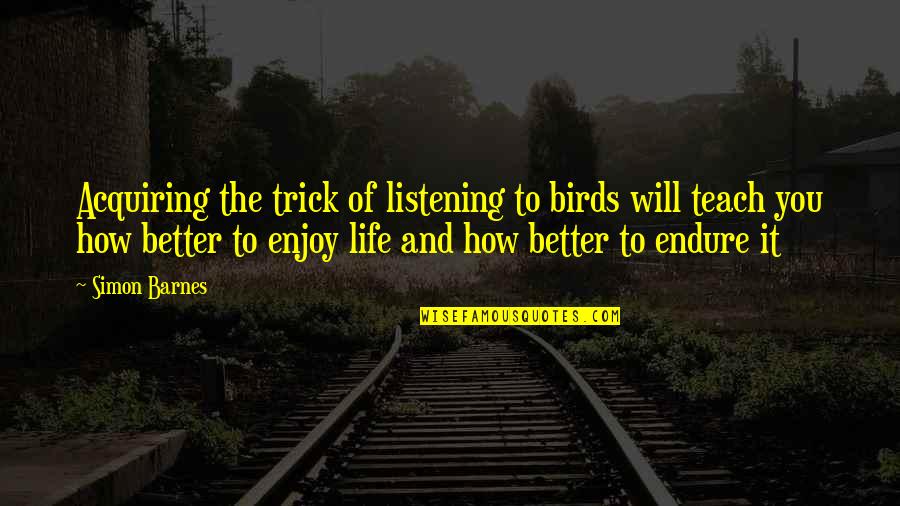 Acquiring the trick of listening to birds will teach you how better to enjoy life and how better to endure it —
Simon Barnes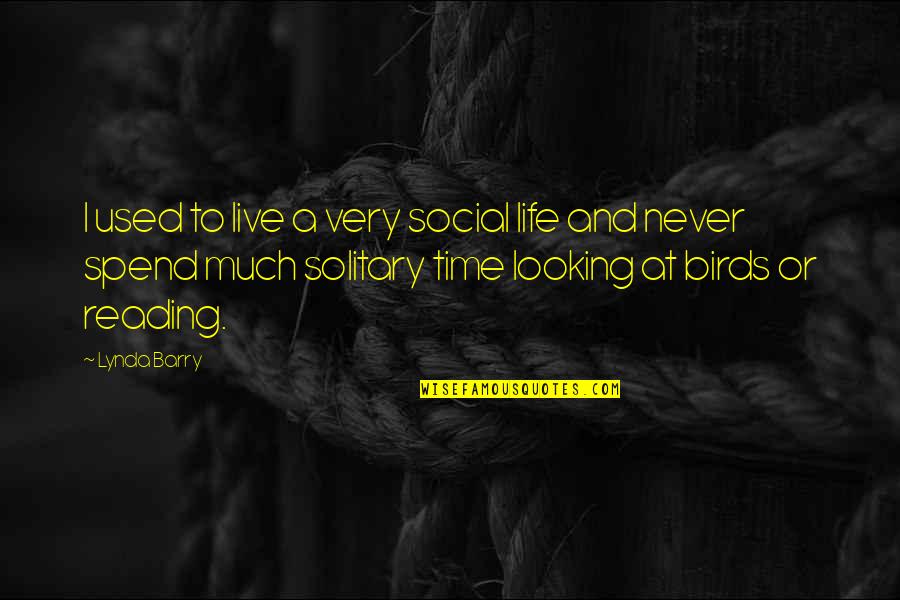 I used to live a very social life and never spend much solitary time looking at birds or reading. —
Lynda Barry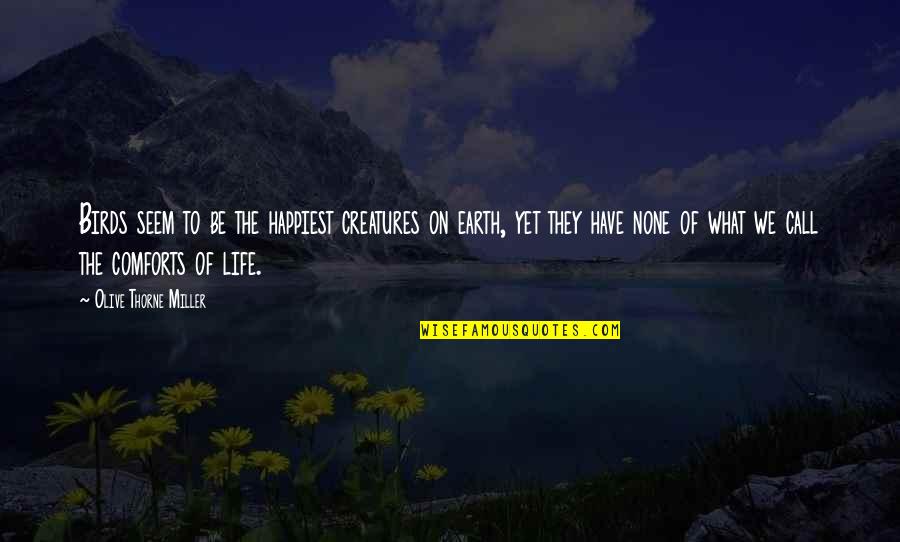 Birds seem to be the happiest creatures on earth, yet they have none of what we call the comforts of life. —
Olive Thorne Miller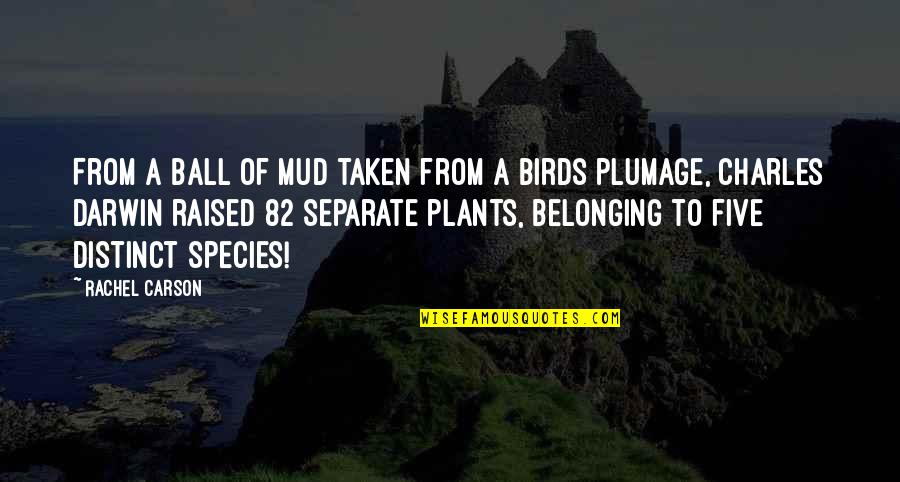 From a ball of mud taken from a birds plumage, Charles Darwin raised 82 separate plants, belonging to five distinct species! —
Rachel Carson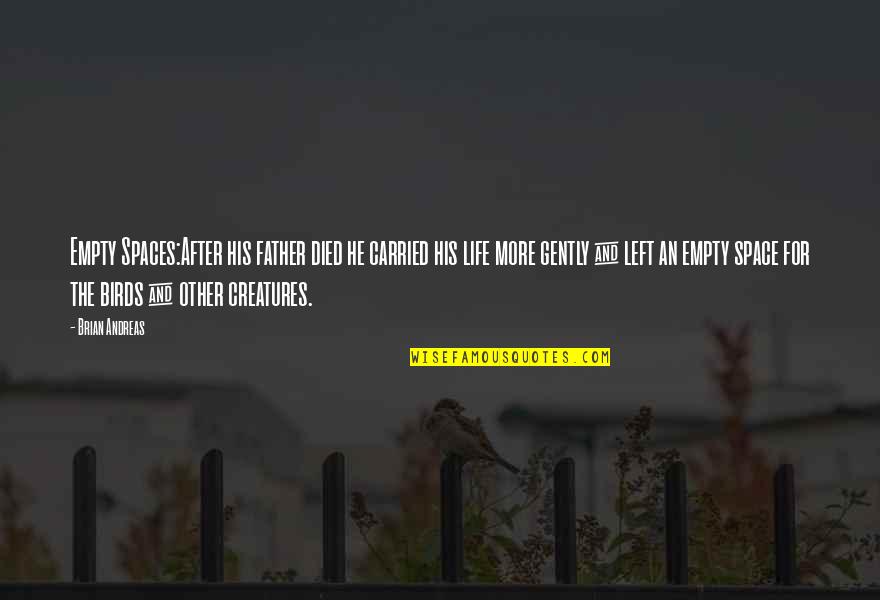 Empty Spaces:
After his father died he carried his life more gently & left an empty space for the birds & other creatures. —
Brian Andreas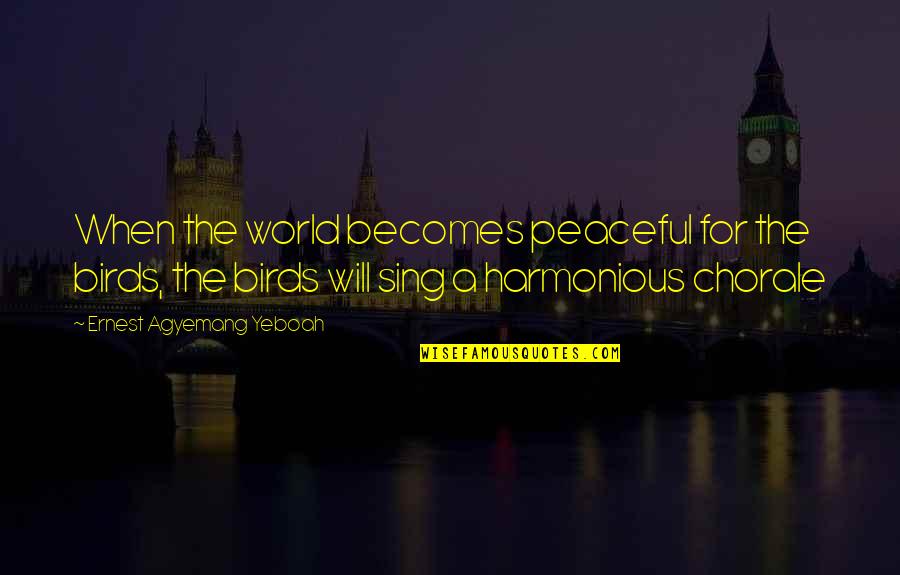 When the world becomes peaceful for the birds, the birds will sing a harmonious chorale —
Ernest Agyemang Yeboah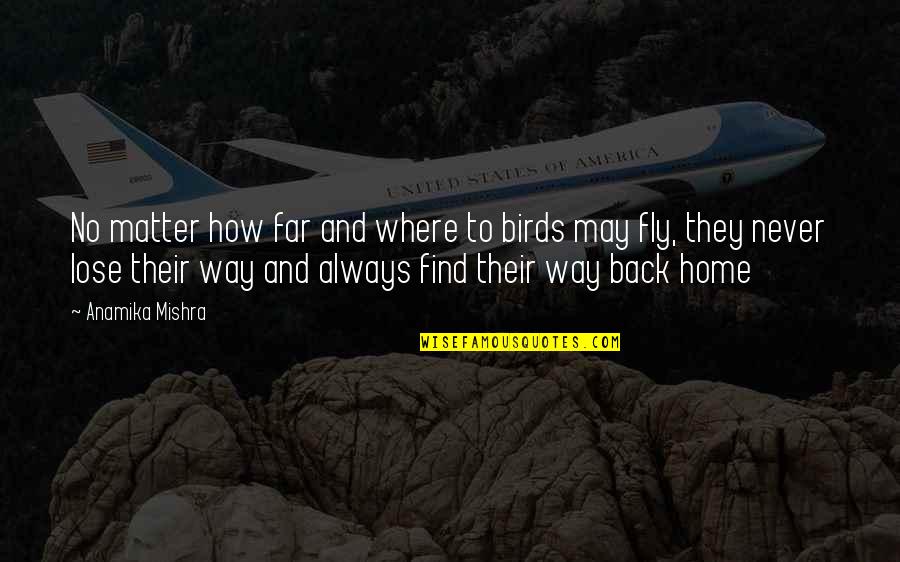 No matter how far and where to birds may fly, they never lose their way and always find their way back home —
Anamika Mishra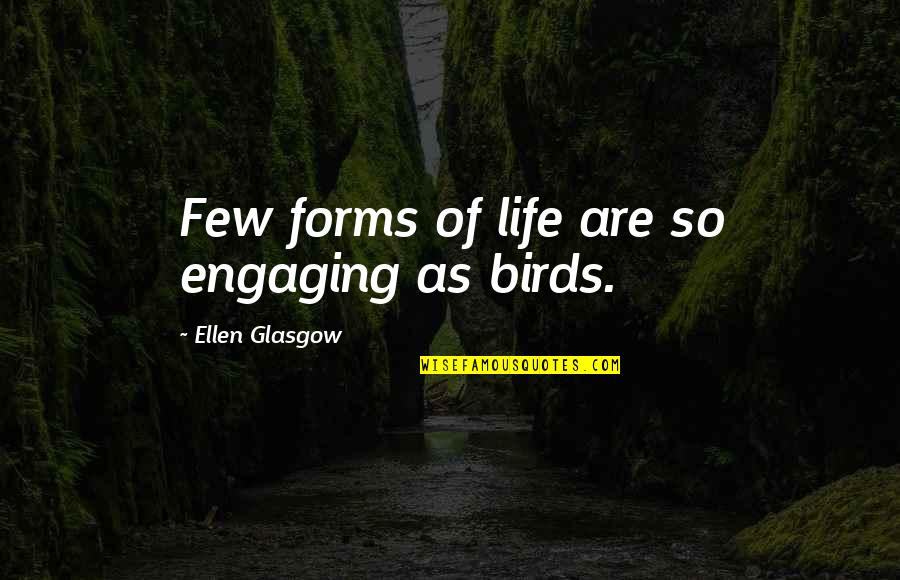 Few forms of life are so engaging as birds. —
Ellen Glasgow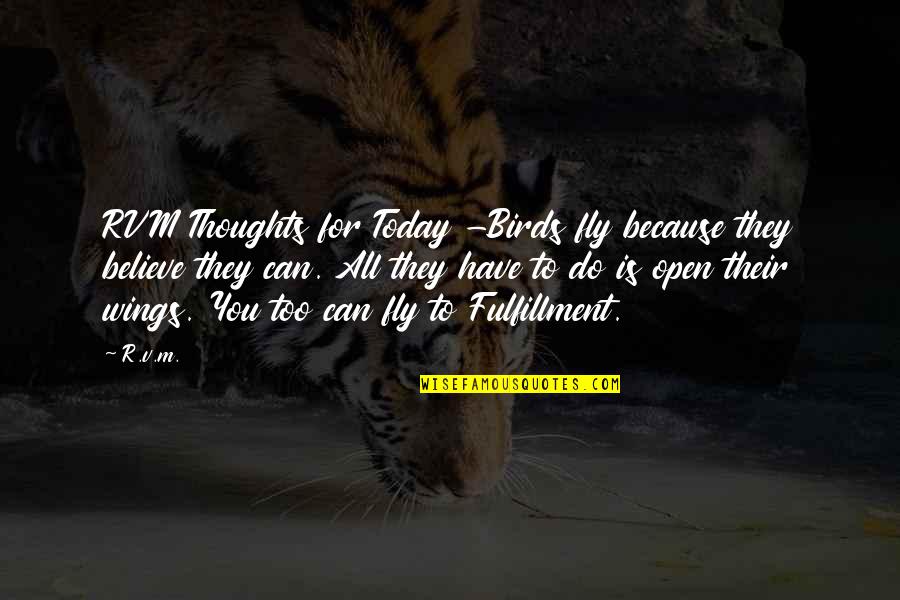 RVM Thoughts for Today -
Birds fly because they believe they can. All they have to do is open their wings. You too can fly to Fulfillment. —
R.v.m.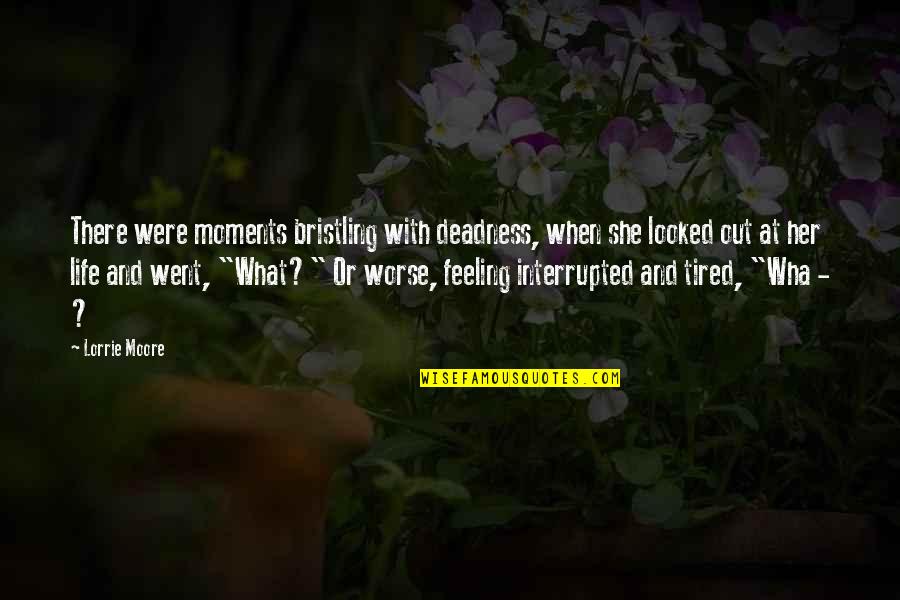 There were moments bristling with deadness, when she looked out at her life and went, "What?" Or worse, feeling interrupted and tired, "Wha - ? —
Lorrie Moore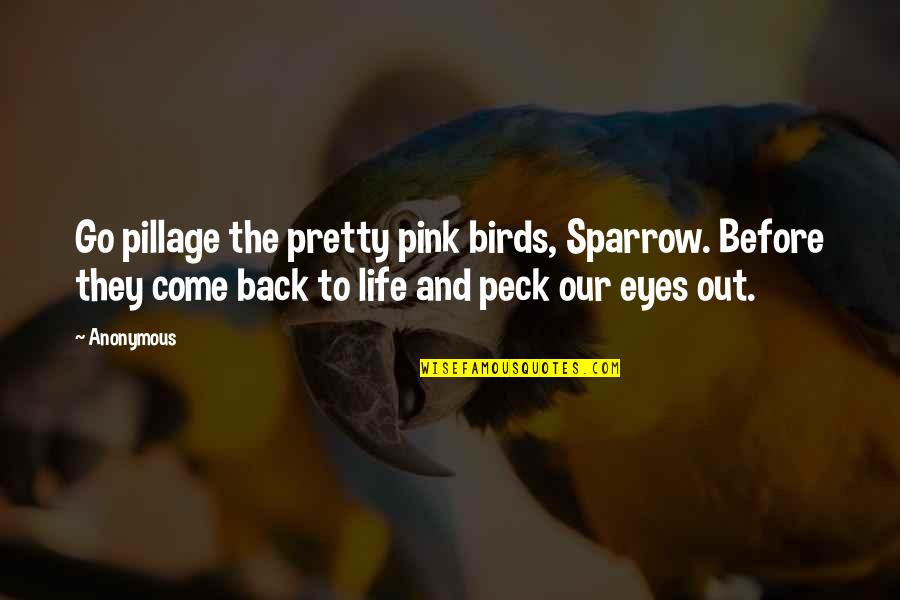 Go pillage the pretty pink birds, Sparrow. Before they come back to life and peck our eyes out. —
Anonymous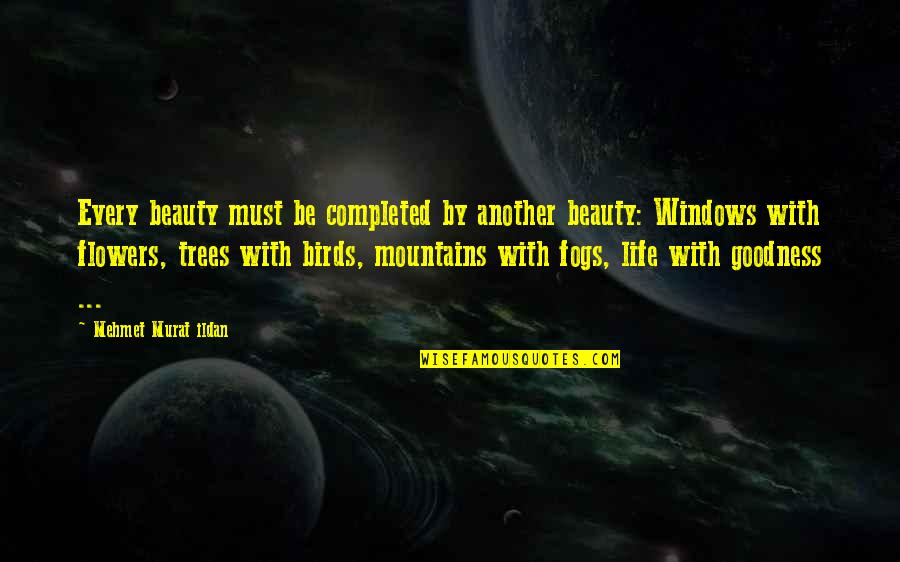 Every beauty must be completed by another beauty: Windows with flowers, trees with birds, mountains with fogs, life with goodness ... —
Mehmet Murat Ildan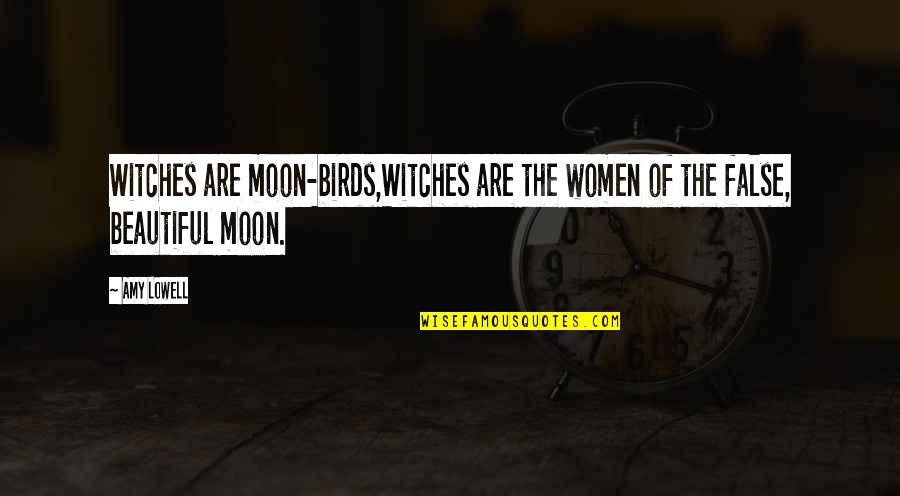 Witches are moon-birds,
Witches are the women of the false, beautiful moon. —
Amy Lowell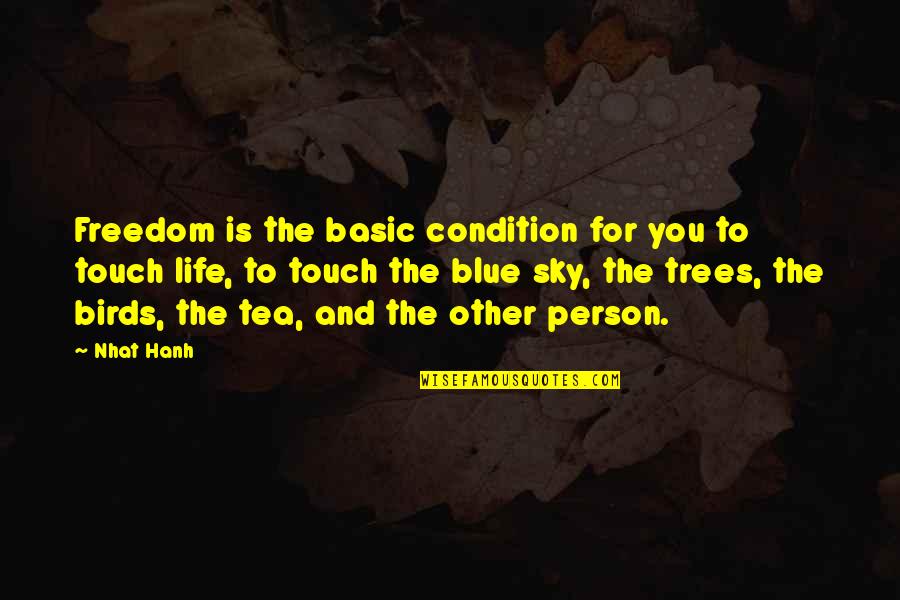 Freedom is the basic condition for you to touch life, to touch the blue sky, the trees, the birds, the tea, and the other person. —
Nhat Hanh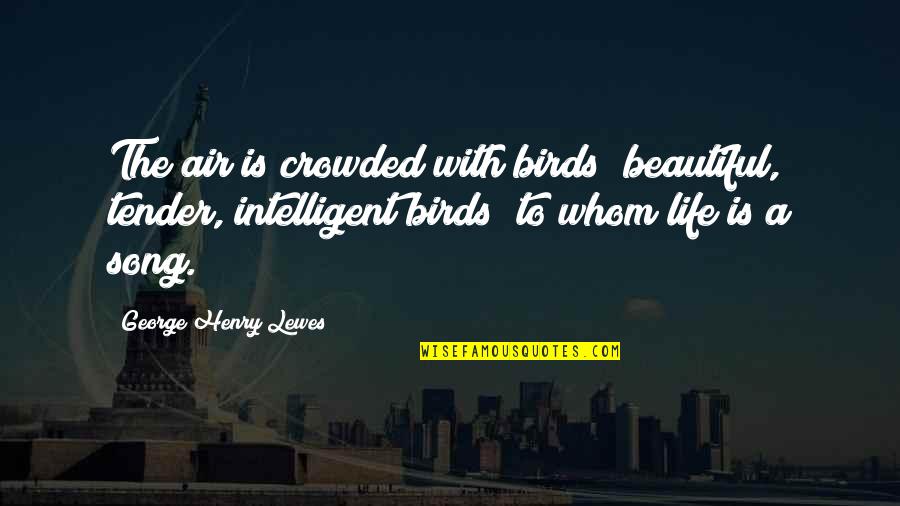 The air is crowded with birds
beautiful, tender, intelligent birds
to whom life is a song. —
George Henry Lewes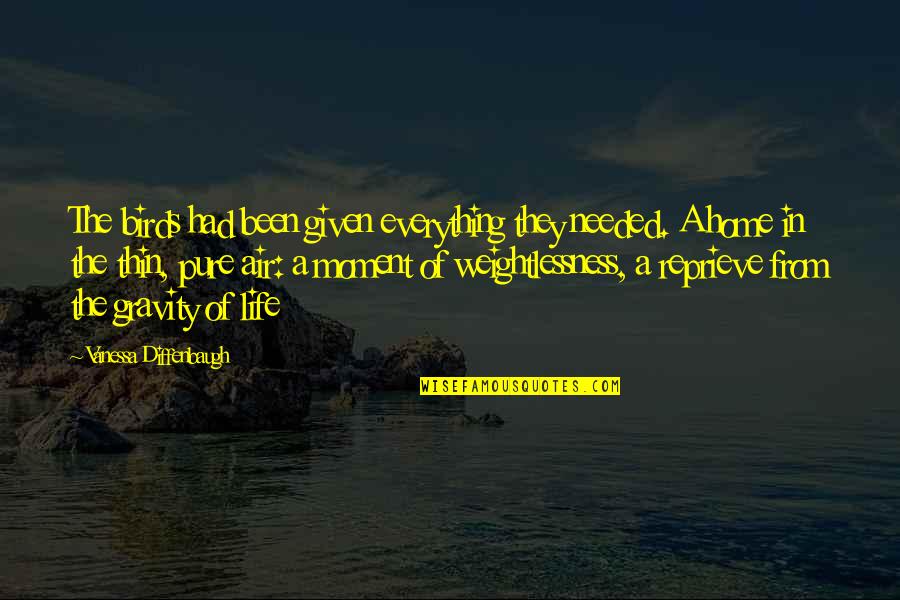 The birds had been given everything they needed. A home in the thin, pure air: a moment of weightlessness, a reprieve from the gravity of life —
Vanessa Diffenbaugh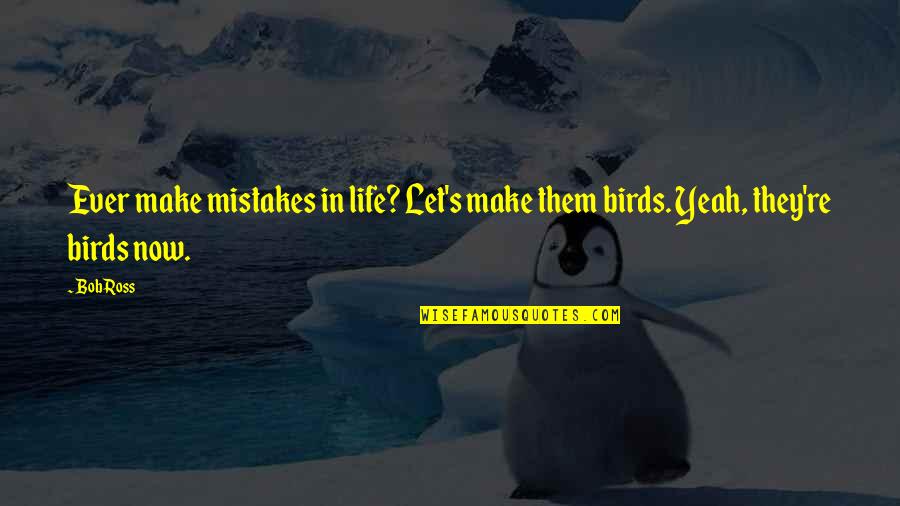 Ever make mistakes in life? Let's make them birds. Yeah, they're birds now. —
Bob Ross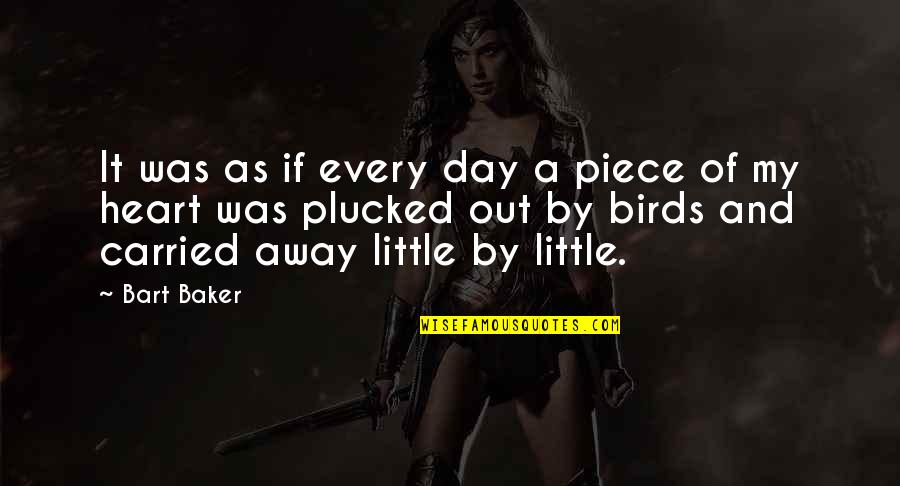 It was as if every day a piece of my heart was plucked out by birds and carried away little by little. —
Bart Baker