Being One With Yourself Quotes
Collection of top 48 famous quotes about Being One With Yourself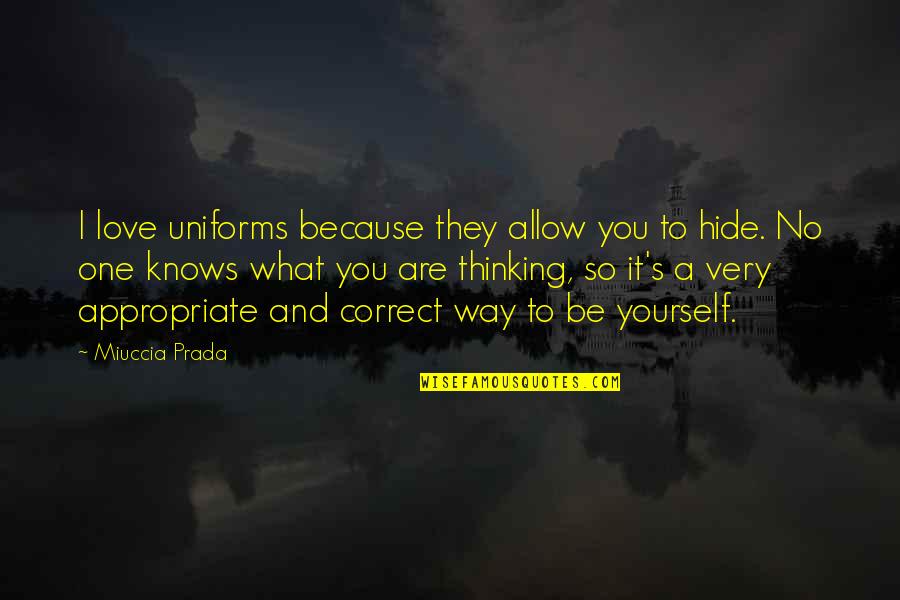 I love uniforms because they allow you to hide. No one knows what you are thinking, so it's a very appropriate and correct way to be yourself.
—
Miuccia Prada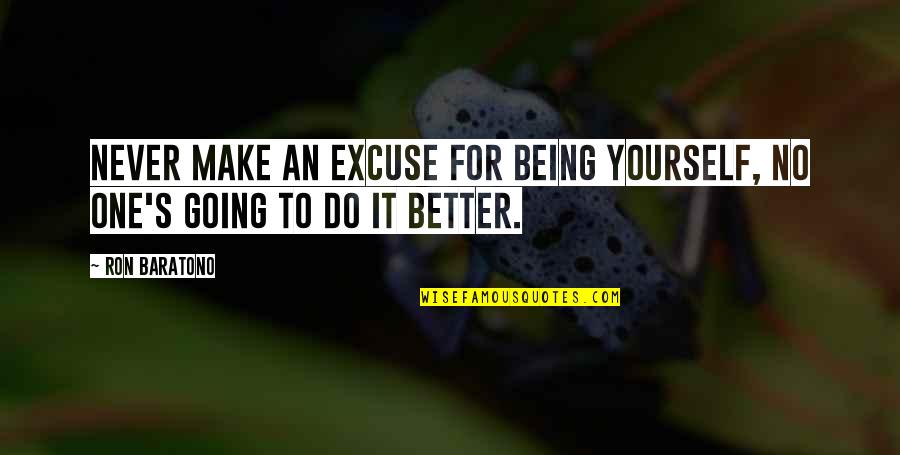 Never make an excuse for being yourself, no one's going to do it better.
—
Ron Baratono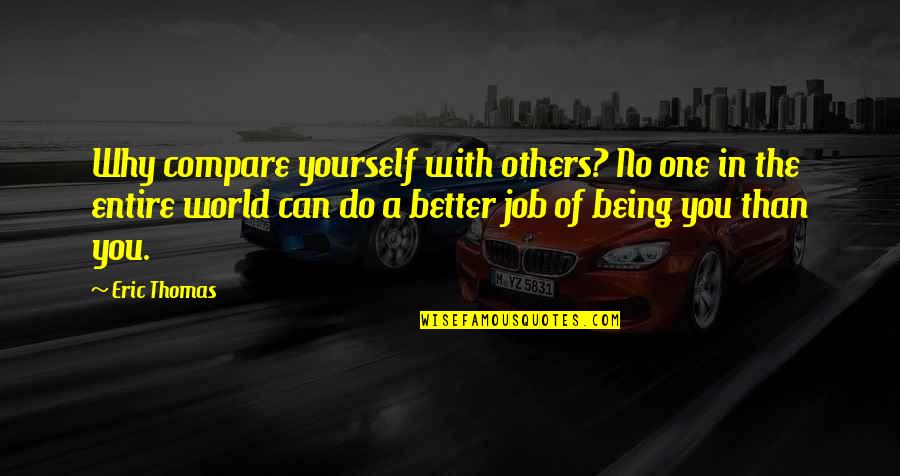 Why compare yourself with others? No one in the entire world can do a better job of being you than you.
—
Eric Thomas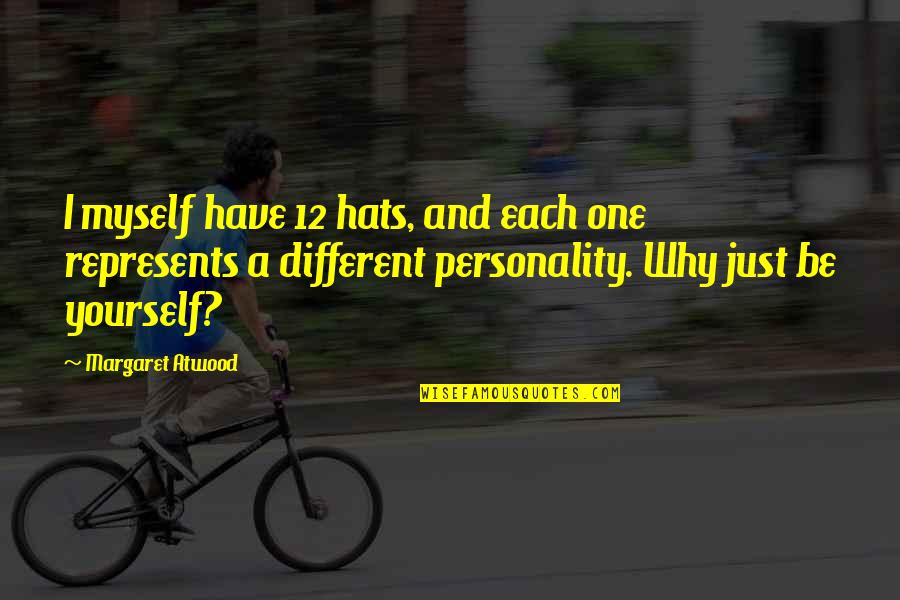 I myself have 12 hats, and each one represents a different personality. Why just be yourself?
—
Margaret Atwood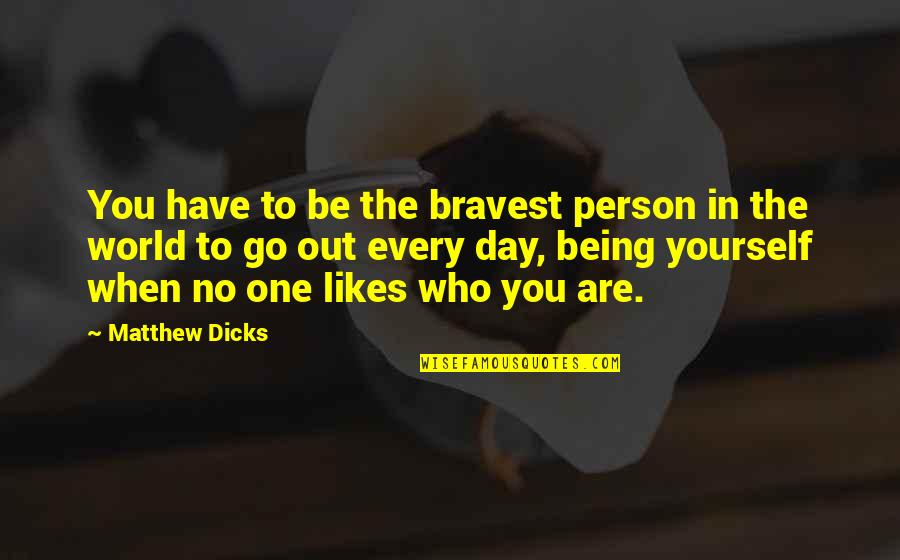 You have to be the bravest person in the world to go out every day, being yourself when no one likes who you are.
—
Matthew Dicks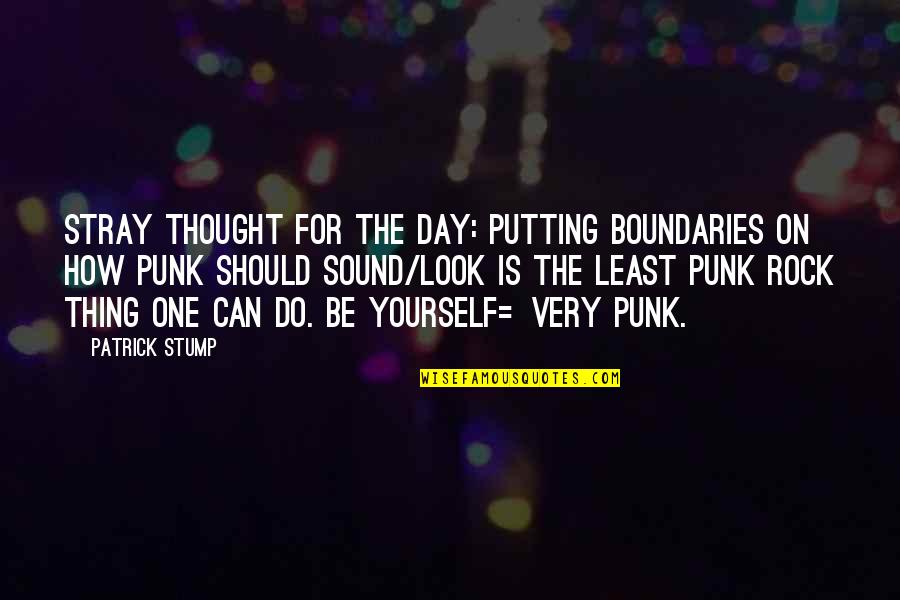 Stray thought for the day: Putting boundaries on how punk should sound/look is the least punk rock thing one can do. Be yourself=Very punk.
—
Patrick Stump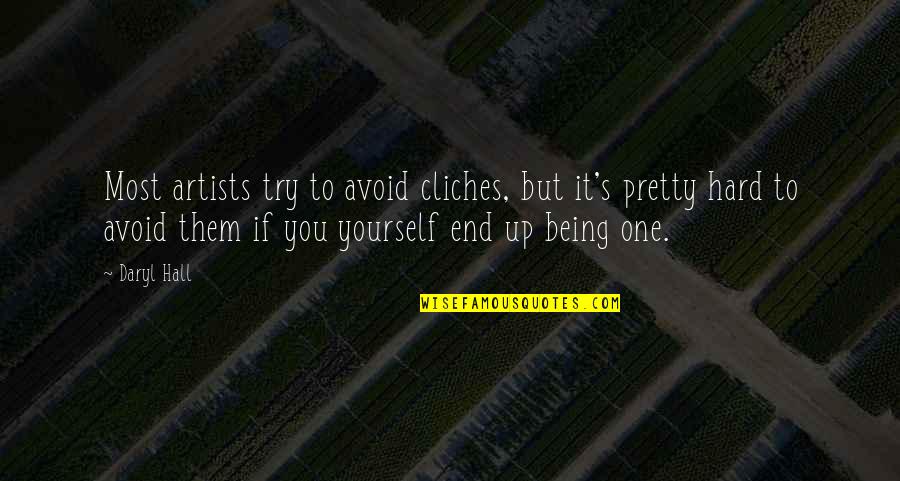 Most artists try to avoid cliches, but it's pretty hard to avoid them if you yourself end up being one.
—
Daryl Hall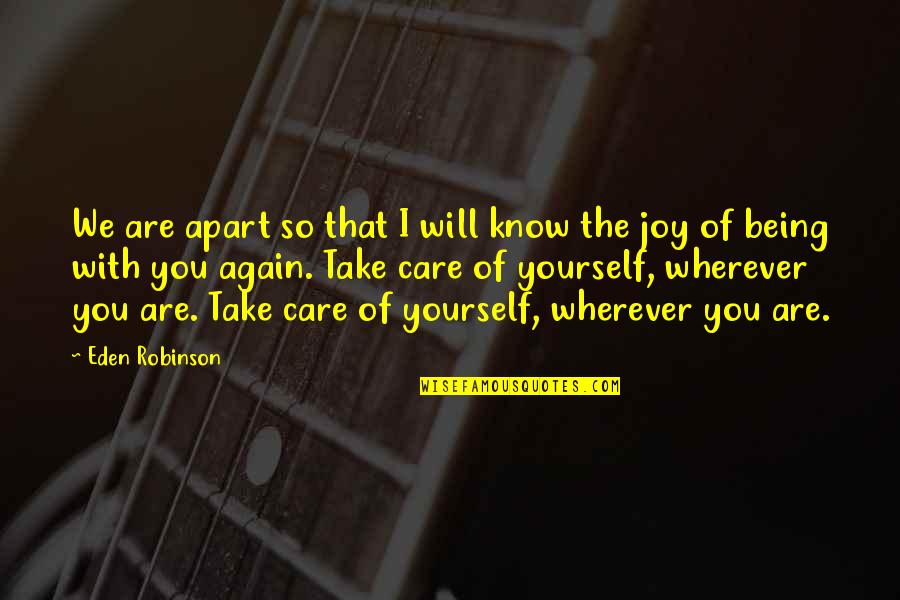 We are apart so that I will know the joy of being with you again. Take care of yourself, wherever you are. Take care of yourself, wherever you are.
—
Eden Robinson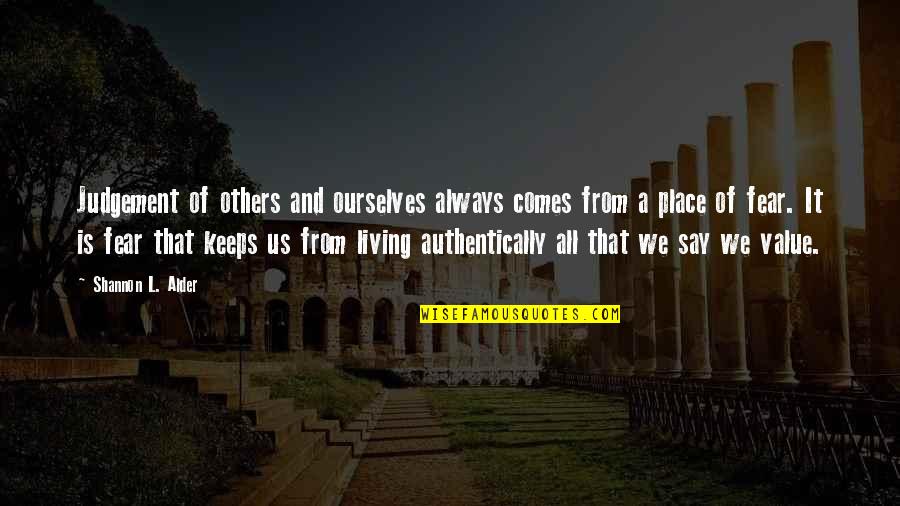 Judgement of others and ourselves always comes from a place of fear. It is fear that keeps us from living authentically all that we say we value.
—
Shannon L. Alder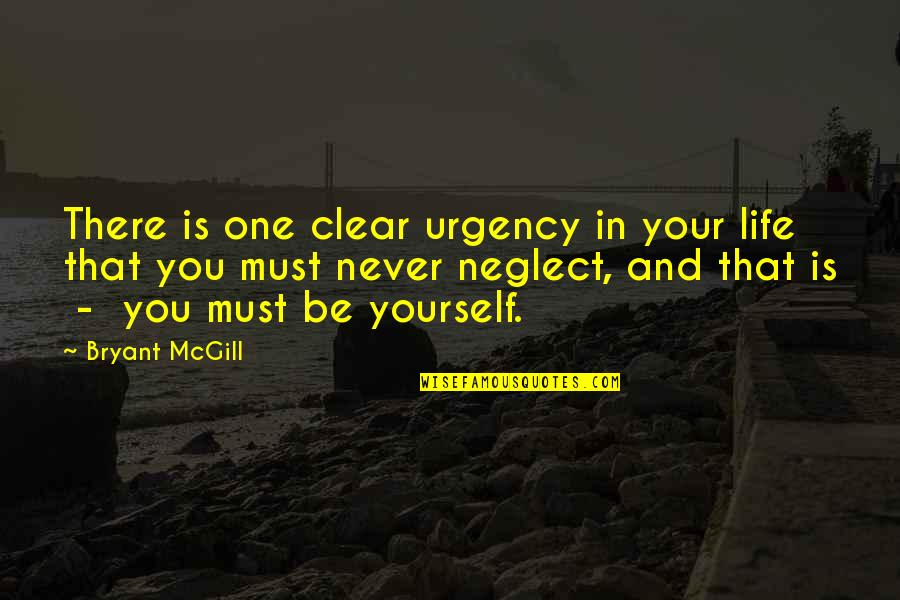 There is one clear urgency in your life that you must never neglect, and that is - you must be yourself.
—
Bryant McGill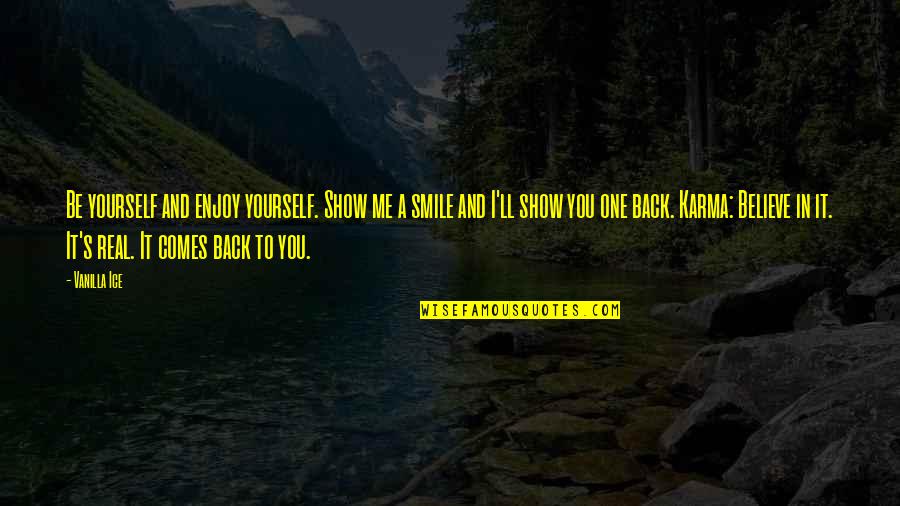 Be yourself and enjoy yourself. Show me a smile and I'll show you one back. Karma: Believe in it. It's real. It comes back to you.
—
Vanilla Ice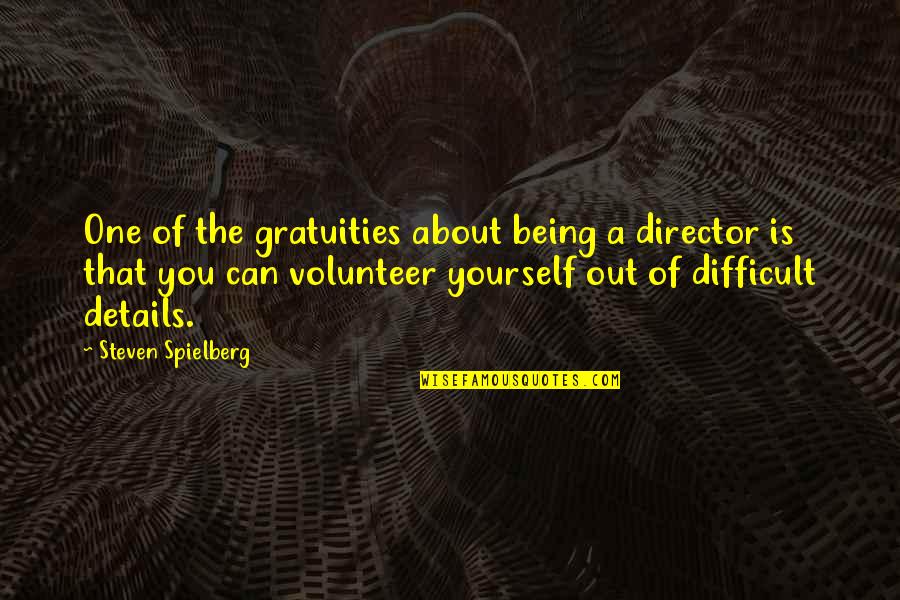 One of the gratuities about being a director is that you can volunteer yourself out of difficult details.
—
Steven Spielberg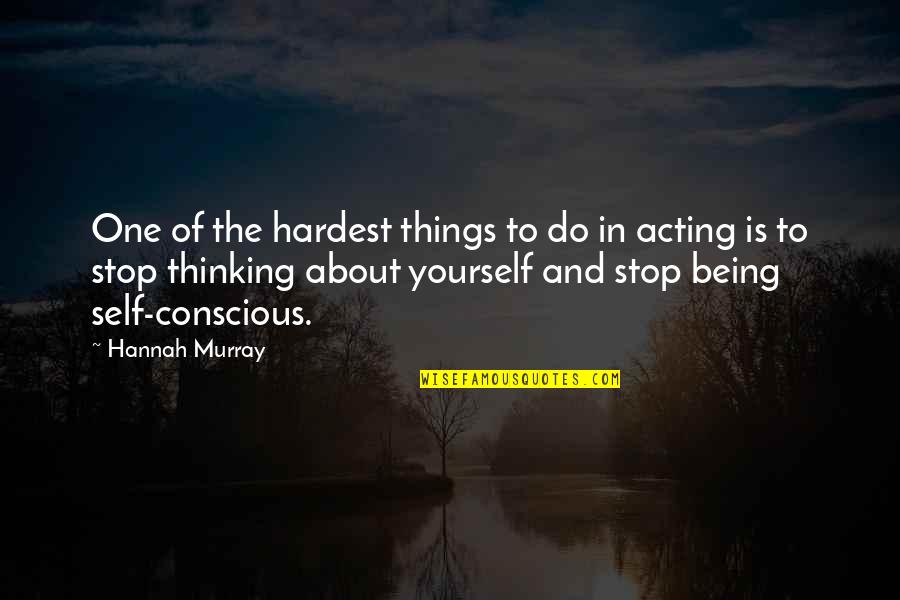 One of the hardest things to do in acting is to stop thinking about yourself and stop being self-conscious.
—
Hannah Murray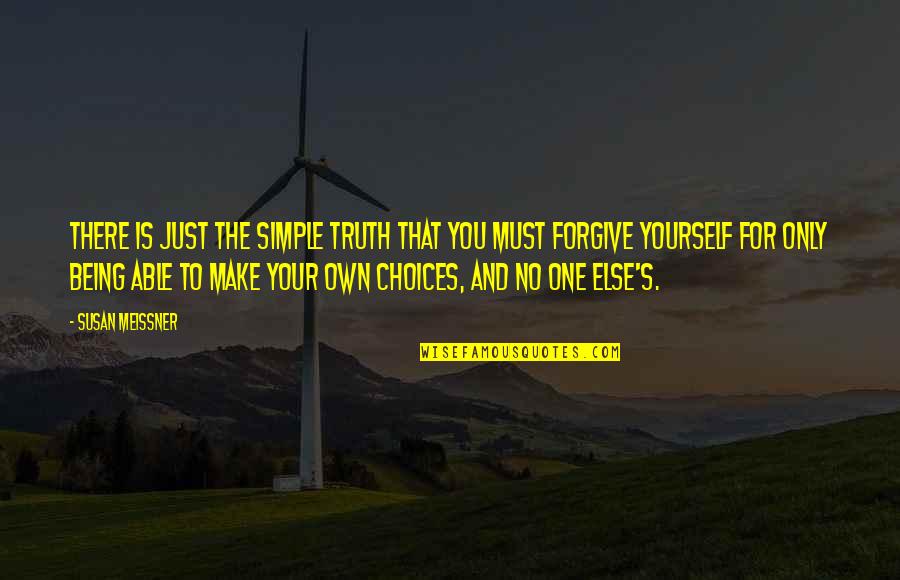 There is just the simple truth that you must forgive yourself for only being able to make your own choices, and no one else's. —
Susan Meissner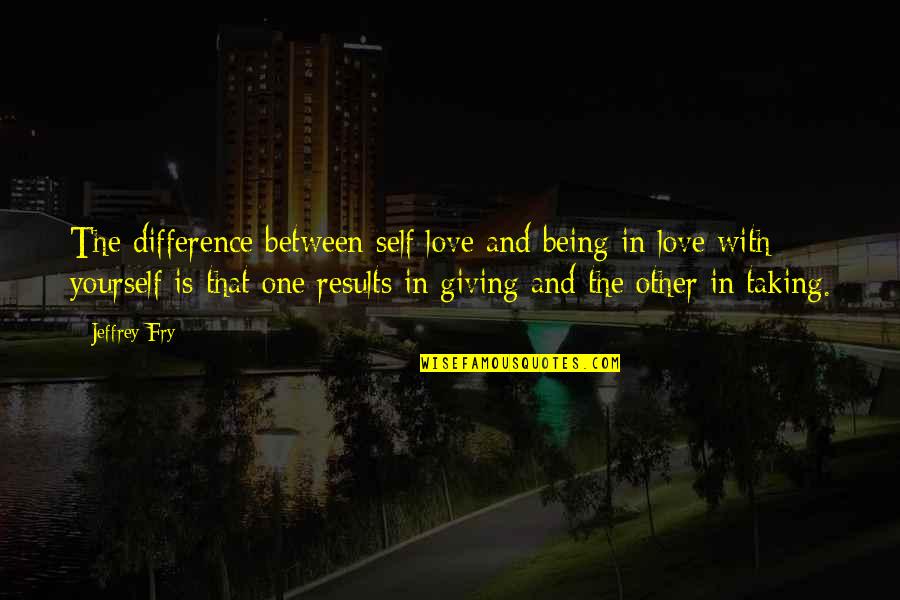 The difference between self love and being in love with yourself is that one results in giving and the other in taking. —
Jeffrey Fry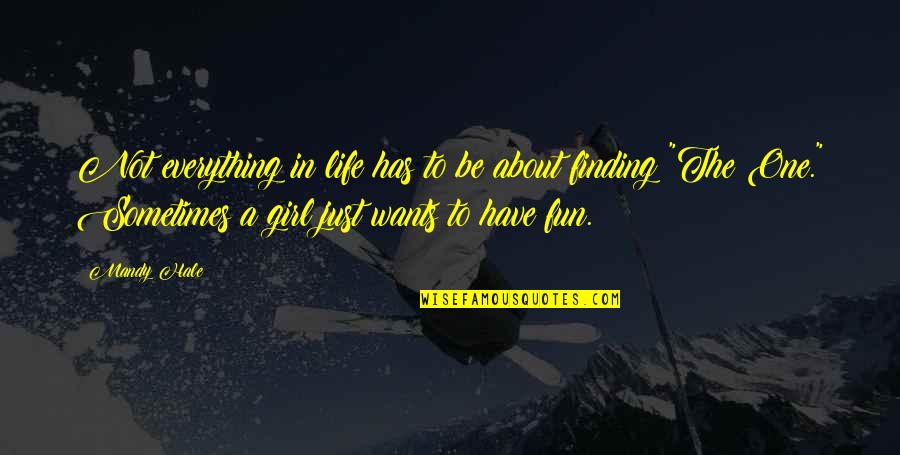 Not everything in life has to be about finding "The One." Sometimes a girl just wants to have fun. —
Mandy Hale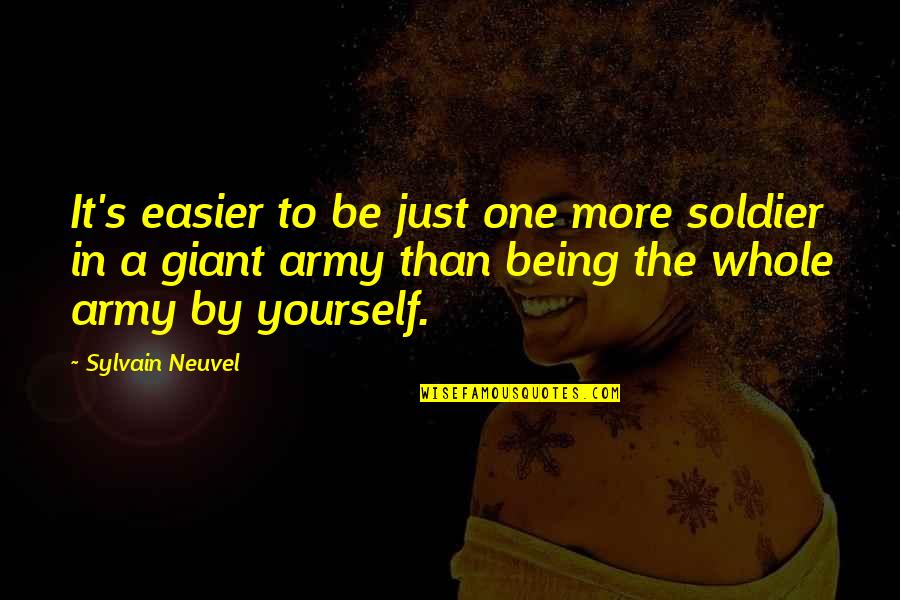 It's easier to be just one more soldier in a giant army than being the whole army by yourself. —
Sylvain Neuvel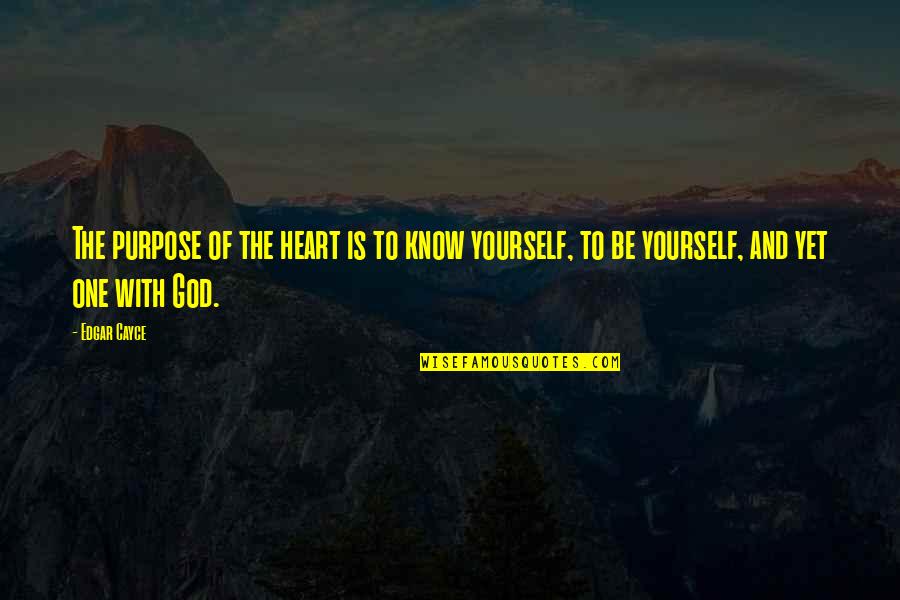 The purpose of the heart is to know yourself, to be yourself, and yet one with God. —
Edgar Cayce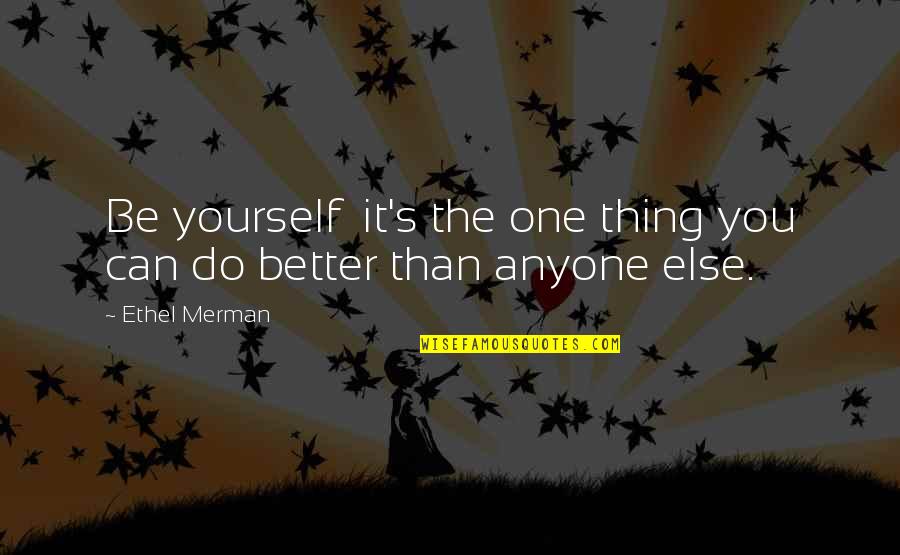 Be yourself
it's the one thing you can do better than anyone else. —
Ethel Merman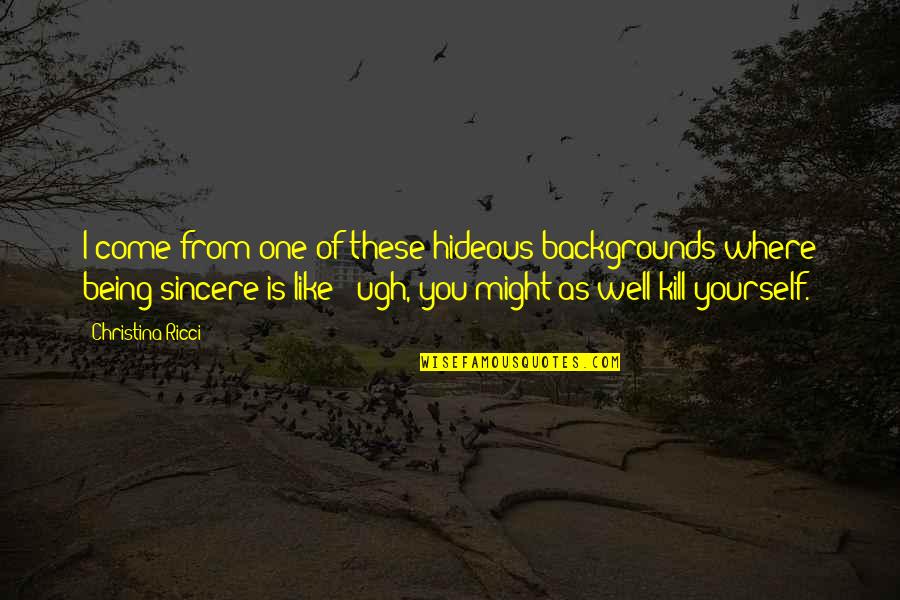 I come from one of these hideous backgrounds where being sincere is like - ugh, you might as well kill yourself. —
Christina Ricci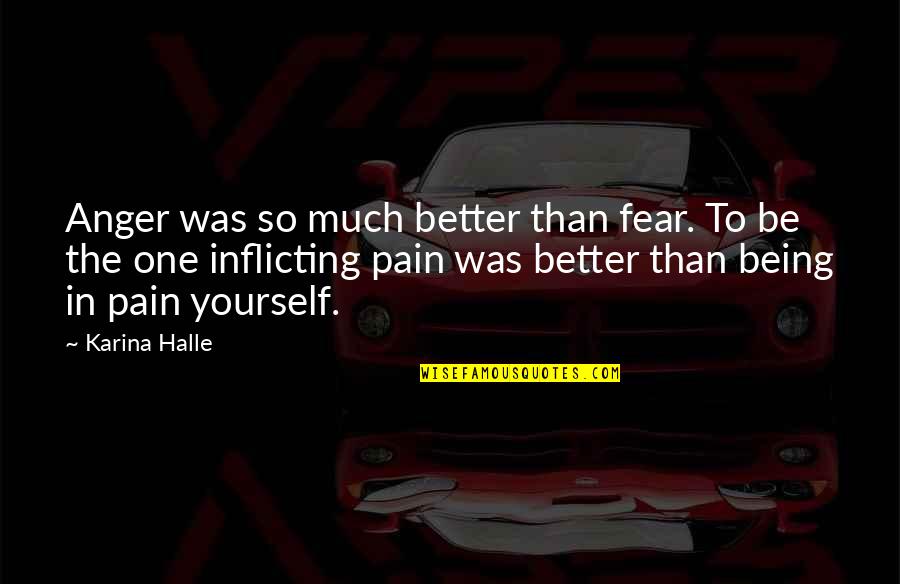 Anger was so much better than fear. To be the one inflicting pain was better than being in pain yourself. —
Karina Halle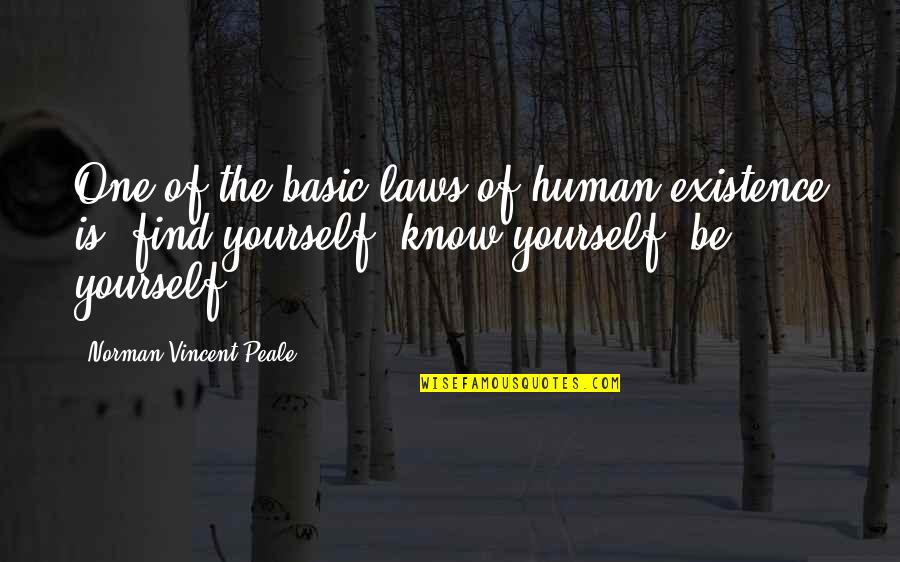 One of the basic laws of human existence is: find yourself, know yourself, be yourself. —
Norman Vincent Peale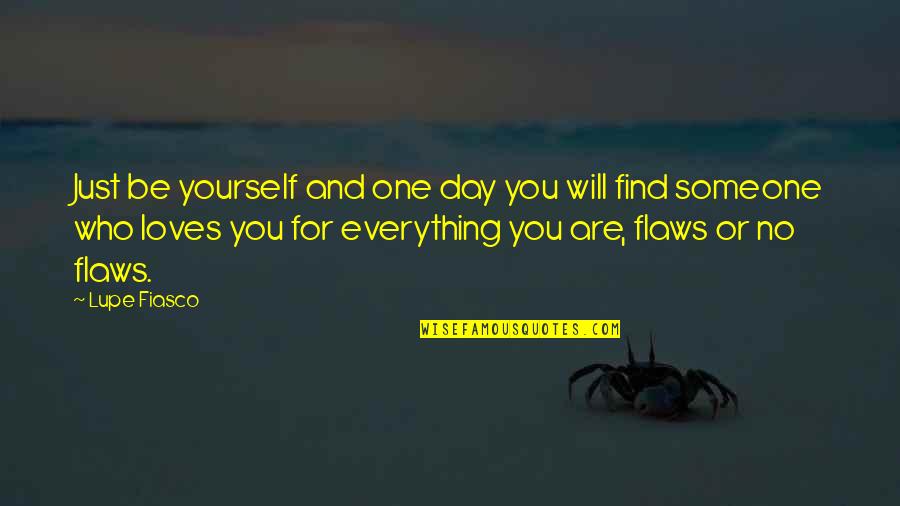 Just be yourself and one day you will find someone who loves you for everything you are, flaws or no flaws. —
Lupe Fiasco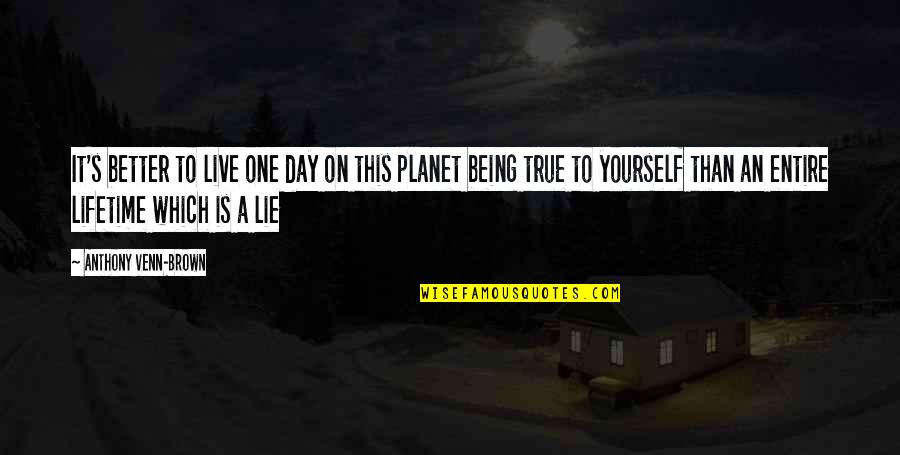 It's better to live one day on this planet being true to yourself than an entire lifetime which is a lie —
Anthony Venn-Brown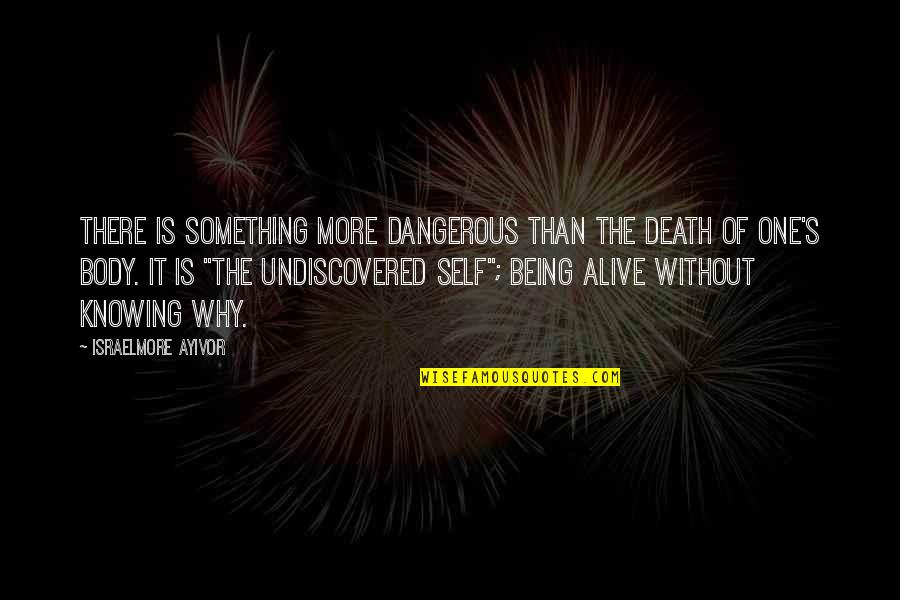 There is something more dangerous than the death of one's body. It is "the undiscovered self"; being alive without knowing why. —
Israelmore Ayivor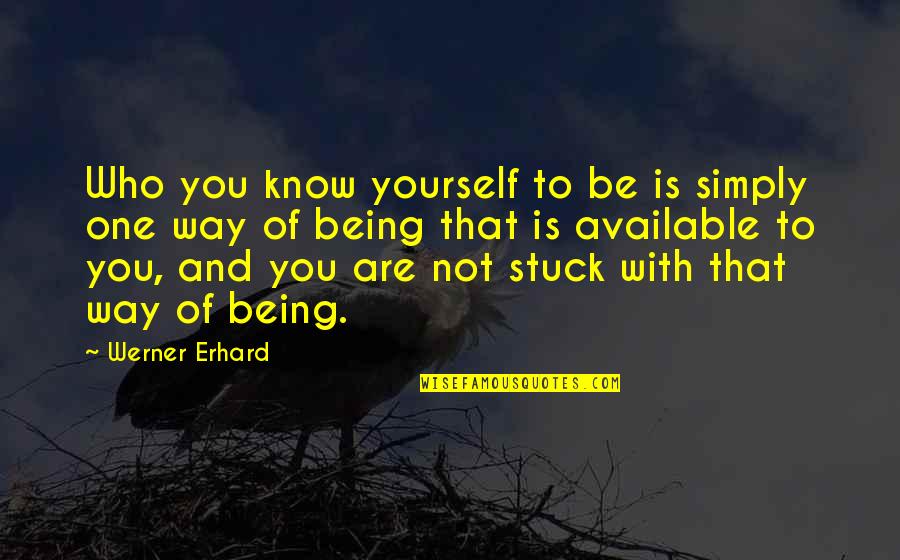 Who you know yourself to be is simply one way of being that is available to you, and you are not stuck with that way of being. —
Werner Erhard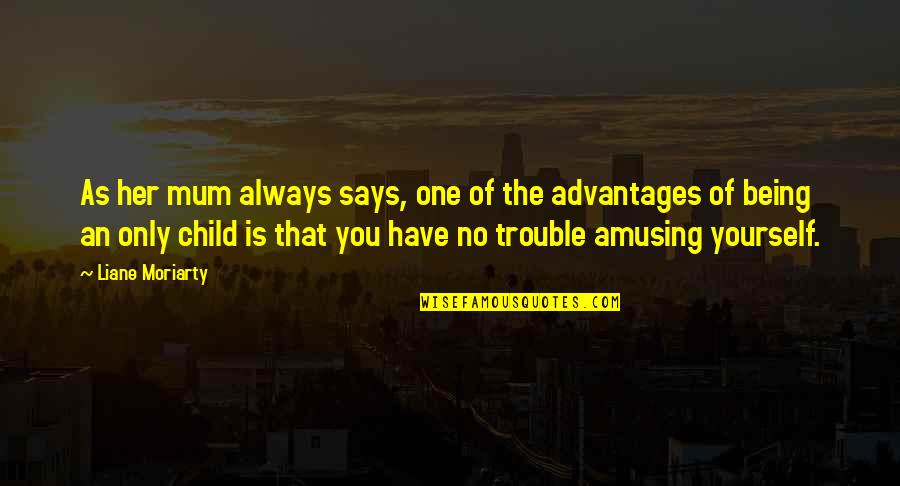 As her mum always says, one of the advantages of being an only child is that you have no trouble amusing yourself. —
Liane Moriarty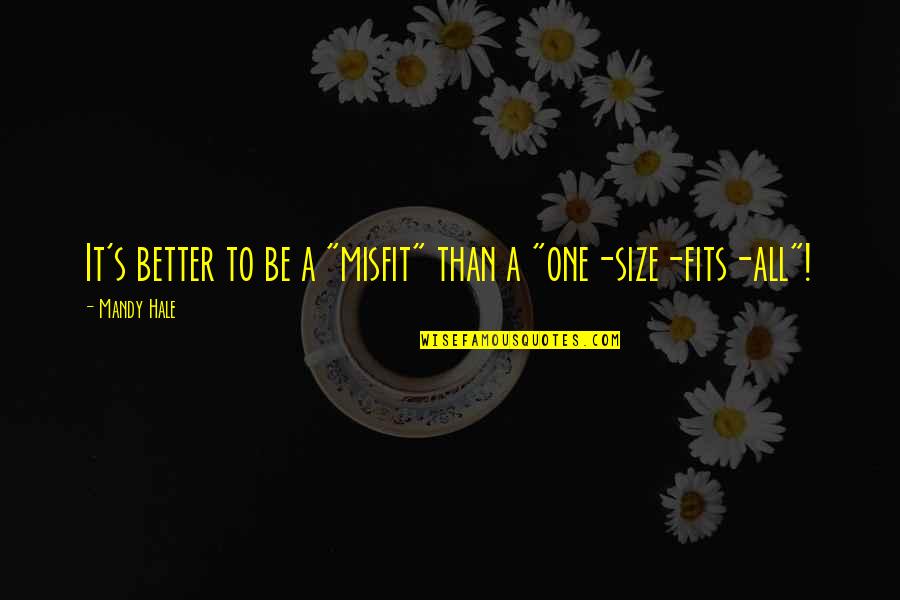 It's better to be a "misfit" than a "one-size-fits-all"! —
Mandy Hale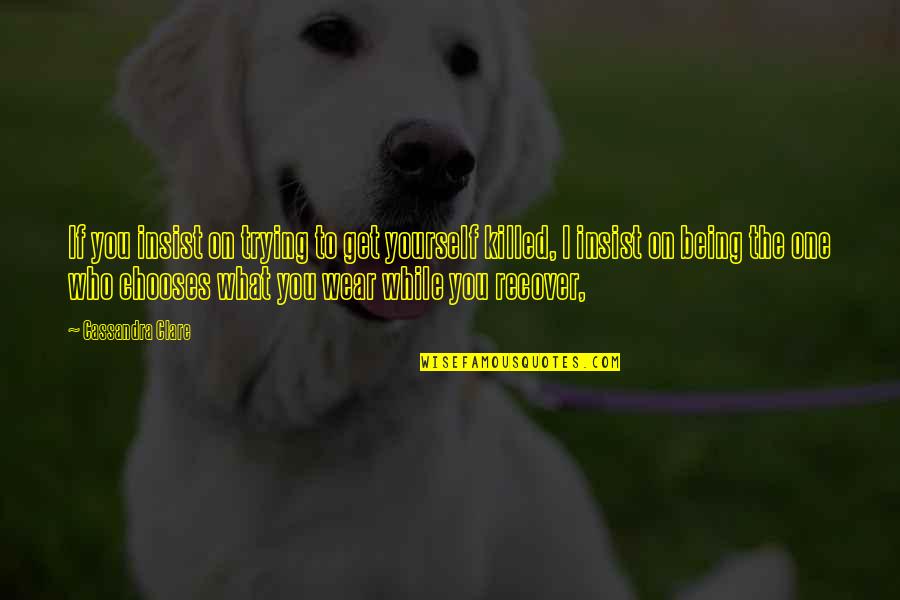 If you insist on trying to get yourself killed, I insist on being the one who chooses what you wear while you recover, —
Cassandra Clare
One of the great gifts of being a human being is that you can get rid of yourself and enter into the oneness of music. —
Ray Manzarek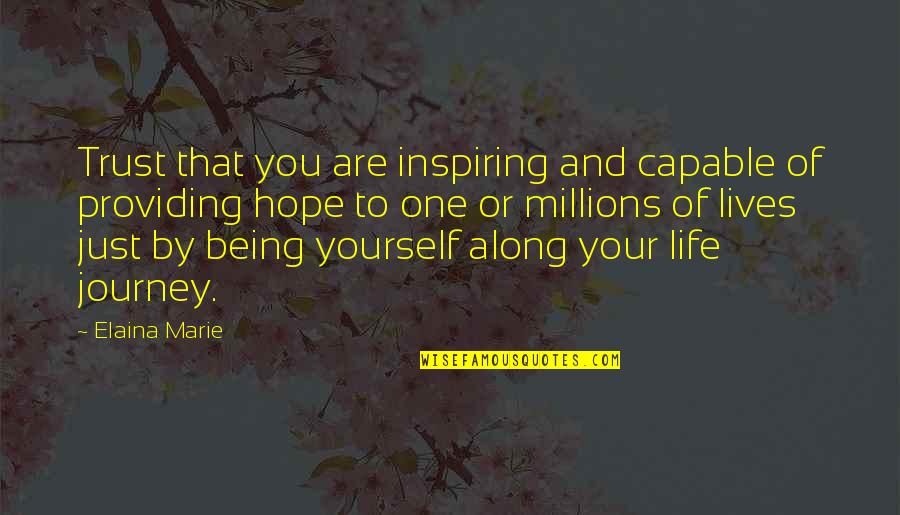 Trust that you are inspiring and capable of providing hope to one or millions of lives just by being yourself along your life journey. —
Elaina Marie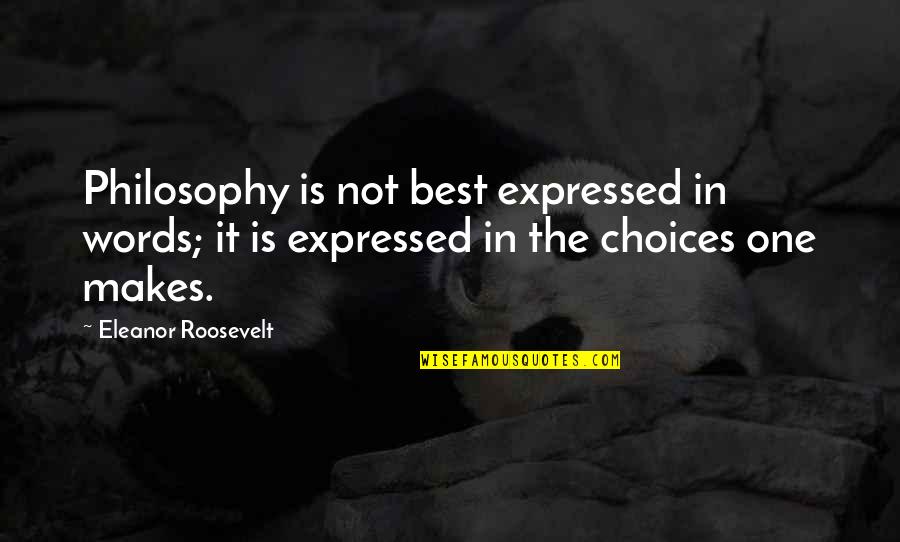 Philosophy is not best expressed in words; it is expressed in the choices one makes. —
Eleanor Roosevelt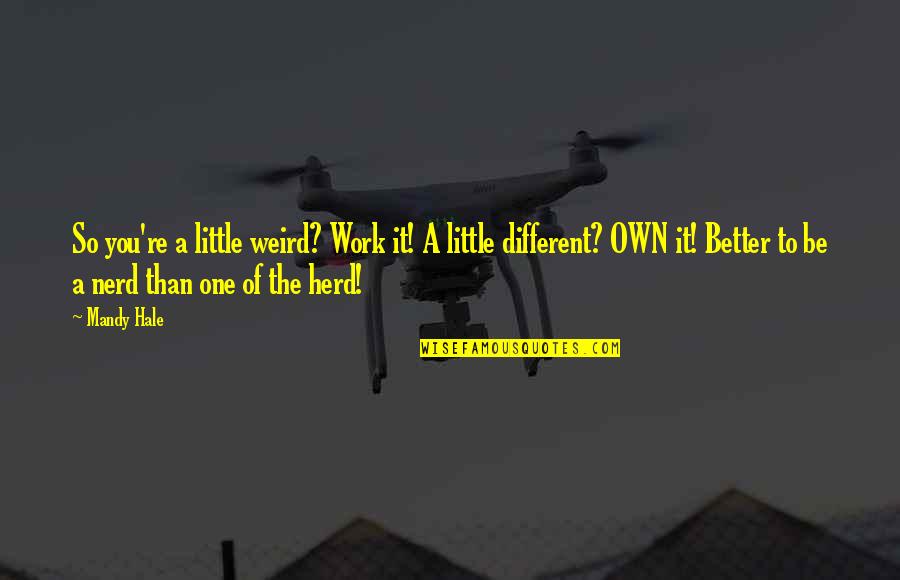 So you're a little weird? Work it! A little different? OWN it! Better to be a nerd than one of the herd! —
Mandy Hale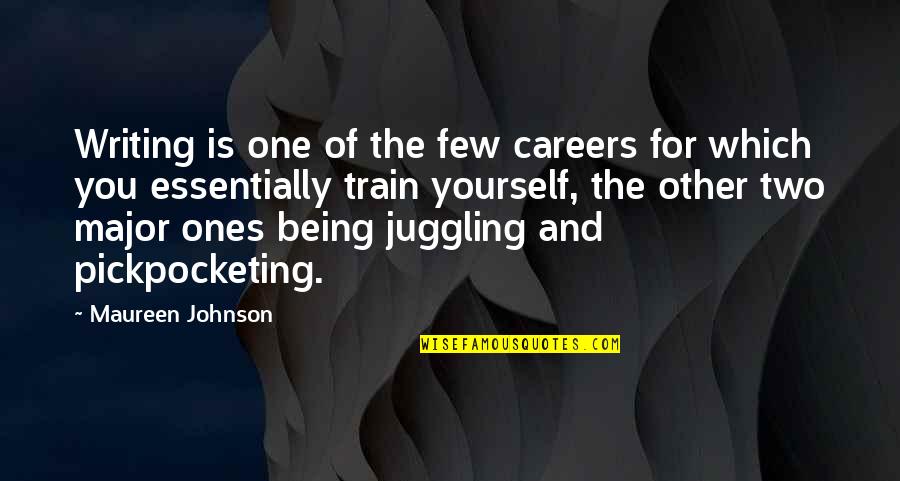 Writing is one of the few careers for which you essentially train yourself, the other two major ones being juggling and pickpocketing. —
Maureen Johnson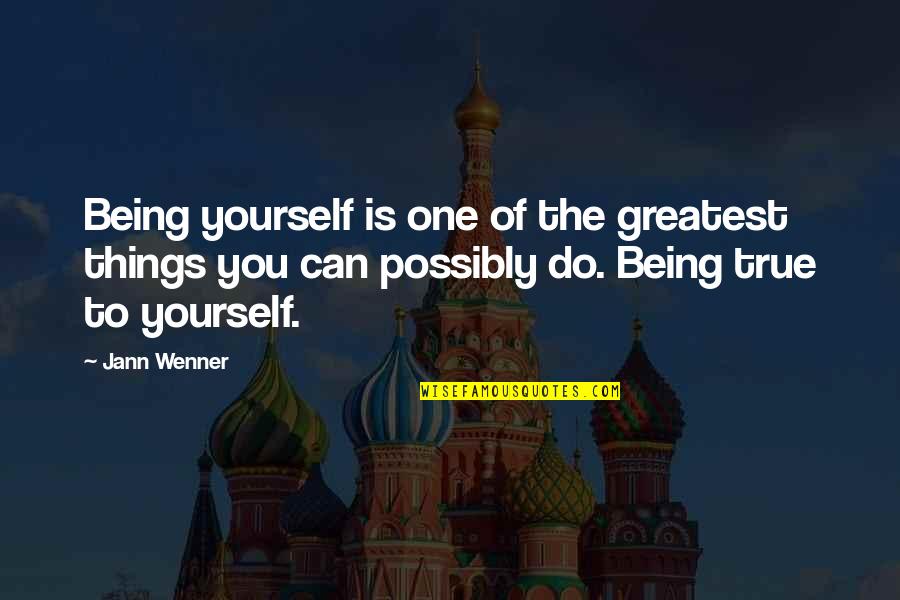 Being yourself is one of the greatest things you can possibly do. Being true to yourself. —
Jann Wenner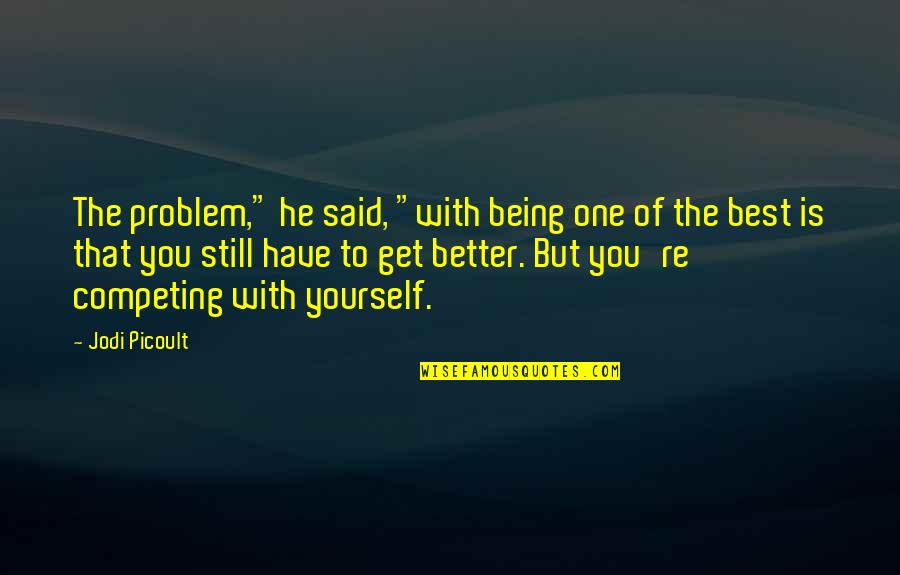 The problem," he said, "with being one of the best is that you still have to get better. But you're competing with yourself. —
Jodi Picoult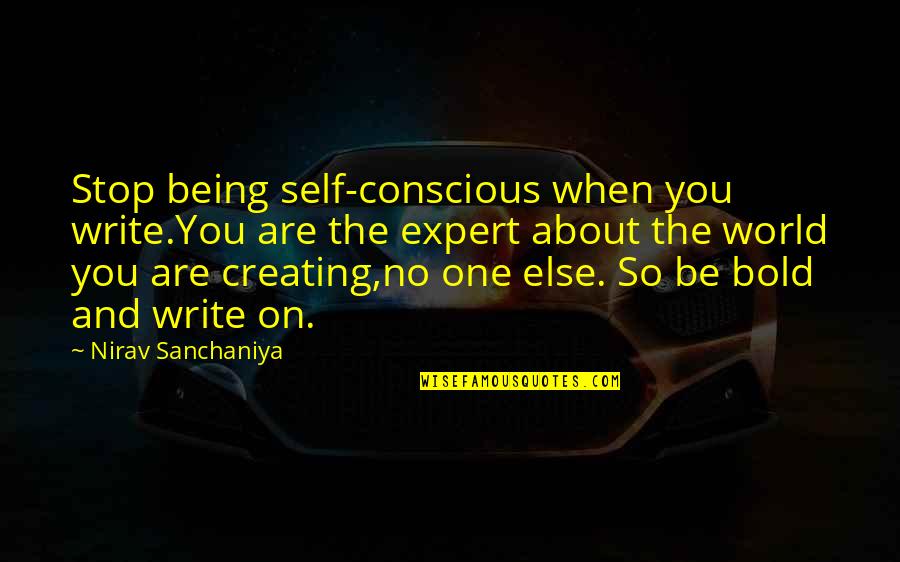 Stop being self-conscious when you write.
You are the expert about the world you are creating,
no one else. So be bold and write on. —
Nirav Sanchaniya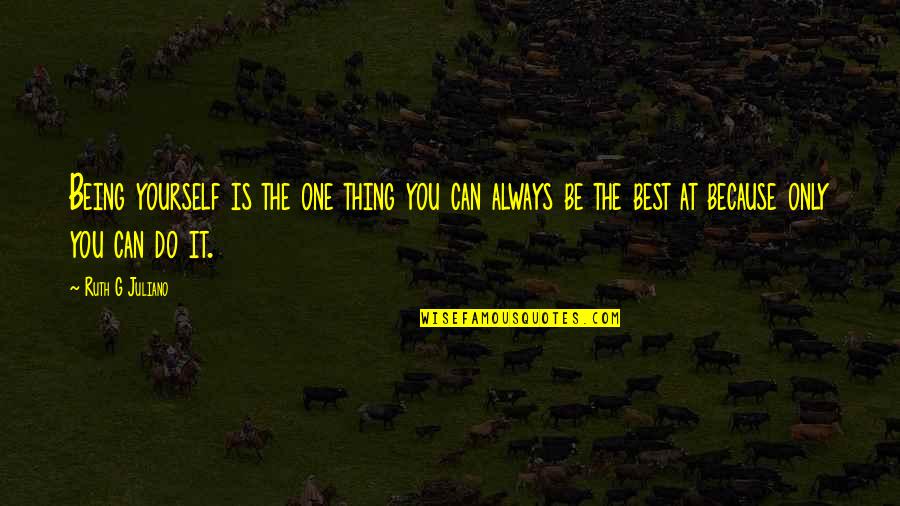 Being yourself is the one thing you can always be the best at because only you can do it. —
Ruth G Juliano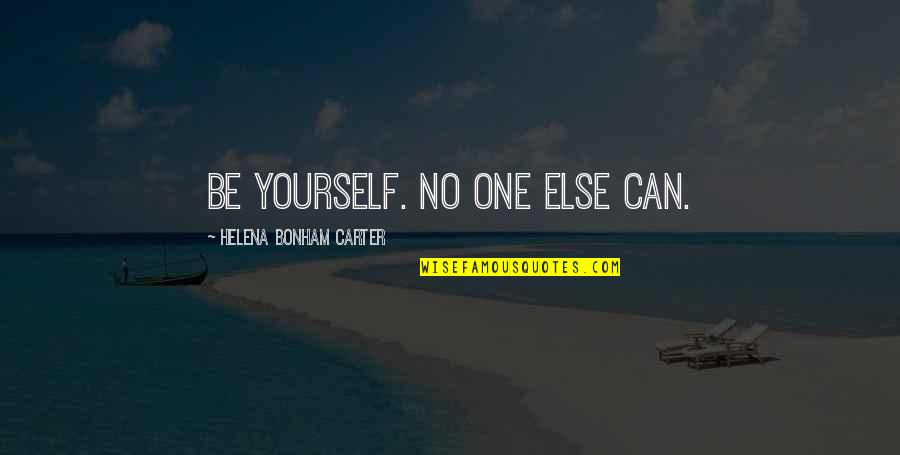 Be yourself. No one else can. —
Helena Bonham Carter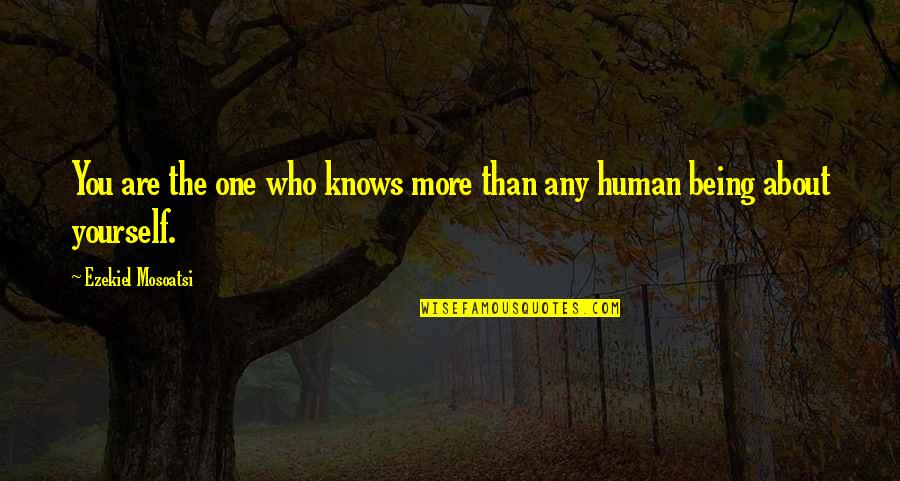 You are the one who knows more than any human being about yourself. —
Ezekiel Mosoatsi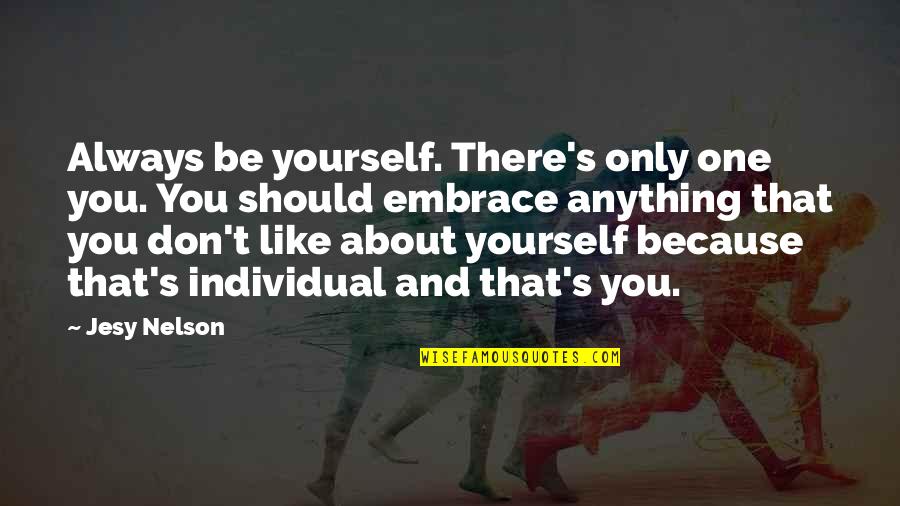 Always be yourself. There's only one you. You should embrace anything that you don't like about yourself because that's individual and that's you. —
Jesy Nelson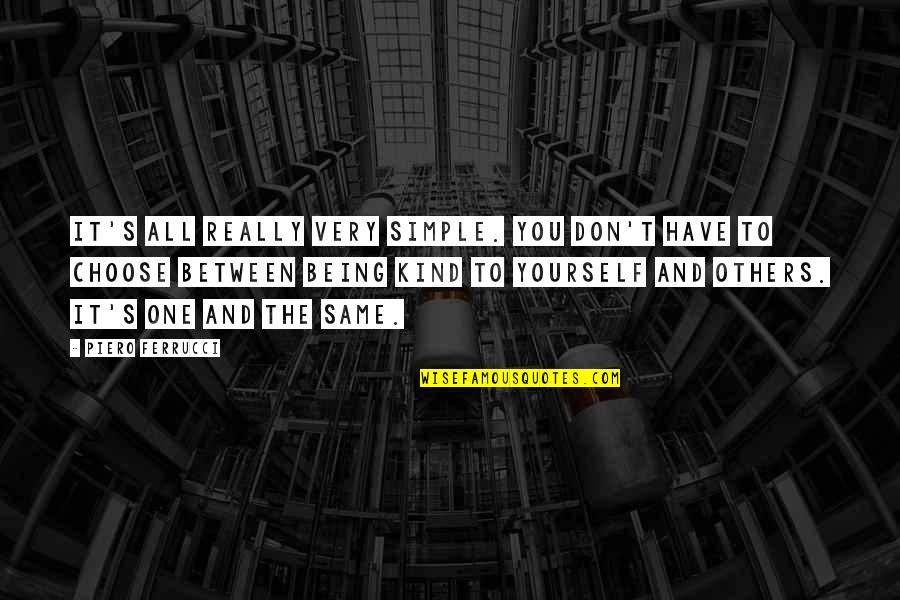 It's all really very simple. You don't have to choose between being kind to yourself and others. It's one and the same. —
Piero Ferrucci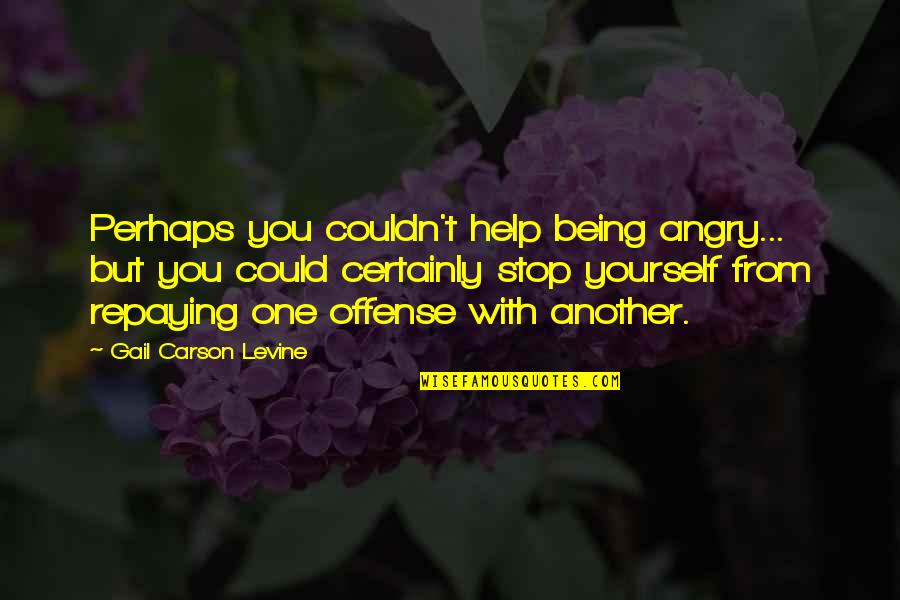 Perhaps you couldn't help being angry... but you could certainly stop yourself from repaying one offense with another. —
Gail Carson Levine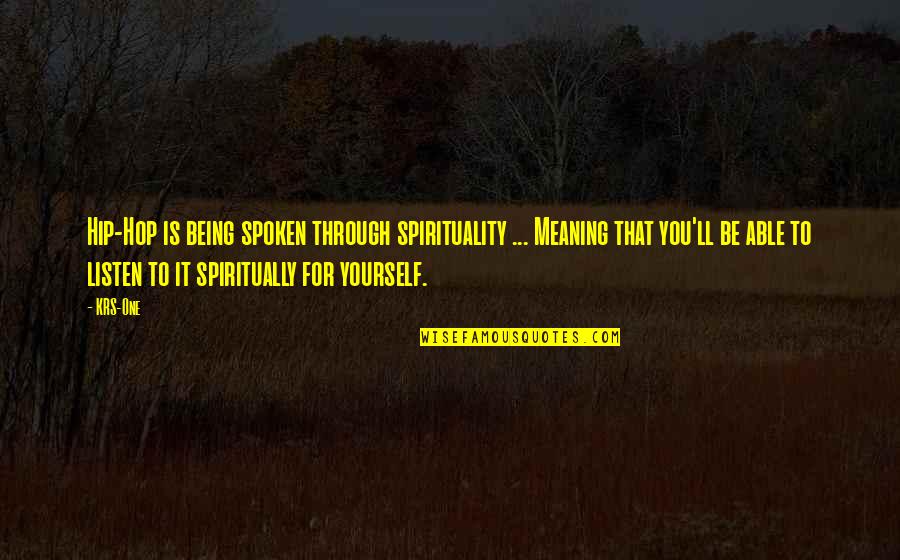 Hip-Hop is being spoken through spirituality ... Meaning that you'll be able to listen to it spiritually for yourself. —
KRS-One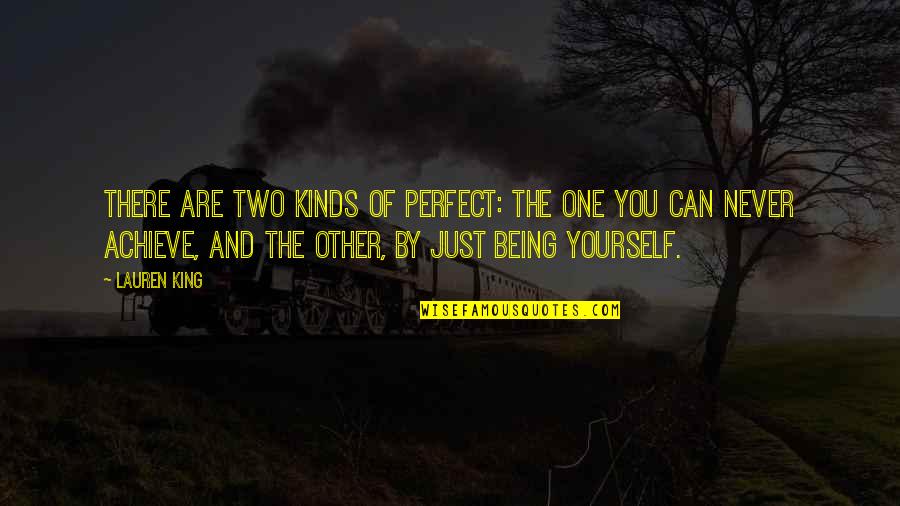 There are two kinds of perfect: The one you can never achieve, and the other, by just being yourself. —
Lauren King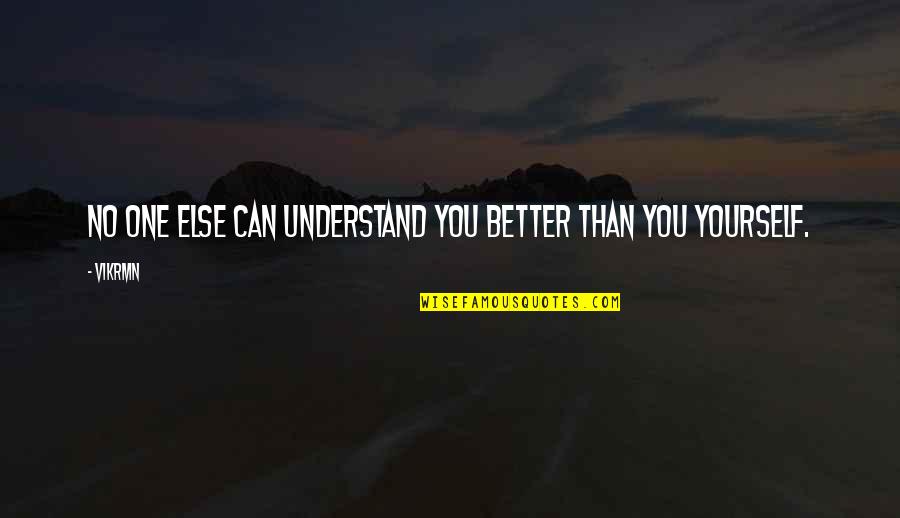 No one else can understand you better than you yourself. —
Vikrmn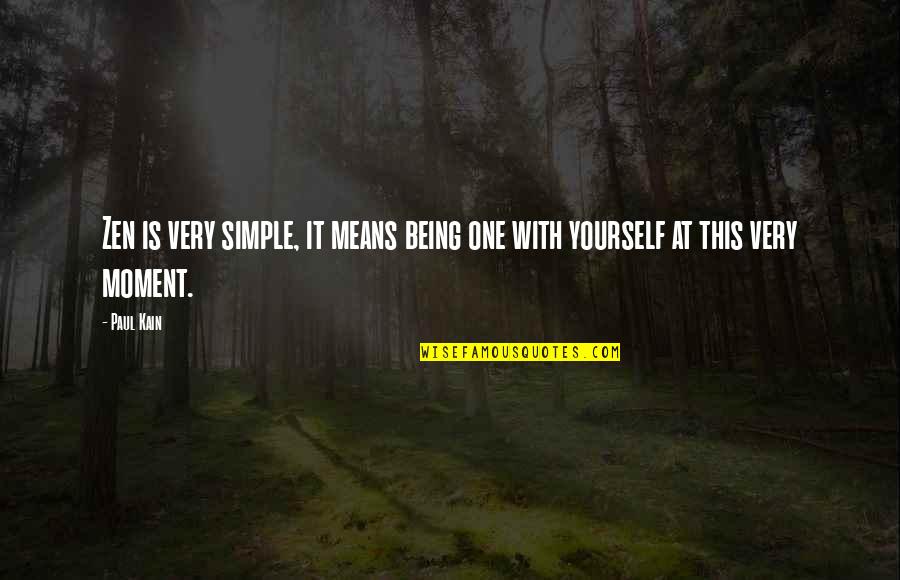 Zen is very simple, it means
being one with yourself
at this very moment. —
Paul Kain