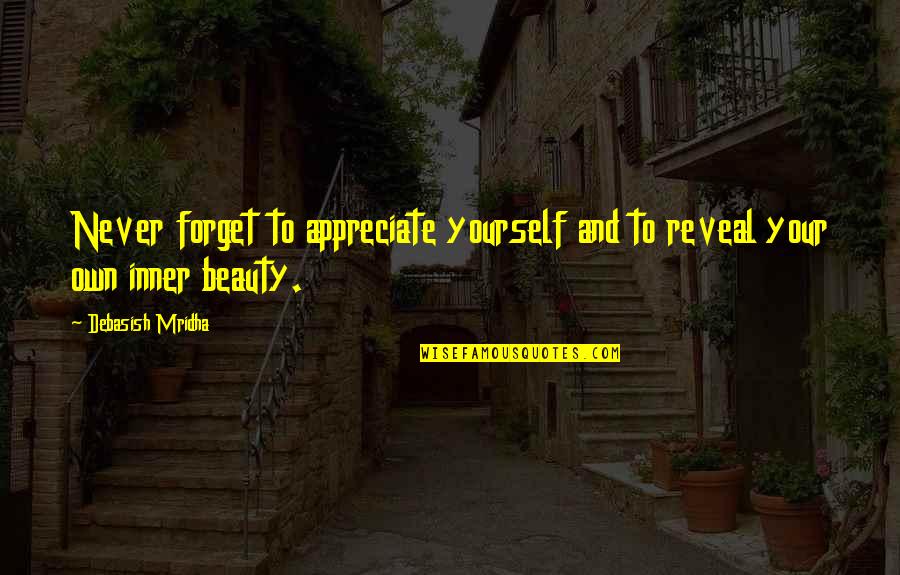 Never forget to appreciate yourself and to reveal your own inner beauty.
—
Debasish Mridha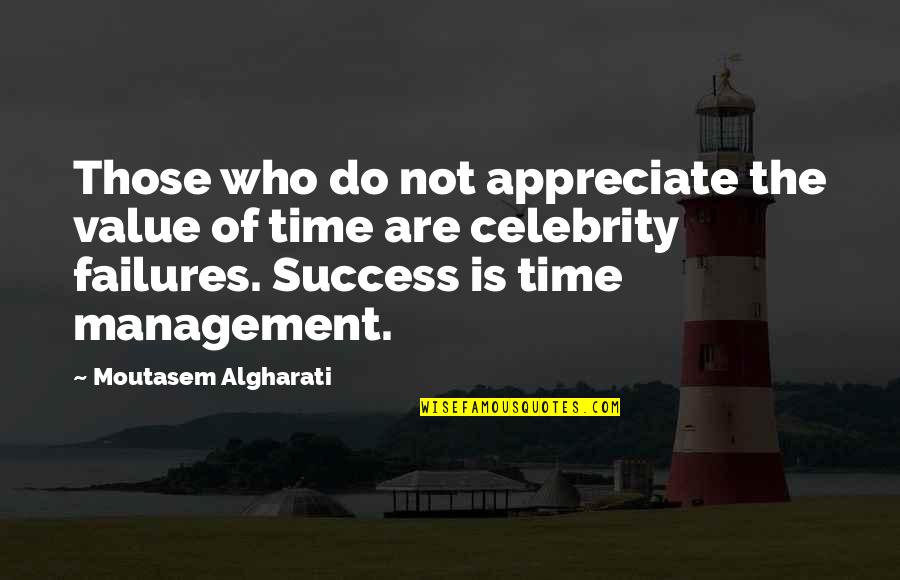 Those who do not appreciate the value of time are celebrity failures. Success is time management.
—
Moutasem Algharati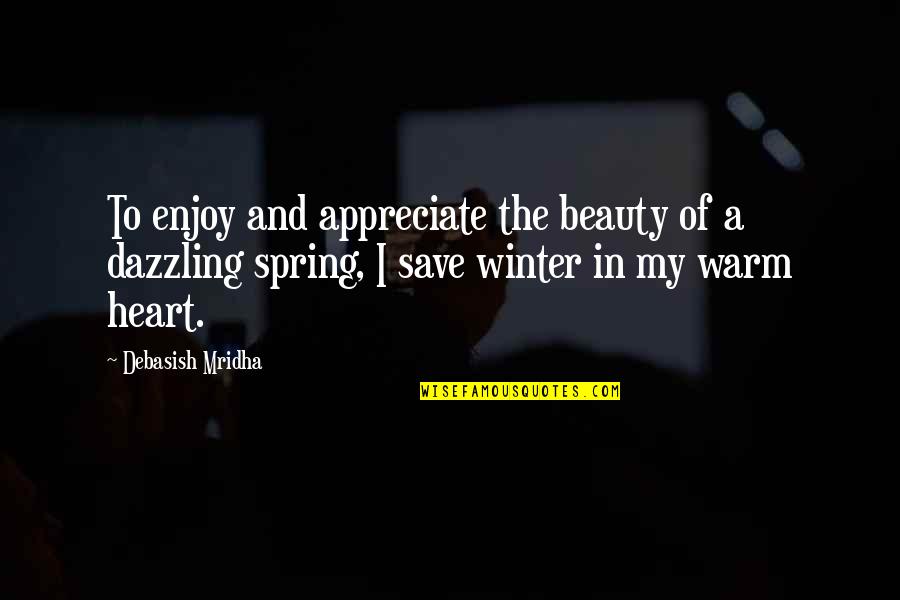 To enjoy and appreciate the beauty of a dazzling spring, I save winter in my warm heart.
—
Debasish Mridha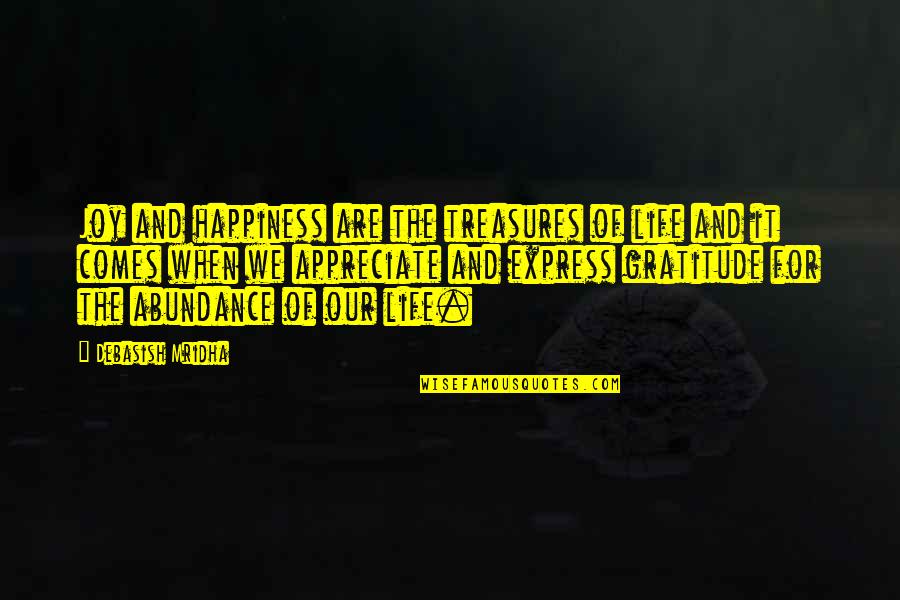 Joy and happiness are the treasures of life and it comes when we appreciate and express gratitude for the abundance of our life.
—
Debasish Mridha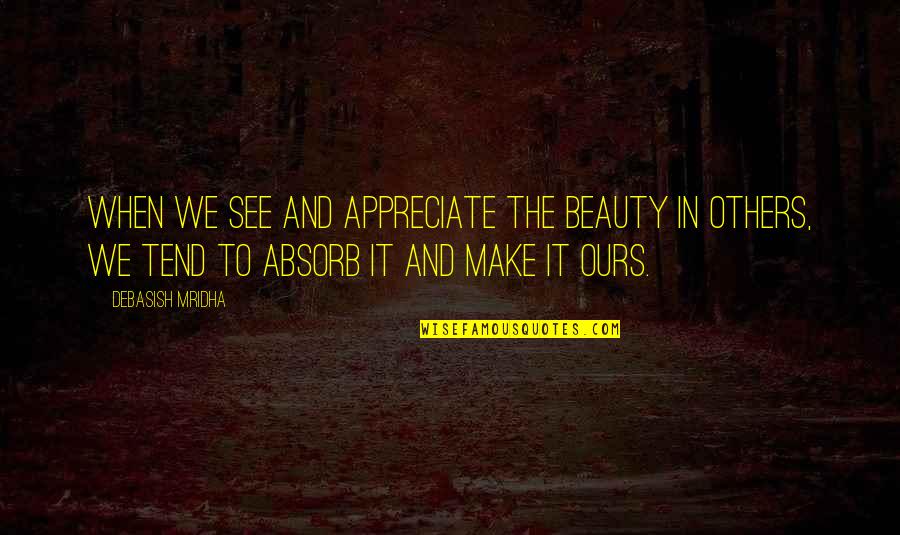 When we see and appreciate the beauty in others, we tend to absorb it and make it ours.
—
Debasish Mridha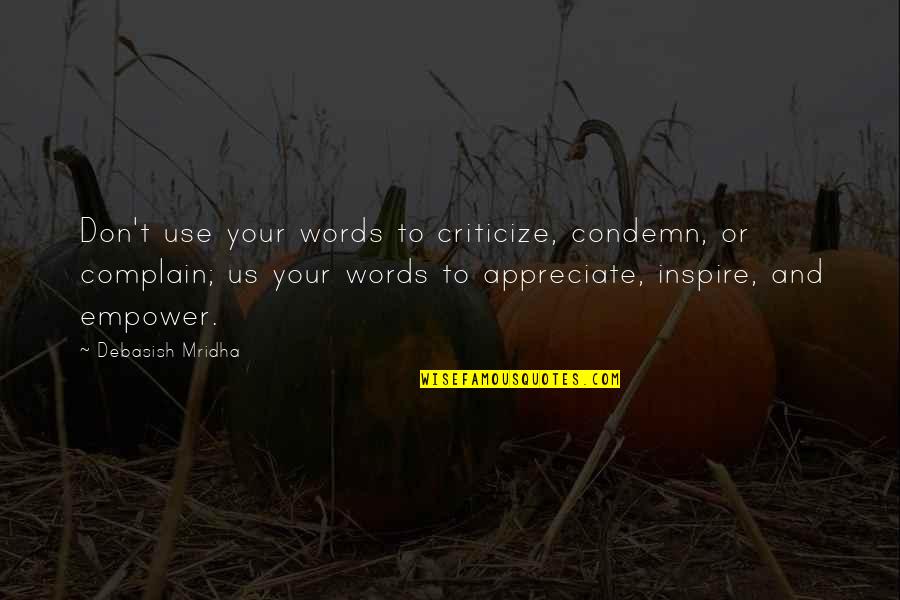 Don't use your words to criticize, condemn, or complain; us your words to appreciate, inspire, and empower.
—
Debasish Mridha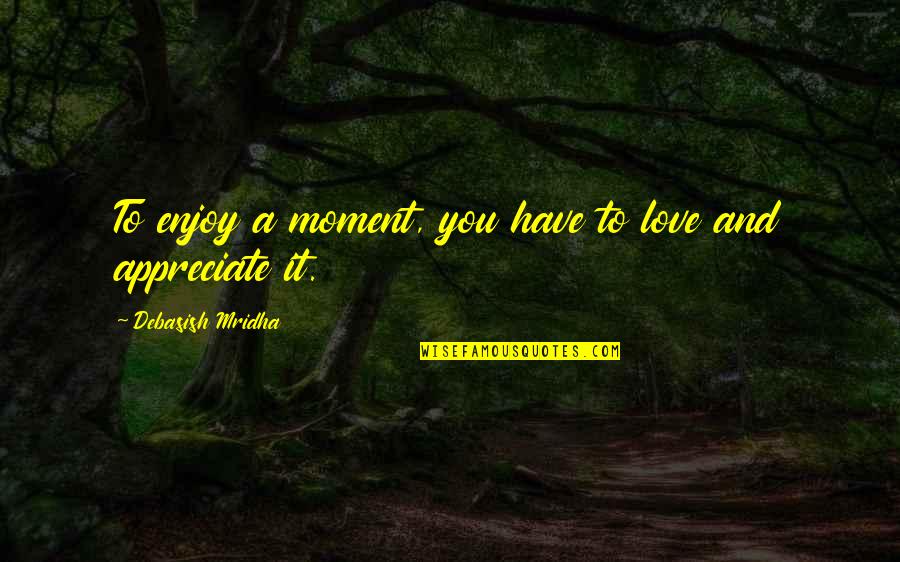 To enjoy a moment, you have to love and appreciate it.
—
Debasish Mridha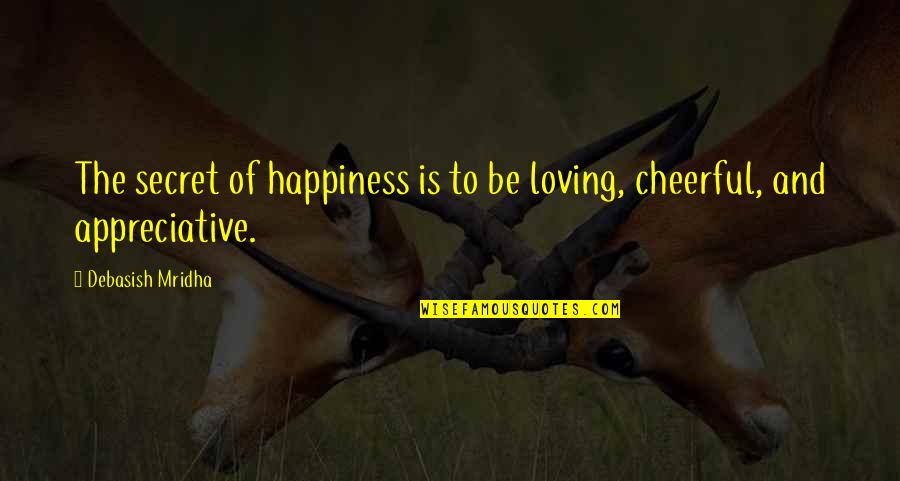 The secret of happiness is to be loving, cheerful, and appreciative.
—
Debasish Mridha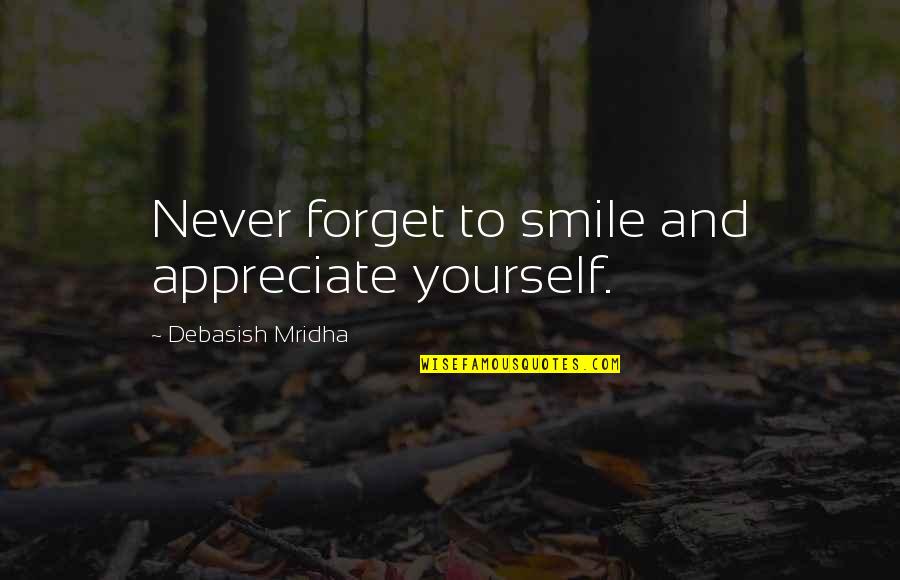 Never forget to smile and appreciate yourself.
—
Debasish Mridha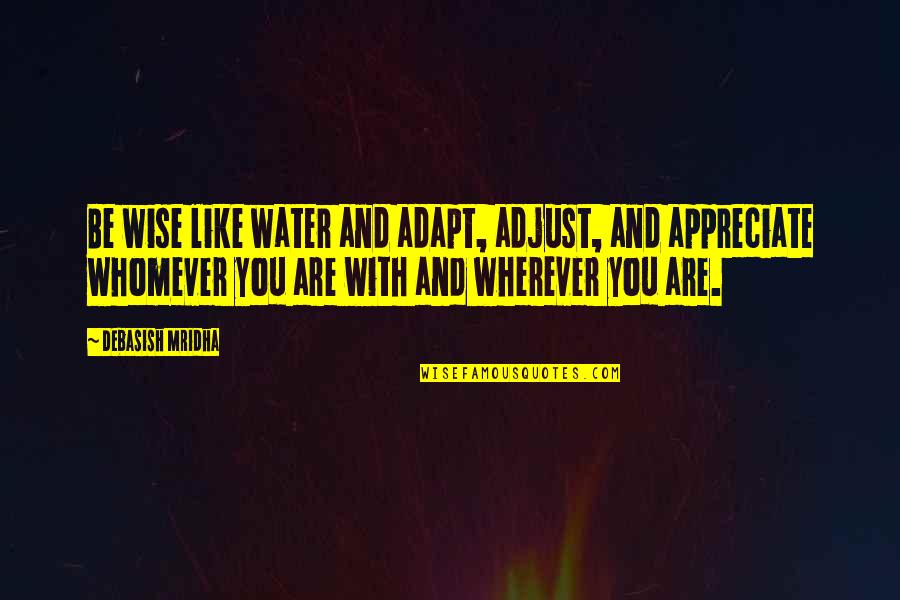 Be wise like water and adapt, adjust, and appreciate whomever you are with and wherever you are.
—
Debasish Mridha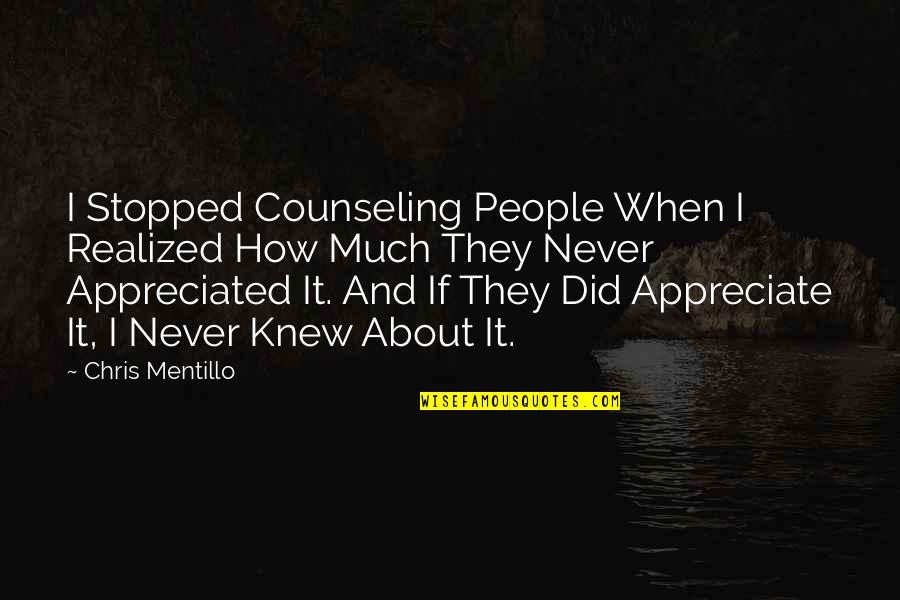 I Stopped Counseling People When I Realized How Much They Never Appreciated It. And If They Did Appreciate It, I Never Knew About It.
—
Chris Mentillo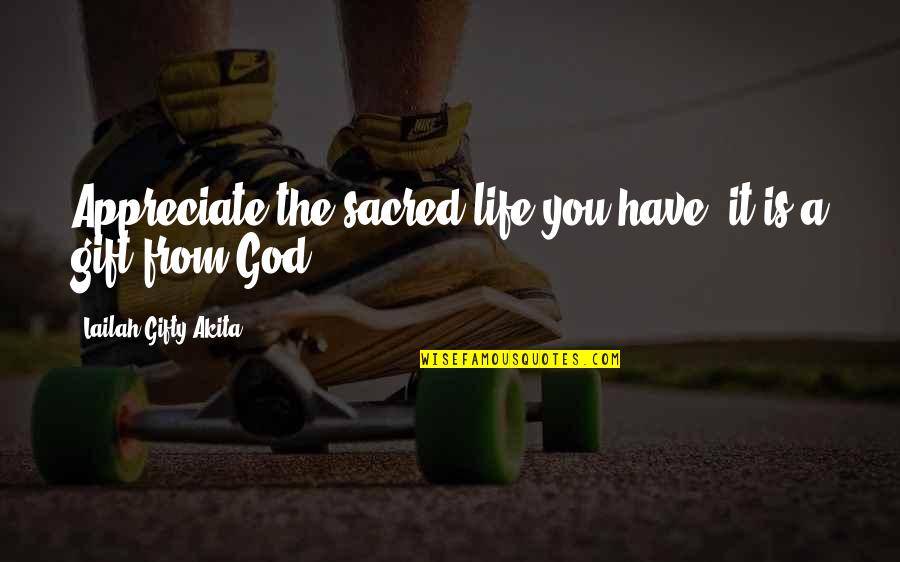 Appreciate the sacred life you have, it is a gift from God.
—
Lailah Gifty Akita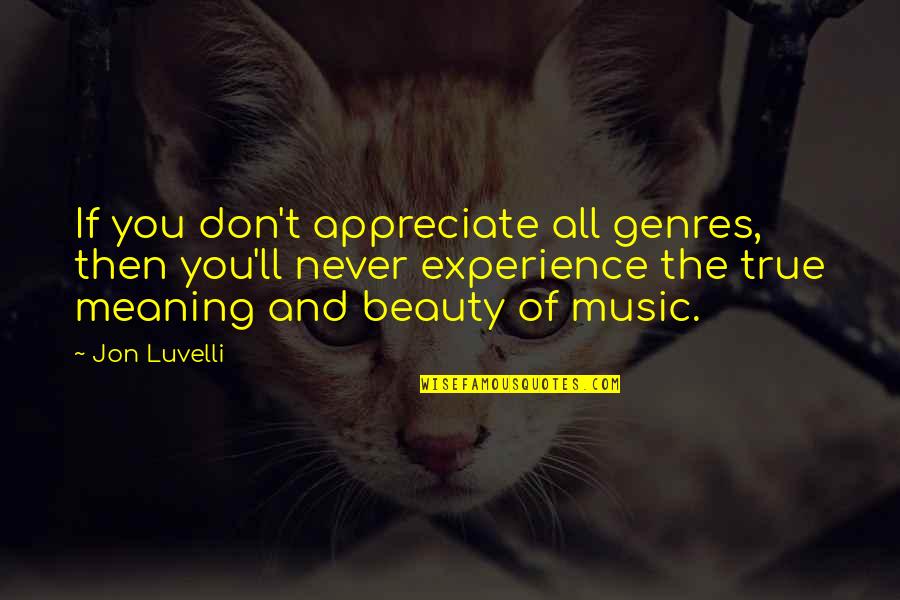 If you don't appreciate all genres, then you'll never experience the true meaning and beauty of music.
—
Jon Luvelli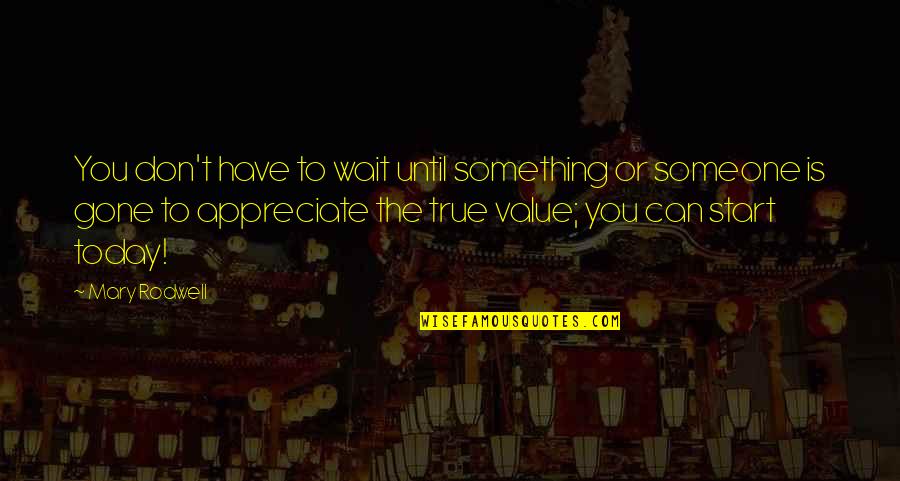 You don't have to wait until something or someone is gone to appreciate the true value; you can start today!
—
Mary Rodwell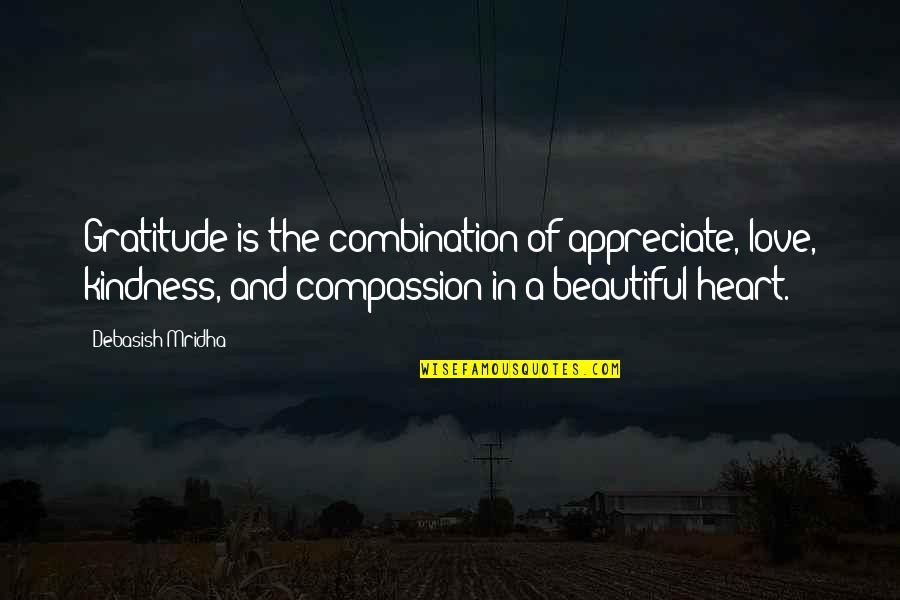 Gratitude is the combination of appreciate, love, kindness, and compassion in a beautiful heart. —
Debasish Mridha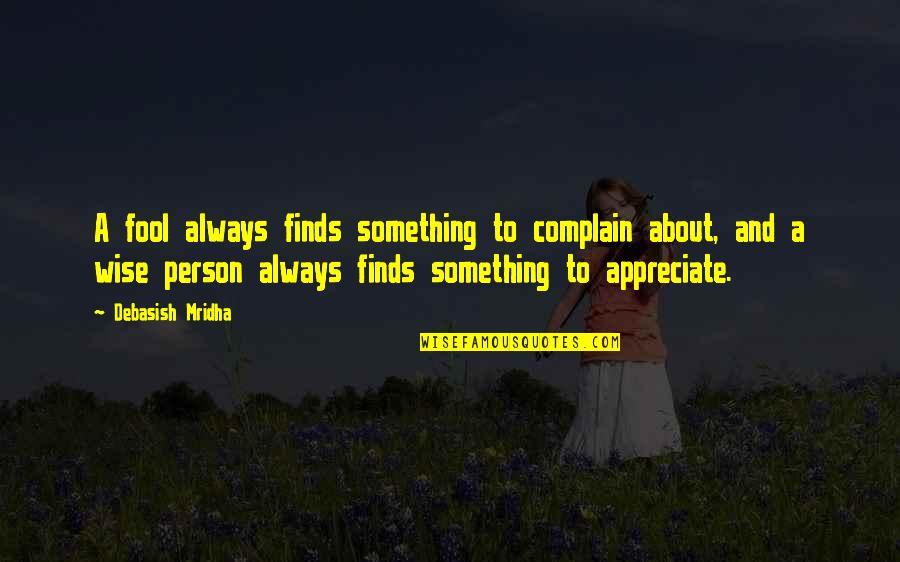 A fool always finds something to complain about, and a wise person always finds something to appreciate. —
Debasish Mridha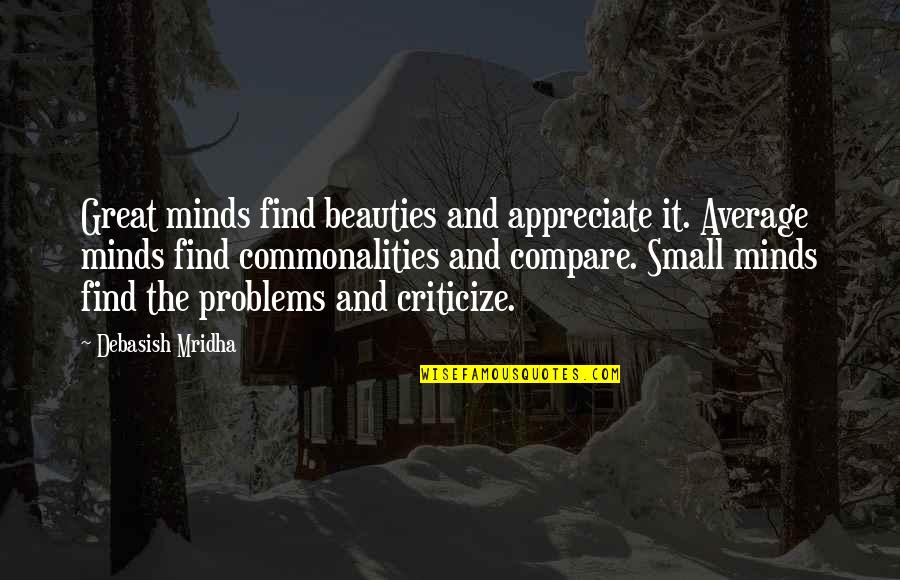 Great minds find beauties and appreciate it. Average minds find commonalities and compare. Small minds find the problems and criticize. —
Debasish Mridha
If I can't sing, then let me listen to the songs of the wilderness and let me watch the dance of a lonely leaf. —
Debasish Mridha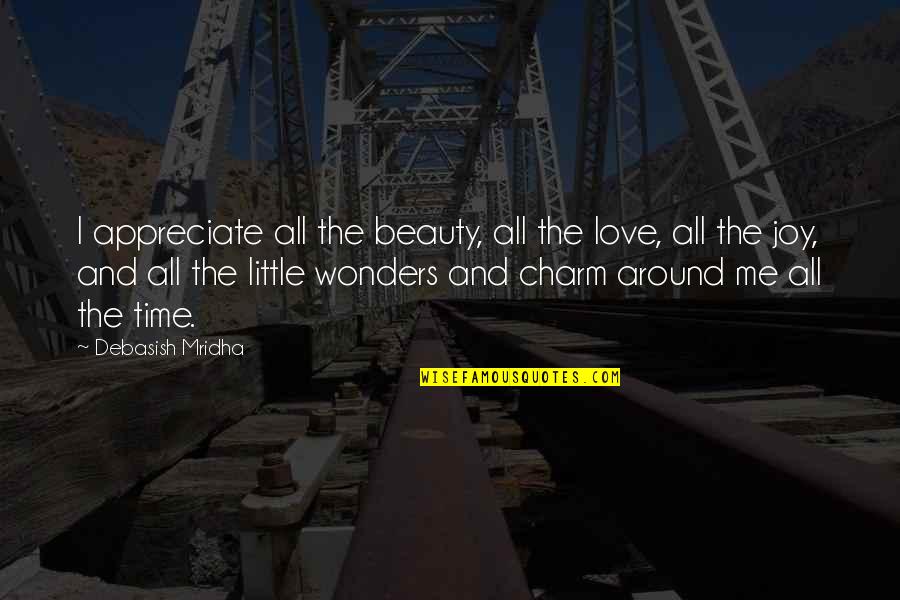 I appreciate all the beauty, all the love, all the joy, and all the little wonders and charm around me all the time. —
Debasish Mridha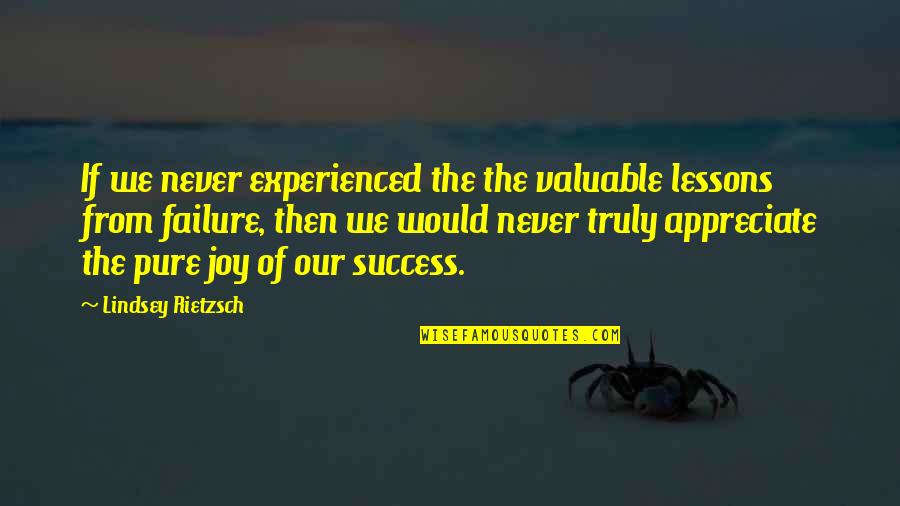 If we never experienced the the valuable lessons from failure, then we would never truly appreciate the pure joy of our success. —
Lindsey Rietzsch
You're here to love and appreciate. —
Debasish Mridha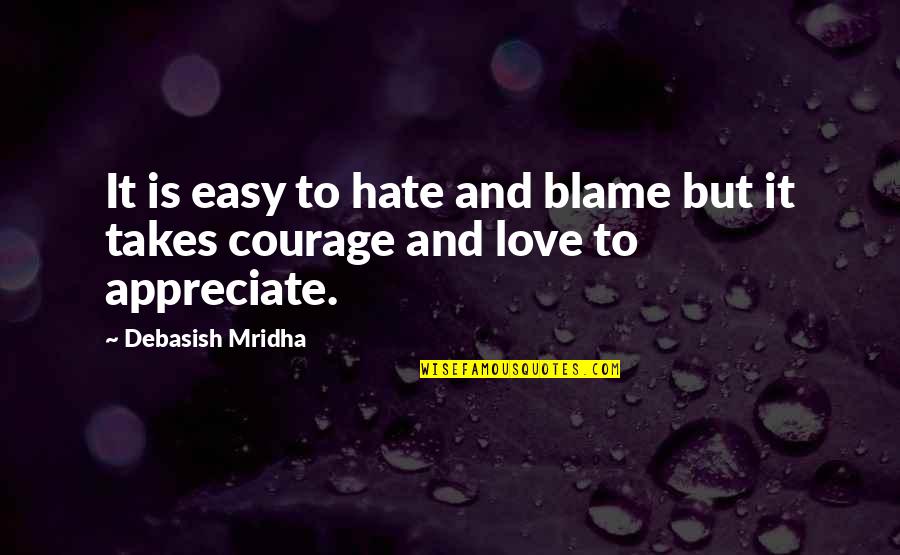 It is easy to hate and blame but it takes courage and love to appreciate. —
Debasish Mridha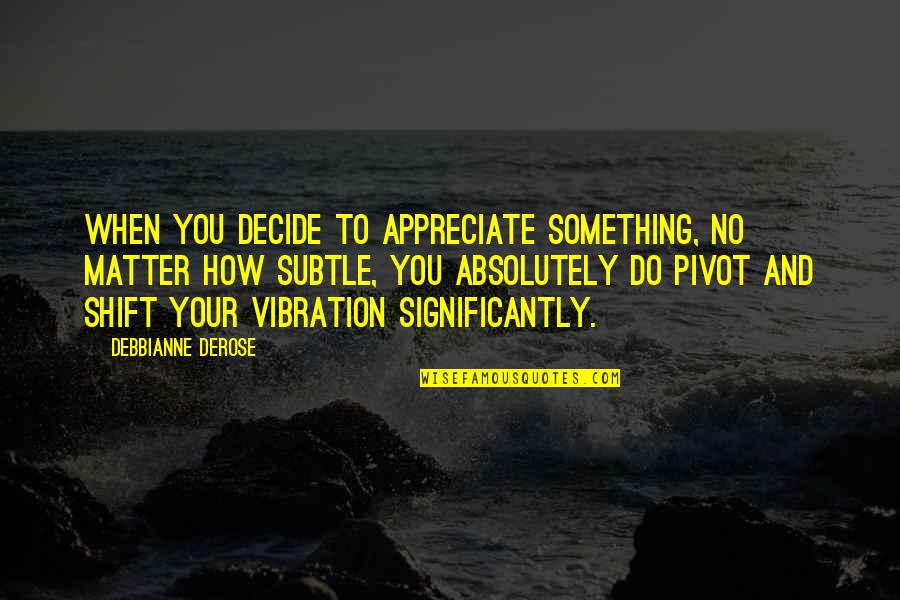 When you decide to appreciate something, no matter how subtle, you absolutely do pivot and shift your vibration significantly. —
Debbianne DeRose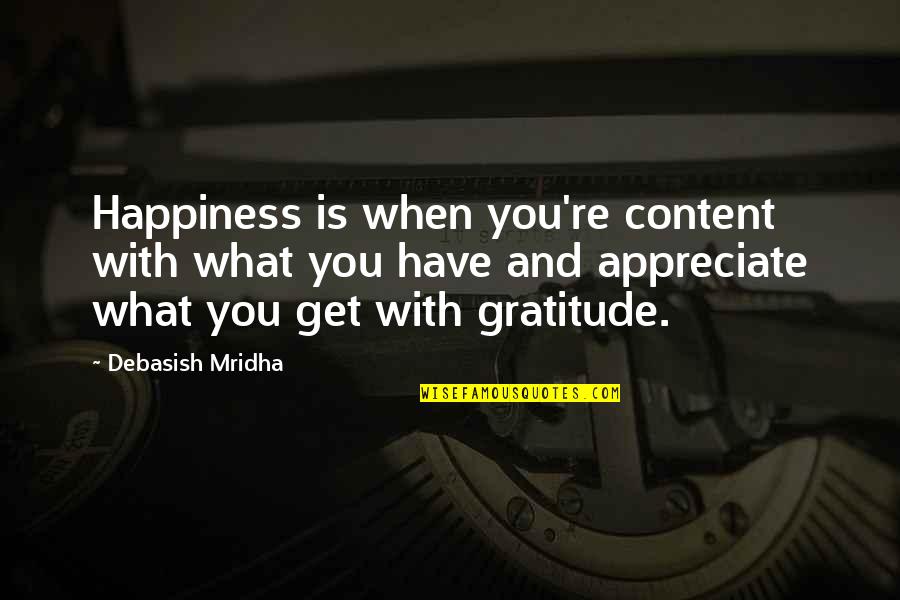 Happiness is when you're content with what you have and appreciate what you get with gratitude. —
Debasish Mridha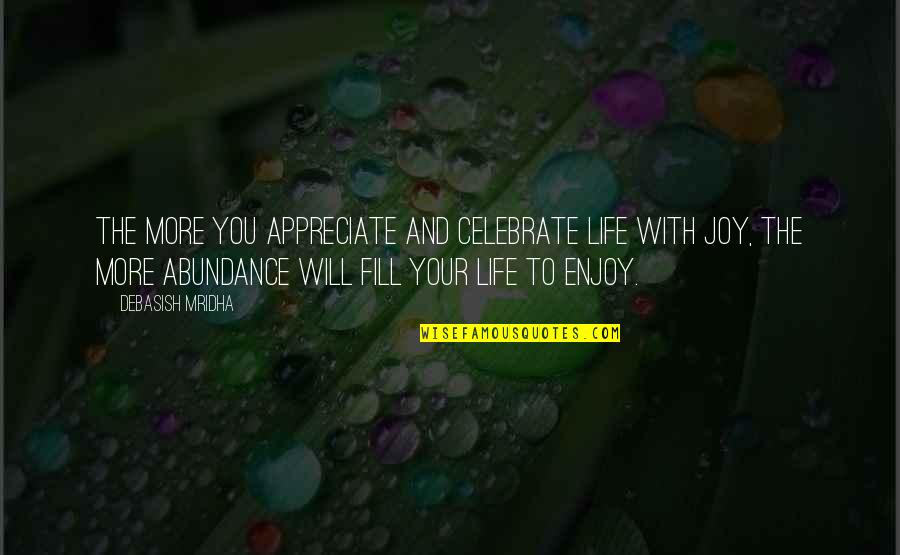 The more you appreciate and celebrate life with joy, the more abundance will fill your life to enjoy. —
Debasish Mridha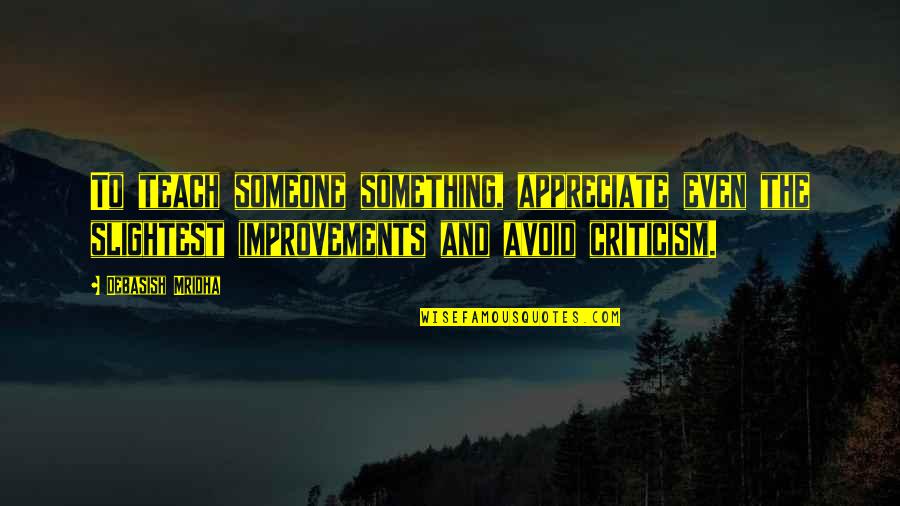 To teach someone something, appreciate even the slightest improvements and avoid criticism. —
Debasish Mridha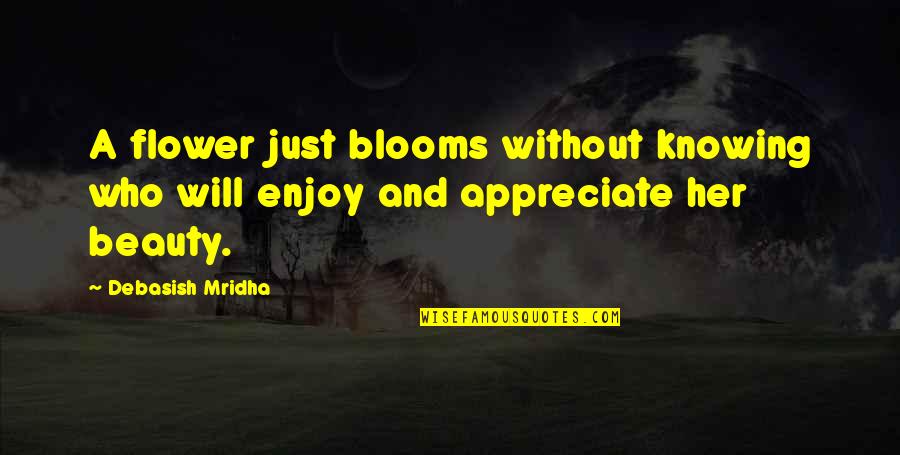 A flower just blooms without knowing who will enjoy and appreciate her beauty. —
Debasish Mridha
Find time to admire and appreciate the glittering lights on snowflakes. —
Debasish Mridha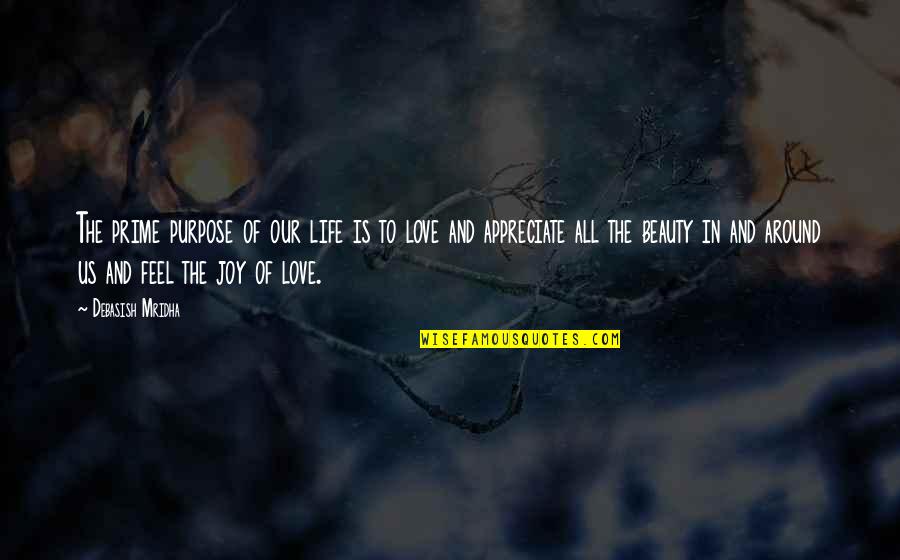 The prime purpose of our life is to love and appreciate all the beauty in and around us and feel the joy of love. —
Debasish Mridha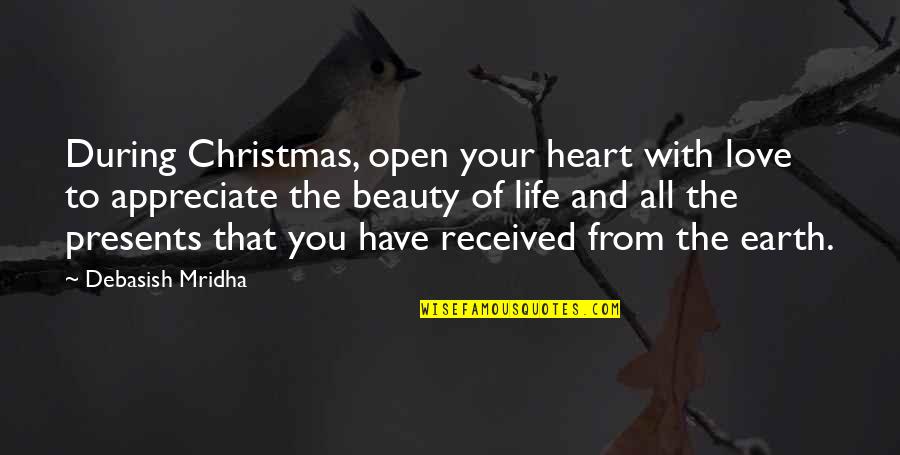 During Christmas, open your heart with love to appreciate the beauty of life and all the presents that you have received from the earth. —
Debasish Mridha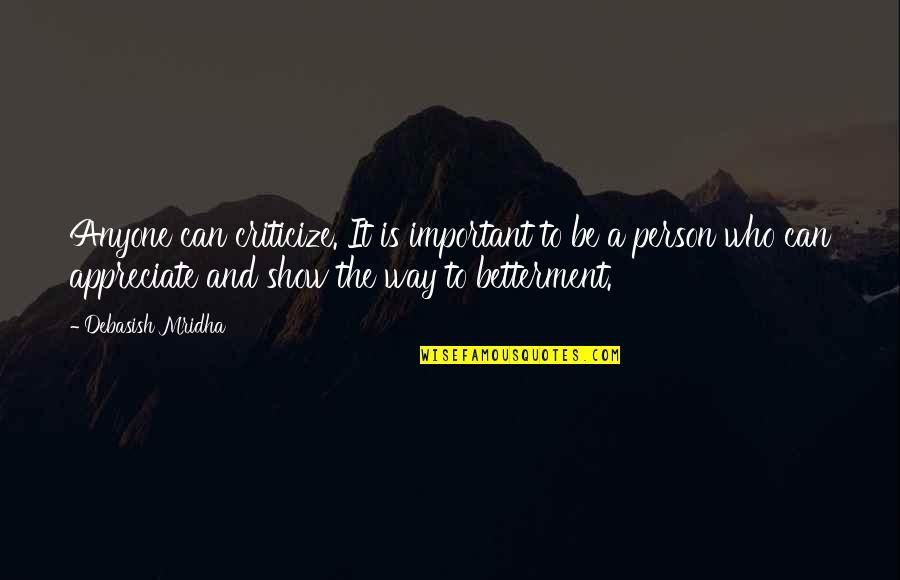 Anyone can criticize. It is important to be a person who can appreciate and show the way to betterment. —
Debasish Mridha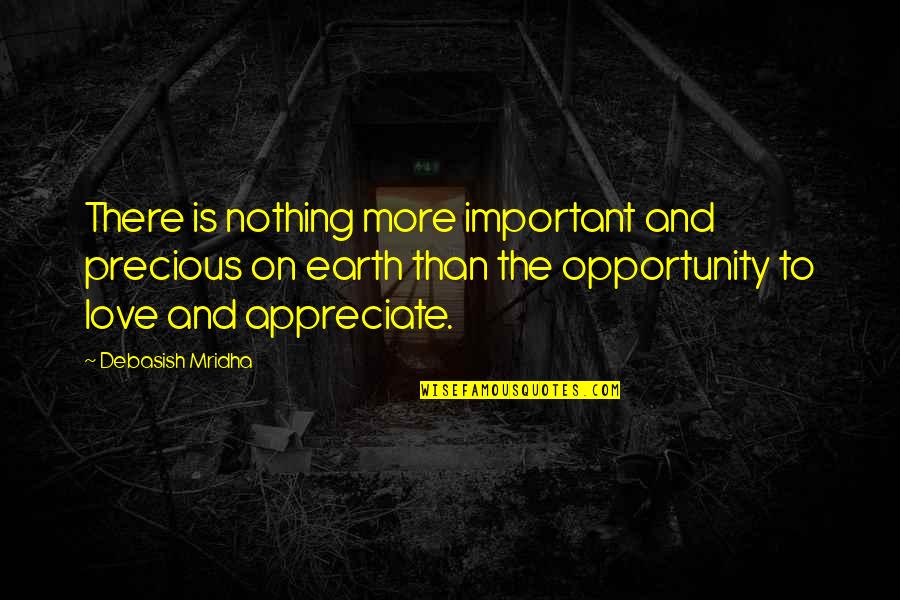 There is nothing more important and precious on earth than the opportunity to love and appreciate. —
Debasish Mridha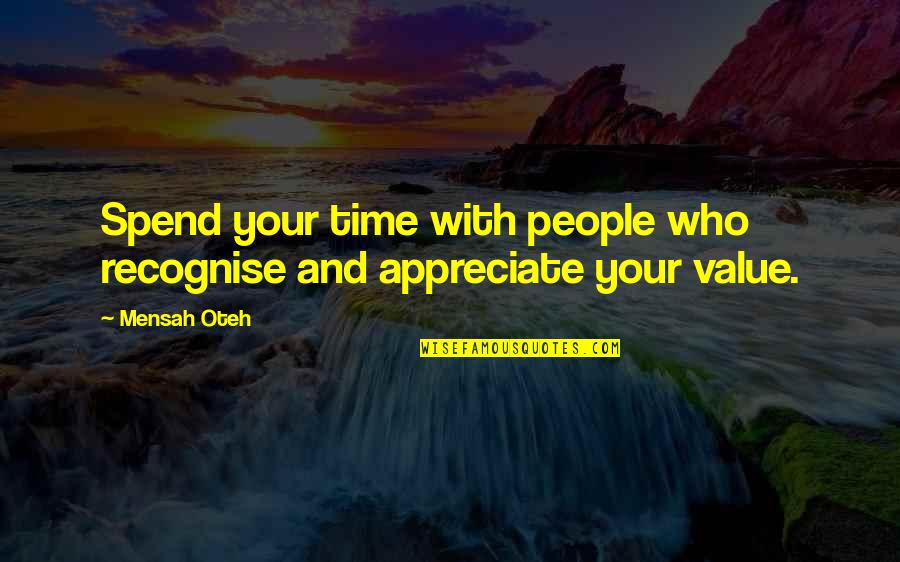 Spend your time with people who recognise and appreciate your value. —
Mensah Oteh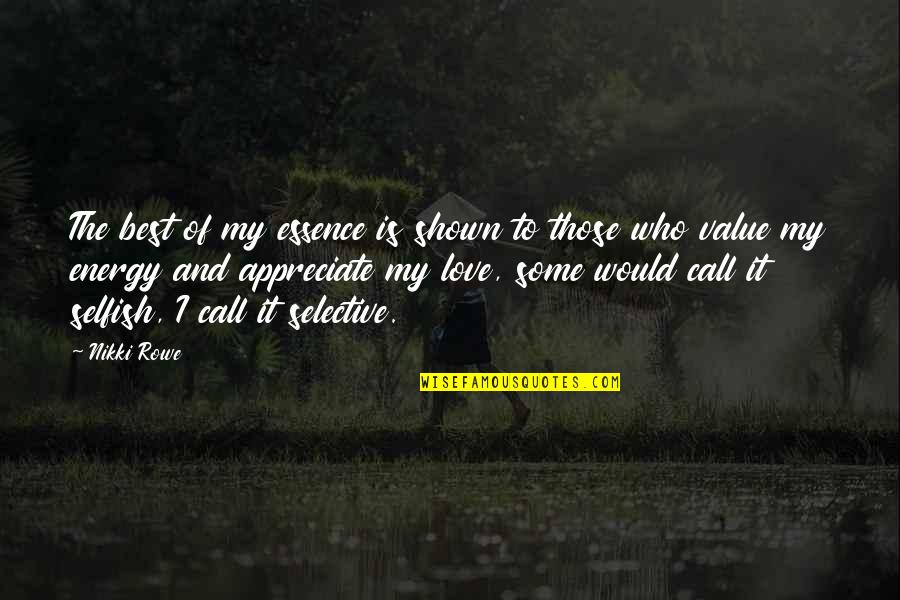 The best of my essence is shown to those who value my energy and appreciate my love, some would call it selfish, I call it selective. —
Nikki Rowe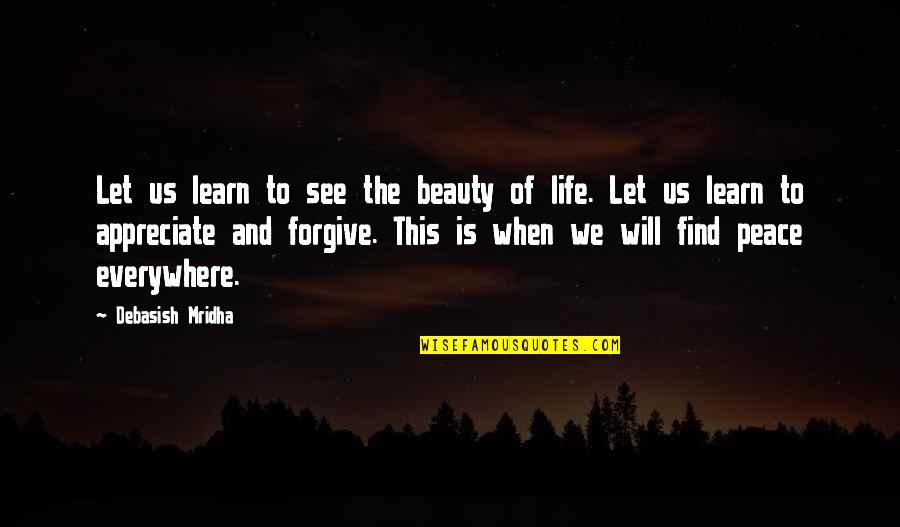 Let us learn to see the beauty of life. Let us learn to appreciate and forgive. This is when we will find peace everywhere. —
Debasish Mridha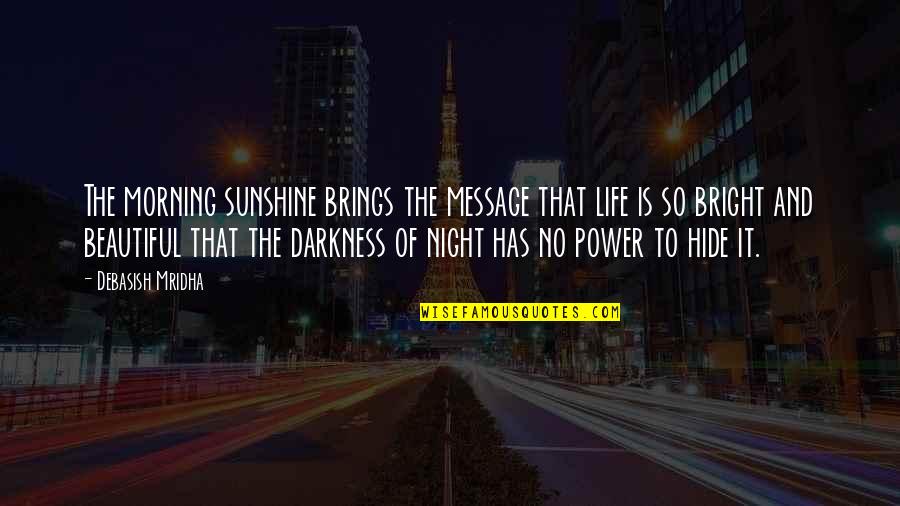 The morning sunshine brings the message that life is so bright and beautiful that the darkness of night has no power to hide it. —
Debasish Mridha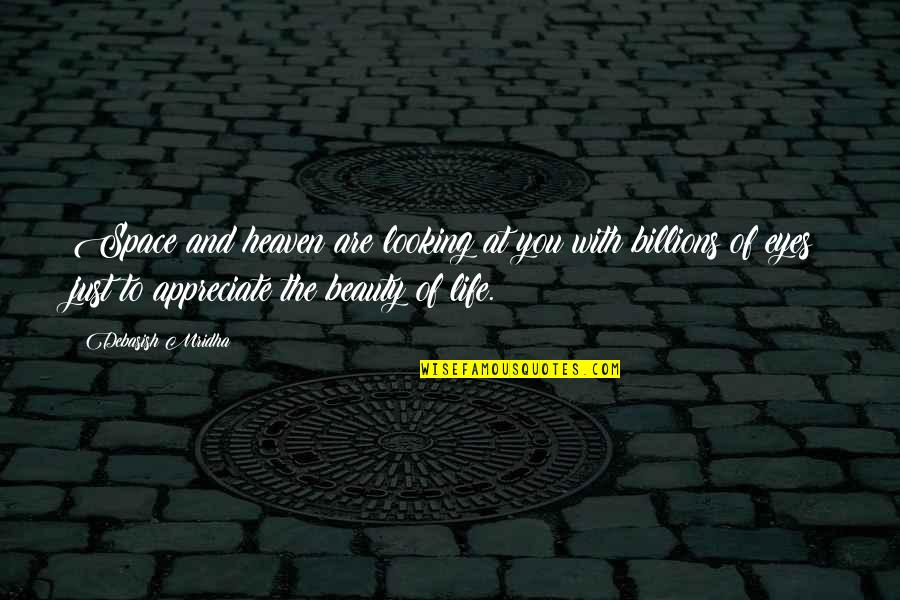 Space and heaven are looking at you with billions of eyes just to appreciate the beauty of life. —
Debasish Mridha
Walk in love and you will appreciate people for who they are. —
Mensah Oteh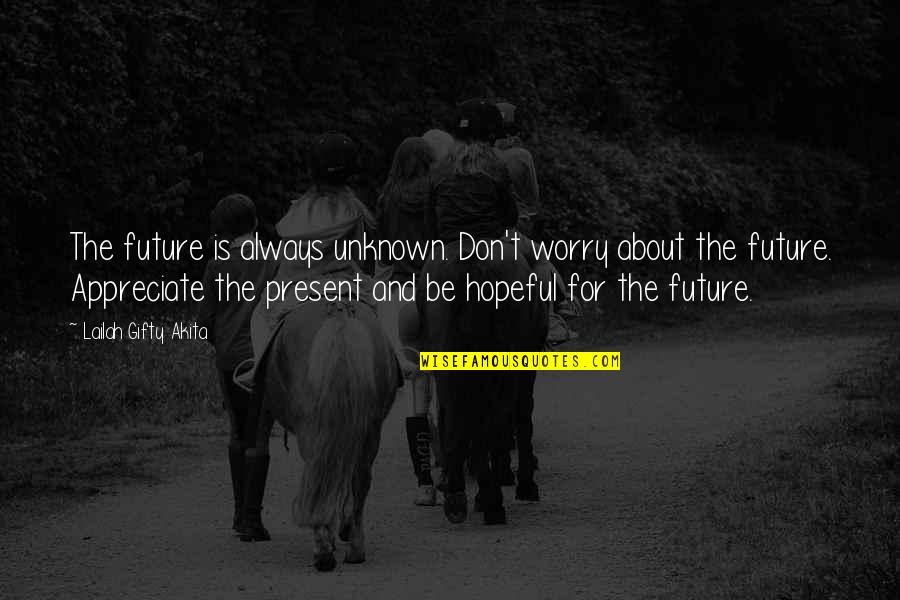 The future is always unknown. Don't worry about the future. Appreciate the present and be hopeful for the future. —
Lailah Gifty Akita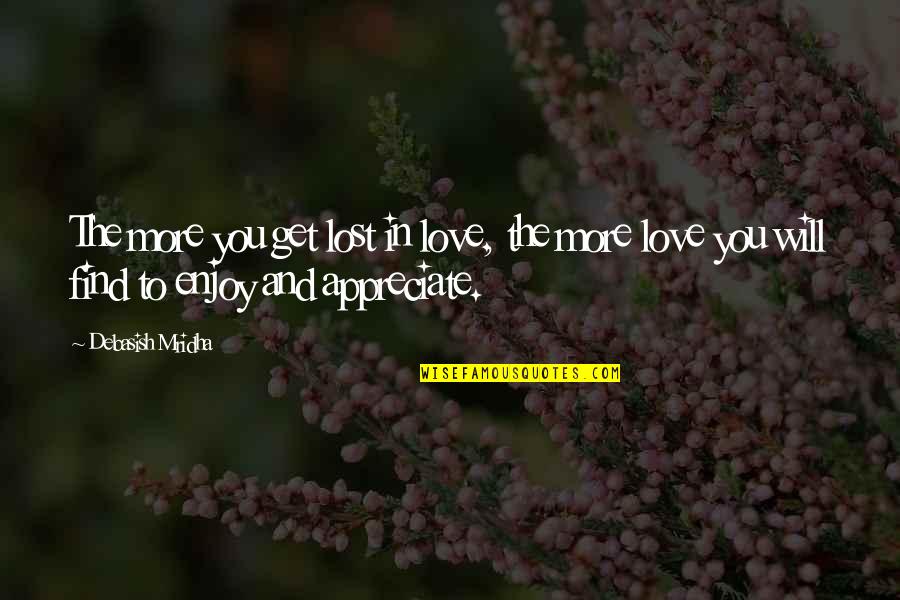 The more you get lost in love, the more love you will find to enjoy and appreciate. —
Debasish Mridha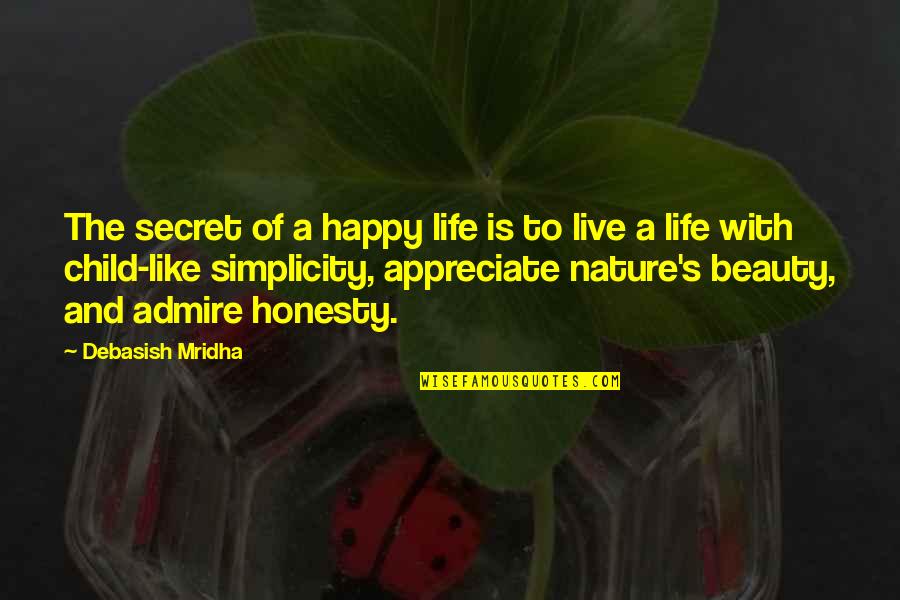 The secret of a happy life is to live a life with child-like simplicity, appreciate nature's beauty, and admire honesty. —
Debasish Mridha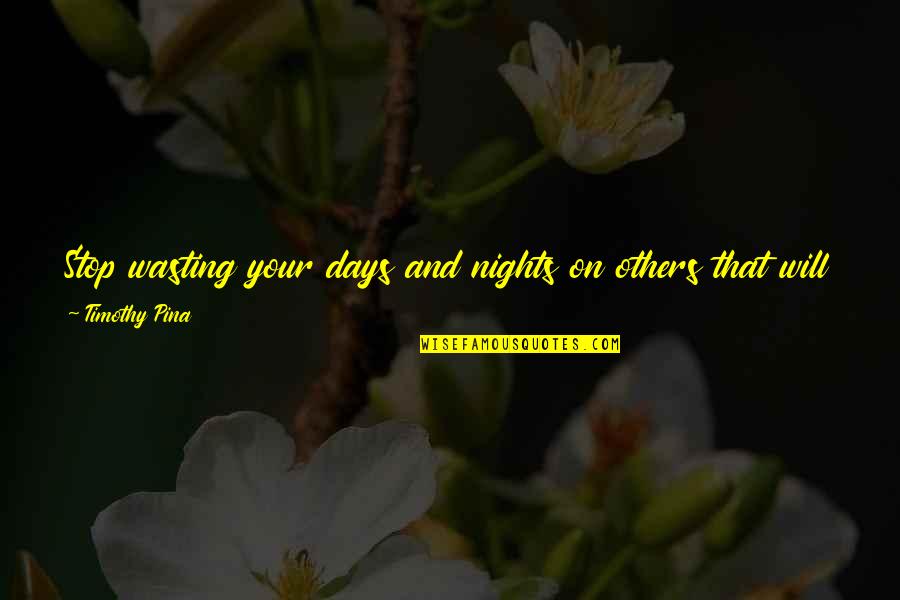 Stop wasting your days and nights on others that will never appreciate you and all hat you do. Try wasting them on yourself instead! —
Timothy Pina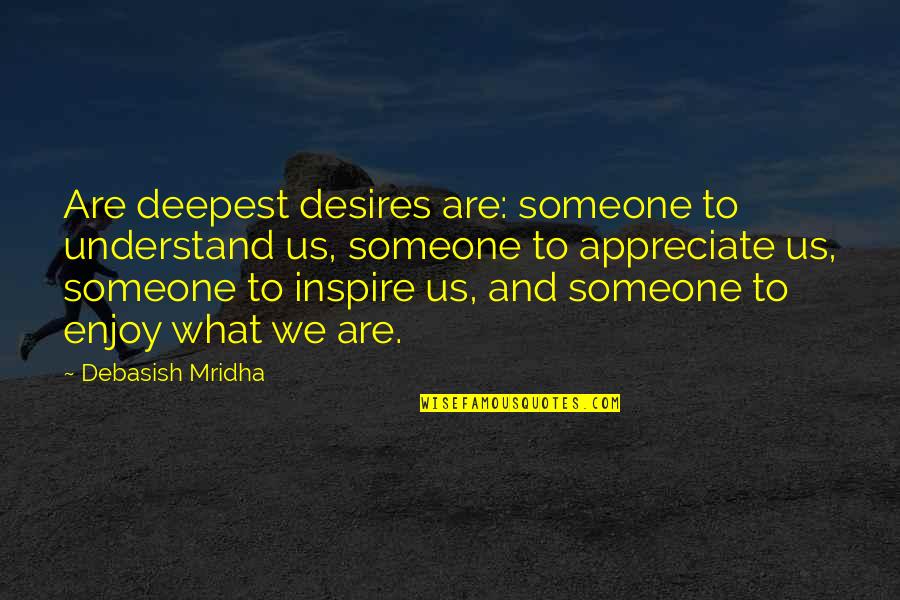 Are deepest desires are: someone to understand us, someone to appreciate us, someone to inspire us, and someone to enjoy what we are. —
Debasish Mridha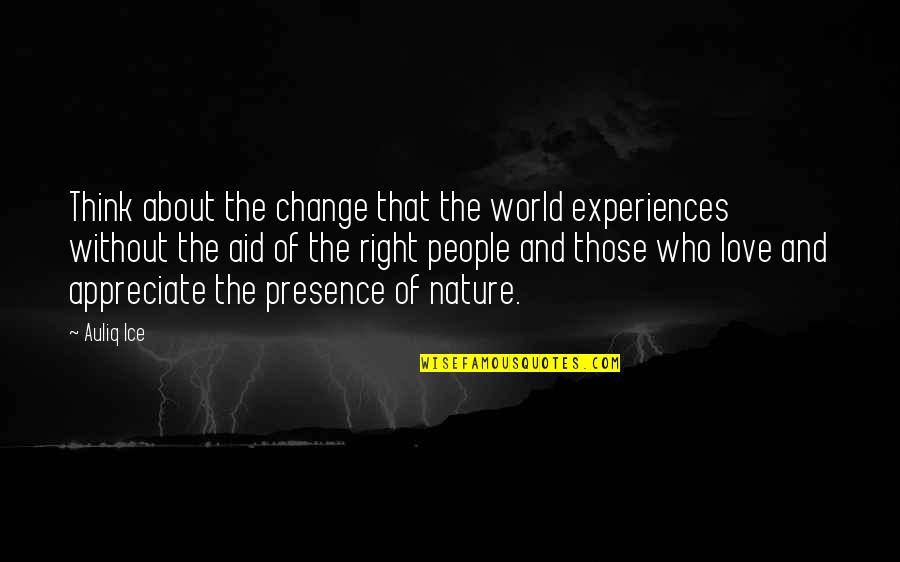 Think about the change that the world experiences without the aid of the right people and those who love and appreciate the presence of nature. —
Auliq Ice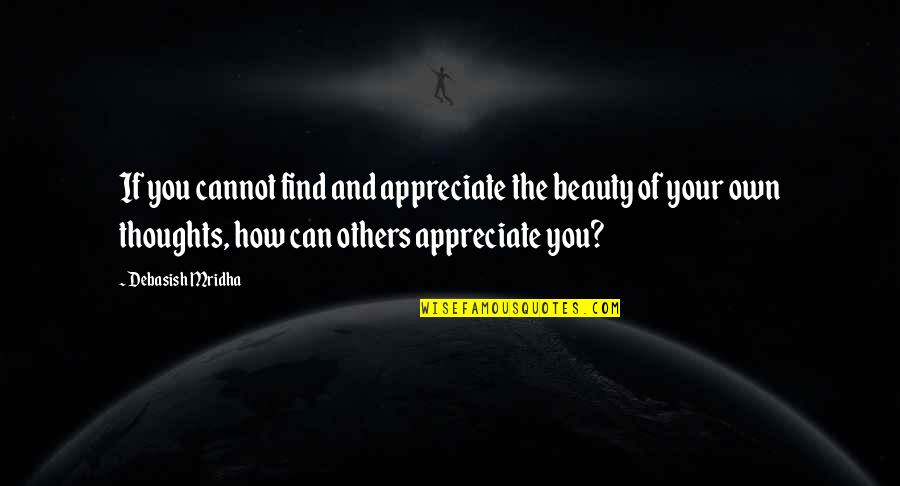 If you cannot find and appreciate the beauty of your own thoughts, how can others appreciate you? —
Debasish Mridha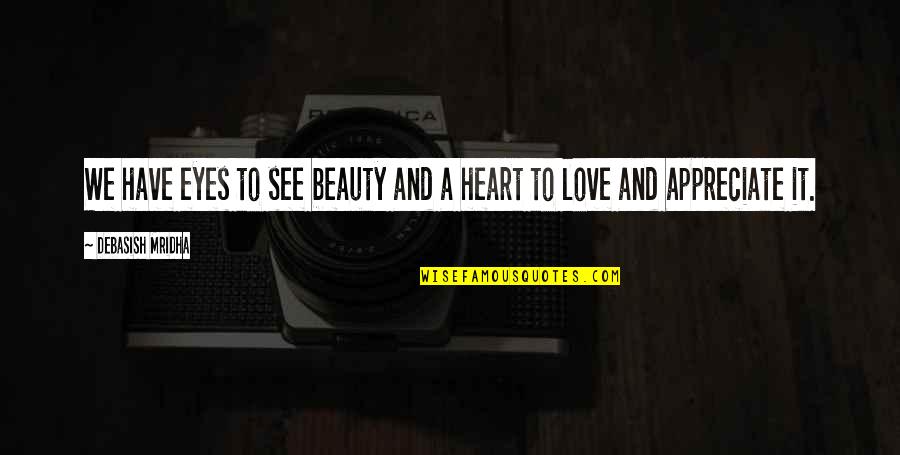 We have eyes to see beauty and a heart to love and appreciate it. —
Debasish Mridha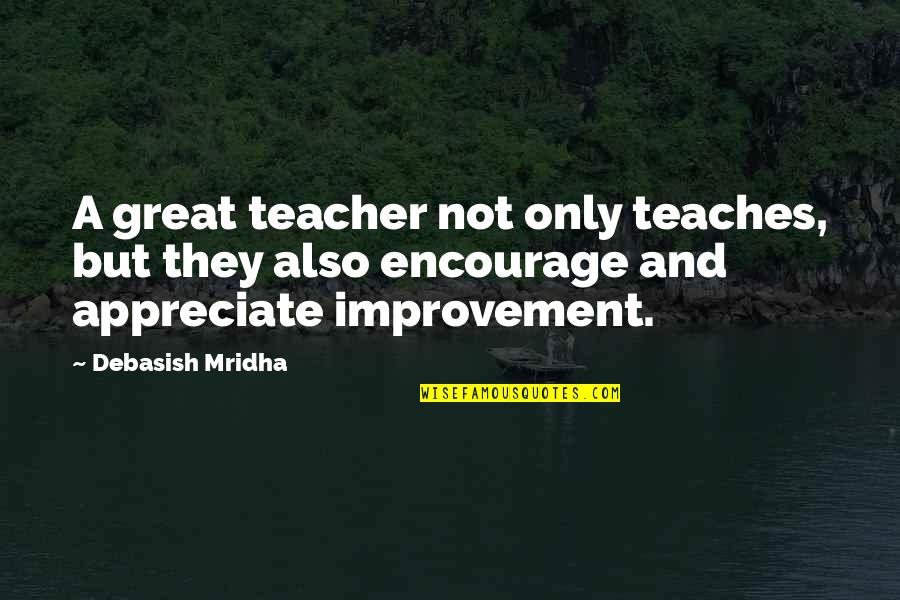 A great teacher not only teaches, but they also encourage and appreciate improvement. —
Debasish Mridha
I can't tell whether a revived man would appreciate his second chance or yearn for the stolen serenity. —
Ahmed Mostafa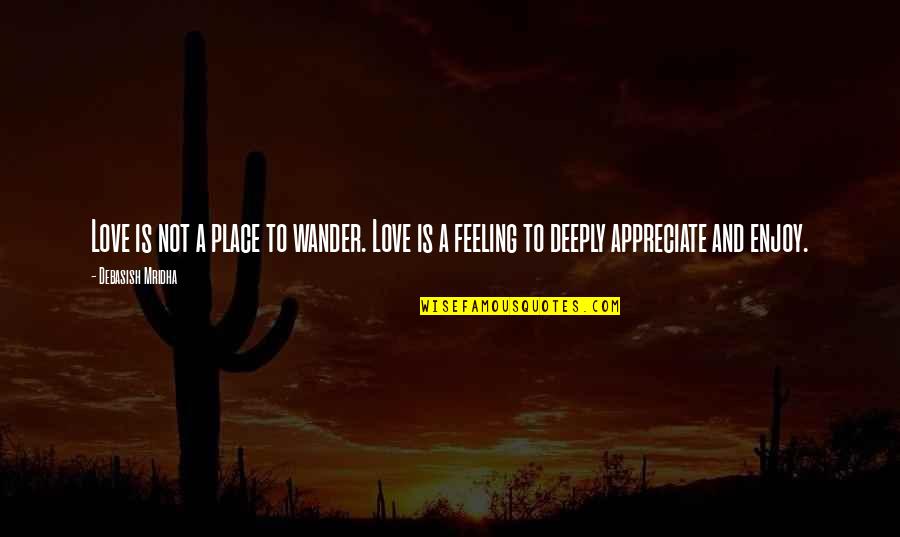 Love is not a place to wander. Love is a feeling to deeply appreciate and enjoy. —
Debasish Mridha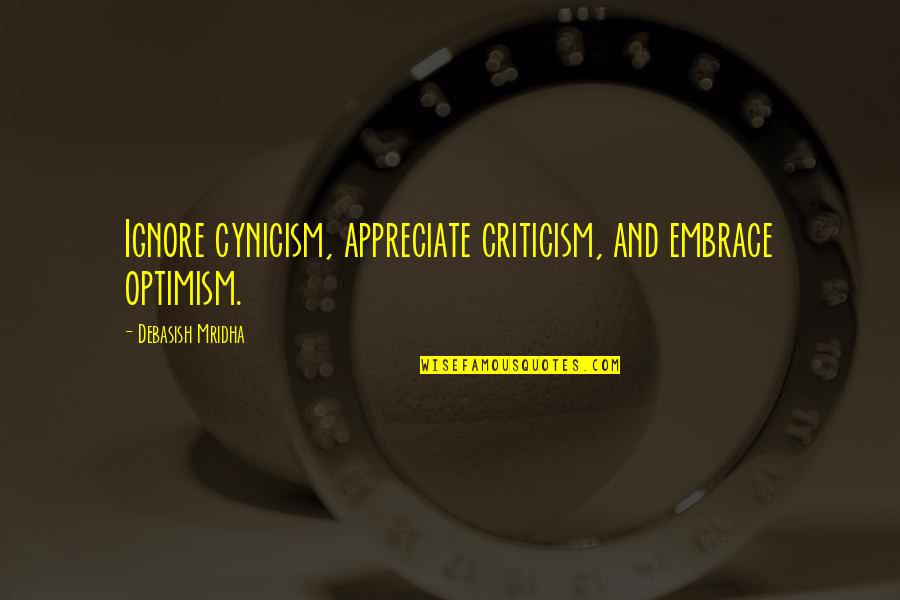 Ignore cynicism, appreciate criticism, and embrace optimism. —
Debasish Mridha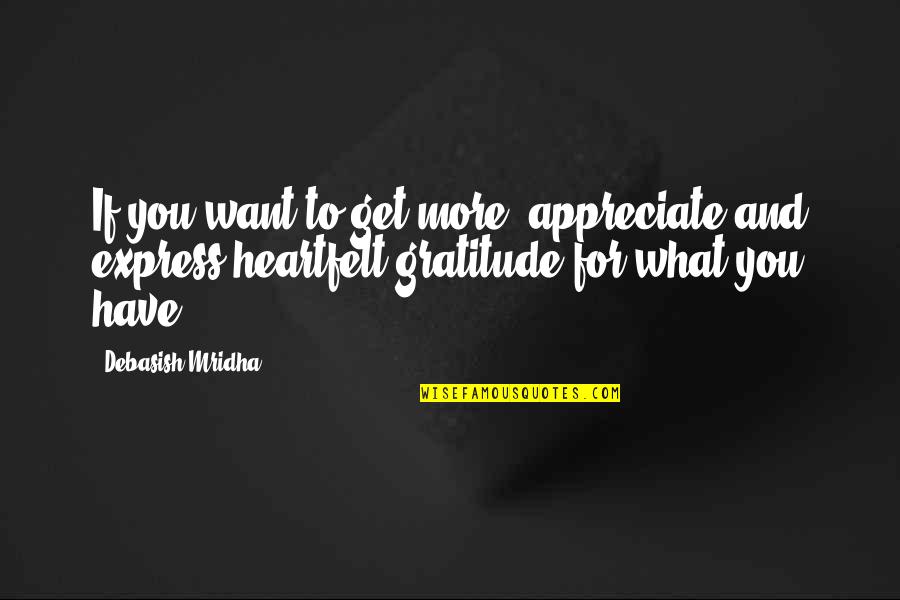 If you want to get more, appreciate and express heartfelt gratitude for what you have. —
Debasish Mridha
Let us remember that telling the people we love that we love them and appreciate them is a gift that lasts longer than any shiny bauble you can give. —
Genevieve Gerard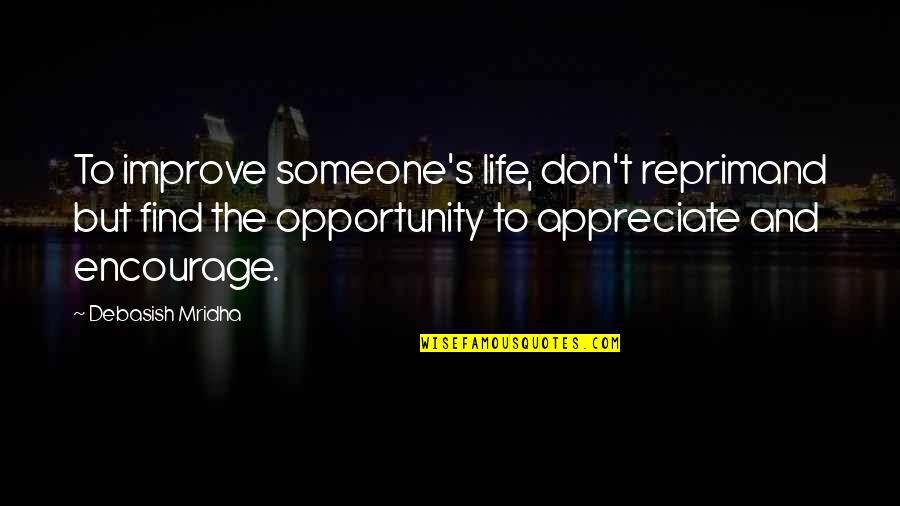 To improve someone's life, don't reprimand but find the opportunity to appreciate and encourage. —
Debasish Mridha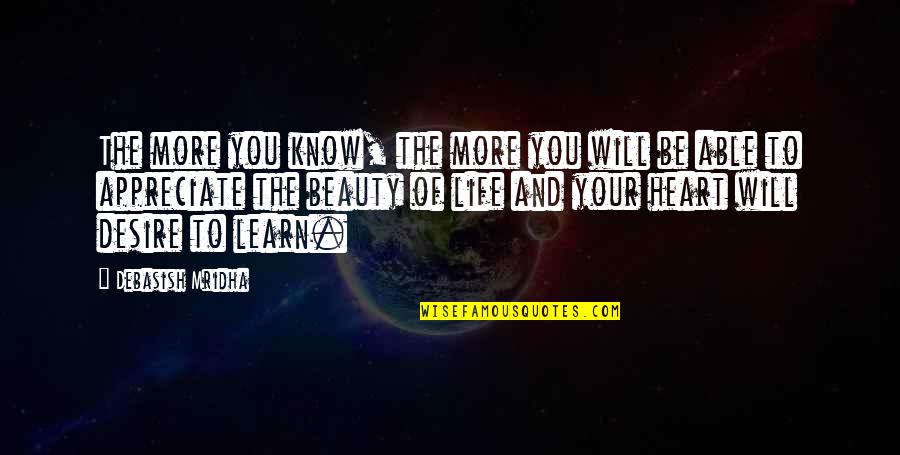 The more you know, the more you will be able to appreciate the beauty of life and your heart will desire to learn. —
Debasish Mridha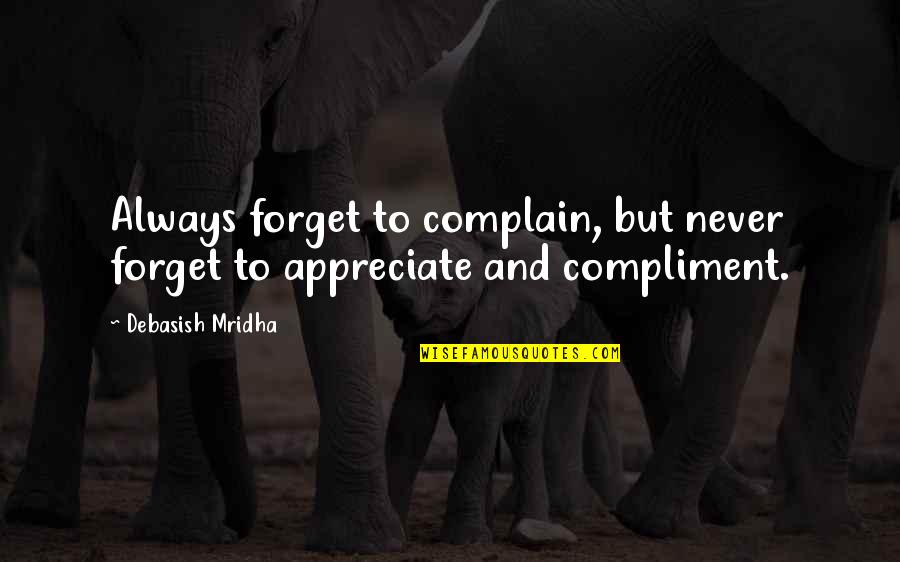 Always forget to complain, but never forget to appreciate and compliment. —
Debasish Mridha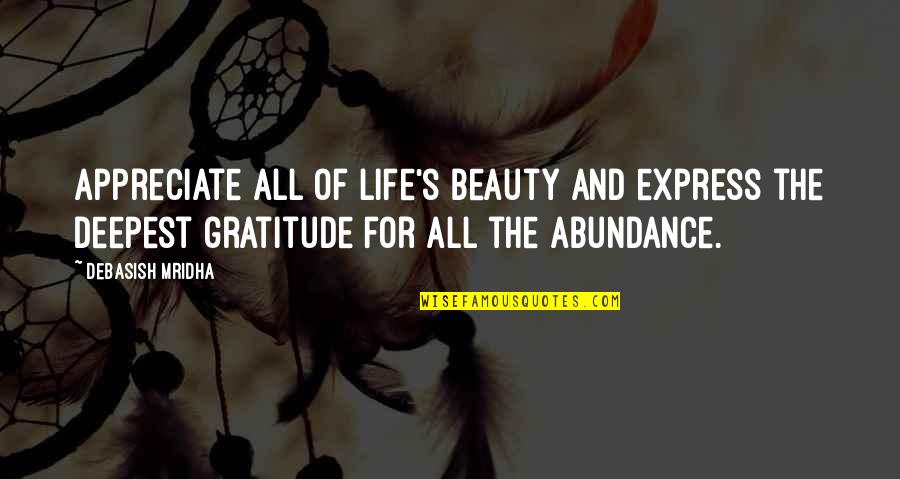 Appreciate all of life's beauty and express the deepest gratitude for all the abundance. —
Debasish Mridha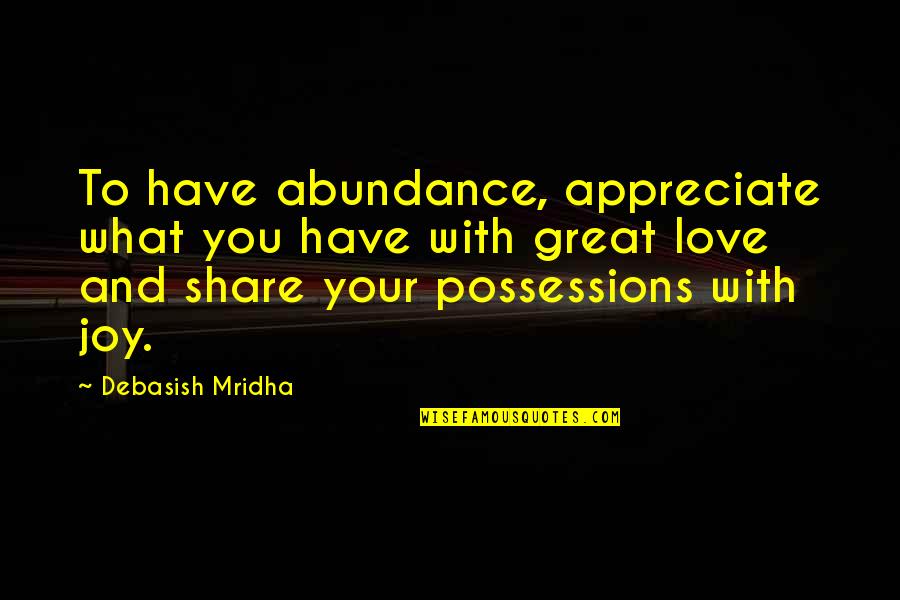 To have abundance, appreciate what you have with great love and share your possessions with joy. —
Debasish Mridha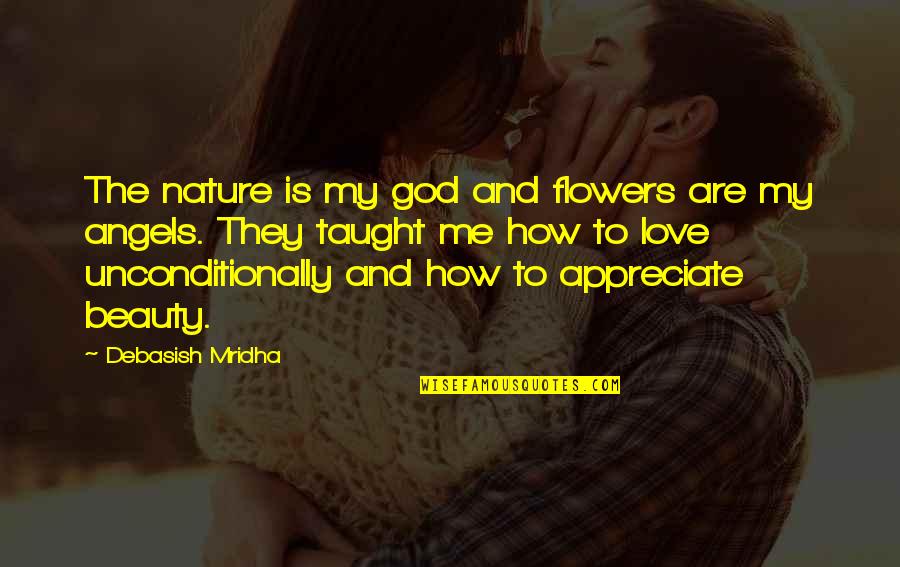 The nature is my god and flowers are my angels. They taught me how to love unconditionally and how to appreciate beauty. —
Debasish Mridha
Appreciate every little beautiful moment in every day of your life. Give it a try and you'll see the world from another perspective. —
Thea Kristine May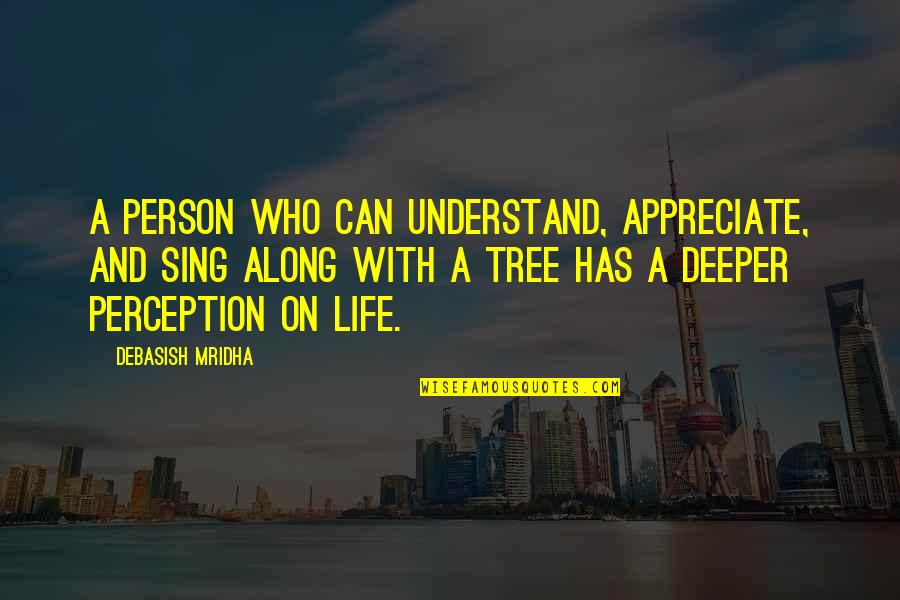 A person who can understand, appreciate, and sing along with a tree has a deeper perception on life. —
Debasish Mridha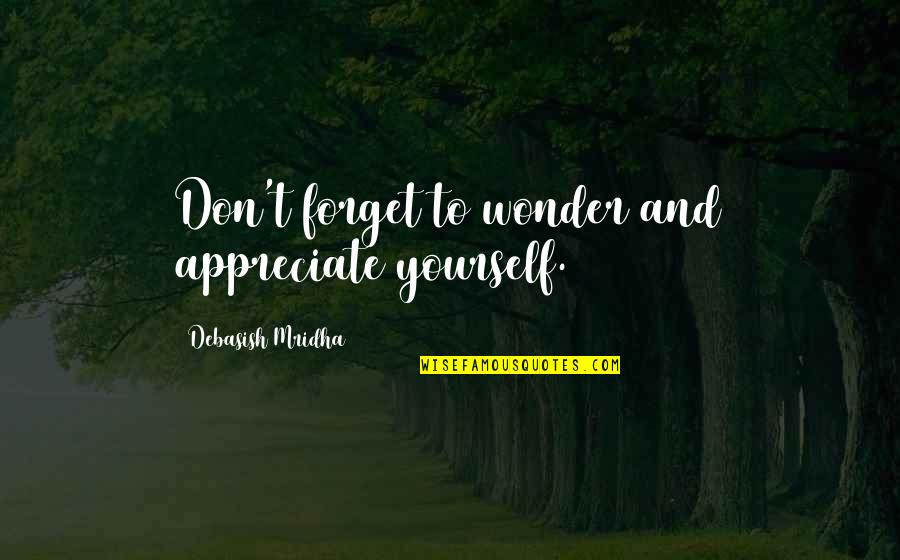 Don't forget to wonder and appreciate yourself. —
Debasish Mridha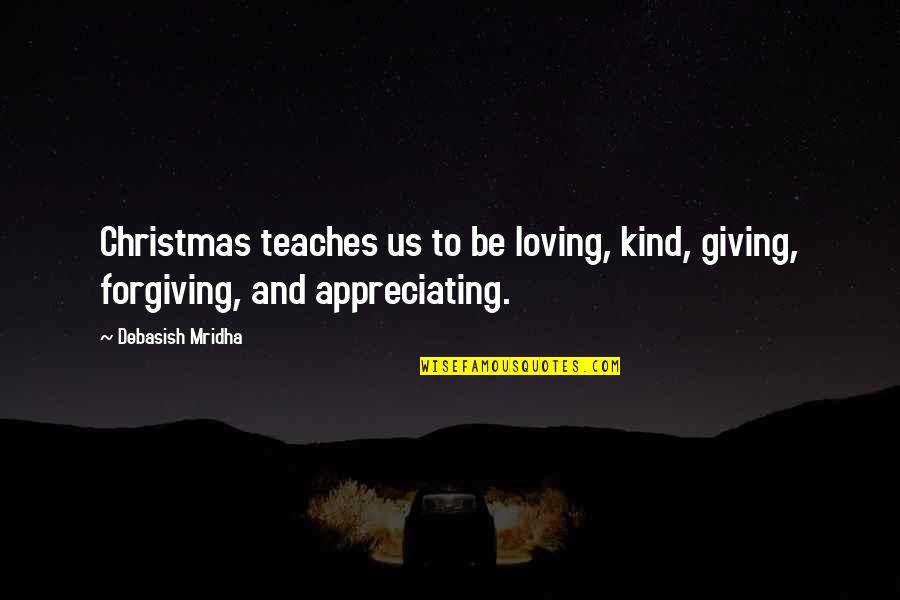 Christmas teaches us to be loving, kind, giving, forgiving, and appreciating. —
Debasish Mridha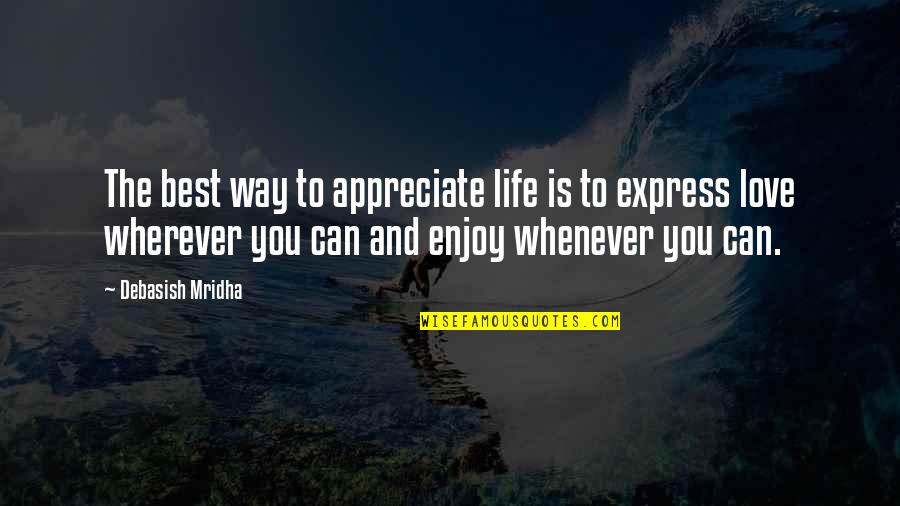 The best way to appreciate life is to express love wherever you can and enjoy whenever you can. —
Debasish Mridha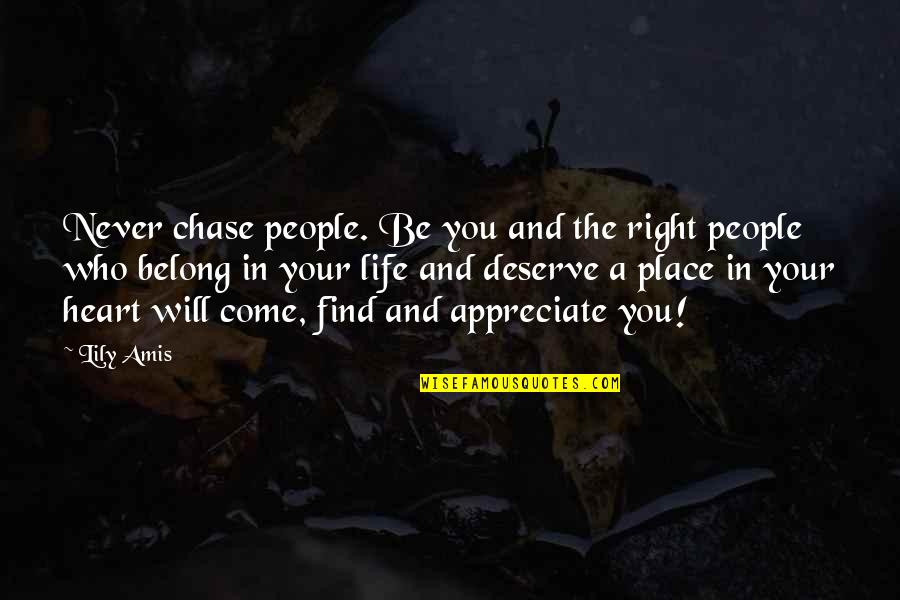 Never chase people. Be you and the right people who belong in your life and deserve a place in your heart will come, find and appreciate you! —
Lily Amis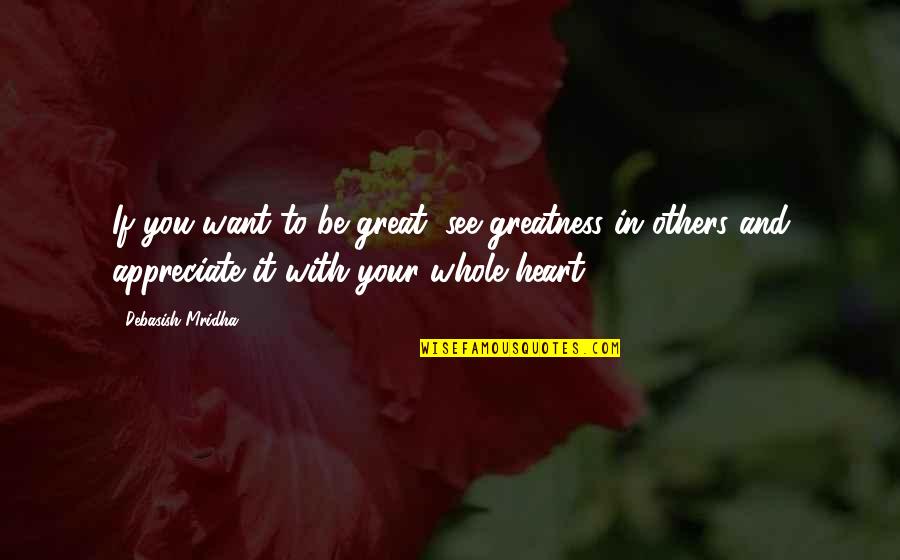 If you want to be great, see greatness in others and appreciate it with your whole heart. —
Debasish Mridha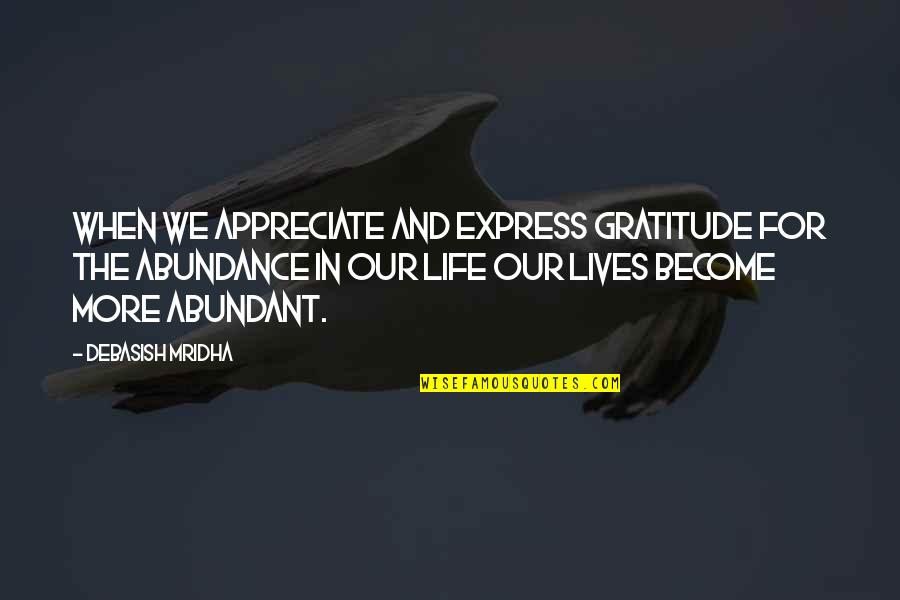 When we appreciate and express gratitude for the abundance in our life our lives become more abundant. —
Debasish Mridha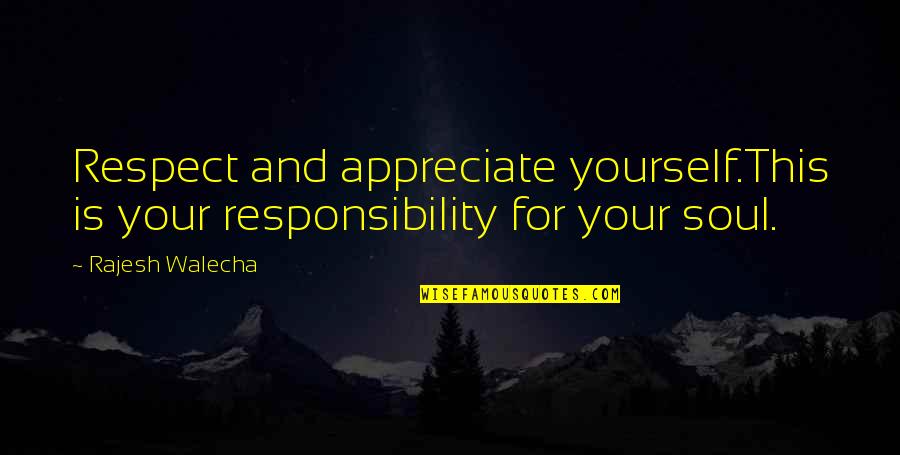 Respect and appreciate yourself.This is your responsibility for your soul. —
Rajesh Walecha