An Artist's Mind Quotes
Collection of top 48 famous quotes about An Artist's Mind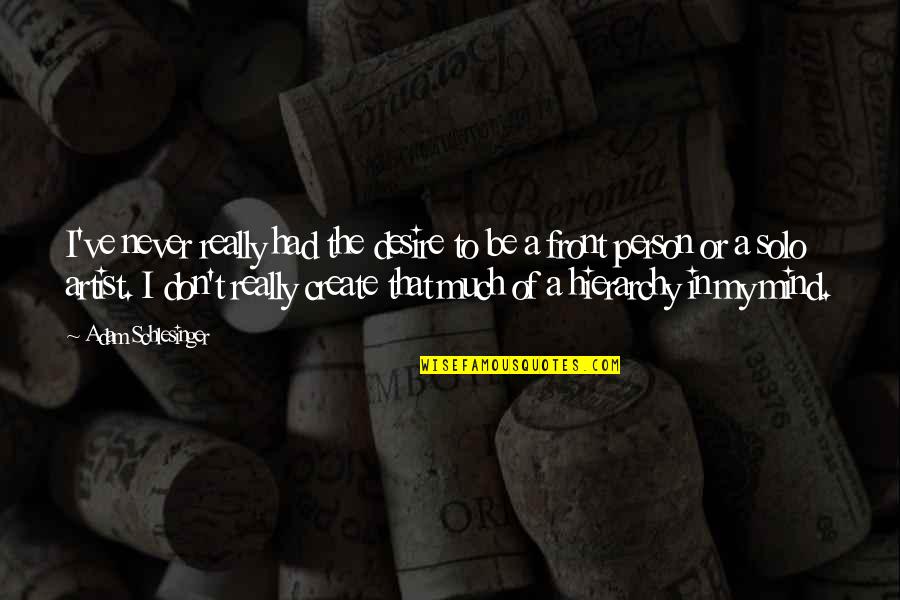 I've never really had the desire to be a front person or a solo artist. I don't really create that much of a hierarchy in my mind.
—
Adam Schlesinger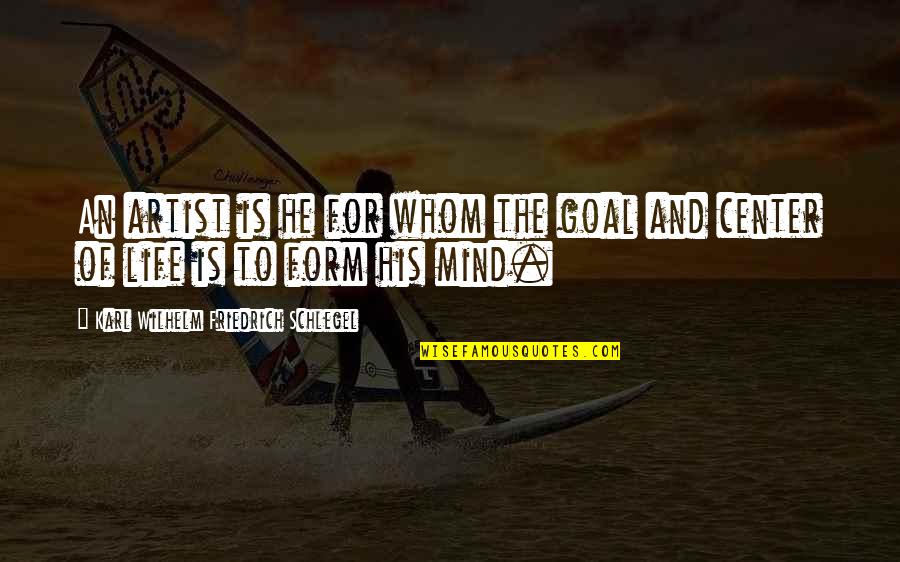 An artist is he for whom the goal and center of life is to form his mind.
—
Karl Wilhelm Friedrich Schlegel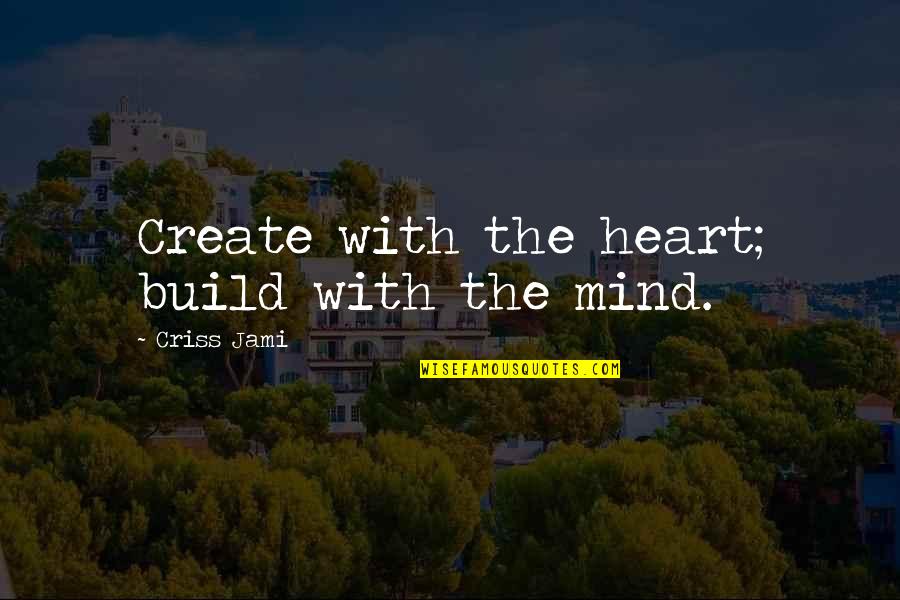 Create with the heart; build with the mind.
—
Criss Jami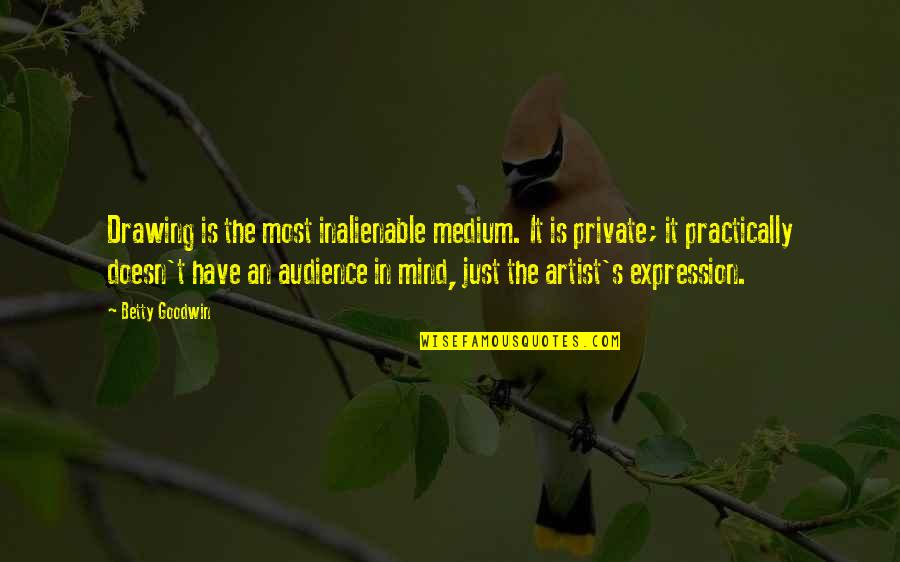 Drawing is the most inalienable medium. It is private; it practically doesn't have an audience in mind, just the artist's expression.
—
Betty Goodwin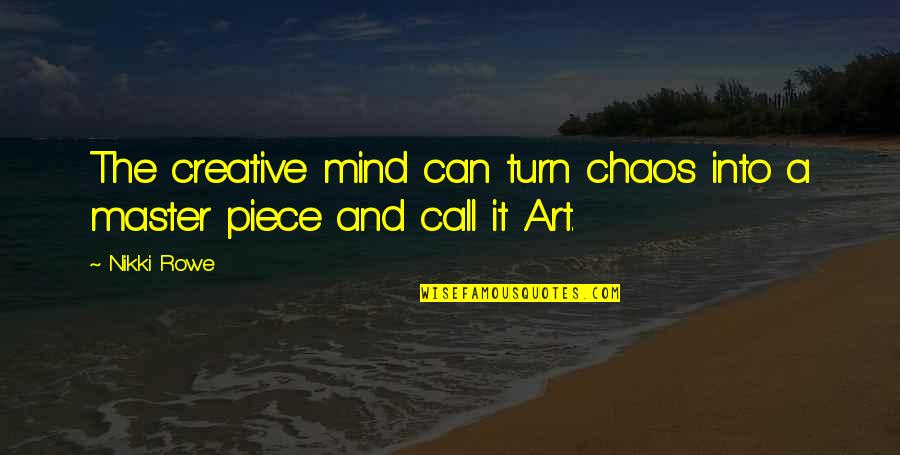 The creative mind can turn chaos into a master piece and call it Art.
—
Nikki Rowe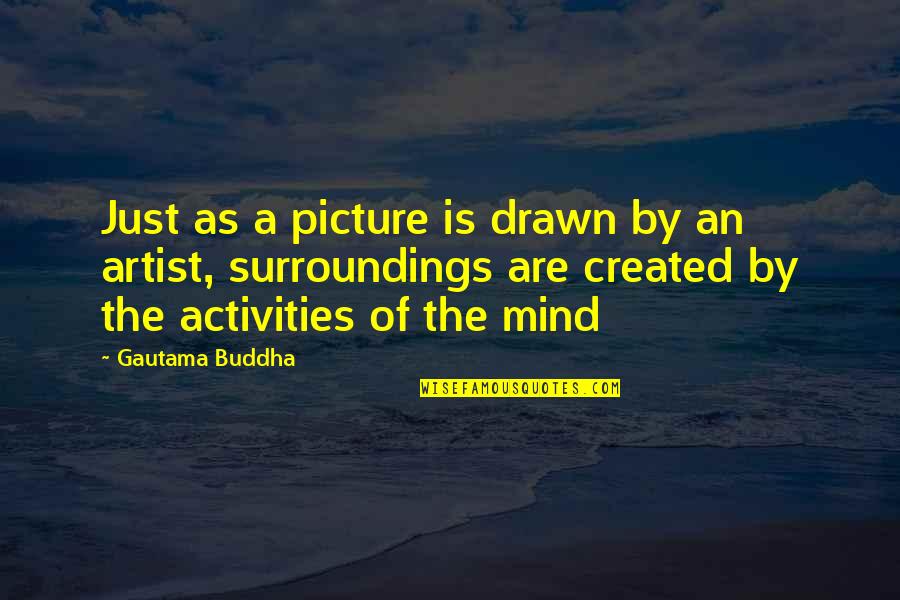 Just as a picture is drawn by an artist, surroundings are created by the activities of the mind
—
Gautama Buddha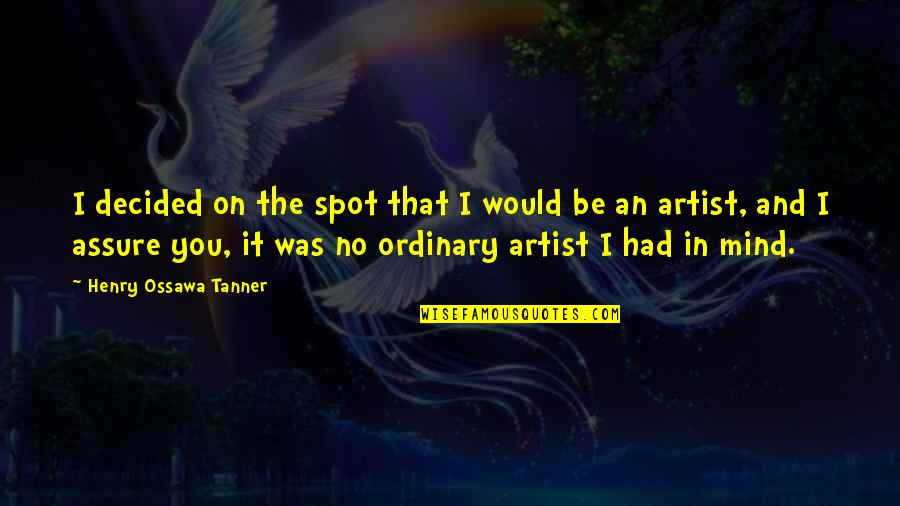 I decided on the spot that I would be an artist, and I assure you, it was no ordinary artist I had in mind.
—
Henry Ossawa Tanner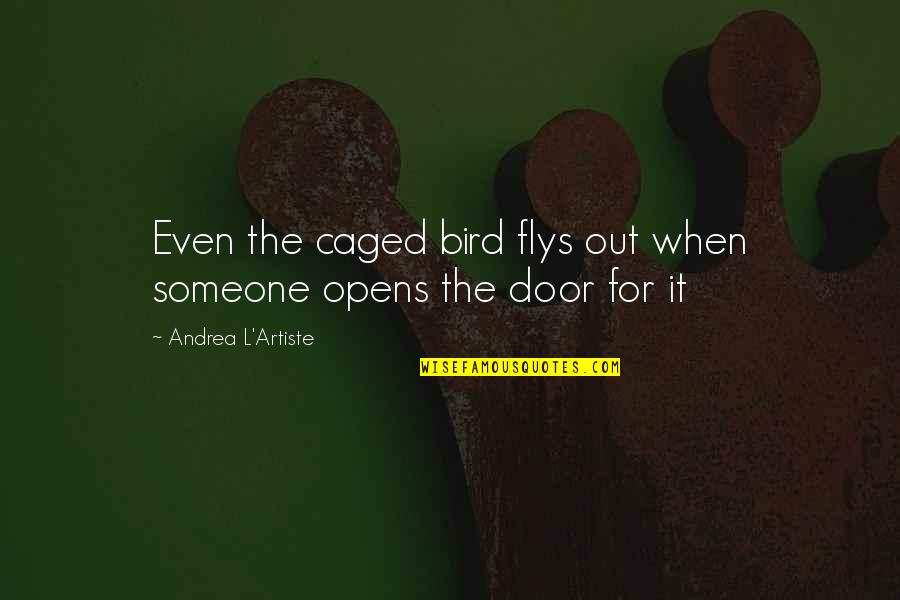 Even the caged bird flys out when someone opens the door for it
—
Andrea L'Artiste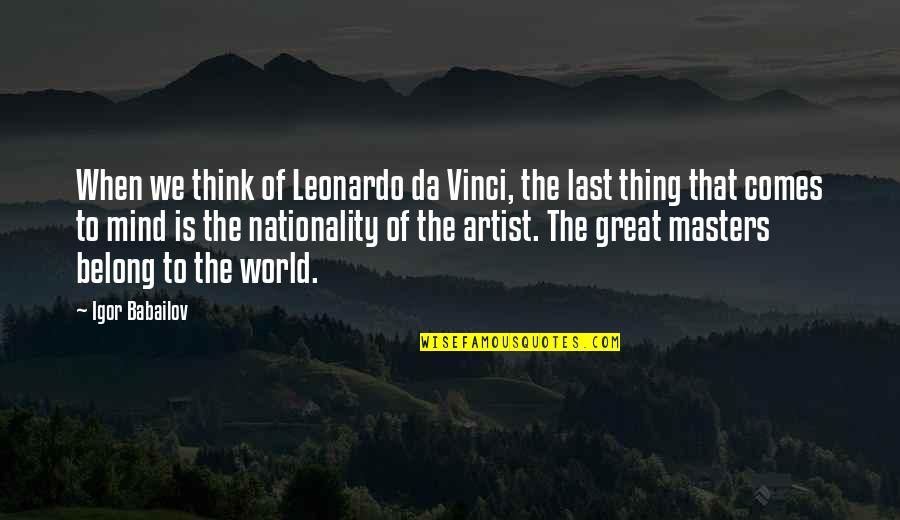 When we think of Leonardo da Vinci, the last thing that comes to mind is the nationality of the artist. The great masters belong to the world.
—
Igor Babailov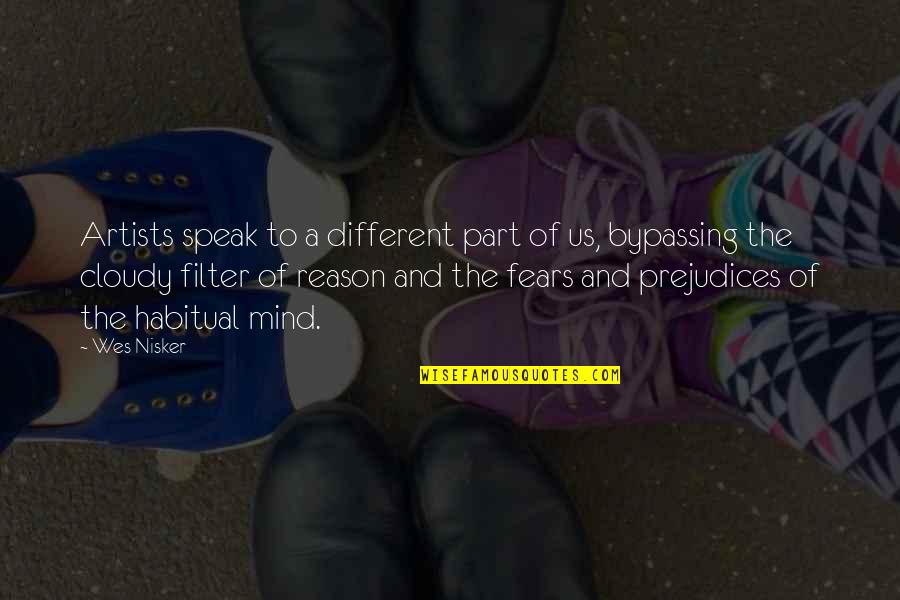 Artists speak to a different part of us, bypassing the cloudy filter of reason and the fears and prejudices of the habitual mind.
—
Wes Nisker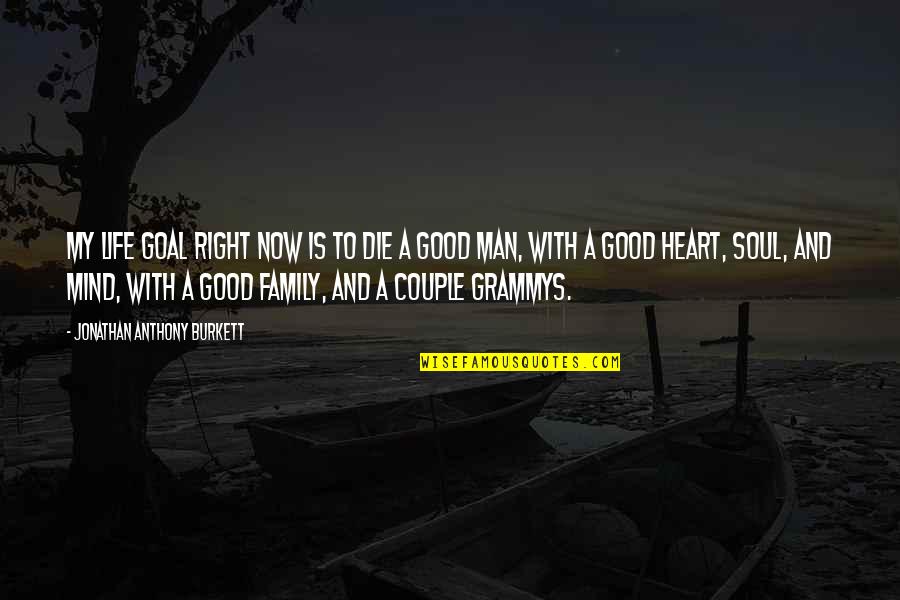 My life goal right now is to die a good man, with a good heart, soul, and mind, with a good family, and a couple Grammys.
—
Jonathan Anthony Burkett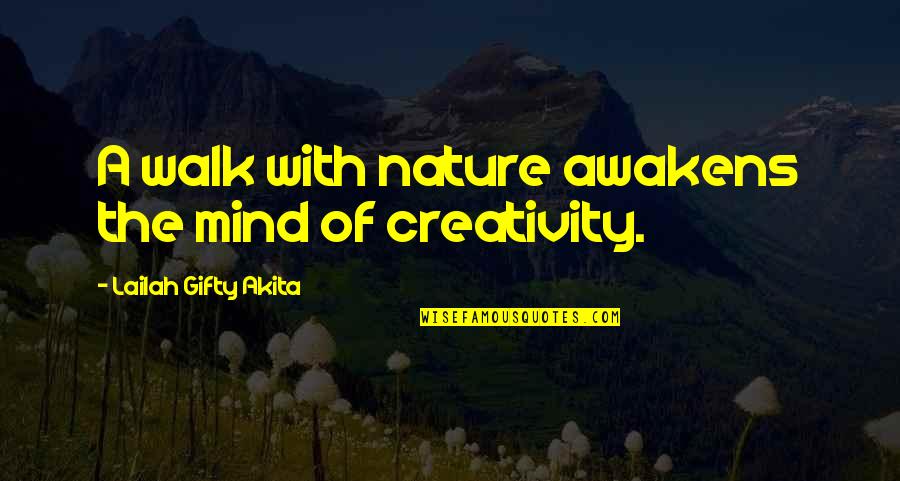 A walk with nature awakens the mind of creativity.
—
Lailah Gifty Akita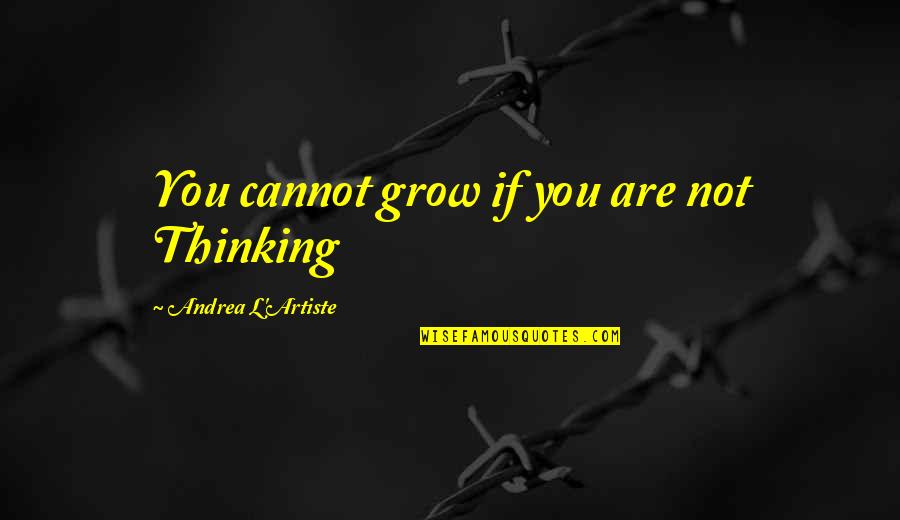 You cannot grow if you are not Thinking
—
Andrea L'Artiste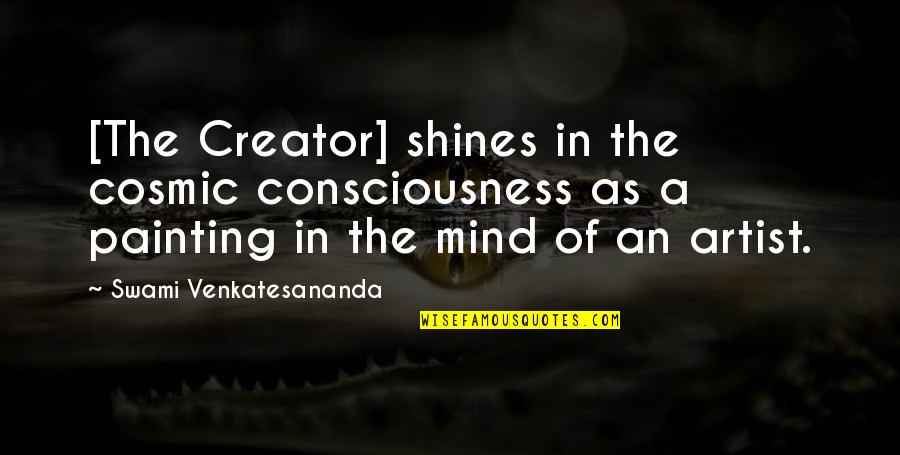 [The Creator] shines in the cosmic consciousness as a painting in the mind of an artist.
—
Swami Venkatesananda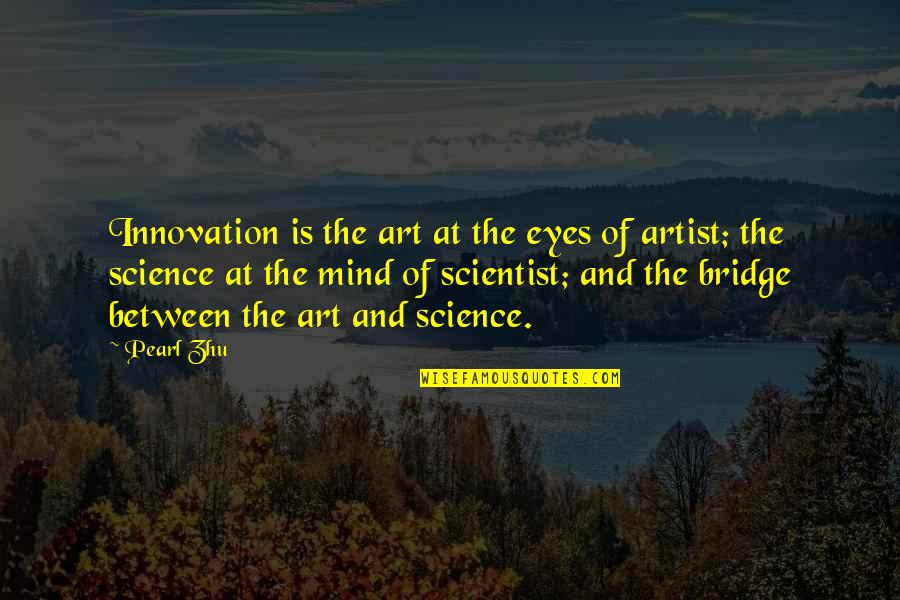 Innovation is the art at the eyes of artist; the science at the mind of scientist; and the bridge between the art and science. —
Pearl Zhu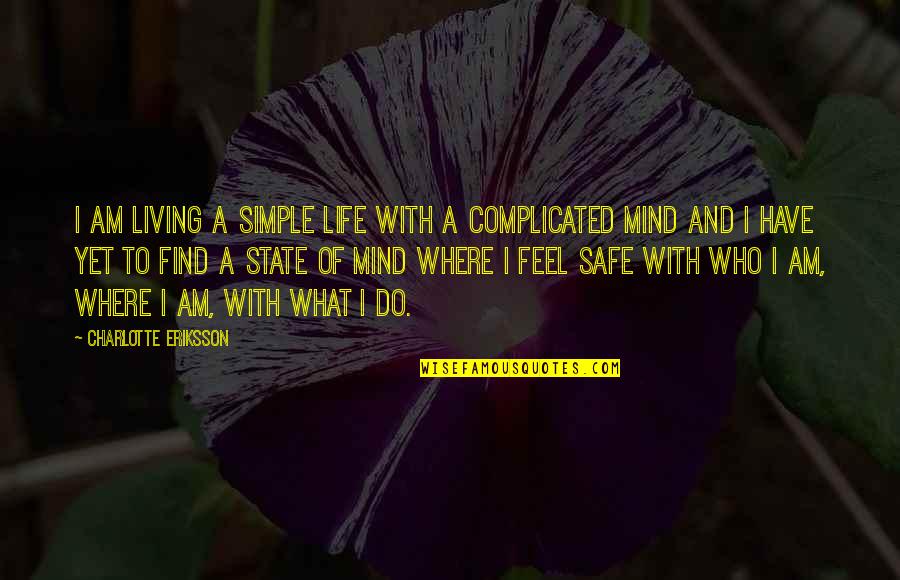 I am living a simple life with a complicated mind and I have yet to find a state of mind where I feel safe with who I am, where I am, with what I do. —
Charlotte Eriksson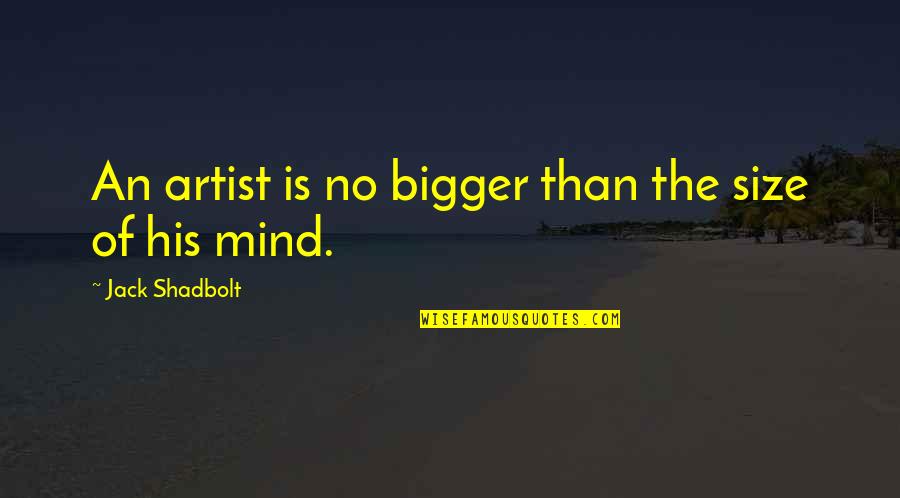 An artist is no bigger than the size of his mind. —
Jack Shadbolt
A good artist does not just make imaginations beautiful to the mind, but also more pleasant to the eye with a superb visible touch of excellence. —
Ernest Agyemang Yeboah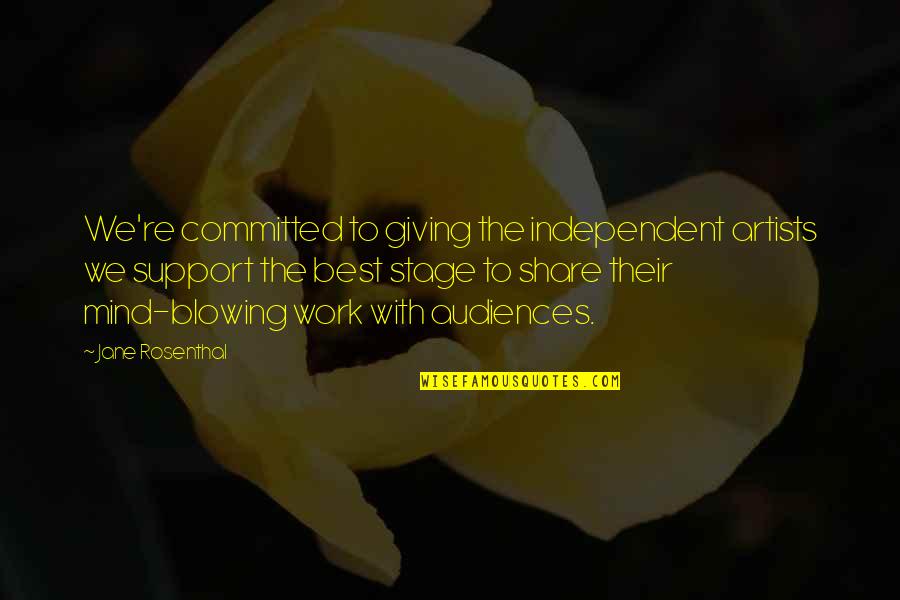 We're committed to giving the independent artists we support the best stage to share their mind-blowing work with audiences. —
Jane Rosenthal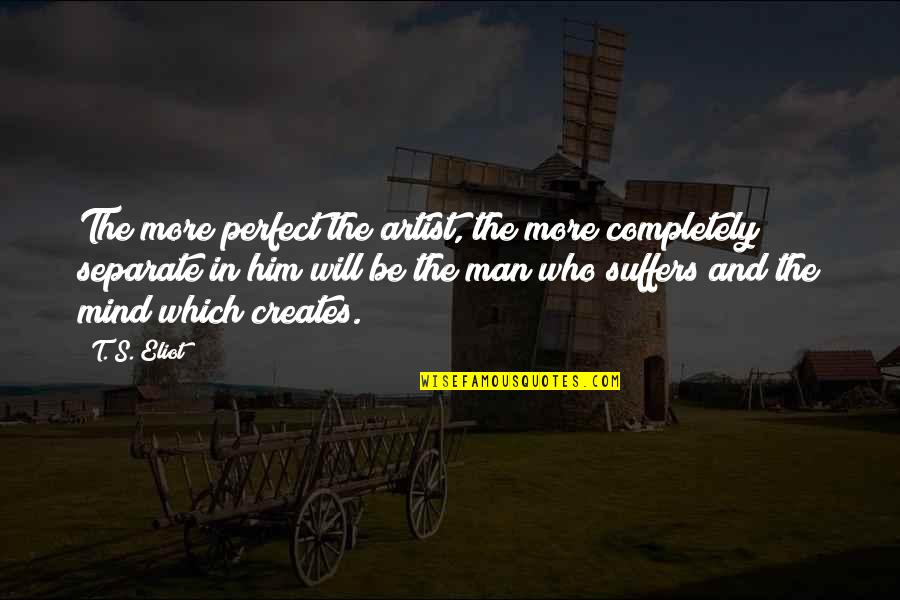 The more perfect the artist, the more completely separate in him will be the man who suffers and the mind which creates. —
T. S. Eliot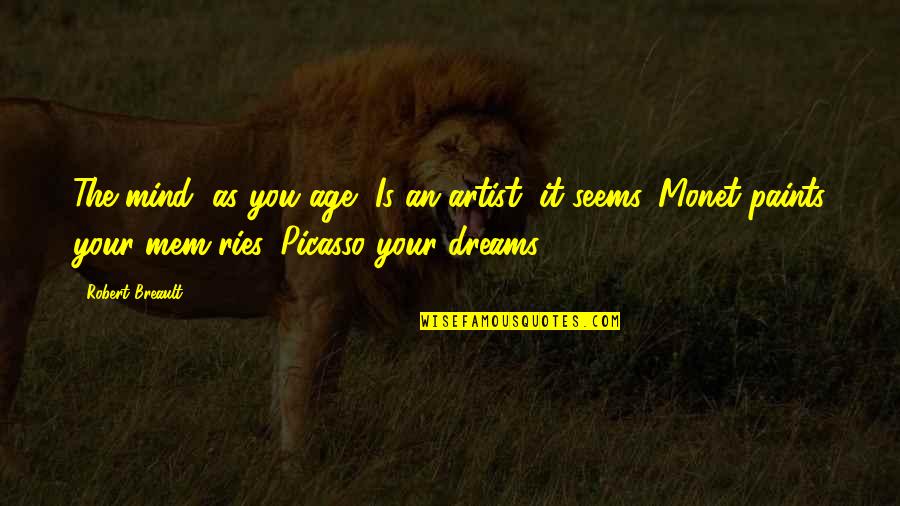 The mind, as you age, Is an artist, it seems. Monet paints your mem'ries, Picasso your dreams. —
Robert Breault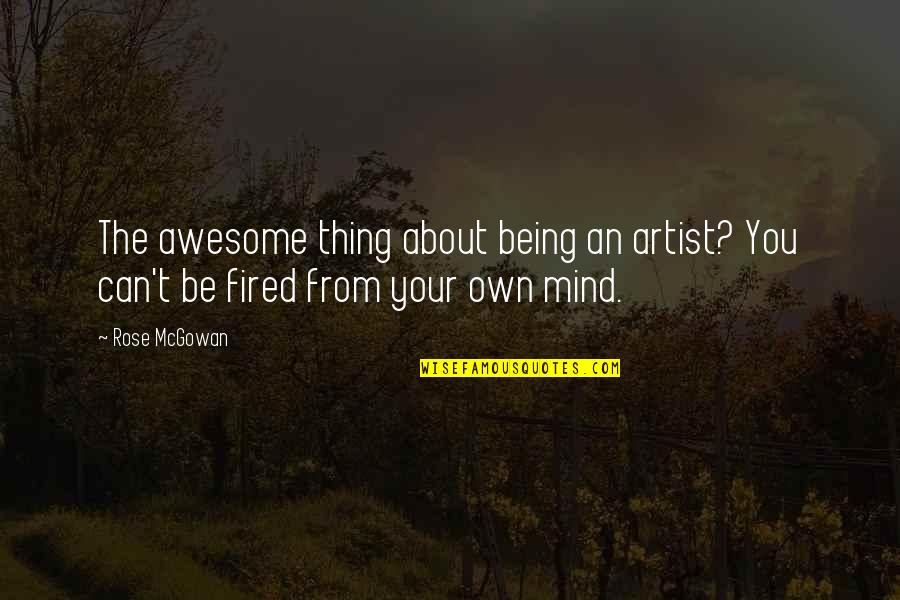 The awesome thing about being an artist? You can't be fired from your own mind. —
Rose McGowan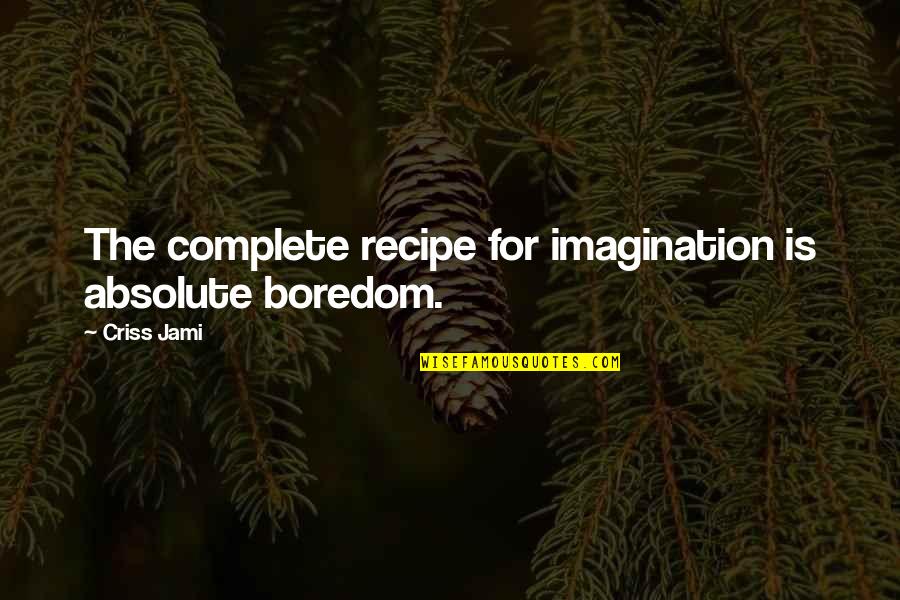 The complete recipe for imagination is absolute boredom. —
Criss Jami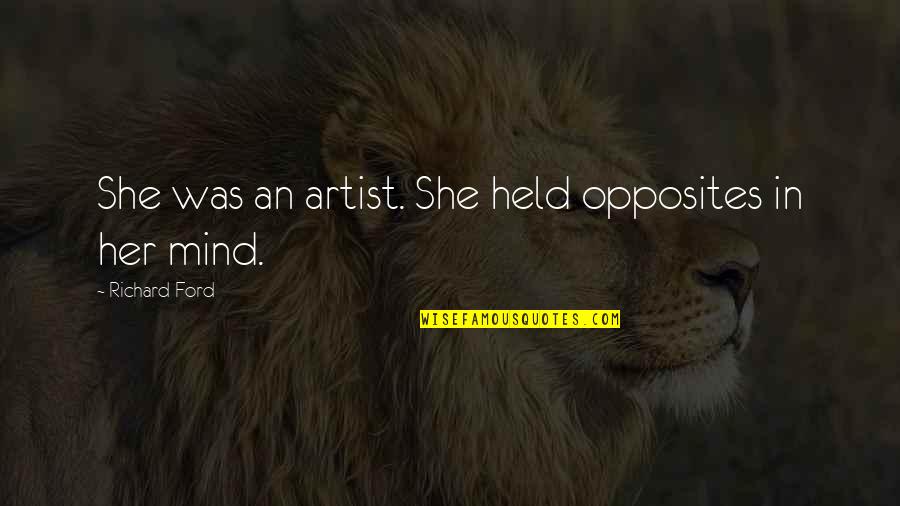 She was an artist. She held opposites in her mind. —
Richard Ford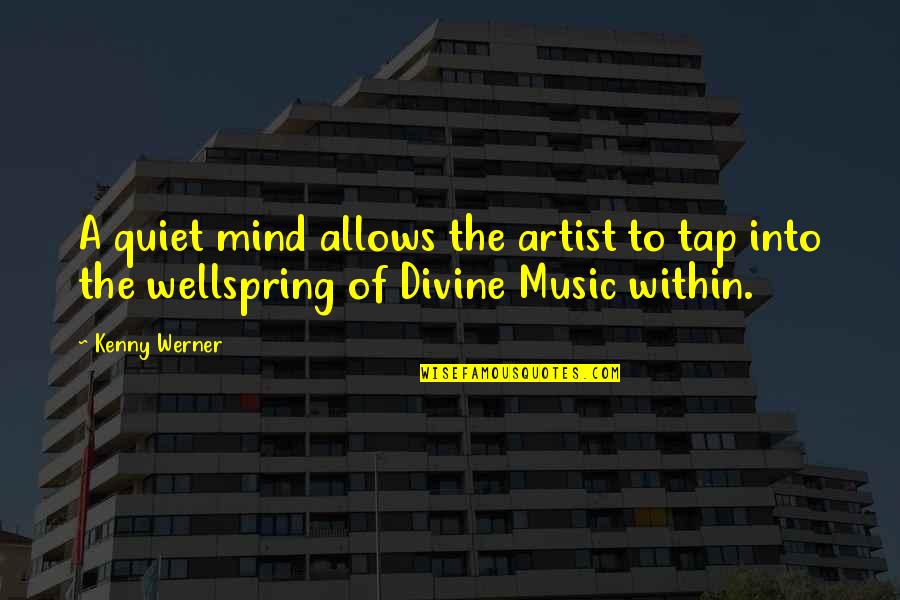 A quiet mind allows the artist to tap into the wellspring of Divine Music within. —
Kenny Werner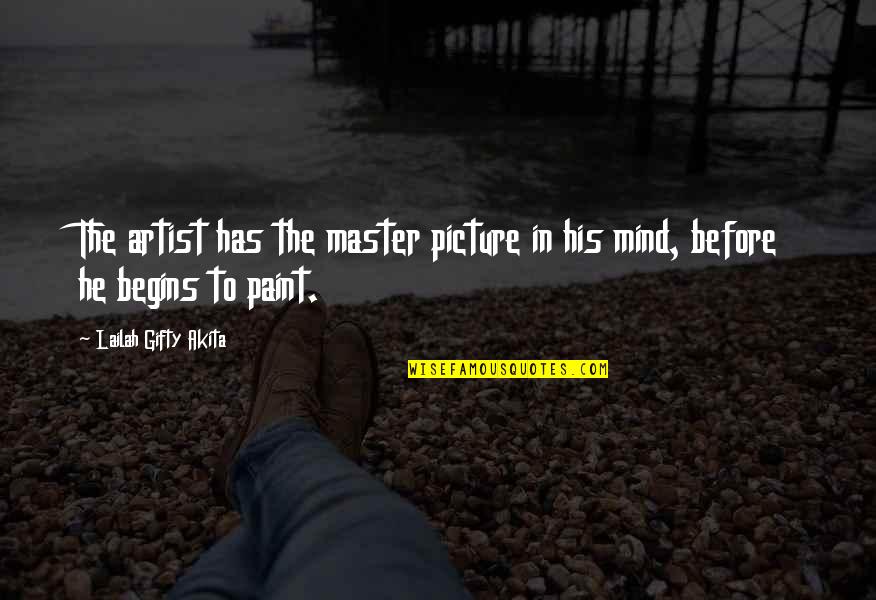 The artist has the master picture in his mind, before he begins to paint. —
Lailah Gifty Akita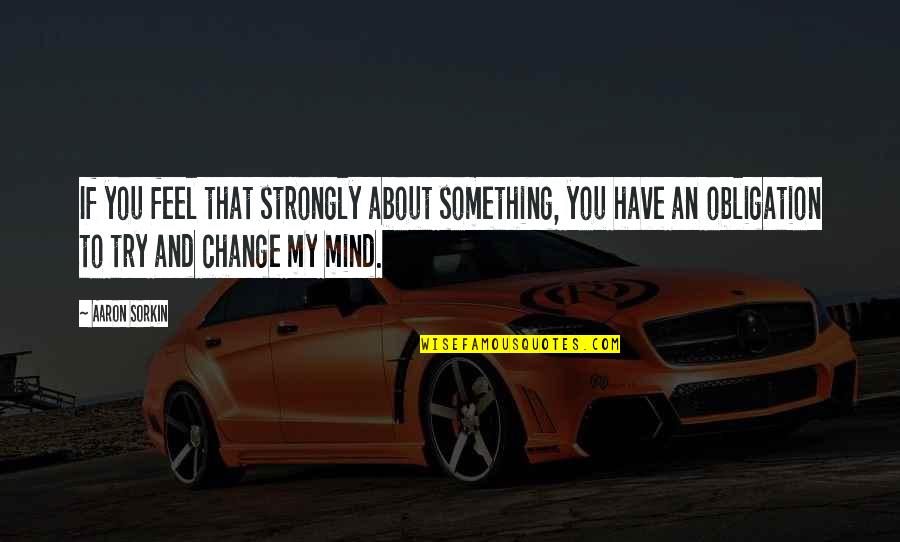 If you feel that strongly about something, you have an obligation to try and change my mind. —
Aaron Sorkin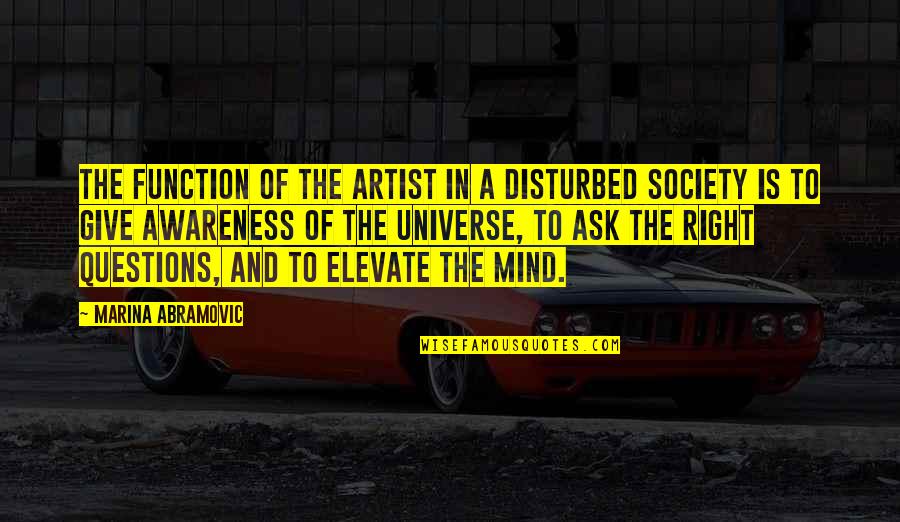 The function of the artist in a disturbed society is to give awareness of the universe, to ask the right questions, and to elevate the mind. —
Marina Abramovic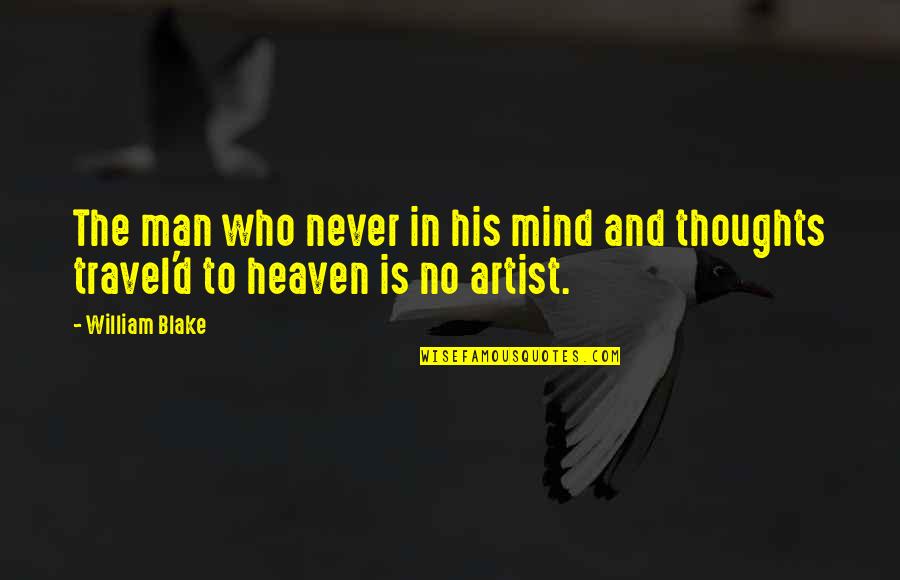 The man who never in his mind and thoughts travel'd to heaven is no artist. —
William Blake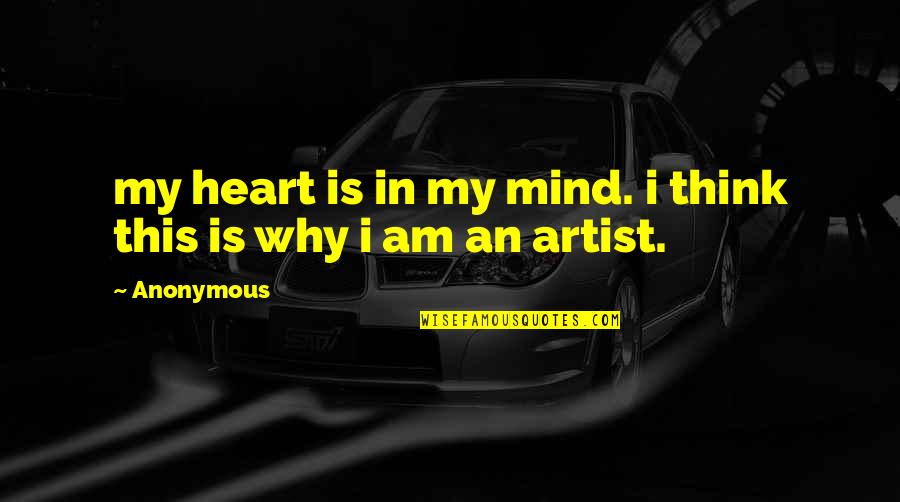 my heart is in my mind. i think this is why i am an artist. —
Anonymous
I've always liked the minds of criminals, they seem similar to artists. —
Richard Linklater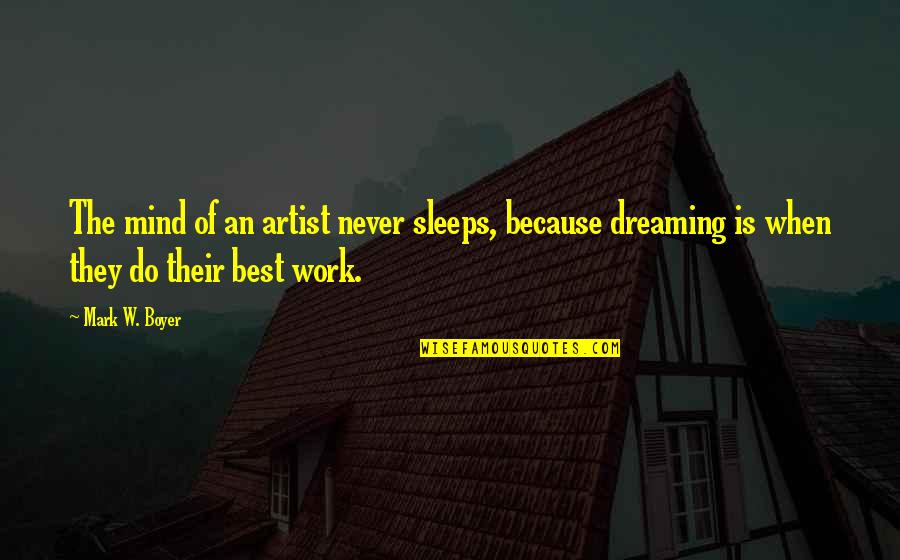 The mind of an artist never sleeps, because dreaming is when they do their best work. —
Mark W. Boyer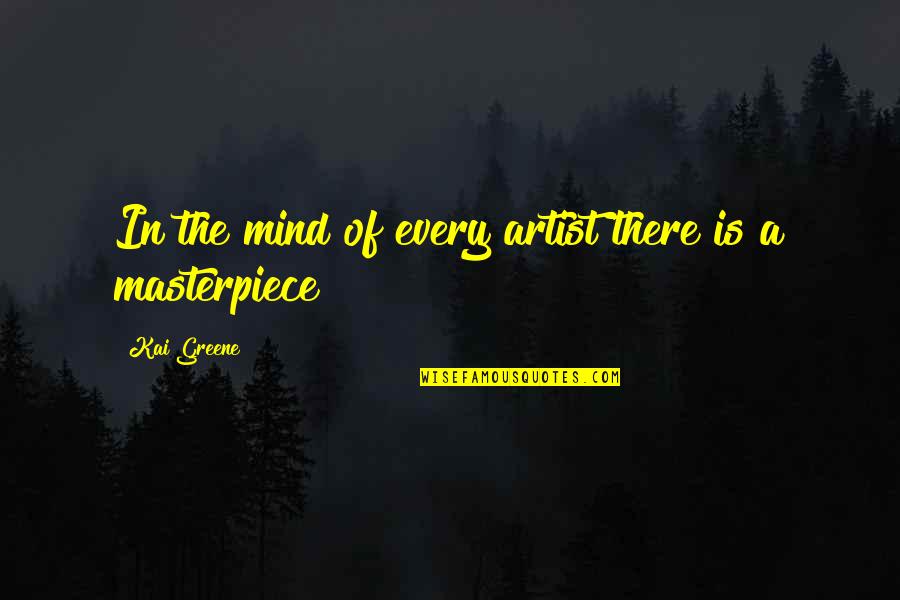 In the mind of every artist there is a masterpiece —
Kai Greene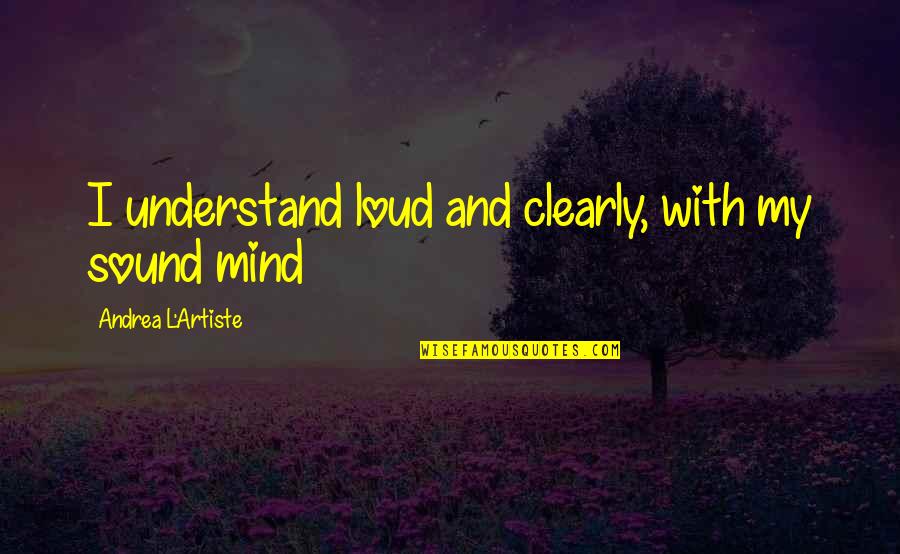 I understand loud and clearly, with my sound mind —
Andrea L'Artiste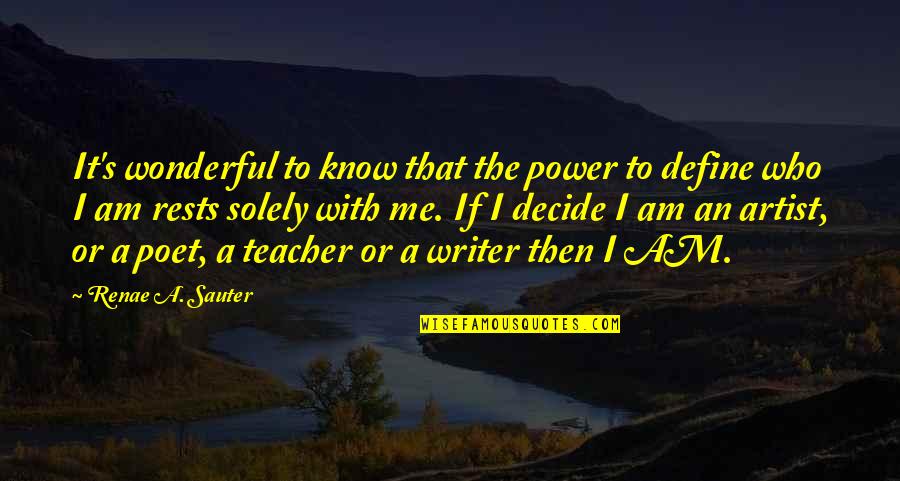 It's wonderful to know that the power to define who I am rests solely with me. If I decide I am an artist, or a poet, a teacher or a writer then I AM. —
Renae A. Sauter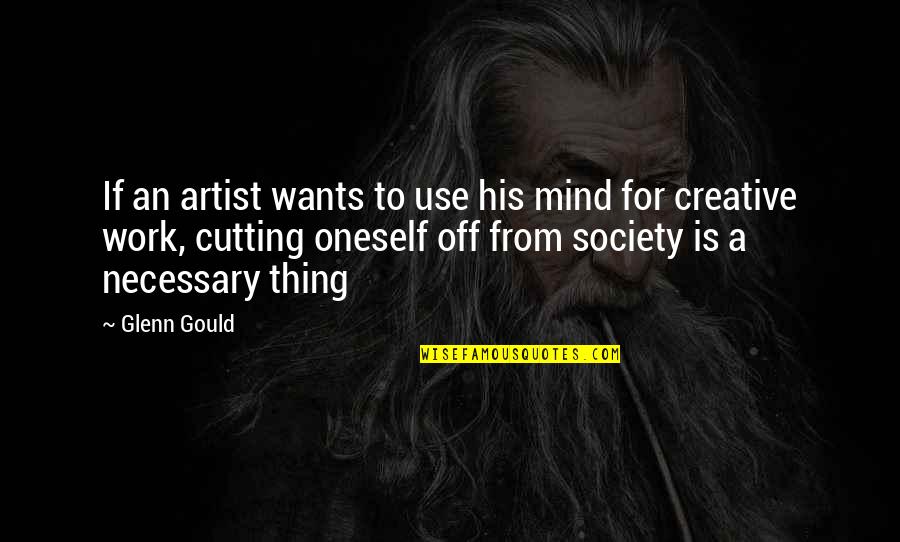 If an artist wants to use his mind for creative work, cutting oneself off from society is a necessary thing —
Glenn Gould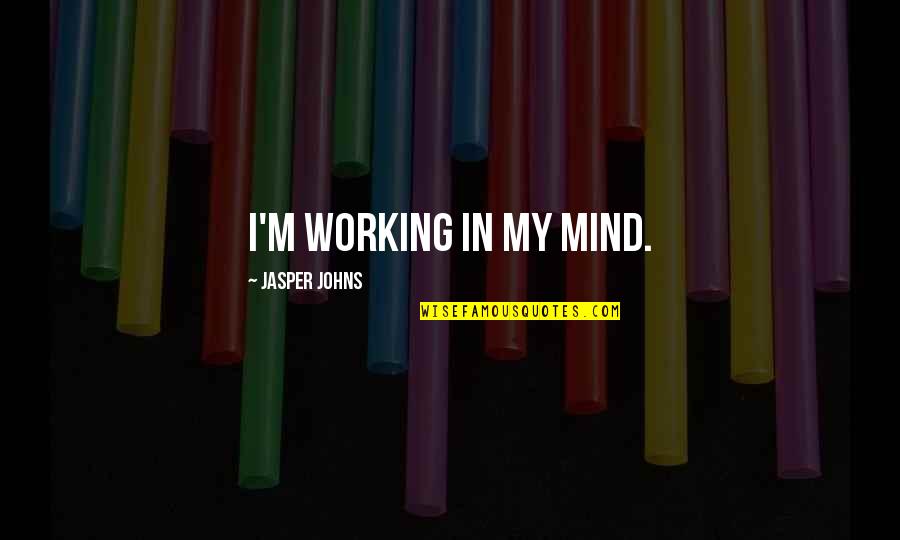 I'm working in my mind. —
Jasper Johns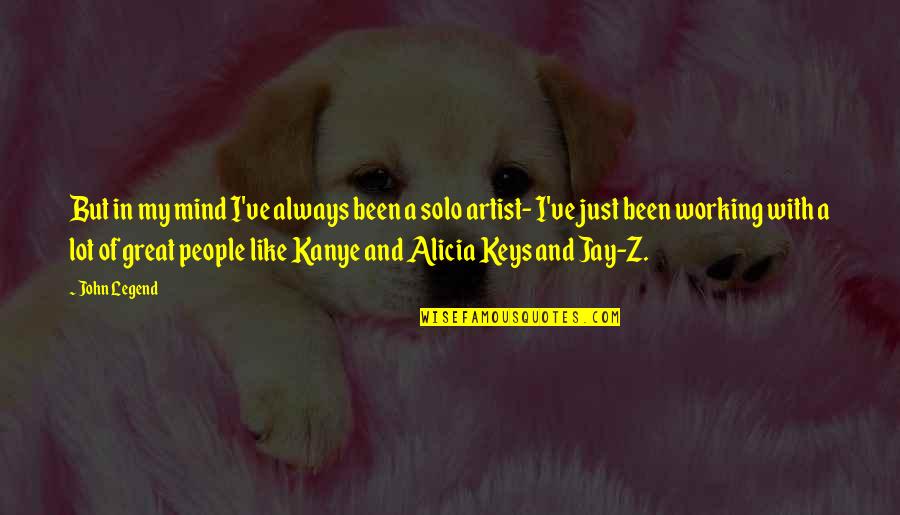 But in my mind I've always been a solo artist- I've just been working with a lot of great people like Kanye and Alicia Keys and Jay-Z. —
John Legend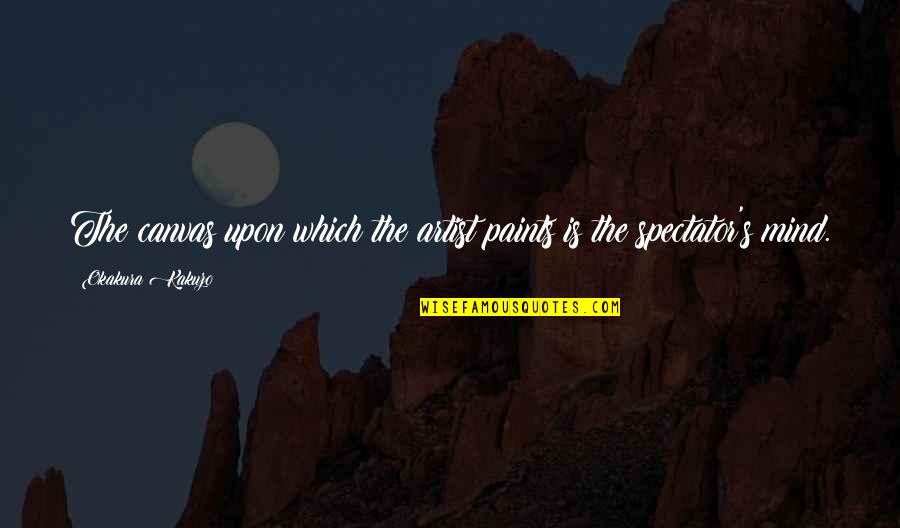 The canvas upon which the artist paints is the spectator's mind. —
Okakura Kakuzo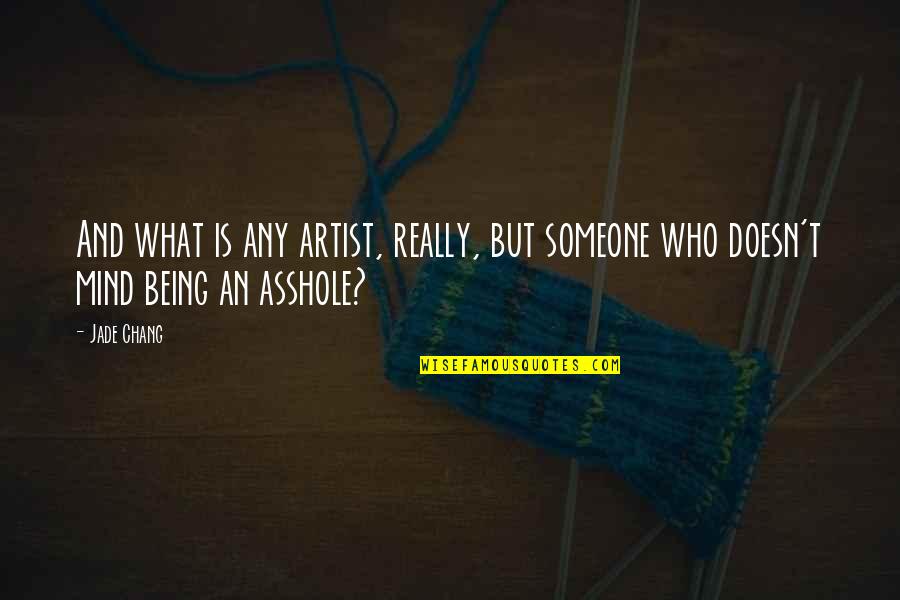 And what is any artist, really, but someone who doesn't mind being an asshole? —
Jade Chang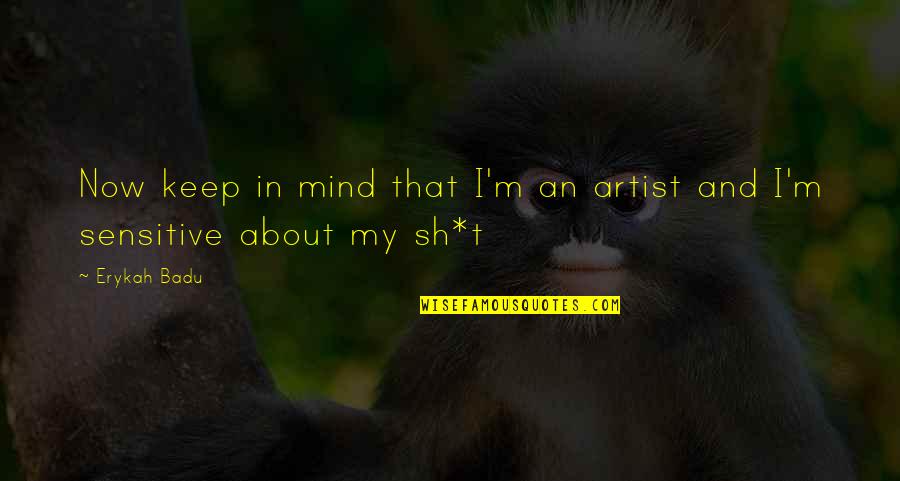 Now keep in mind that I'm an artist and I'm sensitive about my sh*t —
Erykah Badu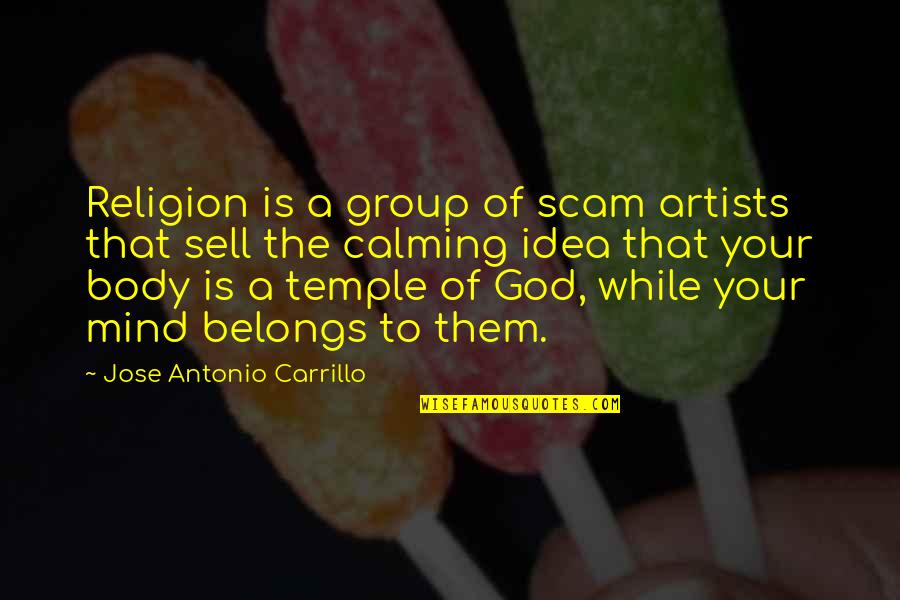 Religion is a group of scam artists that sell the calming idea that your body is a temple of God, while your mind belongs to them. —
Jose Antonio Carrillo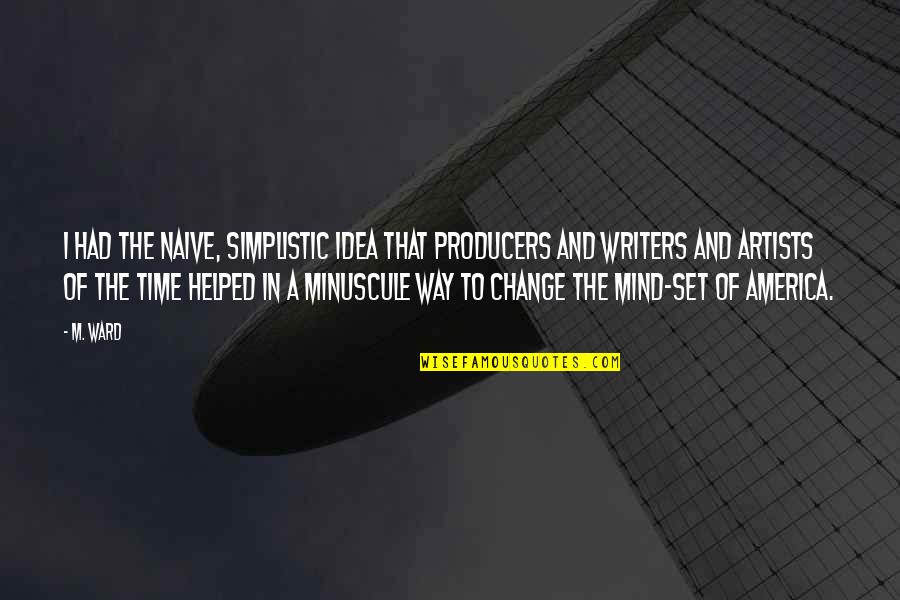 I had the naive, simplistic idea that producers and writers and artists of the time helped in a minuscule way to change the mind-set of America. —
M. Ward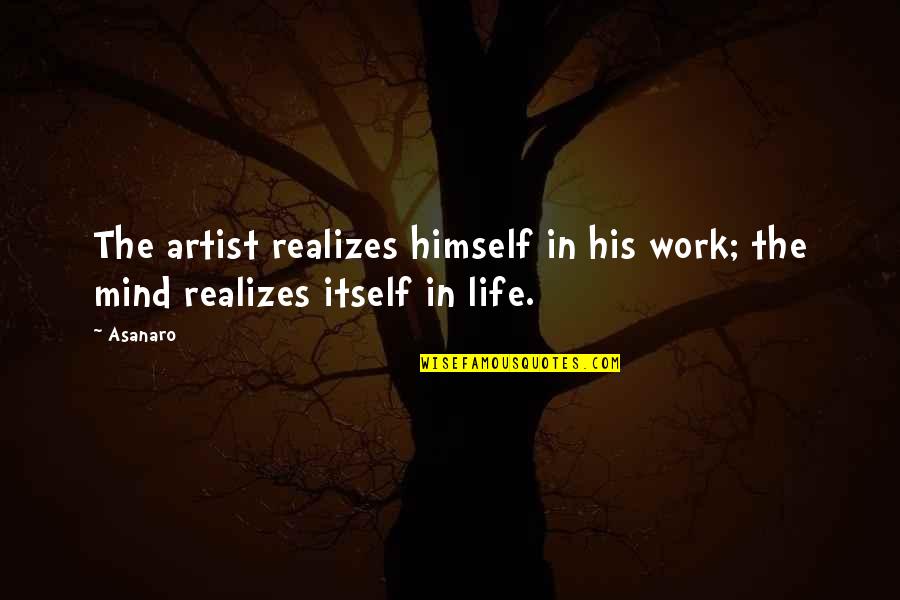 The artist realizes himself in his work; the mind realizes itself in life. —
Asanaro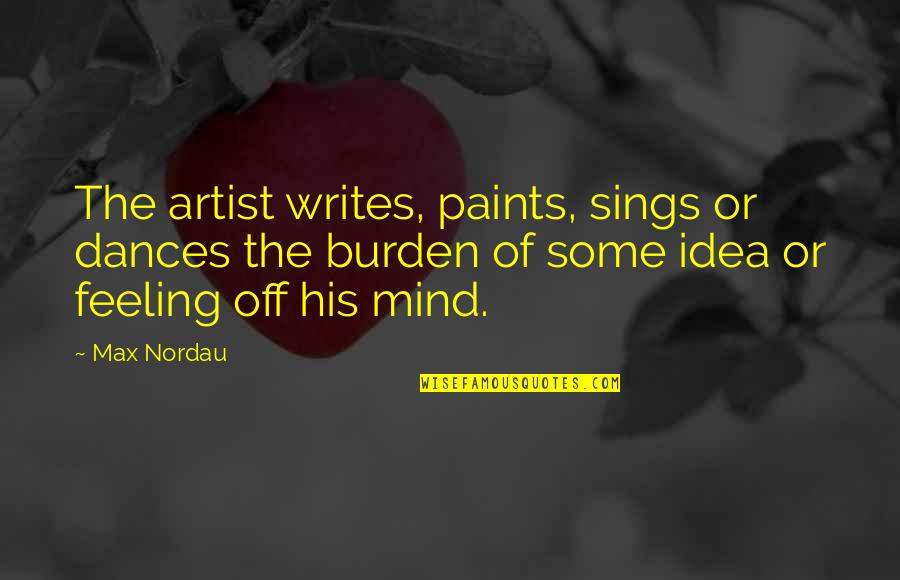 The artist writes, paints, sings or dances the burden of some idea or feeling off his mind. —
Max Nordau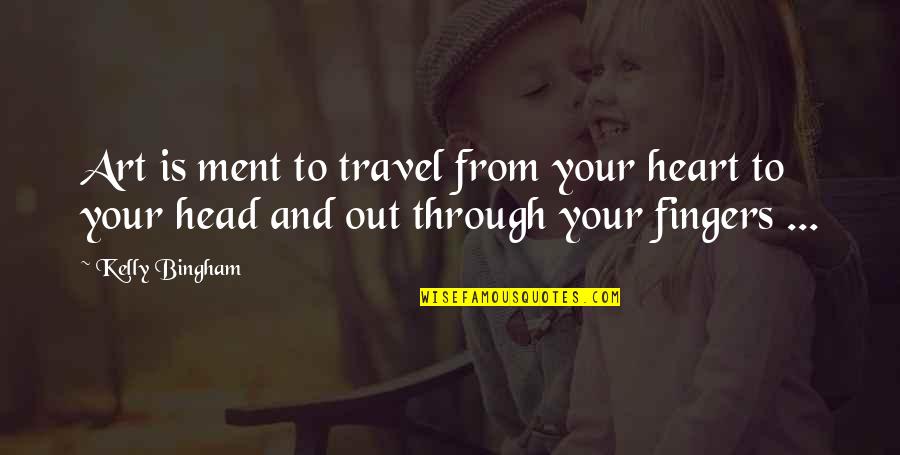 Art is ment to travel from your heart to your head and out through your fingers ... —
Kelly Bingham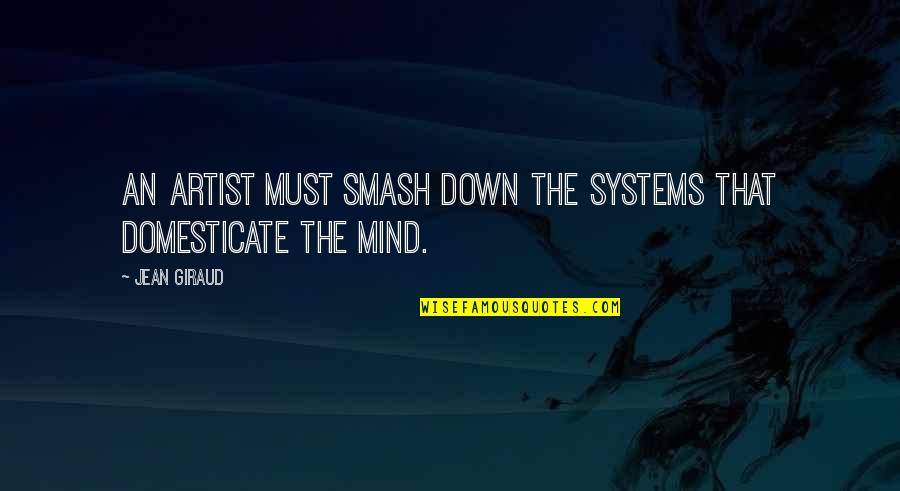 An artist must smash down the systems that domesticate the mind. —
Jean Giraud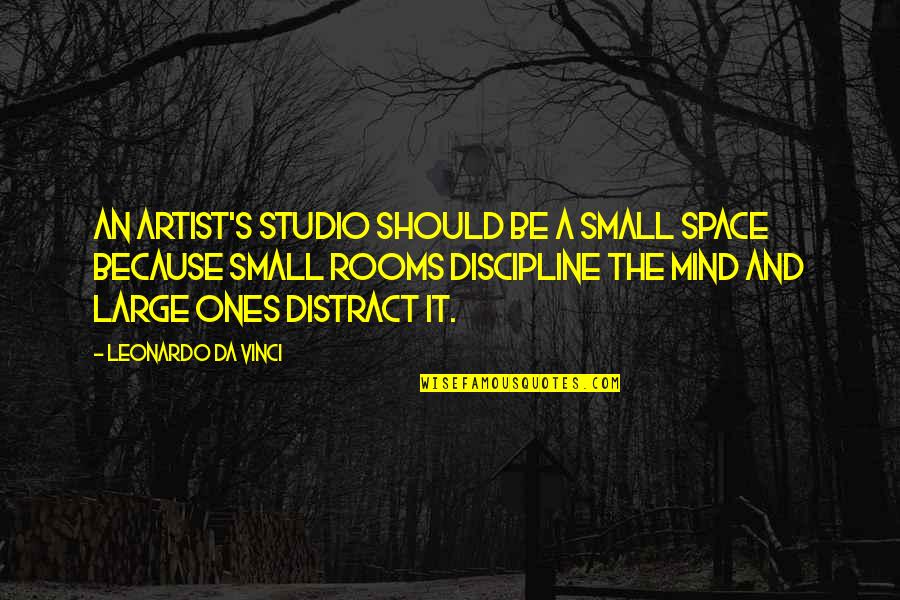 An artist's studio should be a small space because small rooms discipline the mind and large ones distract it. —
Leonardo Da Vinci