Alive Or Dead Quotes
Collection of top 50 famous quotes about Alive Or Dead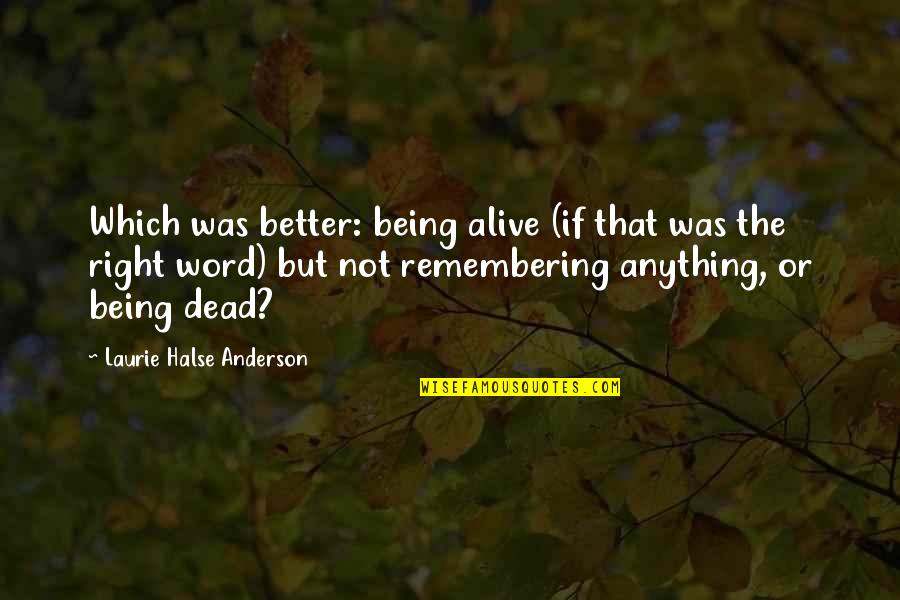 Which was better: being alive (if that was the right word) but not remembering anything, or being dead?
—
Laurie Halse Anderson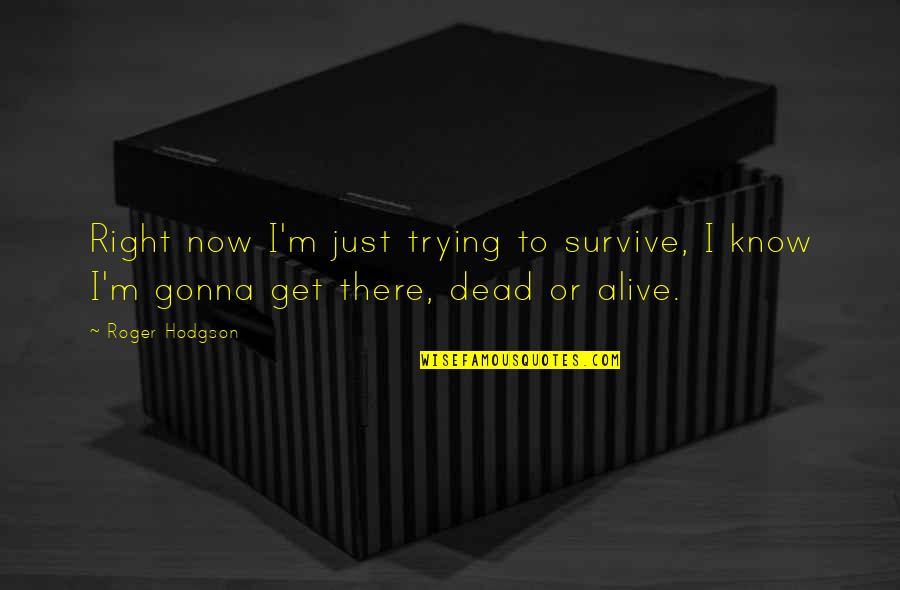 Right now I'm just trying to survive, I know I'm gonna get there, dead or alive.
—
Roger Hodgson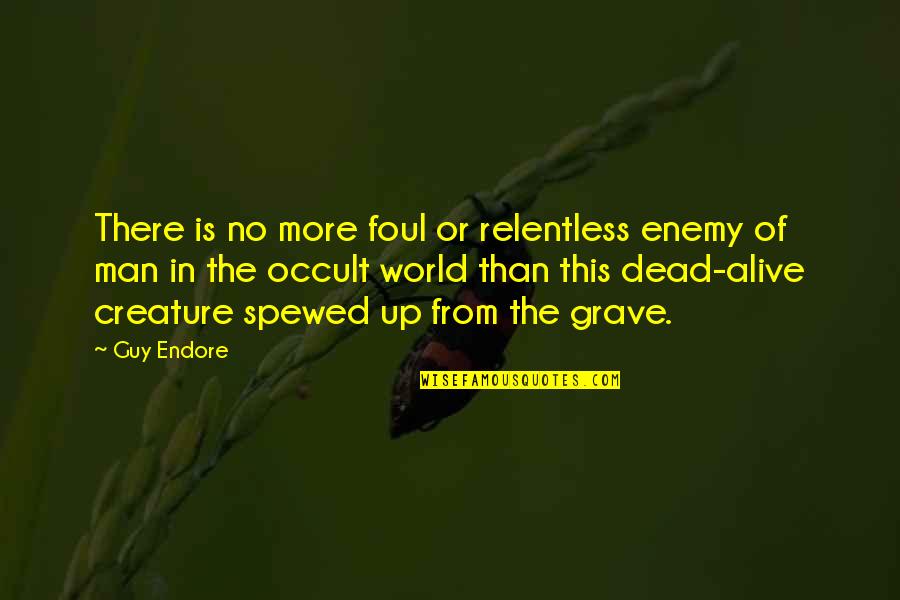 There is no more foul or relentless enemy of man in the occult world than this dead-alive creature spewed up from the grave.
—
Guy Endore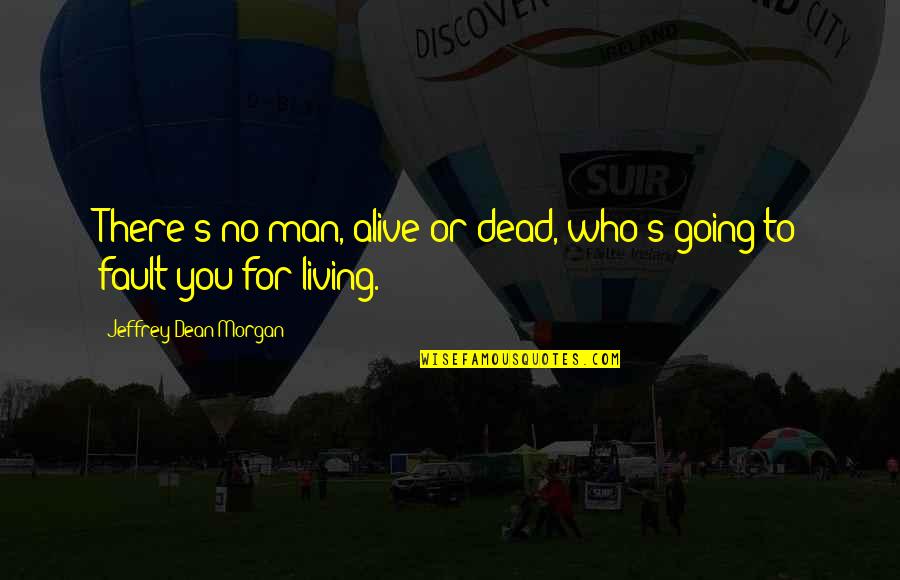 There's no man, alive or dead, who's going to fault you for living.
—
Jeffrey Dean Morgan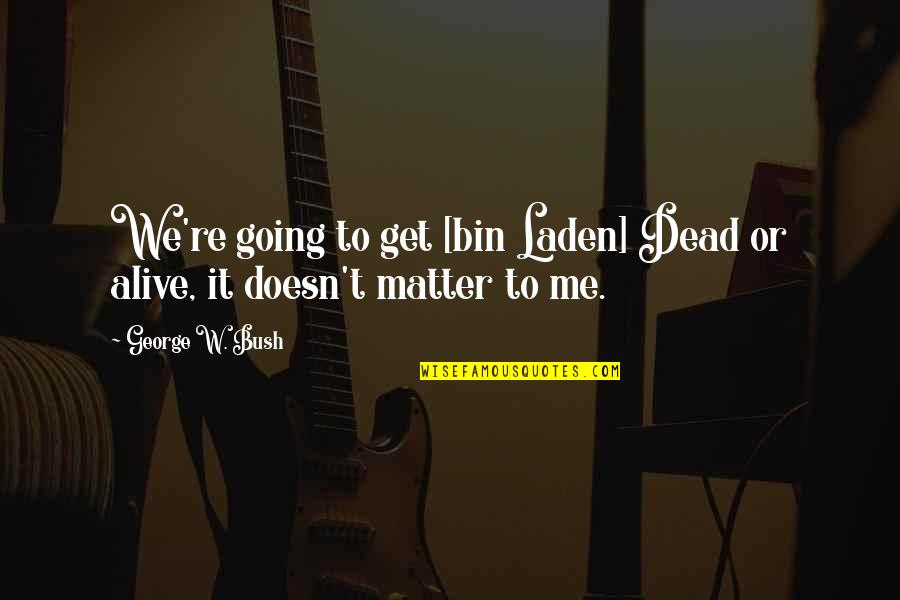 We're going to get [bin Laden] Dead or alive, it doesn't matter to me.
—
George W. Bush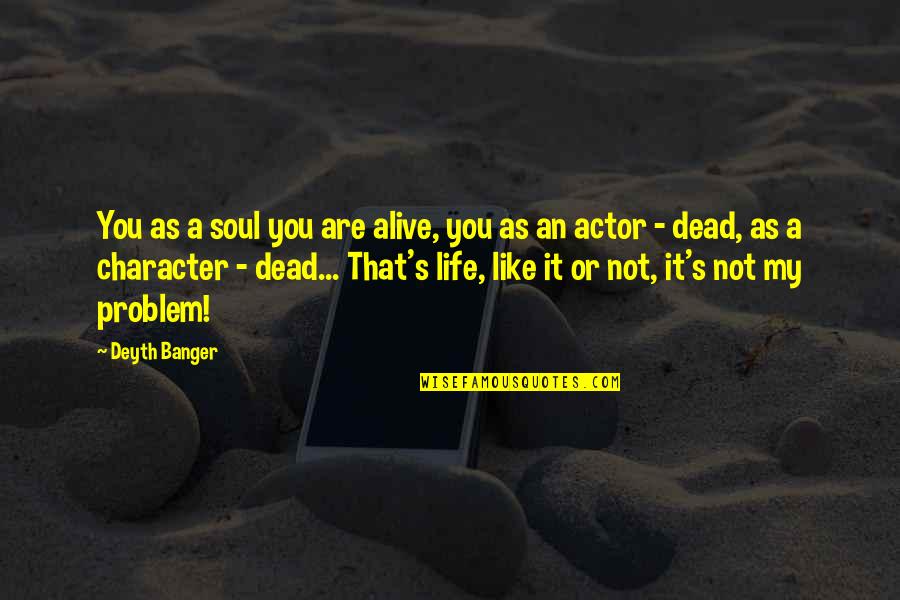 You as a soul you are alive, you as an actor - dead, as a character - dead... That's life, like it or not, it's not my problem!
—
Deyth Banger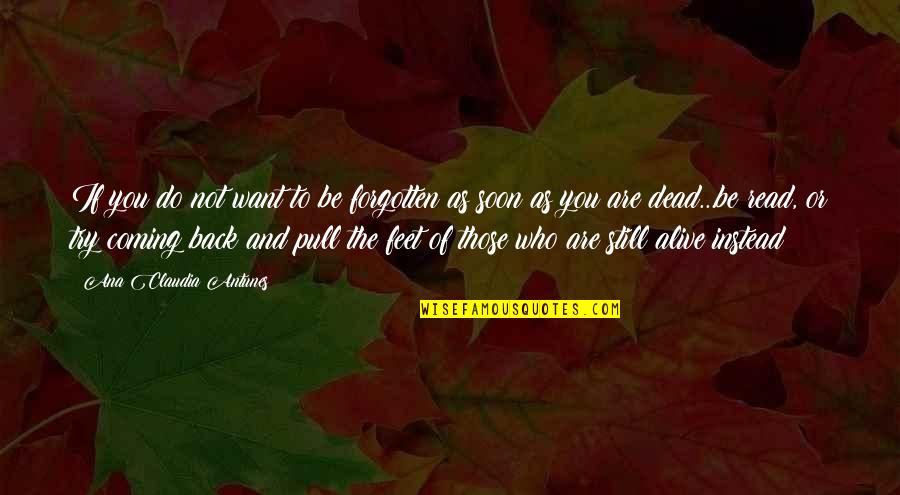 If you do not want to be forgotten as soon as you are dead...be read, or try coming back and pull the feet of those who are still alive instead!
—
Ana Claudia Antunes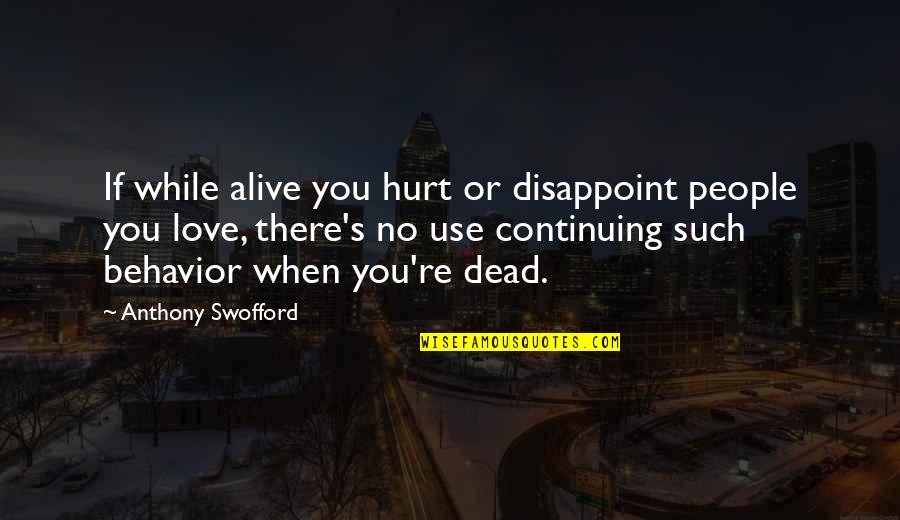 If while alive you hurt or disappoint people you love, there's no use continuing such behavior when you're dead.
—
Anthony Swofford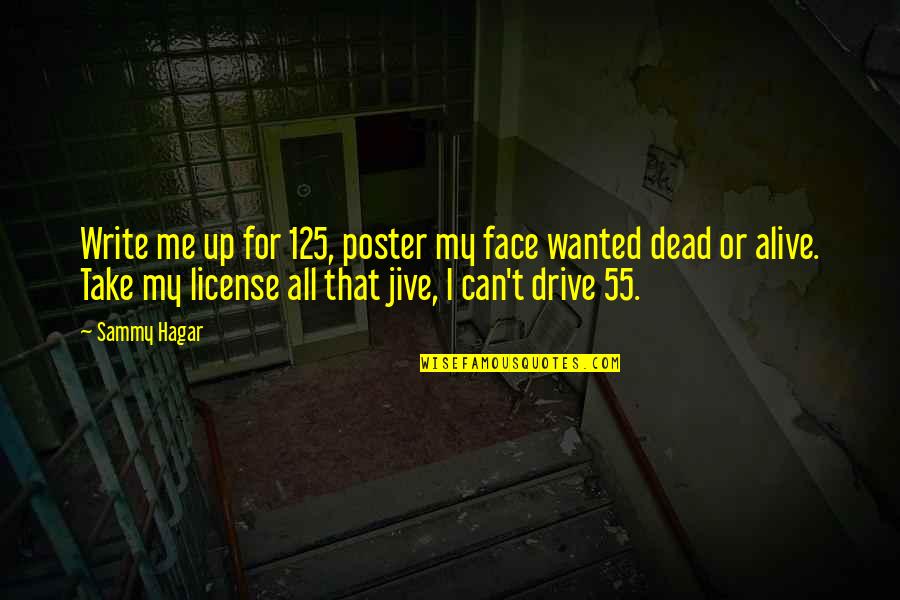 Write me up for 125, poster my face wanted dead or alive. Take my license all that jive, I can't drive 55.
—
Sammy Hagar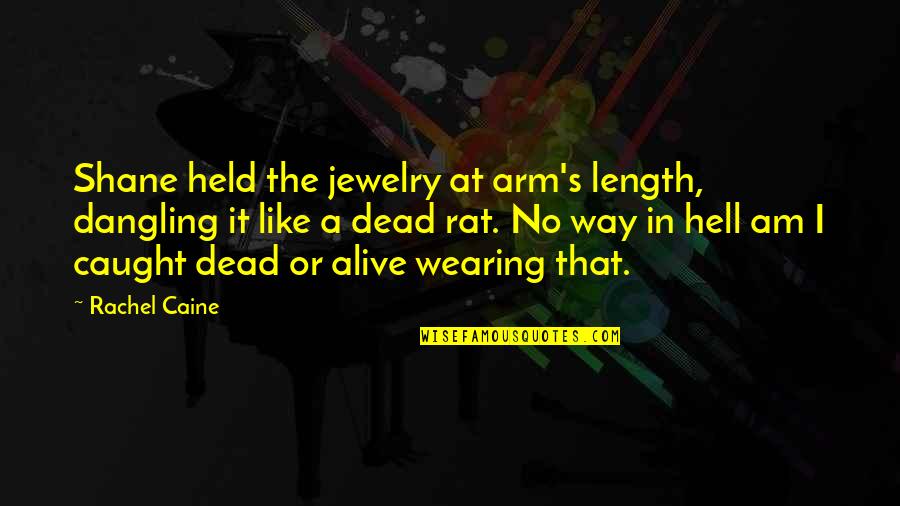 Shane held the jewelry at arm's length, dangling it like a dead rat. No way in hell am I caught dead or alive wearing that.
—
Rachel Caine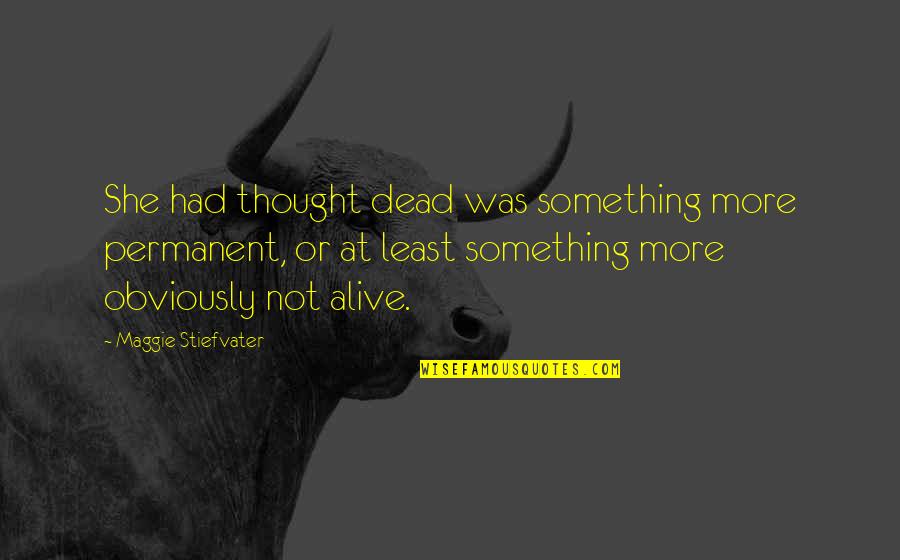 She had thought dead was something more permanent, or at least something more obviously not alive.
—
Maggie Stiefvater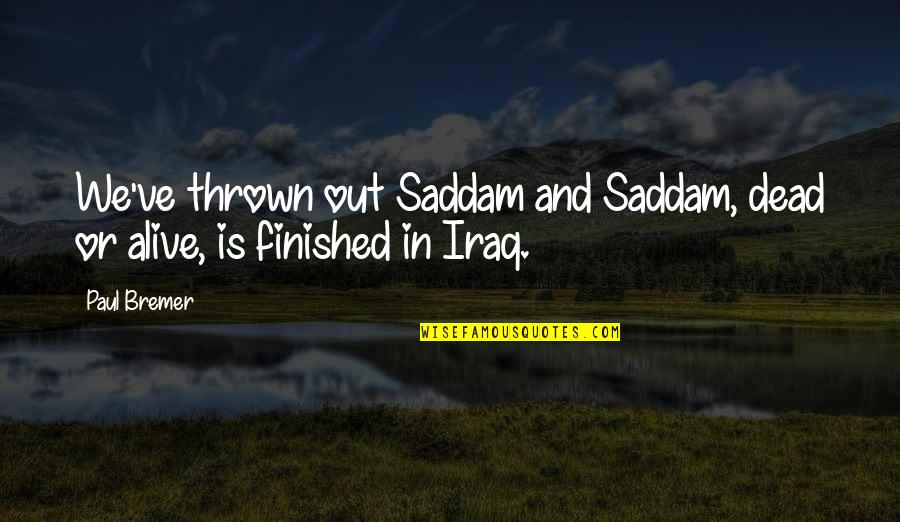 We've thrown out Saddam and Saddam, dead or alive, is finished in Iraq. —
Paul Bremer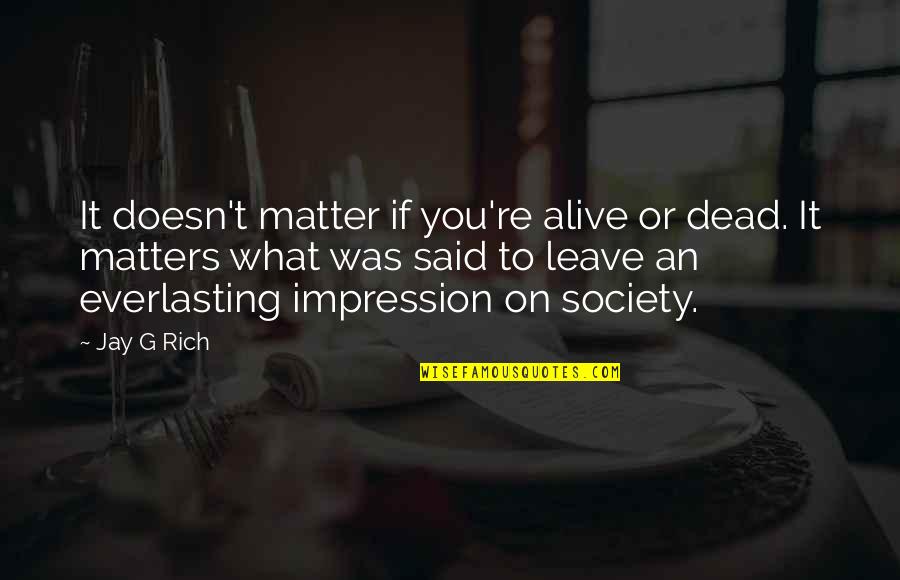 It doesn't matter if you're
alive or dead
. It matters what was said to leave an everlasting impression on society. —
Jay G Rich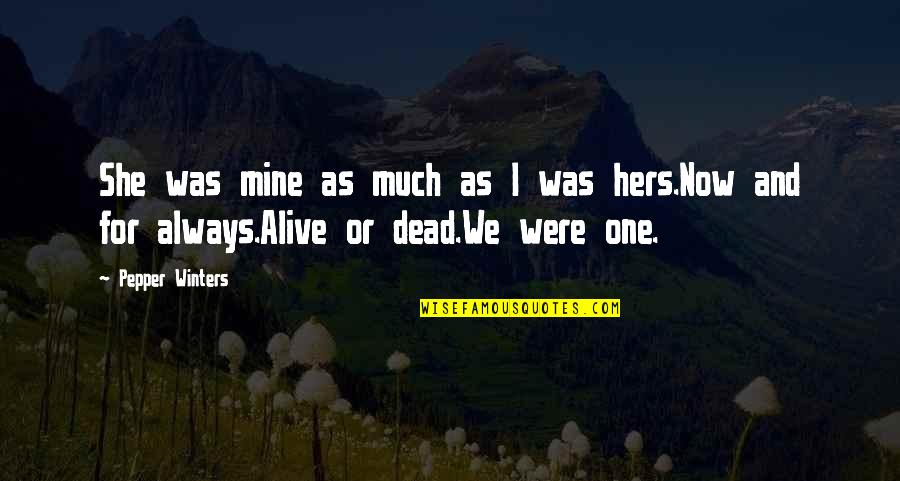 She was mine as much as I was hers.
Now and for always.
Alive or dead
.
We were one. —
Pepper Winters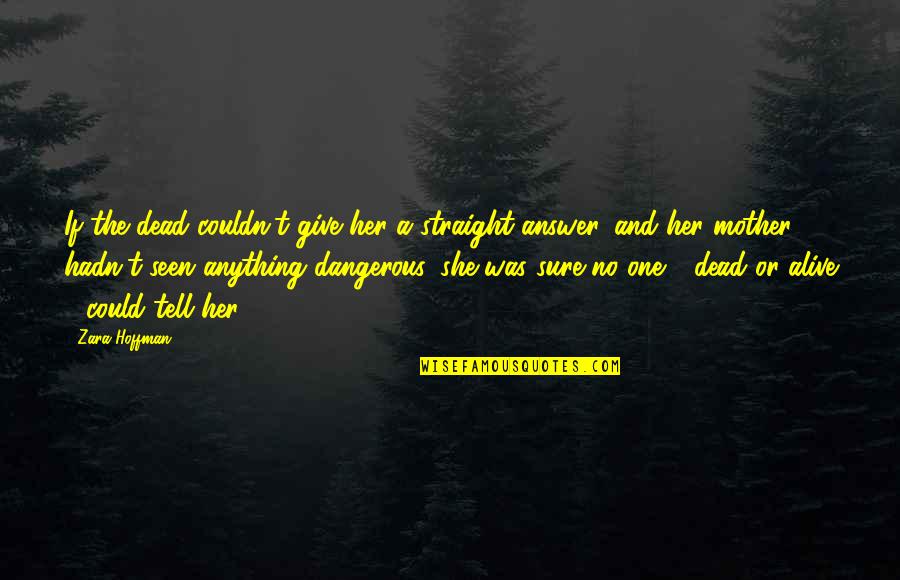 If the dead couldn't give her a straight answer, and her mother hadn't seen anything dangerous, she was sure no one - dead or alive - could tell her. —
Zara Hoffman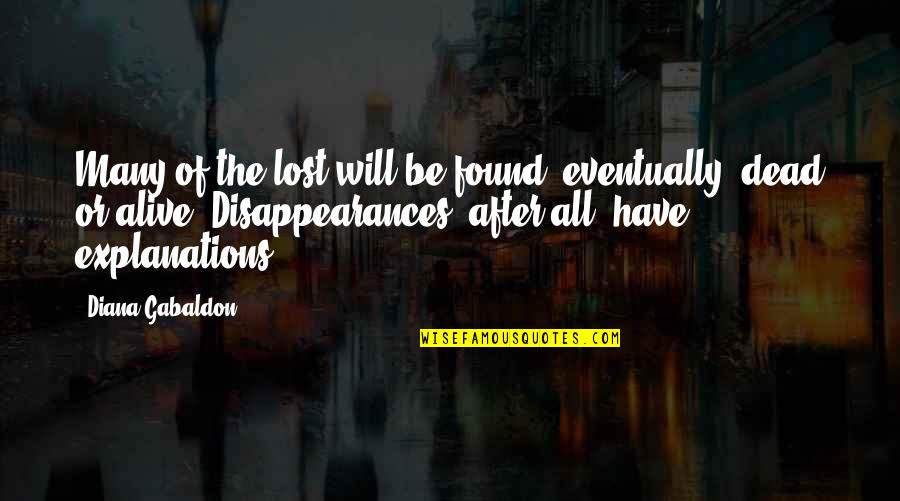 Many of the lost will be found, eventually, dead or alive. Disappearances, after all, have explanations. —
Diana Gabaldon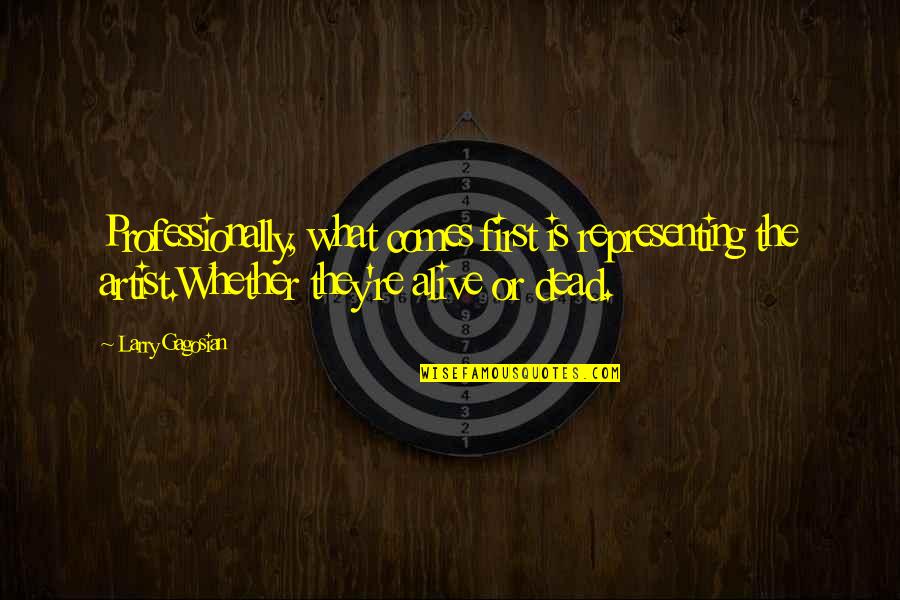 Professionally, what comes first is representing the artist.Whether they're
alive or dead
. —
Larry Gagosian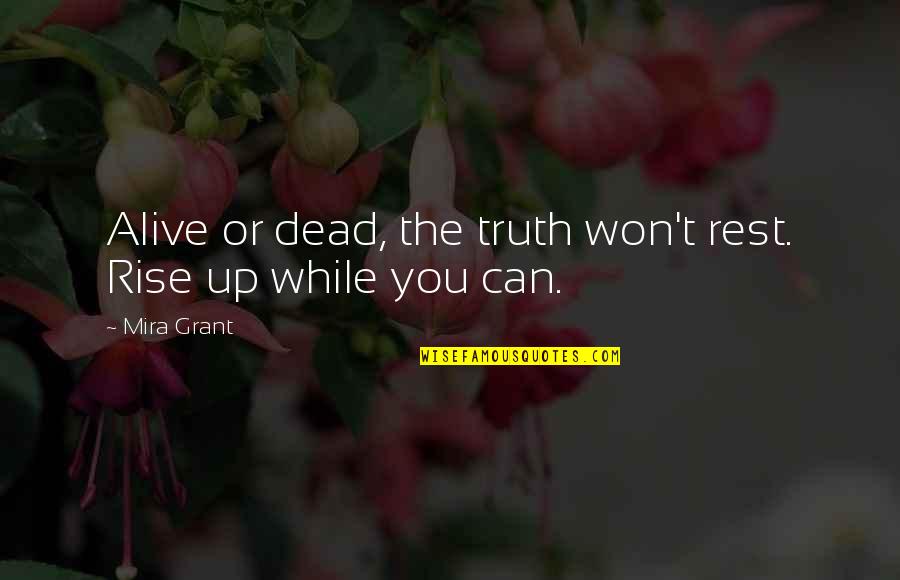 Alive or dead
, the truth won't rest. Rise up while you can. —
Mira Grant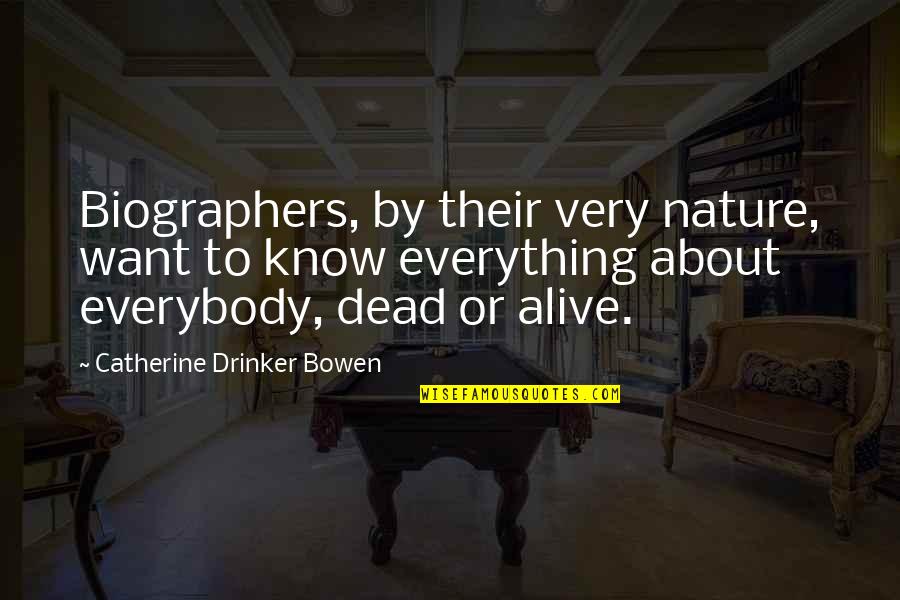 Biographers, by their very nature, want to know everything about everybody, dead or alive. —
Catherine Drinker Bowen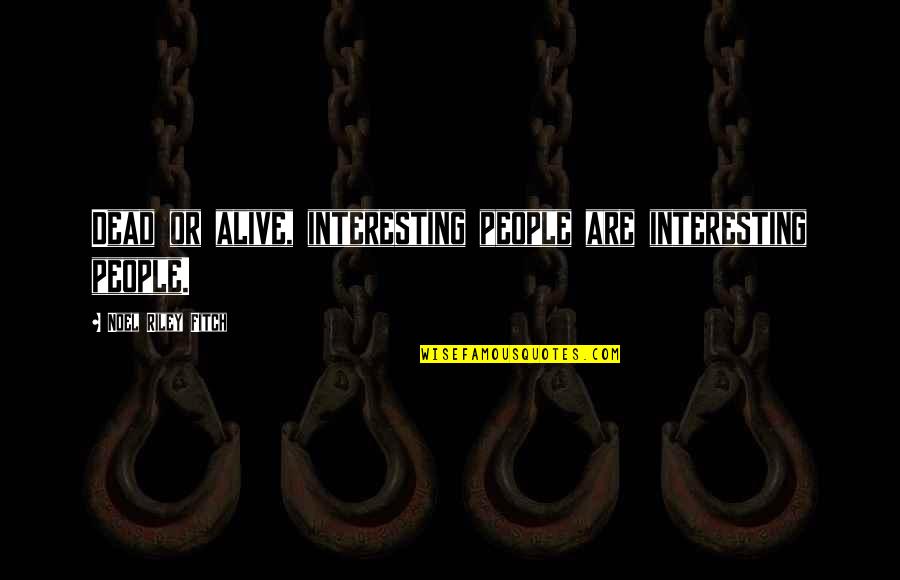 Dead or alive, interesting people are interesting people. —
Noel Riley Fitch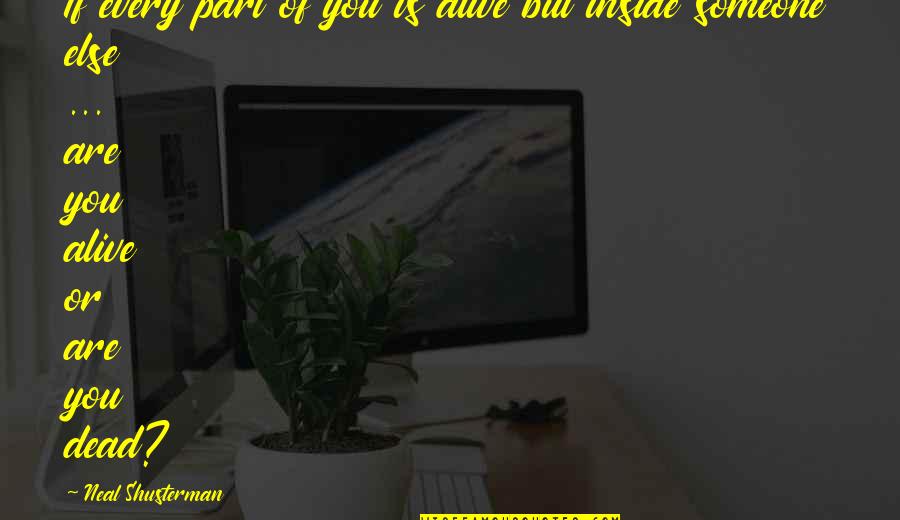 If every part of you is alive but inside someone else ... are you alive or are you dead? —
Neal Shusterman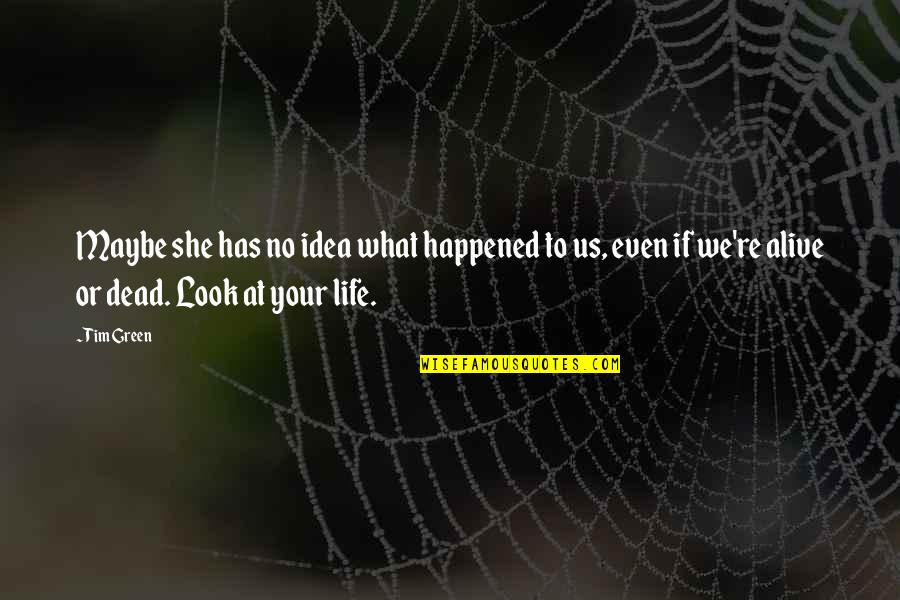 Maybe she has no idea what happened to us, even if we're
alive or dead
. Look at your life. —
Tim Green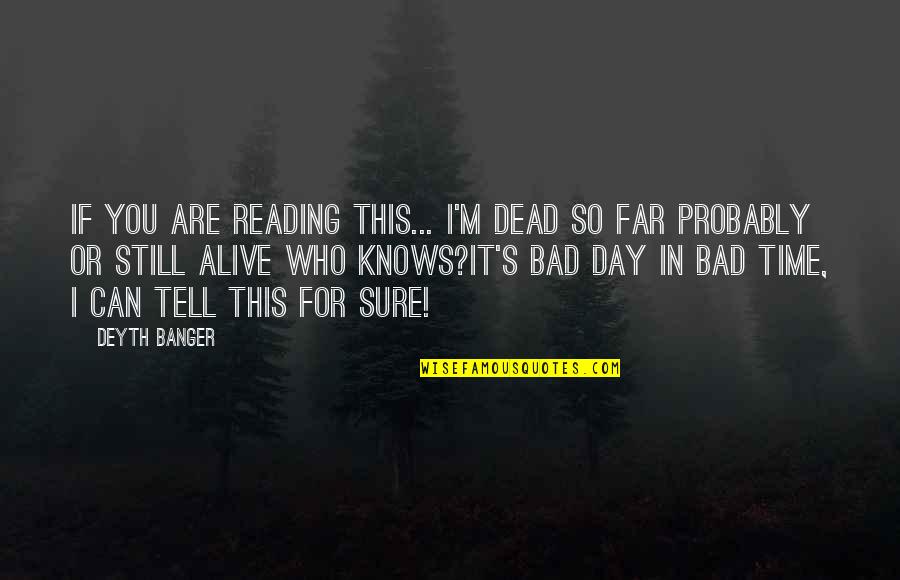 If you are reading this... I'm dead so far probably or still alive who knows?
It's bad day in bad time, I can tell this for sure! —
Deyth Banger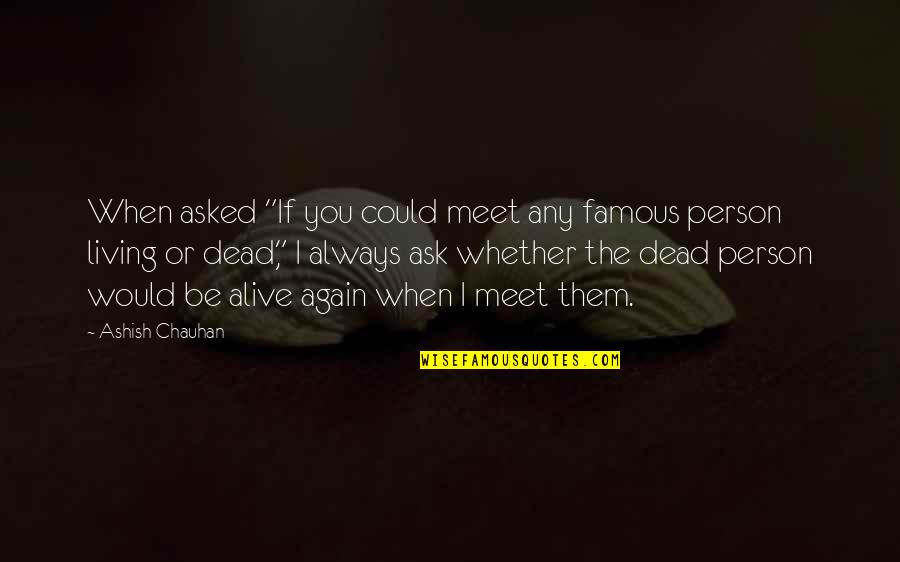 When asked "If you could meet any famous person living or dead," I always ask whether the dead person would be alive again when I meet them. —
Ashish Chauhan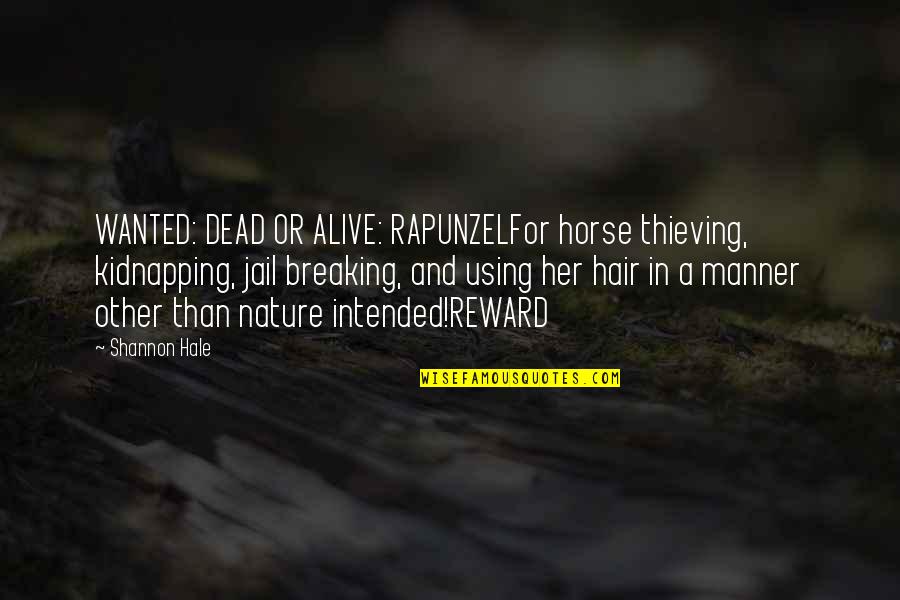 WANTED: DEAD OR ALIVE: RAPUNZEL
For horse thieving, kidnapping, jail breaking, and using her hair in a manner other than nature intended!
REWARD —
Shannon Hale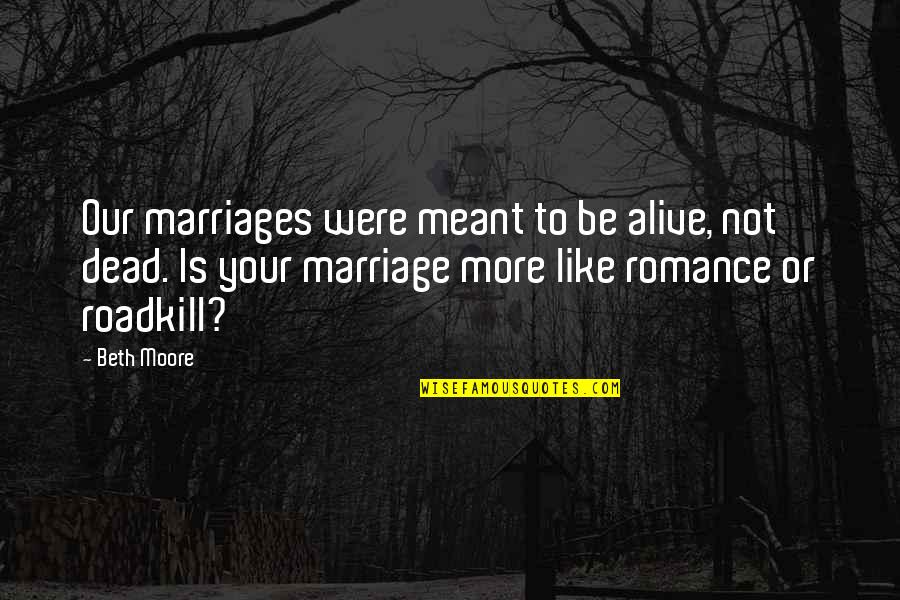 Our marriages were meant to be alive, not dead. Is your marriage more like romance or roadkill? —
Beth Moore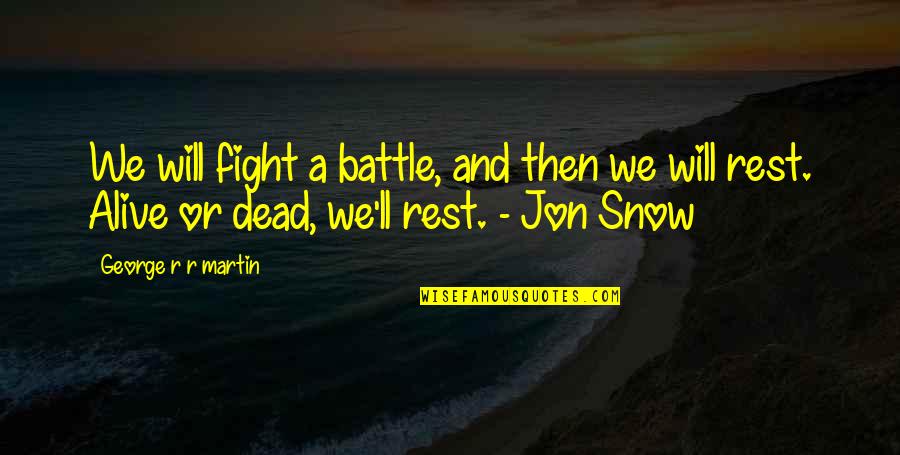 We will fight a battle, and then we will rest.
Alive or dead
, we'll rest. - Jon Snow —
George R R Martin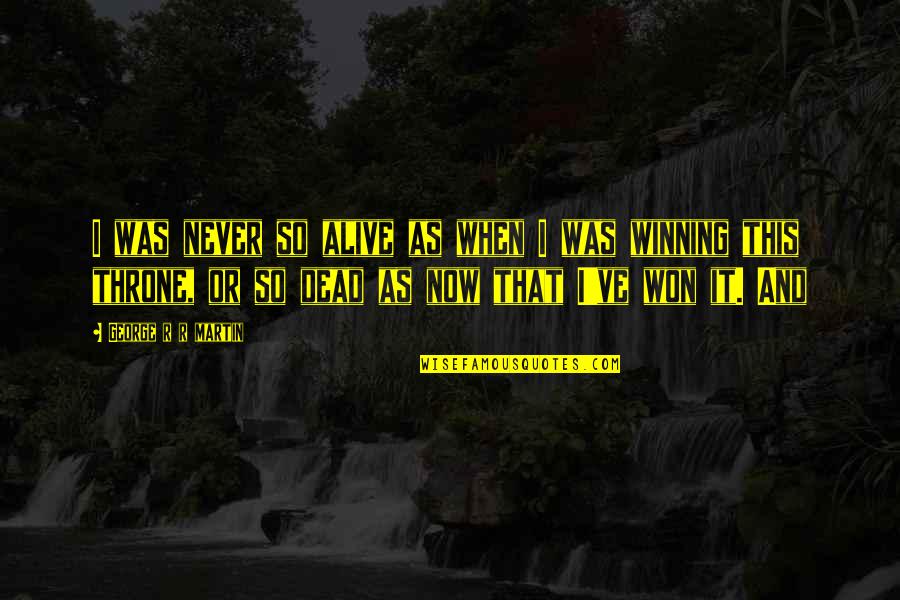 I was never so alive as when I was winning this throne, or so dead as now that I've won it. And —
George R R Martin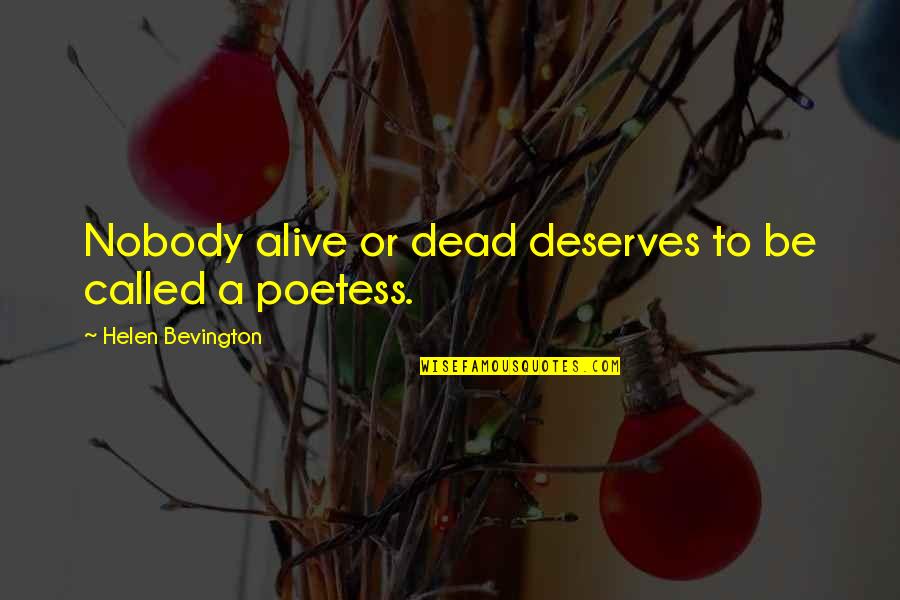 Nobody
alive or dead
deserves to be called a poetess. —
Helen Bevington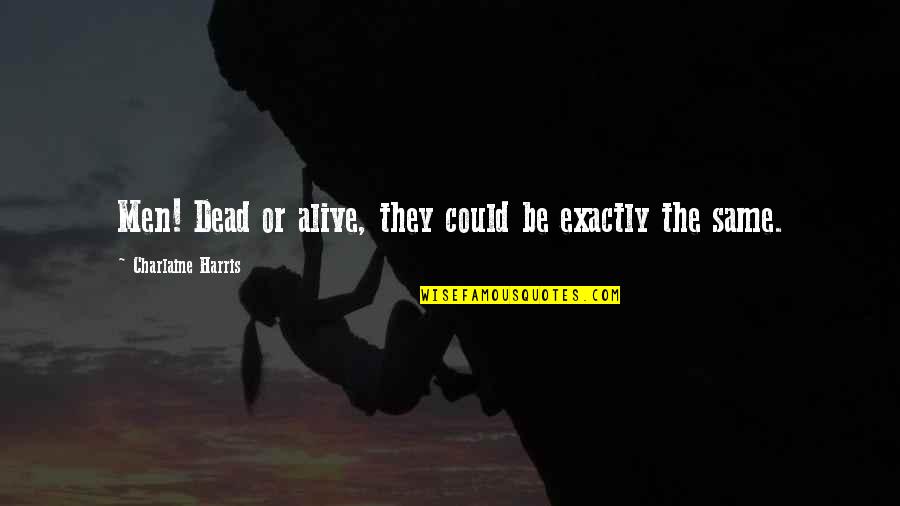 Men! Dead or alive, they could be exactly the same. —
Charlaine Harris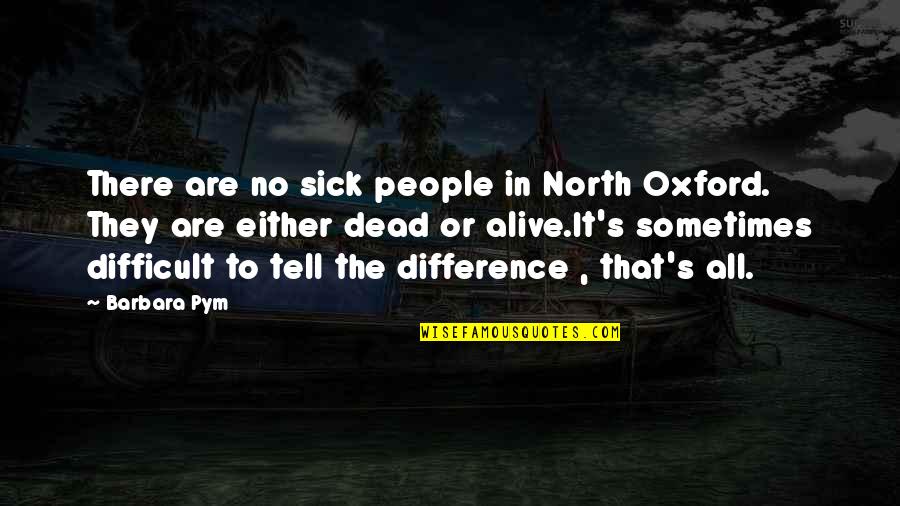 There are no sick people in North Oxford. They are either dead or alive.It's sometimes difficult to tell the difference , that's all. —
Barbara Pym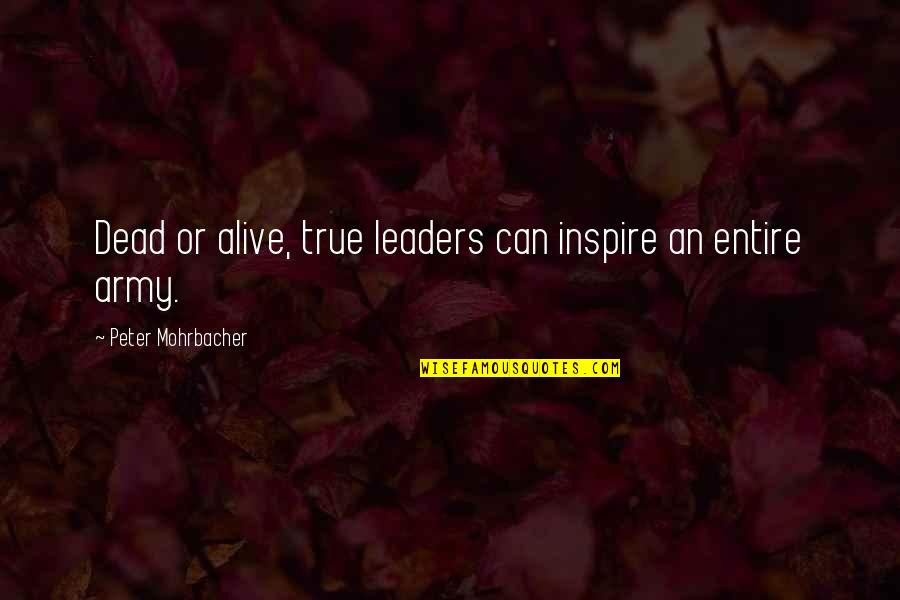 Dead or alive, true leaders can inspire an entire army. —
Peter Mohrbacher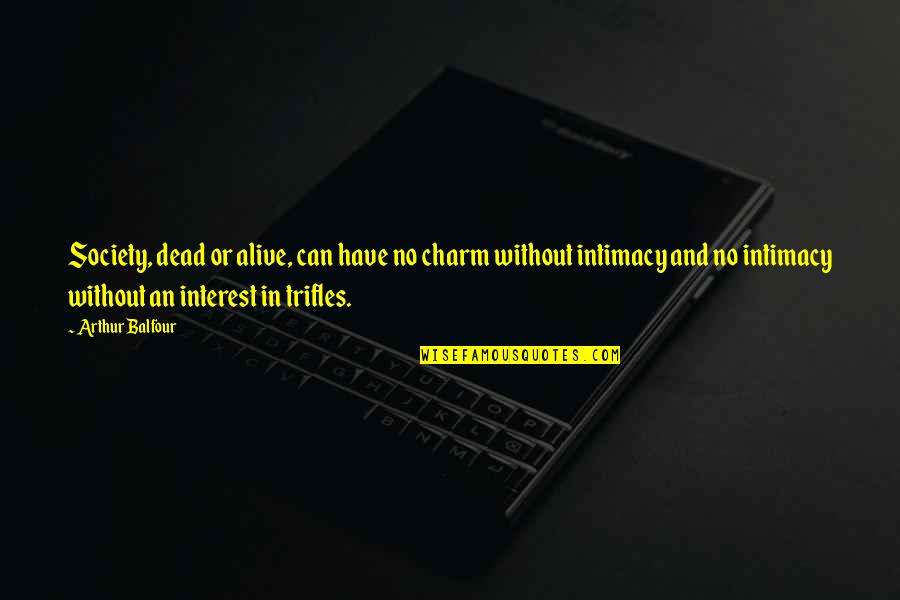 Society, dead or alive, can have no charm without intimacy and no intimacy without an interest in trifles. —
Arthur Balfour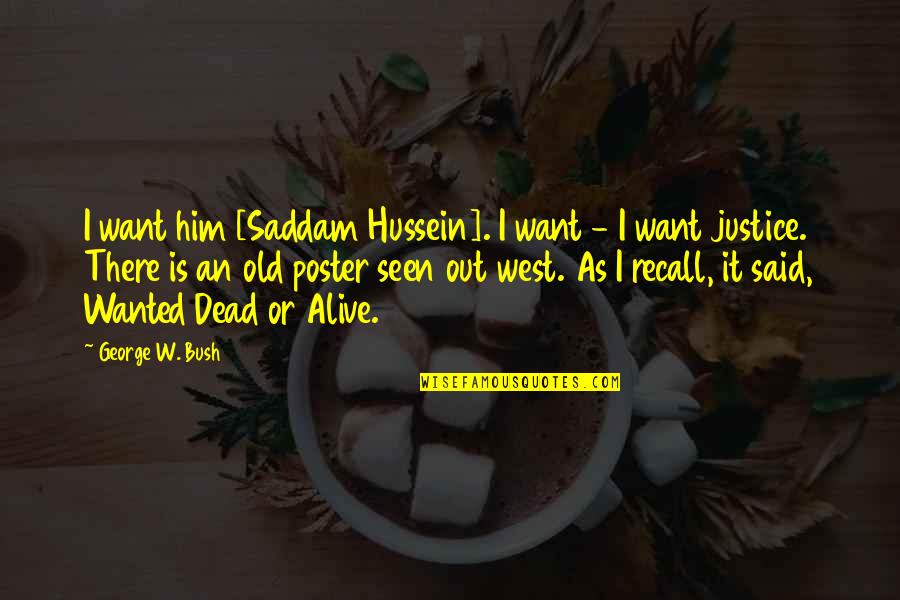 I want him [Saddam Hussein]. I want - I want justice. There is an old poster seen out west. As I recall, it said, Wanted Dead or Alive. —
George W. Bush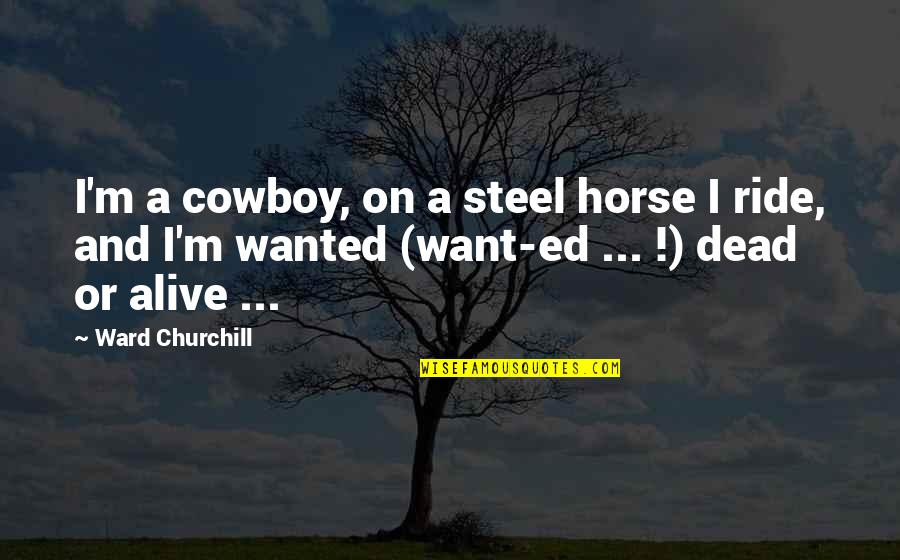 I'm a cowboy, on a steel horse I ride, and I'm wanted (want-ed ... !) dead or alive ... —
Ward Churchill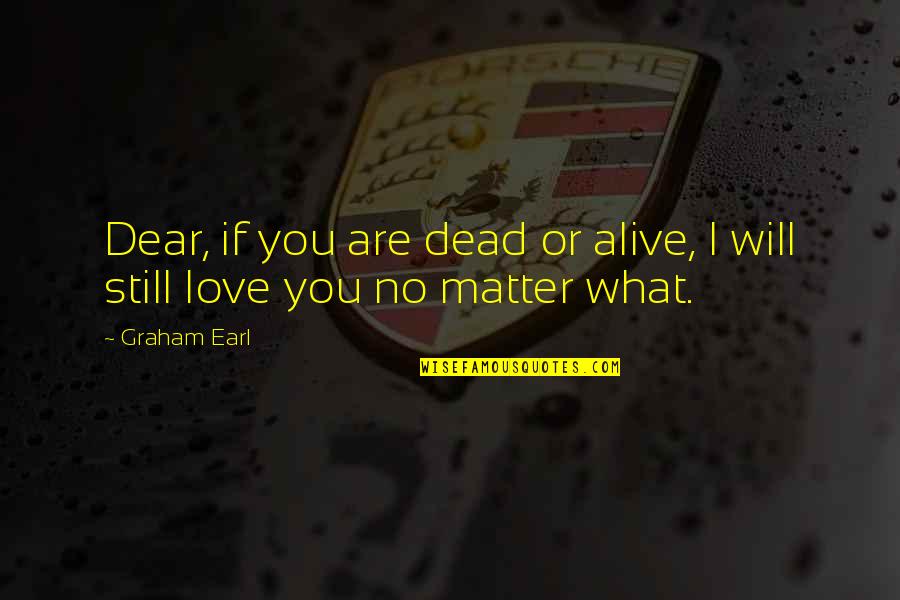 Dear, if you are dead or alive, I will still love you no matter what. —
Graham Earl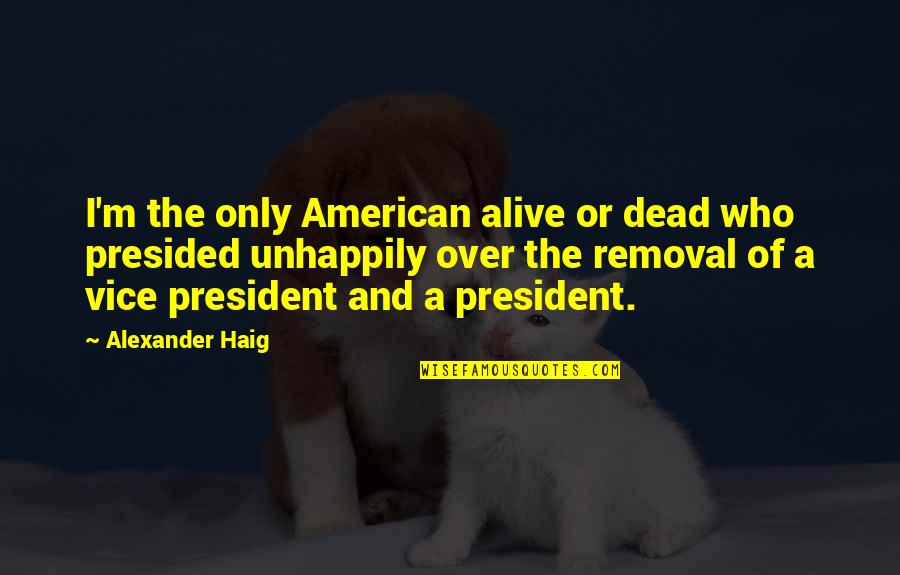 I'm the only American
alive or dead
who presided unhappily over the removal of a vice president and a president. —
Alexander Haig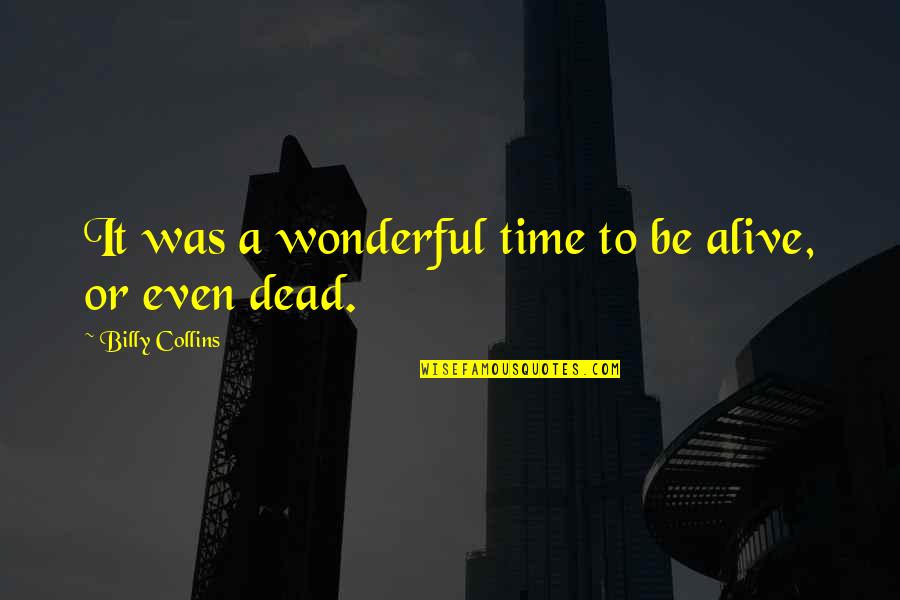 It was a wonderful time to be alive, or even dead. —
Billy Collins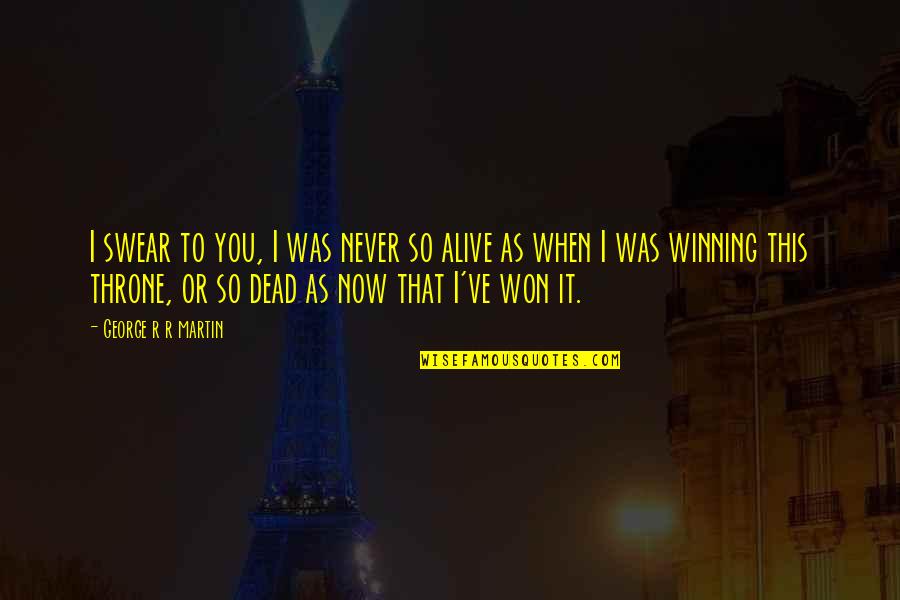 I swear to you, I was never so alive as when I was winning this throne, or so dead as now that I've won it. —
George R R Martin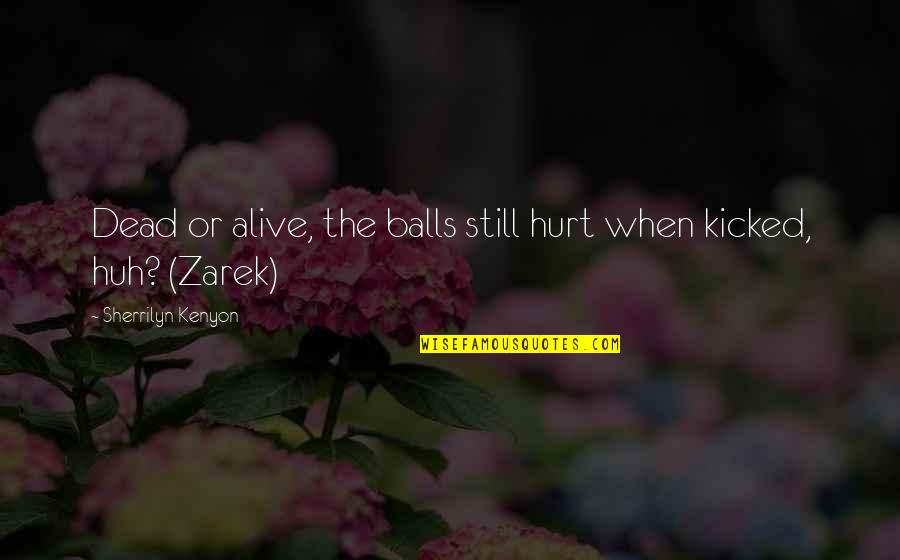 Dead or alive, the balls still hurt when kicked, huh? (Zarek) —
Sherrilyn Kenyon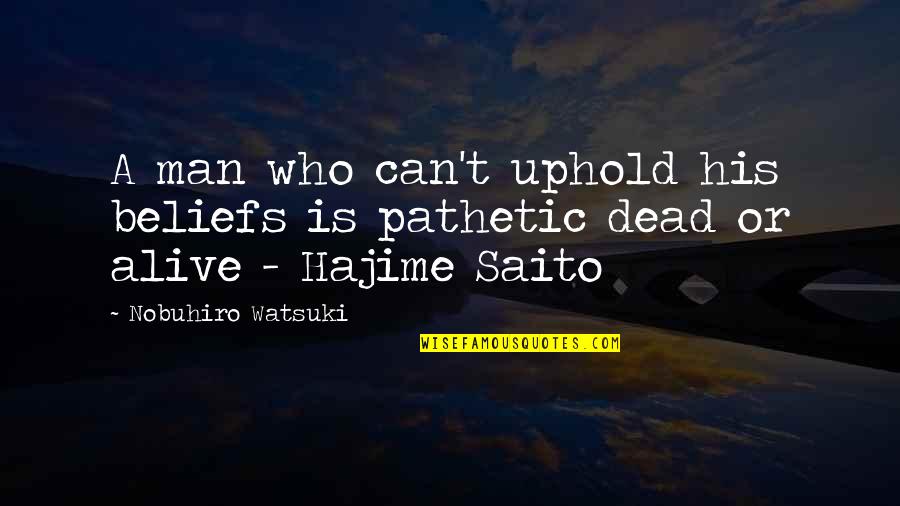 A man who can't uphold his beliefs is pathetic dead or alive - Hajime Saito —
Nobuhiro Watsuki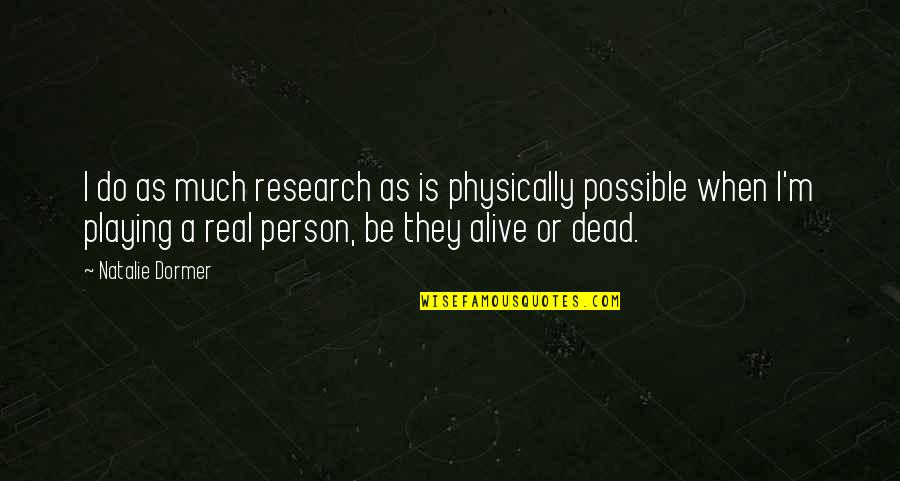 I do as much research as is physically possible when I'm playing a real person, be they
alive or dead
. —
Natalie Dormer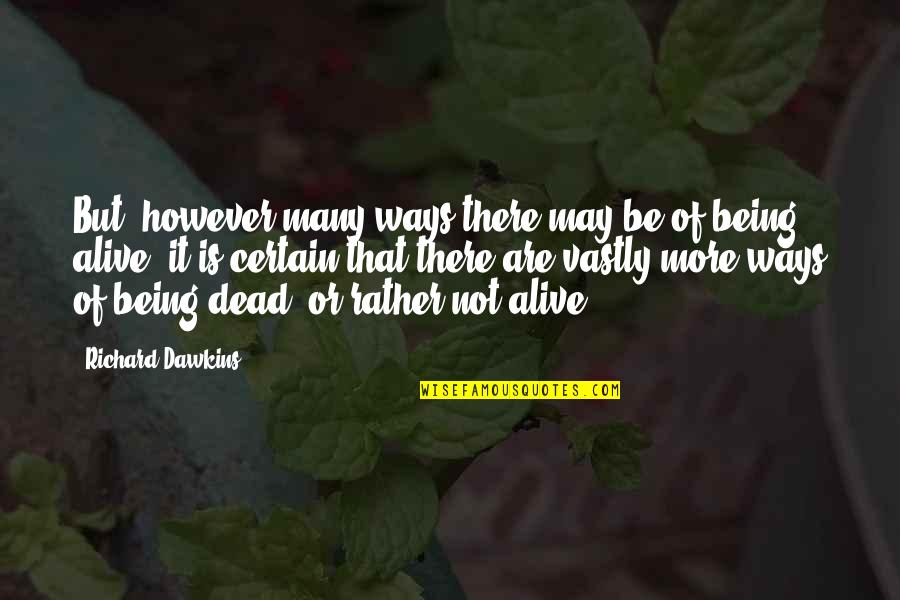 But, however many ways there may be of being alive, it is certain that there are vastly more ways of being dead, or rather not alive. —
Richard Dawkins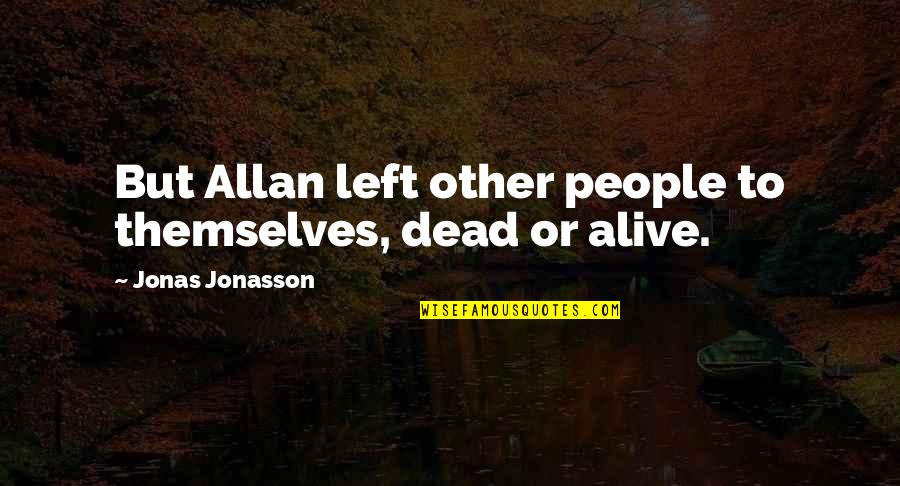 But Allan left other people to themselves, dead or alive. —
Jonas Jonasson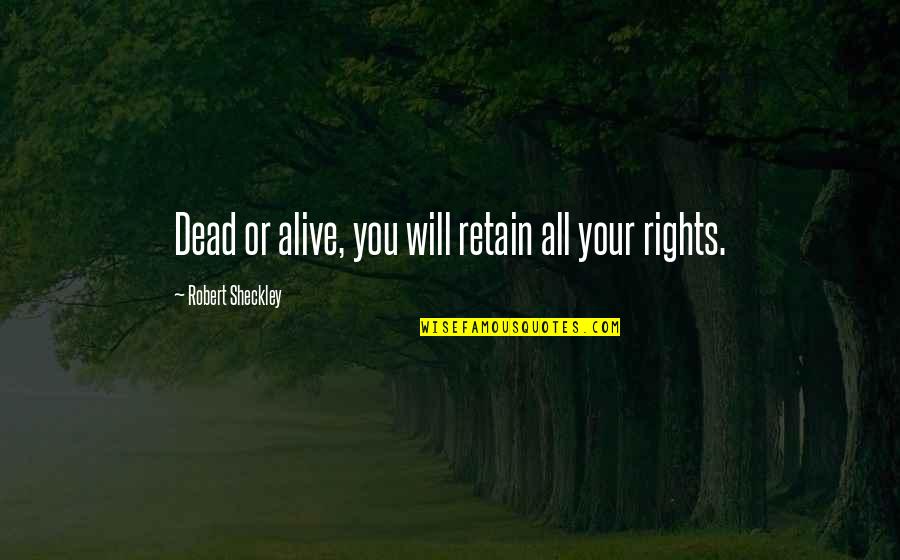 Dead or alive, you will retain all your rights. —
Robert Sheckley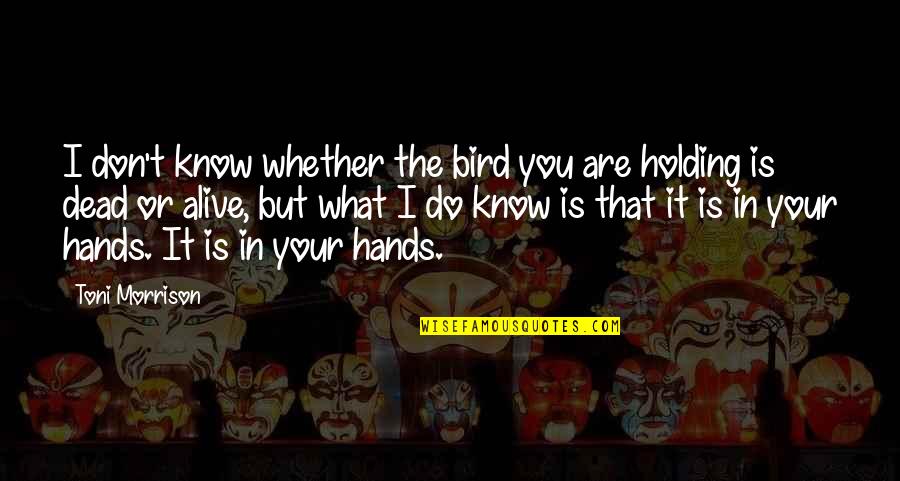 I don't know whether the bird you are holding is dead or alive, but what I do know is that it is in your hands. It is in your hands. —
Toni Morrison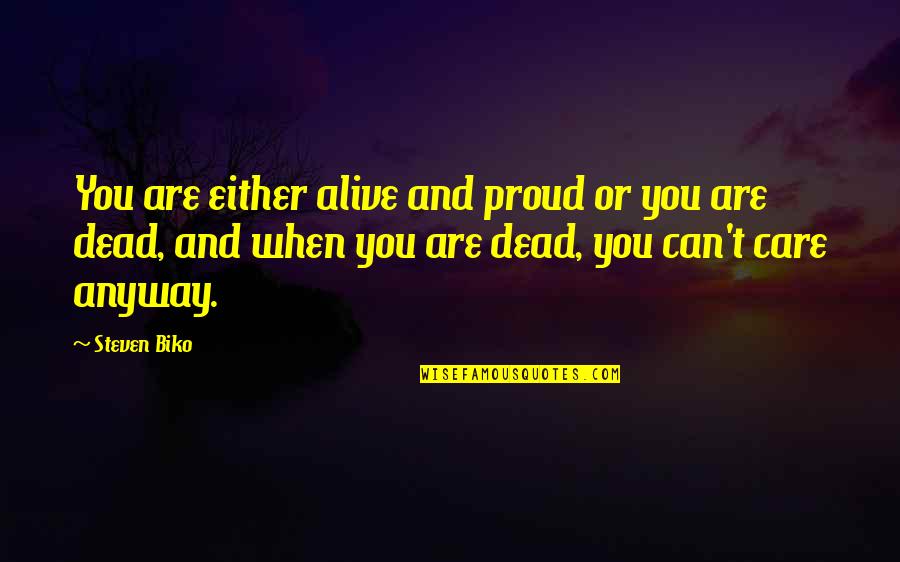 You are either alive and proud or you are dead, and when you are dead, you can't care anyway. —
Steven Biko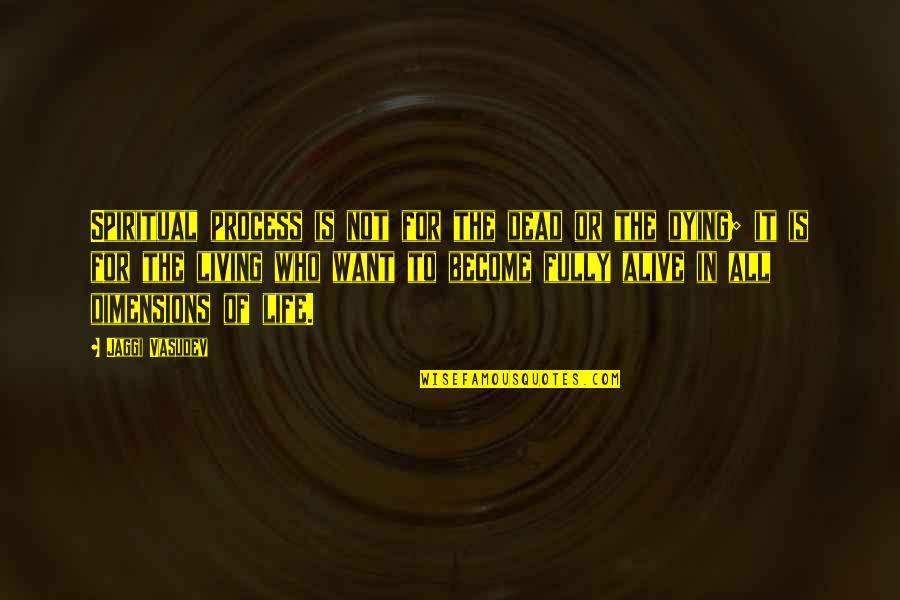 Spiritual process is not for the dead or the dying; it is for the living who want to become fully alive in all dimensions of life. —
Jaggi Vasudev