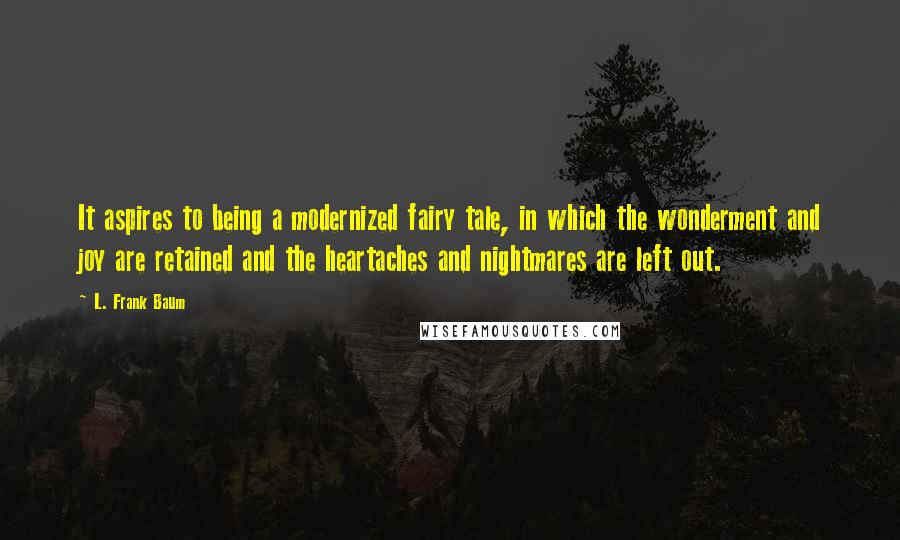 It aspires to being a modernized fairy tale, in which the wonderment and joy are retained and the heartaches and nightmares are left out.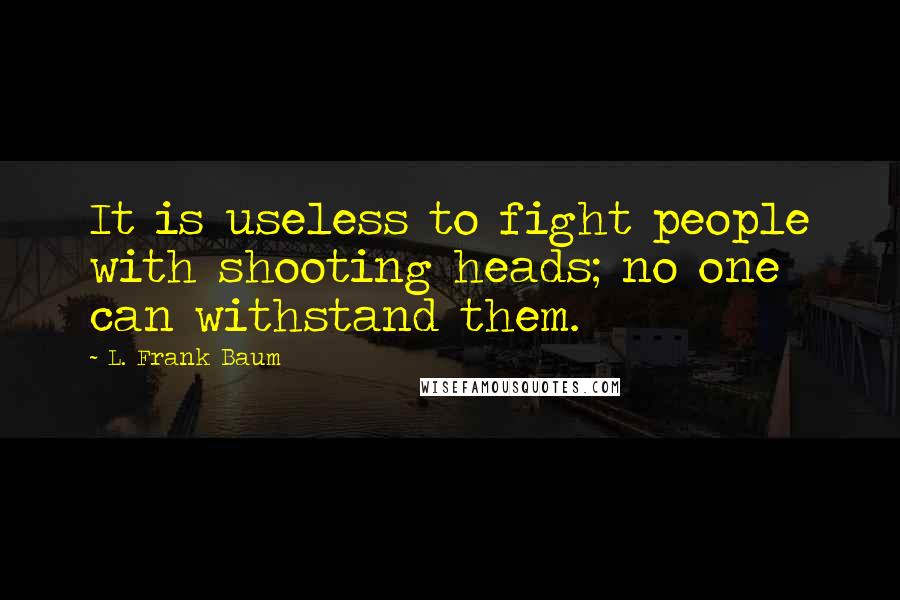 It is useless to fight people with shooting heads; no one can withstand them.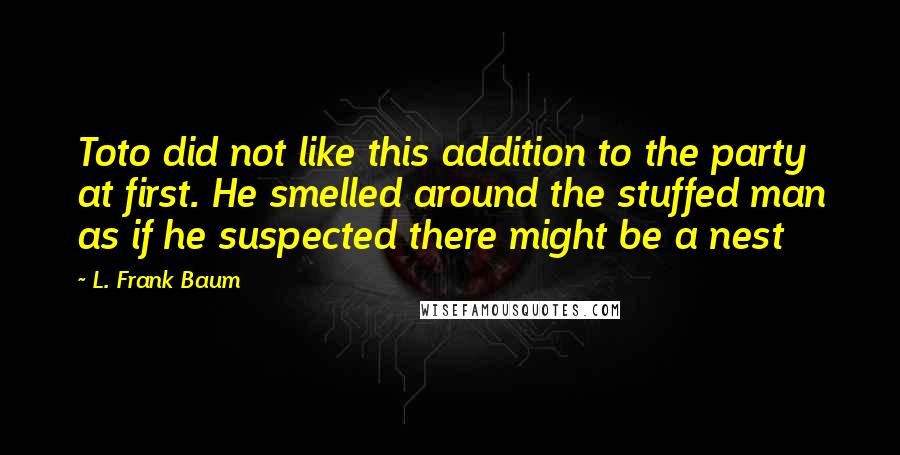 Toto did not like this addition to the party at first. He smelled around the stuffed man as if he suspected there might be a nest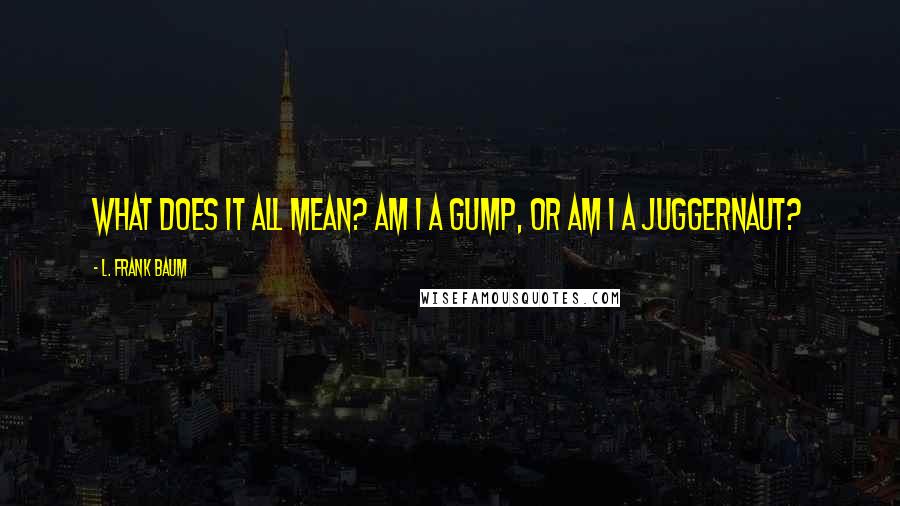 What does it all mean? Am I a Gump, or am I a juggernaut?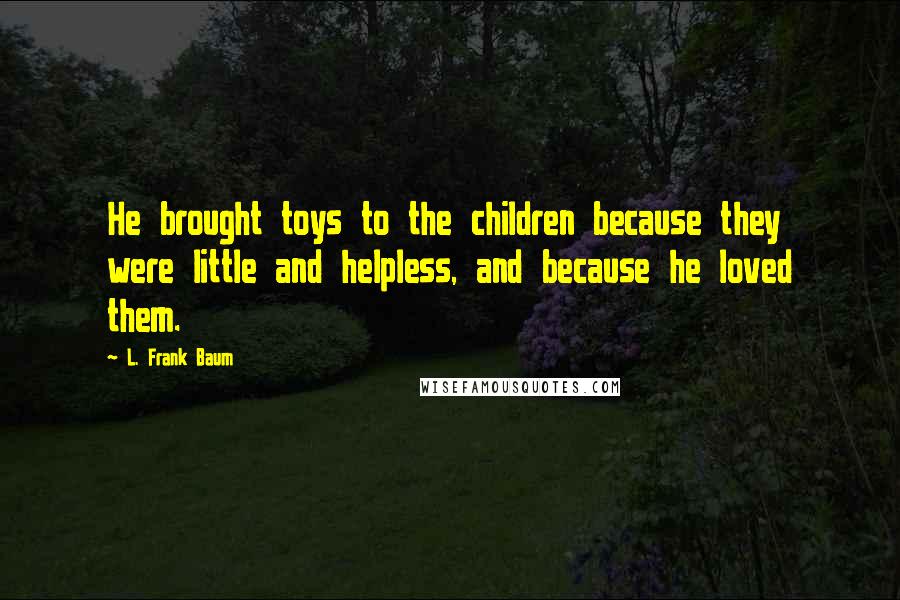 He brought toys to the children because they were little and helpless, and because he loved them.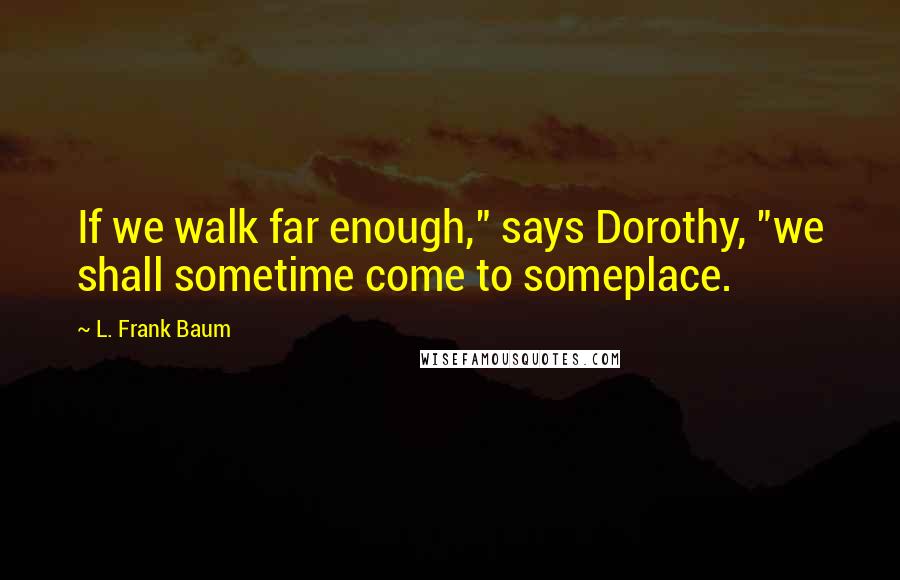 If we walk far enough," says Dorothy, "we shall sometime come to someplace.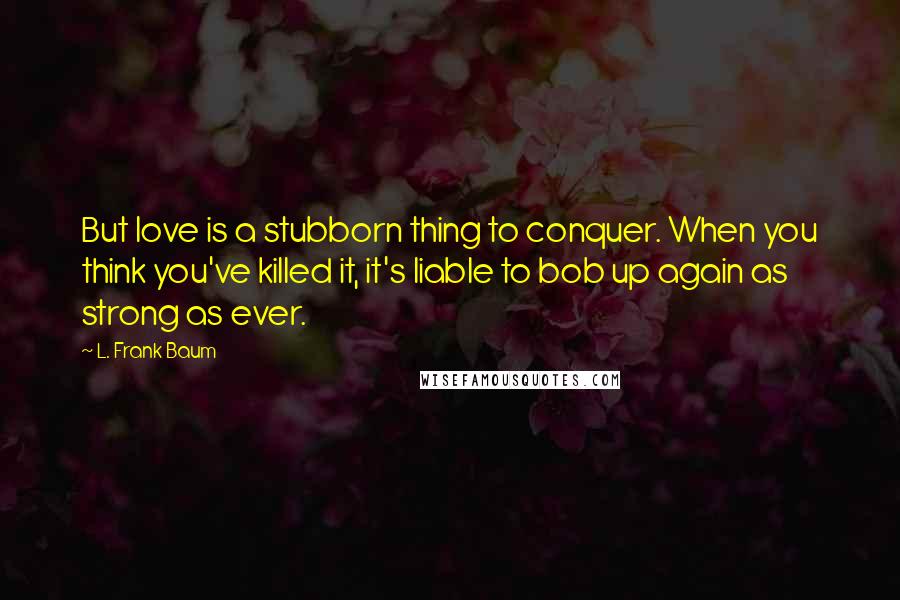 But love is a stubborn thing to conquer. When you think you've killed it, it's liable to bob up again as strong as ever.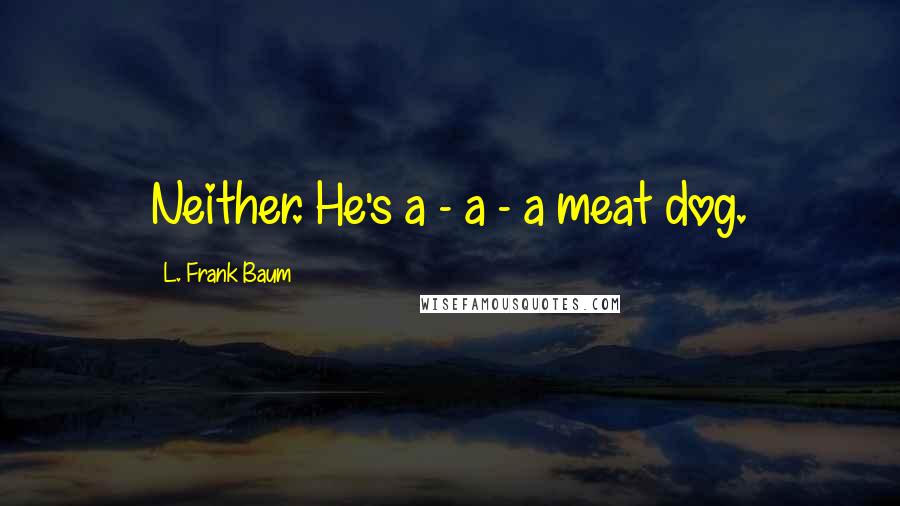 Neither. He's a - a - a meat dog.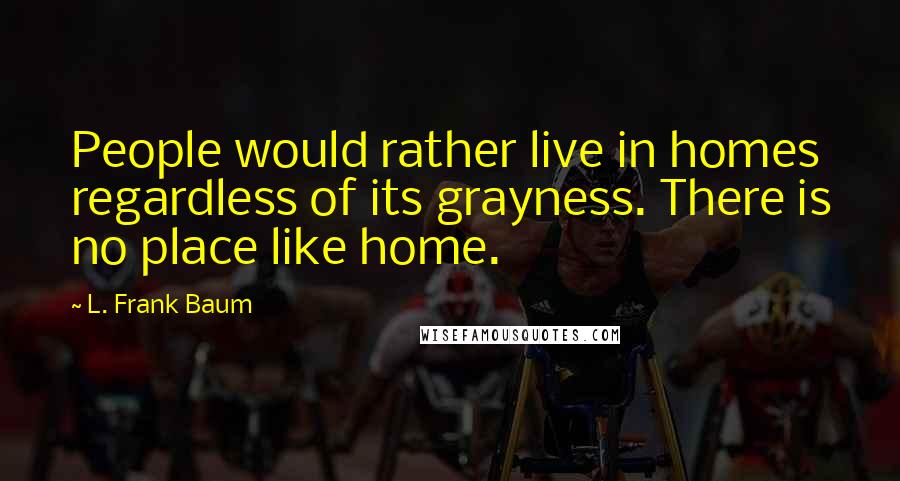 People would rather live in homes regardless of its grayness. There is no place like home.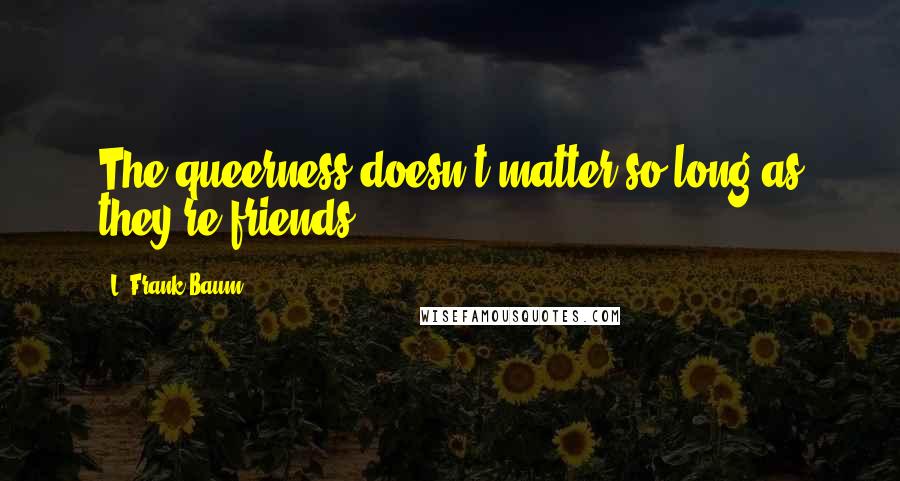 The queerness doesn't matter so long as they're friends.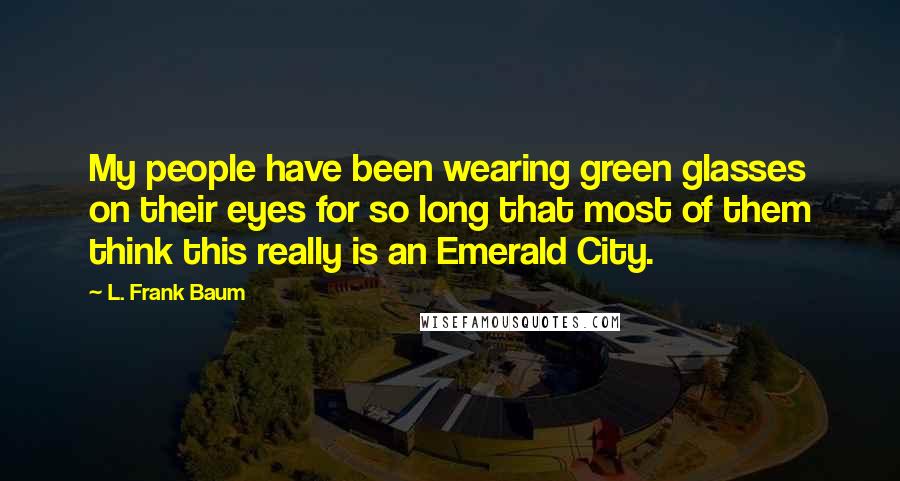 My people have been wearing green glasses on their eyes for so long that most of them think this really is an Emerald City.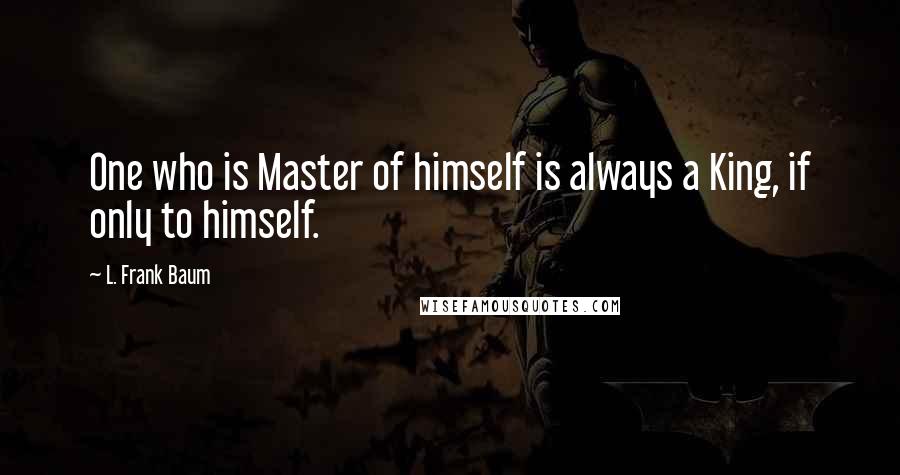 One who is Master of himself is always a King, if only to himself.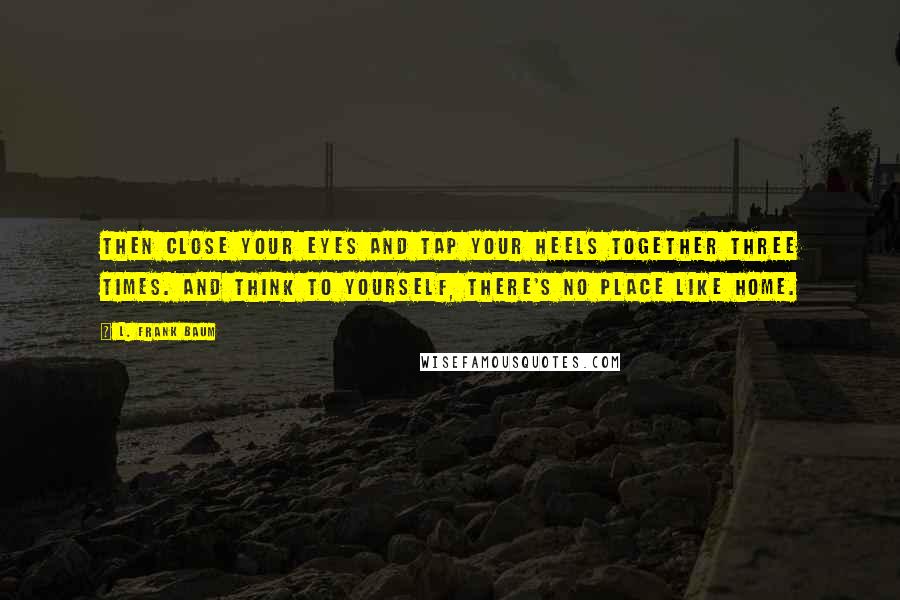 Then close your eyes and tap your heels together three times. And think to yourself, there's no place like home.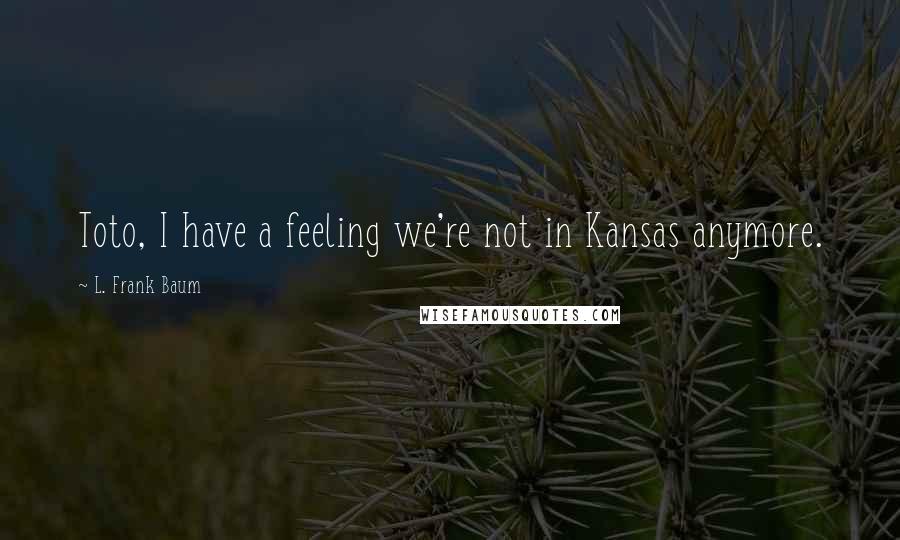 Toto, I have a feeling we're not in Kansas anymore.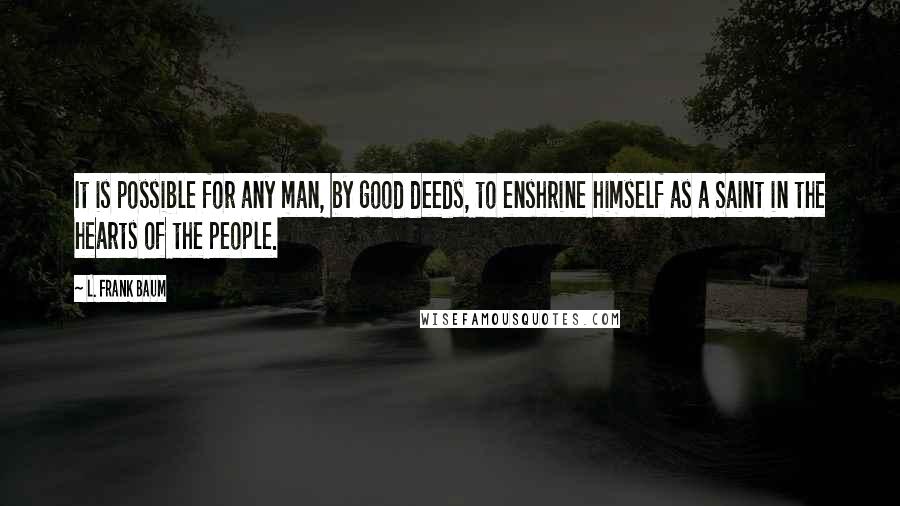 It is possible for any man, by good deeds, to enshrine himself as a Saint in the hearts of the people.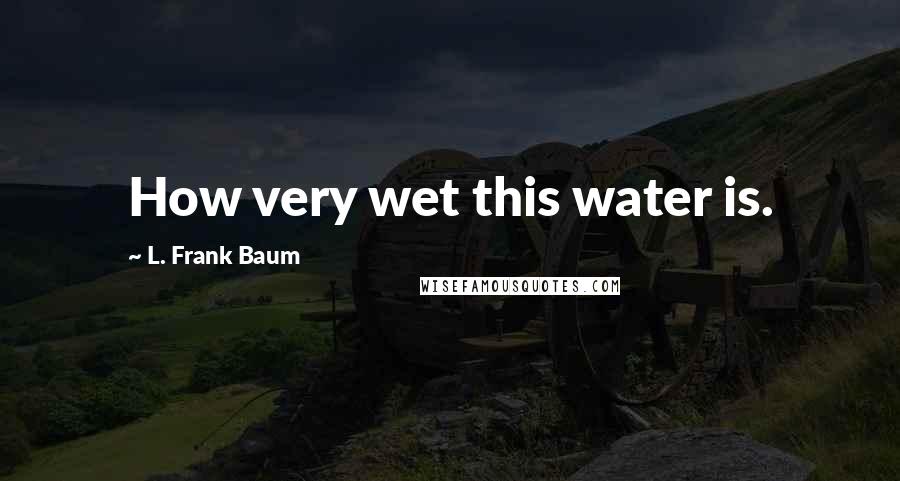 How very wet this water is.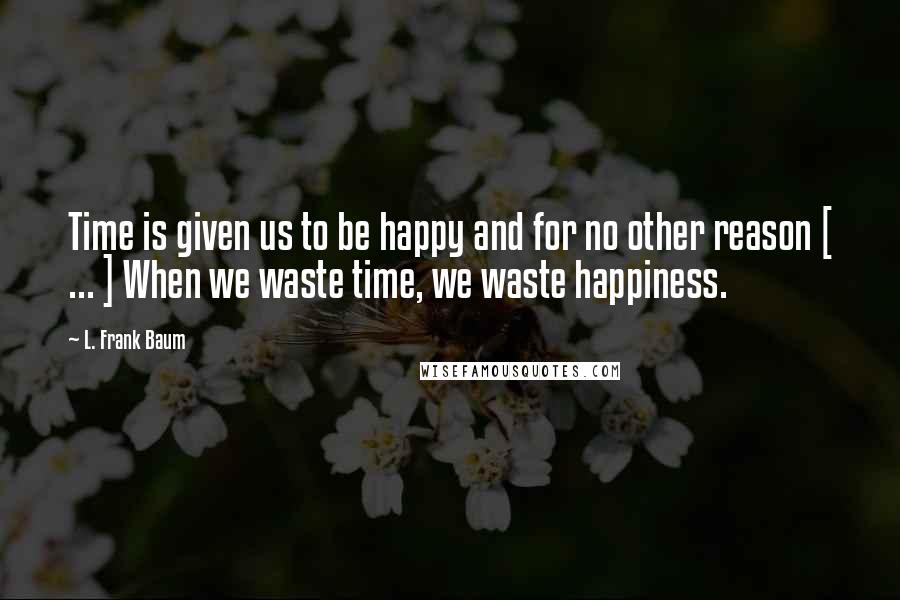 Time is given us to be happy and for no other reason [ ... ] When we waste time, we waste happiness.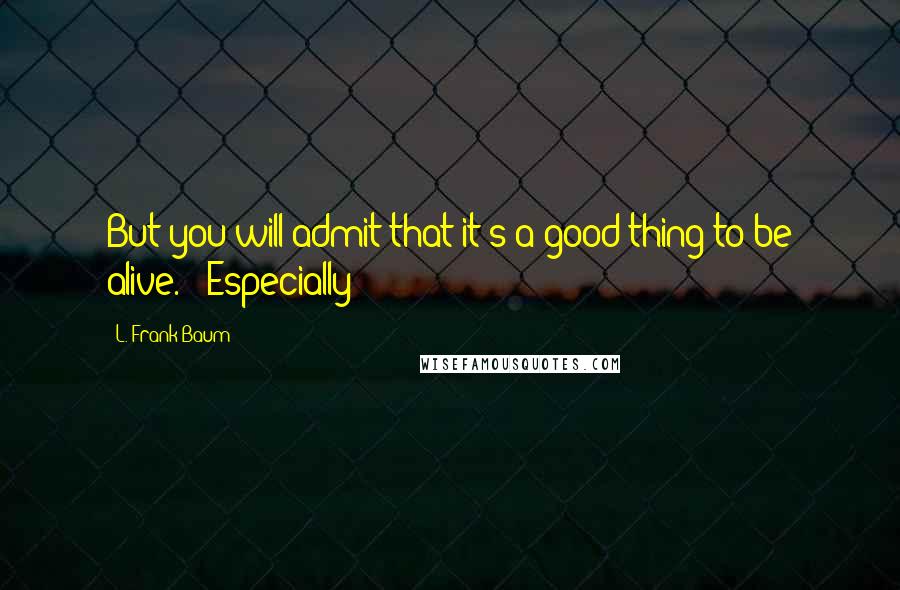 But you will admit that it's a good thing to be alive." "Especially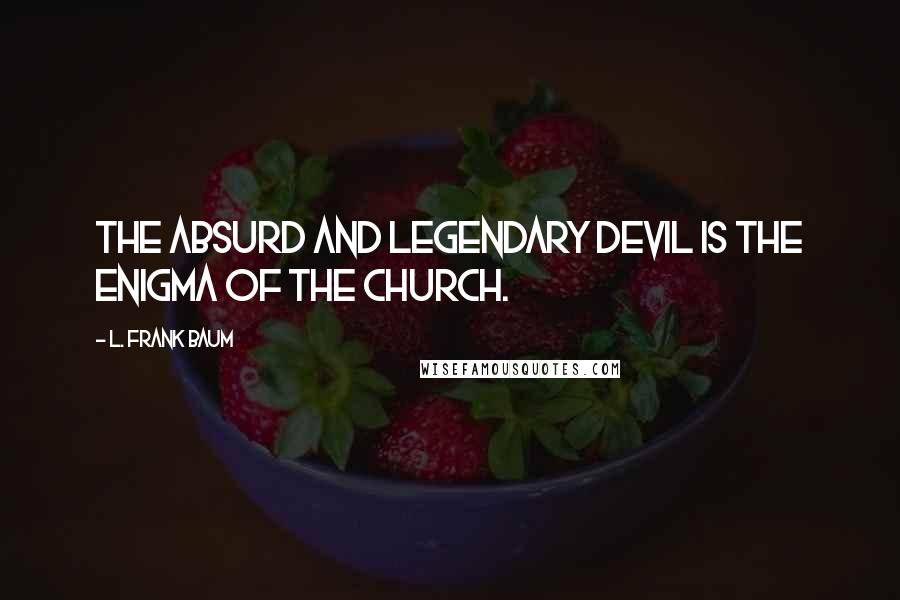 The absurd and legendary devil is the enigma of the Church.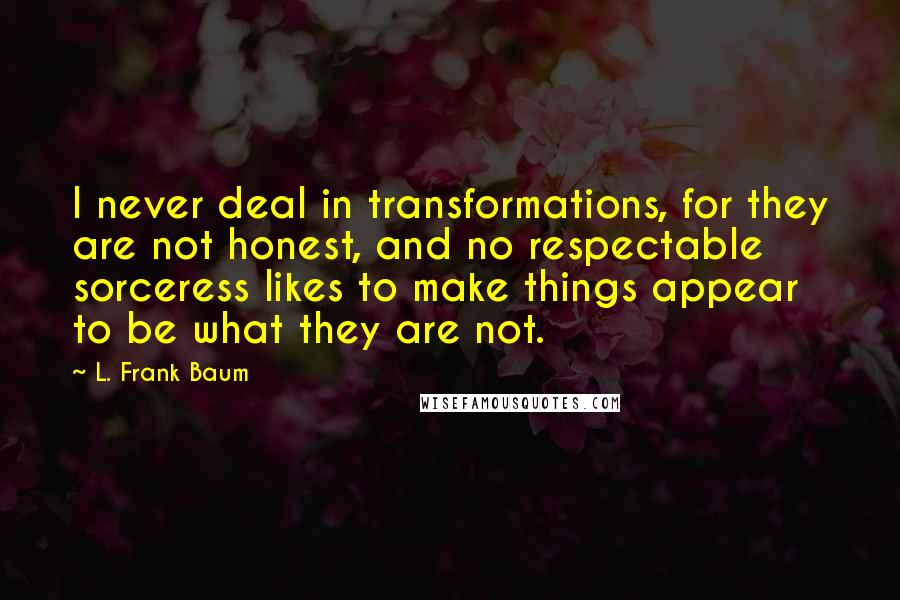 I never deal in transformations, for they are not honest, and no respectable sorceress likes to make things appear to be what they are not.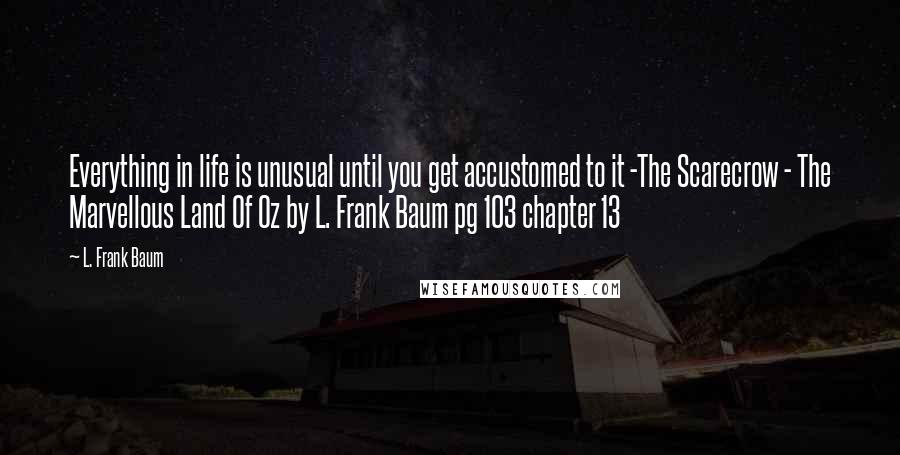 Everything in life is unusual until you get accustomed to it -The Scarecrow - The Marvellous Land Of Oz by L. Frank Baum pg 103 chapter 13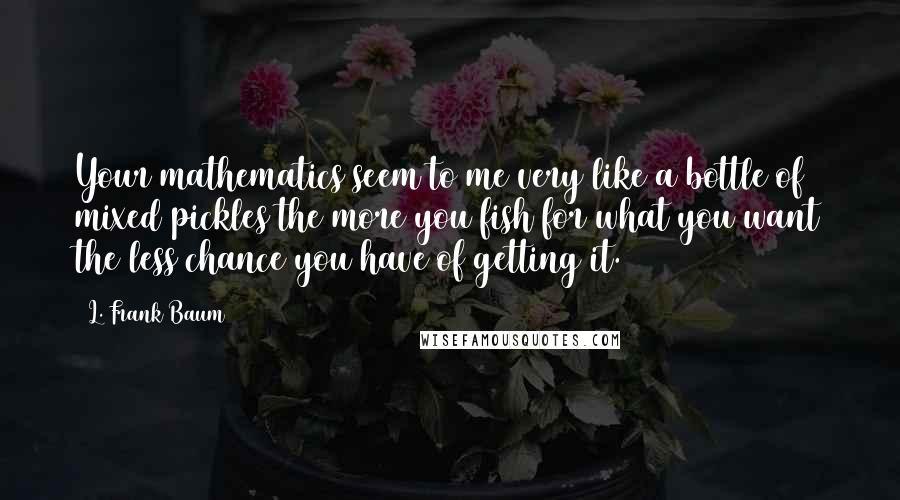 Your mathematics seem to me very like a bottle of mixed pickles the more you fish for what you want the less chance you have of getting it.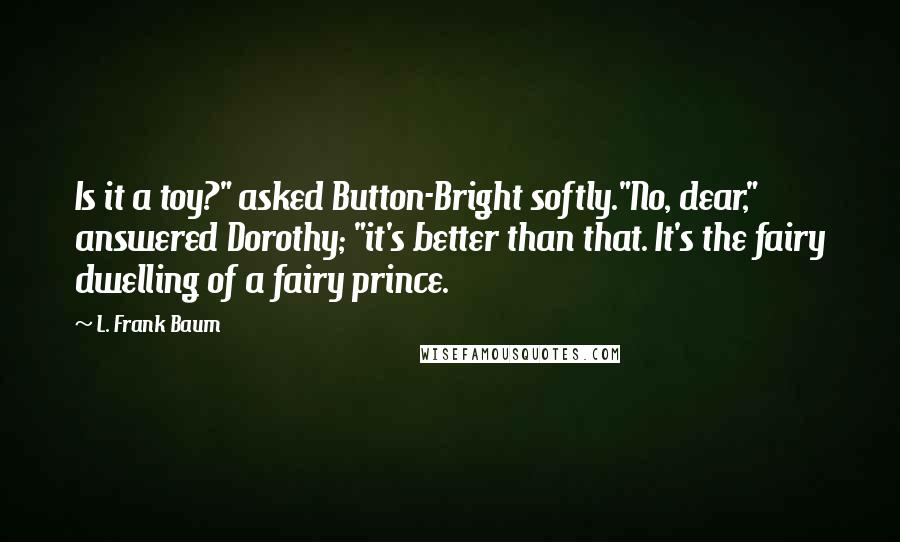 Is it a toy?" asked Button-Bright softly.
"No, dear," answered Dorothy; "it's better than that. It's the fairy dwelling of a fairy prince.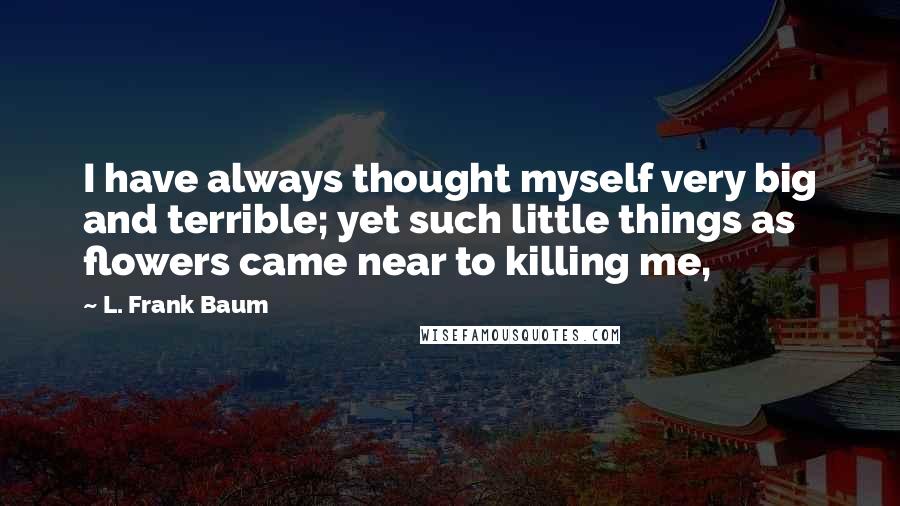 I have always thought myself very big and terrible; yet such little things as flowers came near to killing me,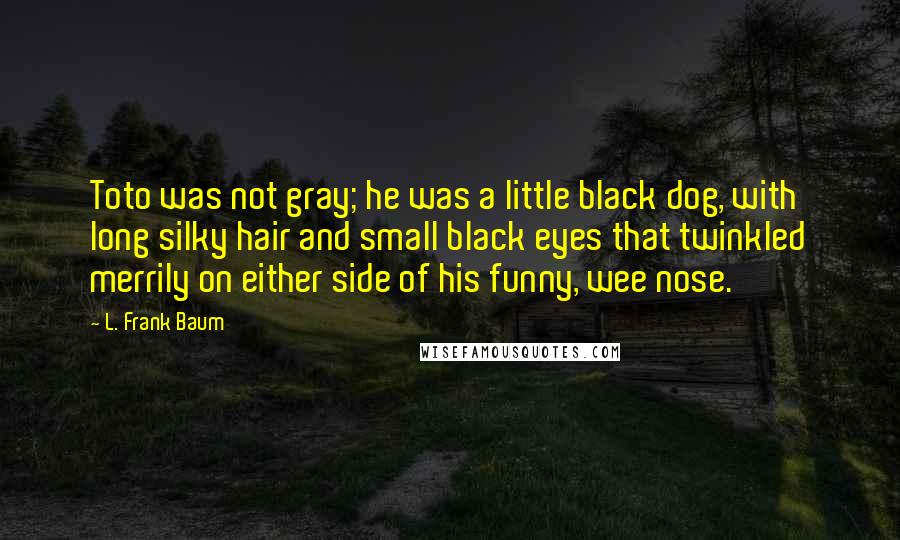 Toto was not gray; he was a little black dog, with long silky hair and small black eyes that twinkled merrily on either side of his funny, wee nose.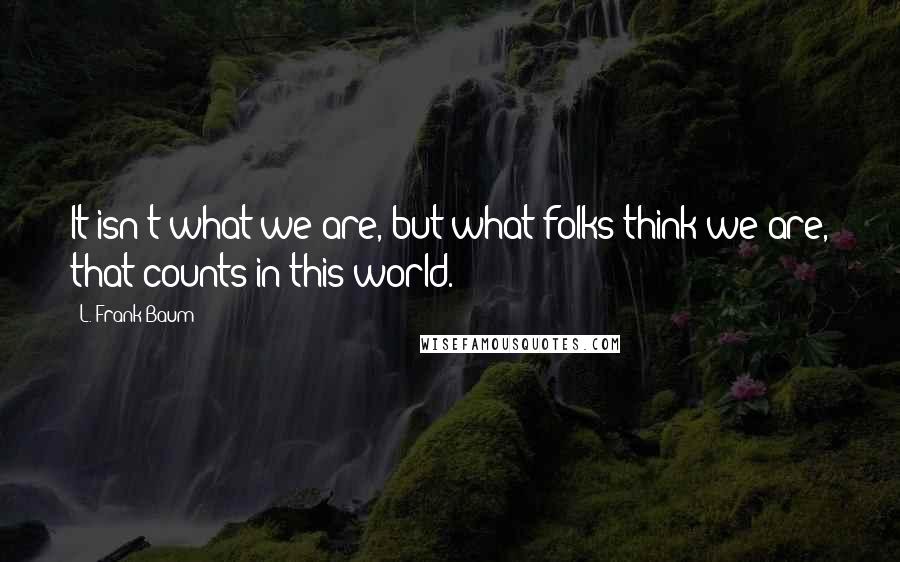 It isn't what we are, but what folks think we are, that counts in this world.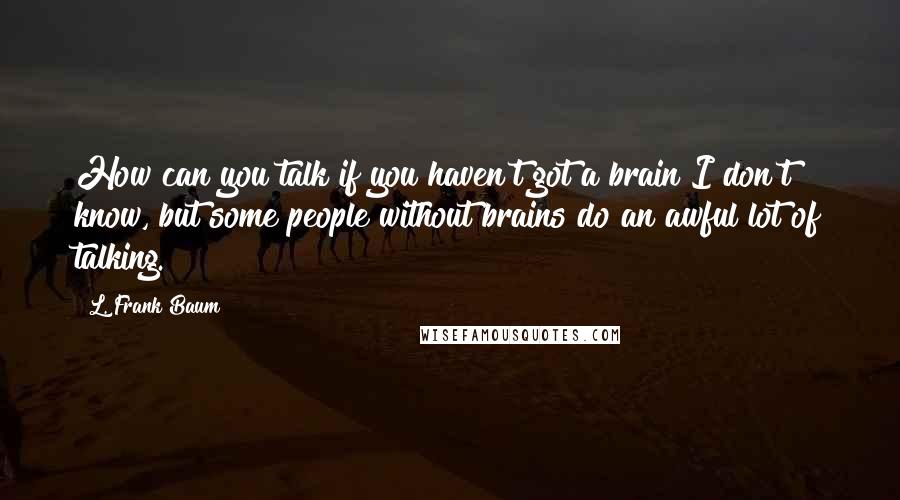 How can you talk if you haven't got a brain?
I don't know, but some people without brains do an awful lot of talking.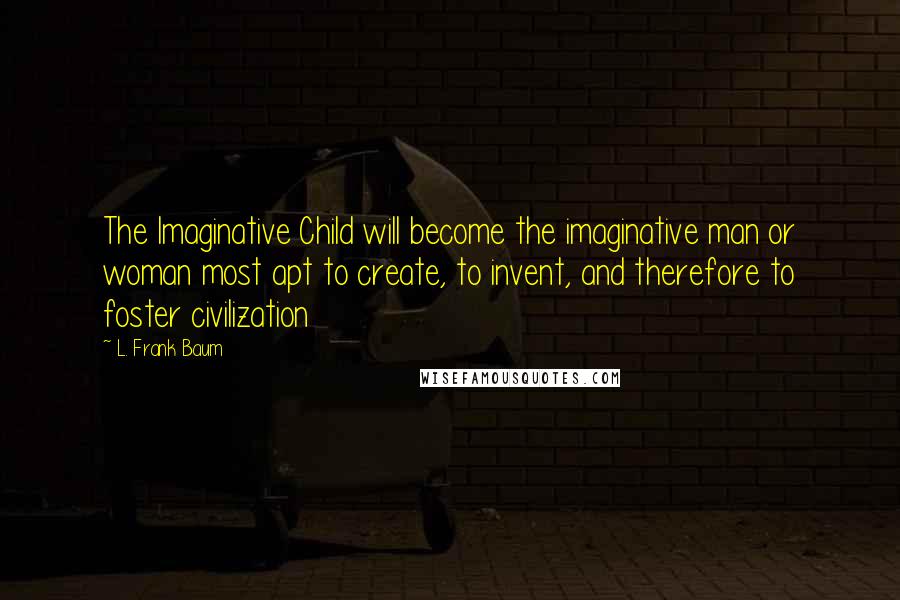 The Imaginative Child will become the imaginative man or woman most apt to create, to invent, and therefore to foster civilization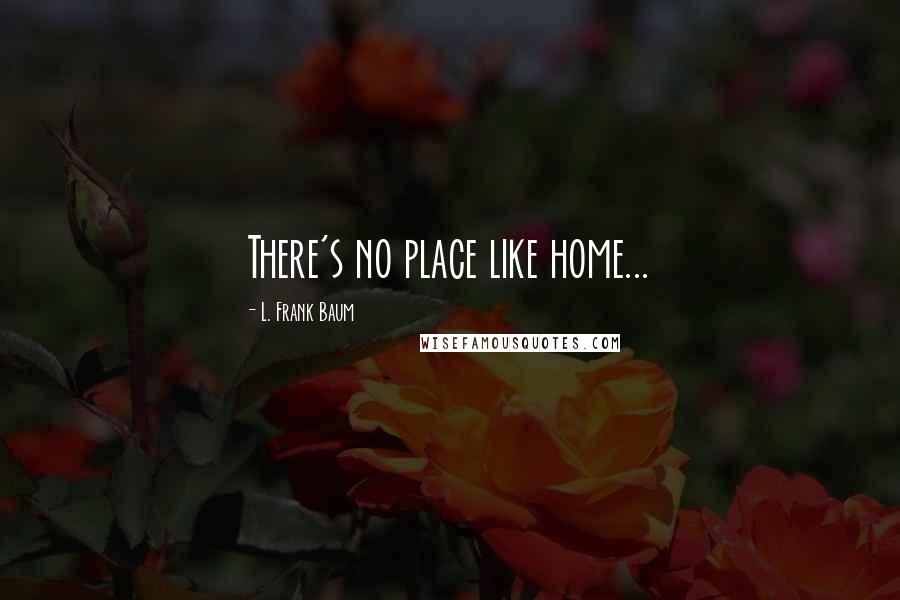 There's no place like home...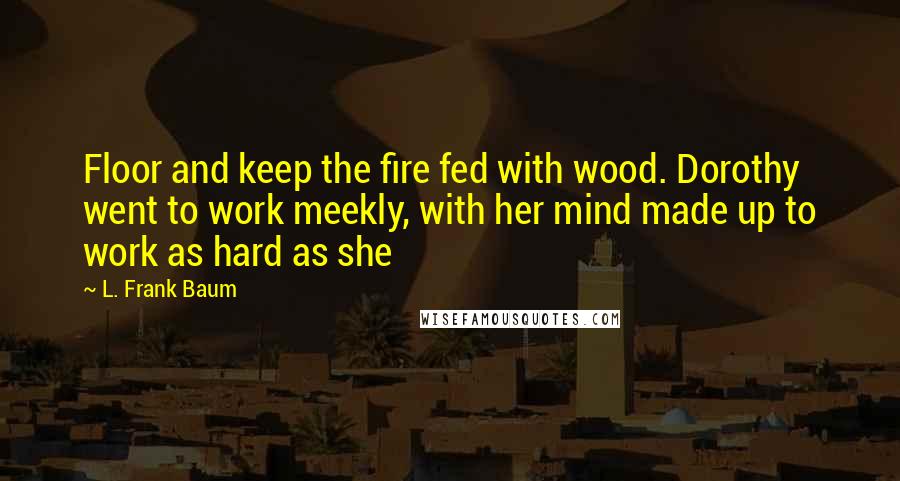 Floor and keep the fire fed with wood. Dorothy went to work meekly, with her mind made up to work as hard as she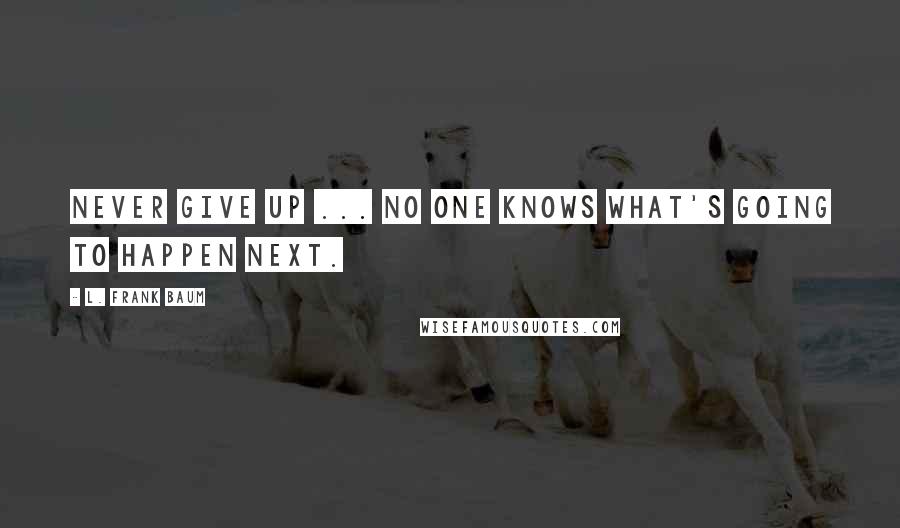 Never give up ... No one knows what's going to happen next.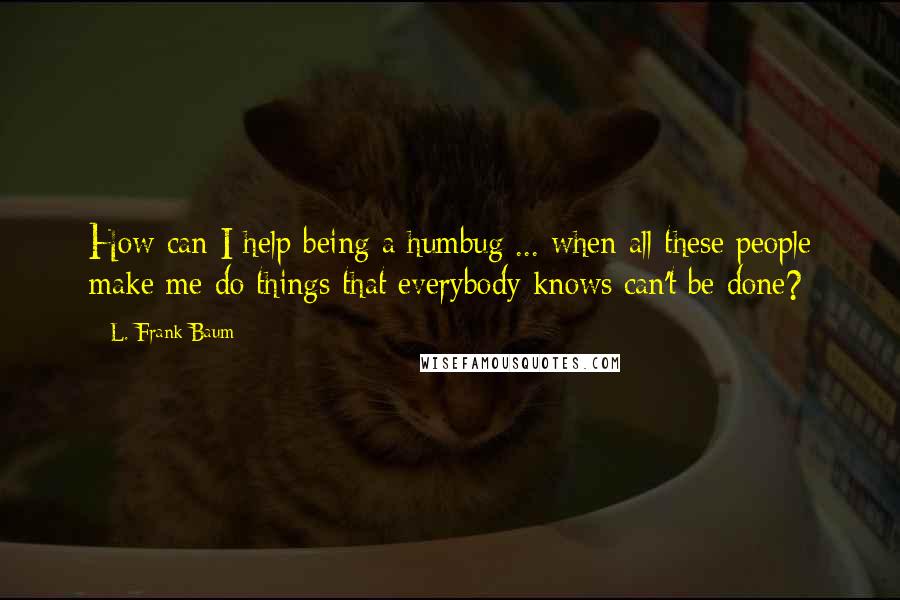 How can I help being a humbug ... when all these people make me do things that everybody knows can't be done?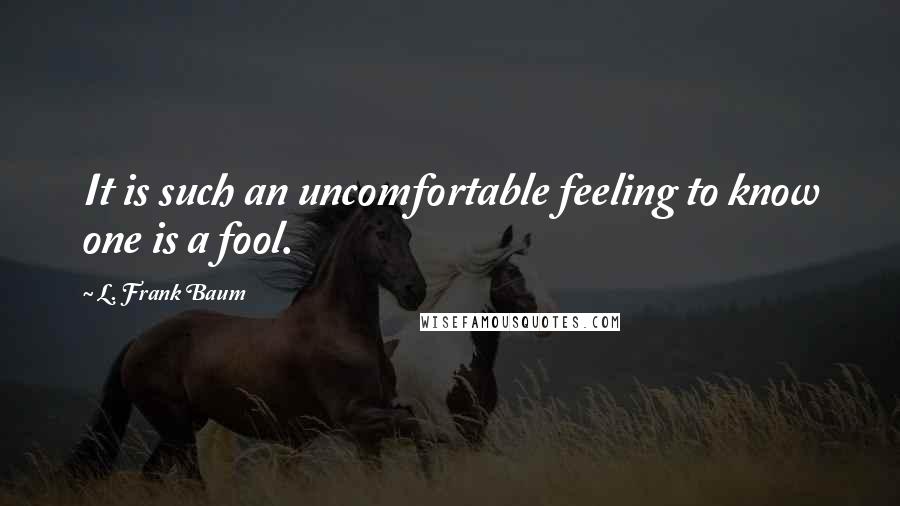 It is such an uncomfortable feeling to know one is a fool.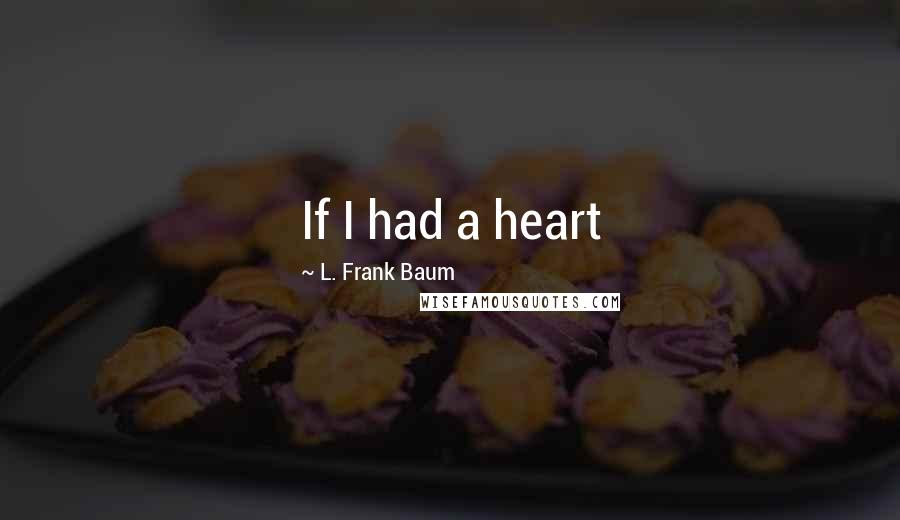 If I had a heart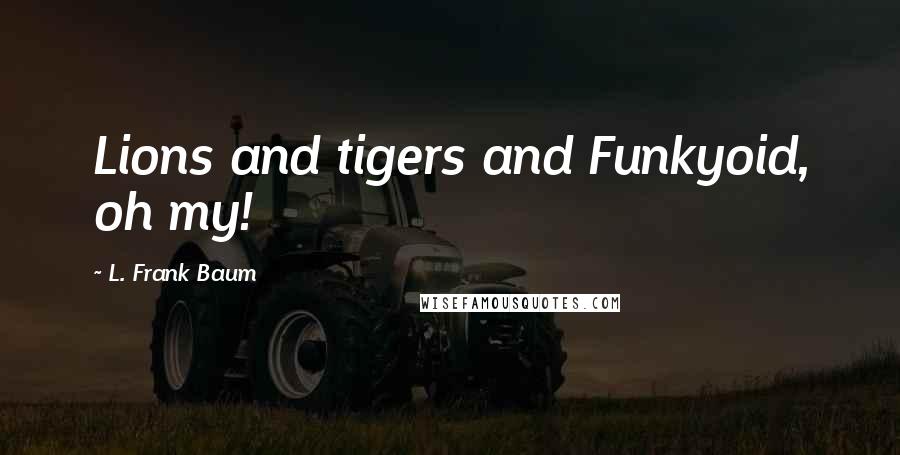 Lions and tigers and Funkyoid, oh my!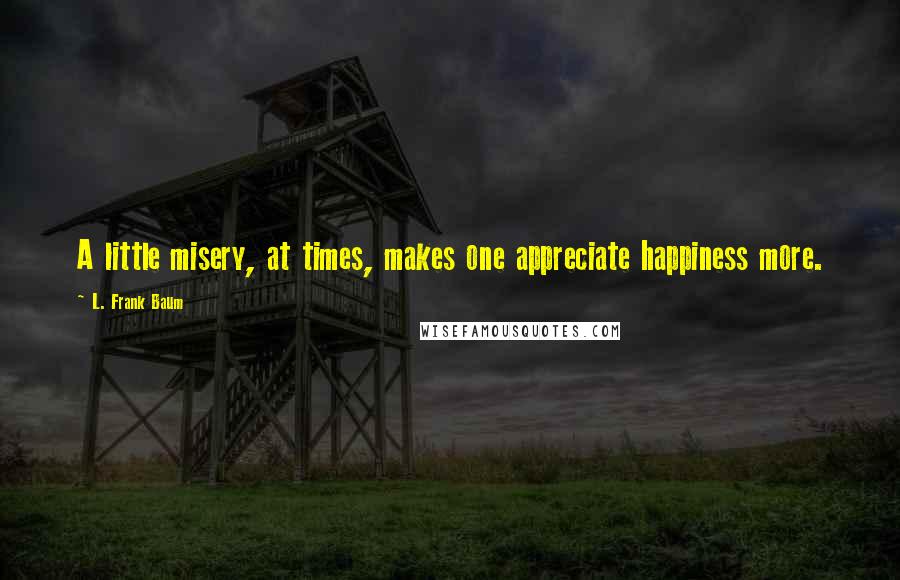 A little misery, at times, makes one appreciate happiness more.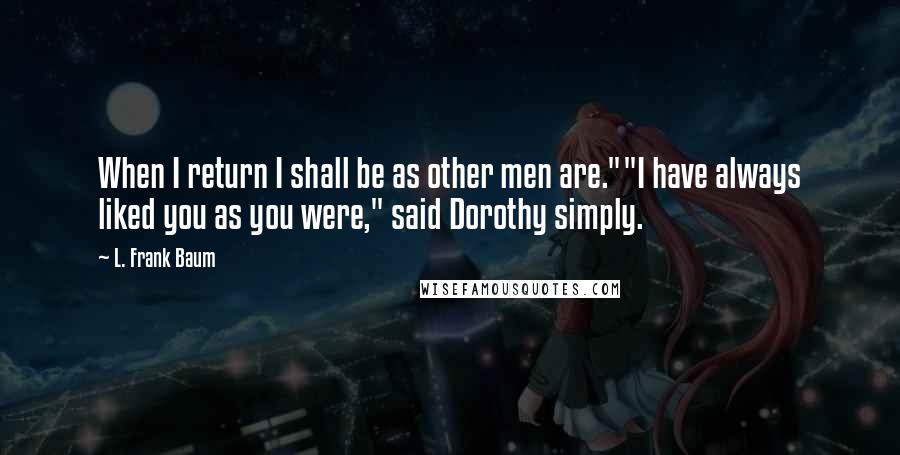 When I return I shall be as other men are."
"I have always liked you as you were," said Dorothy simply.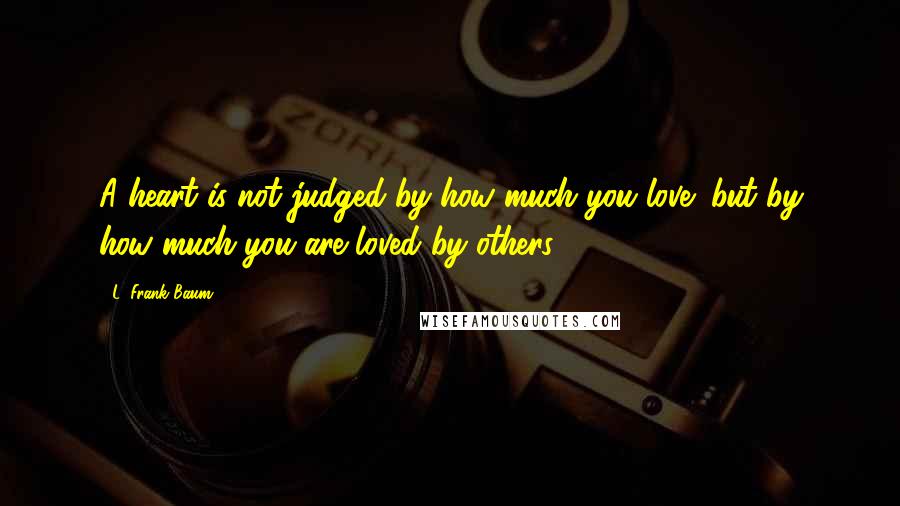 A heart is not judged by how much you love; but by how much you are loved by others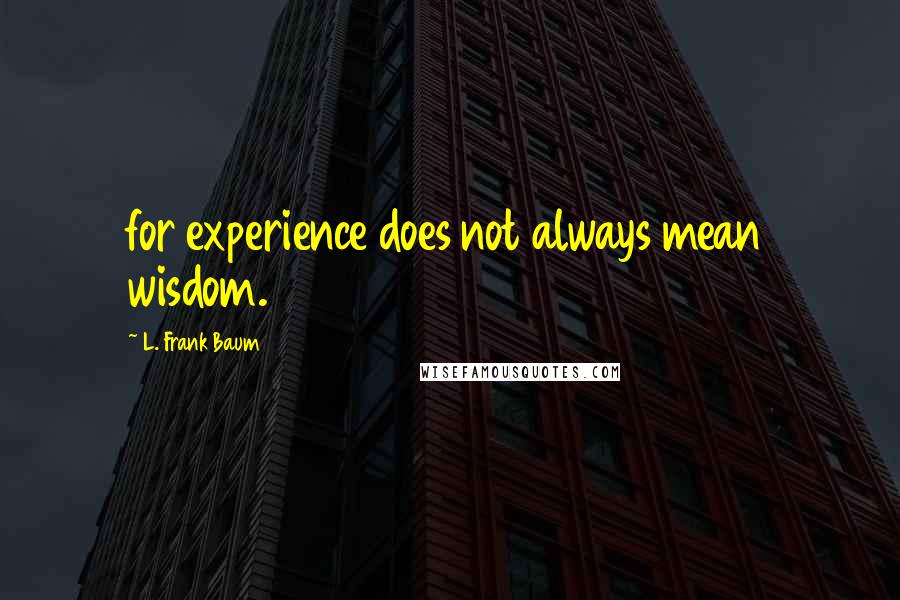 for experience does not always mean wisdom.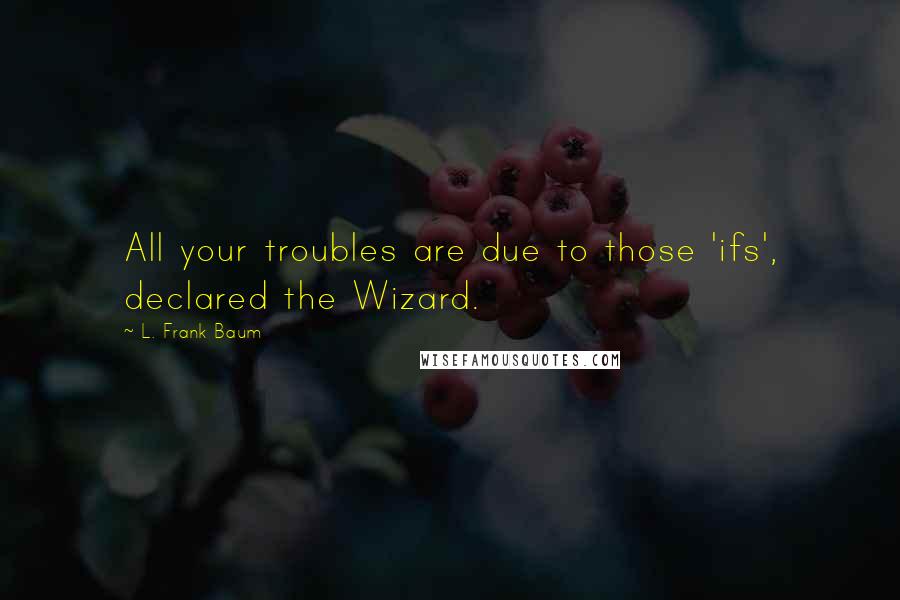 All your troubles are due to those 'ifs', declared the Wizard.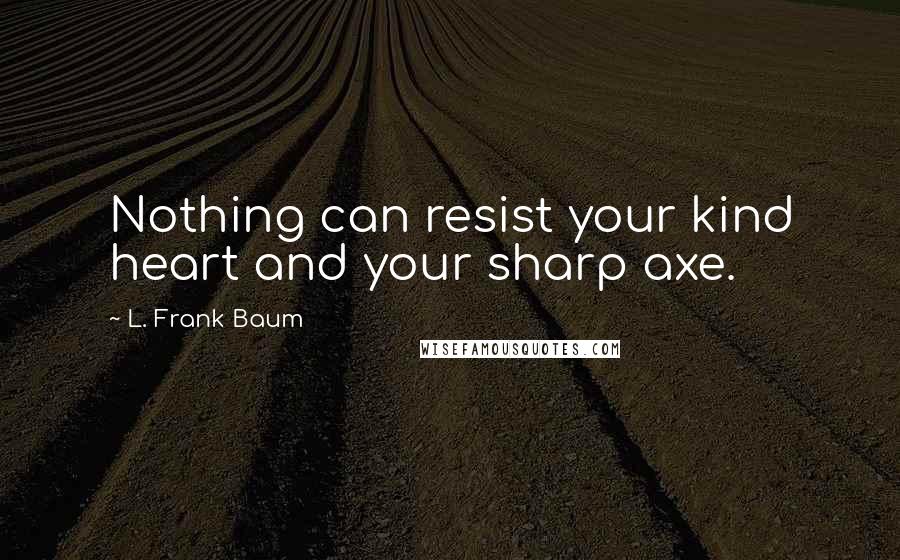 Nothing can resist your kind heart and your sharp axe.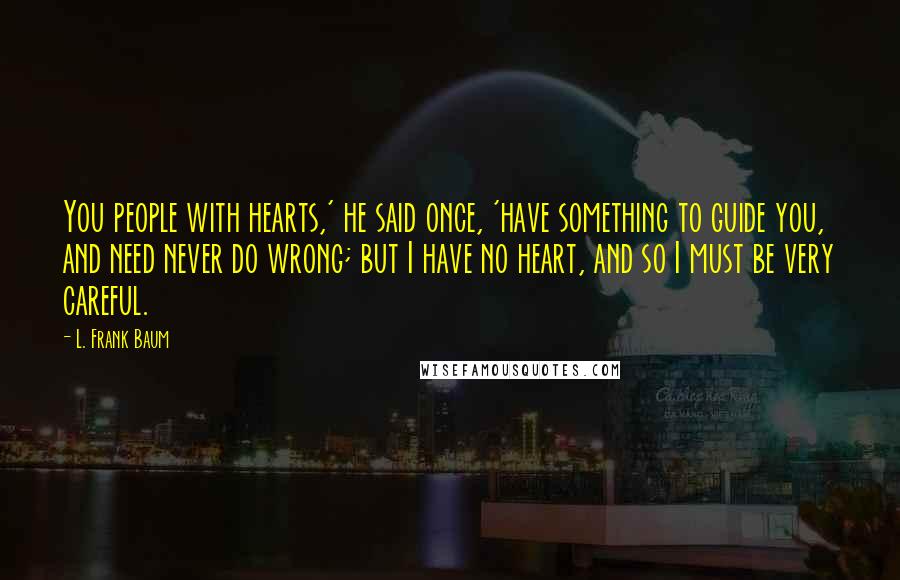 You people with hearts,' he said once, 'have something to guide you, and need never do wrong; but I have no heart, and so I must be very careful.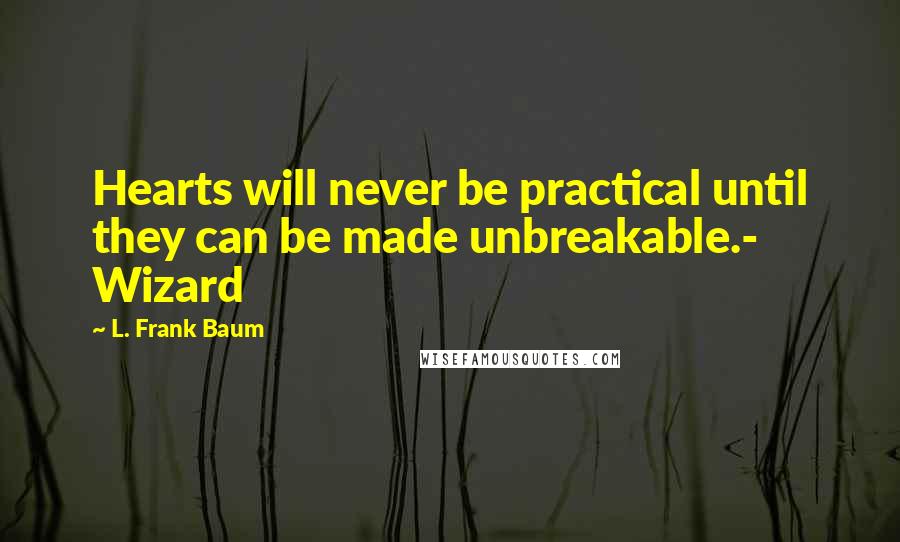 Hearts will never be practical until they can be made unbreakable.
- Wizard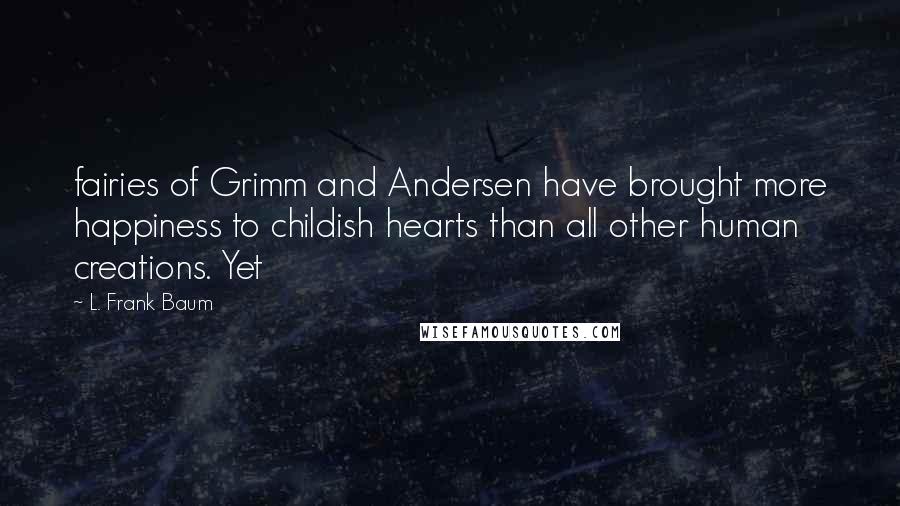 fairies of Grimm and Andersen have brought more happiness to childish hearts than all other human creations. Yet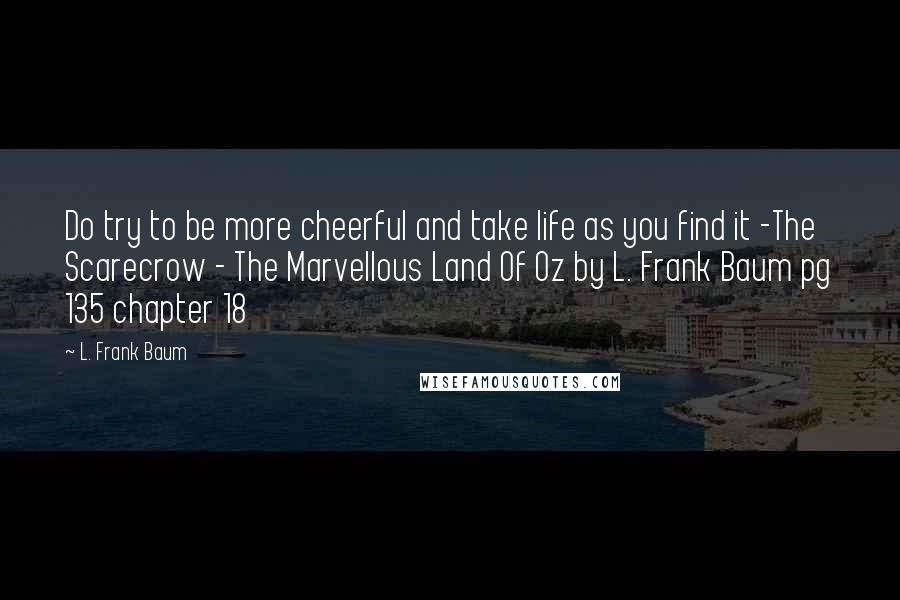 Do try to be more cheerful and take life as you find it -The Scarecrow - The Marvellous Land Of Oz by L. Frank Baum pg 135 chapter 18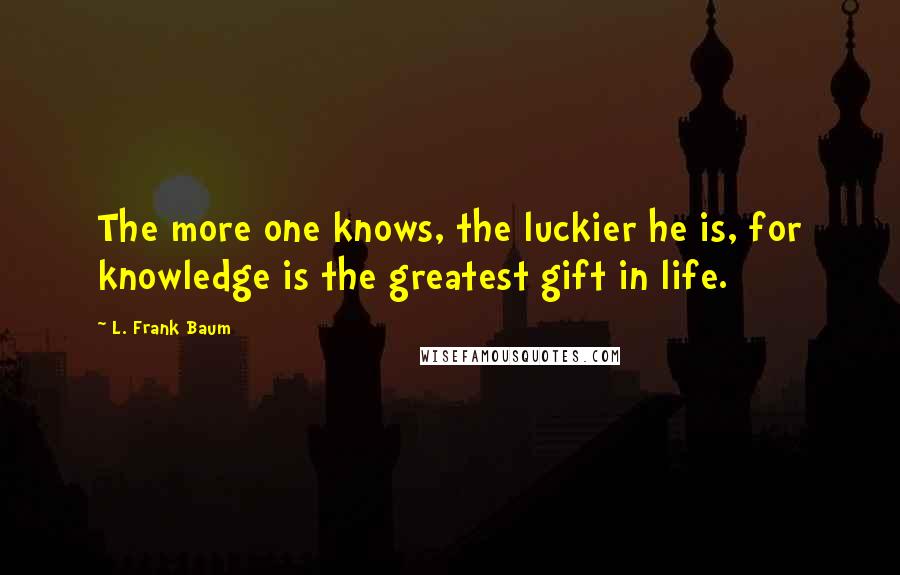 The more one knows, the luckier he is, for knowledge is the greatest gift in life.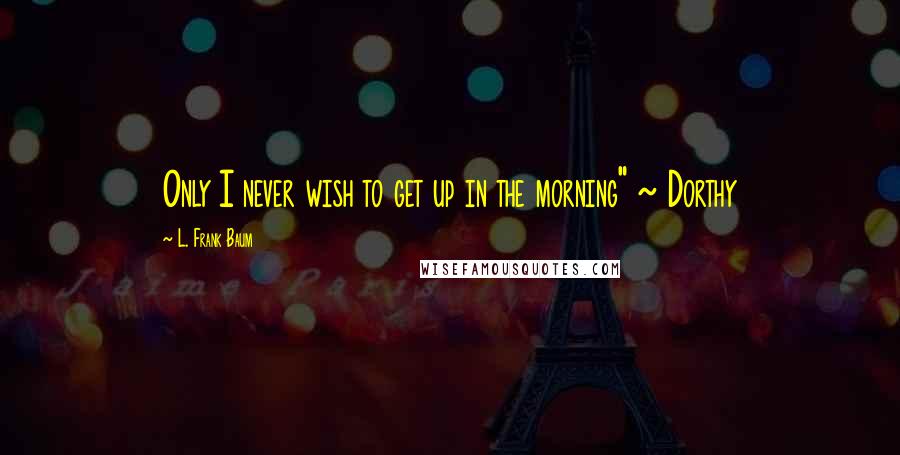 Only I never wish to get up in the morning" ~ Dorthy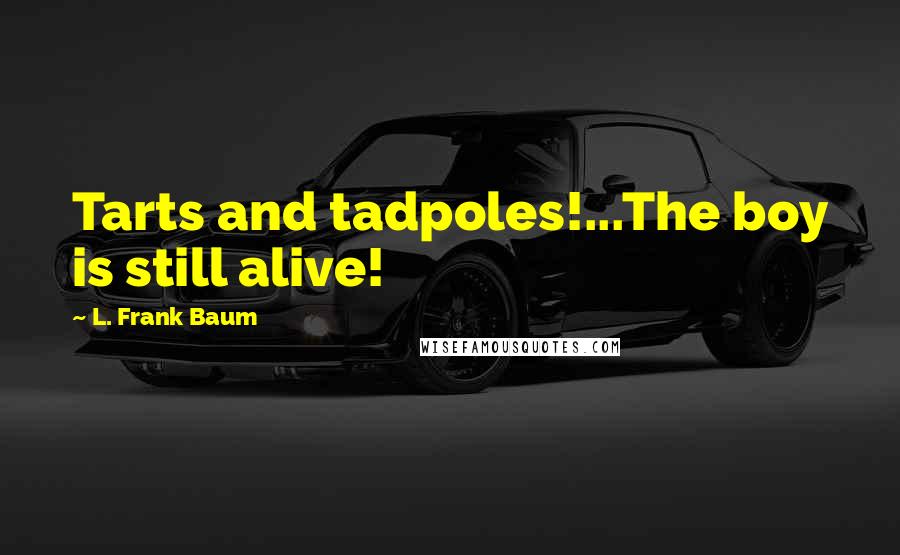 Tarts and tadpoles!...The boy is still alive!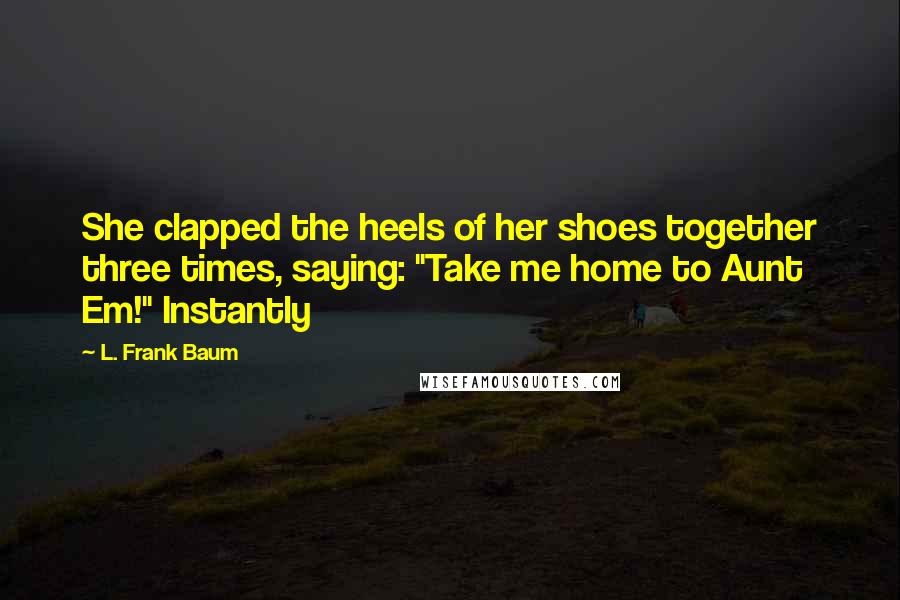 She clapped the heels of her shoes together three times, saying: "Take me home to Aunt Em!" Instantly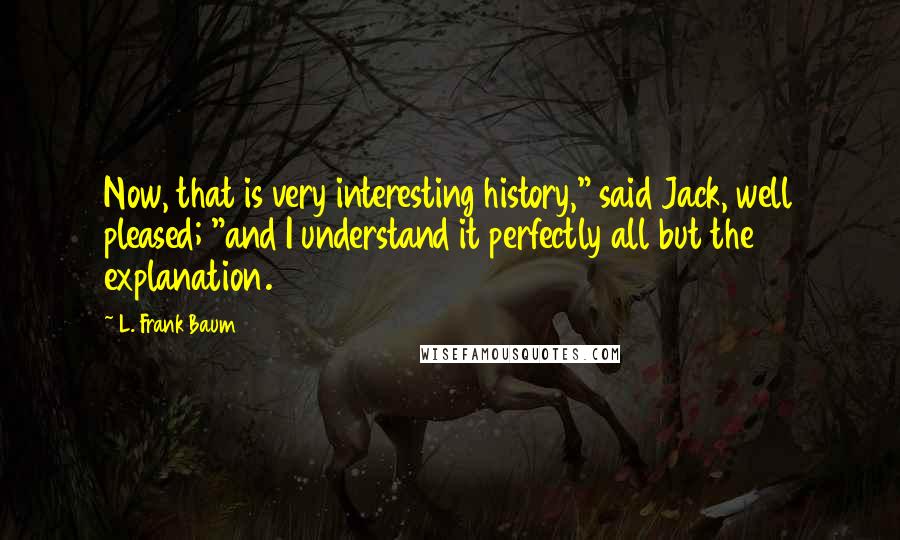 Now, that is very interesting history," said Jack, well pleased; "and I understand it perfectly all but the explanation.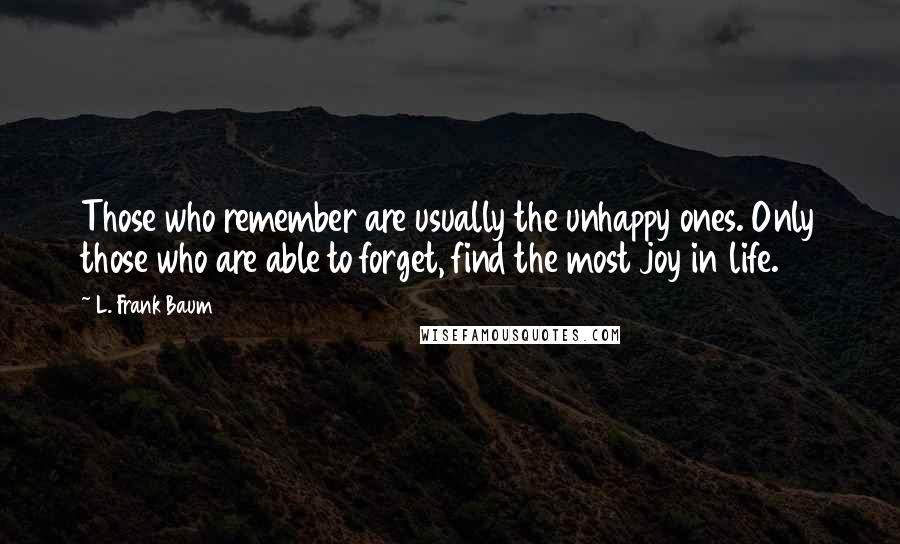 Those who remember are usually the unhappy ones. Only those who are able to forget, find the most joy in life.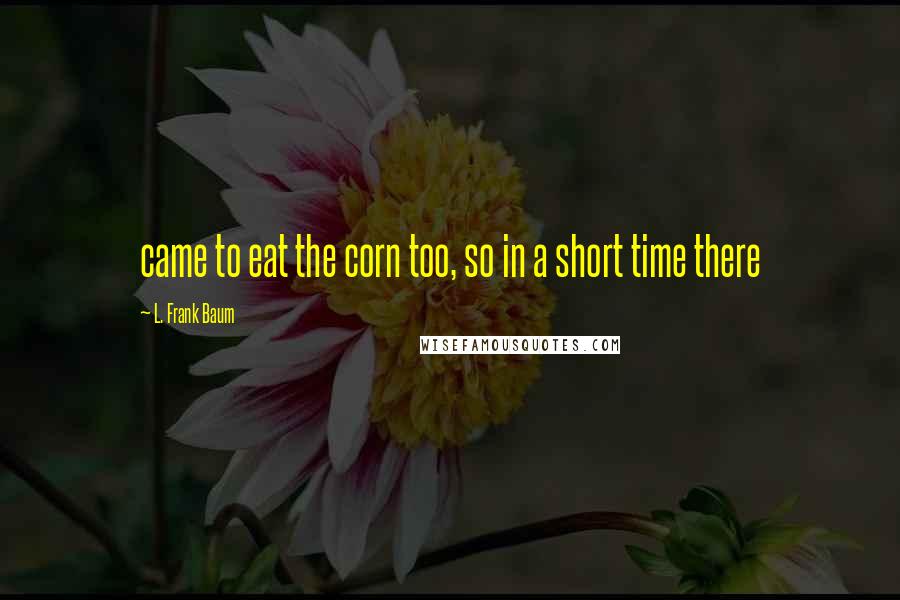 came to eat the corn too, so in a short time there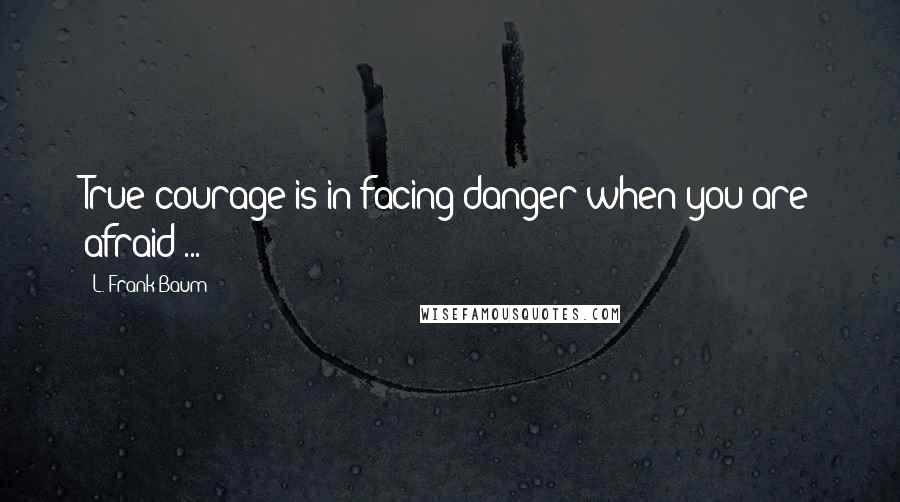 True courage is in facing danger when you are afraid ...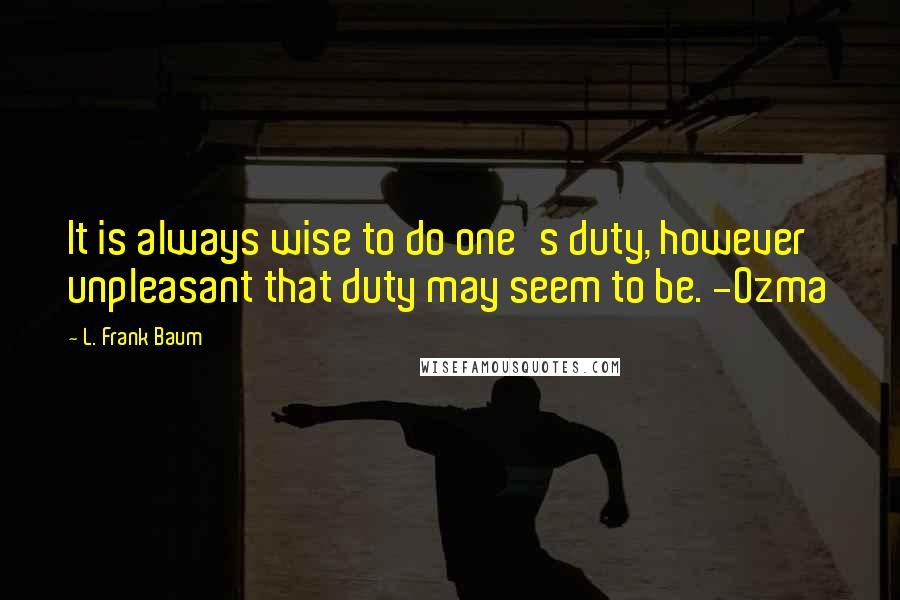 It is always wise to do one's duty, however unpleasant that duty may seem to be. -Ozma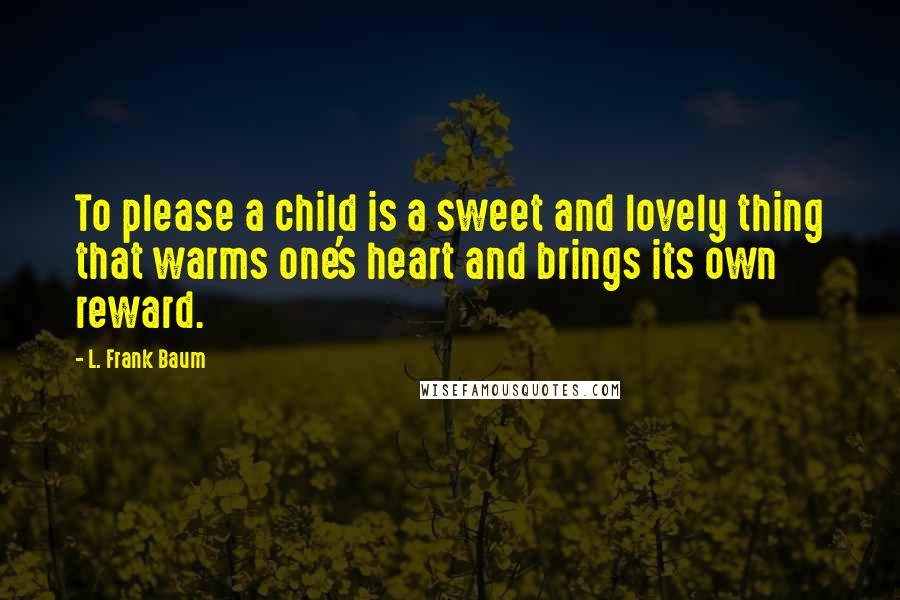 To please a child is a sweet and lovely thing that warms one's heart and brings its own reward.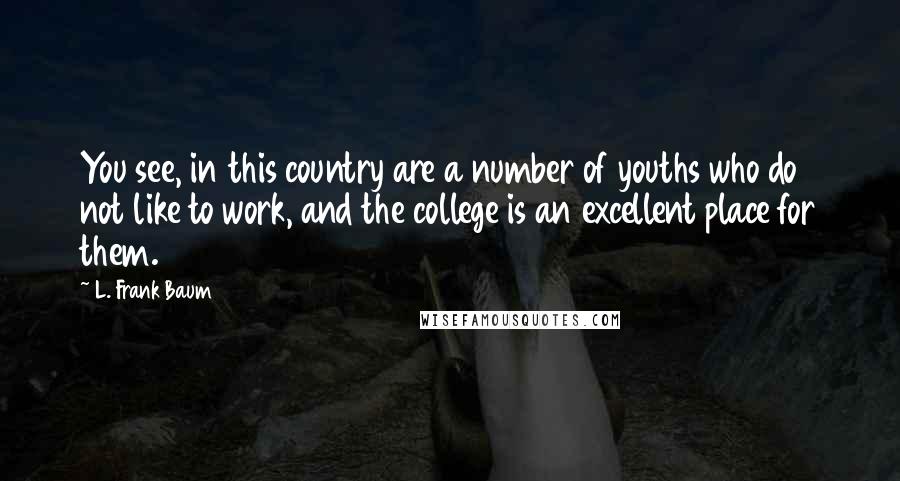 You see, in this country are a number of youths who do not like to work, and the college is an excellent place for them.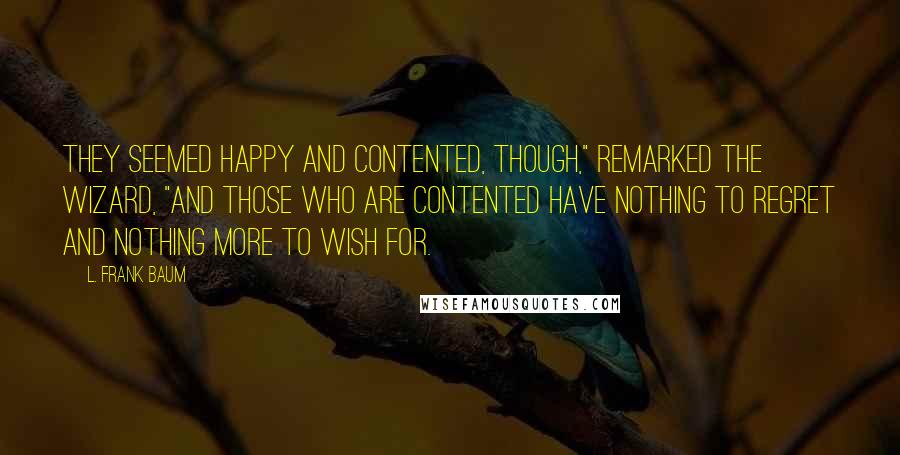 They seemed happy and contented, though," remarked the Wizard, "and those who are contented have nothing to regret and nothing more to wish for.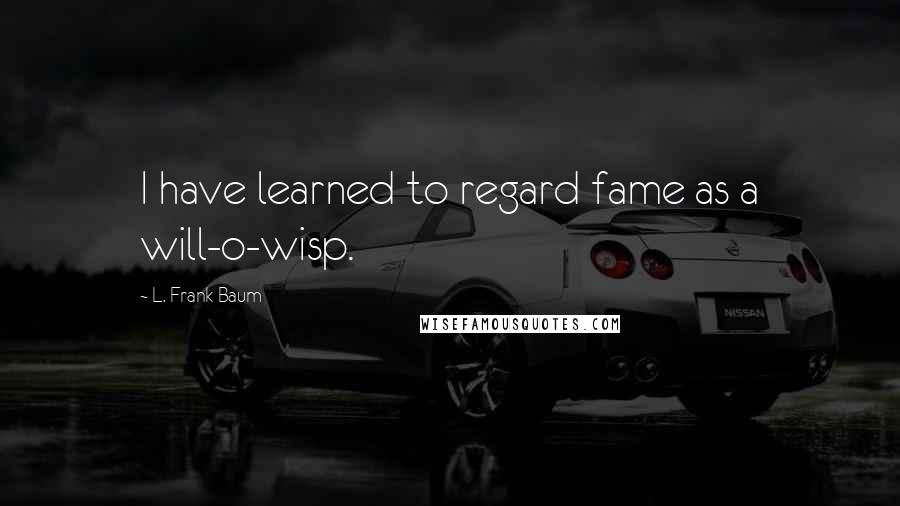 I have learned to regard fame as a will-o-wisp.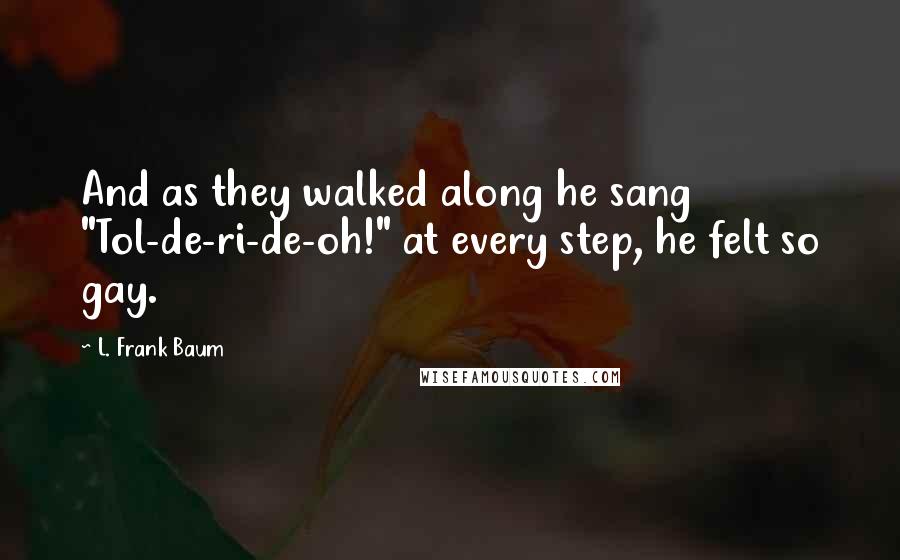 And as they walked along he sang "Tol-de-ri-de-oh!" at every step, he felt so gay.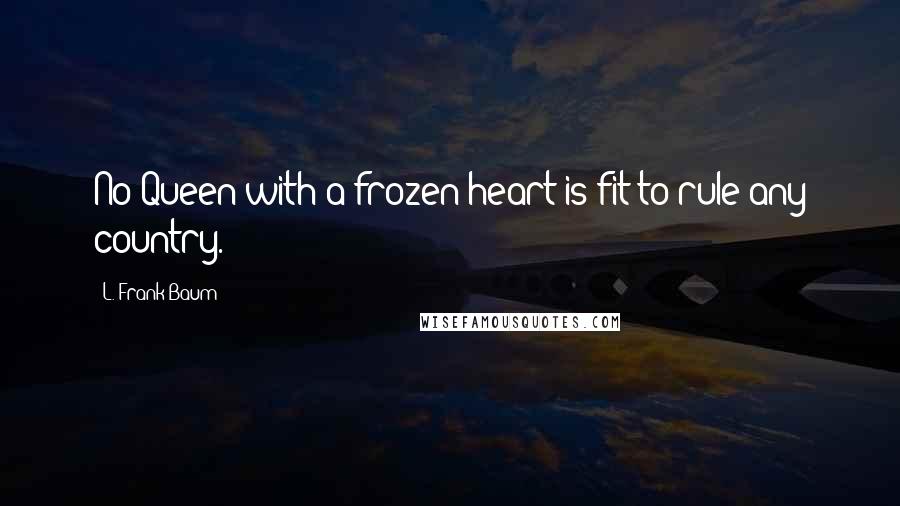 No Queen with a frozen heart is fit to rule any country.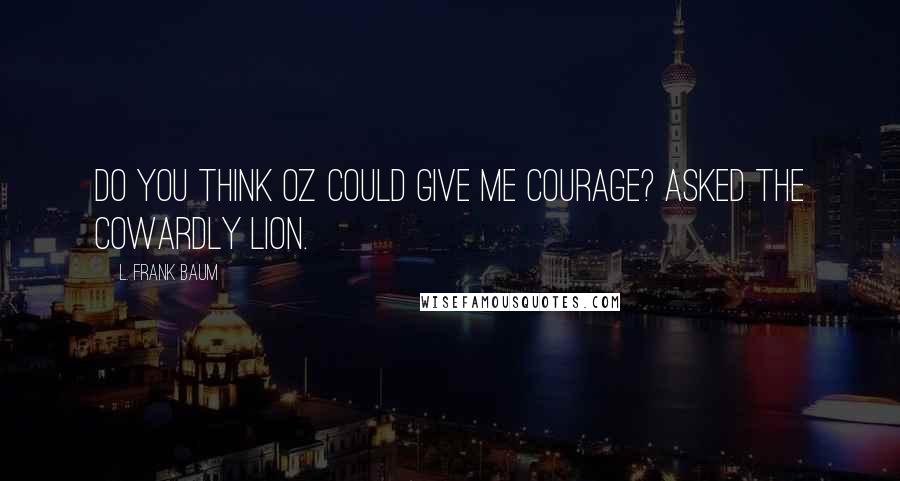 Do you think Oz could give me courage? asked the Cowardly Lion.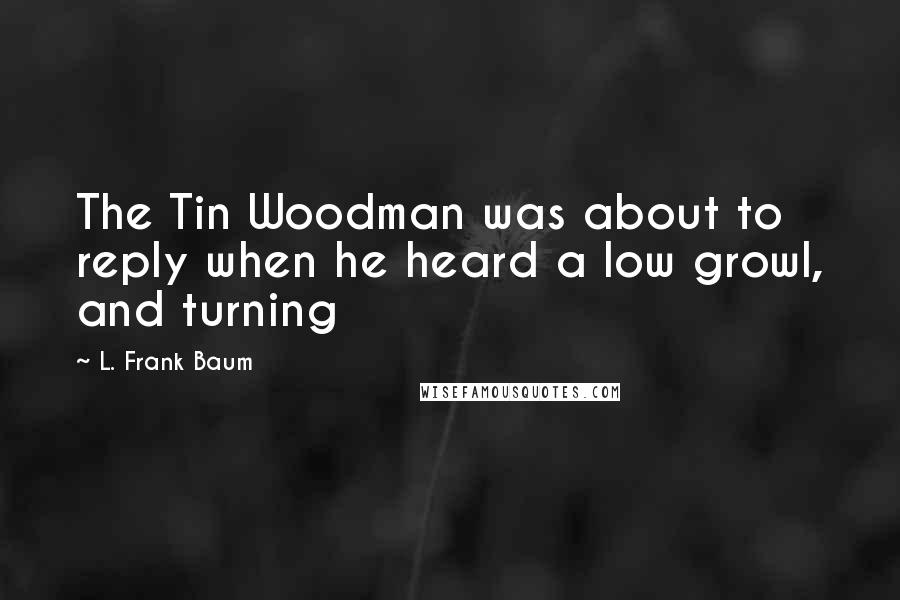 The Tin Woodman was about to reply when he heard a low growl, and turning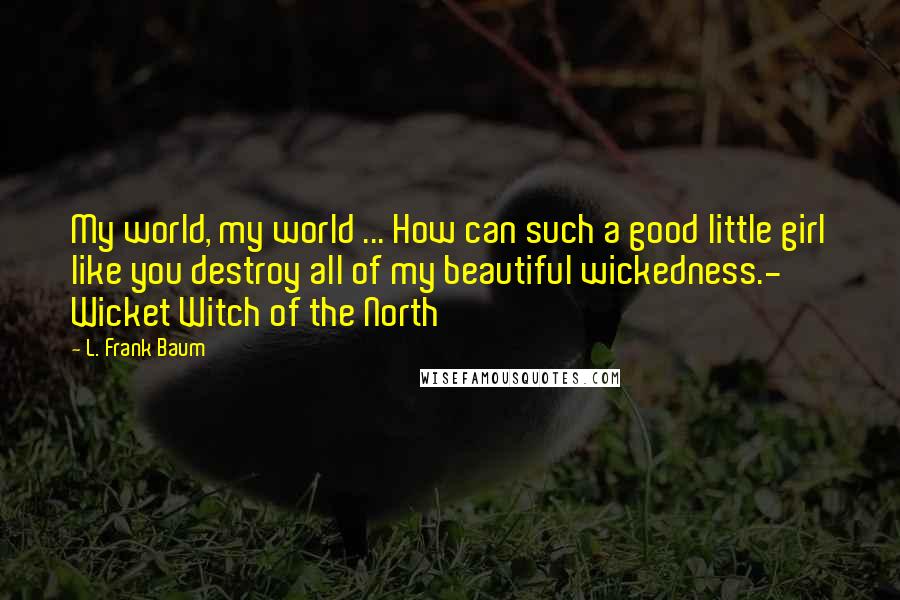 My world, my world ... How can such a good little girl like you destroy all of my beautiful wickedness.
- Wicket Witch of the North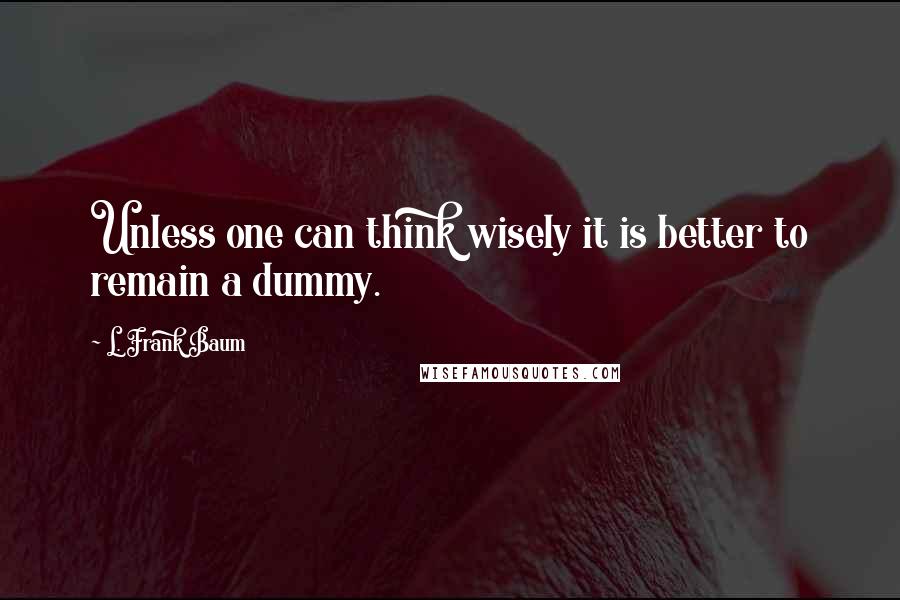 Unless one can think wisely it is better to remain a dummy.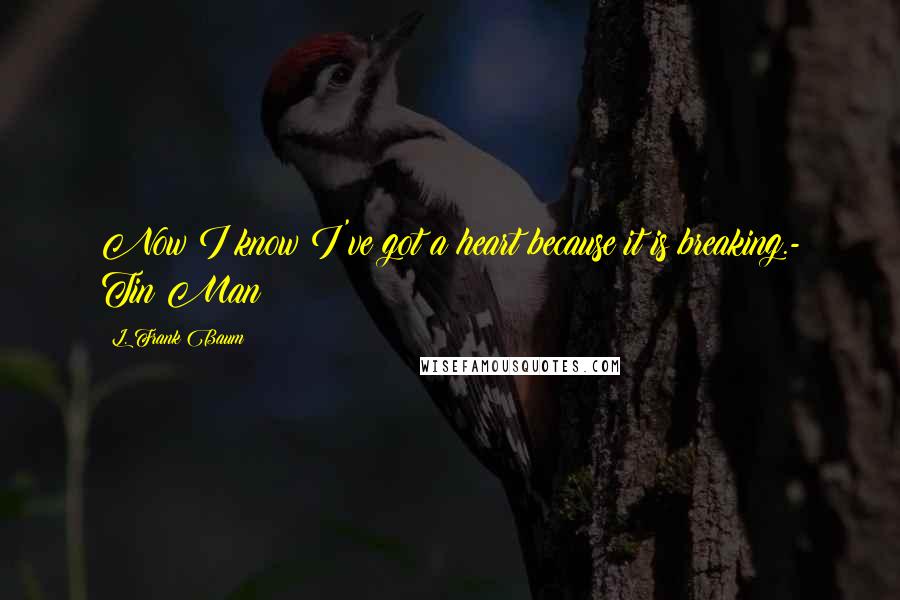 Now I know I've got a heart because it is breaking.
- Tin Man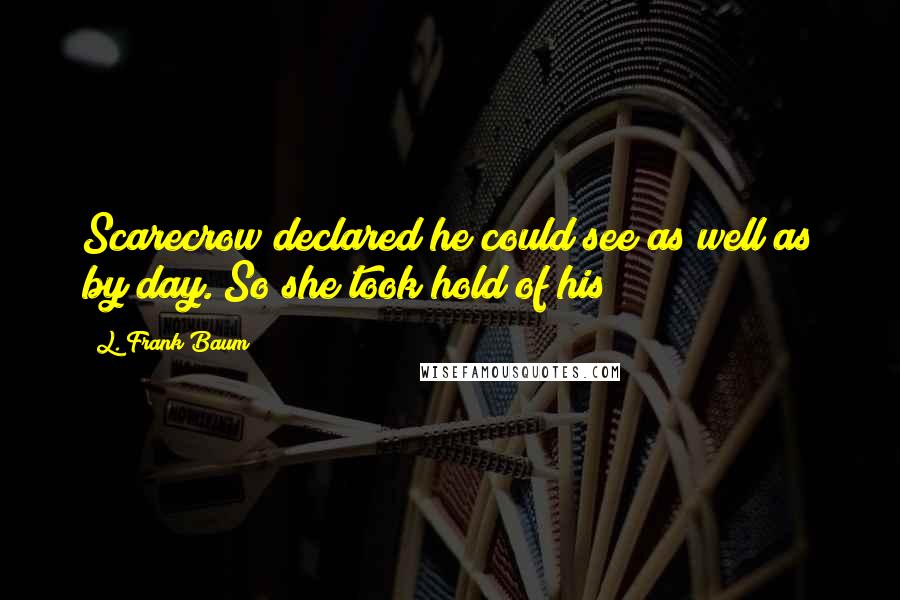 Scarecrow declared he could see as well as by day. So she took hold of his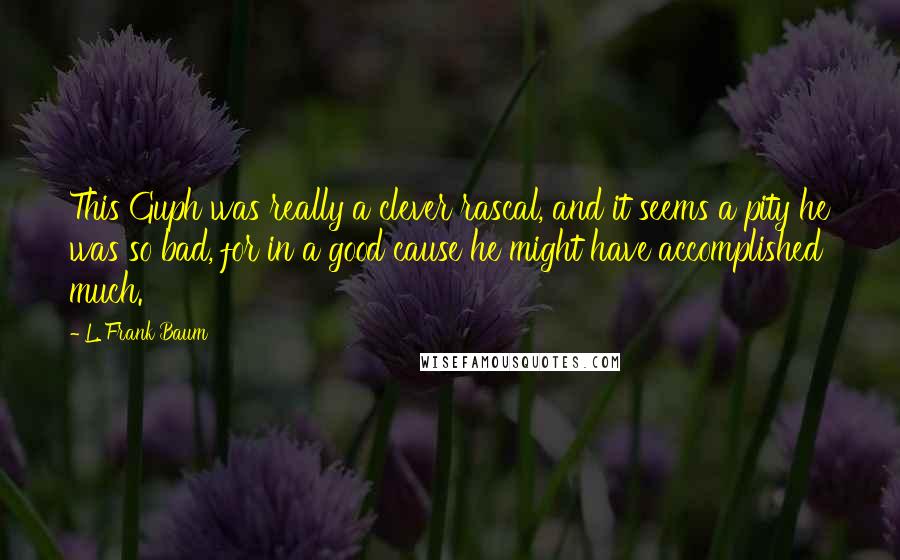 This Guph was really a clever rascal, and it seems a pity he was so bad, for in a good cause he might have accomplished much.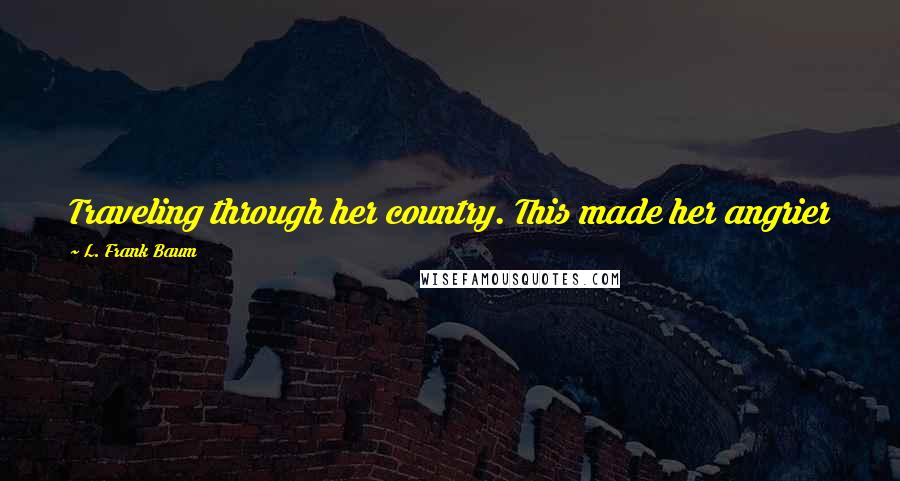 Traveling through her country. This made her angrier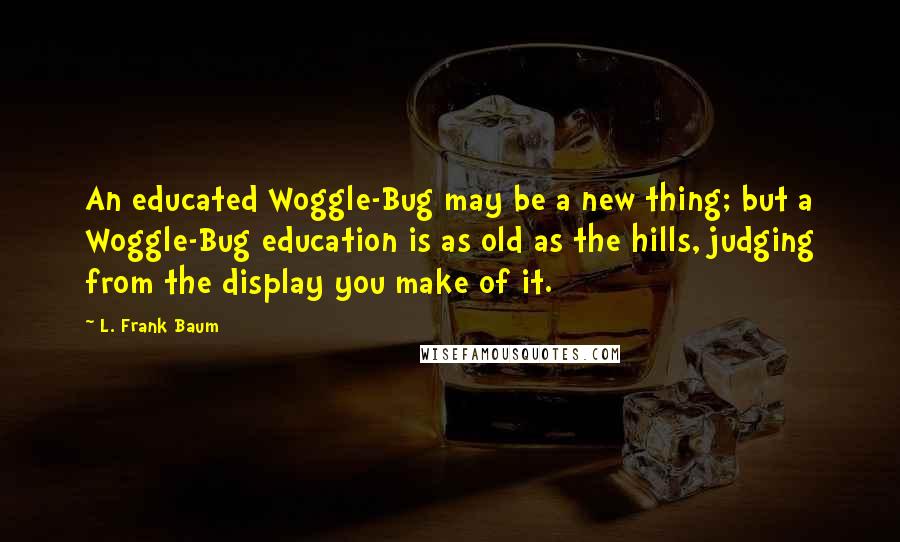 An educated Woggle-Bug may be a new thing; but a Woggle-Bug education is as old as the hills, judging from the display you make of it.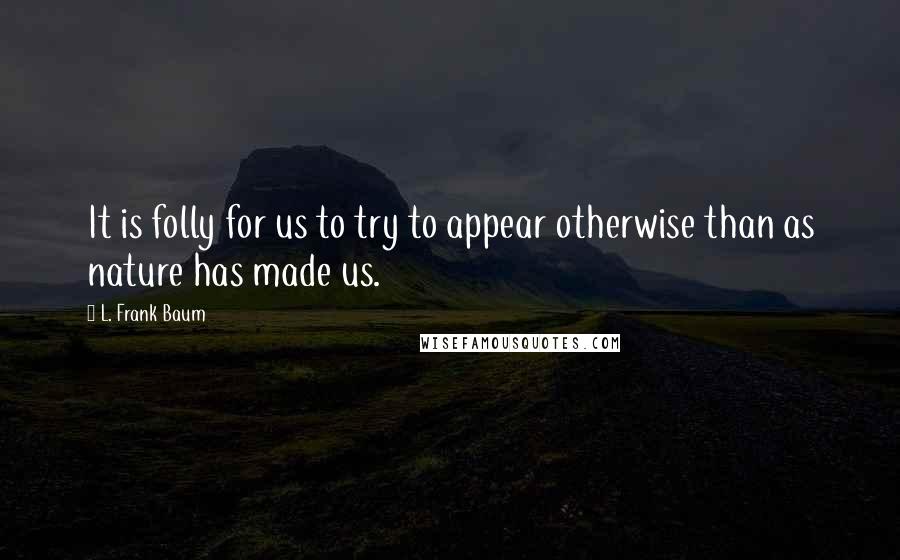 It is folly for us to try to appear otherwise than as nature has made us.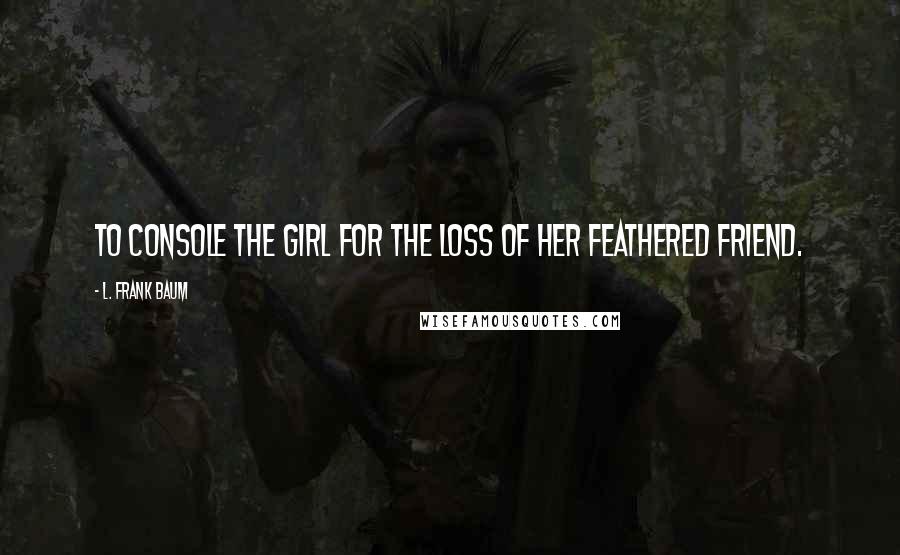 To console the girl for the loss of her feathered friend.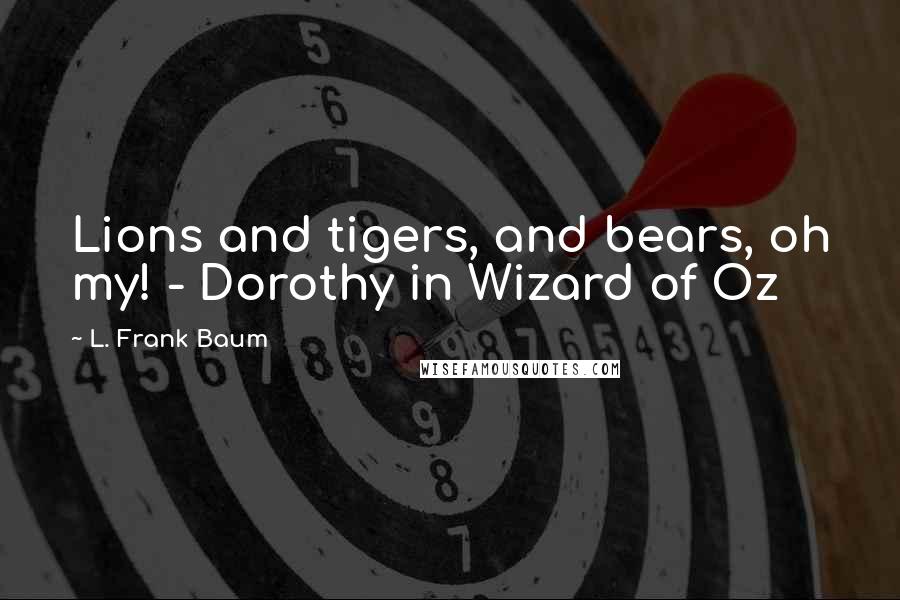 Lions and tigers, and bears, oh my! - Dorothy in Wizard of Oz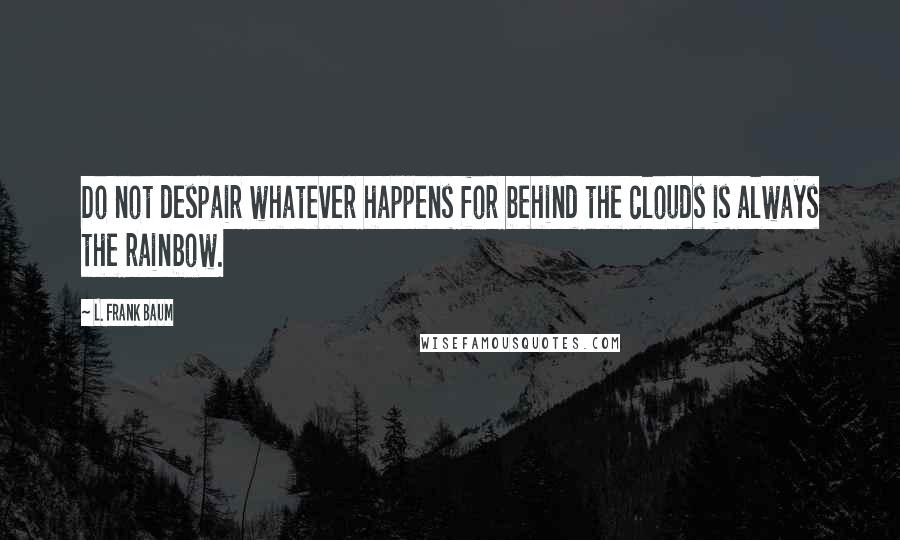 Do not despair whatever happens for behind the clouds is always the rainbow.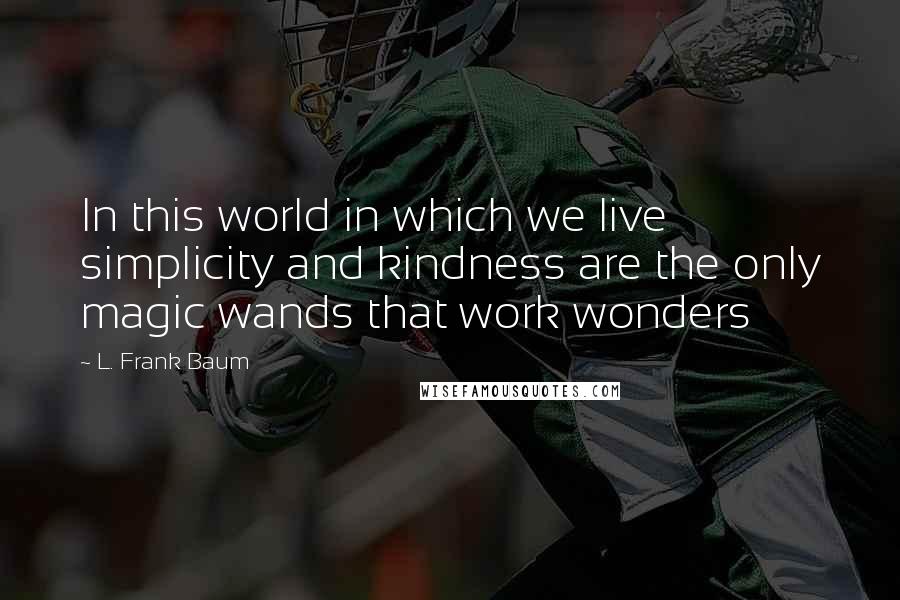 In this world in which we live simplicity and kindness are the only magic wands that work wonders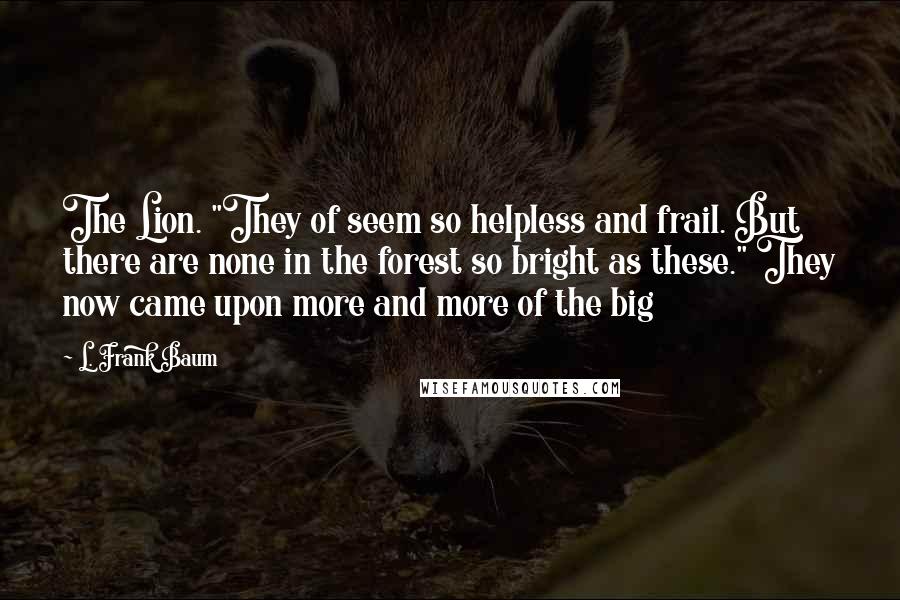 The Lion. "They of seem so helpless and frail. But there are none in the forest so bright as these." They now came upon more and more of the big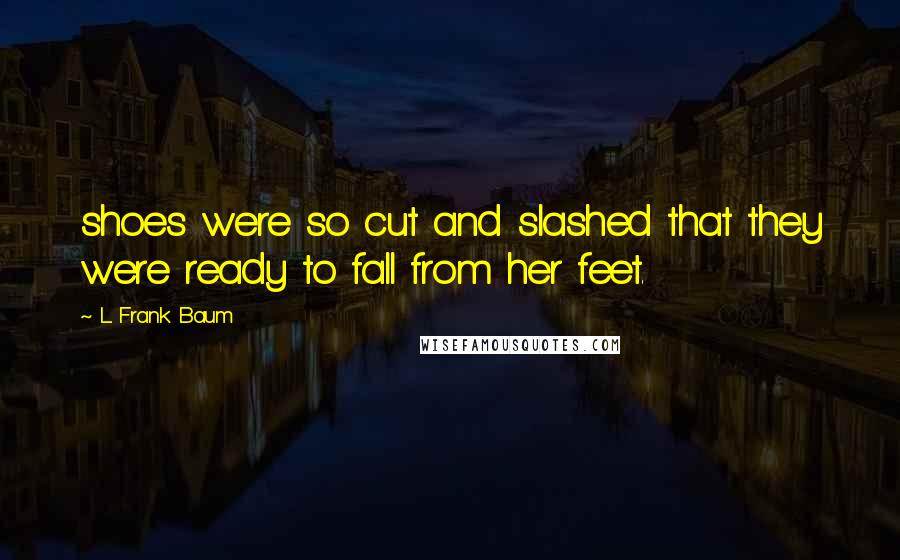 shoes were so cut and slashed that they were ready to fall from her feet.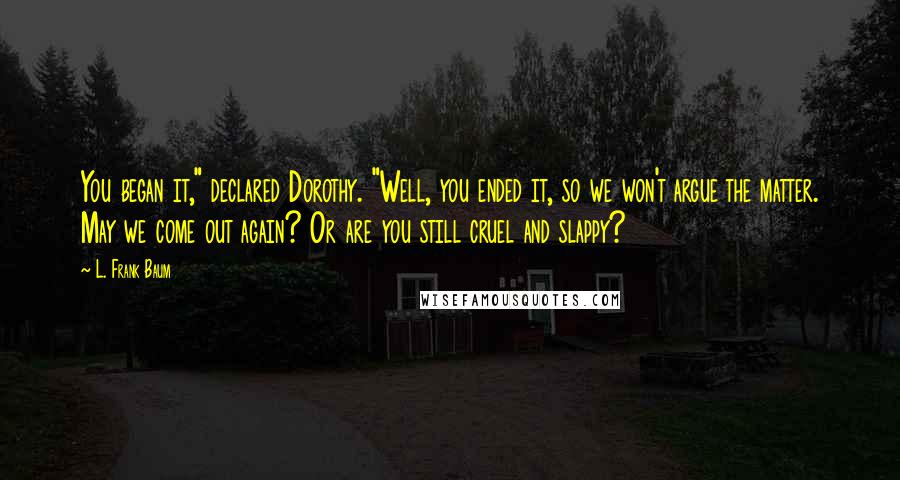 You began it," declared Dorothy. "Well, you ended it, so we won't argue the matter. May we come out again? Or are you still cruel and slappy?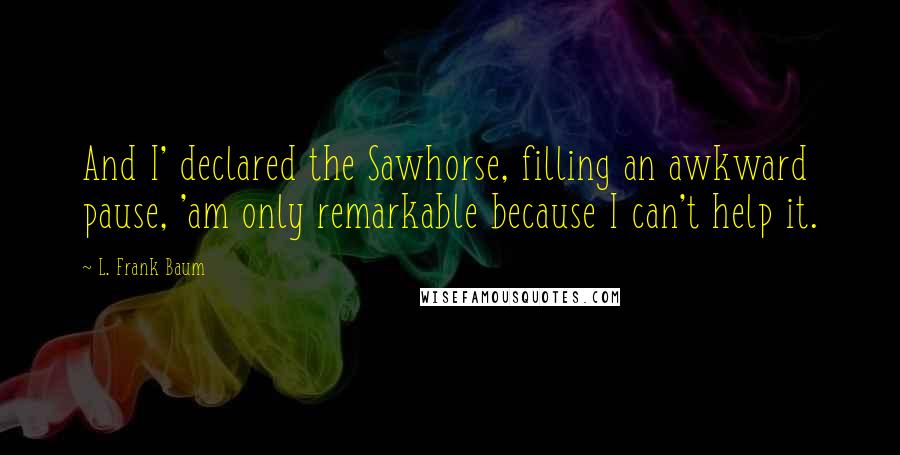 And I' declared the Sawhorse, filling an awkward pause, 'am only remarkable because I can't help it.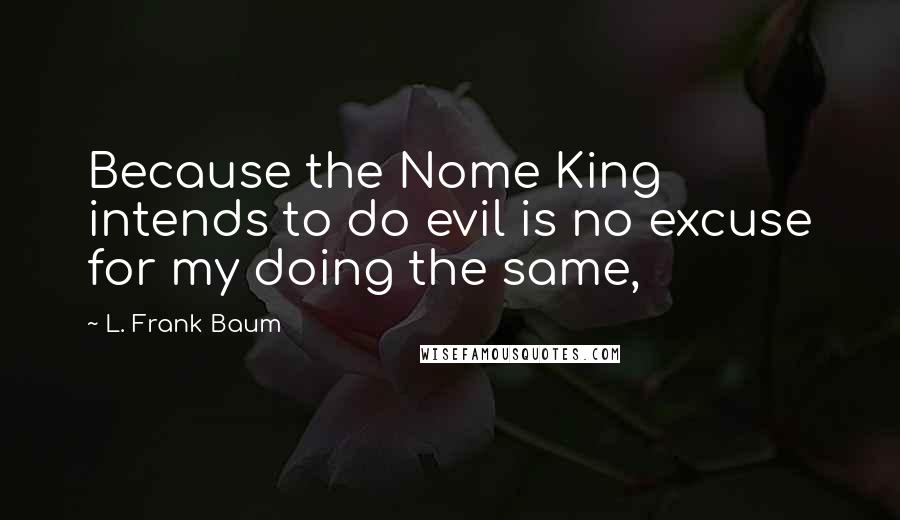 Because the Nome King intends to do evil is no excuse for my doing the same,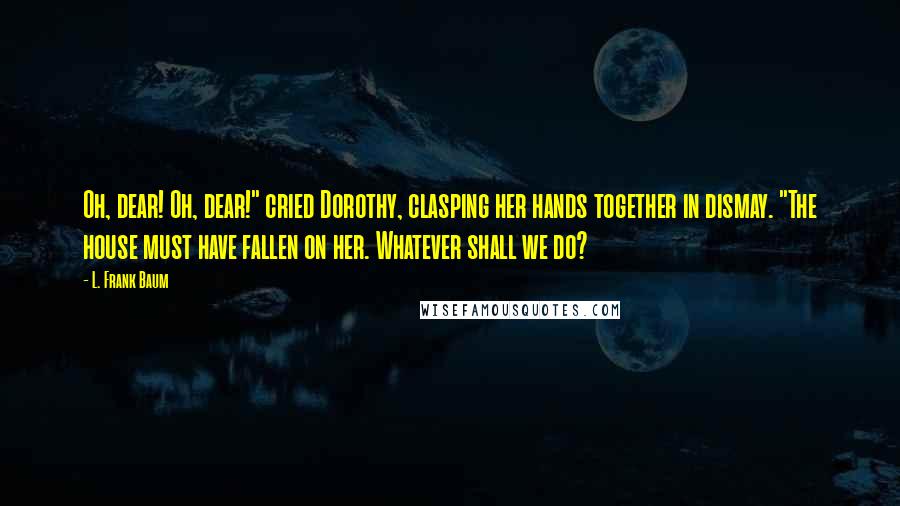 Oh, dear! Oh, dear!" cried Dorothy, clasping her hands together in dismay. "The house must have fallen on her. Whatever shall we do?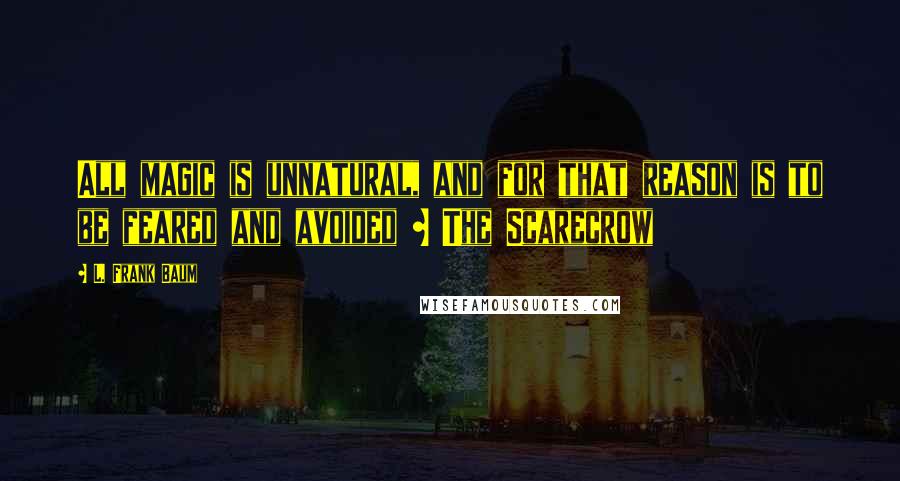 All magic is unnatural, and for that reason is to be feared and avoided ~ The Scarecrow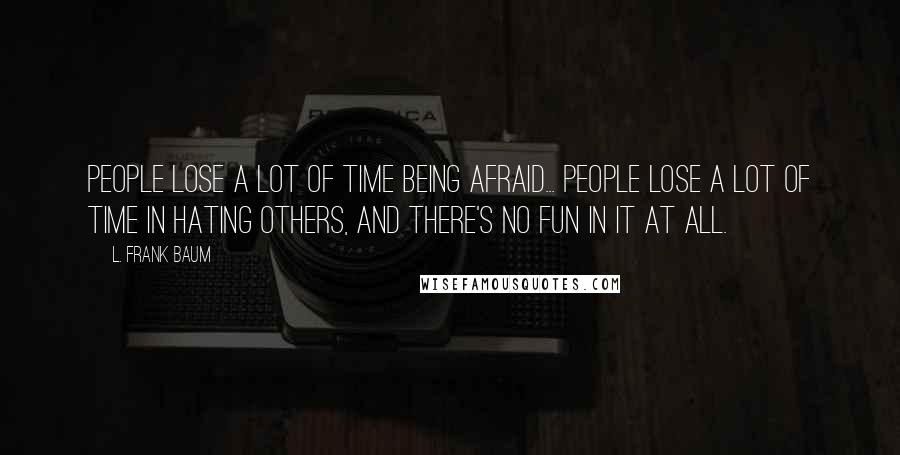 People lose a lot of time being afraid... People lose a lot of time in hating others, and there's no fun in it at all.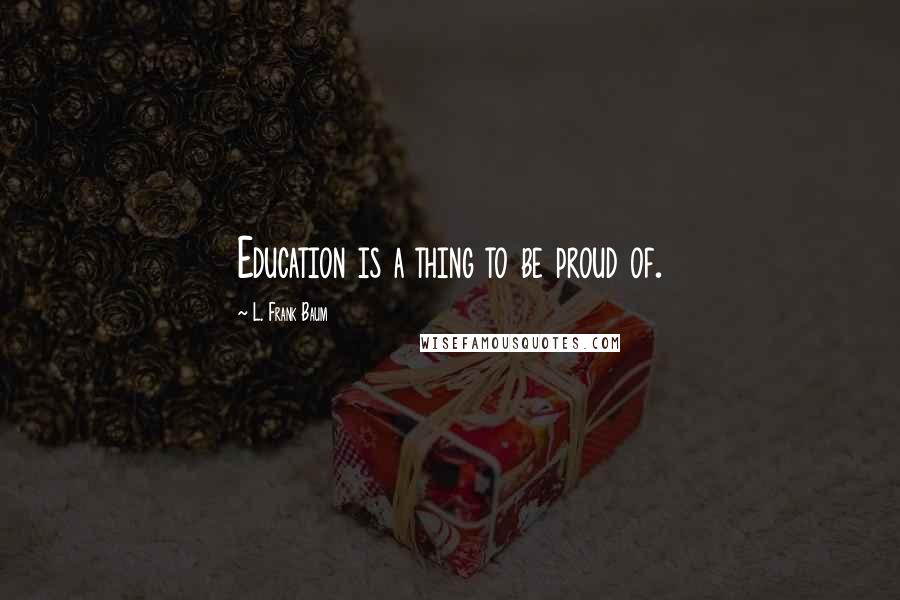 Education is a thing to be proud of.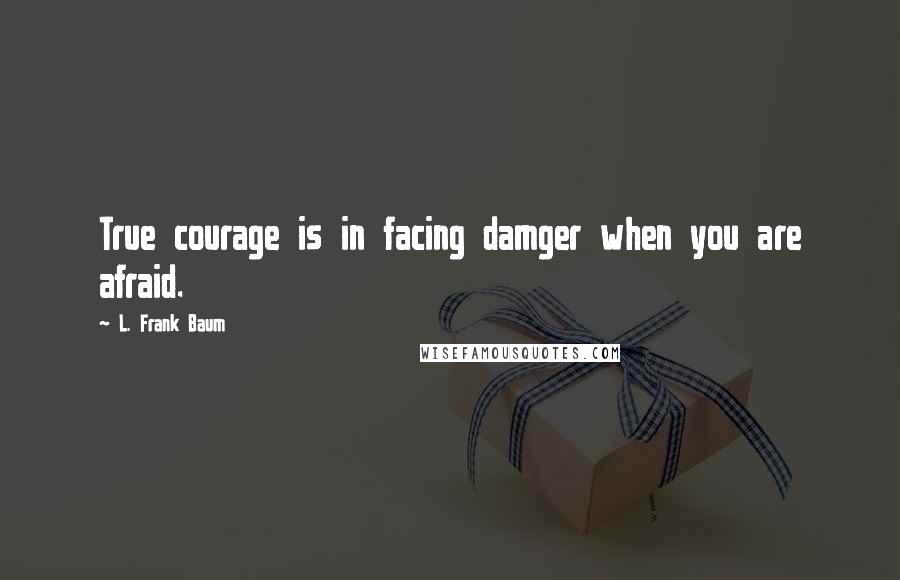 True courage is in facing damger when you are afraid.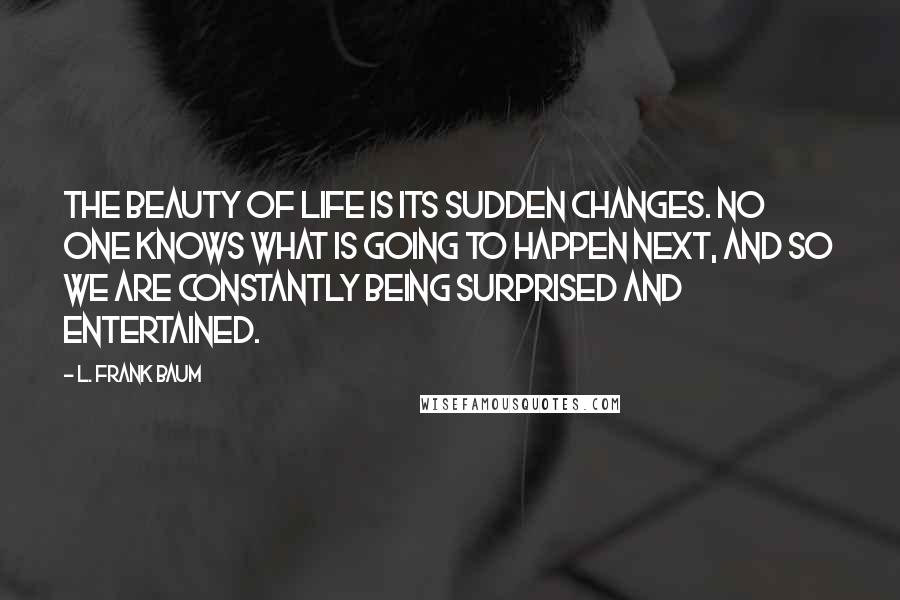 The beauty of life is its sudden changes. No one knows what is going to happen next, and so we are constantly being surprised and entertained.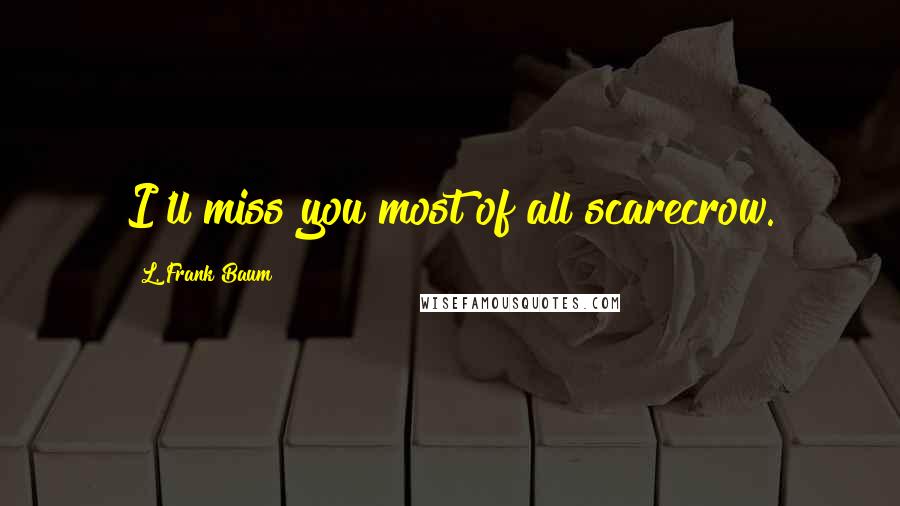 I'll miss you most of all scarecrow.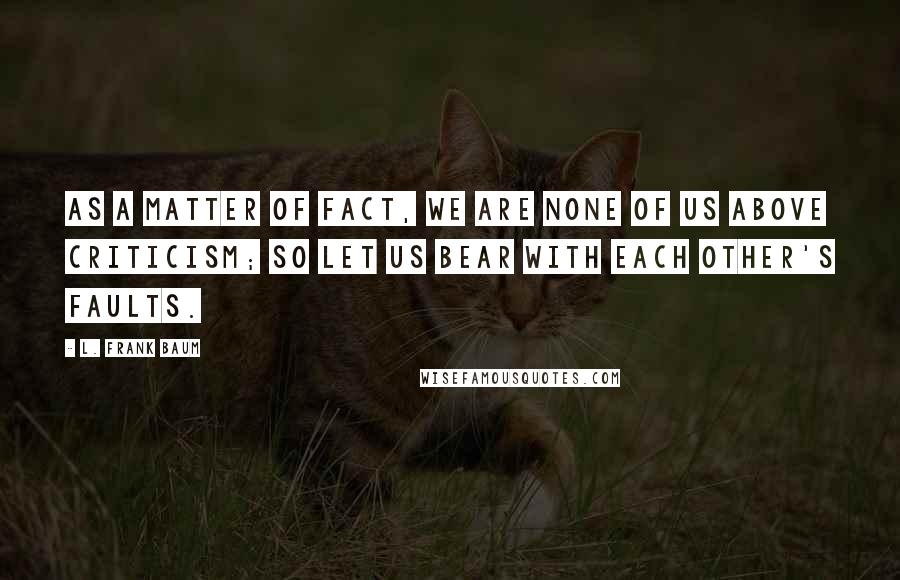 As a matter of fact, we are none of us above criticism; so let us bear with each other's faults.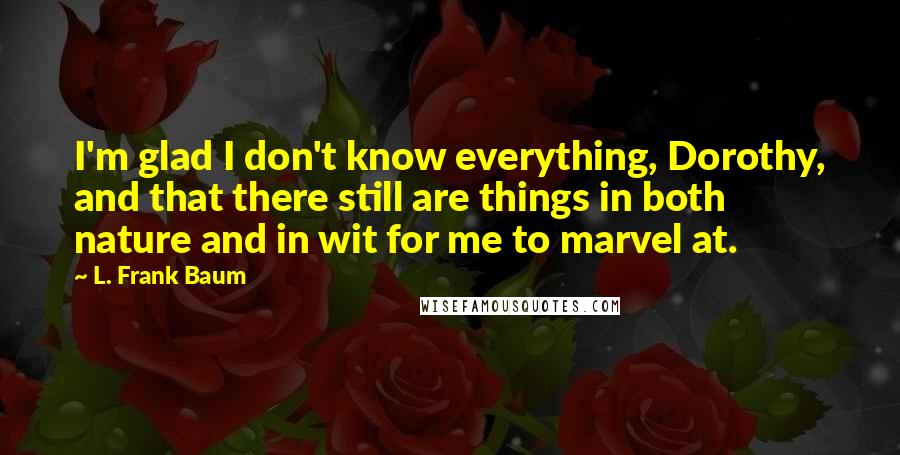 I'm glad I don't know everything, Dorothy, and that there still are things in both nature and in wit for me to marvel at.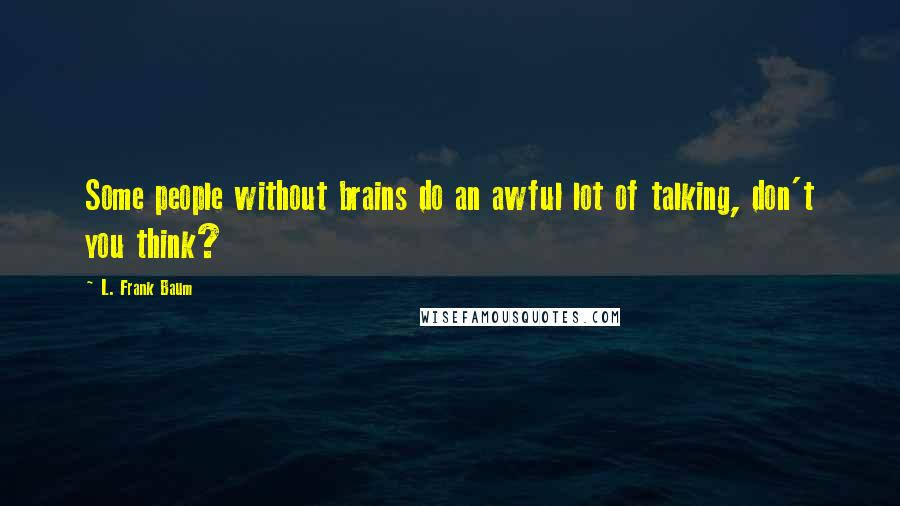 Some people without brains do an awful lot of talking, don't you think?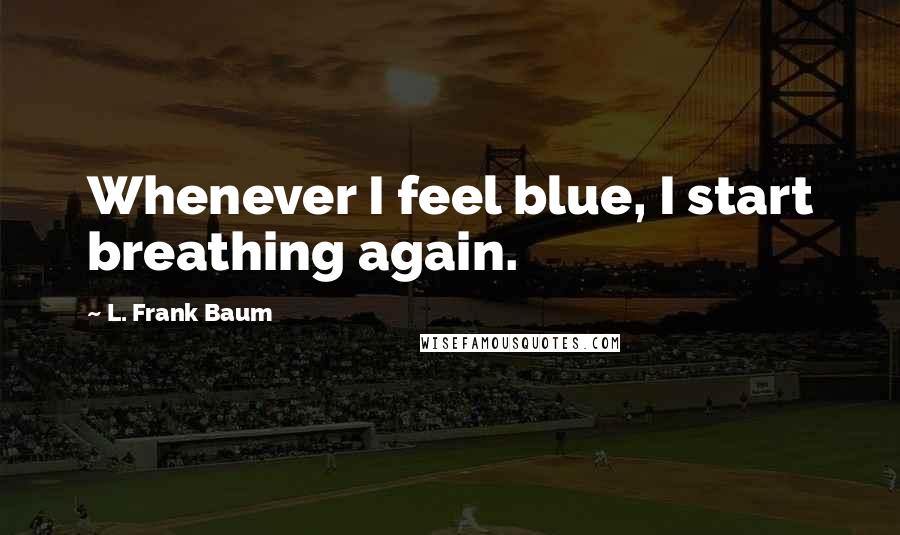 Whenever I feel blue, I start breathing again.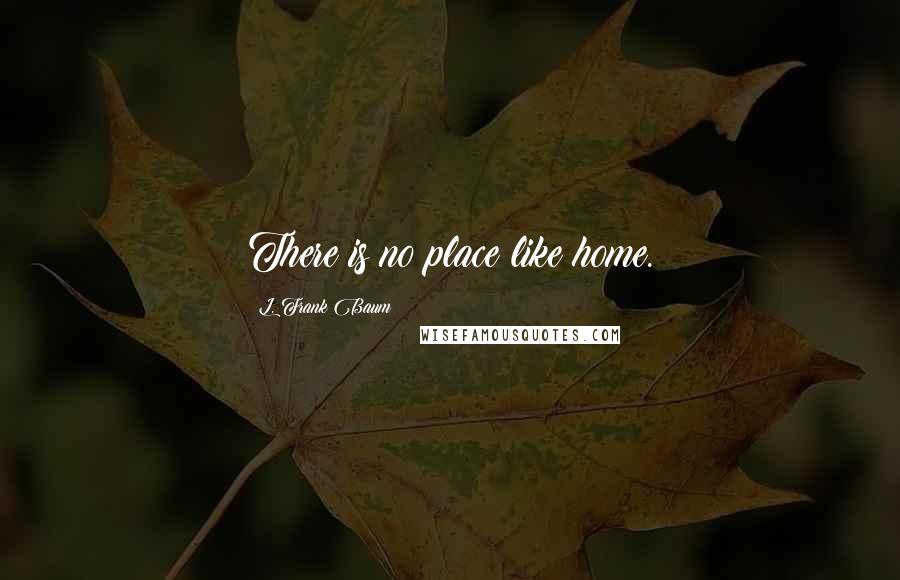 There is no place like home.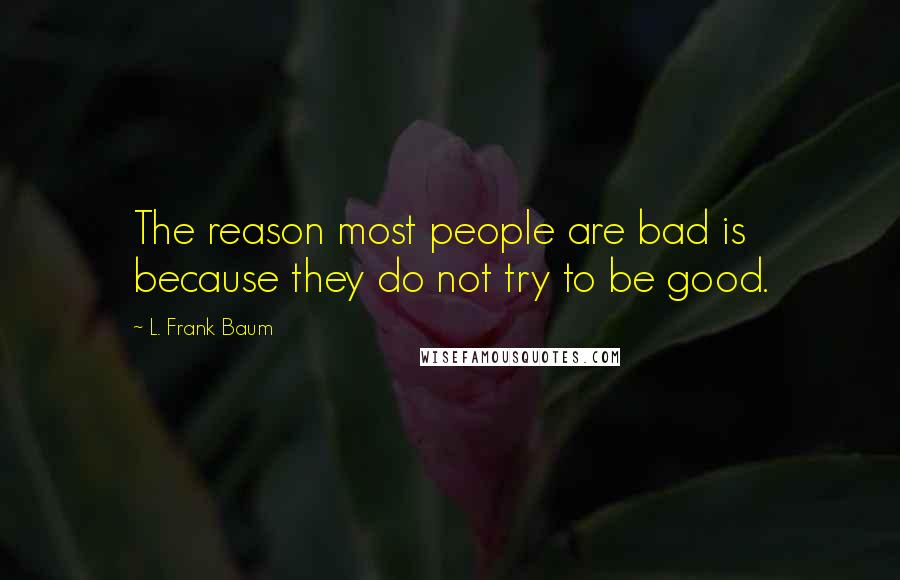 The reason most people are bad is because they do not try to be good.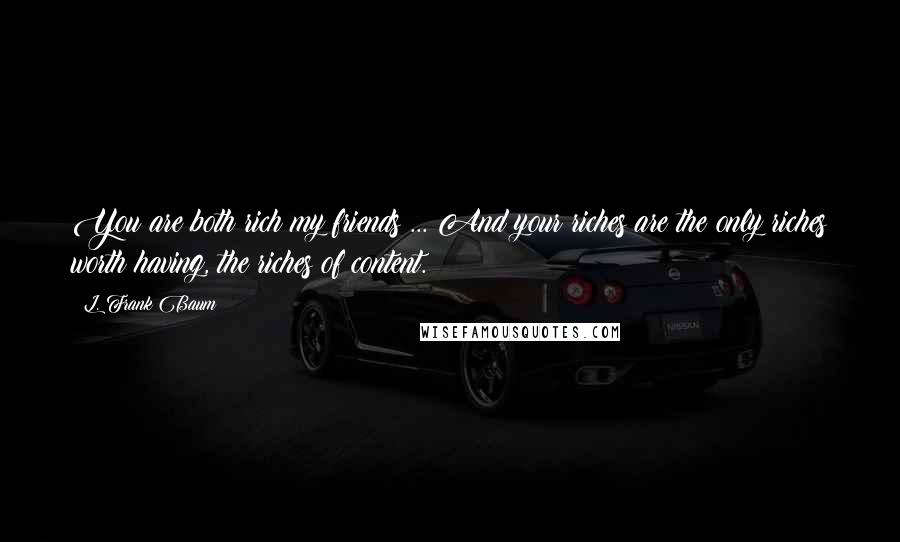 You are both rich my friends ... And your riches are the only riches worth having, the riches of content.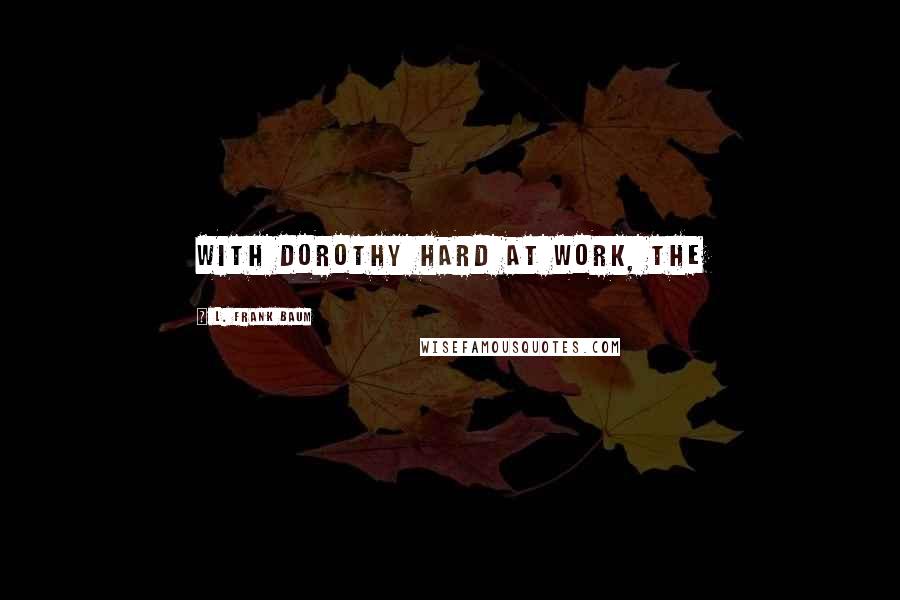 With Dorothy hard at work, the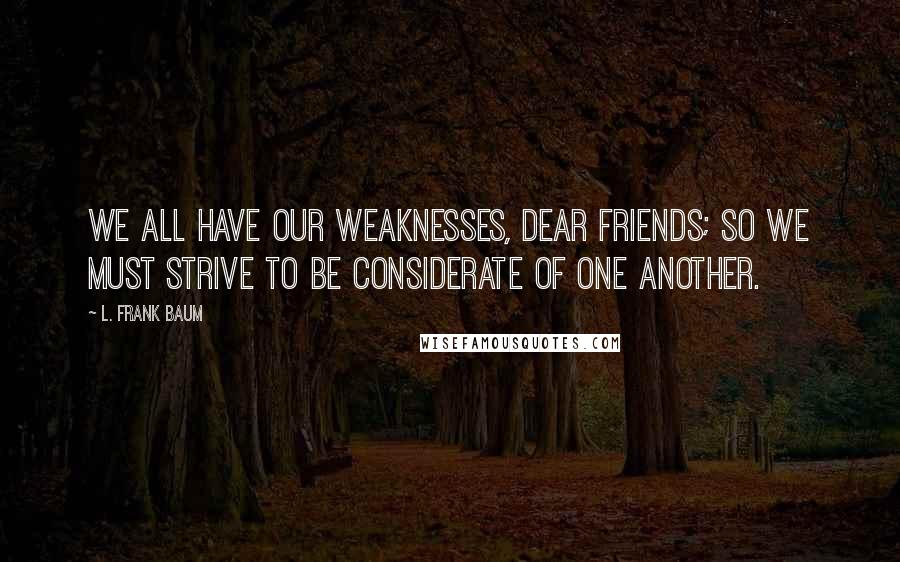 We all have our weaknesses, dear friends; so we must strive to be considerate of one another.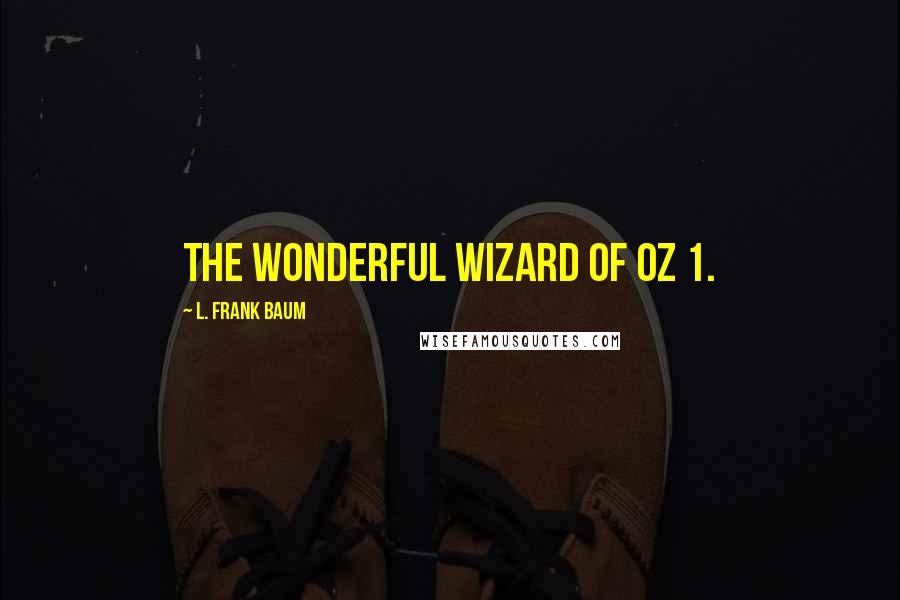 THE WONDERFUL WIZARD OF OZ 1.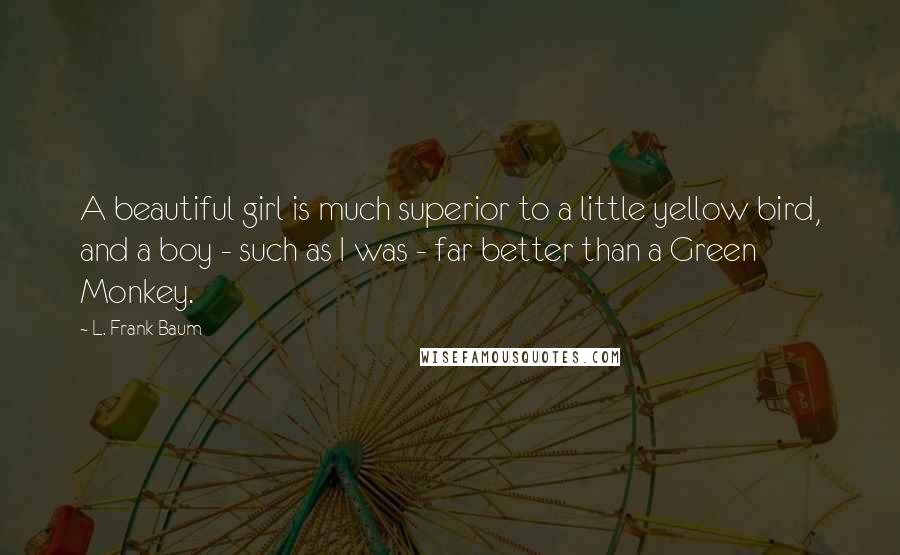 A beautiful girl is much superior to a little yellow bird, and a boy - such as I was - far better than a Green Monkey.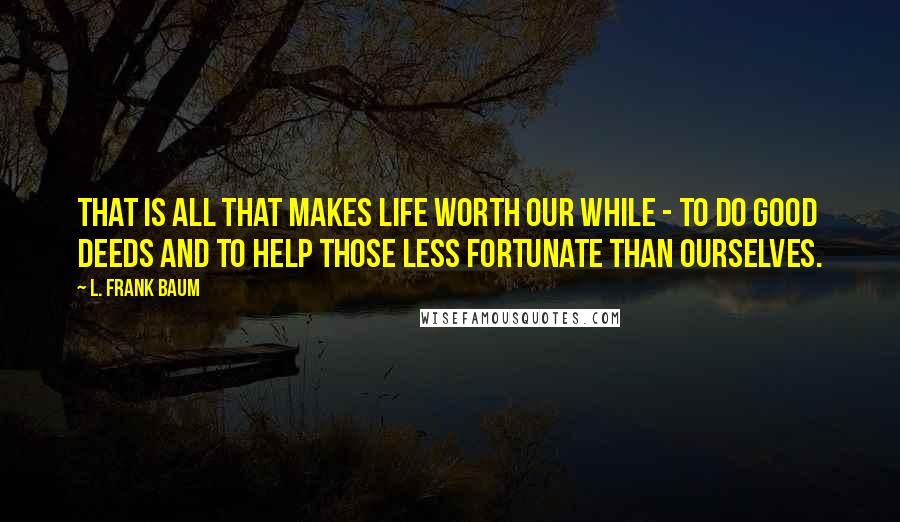 That is all that makes life worth our while - to do good deeds and to help those less fortunate than ourselves.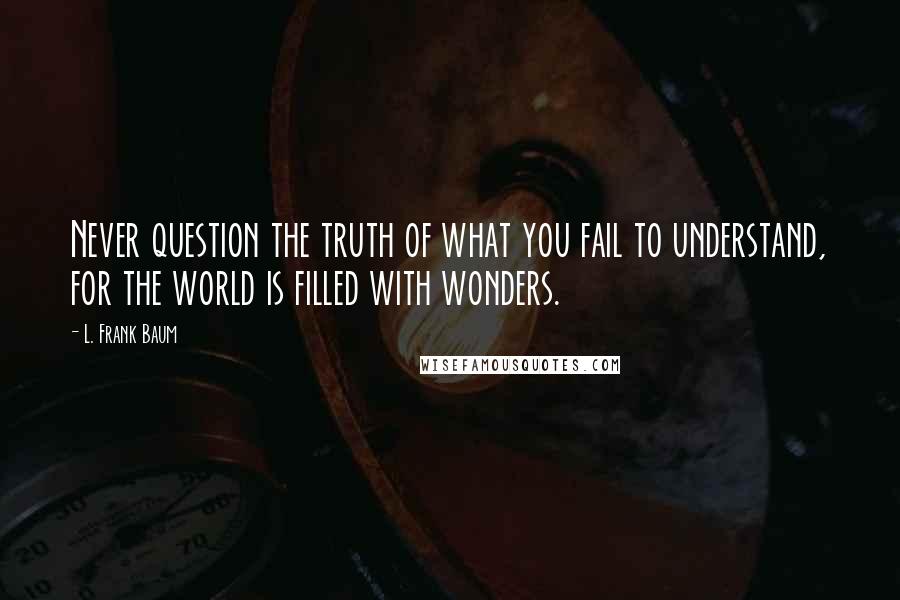 Never question the truth of what you fail to understand, for the world is filled with wonders.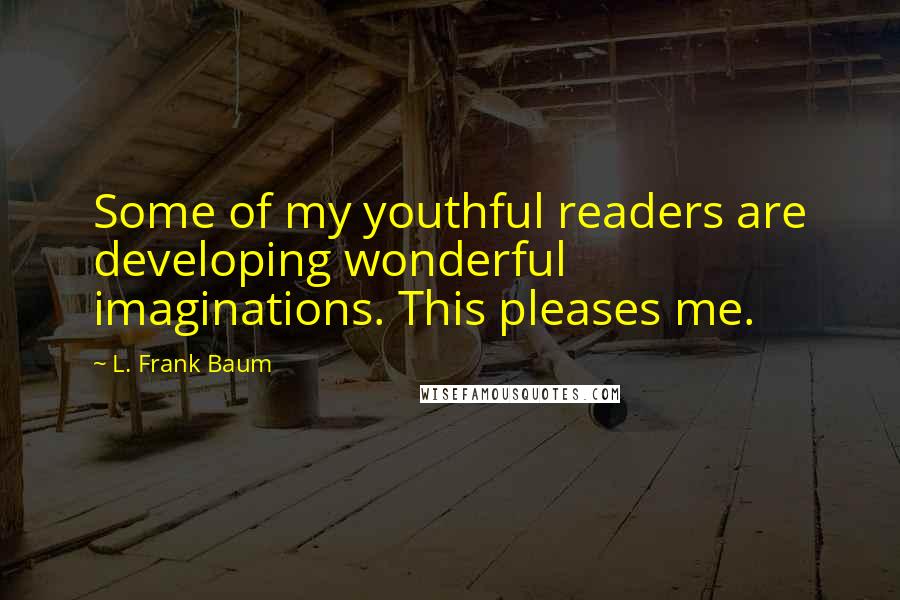 Some of my youthful readers are developing wonderful imaginations. This pleases me.