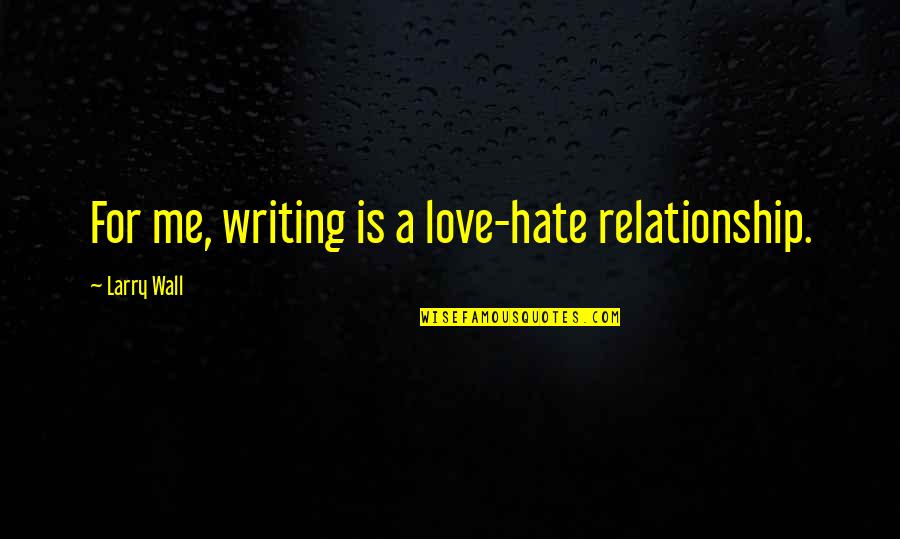 For me, writing is a love-hate relationship.
—
Larry Wall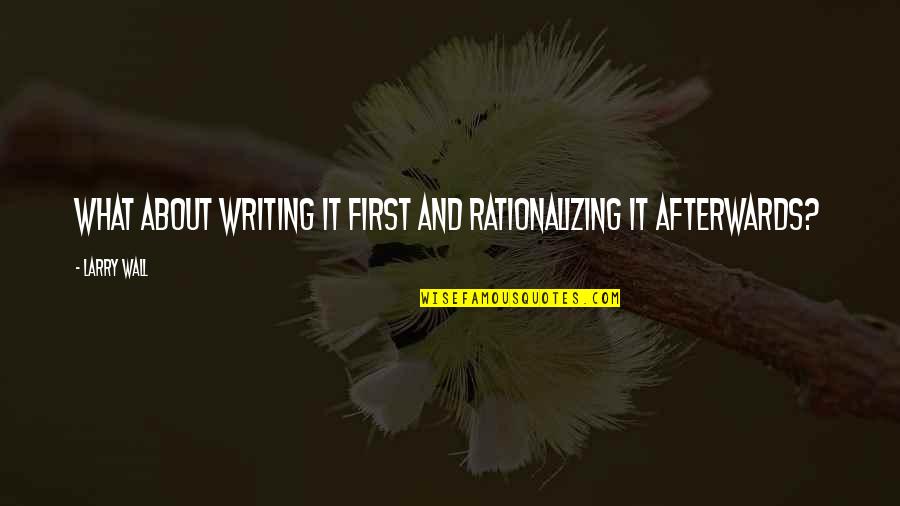 What about WRITING it first and rationalizing it afterwards?
—
Larry Wall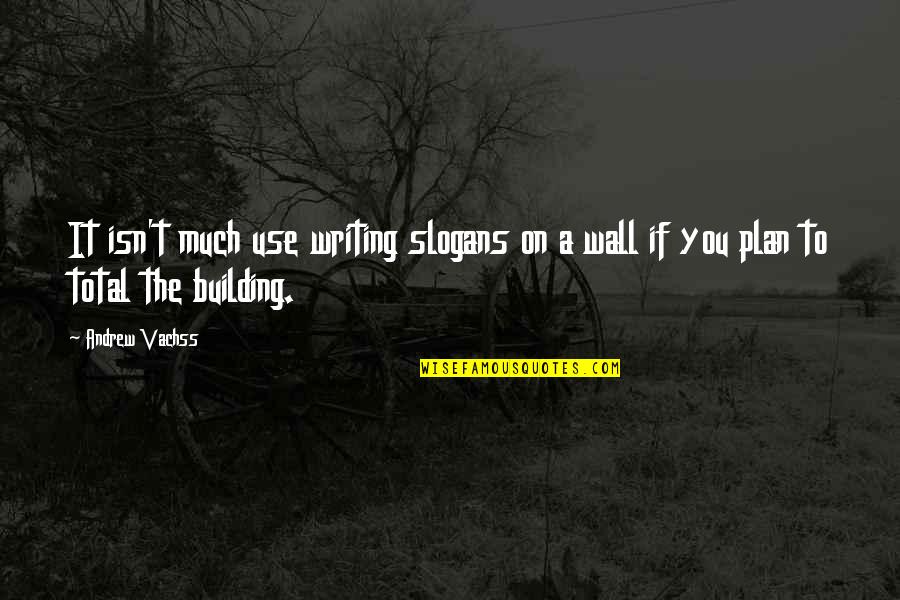 It isn't much use writing slogans on a wall if you plan to total the building.
—
Andrew Vachss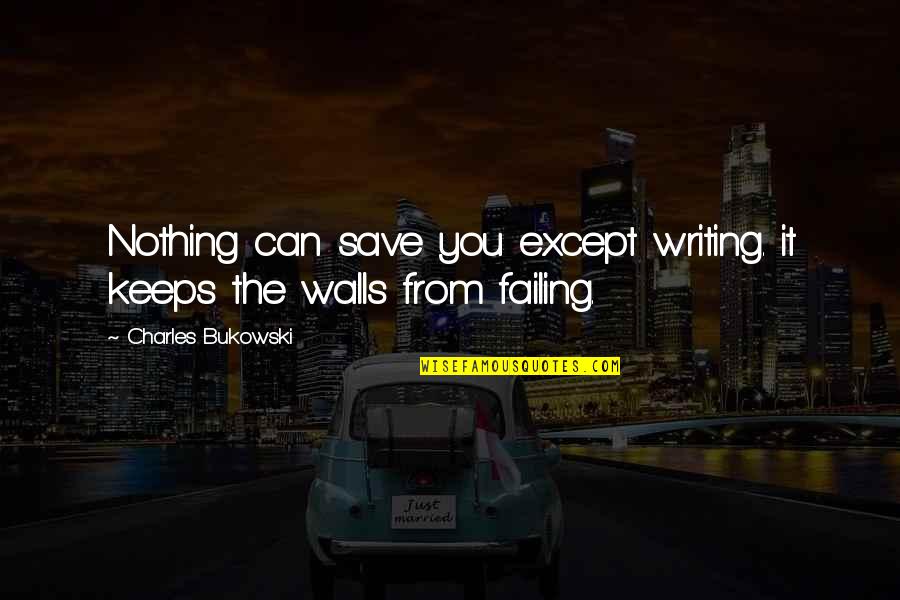 Nothing can save you except writing. it keeps the walls from failing.
—
Charles Bukowski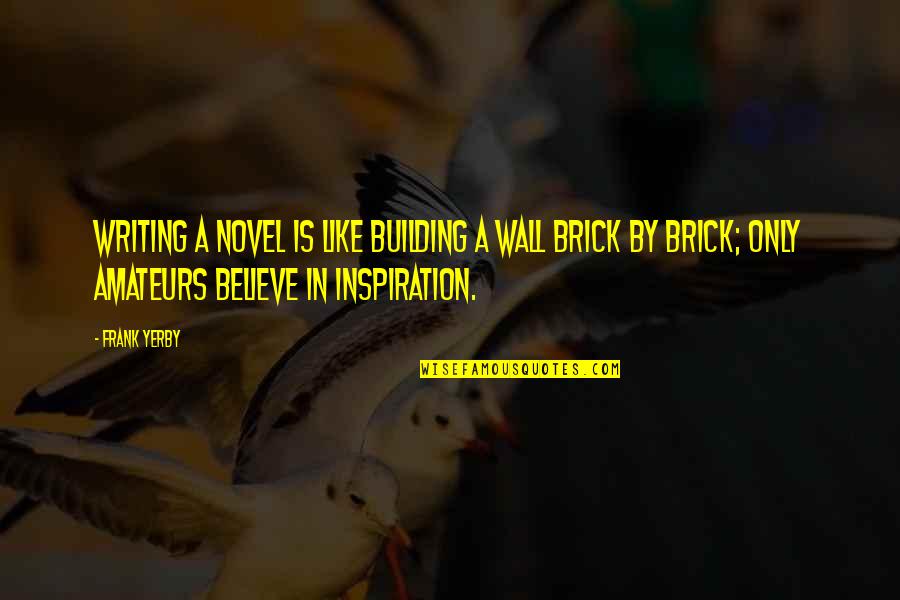 Writing a novel is like building a wall brick by brick; only amateurs believe in inspiration.
—
Frank Yerby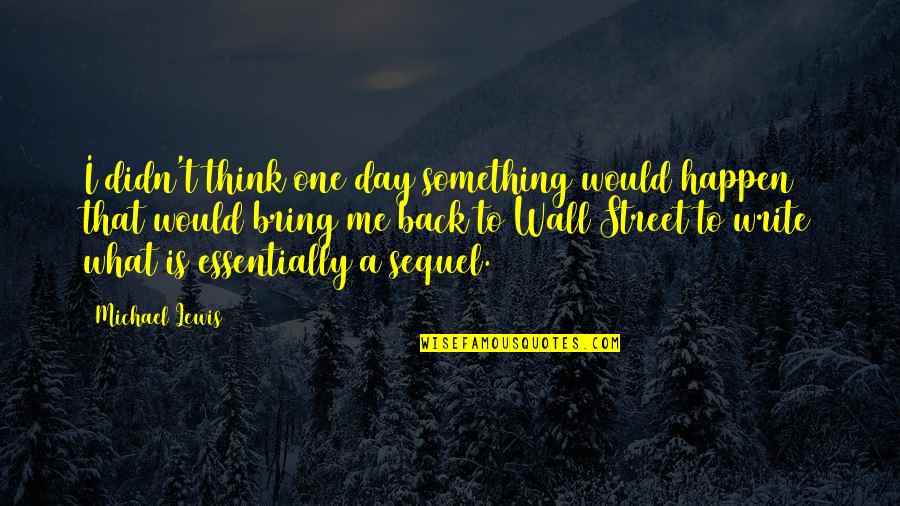 I didn't think one day something would happen that would bring me back to Wall Street to write what is essentially a sequel.
—
Michael Lewis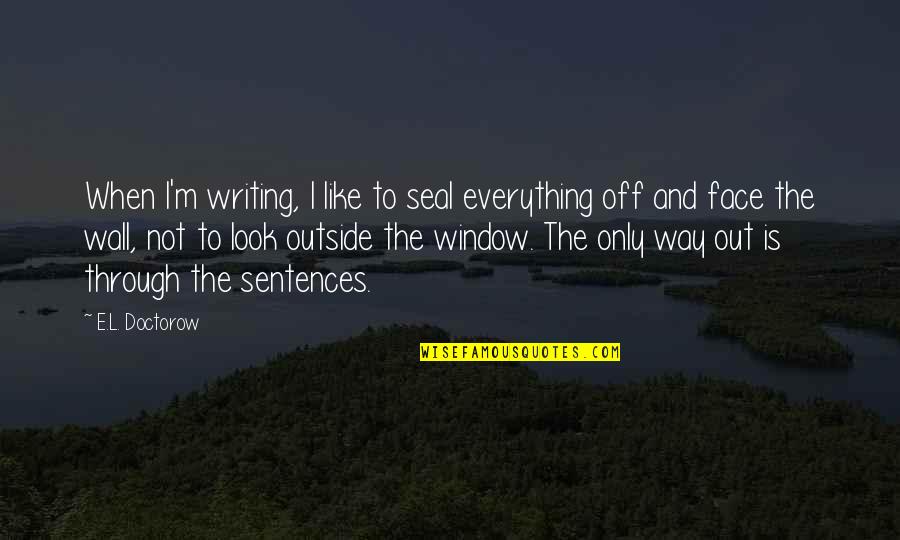 When I'm writing, I like to seal everything off and face the wall, not to look outside the window. The only way out is through the sentences.
—
E.L. Doctorow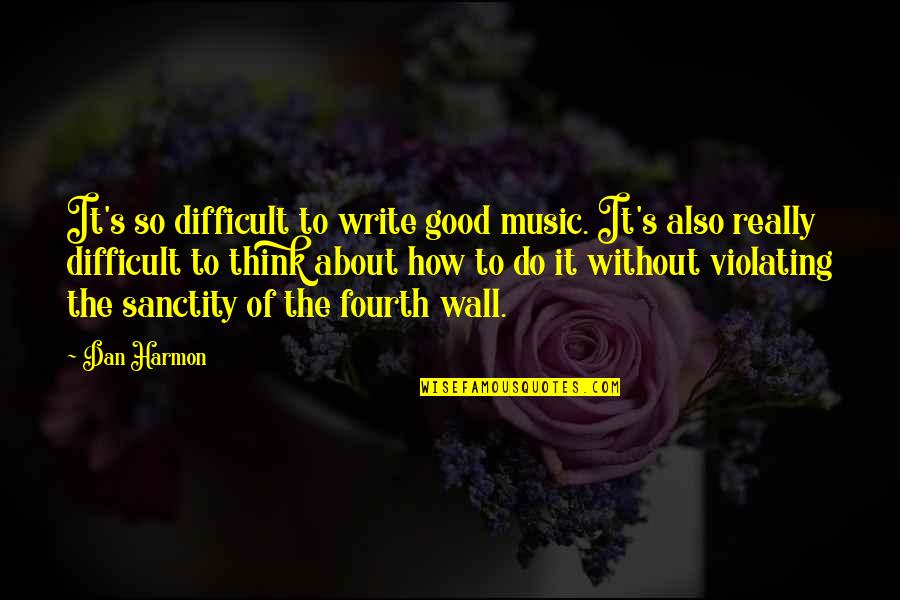 It's so difficult to write good music. It's also really difficult to think about how to do it without violating the sanctity of the fourth wall.
—
Dan Harmon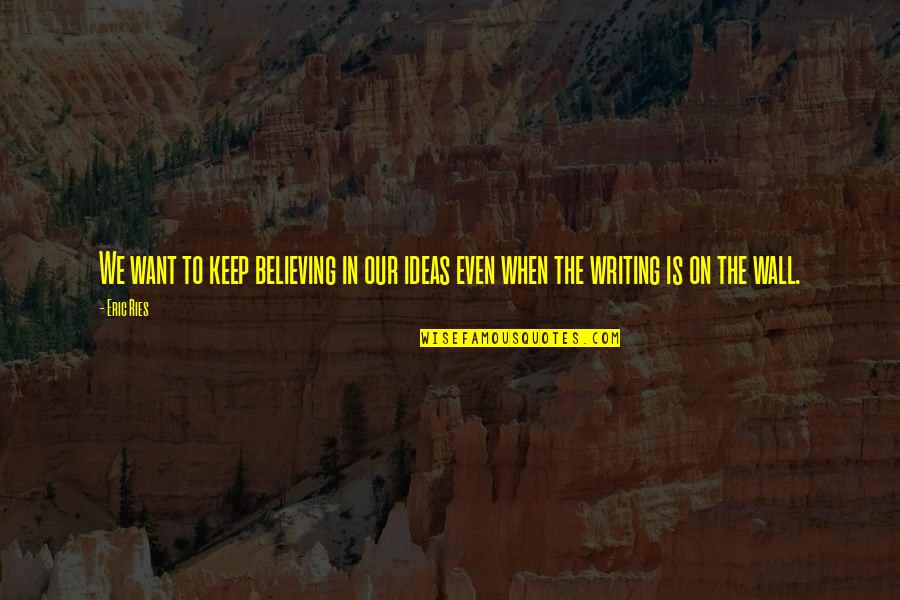 We want to keep believing in our ideas even when the writing is on the wall.
—
Eric Ries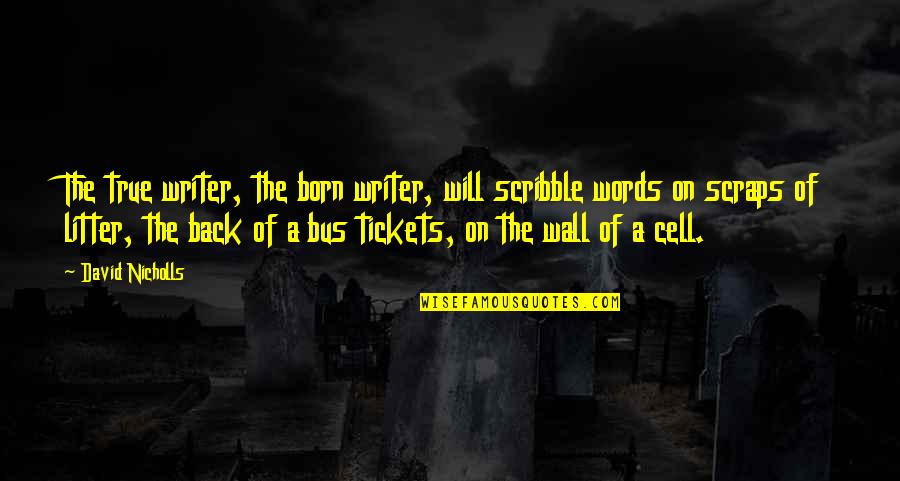 The true writer, the born writer, will scribble words on scraps of litter, the back of a bus tickets, on the wall of a cell.
—
David Nicholls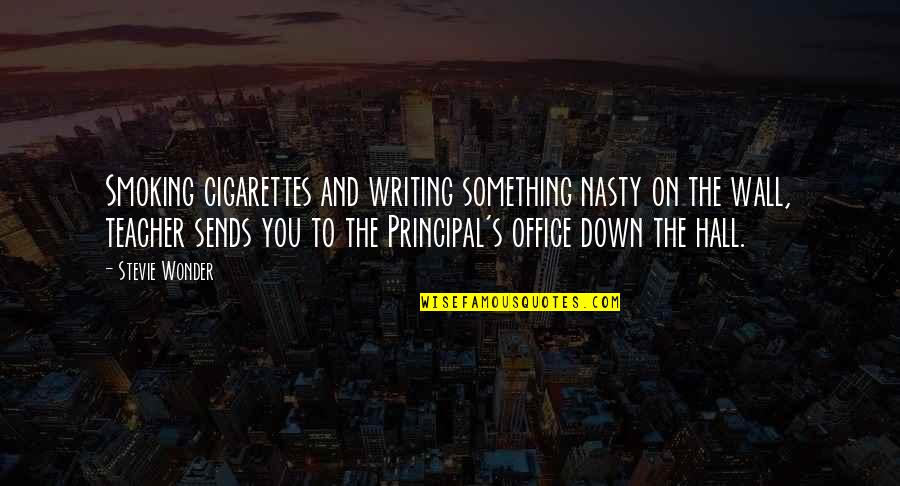 Smoking cigarettes and writing something nasty on the wall, teacher sends you to the Principal's office down the hall.
—
Stevie Wonder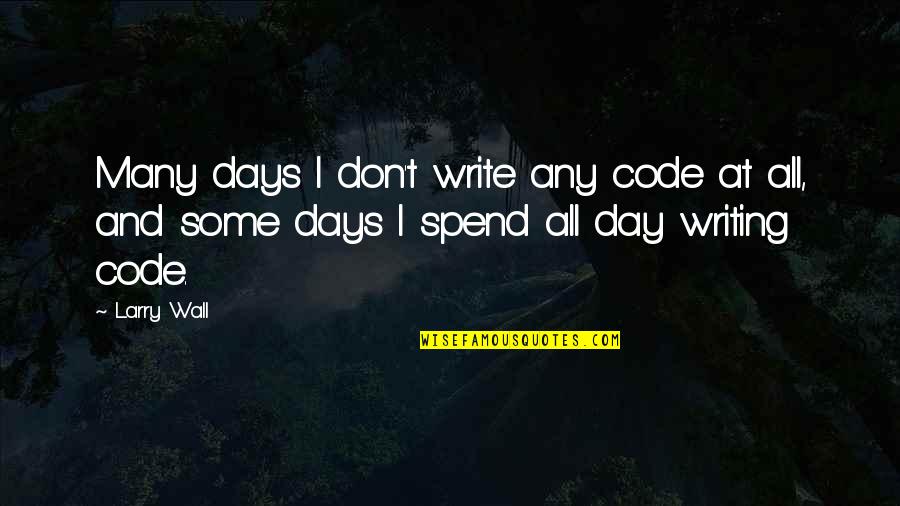 Many days I don't write any code at all, and some days I spend all day writing code. —
Larry Wall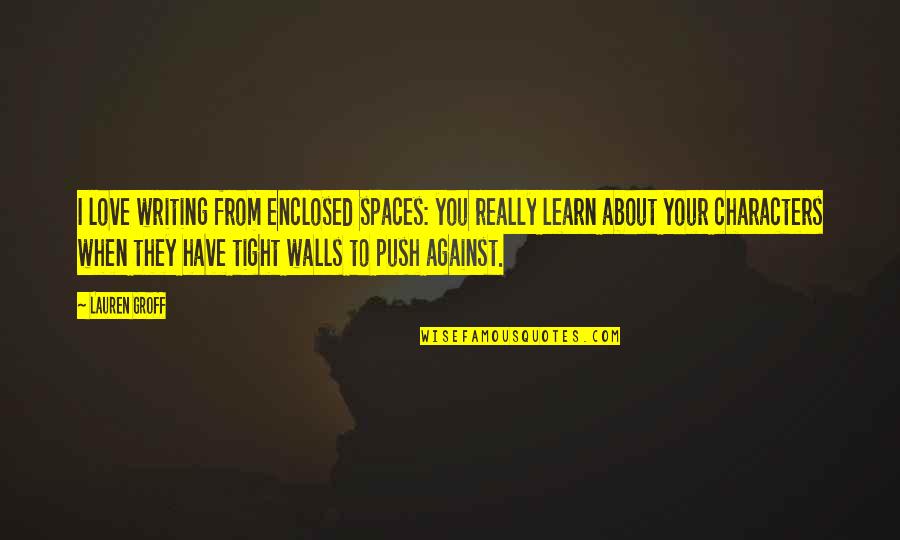 I love writing from enclosed spaces: you really learn about your characters when they have tight walls to push against. —
Lauren Groff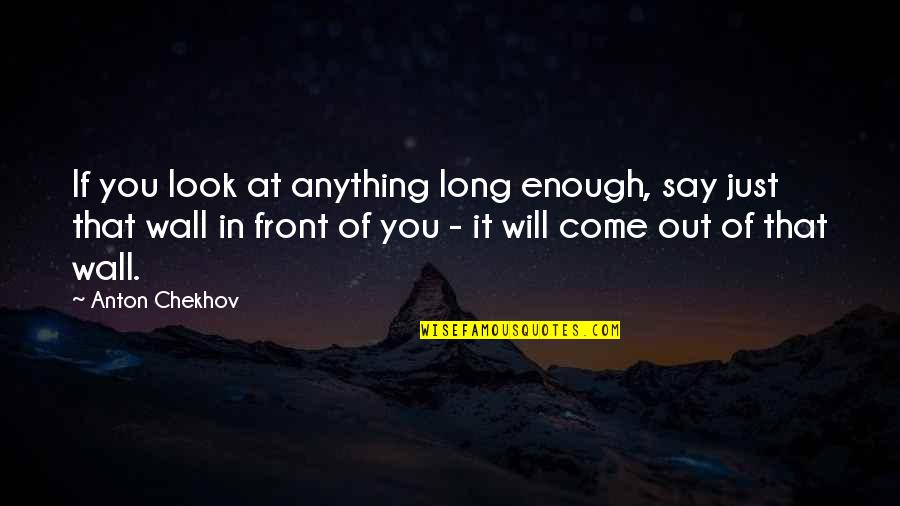 If you look at anything long enough, say just that wall in front of you - it will come out of that wall. —
Anton Chekhov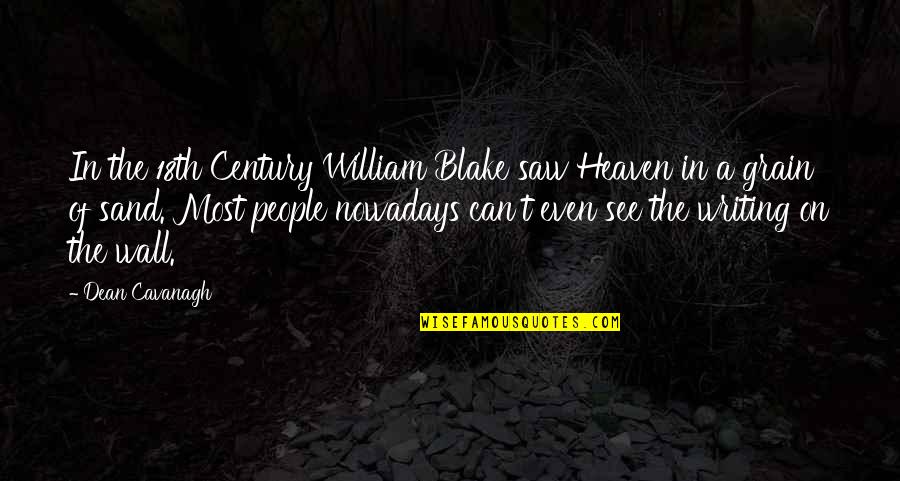 In the 18th Century William Blake saw Heaven in a grain of sand. Most people nowadays can't even see the writing on the wall. —
Dean Cavanagh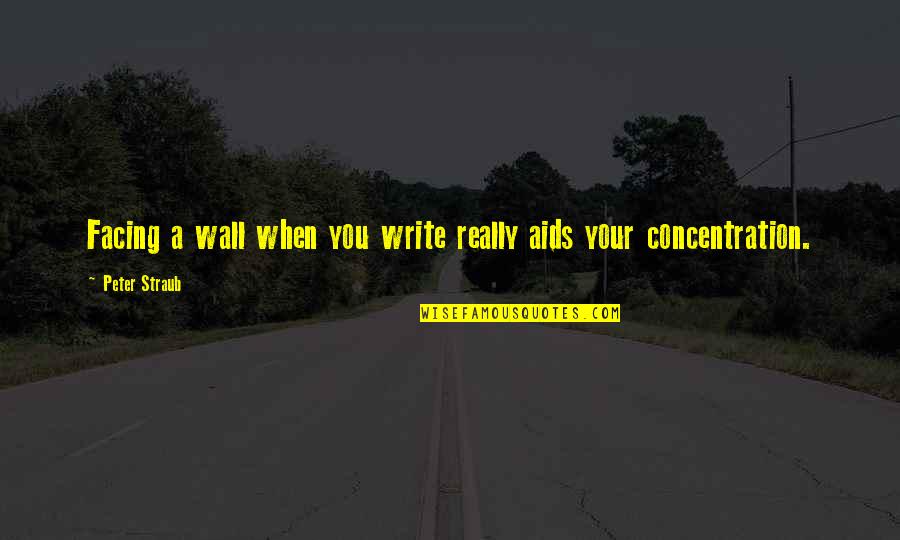 Facing a wall when you write really aids your concentration. —
Peter Straub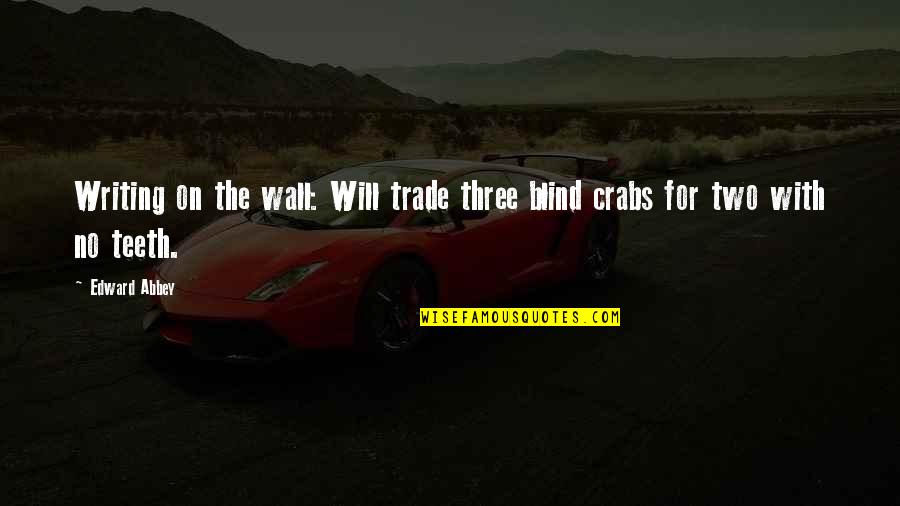 Writing on the wall: Will trade three blind crabs for two with no teeth. —
Edward Abbey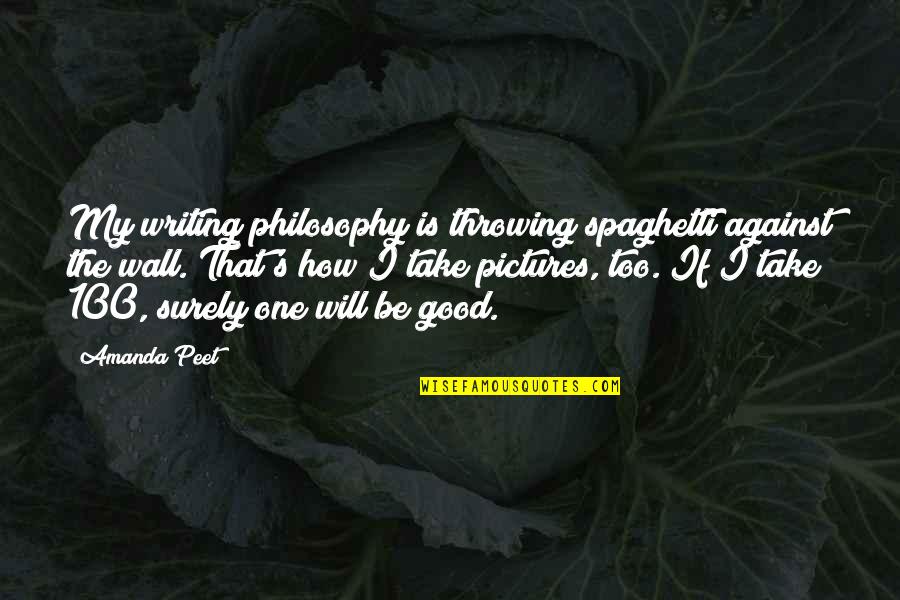 My writing philosophy is throwing spaghetti against the wall. That's how I take pictures, too. If I take 100, surely one will be good. —
Amanda Peet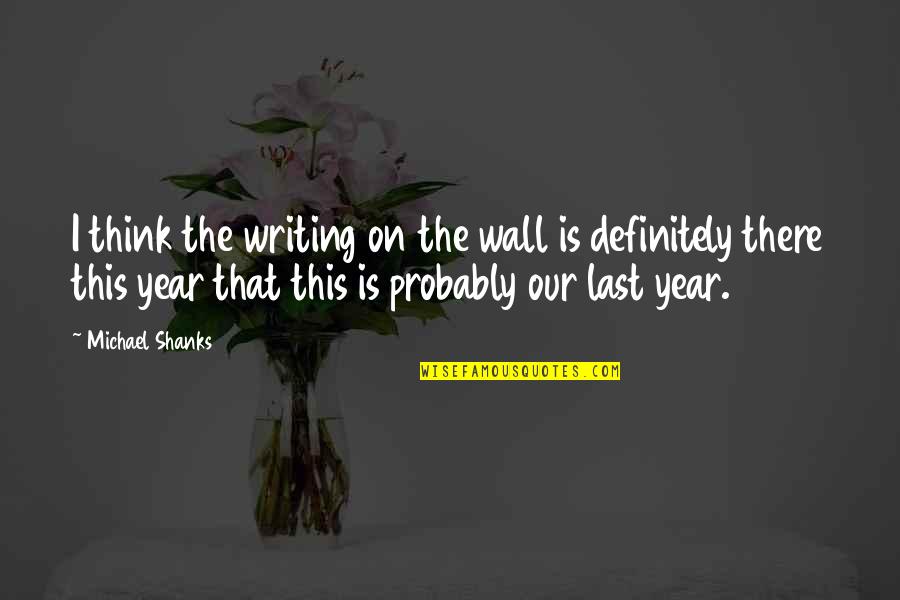 I think the writing on the wall is definitely there this year that this is probably our last year. —
Michael Shanks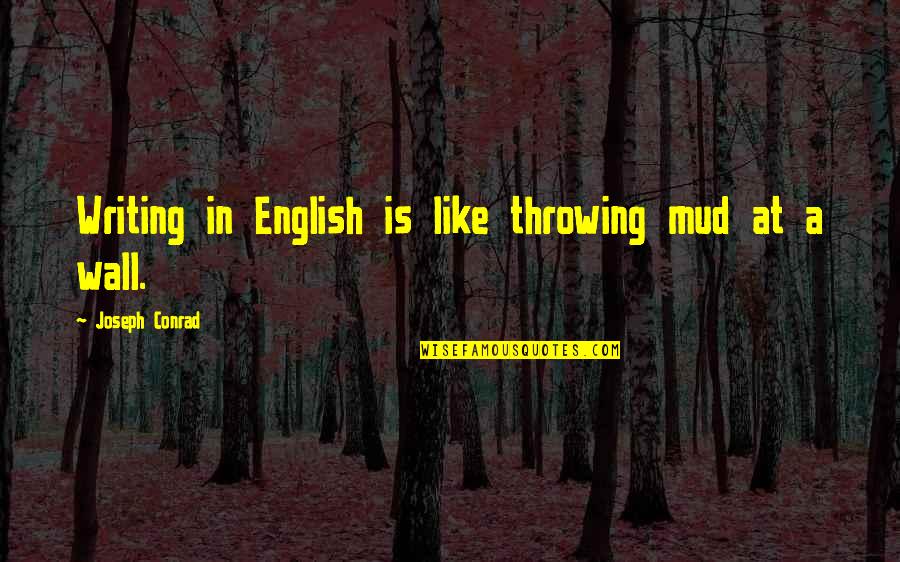 Writing in English is like throwing mud at a wall. —
Joseph Conrad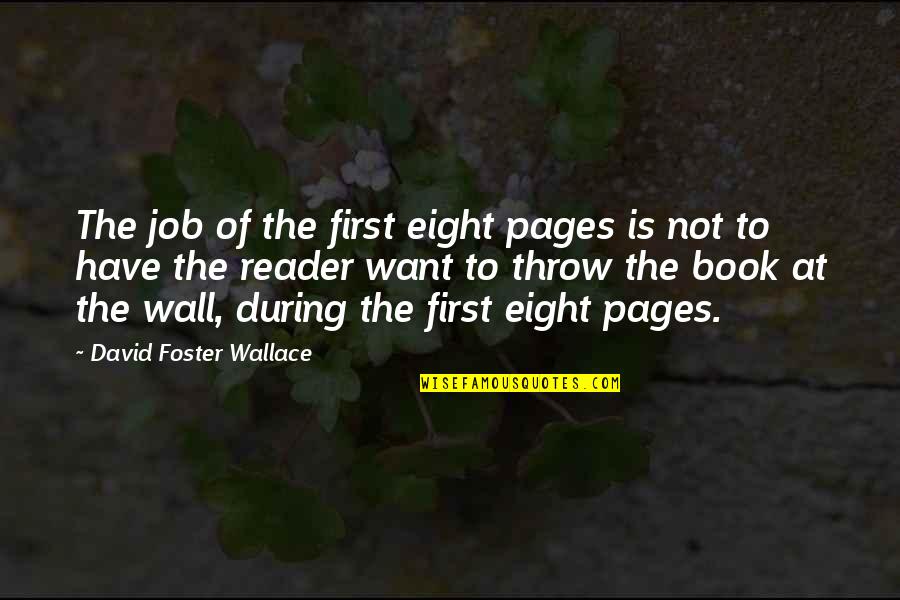 The job of the first eight pages is not to have the reader want to throw the book at the wall, during the first eight pages. —
David Foster Wallace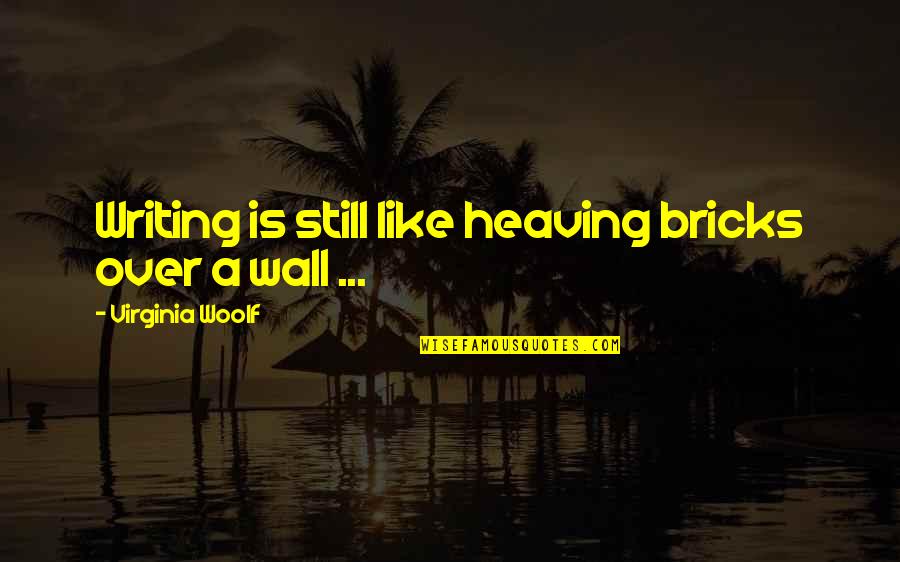 Writing is still like heaving bricks over a wall ... —
Virginia Woolf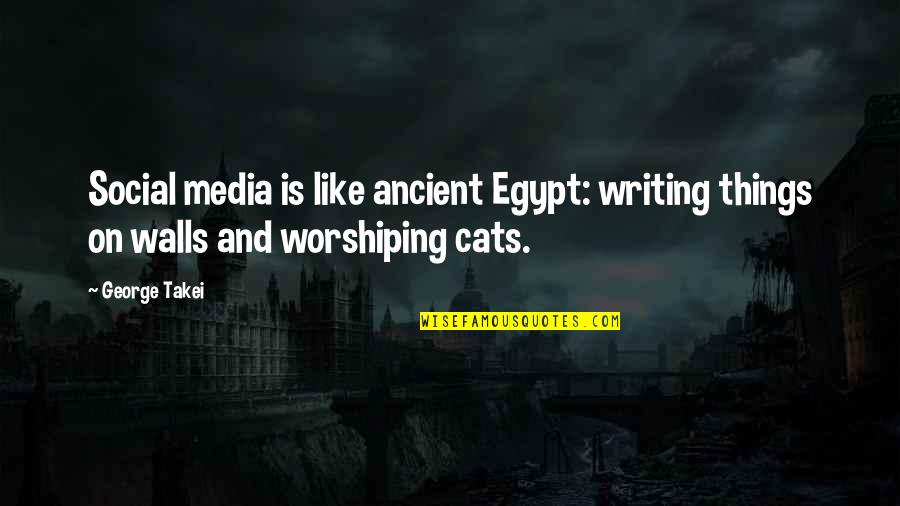 Social media is like ancient Egypt: writing things on walls and worshiping cats. —
George Takei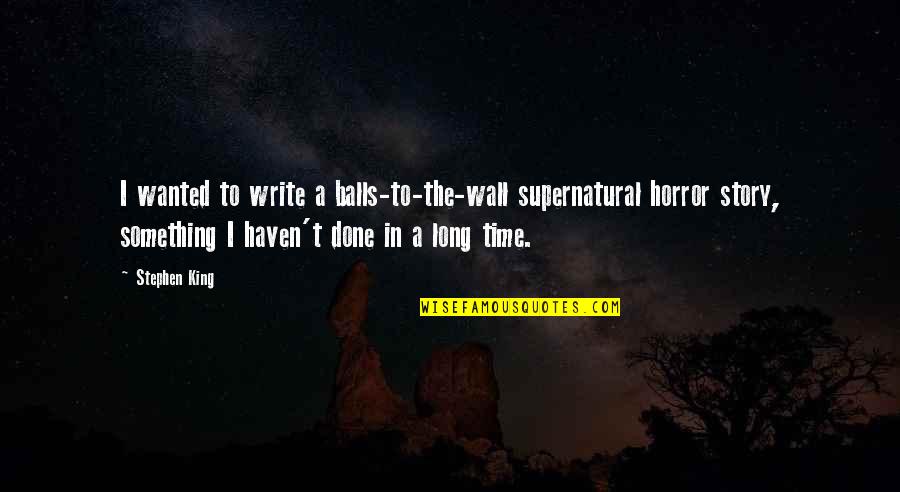 I wanted to write a balls-to-the-wall supernatural horror story, something I haven't done in a long time. —
Stephen King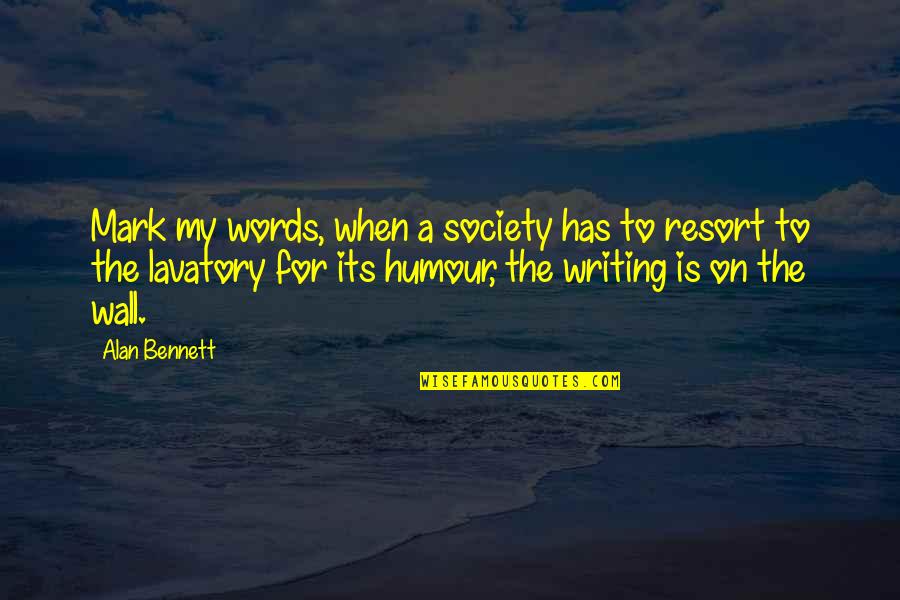 Mark my words, when a society has to resort to the lavatory for its humour, the writing is on the wall. —
Alan Bennett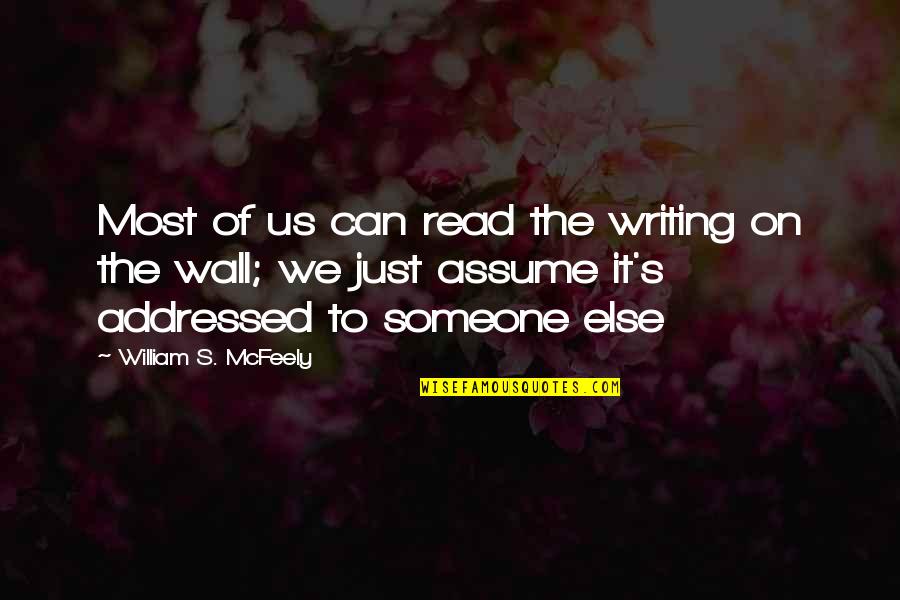 Most of us can read the writing on the wall; we just assume it's addressed to someone else —
William S. McFeely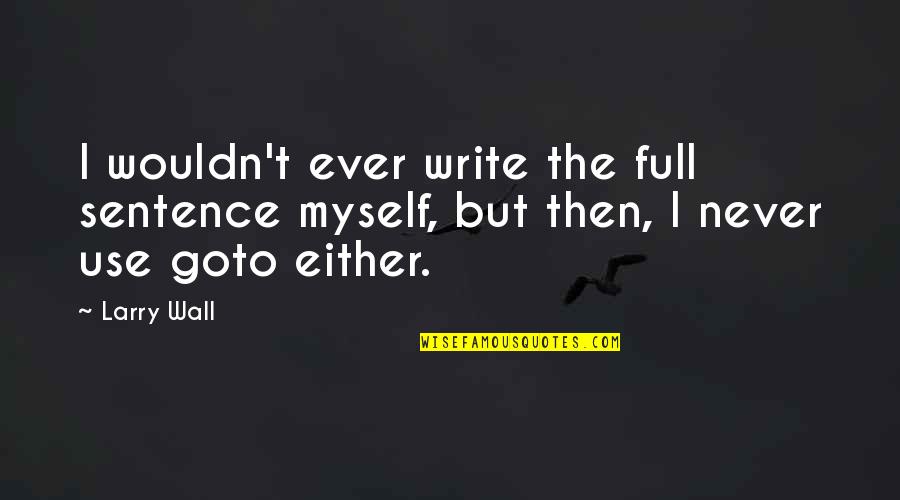 I wouldn't ever write the full sentence myself, but then, I never use goto either. —
Larry Wall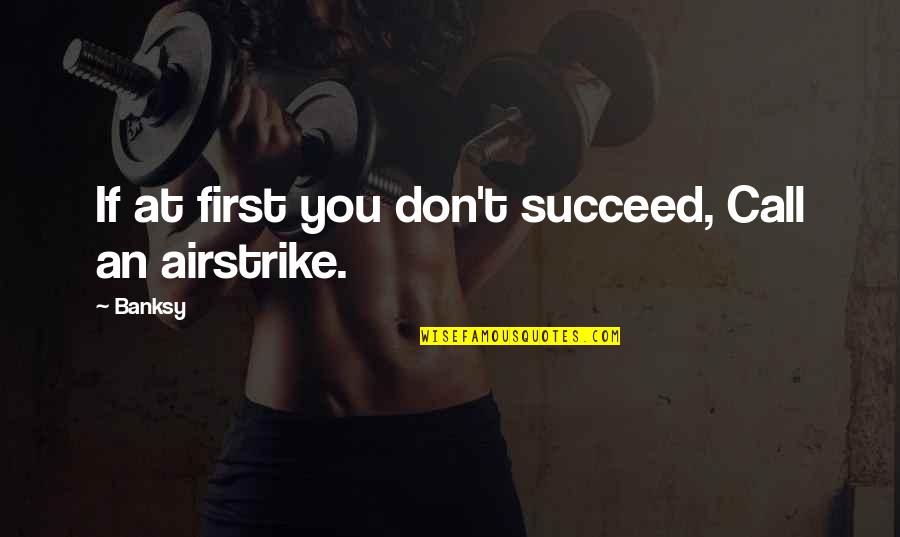 If at first you don't succeed, Call an airstrike. —
Banksy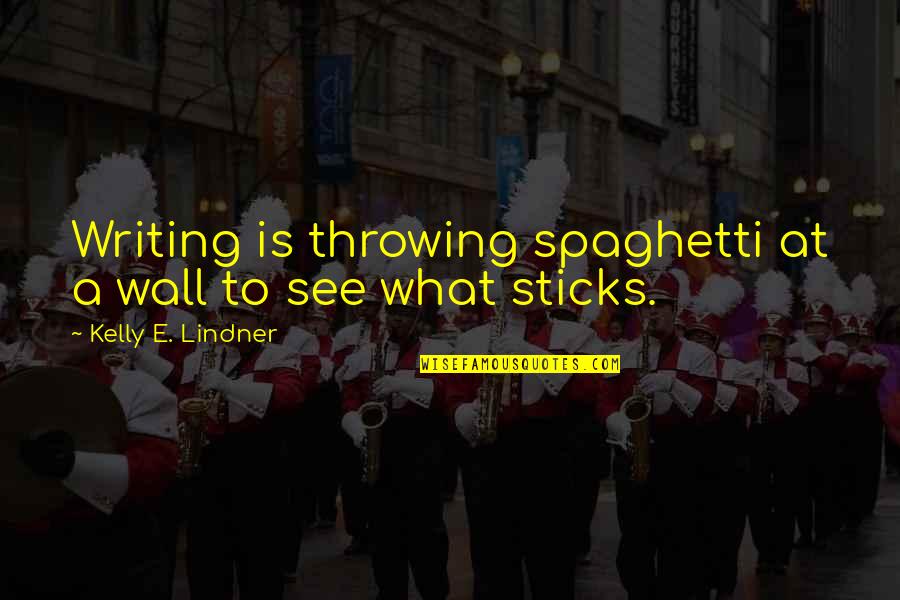 Writing is throwing spaghetti at a wall to see what sticks. —
Kelly E. Lindner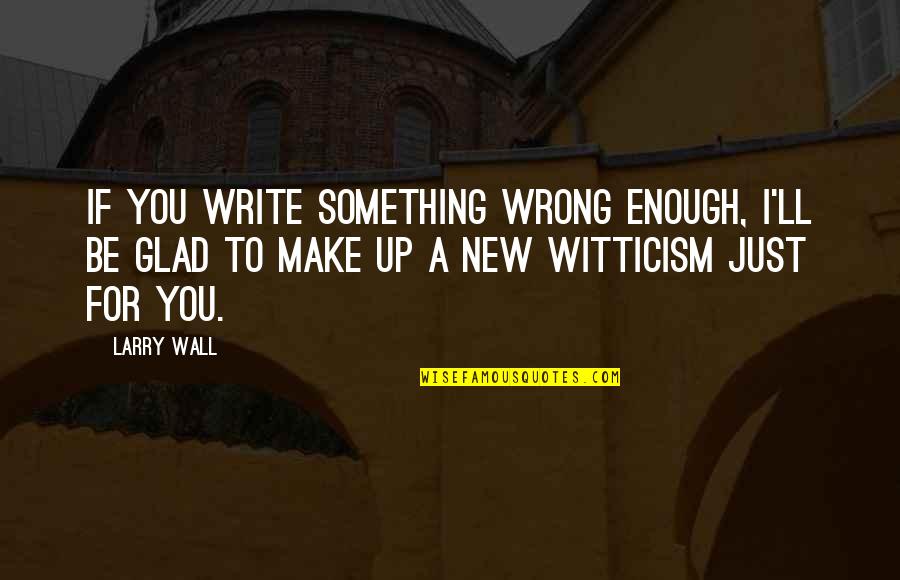 If you write something wrong enough, I'll be glad to make up a new witticism just for you. —
Larry Wall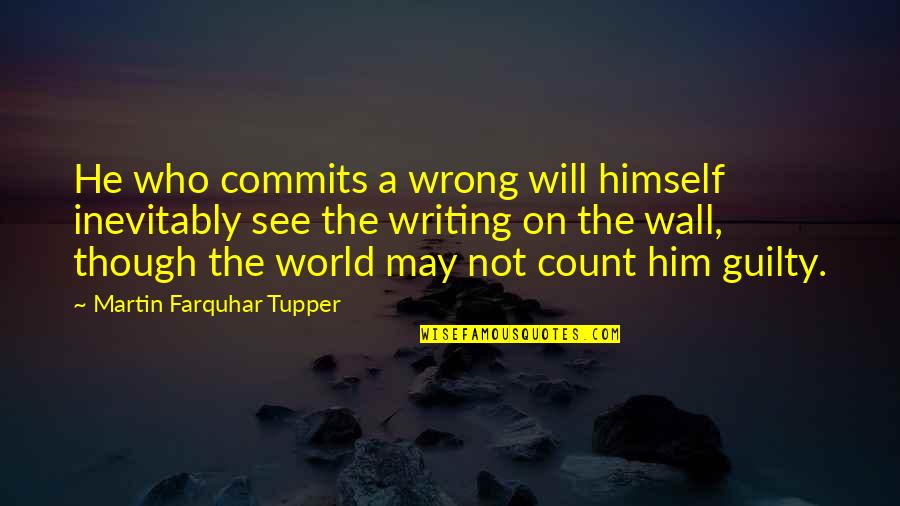 He who commits a wrong will himself inevitably see the writing on the wall, though the world may not count him guilty. —
Martin Farquhar Tupper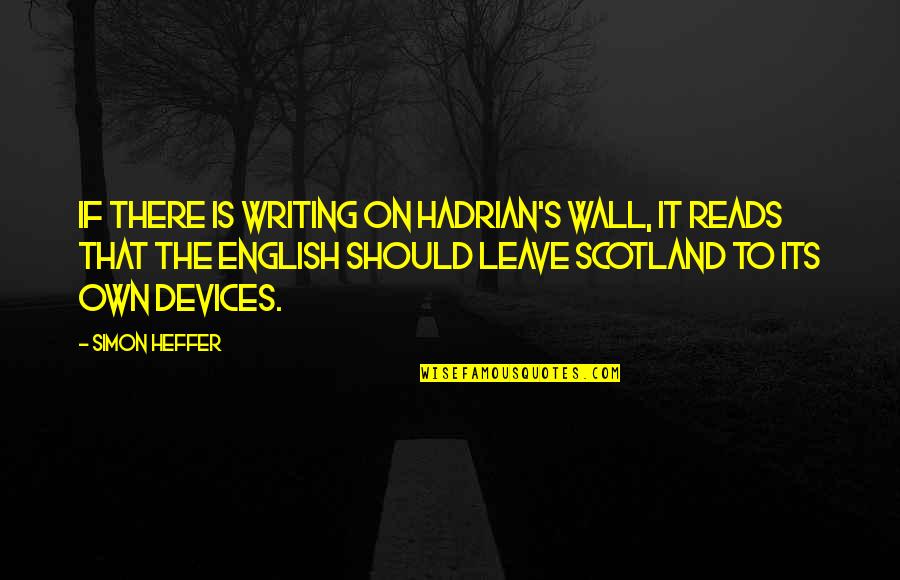 If there is writing on Hadrian's Wall, it reads that the English should leave Scotland to its own devices. —
Simon Heffer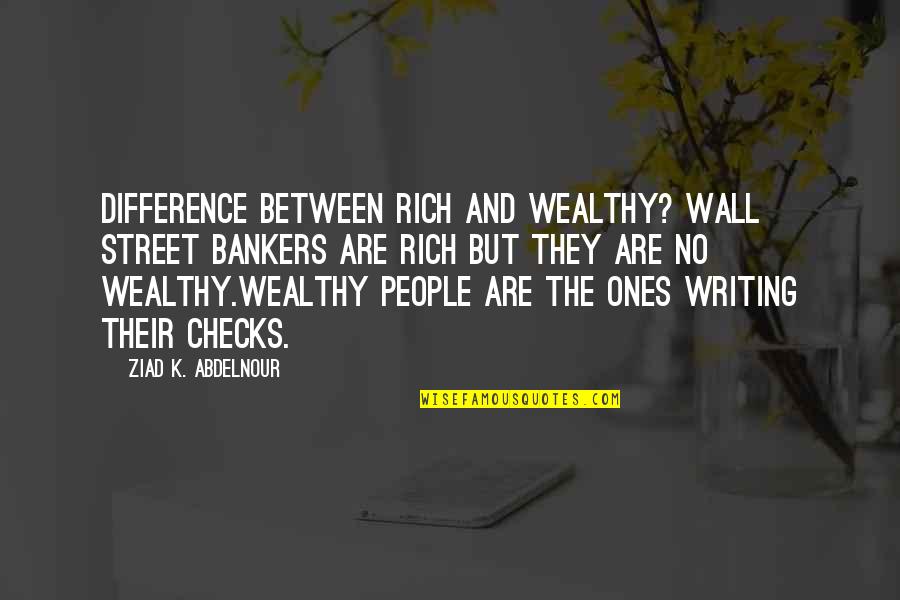 Difference between rich and wealthy? Wall Street bankers are rich but they are no wealthy.Wealthy people are the ones writing their checks. —
Ziad K. Abdelnour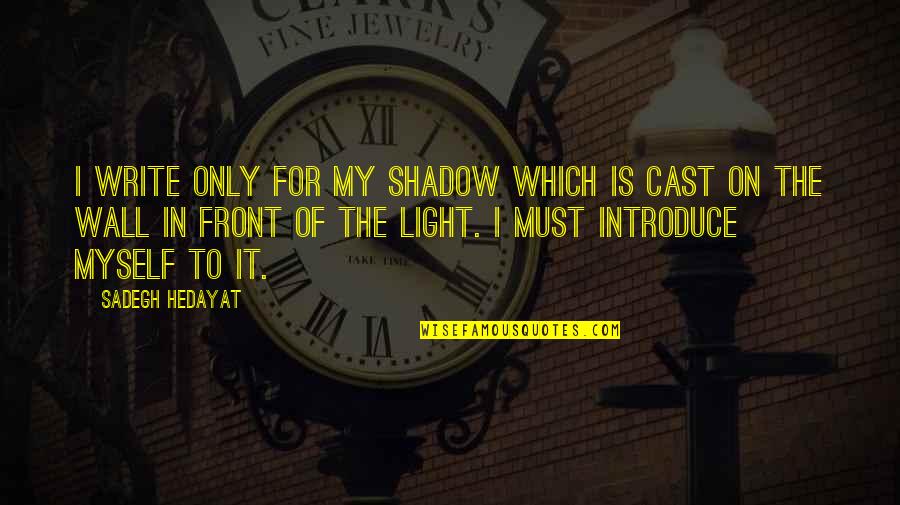 I write only for my shadow which is cast on the wall in front of the light. I must introduce myself to it. —
Sadegh Hedayat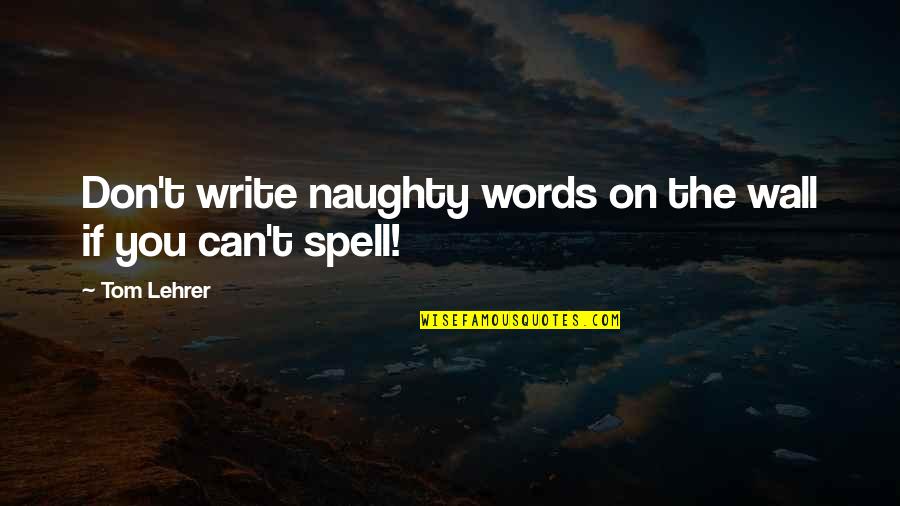 Don't write naughty words on the wall if you can't spell! —
Tom Lehrer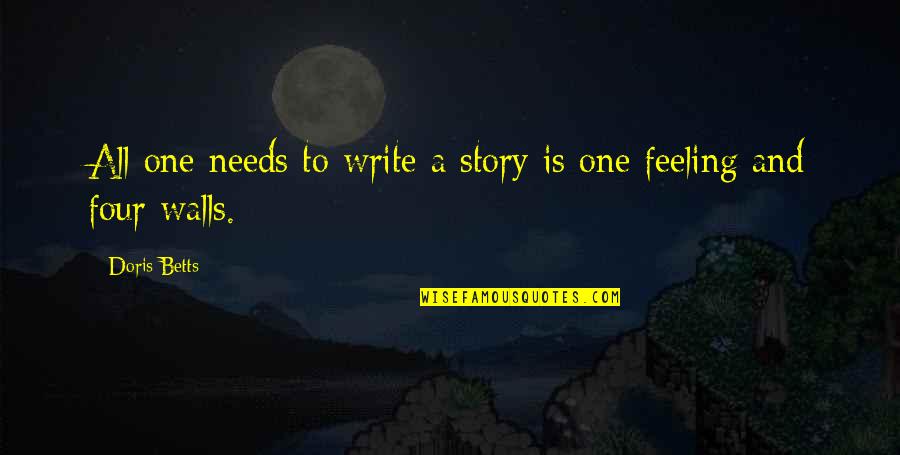 All one needs to write a story is one feeling and four walls. —
Doris Betts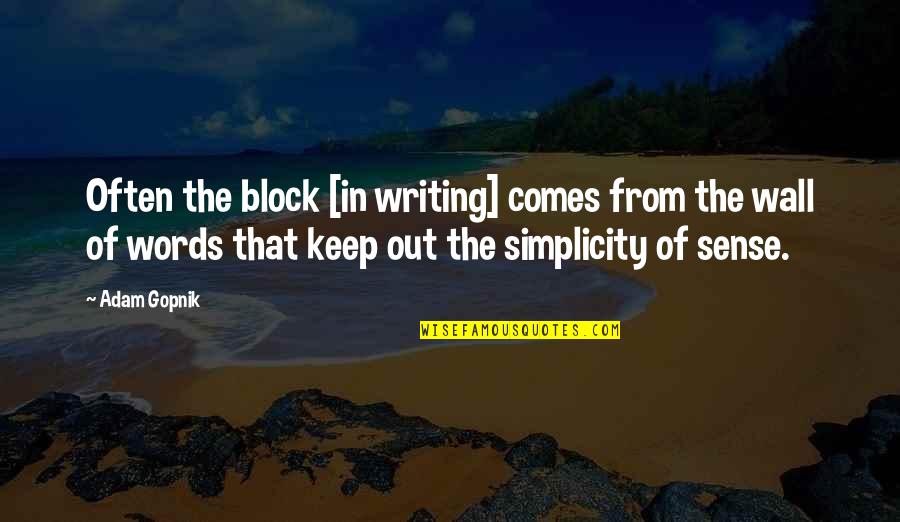 Often the block [in writing] comes from the wall of words that keep out the simplicity of sense. —
Adam Gopnik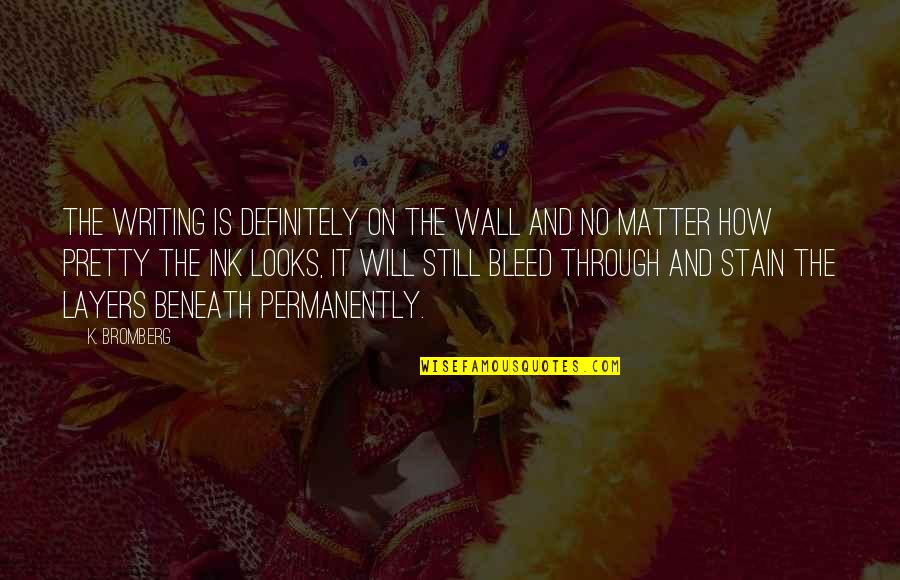 The writing is definitely on the wall and no matter how pretty the ink looks, it will still bleed through and stain the layers beneath permanently. —
K. Bromberg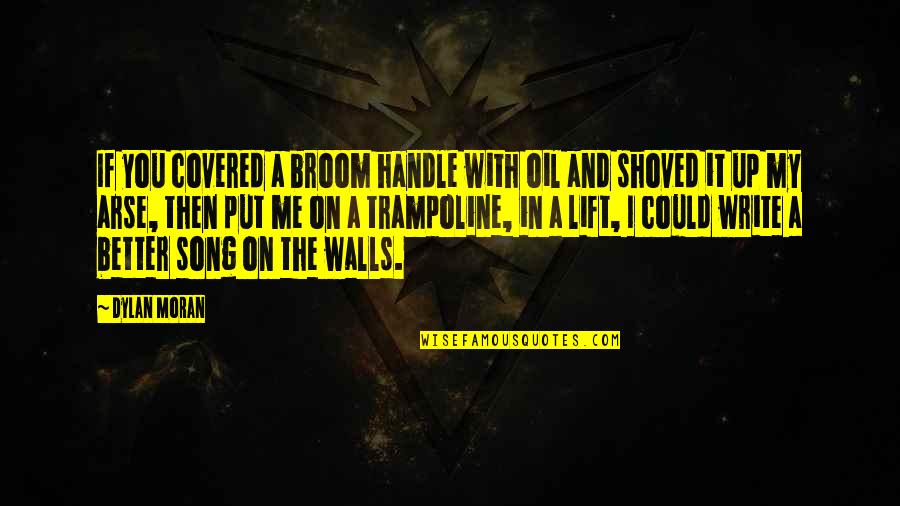 If you covered a broom handle with oil and shoved it up my arse, then put me on a trampoline, in a lift, I could write a better song on the walls. —
Dylan Moran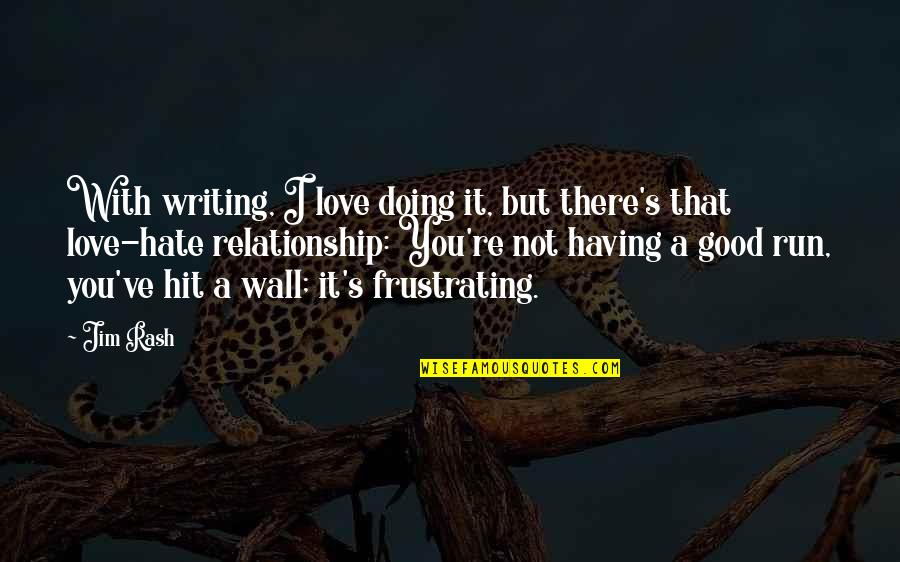 With writing, I love doing it, but there's that love-hate relationship: You're not having a good run, you've hit a wall; it's frustrating. —
Jim Rash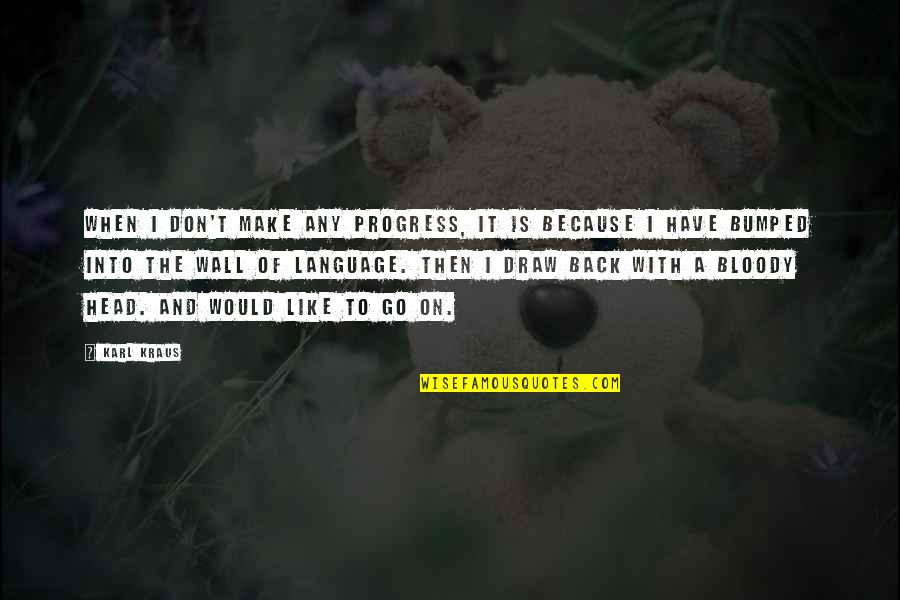 When I don't make any progress, it is because I have bumped into the wall of language. Then I draw back with a bloody head. And would like to go on. —
Karl Kraus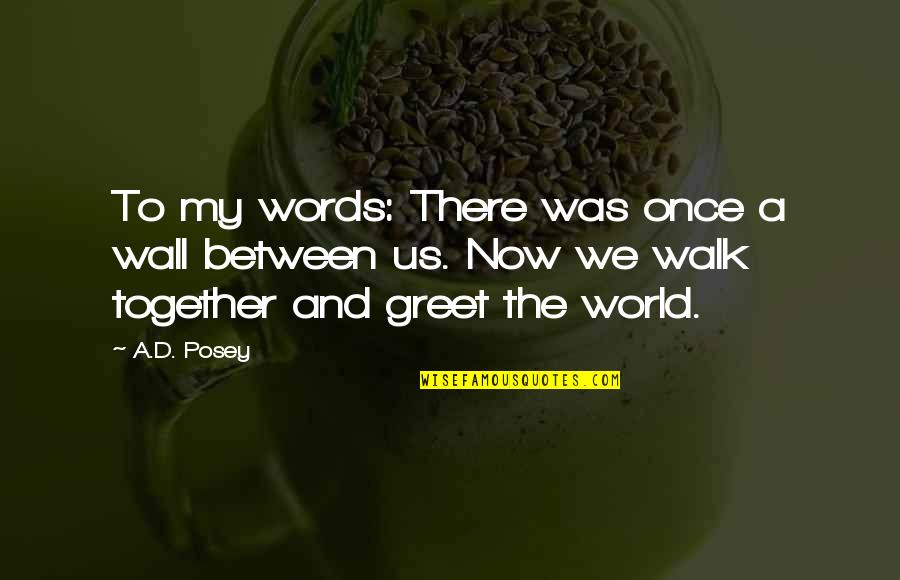 To my words: There was once a wall between us. Now we walk together and greet the world. —
A.D. Posey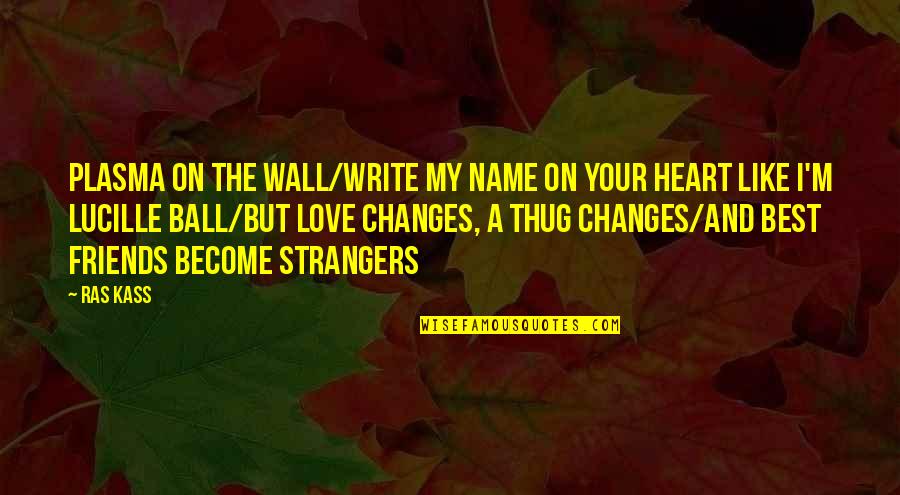 Plasma on the wall/Write my name on your heart like I'm Lucille Ball/But love changes, a thug changes/And best friends become strangers —
Ras Kass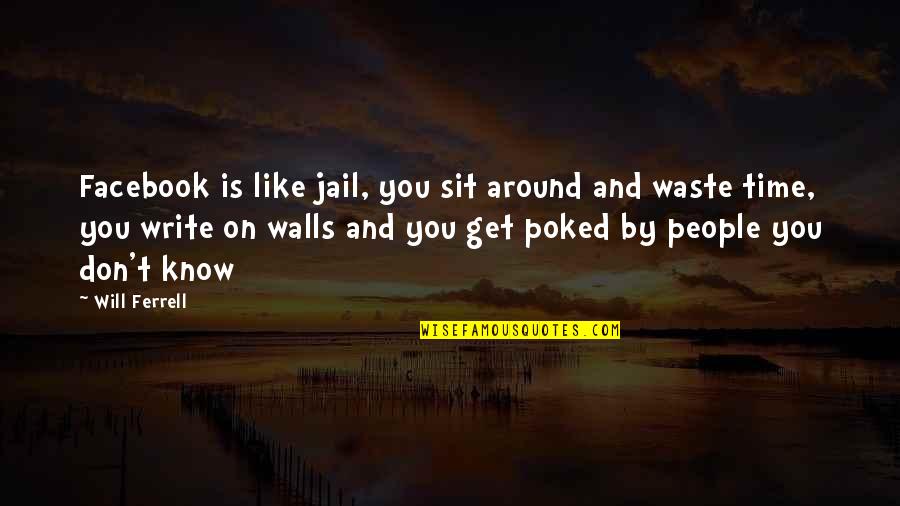 Facebook is like jail, you sit around and waste time, you write on walls and you get poked by people you don't know —
Will Ferrell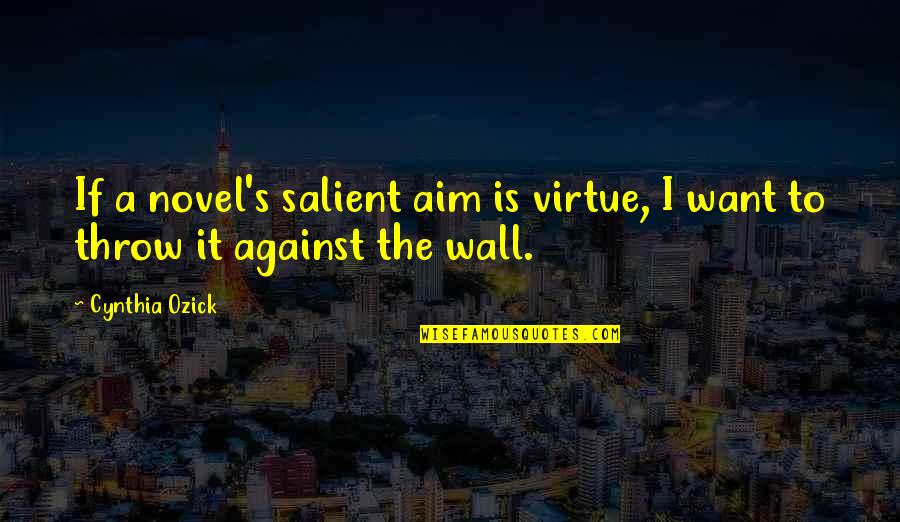 If a novel's salient aim is virtue, I want to throw it against the wall. —
Cynthia Ozick