Walk Into My Shoes Quotes
Collection of top 30 famous quotes about Walk Into My Shoes
Walk Into My Shoes Quotes & Sayings
Happy to read and share the best inspirational Walk Into My Shoes quotes, sayings and quotations on Wise Famous Quotes.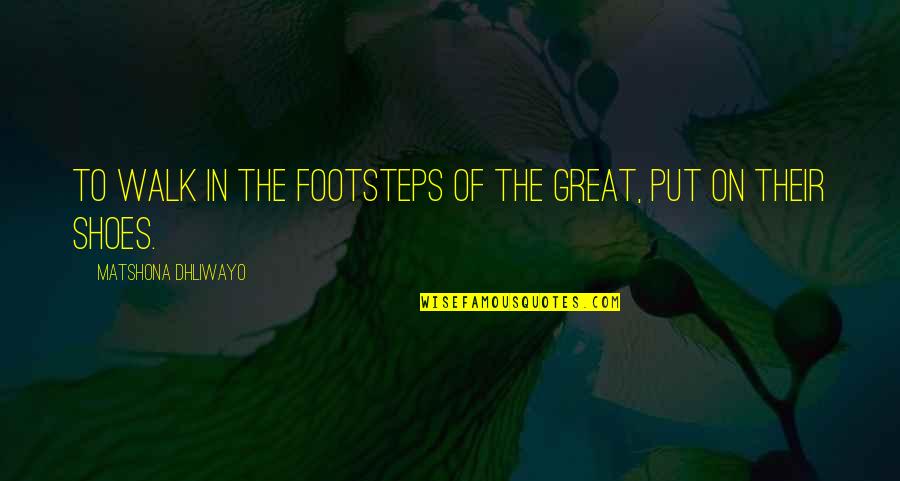 To walk in the footsteps of the great, put on their shoes.
—
Matshona Dhliwayo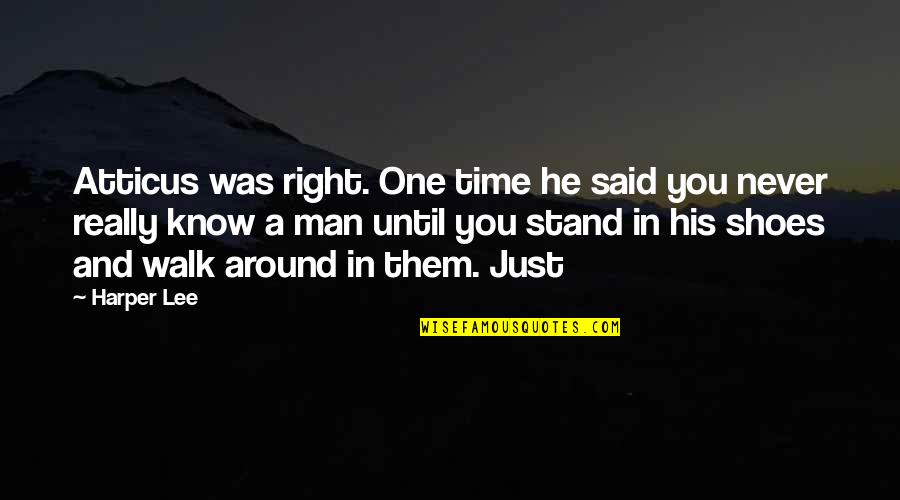 Atticus was right. One time he said you never really know a man until you stand in his shoes and walk around in them. Just
—
Harper Lee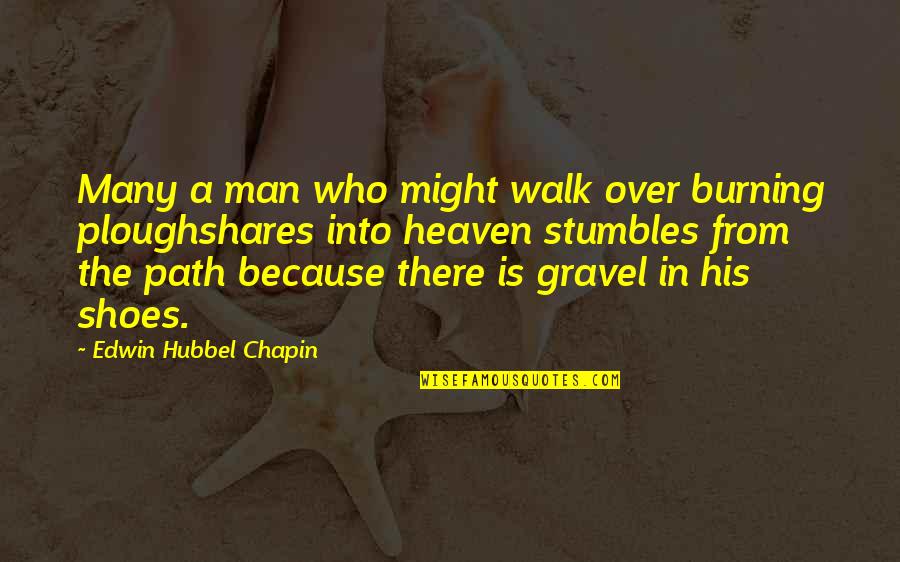 Many a man who might walk over burning ploughshares into heaven stumbles from the path because there is gravel in his shoes.
—
Edwin Hubbel Chapin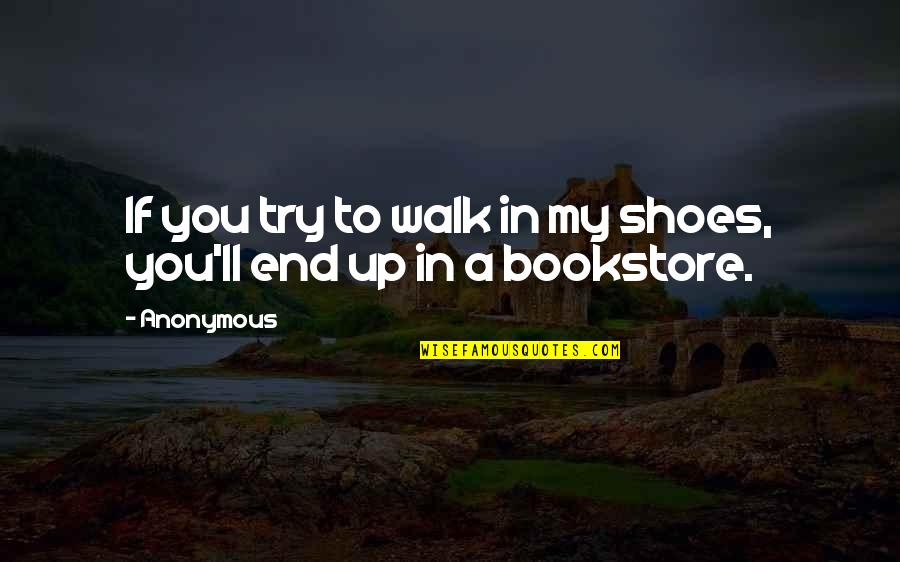 If you try to walk in my shoes, you'll end up in a bookstore. —
Anonymous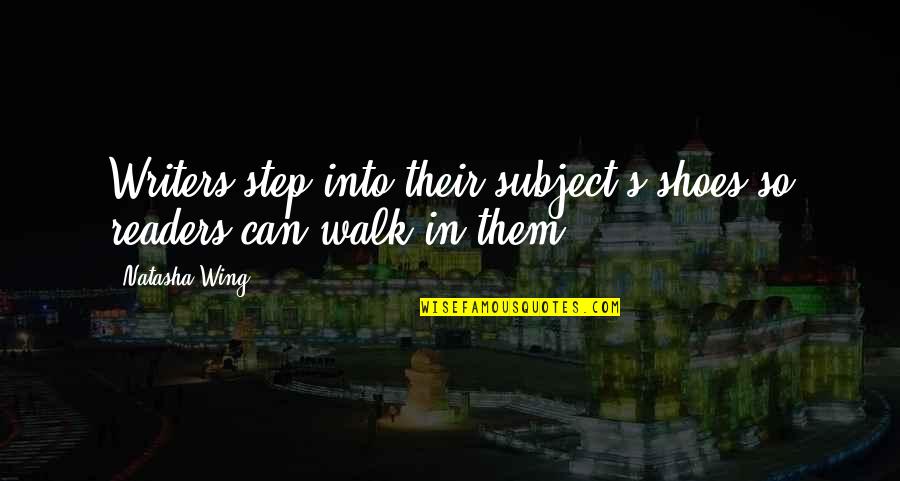 Writers step into their subject's shoes so readers can walk in them. —
Natasha Wing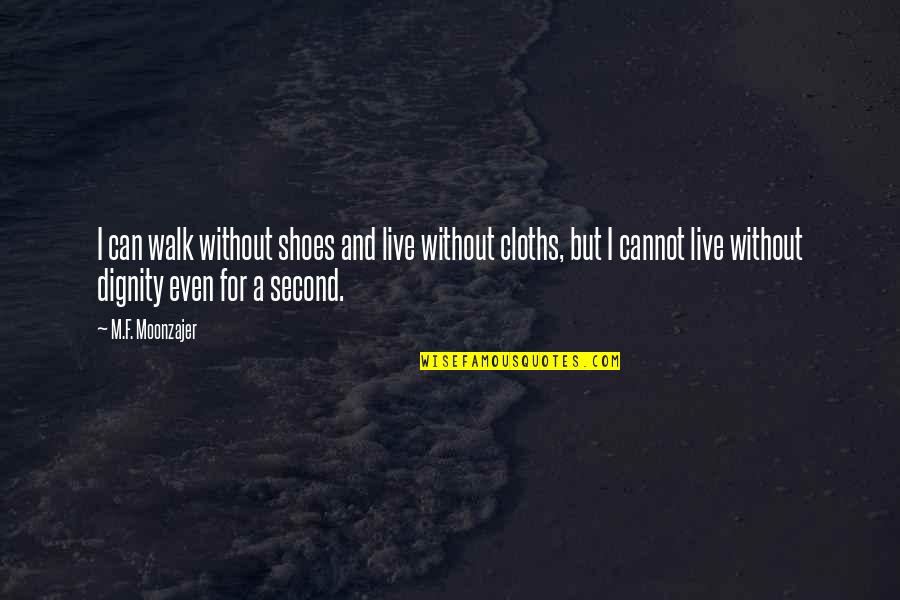 I can walk without shoes and live without cloths, but I cannot live without dignity even for a second. —
M.F. Moonzajer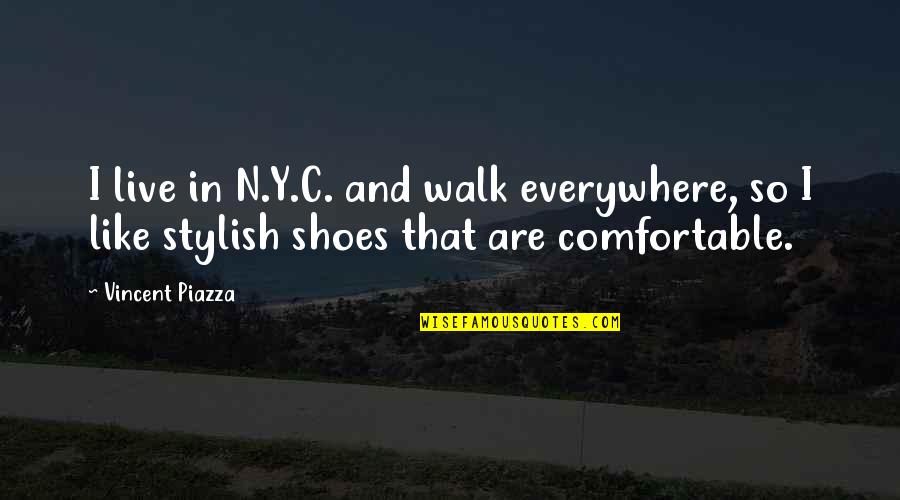 I live in N.Y.C. and walk everywhere, so I like stylish shoes that are comfortable. —
Vincent Piazza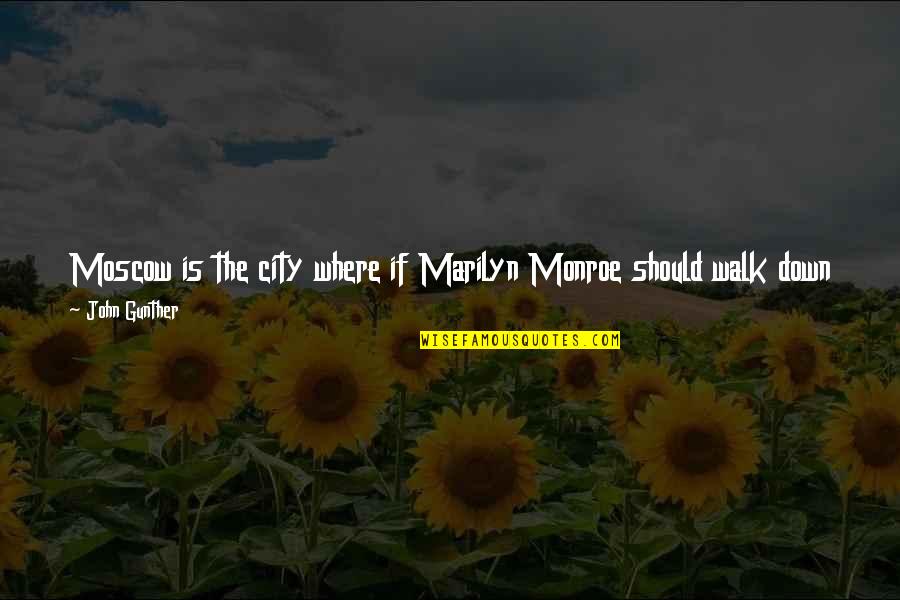 Moscow is the city where if Marilyn Monroe should walk down the street with nothing on but shoes, people would stare at her feet first. —
John Gunther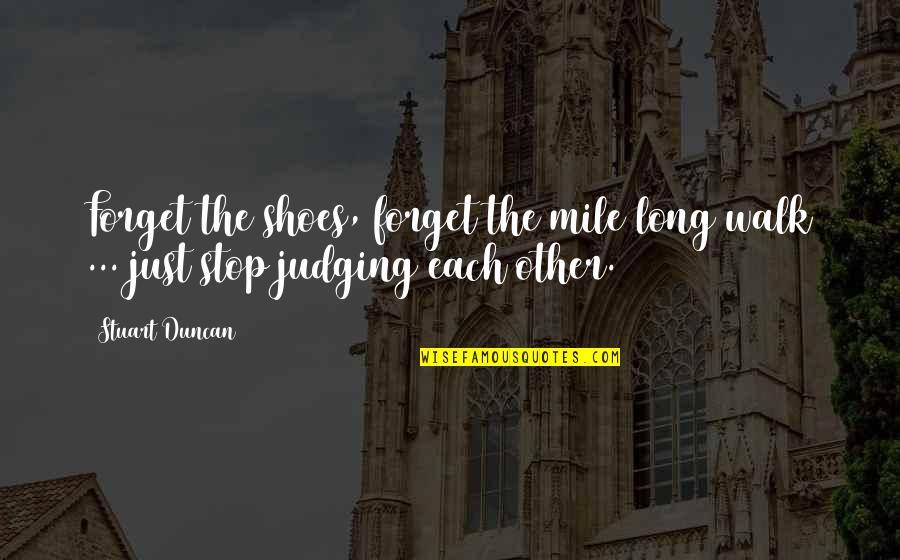 Forget the shoes, forget the mile long walk ... just stop judging each other. —
Stuart Duncan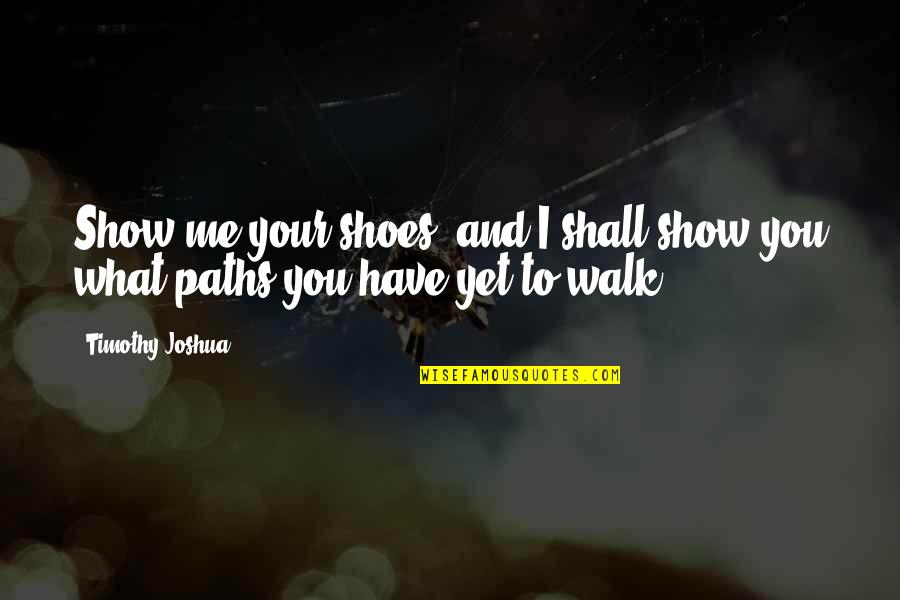 Show me your shoes, and I shall show you what paths you have yet to walk. —
Timothy Joshua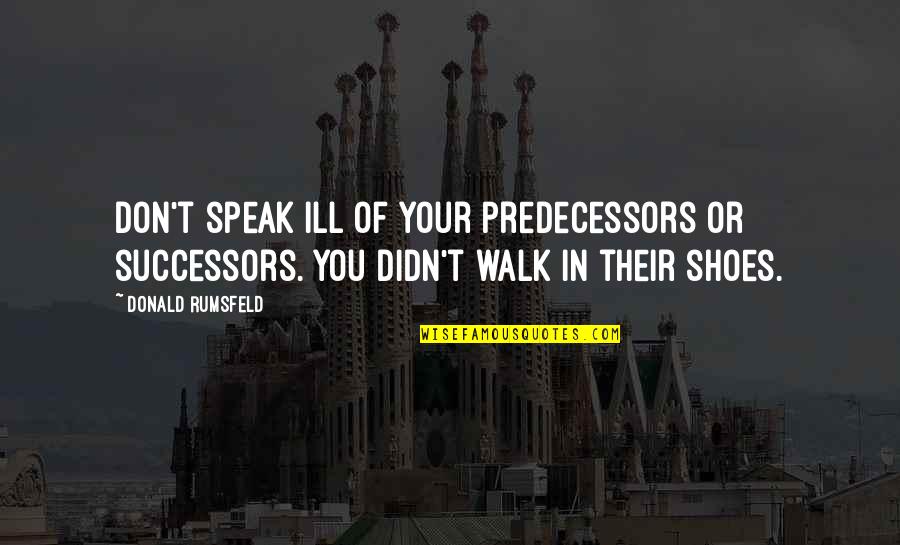 Don't speak ill of your predecessors or successors. You didn't walk in their shoes. —
Donald Rumsfeld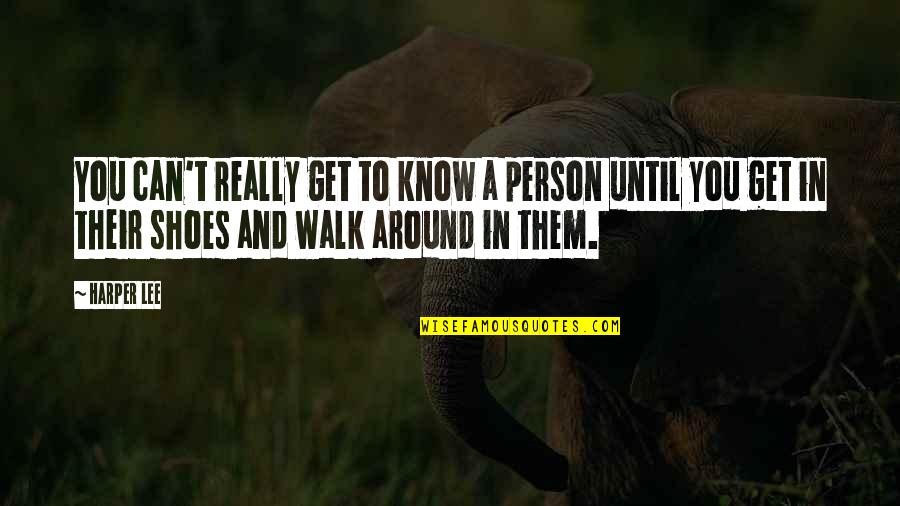 You can't really get to know a person until you get in their shoes and walk around in them. —
Harper Lee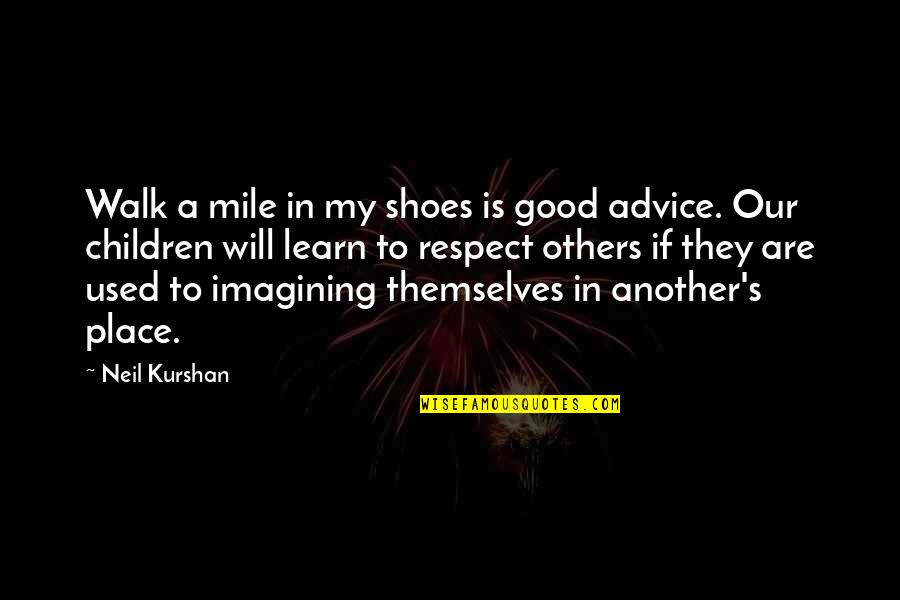 Walk a mile in my shoes is good advice. Our children will learn to respect others if they are used to imagining themselves in another's place. —
Neil Kurshan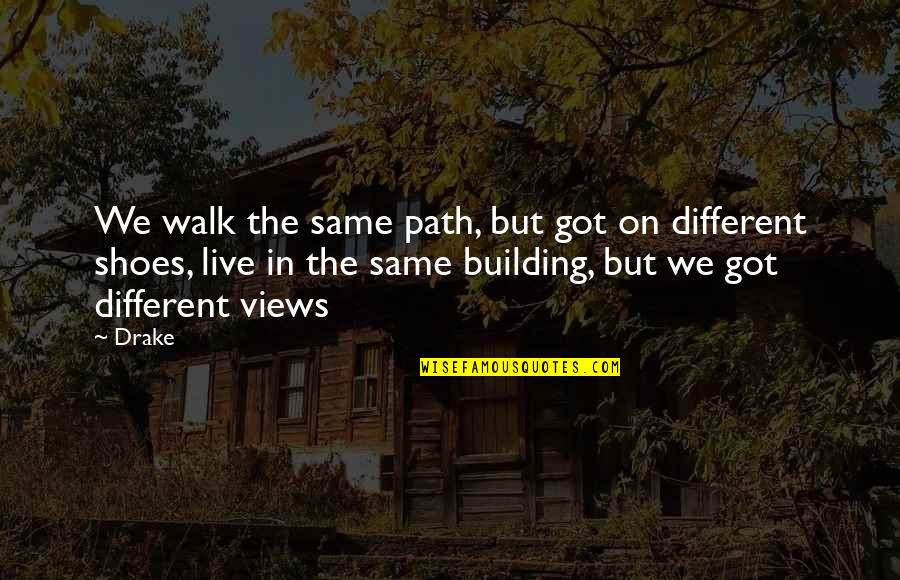 We walk the same path, but got on different shoes, live in the same building, but we got different views —
Drake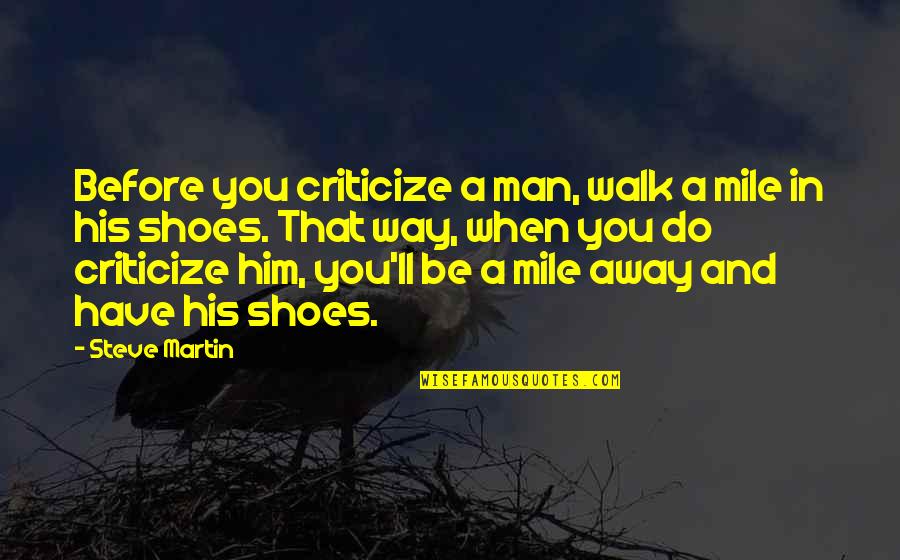 Before you criticize a man, walk a mile in his shoes. That way, when you do criticize him, you'll be a mile away and have his shoes. —
Steve Martin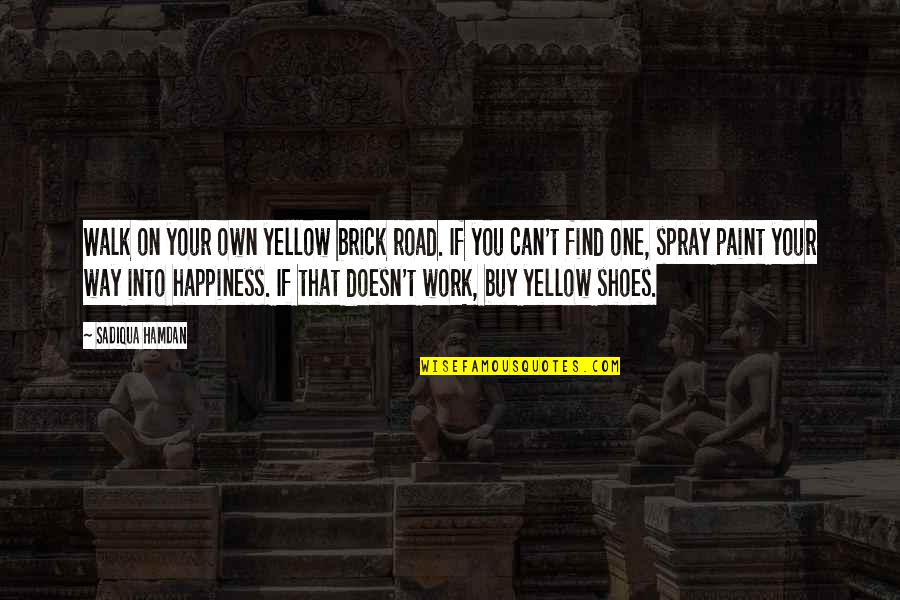 Walk on your own yellow brick road. If you can't find one, spray paint your way into happiness. If that doesn't work, buy yellow shoes. —
Sadiqua Hamdan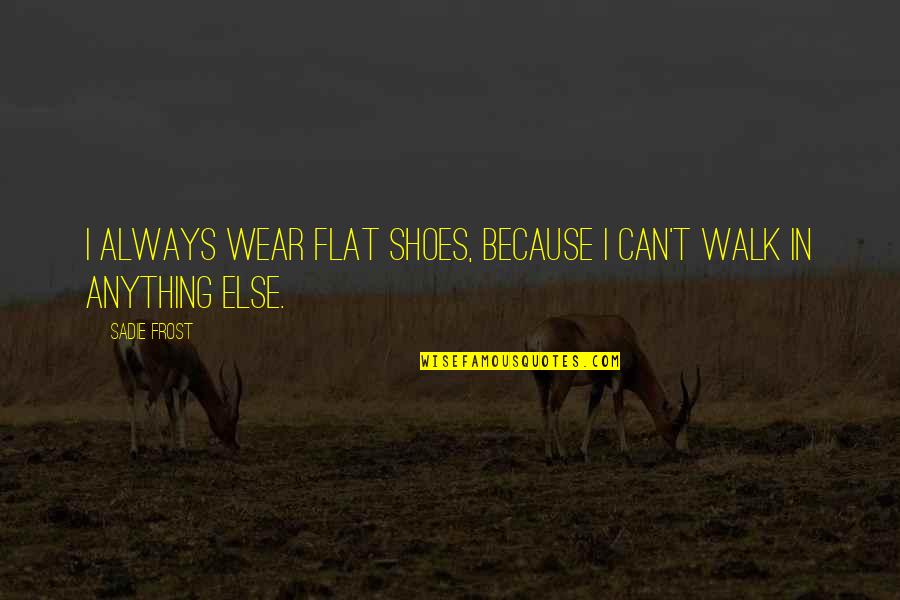 I always wear flat shoes, because I can't walk in anything else. —
Sadie Frost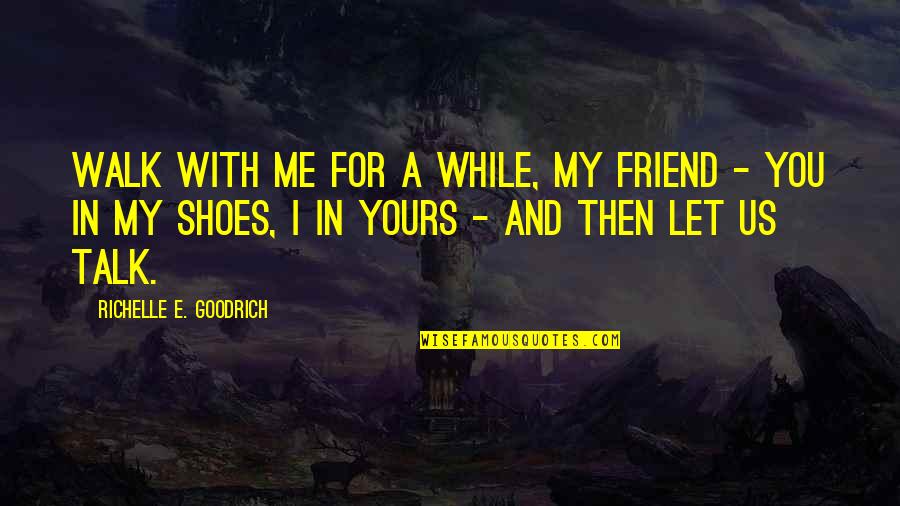 Walk with me for a while, my friend - you in my shoes, I in yours - and then let us talk. —
Richelle E. Goodrich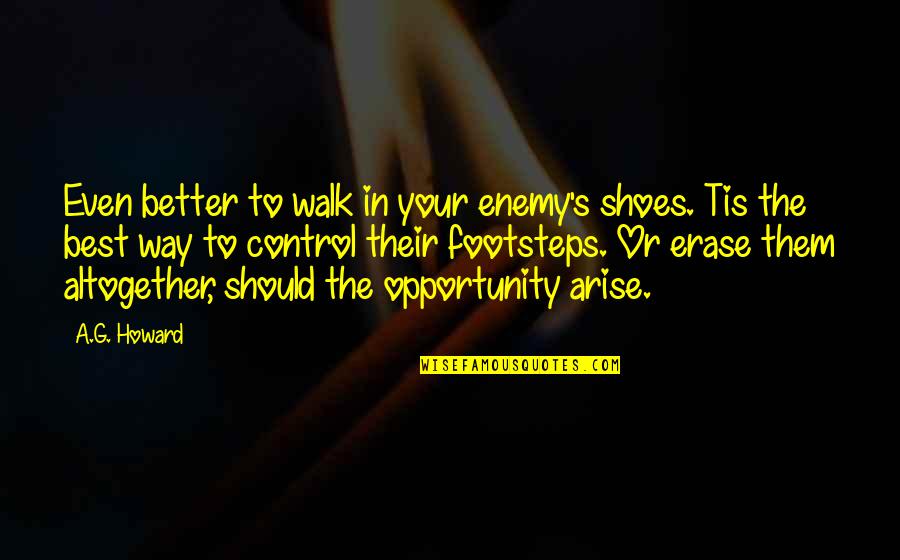 Even better to walk in your enemy's shoes. Tis the best way to control their footsteps. Or erase them altogether, should the opportunity arise. —
A.G. Howard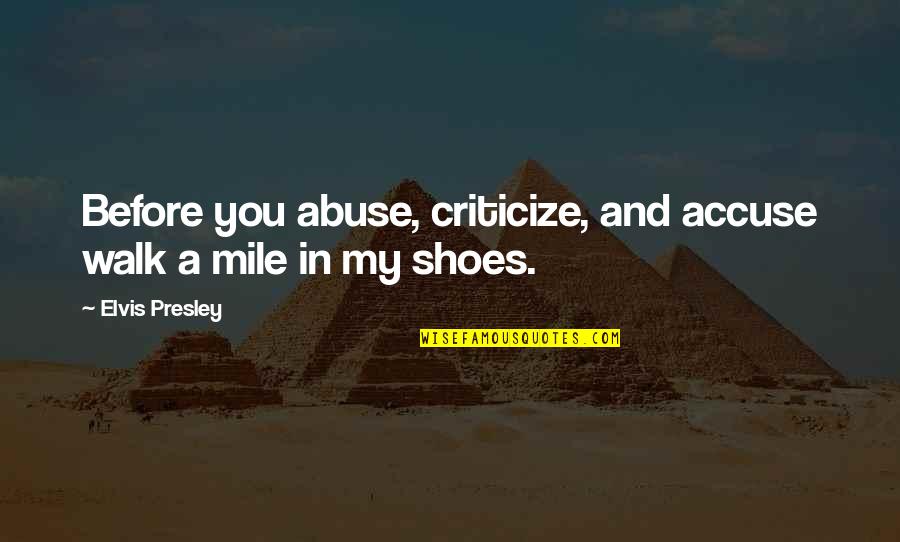 Before you abuse, criticize, and accuse walk a mile in my shoes. —
Elvis Presley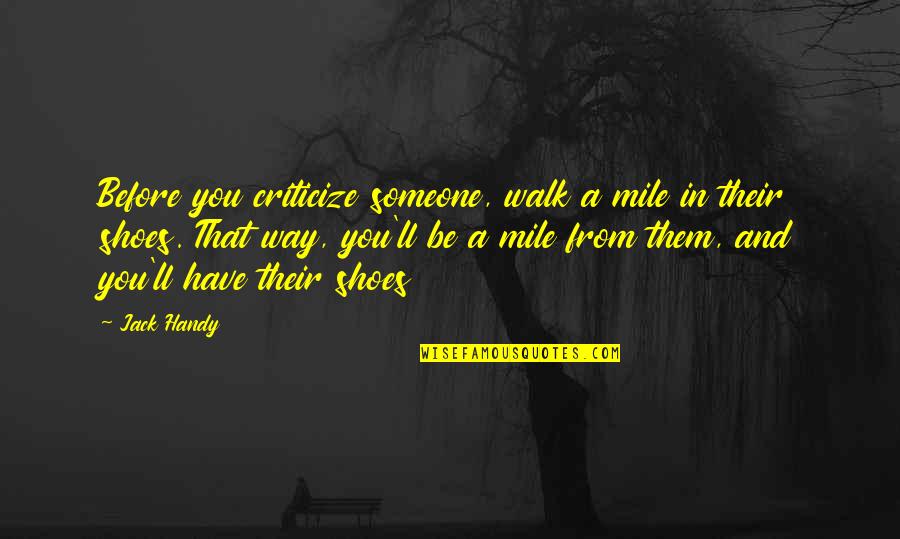 Before you criticize someone, walk a mile in their shoes. That way, you'll be a mile from them, and you'll have their shoes —
Jack Handy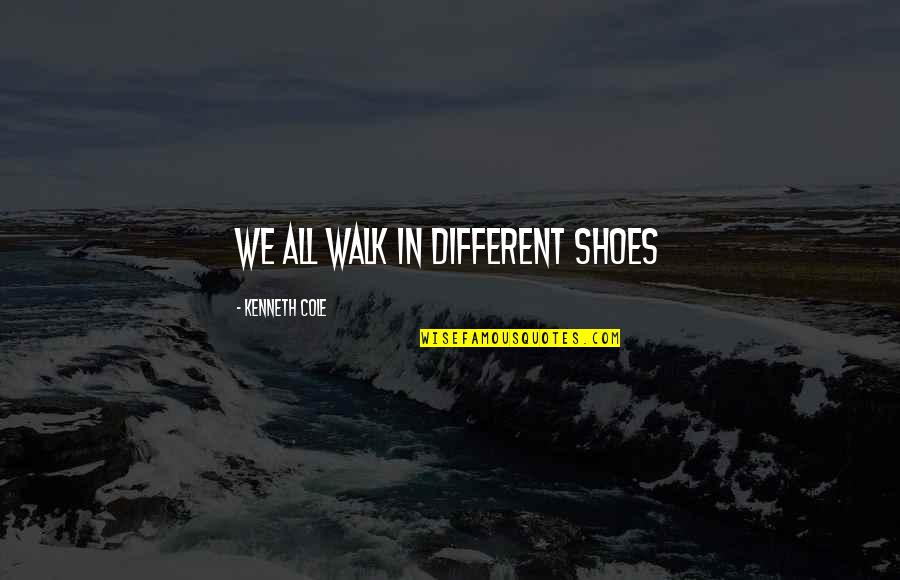 We all walk in different shoes —
Kenneth Cole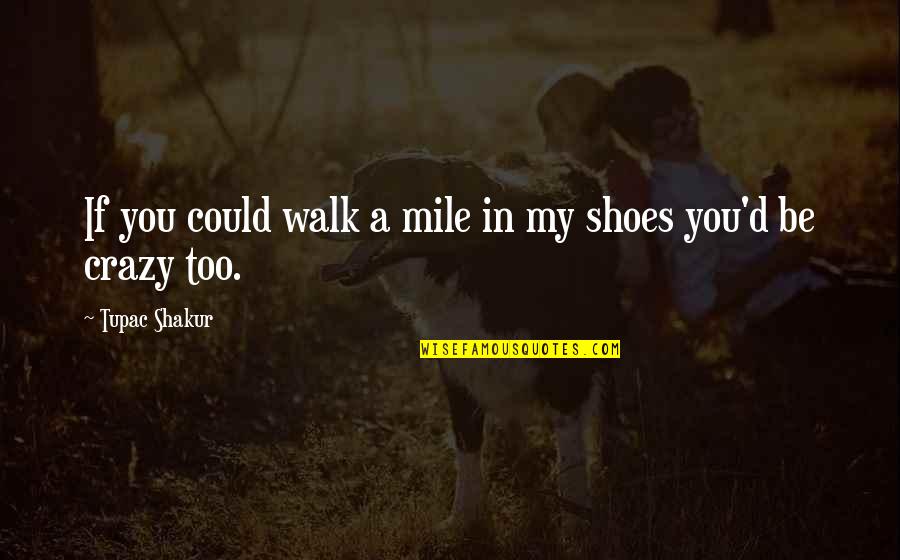 If you could walk a mile in my shoes you'd be crazy too. —
Tupac Shakur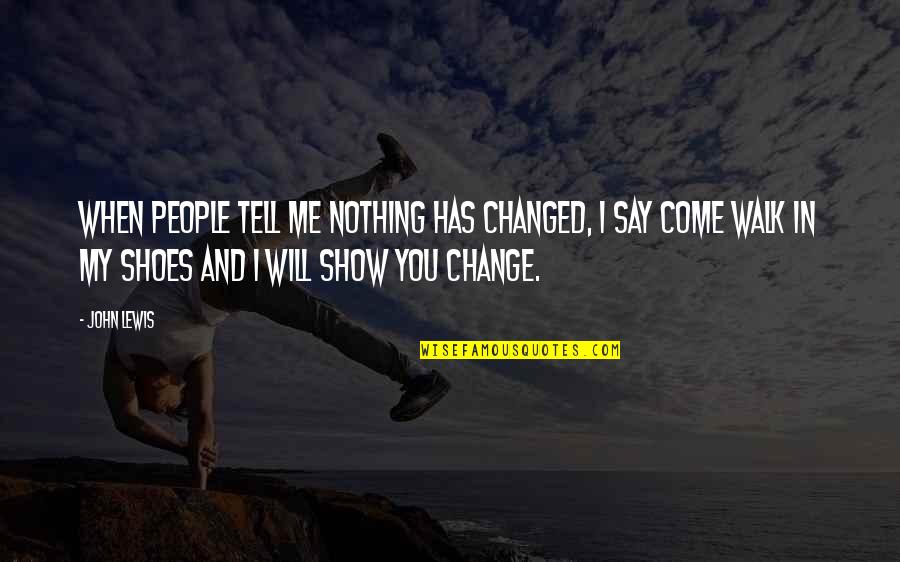 When people tell me nothing has changed, I say come walk in my shoes and I will show you change. —
John Lewis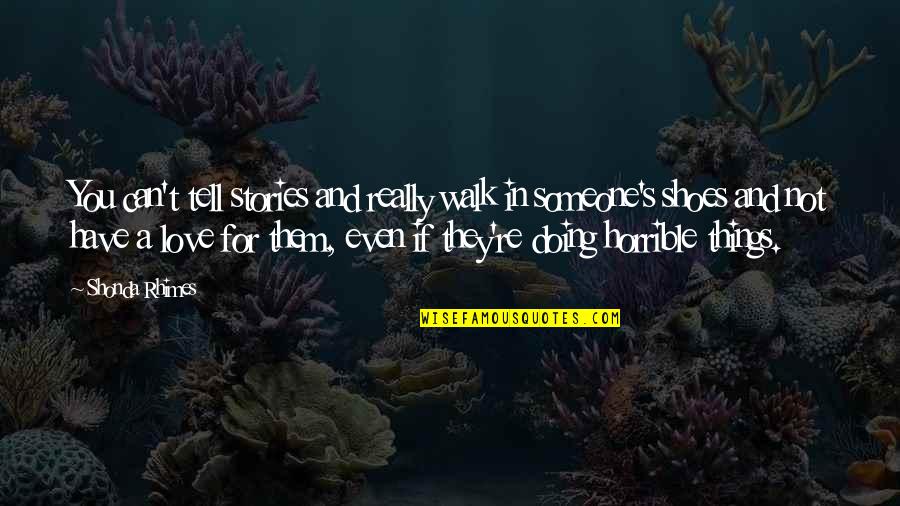 You can't tell stories and really walk in someone's shoes and not have a love for them, even if they're doing horrible things. —
Shonda Rhimes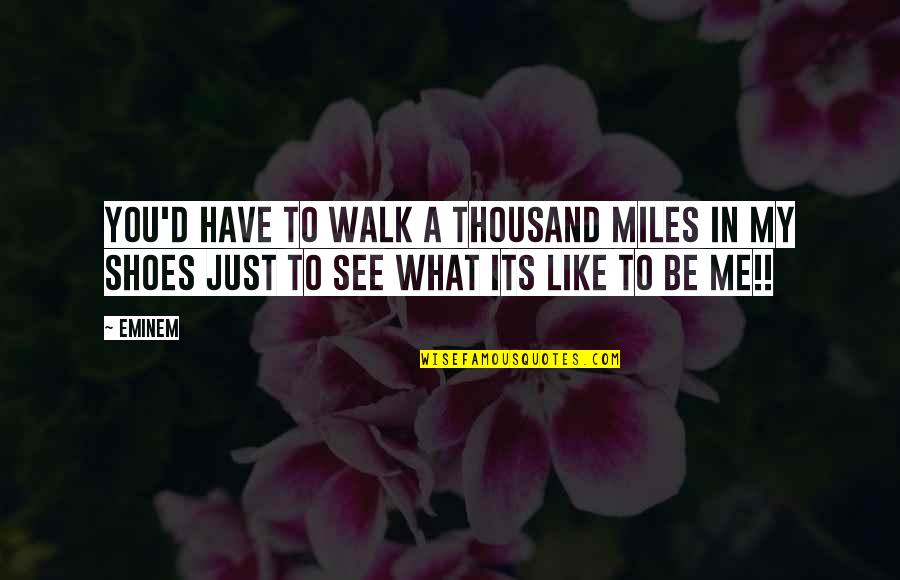 You'd have to walk a thousand miles in my shoes just to see what its like to be me!! —
Eminem