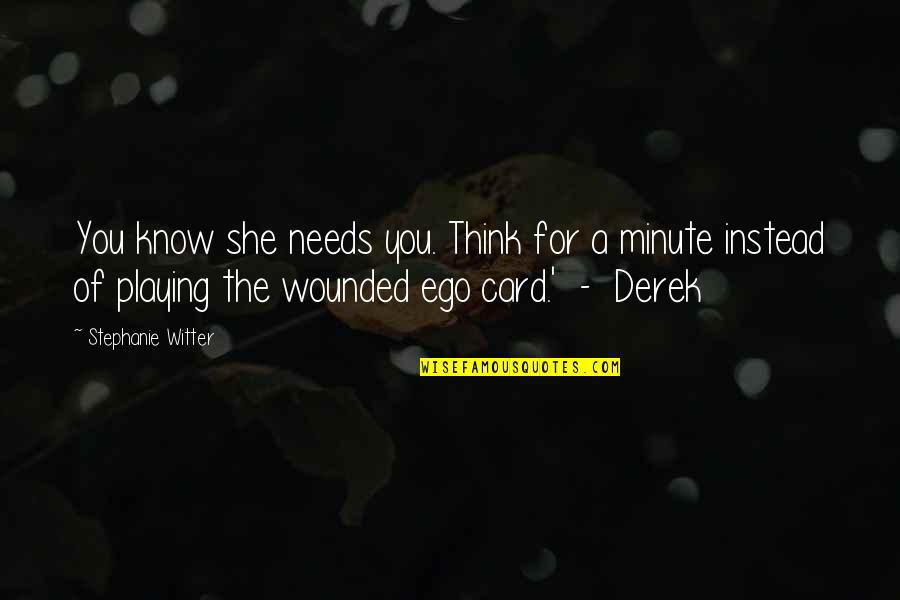 You know she needs you. Think for a minute instead of playing the wounded ego card.' - Derek
—
Stephanie Witter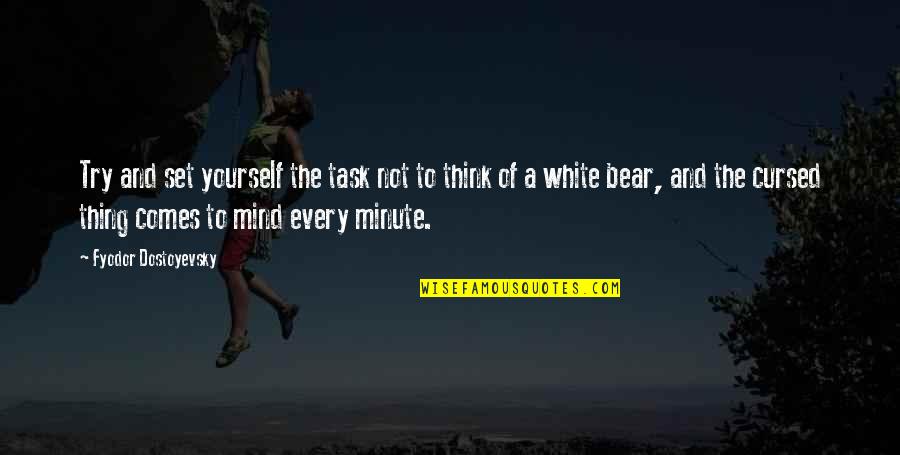 Try and set yourself the task not to think of a white bear, and the cursed thing comes to mind every minute.
—
Fyodor Dostoyevsky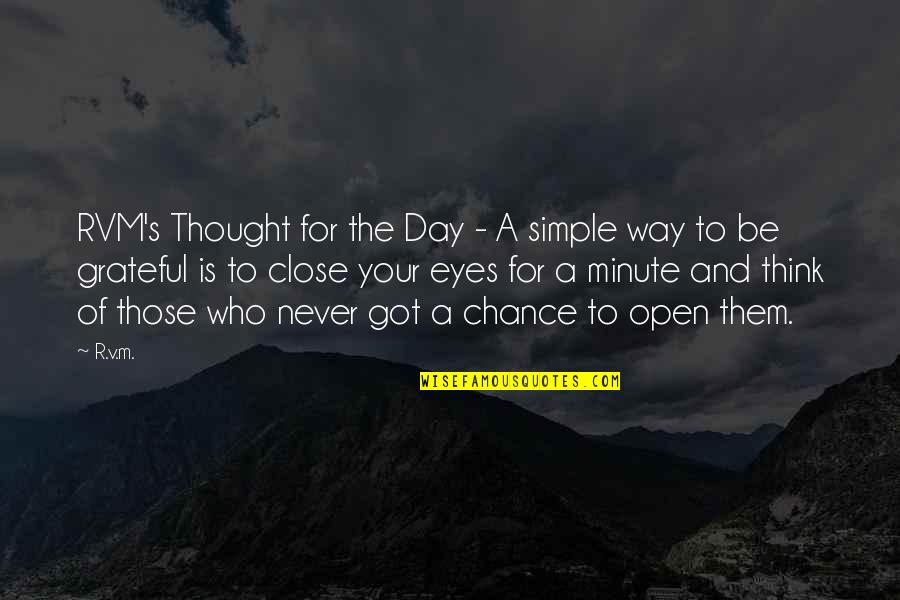 RVM's Thought for the Day - A simple way to be grateful is to close your eyes for a minute and think of those who never got a chance to open them.
—
R.v.m.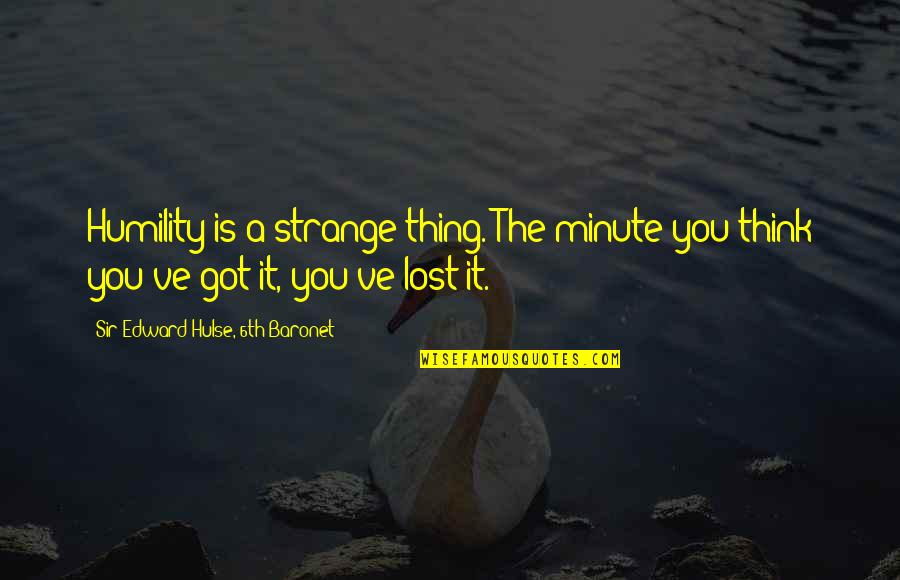 Humility is a strange thing. The minute you think you've got it, you've lost it.
—
Sir Edward Hulse, 6th Baronet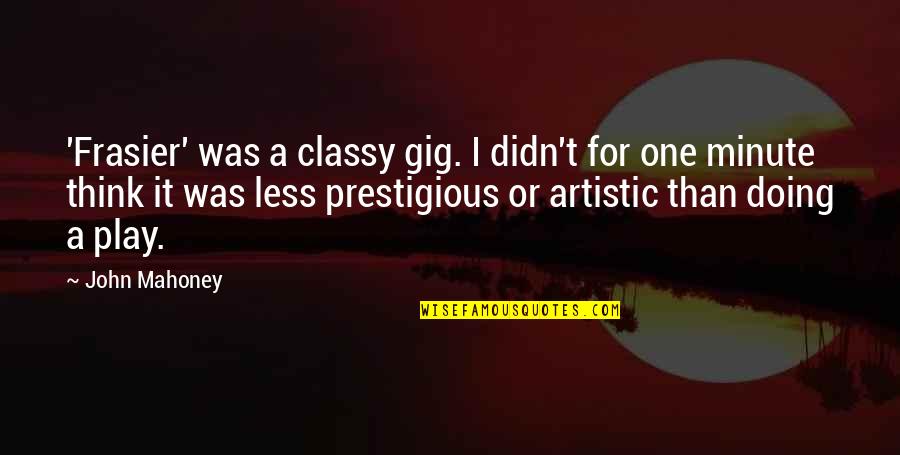 'Frasier' was a classy gig. I didn't for one minute think it was less prestigious or artistic than doing a play.
—
John Mahoney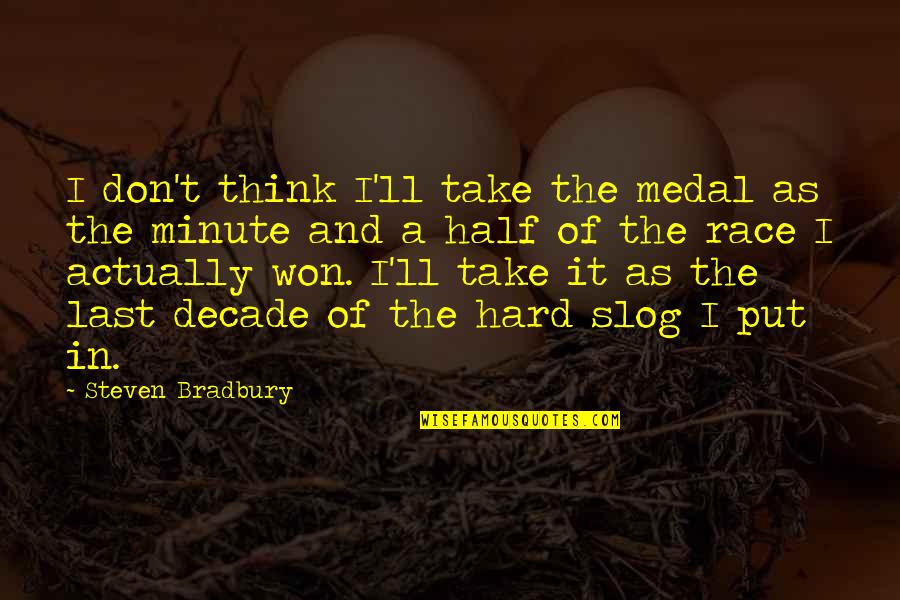 I don't think I'll take the medal as the minute and a half of the race I actually won. I'll take it as the last decade of the hard slog I put in.
—
Steven Bradbury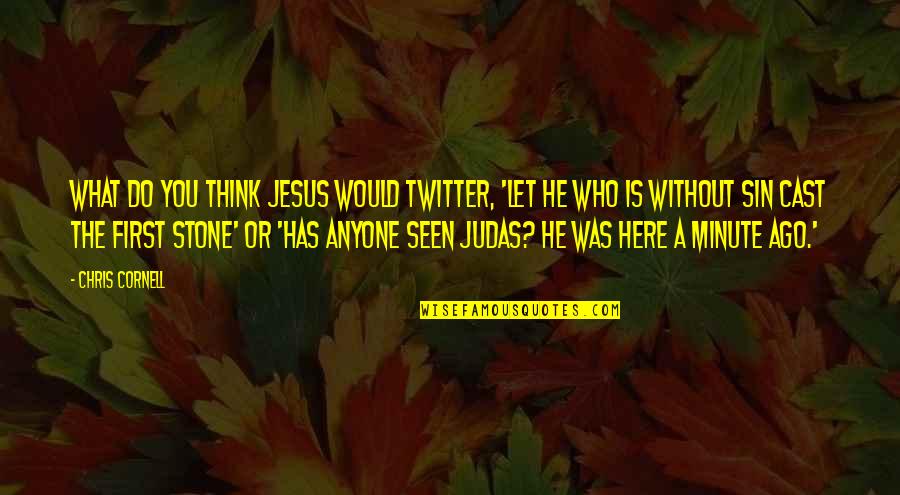 What do you think Jesus would twitter, 'Let he who is without sin cast the first stone' or 'Has anyone seen Judas? He was here a minute ago.'
—
Chris Cornell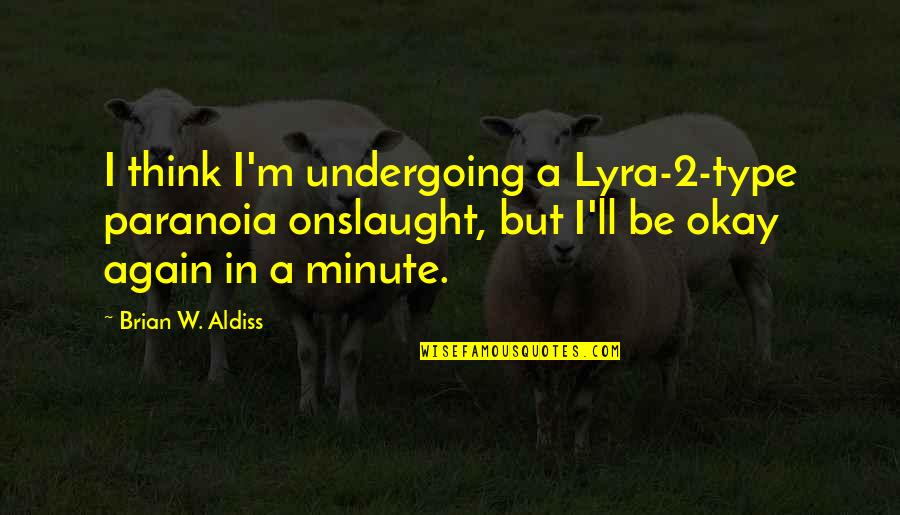 I think I'm undergoing a Lyra-2-type paranoia onslaught, but I'll be okay again in a minute.
—
Brian W. Aldiss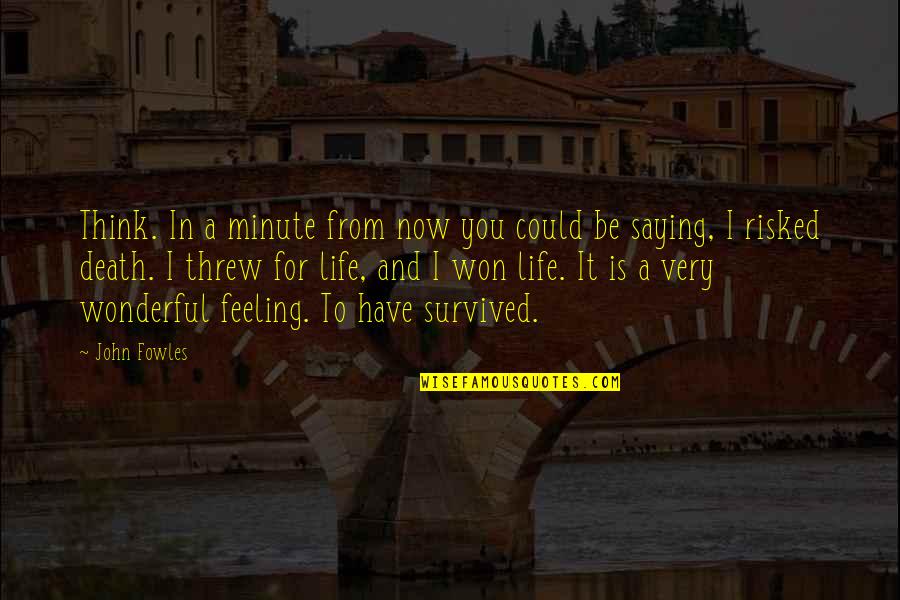 Think. In a minute from now you could be saying, I risked death. I threw for life, and I won life. It is a very wonderful feeling. To have survived.
—
John Fowles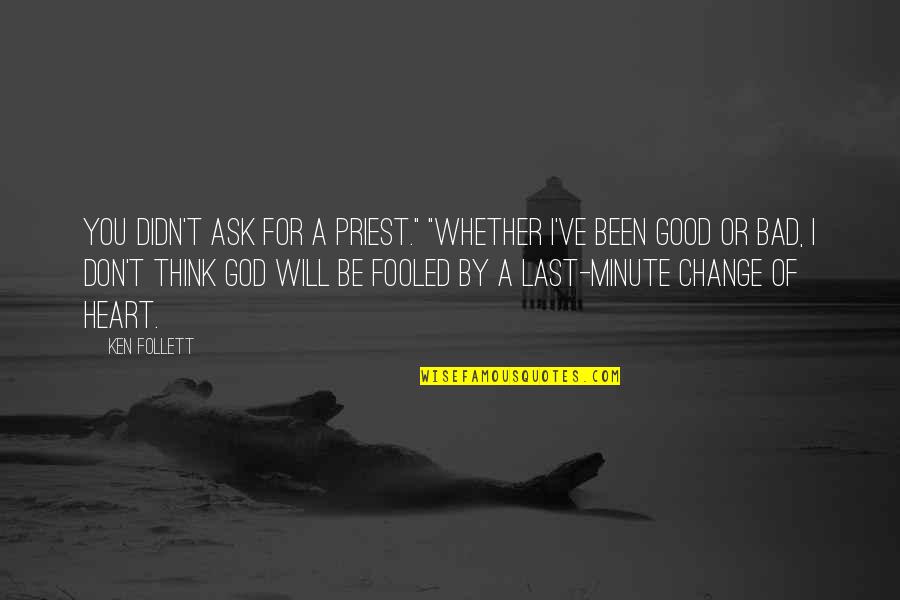 You didn't ask for a priest." "Whether I've been good or bad, I don't think God will be fooled by a last-minute change of heart.
—
Ken Follett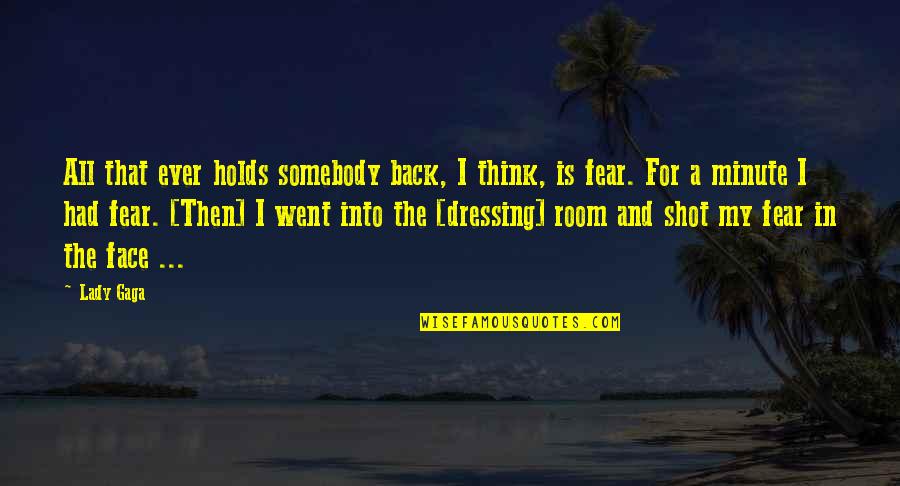 All that ever holds somebody back, I think, is fear. For a minute I had fear. [Then] I went into the [dressing] room and shot my fear in the face ...
—
Lady Gaga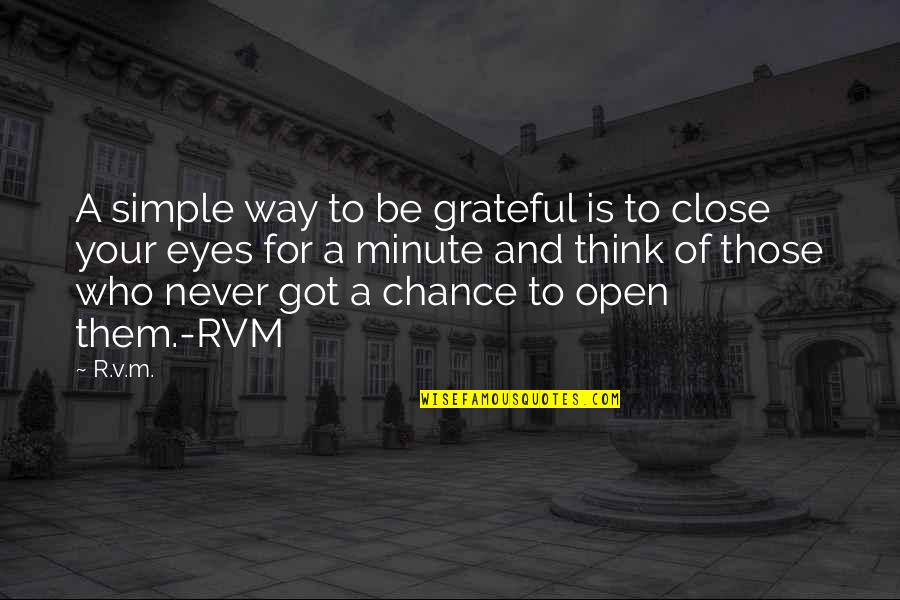 A simple way to be grateful is to close your eyes for a minute and think of those who never got a chance to open them.-RVM —
R.v.m.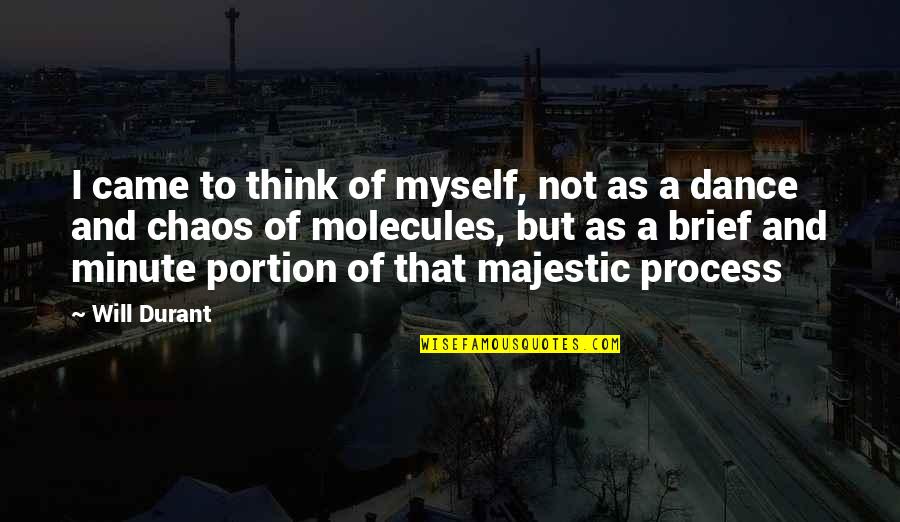 I came to think of myself, not as a dance and chaos of molecules, but as a brief and minute portion of that majestic process —
Will Durant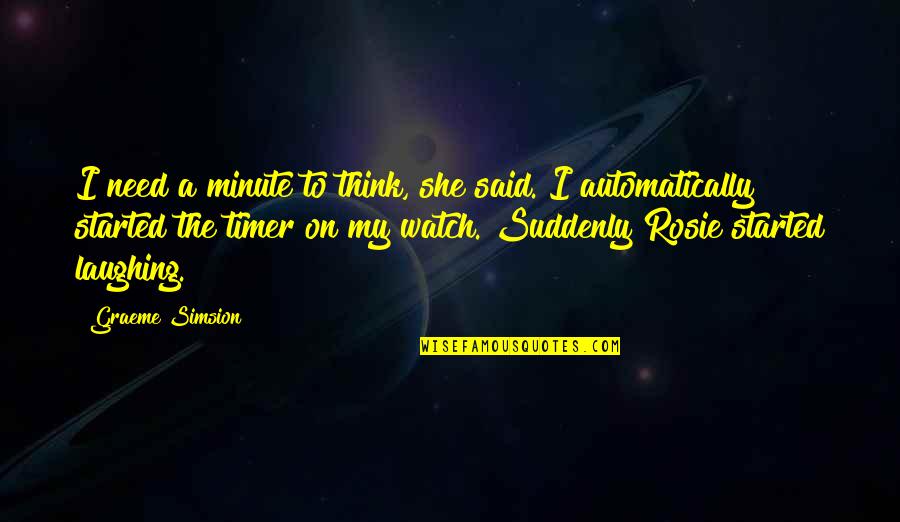 I need a minute to think, she said. I automatically started the timer on my watch. Suddenly Rosie started laughing. —
Graeme Simsion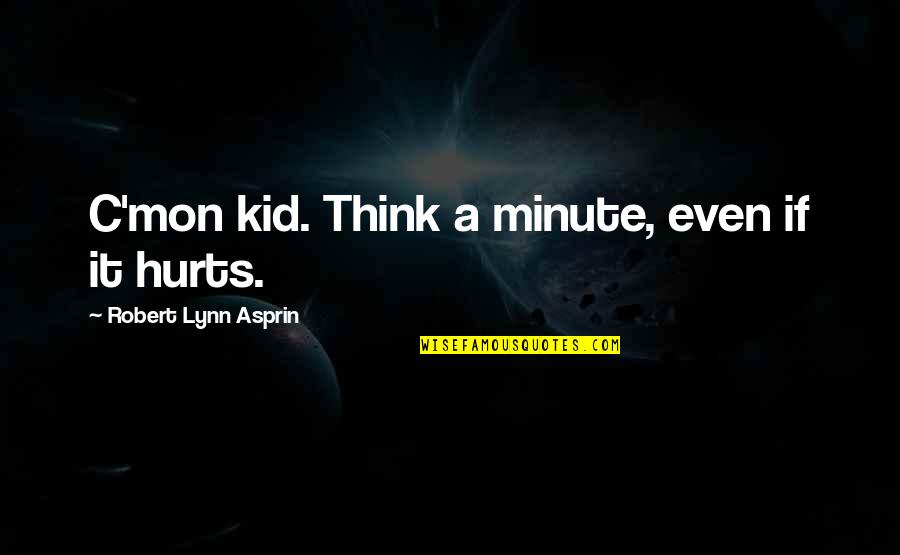 C'mon kid.
Think a minute
, even if it hurts. —
Robert Lynn Asprin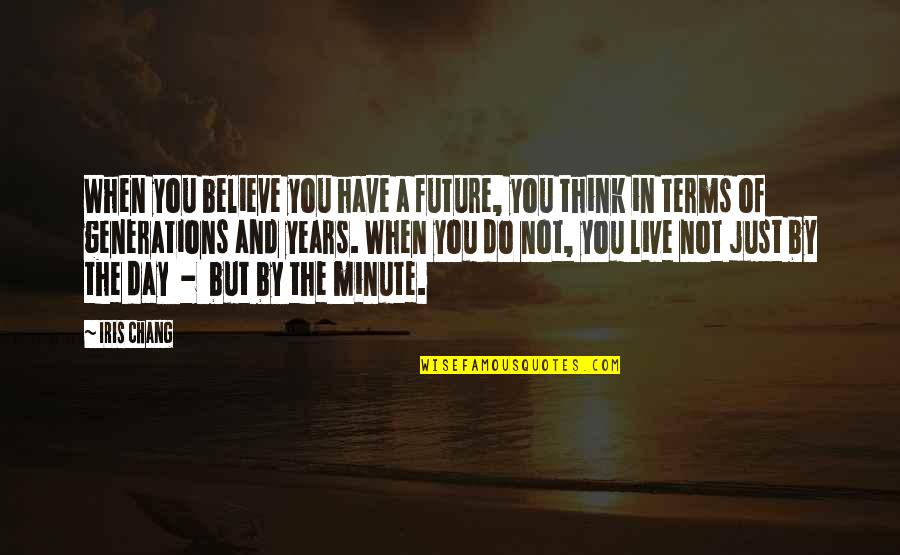 When you believe you have a future, you think in terms of generations and years. When you do not, you live not just by the day - but by the minute. —
Iris Chang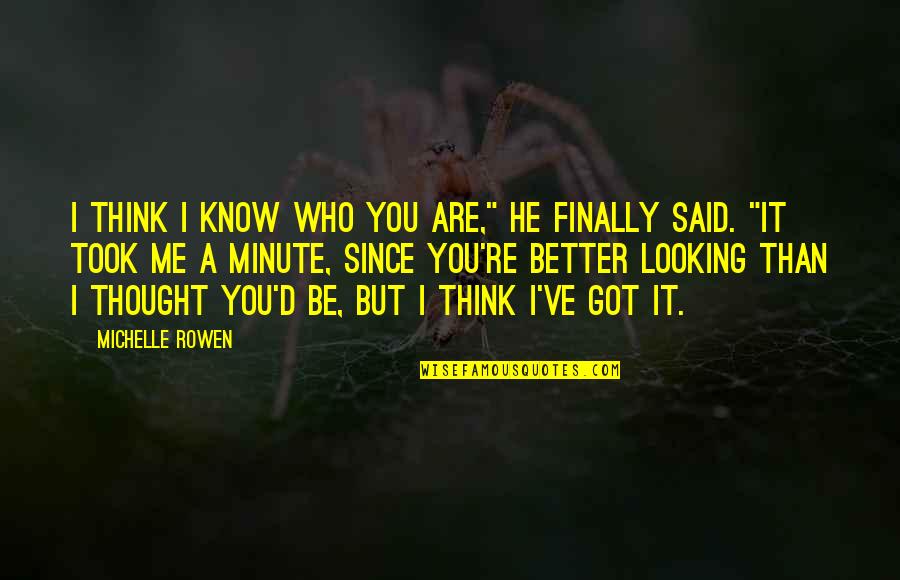 I think I know who you are," he finally said. "It took me a minute, since you're better looking than I thought you'd be, but I think I've got it. —
Michelle Rowen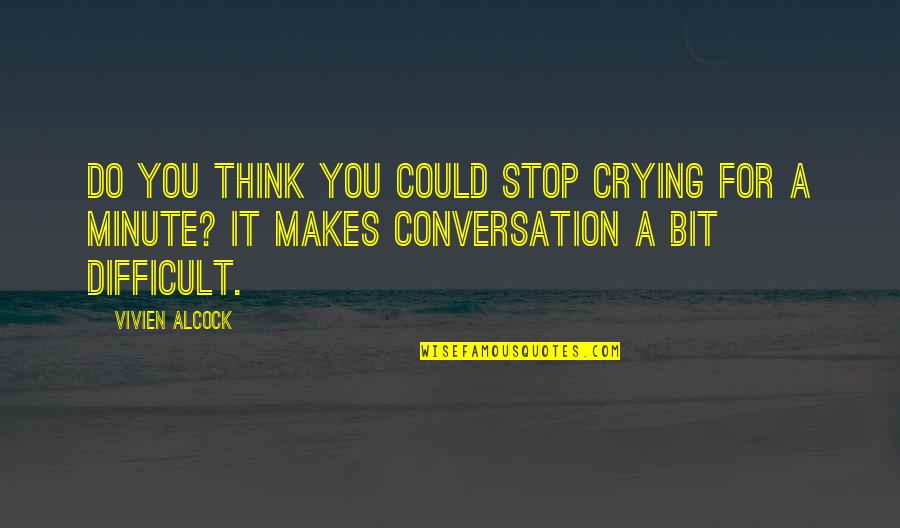 Do you think you could stop crying for a minute? It makes conversation a bit difficult. —
Vivien Alcock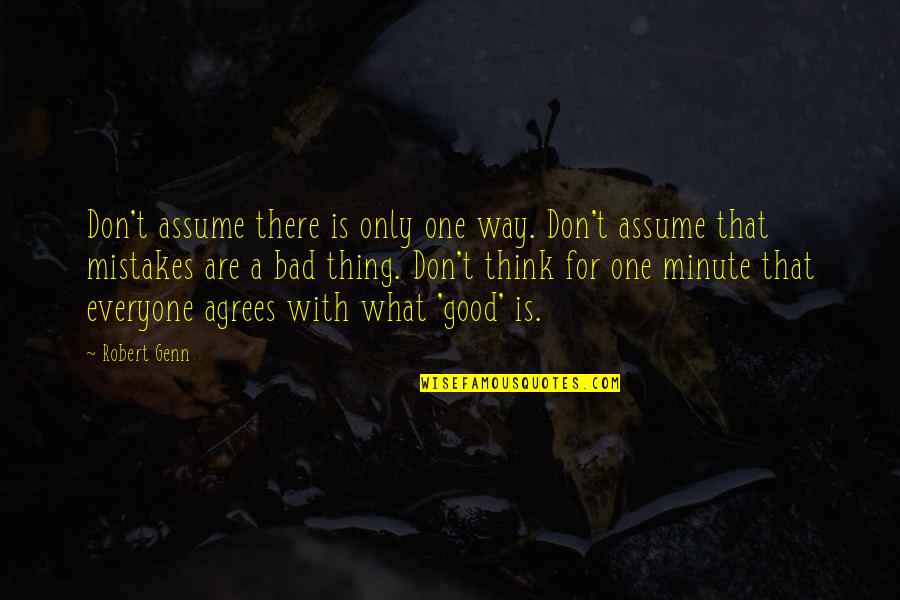 Don't assume there is only one way. Don't assume that mistakes are a bad thing. Don't think for one minute that everyone agrees with what 'good' is. —
Robert Genn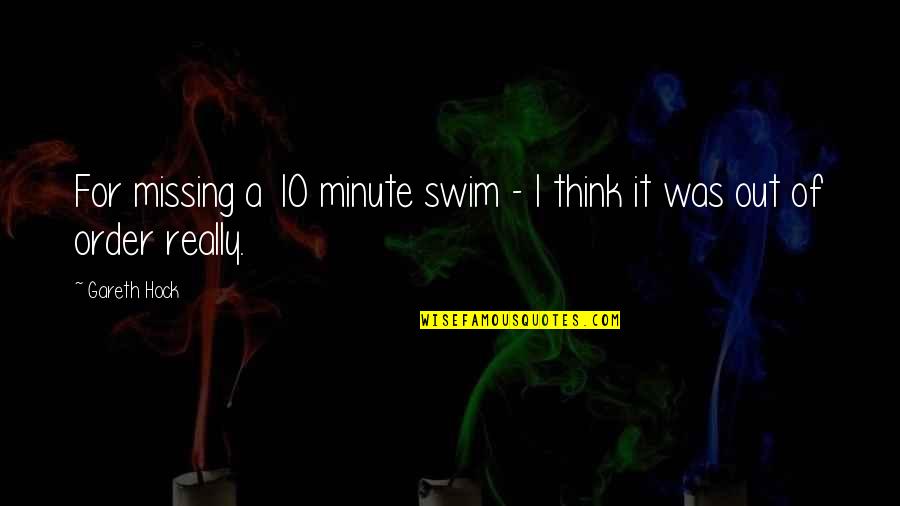 For missing a 10 minute swim - I think it was out of order really. —
Gareth Hock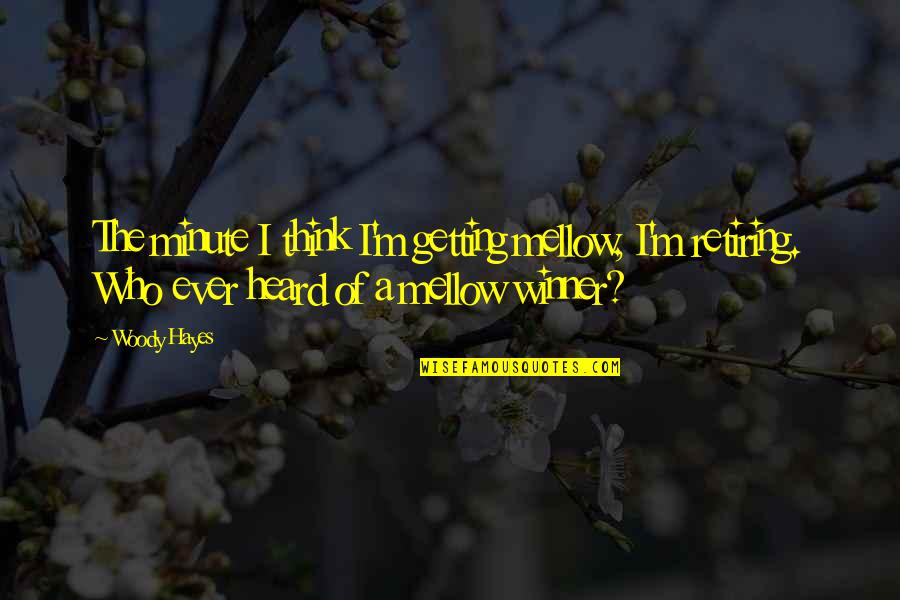 The minute I think I'm getting mellow, I'm retiring. Who ever heard of a mellow winner? —
Woody Hayes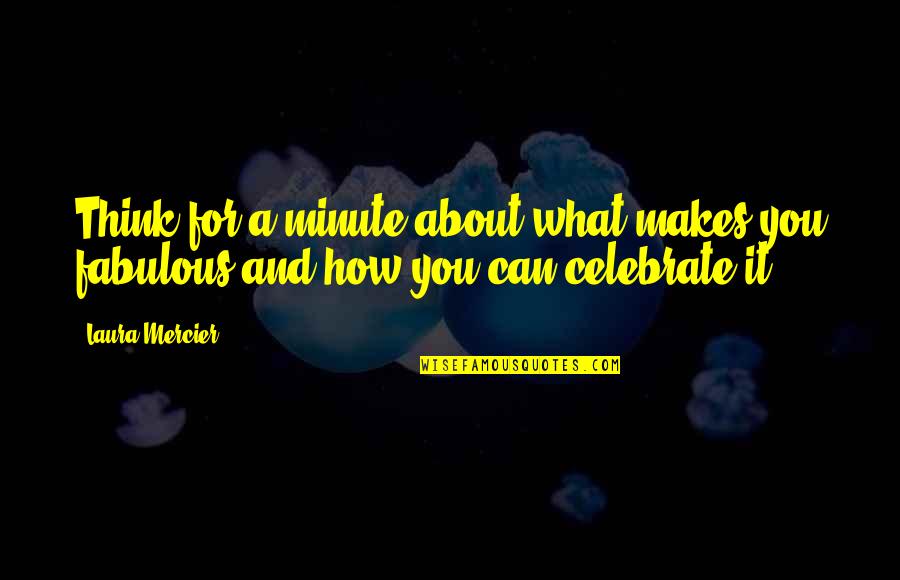 Think for a minute about what makes you fabulous and how you can celebrate it. —
Laura Mercier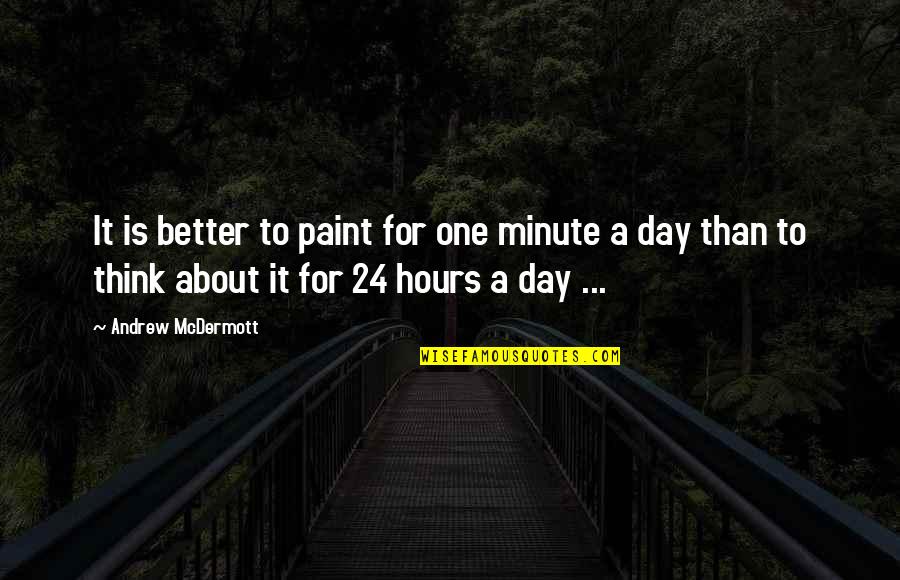 It is better to paint for one minute a day than to think about it for 24 hours a day ... —
Andrew McDermott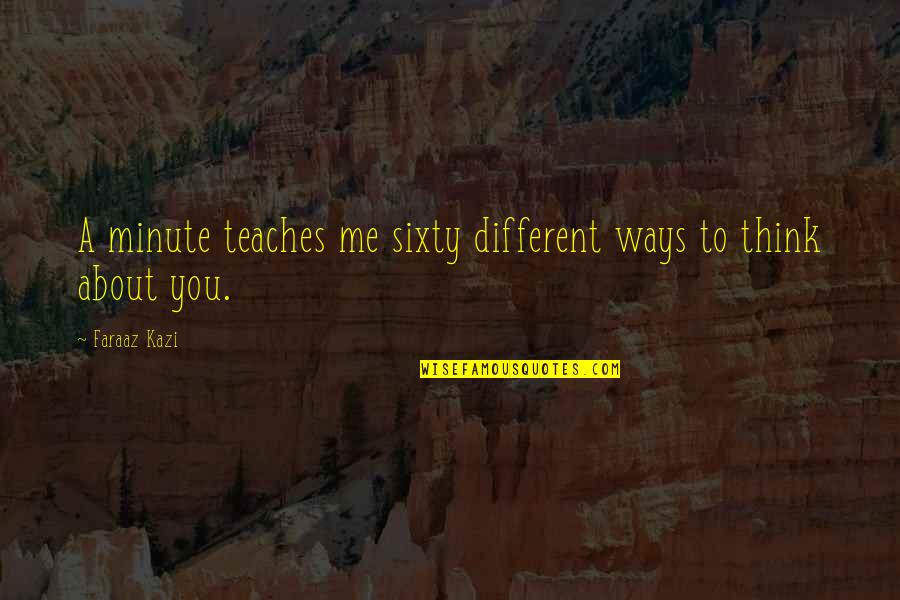 A minute teaches me sixty different ways to think about you. —
Faraaz Kazi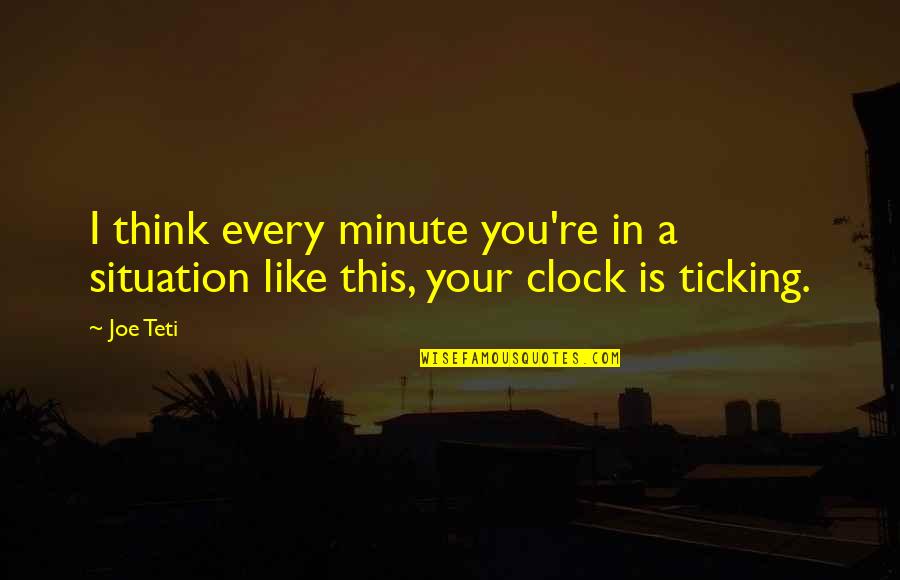 I think every minute you're in a situation like this, your clock is ticking. —
Joe Teti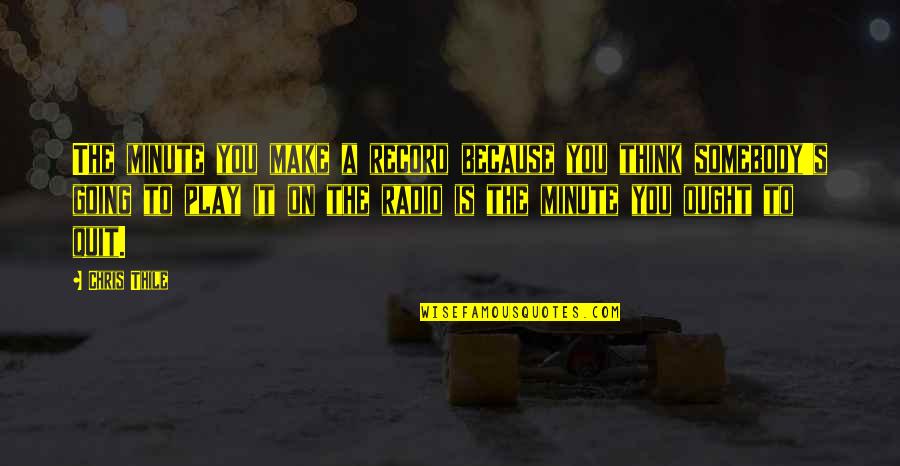 The minute you make a record because you think somebody's going to play it on the radio is the minute you ought to quit. —
Chris Thile
But I daresay, a lass can't think in a straight line w'out her tea. Sit for a minute. The laird will wait. —
Patricia Strefling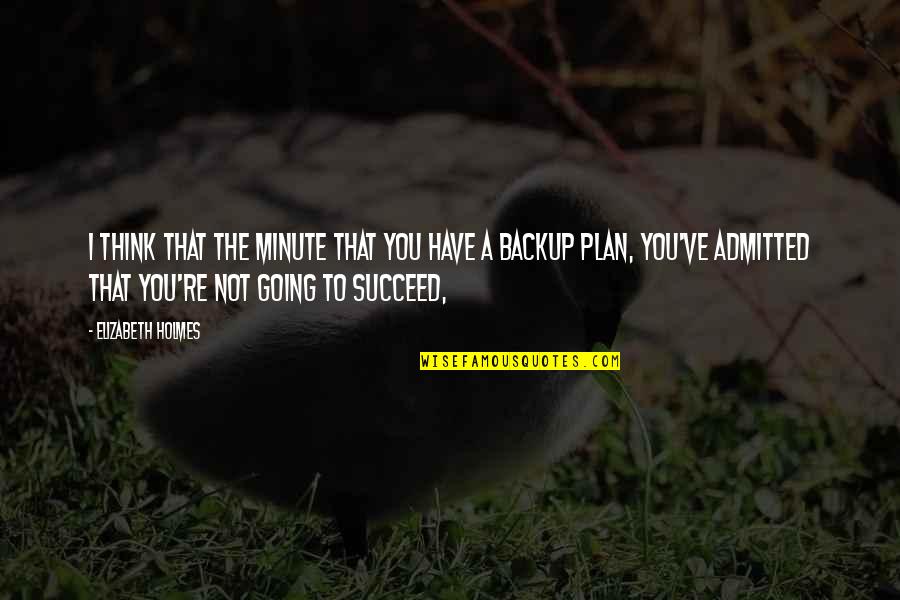 I think that the minute that you have a backup plan, you've admitted that you're not going to succeed, —
Elizabeth Holmes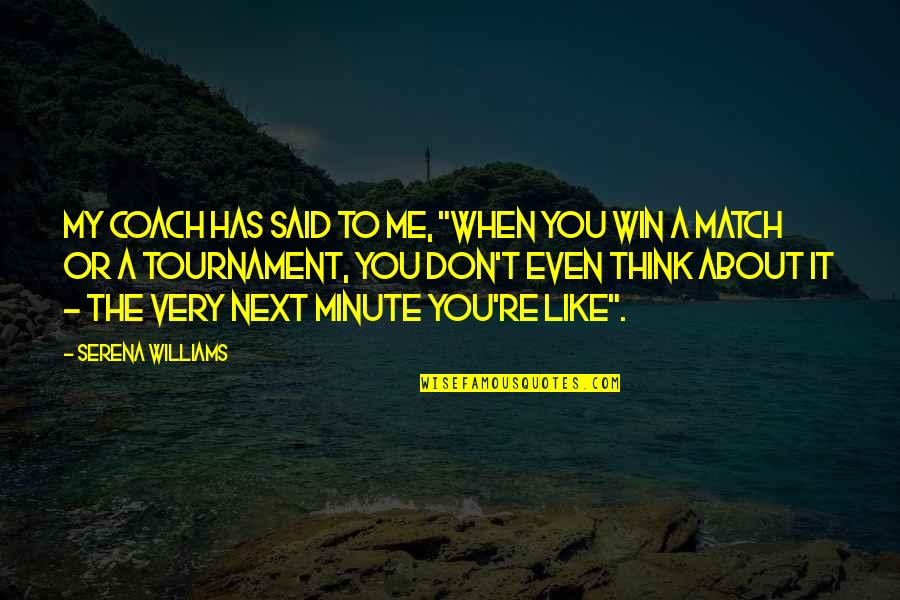 My coach has said to me, "When you win a match or a tournament, you don't even think about it - the very next minute you're like". —
Serena Williams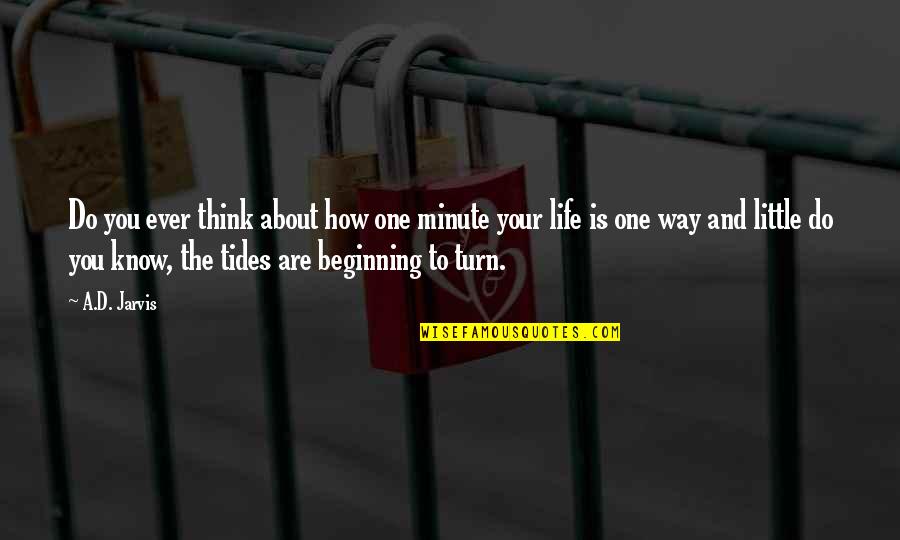 Do you ever think about how one minute your life is one way and little do you know, the tides are beginning to turn. —
A.D. Jarvis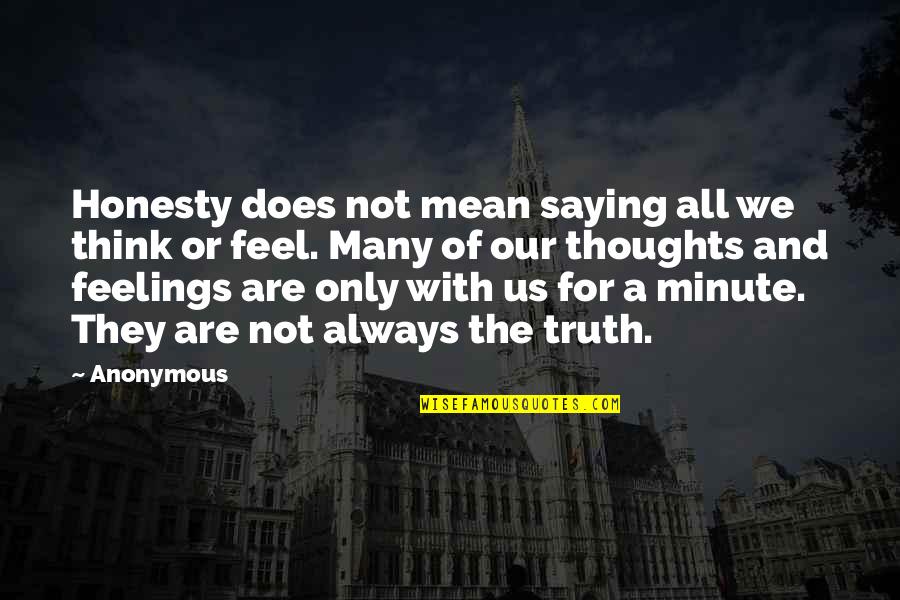 Honesty does not mean saying all we think or feel. Many of our thoughts and feelings are only with us for a minute. They are not always the truth. —
Anonymous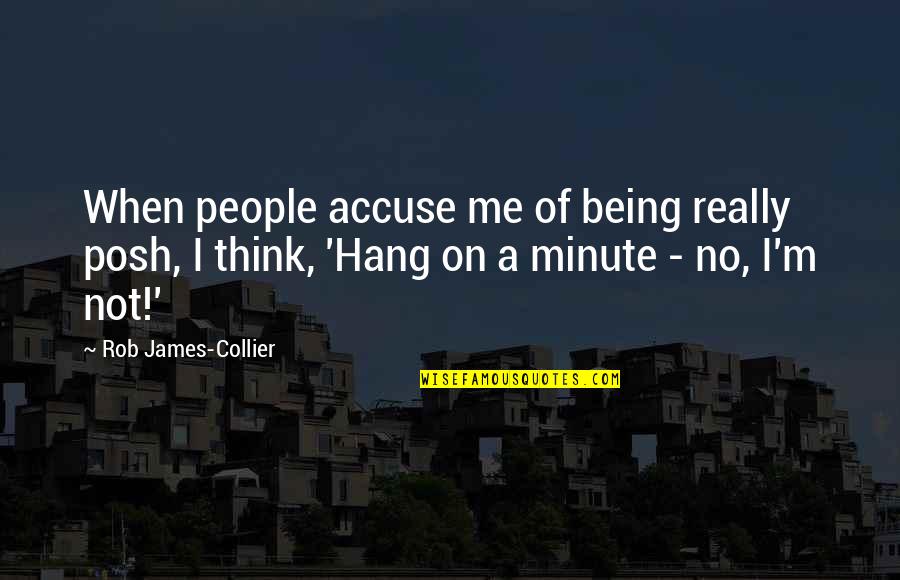 When people accuse me of being really posh, I think, 'Hang on a minute - no, I'm not!' —
Rob James-Collier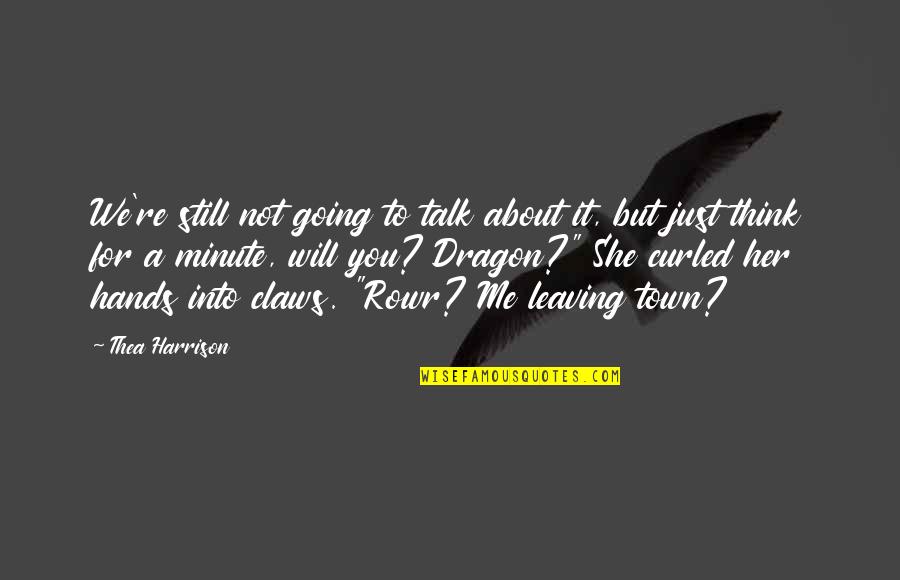 We're still not going to talk about it, but just think for a minute, will you? Dragon?" She curled her hands into claws. "Rowr? Me leaving town? —
Thea Harrison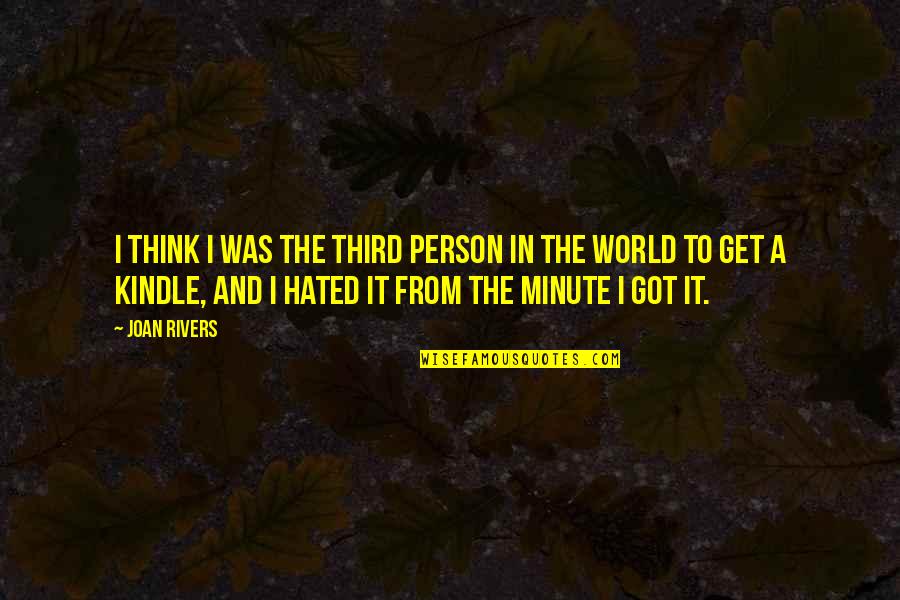 I think I was the third person in the world to get a Kindle, and I hated it from the minute I got it. —
Joan Rivers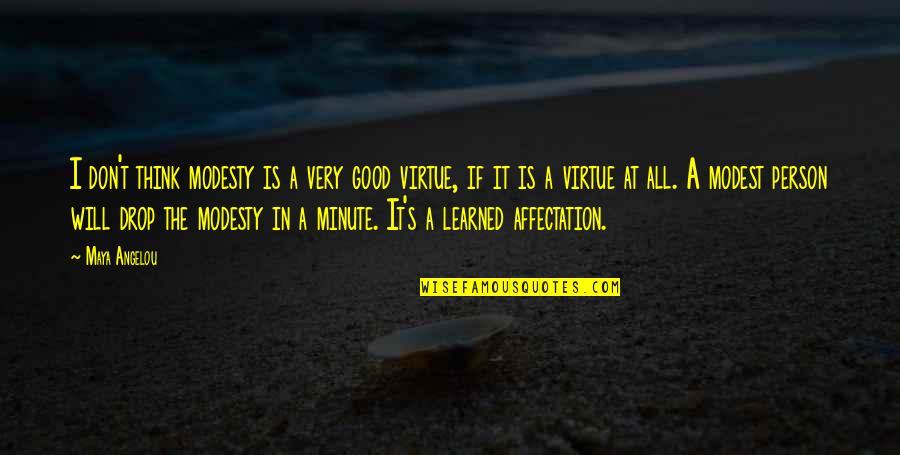 I don't think modesty is a very good virtue, if it is a virtue at all. A modest person will drop the modesty in a minute. It's a learned affectation. —
Maya Angelou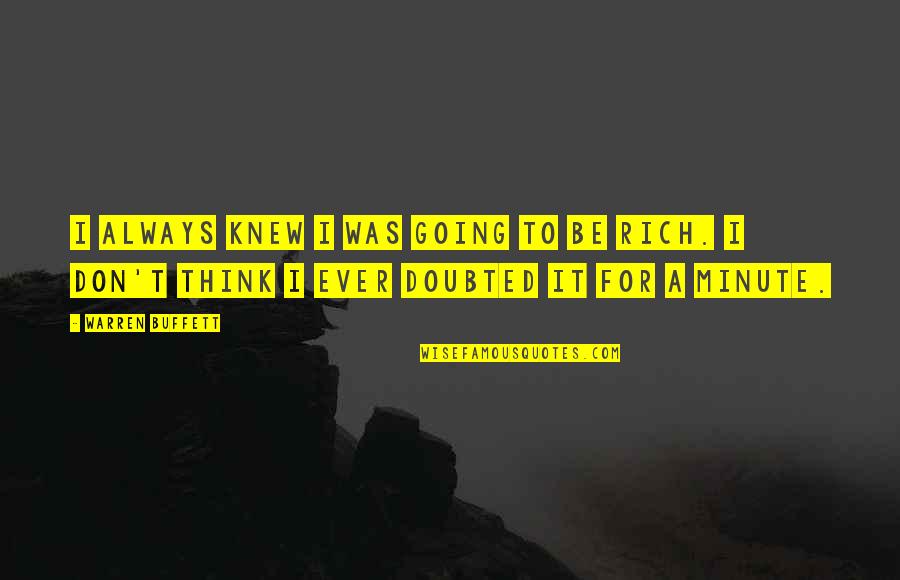 I always knew I was going to be rich. I don't think I ever doubted it for a minute. —
Warren Buffett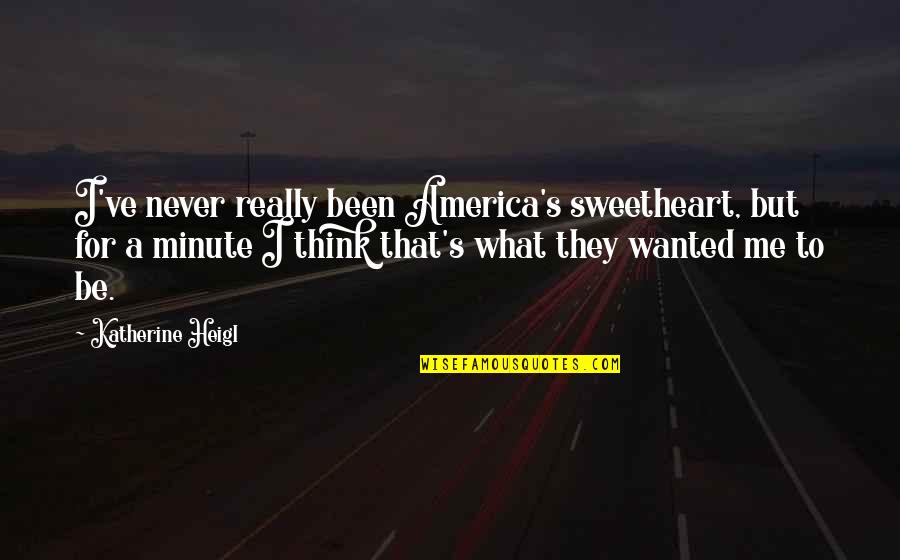 I've never really been America's sweetheart, but for a minute I think that's what they wanted me to be. —
Katherine Heigl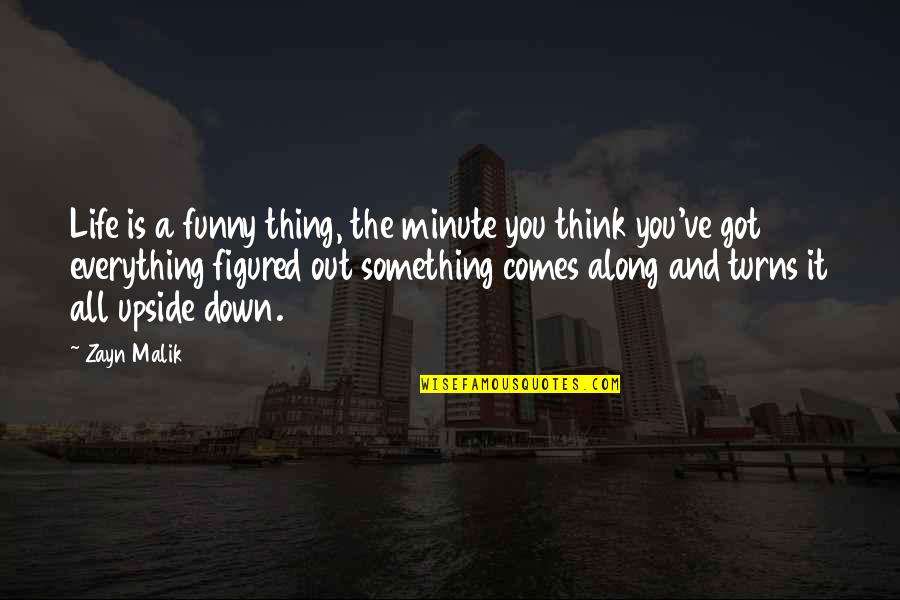 Life is a funny thing, the minute you think you've got everything figured out something comes along and turns it all upside down. —
Zayn Malik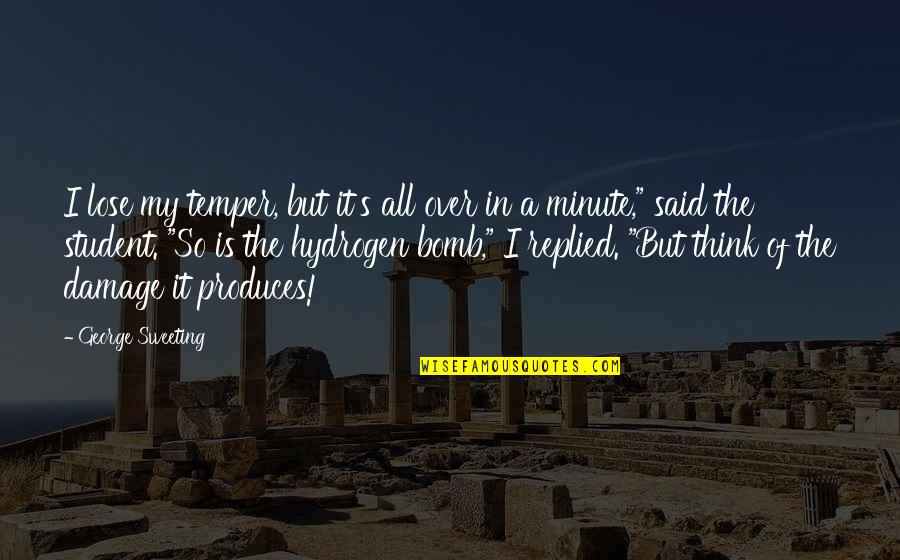 I lose my temper, but it's all over in a minute," said the student. "So is the hydrogen bomb," I replied. "But think of the damage it produces! —
George Sweeting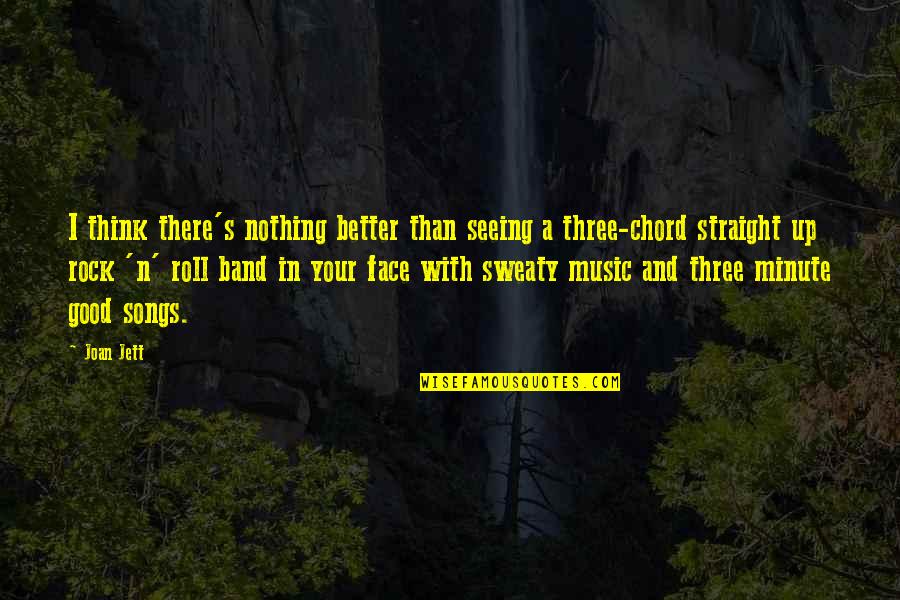 I think there's nothing better than seeing a three-chord straight up rock 'n' roll band in your face with sweaty music and three minute good songs. —
Joan Jett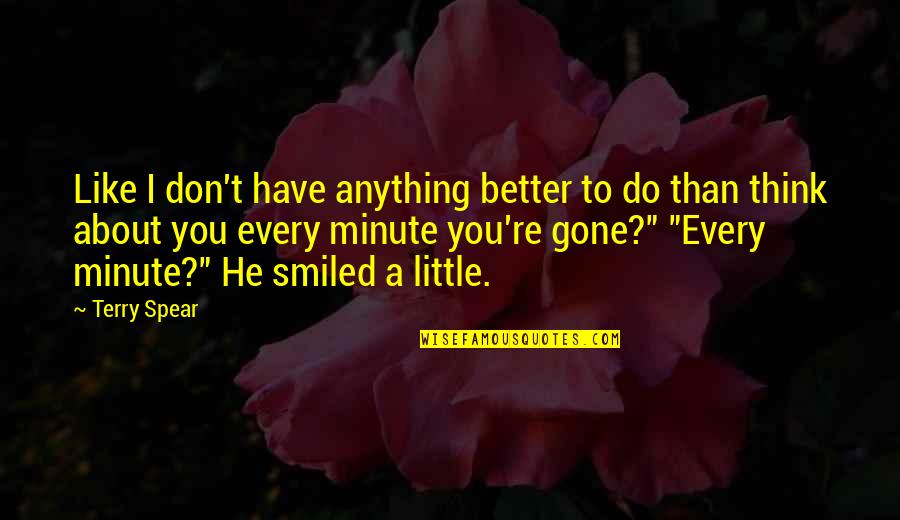 Like I don't have anything better to do than think about you every minute you're gone?"
"Every minute?" He smiled a little. —
Terry Spear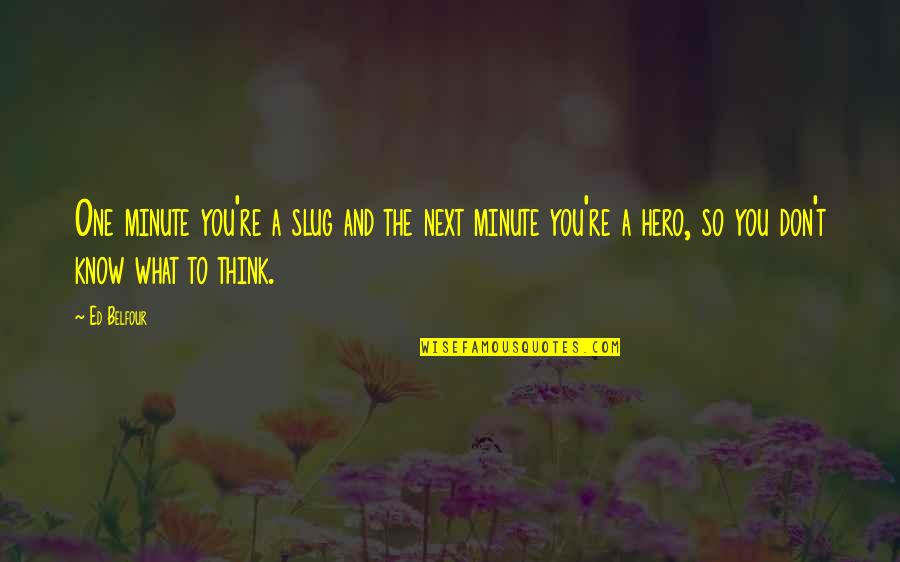 One minute you're a slug and the next minute you're a hero, so you don't know what to think. —
Ed Belfour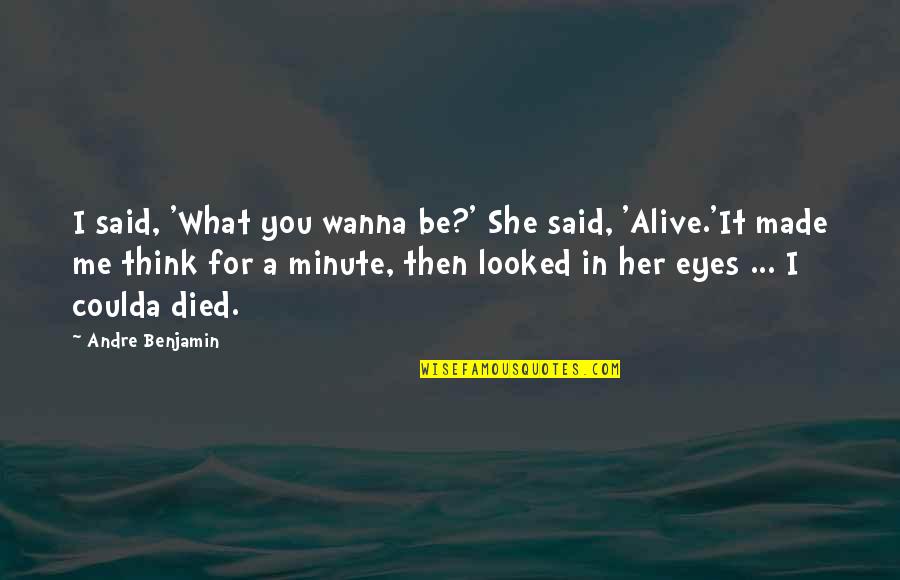 I said, 'What you wanna be?' She said, 'Alive.'
It made me think for a minute, then looked in her eyes
... I coulda died. —
Andre Benjamin