The Gray Sky Quotes
Collection of top 24 famous quotes about The Gray Sky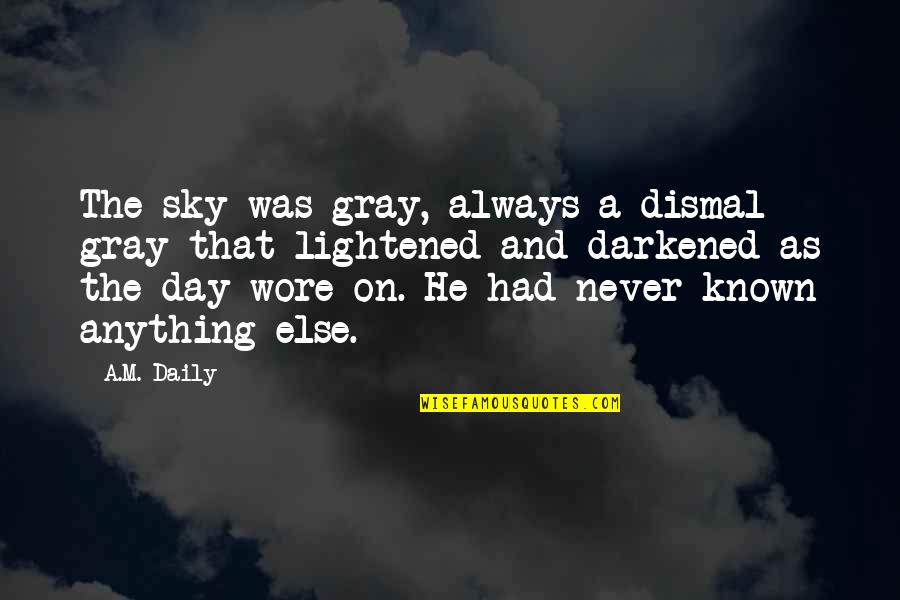 The sky was gray, always a dismal gray that lightened and darkened as the day wore on. He had never known anything else.
—
A.M. Daily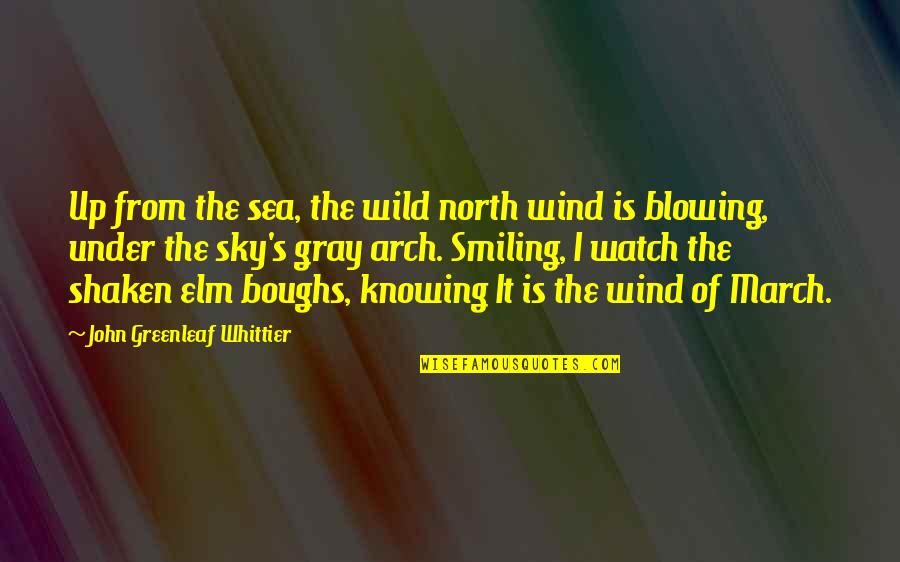 Up from the sea, the wild north wind is blowing, under the sky's gray arch. Smiling, I watch the shaken elm boughs, knowing It is the wind of March.
—
John Greenleaf Whittier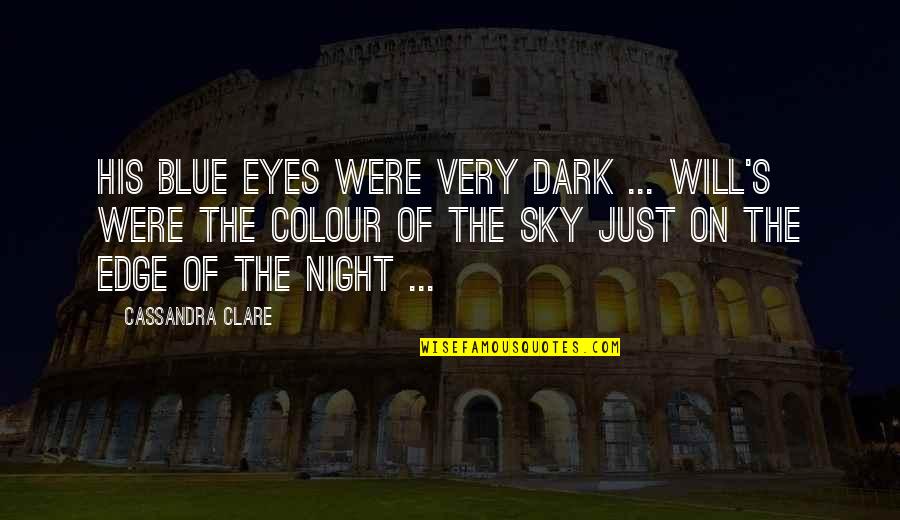 His blue eyes were very dark ... Will's were the colour of the sky just on the edge of the night ...
—
Cassandra Clare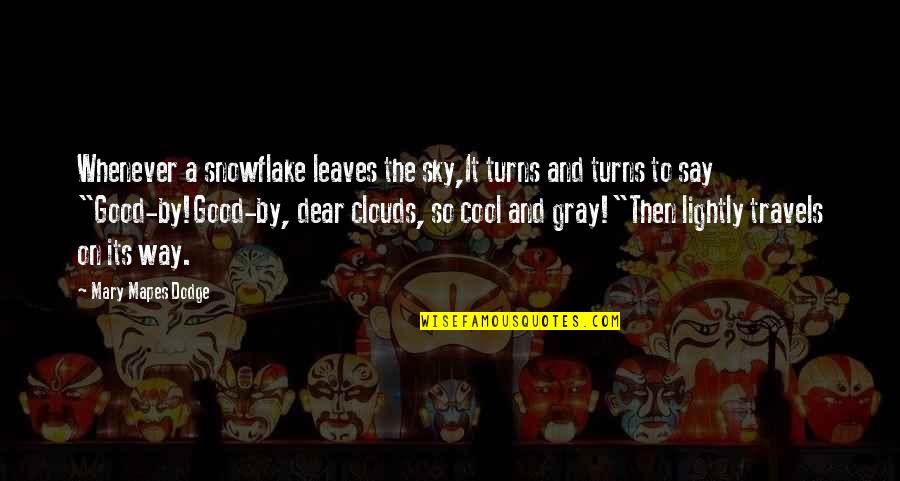 Whenever a snowflake leaves the sky,It turns and turns to say "Good-by!Good-by, dear clouds, so cool and gray!"Then lightly travels on its way.
—
Mary Mapes Dodge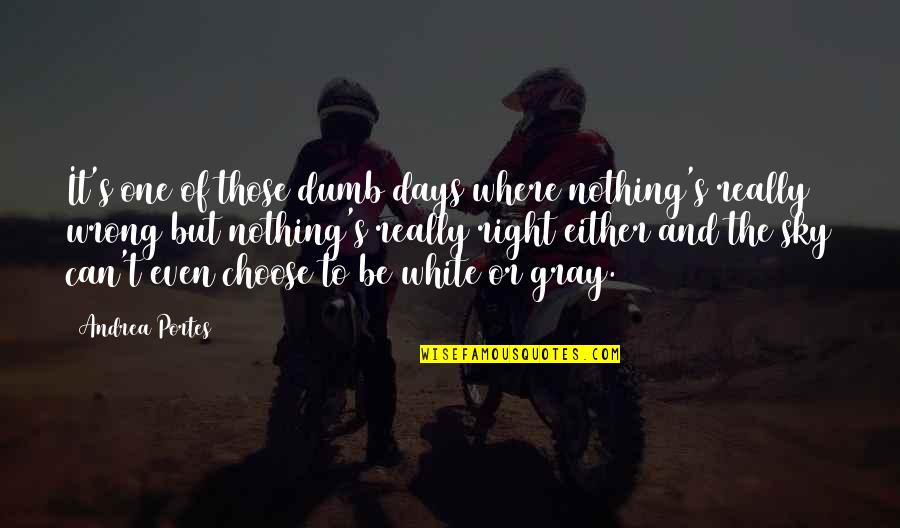 It's one of those dumb days where nothing's really wrong but nothing's really right either and the sky can't even choose to be white or gray.
—
Andrea Portes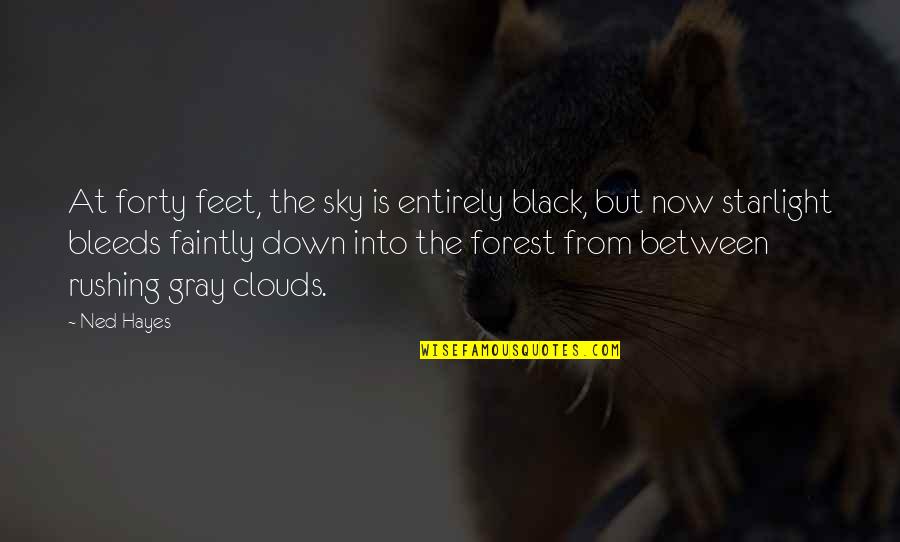 At forty feet, the sky is entirely black, but now starlight bleeds faintly down into the forest from between rushing gray clouds.
—
Ned Hayes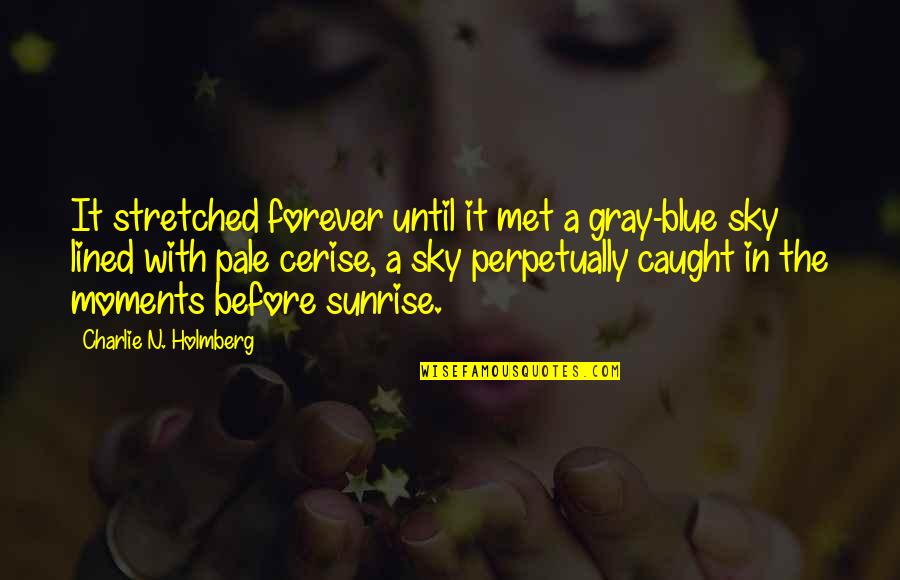 It stretched forever until it met a gray-blue sky lined with pale cerise, a sky perpetually caught in the moments before sunrise.
—
Charlie N. Holmberg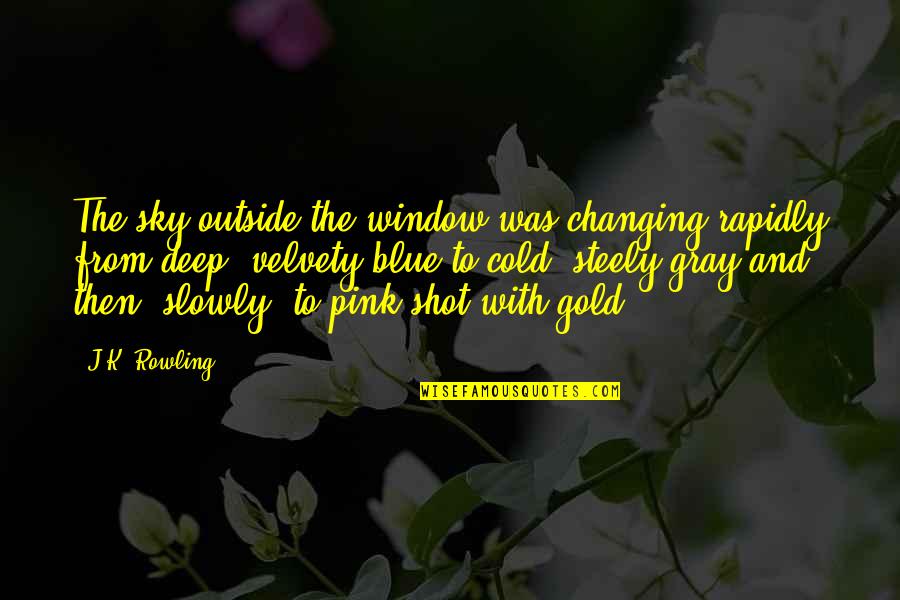 The sky outside the window was changing rapidly from deep, velvety blue to cold, steely gray and then, slowly, to pink shot with gold.
—
J.K. Rowling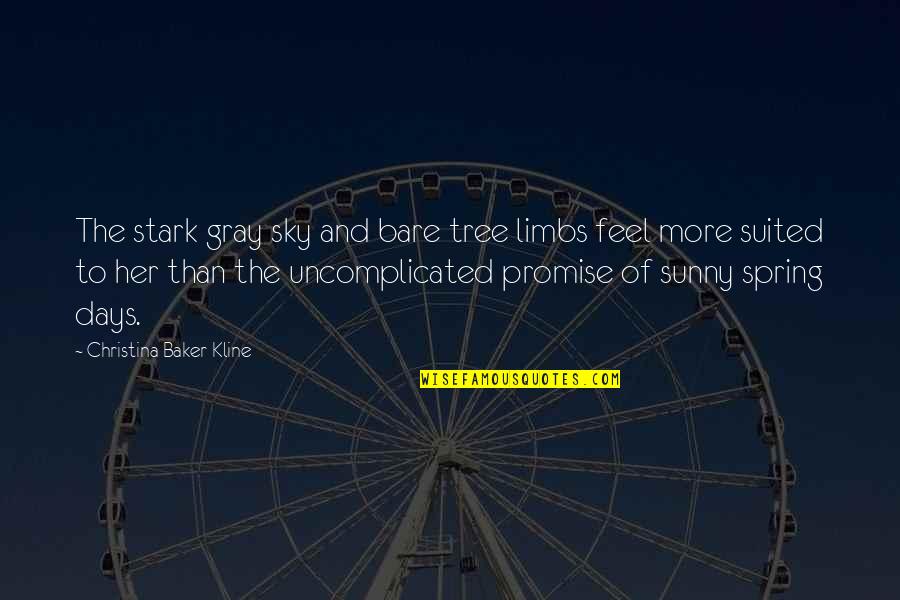 The stark gray sky and bare tree limbs feel more suited to her than the uncomplicated promise of sunny spring days.
—
Christina Baker Kline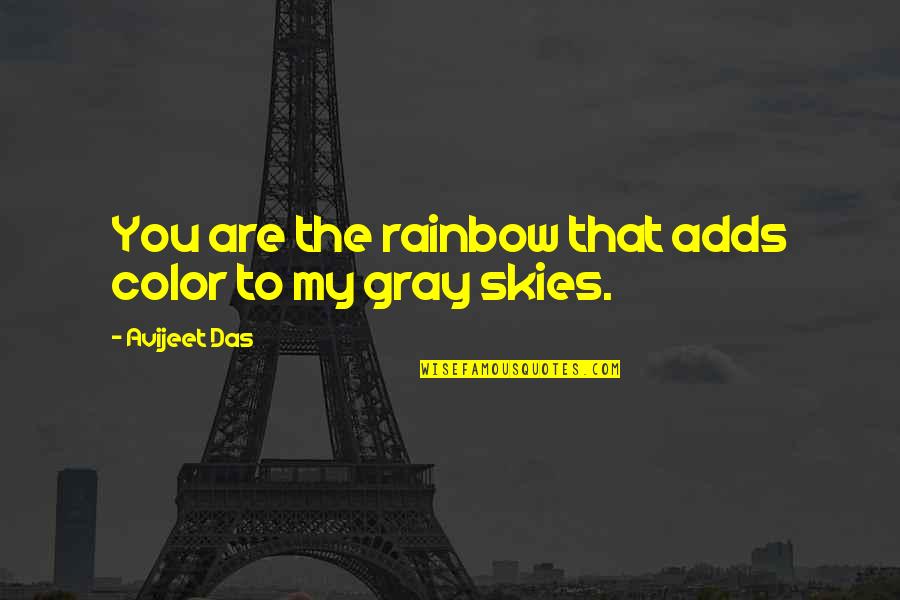 You are the rainbow that adds color to my gray skies. —
Avijeet Das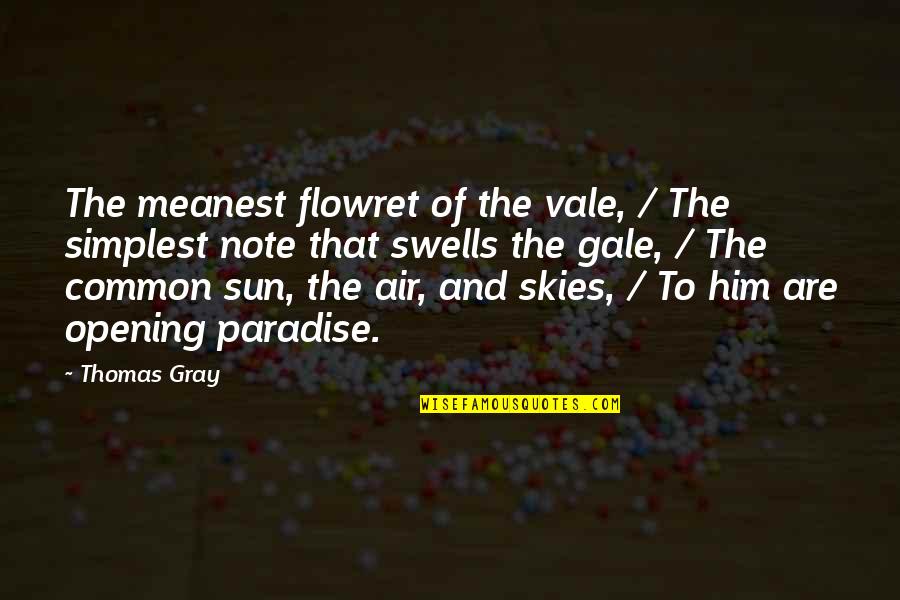 The meanest flowret of the vale, / The simplest note that swells the gale, / The common sun, the air, and skies, / To him are opening paradise. —
Thomas Gray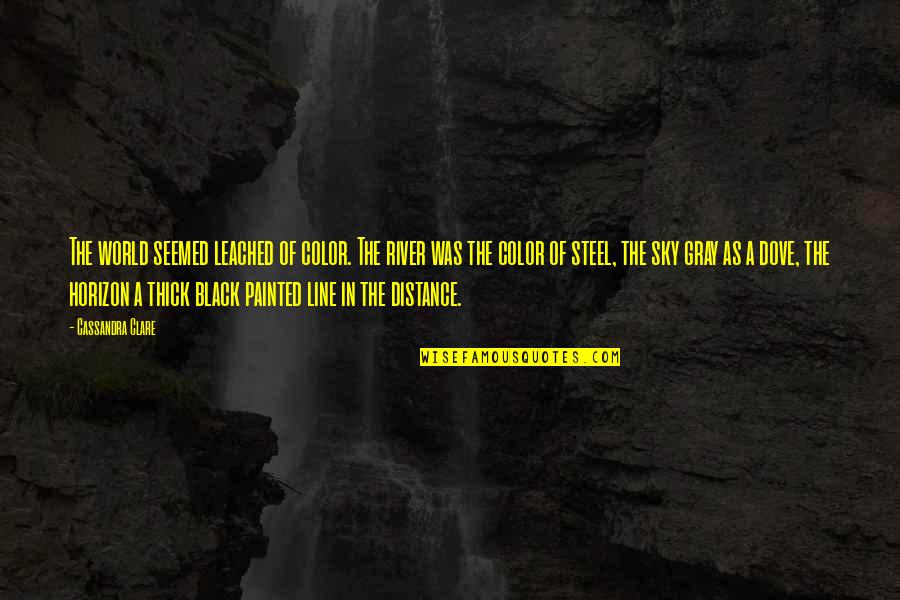 The world seemed leached of color. The river was the color of steel, the sky gray as a dove, the horizon a thick black painted line in the distance. —
Cassandra Clare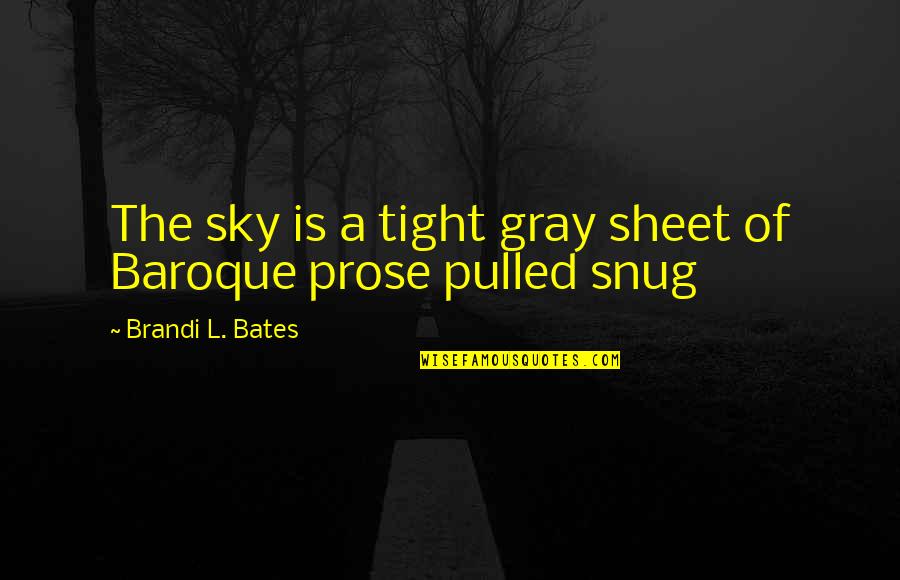 The sky is a tight gray sheet of Baroque prose pulled snug —
Brandi L. Bates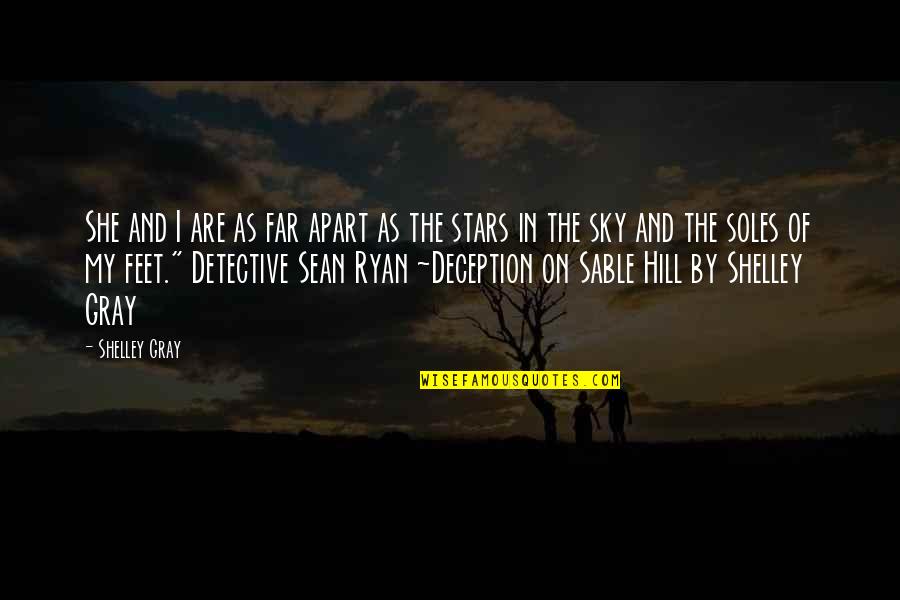 She and I are as far apart as the stars in the sky and the soles of my feet." Detective Sean Ryan ~Deception on Sable Hill by Shelley Gray —
Shelley Gray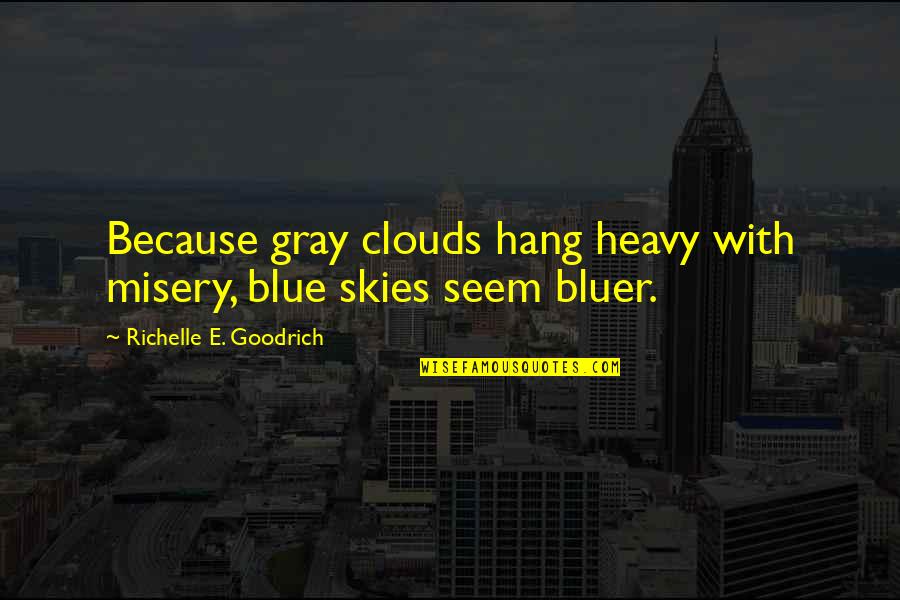 Because gray clouds hang heavy with misery, blue skies seem bluer. —
Richelle E. Goodrich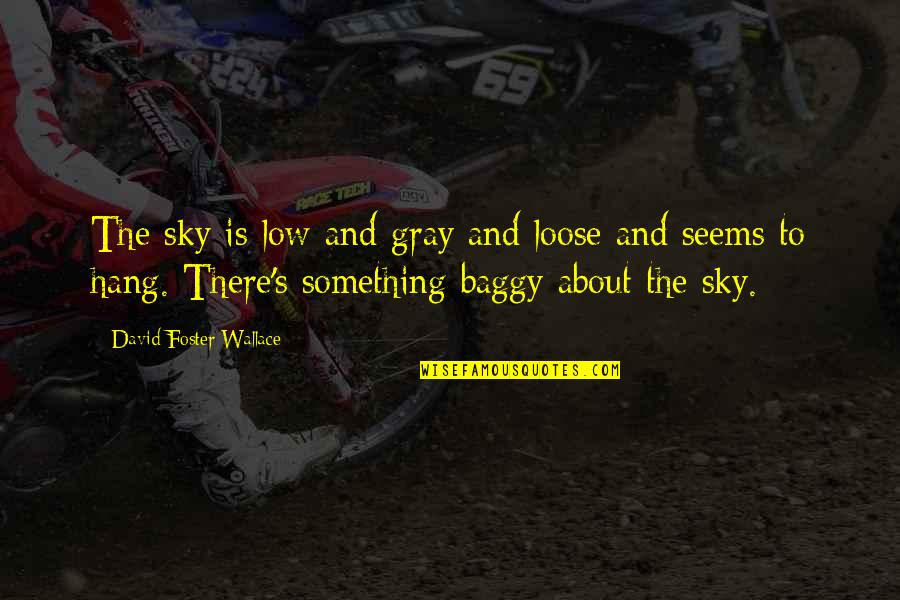 The sky is low and gray and loose and seems to hang. There's something baggy about the sky. —
David Foster Wallace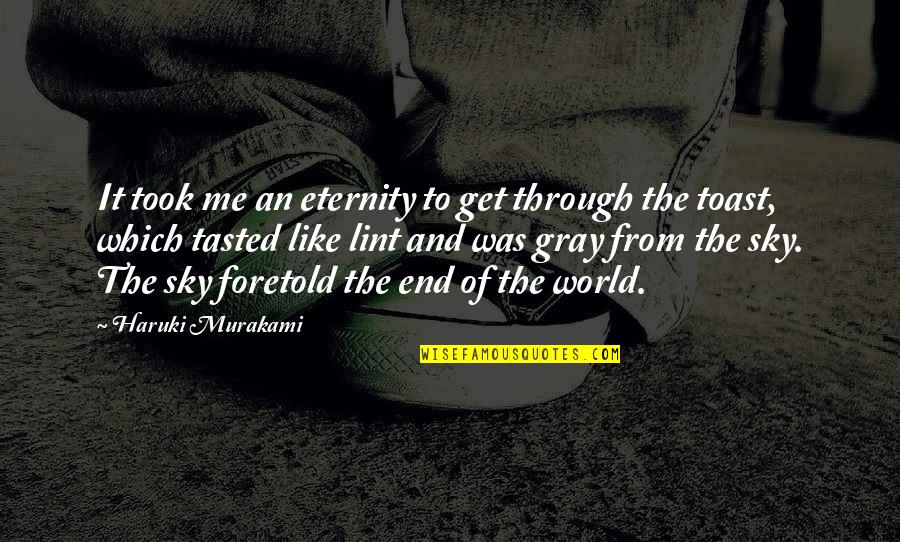 It took me an eternity to get through the toast, which tasted like lint and was gray from the sky. The sky foretold the end of the world. —
Haruki Murakami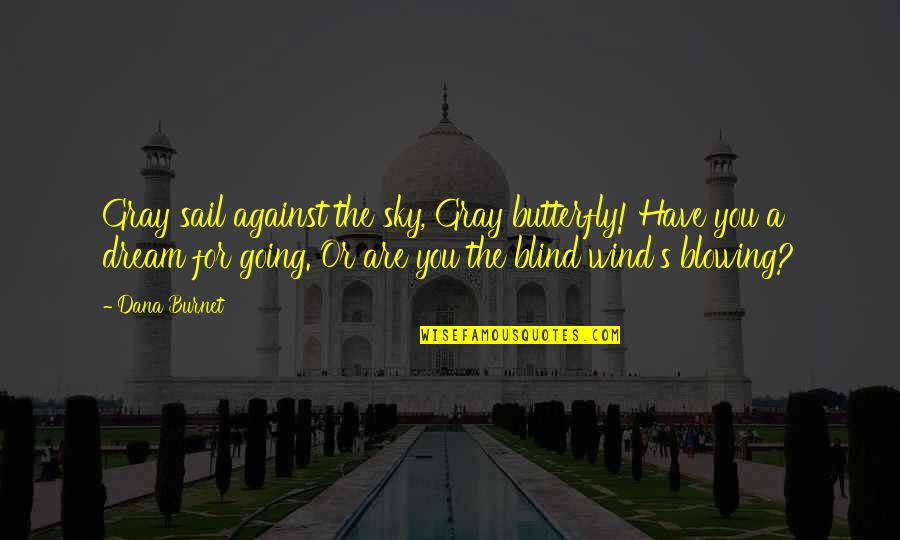 Gray sail against the sky, Gray butterfly! Have you a dream for going. Or are you the blind wind's blowing? —
Dana Burnet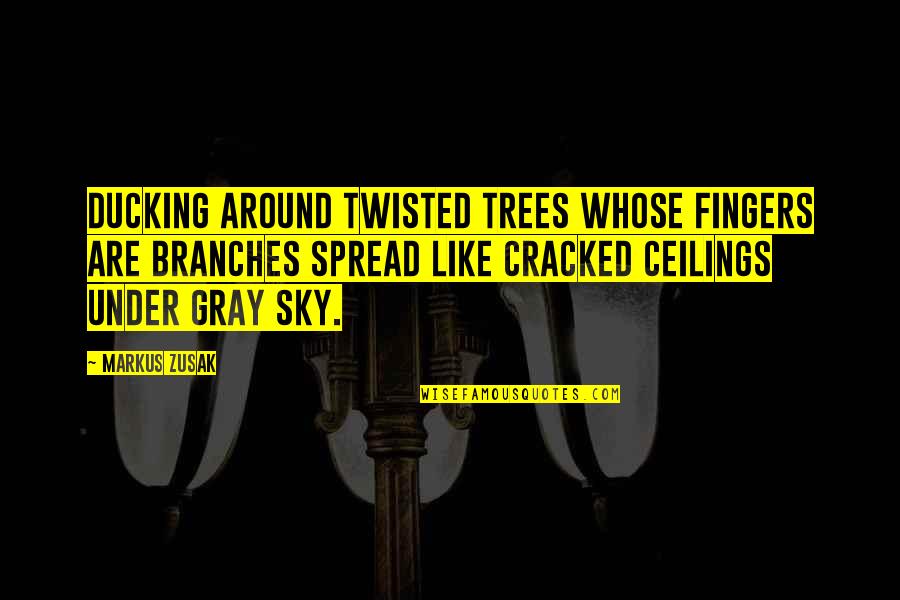 Ducking around twisted trees whose fingers are branches spread like cracked ceilings under gray sky. —
Markus Zusak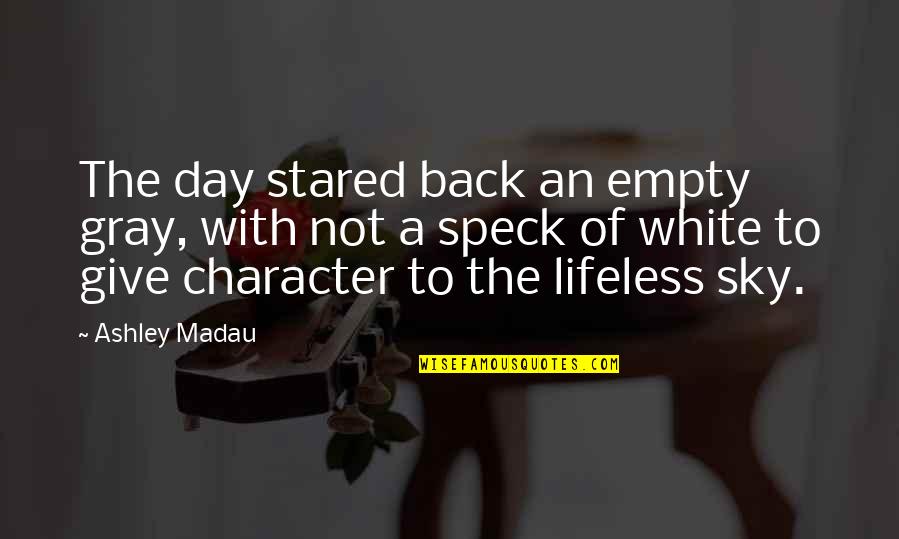 The day stared back an empty gray, with not a speck of white to give character to the lifeless sky. —
Ashley Madau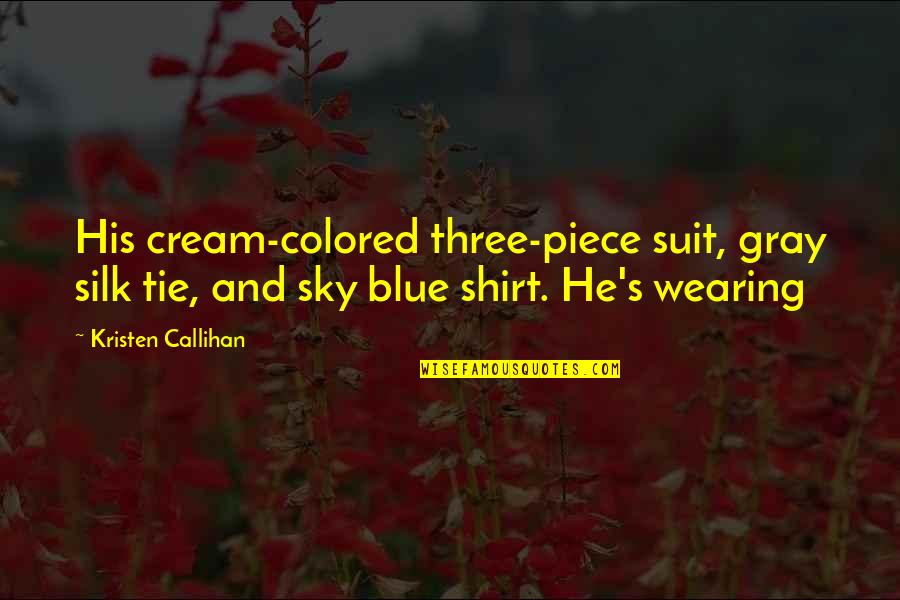 His cream-colored three-piece suit, gray silk tie, and sky blue shirt. He's wearing —
Kristen Callihan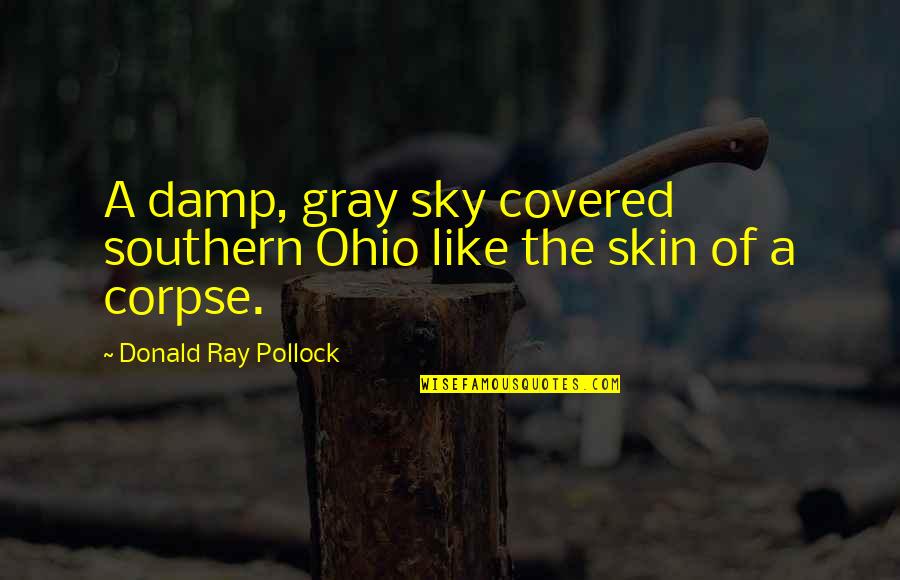 A damp, gray sky covered southern Ohio like the skin of a corpse. —
Donald Ray Pollock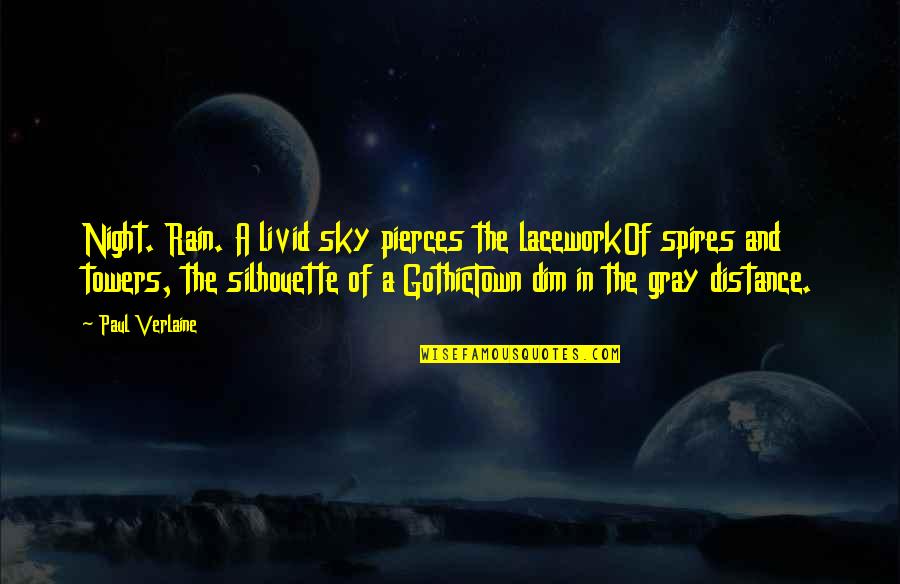 Night. Rain. A livid sky pierces the lacework
Of spires and towers, the silhouette of a Gothic
Town dim in the gray distance. —
Paul Verlaine