Sometimes Things Just Happen Quotes
Collection of top 54 famous quotes about Sometimes Things Just Happen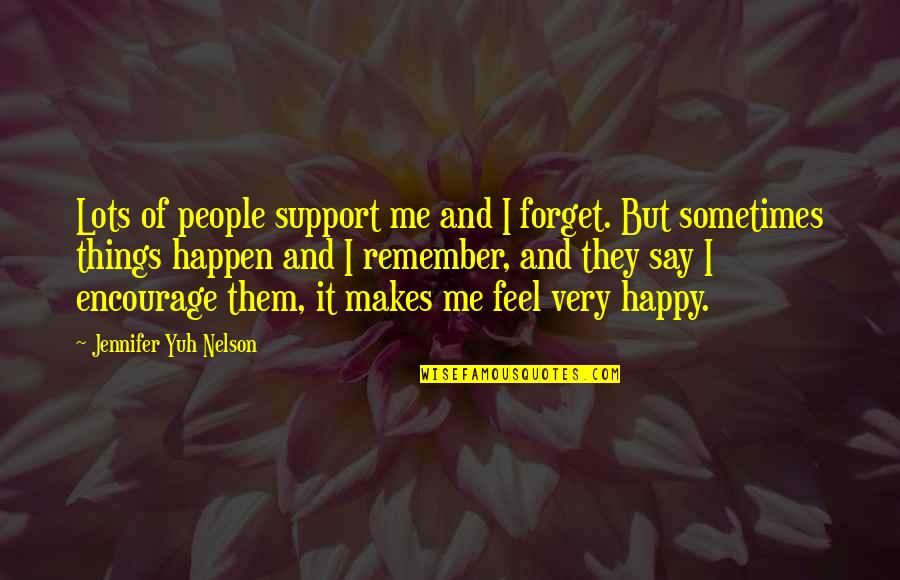 Lots of people support me and I forget. But sometimes things happen and I remember, and they say I encourage them, it makes me feel very happy.
—
Jennifer Yuh Nelson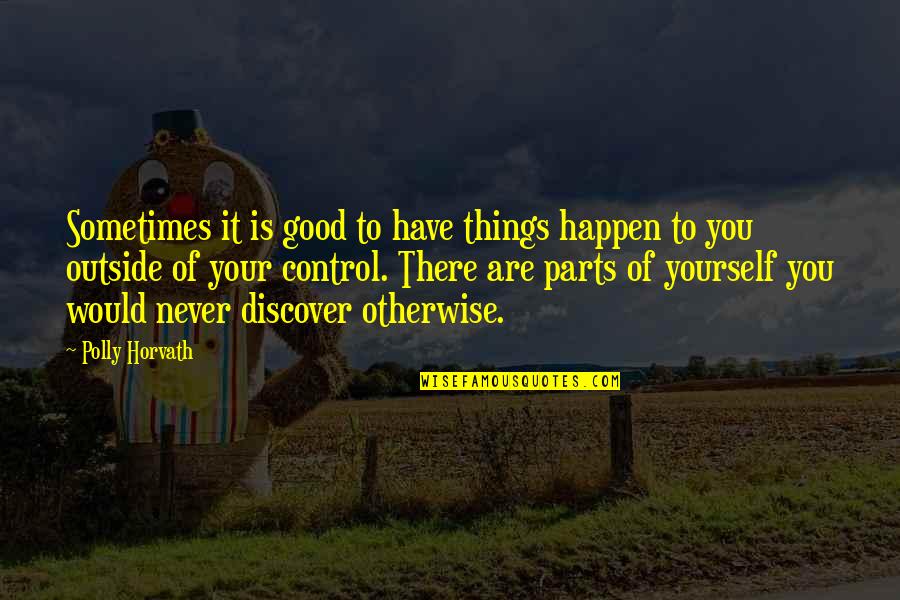 Sometimes it is good to have things happen to you outside of your control. There are parts of yourself you would never discover otherwise.
—
Polly Horvath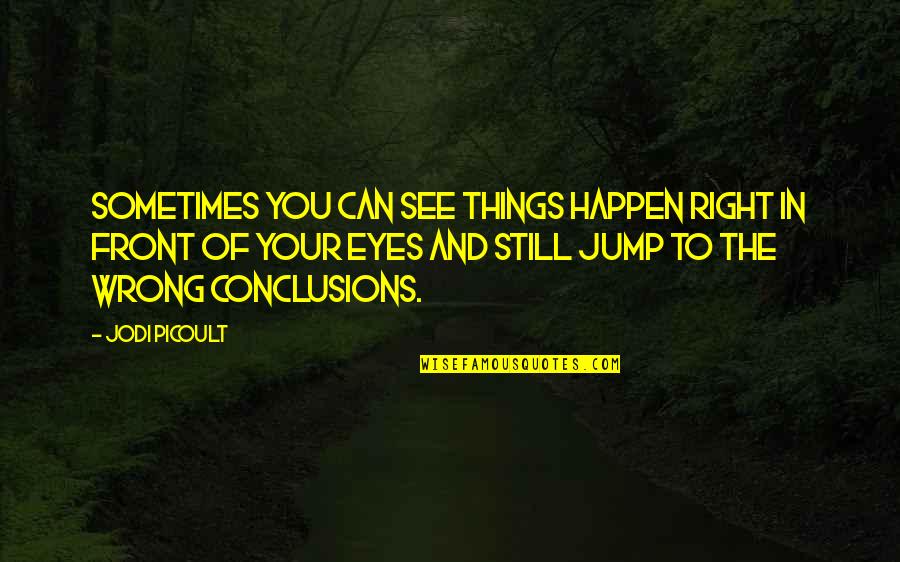 Sometimes you can see things happen right in front of your eyes and still jump to the wrong conclusions.
—
Jodi Picoult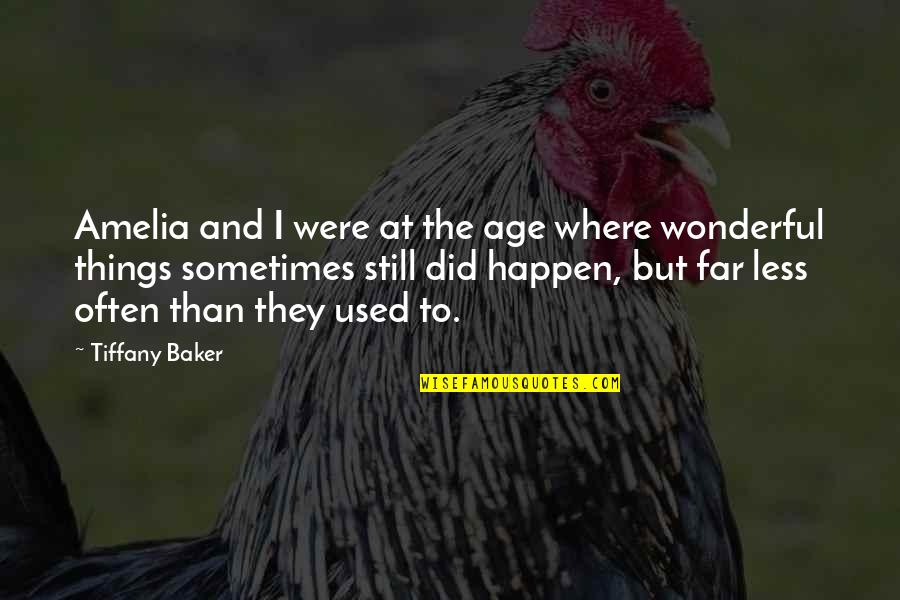 Amelia and I were at the age where wonderful things sometimes still did happen, but far less often than they used to.
—
Tiffany Baker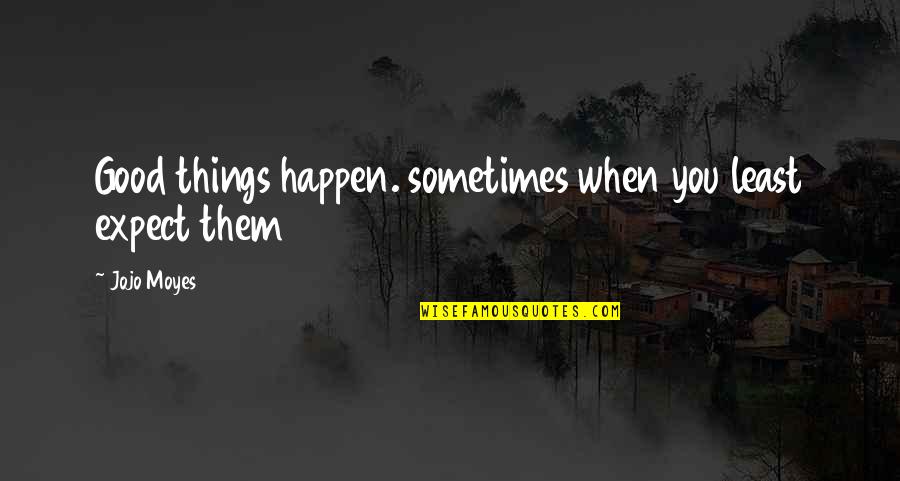 Good things happen. sometimes when you least expect them
—
Jojo Moyes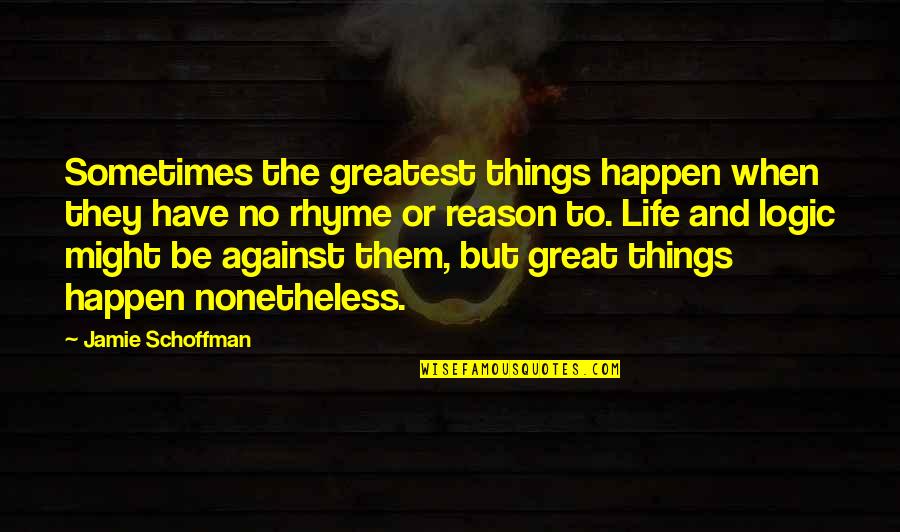 Sometimes the greatest things happen when they have no rhyme or reason to. Life and logic might be against them, but great things happen nonetheless.
—
Jamie Schoffman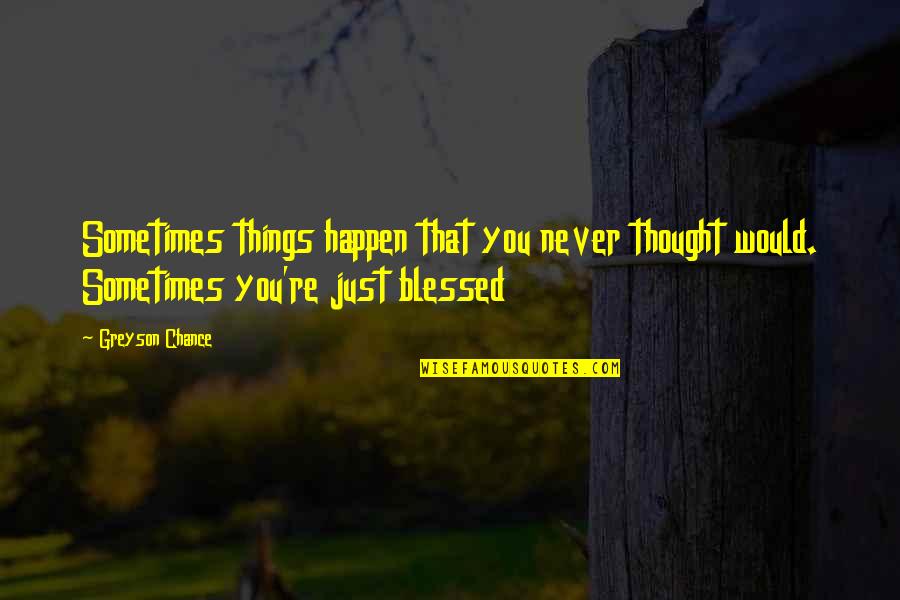 Sometimes things happen that you never thought would. Sometimes you're just blessed
—
Greyson Chance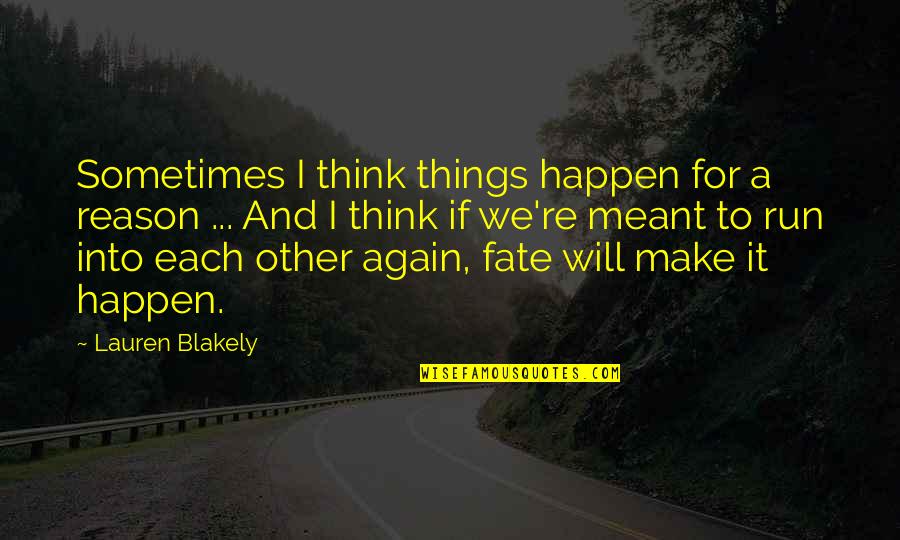 Sometimes I think things happen for a reason ... And I think if we're meant to run into each other again, fate will make it happen.
—
Lauren Blakely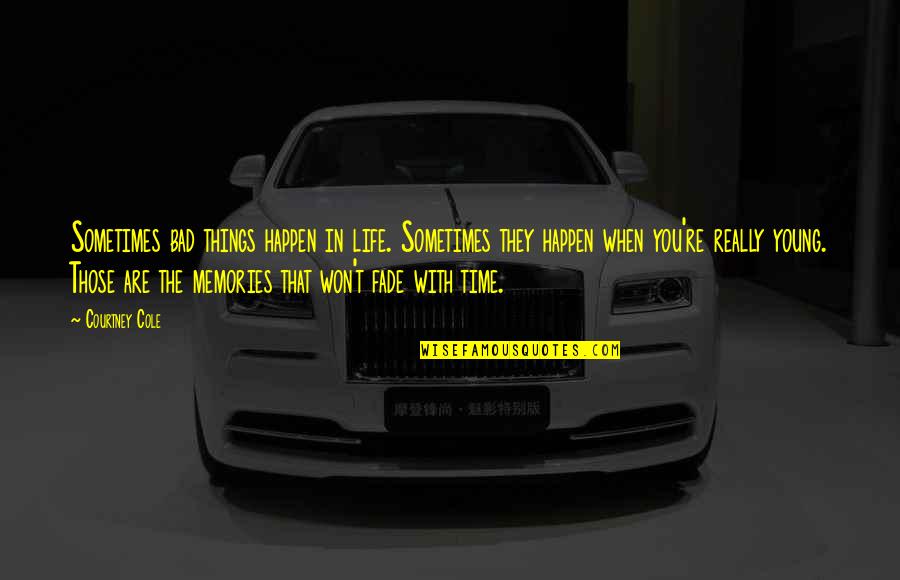 Sometimes bad things happen in life. Sometimes they happen when you're really young. Those are the memories that won't fade with time. —
Courtney Cole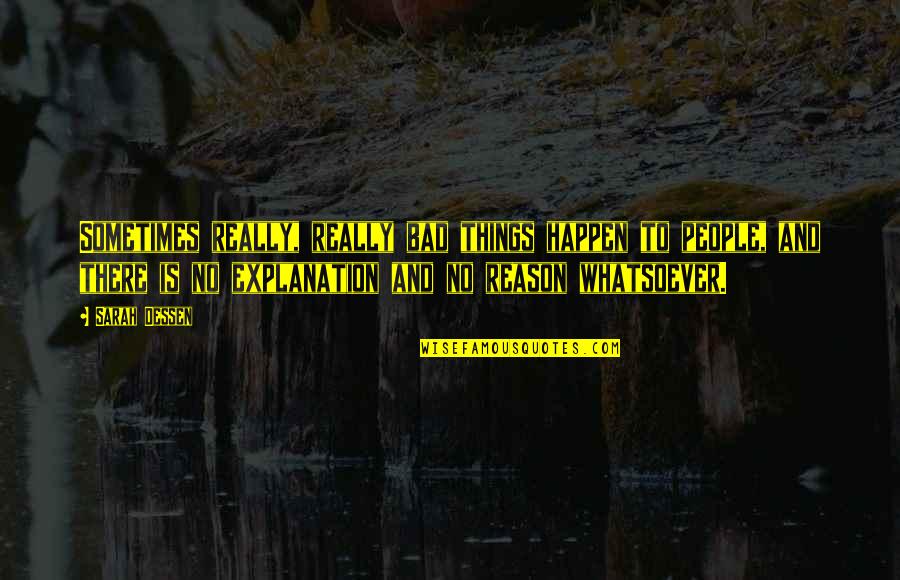 Sometimes really, really bad things happen to people, and there is no explanation and no reason whatsoever. —
Sarah Dessen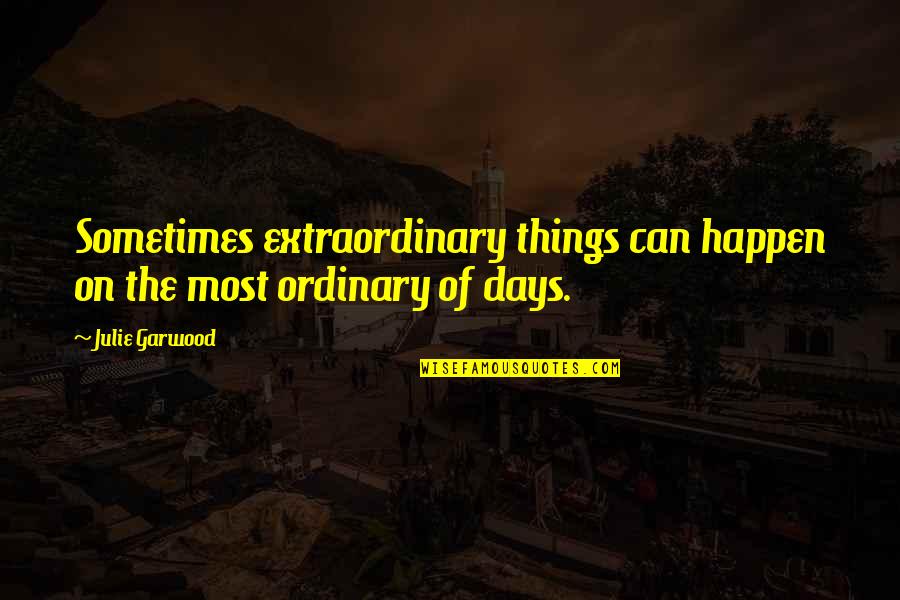 Sometimes extraordinary things can happen on the most ordinary of days. —
Julie Garwood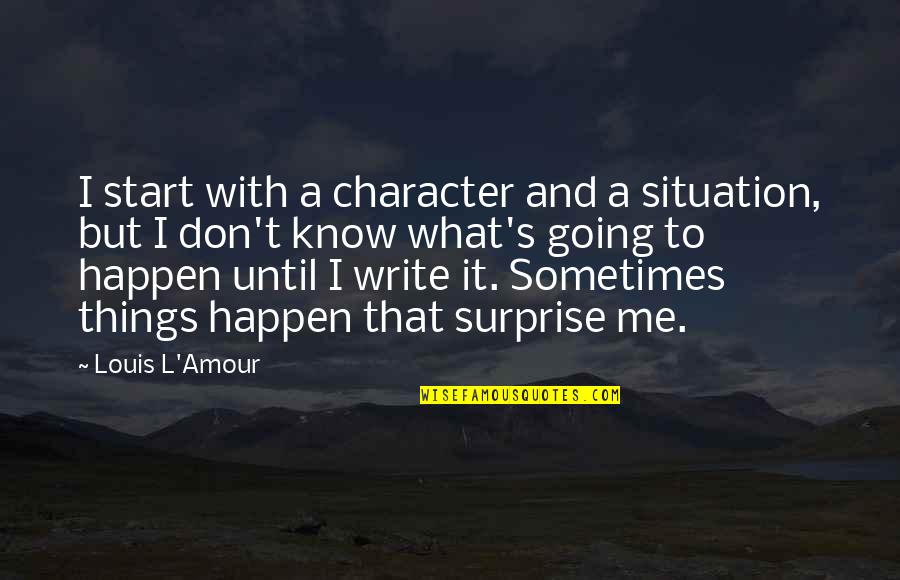 I start with a character and a situation, but I don't know what's going to happen until I write it. Sometimes things happen that surprise me. —
Louis L'Amour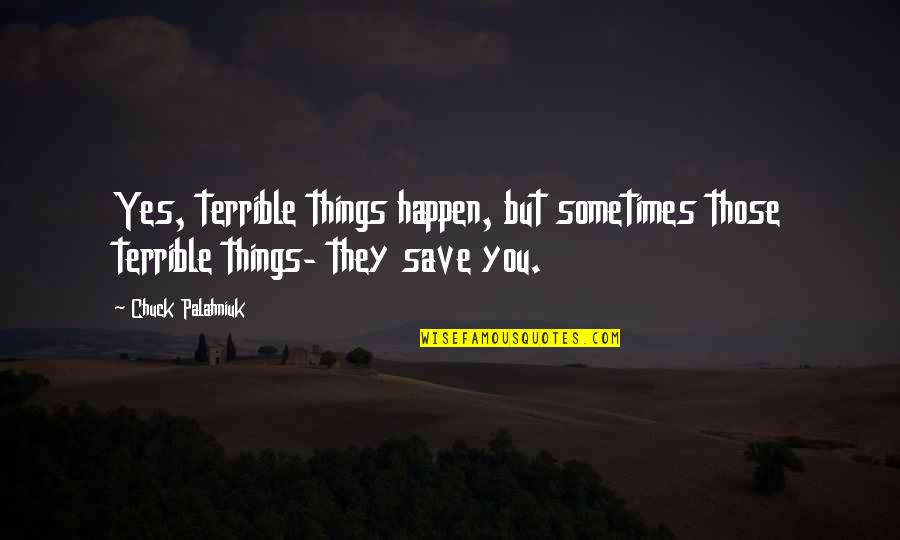 Yes, terrible things happen, but sometimes those terrible things- they save you. —
Chuck Palahniuk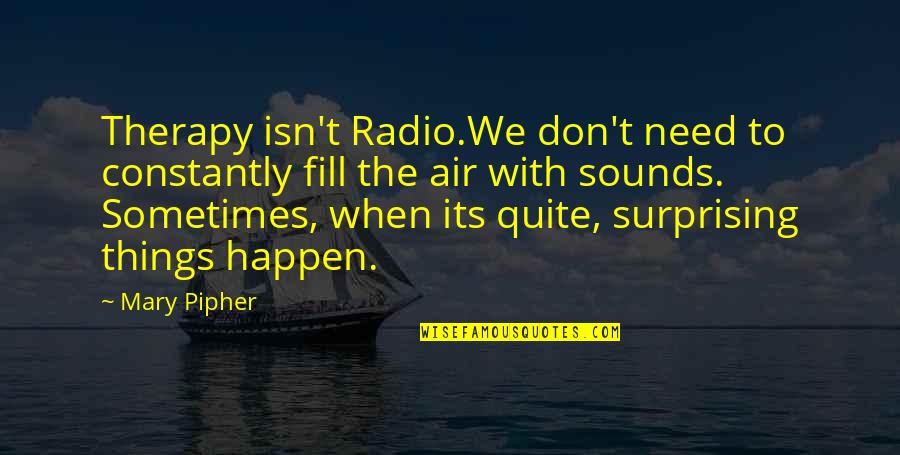 Therapy isn't Radio.We don't need to constantly fill the air with sounds. Sometimes, when its quite, surprising things happen. —
Mary Pipher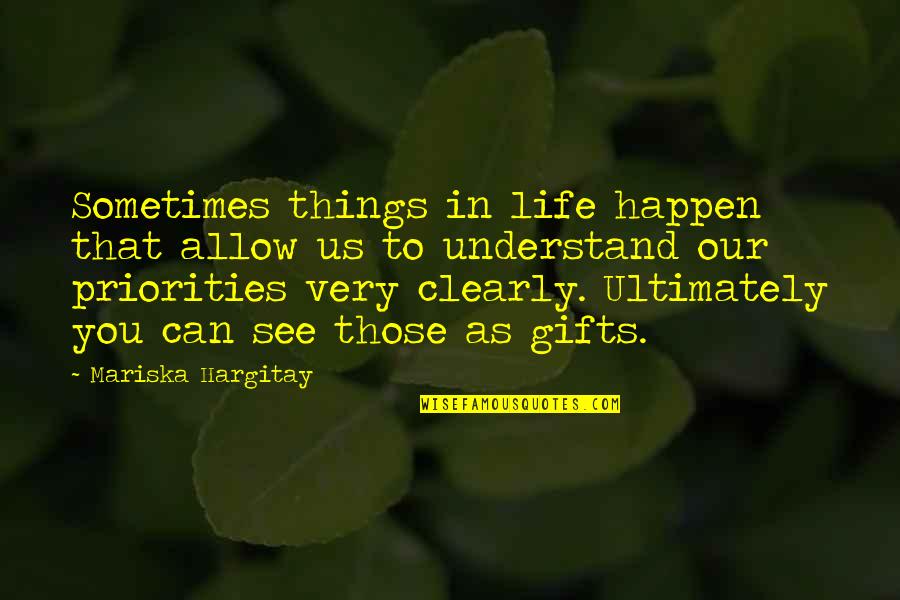 Sometimes things in life happen that allow us to understand our priorities very clearly. Ultimately you can see those as gifts. —
Mariska Hargitay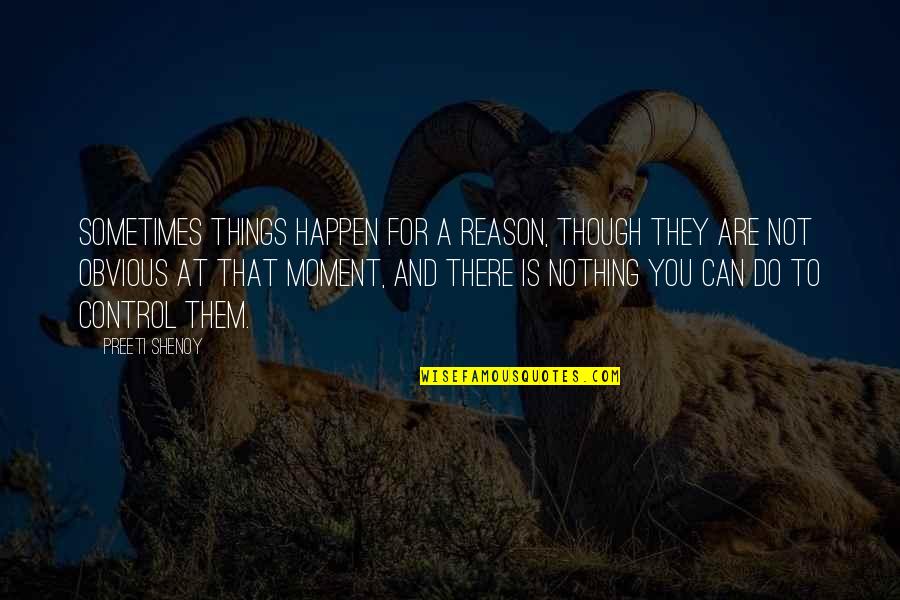 Sometimes things happen for a reason, though they are not obvious at that moment, and there is nothing you can do to control them. —
Preeti Shenoy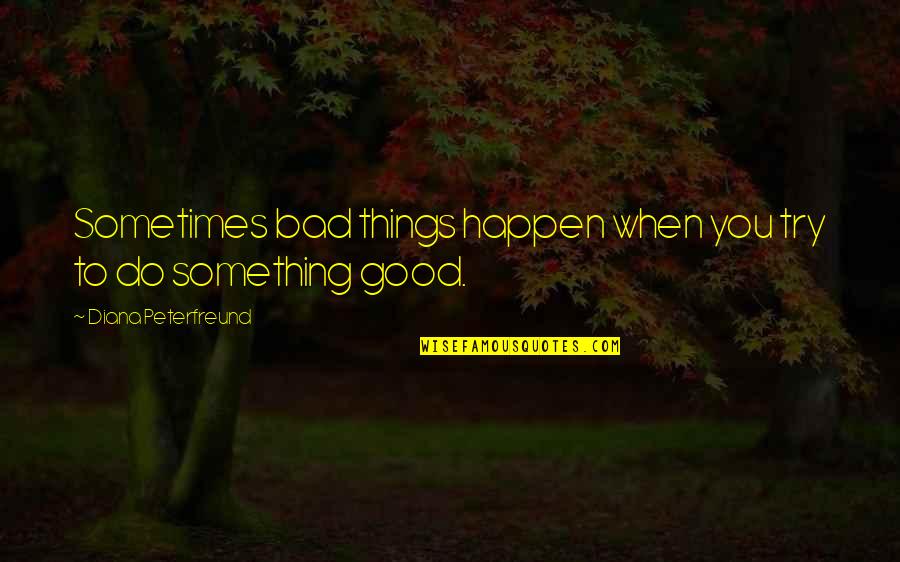 Sometimes bad things happen when you try to do something good. —
Diana Peterfreund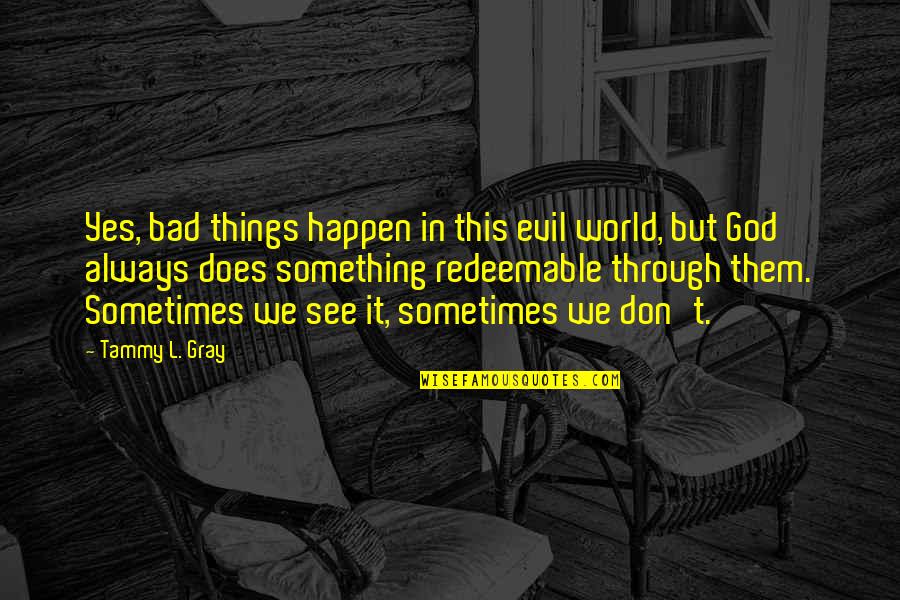 Yes, bad things happen in this evil world, but God always does something redeemable through them. Sometimes we see it, sometimes we don't. —
Tammy L. Gray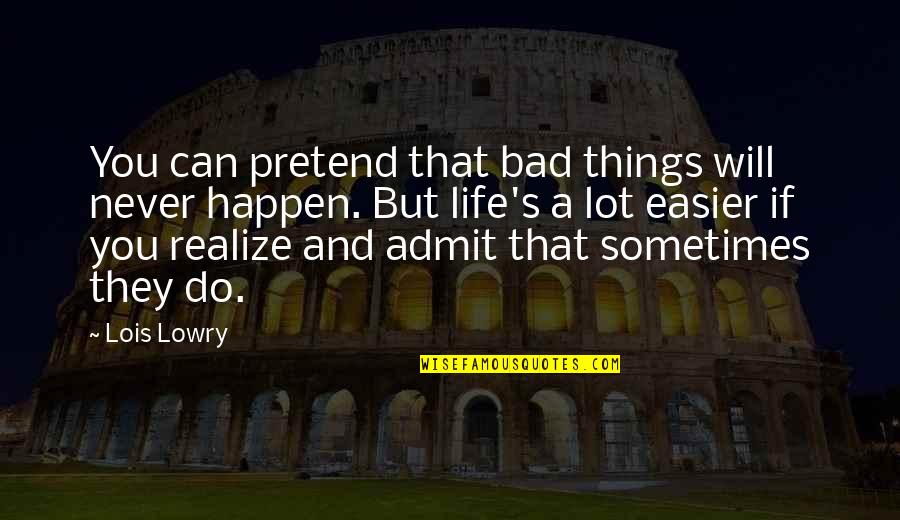 You can pretend that bad things will never happen. But life's a lot easier if you realize and admit that sometimes they do. —
Lois Lowry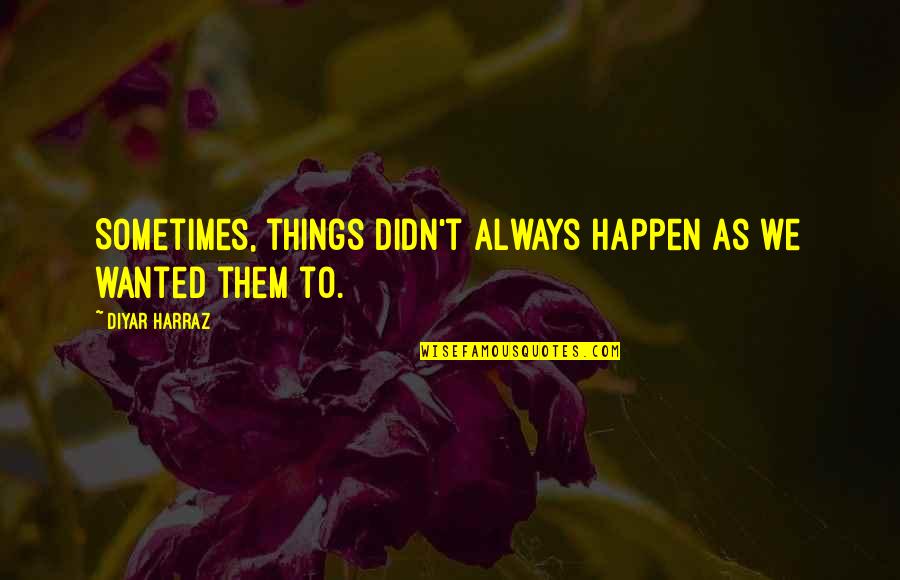 Sometimes, things didn't always happen as we wanted them to. —
Diyar Harraz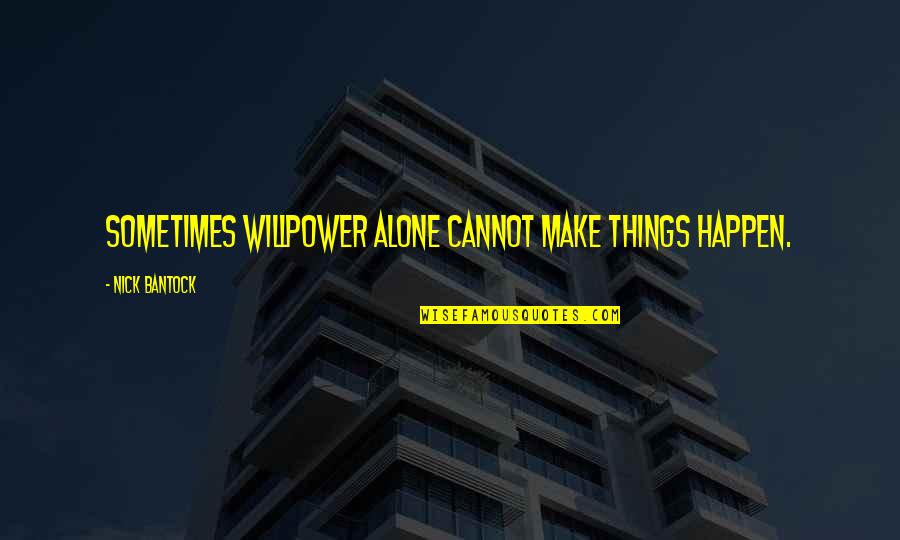 Sometimes willpower alone cannot make things happen. —
Nick Bantock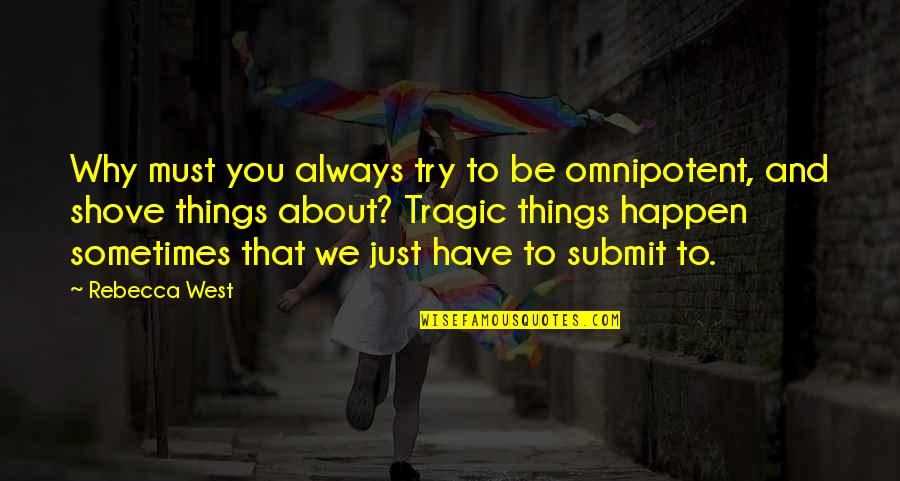 Why must you always try to be omnipotent, and shove things about? Tragic things happen sometimes that we just have to submit to. —
Rebecca West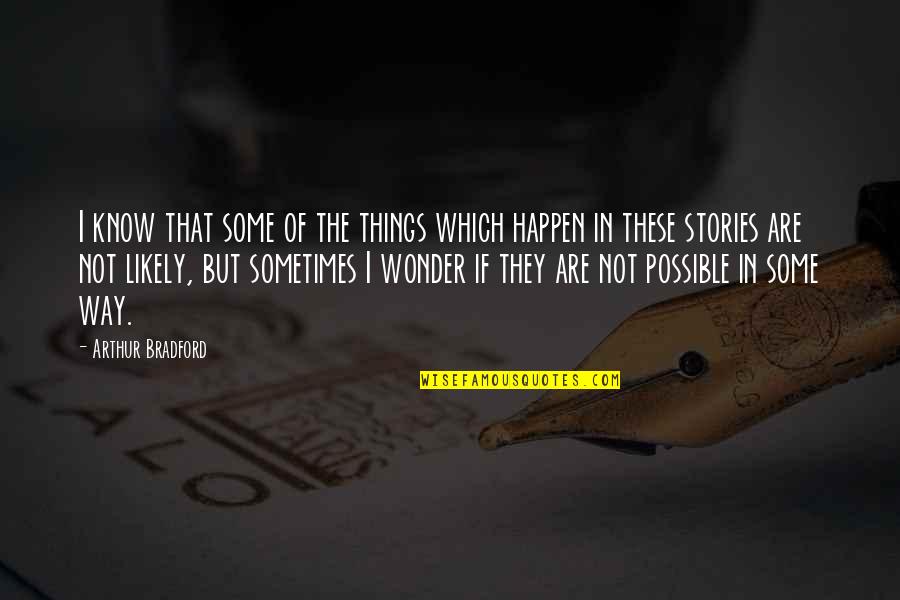 I know that some of the things which happen in these stories are not likely, but sometimes I wonder if they are not possible in some way. —
Arthur Bradford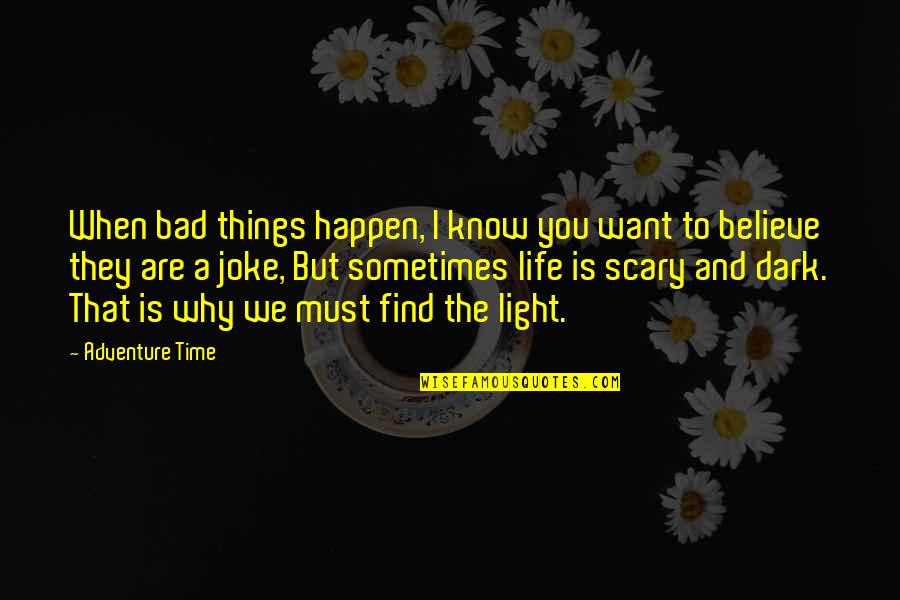 When bad things happen, I know you want to believe they are a joke, But sometimes life is scary and dark. That is why we must find the light. —
Adventure Time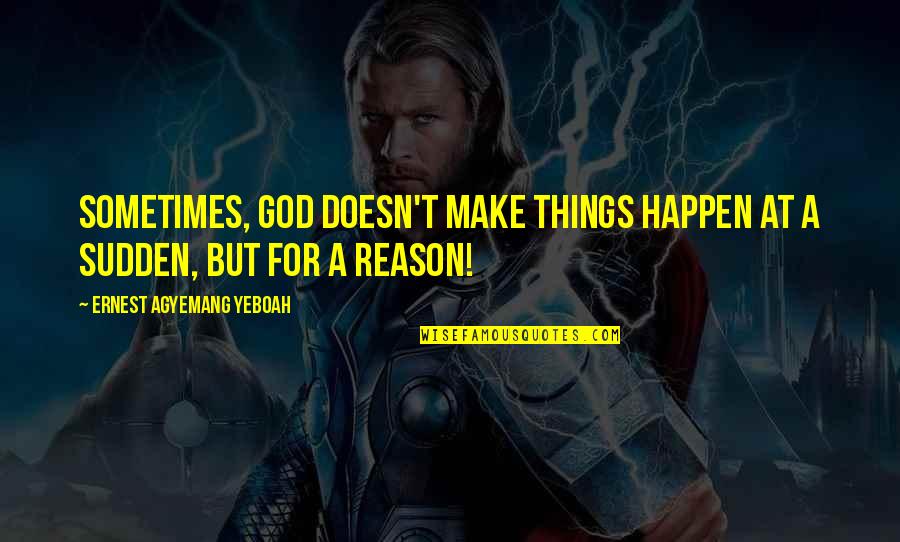 Sometimes, God doesn't make things happen at a sudden, but for a reason! —
Ernest Agyemang Yeboah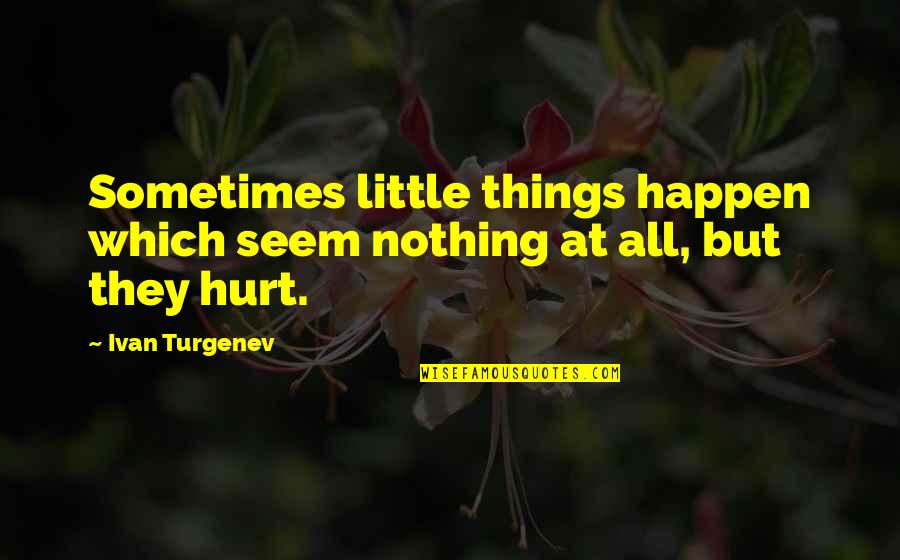 Sometimes little things happen which seem nothing at all, but they hurt. —
Ivan Turgenev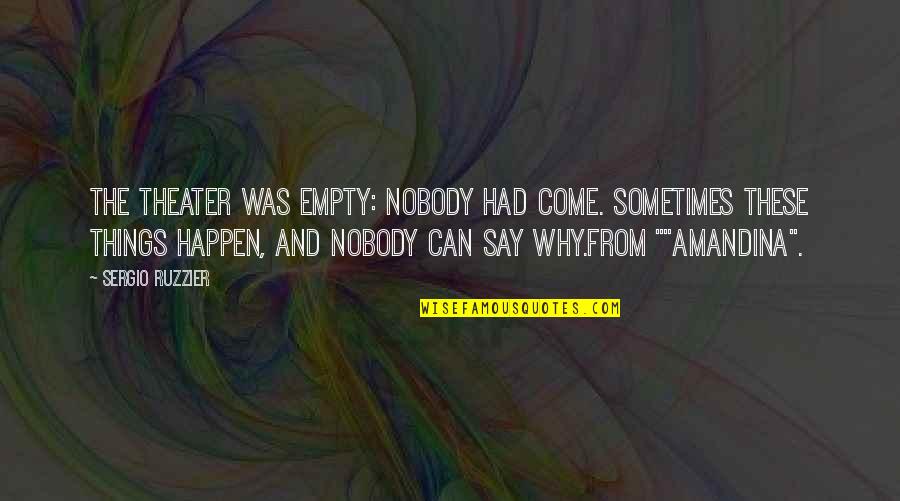 The theater was empty: nobody had come. Sometimes these things happen, and nobody can say why.
From ""Amandina". —
Sergio Ruzzier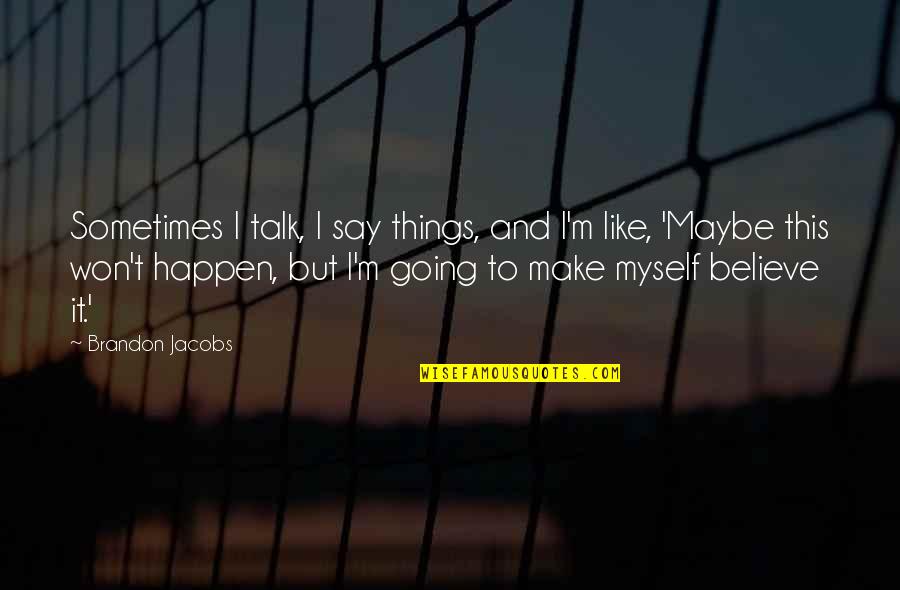 Sometimes I talk, I say things, and I'm like, 'Maybe this won't happen, but I'm going to make myself believe it.' —
Brandon Jacobs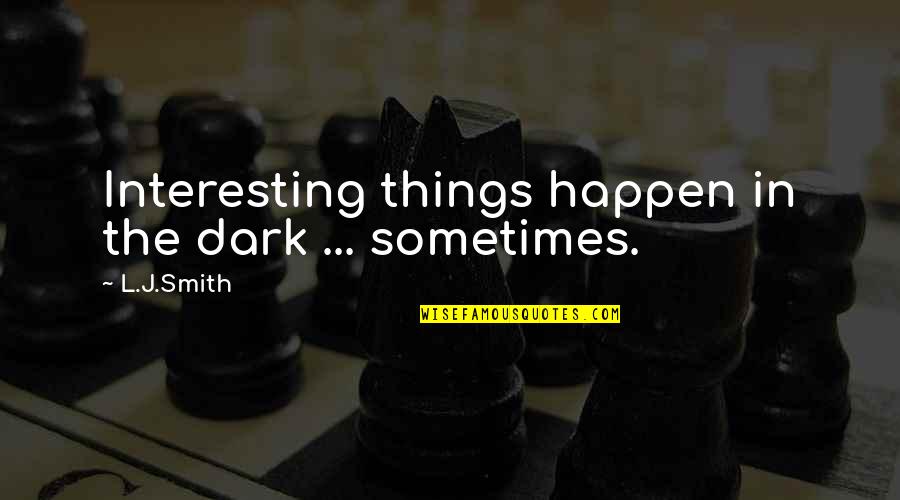 Interesting things happen in the dark ... sometimes. —
L.J.Smith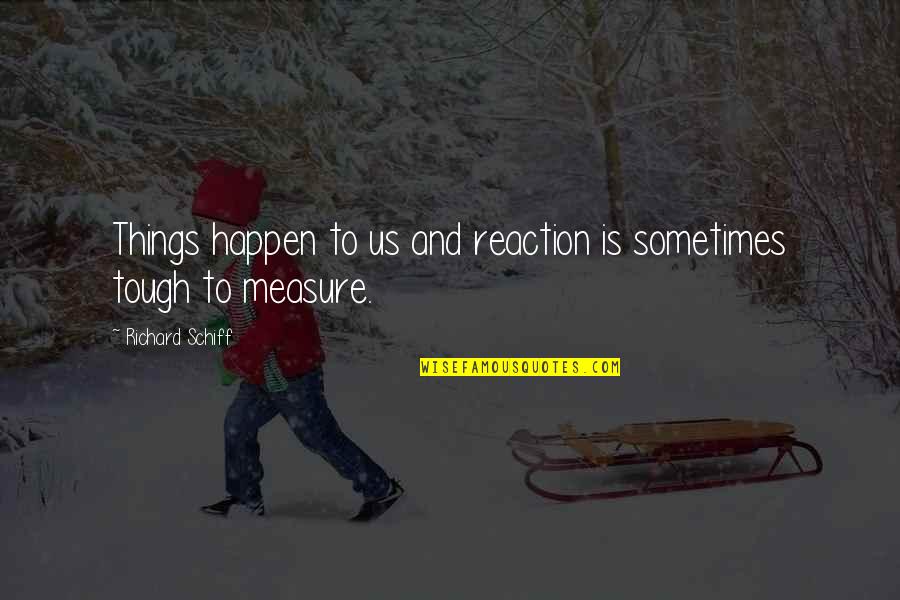 Things happen to us and reaction is sometimes tough to measure. —
Richard Schiff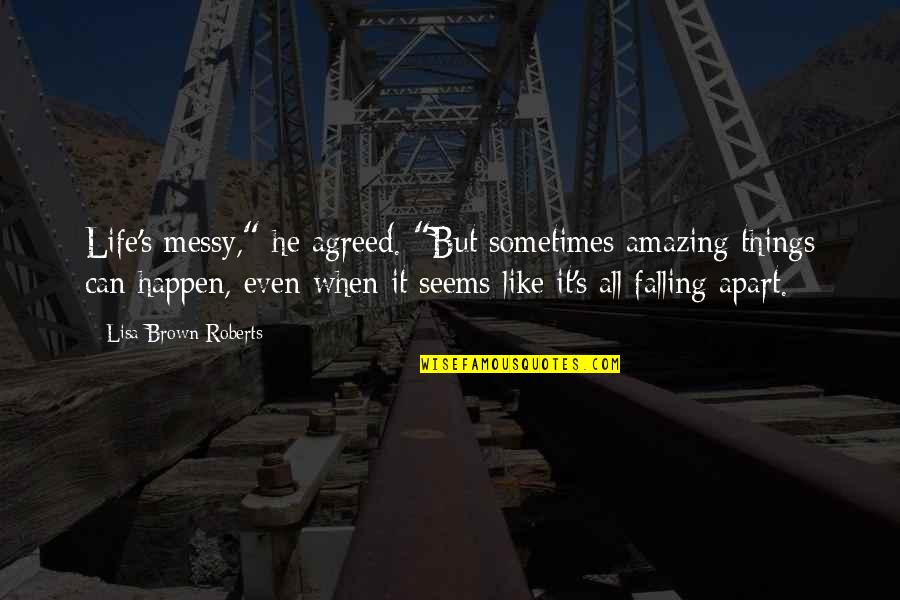 Life's messy," he agreed. "But sometimes amazing things can happen, even when it seems like it's all falling apart. —
Lisa Brown Roberts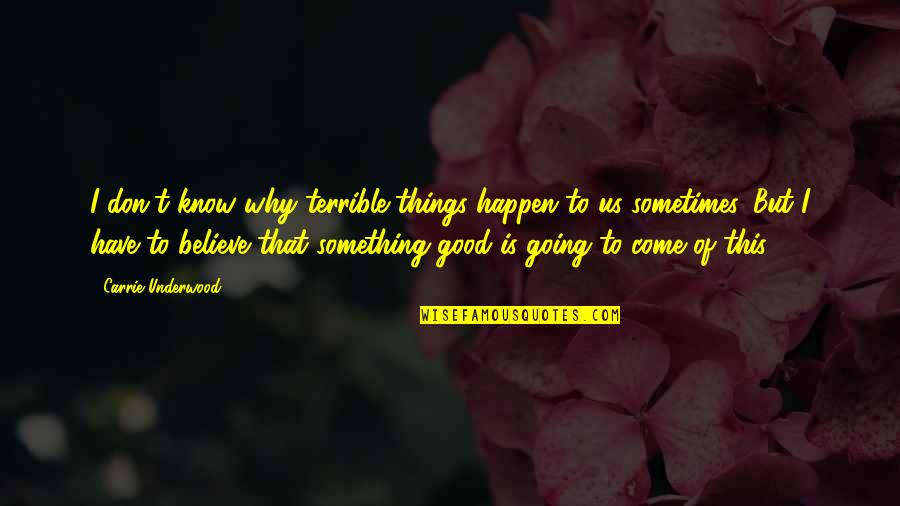 I don't know why terrible things happen to us sometimes. But I have to believe that something good is going to come of this. —
Carrie Underwood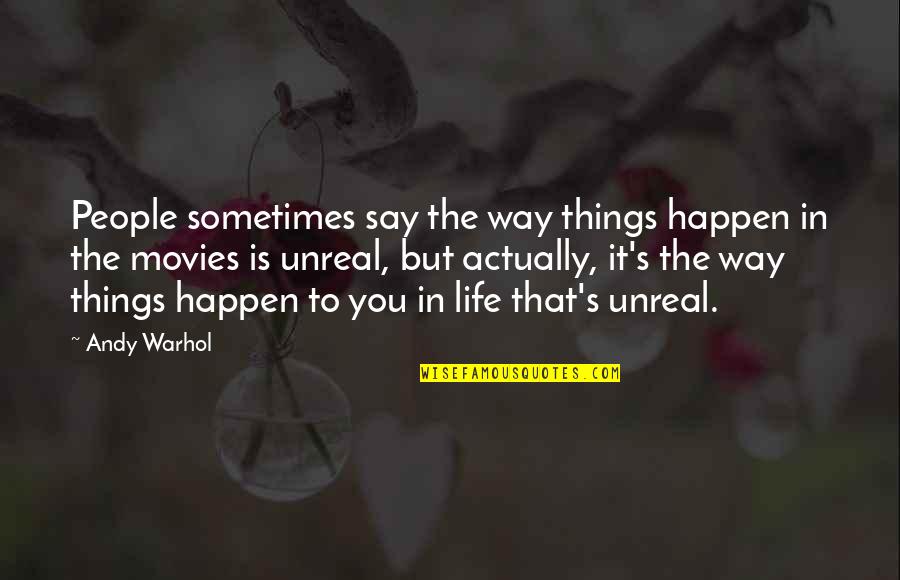 People sometimes say the way things happen in the movies is unreal, but actually, it's the way things happen to you in life that's unreal. —
Andy Warhol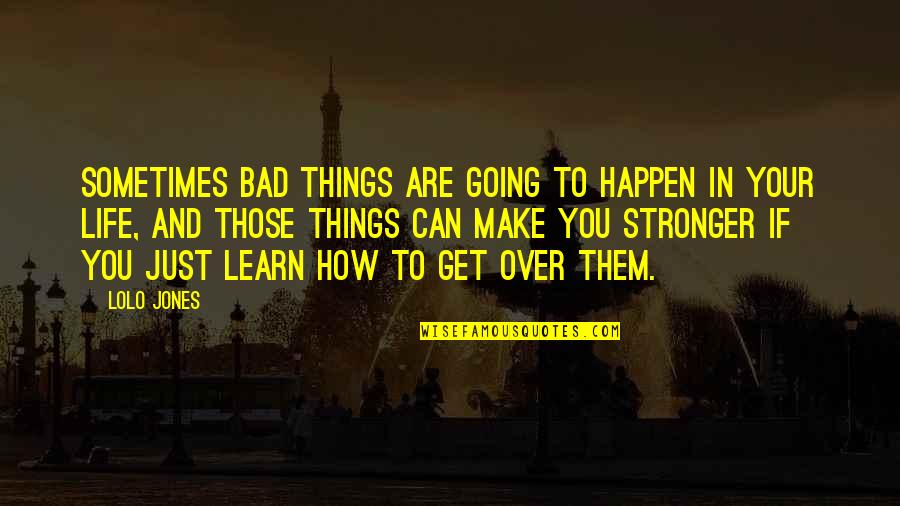 Sometimes bad things are going to happen in your life, and those things can make you stronger if you just learn how to get over them. —
Lolo Jones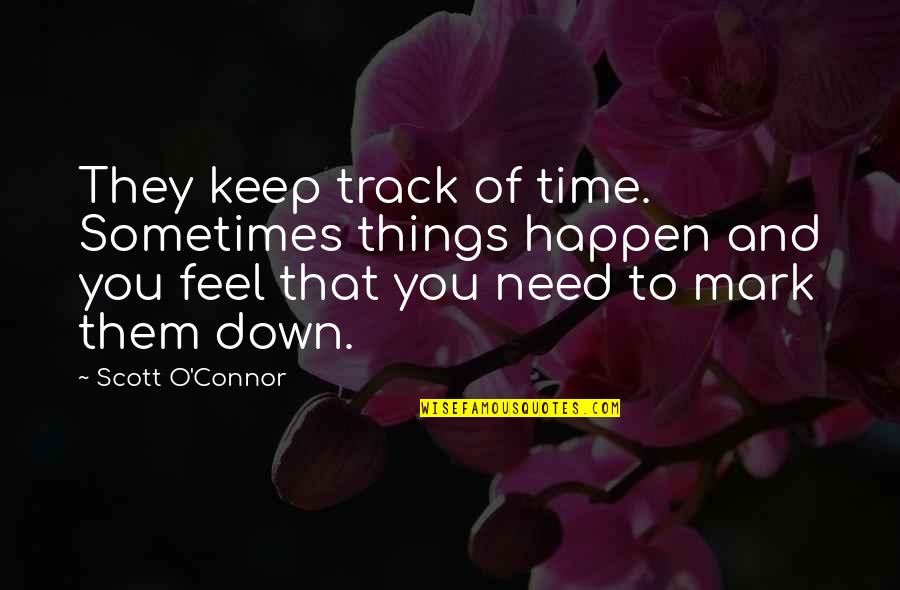 They keep track of time. Sometimes things happen and you feel that you need to mark them down. —
Scott O'Connor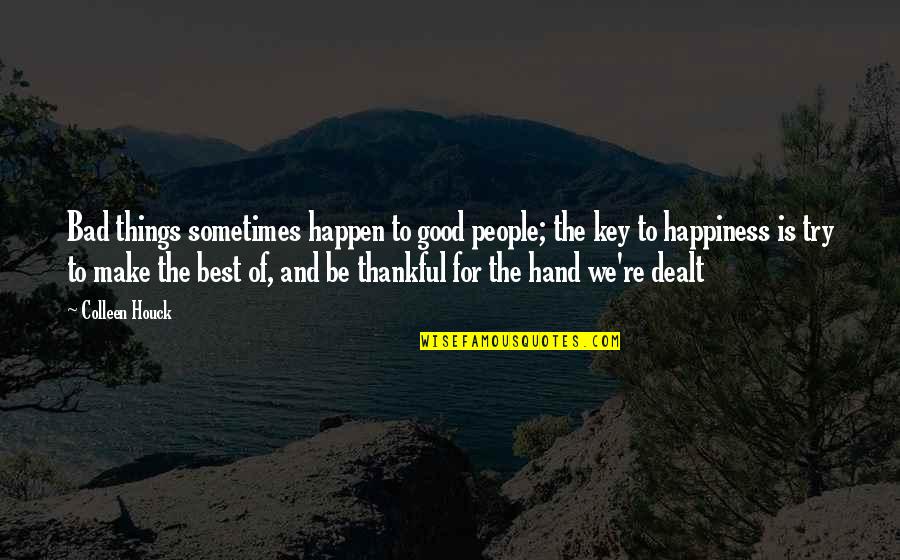 Bad things sometimes happen to good people; the key to happiness is try to make the best of, and be thankful for the hand we're dealt —
Colleen Houck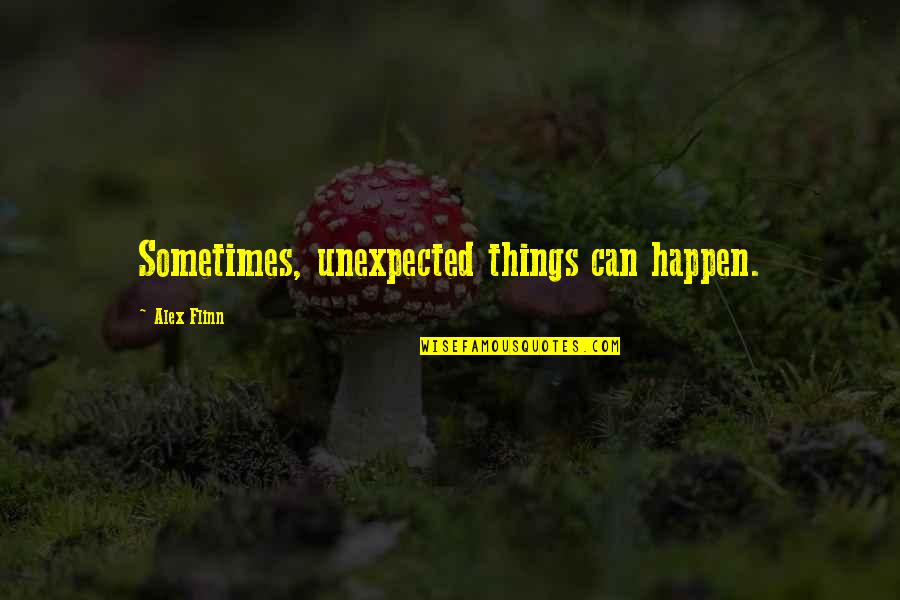 Sometimes, unexpected things can happen. —
Alex Flinn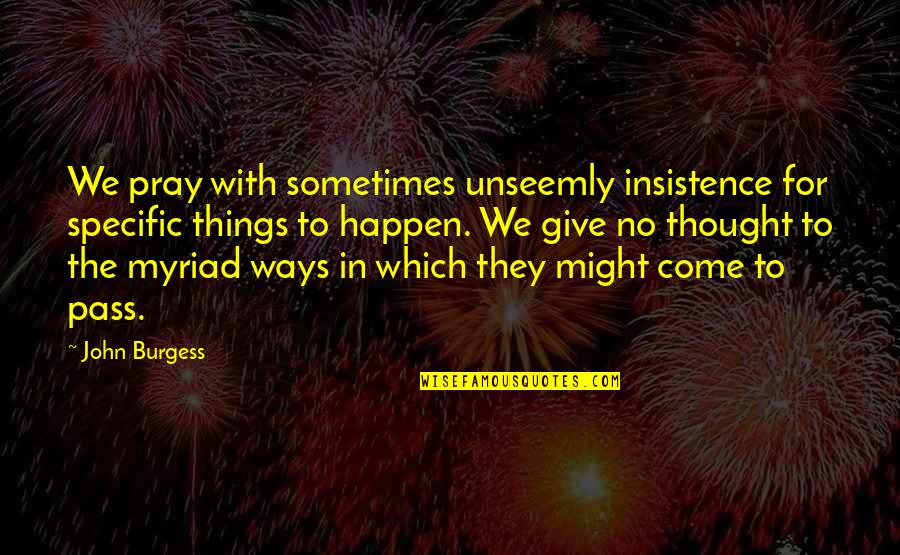 We pray with sometimes unseemly insistence for specific things to happen. We give no thought to the myriad ways in which they might come to pass. —
John Burgess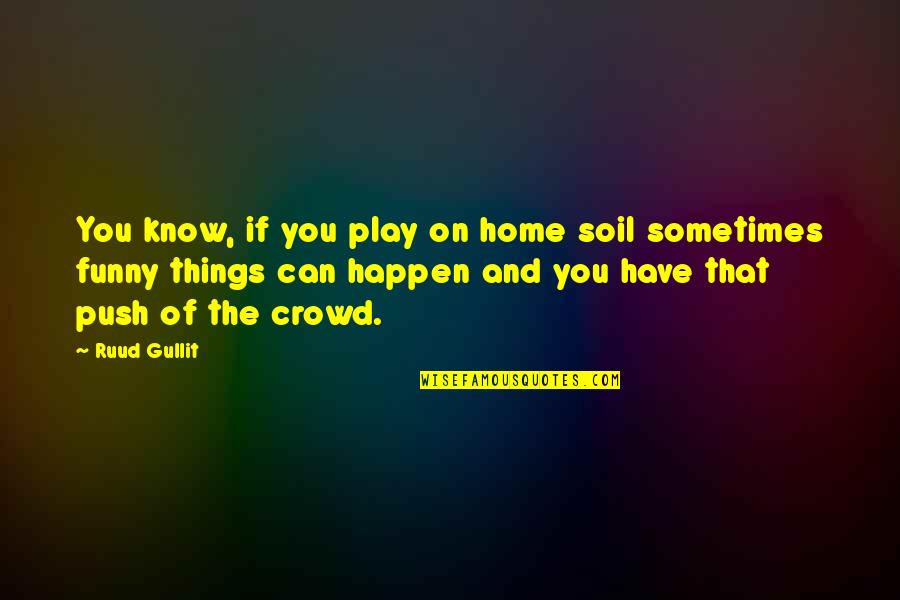 You know, if you play on home soil sometimes funny things can happen and you have that push of the crowd. —
Ruud Gullit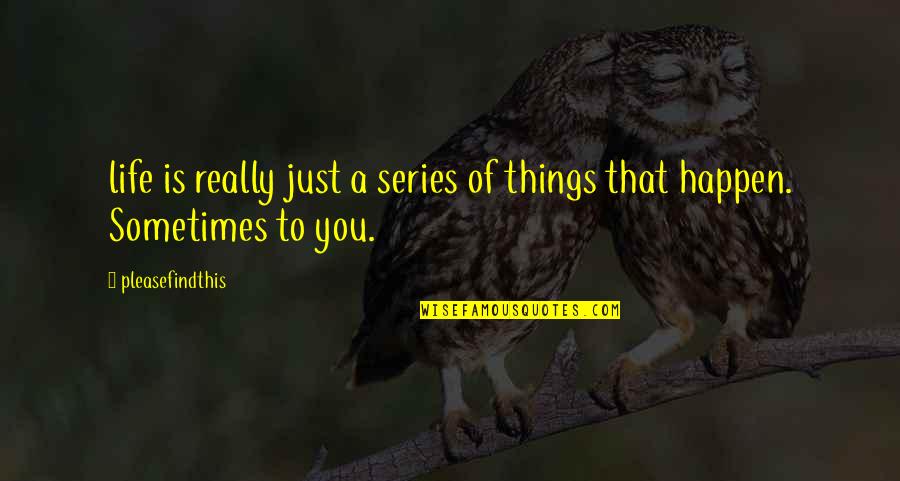 life is really just a series of things that happen. Sometimes to you. —
Pleasefindthis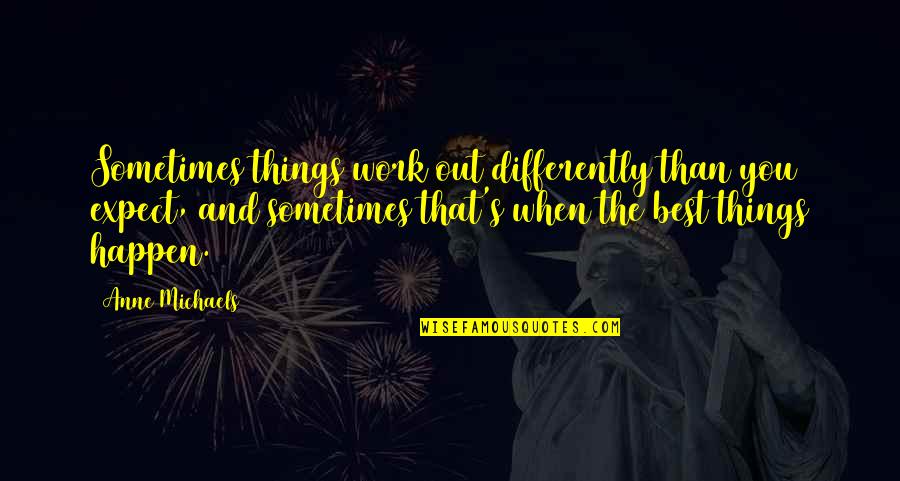 Sometimes things work out differently than you expect, and sometimes that's when the best things happen. —
Anne Michaels
The little things that happen. Sometimes they're insignificant; other times, they change everything. —
Gayle Forman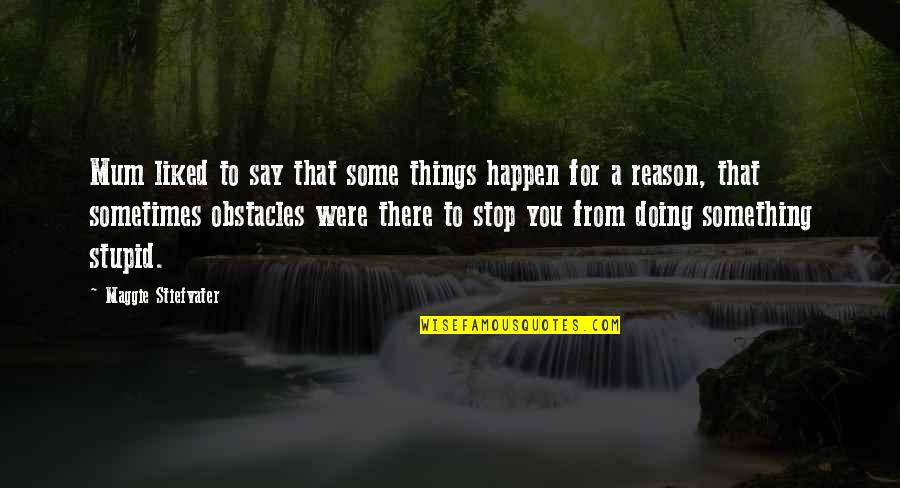 Mum liked to say that some things happen for a reason, that sometimes obstacles were there to stop you from doing something stupid. —
Maggie Stiefvater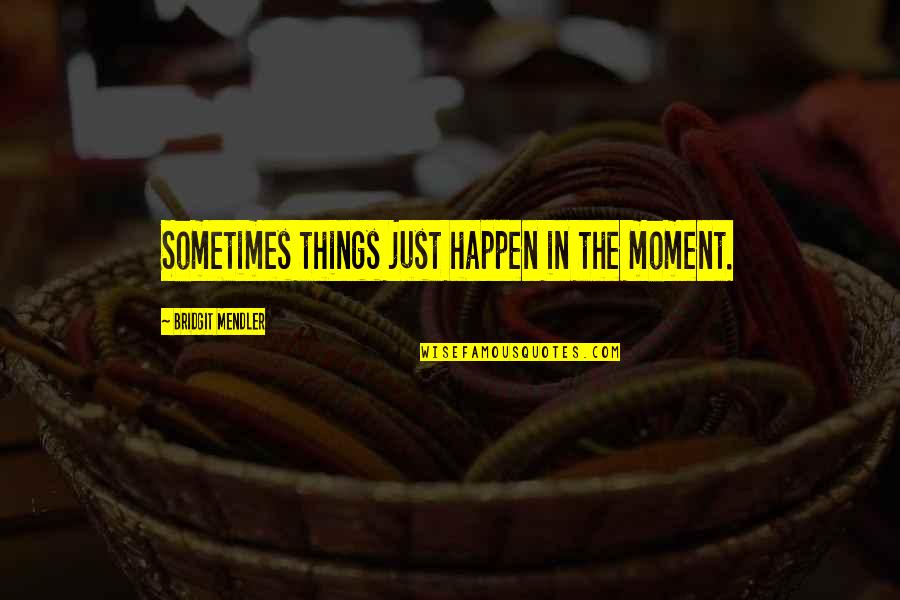 Sometimes things just happen
in the moment. —
Bridgit Mendler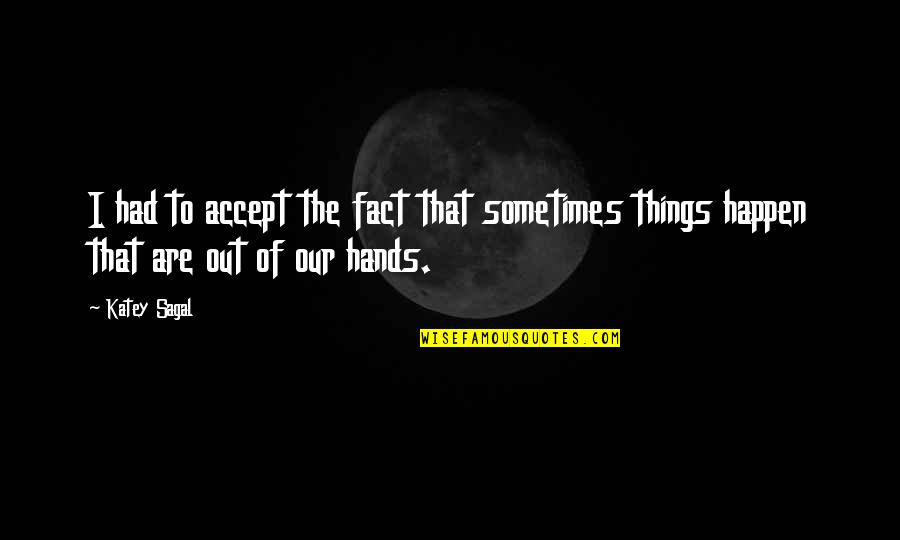 I had to accept the fact that sometimes things happen that are out of our hands. —
Katey Sagal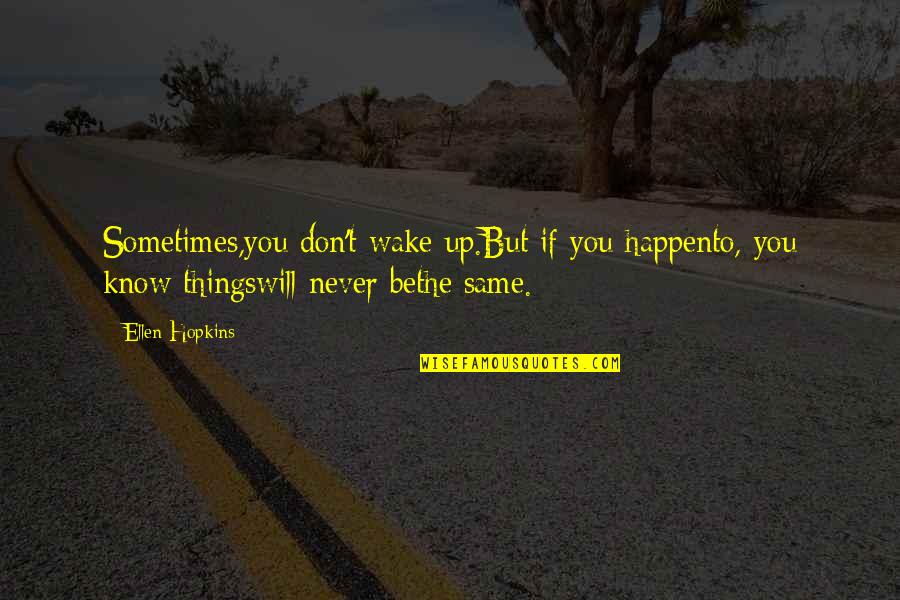 Sometimes,
you don't wake up.
But if you happen
to, you know things
will never be
the same. —
Ellen Hopkins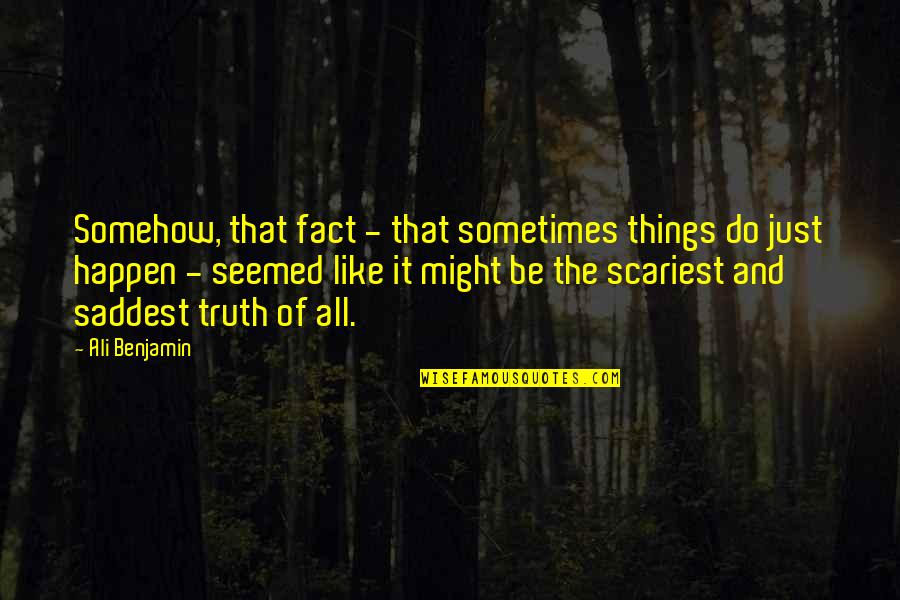 Somehow, that fact - that sometimes things do just happen - seemed like it might be the scariest and saddest truth of all. —
Ali Benjamin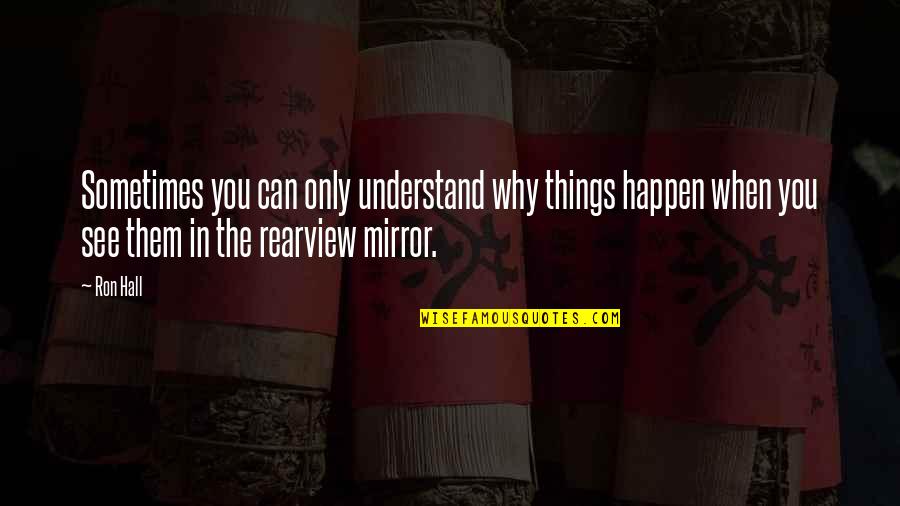 Sometimes you can only understand why things happen when you see them in the rearview mirror. —
Ron Hall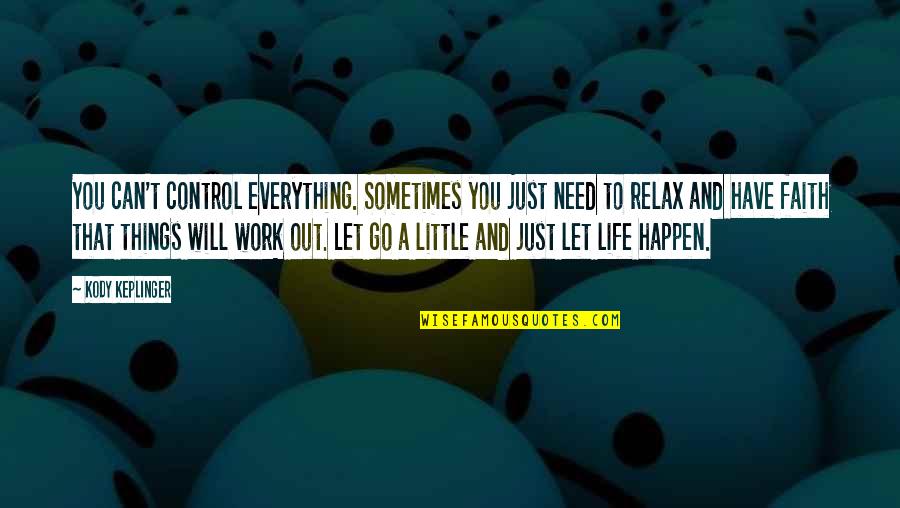 You can't control everything. Sometimes you just need to relax and have faith that things will work out. Let go a little and just let life happen. —
Kody Keplinger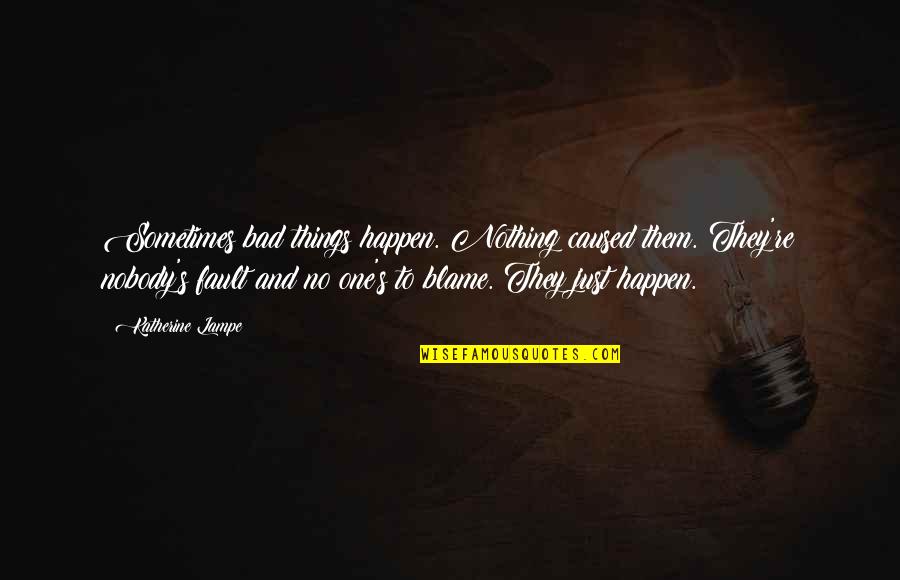 Sometimes bad things happen. Nothing caused them. They're nobody's fault and no one's to blame. They just happen. —
Katherine Lampe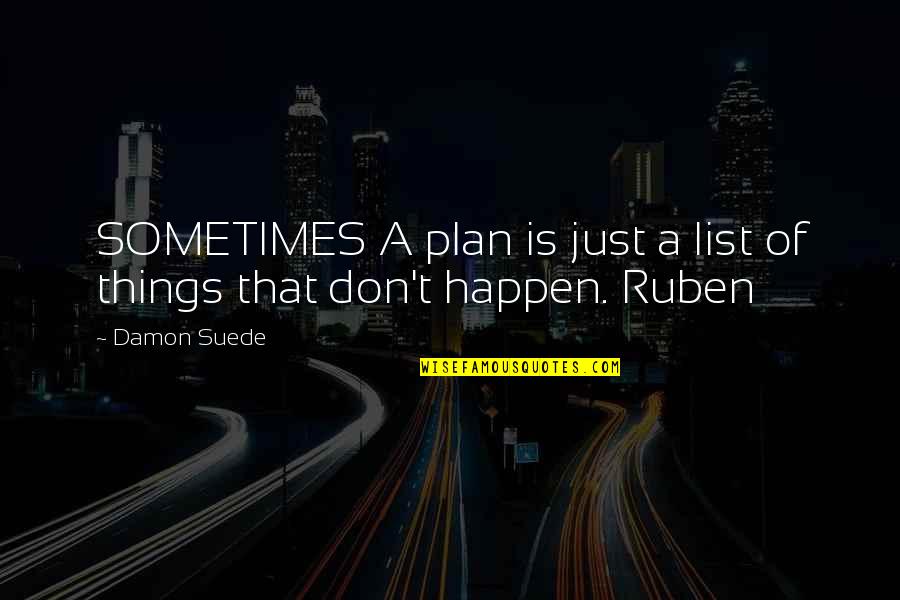 SOMETIMES A plan is just a list of things that don't happen. Ruben —
Damon Suede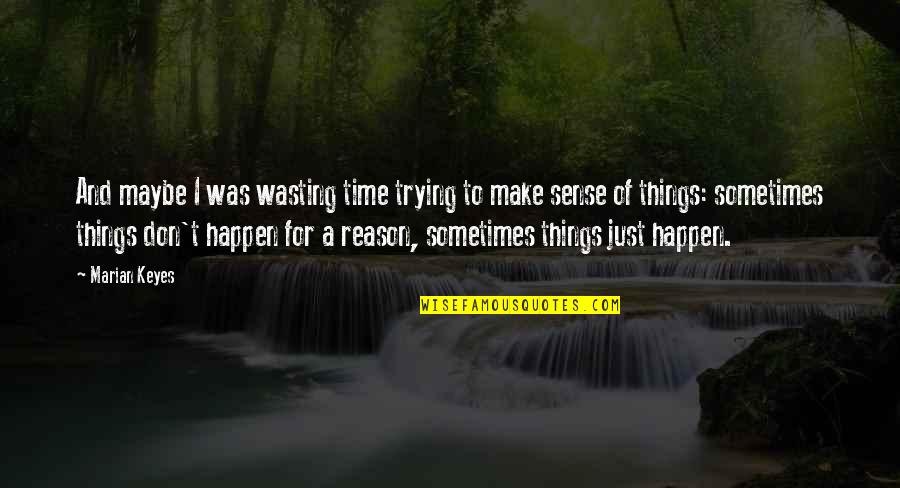 And maybe I was wasting time trying to make sense of things: sometimes things don't happen for a reason,
sometimes things just happen
. —
Marian Keyes