On your journey to achieve your dreams you will face challenges that will test you to the core.
—
John Patrick Hickey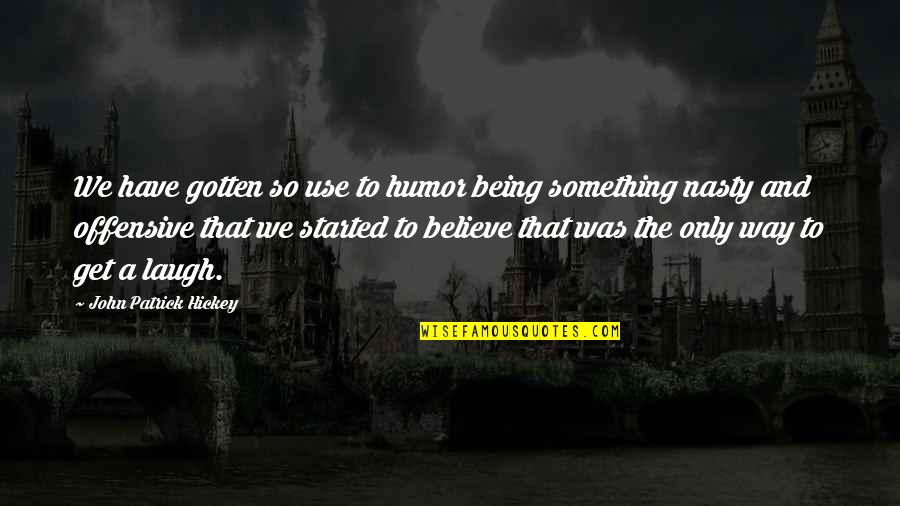 We have gotten so use to humor being something nasty and offensive that we started to believe that was the only way to get a laugh.
—
John Patrick Hickey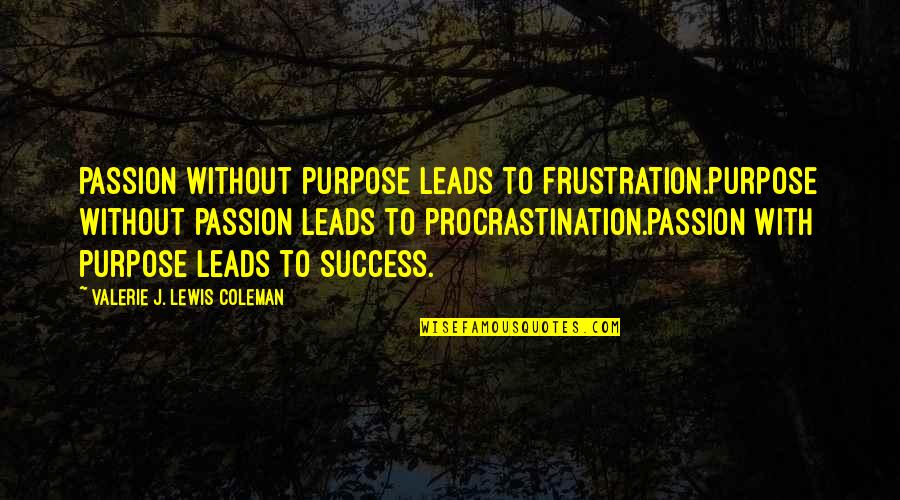 Passion without purpose leads to frustration.
Purpose without passion leads to procrastination.
Passion with purpose leads to success.
—
Valerie J. Lewis Coleman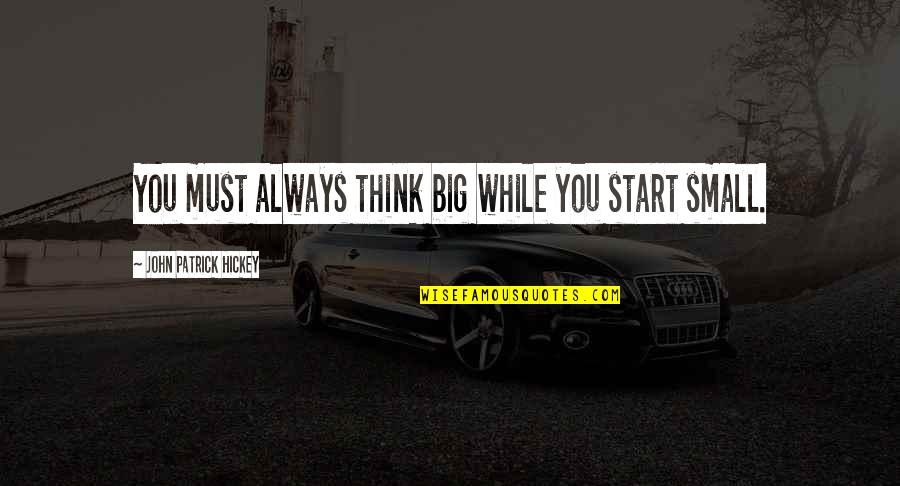 You must always think big while you start small.
—
John Patrick Hickey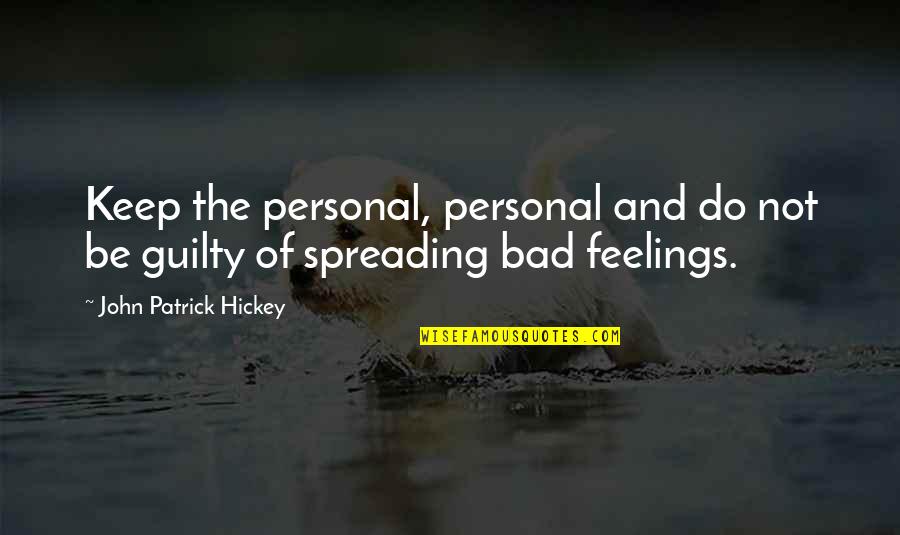 Keep the personal, personal and do not be guilty of spreading bad feelings.
—
John Patrick Hickey
The only thing tougher than developing leadership skills is attempting to be successful without them.
—
Orrin Woodward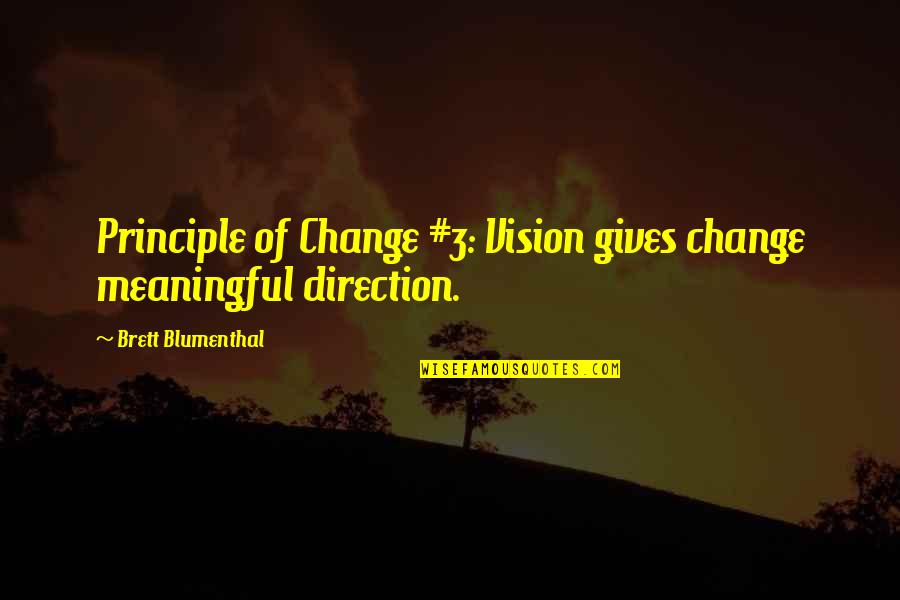 Principle of Change #3: Vision gives change meaningful direction.
—
Brett Blumenthal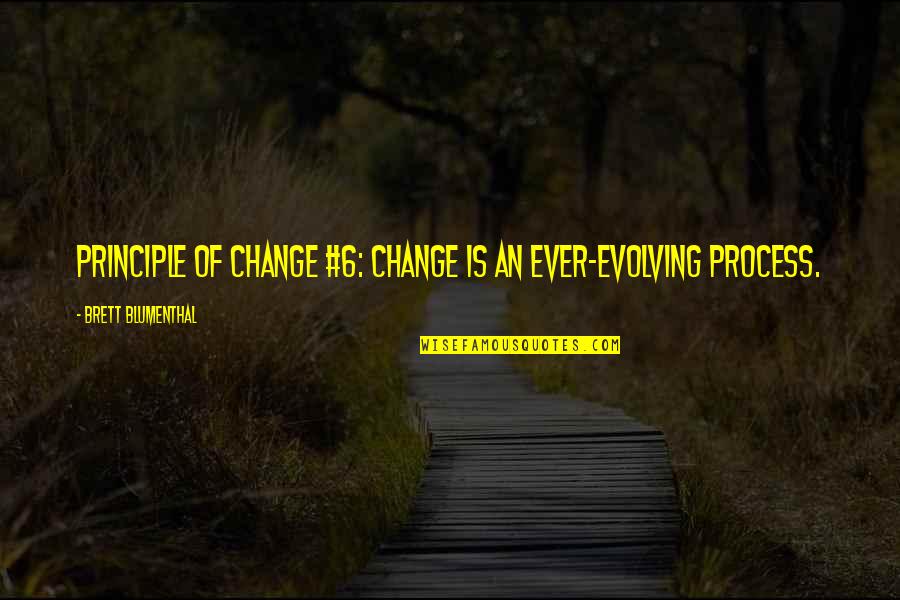 Principle of Change #6: Change is an ever-evolving process.
—
Brett Blumenthal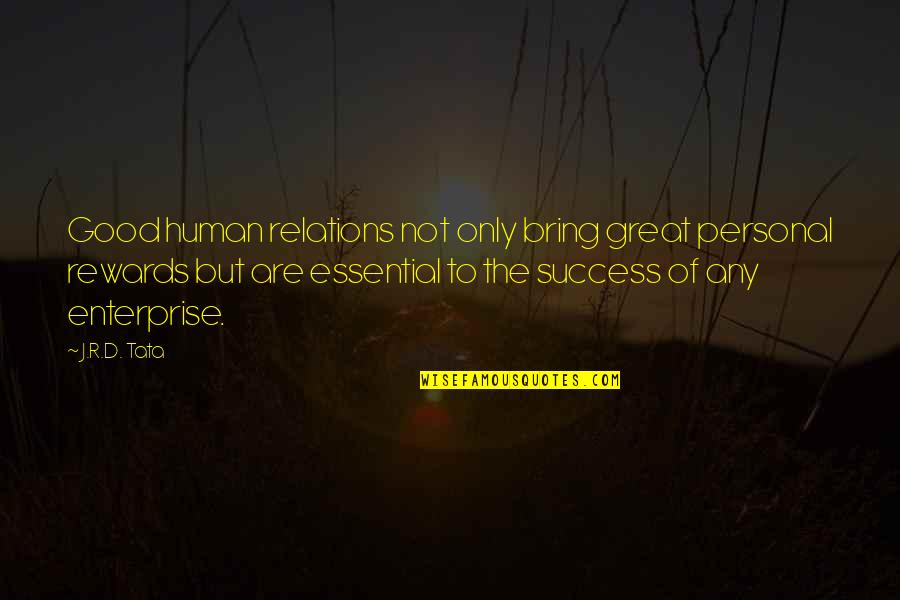 Good human relations not only bring great personal rewards but are essential to the success of any enterprise.
—
J.R.D. Tata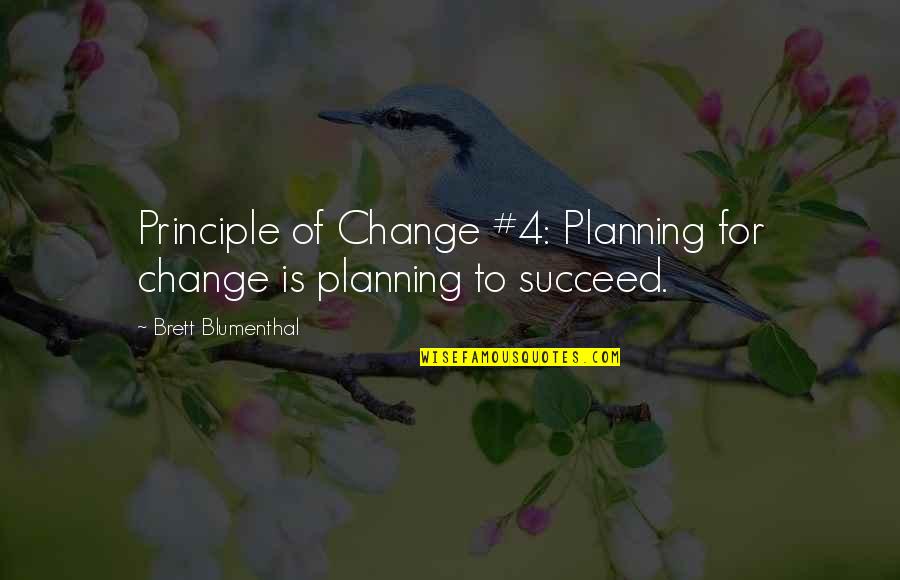 Principle of Change #4: Planning for change is planning to succeed.
—
Brett Blumenthal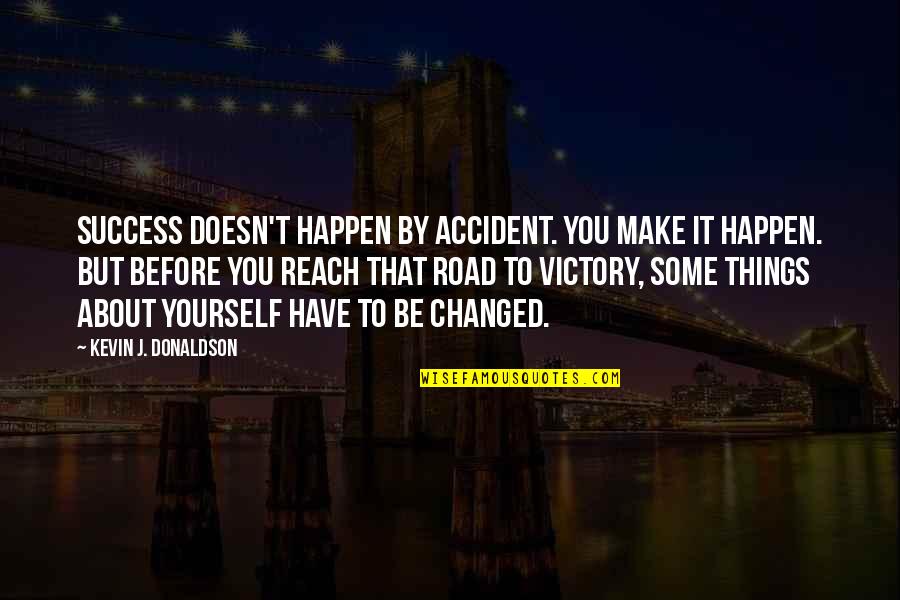 Success doesn't happen by accident. You make it happen. But before you reach that road to victory, some things about yourself have to be changed.
—
Kevin J. Donaldson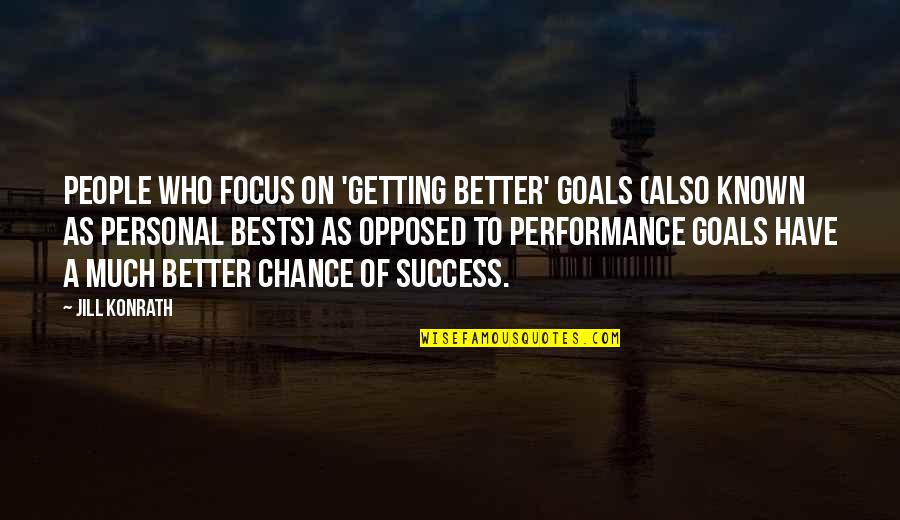 People who focus on 'getting better' goals (also known as Personal Bests) as opposed to performance goals have a much better chance of success.
—
Jill Konrath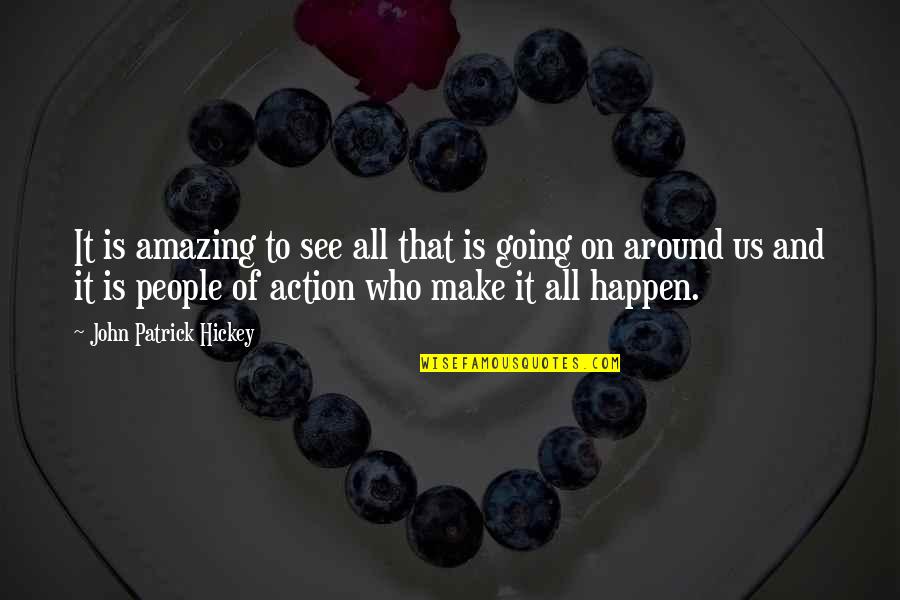 It is amazing to see all that is going on around us and it is people of action who make it all happen. —
John Patrick Hickey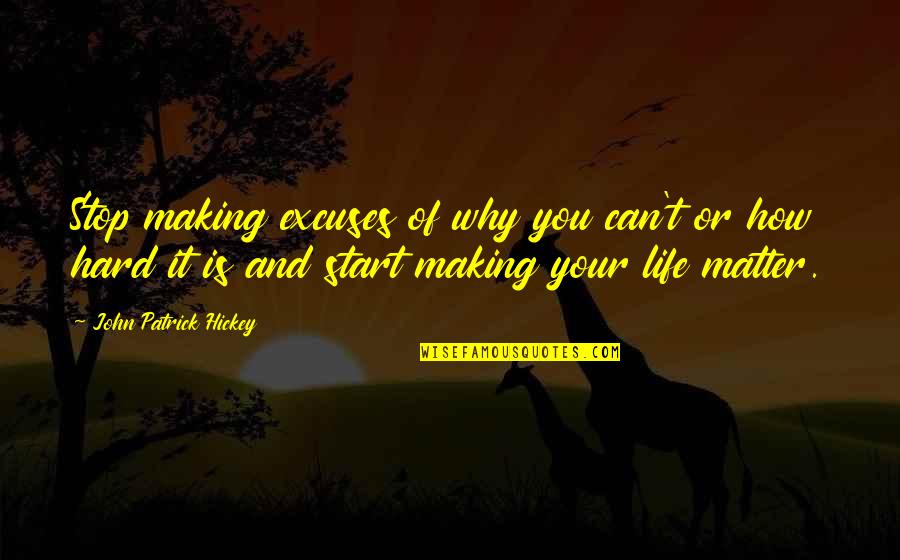 Stop making excuses of why you can't or how hard it is and start making your life matter. —
John Patrick Hickey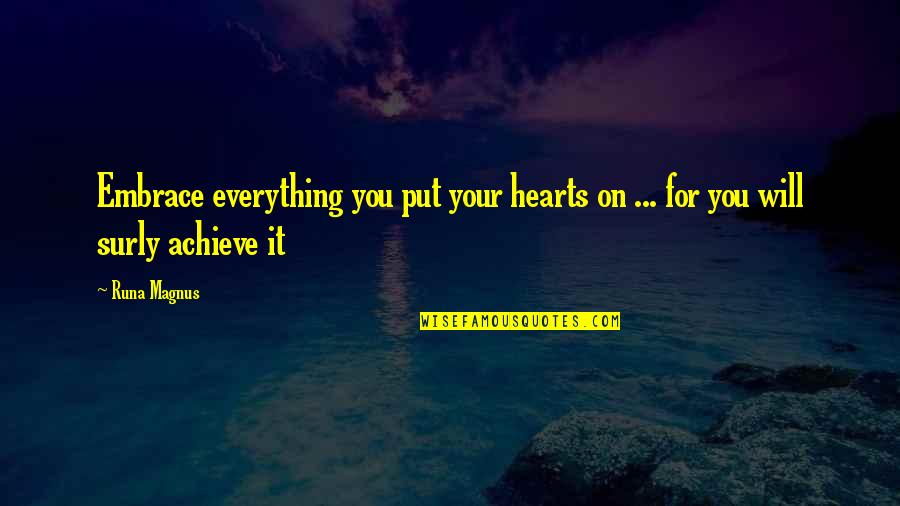 Embrace everything you put your hearts on ... for you will surly achieve it —
Runa Magnus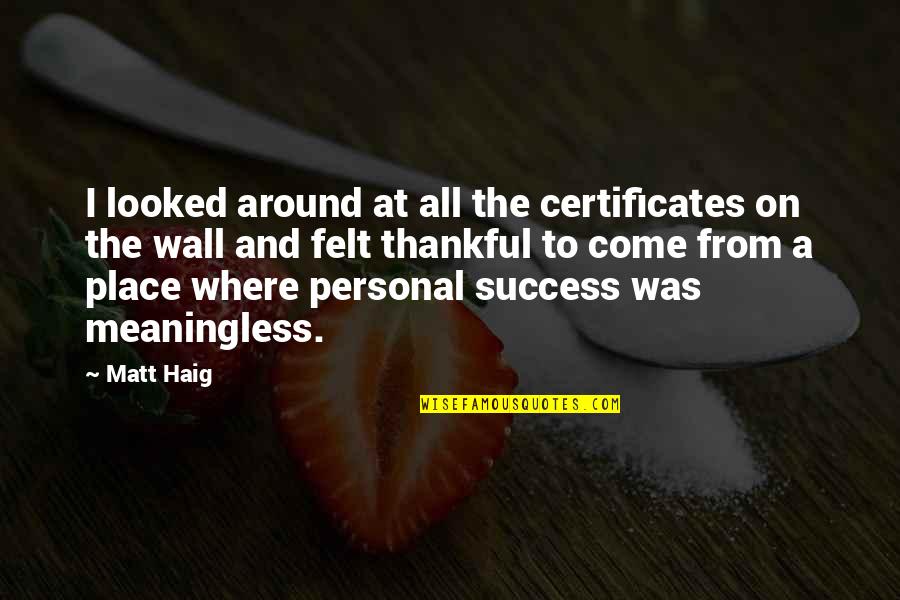 I looked around at all the certificates on the wall and felt thankful to come from a place where
personal success
was meaningless. —
Matt Haig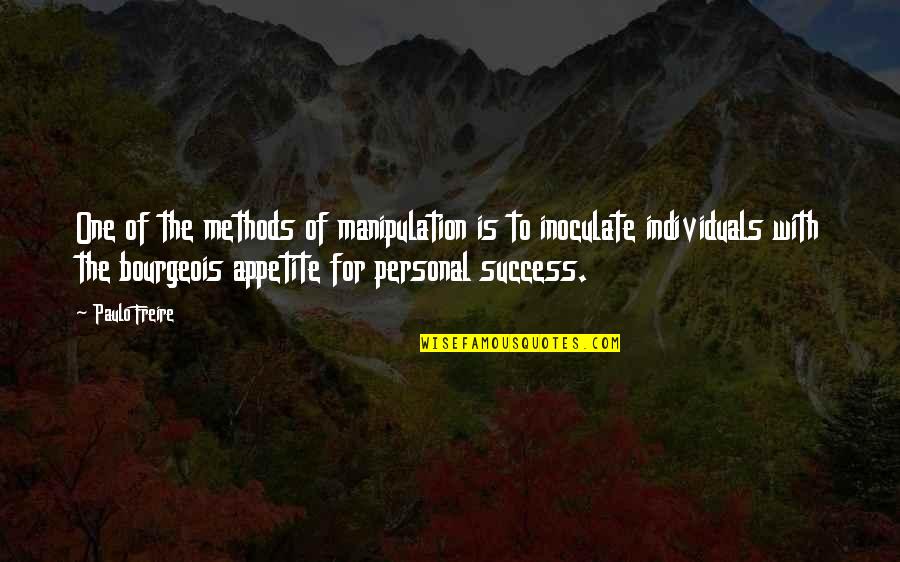 One of the methods of manipulation is to inoculate individuals with the bourgeois appetite for
personal success
. —
Paulo Freire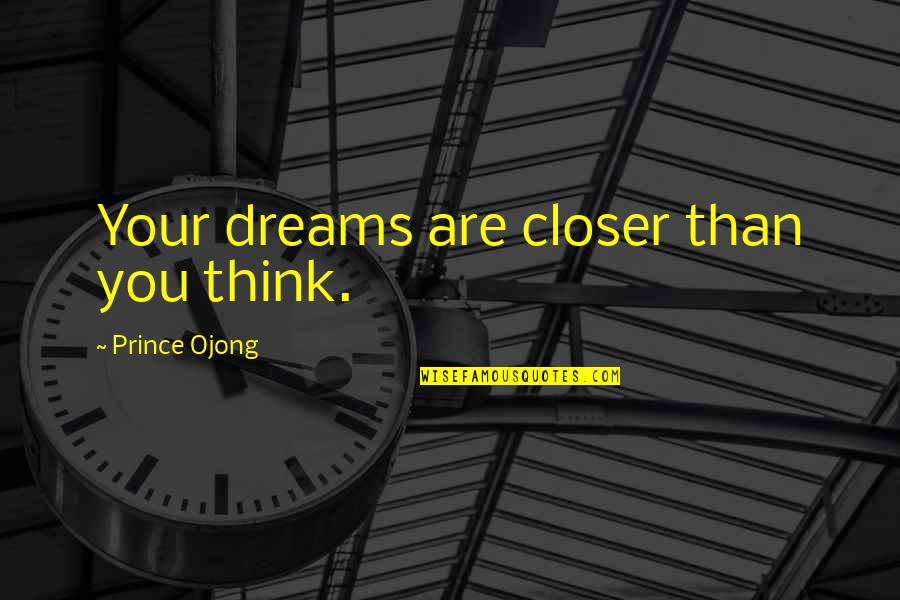 Your dreams are closer than you think. —
Prince Ojong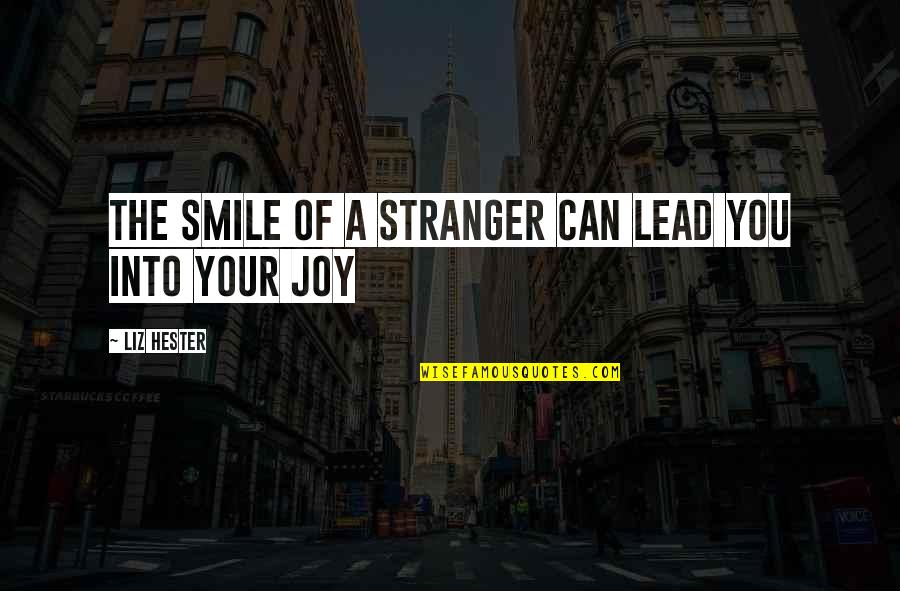 The smile of a stranger can lead you into your joy —
Liz Hester
Determination knows that you can do what it takes, even if that is hard or frightening, in order to achieve the goal you seek. —
John Patrick Hickey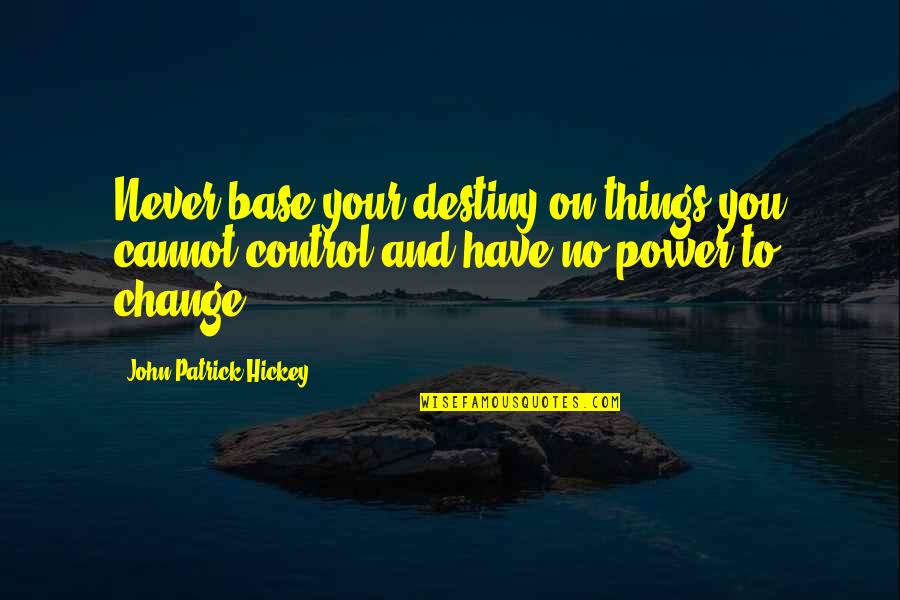 Never base your destiny on things you cannot control and have no power to change. —
John Patrick Hickey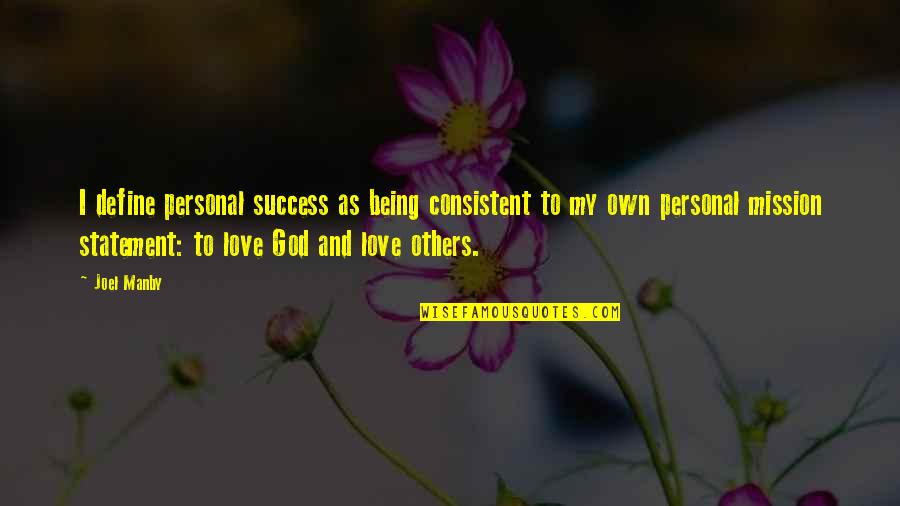 I define
personal success
as being consistent to my own personal mission statement: to love God and love others. —
Joel Manby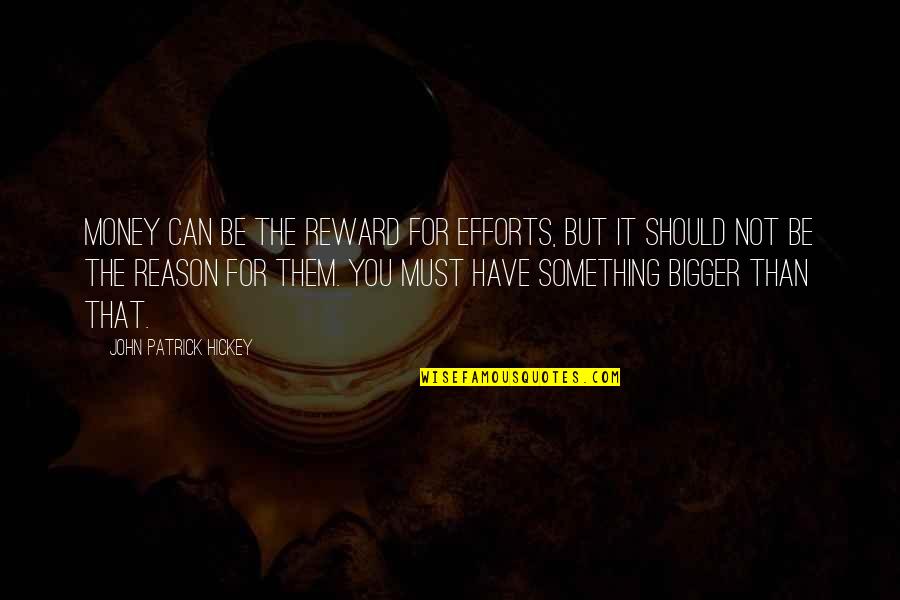 Money can be the reward for efforts, but it should not be the reason for them. You must have something bigger than that. —
John Patrick Hickey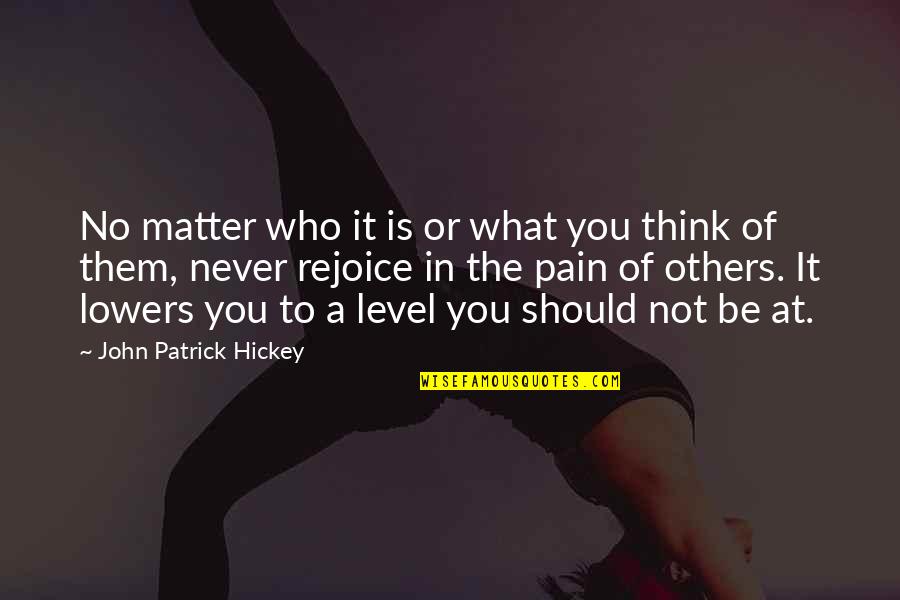 No matter who it is or what you think of them, never rejoice in the pain of others. It lowers you to a level you should not be at. —
John Patrick Hickey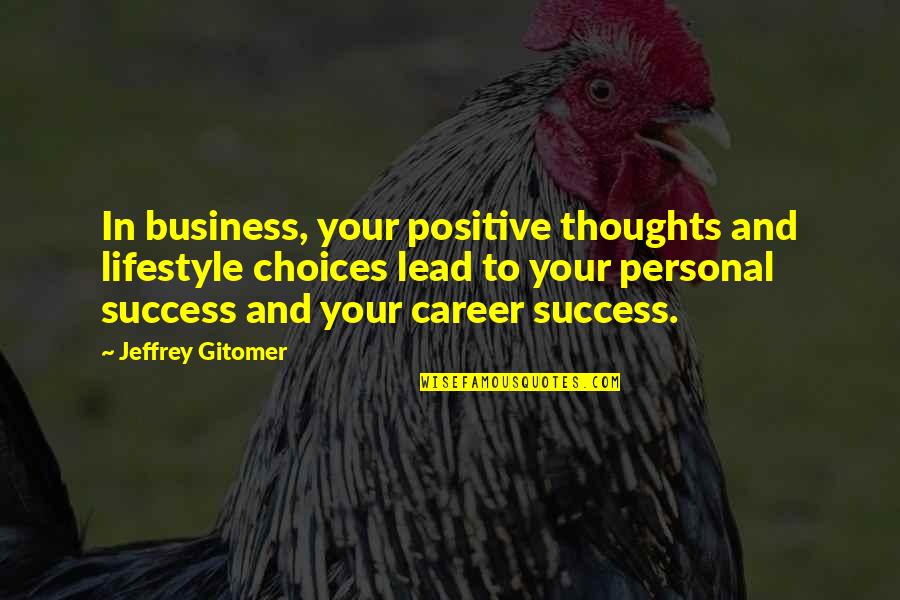 In business, your positive thoughts and lifestyle choices lead to your
personal success
and your career success. —
Jeffrey Gitomer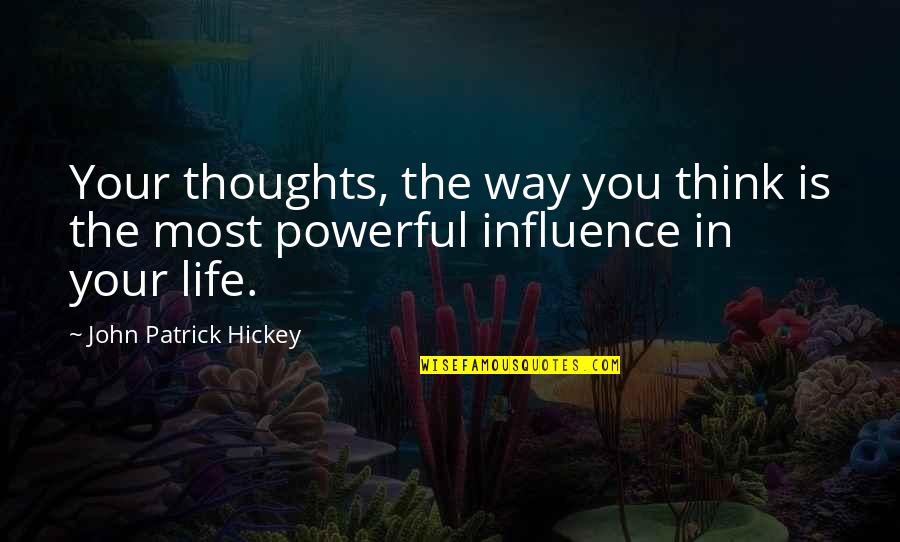 Your thoughts, the way you think is the most powerful influence in your life. —
John Patrick Hickey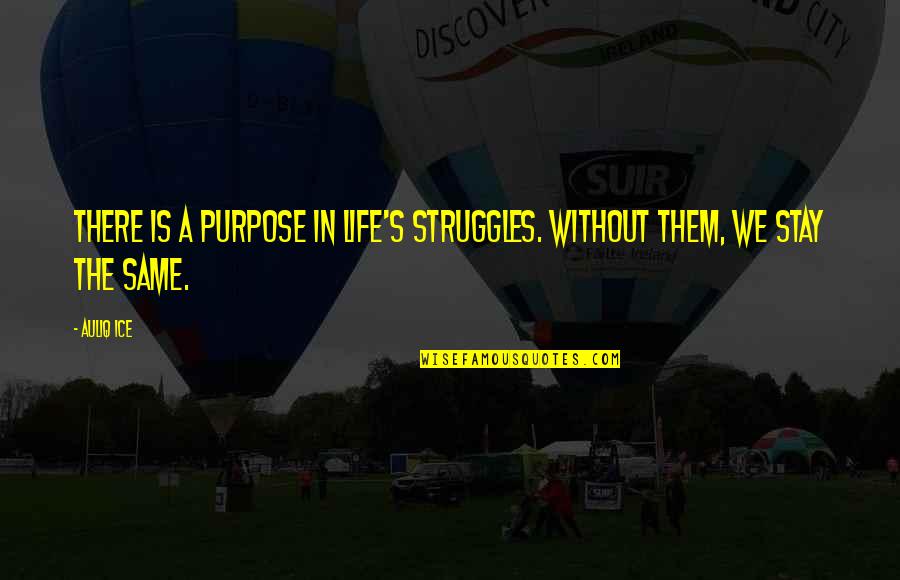 There is a purpose in life's struggles. Without them, we stay the same. —
Auliq Ice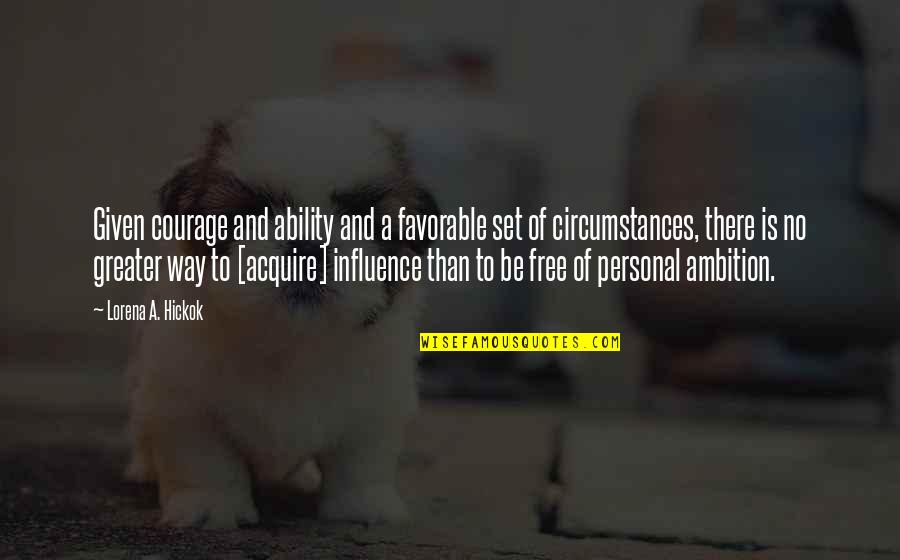 Given courage and ability and a favorable set of circumstances, there is no greater way to [acquire] influence than to be free of personal ambition. —
Lorena A. Hickok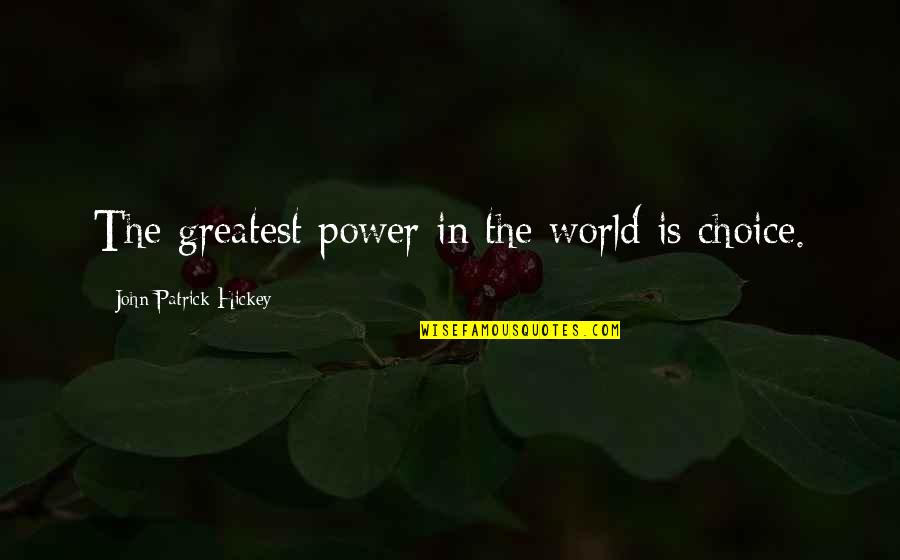 The greatest power in the world is choice. —
John Patrick Hickey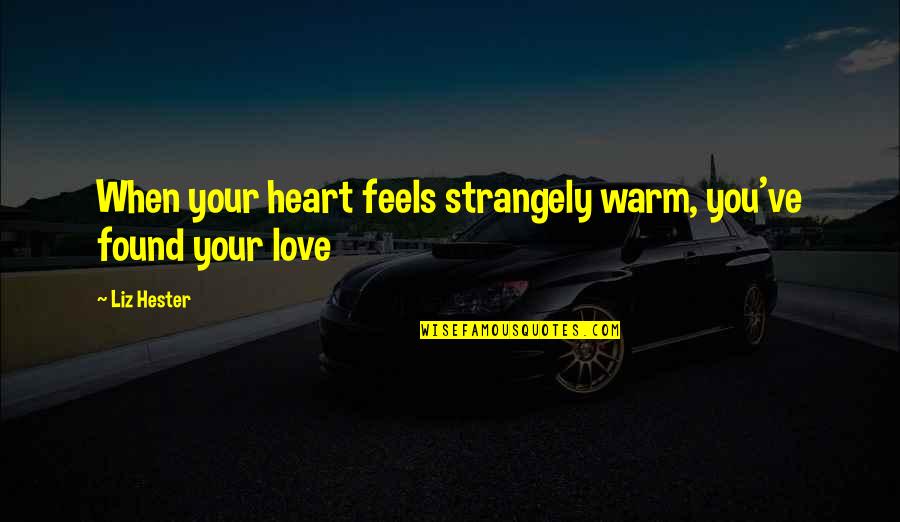 When your heart feels strangely warm, you've found your love —
Liz Hester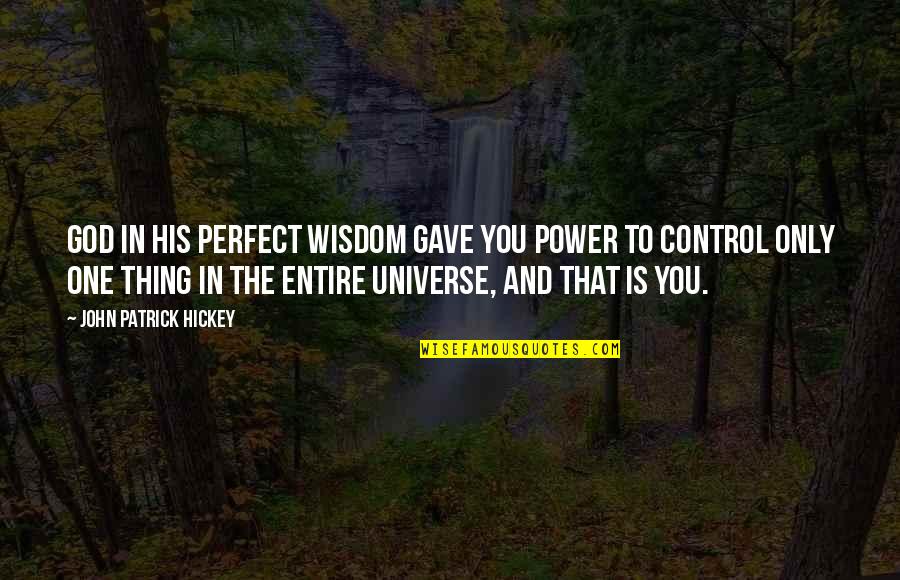 God in His perfect wisdom gave you power to control only one thing in the entire universe, and that is you. —
John Patrick Hickey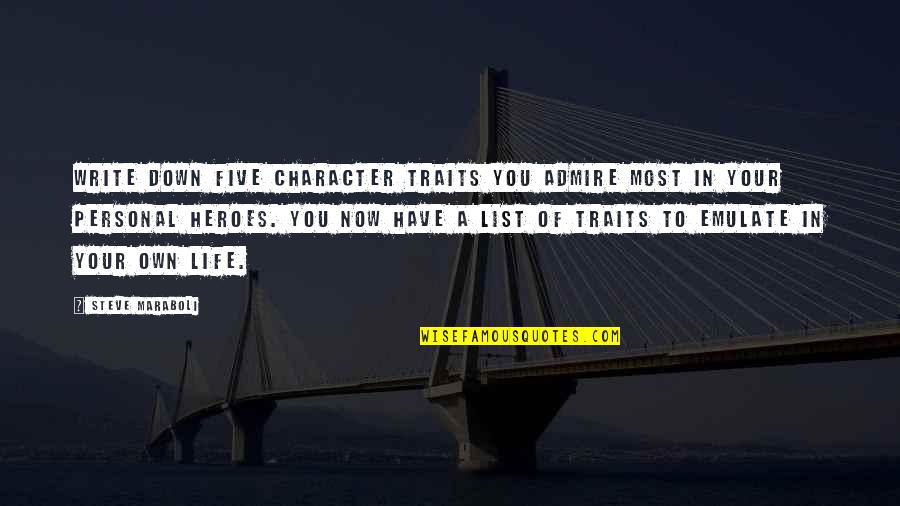 Write down five character traits you admire most in your personal heroes. You now have a list of traits to emulate in your own life. —
Steve Maraboli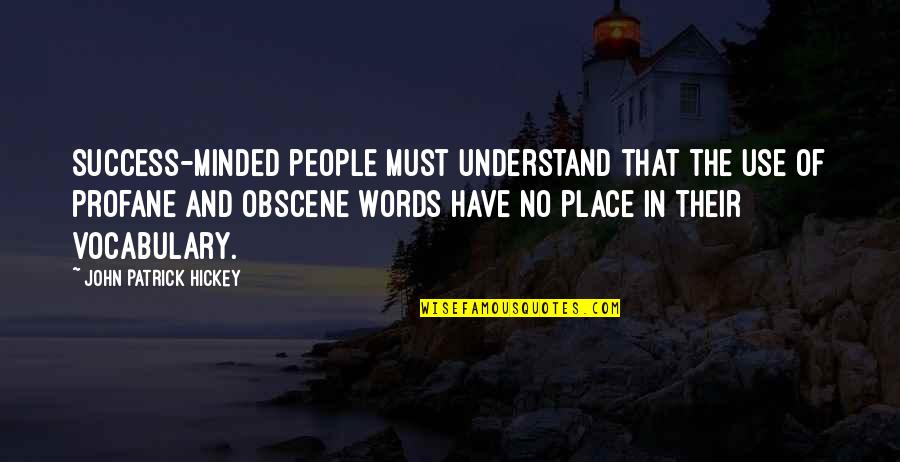 Success-minded people must understand that the use of profane and obscene words have no place in their vocabulary. —
John Patrick Hickey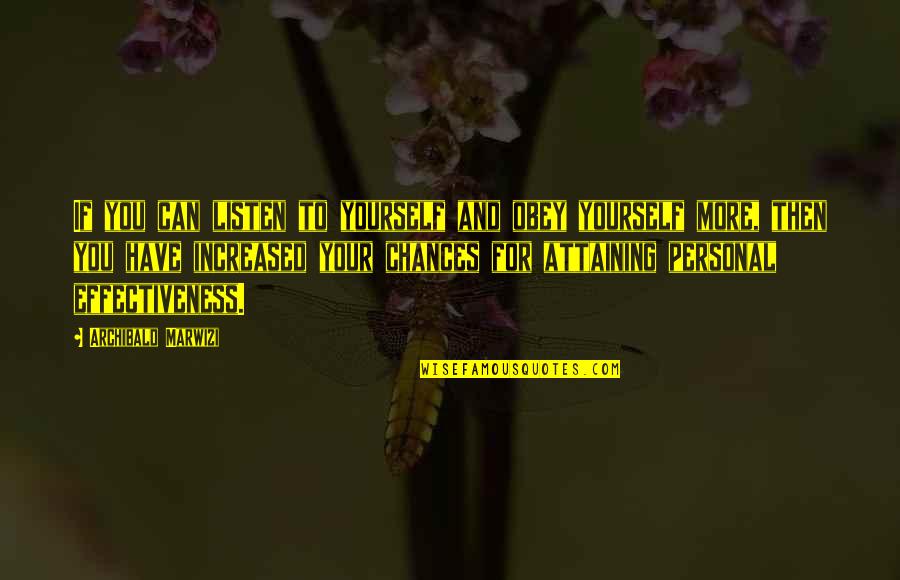 If you can listen to yourself and obey yourself more, then you have increased your chances for attaining personal effectiveness. —
Archibald Marwizi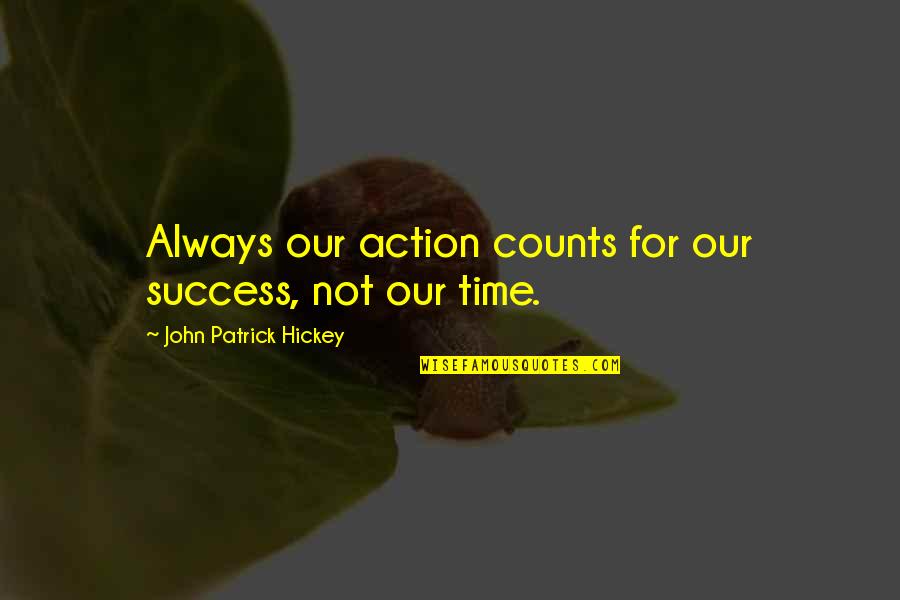 Always our action counts for our success, not our time. —
John Patrick Hickey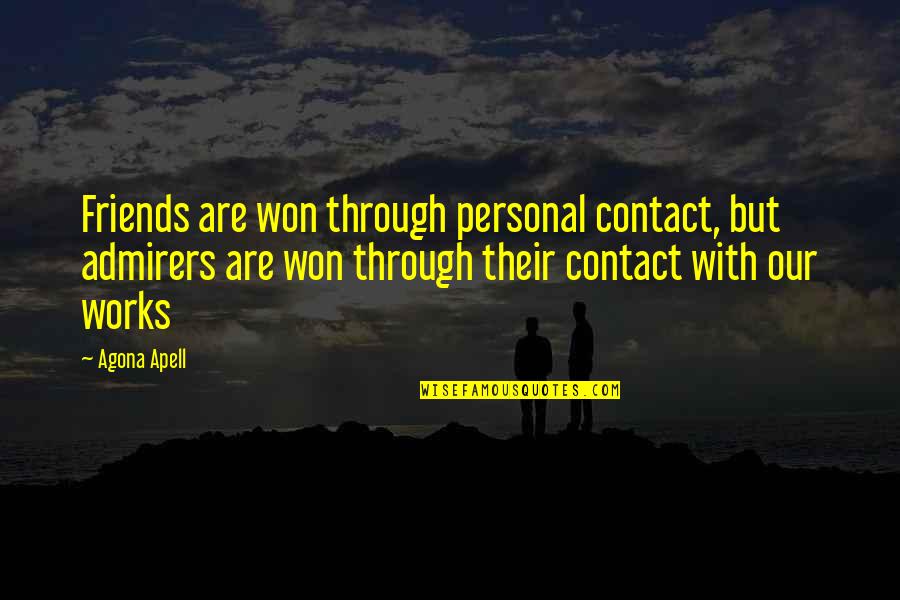 Friends are won through personal contact, but admirers are won through their contact with our works —
Agona Apell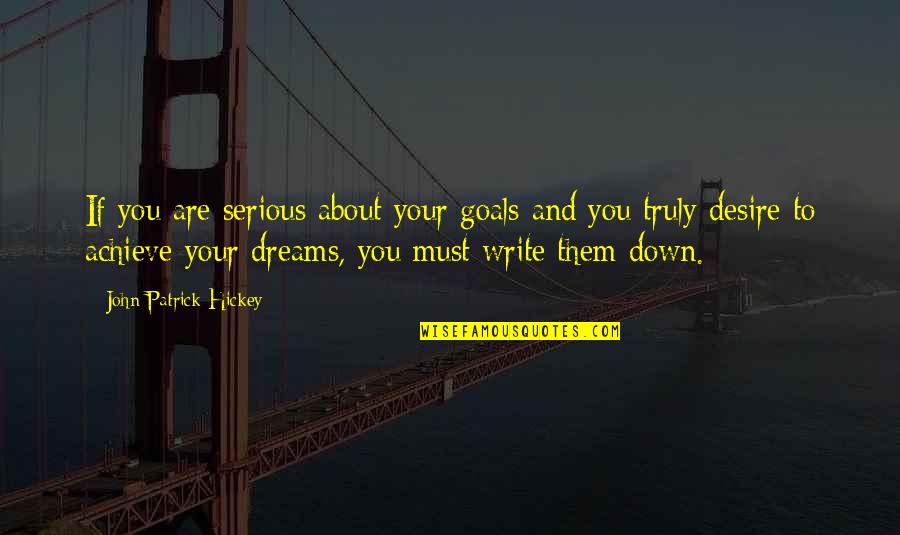 If you are serious about your goals and you truly desire to achieve your dreams, you must write them down. —
John Patrick Hickey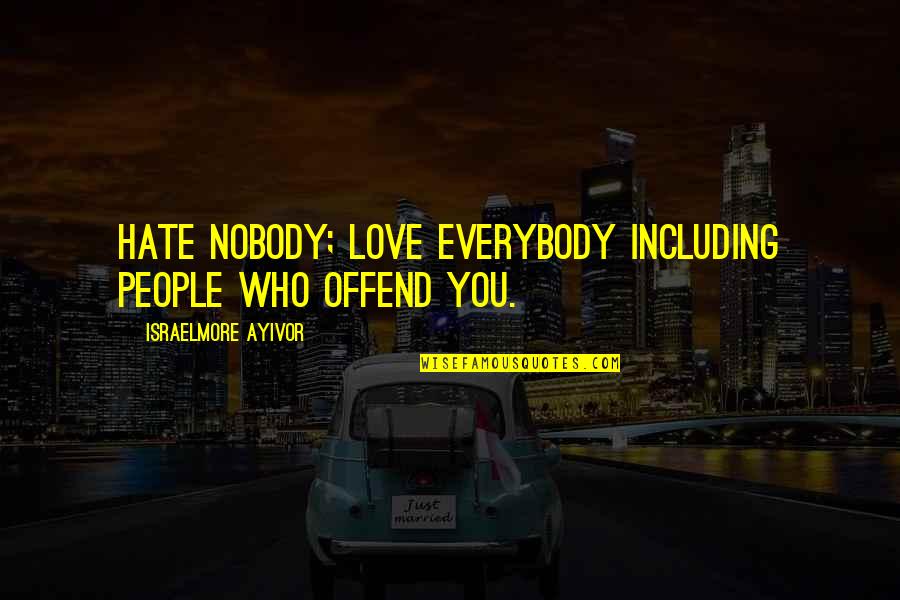 Hate nobody; love everybody including people who offend you. —
Israelmore Ayivor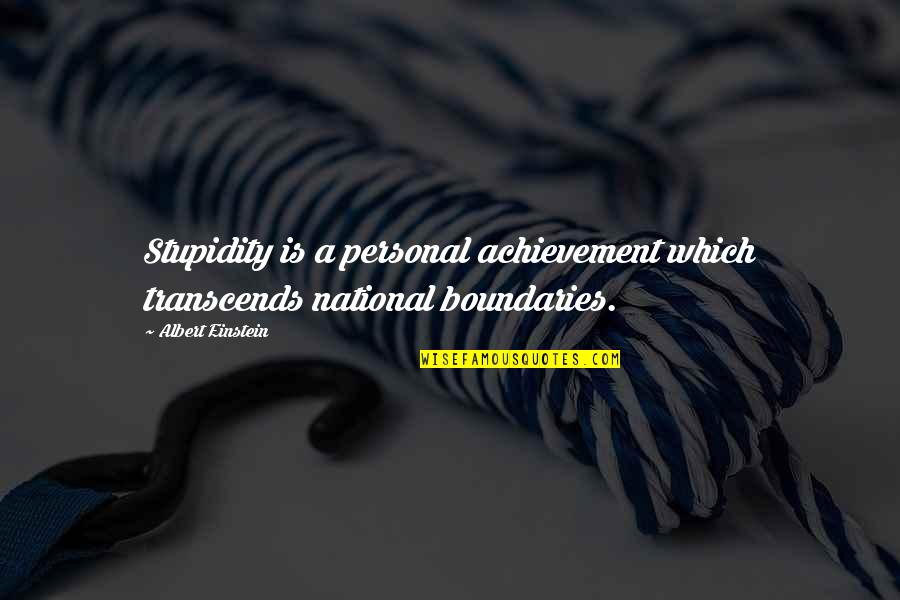 Stupidity is a personal achievement which transcends national boundaries. —
Albert Einstein
Dare to stretch hard and make it a point to do the hard thing others are afraid to try. —
Israelmore Ayivor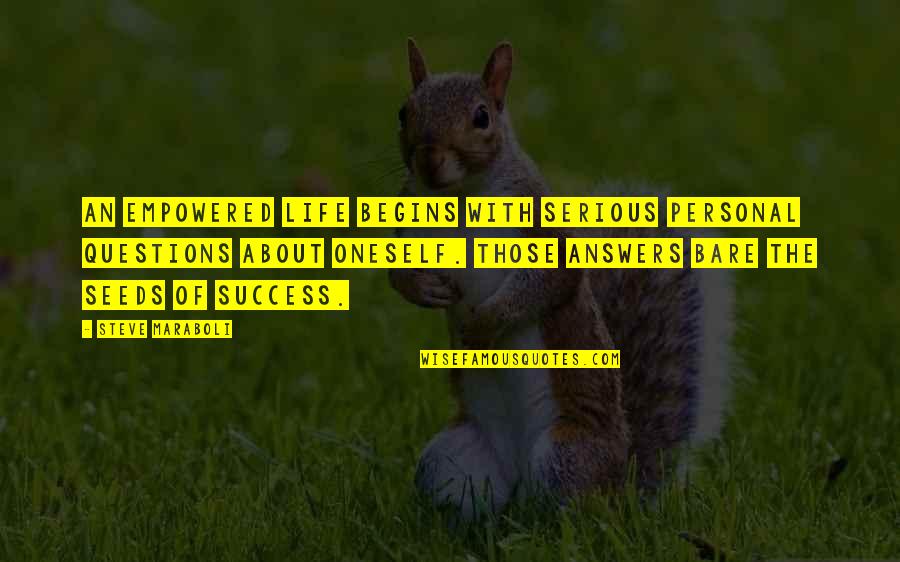 An empowered life begins with serious personal questions about oneself. Those answers bare the seeds of success. —
Steve Maraboli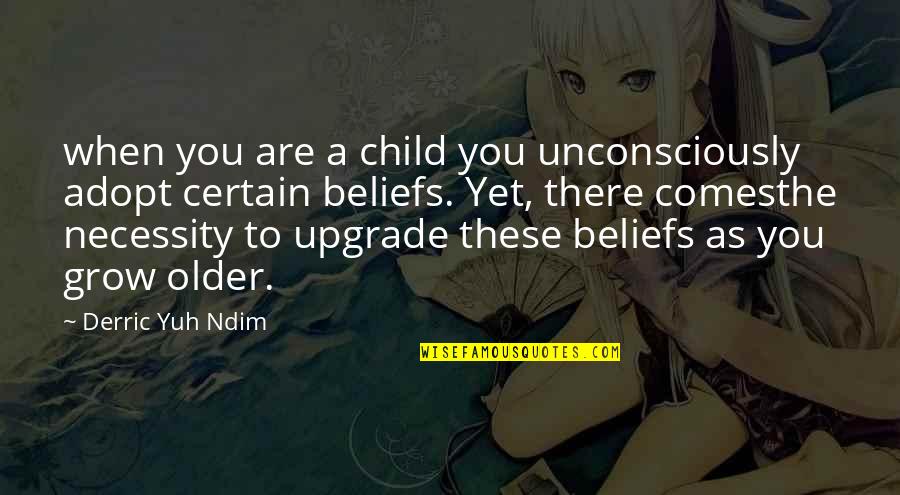 when you are a child you unconsciously adopt certain beliefs. Yet, there comes
the necessity to upgrade these beliefs as you grow older. —
Derric Yuh Ndim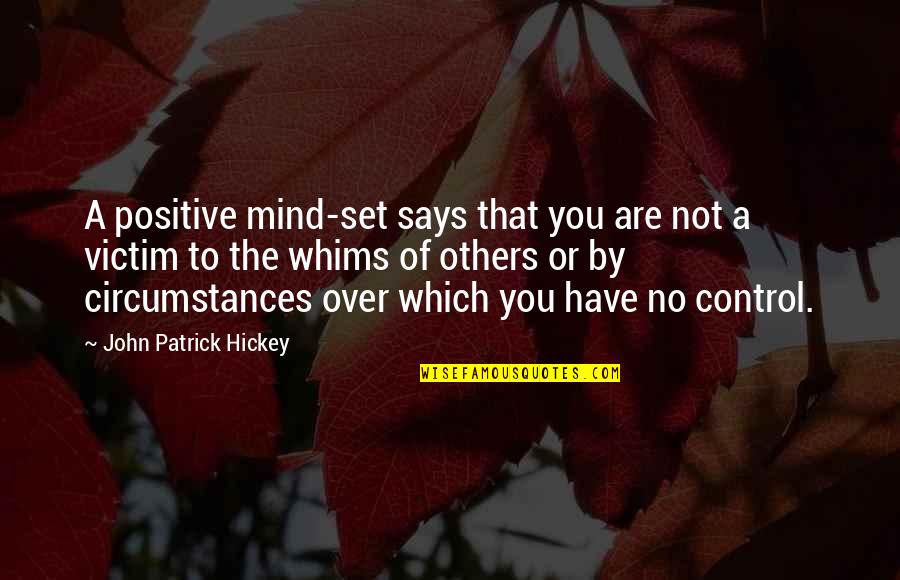 A positive mind-set says that you are not a victim to the whims of others or by circumstances over which you have no control. —
John Patrick Hickey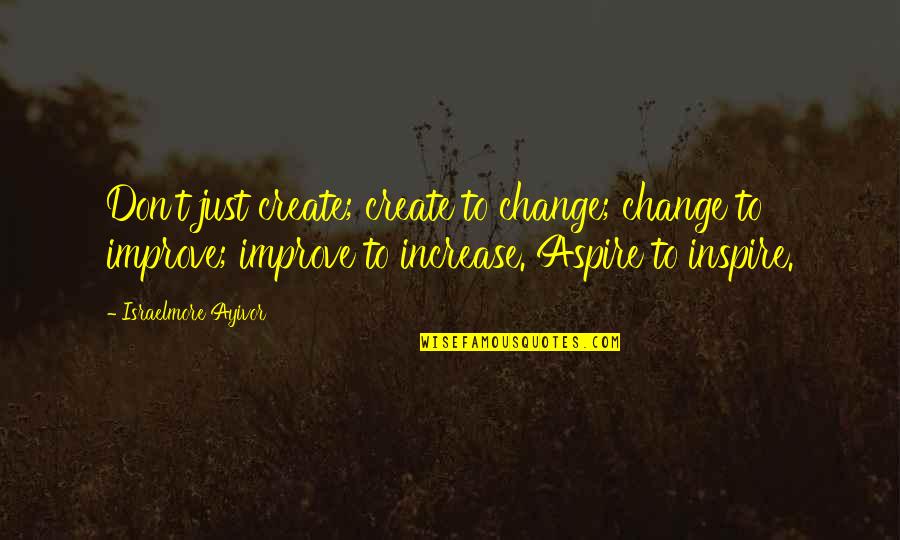 Don't just create; create to change; change to improve; improve to increase. Aspire to inspire. —
Israelmore Ayivor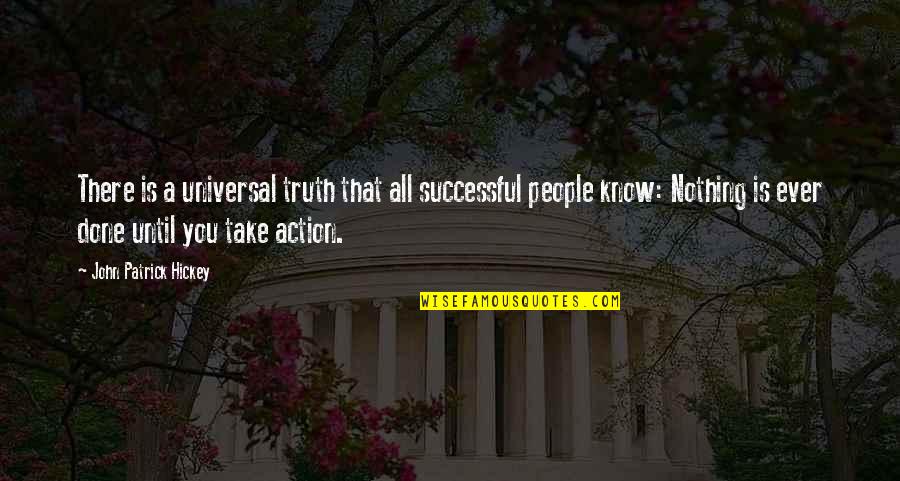 There is a universal truth that all successful people know: Nothing is ever done until you take action. —
John Patrick Hickey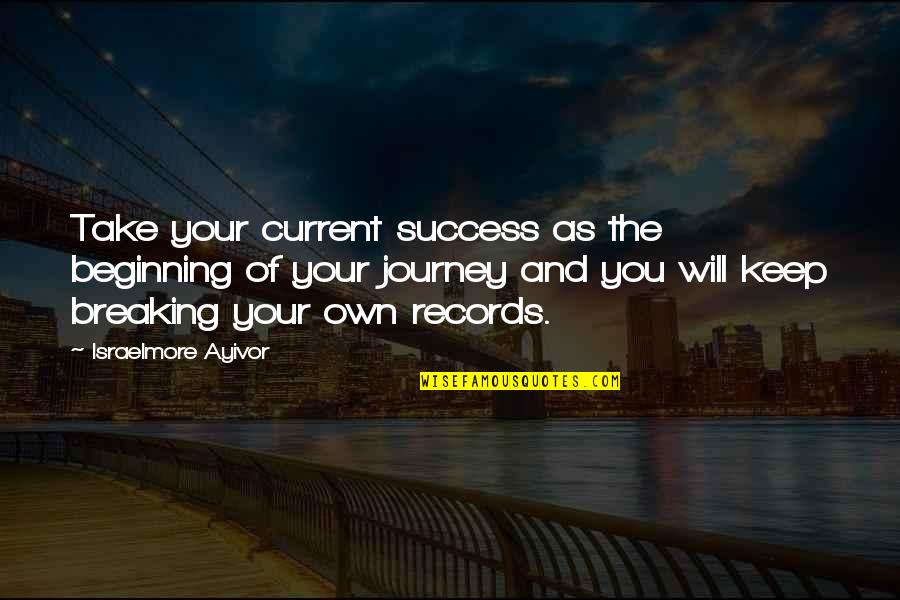 Take your current success as the beginning of your journey and you will keep breaking your own records. —
Israelmore Ayivor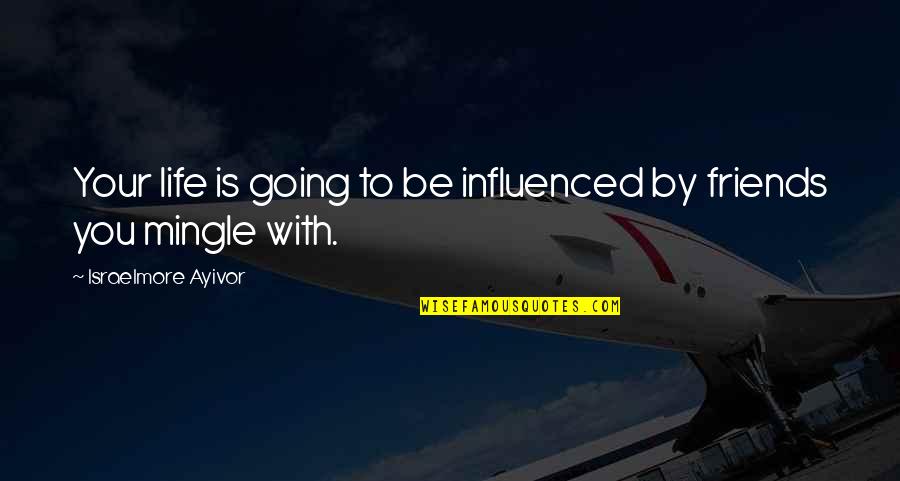 Your life is going to be influenced by friends you mingle with. —
Israelmore Ayivor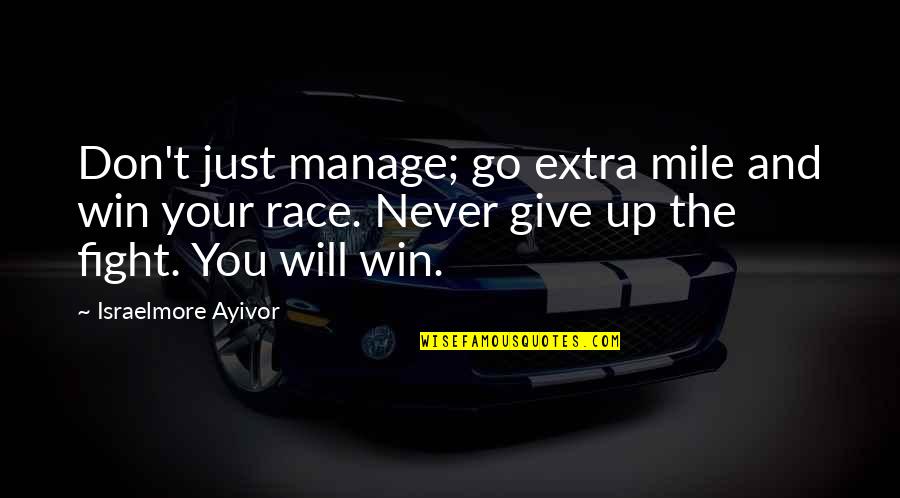 Don't just manage; go extra mile and win your race. Never give up the fight. You will win. —
Israelmore Ayivor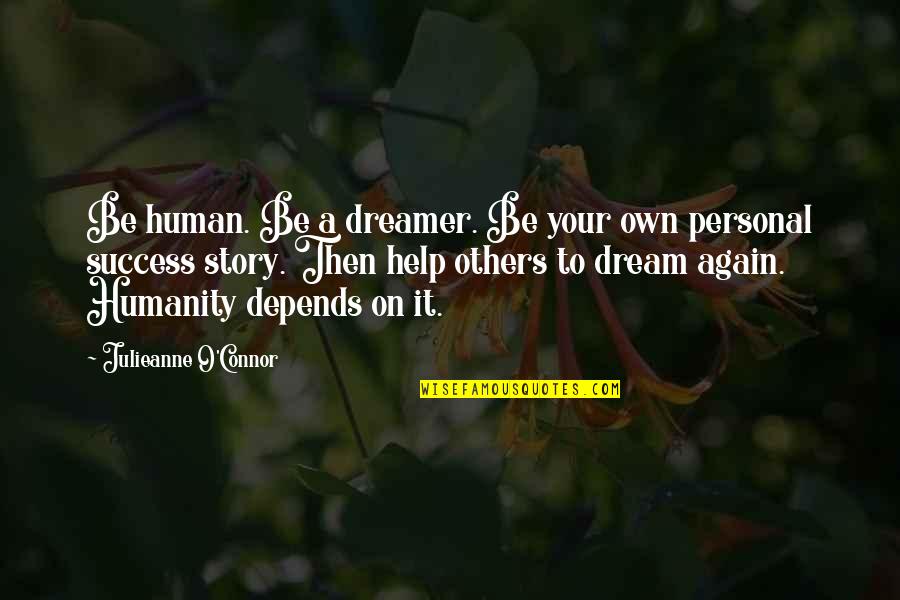 Be human. Be a dreamer. Be your own
personal success
story. Then help others to dream again. Humanity depends on it. —
Julieanne O'Connor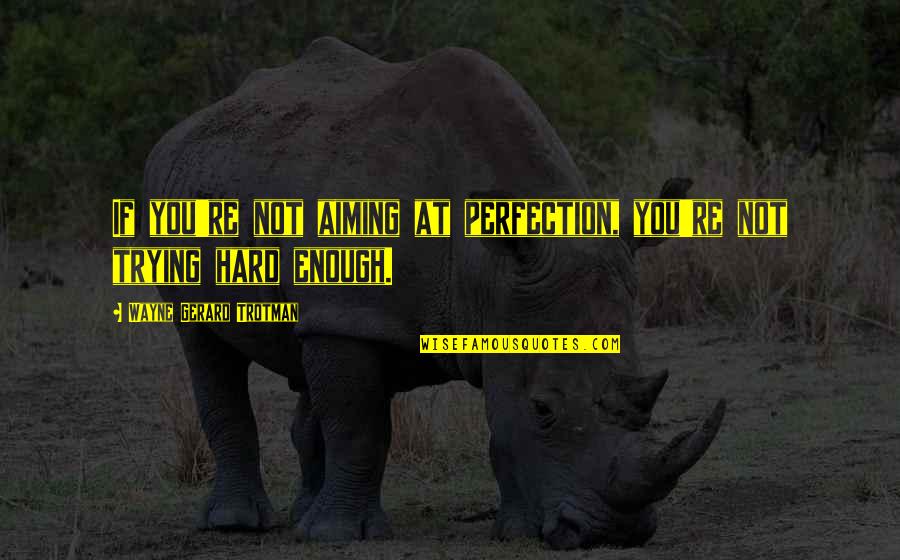 If you're not aiming at perfection, you're not trying hard enough. —
Wayne Gerard Trotman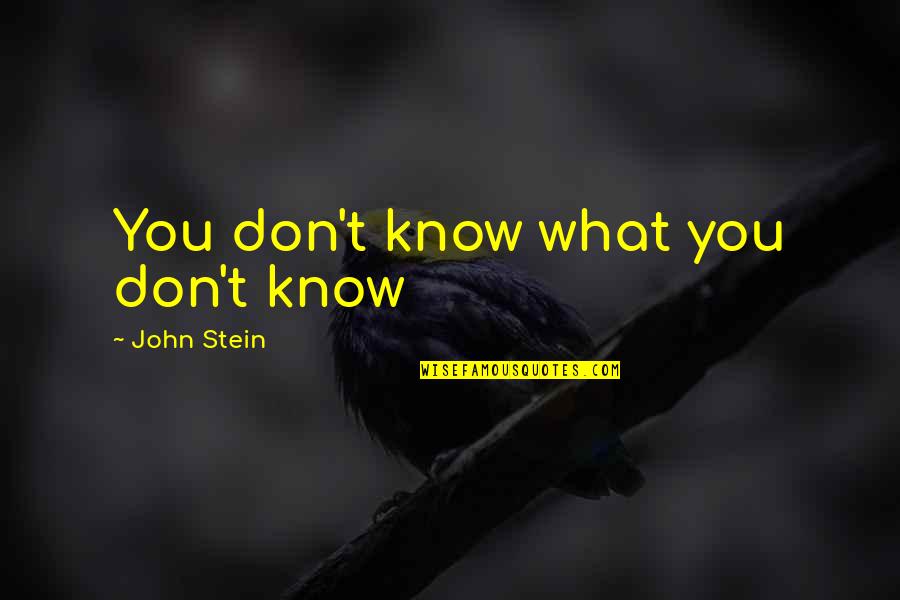 You don't know what you don't know —
John Stein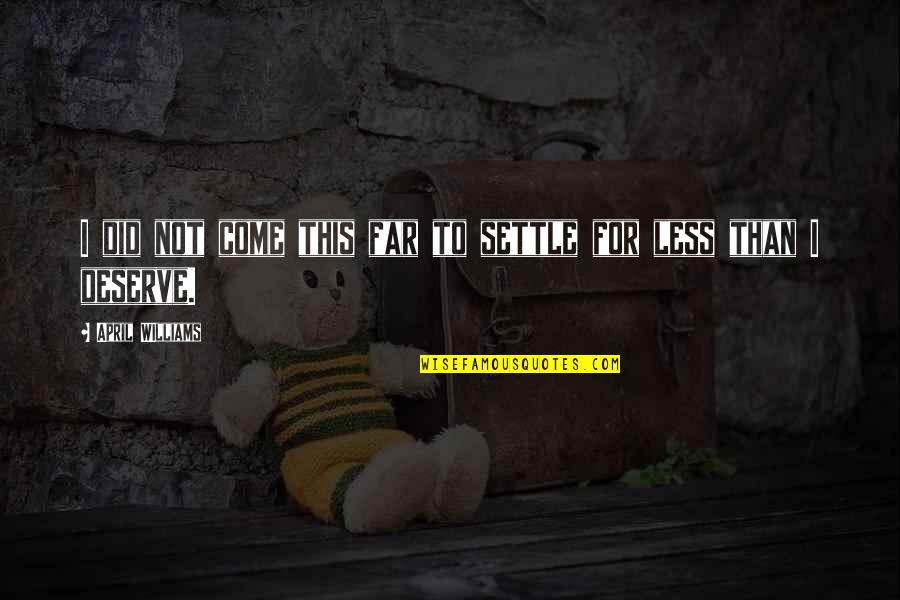 I did not come this far to settle for less than I deserve. —
April WIlliams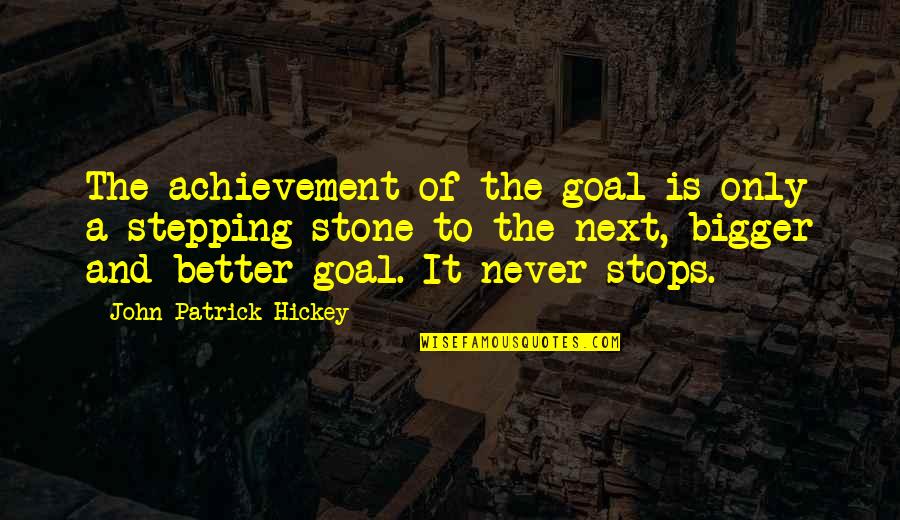 The achievement of the goal is only a stepping-stone to the next, bigger and better goal. It never stops. —
John Patrick Hickey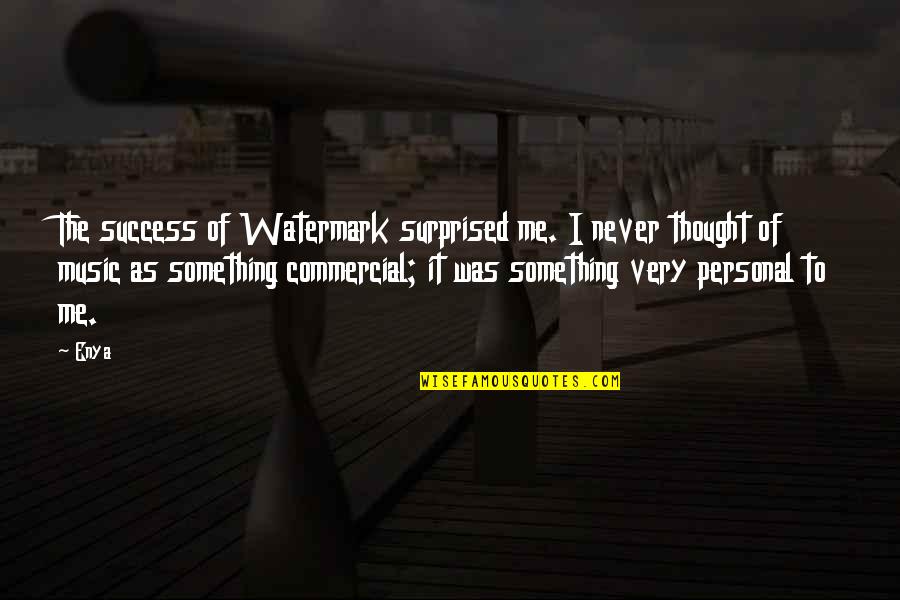 The success of Watermark surprised me. I never thought of music as something commercial; it was something very personal to me. —
Enya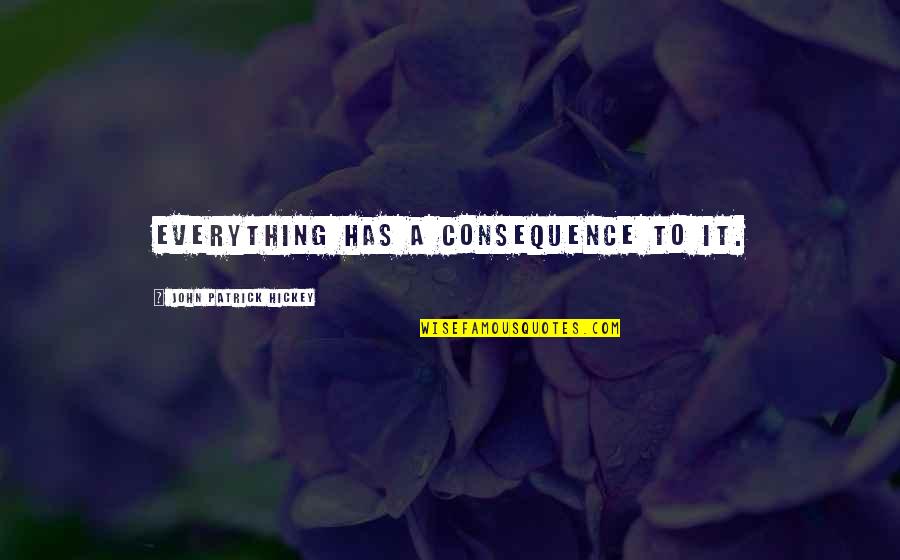 Everything has a consequence to it. —
John Patrick Hickey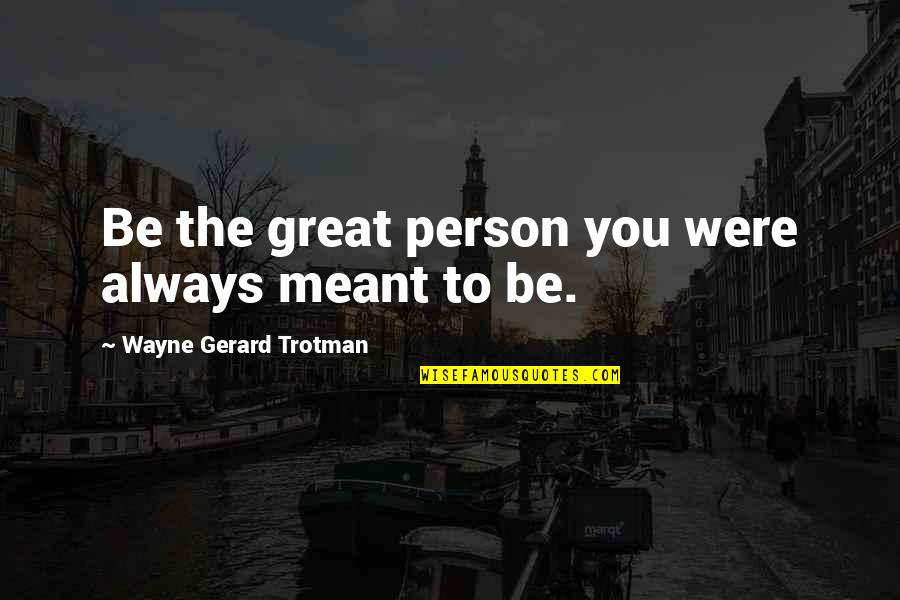 Be the great person you were always meant to be. —
Wayne Gerard Trotman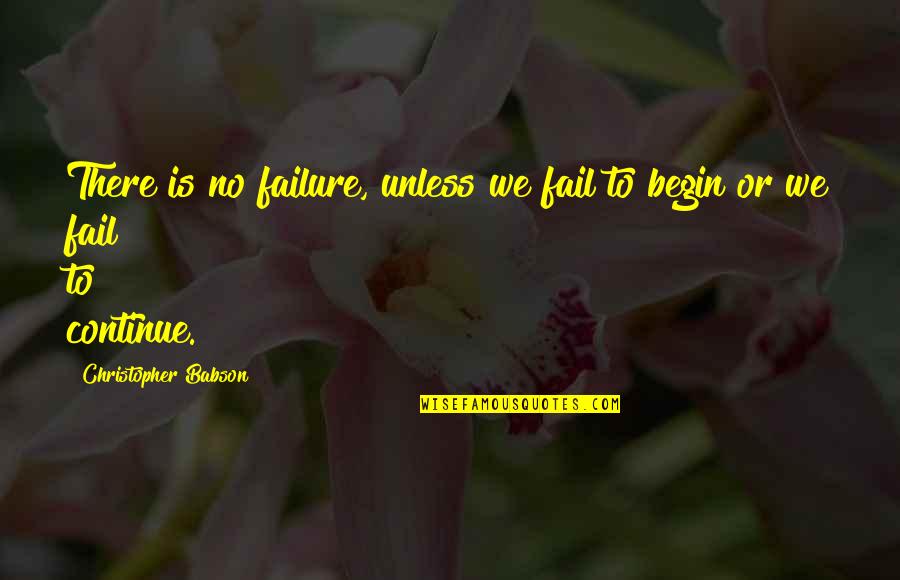 There is no failure, unless we fail to begin or we fail to continue. —
Christopher Babson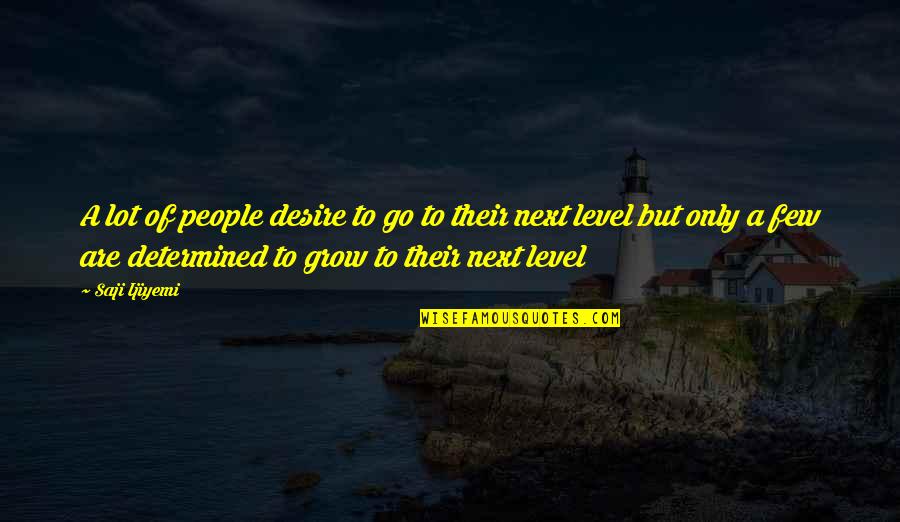 A lot of people desire to go to their next level but only a few are determined to grow to their next level —
Saji Ijiyemi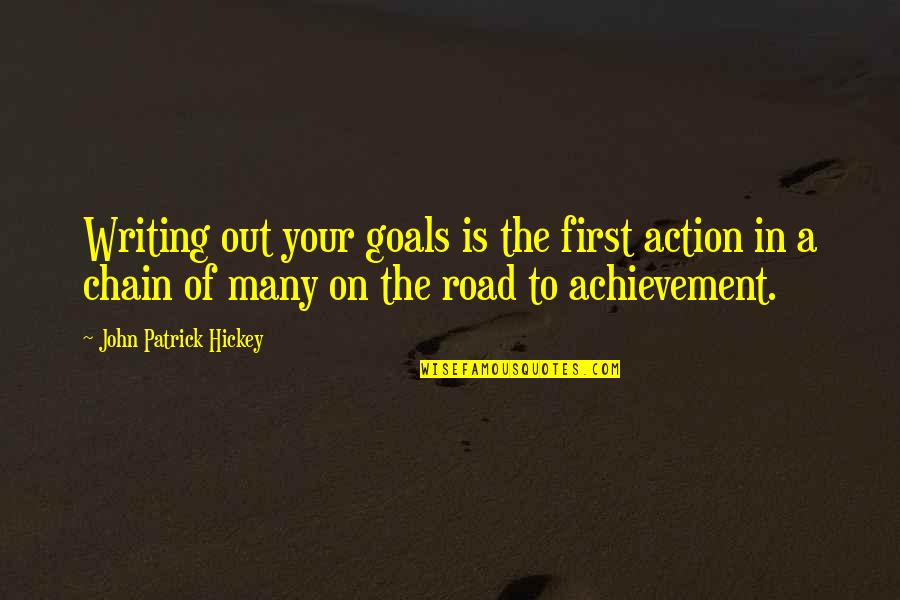 Writing out your goals is the first action in a chain of many on the road to achievement. —
John Patrick Hickey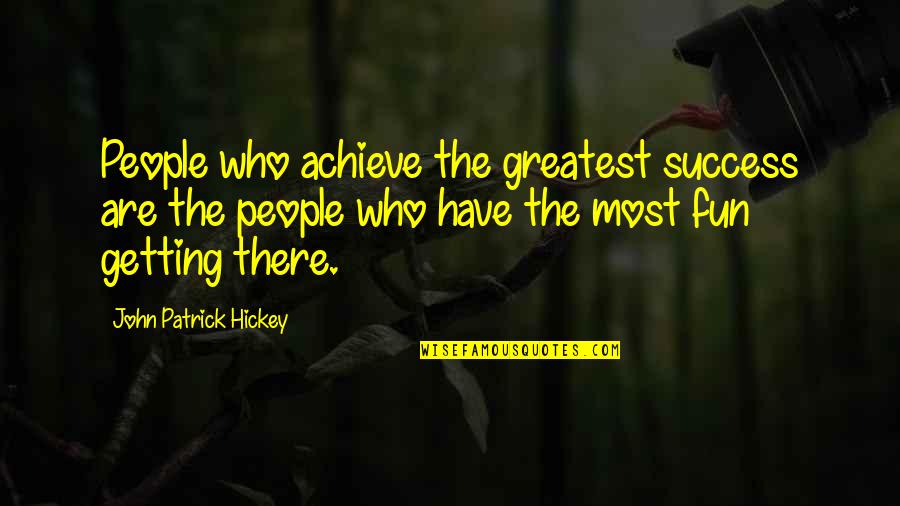 People who achieve the greatest success are the people who have the most fun getting there. —
John Patrick Hickey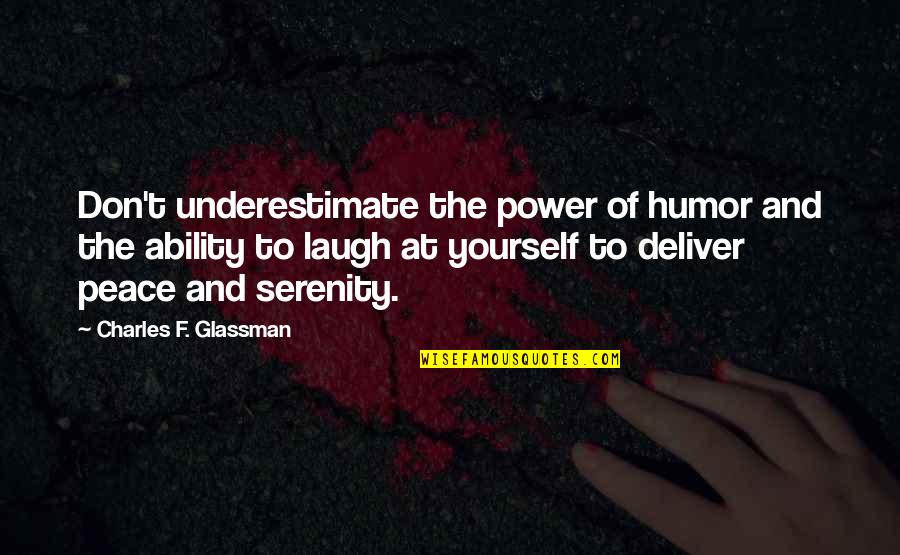 Don't underestimate the power of humor and the ability to laugh at yourself to deliver peace and serenity. —
Charles F. Glassman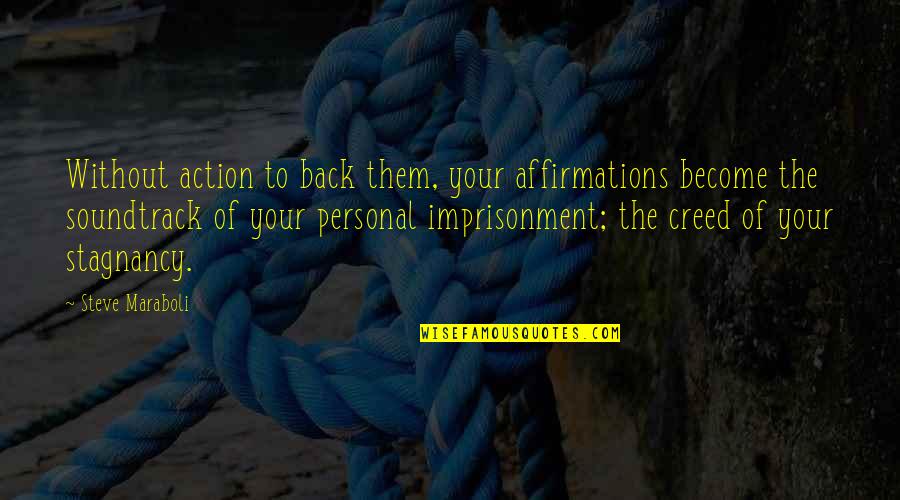 Without action to back them, your affirmations become the soundtrack of your personal imprisonment; the creed of your stagnancy. —
Steve Maraboli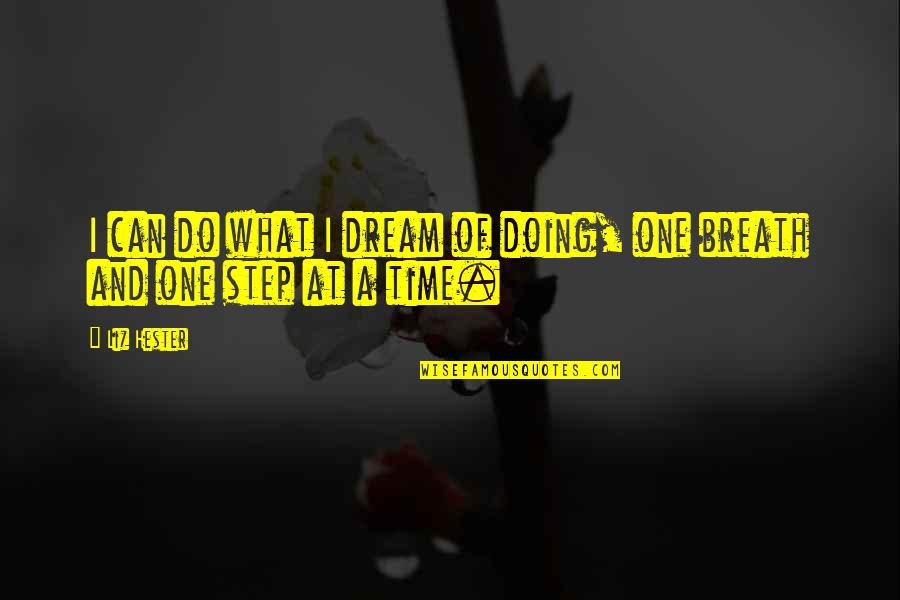 I can do what I dream of doing, one breath and one step at a time. —
Liz Hester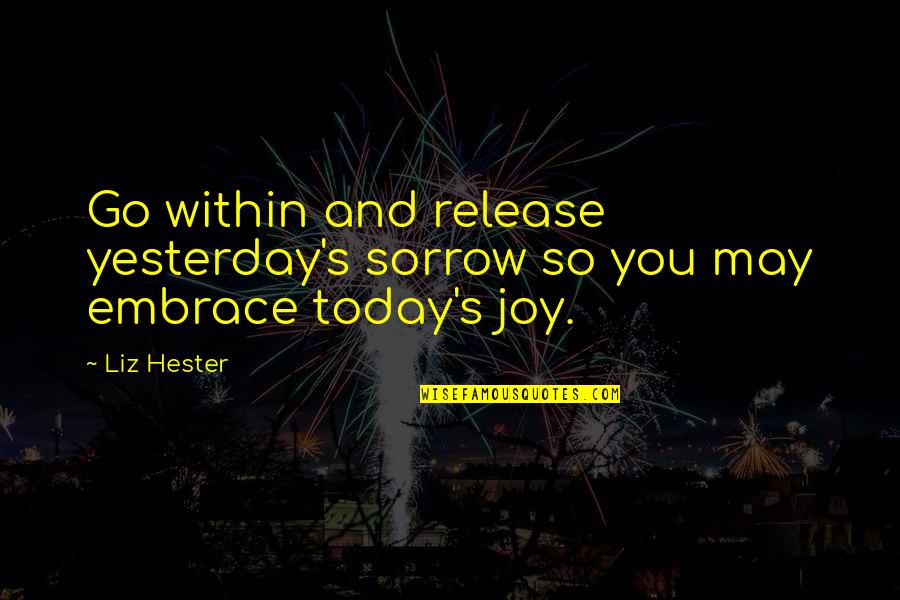 Go within and release yesterday's sorrow so you may embrace today's joy. —
Liz Hester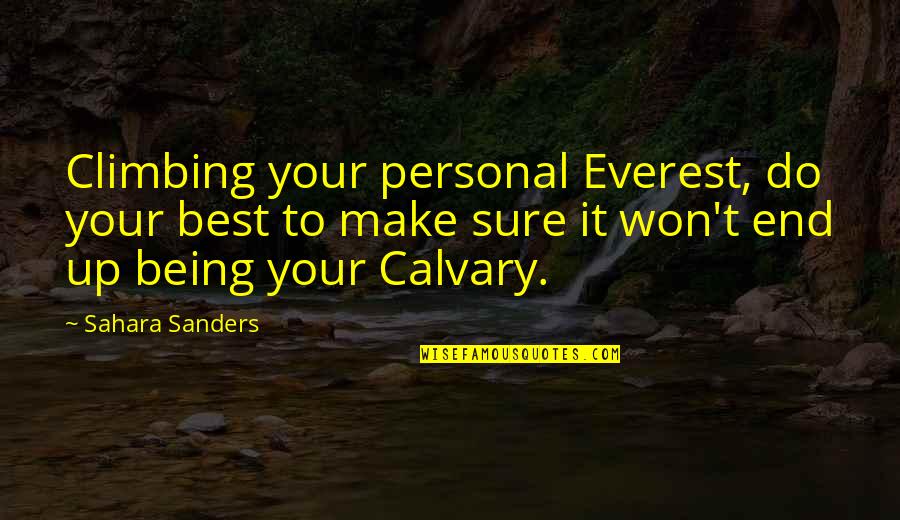 Climbing your personal Everest, do your best to make sure it won't end up being your Calvary. —
Sahara Sanders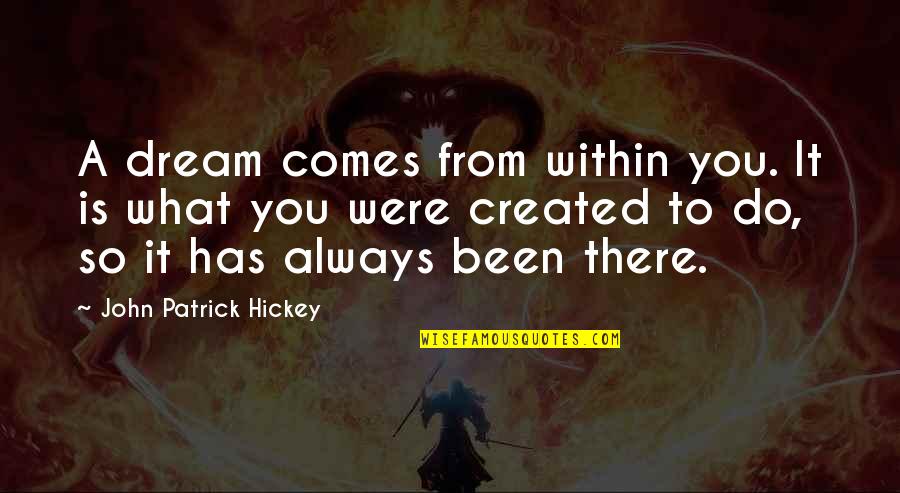 A dream comes from within you. It is what you were created to do, so it has always been there. —
John Patrick Hickey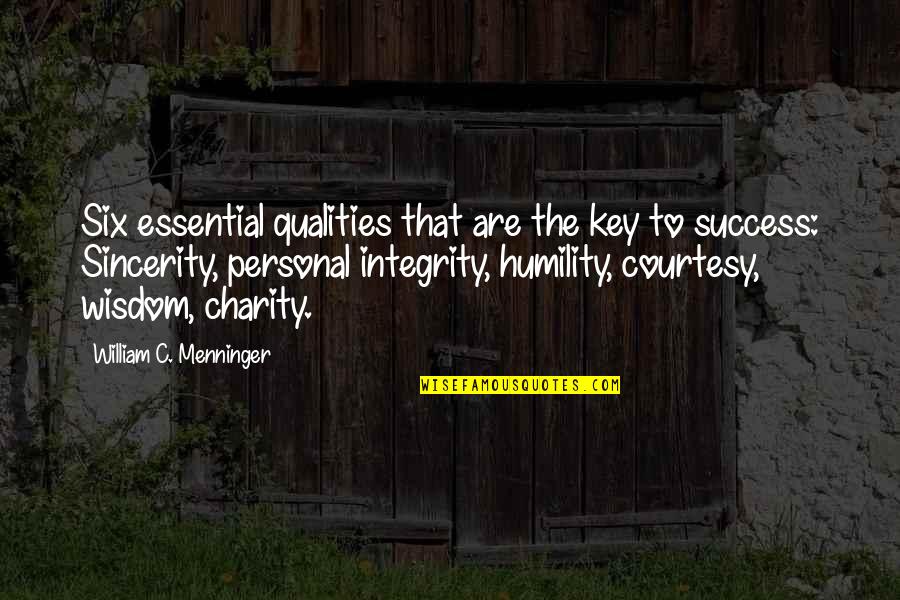 Six essential qualities that are the key to success: Sincerity, personal integrity, humility, courtesy, wisdom, charity. —
William C. Menninger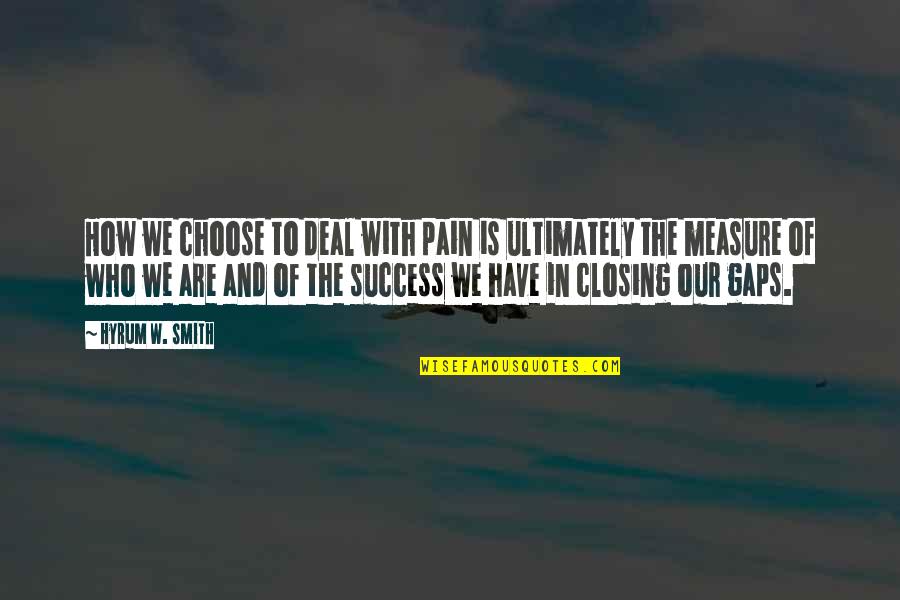 How we choose to deal with pain is ultimately the measure of who we are and of the success we have in closing our gaps. —
Hyrum W. Smith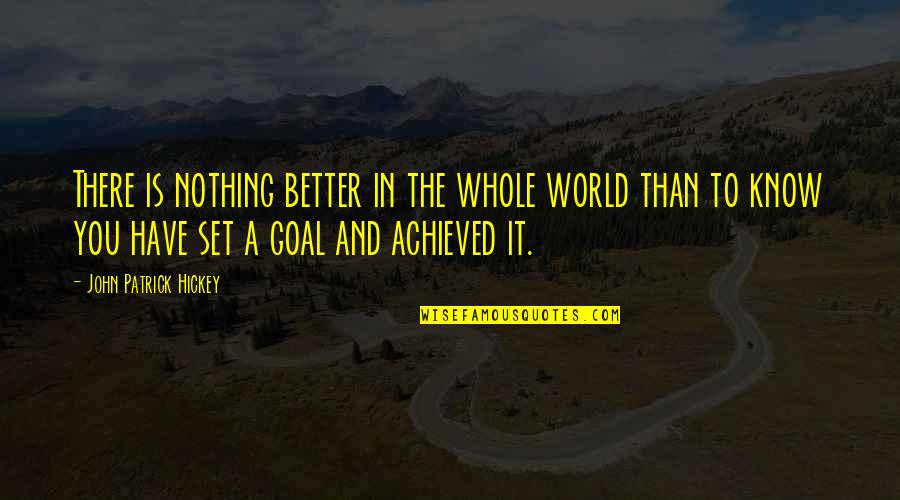 There is nothing better in the whole world than to know you have set a goal and achieved it. —
John Patrick Hickey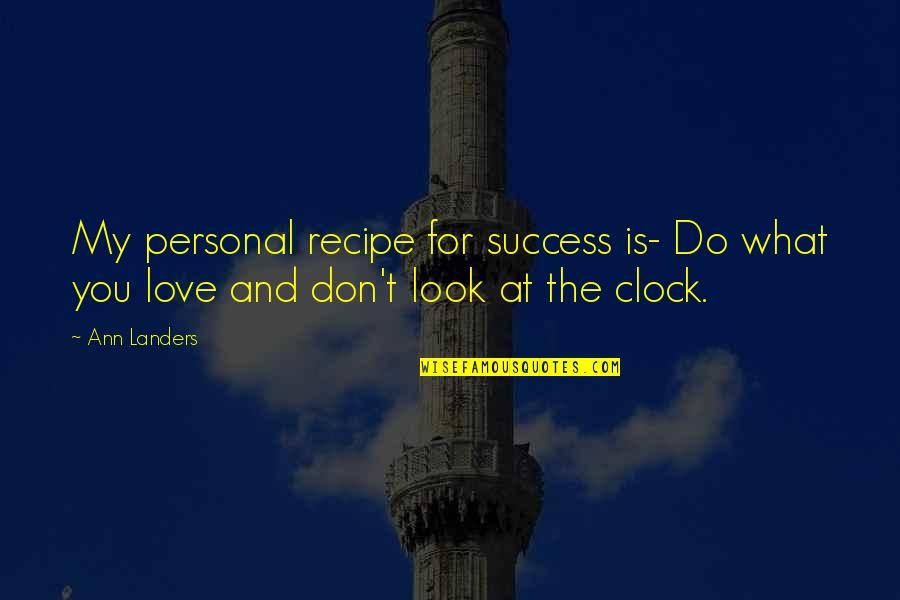 My personal recipe for success is- Do what you love and don't look at the clock. —
Ann Landers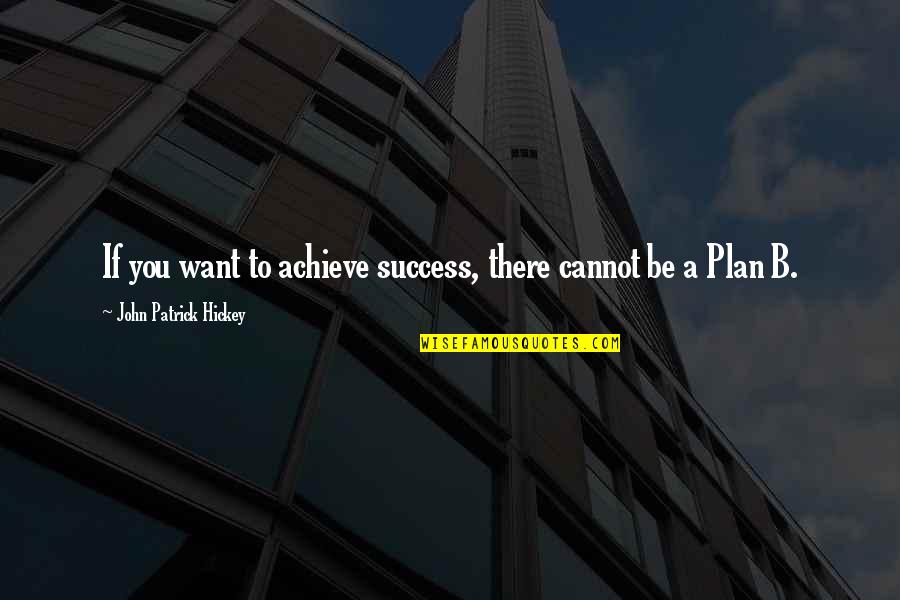 If you want to achieve success, there cannot be a Plan B. —
John Patrick Hickey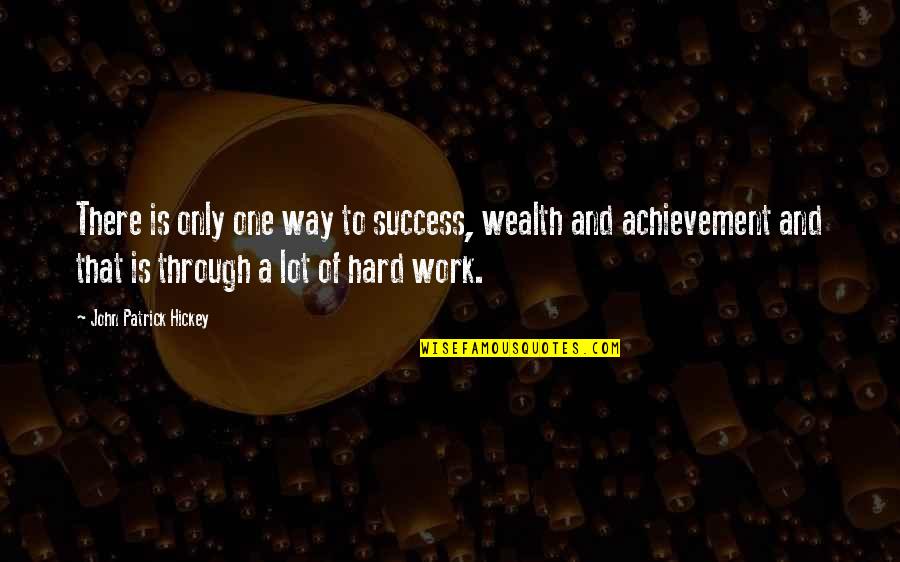 There is only one way to success, wealth and achievement and that is through a lot of hard work. —
John Patrick Hickey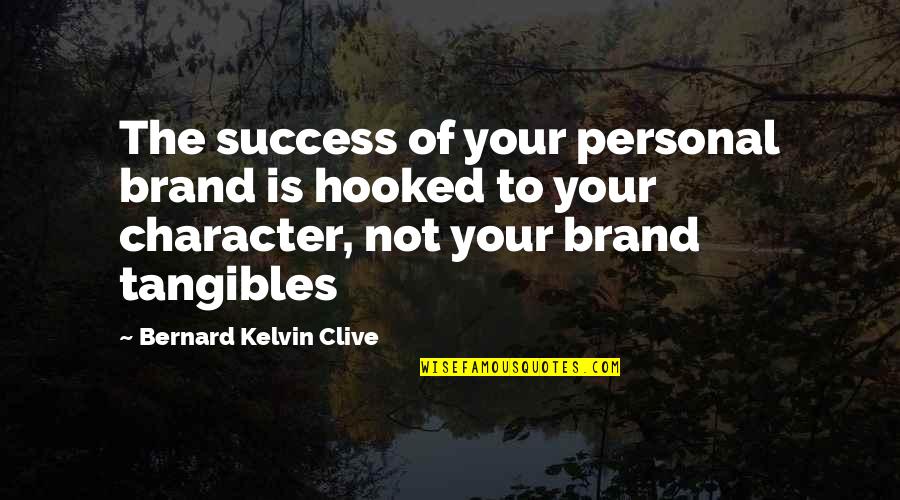 The success of your personal brand is hooked to your character, not your brand tangibles —
Bernard Kelvin Clive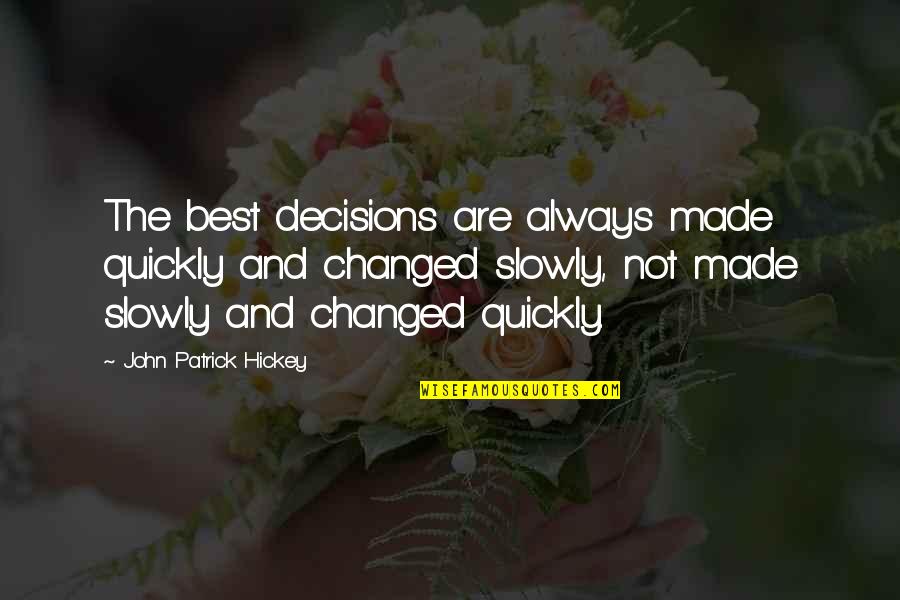 The best decisions are always made quickly and changed slowly, not made slowly and changed quickly. —
John Patrick Hickey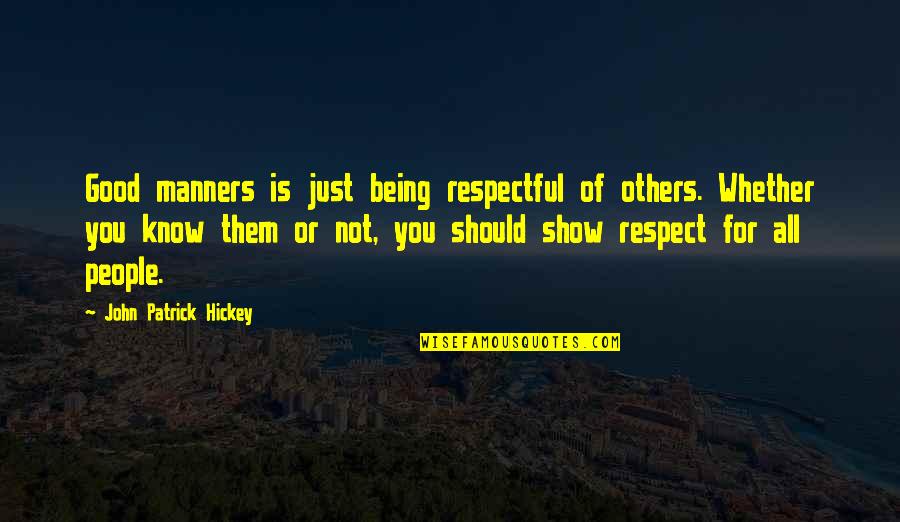 Good manners is just being respectful of others. Whether you know them or not, you should show respect for all people. —
John Patrick Hickey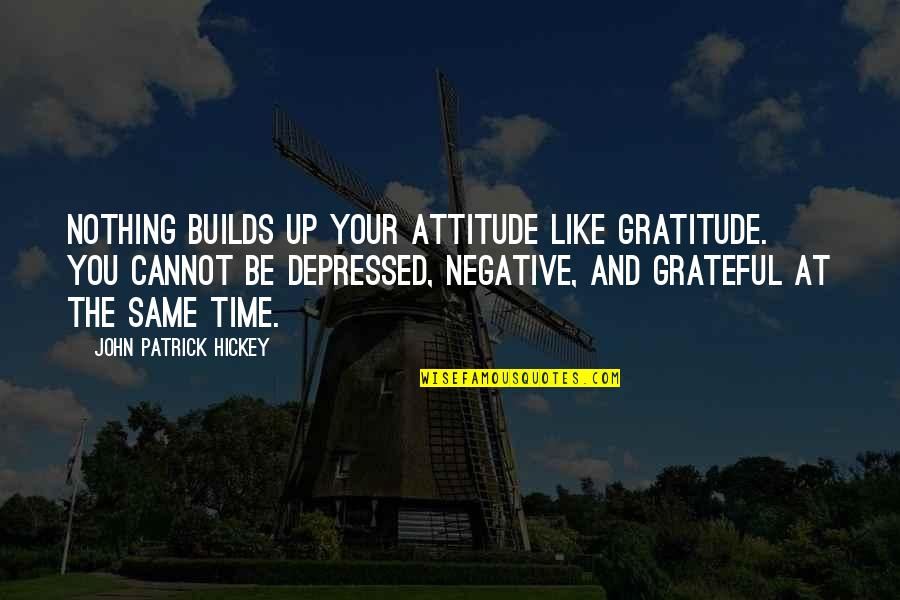 Nothing builds up your attitude like gratitude. You cannot be depressed, negative, and grateful at the same time. —
John Patrick Hickey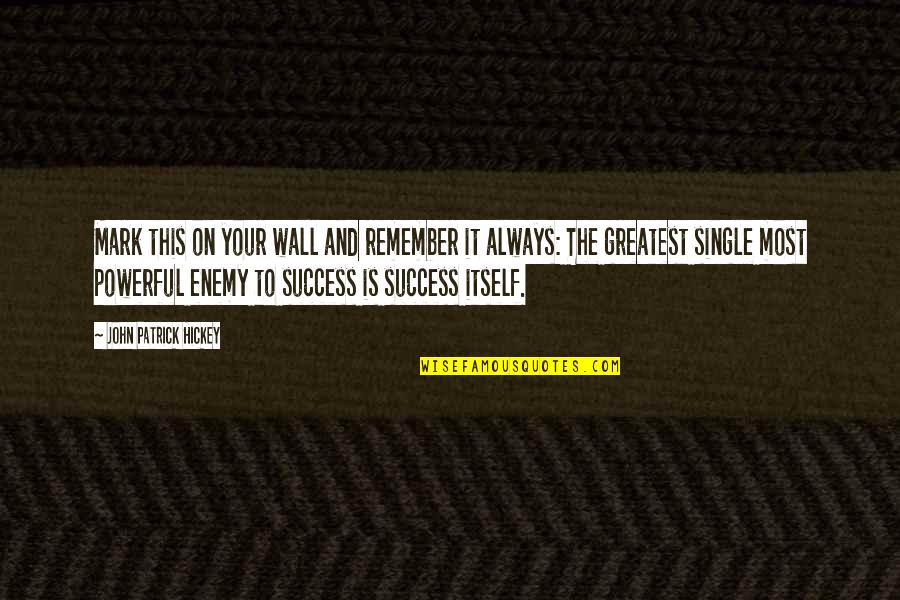 Mark this on your wall and remember it always: The greatest single most powerful enemy to success is success itself. —
John Patrick Hickey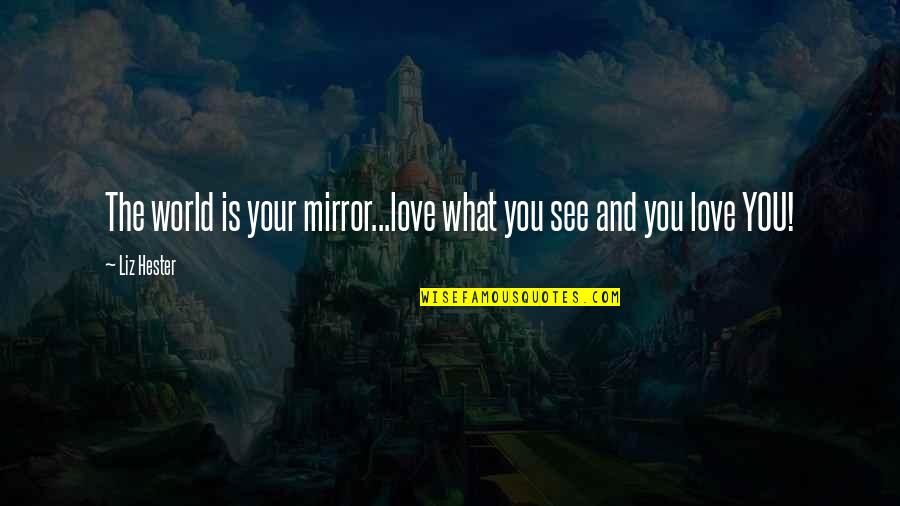 The world is your mirror...love what you see and you love YOU! —
Liz Hester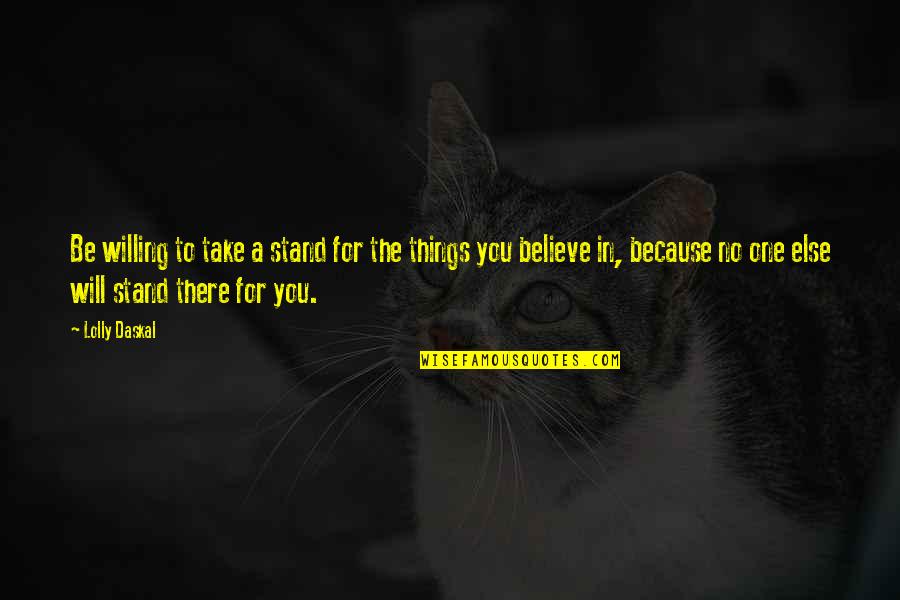 Be willing to take a stand for the things you believe in, because no one else will stand there for you. —
Lolly Daskal
When you don't see nothing wrong in anything you do, then you are doing everything wrong. —
Richmond Akhigbe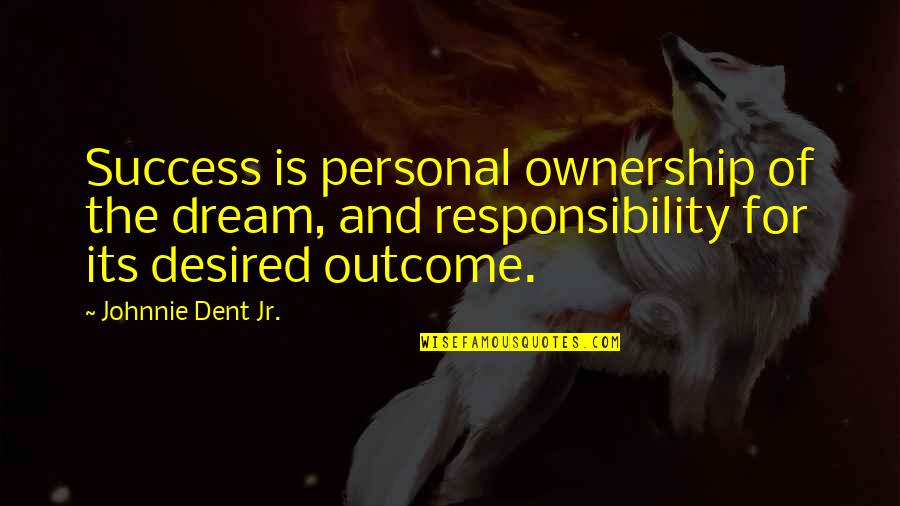 Success is personal ownership of the dream, and responsibility for its desired outcome. —
Johnnie Dent Jr.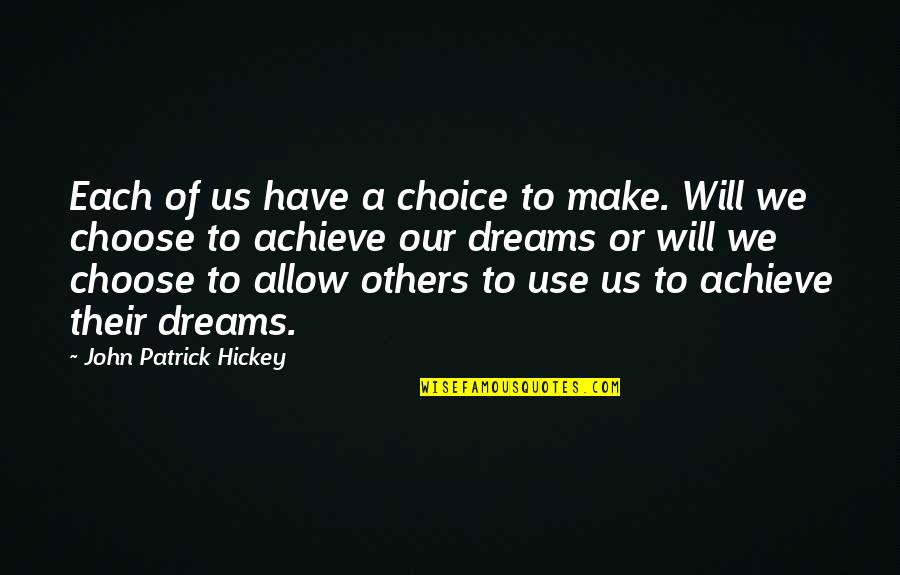 Each of us have a choice to make. Will we choose to achieve our dreams or will we choose to allow others to use us to achieve their dreams. —
John Patrick Hickey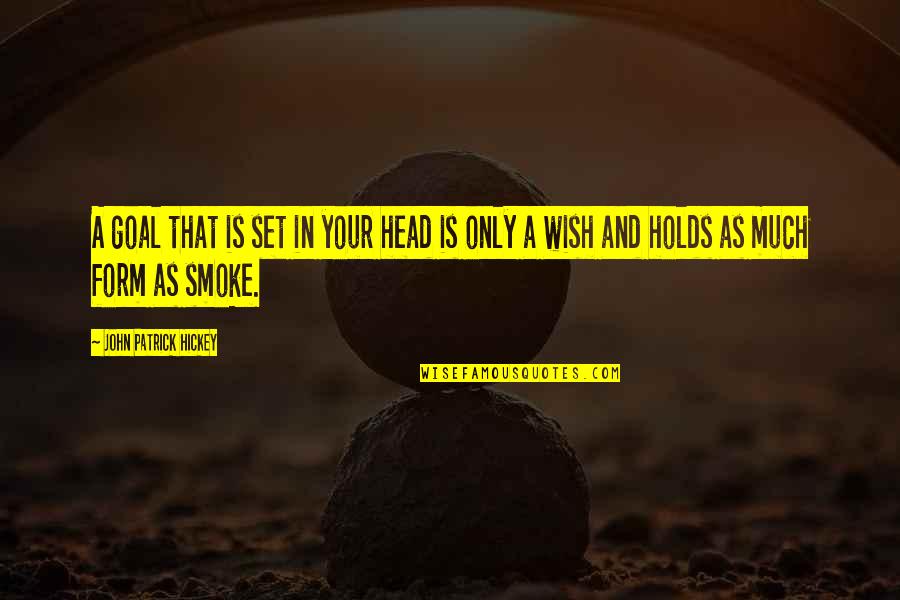 A goal that is set in your head is only a wish and holds as much form as smoke. —
John Patrick Hickey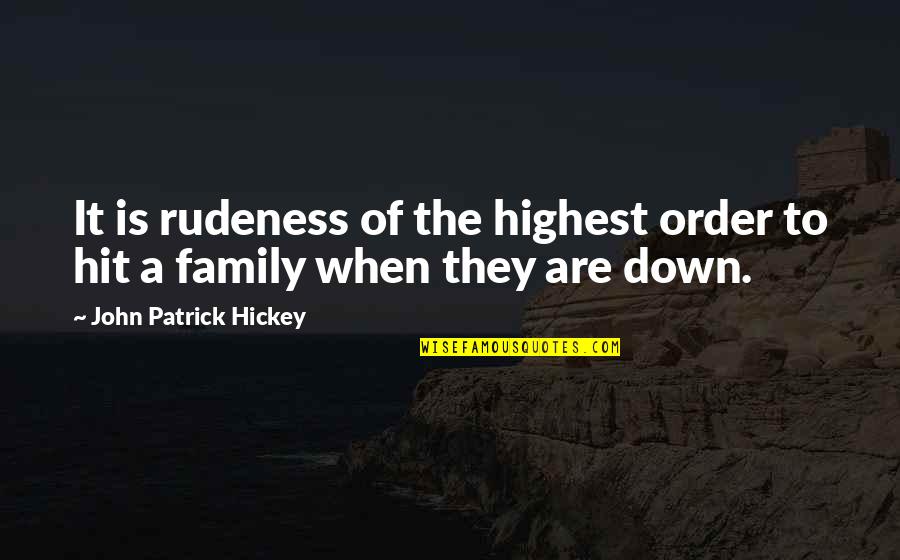 It is rudeness of the highest order to hit a family when they are down. —
John Patrick Hickey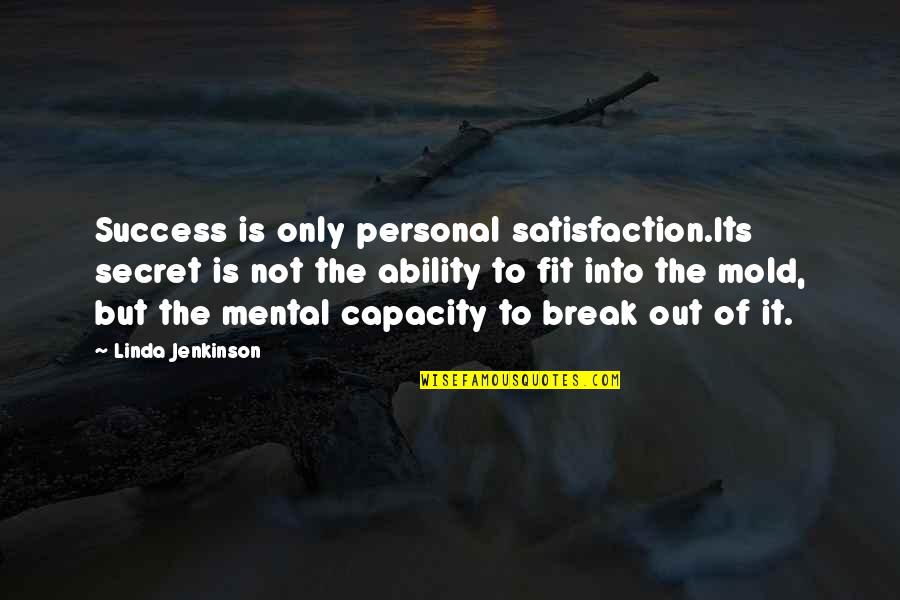 Success is only personal satisfaction.
Its secret is not the ability to fit into the mold, but the mental capacity to break out of it. —
Linda Jenkinson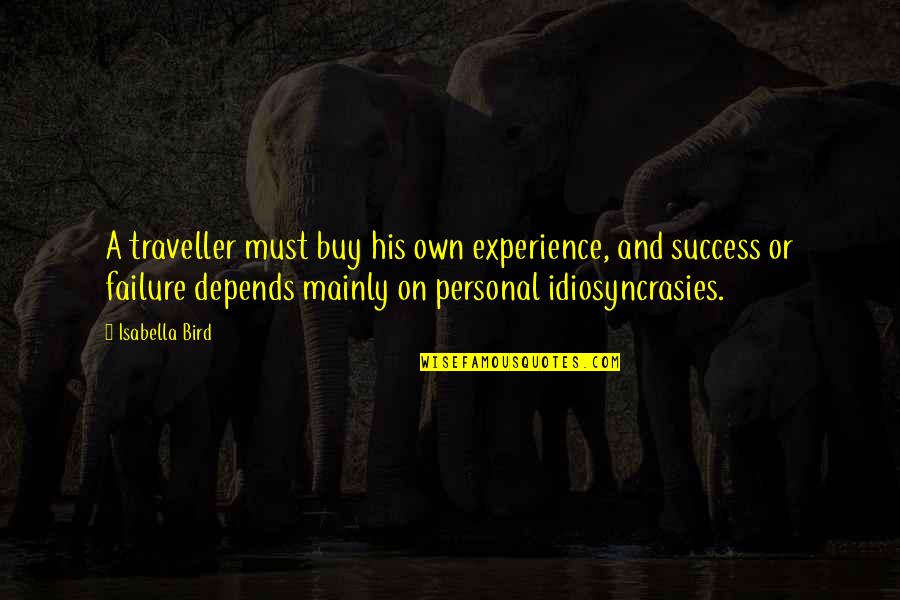 A traveller must buy his own experience, and success or failure depends mainly on personal idiosyncrasies. —
Isabella Bird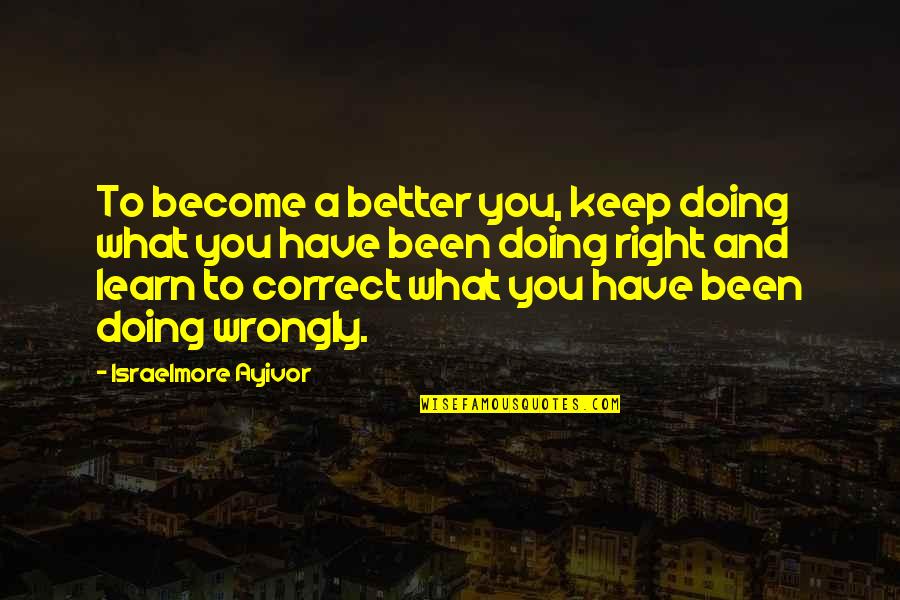 To become a better you, keep doing what you have been doing right and learn to correct what you have been doing wrongly. —
Israelmore Ayivor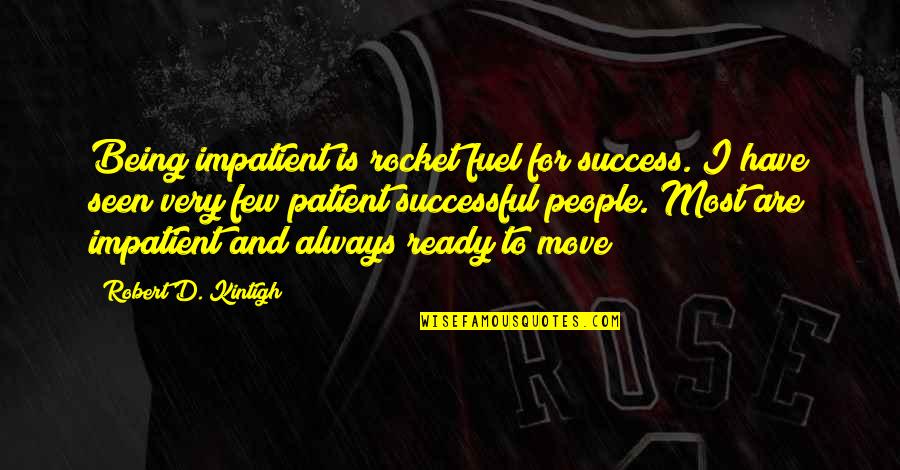 Being impatient is rocket fuel for success. I have seen very few patient successful people. Most are impatient and always ready to move! —
Robert D. Kintigh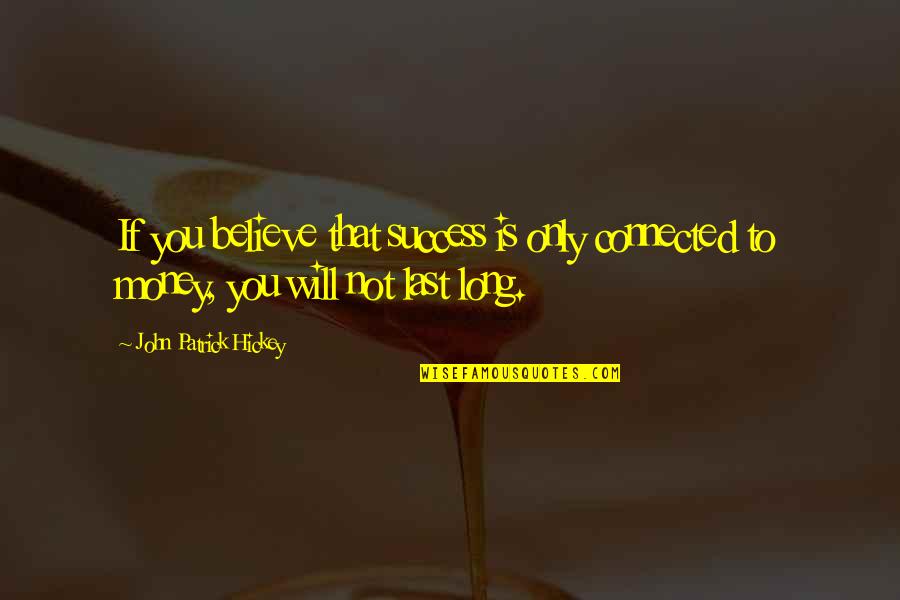 If you believe that success is only connected to money, you will not last long. —
John Patrick Hickey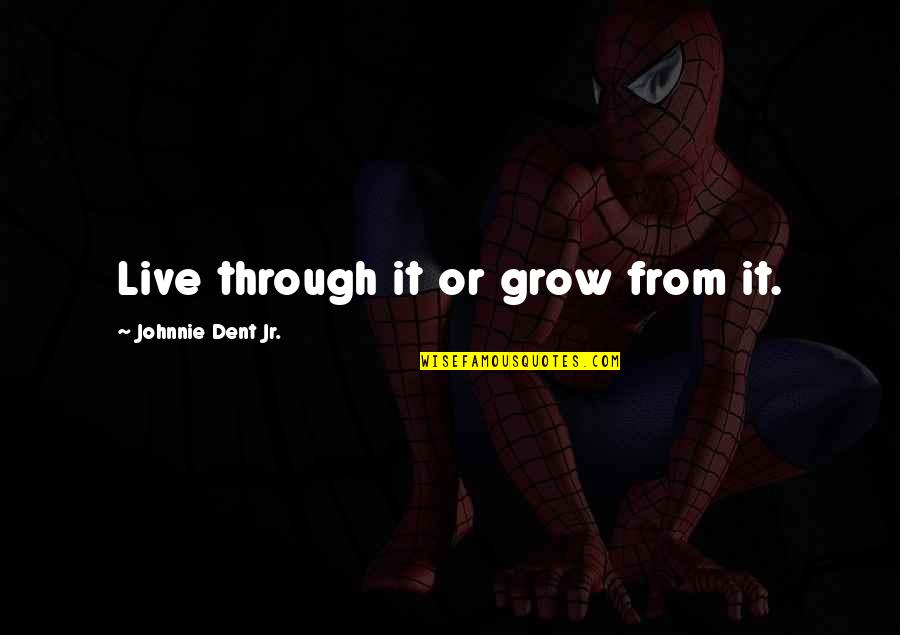 Live through it or grow from it. —
Johnnie Dent Jr.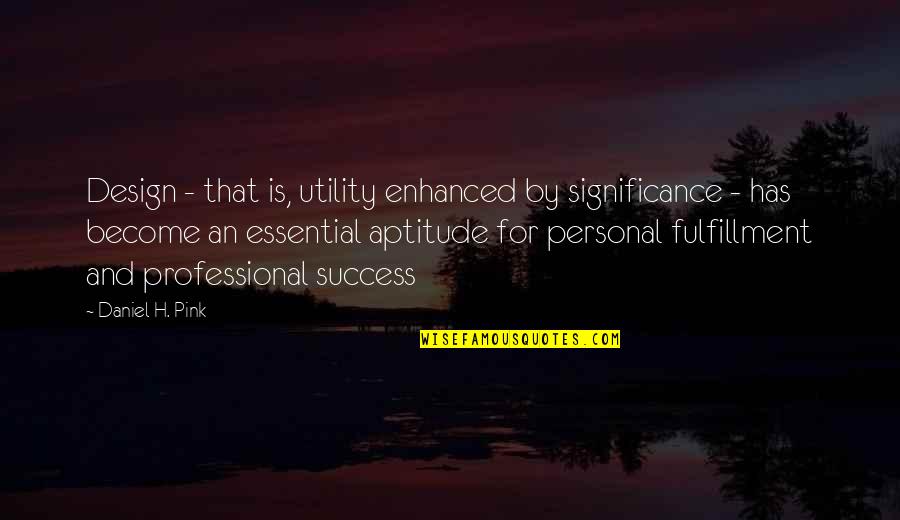 Design - that is, utility enhanced by significance - has become an essential aptitude for personal fulfillment and professional success —
Daniel H. Pink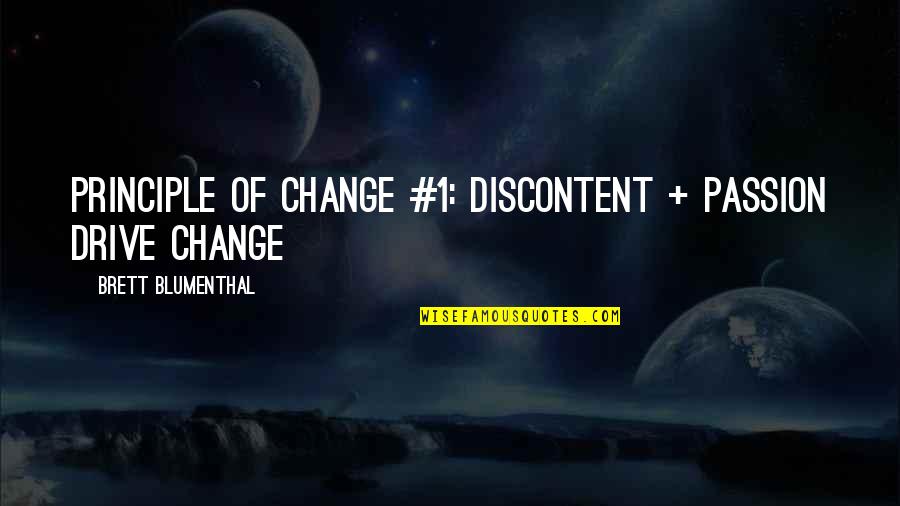 Principle of Change #1: Discontent + Passion Drive Change —
Brett Blumenthal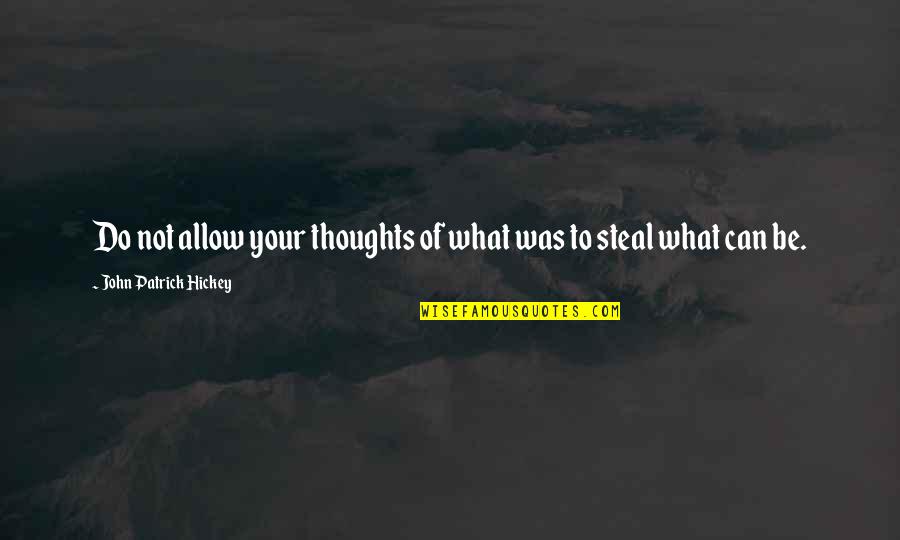 Do not allow your thoughts of what was to steal what can be. —
John Patrick Hickey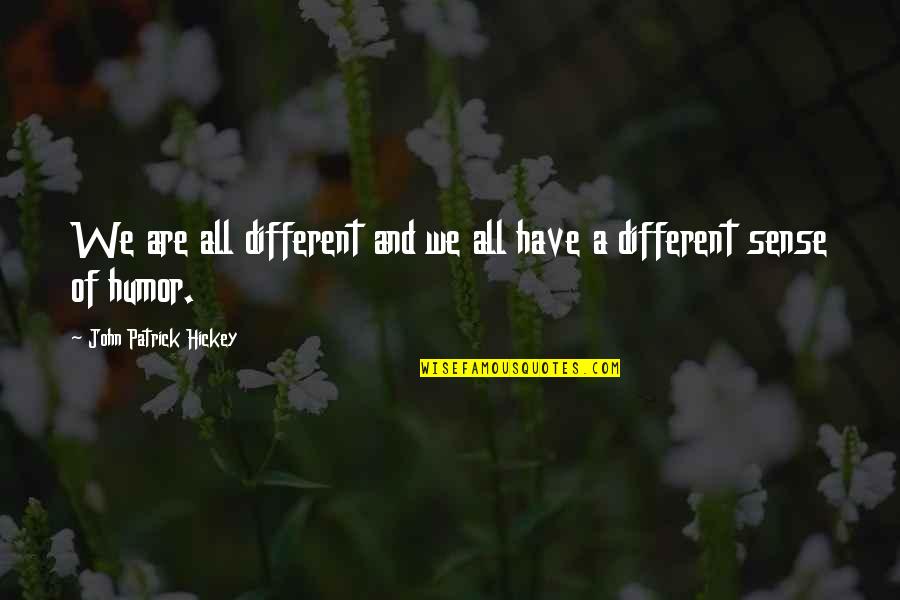 We are all different and we all have a different sense of humor. —
John Patrick Hickey
Personal revelation, consecration of performance, attention to detail, and dependency on God-with these qualities you cannot fail. —
Ezra Taft Benson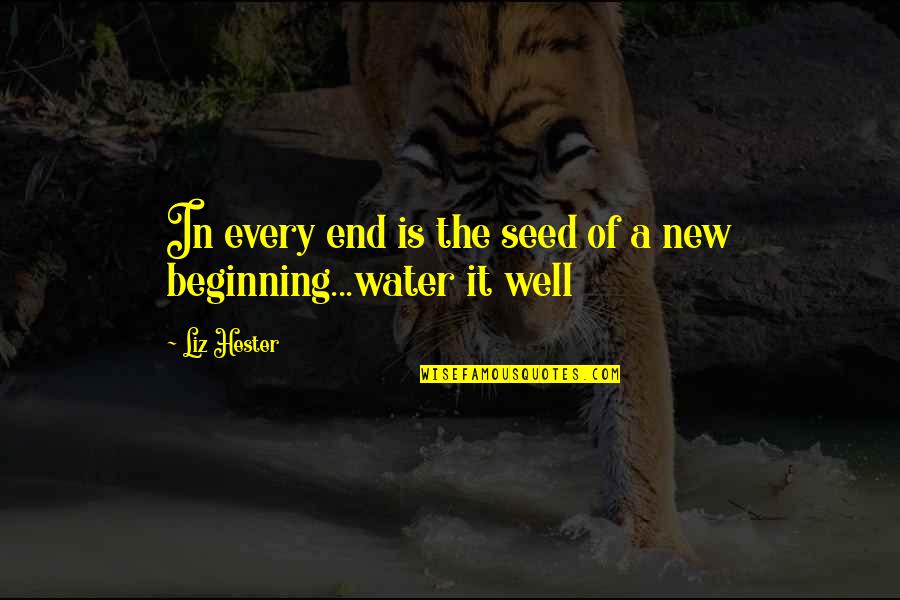 In every end is the seed of a new beginning...water it well —
Liz Hester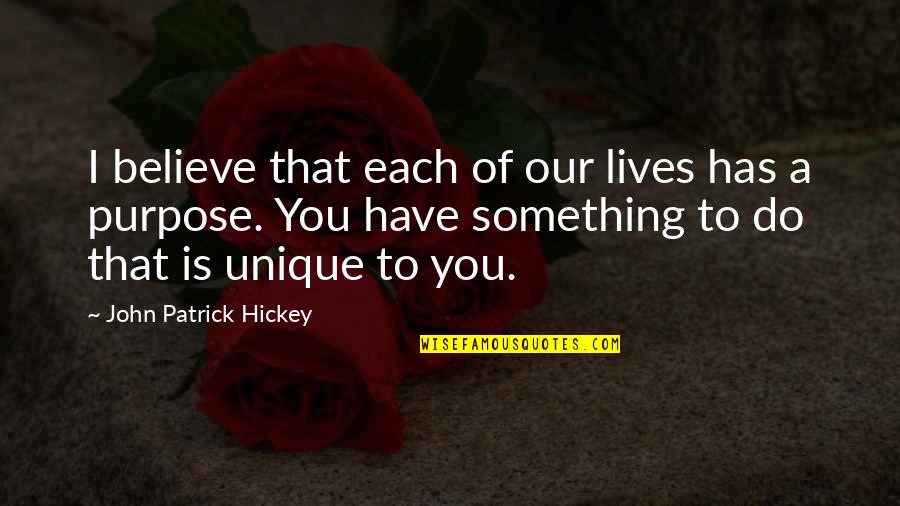 I believe that each of our lives has a purpose. You have something to do that is unique to you. —
John Patrick Hickey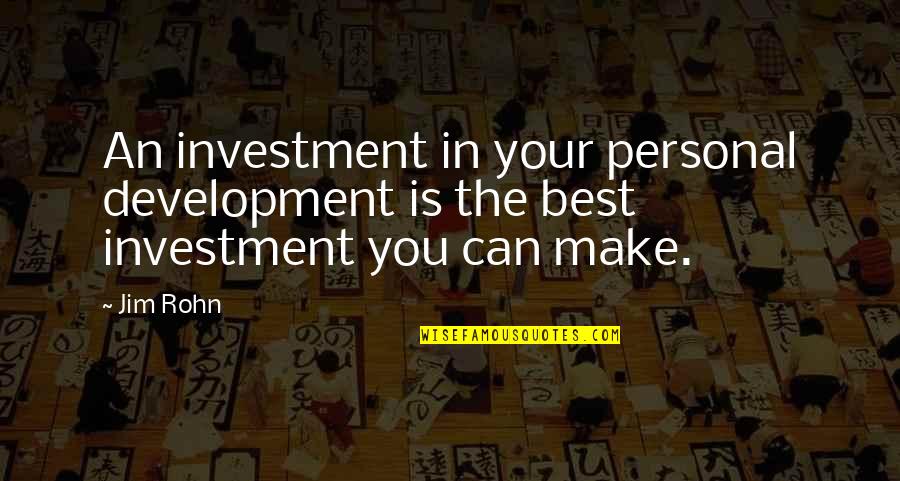 An investment in your personal development is the best investment you can make. —
Jim Rohn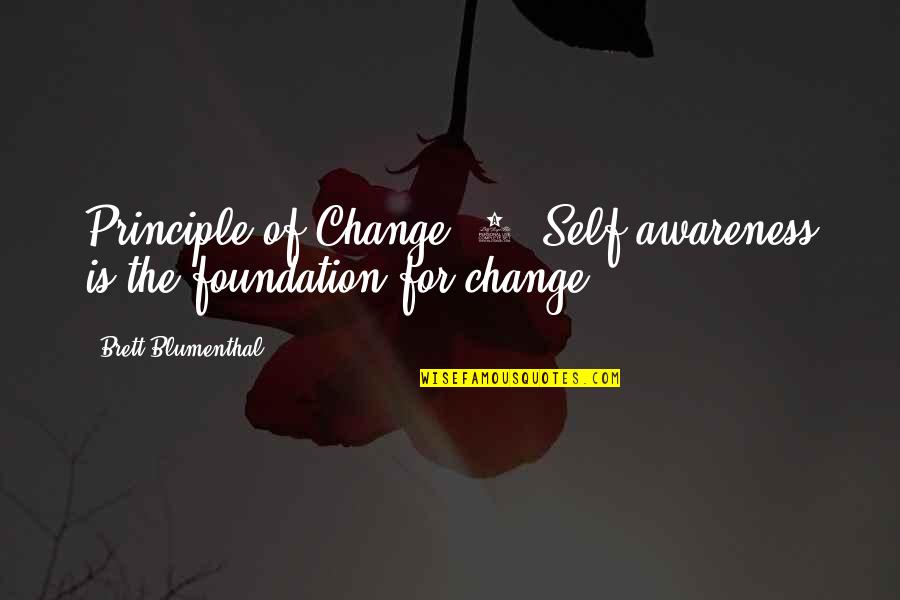 Principle of Change #2: Self-awareness is the foundation for change. —
Brett Blumenthal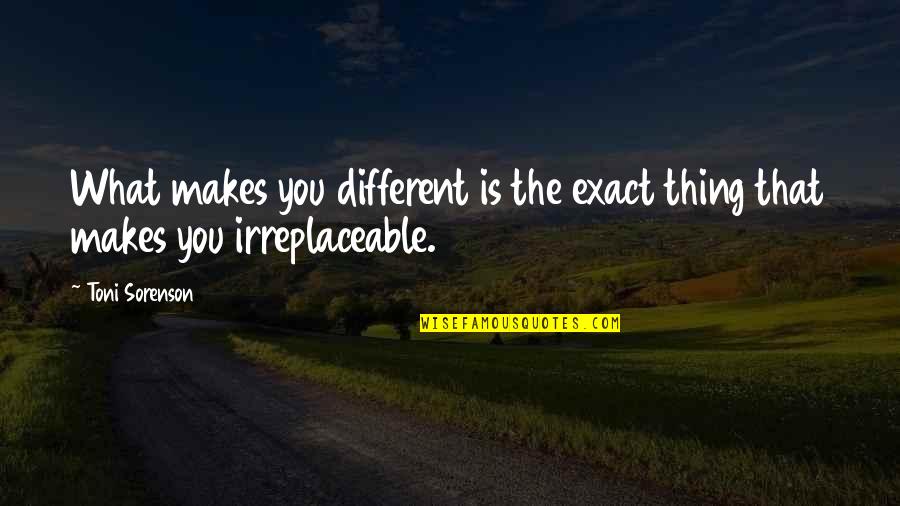 What makes you different is the exact thing that makes you irreplaceable. —
Toni Sorenson