Not Feeling Alone Quotes
Collection of top 54 famous quotes about Not Feeling Alone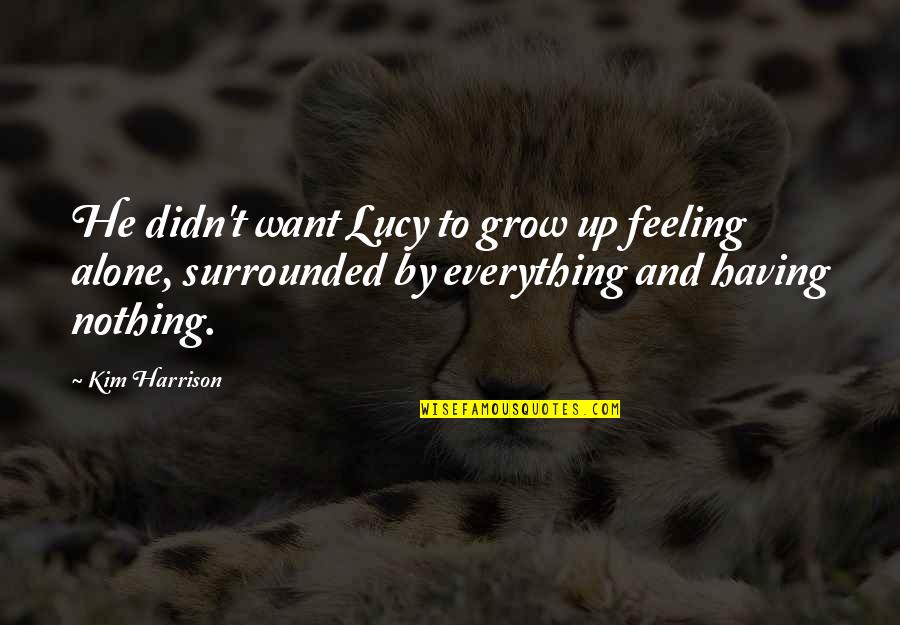 He didn't want Lucy to grow up feeling alone, surrounded by everything and having nothing.
—
Kim Harrison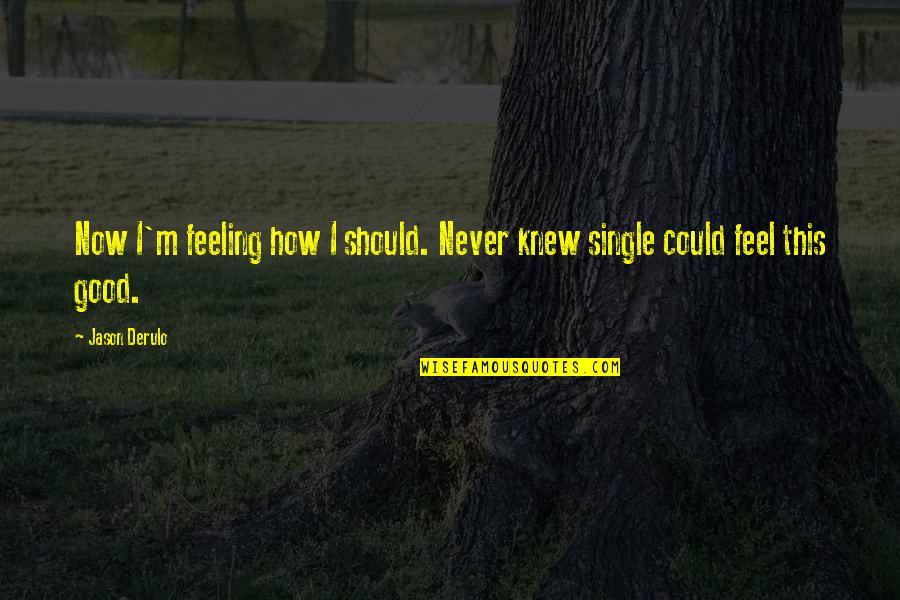 Now I'm feeling how I should. Never knew single could feel this good.
—
Jason Derulo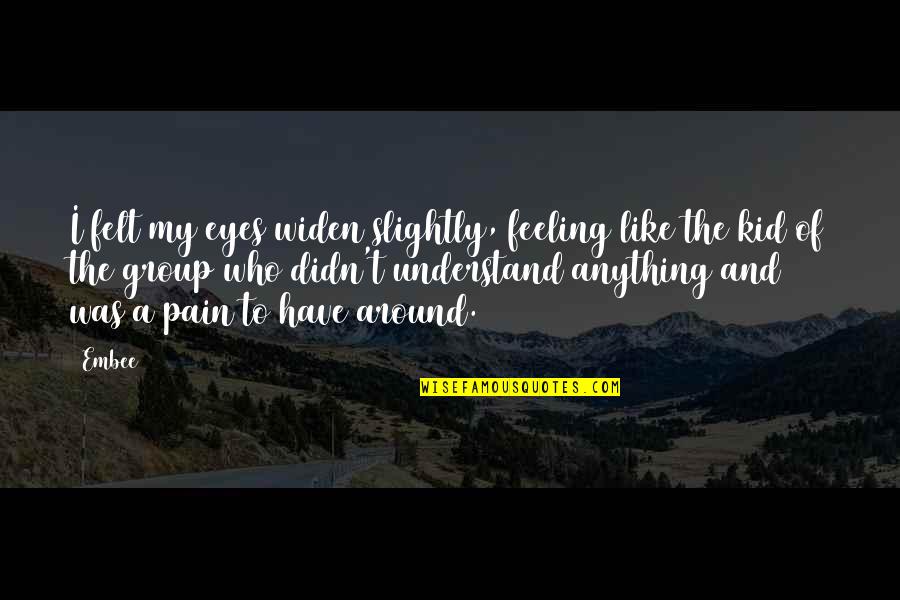 I felt my eyes widen slightly, feeling like the kid of the group who didn't understand anything and was a pain to have around.
—
Embee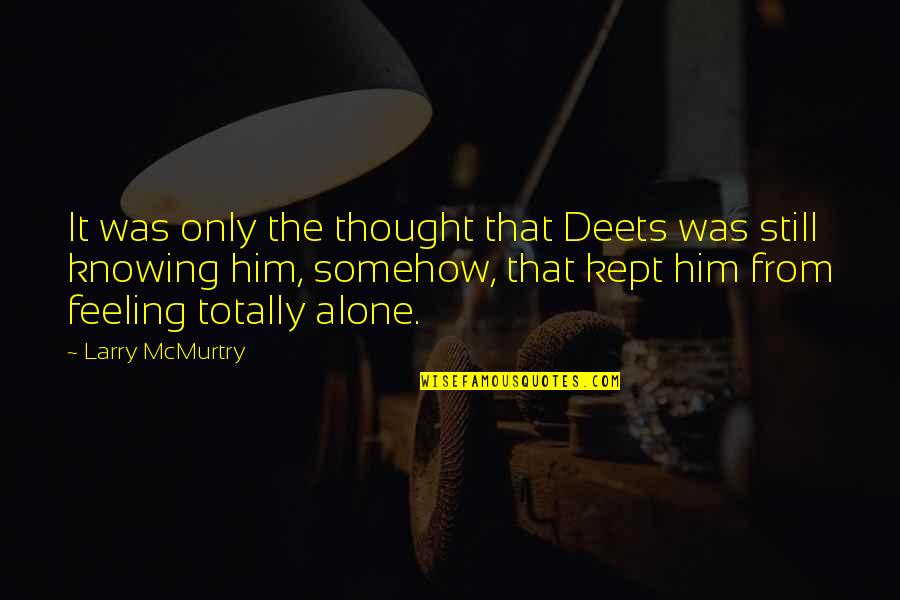 It was only the thought that Deets was still knowing him, somehow, that kept him from feeling totally alone.
—
Larry McMurtry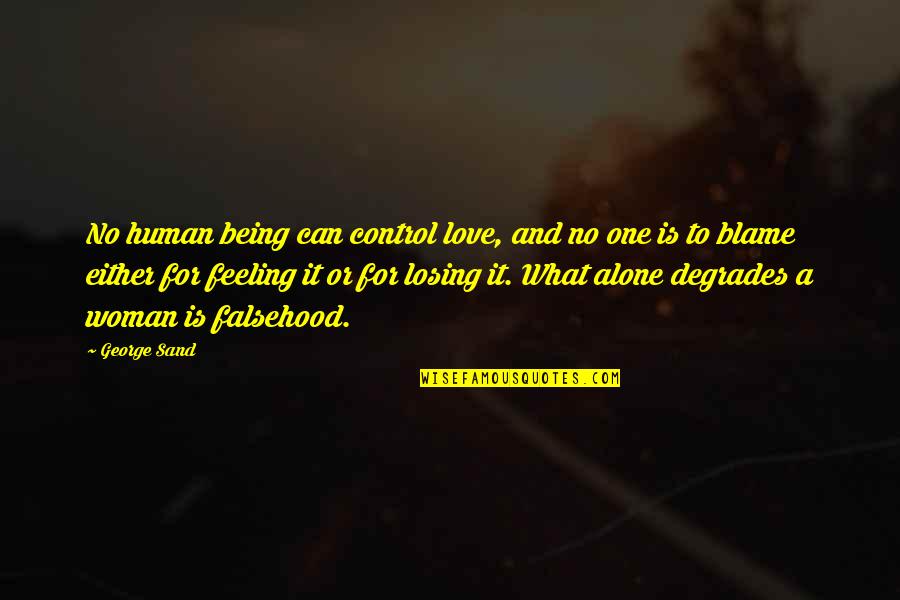 No human being can control love, and no one is to blame either for feeling it or for losing it. What alone degrades a woman is falsehood.
—
George Sand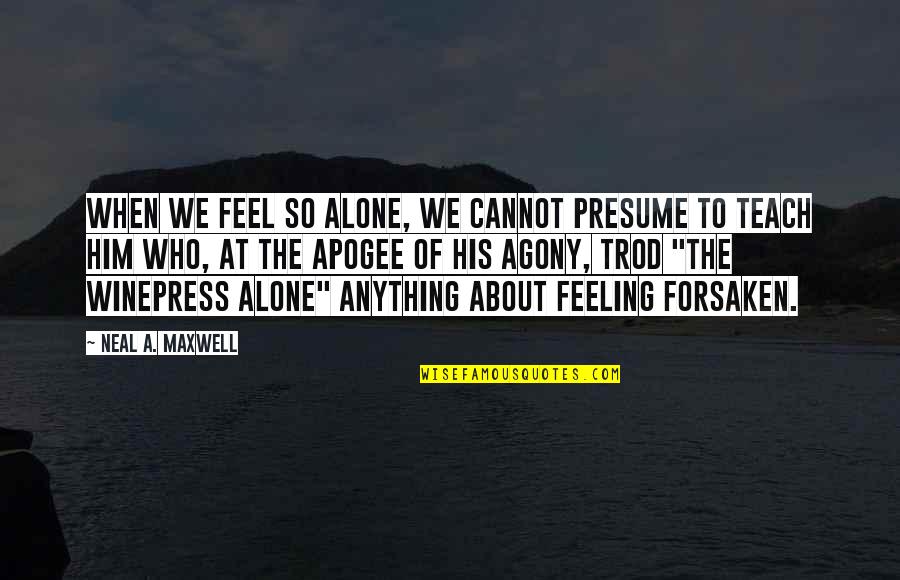 When we feel so alone, we cannot presume to teach him who, at the apogee of his agony, trod "the winepress alone" anything about feeling forsaken.
—
Neal A. Maxwell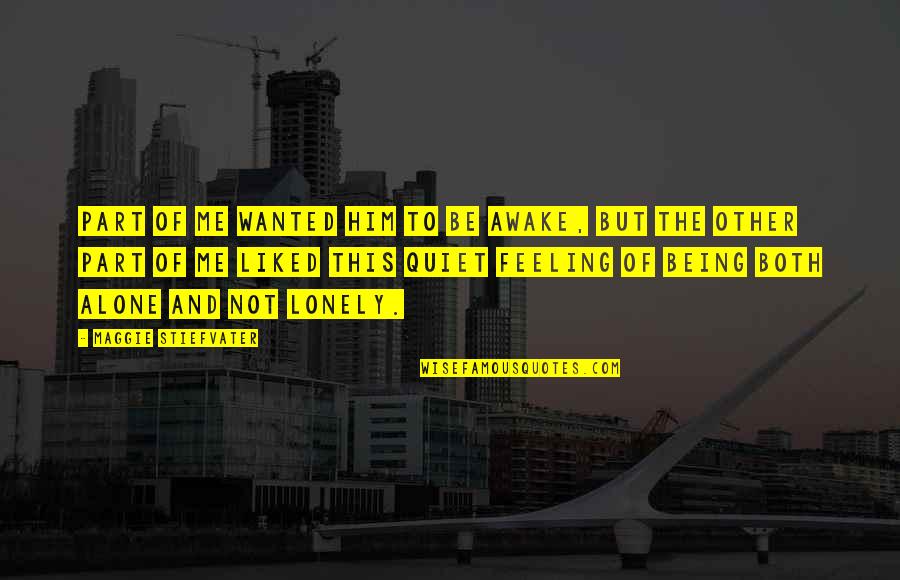 Part of me wanted him to be awake, but the other part of me liked this quiet feeling of being both alone and not lonely.
—
Maggie Stiefvater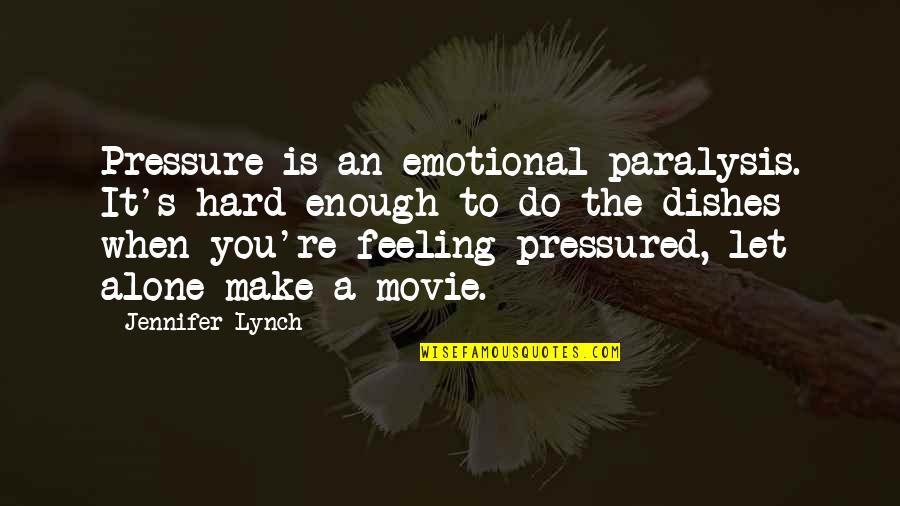 Pressure is an emotional paralysis. It's hard enough to do the dishes when you're feeling pressured, let alone make a movie.
—
Jennifer Lynch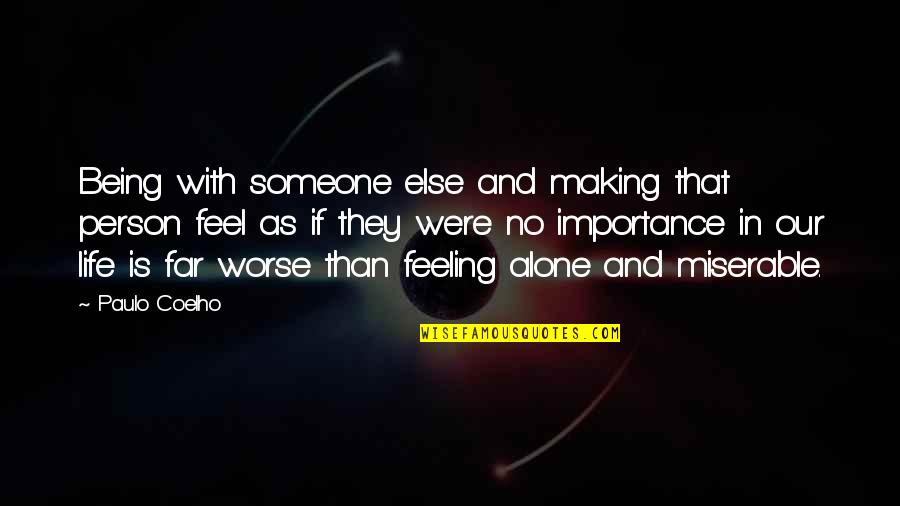 Being with someone else and making that person feel as if they were no importance in our life is far worse than feeling alone and miserable.
—
Paulo Coelho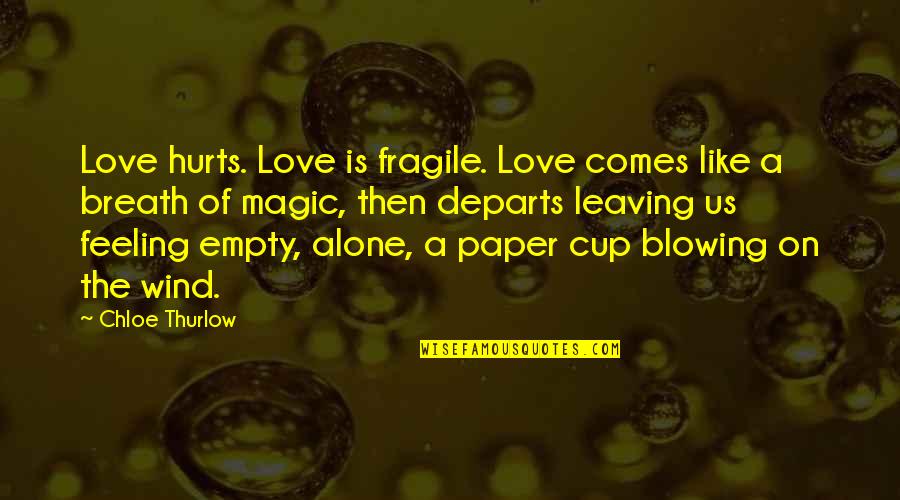 Love hurts. Love is fragile. Love comes like a breath of magic, then departs leaving us feeling empty, alone, a paper cup blowing on the wind.
—
Chloe Thurlow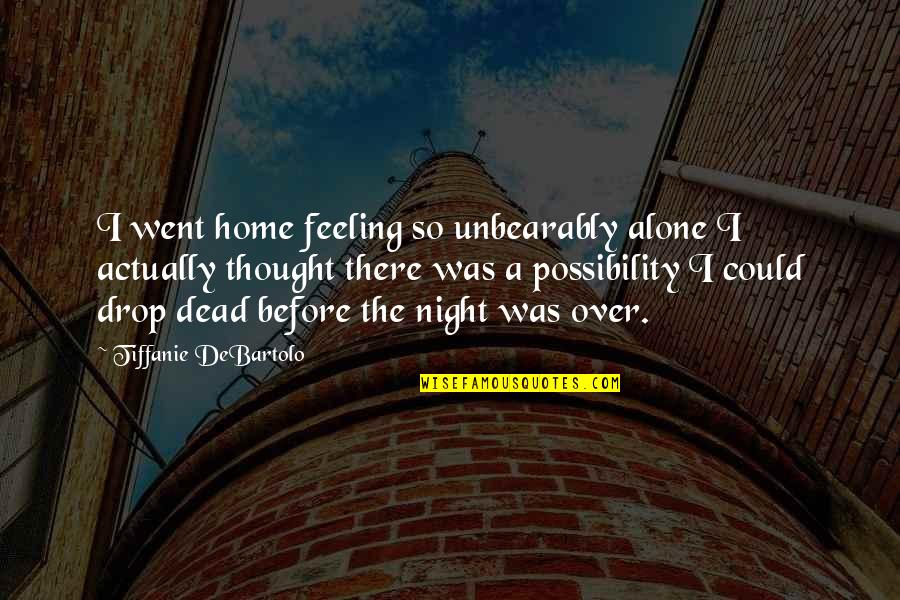 I went home feeling so unbearably alone I actually thought there was a possibility I could drop dead before the night was over.
—
Tiffanie DeBartolo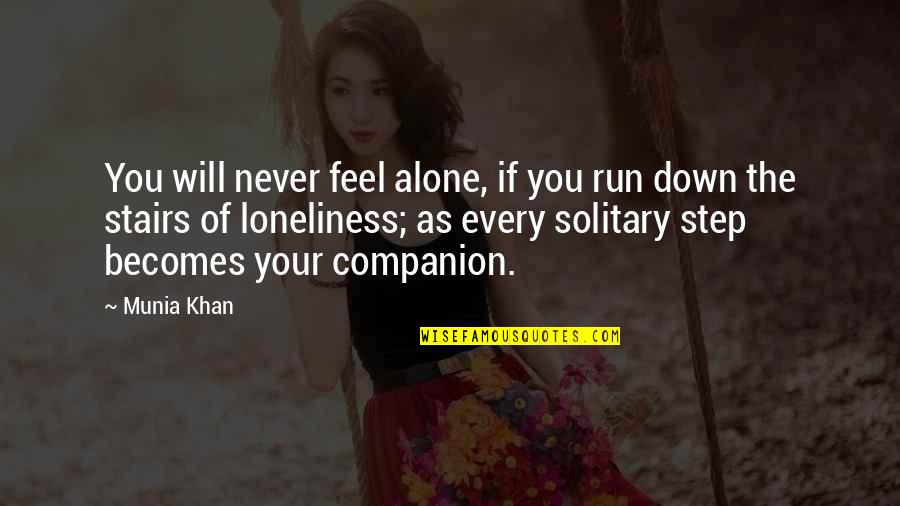 You will never feel alone, if you run down the stairs of loneliness; as every solitary step becomes your companion.
—
Munia Khan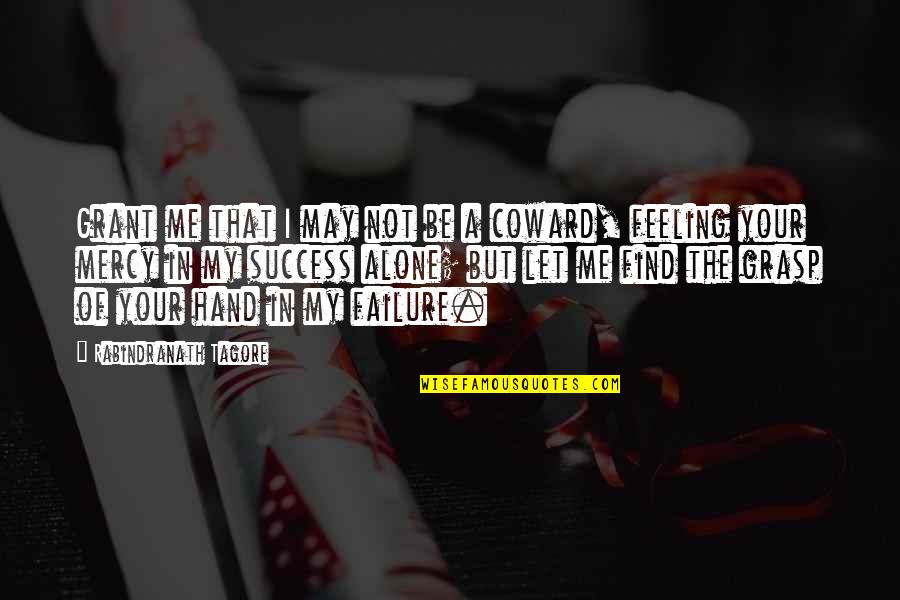 Grant me that I may not be a coward, feeling your mercy in my success alone; but let me find the grasp of your hand in my failure. —
Rabindranath Tagore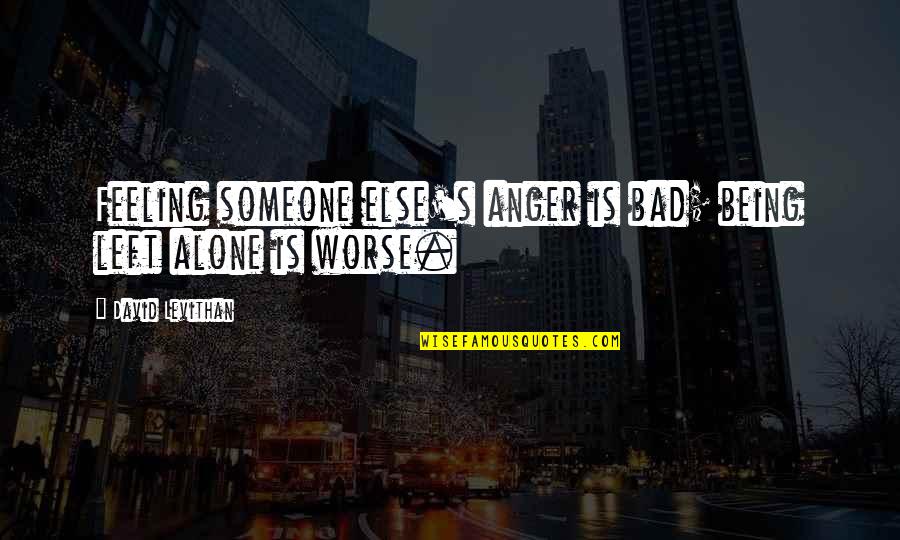 Feeling someone else's anger is bad; being left alone is worse. —
David Levithan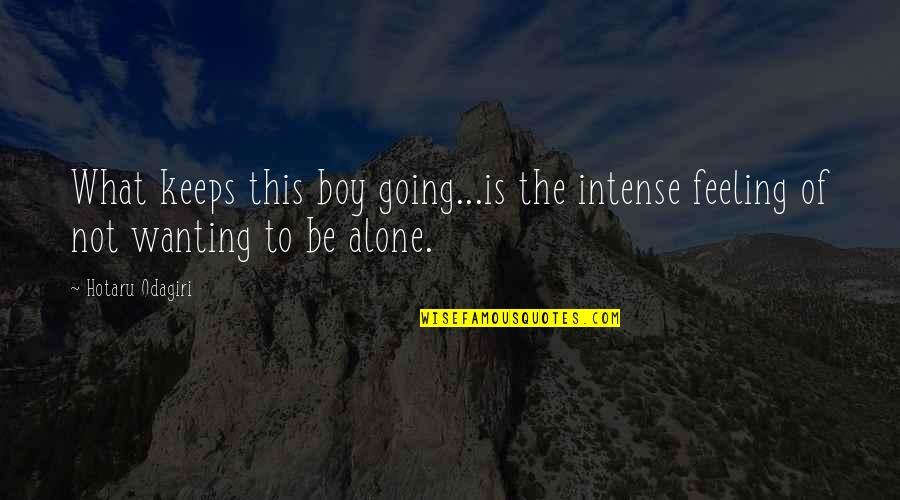 What keeps this boy going...is the intense feeling of not wanting to be alone. —
Hotaru Odagiri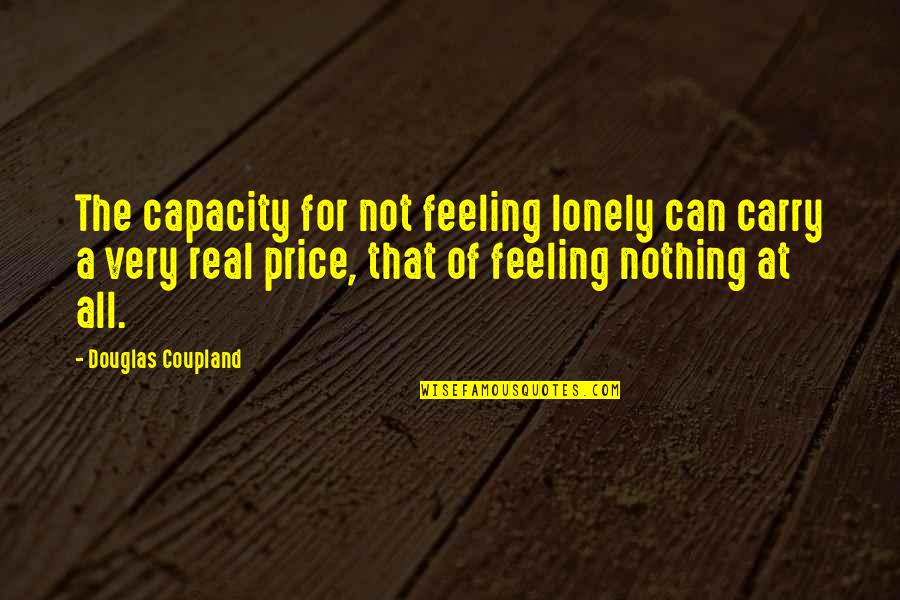 The capacity for not feeling lonely can carry a very real price, that of feeling nothing at all. —
Douglas Coupland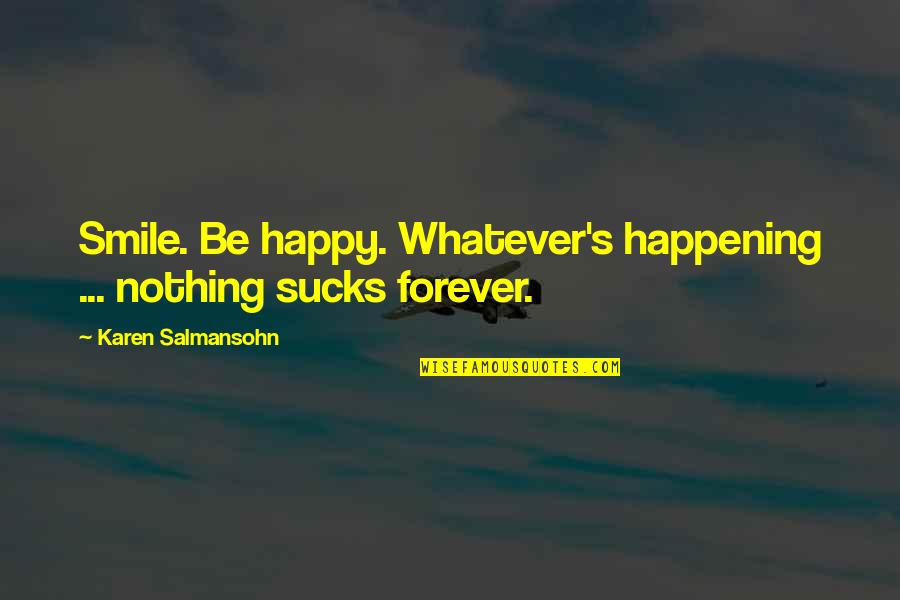 Smile. Be happy. Whatever's happening ... nothing sucks forever. —
Karen Salmansohn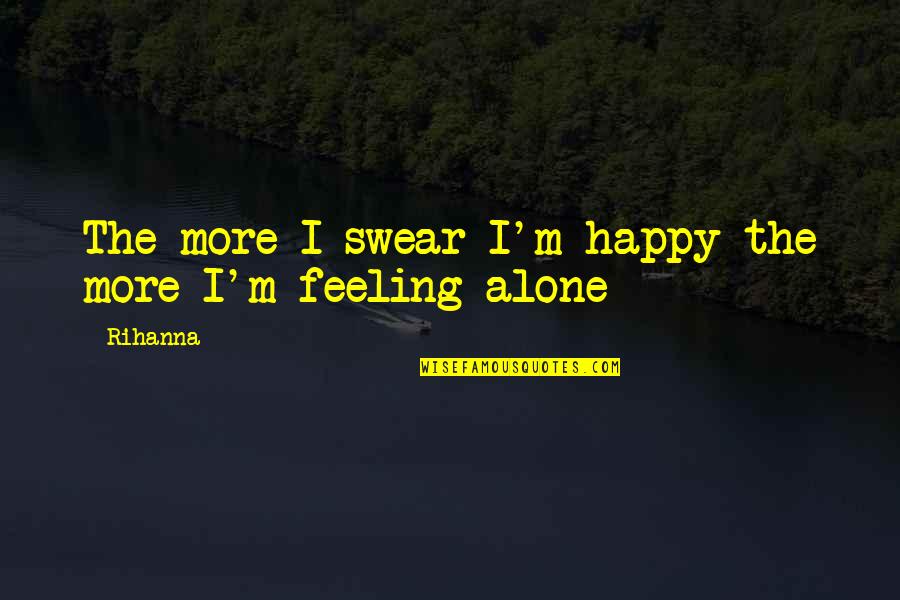 The more I swear I'm happy the more I'm feeling alone —
Rihanna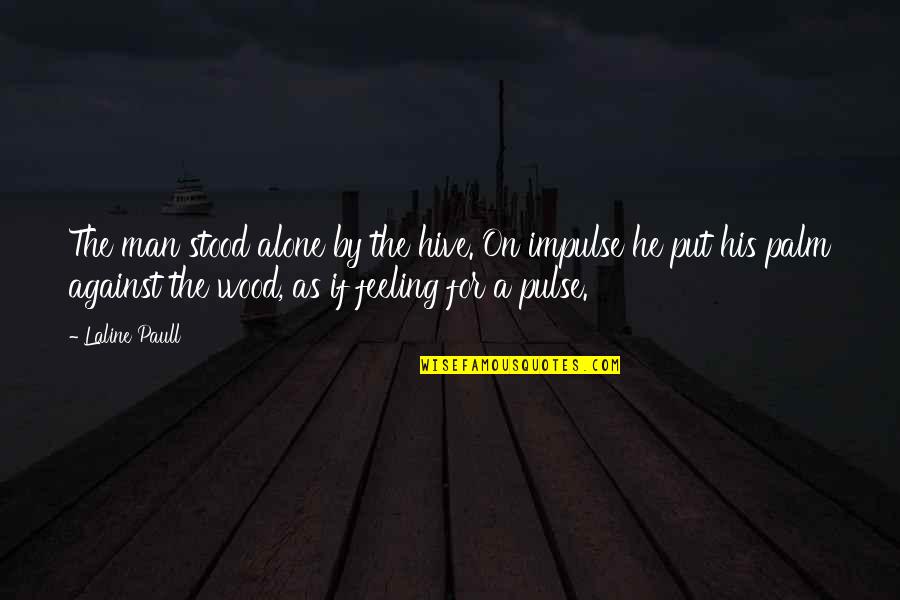 The man stood alone by the hive. On impulse he put his palm against the wood, as if feeling for a pulse. —
Laline Paull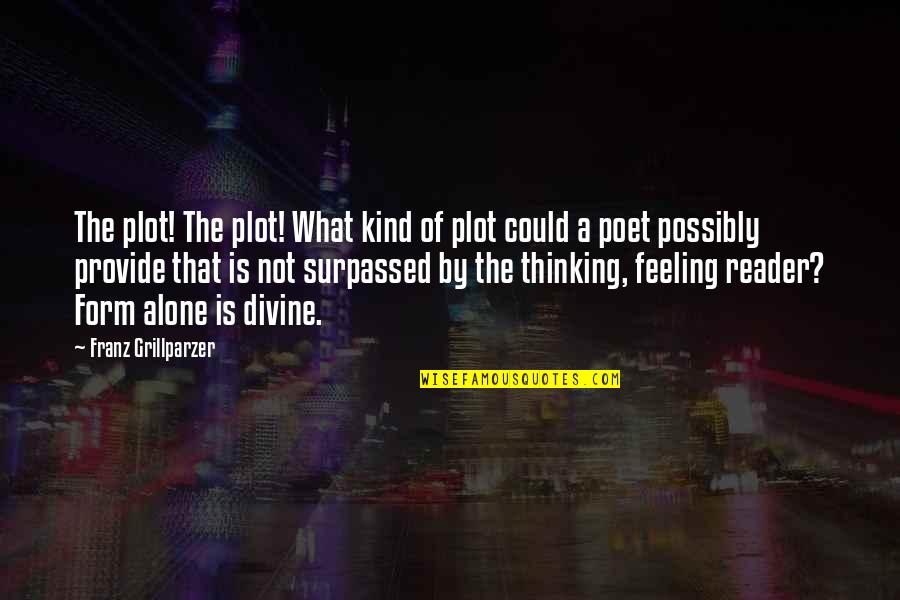 The plot! The plot! What kind of plot could a poet possibly provide that is not surpassed by the thinking, feeling reader? Form alone is divine. —
Franz Grillparzer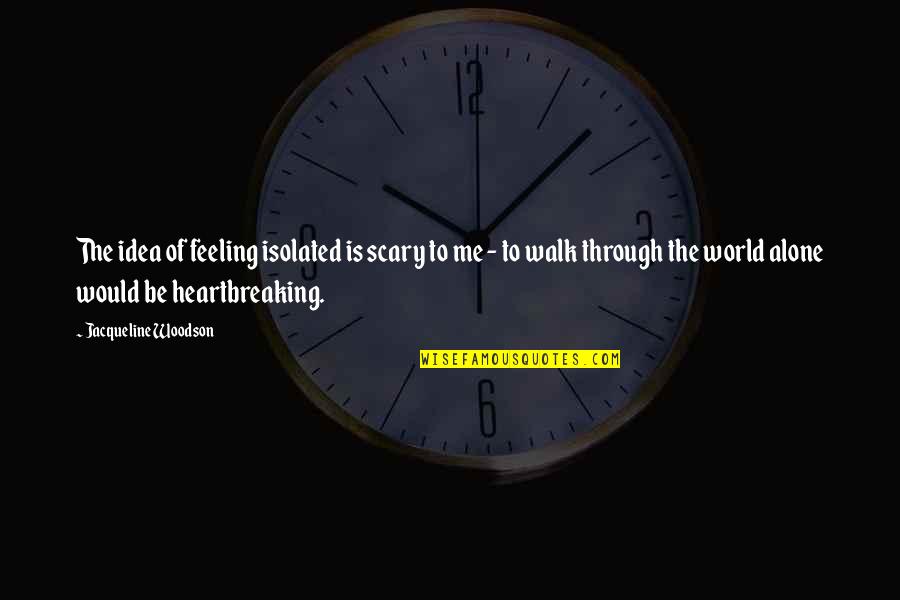 The idea of feeling isolated is scary to me - to walk through the world alone would be heartbreaking. —
Jacqueline Woodson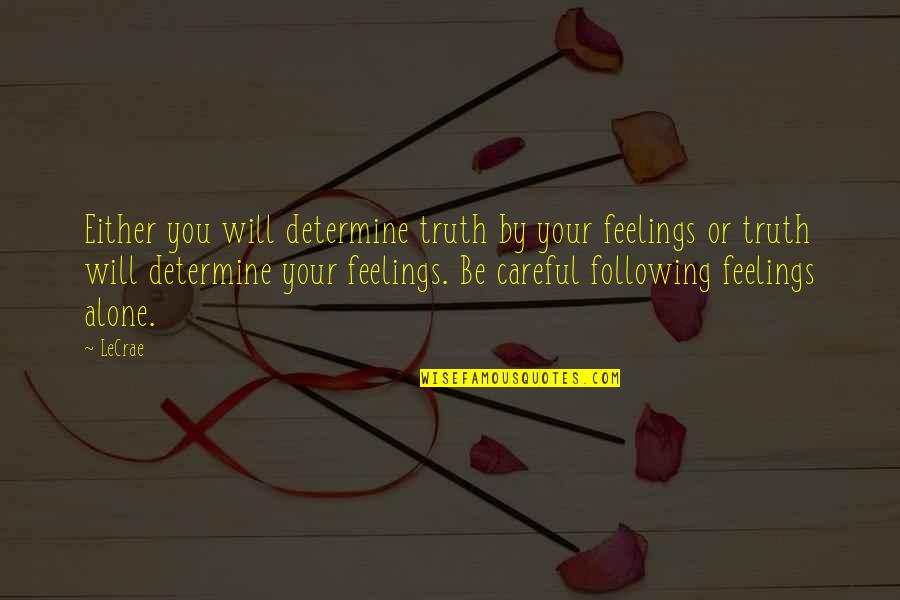 Either you will determine truth by your feelings or truth will determine your feelings. Be careful following feelings alone. —
LeCrae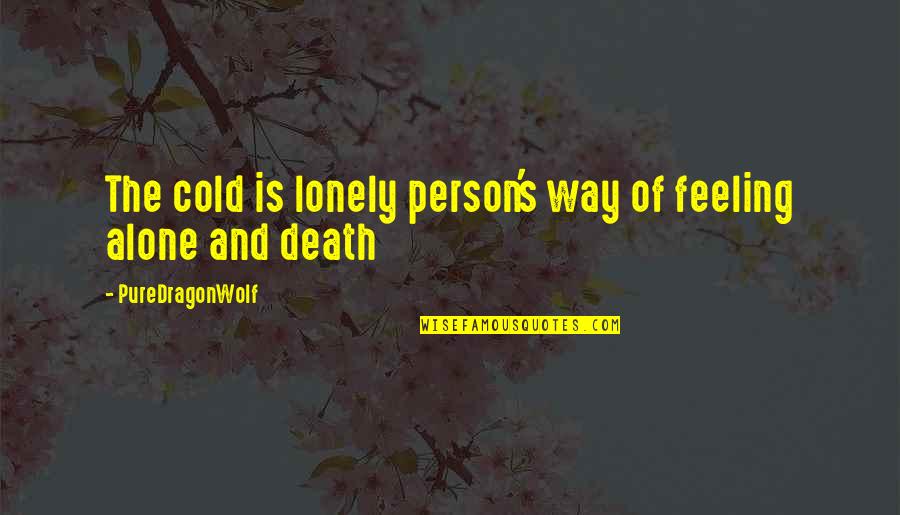 The cold is lonely person's way of feeling alone and death —
PureDragonWolf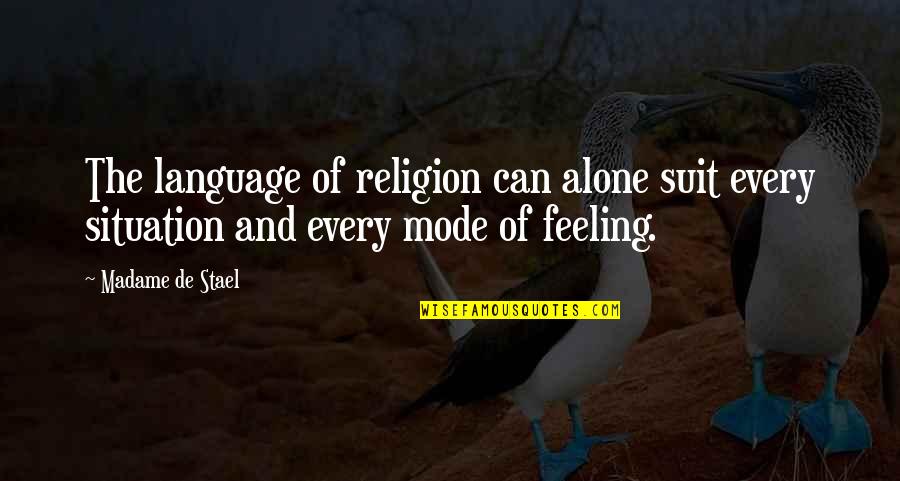 The language of religion can alone suit every situation and every mode of feeling. —
Madame De Stael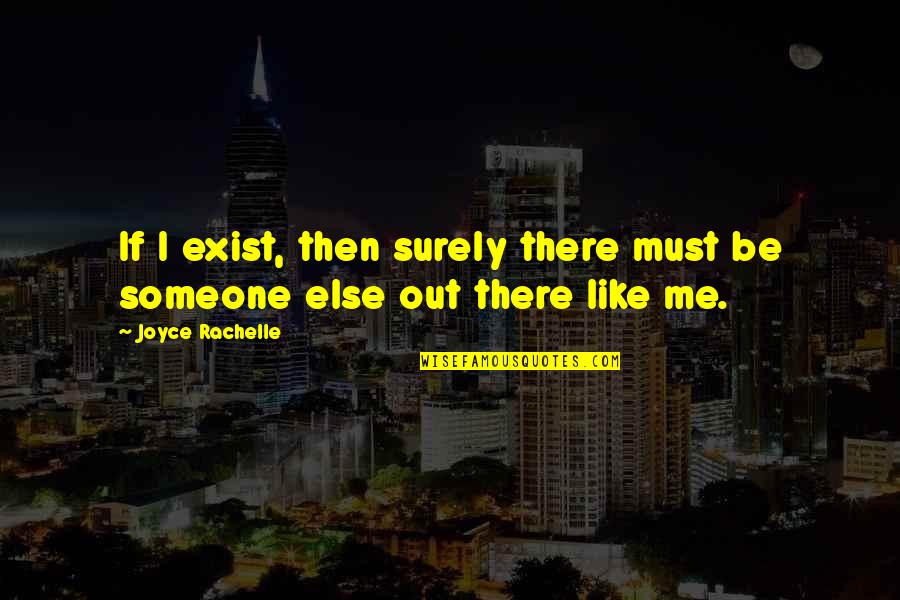 If I exist, then surely there must be someone else out there like me. —
Joyce Rachelle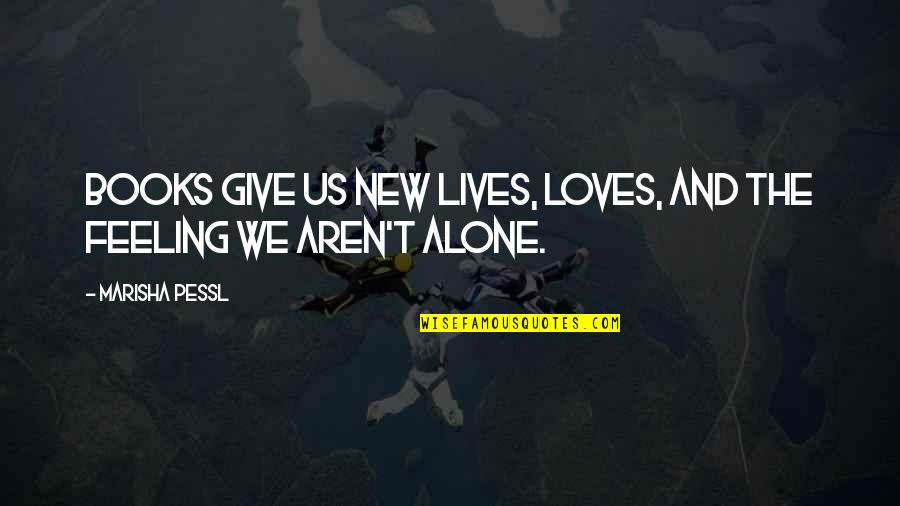 Books give us new lives, loves, and the feeling we aren't alone. —
Marisha Pessl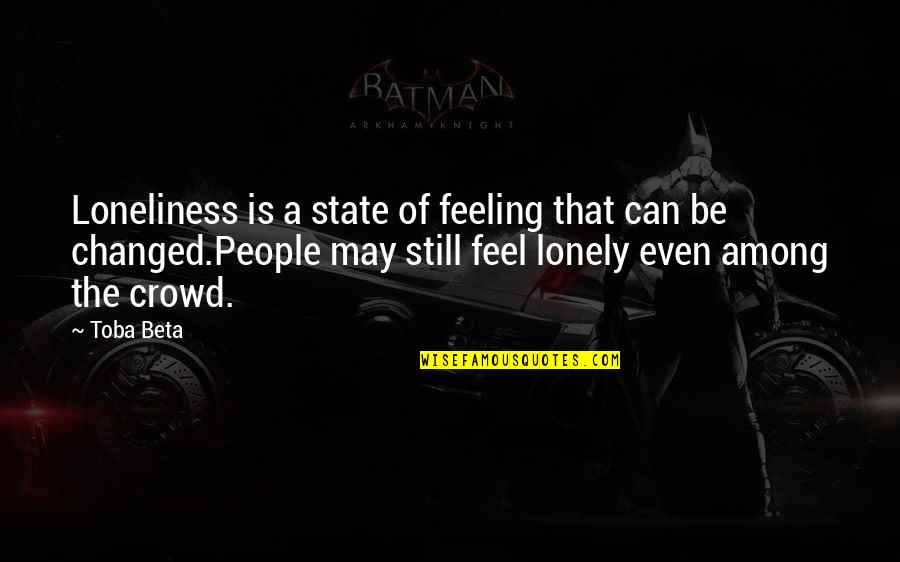 Loneliness is a state of feeling that can be changed.
People may still feel lonely even among the crowd. —
Toba Beta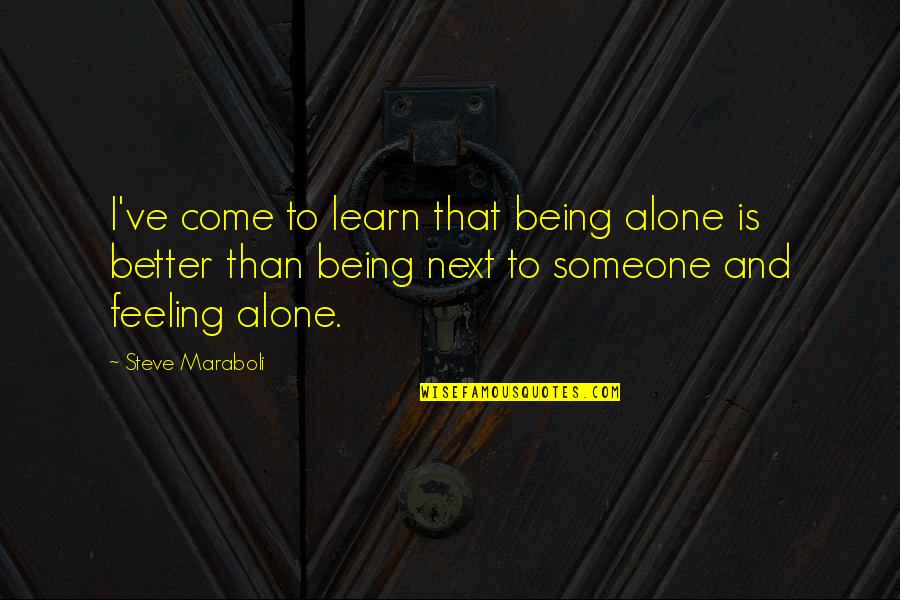 I've come to learn that being alone is better than being next to someone and feeling alone. —
Steve Maraboli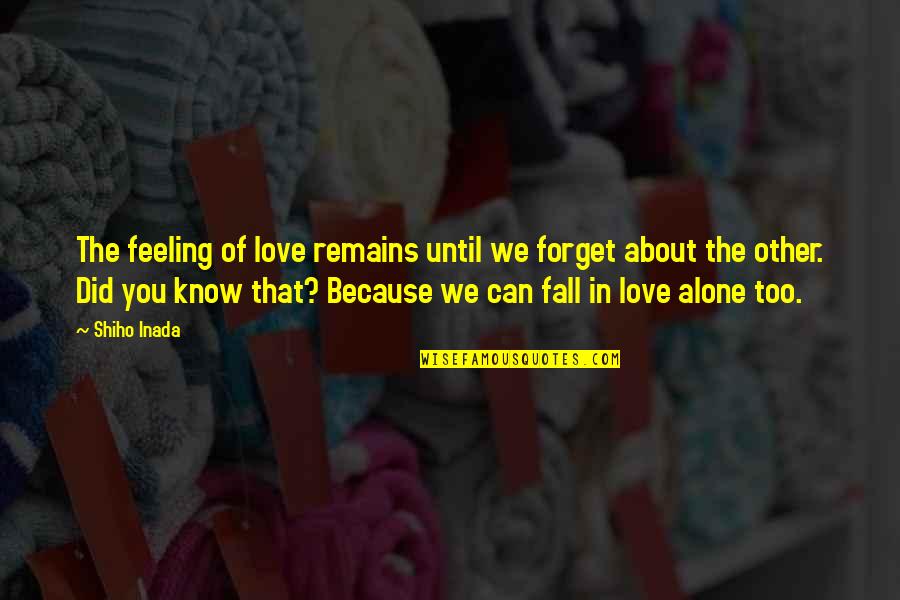 The feeling of love remains until we forget about the other. Did you know that? Because we can fall in love alone too. —
Shiho Inada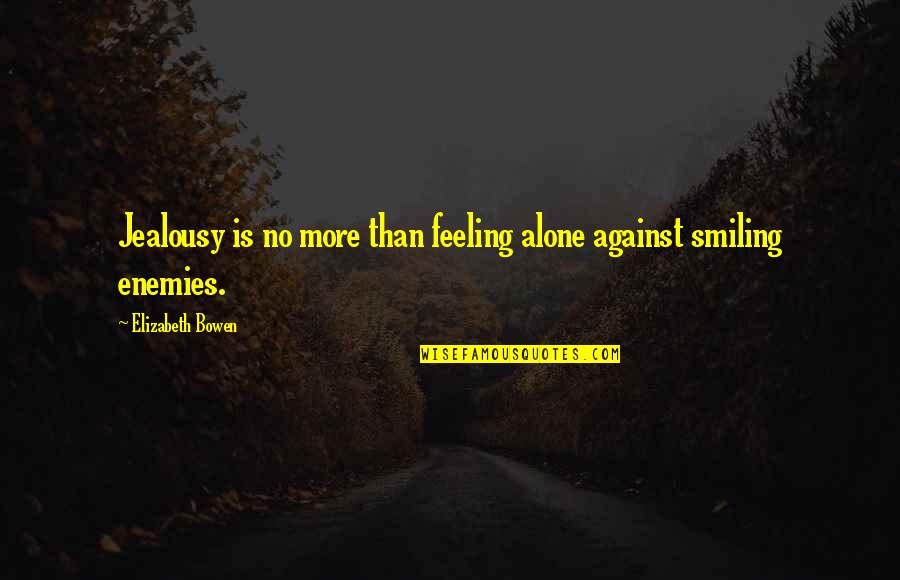 Jealousy is no more than feeling alone against smiling enemies. —
Elizabeth Bowen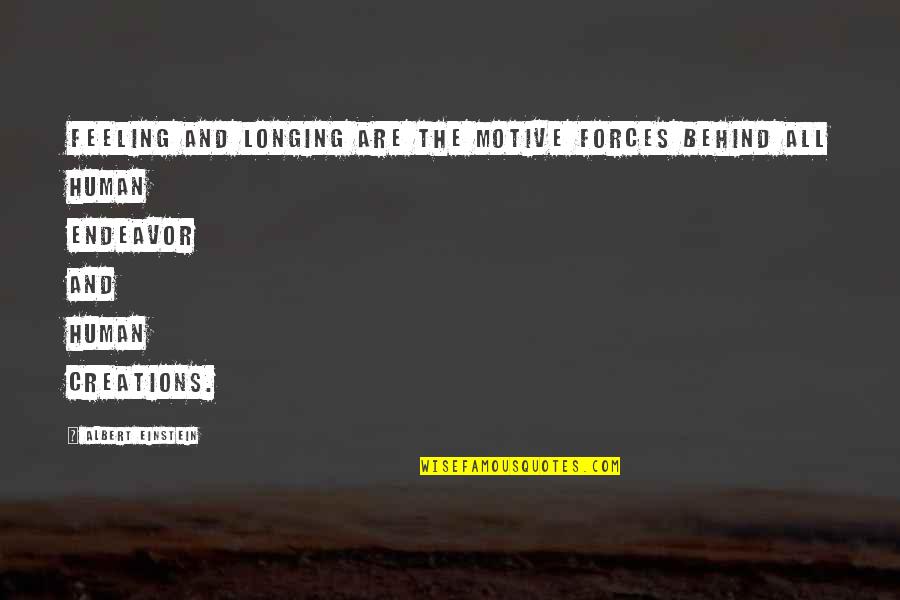 Feeling and longing are the motive forces behind all human endeavor and human creations. —
Albert Einstein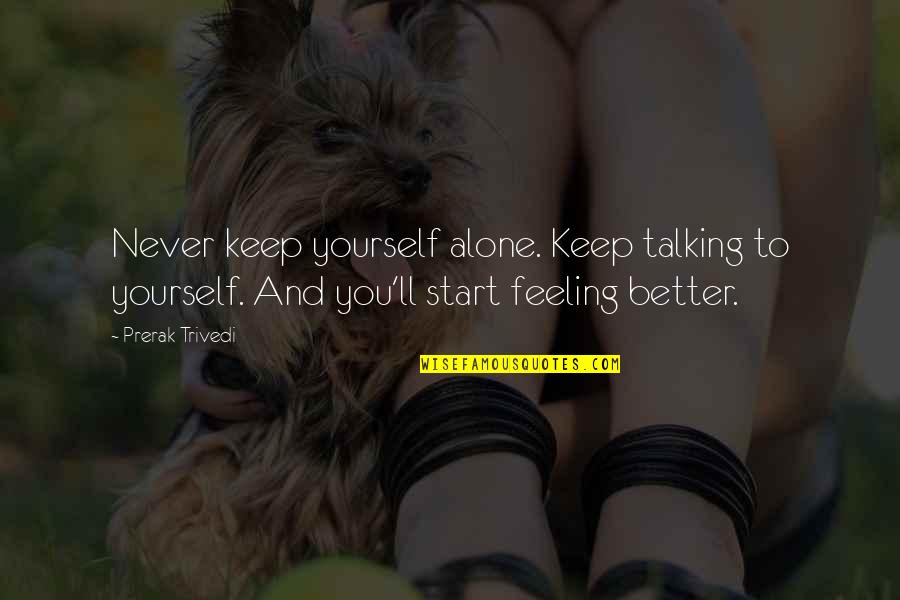 Never keep yourself alone. Keep talking to yourself. And you'll start feeling better. —
Prerak Trivedi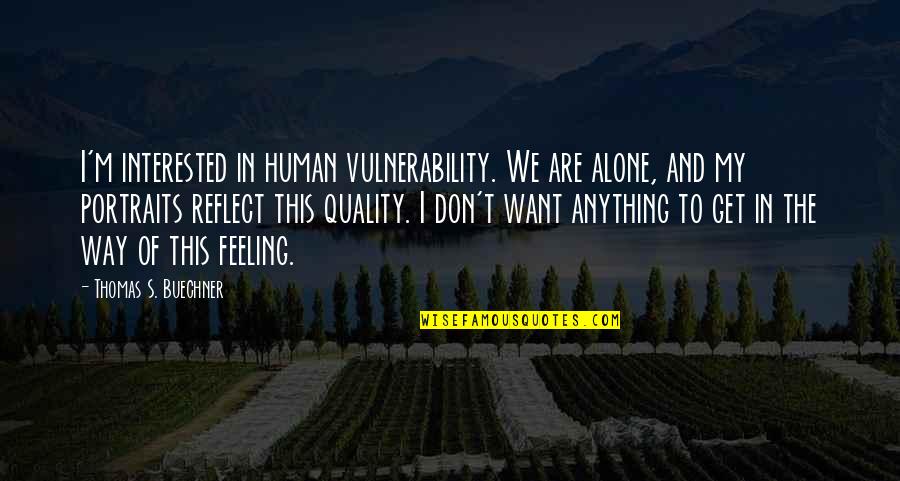 I'm interested in human vulnerability. We are alone, and my portraits reflect this quality. I don't want anything to get in the way of this feeling. —
Thomas S. Buechner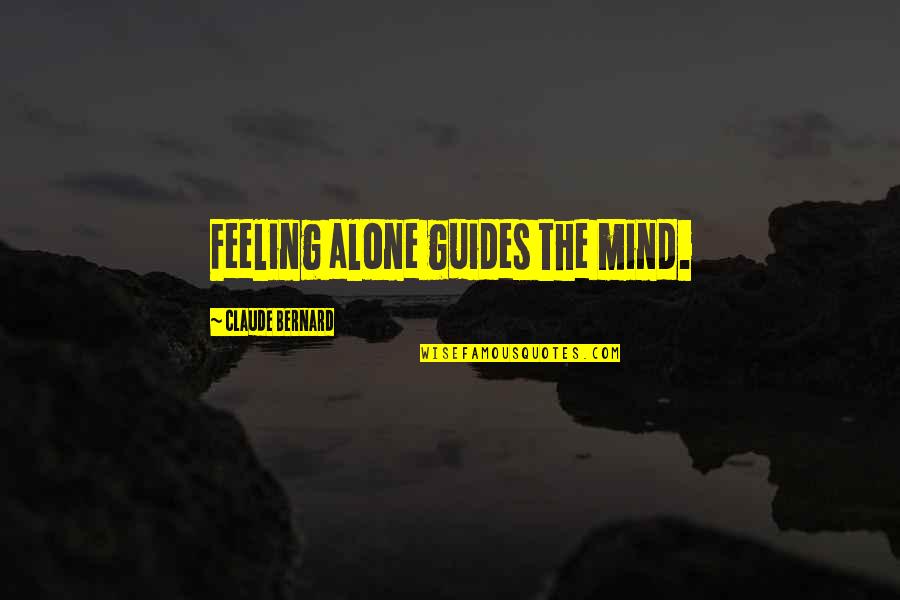 Feeling alone guides the mind. —
Claude Bernard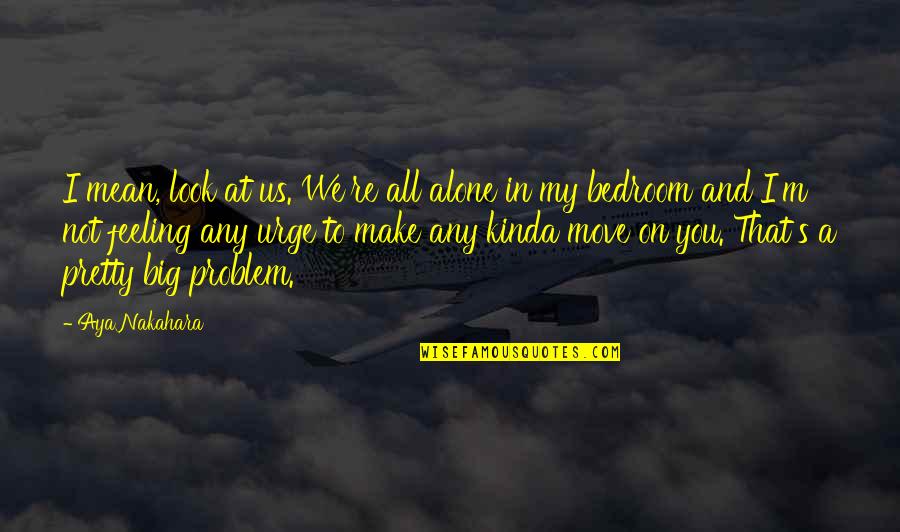 I mean, look at us. We're all alone in my bedroom and I'm not feeling any urge to make any kinda move on you. That's a pretty big problem. —
Aya Nakahara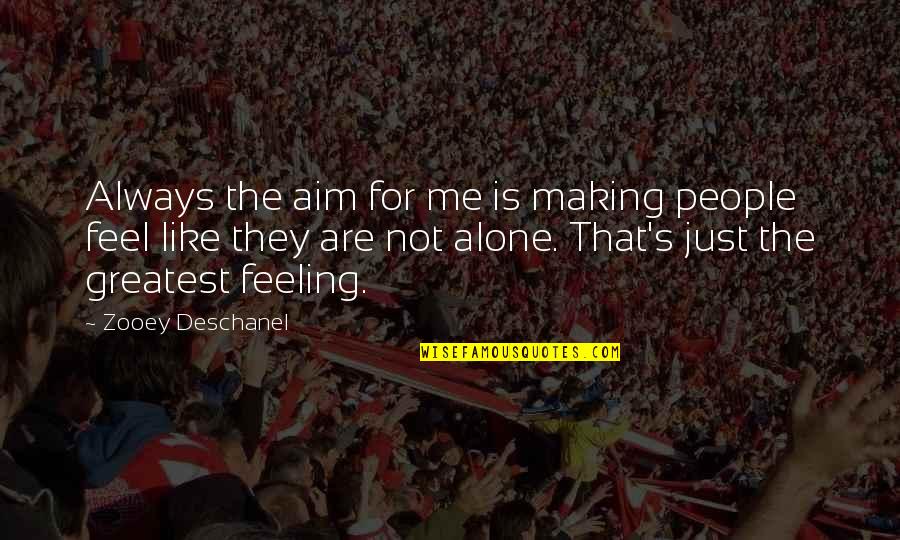 Always the aim for me is making people feel like they are not alone. That's just the greatest feeling. —
Zooey Deschanel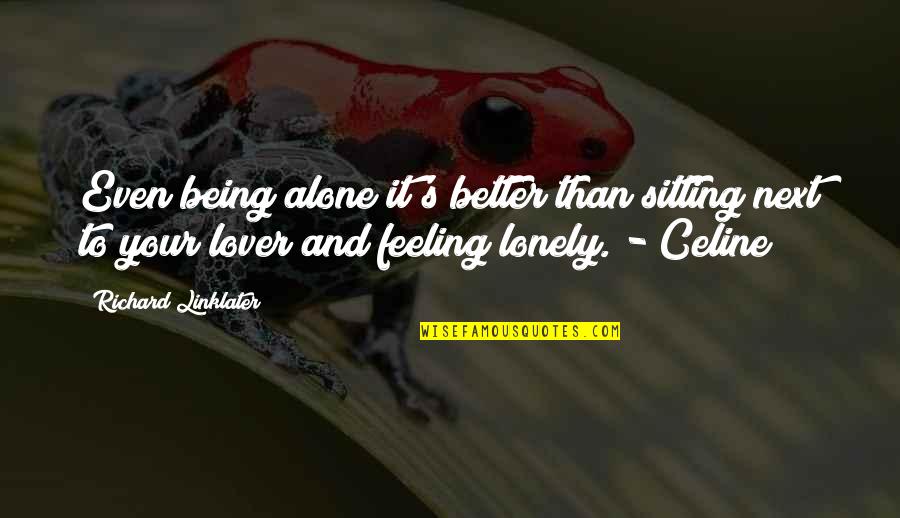 Even being alone it's better than sitting next to your lover and feeling lonely. - Celine —
Richard Linklater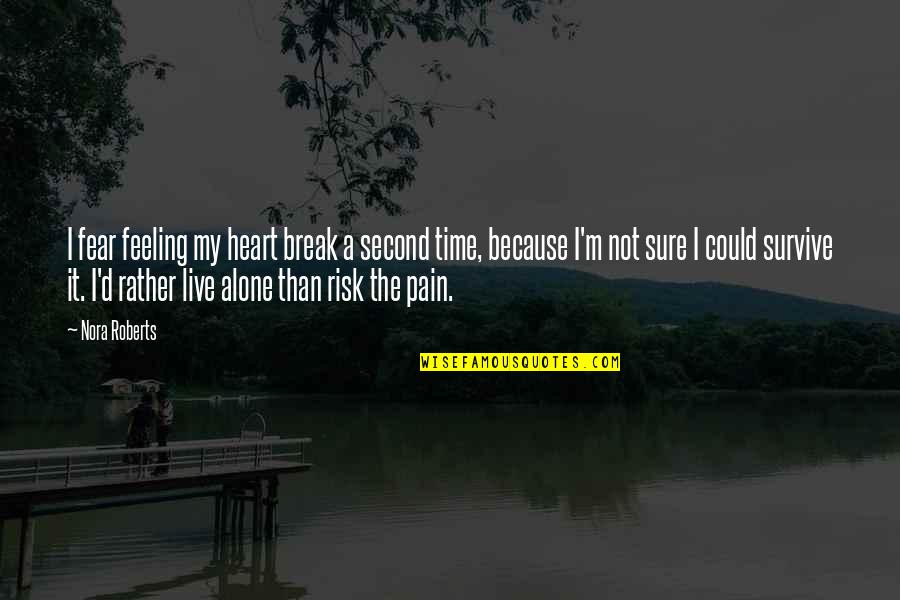 I fear feeling my heart break a second time, because I'm not sure I could survive it. I'd rather live alone than risk the pain. —
Nora Roberts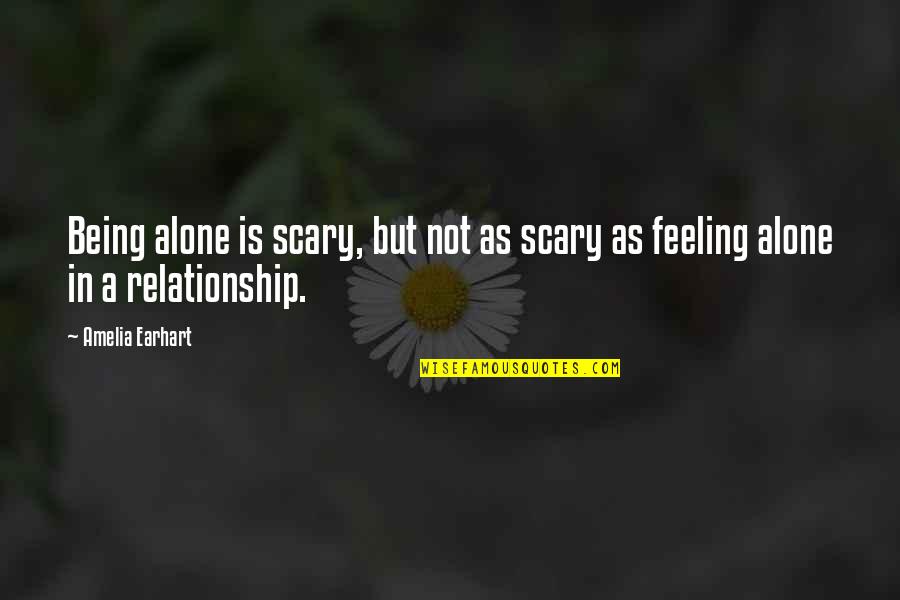 Being alone is scary, but not as scary as feeling alone in a relationship. —
Amelia Earhart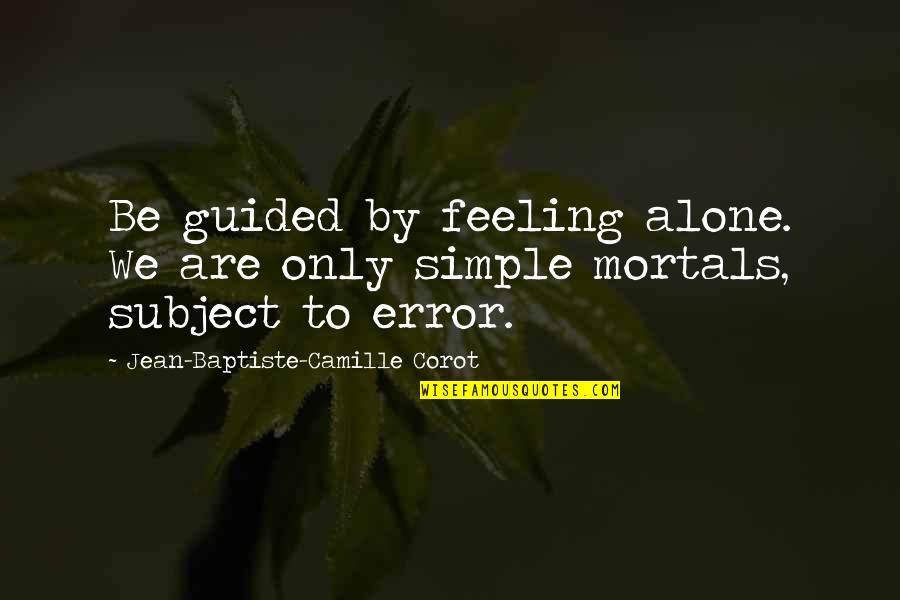 Be guided by feeling alone. We are only simple mortals, subject to error. —
Jean-Baptiste-Camille Corot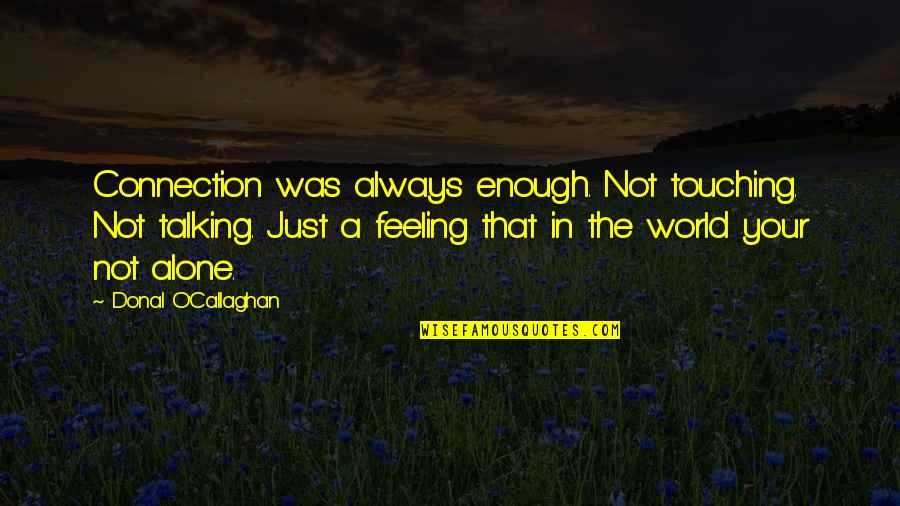 Connection was always enough. Not touching. Not talking. Just a feeling that in the world your not alone. —
Donal O'Callaghan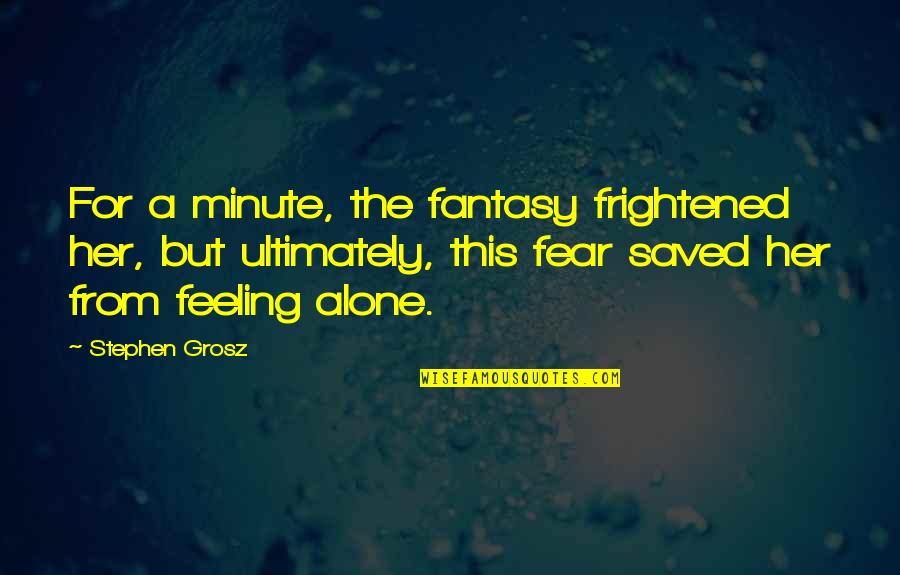 For a minute, the fantasy frightened her, but ultimately, this fear saved her from feeling alone. —
Stephen Grosz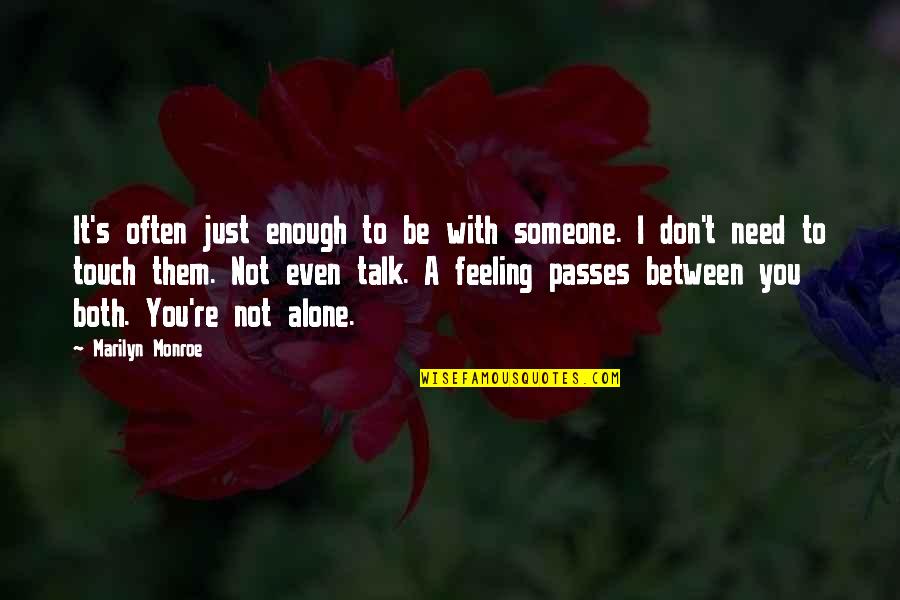 It's often just enough to be with someone. I don't need to touch them. Not even talk. A feeling passes between you both. You're not alone. —
Marilyn Monroe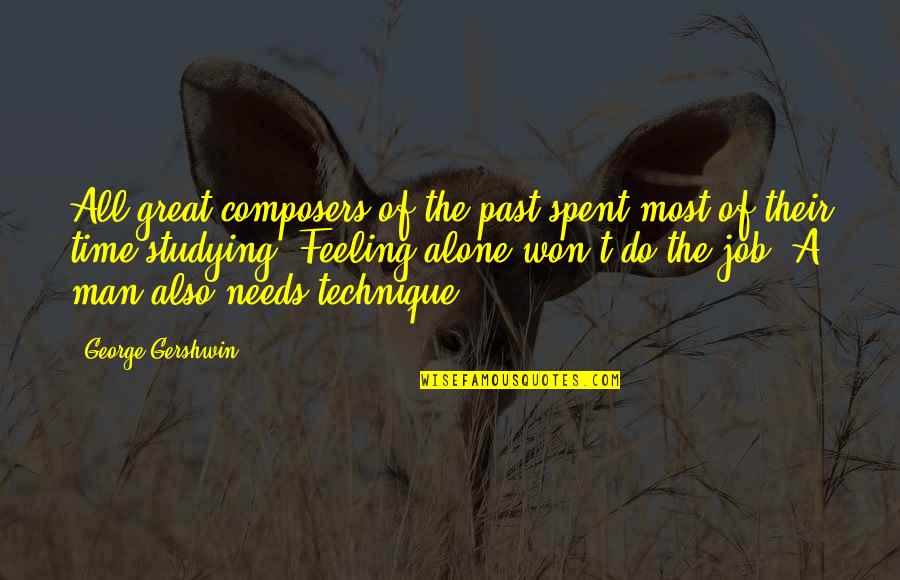 All great composers of the past spent most of their time studying. Feeling alone won't do the job. A man also needs technique. —
George Gershwin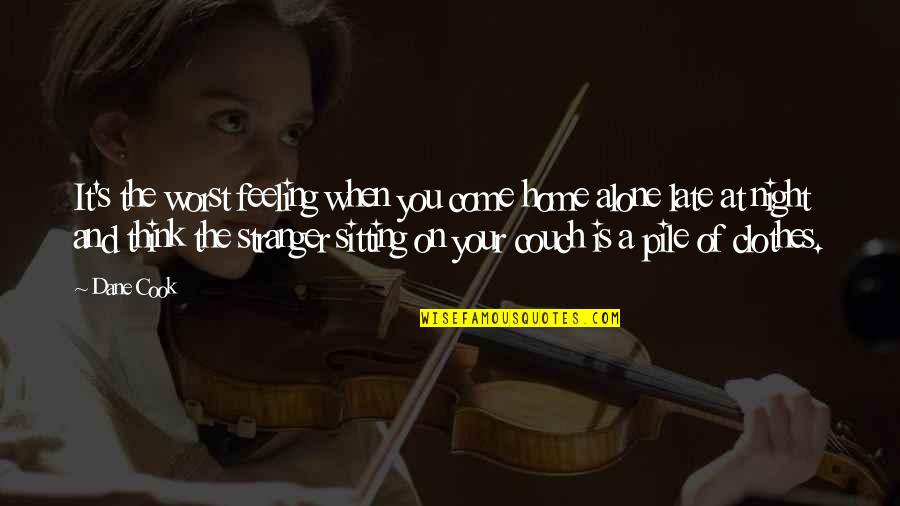 It's the worst feeling when you come home alone late at night and think the stranger sitting on your couch is a pile of clothes. —
Dane Cook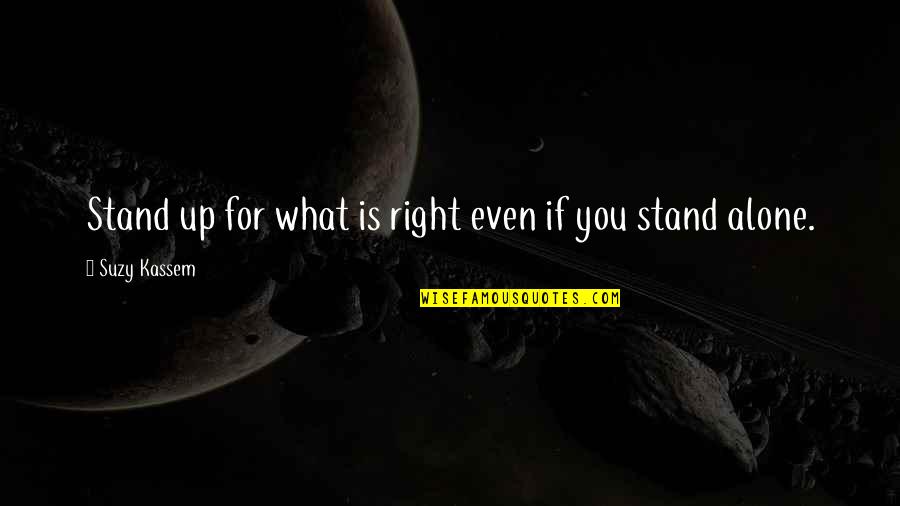 Stand up for what is right even if you stand alone. —
Suzy Kassem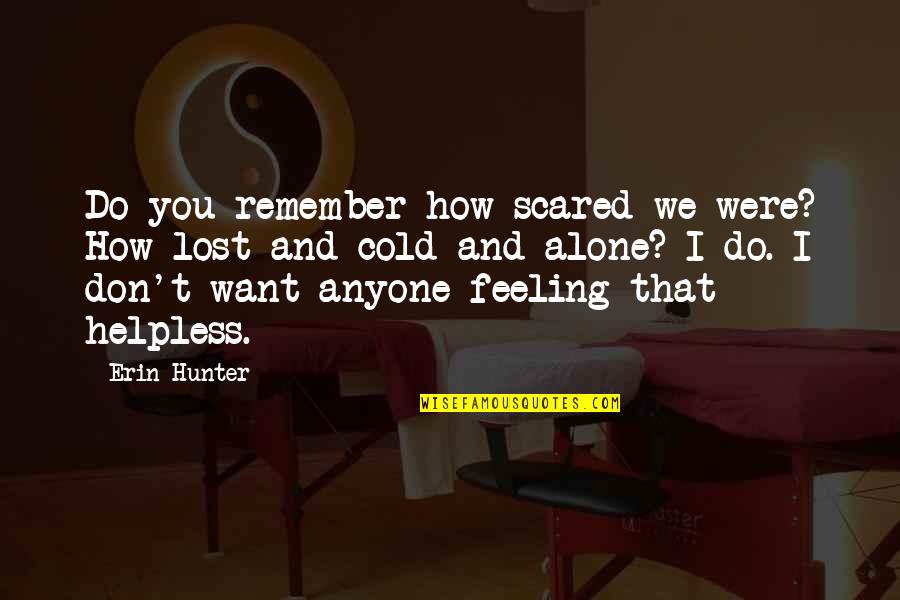 Do you remember how scared we were? How lost and cold and alone? I do. I don't want anyone feeling that helpless. —
Erin Hunter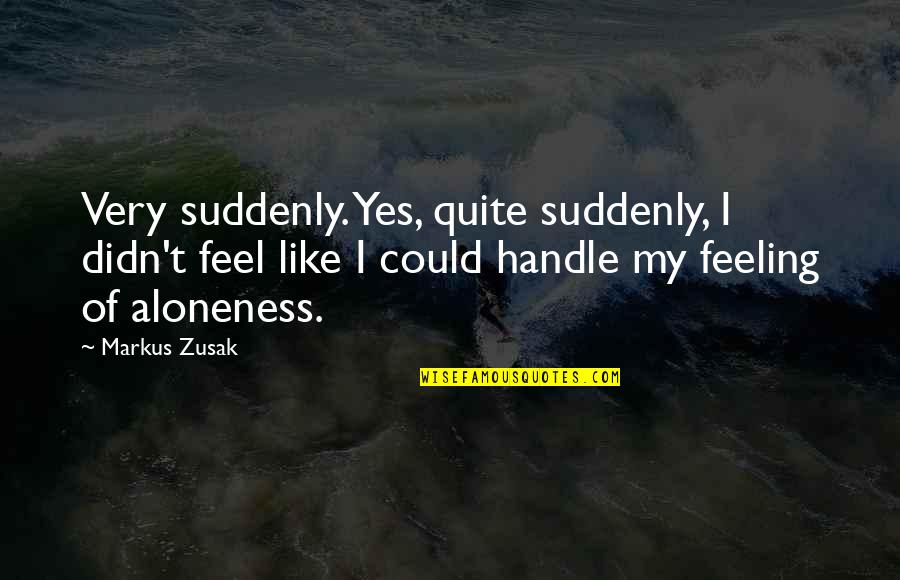 Very suddenly. Yes, quite suddenly, I didn't feel like I could handle my feeling of aloneness. —
Markus Zusak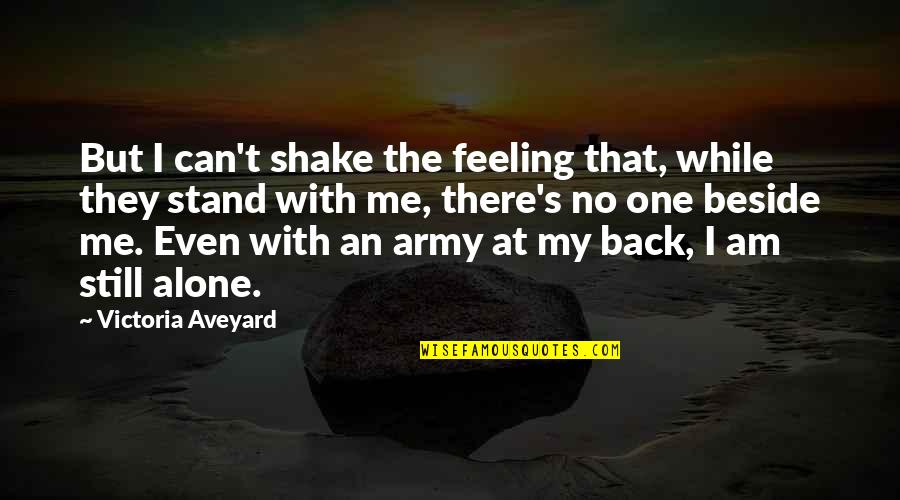 But I can't shake the feeling that, while they stand with me, there's no one beside me. Even with an army at my back, I am still alone. —
Victoria Aveyard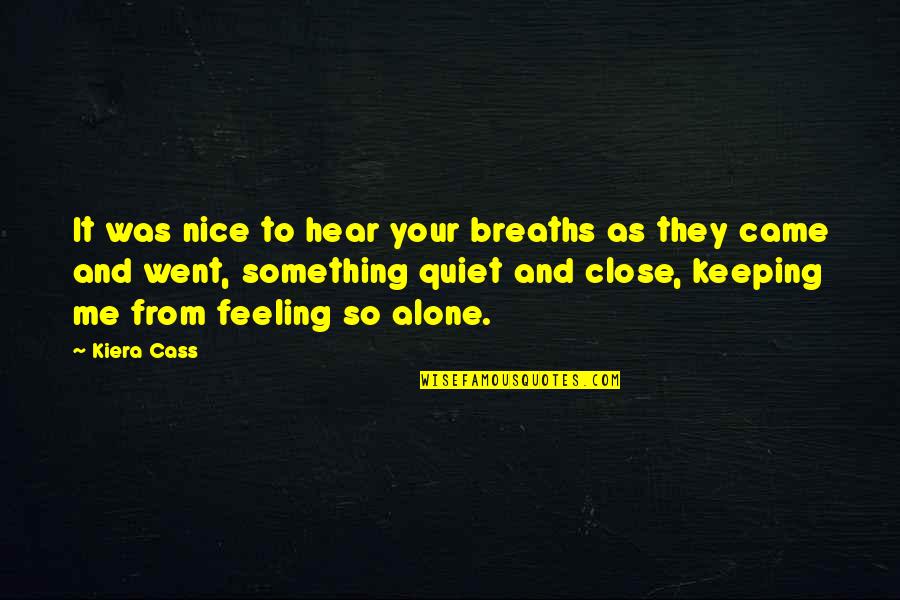 It was nice to hear your breaths as they came and went, something quiet and close, keeping me from feeling so alone. —
Kiera Cass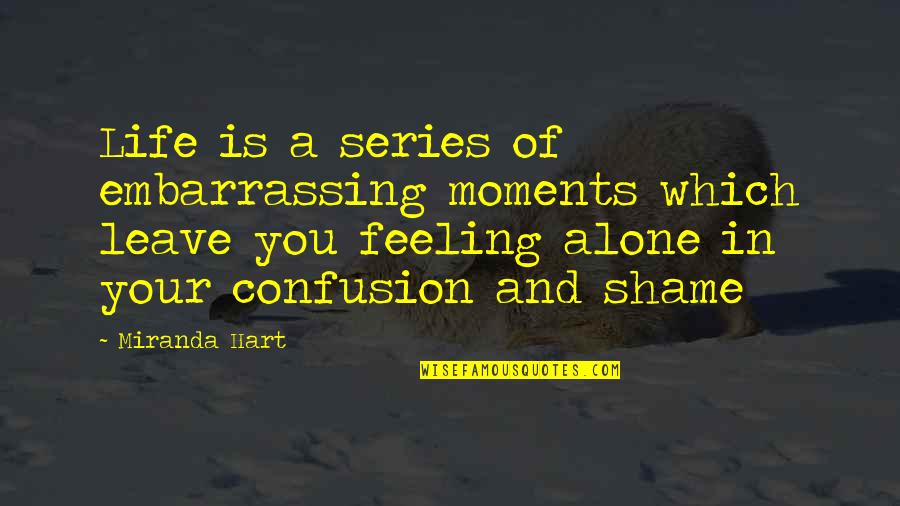 Life is a series of embarrassing moments which leave you feeling alone in your confusion and shame —
Miranda Hart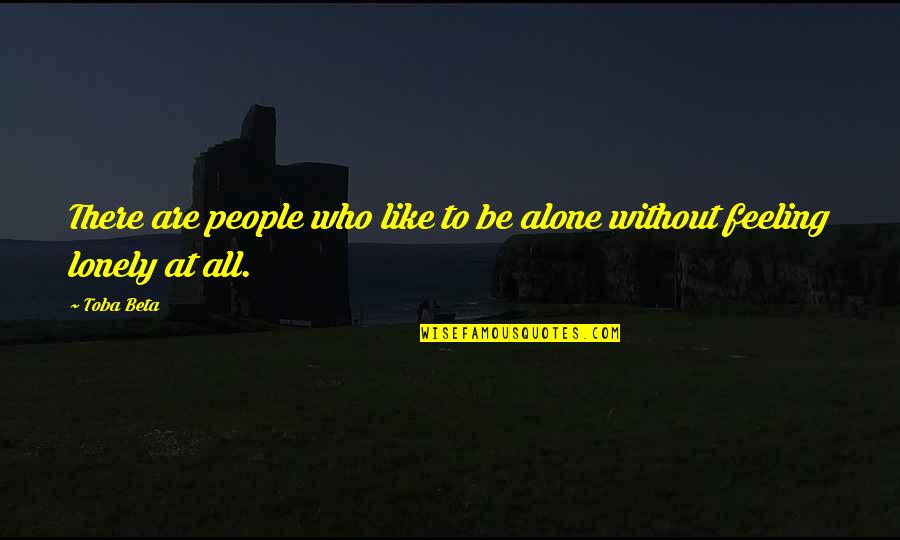 There are people who like to be alone without feeling lonely at all. —
Toba Beta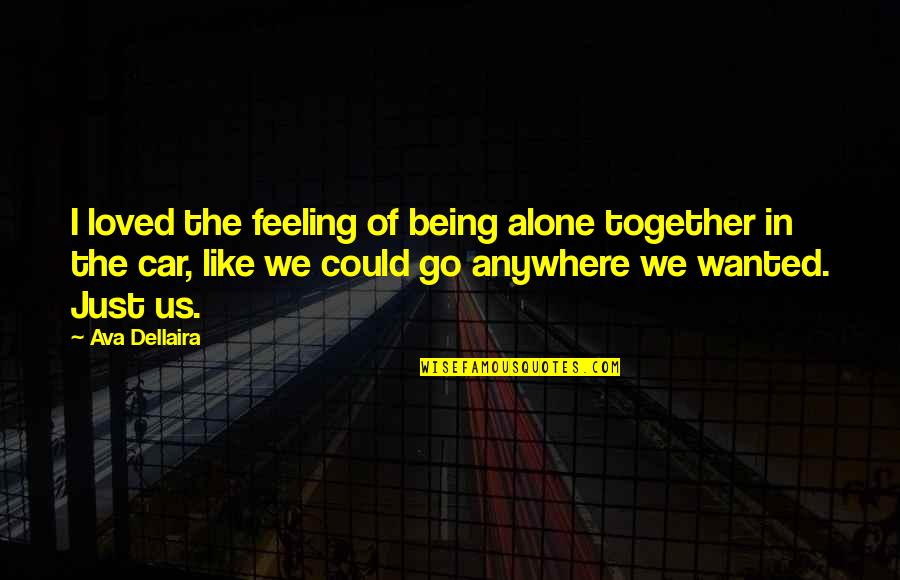 I loved the feeling of being alone together in the car, like we could go anywhere we wanted. Just us. —
Ava Dellaira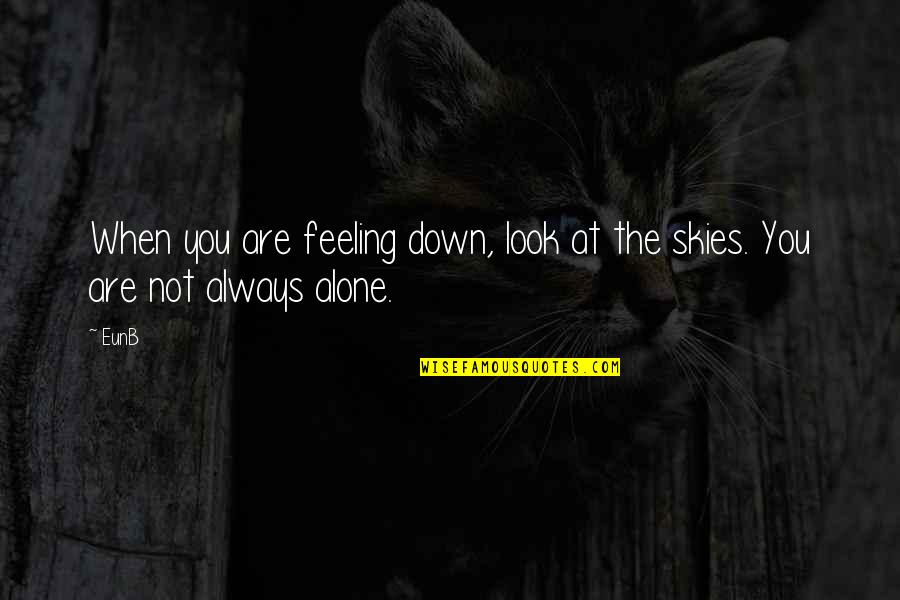 When you are feeling down, look at the skies. You are not always alone. —
EunB