Interesting Man Quotes
Collection of top 53 famous quotes about Interesting Man
Interesting Man Quotes & Sayings
Happy to read and share the best inspirational Interesting Man quotes, sayings and quotations on Wise Famous Quotes.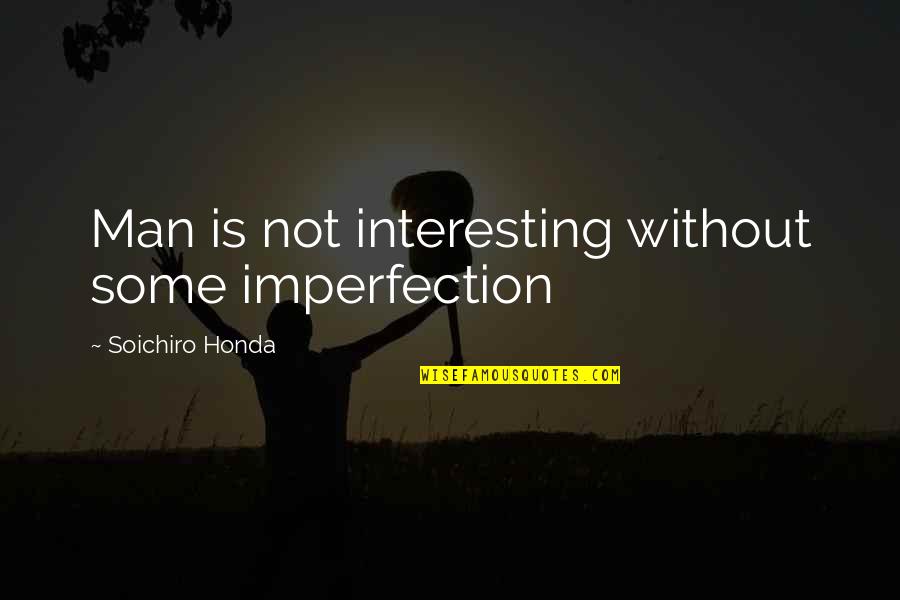 Man is not interesting without some imperfection
—
Soichiro Honda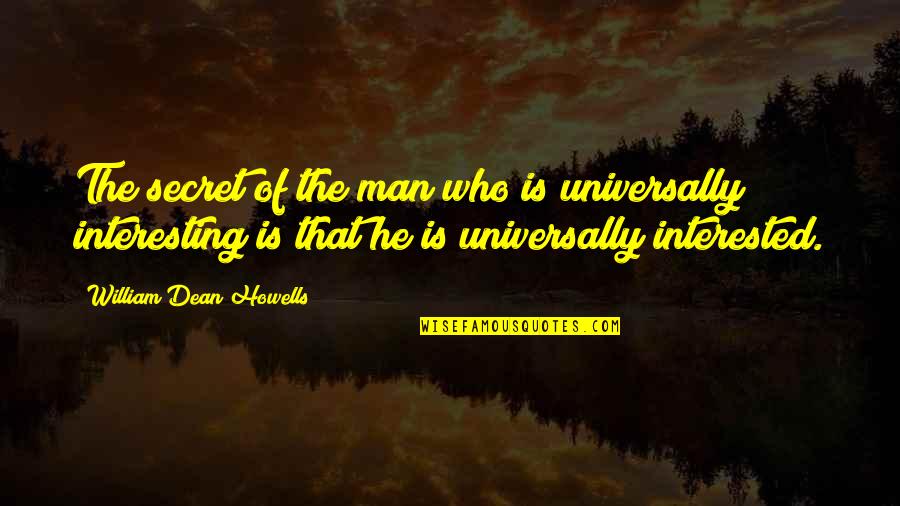 The secret of the man who is universally interesting is that he is universally interested.
—
William Dean Howells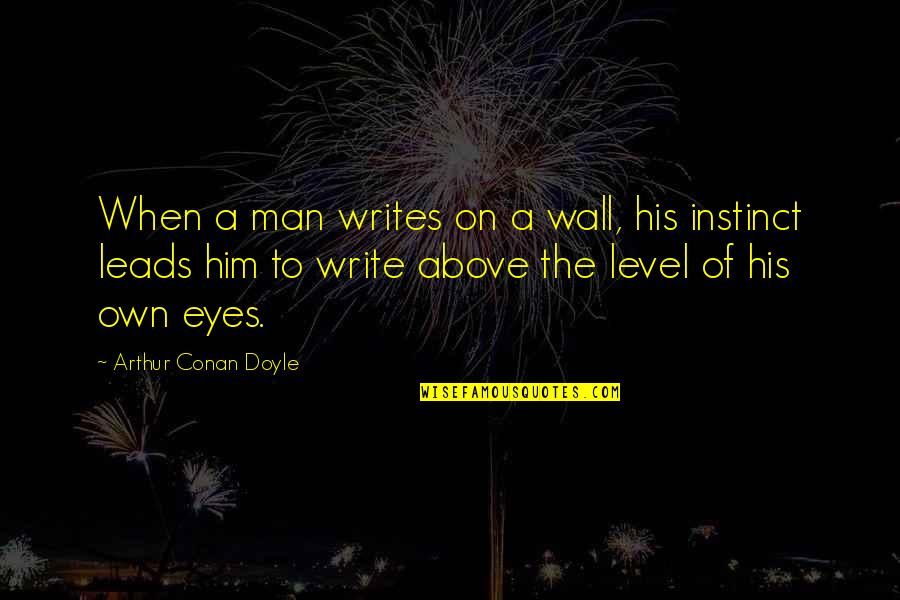 When a man writes on a wall, his instinct leads him to write above the level of his own eyes.
—
Arthur Conan Doyle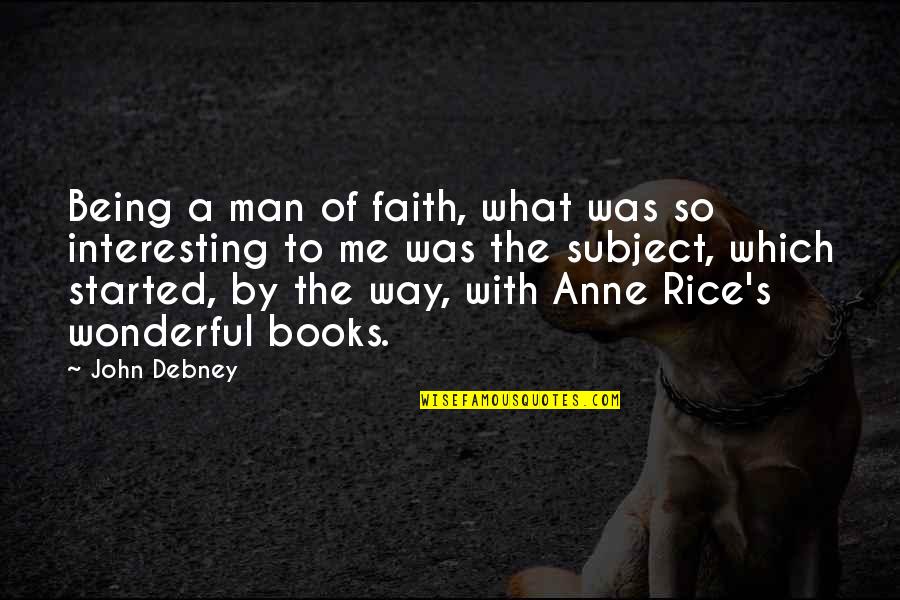 Being a man of faith, what was so interesting to me was the subject, which started, by the way, with Anne Rice's wonderful books.
—
John Debney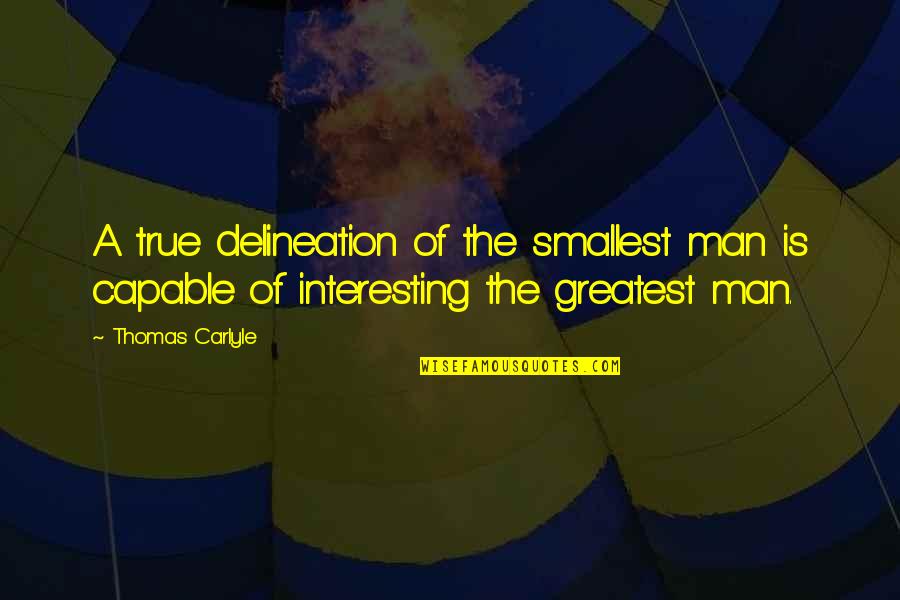 A true delineation of the smallest man is capable of interesting the greatest man.
—
Thomas Carlyle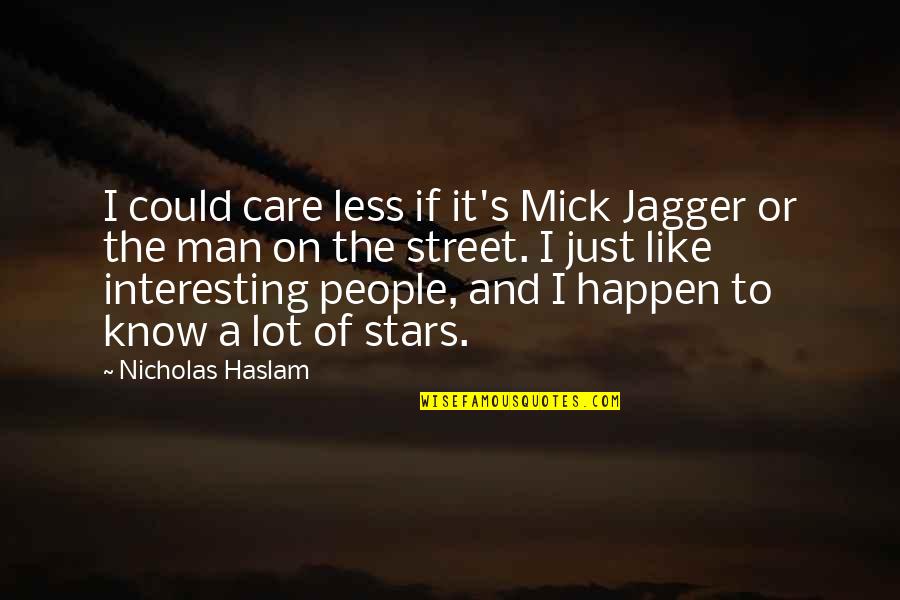 I could care less if it's Mick Jagger or the man on the street. I just like interesting people, and I happen to know a lot of stars.
—
Nicholas Haslam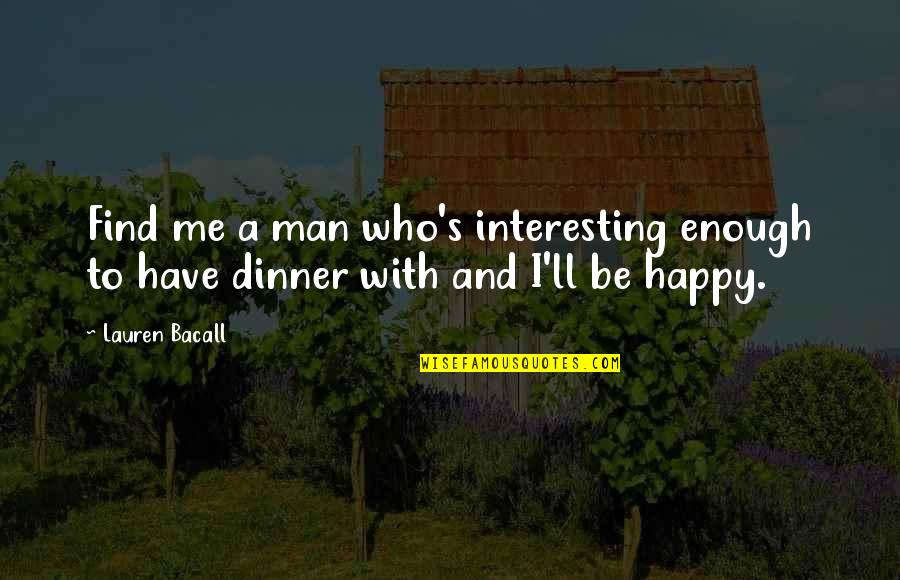 Find me a man who's interesting enough to have dinner with and I'll be happy. —
Lauren Bacall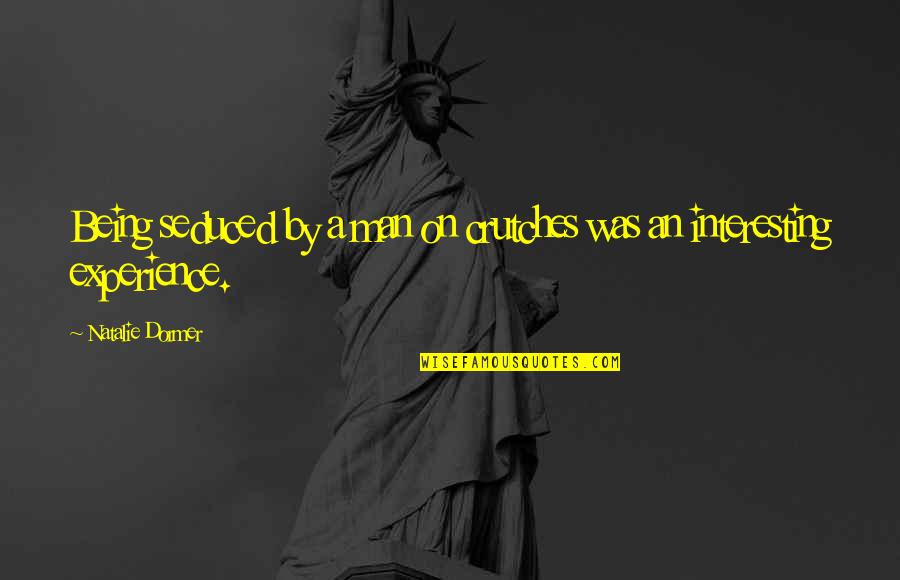 Being seduced by a man on crutches was an interesting experience. —
Natalie Dormer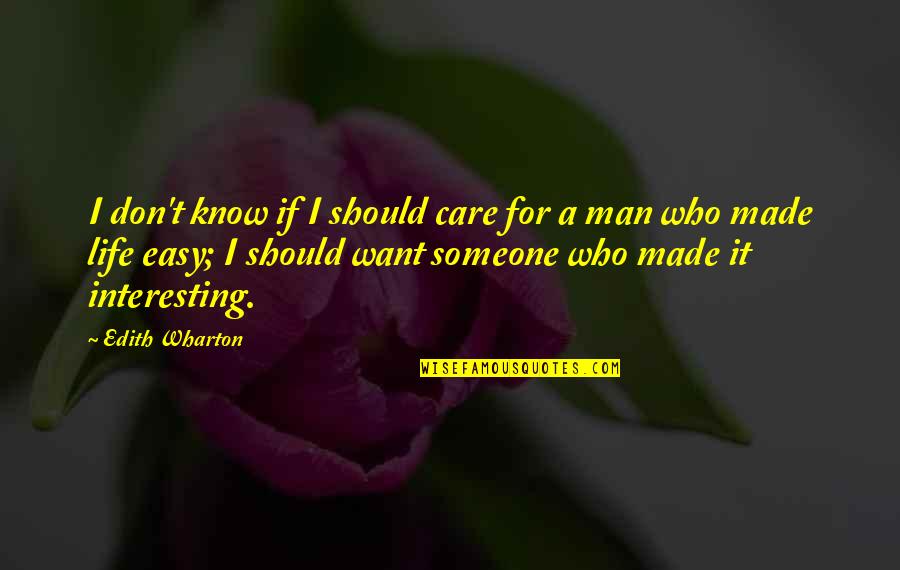 I don't know if I should care for a man who made life easy; I should want someone who made it interesting. —
Edith Wharton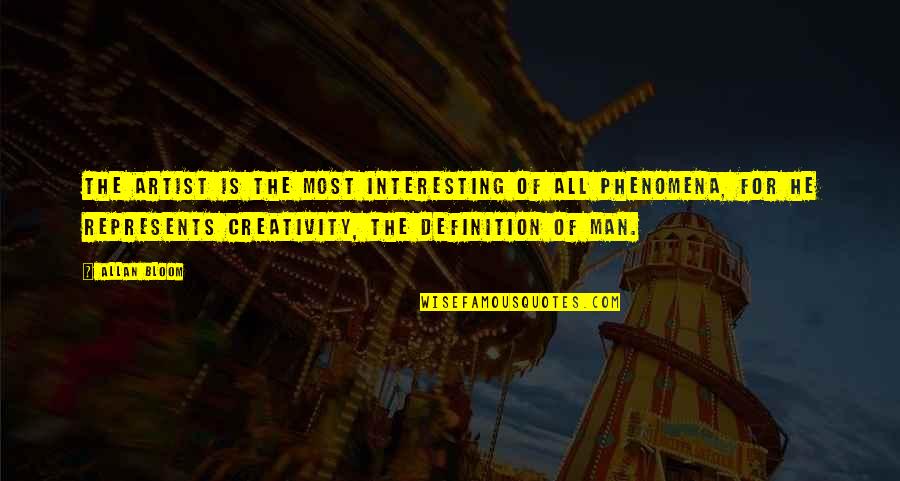 The artist is the most interesting of all phenomena, for he represents creativity, the definition of man. —
Allan Bloom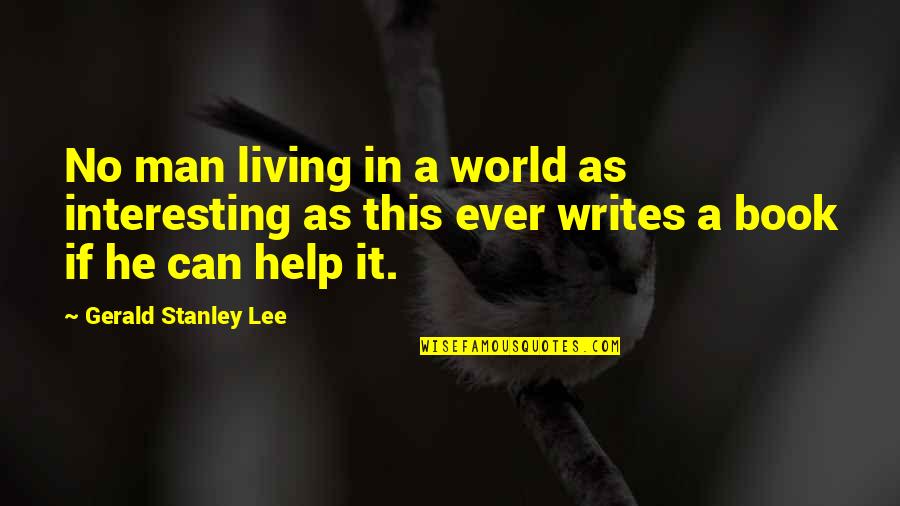 No man living in a world as interesting as this ever writes a book if he can help it. —
Gerald Stanley Lee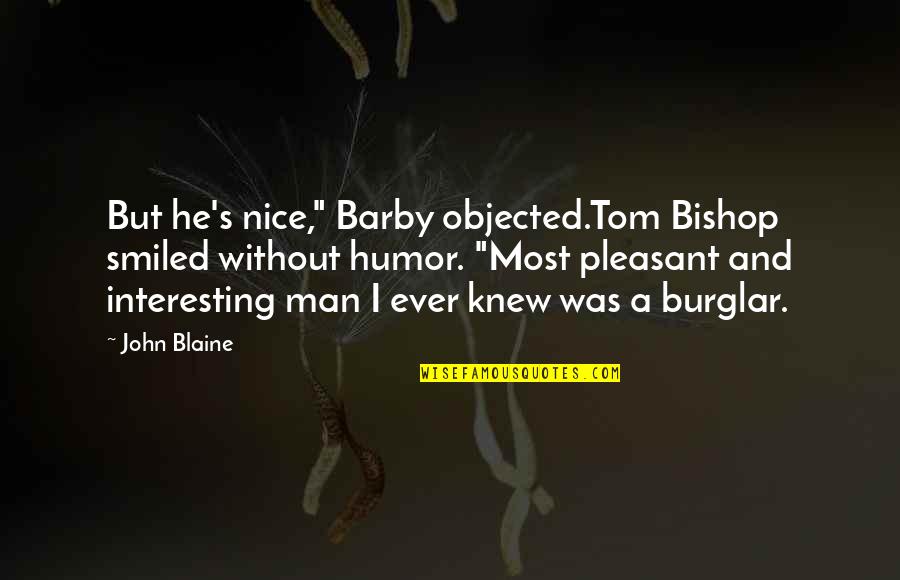 But he's nice," Barby objected.
Tom Bishop smiled without humor. "Most pleasant and
interesting man
I ever knew was a burglar. —
John Blaine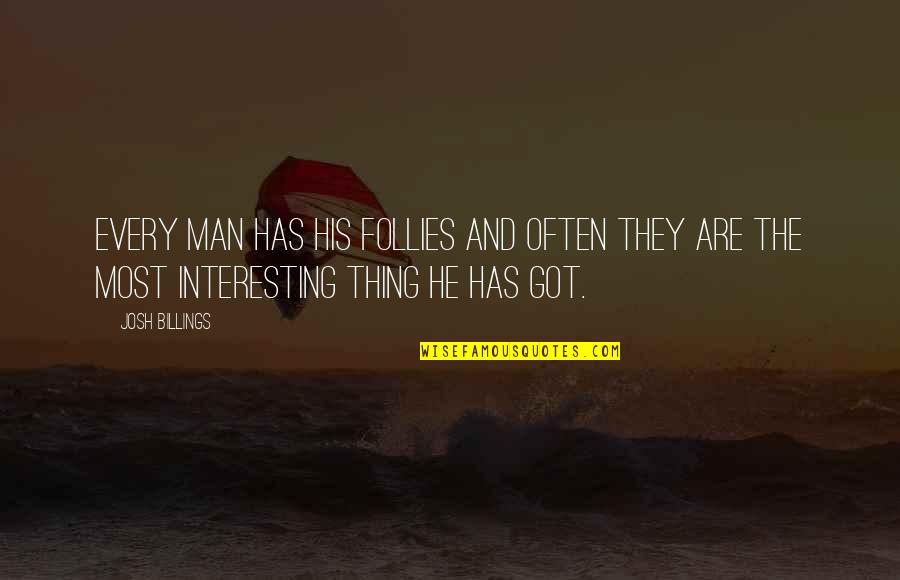 Every man has his follies and often they are the most interesting thing he has got. —
Josh Billings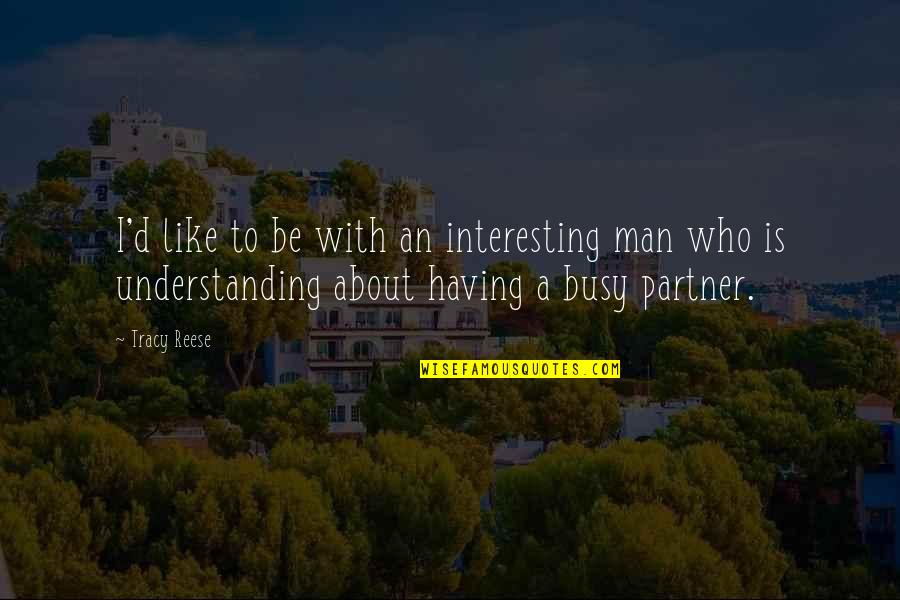 I'd like to be with an
interesting man
who is understanding about having a busy partner. —
Tracy Reese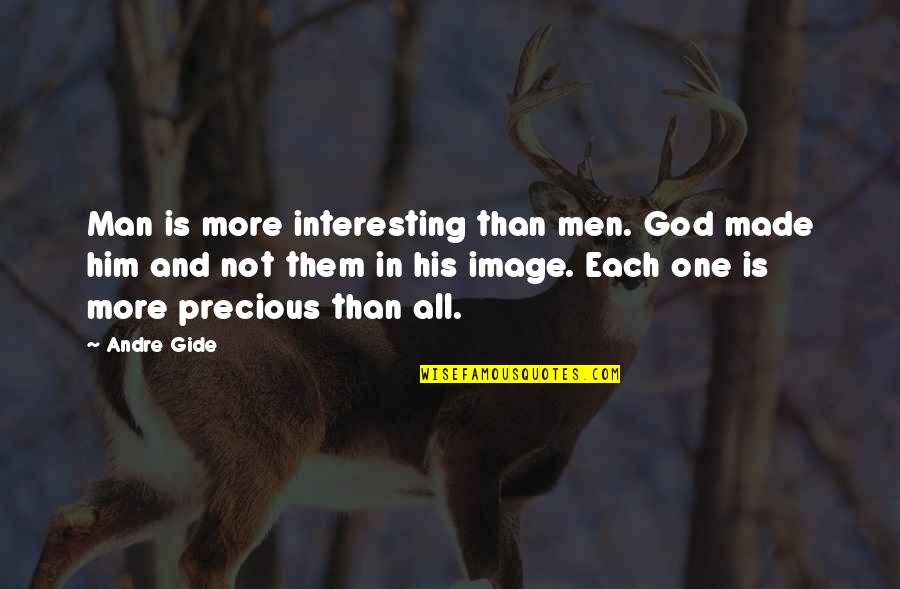 Man is more interesting than men. God made him and not them in his image. Each one is more precious than all. —
Andre Gide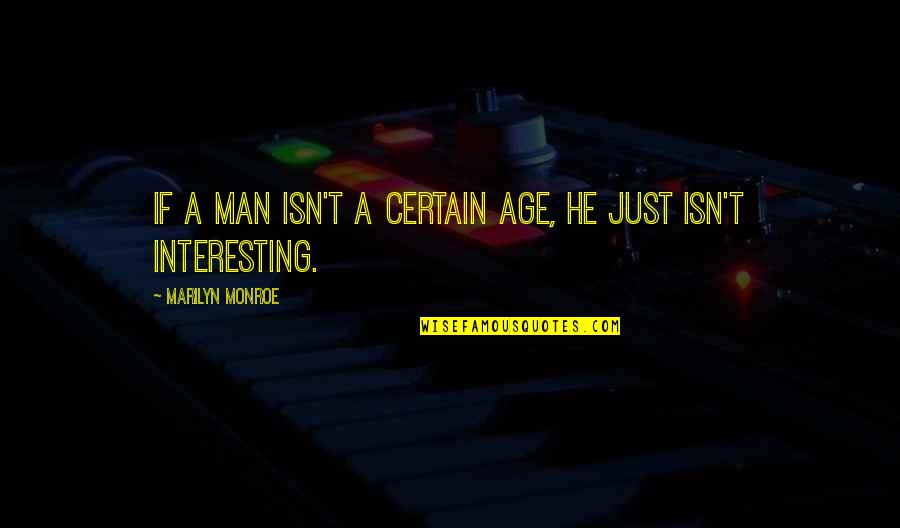 If a man isn't a certain age, he just isn't interesting. —
Marilyn Monroe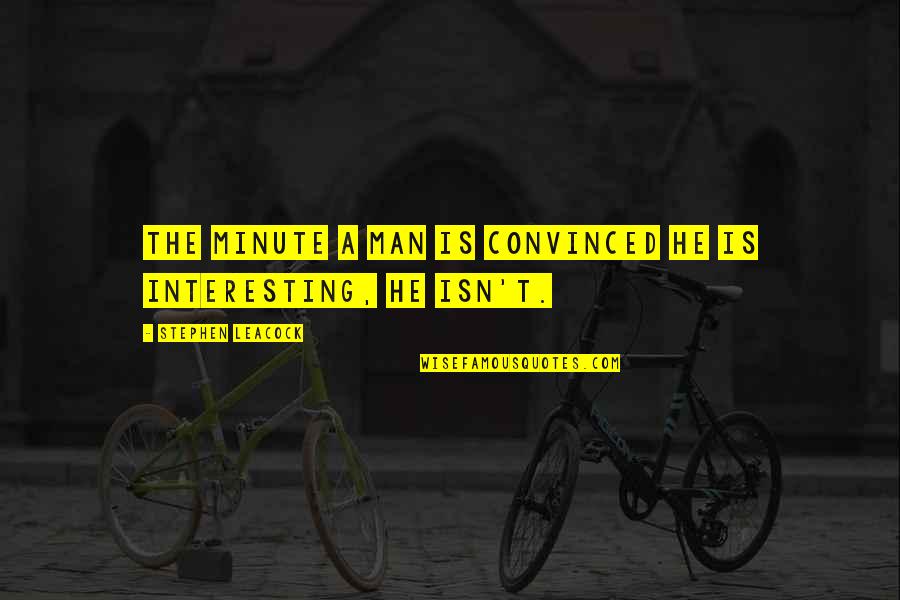 The minute a man is convinced he is interesting, he isn't. —
Stephen Leacock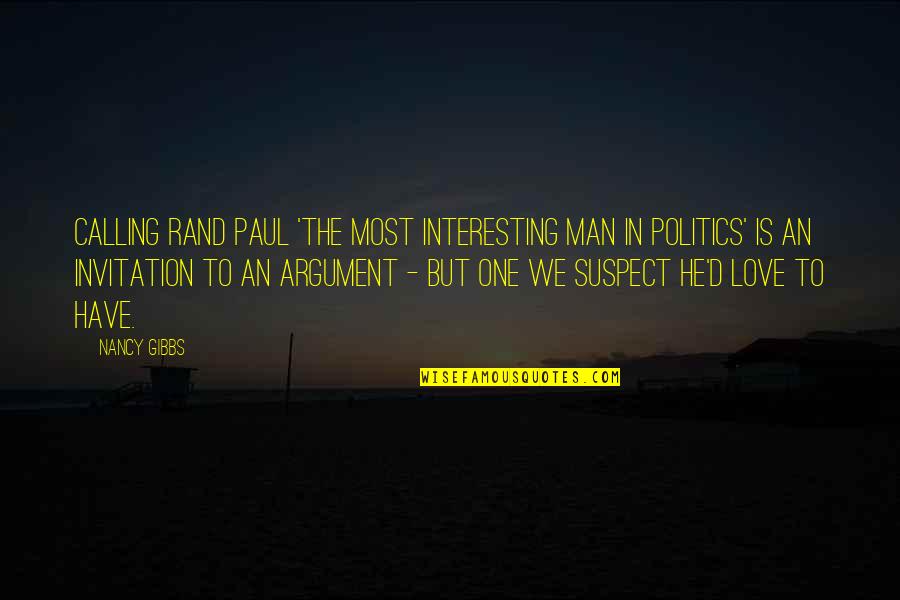 Calling Rand Paul 'the most
interesting man
in politics' is an invitation to an argument - but one we suspect he'd love to have. —
Nancy Gibbs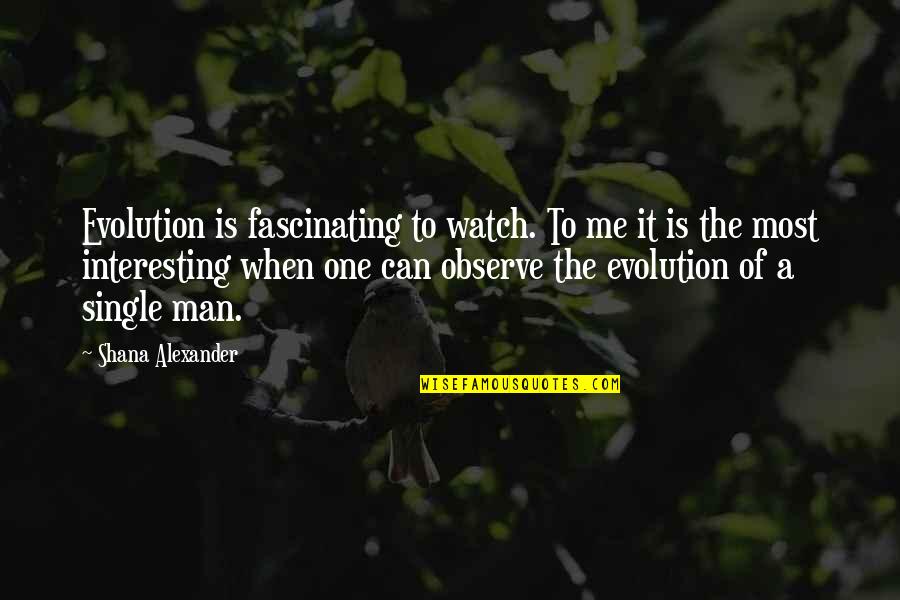 Evolution is fascinating to watch. To me it is the most interesting when one can observe the evolution of a single man. —
Shana Alexander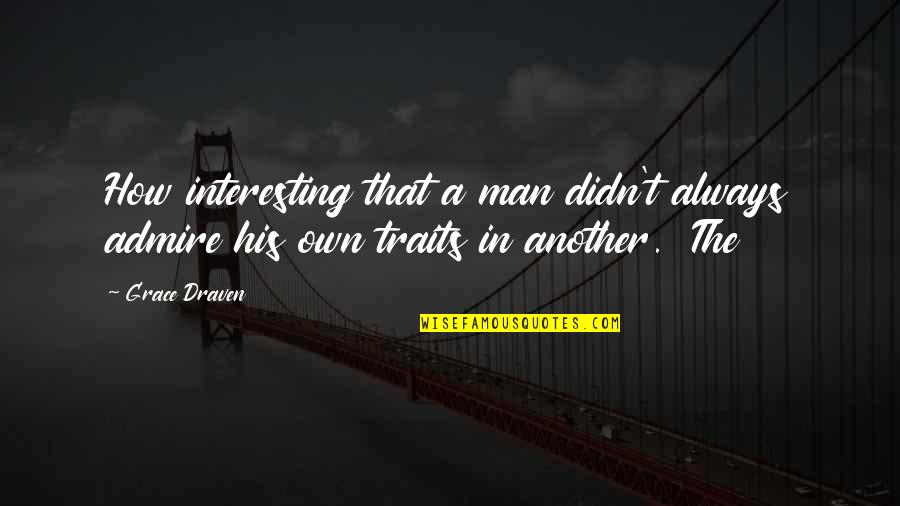 How interesting that a man didn't always admire his own traits in another. The —
Grace Draven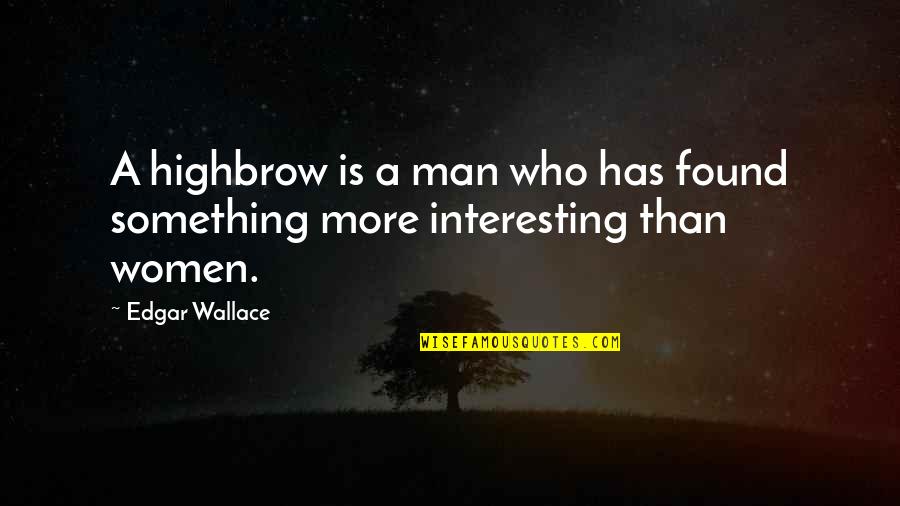 A highbrow is a man who has found something more interesting than women. —
Edgar Wallace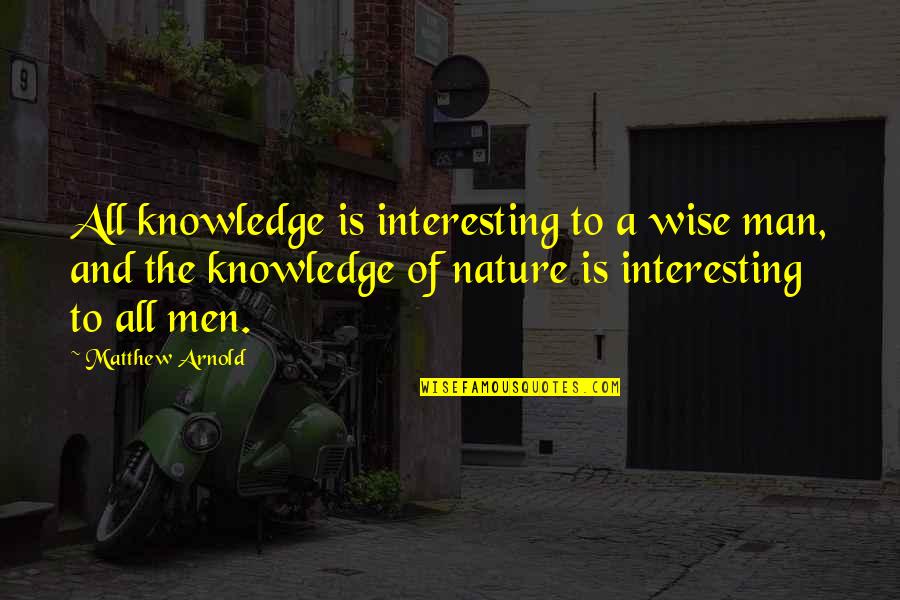 All knowledge is interesting to a wise man, and the knowledge of nature is interesting to all men. —
Matthew Arnold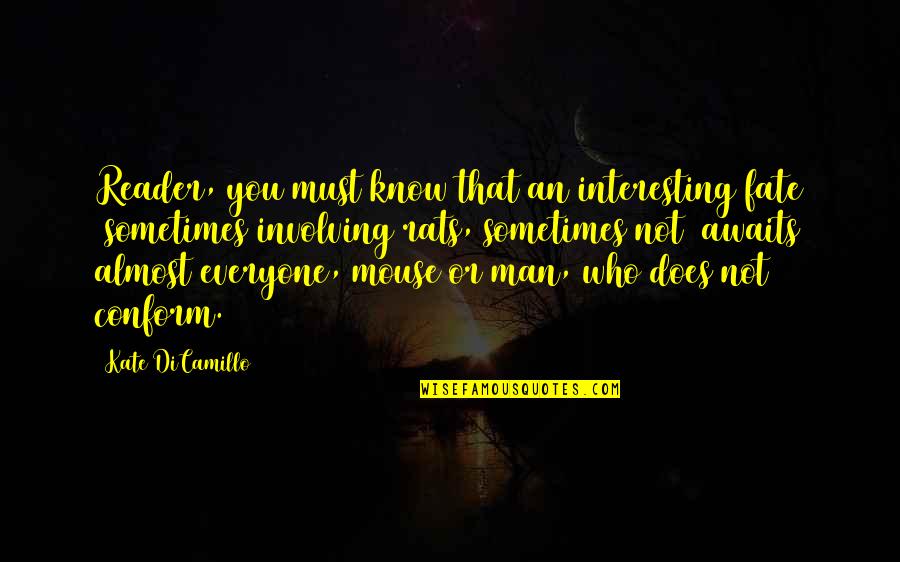 Reader, you must know that an interesting fate (sometimes involving rats, sometimes not) awaits almost everyone, mouse or man, who does not conform. —
Kate DiCamillo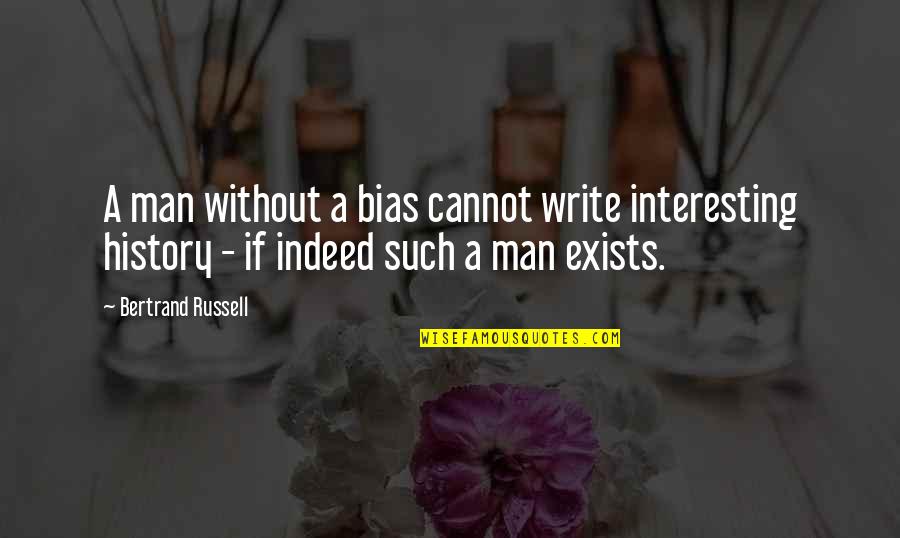 A man without a bias cannot write interesting history - if indeed such a man exists. —
Bertrand Russell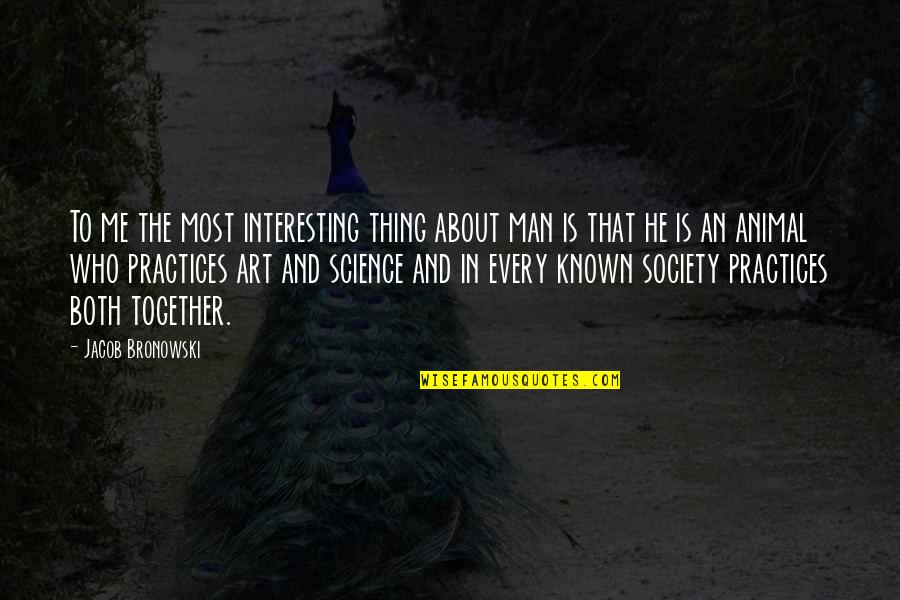 To me the most interesting thing about man is that he is an animal who practices art and science and in every known society practices both together. —
Jacob Bronowski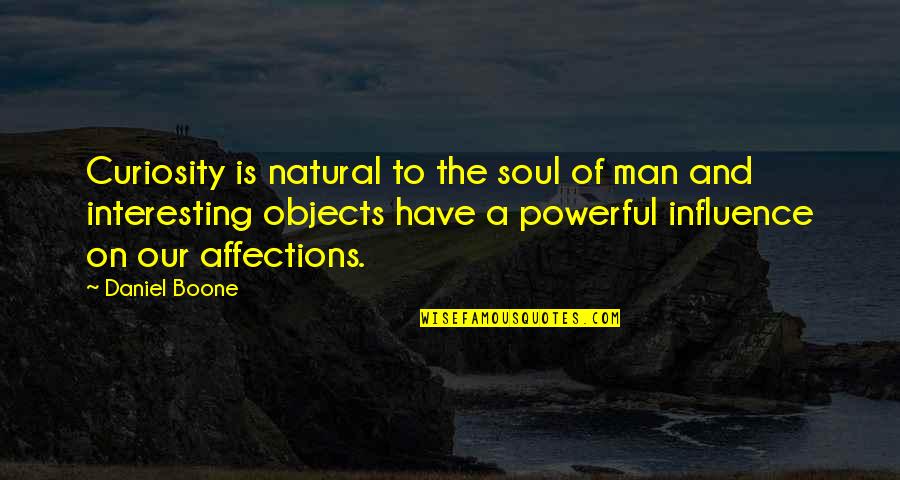 Curiosity is natural to the soul of man and interesting objects have a powerful influence on our affections. —
Daniel Boone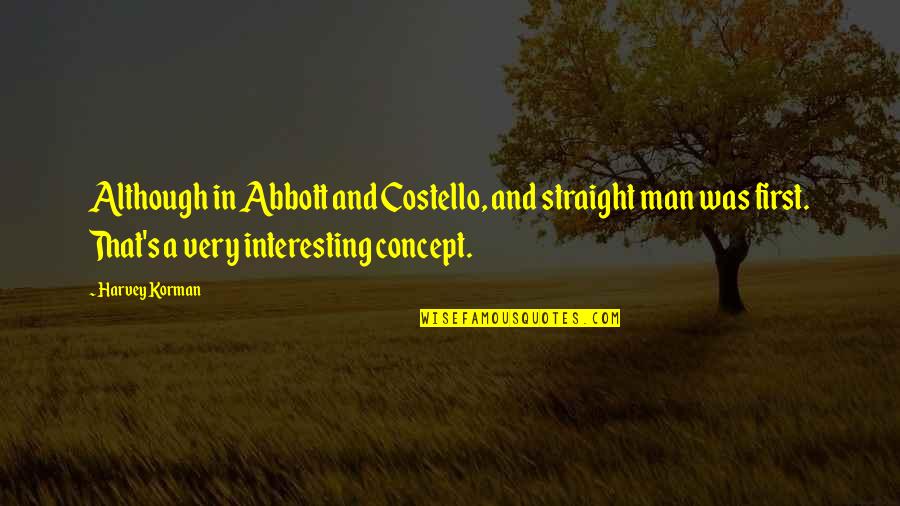 Although in Abbott and Costello, and straight man was first. That's a very interesting concept. —
Harvey Korman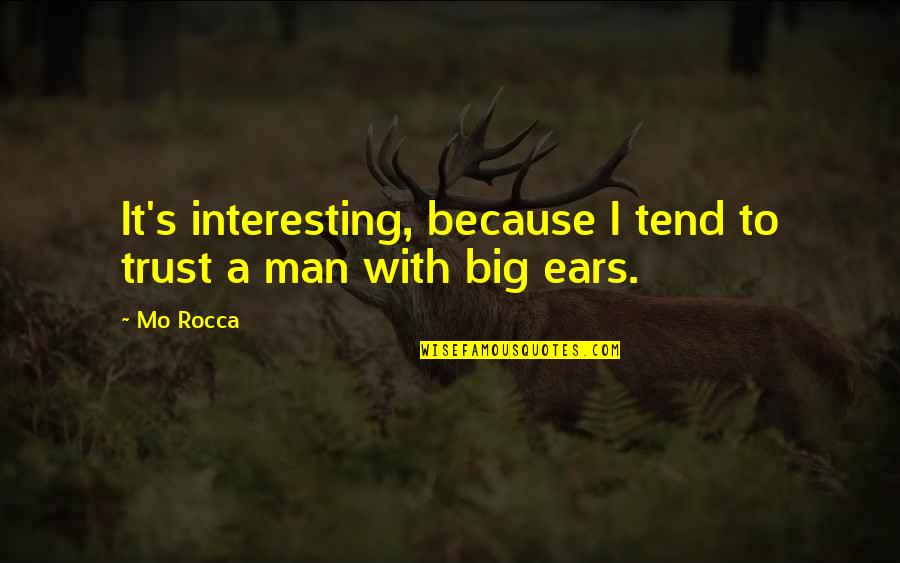 It's interesting, because I tend to trust a man with big ears. —
Mo Rocca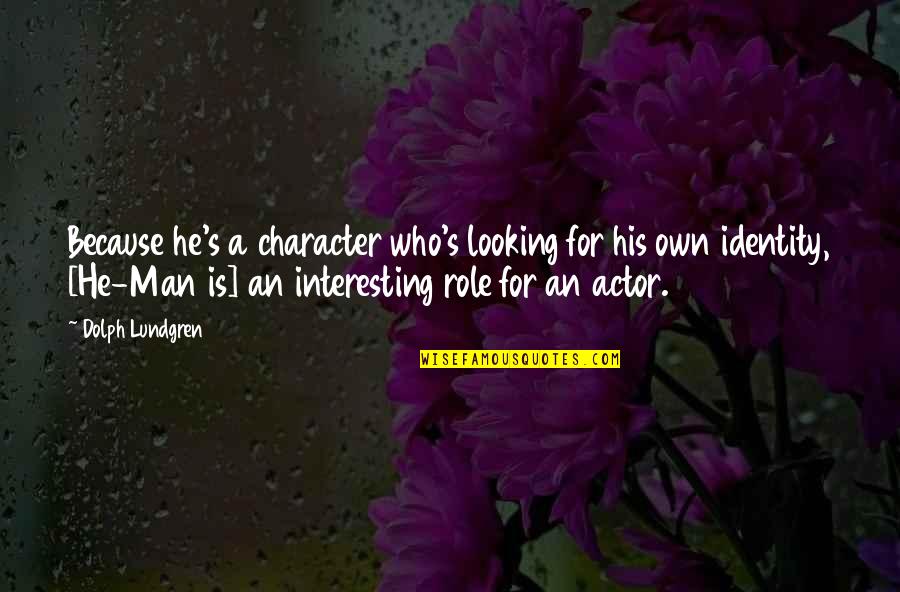 Because he's a character who's looking for his own identity, [He-Man is]
an interesting role for an actor. —
Dolph Lundgren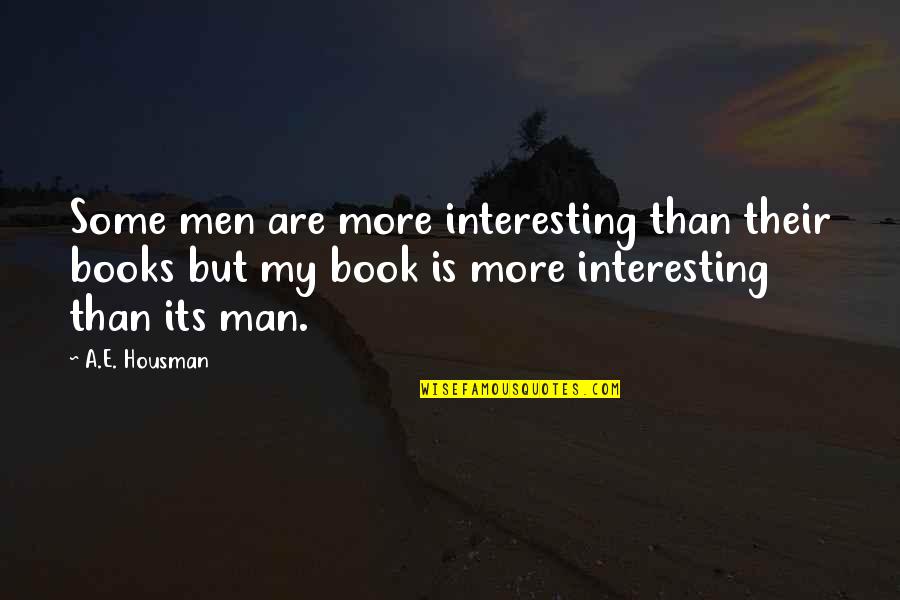 Some men are more interesting than their books but my book is more interesting than its man. —
A.E. Housman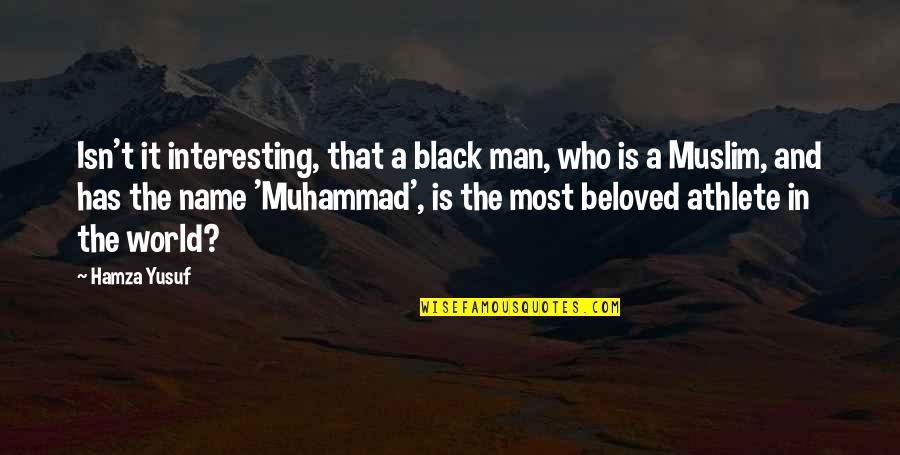 Isn't it interesting, that a black man, who is a Muslim, and has the name 'Muhammad', is the most beloved athlete in the world? —
Hamza Yusuf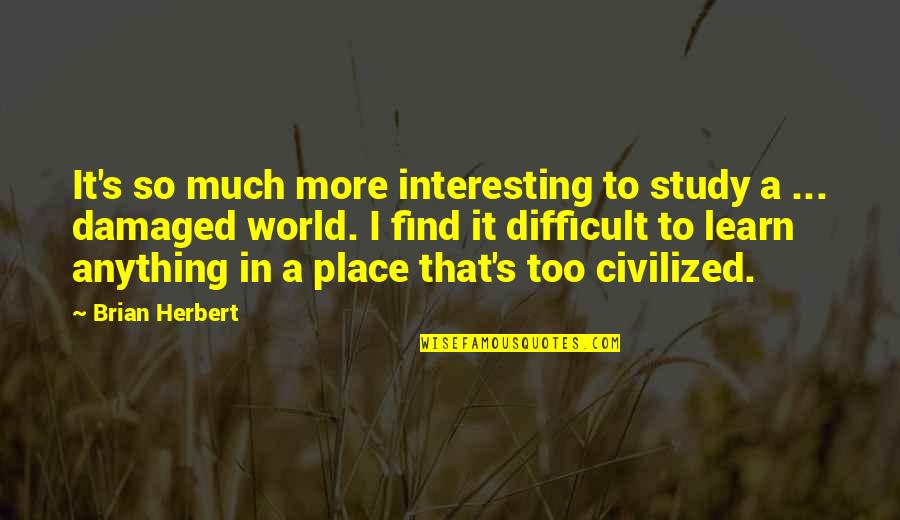 It's so much more interesting to study a ... damaged world. I find it difficult to learn anything in a place that's too civilized. —
Brian Herbert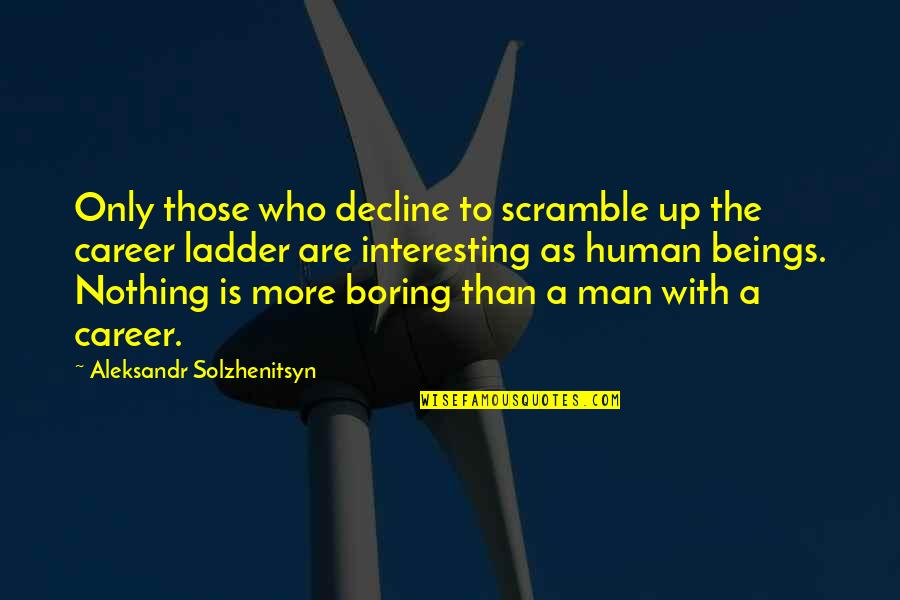 Only those who decline to scramble up the career ladder are interesting as human beings. Nothing is more boring than a man with a career. —
Aleksandr Solzhenitsyn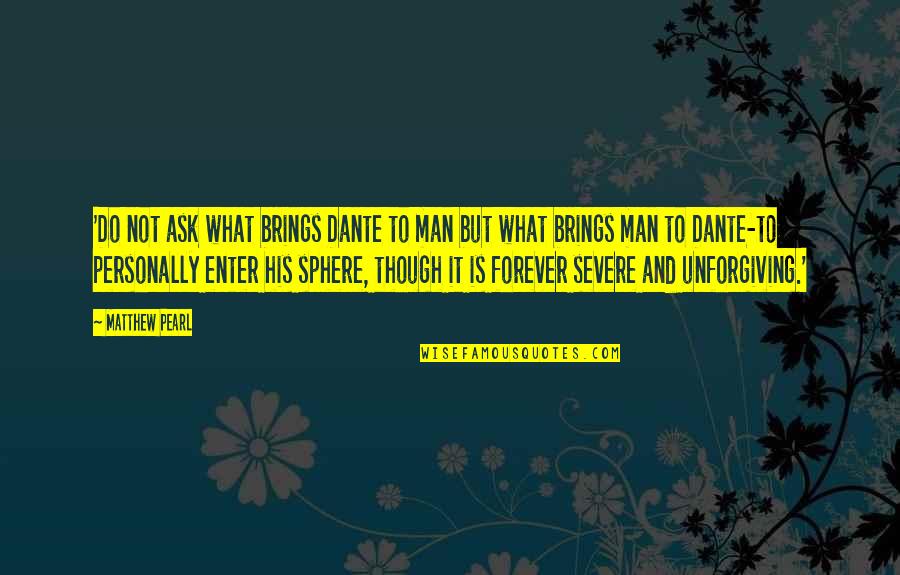 'Do not ask what brings Dante to man but what brings man to Dante-to personally enter his sphere, though it is forever severe and unforgiving.' —
Matthew Pearl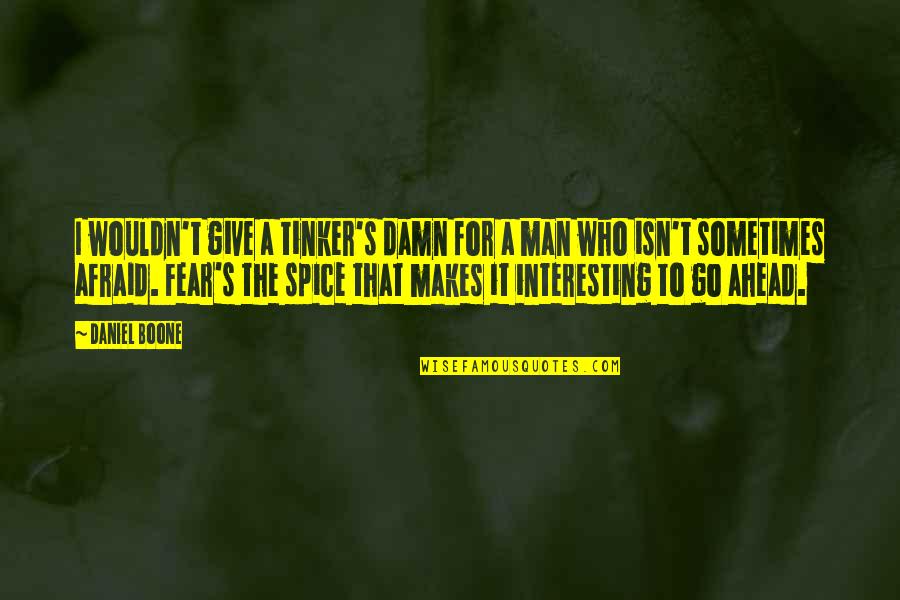 I wouldn't give a tinker's damn for a man who isn't sometimes afraid. Fear's the spice that makes it interesting to go ahead. —
Daniel Boone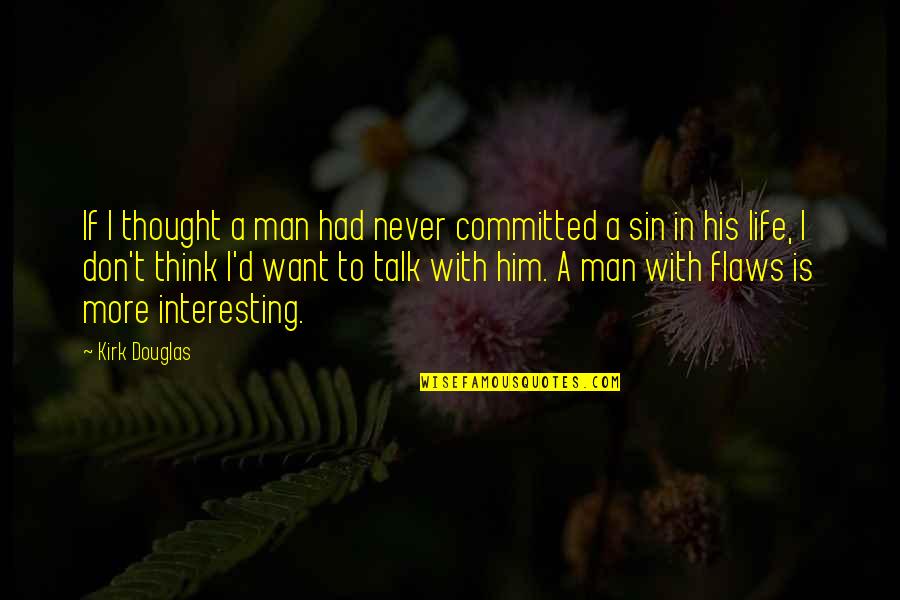 If I thought a man had never committed a sin in his life, I don't think I'd want to talk with him. A man with flaws is more interesting. —
Kirk Douglas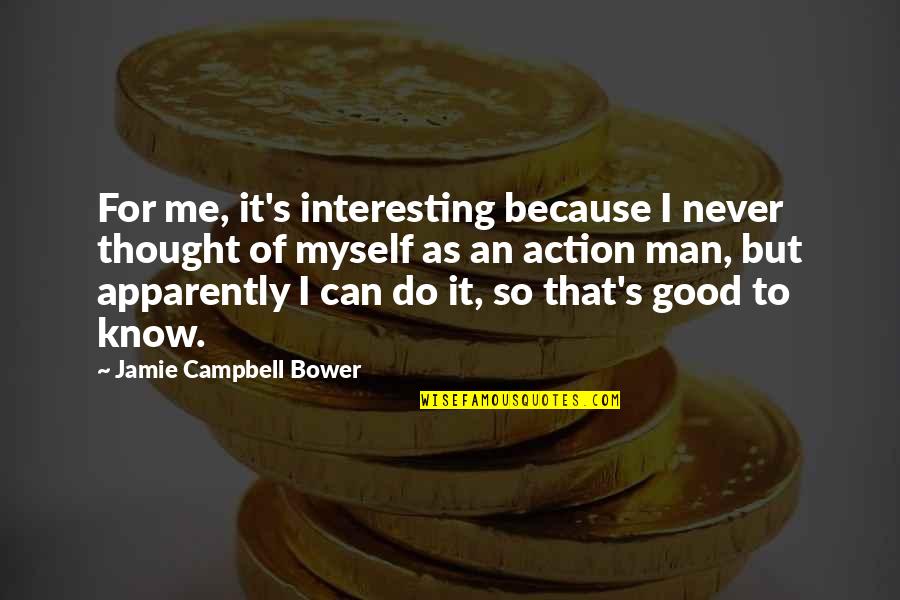 For me, it's interesting because I never thought of myself as an action man, but apparently I can do it, so that's good to know. —
Jamie Campbell Bower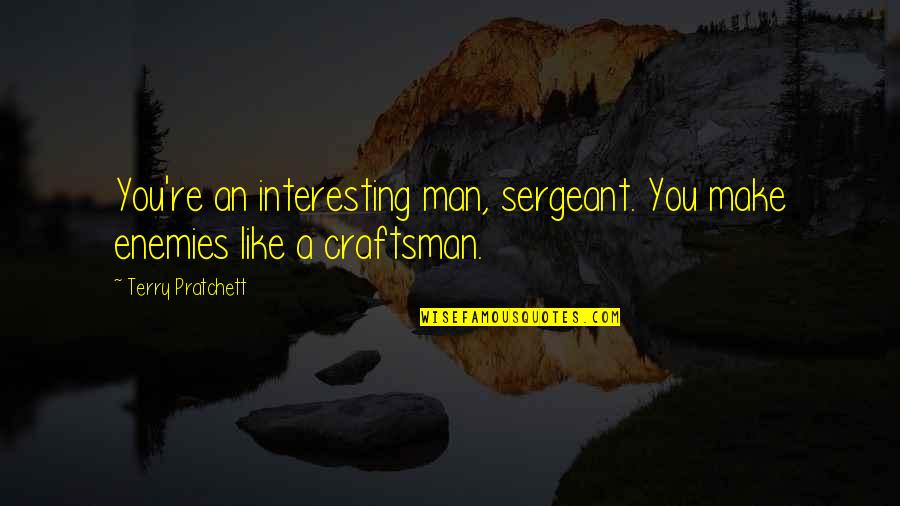 You're an
interesting man
, sergeant. You make enemies like a craftsman. —
Terry Pratchett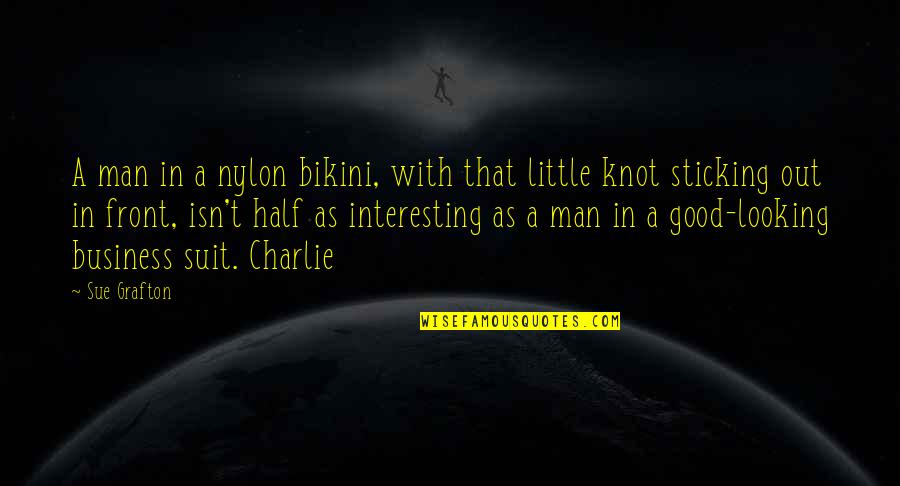 A man in a nylon bikini, with that little knot sticking out in front, isn't half as interesting as a man in a good-looking business suit. Charlie —
Sue Grafton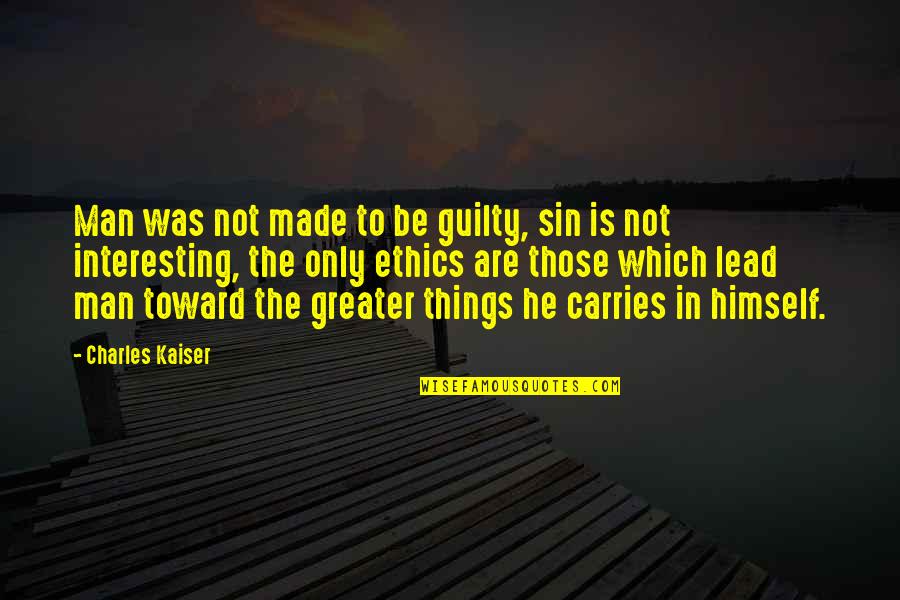 Man was not made to be guilty, sin is not interesting, the only ethics are those which lead man toward the greater things he carries in himself. —
Charles Kaiser
You don't find a masked man wielding a gun interesting? Tell me ... what do you find interesting then-Matt Carter —
Natasha Larry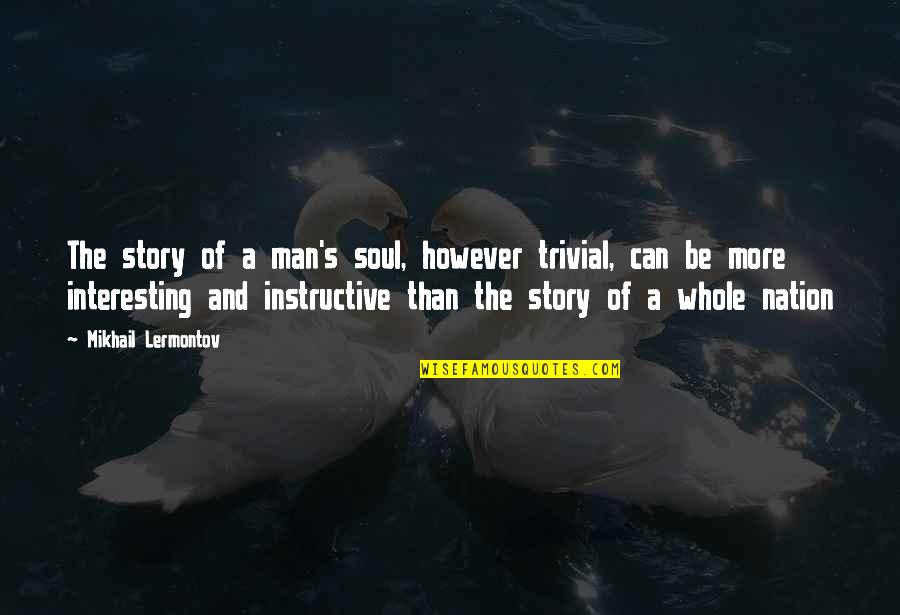 The story of a man's soul, however trivial, can be more interesting and instructive than the story of a whole nation —
Mikhail Lermontov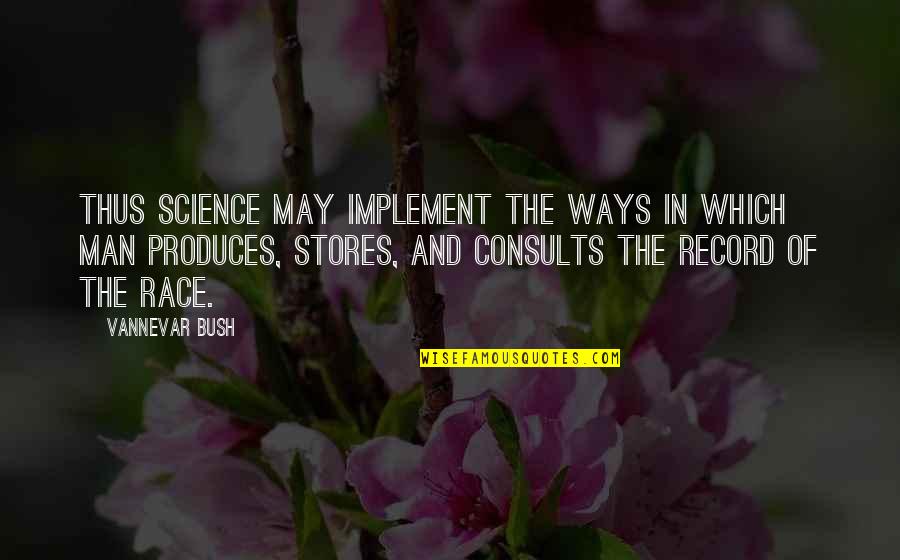 Thus science may implement the ways in which man produces, stores, and consults the record of the race. —
Vannevar Bush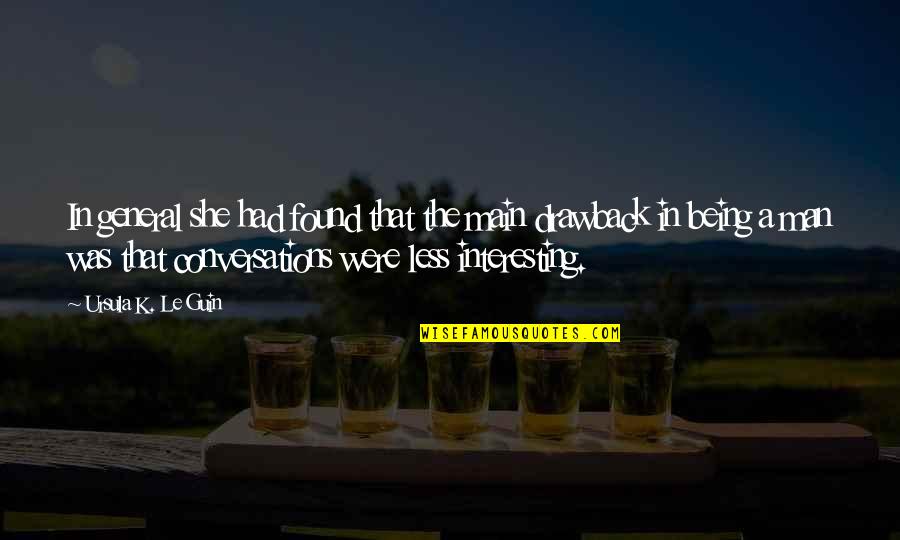 In general she had found that the main drawback in being a man was that conversations were less interesting. —
Ursula K. Le Guin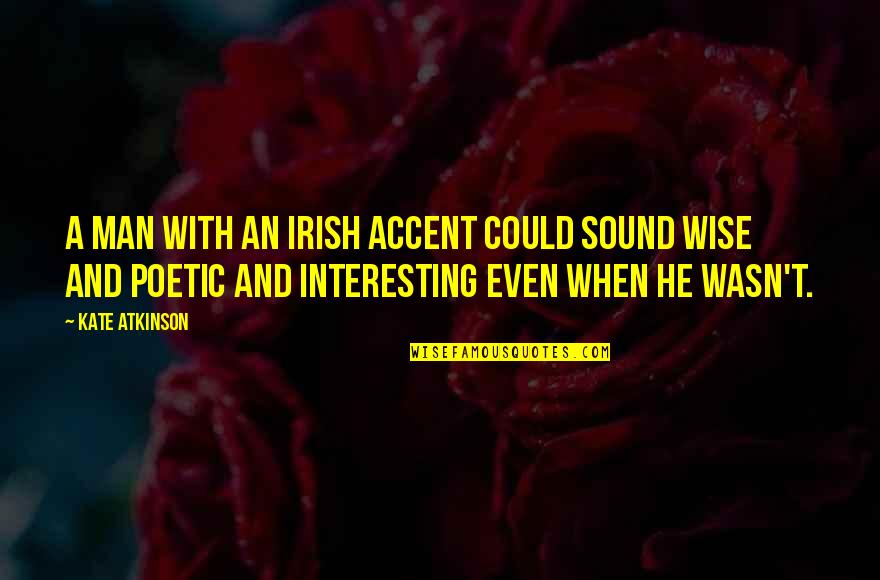 A man with an Irish accent could sound wise and poetic and interesting even when he wasn't. —
Kate Atkinson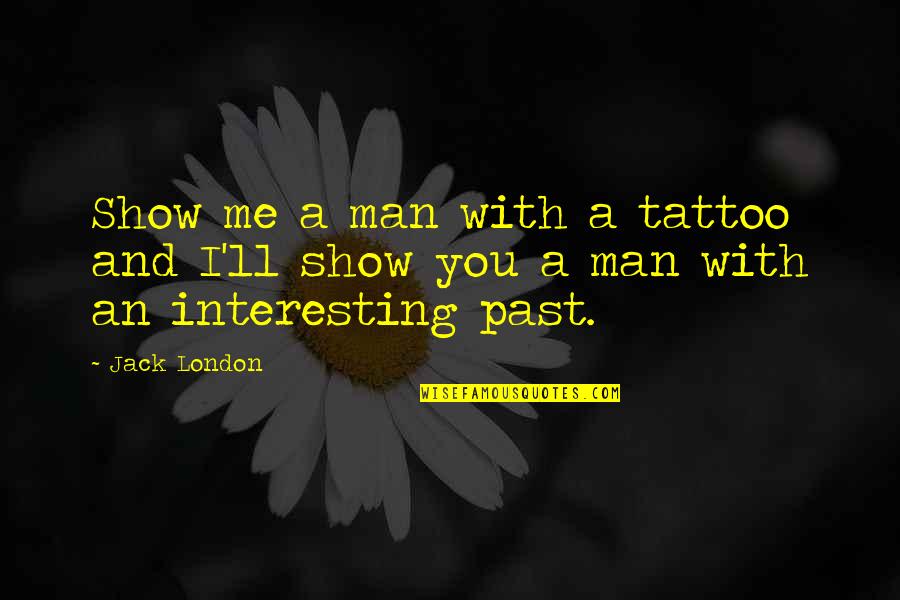 Show me a man with a tattoo and I'll show you a man with an interesting past. —
Jack London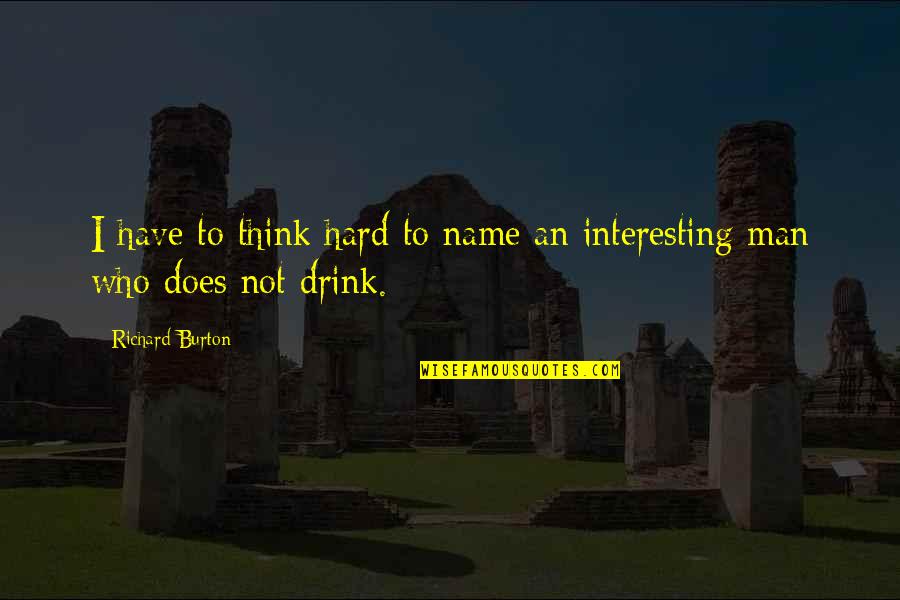 I have to think hard to name an
interesting man
who does not drink. —
Richard Burton