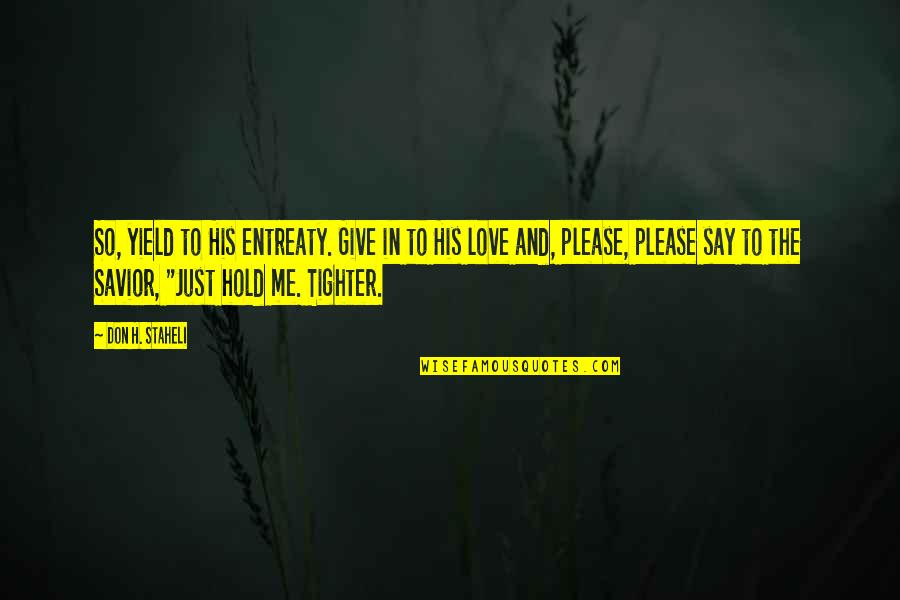 So, yield to His entreaty. Give in to His love and, please, please say to the Savior, "Just hold me. Tighter.
—
Don H. Staheli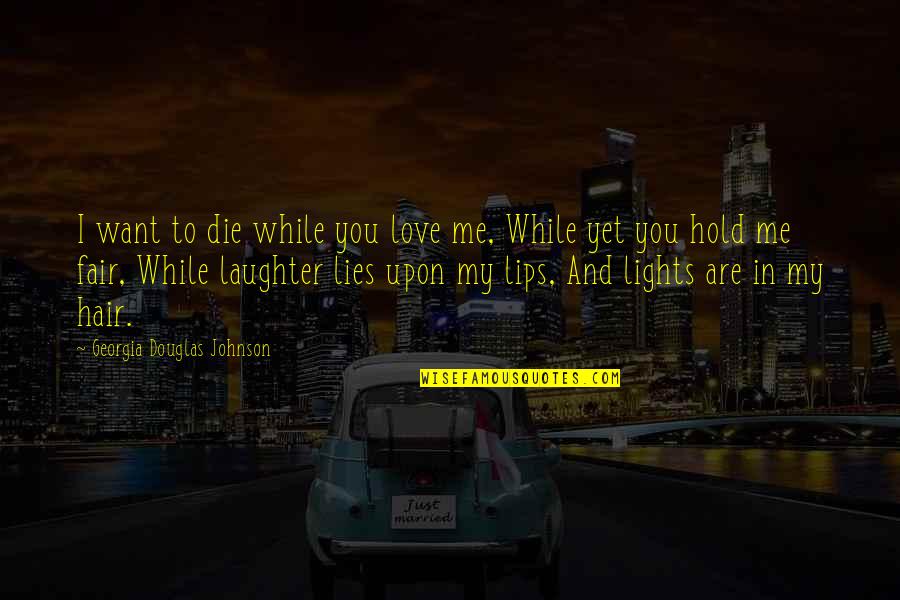 I want to die while you love me, While yet you hold me fair, While laughter lies upon my lips, And lights are in my hair.
—
Georgia Douglas Johnson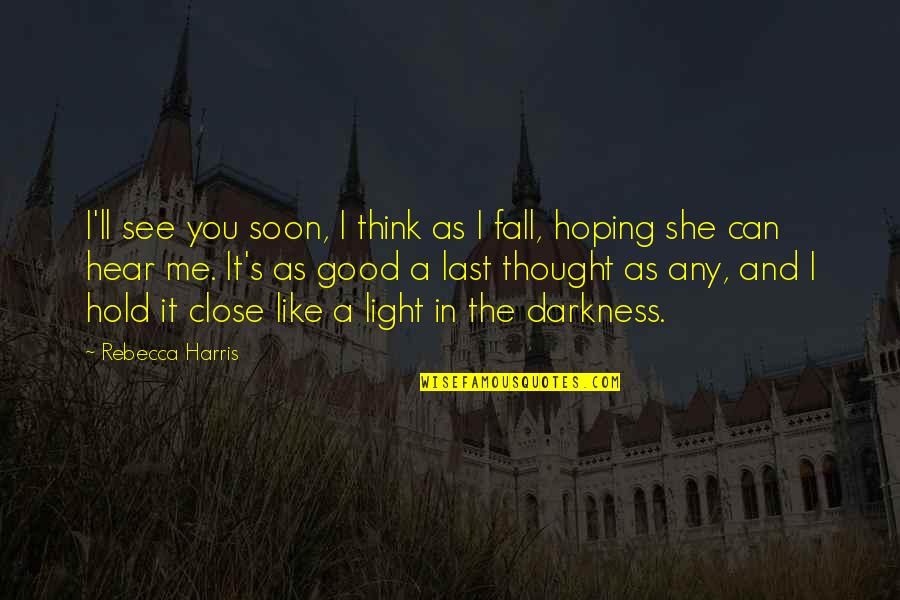 I'll see you soon, I think as I fall, hoping she can hear me. It's as good a last thought as any, and I hold it close like a light in the darkness.
—
Rebecca Harris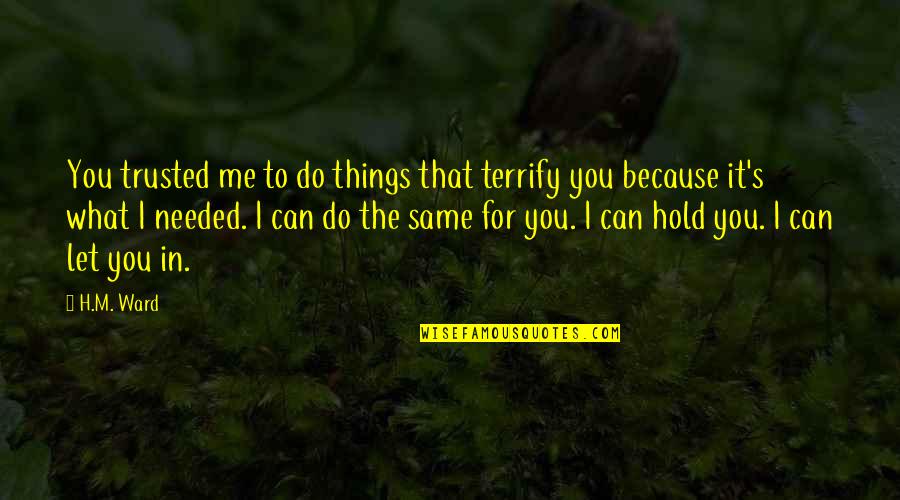 You trusted me to do things that terrify you because it's what I needed. I can do the same for you. I can hold you. I can let you in.
—
H.M. Ward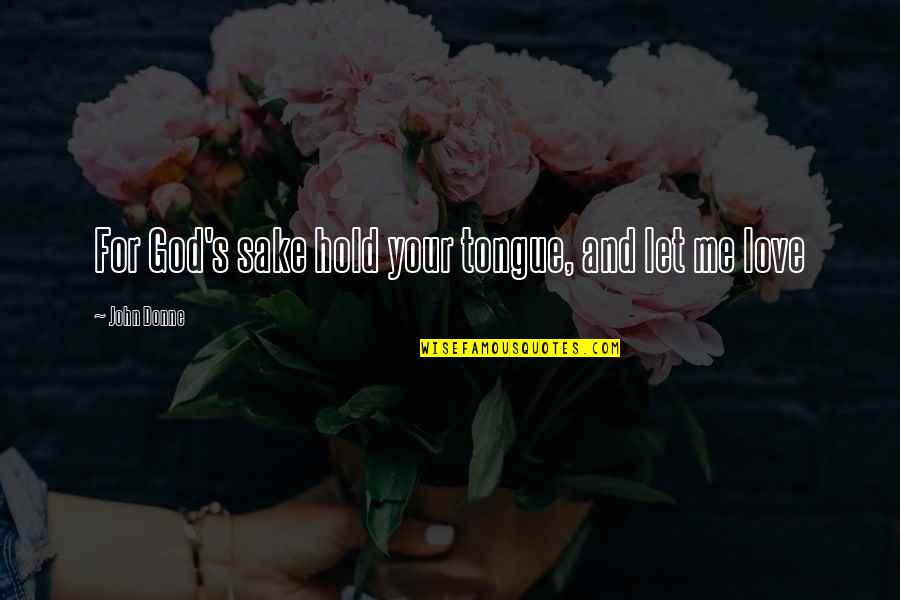 For God's sake hold your tongue, and let me love
—
John Donne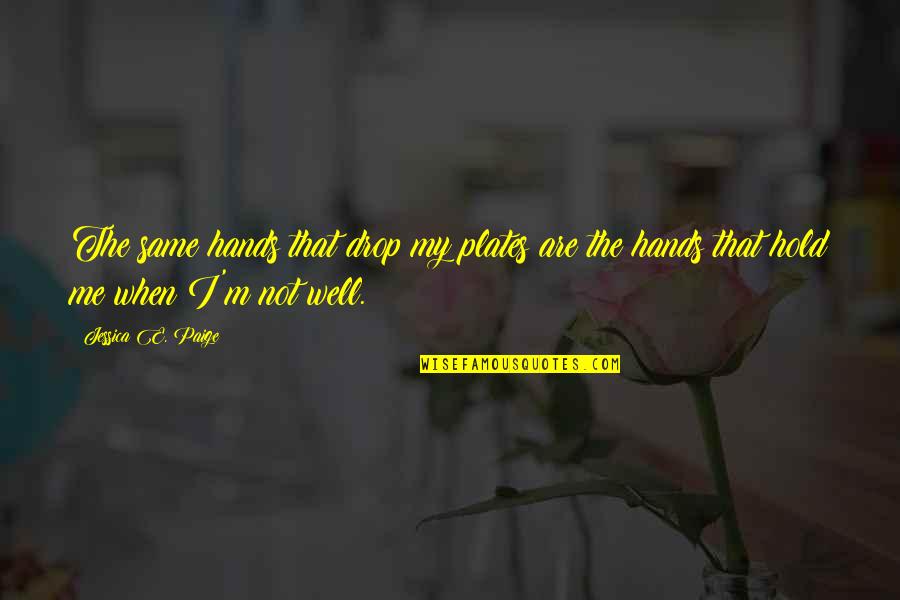 The same hands that drop my plates are the hands that hold me when I'm not well.
—
Jessica E. Paige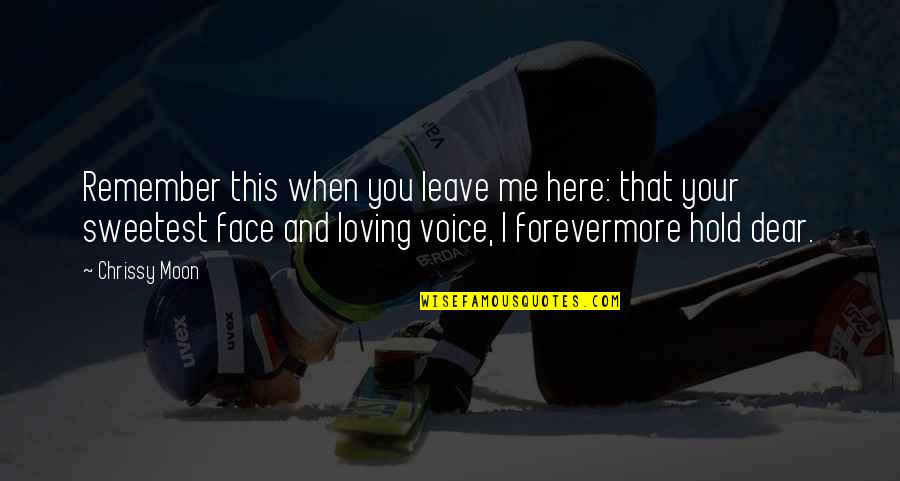 Remember this when you leave me here: that your sweetest face and loving voice, I forevermore hold dear.
—
Chrissy Moon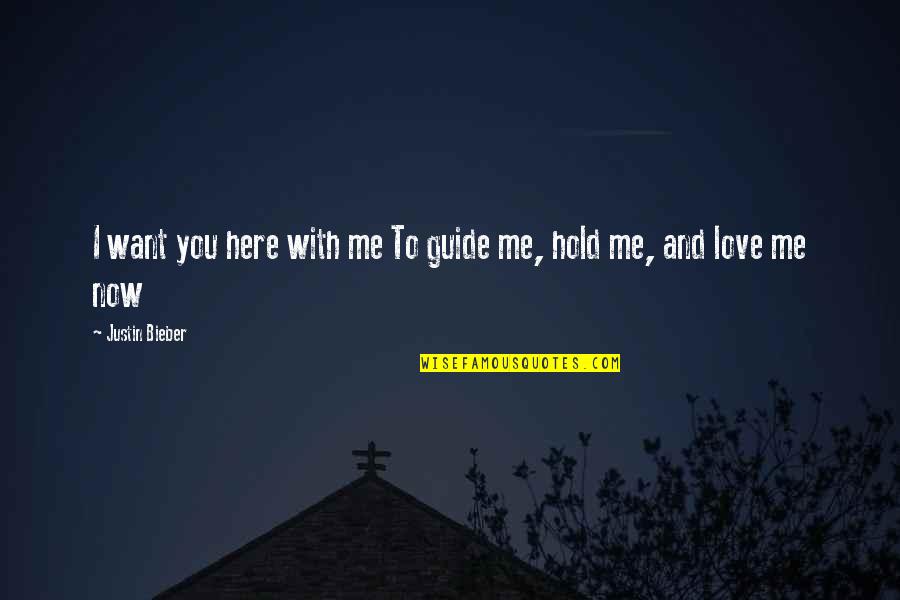 I want you here with me To guide me, hold me, and love me now
—
Justin Bieber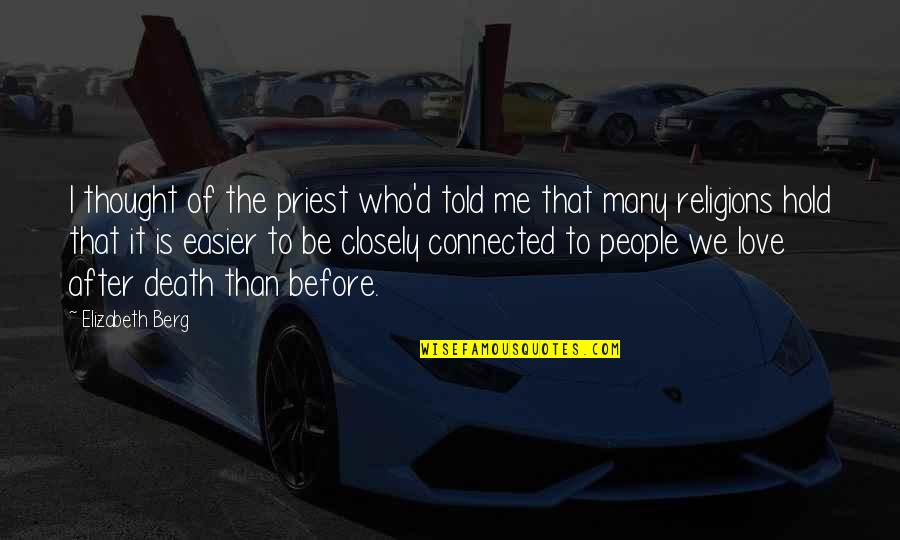 I thought of the priest who'd told me that many religions hold that it is easier to be closely connected to people we love after death than before.
—
Elizabeth Berg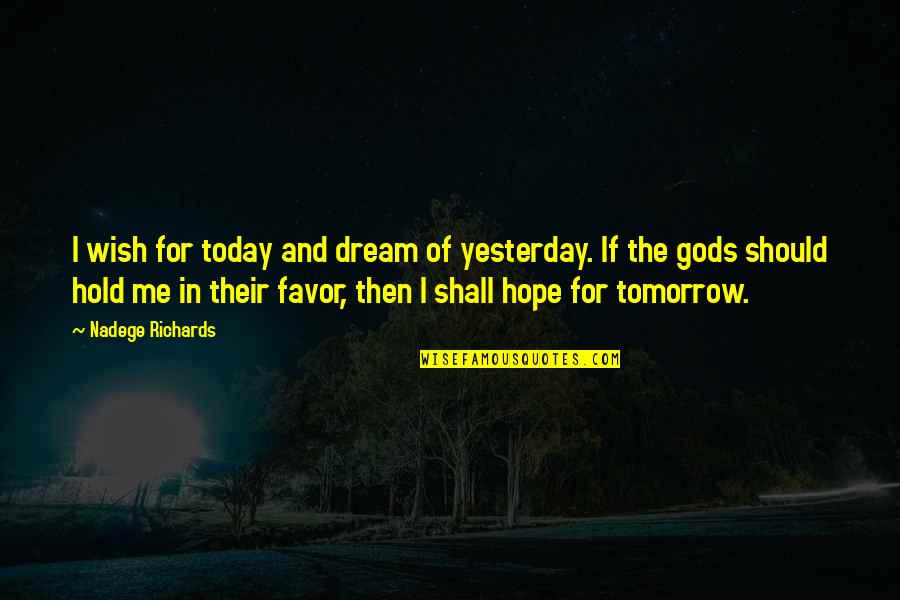 I wish for today and dream of yesterday. If the gods should hold me in their favor, then I shall hope for tomorrow.
—
Nadege Richards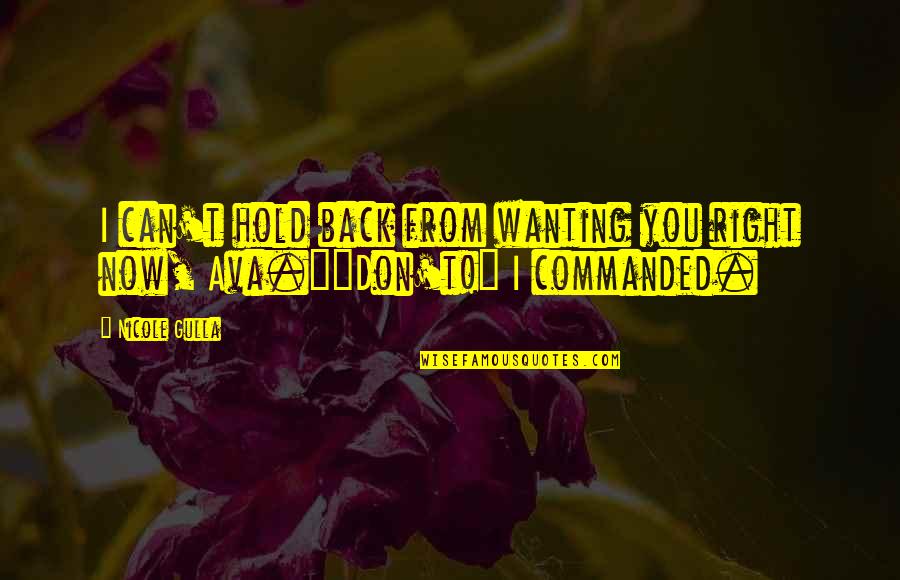 I can't hold back from wanting you right now, Ava."
"Don't!" I commanded. —
Nicole Gulla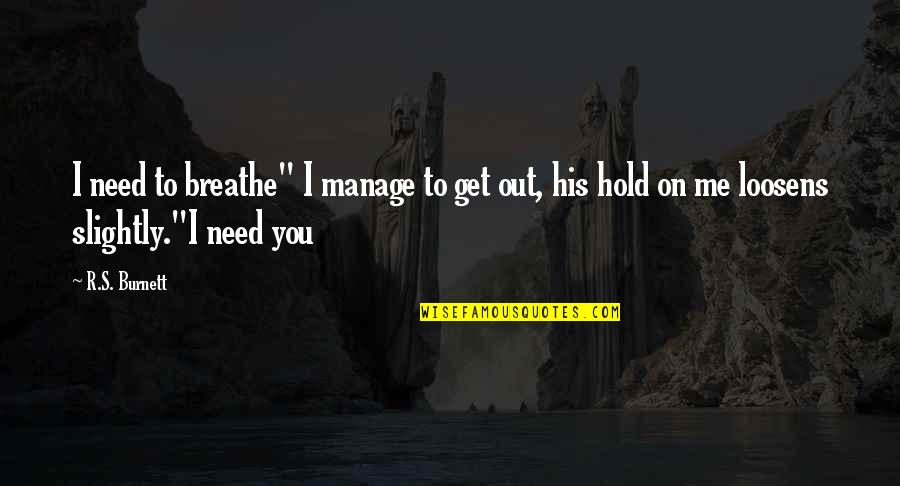 I need to breathe" I manage to get out, his hold on me loosens slightly.
"I need you —
R.S. Burnett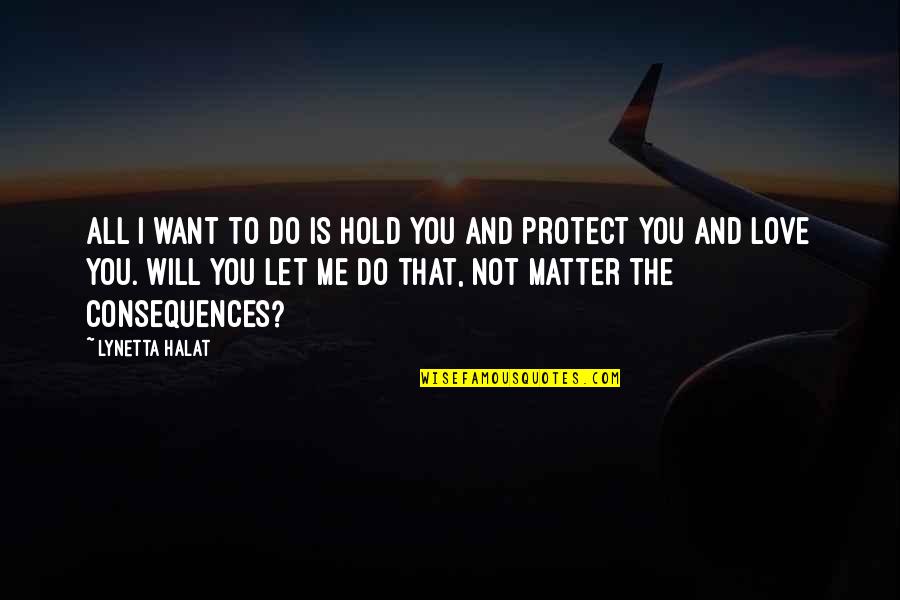 All I want to do is hold you and protect you and love you. Will you let me do that, not matter the consequences? —
Lynetta Halat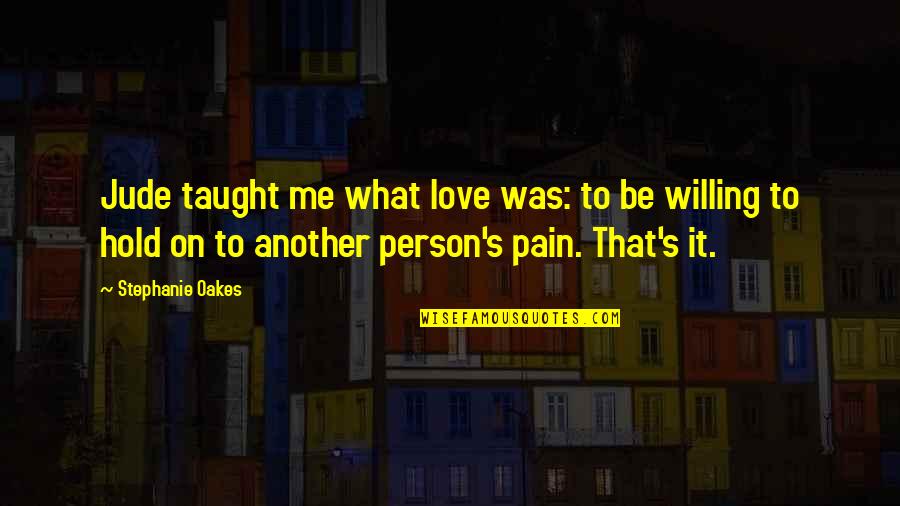 Jude taught me what love was: to be willing to hold on to another person's pain. That's it. —
Stephanie Oakes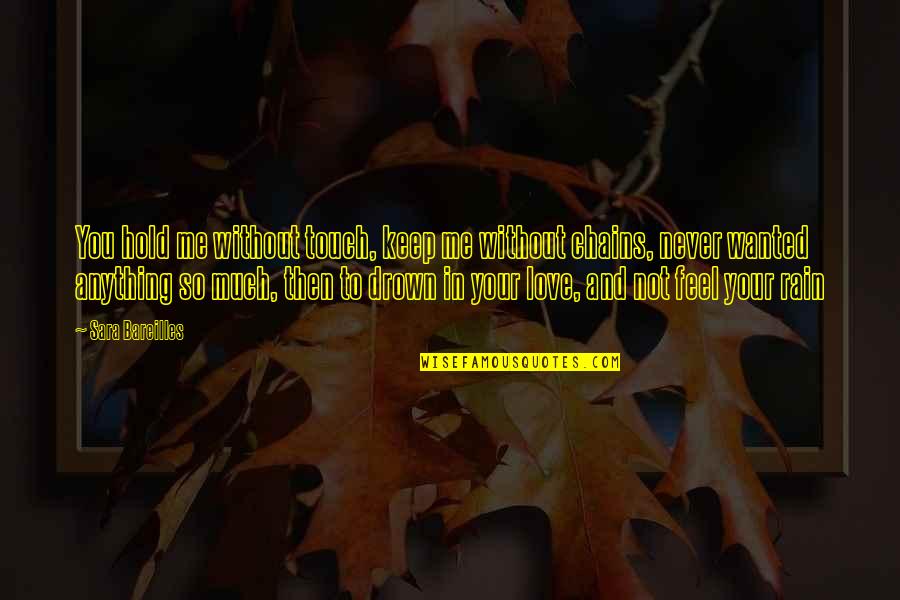 You hold me without touch, keep me without chains, never wanted anything so much, then to drown in your love, and not feel your rain —
Sara Bareilles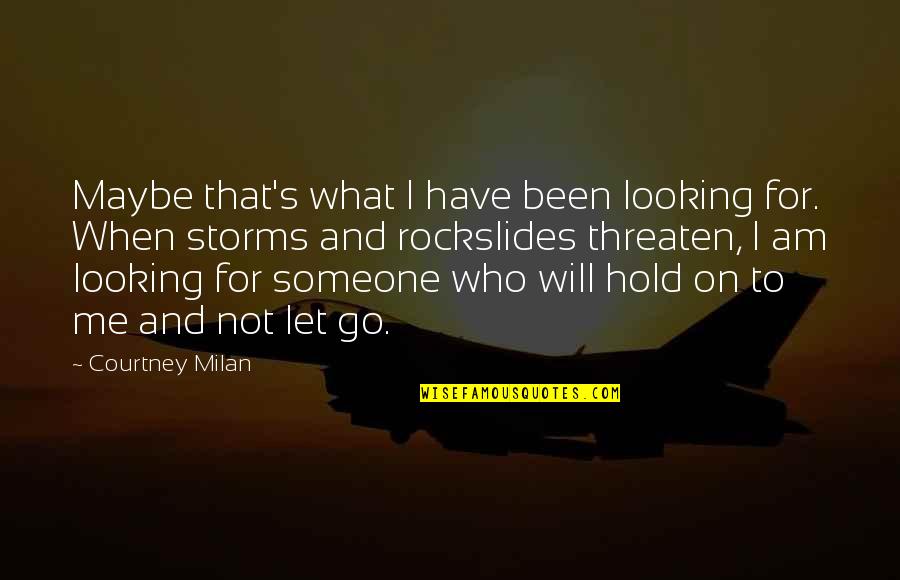 Maybe that's what I have been looking for. When storms and rockslides threaten, I am looking for someone who will hold on to me and not let go. —
Courtney Milan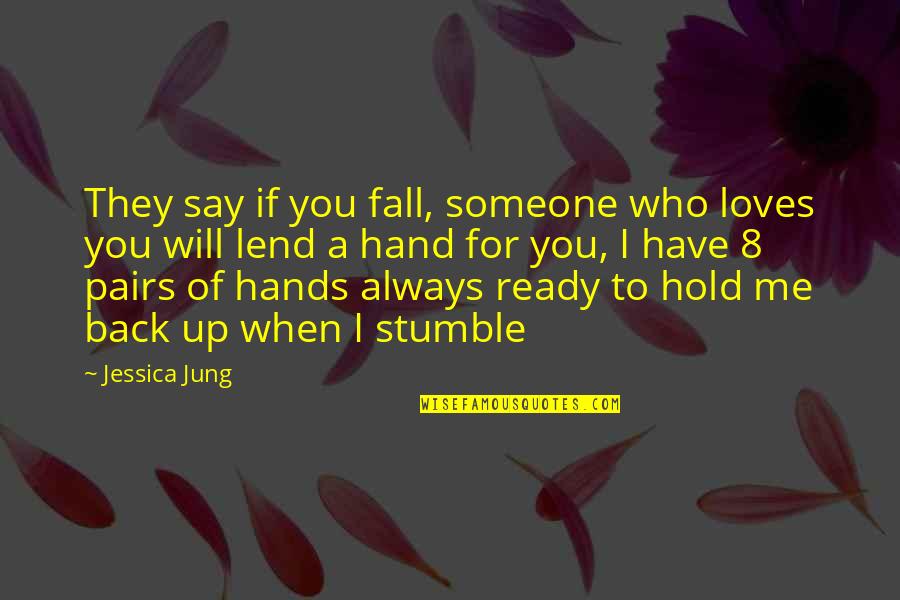 They say if you fall, someone who loves you will lend a hand for you, I have 8 pairs of hands always ready to hold me back up when I stumble —
Jessica Jung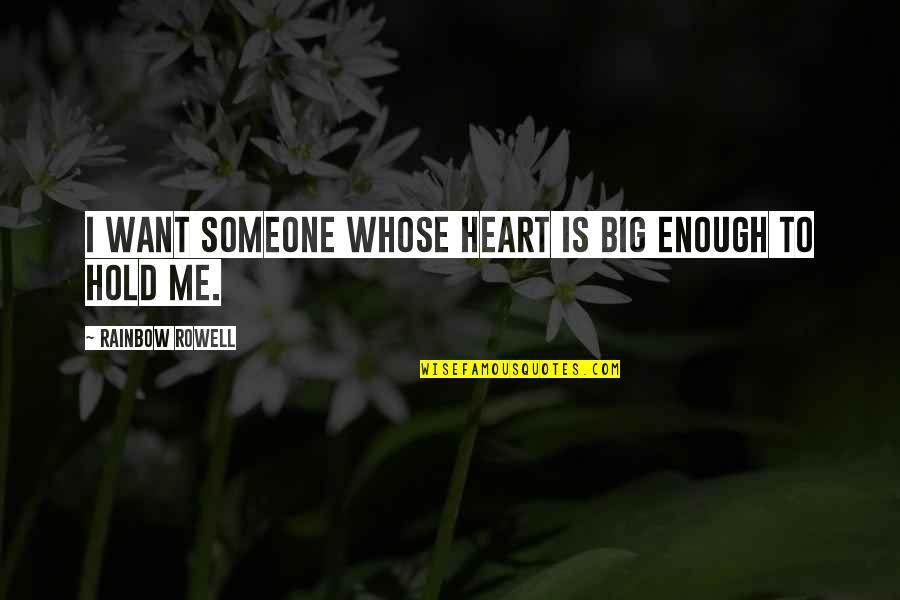 I want someone whose heart is big enough to hold me. —
Rainbow Rowell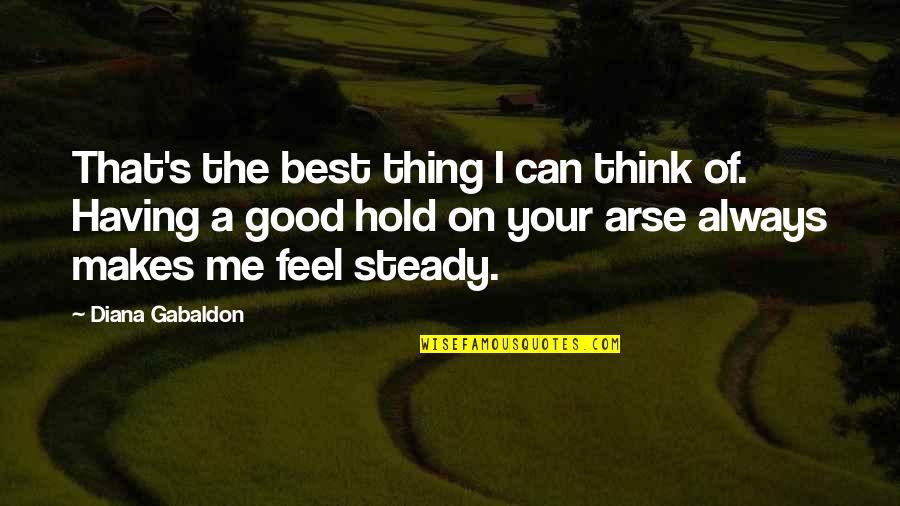 That's the best thing I can think of. Having a good hold on your arse always makes me feel steady. —
Diana Gabaldon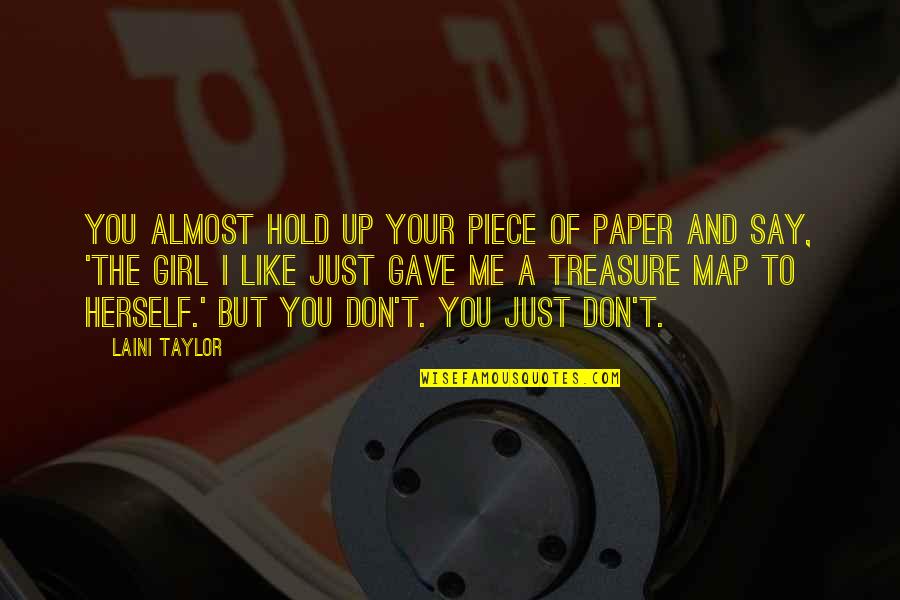 You almost hold up your piece of paper and say, 'The girl I like just gave me a treasure map to herself.' But you don't. You just don't. —
Laini Taylor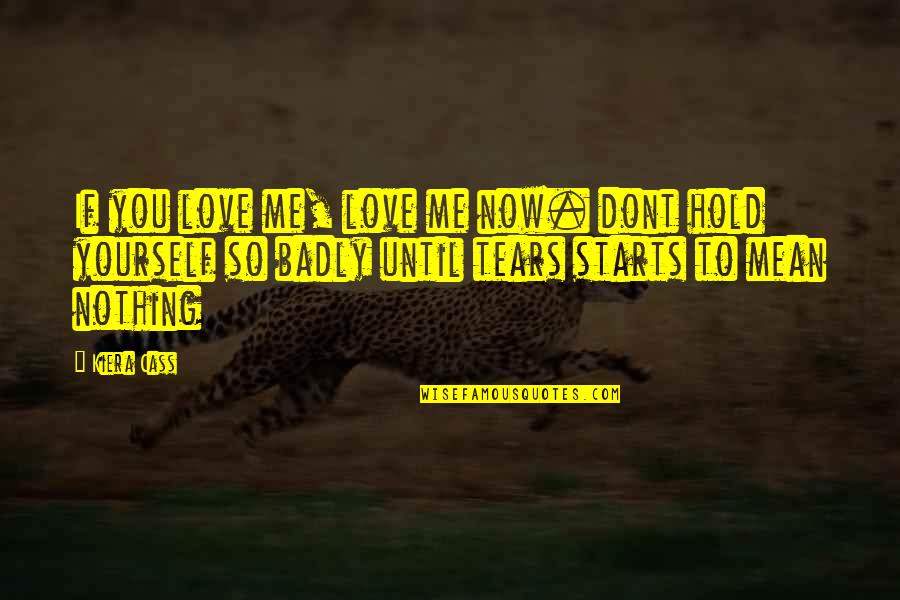 If you love me, love me now. dont hold yourself so badly until tears starts to mean nothing —
Kiera Cass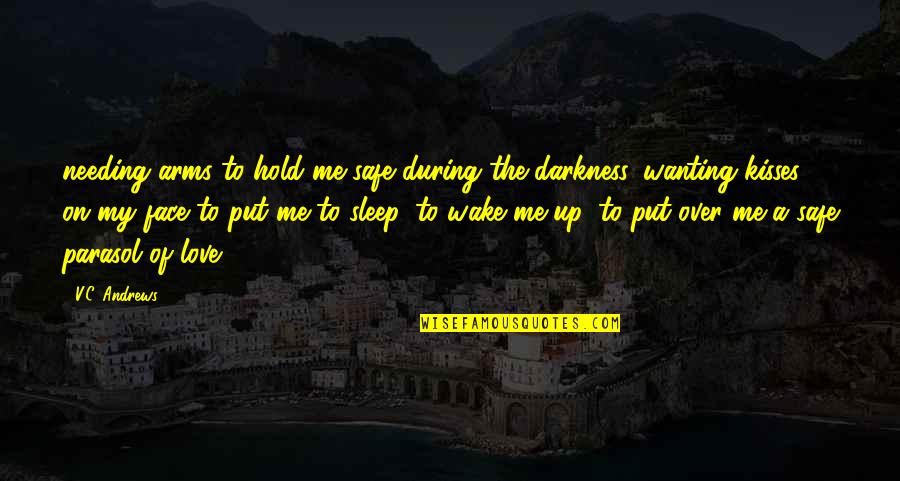 needing arms to hold me safe during the darkness, wanting kisses on my face to put me to sleep, to wake me up, to put over me a safe parasol of love. —
V.C. Andrews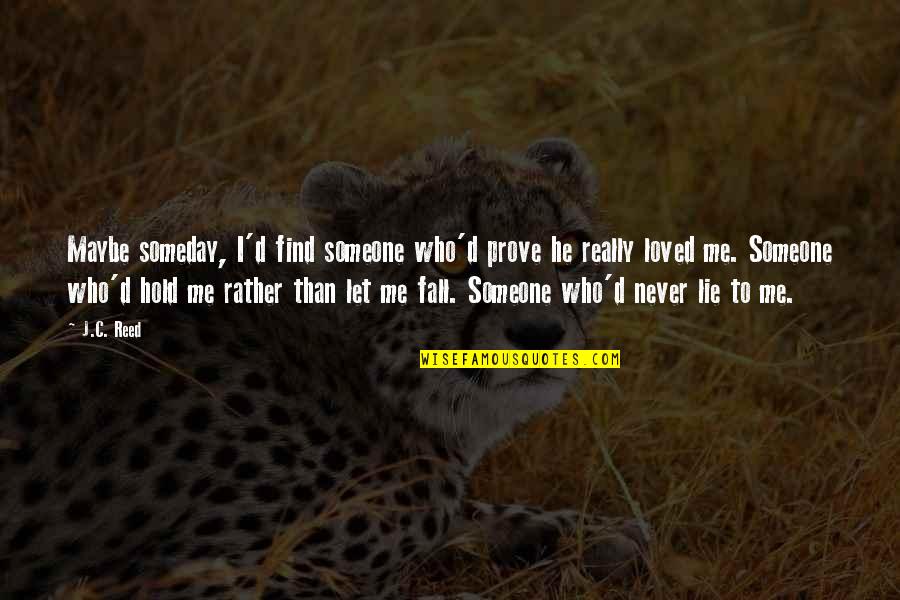 Maybe someday, I'd find someone who'd prove he really loved me. Someone who'd hold me rather than let me fall. Someone who'd never lie to me. —
J.C. Reed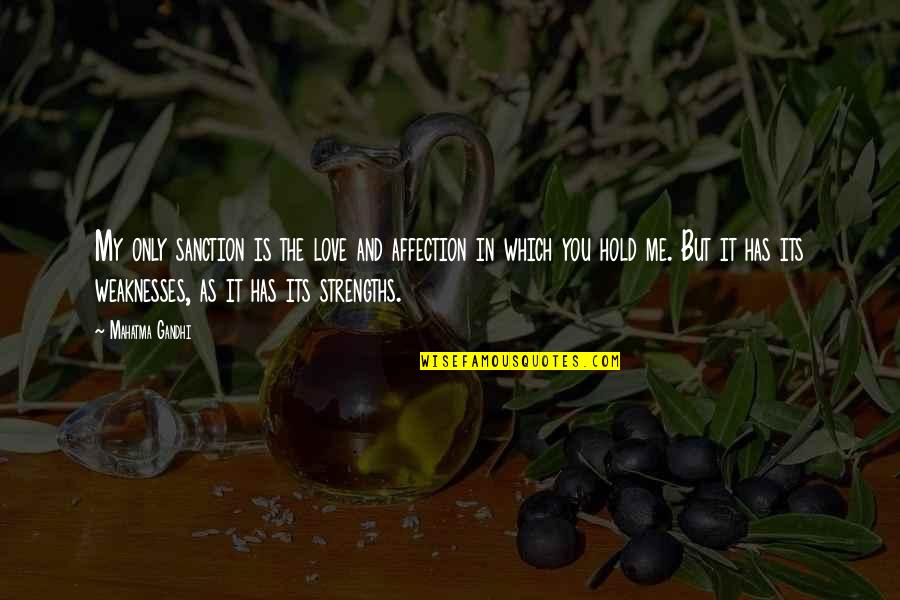 My only sanction is the love and affection in which you hold me. But it has its weaknesses, as it has its strengths. —
Mahatma Gandhi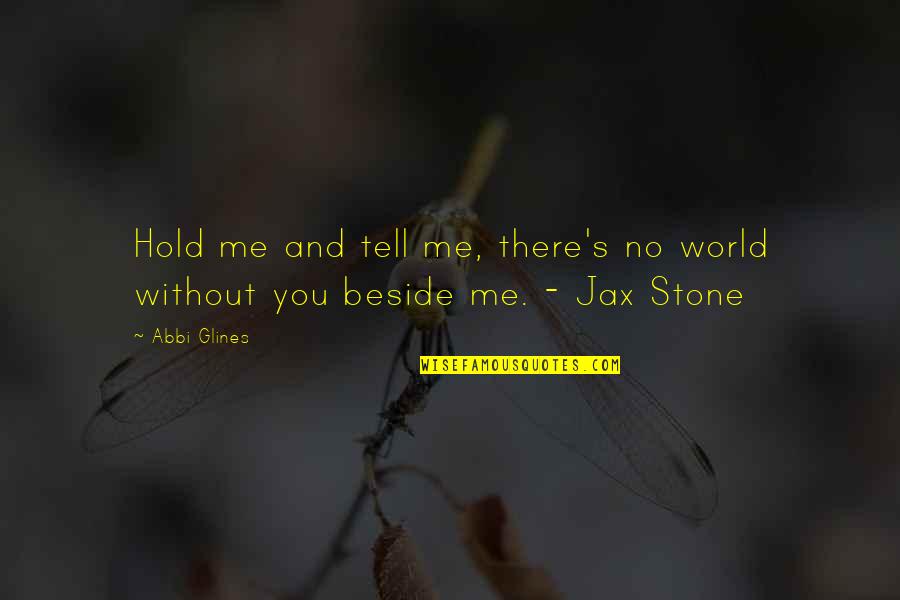 Hold me and tell me, there's no world without you beside me. - Jax Stone —
Abbi Glines
This ring is a symbol of my faithfulness, it binds you to me, and my love shall hold you always. —
Melissa De La Cruz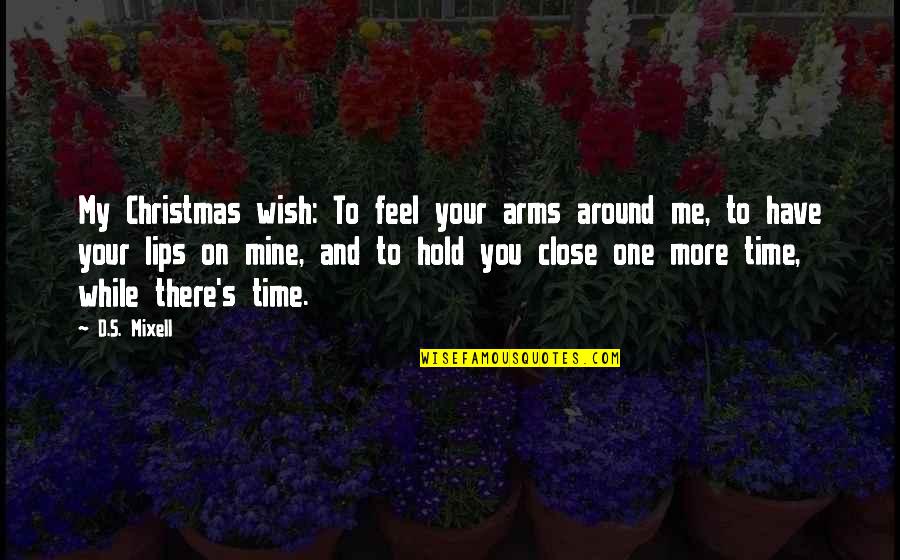 My Christmas wish: To feel your arms around me, to have your lips on mine, and to hold you close one more time, while there's time. —
D.S. Mixell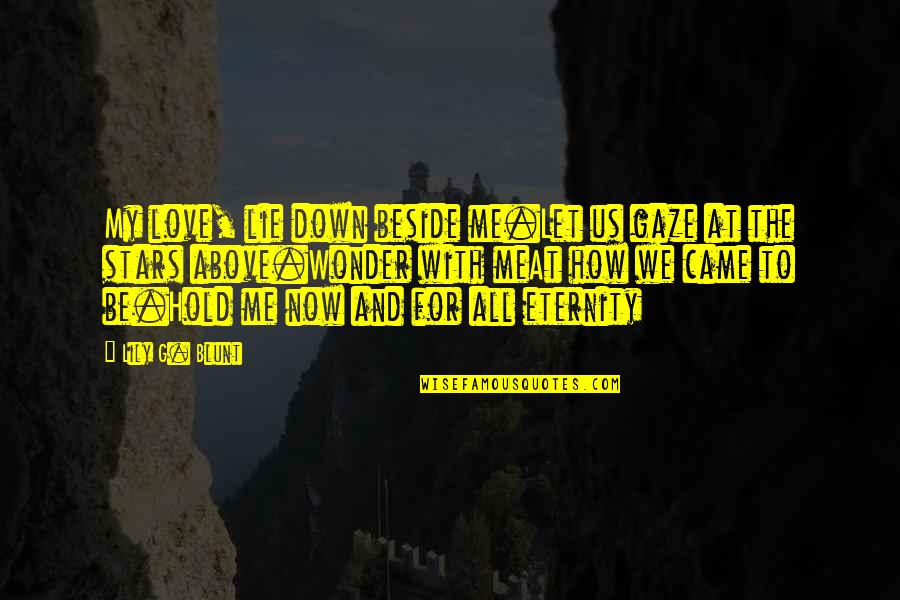 My love, lie down beside me.
Let us gaze at the stars above.
Wonder with me
At how we came to be.
Hold me now and for all eternity —
Lily G. Blunt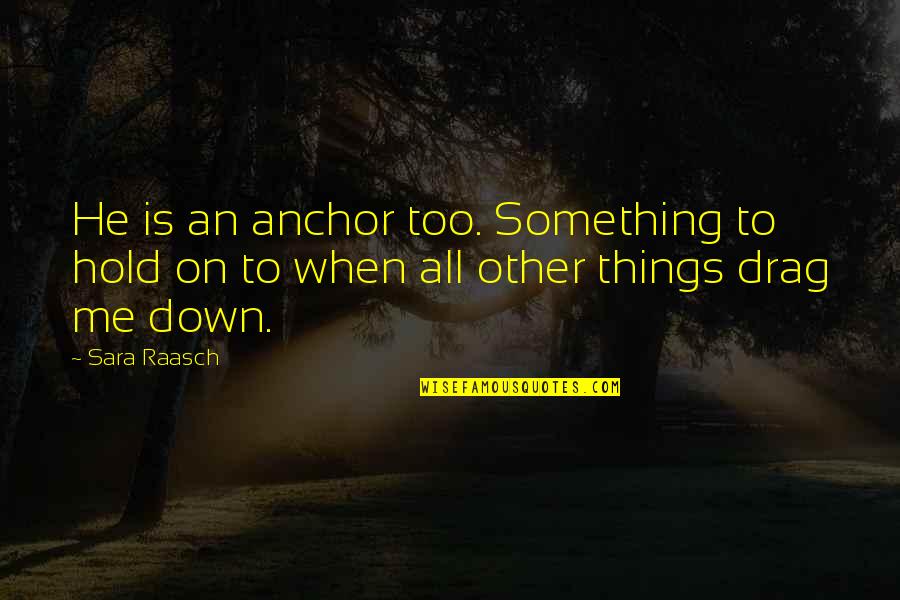 He is an anchor too. Something to hold on to when all other things drag me down. —
Sara Raasch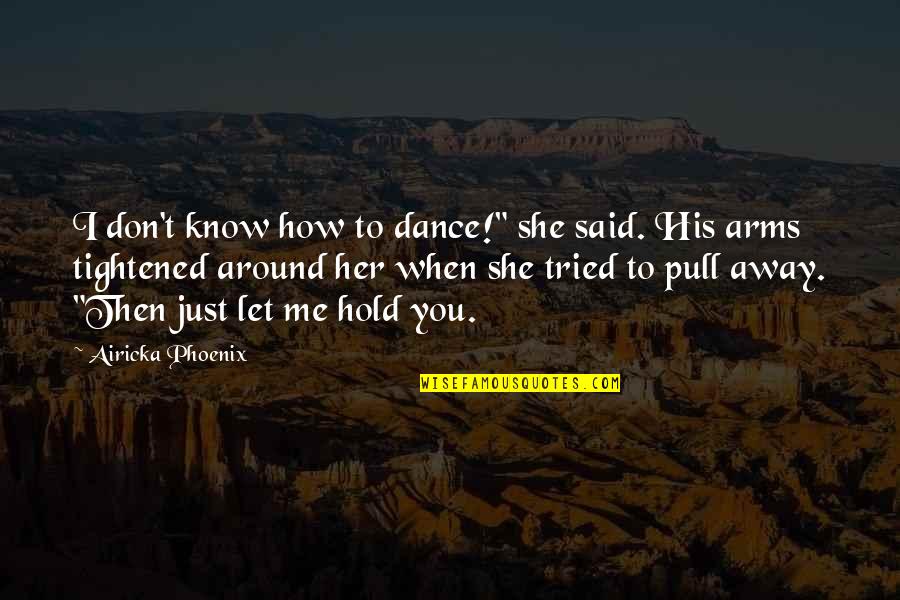 I don't know how to dance!" she said.
His arms tightened around her when she tried to pull away. "Then just let me hold you. —
Airicka Phoenix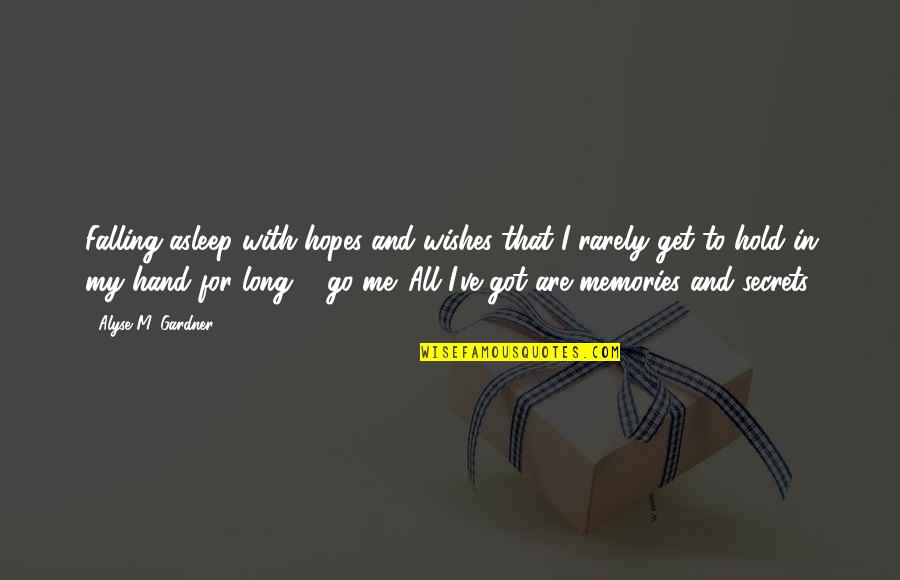 Falling asleep with hopes and wishes that I rarely get to hold in my hand for long ... go me. All I've got are memories and secrets. —
Alyse M. Gardner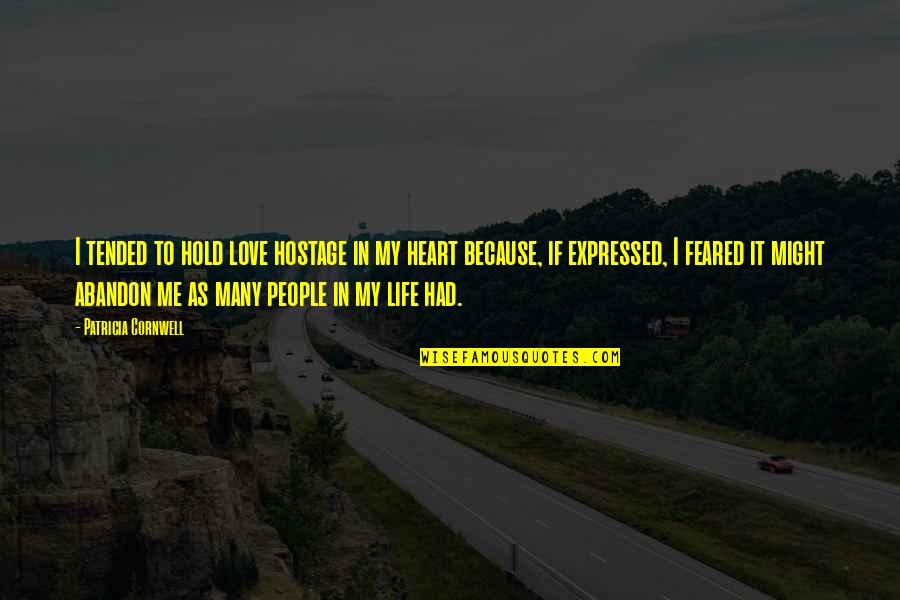 I tended to hold love hostage in my heart because, if expressed, I feared it might abandon me as many people in my life had. —
Patricia Cornwell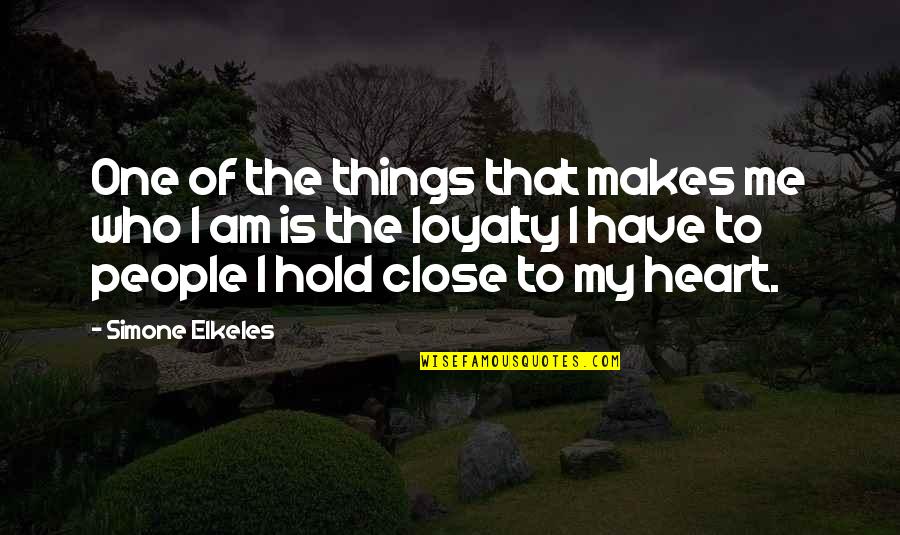 One of the things that makes me who I am is the loyalty I have to people I hold close to my heart. —
Simone Elkeles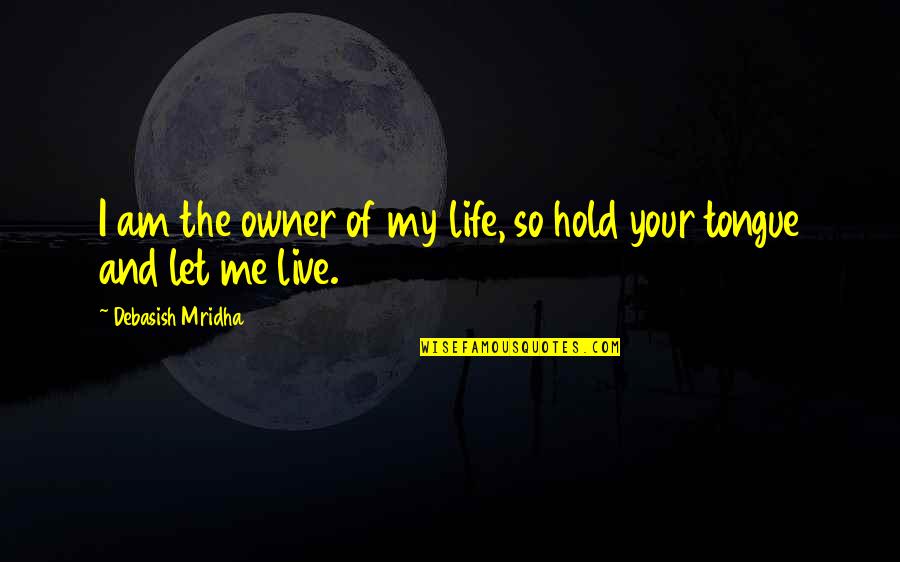 I am the owner of my life, so hold your tongue and let me live. —
Debasish Mridha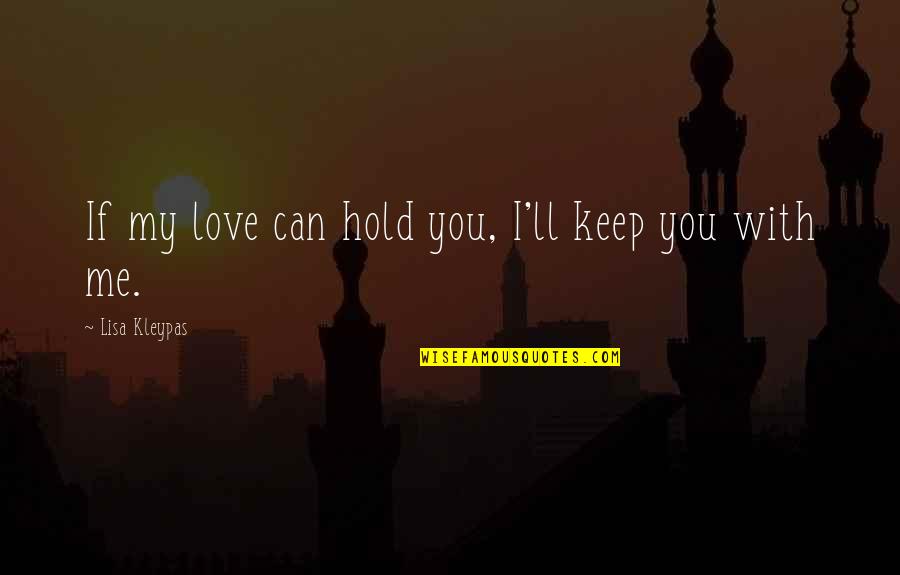 If my love can hold you, I'll keep you with me. —
Lisa Kleypas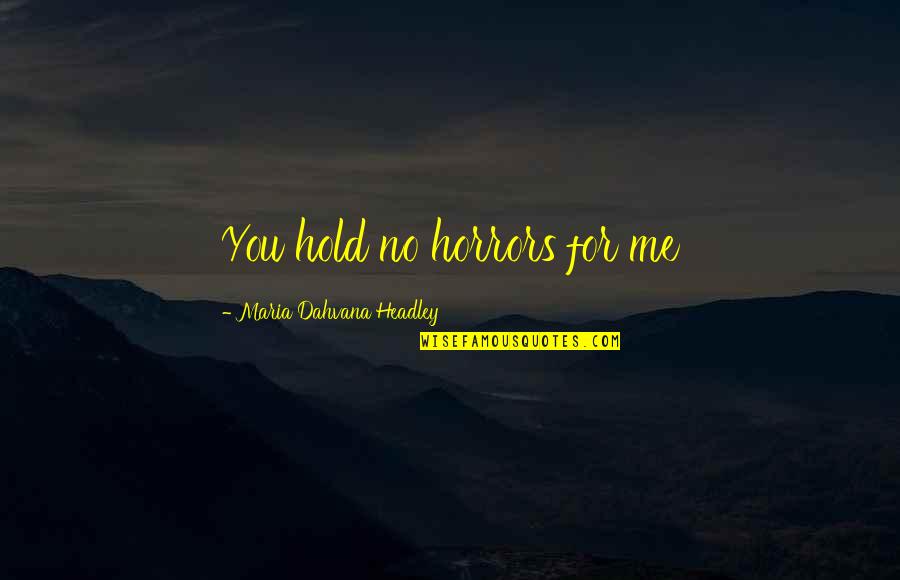 You hold no horrors for me —
Maria Dahvana Headley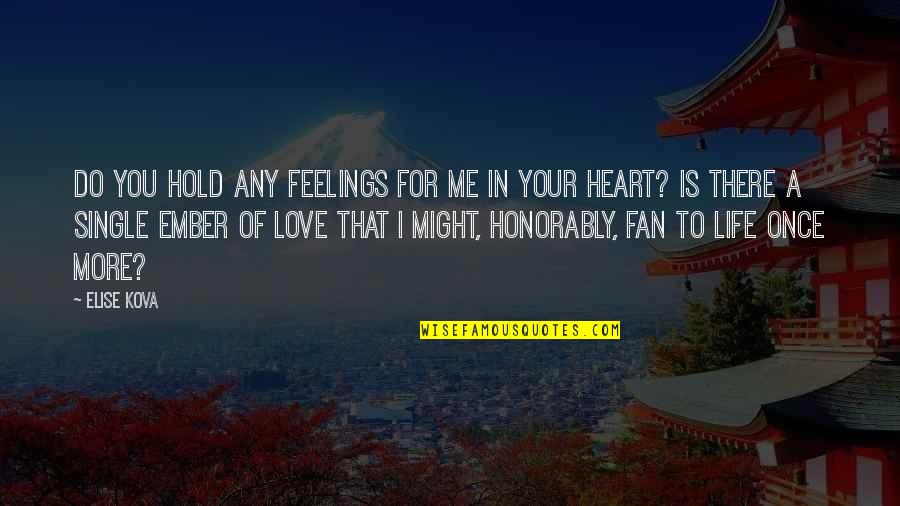 Do you hold any feelings for me in your heart? Is there a single ember of love that I might, honorably, fan to life once more? —
Elise Kova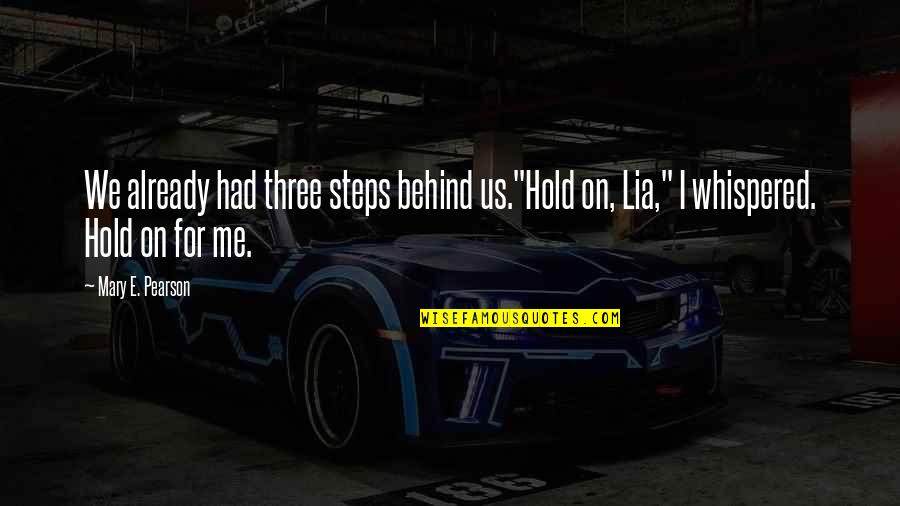 We already had three steps behind us.
"Hold on, Lia," I whispered.
Hold on for me. —
Mary E. Pearson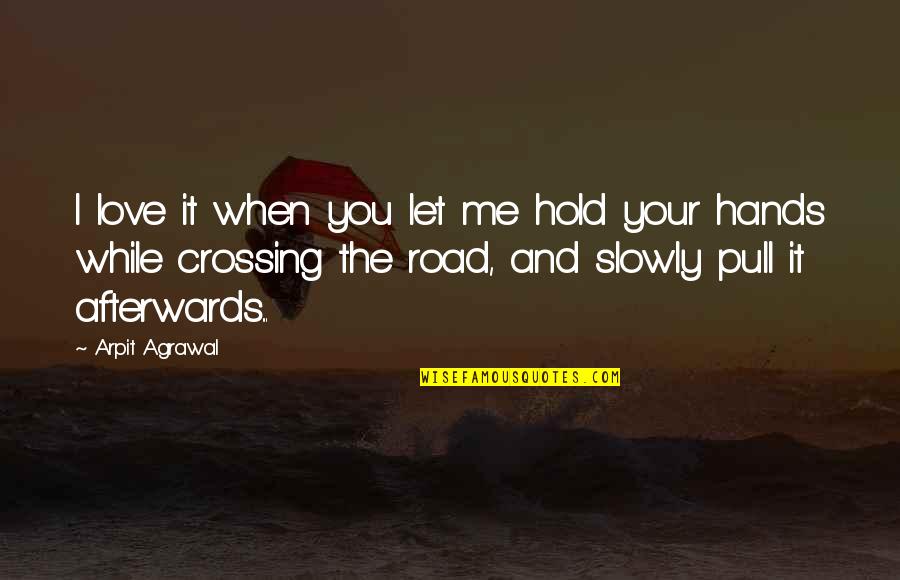 I love it when you let me hold your hands while crossing the road, and slowly pull it afterwards... —
Arpit Agrawal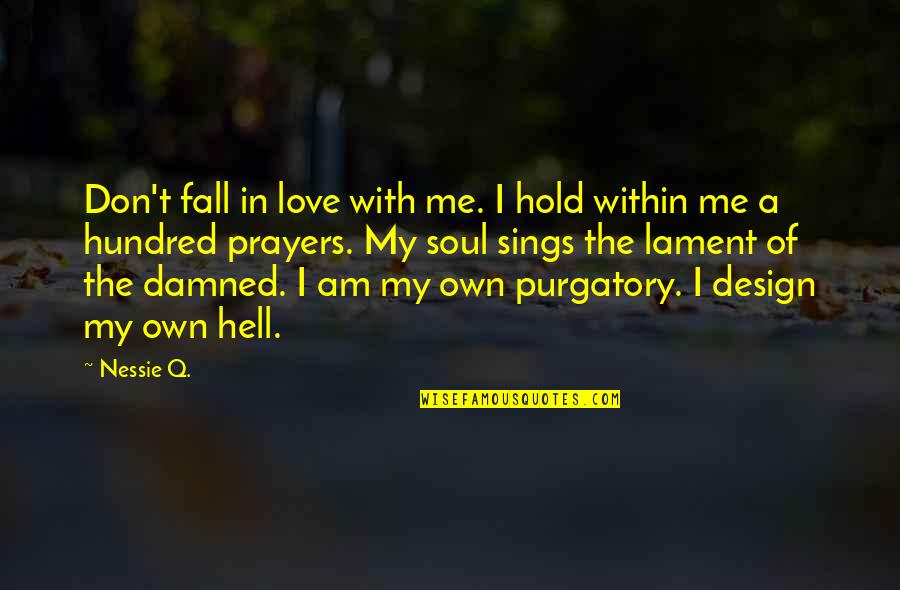 Don't fall in love with me. I hold within me a hundred prayers. My soul sings the lament of the damned. I am my own purgatory. I design my own hell. —
Nessie Q.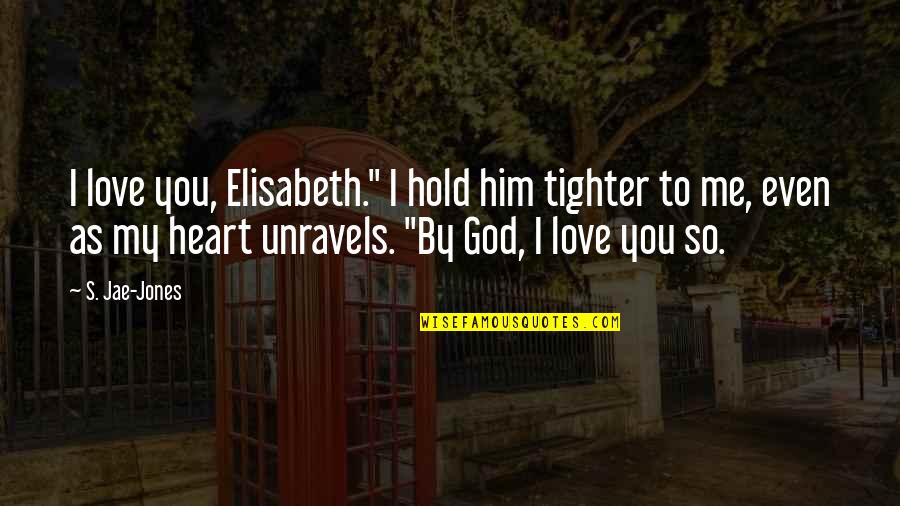 I love you, Elisabeth." I hold him tighter to me, even as my heart unravels. "By God, I love you so. —
S. Jae-Jones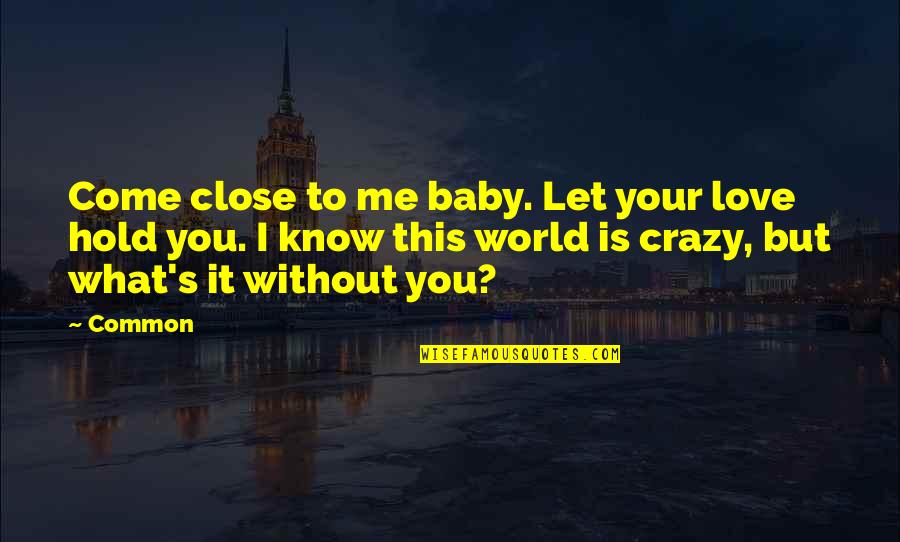 Come close to me baby. Let your love hold you. I know this world is crazy, but what's it without you? —
Common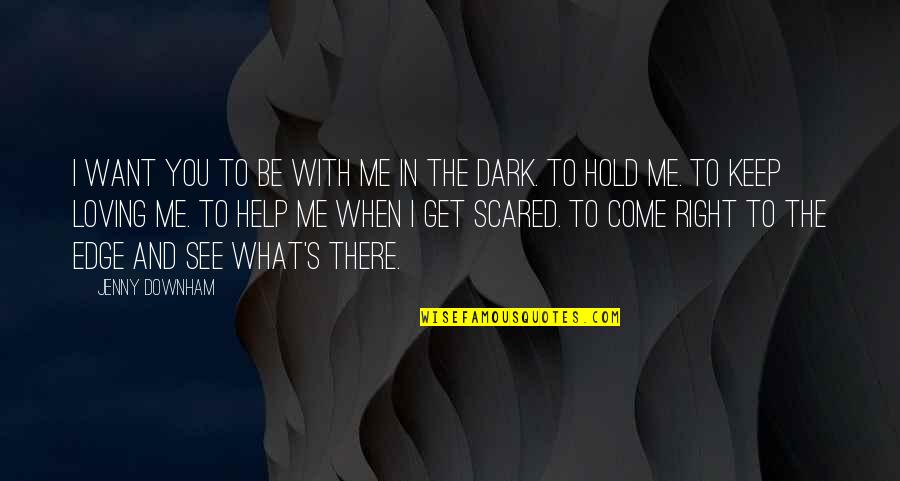 I want you to be with me in the dark. To hold me. To keep loving me. To help me when I get scared. To come right to the edge and see what's there. —
Jenny Downham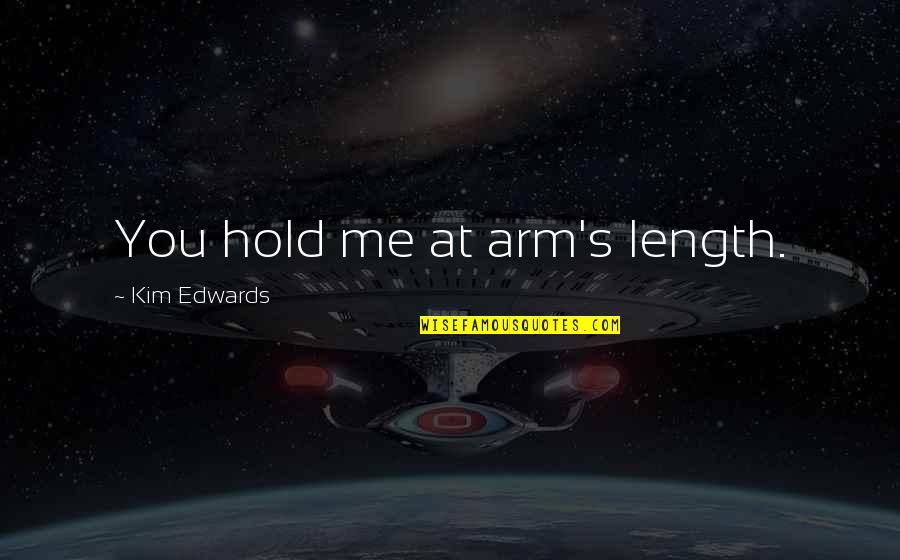 You hold me at arm's length. —
Kim Edwards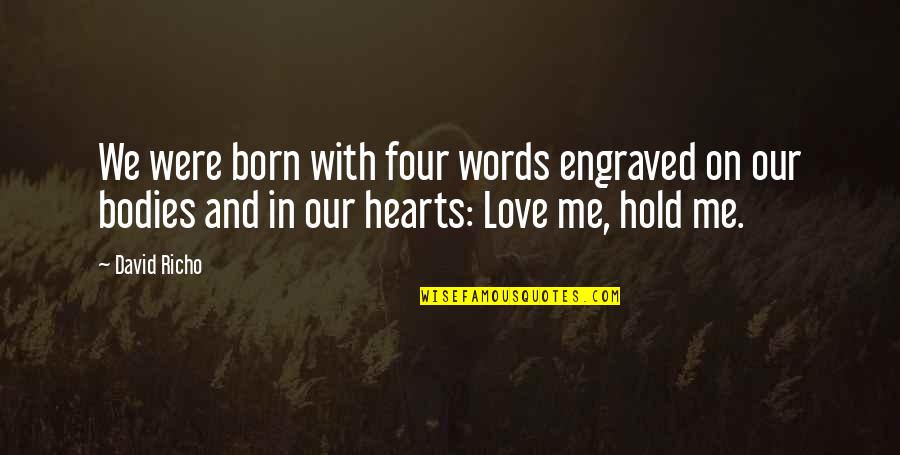 We were born with four words engraved on our bodies and in our hearts: Love me, hold me. —
David Richo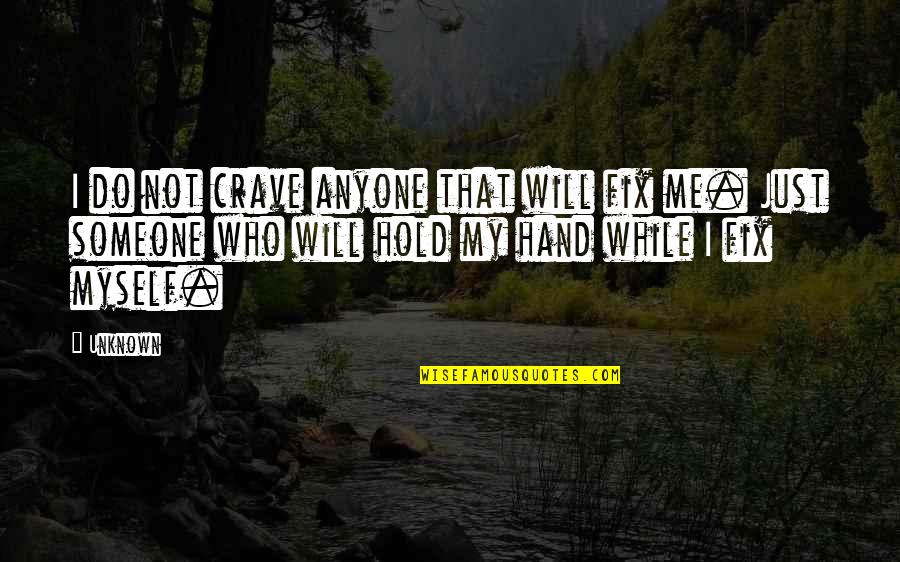 I do not crave anyone that will fix me. Just someone who will hold my hand while I fix myself. —
Unknown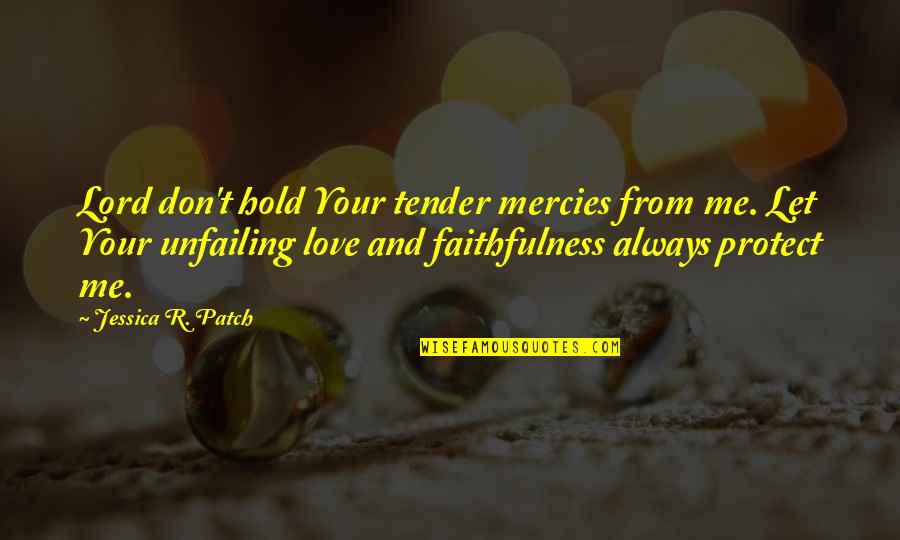 Lord don't hold Your tender mercies from me. Let Your unfailing love and faithfulness always protect me. —
Jessica R. Patch