Freshman's Quotes
Collection of top 50 famous quotes about Freshman's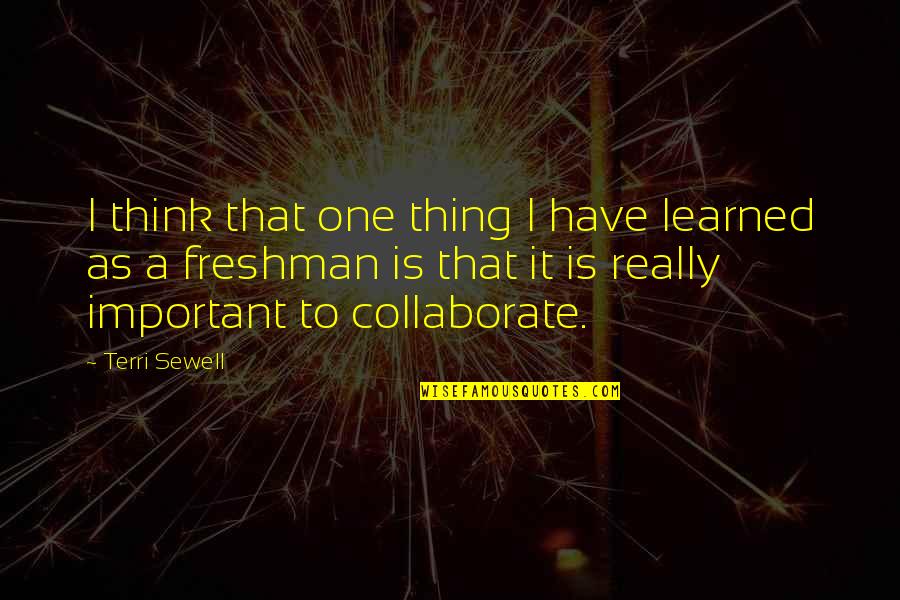 I think that one thing I have learned as a freshman is that it is really important to collaborate.
—
Terri Sewell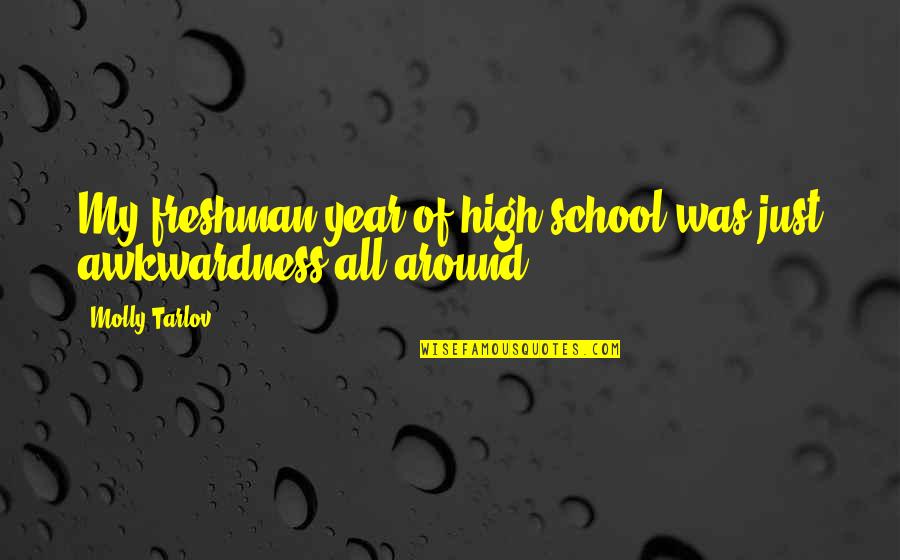 My freshman year of high school was just awkwardness all around.
—
Molly Tarlov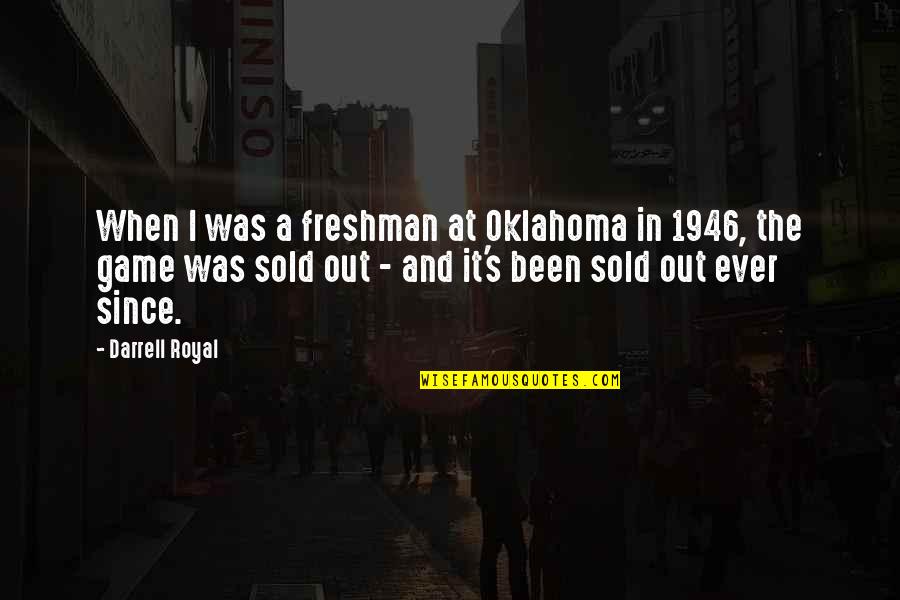 When I was a freshman at Oklahoma in 1946, the game was sold out - and it's been sold out ever since.
—
Darrell Royal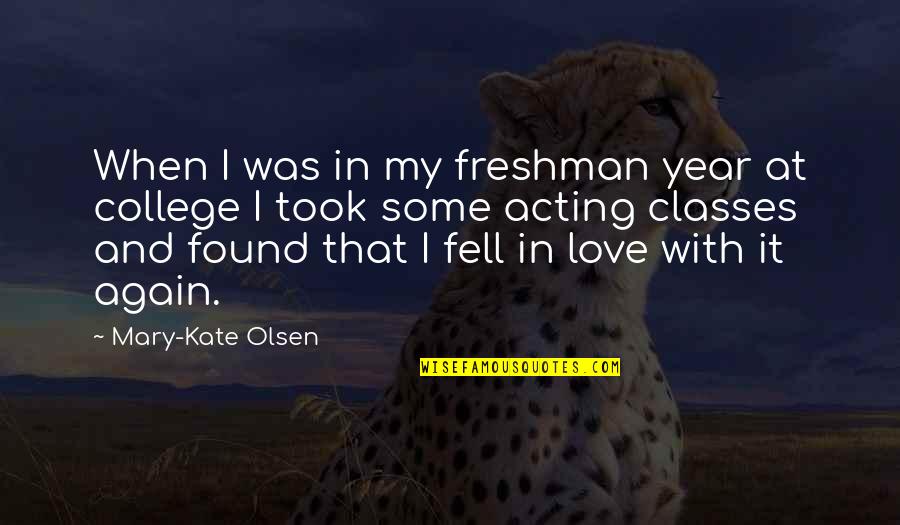 When I was in my freshman year at college I took some acting classes and found that I fell in love with it again.
—
Mary-Kate Olsen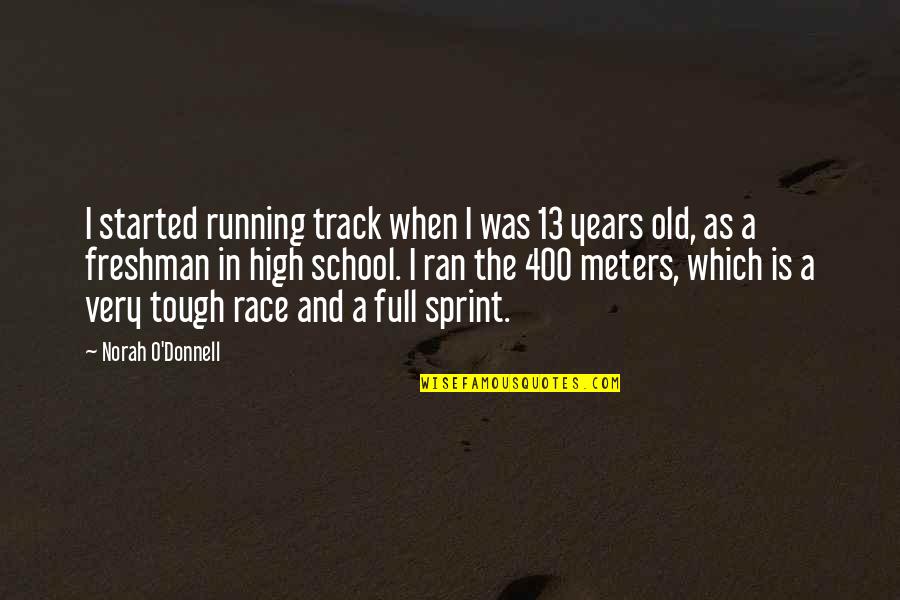 I started running track when I was 13 years old, as a freshman in high school. I ran the 400 meters, which is a very tough race and a full sprint.
—
Norah O'Donnell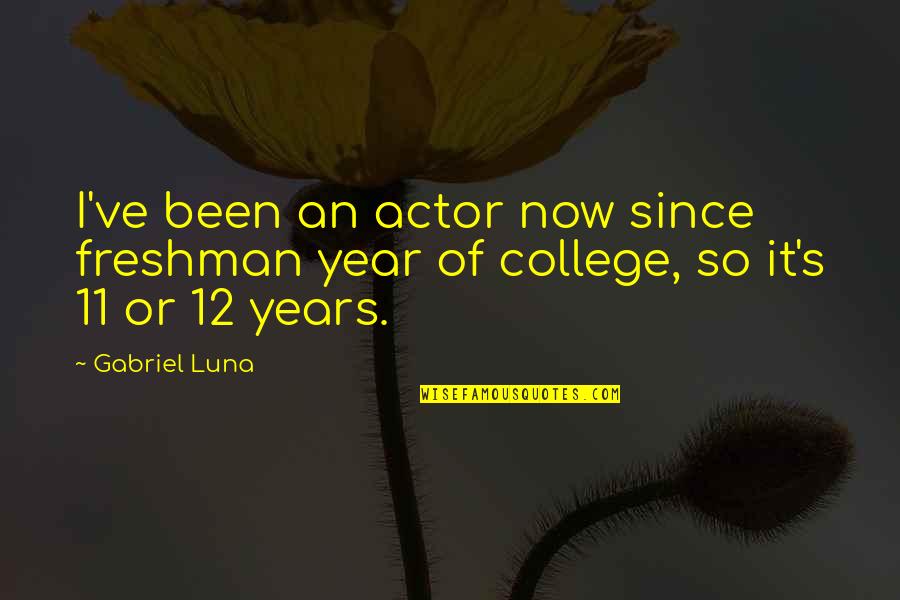 I've been an actor now since freshman year of college, so it's 11 or 12 years.
—
Gabriel Luna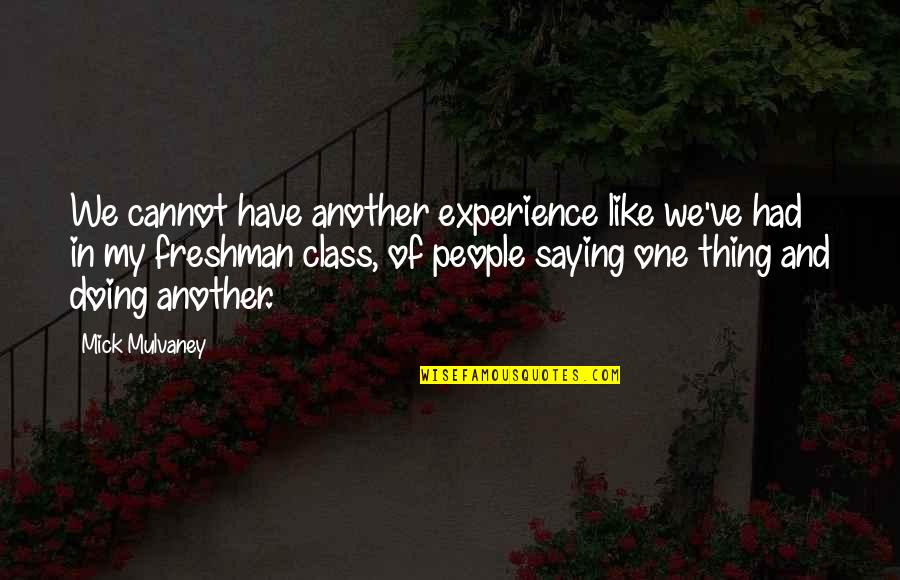 We cannot have another experience like we've had in my freshman class, of people saying one thing and doing another.
—
Mick Mulvaney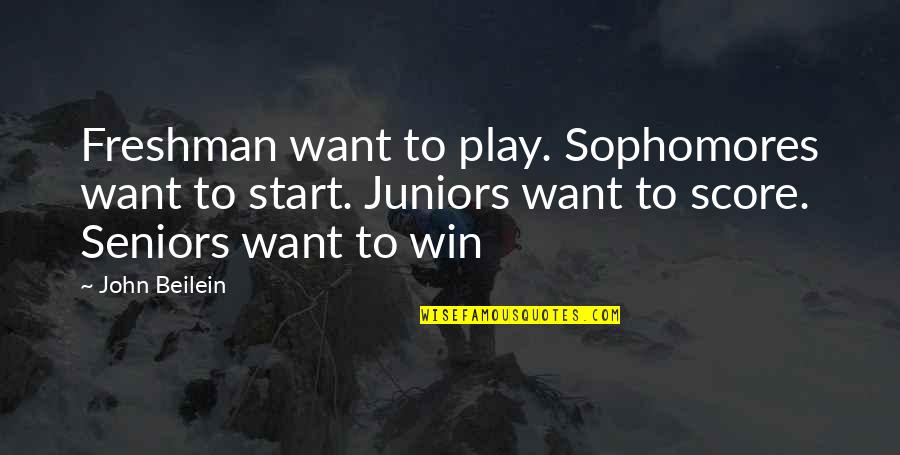 Freshman want to play. Sophomores want to start. Juniors want to score. Seniors want to win
—
John Beilein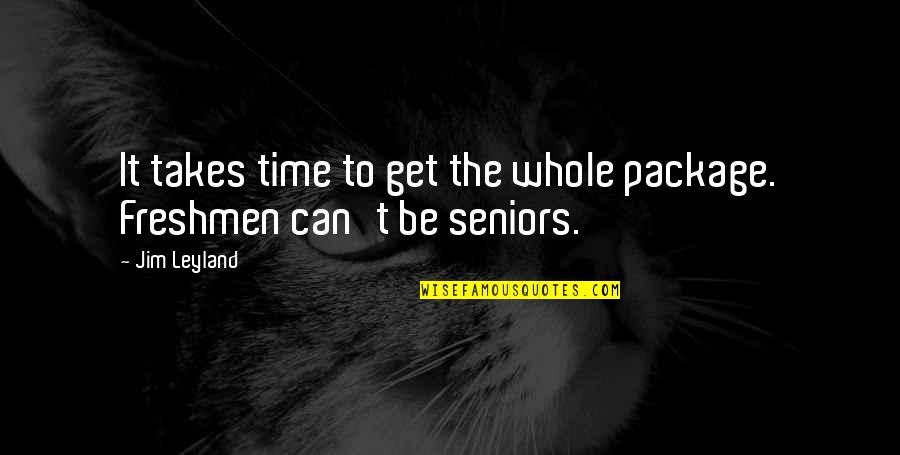 It takes time to get the whole package. Freshmen can't be seniors.
—
Jim Leyland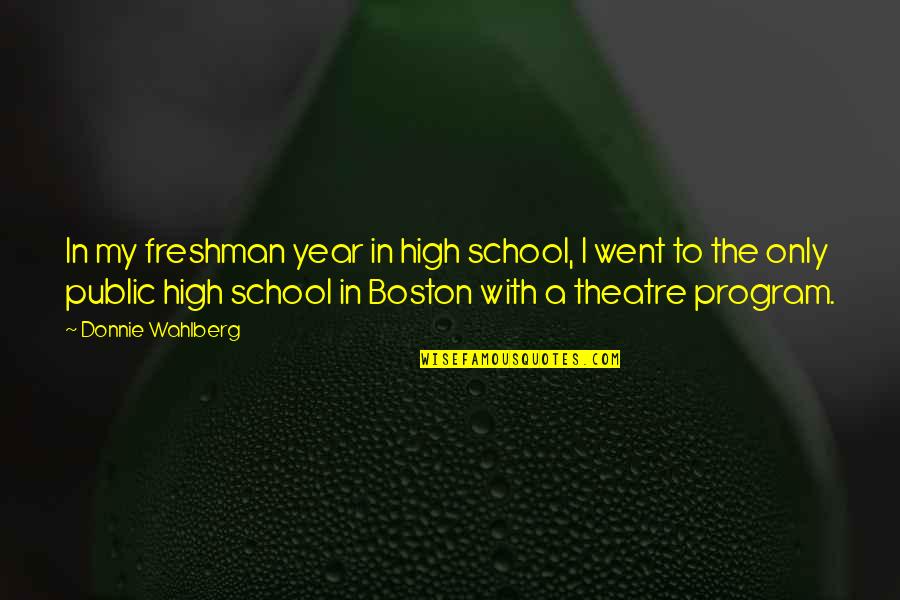 In my freshman year in high school, I went to the only public high school in Boston with a theatre program.
—
Donnie Wahlberg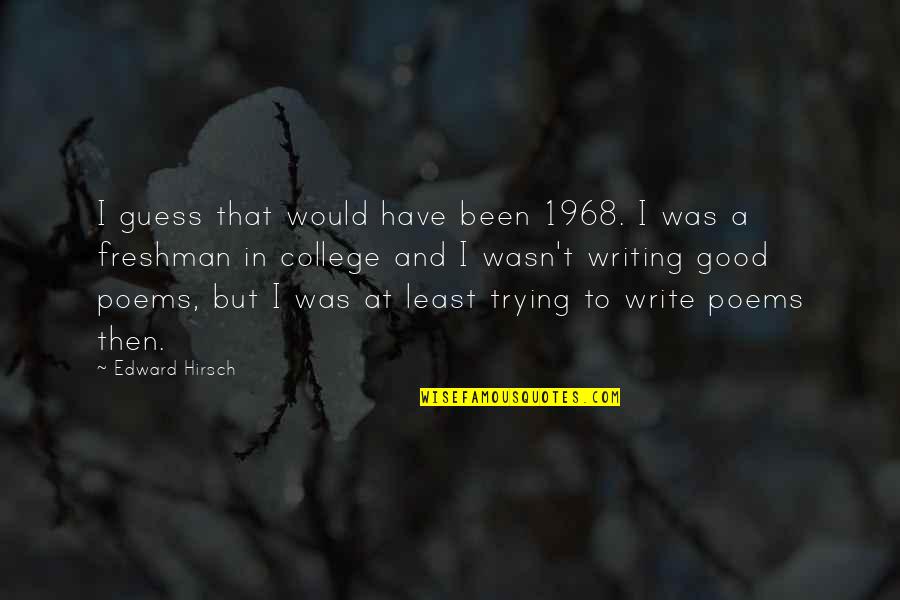 I guess that would have been 1968. I was a freshman in college and I wasn't writing good poems, but I was at least trying to write poems then.
—
Edward Hirsch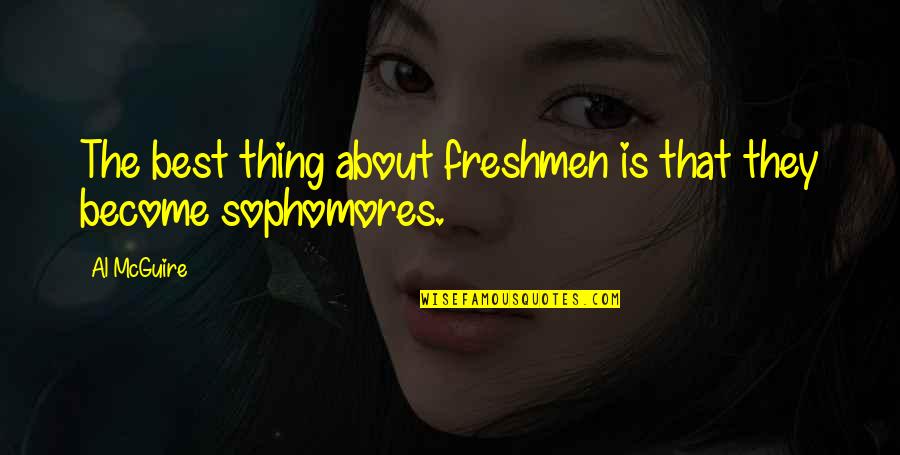 The best thing about freshmen is that they become sophomores.
—
Al McGuire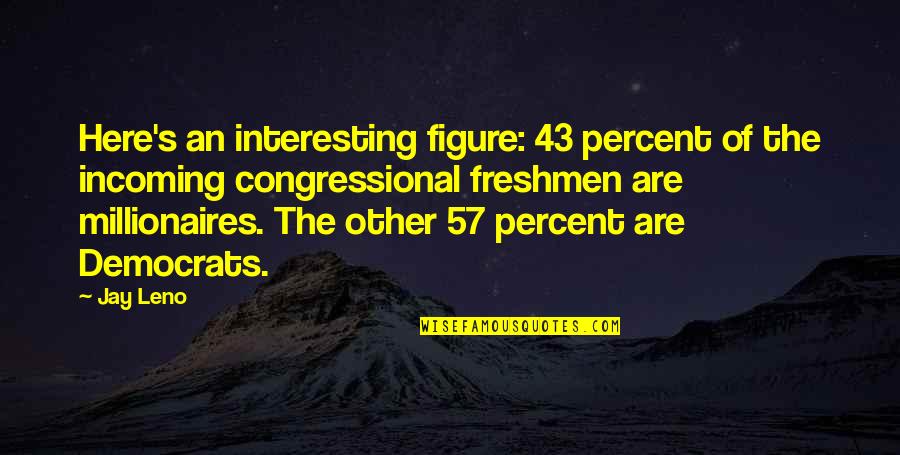 Here's an interesting figure: 43 percent of the incoming congressional freshmen are millionaires. The other 57 percent are Democrats.
—
Jay Leno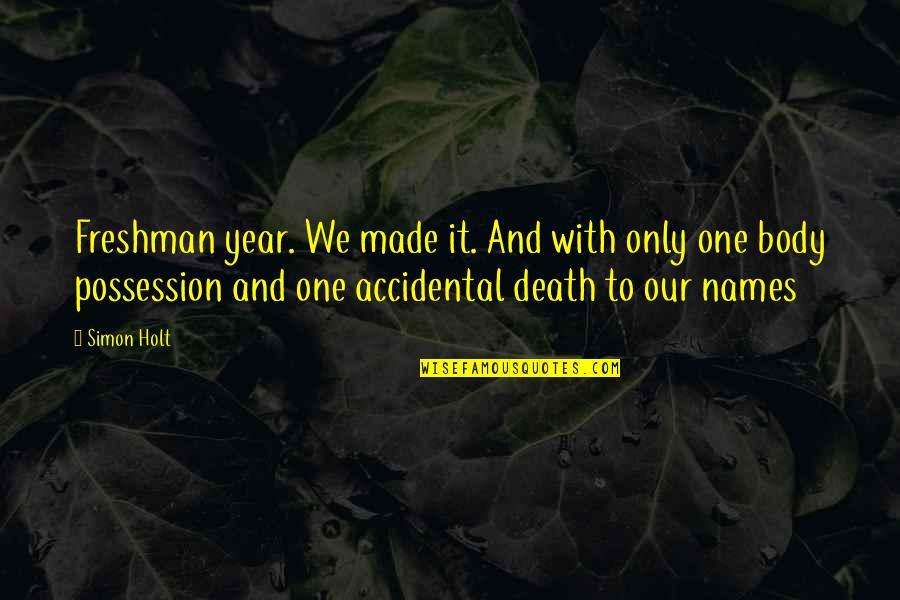 Freshman year. We made it. And with only one body possession and one accidental death to our names
—
Simon Holt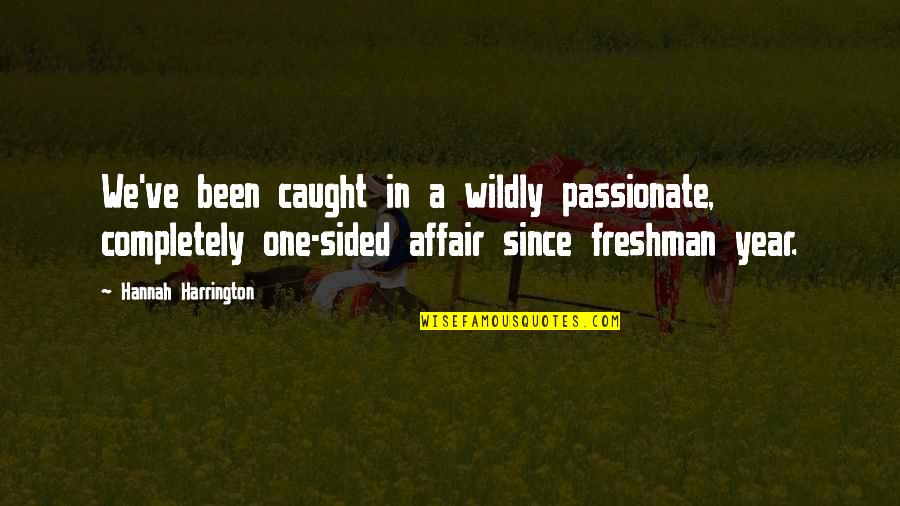 We've been caught in a wildly passionate, completely one-sided affair since freshman year. —
Hannah Harrington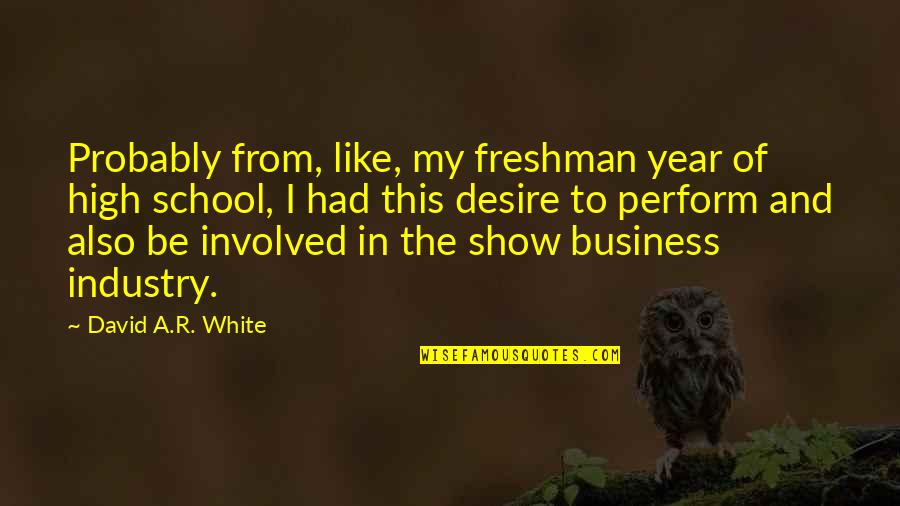 Probably from, like, my freshman year of high school, I had this desire to perform and also be involved in the show business industry. —
David A.R. White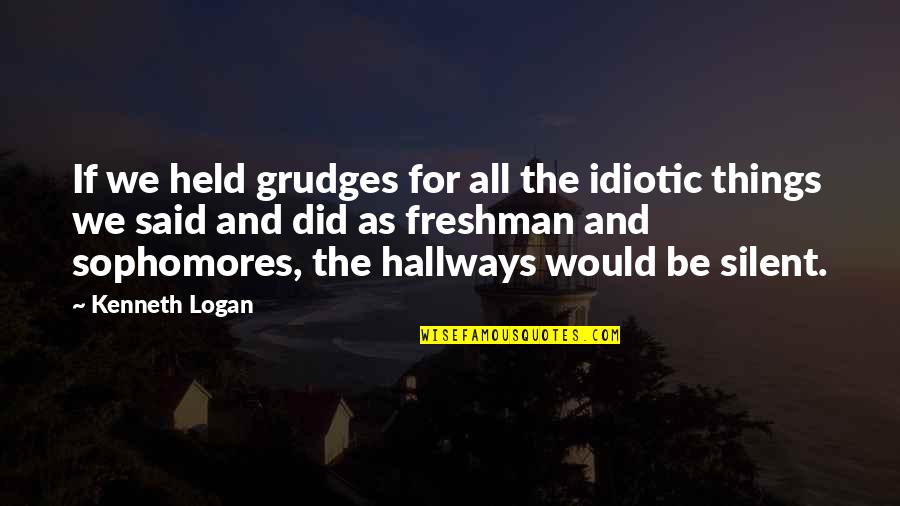 If we held grudges for all the idiotic things we said and did as freshman and sophomores, the hallways would be silent. —
Kenneth Logan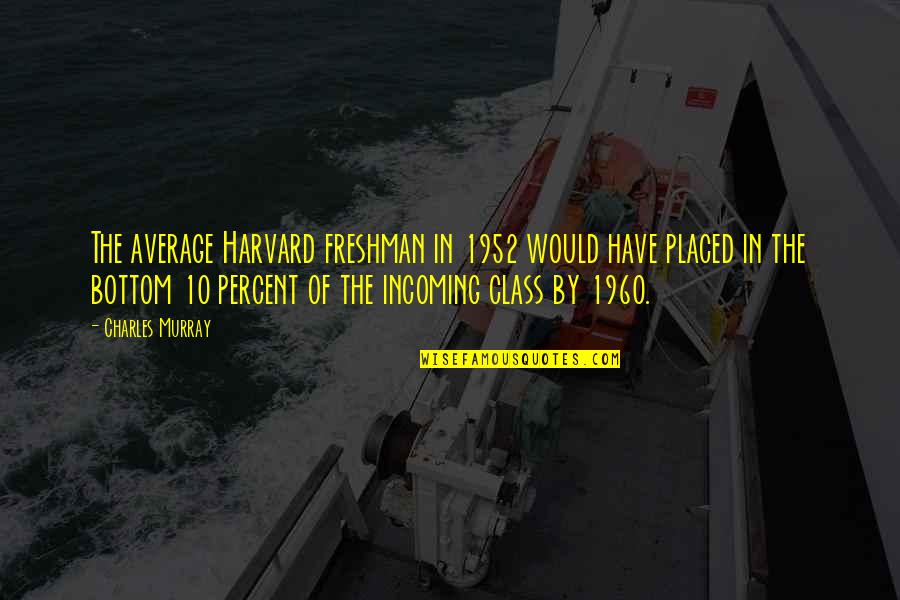 The average Harvard freshman in 1952 would have placed in the bottom 10 percent of the incoming class by 1960. —
Charles Murray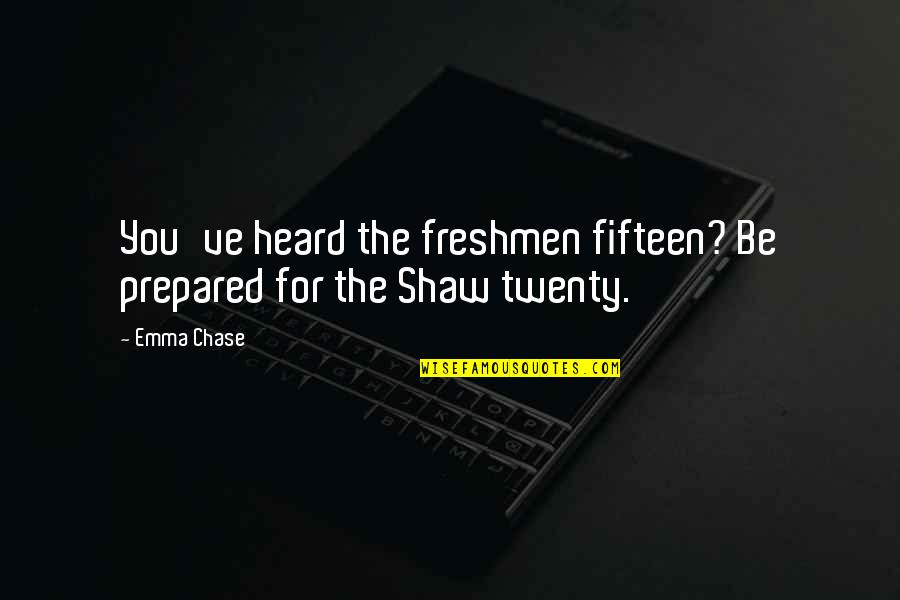 You've heard the freshmen fifteen? Be prepared for the Shaw twenty. —
Emma Chase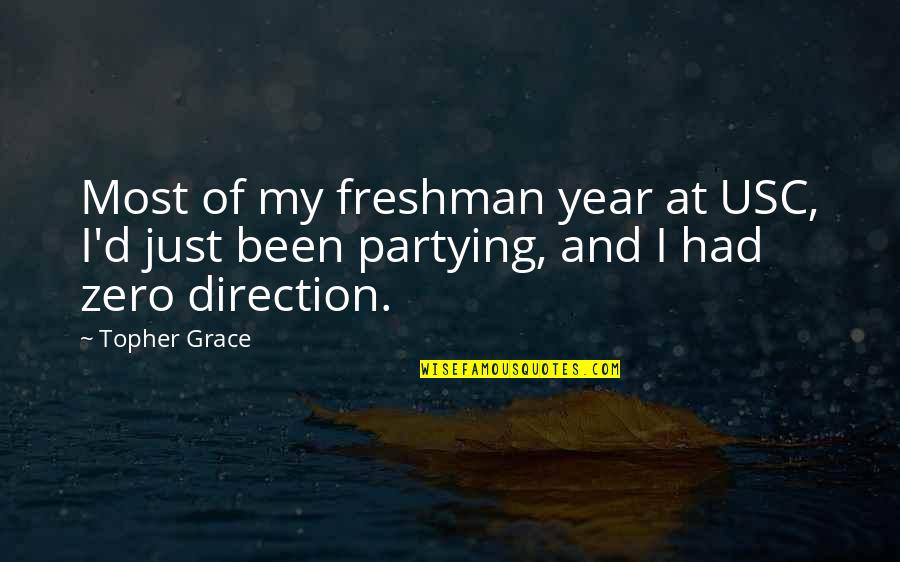 Most of my freshman year at USC, I'd just been partying, and I had zero direction. —
Topher Grace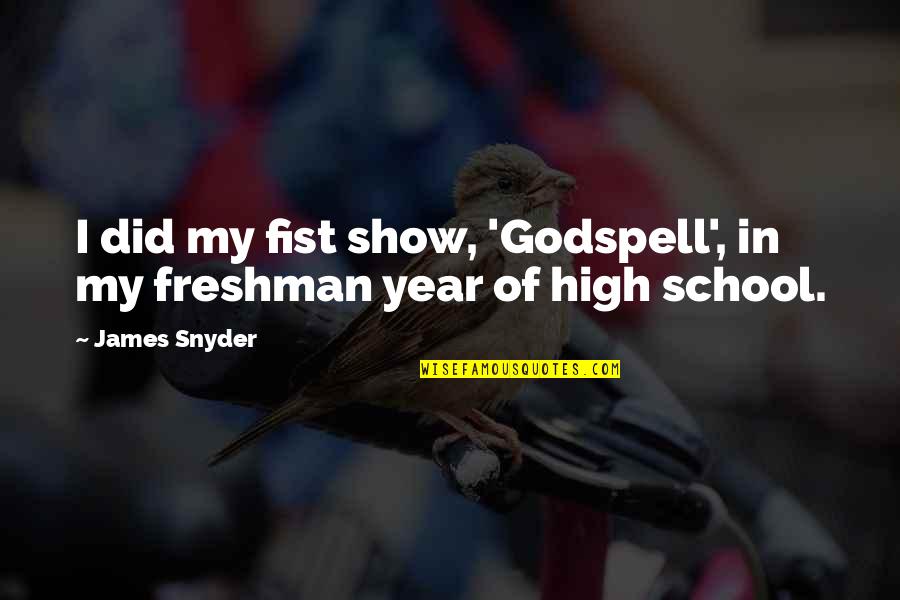 I did my fist show, 'Godspell', in my freshman year of high school. —
James Snyder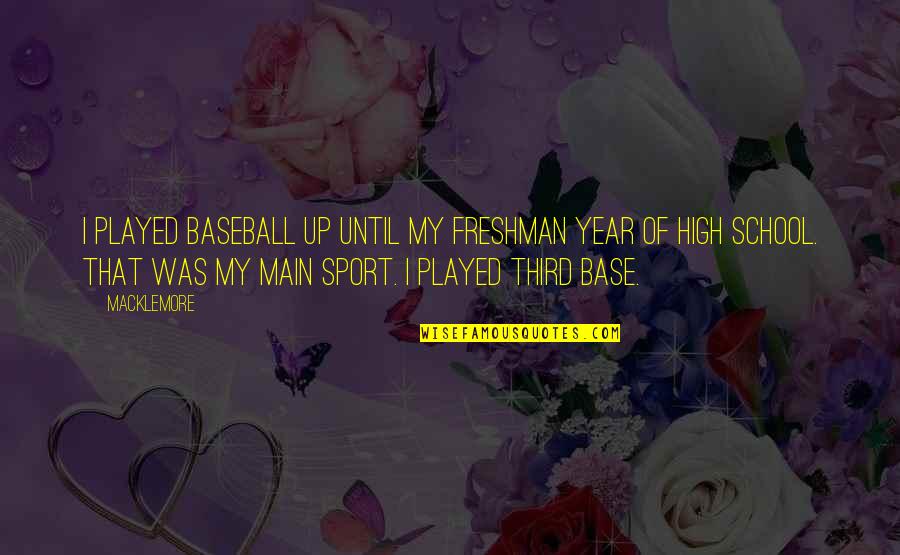 I played baseball up until my freshman year of high school. That was my main sport. I played third base. —
Macklemore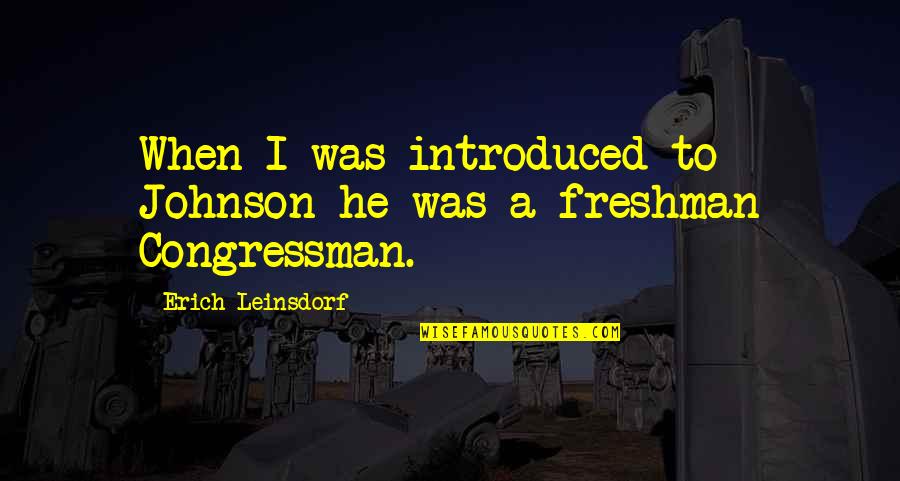 When I was introduced to Johnson he was a freshman Congressman. —
Erich Leinsdorf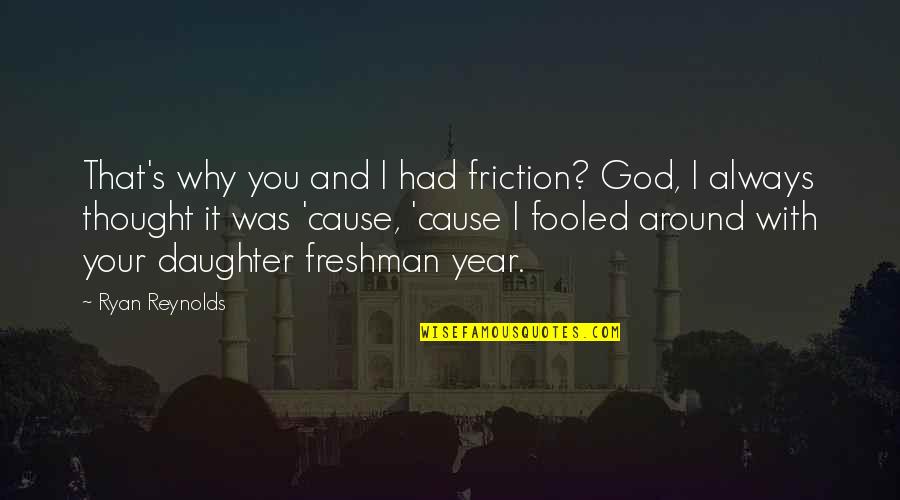 That's why you and I had friction? God, I always thought it was 'cause, 'cause I fooled around with your daughter freshman year. —
Ryan Reynolds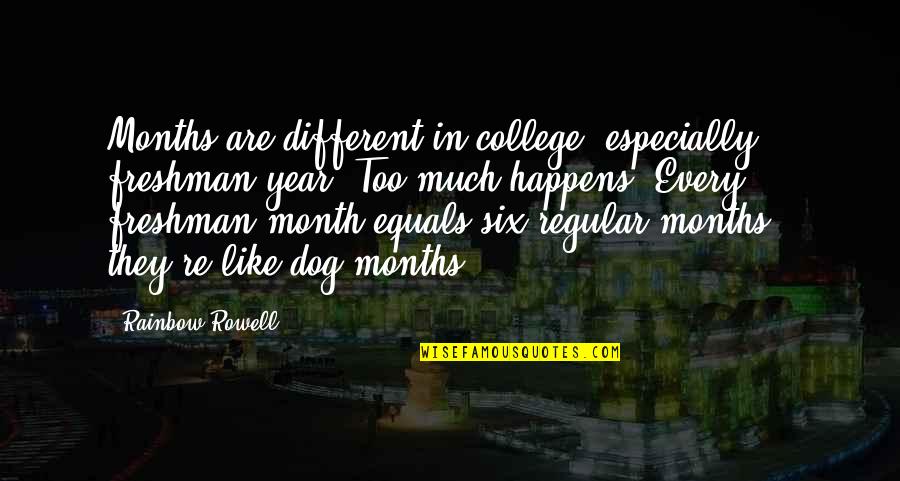 Months are different in college, especially freshman year. Too much happens. Every freshman month equals six regular months - they're like dog months. —
Rainbow Rowell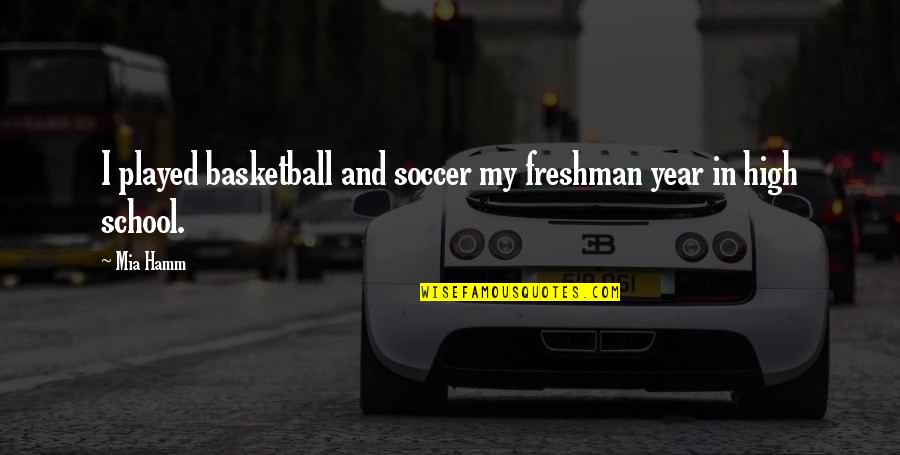 I played basketball and soccer my freshman year in high school. —
Mia Hamm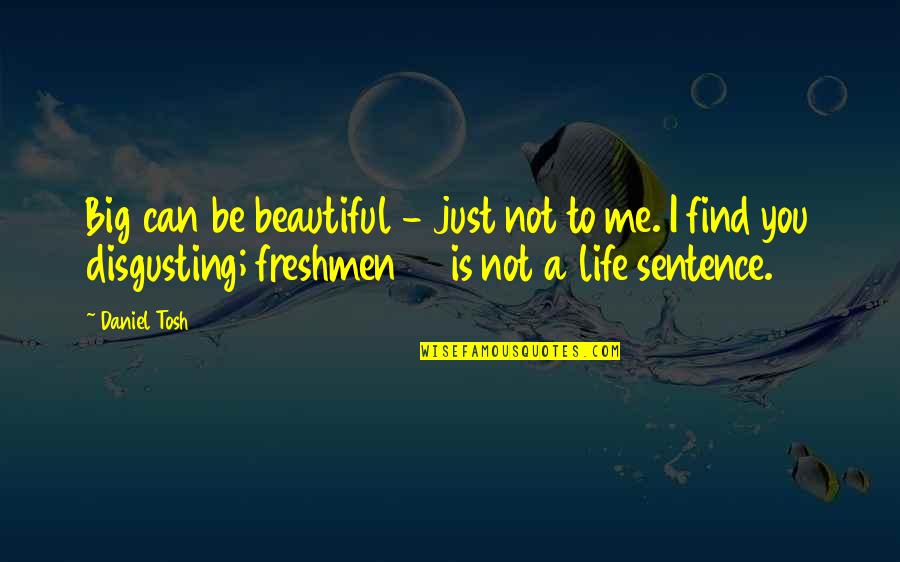 Big can be beautiful - just not to me. I find you disgusting; freshmen 15 is not a life sentence. —
Daniel Tosh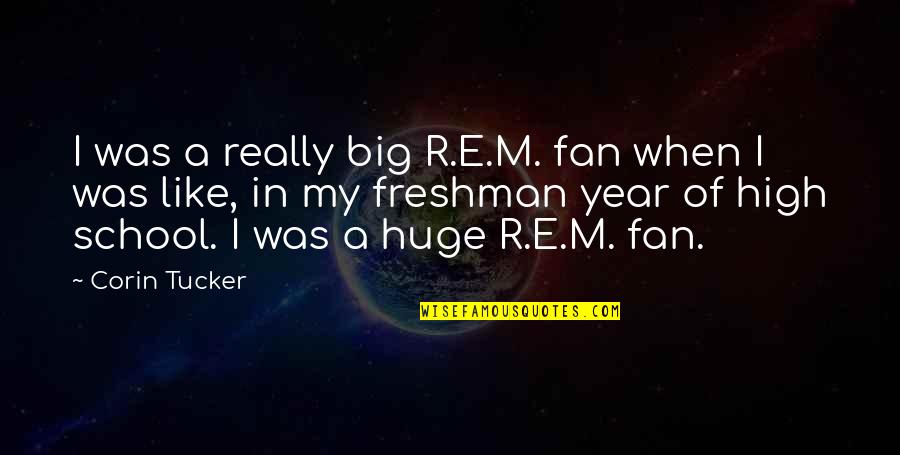 I was a really big R.E.M. fan when I was like, in my freshman year of high school. I was a huge R.E.M. fan. —
Corin Tucker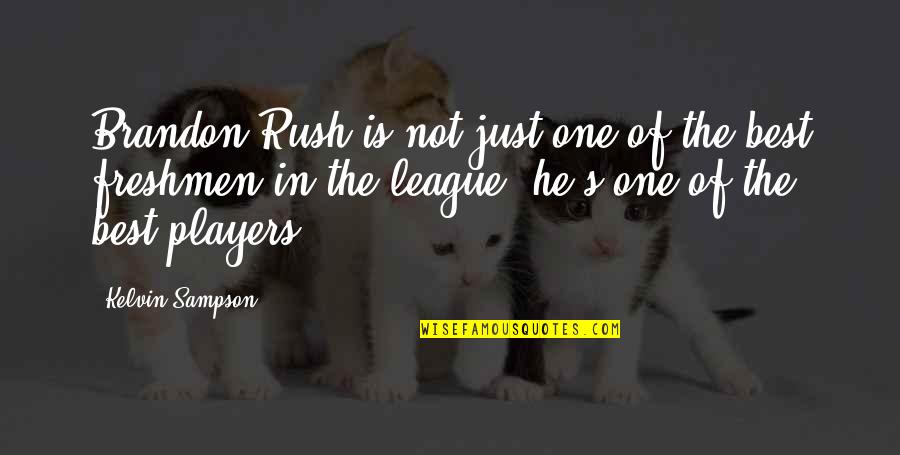 Brandon Rush is not just one of the best freshmen in the league, he's one of the best players. —
Kelvin Sampson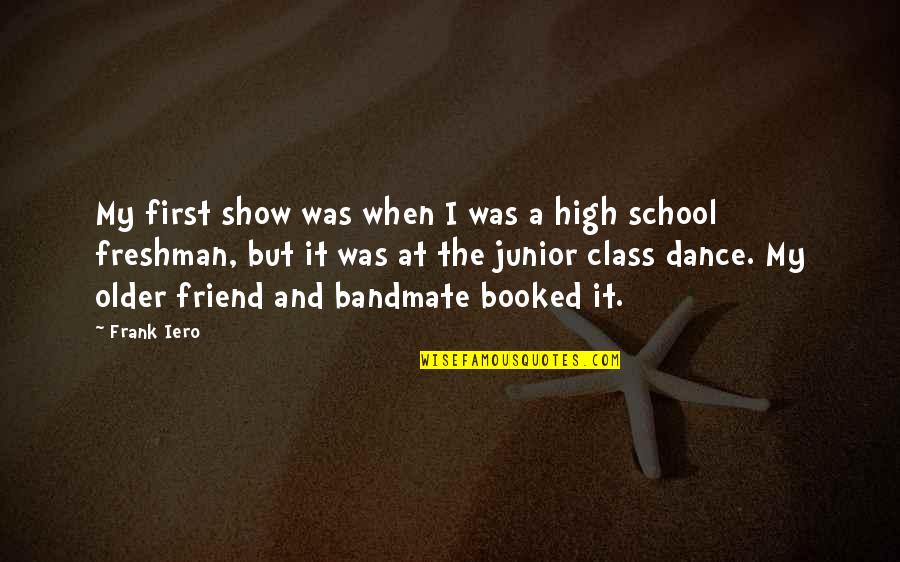 My first show was when I was a high school freshman, but it was at the junior class dance. My older friend and bandmate booked it. —
Frank Iero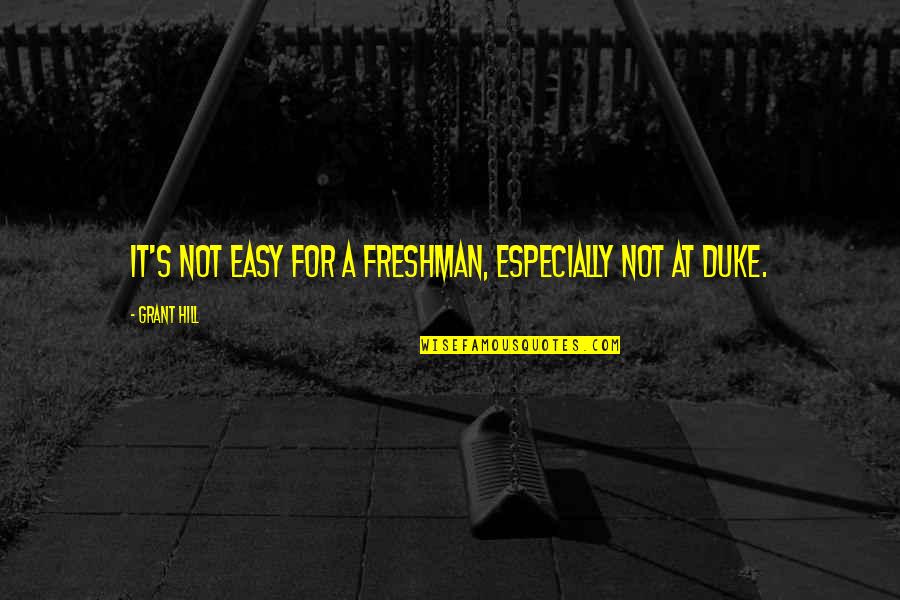 It's not easy for a freshman, especially not at Duke. —
Grant Hill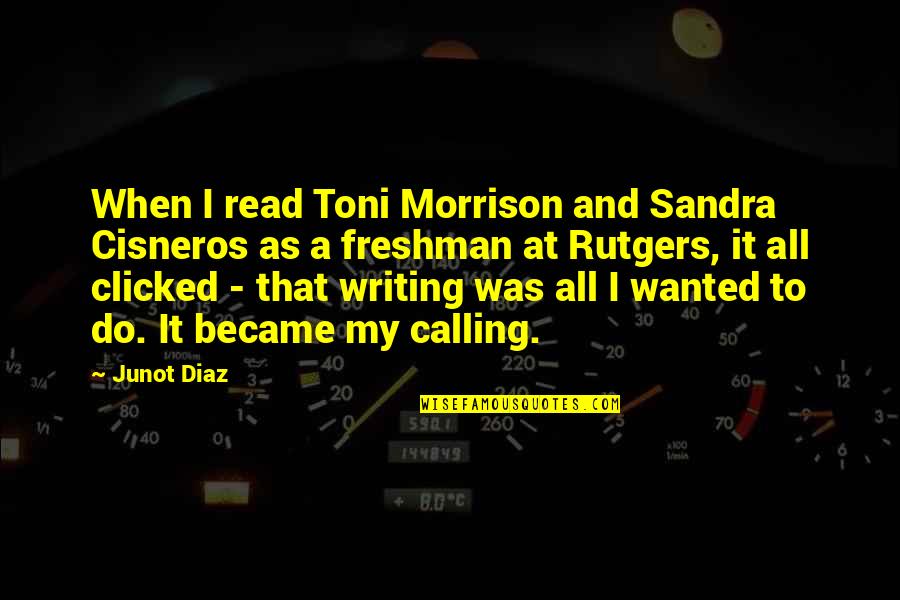 When I read Toni Morrison and Sandra Cisneros as a freshman at Rutgers, it all clicked - that writing was all I wanted to do. It became my calling. —
Junot Diaz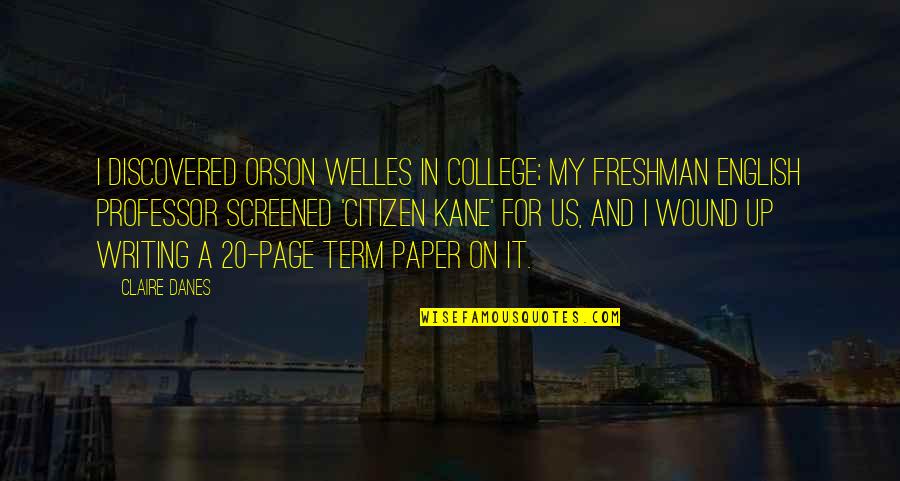 I discovered Orson Welles in college; my freshman English professor screened 'Citizen Kane' for us, and I wound up writing a 20-page term paper on it. —
Claire Danes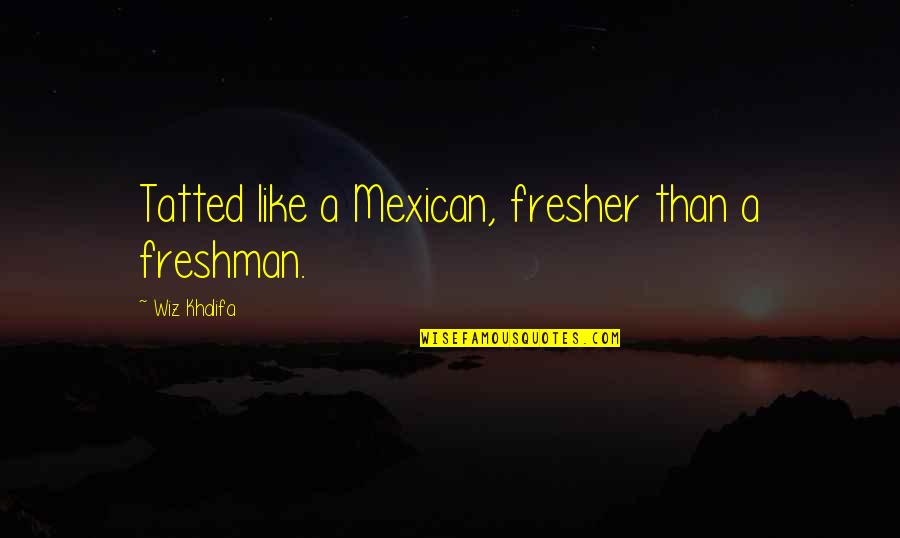 Tatted like a Mexican, fresher than a freshman. —
Wiz Khalifa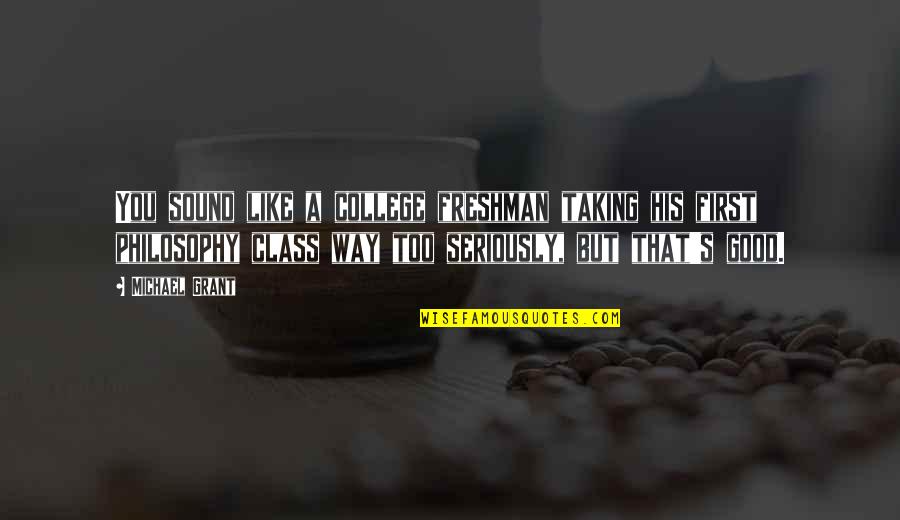 You sound like a college freshman taking his first philosophy class way too seriously, but that's good. —
Michael Grant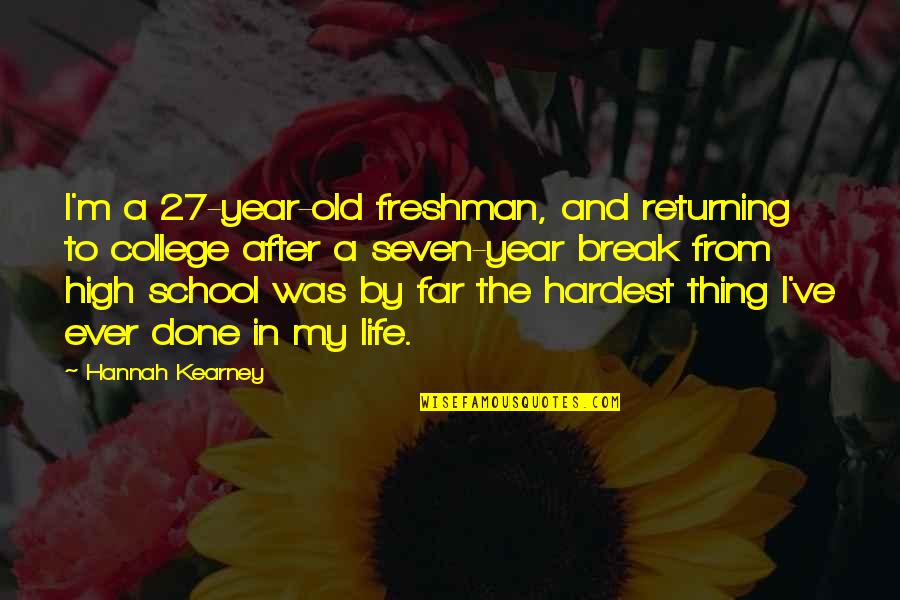 I'm a 27-year-old freshman, and returning to college after a seven-year break from high school was by far the hardest thing I've ever done in my life. —
Hannah Kearney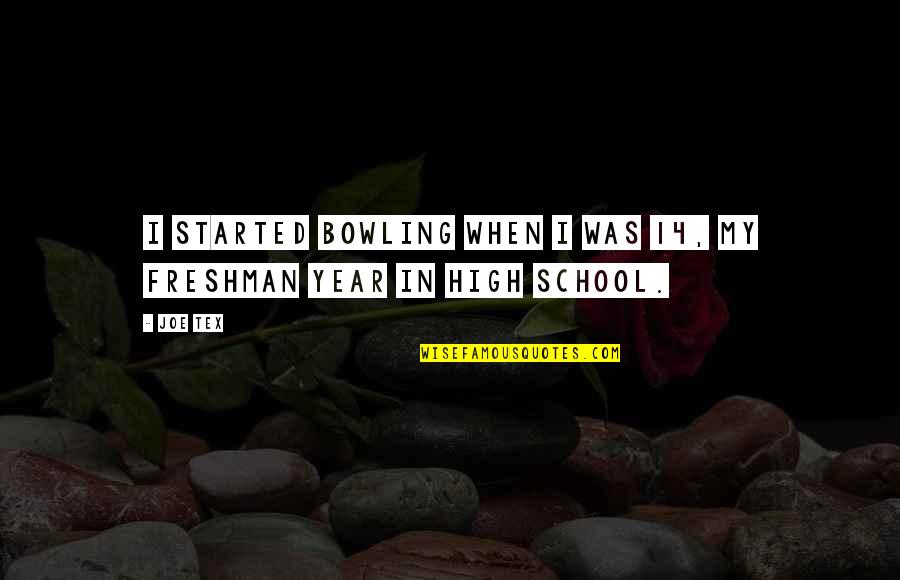 I started bowling when I was 14, my freshman year in high school. —
Joe Tex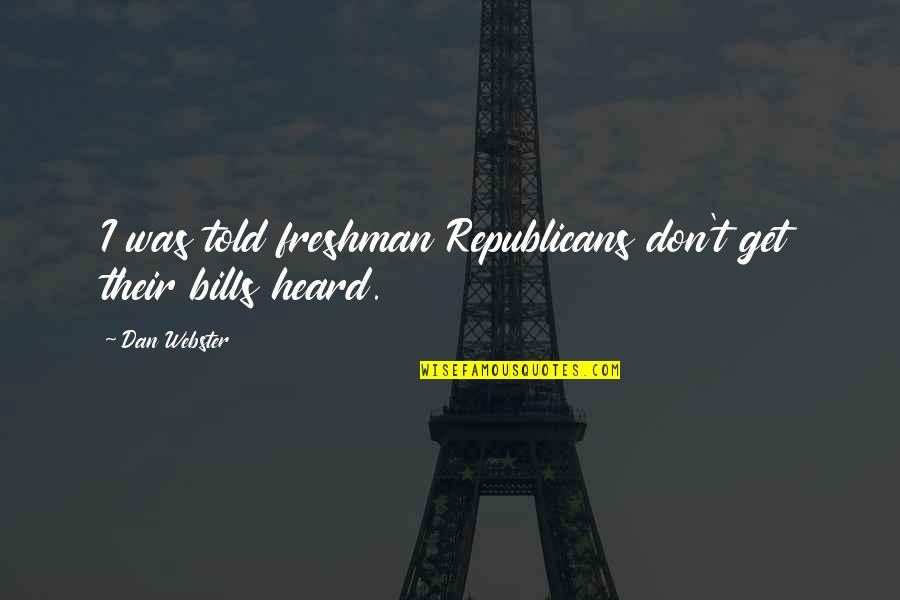 I was told freshman Republicans don't get their bills heard. —
Dan Webster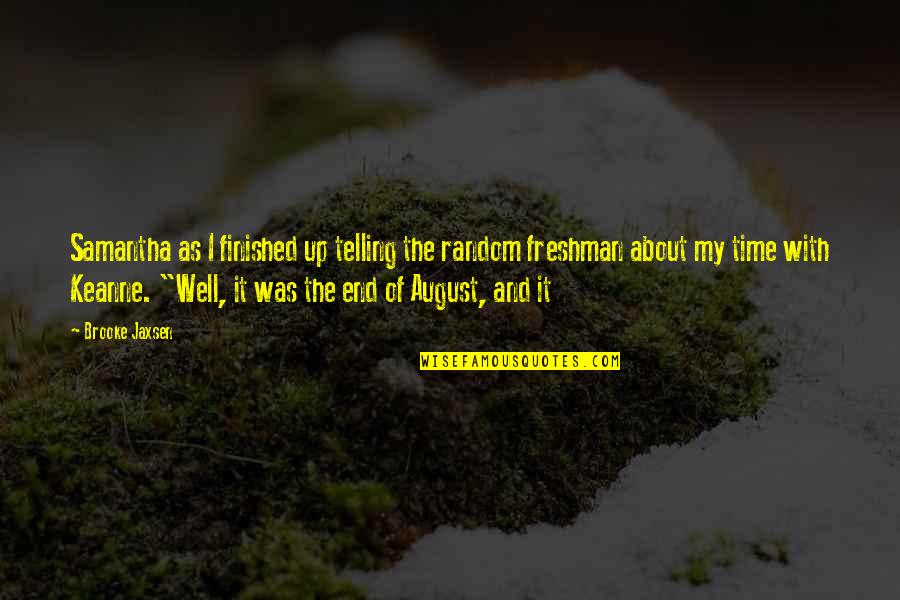 Samantha as I finished up telling the random freshman about my time with Keanne. "Well, it was the end of August, and it —
Brooke Jaxsen
My freshman year of high school I joined the chess and math clubs. —
Eric Allin Cornell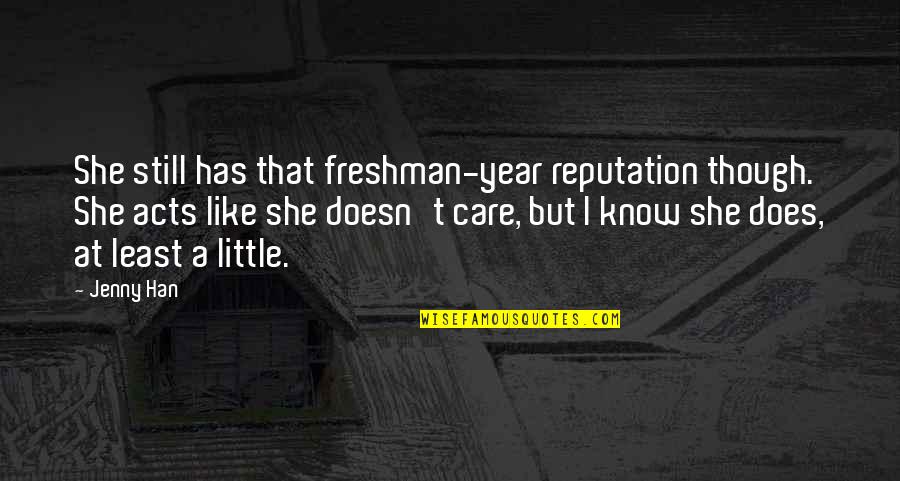 She still has that freshman-year reputation though. She acts like she doesn't care, but I know she does, at least a little. —
Jenny Han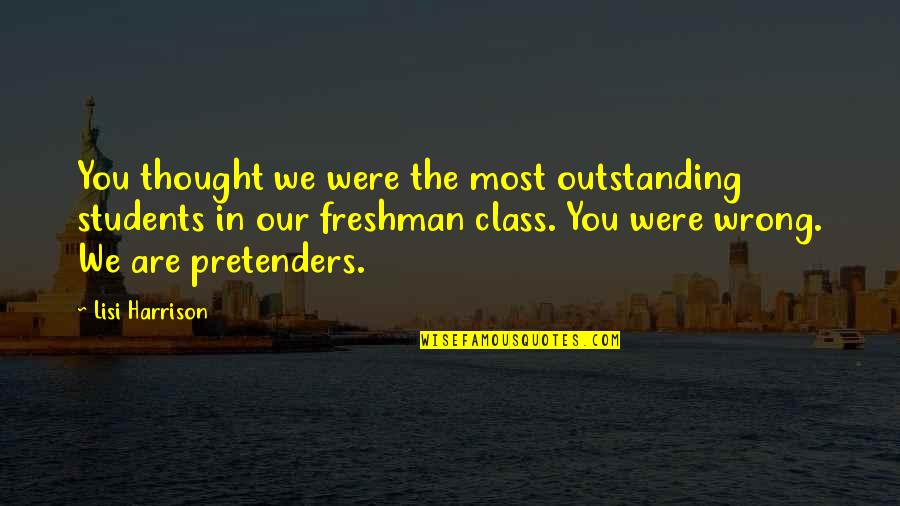 You thought we were the most outstanding students in our freshman class. You were wrong. We are pretenders. —
Lisi Harrison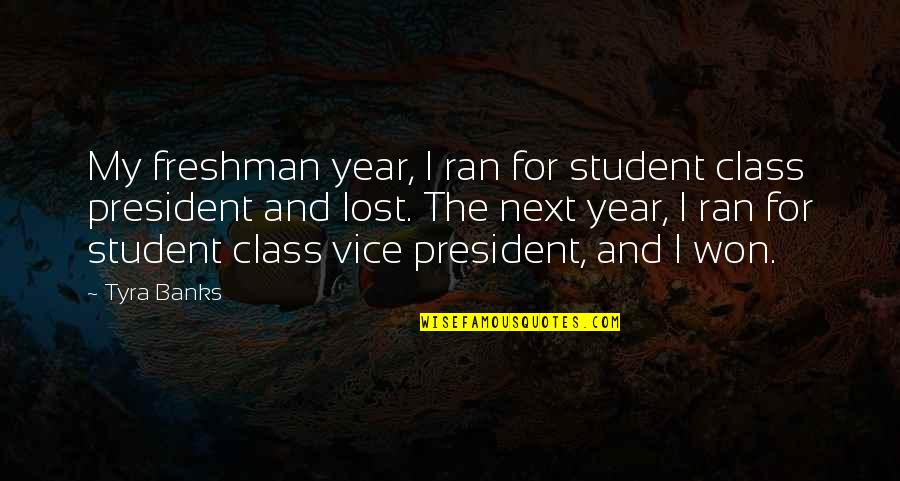 My freshman year, I ran for student class president and lost. The next year, I ran for student class vice president, and I won. —
Tyra Banks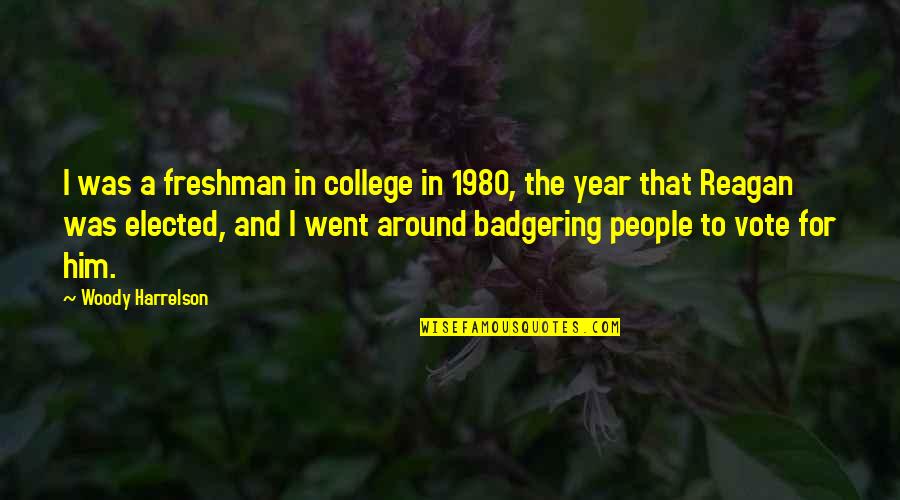 I was a freshman in college in 1980, the year that Reagan was elected, and I went around badgering people to vote for him. —
Woody Harrelson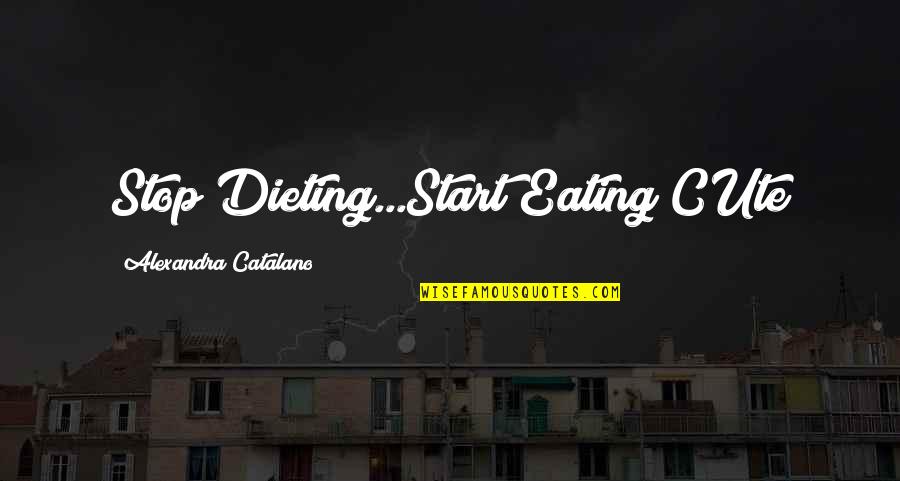 Stop Dieting...Start Eating CUte —
Alexandra Catalano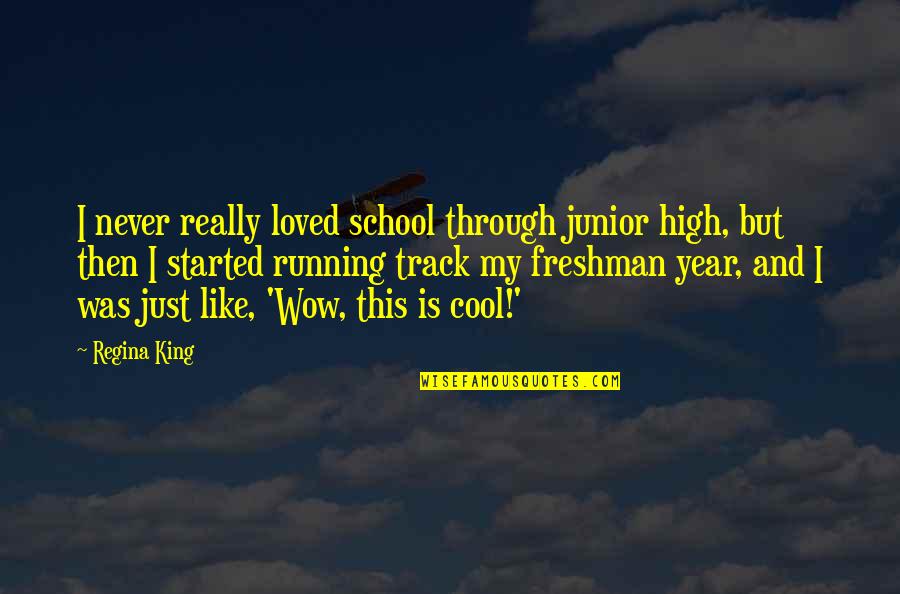 I never really loved school through junior high, but then I started running track my freshman year, and I was just like, 'Wow, this is cool!' —
Regina King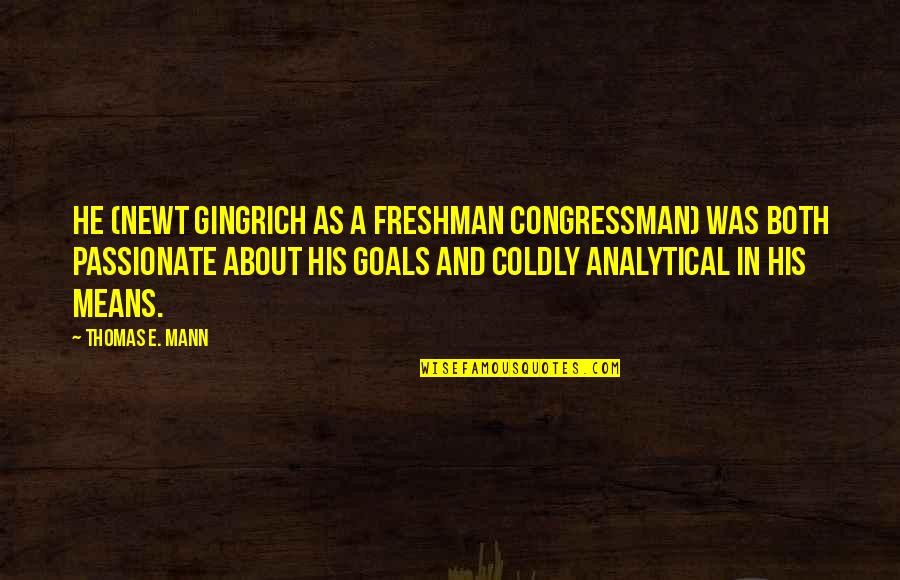 He (Newt Gingrich as a freshman congressman) was both passionate about his goals and coldly analytical in his means. —
Thomas E. Mann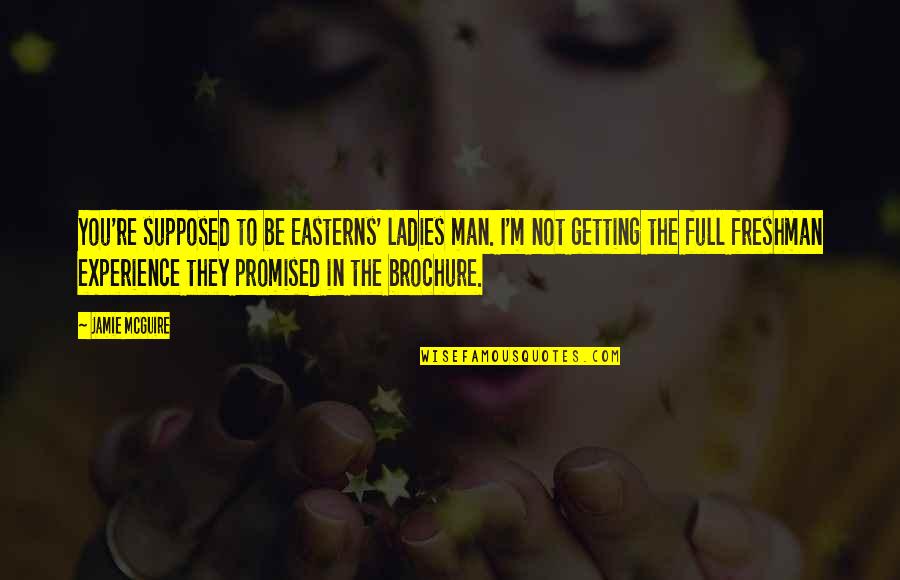 You're supposed to be Easterns' ladies man. I'm not getting the full freshman experience they promised in the brochure. —
Jamie McGuire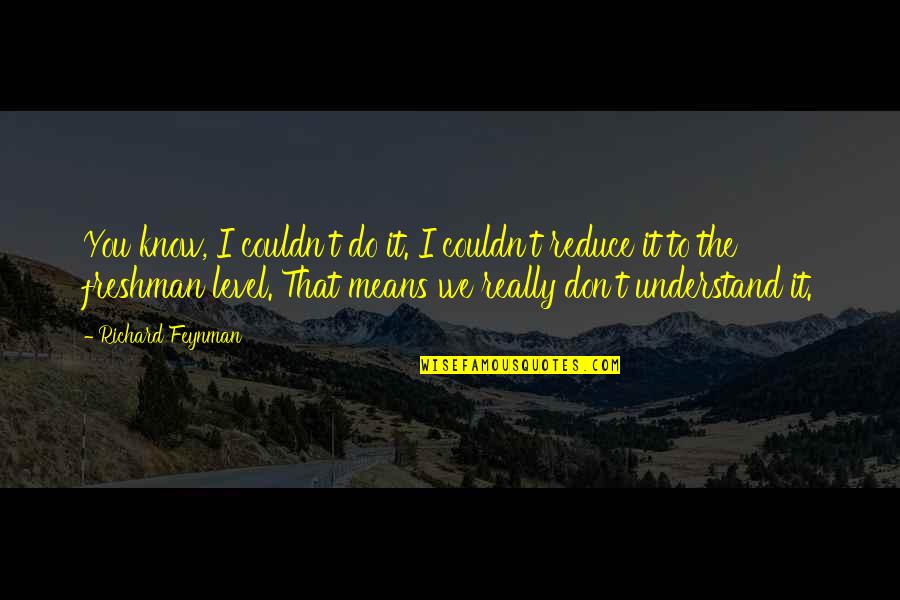 You know, I couldn't do it. I couldn't reduce it to the freshman level. That means we really don't understand it. —
Richard Feynman