Don't Forget I Love You Quotes
Collection of top 56 famous quotes about Don't Forget I Love You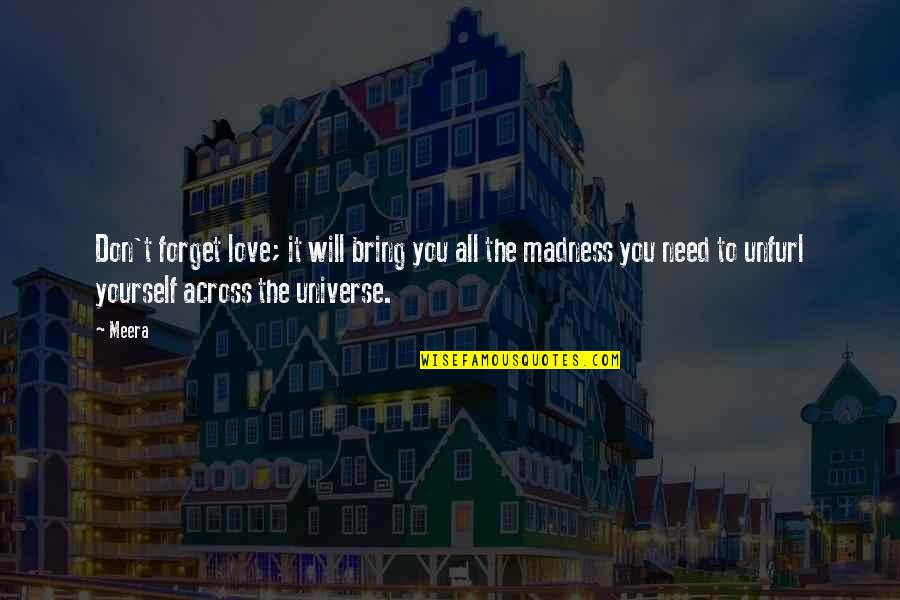 Don't forget love; it will bring you all the madness you need to unfurl yourself across the universe.
—
Meera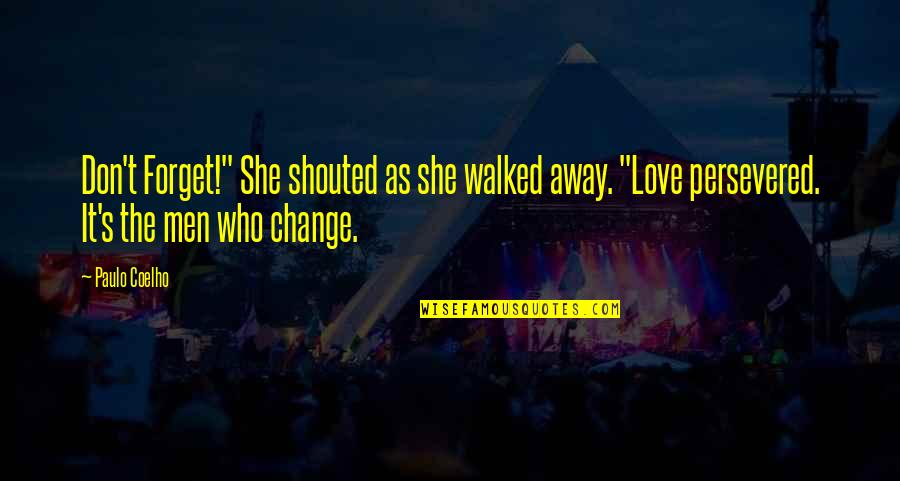 Don't Forget!" She shouted as she walked away.
"Love persevered. It's the men who change.
—
Paulo Coelho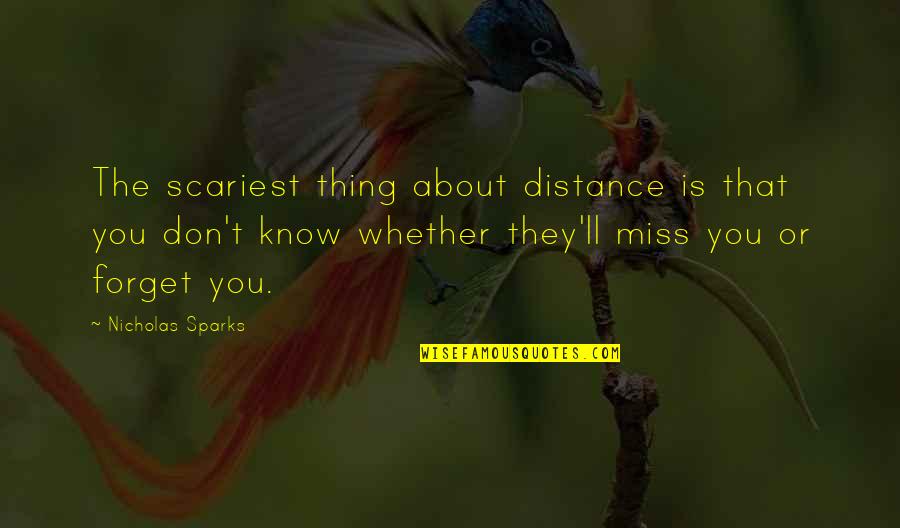 The scariest thing about distance is that you don't know whether they'll miss you or forget you.
—
Nicholas Sparks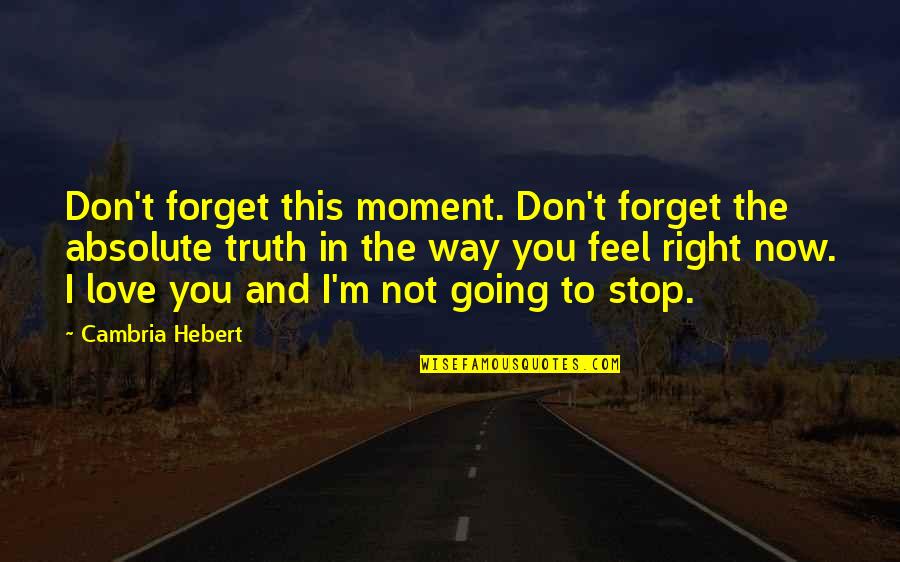 Don't forget this moment. Don't forget the absolute truth in the way you feel right now. I love you and I'm not going to stop.
—
Cambria Hebert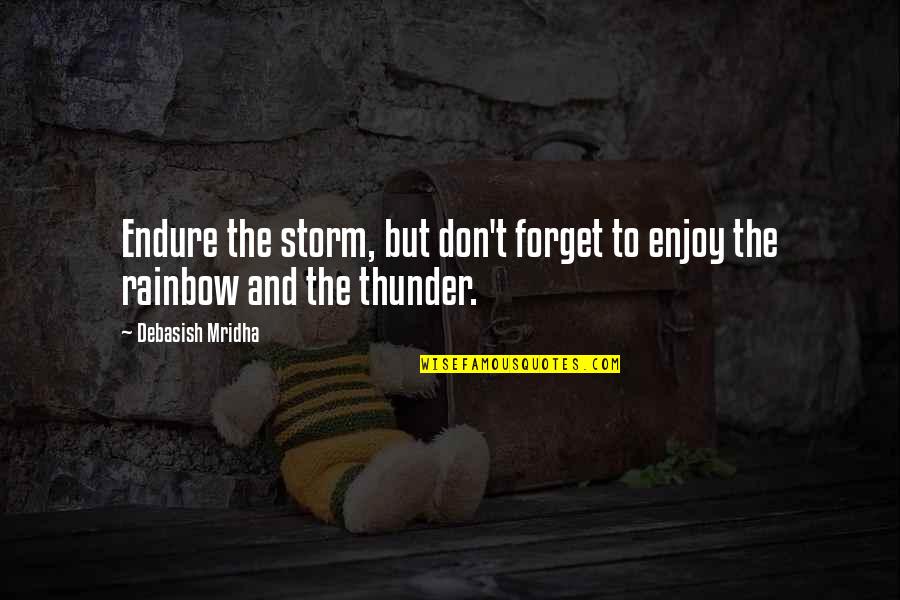 Endure the storm, but don't forget to enjoy the rainbow and the thunder.
—
Debasish Mridha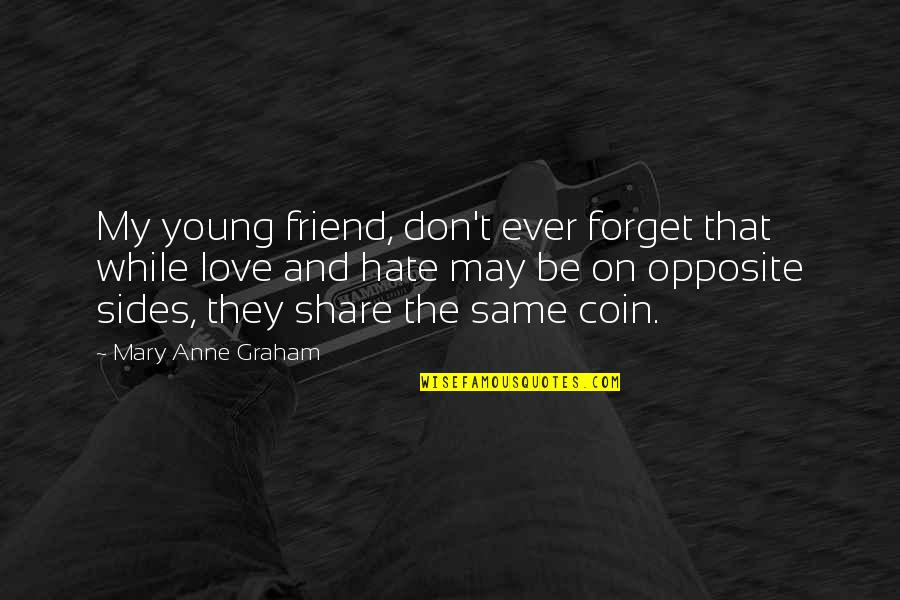 My young friend, don't ever forget that while love and hate may be on opposite sides, they share the same coin.
—
Mary Anne Graham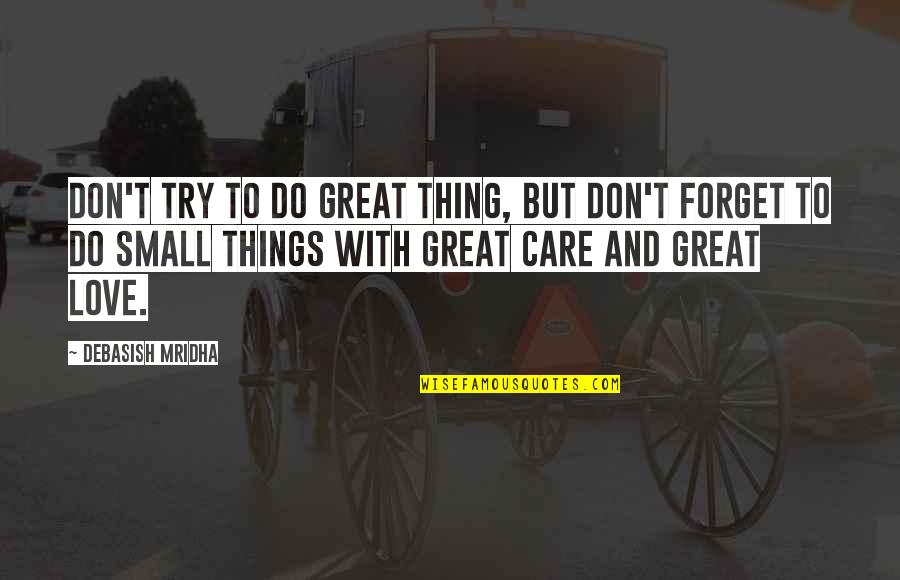 Don't try to do great thing, but don't forget to do small things with great care and great love.
—
Debasish Mridha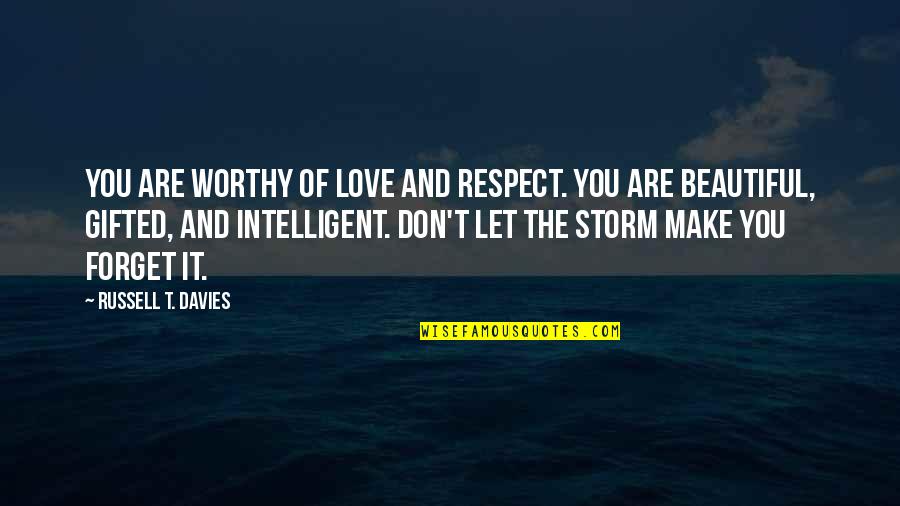 You are worthy of love and respect. You are beautiful, gifted, and intelligent. Don't let the storm make you forget it.
—
Russell T. Davies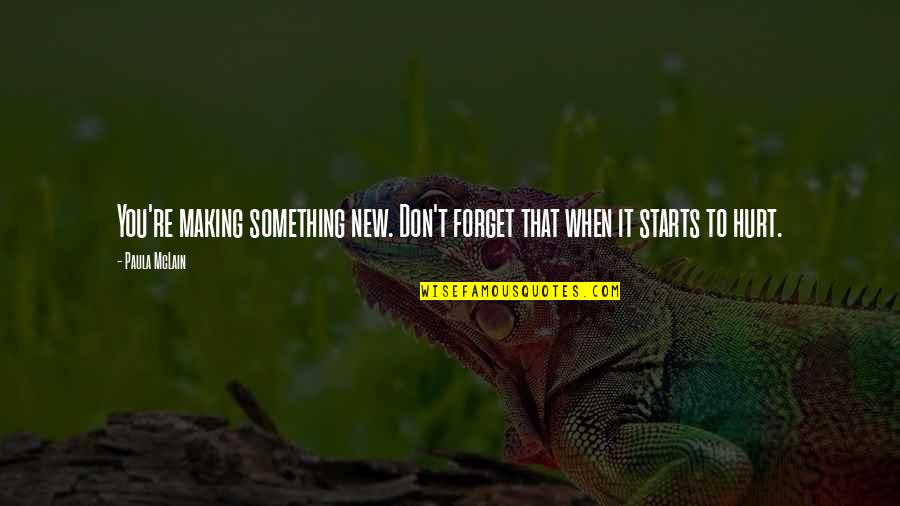 You're making something new. Don't forget that when it starts to hurt.
—
Paula McLain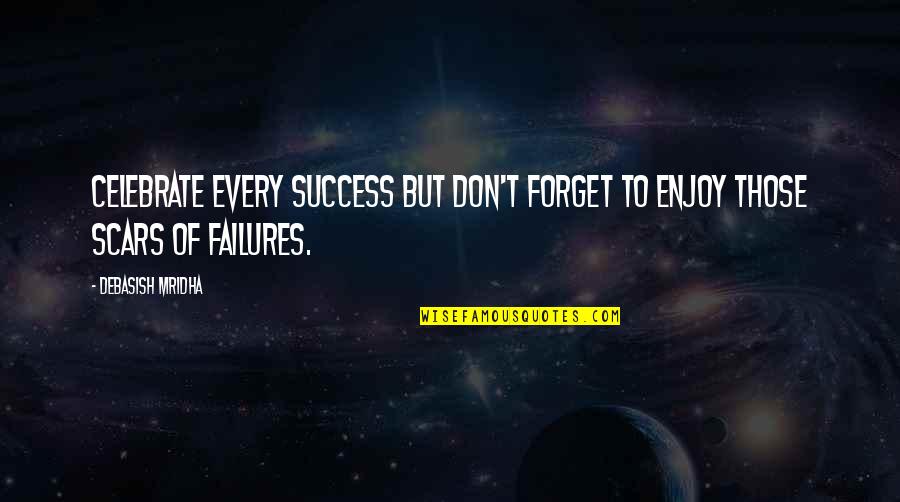 Celebrate every success but don't forget to enjoy those scars of failures.
—
Debasish Mridha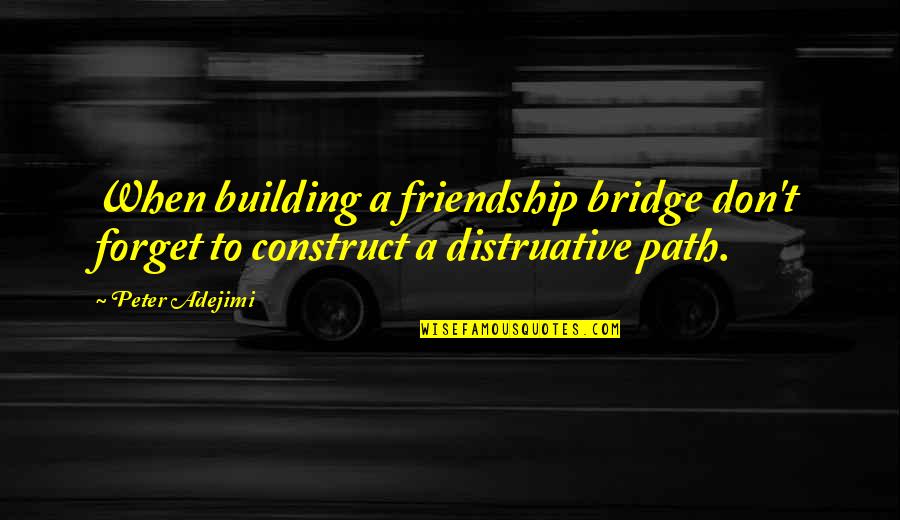 When building a friendship bridge don't forget to construct a distruative path.
—
Peter Adejimi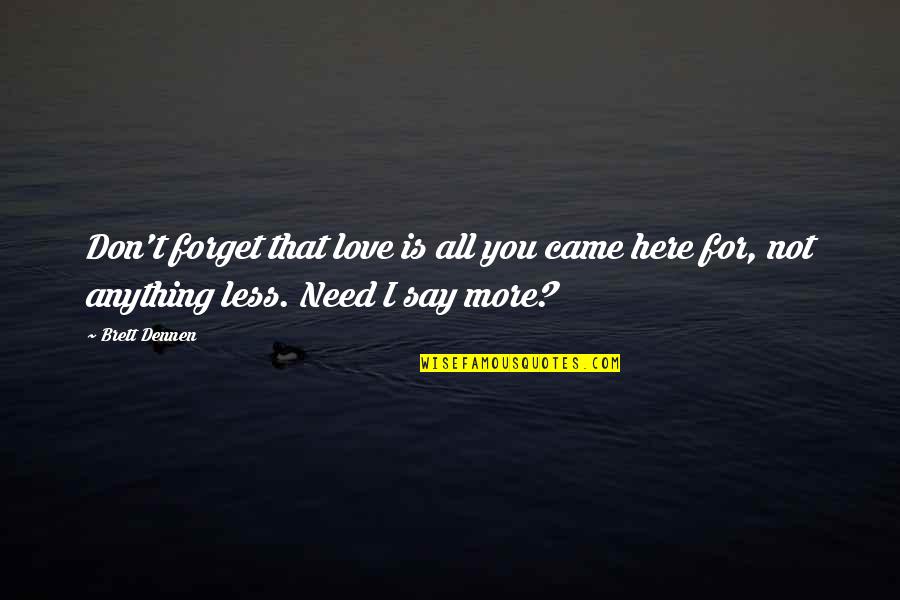 Don't forget that love is all you came here for, not anything less. Need I say more?
—
Brett Dennen
Love your enemy. But don't forget he is not your friend —
Paulo Coelho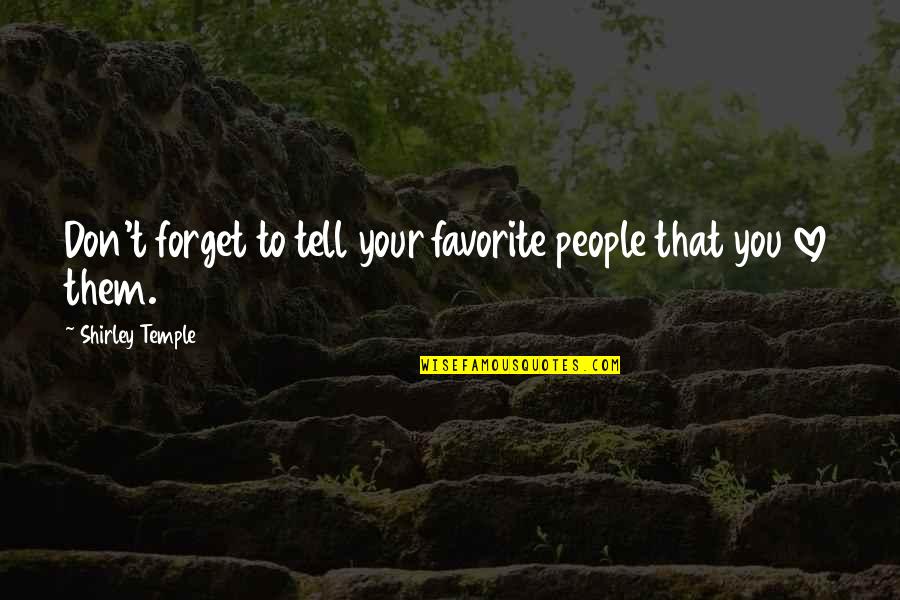 Don't forget to tell your favorite people that you love them. —
Shirley Temple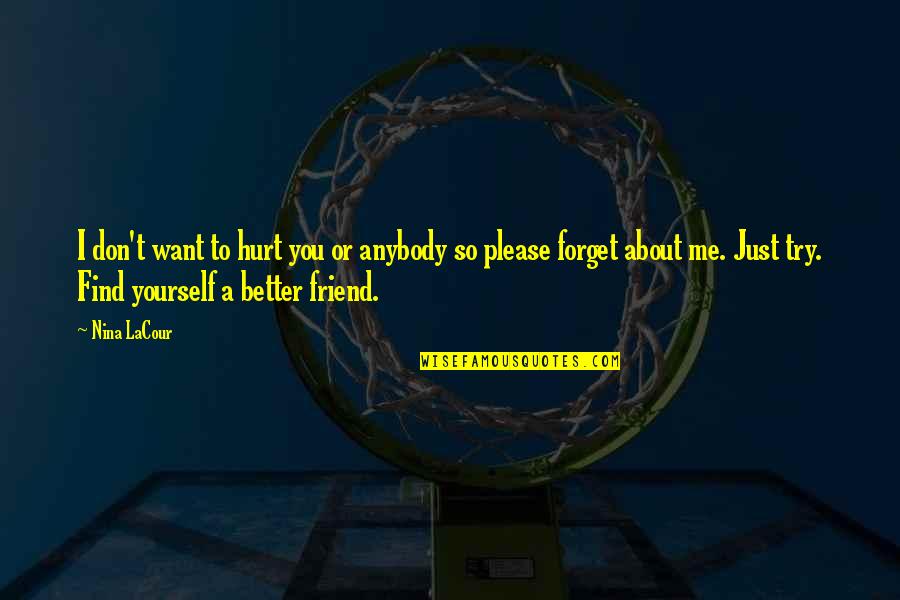 I don't want to hurt you or anybody so please forget about me. Just try. Find yourself a better friend. —
Nina LaCour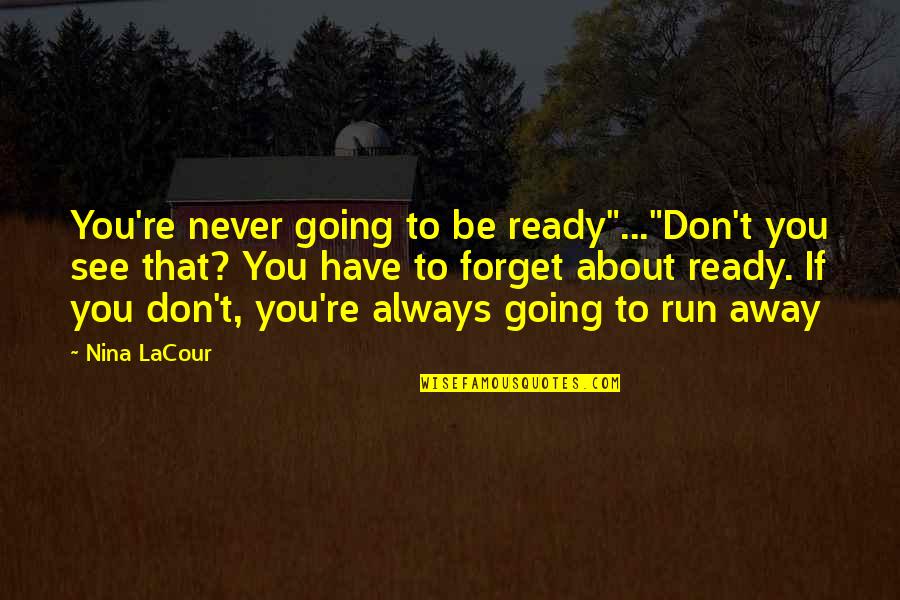 You're never going to be ready"..."Don't you see that? You have to forget about ready. If you don't, you're always going to run away —
Nina LaCour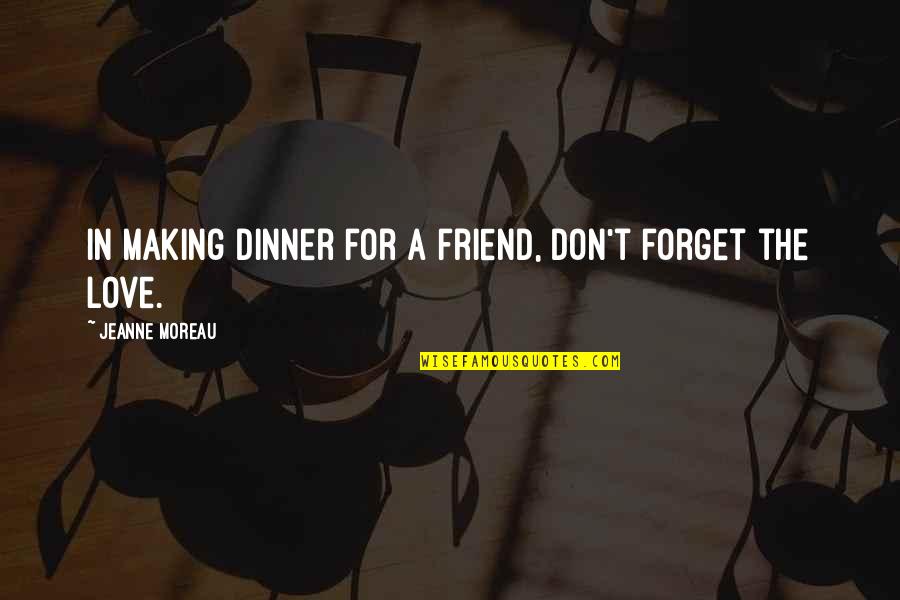 In making dinner for a friend, don't forget the love. —
Jeanne Moreau
I think you forget that I'm still alive. It's like you don't expect me to keep on existing now that I'm not in your life every day. —
Rachel Higginson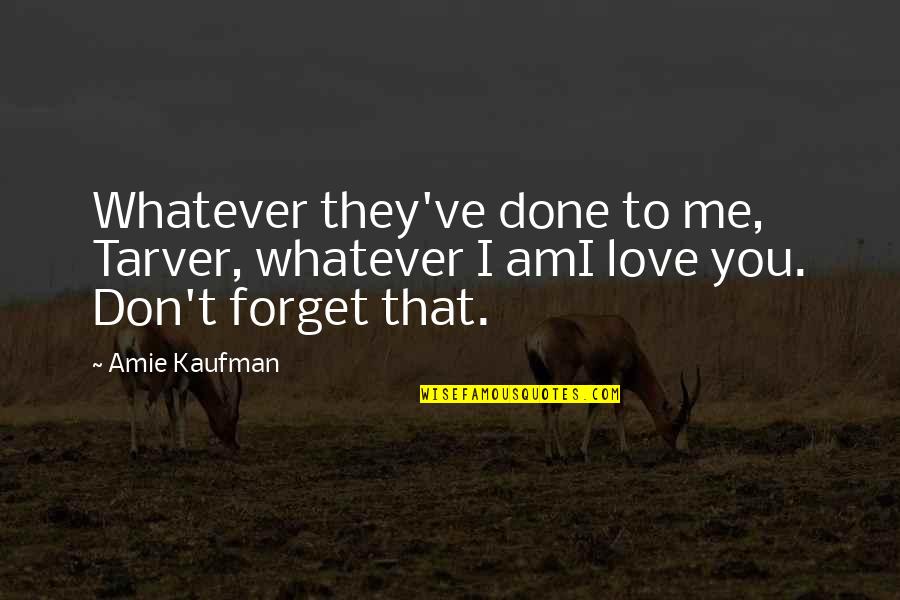 Whatever they've done to me, Tarver, whatever I am
I love you. Don't forget that. —
Amie Kaufman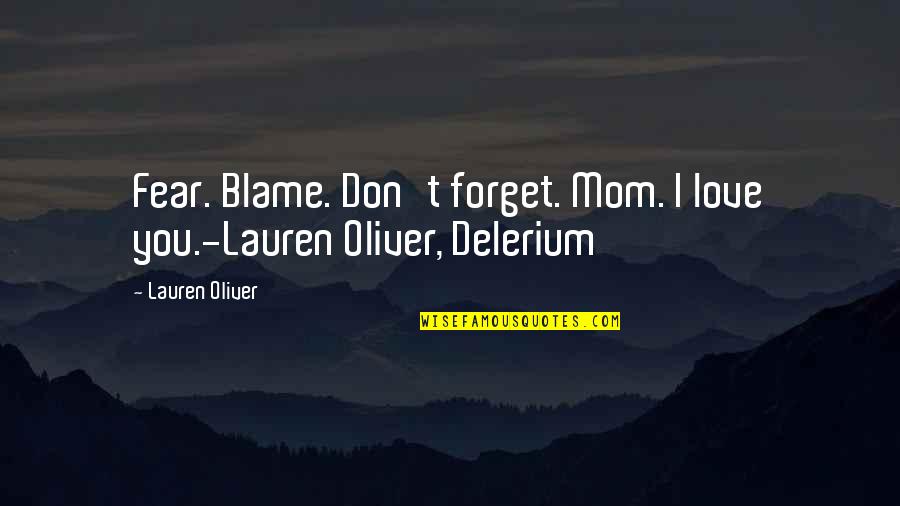 Fear. Blame. Don't forget. Mom. I love you.
-Lauren Oliver, Delerium —
Lauren Oliver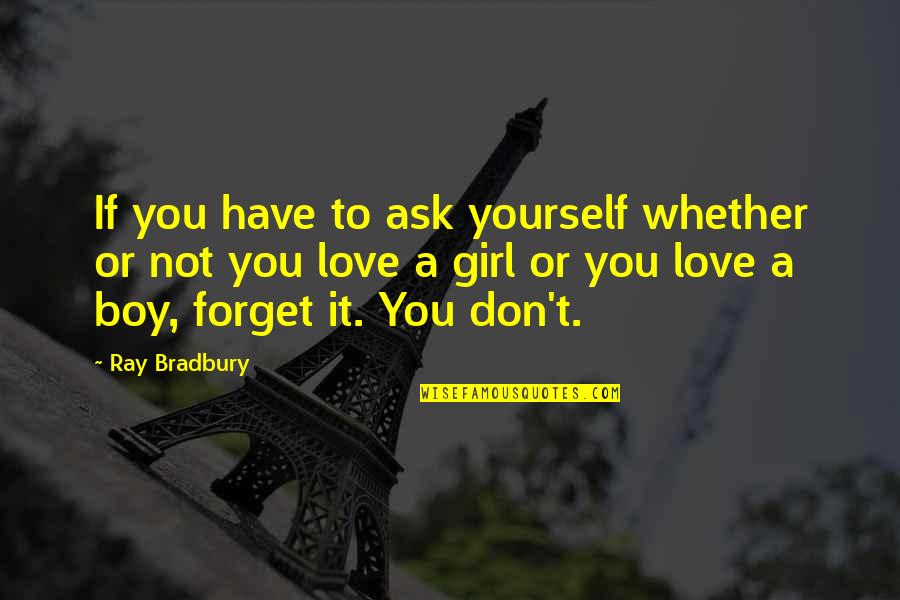 If you have to ask yourself whether or not you love a girl or you love a boy, forget it. You don't. —
Ray Bradbury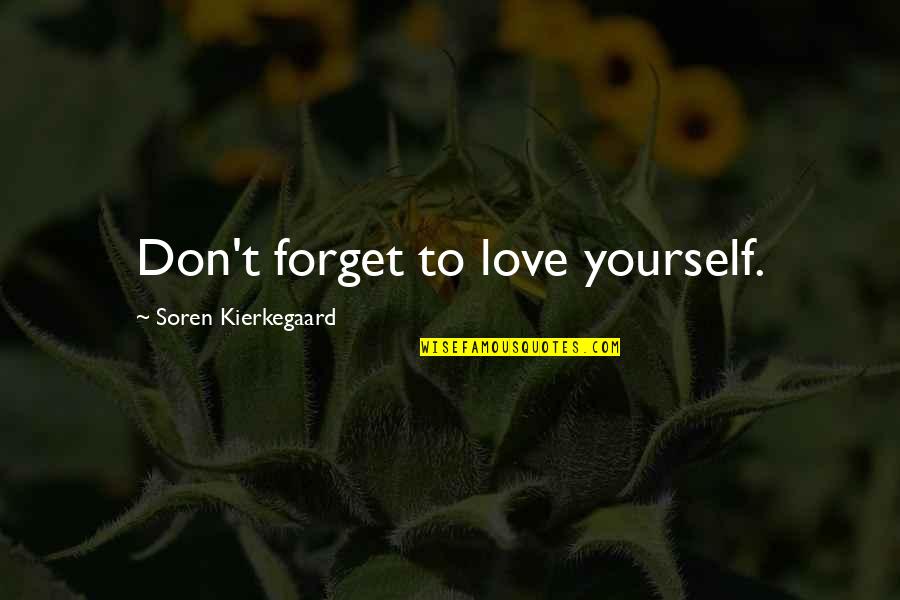 Don't forget to love yourself. —
Soren Kierkegaard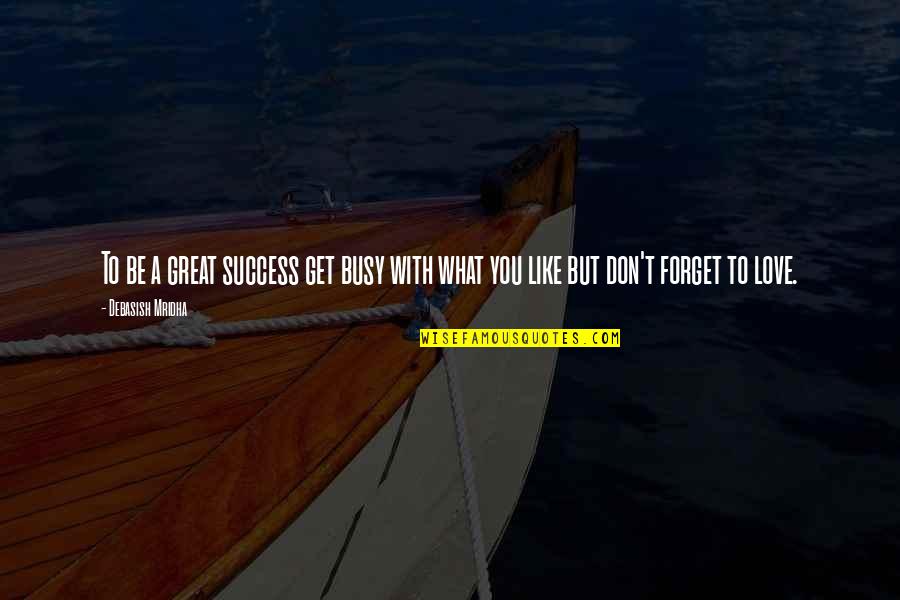 To be a great success get busy with what you like but don't forget to love. —
Debasish Mridha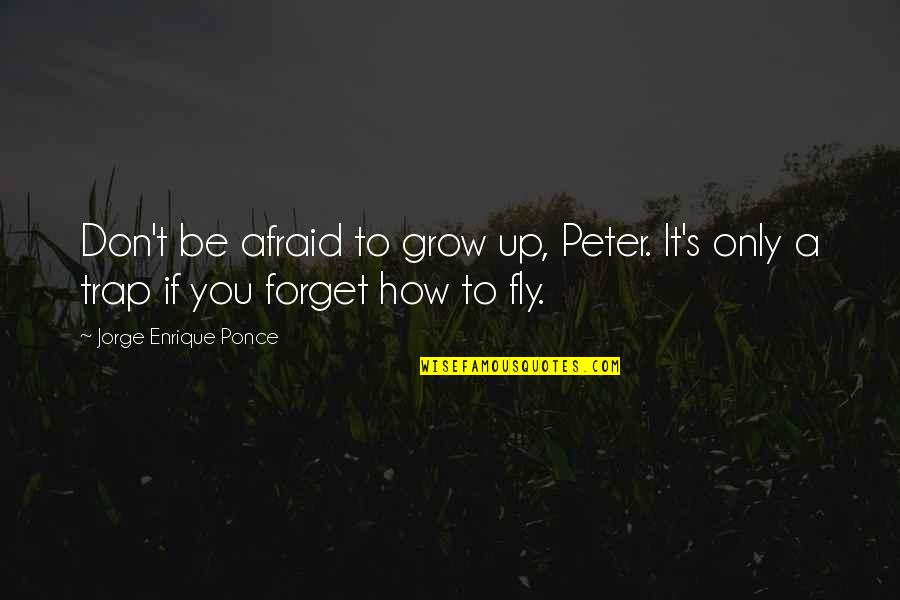 Don't be afraid to grow up, Peter. It's only a trap if you forget how to fly. —
Jorge Enrique Ponce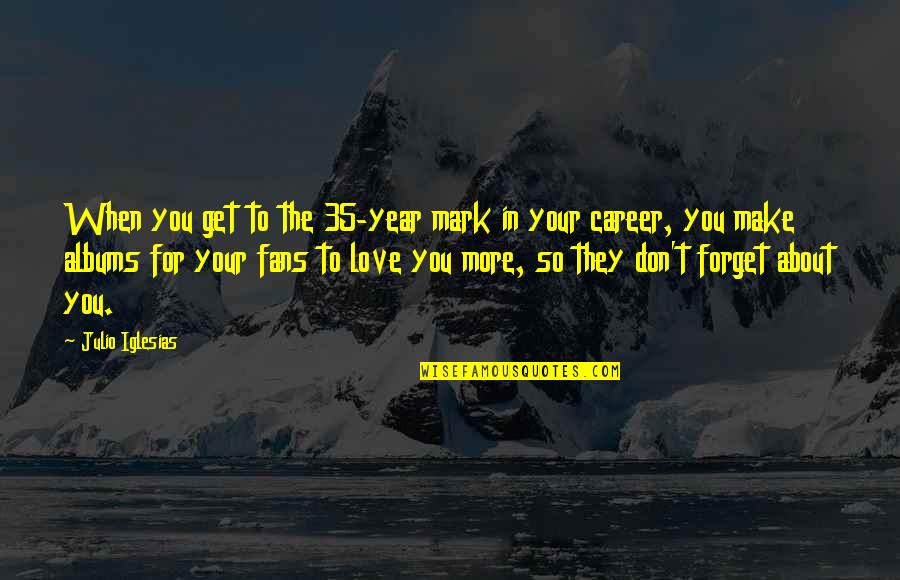 When you get to the 35-year mark in your career, you make albums for your fans to love you more, so they don't forget about you. —
Julio Iglesias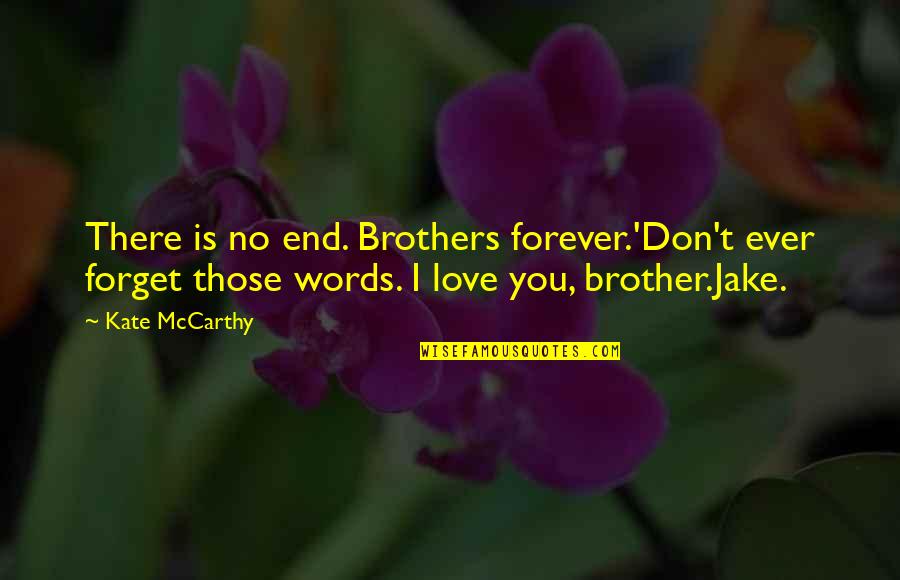 There is no end. Brothers forever.'
Don't ever forget those words.
I love you, brother.
Jake. —
Kate McCarthy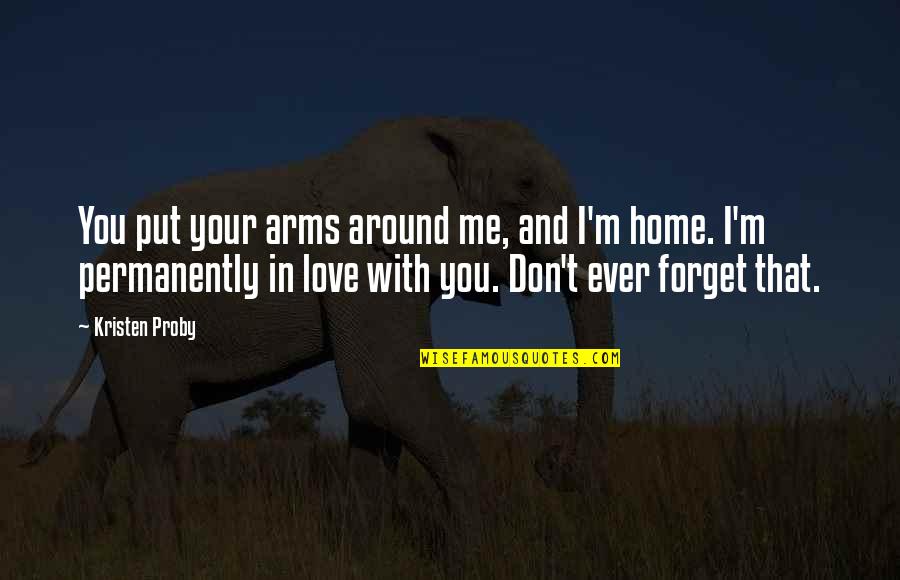 You put your arms around me, and I'm home. I'm permanently in love with you. Don't ever forget that. —
Kristen Proby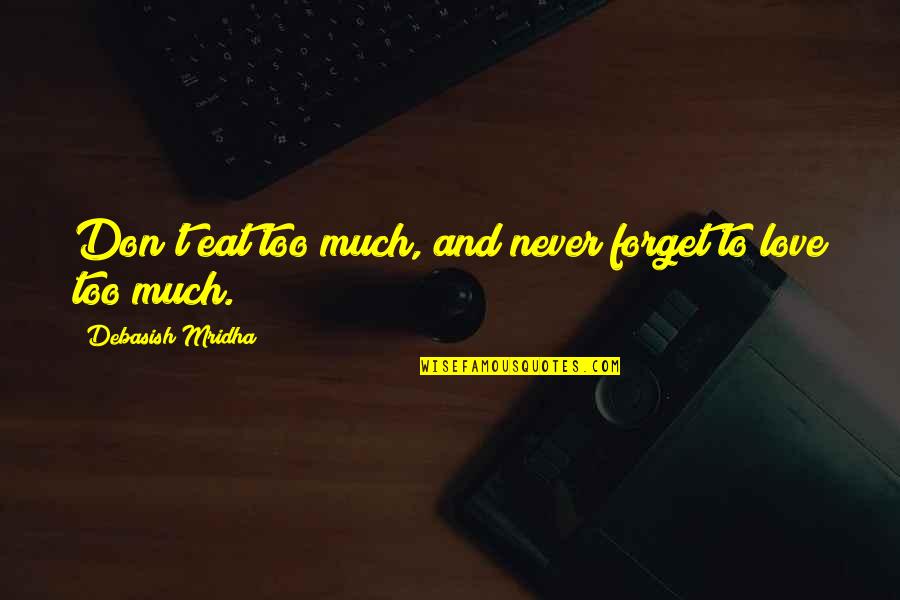 Don't eat too much, and never forget to love too much. —
Debasish Mridha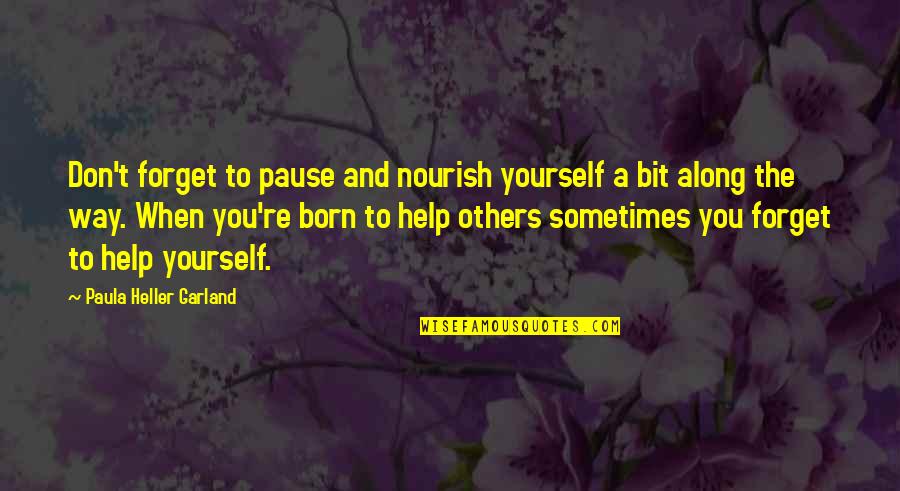 Don't forget to pause and nourish yourself a bit along the way. When you're born to help others sometimes you forget to help yourself. —
Paula Heller Garland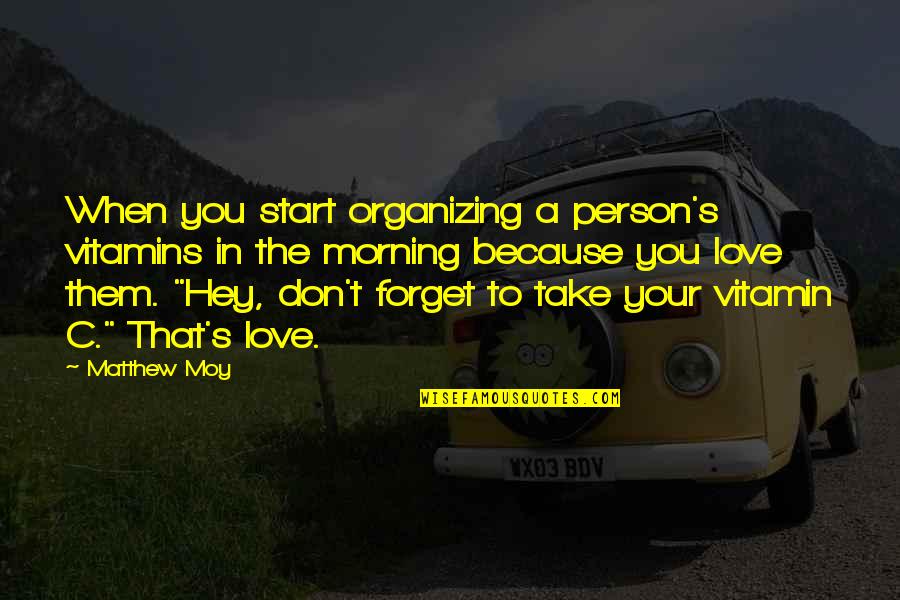 When you start organizing a person's vitamins in the morning because you love them. "Hey, don't forget to take your vitamin C." That's love. —
Matthew Moy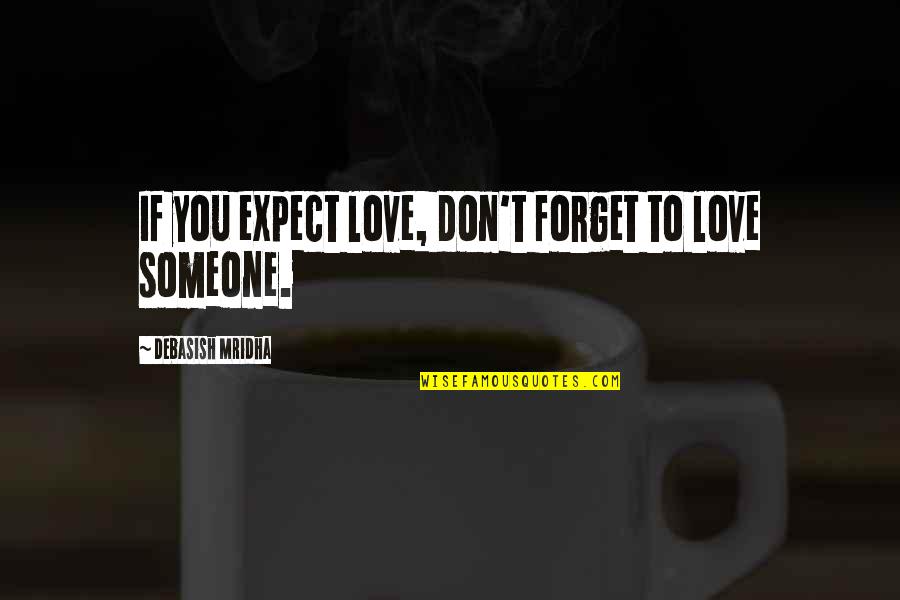 If you expect love, don't forget to love someone. —
Debasish Mridha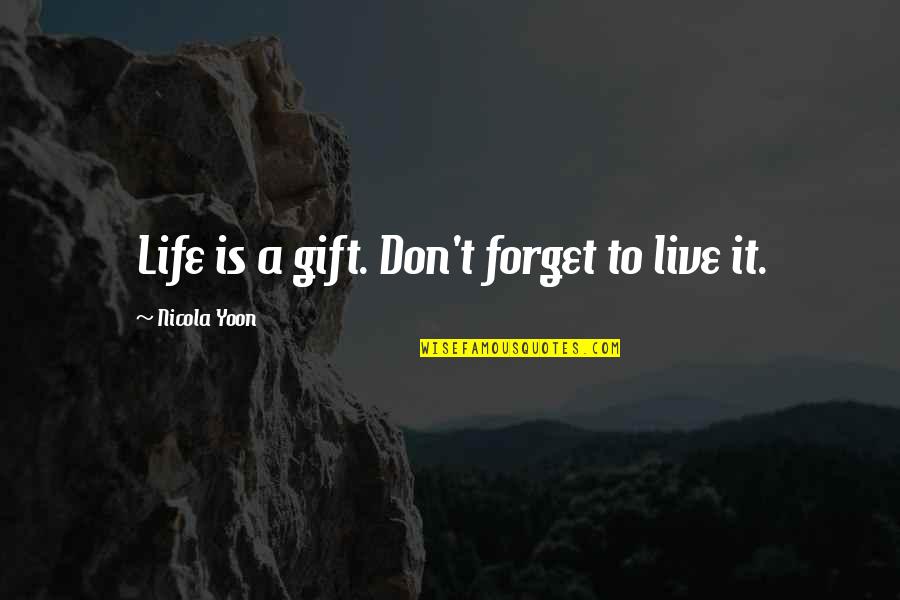 Life is a gift. Don't forget to live it. —
Nicola Yoon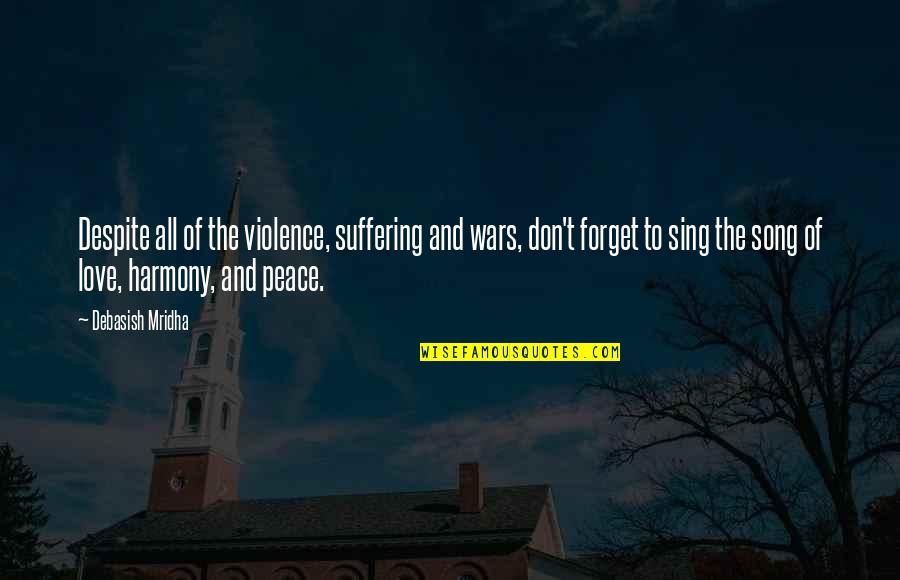 Despite all of the violence, suffering and wars, don't forget to sing the song of love, harmony, and peace. —
Debasish Mridha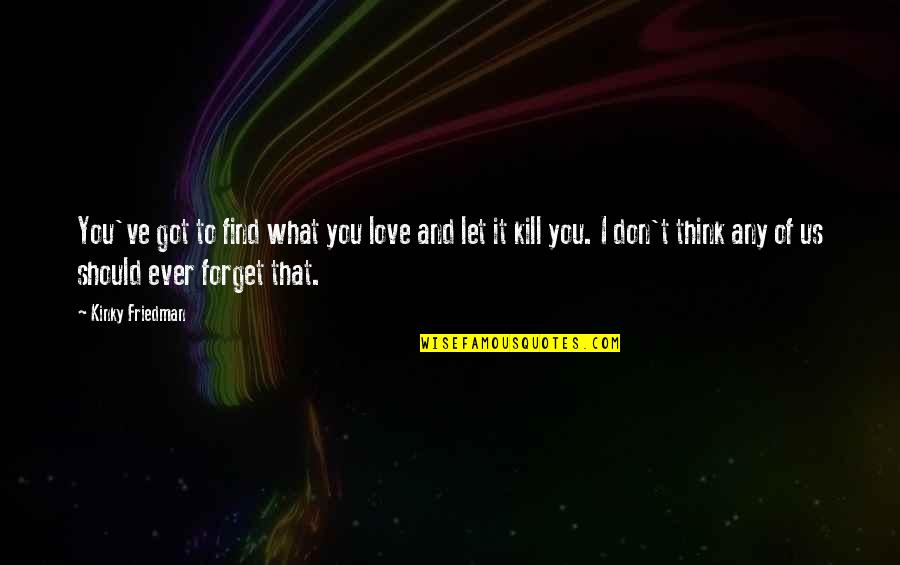 You've got to find what you love and let it kill you. I don't think any of us should ever forget that. —
Kinky Friedman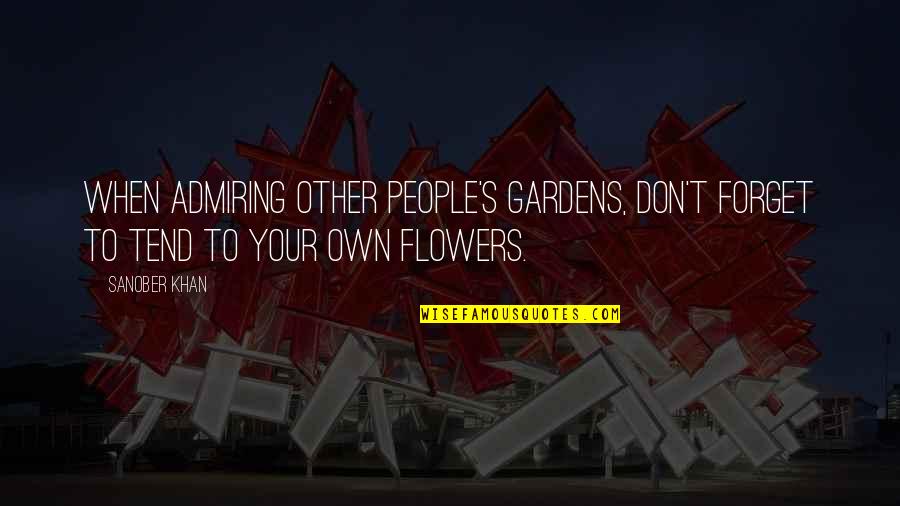 When admiring other people's gardens, don't forget to tend to your own flowers. —
Sanober Khan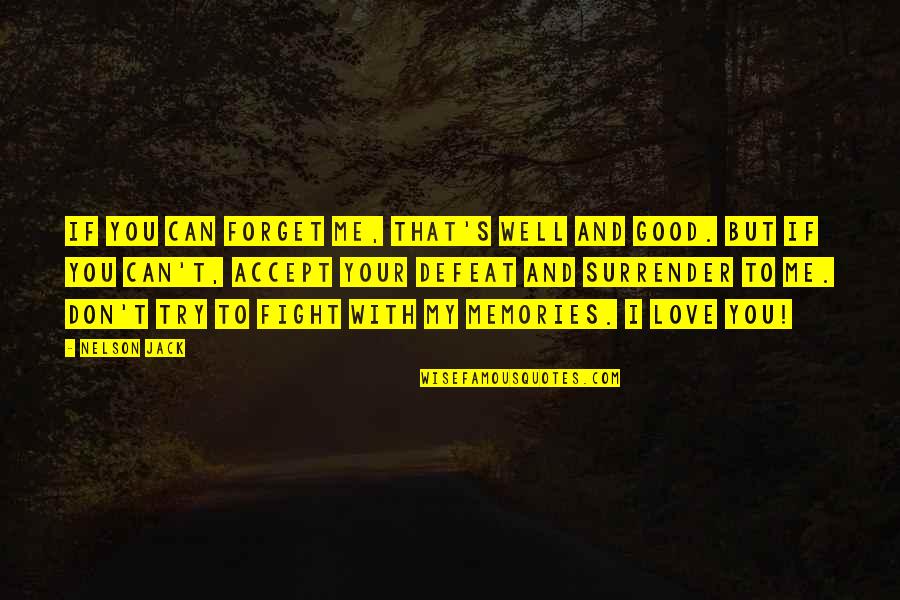 If you can forget me, that's well and good. But if you can't, accept your defeat and surrender to me. Don't try to fight with my memories. I love you! —
Nelson Jack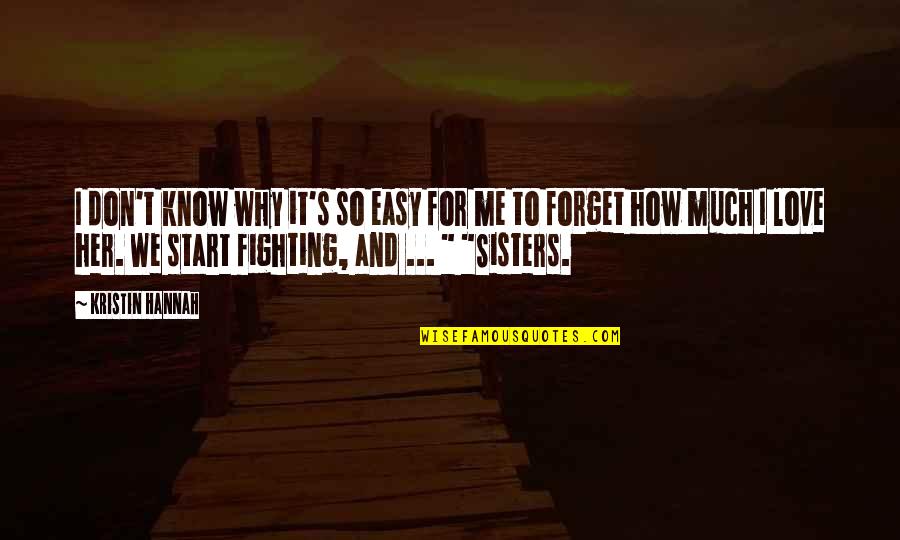 I don't know why it's so easy for me to forget how much I love her. We start fighting, and ... " "Sisters. —
Kristin Hannah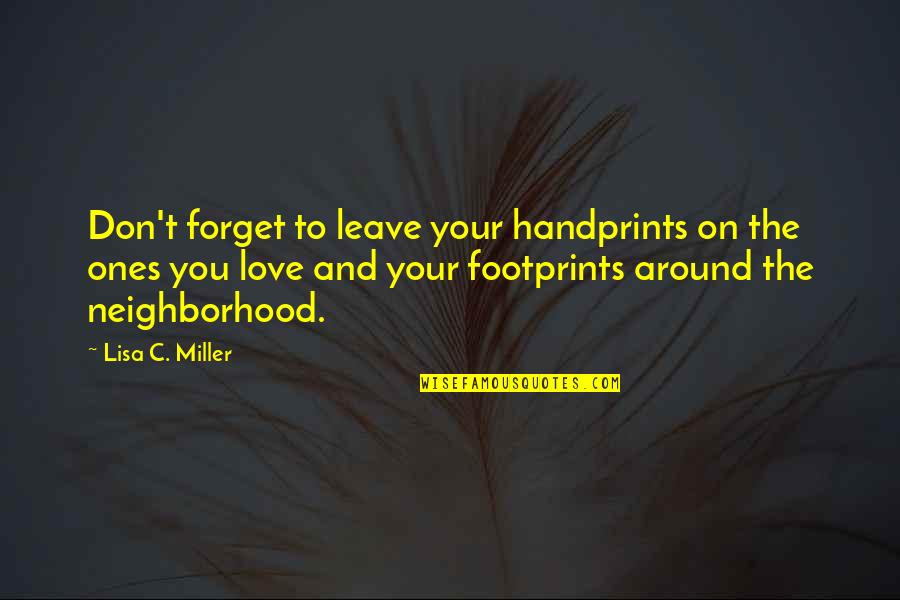 Don't forget to leave your handprints on the ones you love and your footprints around the neighborhood. —
Lisa C. Miller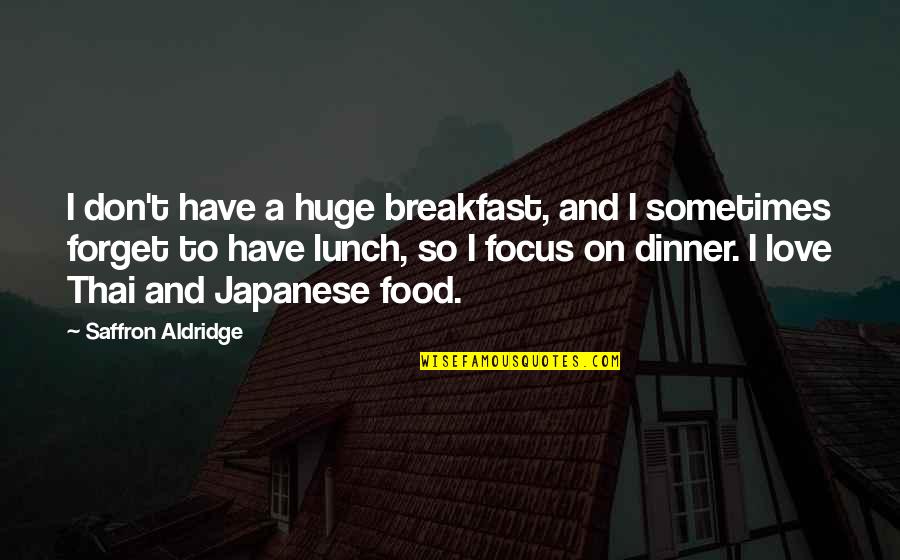 I don't have a huge breakfast, and I sometimes forget to have lunch, so I focus on dinner. I love Thai and Japanese food. —
Saffron Aldridge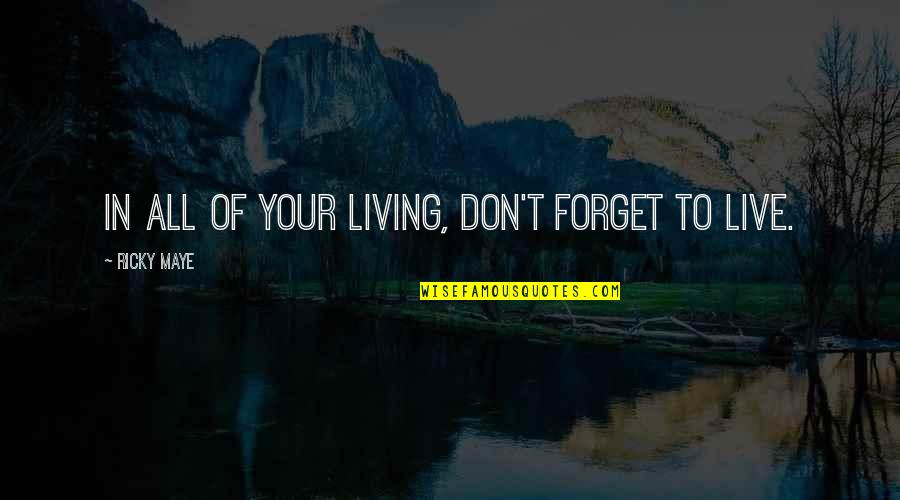 In all of your living, don't forget to live. —
Ricky Maye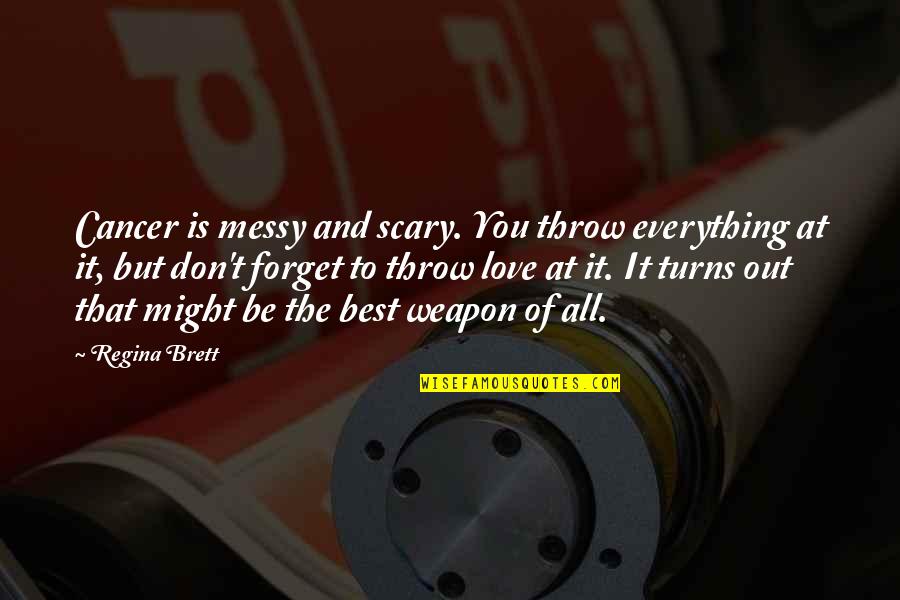 Cancer is messy and scary. You throw everything at it, but don't forget to throw love at it. It turns out that might be the best weapon of all. —
Regina Brett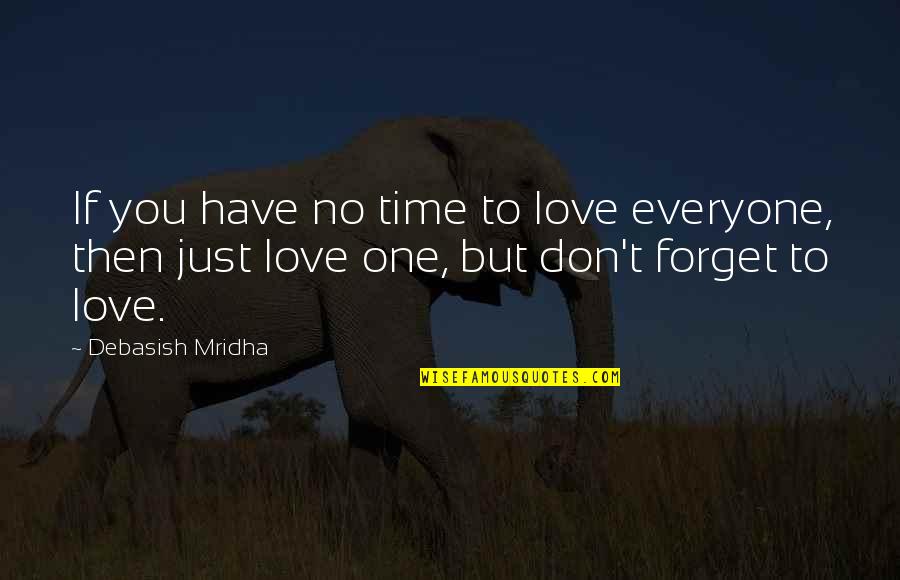 If you have no time to love everyone, then just love one, but don't forget to love. —
Debasish Mridha
Forget it," he said. "You don't know what it's like to love someone like that, then to have that love thrown back in your face - —
Richelle Mead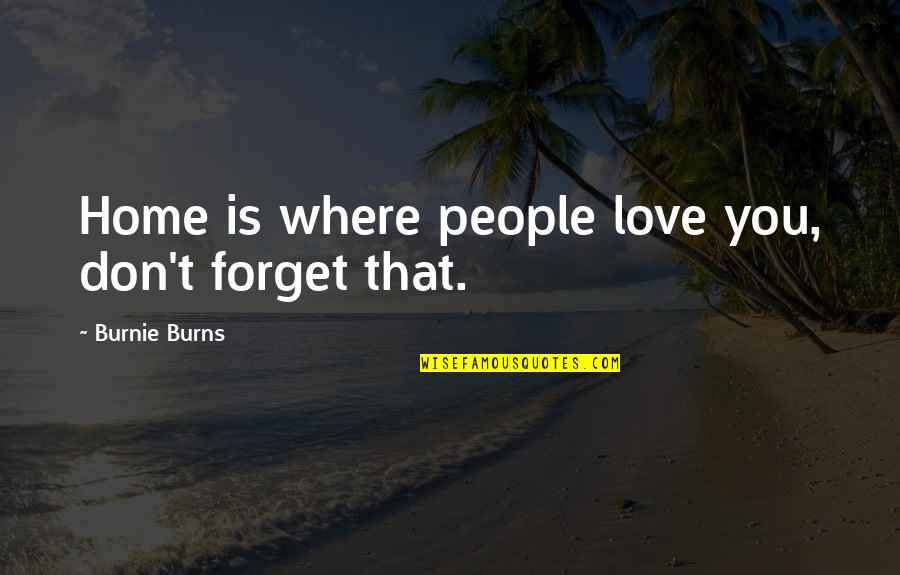 Home is where people love you, don't forget that. —
Burnie Burns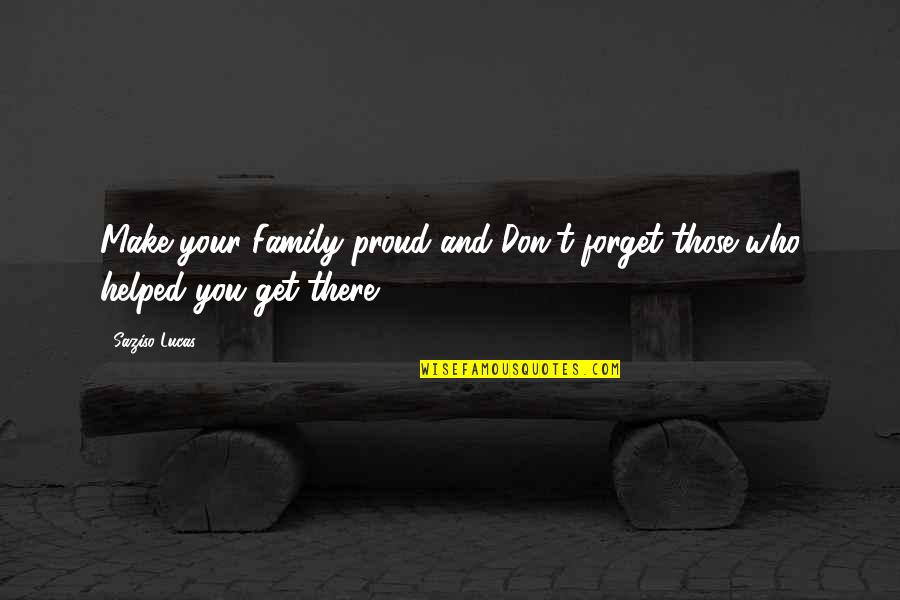 Make your Family proud and Don't forget those who helped you get there. —
Saziso Lucas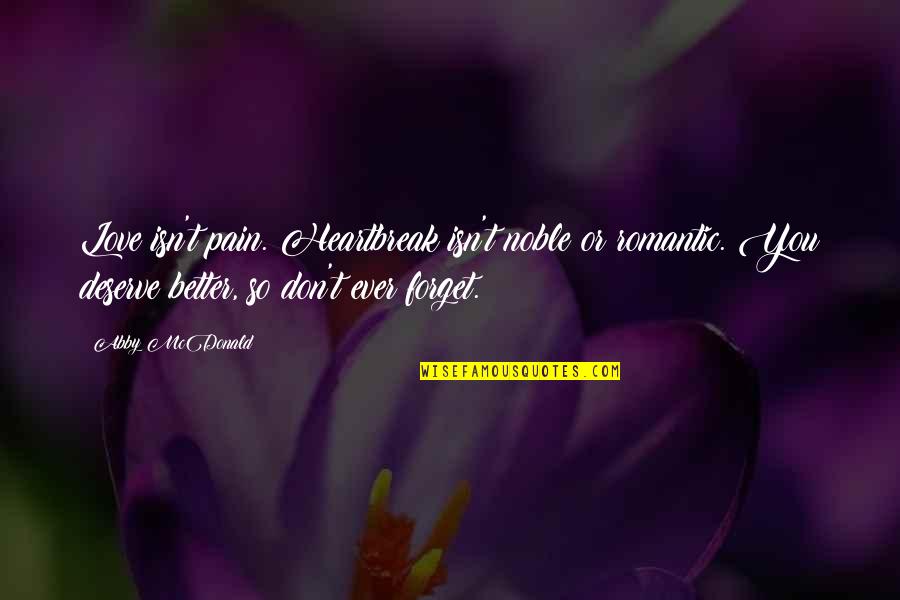 Love isn't pain. Heartbreak isn't noble or romantic. You deserve better, so don't ever forget. —
Abby McDonald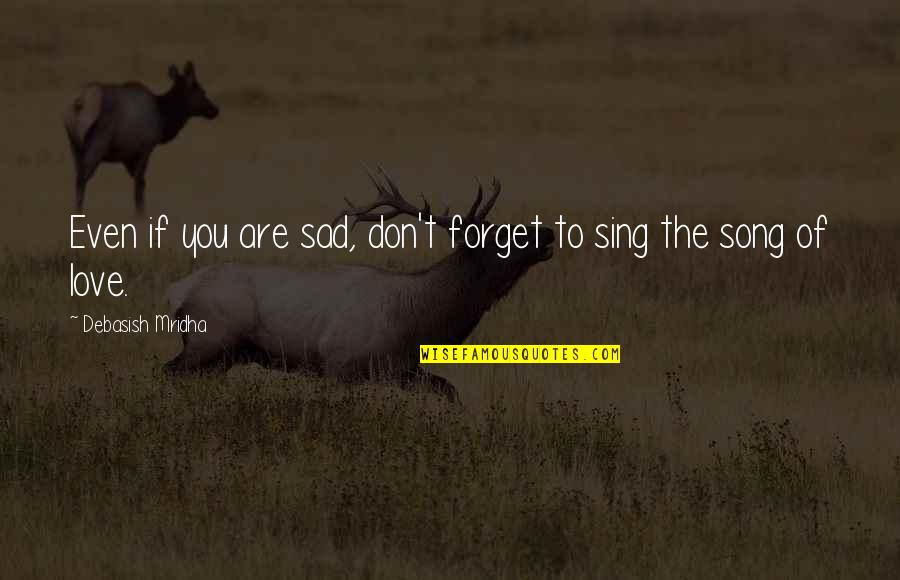 Even if you are sad, don't forget to sing the song of love. —
Debasish Mridha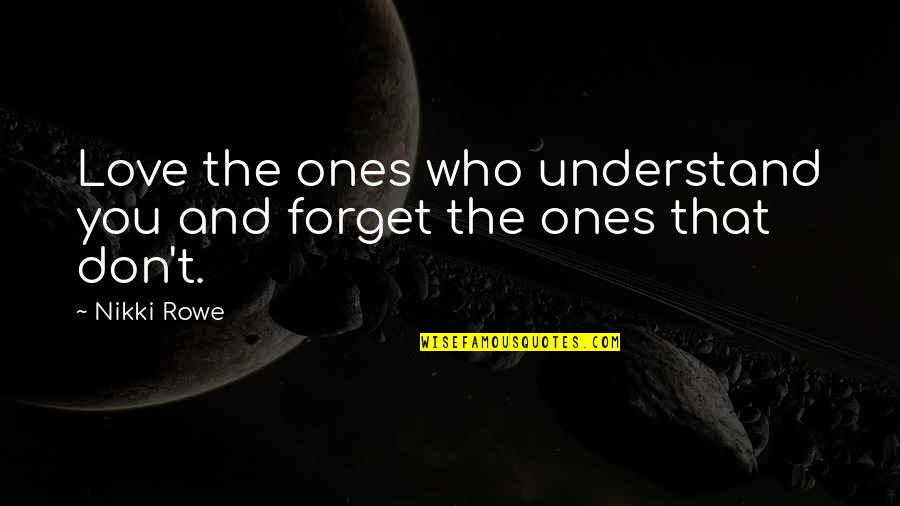 Love the ones who understand you and forget the ones that don't. —
Nikki Rowe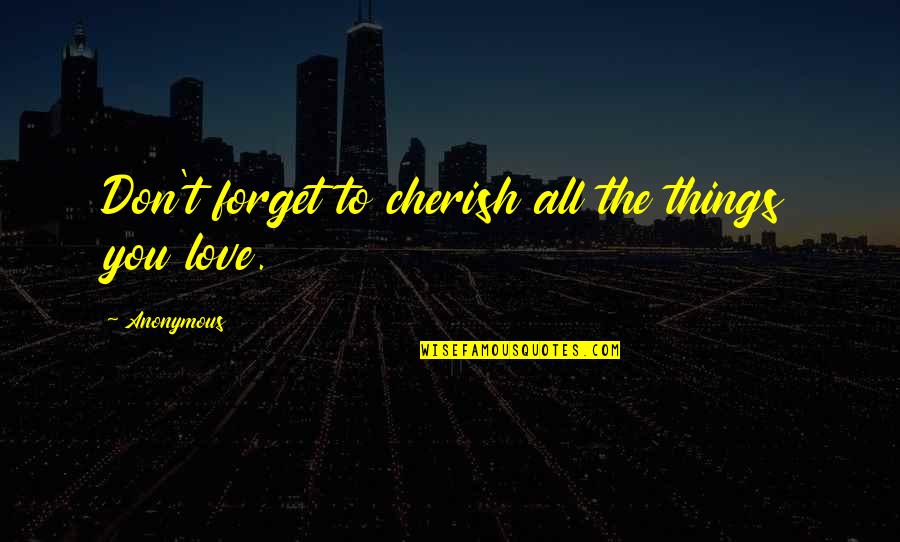 Don't forget to cherish all the things you love. —
Anonymous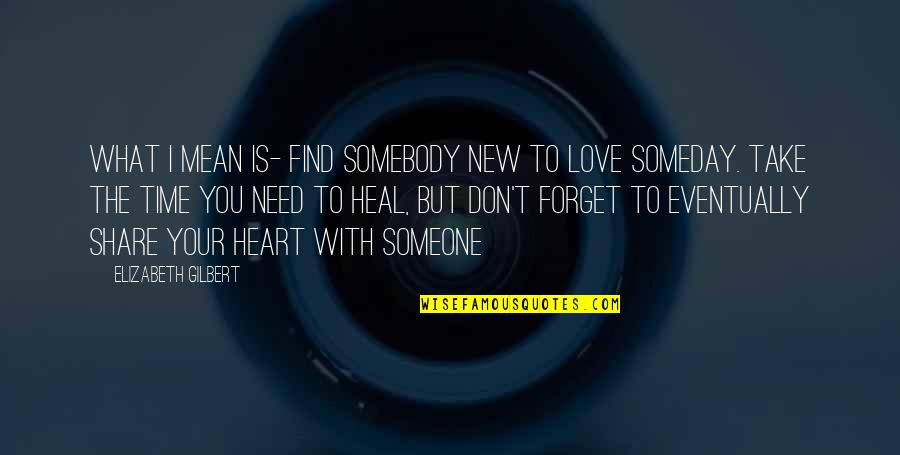 What I mean is- find somebody new to love someday. Take the time you need to heal, but don't forget to eventually share your heart with someone —
Elizabeth Gilbert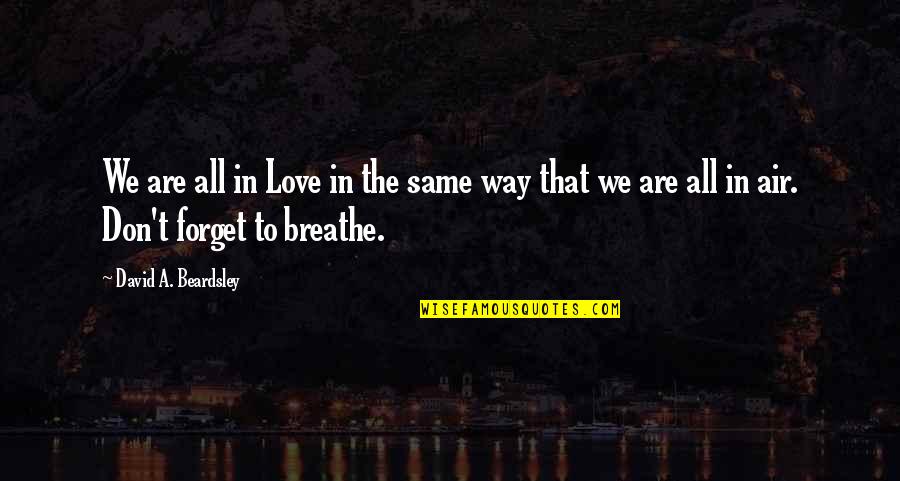 We are all in Love in the same way that we are all in air. Don't forget to breathe. —
David A. Beardsley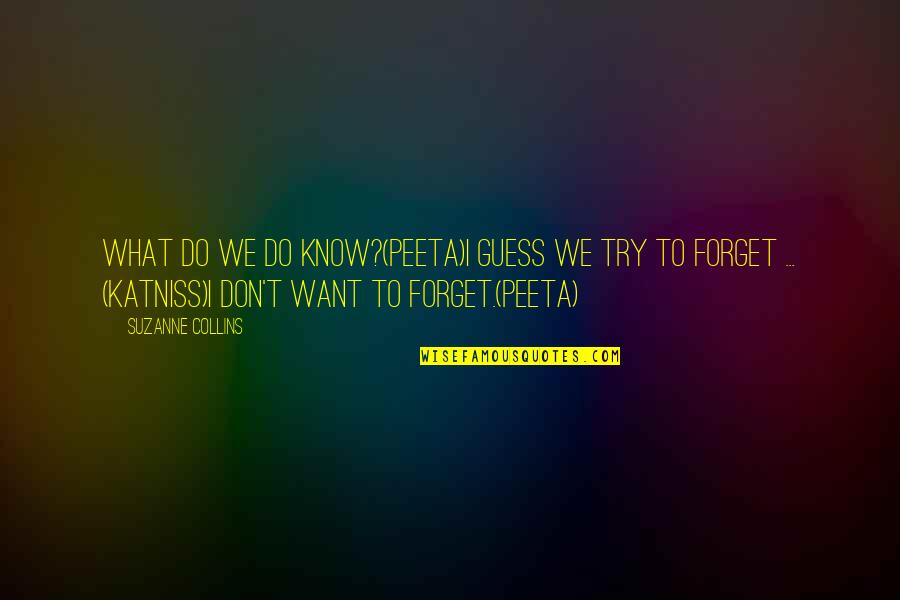 What do we do know?(Peeta)
I guess we try to forget ... (Katniss)
I don't want to forget.(Peeta) —
Suzanne Collins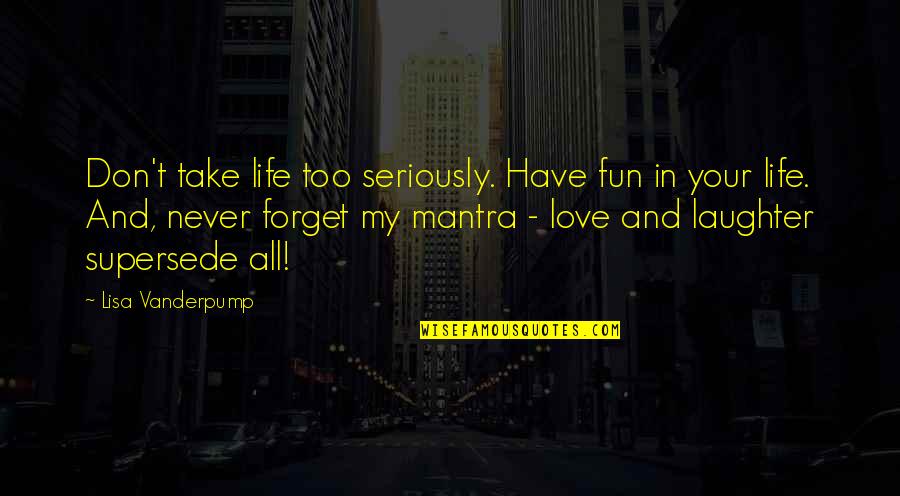 Don't take life too seriously. Have fun in your life. And, never forget my mantra - love and laughter supersede all! —
Lisa Vanderpump
Don't forget, Riddler, how I love thee. Or all we shared together. Or that this sea and all other seas can lead you back to me. —
Janet Morris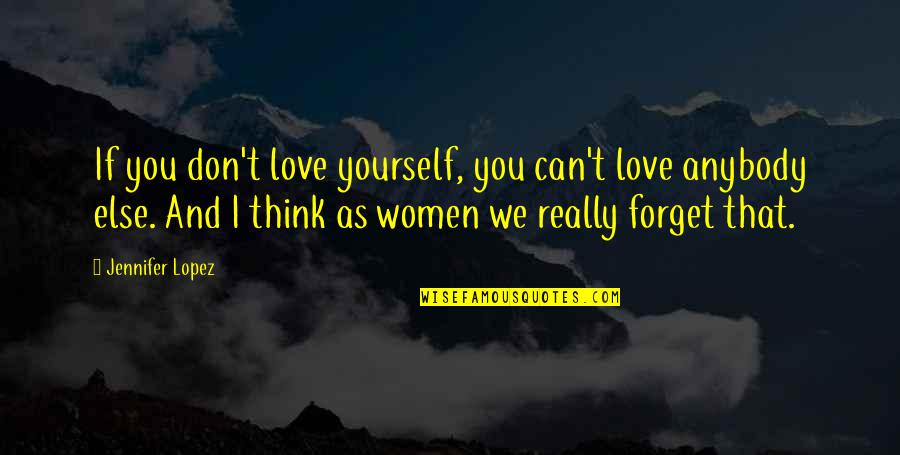 If you don't love yourself, you can't love anybody else. And I think as women we really forget that. —
Jennifer Lopez