Best Gift Giving Quotes
Collection of top 62 famous quotes about Best Gift Giving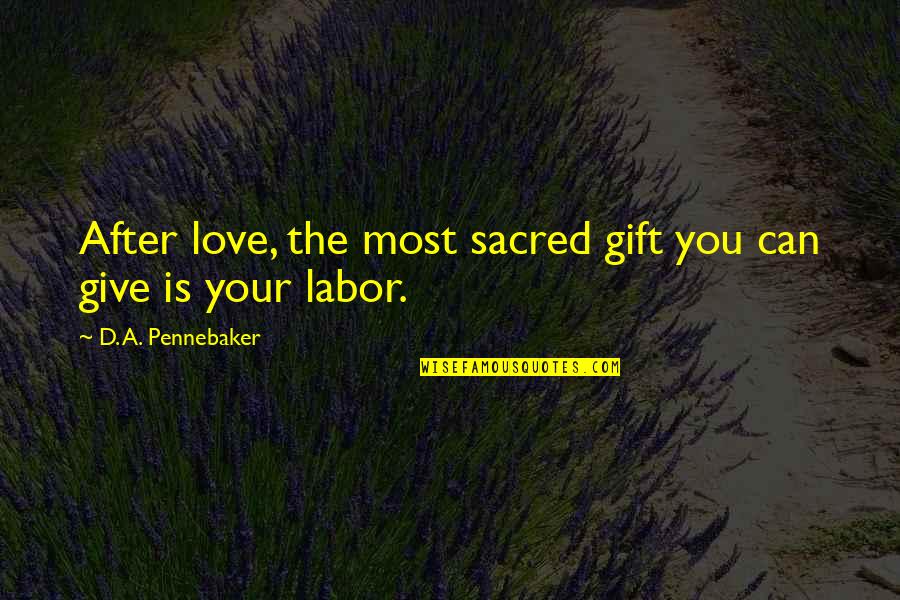 After love, the most sacred gift you can give is your labor.
—
D. A. Pennebaker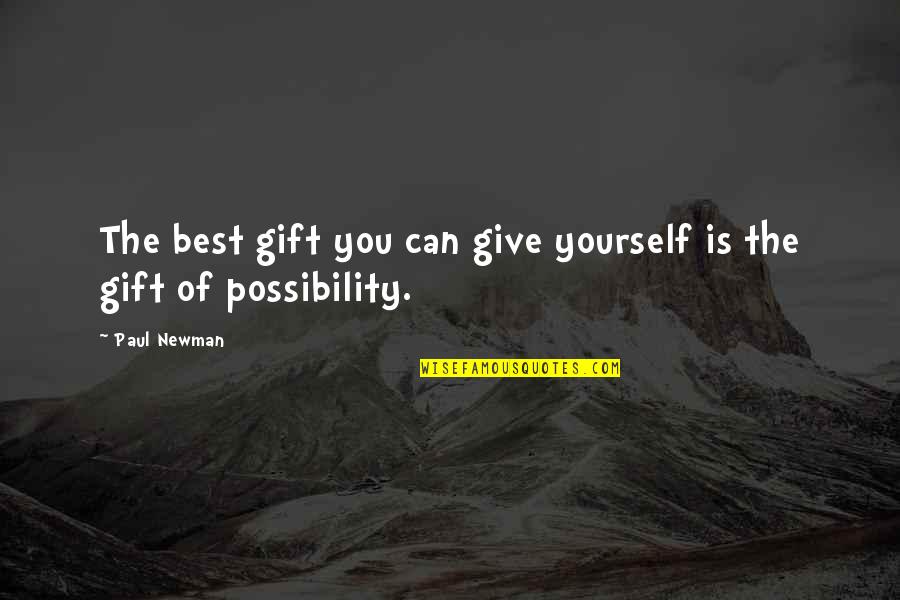 The best gift you can give yourself is the gift of possibility.
—
Paul Newman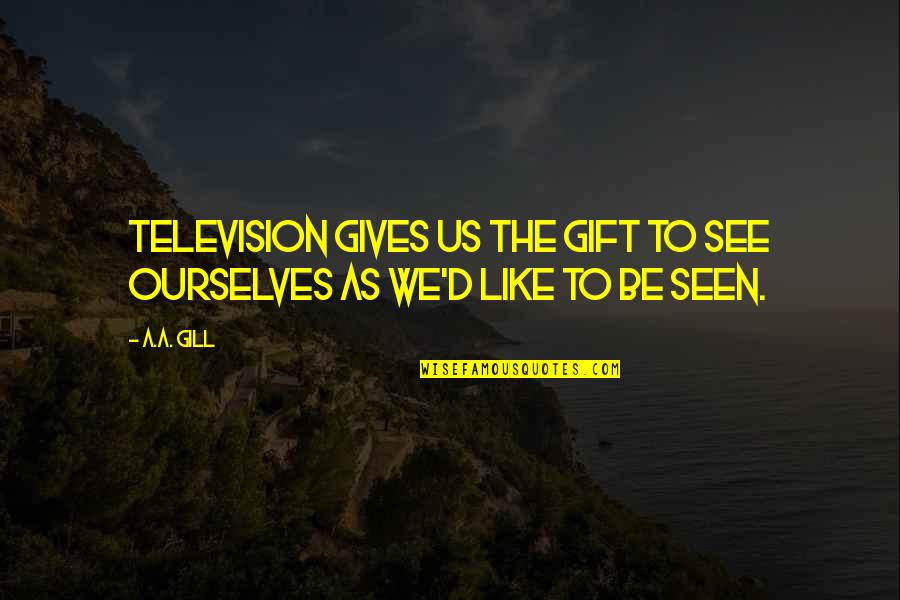 Television gives us the gift to see ourselves as we'd like to be seen.
—
A.A. Gill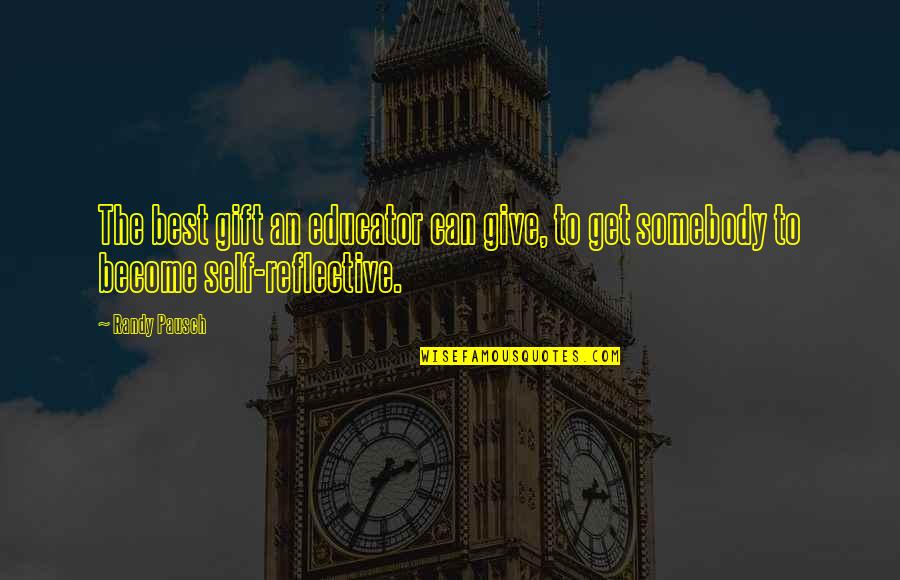 The best gift an educator can give, to get somebody to become self-reflective.
—
Randy Pausch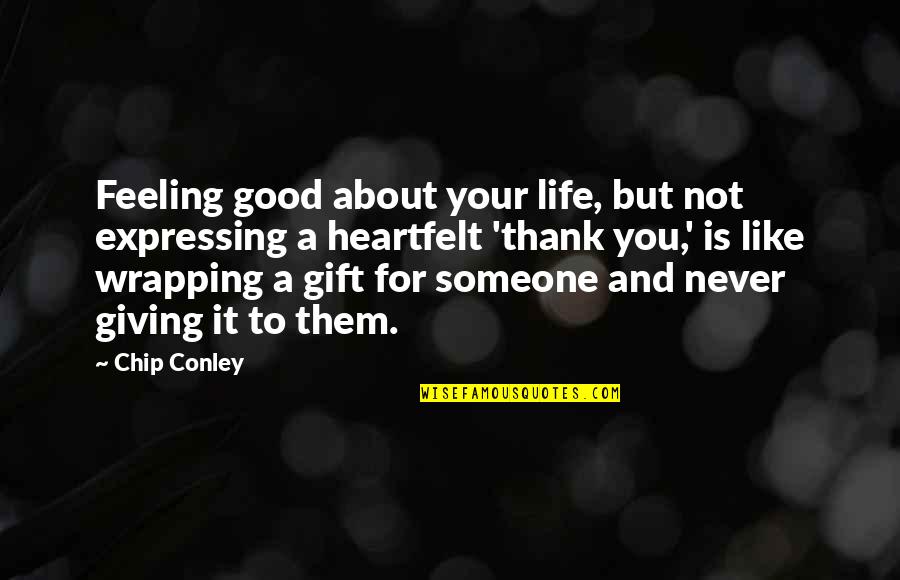 Feeling good about your life, but not expressing a heartfelt 'thank you,' is like wrapping a gift for someone and never giving it to them.
—
Chip Conley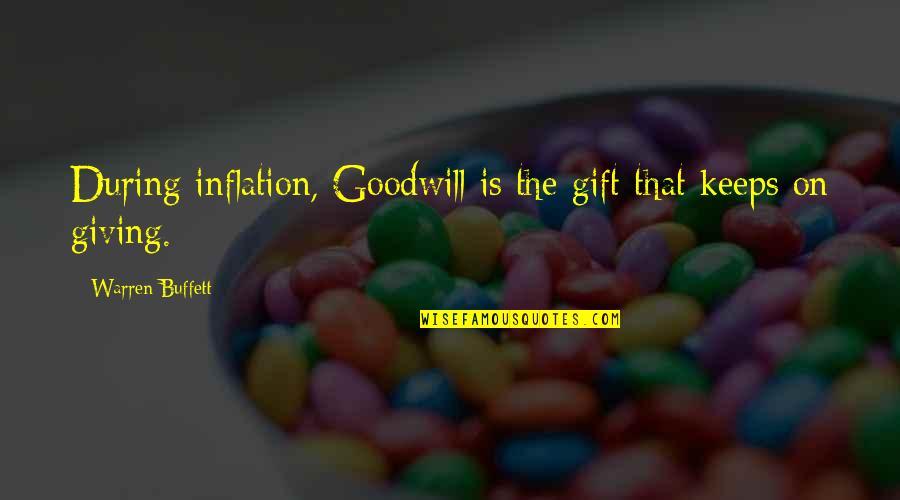 During inflation, Goodwill is the gift that keeps on giving.
—
Warren Buffett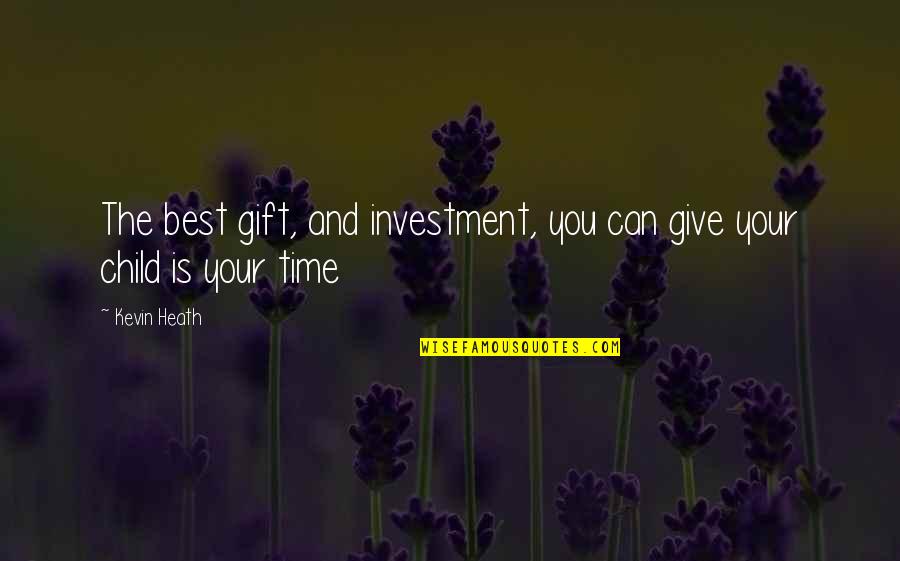 The best gift, and investment, you can give your child is your time
—
Kevin Heath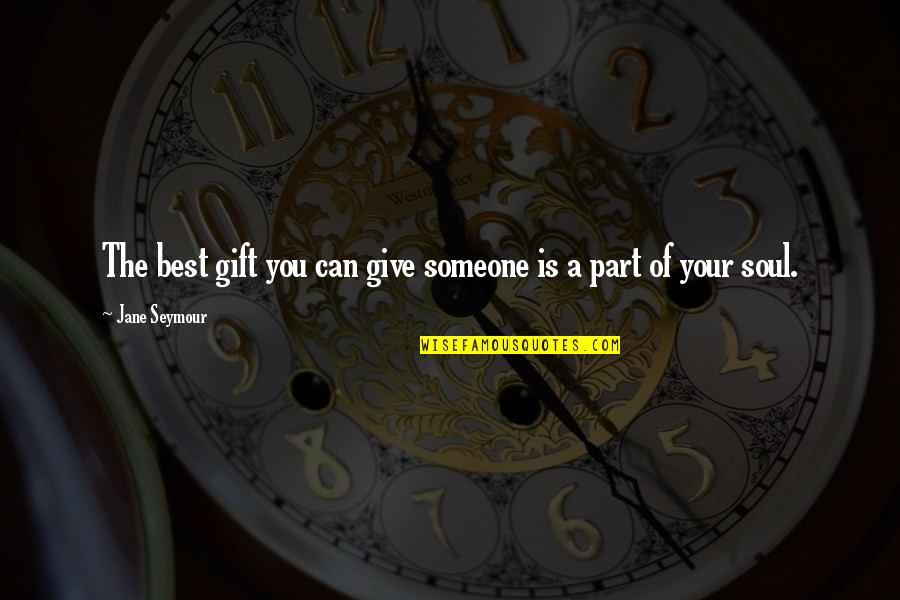 The best gift you can give someone is a part of your soul.
—
Jane Seymour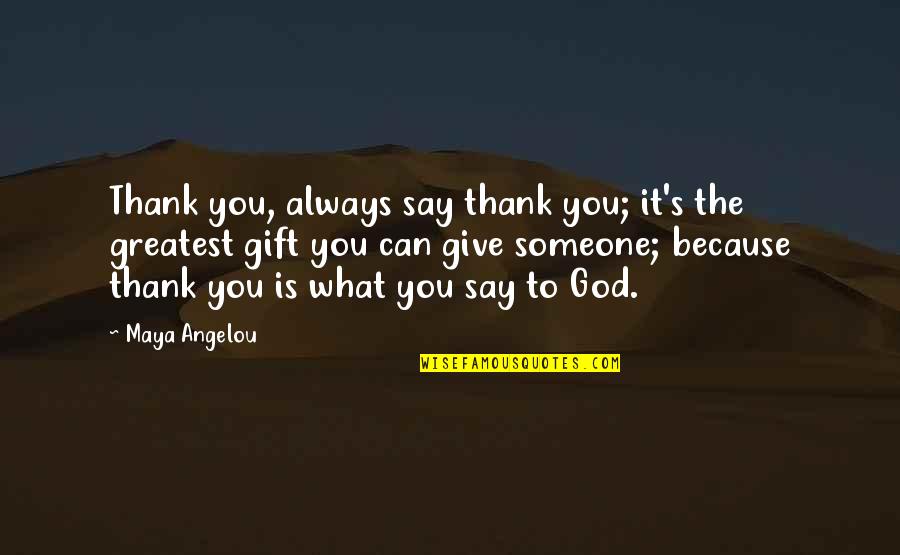 Thank you, always say thank you; it's the greatest gift you can give someone; because thank you is what you say to God.
—
Maya Angelou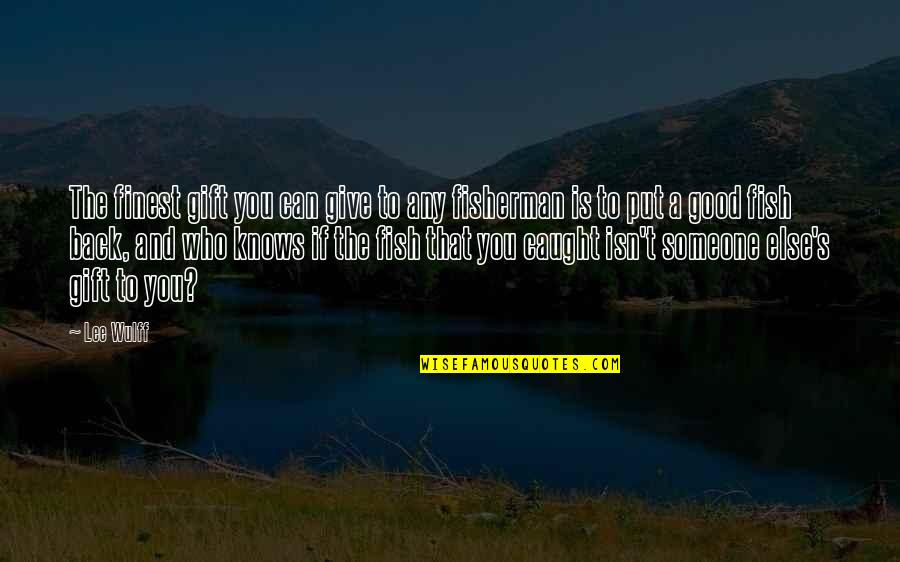 The finest gift you can give to any fisherman is to put a good fish back, and who knows if the fish that you caught isn't someone else's gift to you?
—
Lee Wulff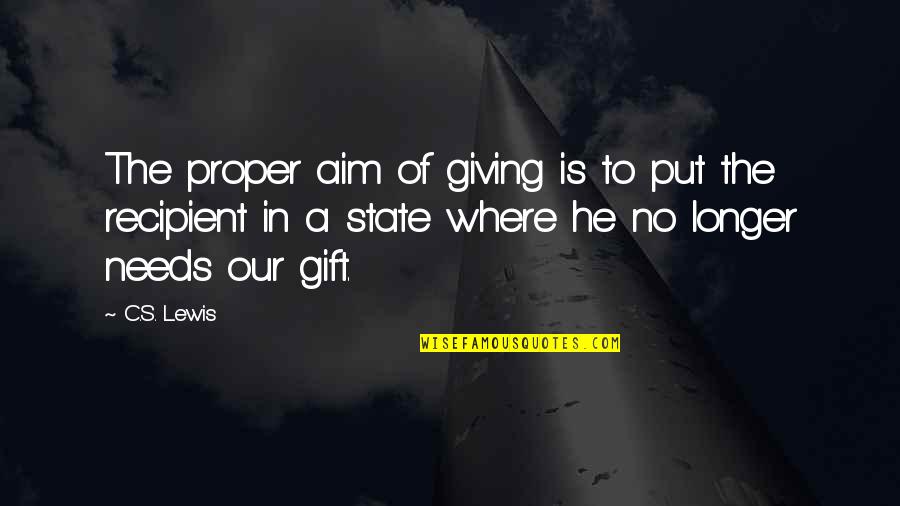 The proper aim of giving is to put the recipient in a state where he no longer needs our gift.
—
C.S. Lewis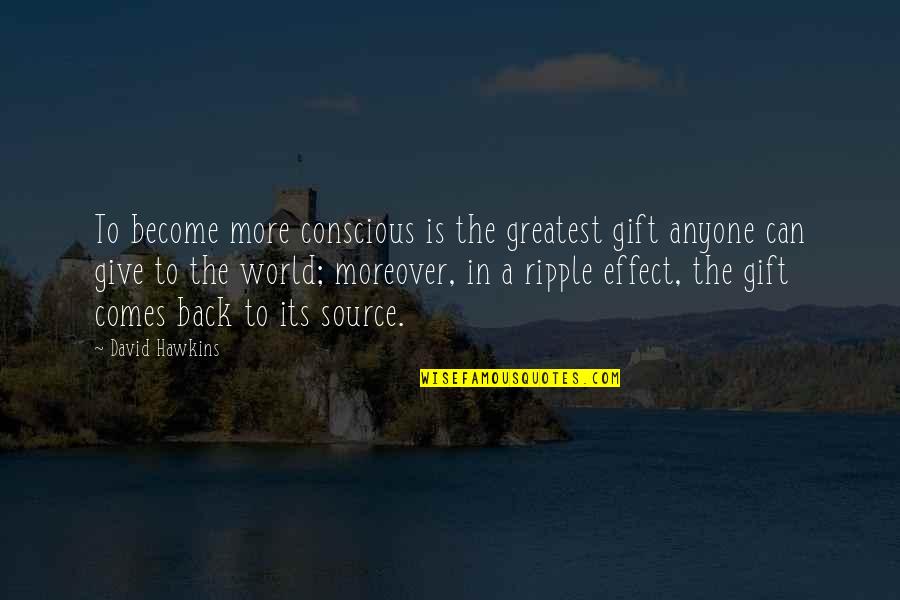 To become more conscious is the greatest gift anyone can give to the world; moreover, in a ripple effect, the gift comes back to its source.
—
David Hawkins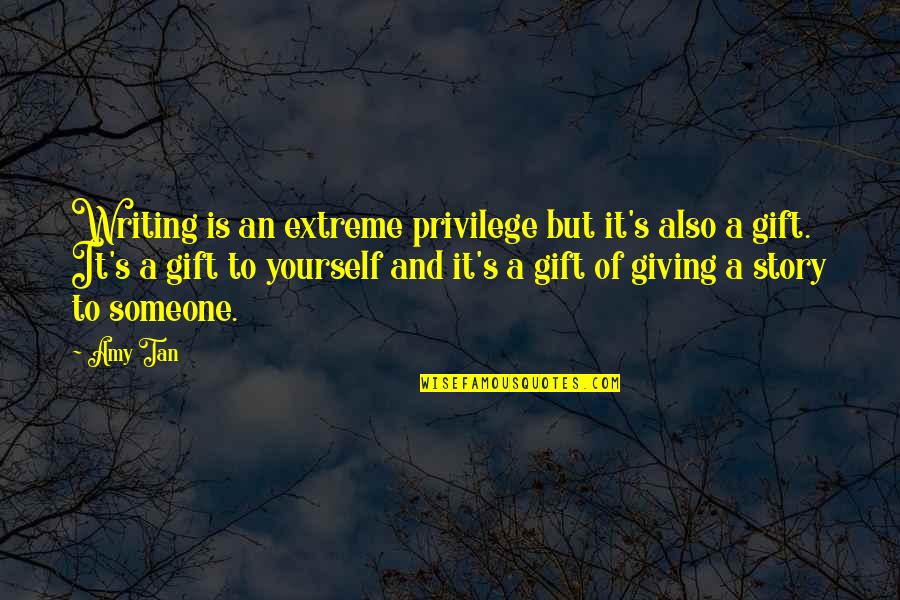 Writing is an extreme privilege but it's also a gift. It's a gift to yourself and it's a gift of giving a story to someone.
—
Amy Tan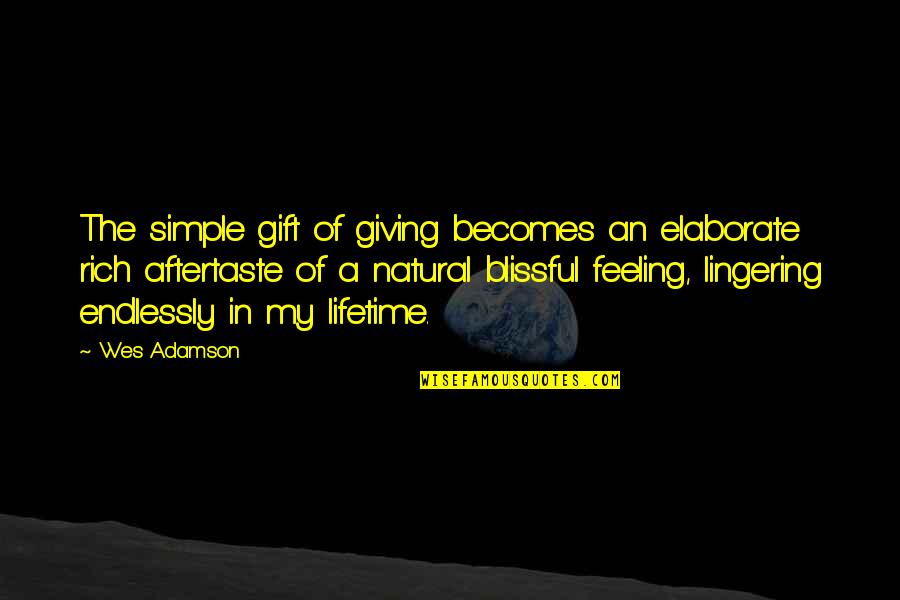 The simple gift of giving becomes an elaborate rich aftertaste of a natural blissful feeling, lingering endlessly in my lifetime. —
Wes Adamson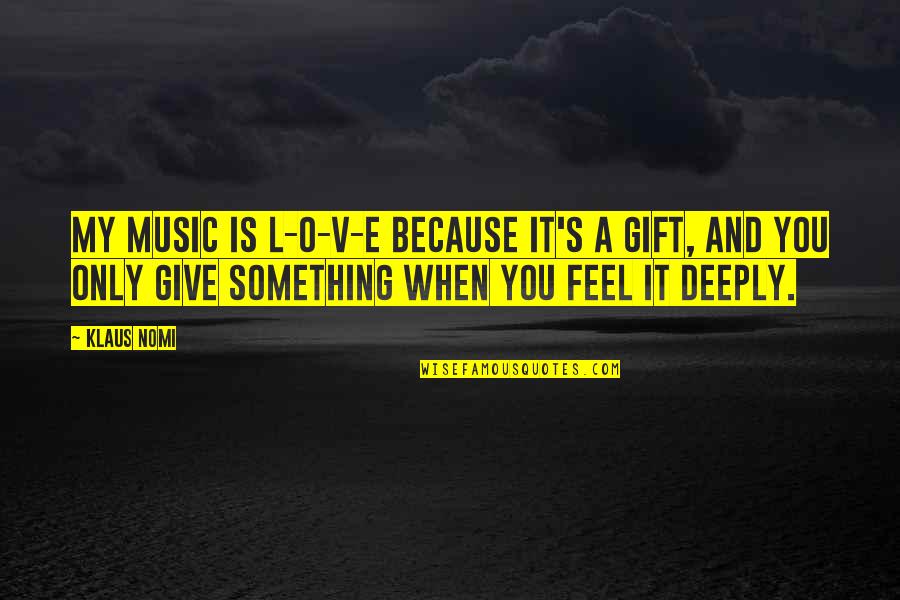 My music is L-O-V-E because it's a gift, and you only give something when you feel it deeply. —
Klaus Nomi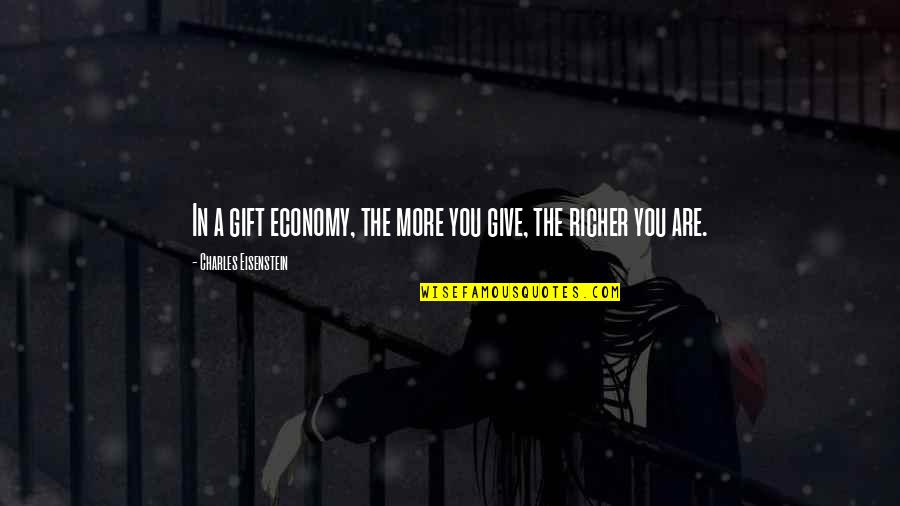 In a gift economy, the more you give, the richer you are. —
Charles Eisenstein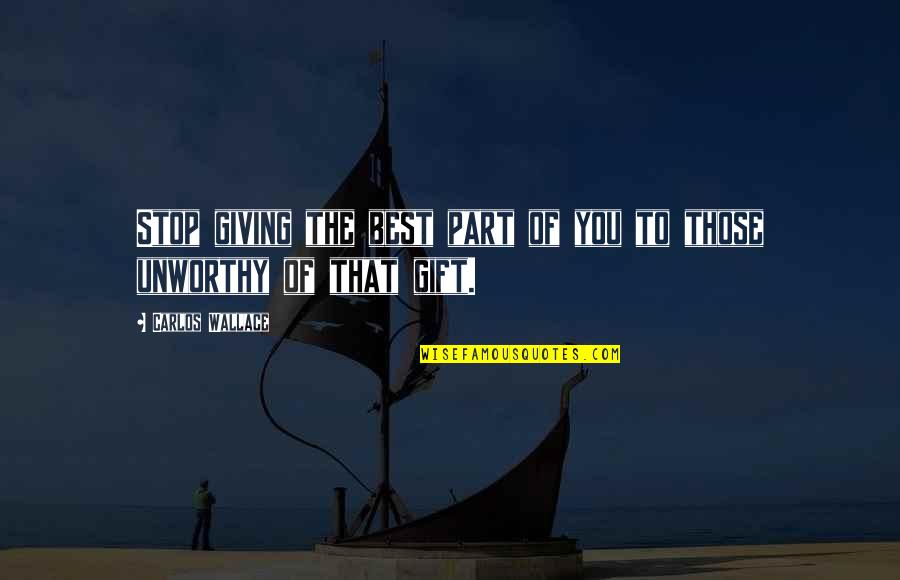 Stop giving the best part of you to those unworthy of that gift. —
Carlos Wallace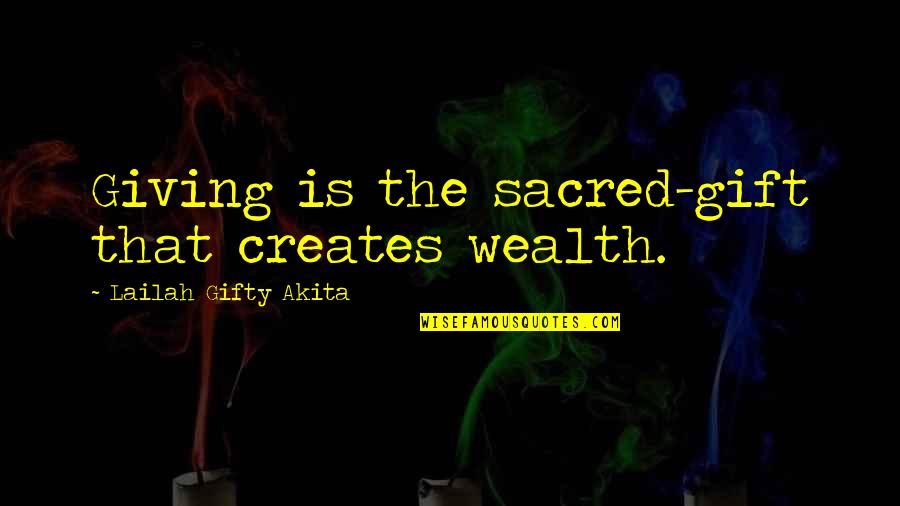 Giving is the sacred-gift that creates wealth. —
Lailah Gifty Akita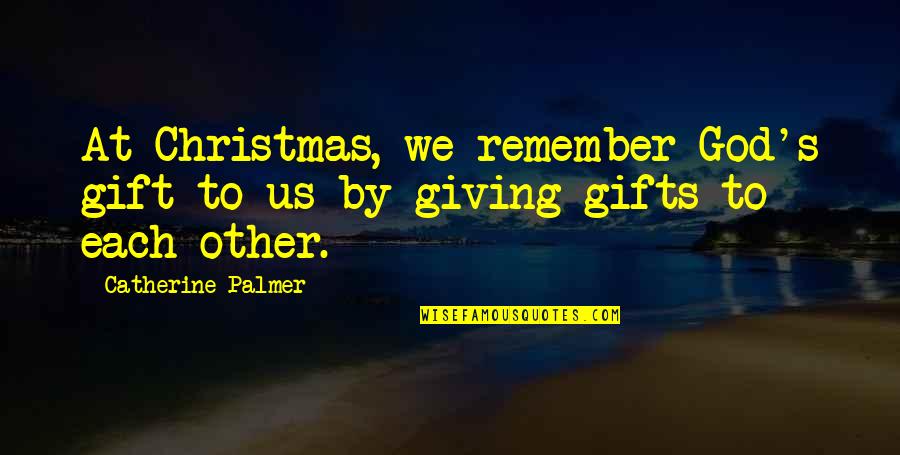 At Christmas, we remember God's gift to us by giving gifts to each other. —
Catherine Palmer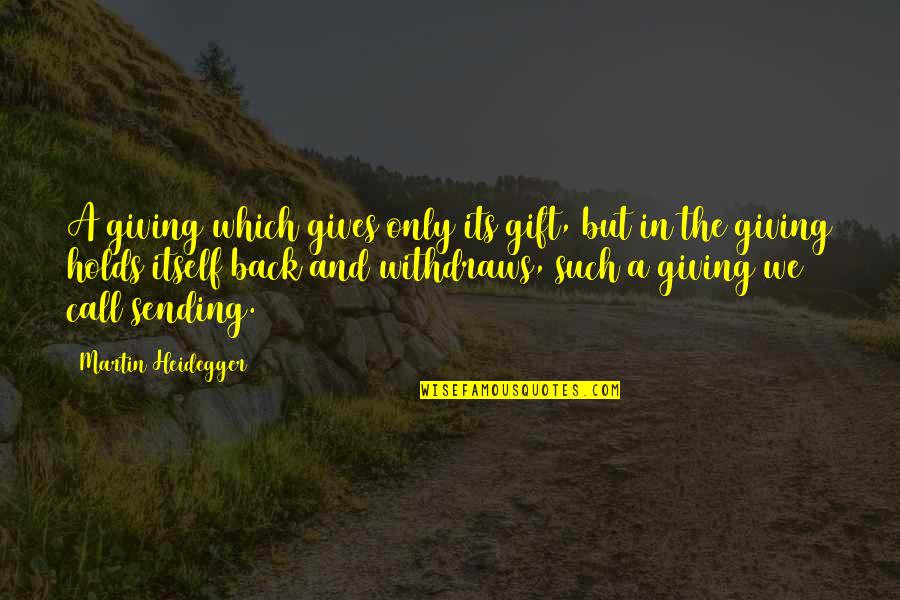 A giving which gives only its gift, but in the giving holds itself back and withdraws, such a giving we call sending. —
Martin Heidegger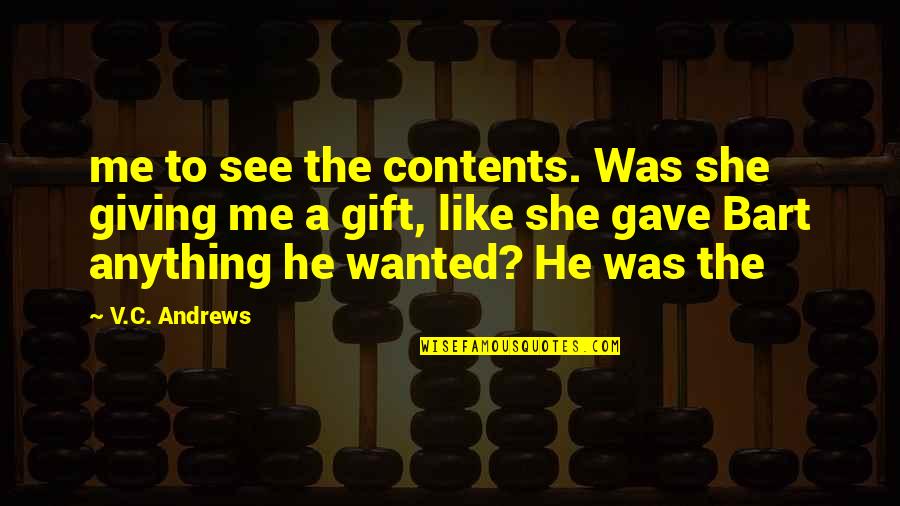 me to see the contents. Was she giving me a gift, like she gave Bart anything he wanted? He was the —
V.C. Andrews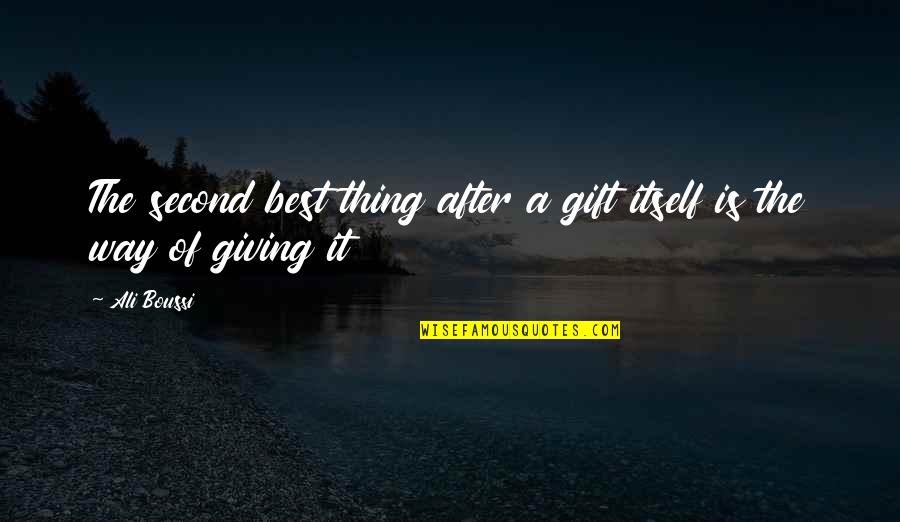 The second best thing after a gift itself is the way of giving it —
Ali Boussi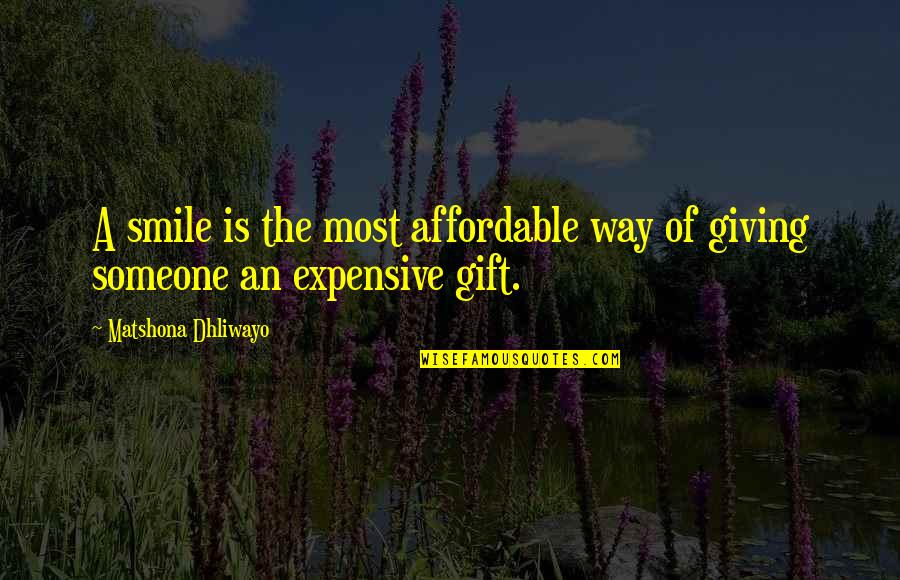 A smile is the most affordable way of giving someone an expensive gift. —
Matshona Dhliwayo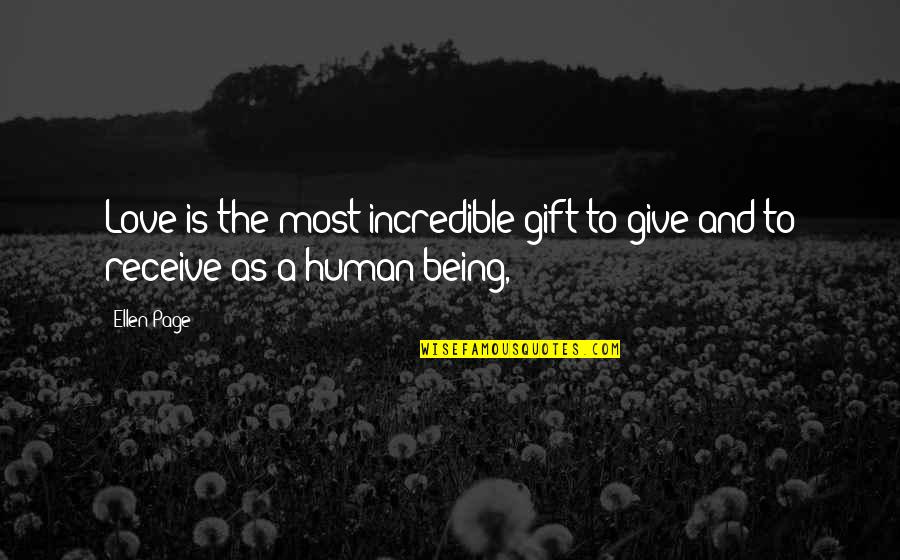 Love is the most incredible gift to give and to receive as a human being, —
Ellen Page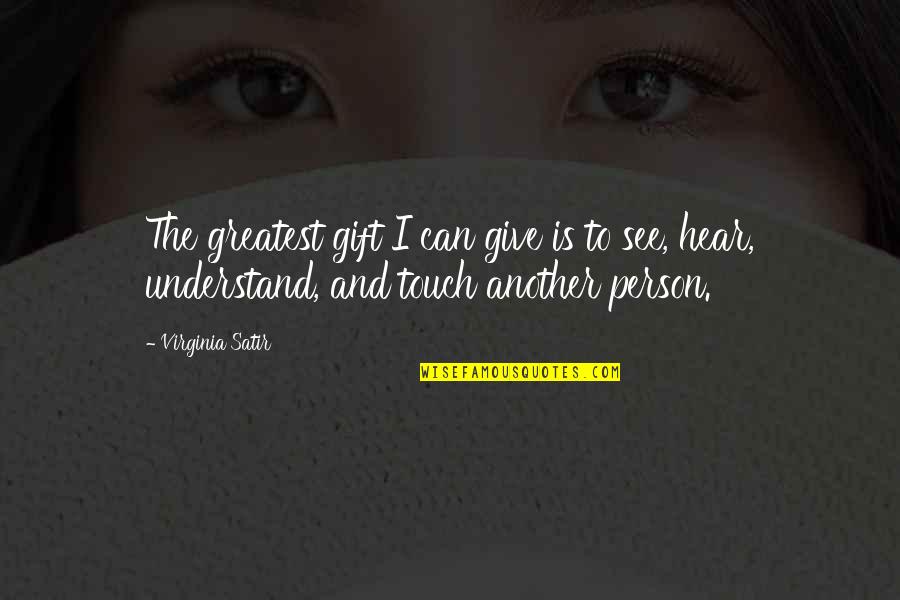 The greatest gift I can give is to see, hear, understand, and touch another person. —
Virginia Satir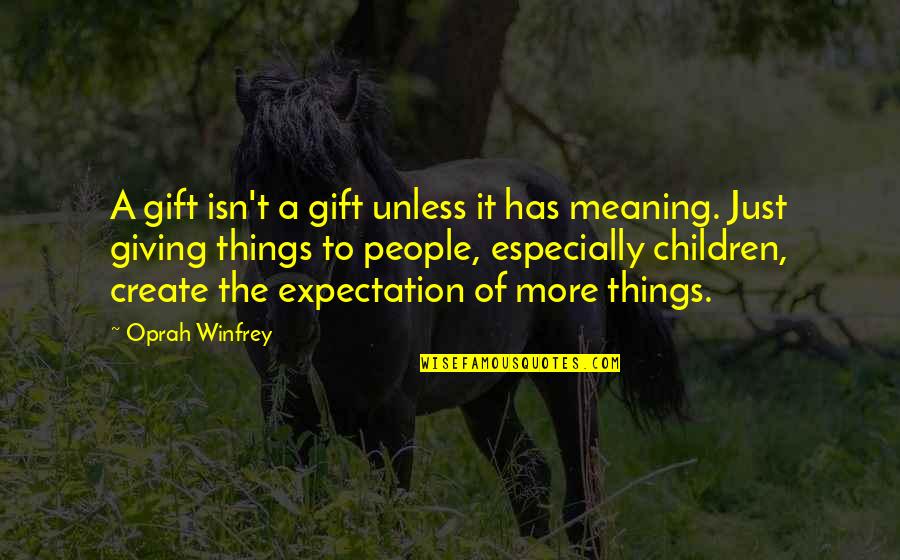 A gift isn't a gift unless it has meaning. Just giving things to people, especially children, create the expectation of more things. —
Oprah Winfrey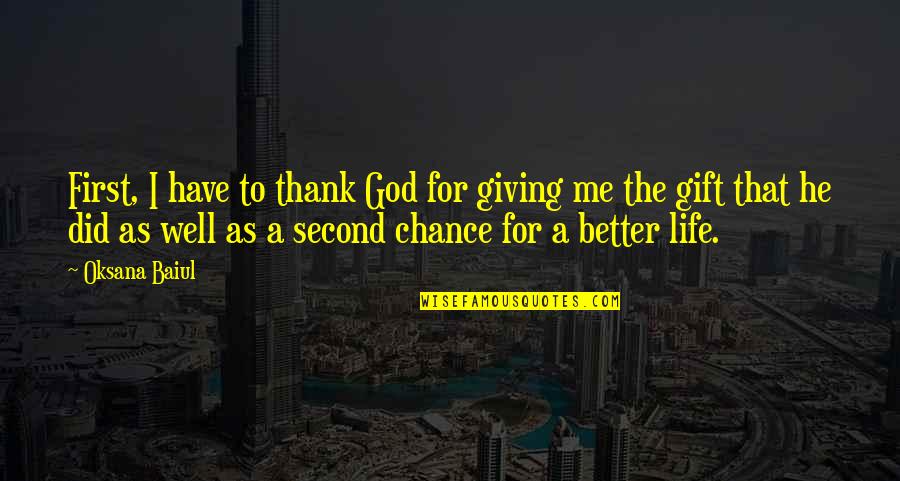 First, I have to thank God for giving me the gift that he did as well as a second chance for a better life. —
Oksana Baiul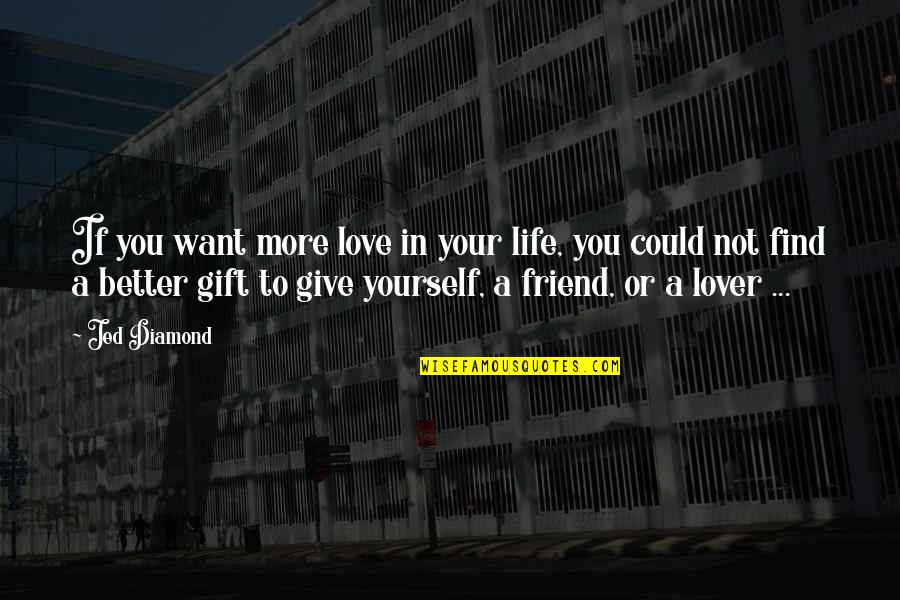 If you want more love in your life, you could not find a better gift to give yourself, a friend, or a lover ... —
Jed Diamond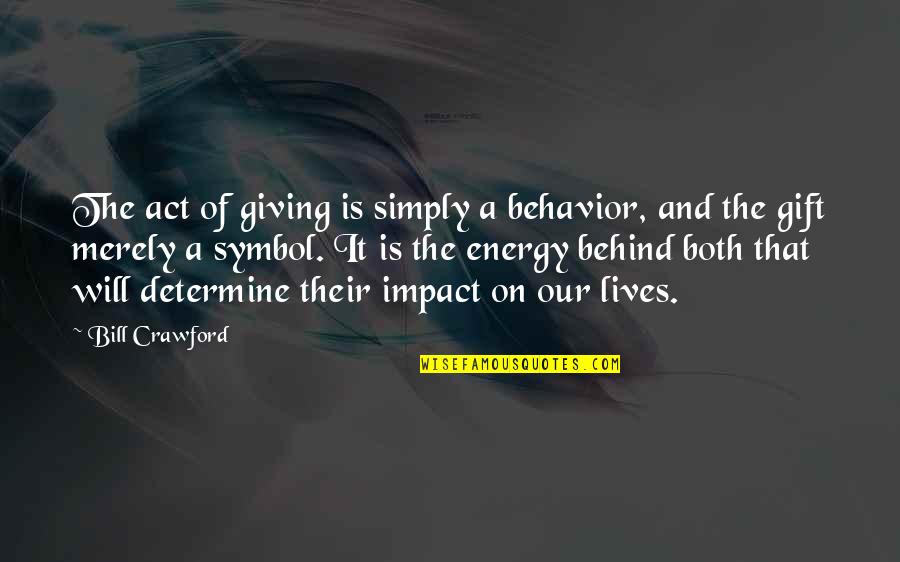 The act of giving is simply a behavior, and the gift merely a symbol. It is the energy behind both that will determine their impact on our lives. —
Bill Crawford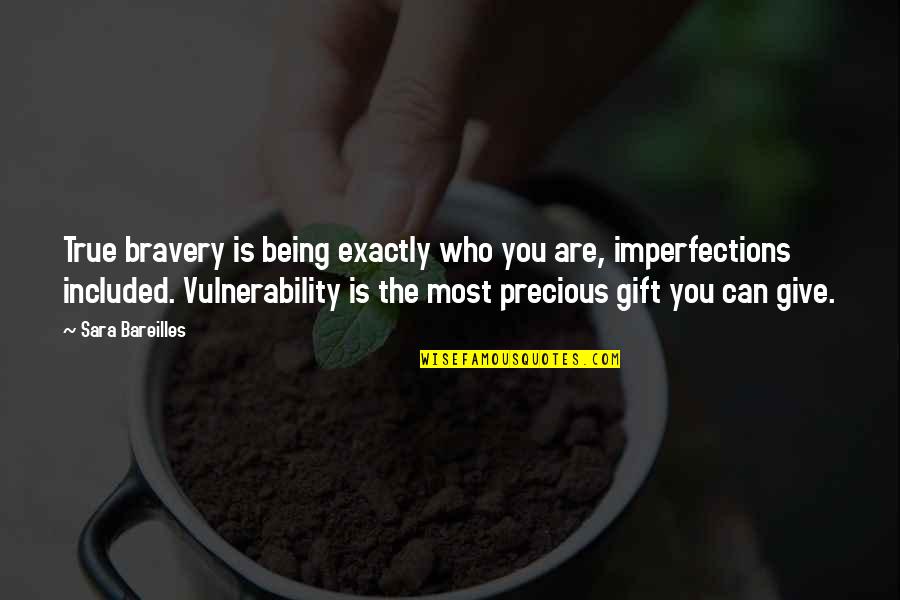 True bravery is being exactly who you are, imperfections included. Vulnerability is the most precious gift you can give. —
Sara Bareilles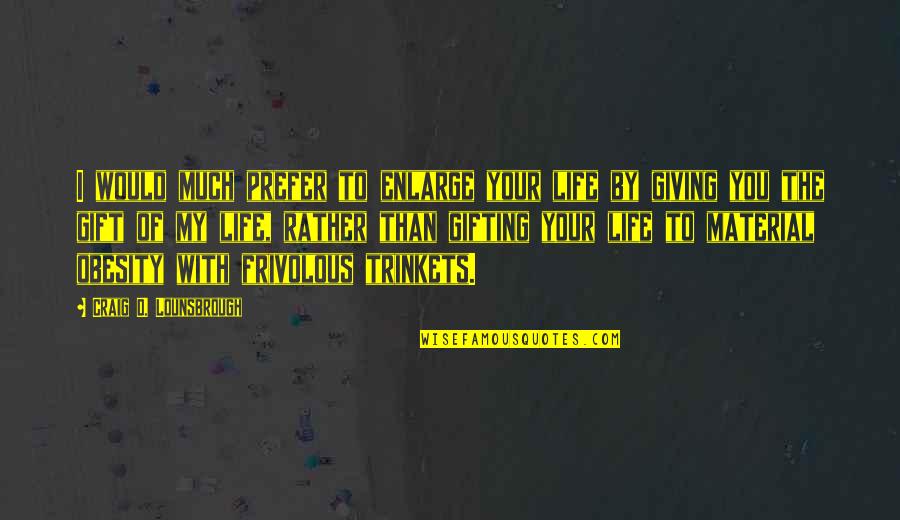 I would much prefer to enlarge your life by giving you the gift of my life, rather than gifting your life to material obesity with frivolous trinkets. —
Craig D. Lounsbrough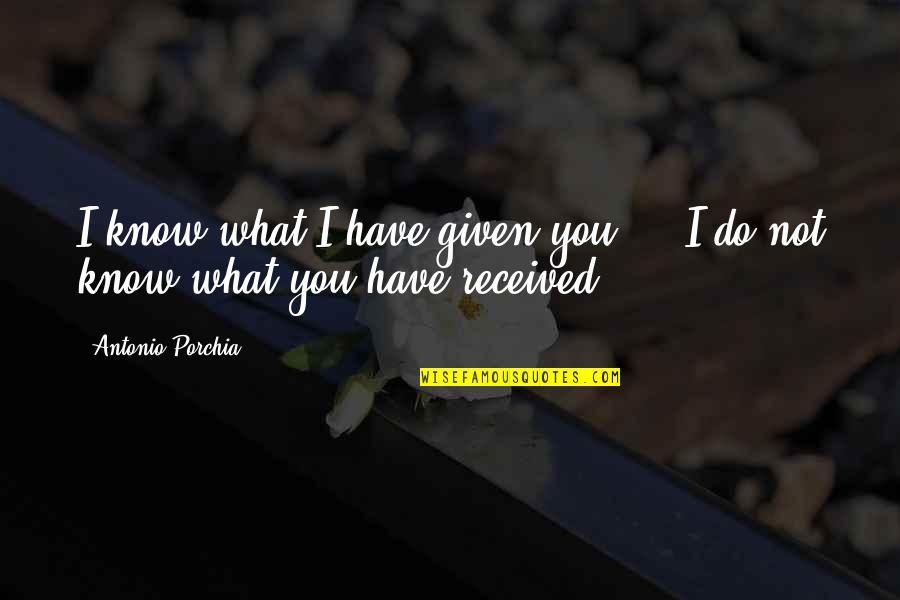 I know what I have given you ... I do not know what you have received. —
Antonio Porchia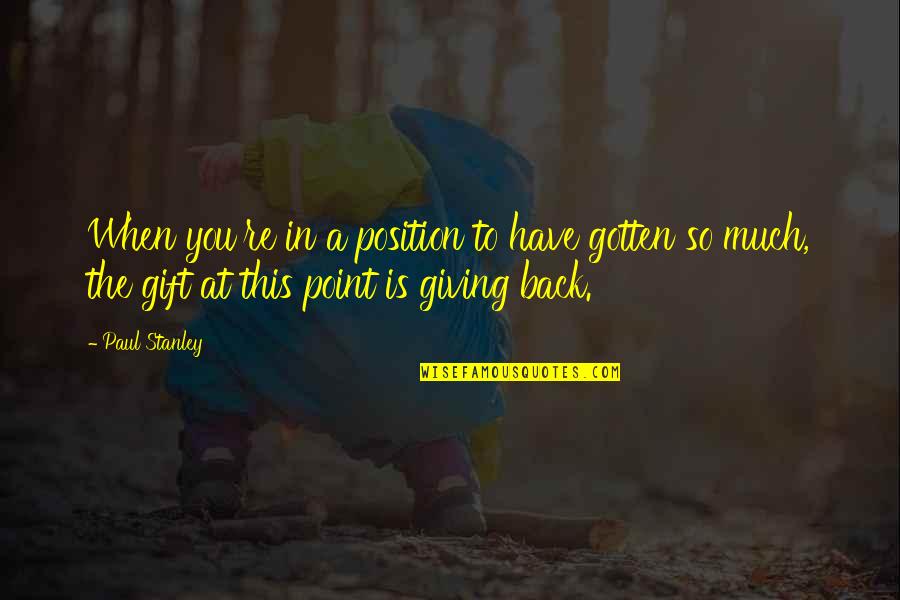 When you're in a position to have gotten so much, the gift at this point is giving back. —
Paul Stanley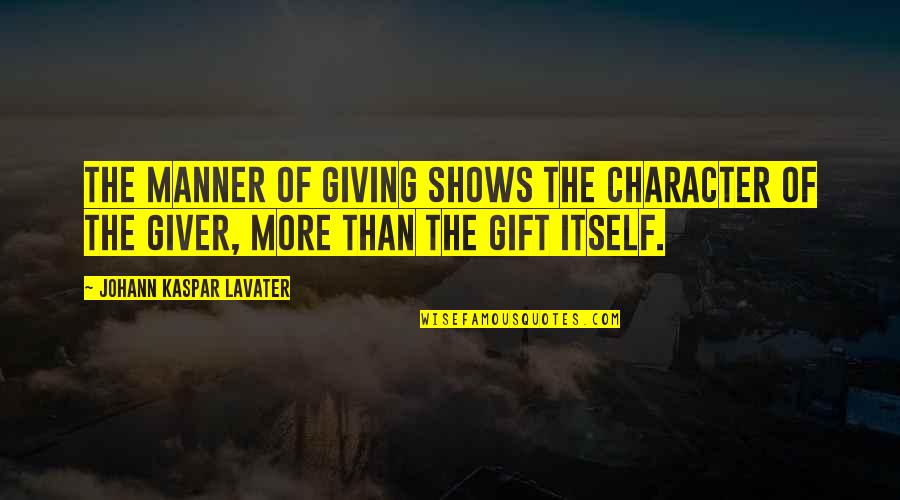 The manner of giving shows the character of the giver, more than the gift itself. —
Johann Kaspar Lavater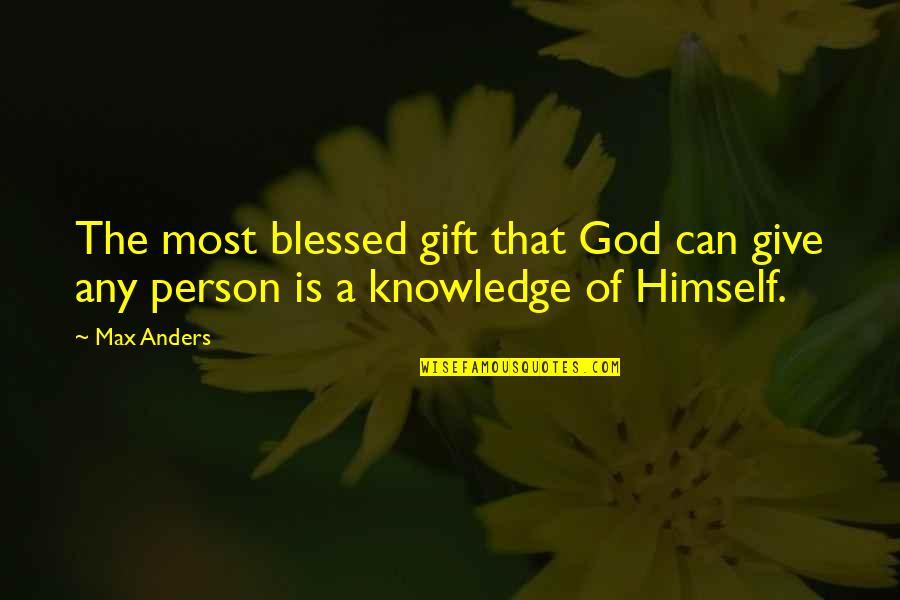 The most blessed gift that God can give any person is a knowledge of Himself. —
Max Anders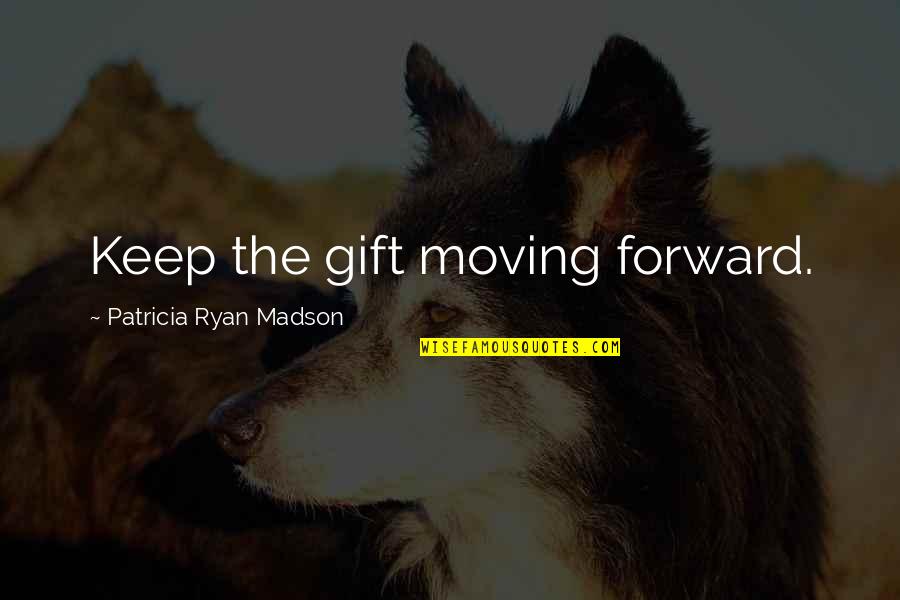 Keep the gift moving forward. —
Patricia Ryan Madson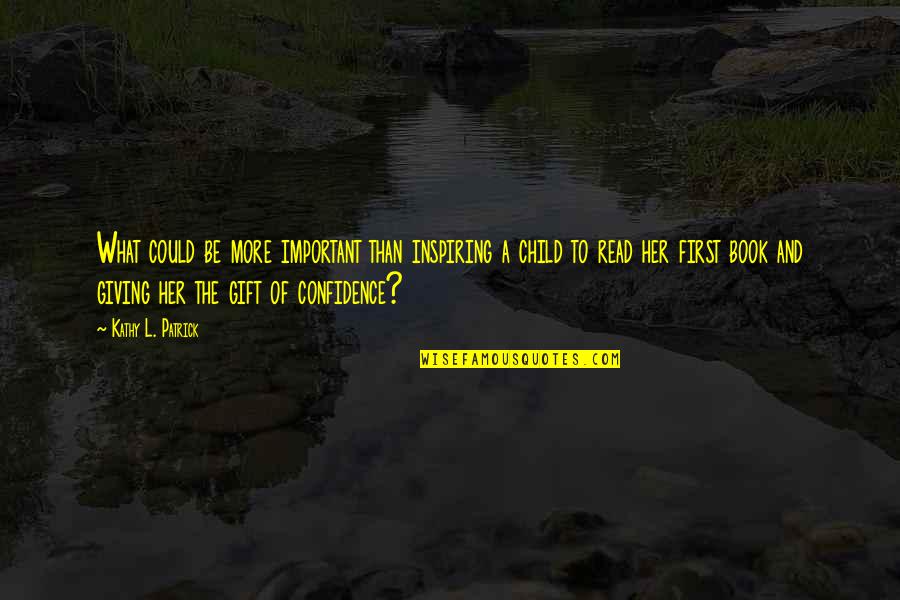 What could be more important than inspiring a child to read her first book and giving her the gift of confidence? —
Kathy L. Patrick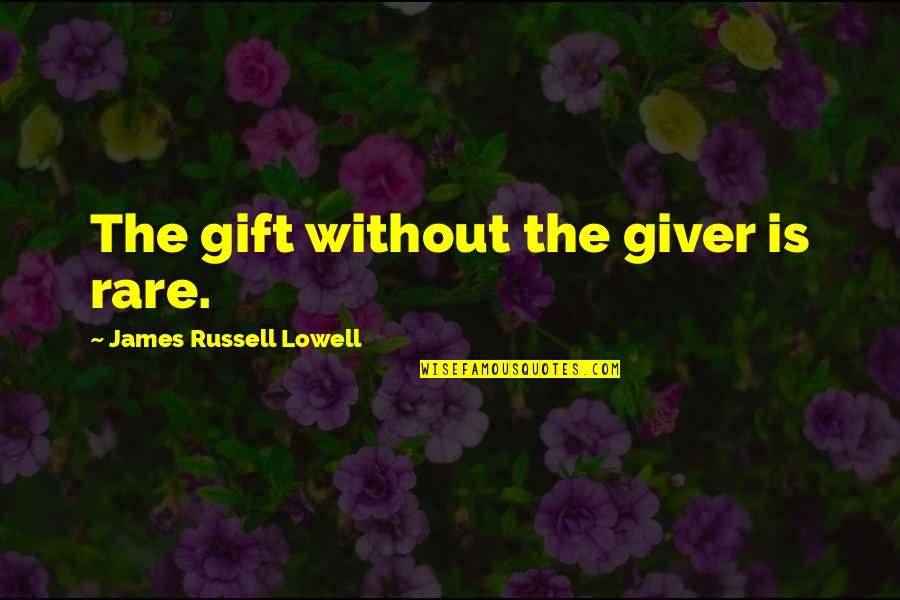 The gift without the giver is rare. —
James Russell Lowell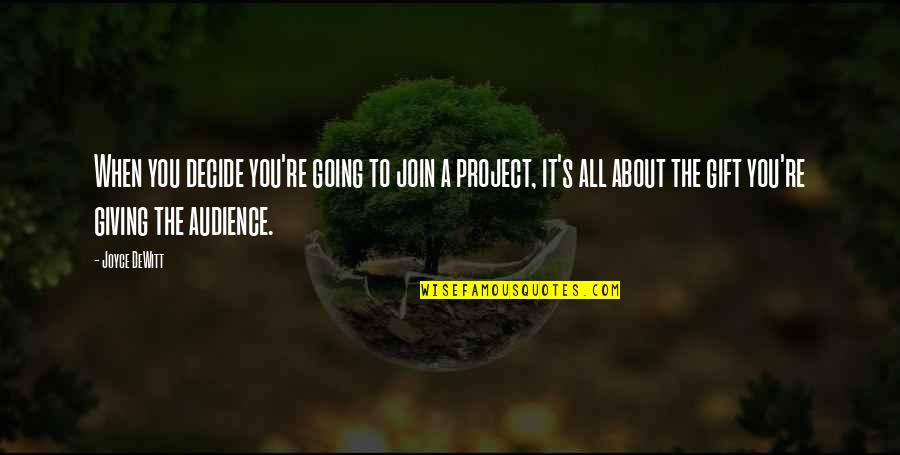 When you decide you're going to join a project, it's all about the gift you're giving the audience. —
Joyce DeWitt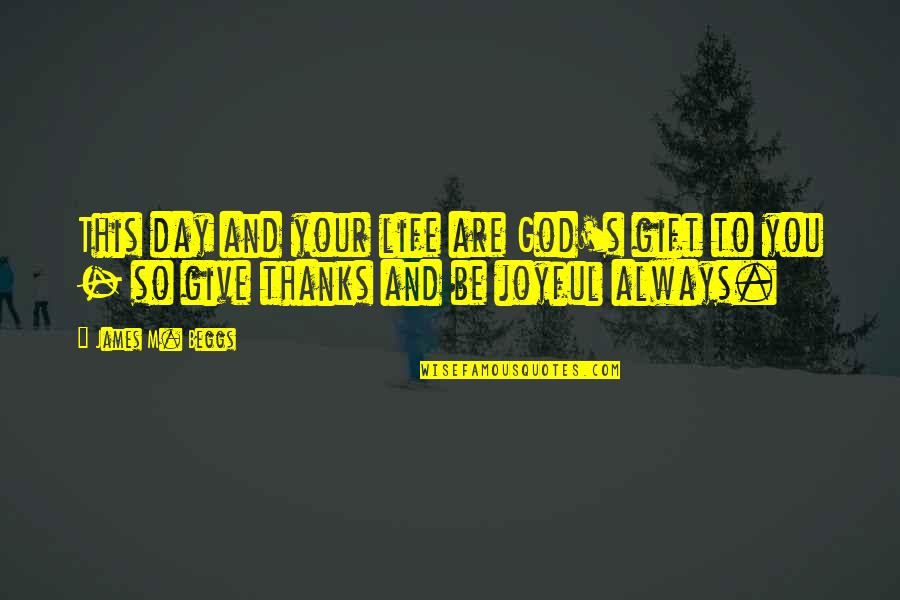 This day and your life are God's gift to you - so give thanks and be joyful always. —
James M. Beggs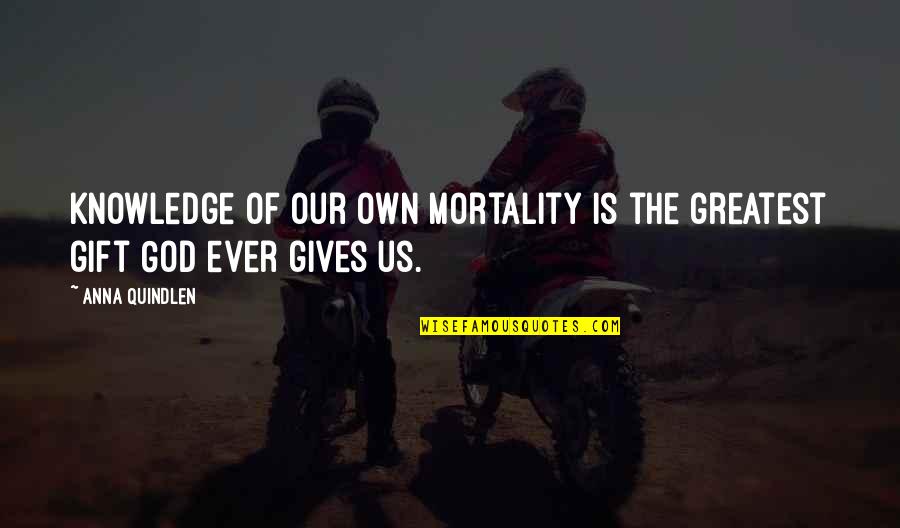 Knowledge of our own mortality is the greatest gift God ever gives us. —
Anna Quindlen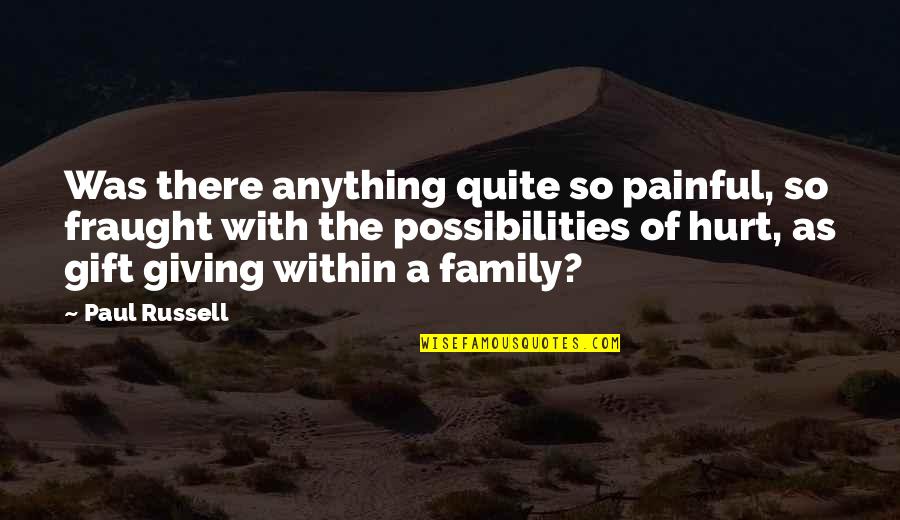 Was there anything quite so painful, so fraught with the possibilities of hurt, as gift giving within a family? —
Paul Russell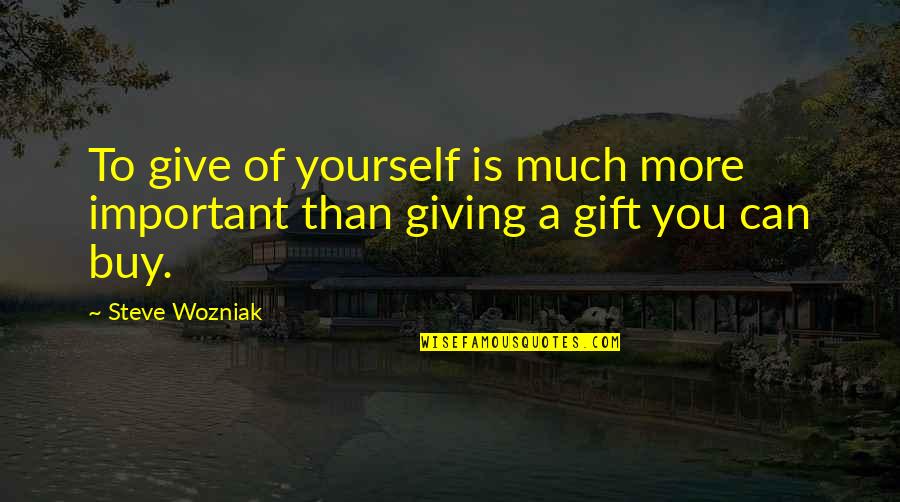 To give of yourself is much more important than giving a gift you can buy. —
Steve Wozniak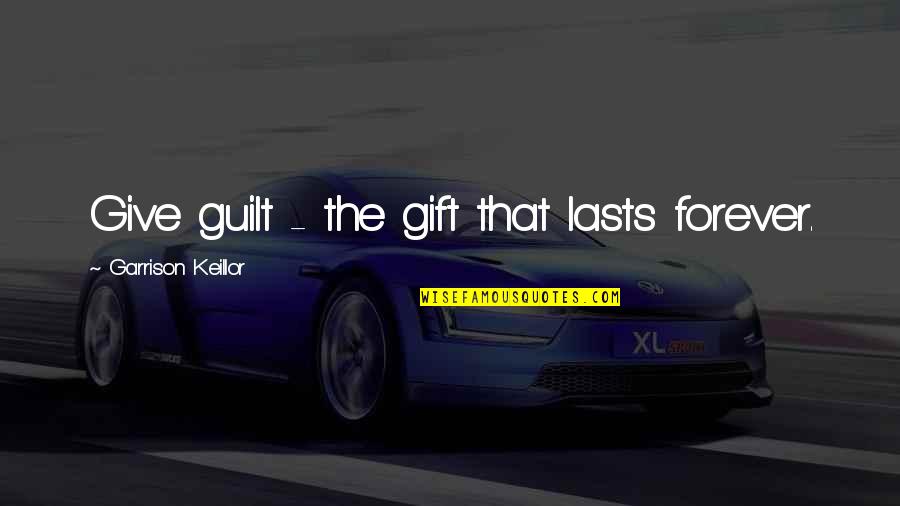 Give guilt - the gift that lasts forever. —
Garrison Keillor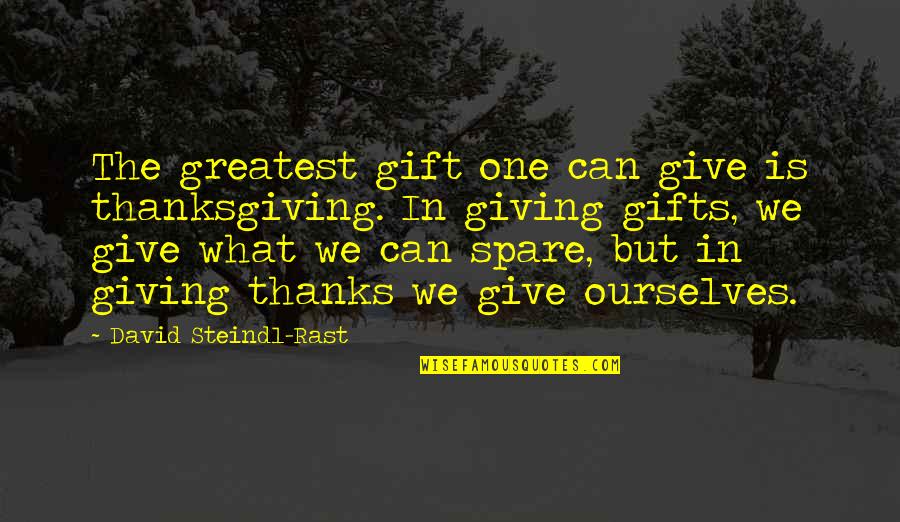 The greatest gift one can give is thanksgiving. In giving gifts, we give what we can spare, but in giving thanks we give ourselves. —
David Steindl-Rast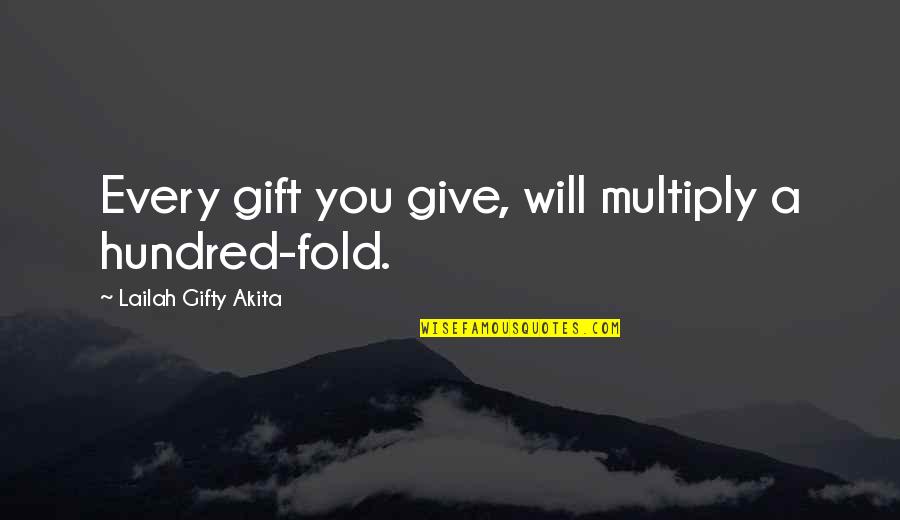 Every gift you give, will multiply a hundred-fold. —
Lailah Gifty Akita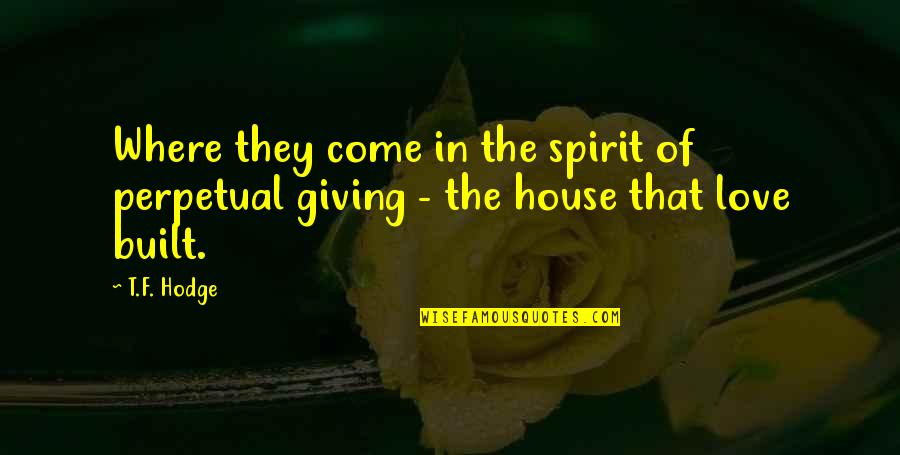 Where they come in the spirit of perpetual giving - the house that love built. —
T.F. Hodge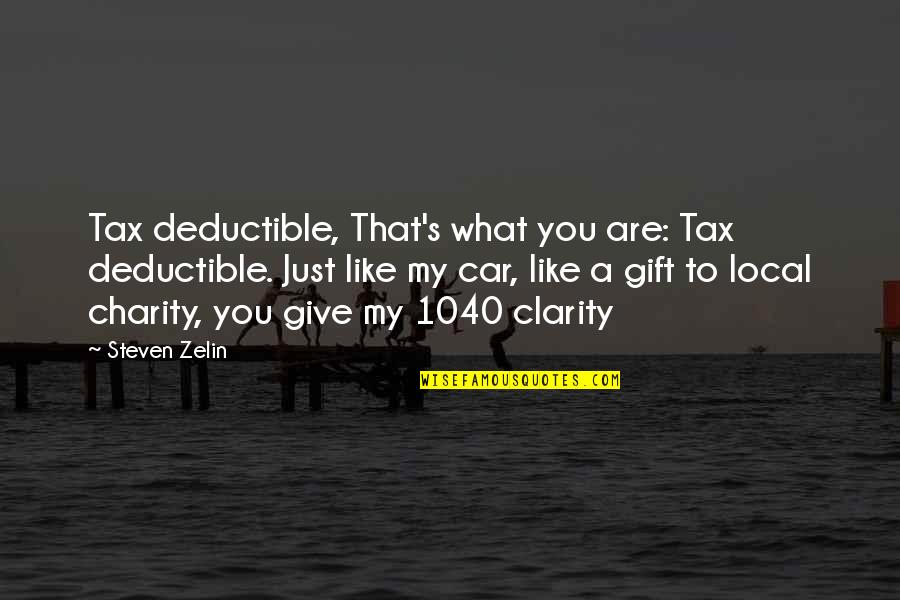 Tax deductible, That's what you are: Tax deductible. Just like my car, like a gift to local charity, you give my 1040 clarity —
Steven Zelin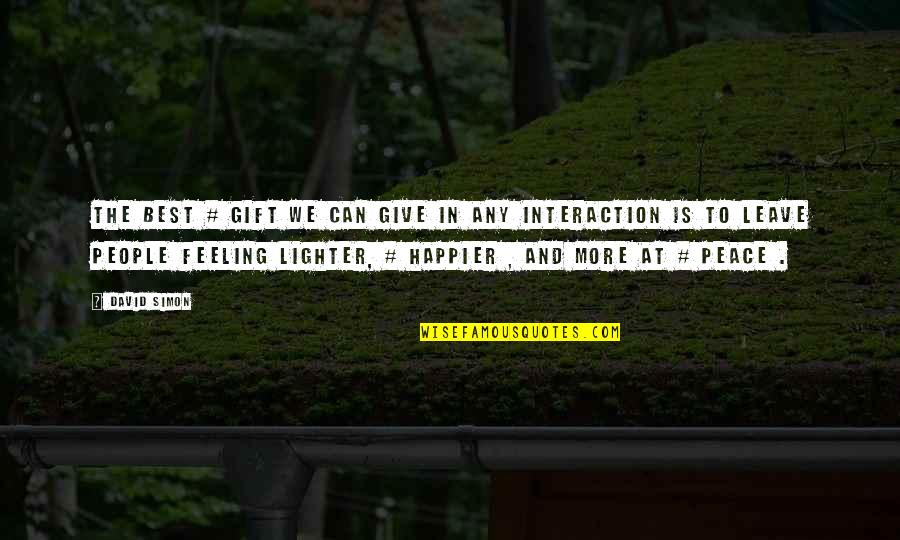 The best # gift we can give in any interaction is to leave people feeling lighter, # happier , and more at # peace . —
David Simon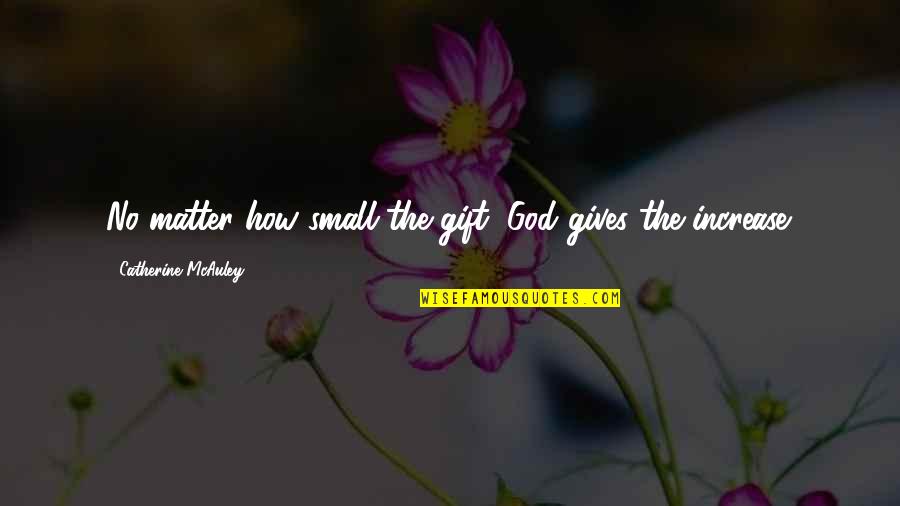 No matter how small the gift, God gives the increase. —
Catherine McAuley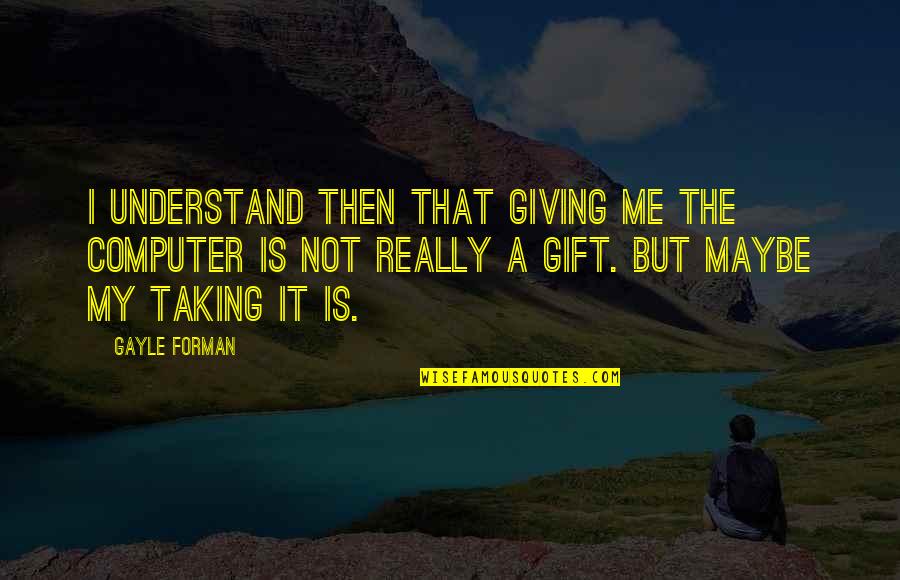 I understand then that giving me the computer is not really a gift. But maybe my taking it is. —
Gayle Forman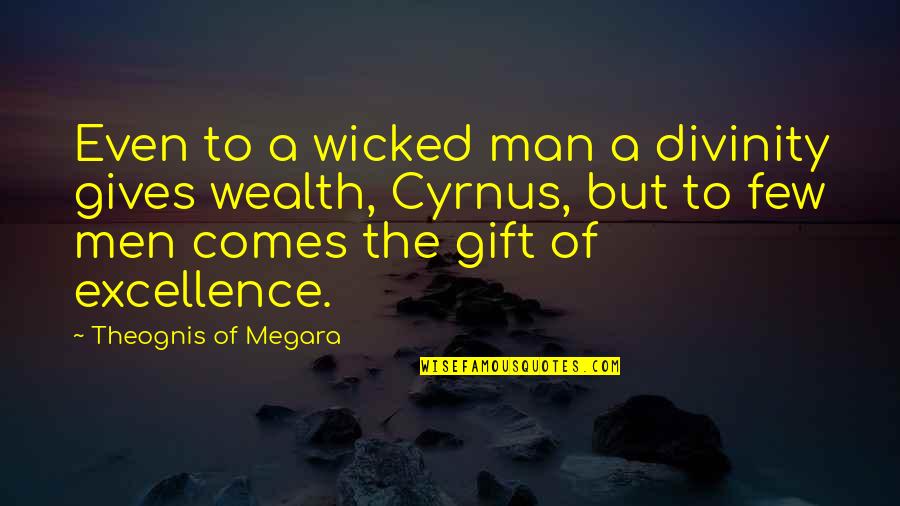 Even to a wicked man a divinity gives wealth, Cyrnus, but to few men comes the gift of excellence. —
Theognis Of Megara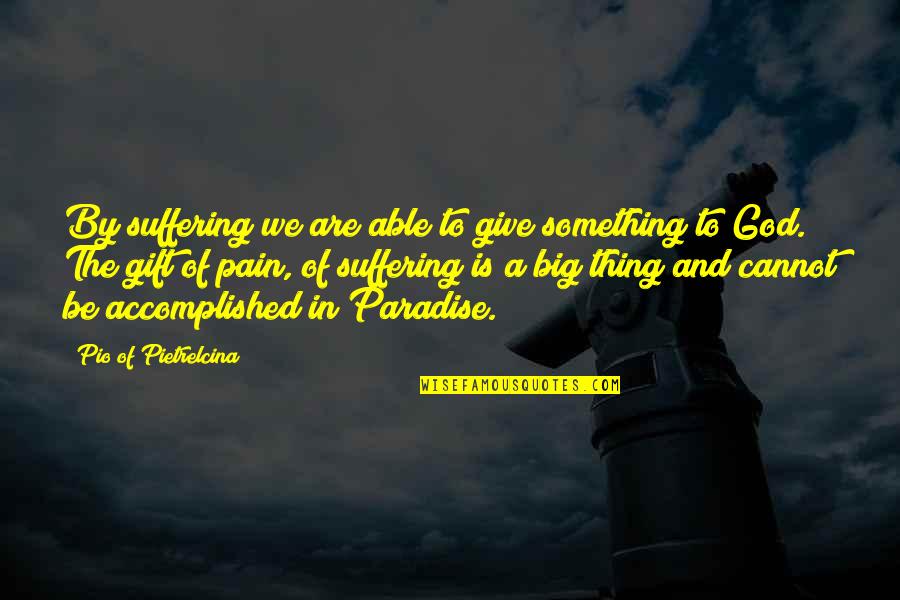 By suffering we are able to give something to God. The gift of pain, of suffering is a big thing and cannot be accomplished in Paradise. —
Pio Of Pietrelcina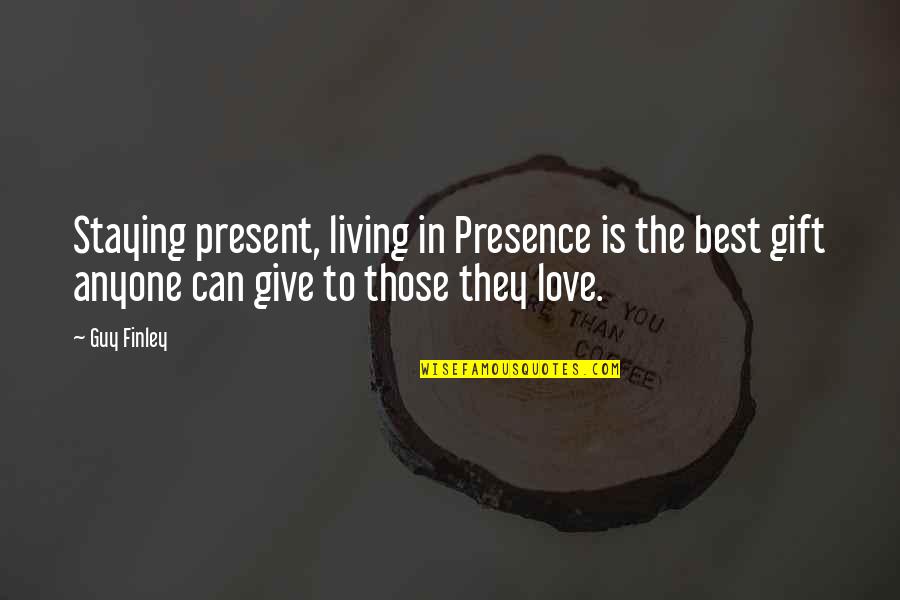 Staying present, living in Presence is the best gift anyone can give to those they love. —
Guy Finley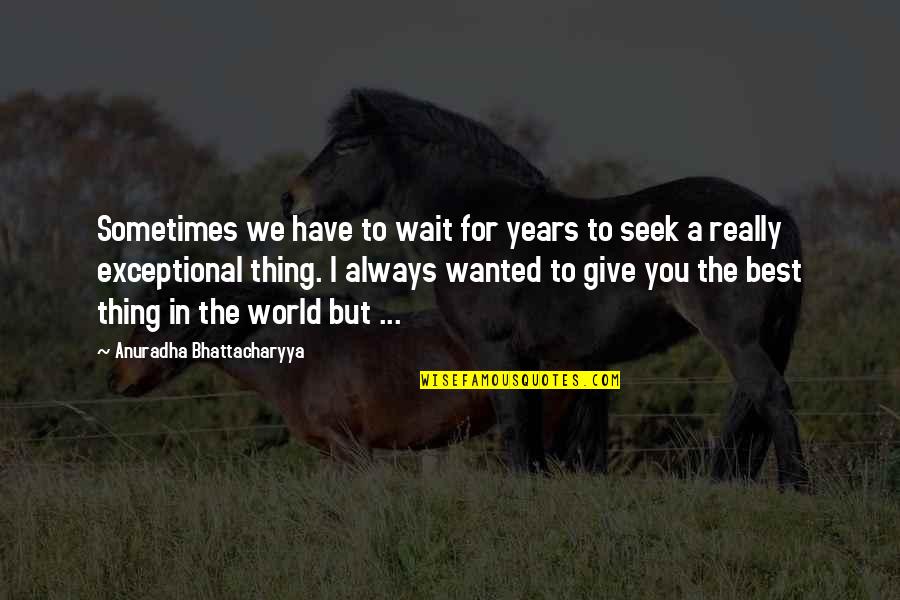 Sometimes we have to wait for years to seek a really exceptional thing. I always wanted to give you the best thing in the world but ... —
Anuradha Bhattacharyya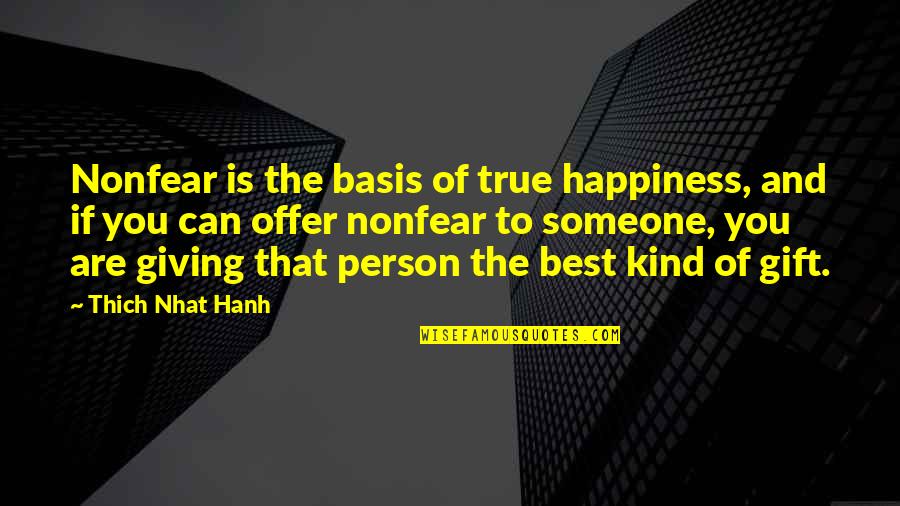 Nonfear is the basis of true happiness, and if you can offer nonfear to someone, you are giving that person the best kind of gift. —
Thich Nhat Hanh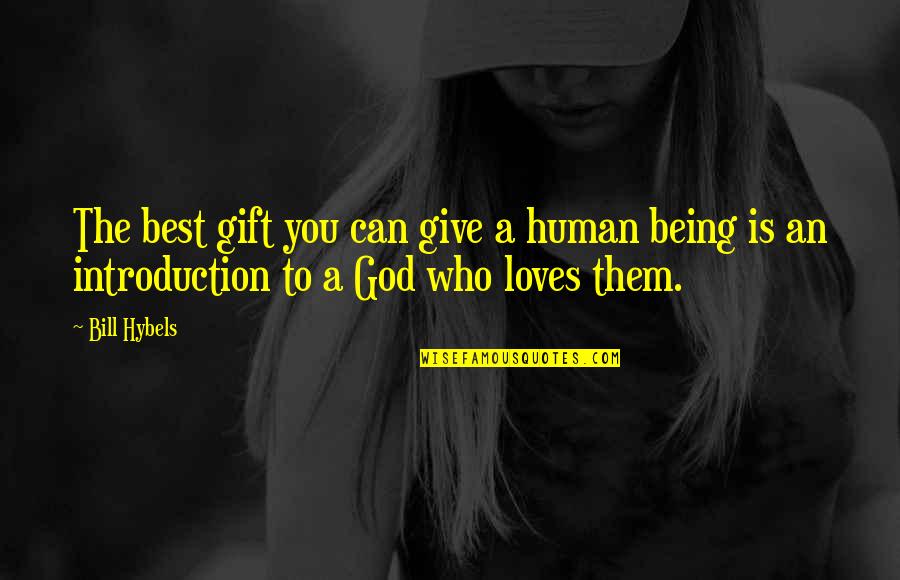 The best gift you can give a human being is an introduction to a God who loves them. —
Bill Hybels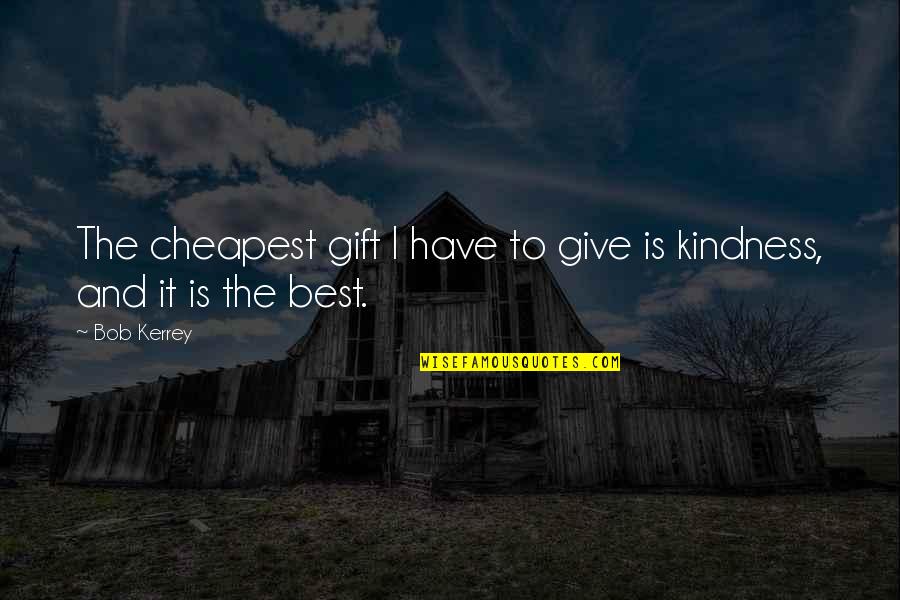 The cheapest gift I have to give is kindness, and it is the best. —
Bob Kerrey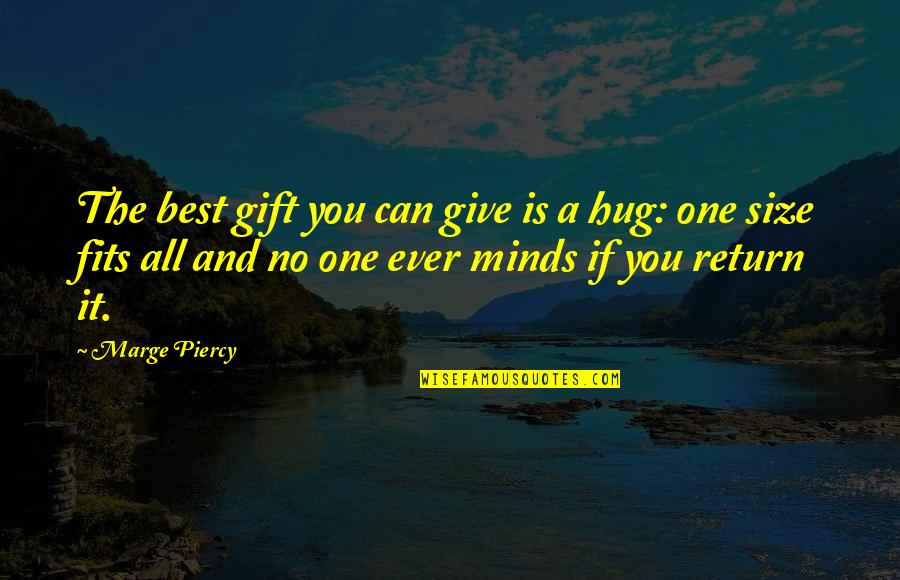 The best gift you can give is a hug: one size fits all and no one ever minds if you return it. —
Marge Piercy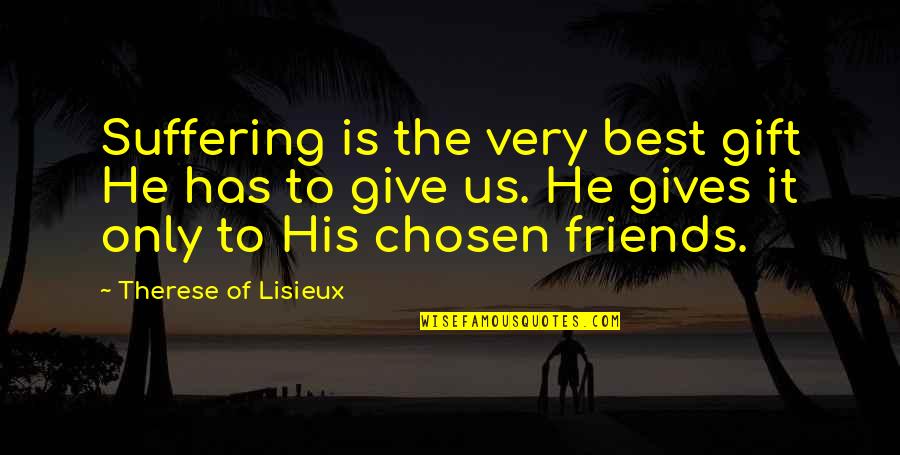 Suffering is the very best gift He has to give us. He gives it only to His chosen friends. —
Therese Of Lisieux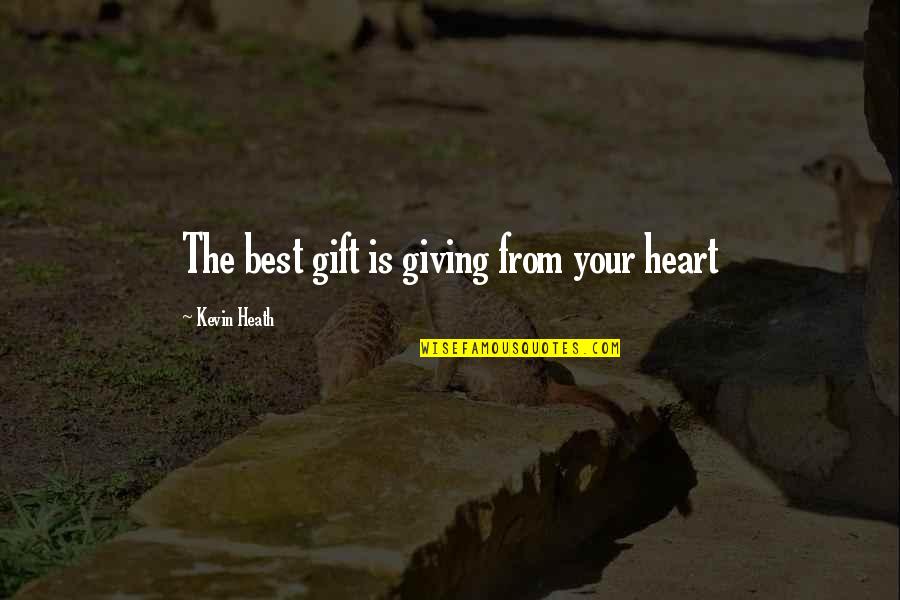 The best gift is giving from your heart —
Kevin Heath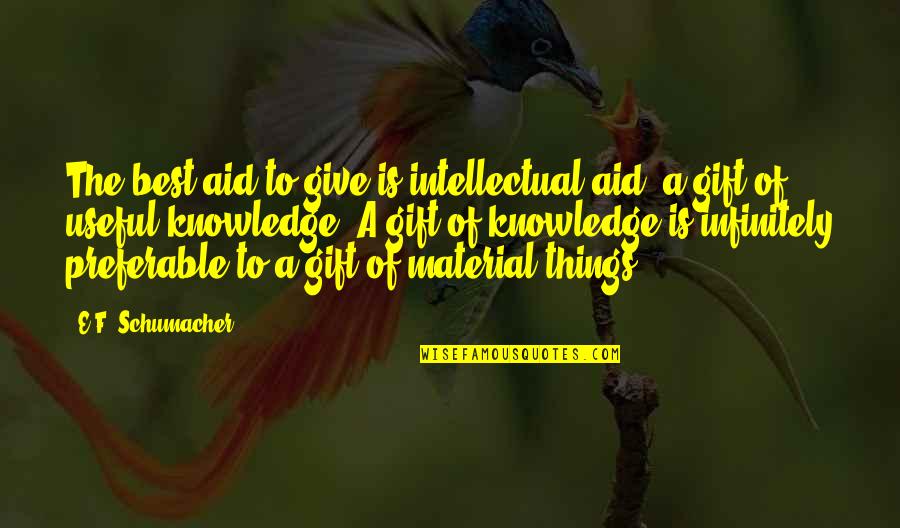 The best aid to give is intellectual aid, a gift of useful knowledge. A gift of knowledge is infinitely preferable to a gift of material things. —
E.F. Schumacher