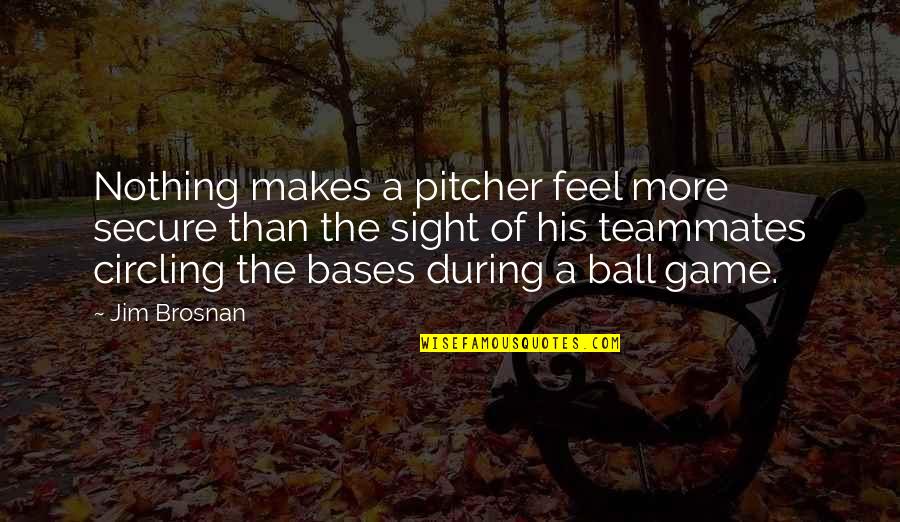 Nothing makes a pitcher feel more secure than the sight of his teammates circling the bases during a ball game.
—
Jim Brosnan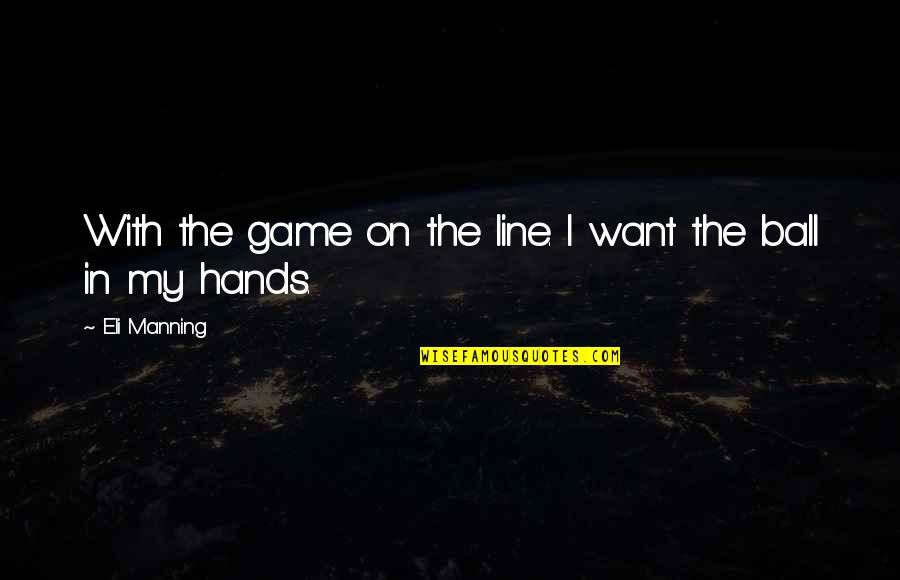 With the game on the line. I want the ball in my hands.
—
Eli Manning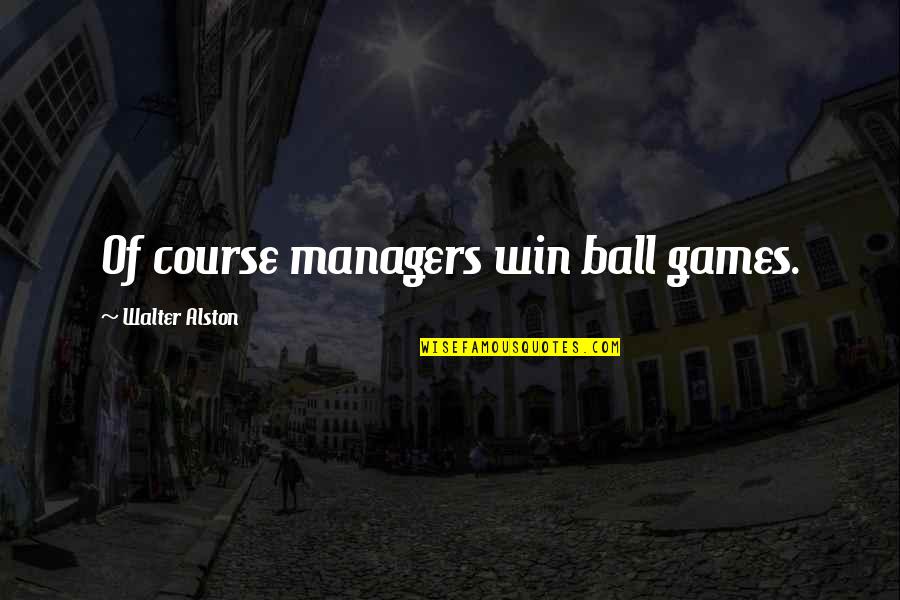 Of course managers win ball games.
—
Walter Alston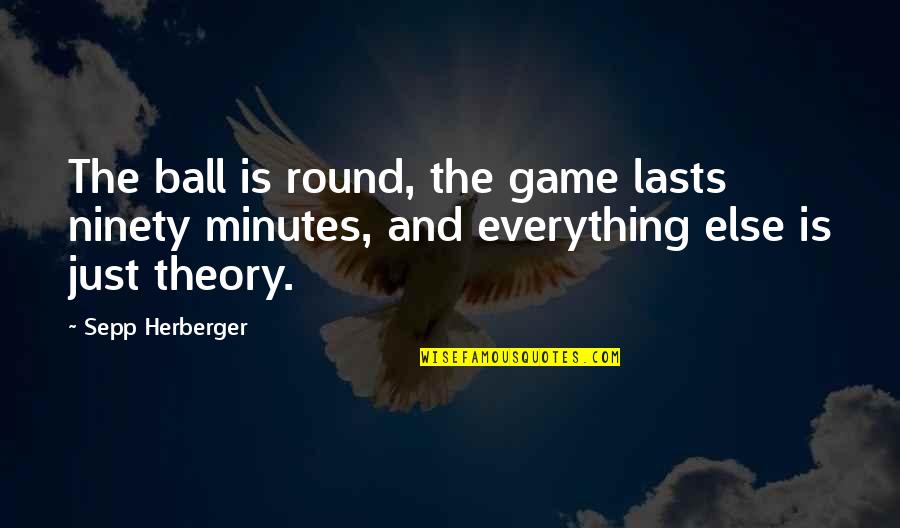 The ball is round, the game lasts ninety minutes, and everything else is just theory.
—
Sepp Herberger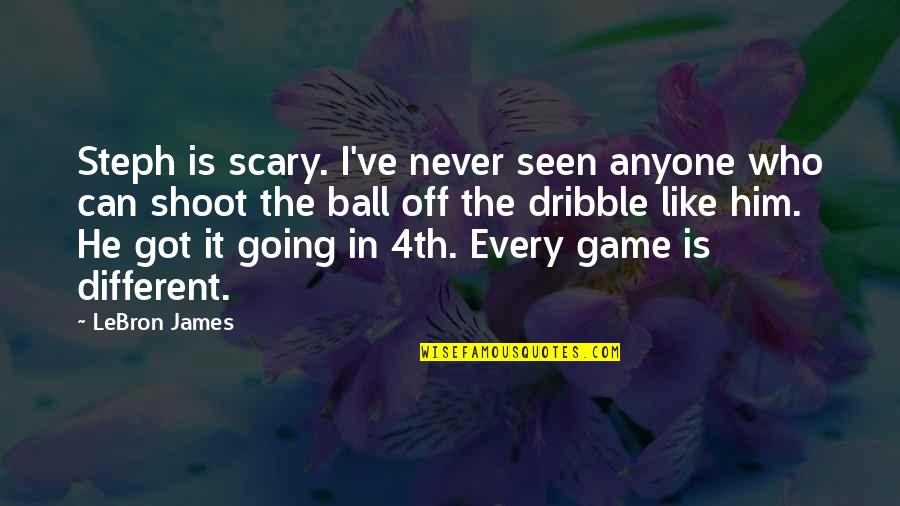 Steph is scary. I've never seen anyone who can shoot the ball off the dribble like him. He got it going in 4th. Every game is different.
—
LeBron James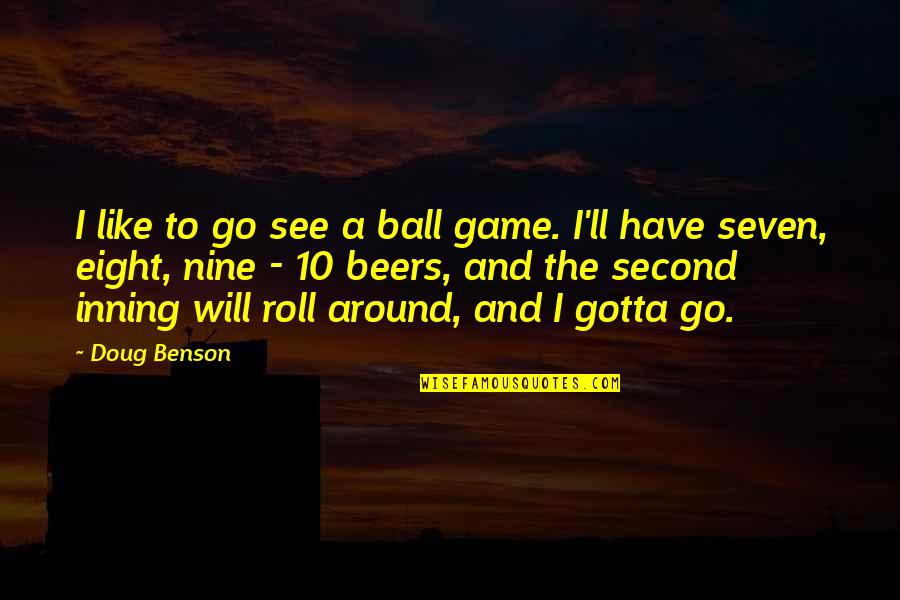 I like to go see a ball game. I'll have seven, eight, nine - 10 beers, and the second inning will roll around, and I gotta go.
—
Doug Benson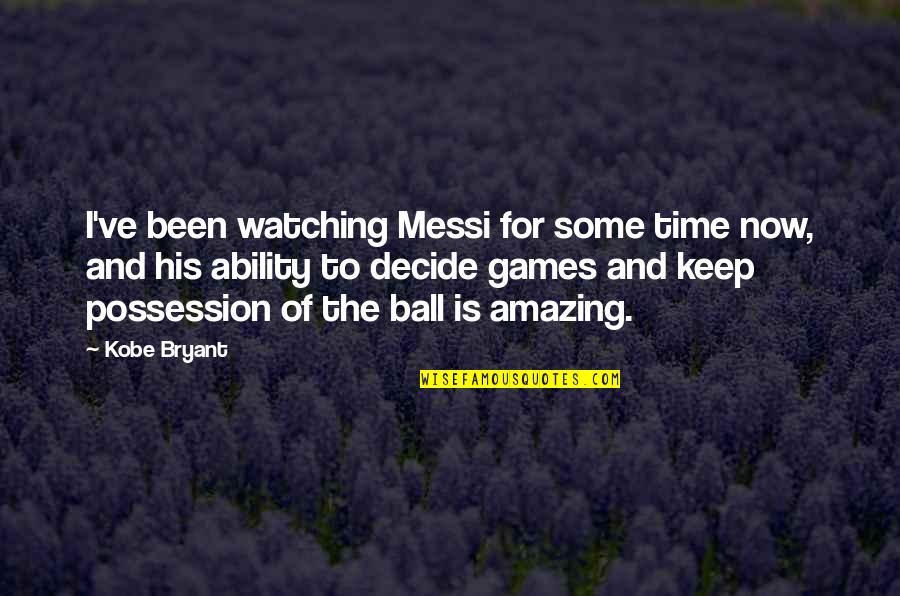 I've been watching Messi for some time now, and his ability to decide games and keep possession of the ball is amazing.
—
Kobe Bryant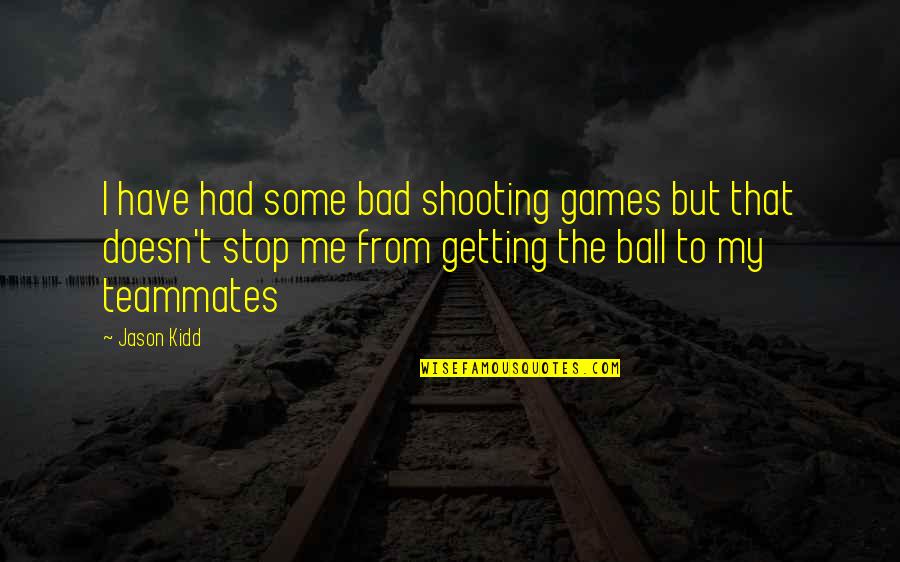 I have had some bad shooting games but that doesn't stop me from getting the ball to my teammates
—
Jason Kidd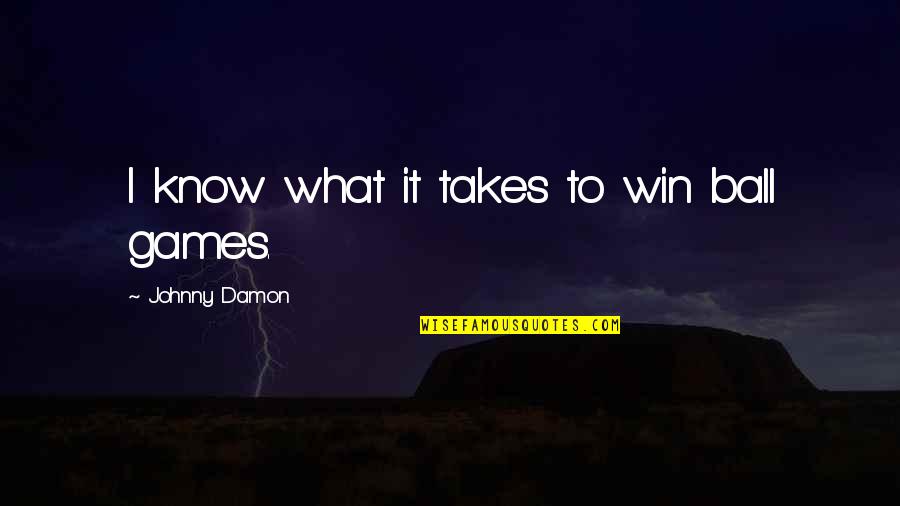 I know what it takes to win ball games.
—
Johnny Damon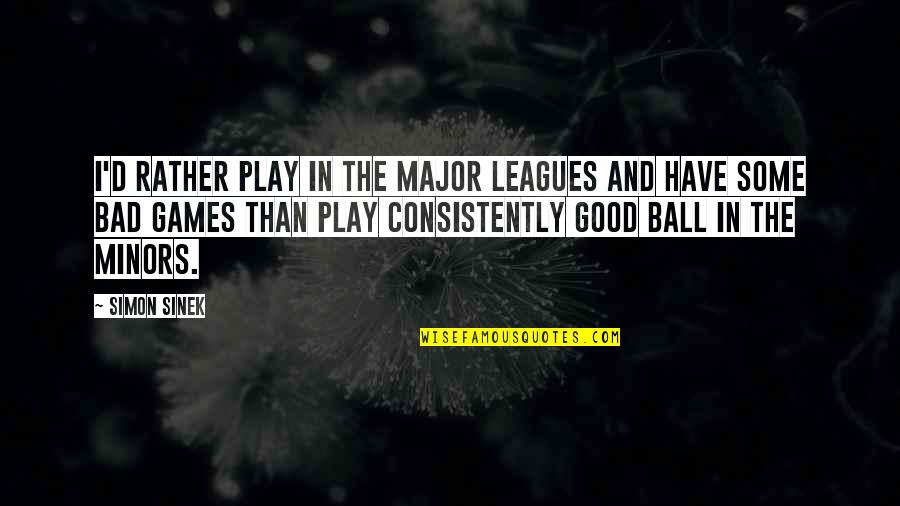 I'd rather play in the major leagues and have some bad games than play consistently good ball in the minors.
—
Simon Sinek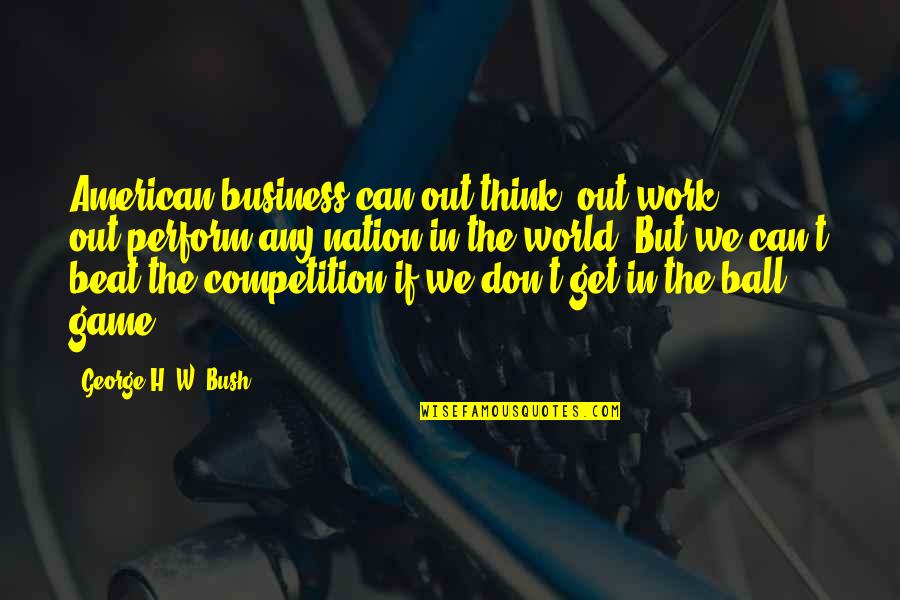 American business can out-think, out-work, out-perform any nation in the world. But we can't beat the competition if we don't get in the ball game.
—
George H. W. Bush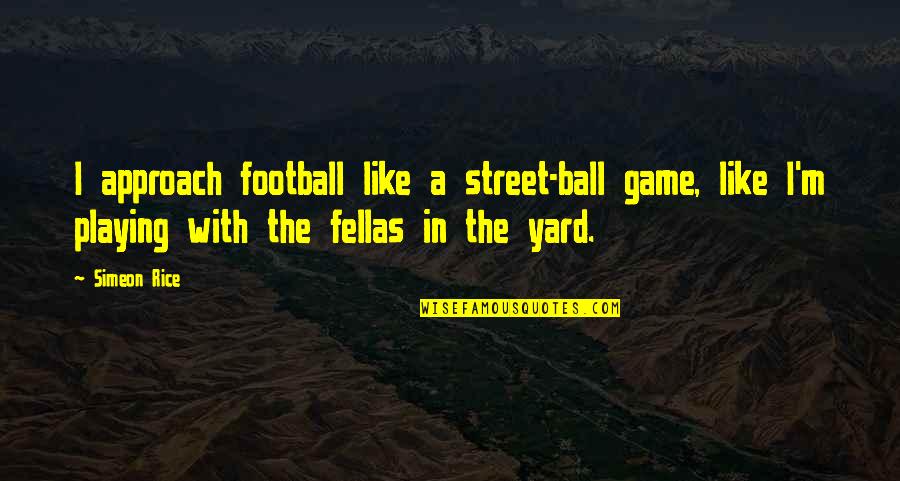 I approach football like a street-ball game, like I'm playing with the fellas in the yard.
—
Simeon Rice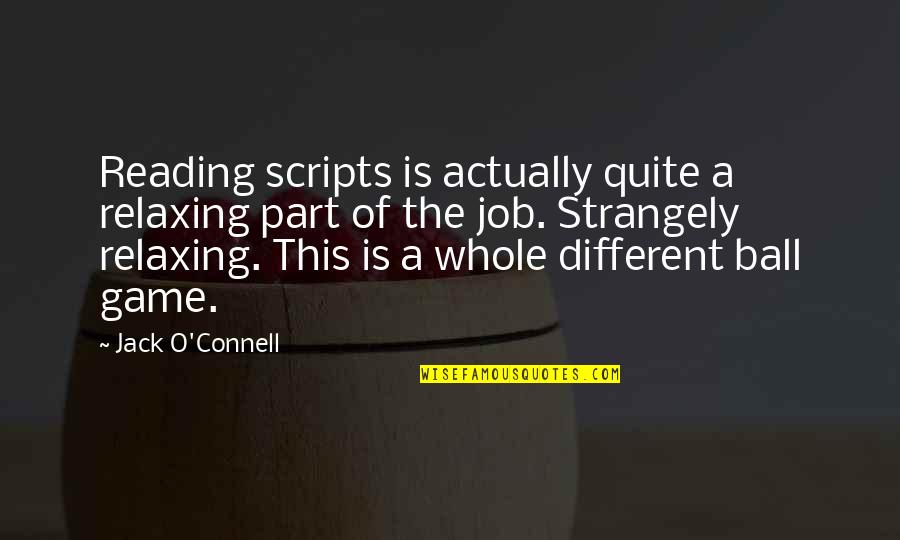 Reading scripts is actually quite a relaxing part of the job. Strangely relaxing. This is a whole different ball game.
—
Jack O'Connell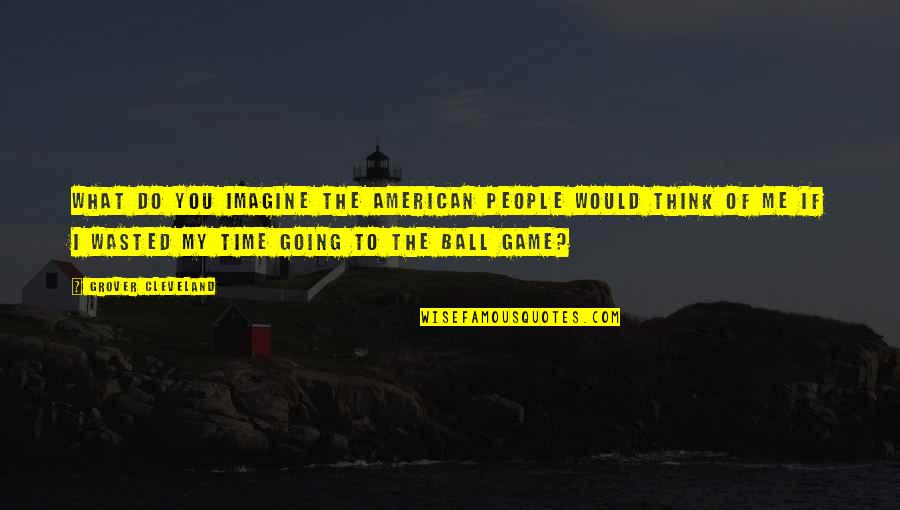 What do you imagine the American people would think of me if I wasted my time going to the ball game? —
Grover Cleveland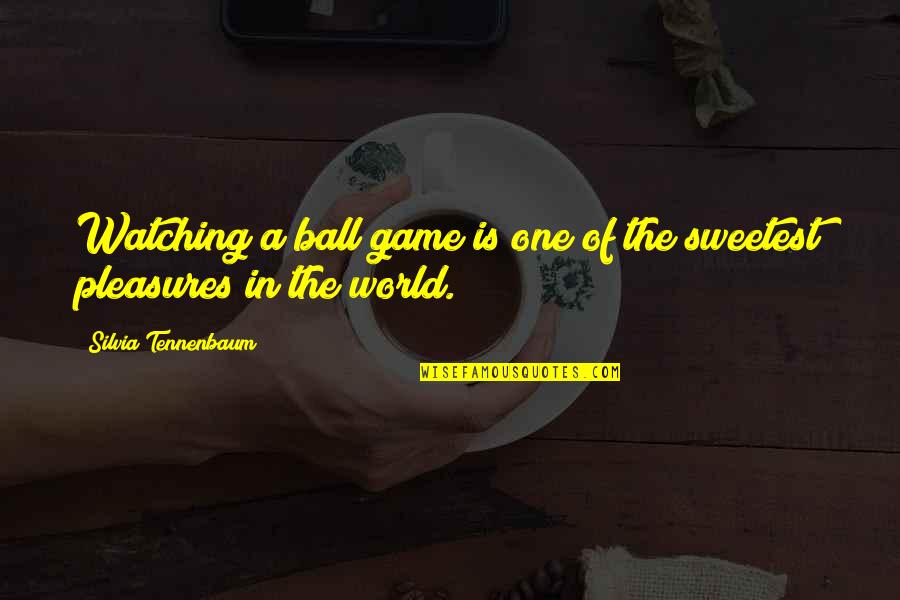 Watching a ball game is one of the sweetest pleasures in the world. —
Silvia Tennenbaum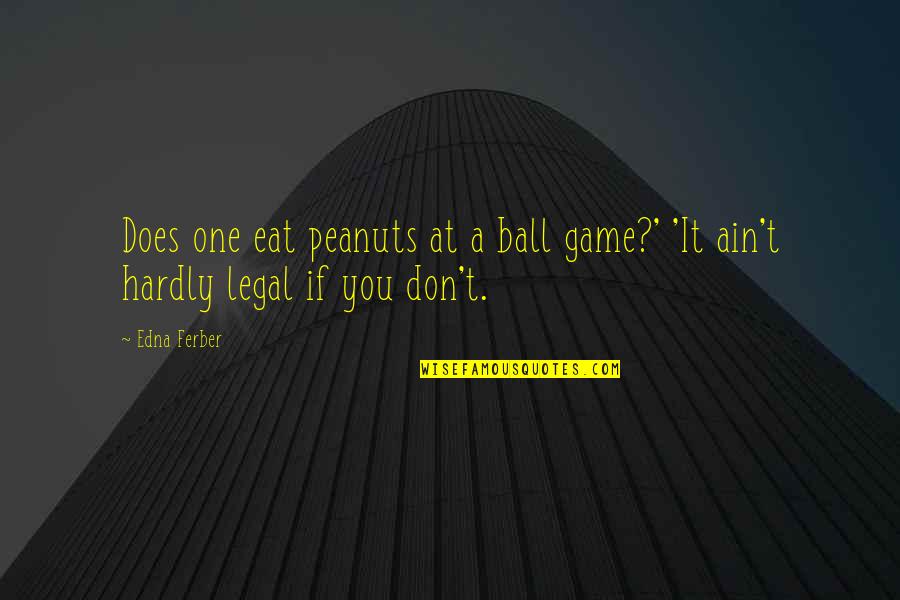 Does one eat peanuts at a ball game?' 'It ain't hardly legal if you don't. —
Edna Ferber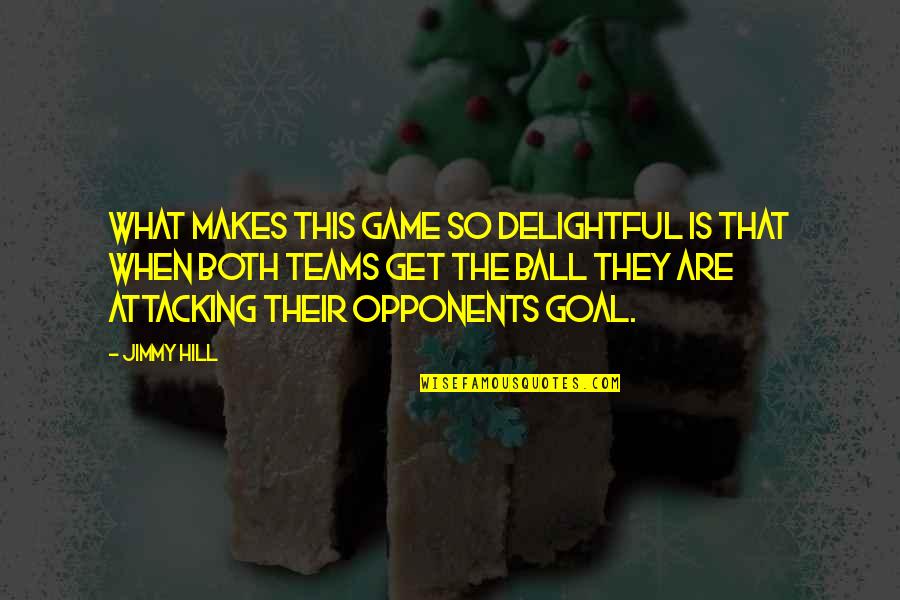 What makes this game so delightful is that when both teams get the ball they are attacking their opponents goal. —
Jimmy Hill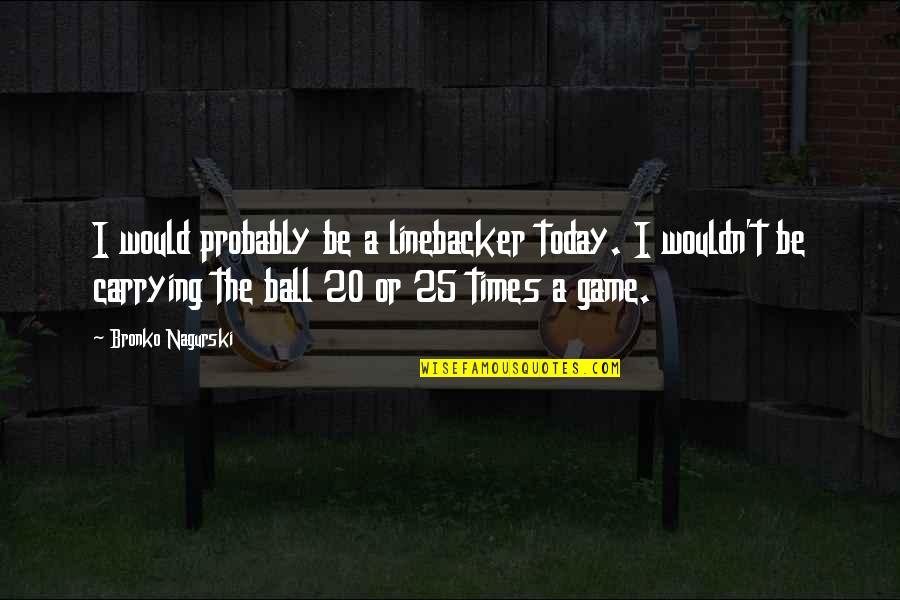 I would probably be a linebacker today. I wouldn't be carrying the ball 20 or 25 times a game. —
Bronko Nagurski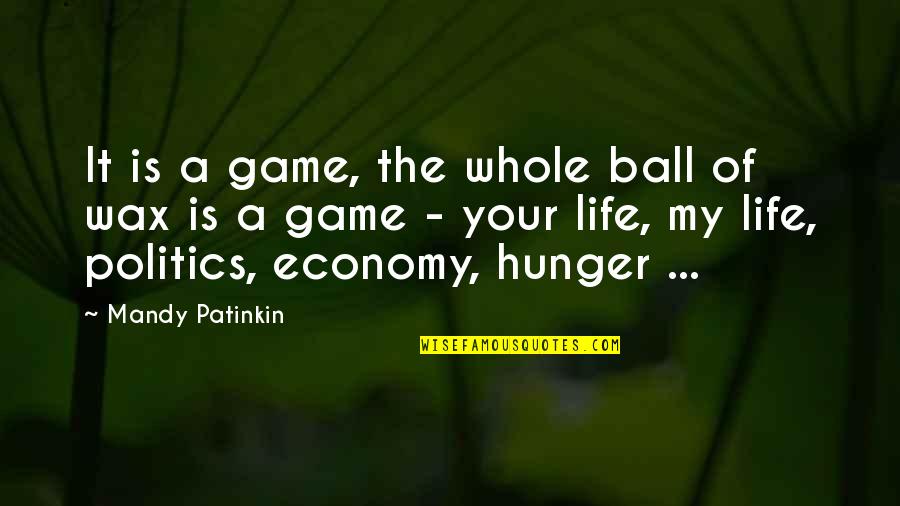 It is a game, the whole ball of wax is a game - your life, my life, politics, economy, hunger ... —
Mandy Patinkin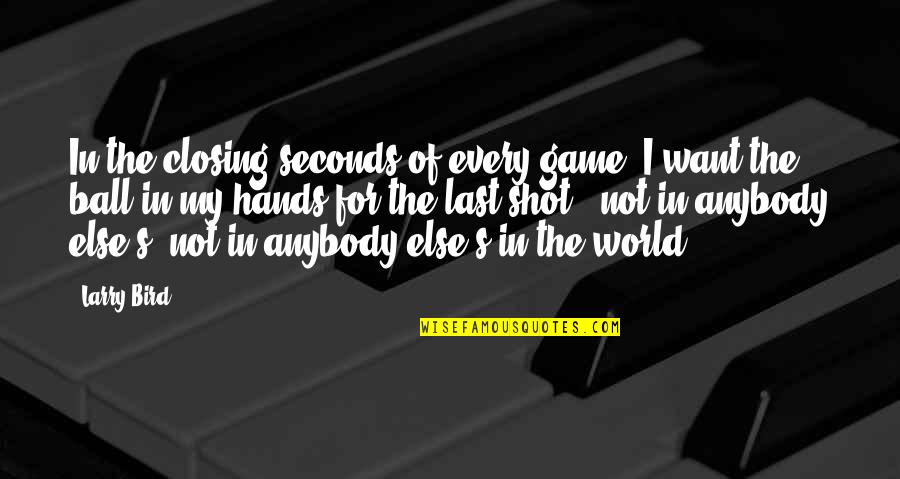 In the closing seconds of every game, I want the ball in my hands for the last shot - not in anybody else's, not in anybody else's in the world. —
Larry Bird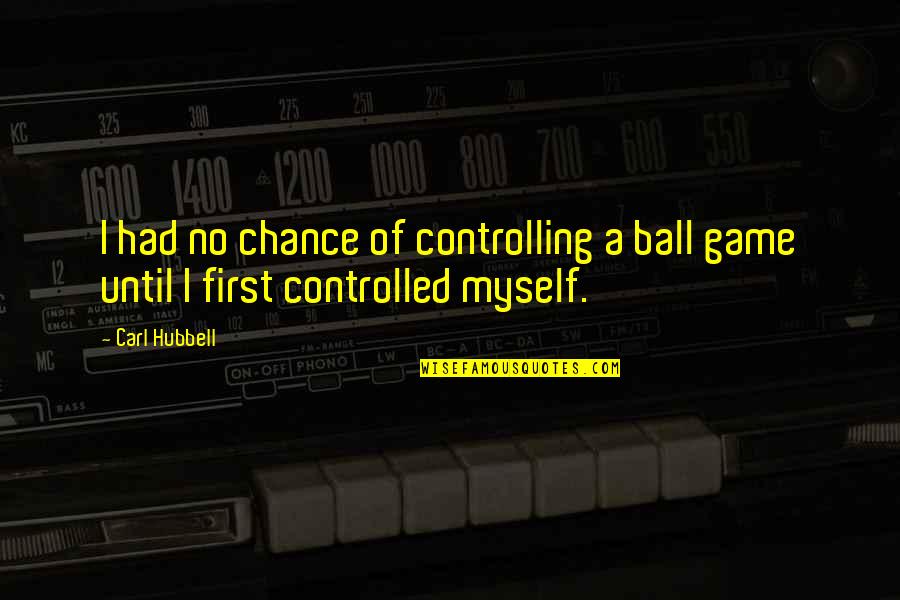 I had no chance of controlling a ball game until I first controlled myself. —
Carl Hubbell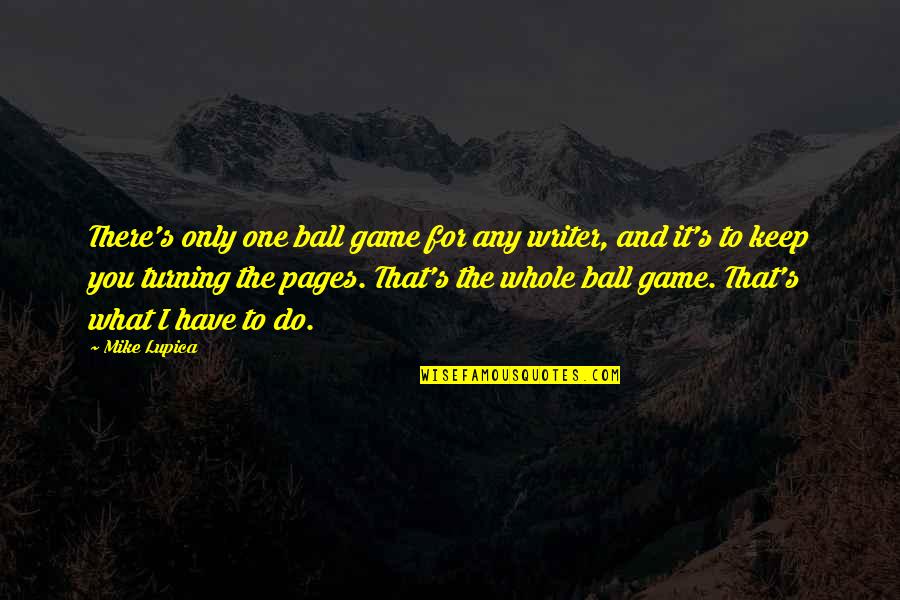 There's only one ball game for any writer, and it's to keep you turning the pages. That's the whole ball game. That's what I have to do. —
Mike Lupica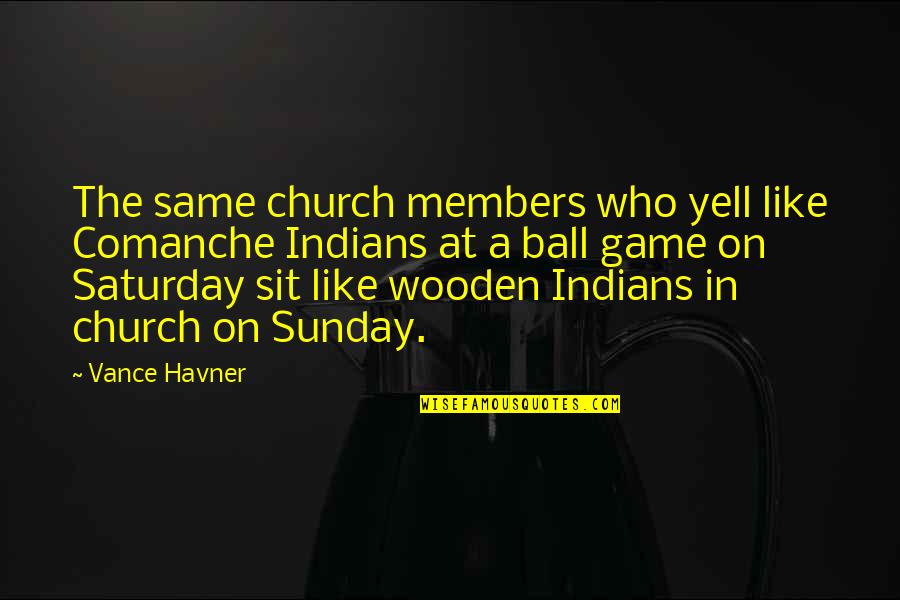 The same church members who yell like Comanche Indians at a ball game on Saturday sit like wooden Indians in church on Sunday. —
Vance Havner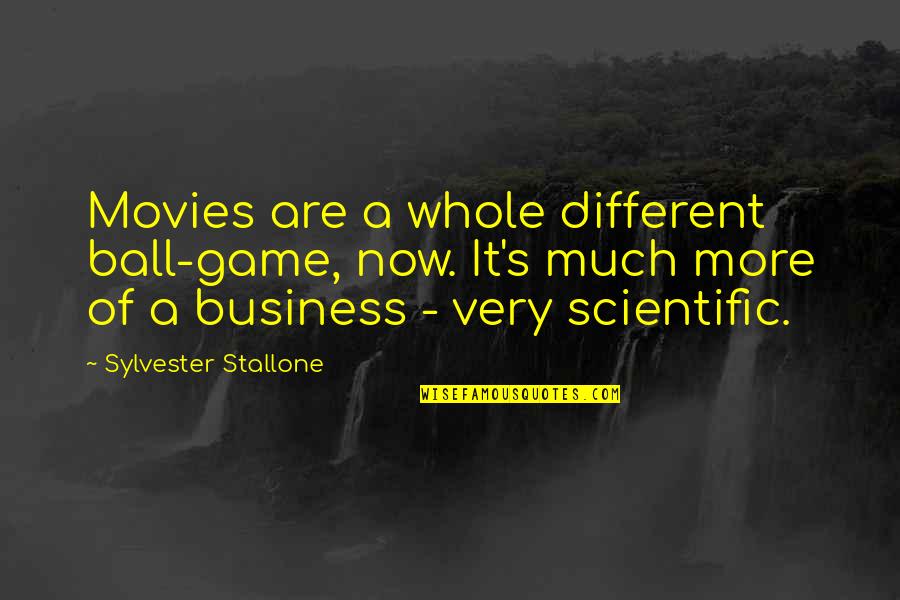 Movies are a whole different ball-game, now. It's much more of a business - very scientific. —
Sylvester Stallone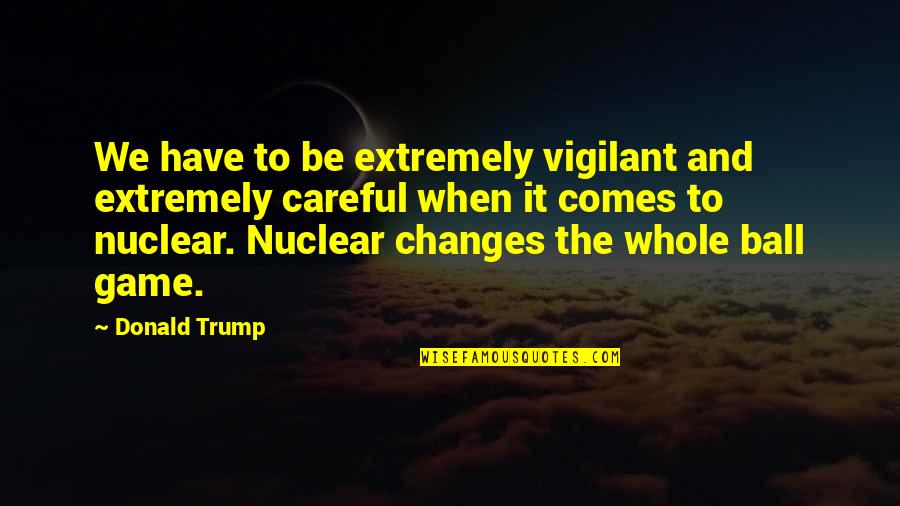 We have to be extremely vigilant and extremely careful when it comes to nuclear. Nuclear changes the whole ball game. —
Donald Trump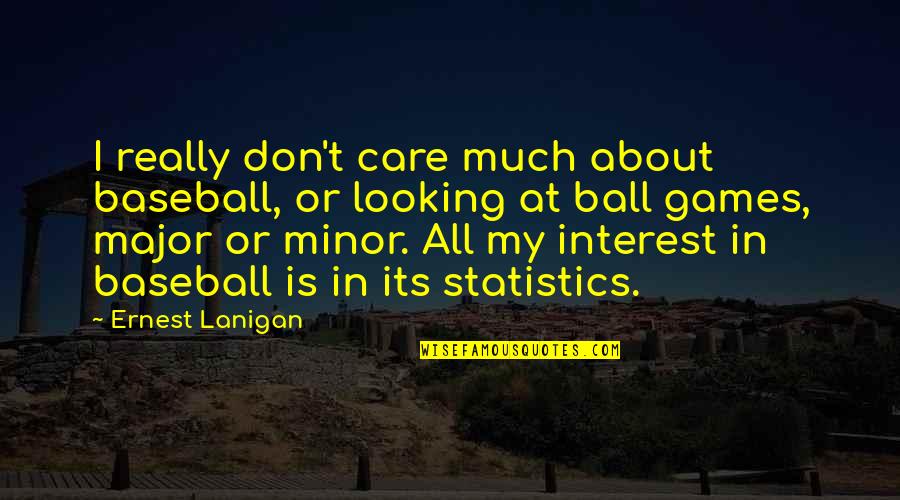 I really don't care much about baseball, or looking at
ball games
, major or minor. All my interest in baseball is in its statistics. —
Ernest Lanigan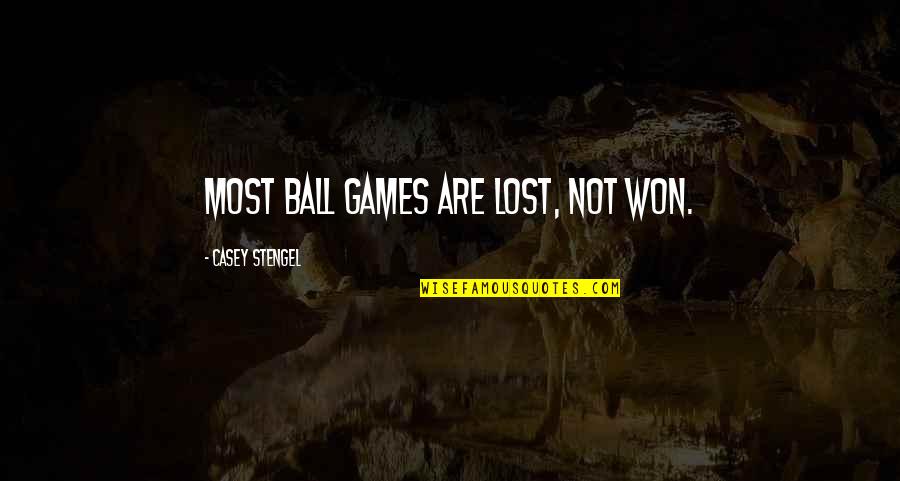 Most
ball games
are lost, not won. —
Casey Stengel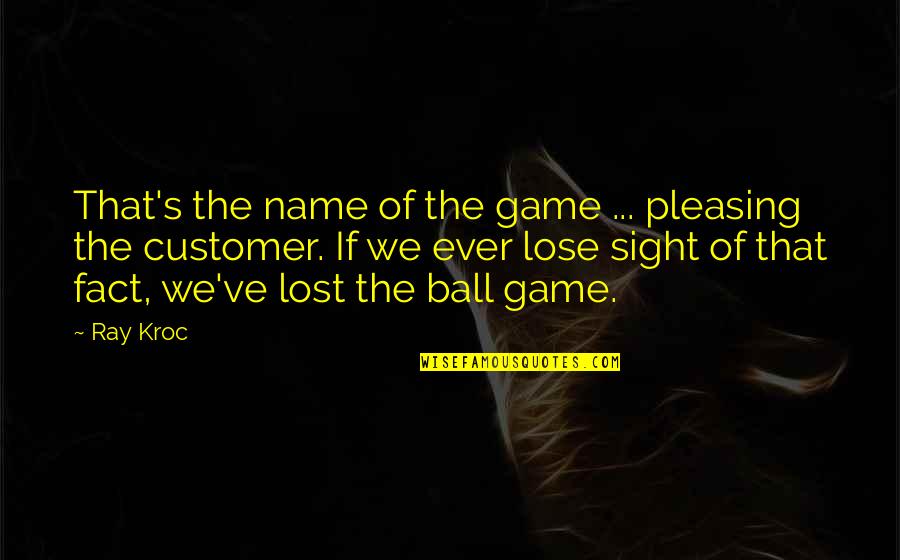 That's the name of the game ... pleasing the customer. If we ever lose sight of that fact, we've lost the ball game. —
Ray Kroc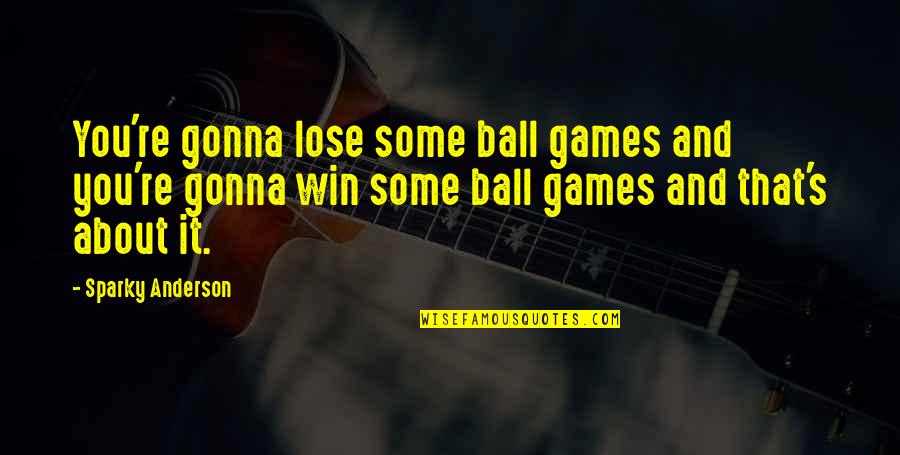 You're gonna lose some
ball games
and you're gonna win some
ball games
and that's about it. —
Sparky Anderson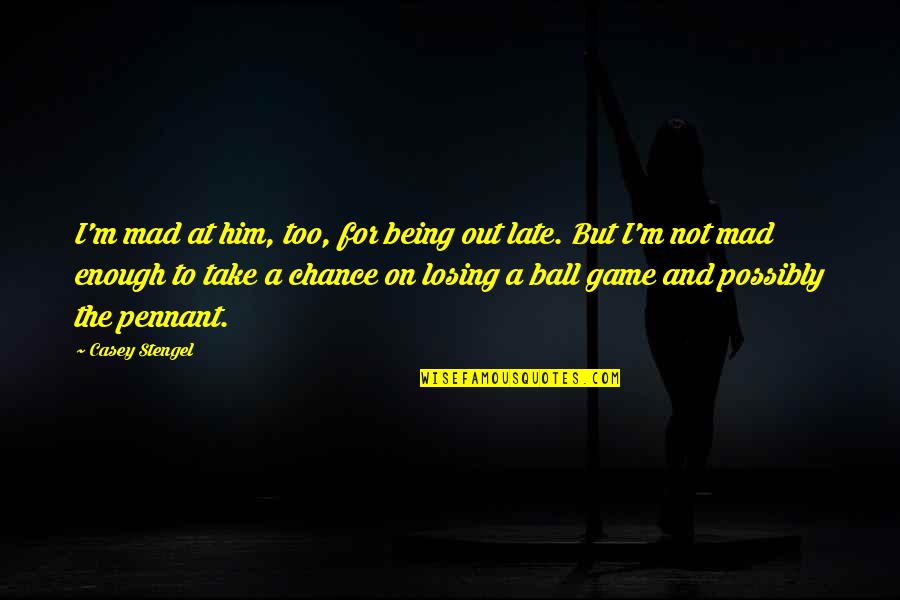 I'm mad at him, too, for being out late. But I'm not mad enough to take a chance on losing a ball game and possibly the pennant. —
Casey Stengel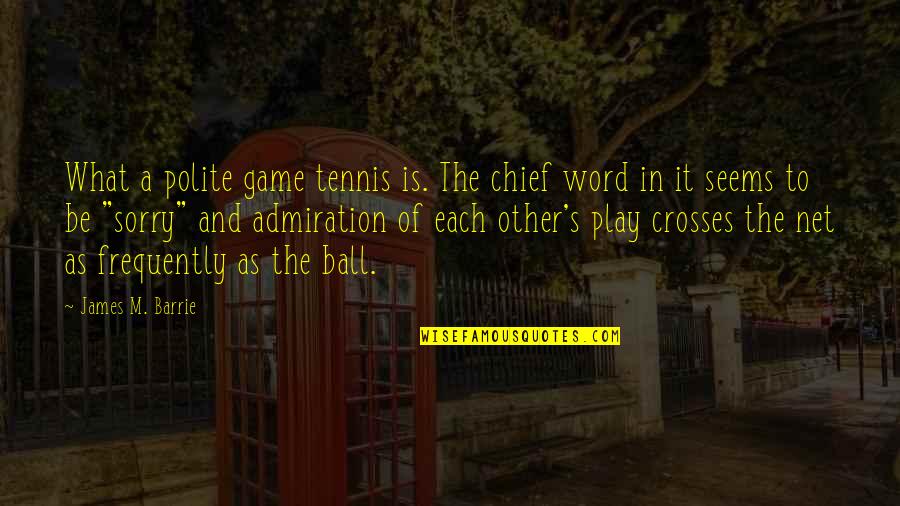 What a polite game tennis is. The chief word in it seems to be "sorry" and admiration of each other's play crosses the net as frequently as the ball. —
James M. Barrie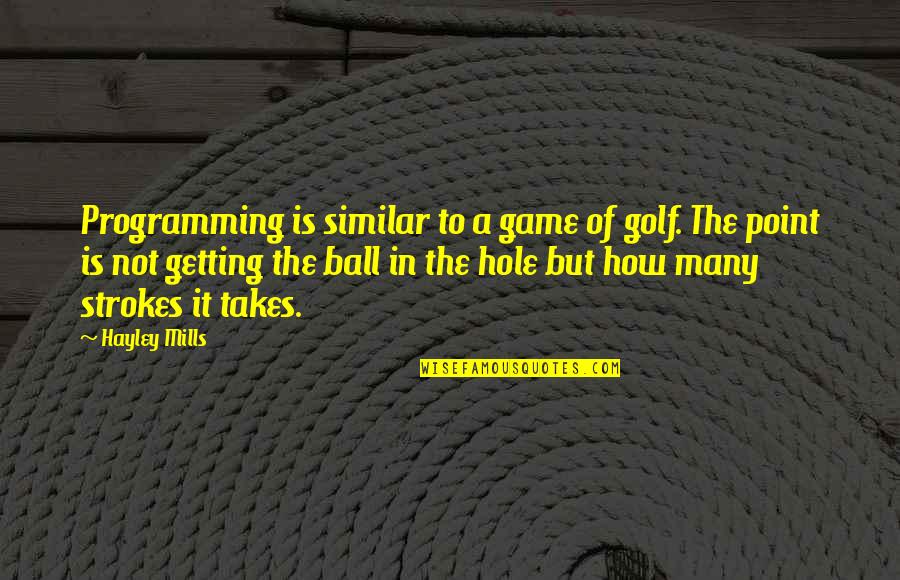 Programming is similar to a game of golf. The point is not getting the ball in the hole but how many strokes it takes. —
Hayley Mills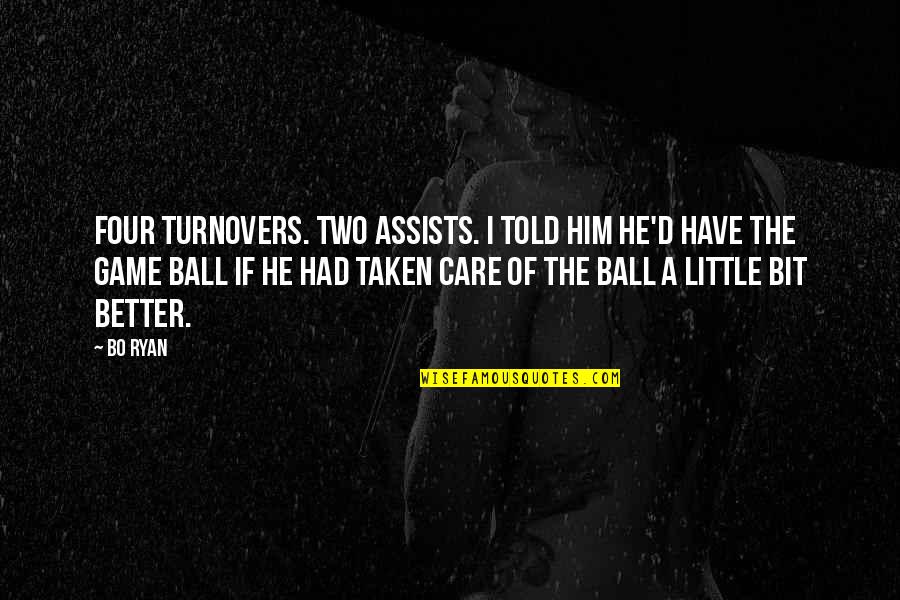 Four turnovers. Two assists. I told him he'd have the game ball if he had taken care of the ball a little bit better. —
Bo Ryan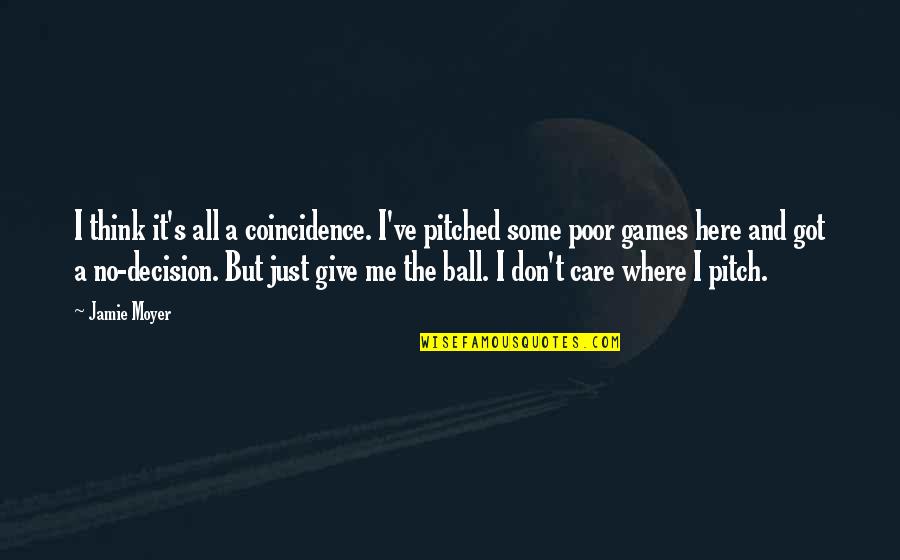 I think it's all a coincidence. I've pitched some poor games here and got a no-decision. But just give me the ball. I don't care where I pitch. —
Jamie Moyer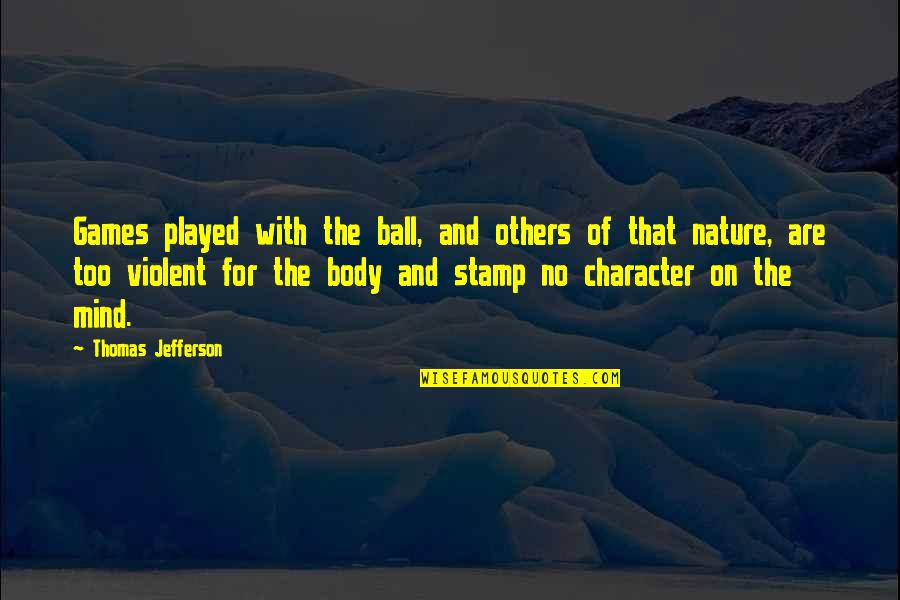 Games played with the ball, and others of that nature, are too violent for the body and stamp no character on the mind. —
Thomas Jefferson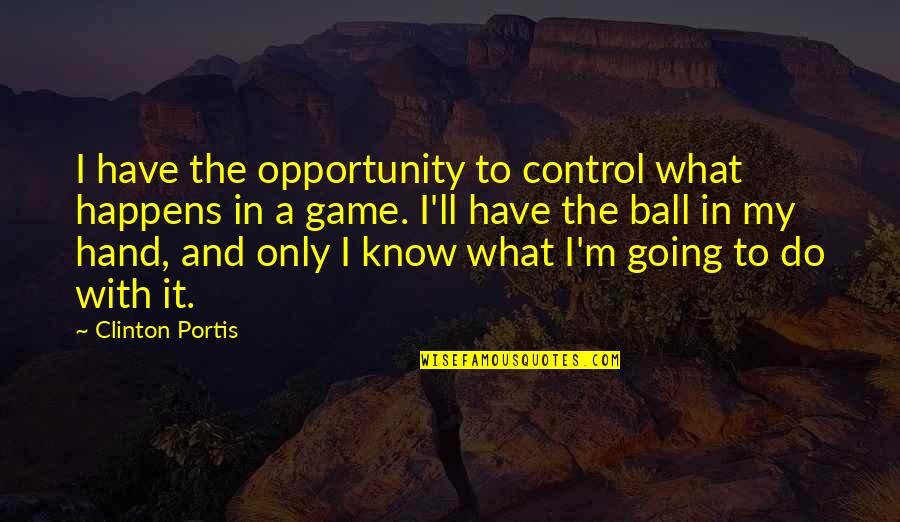 I have the opportunity to control what happens in a game. I'll have the ball in my hand, and only I know what I'm going to do with it. —
Clinton Portis
It's like you came to a controversy and a ball game breaks out. —
Matt Keough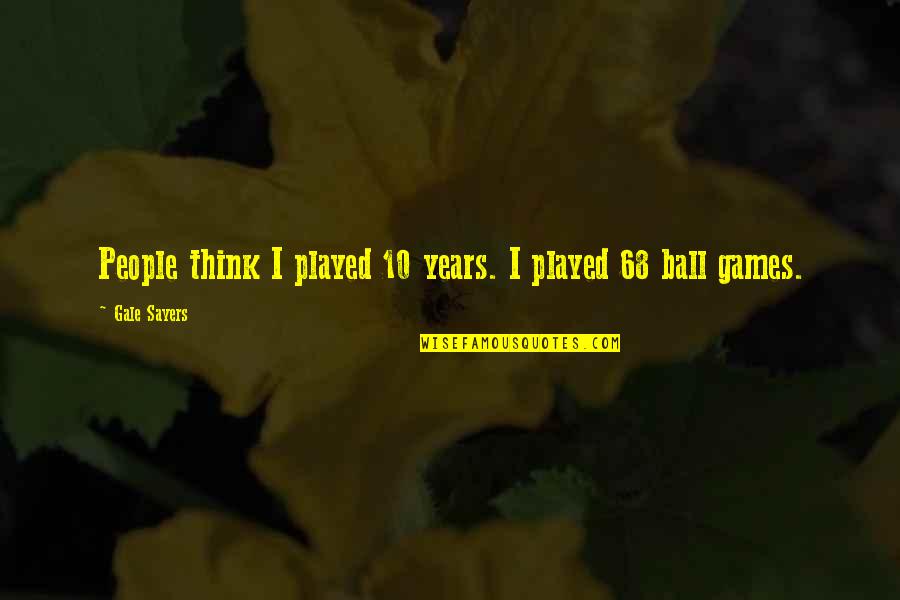 People think I played 10 years. I played 68
ball games
. —
Gale Sayers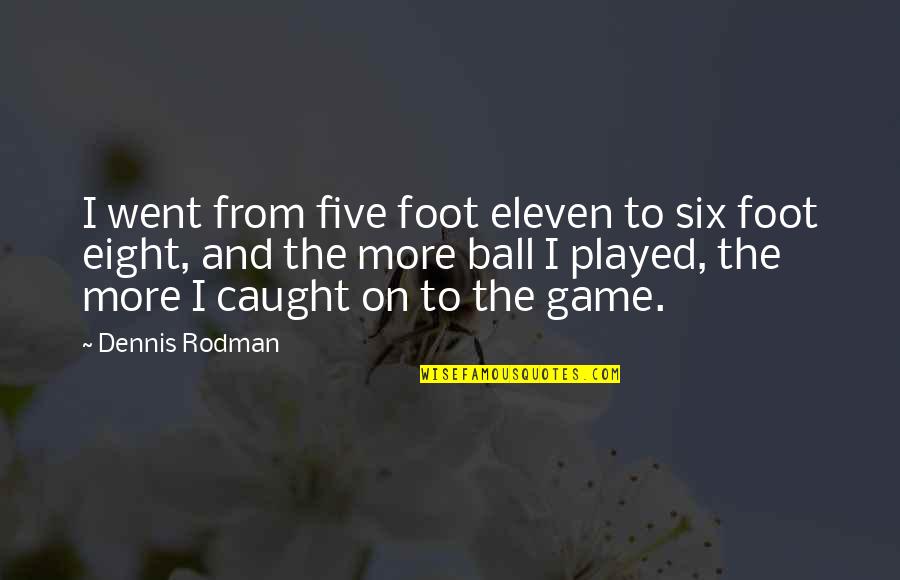 I went from five foot eleven to six foot eight, and the more ball I played, the more I caught on to the game. —
Dennis Rodman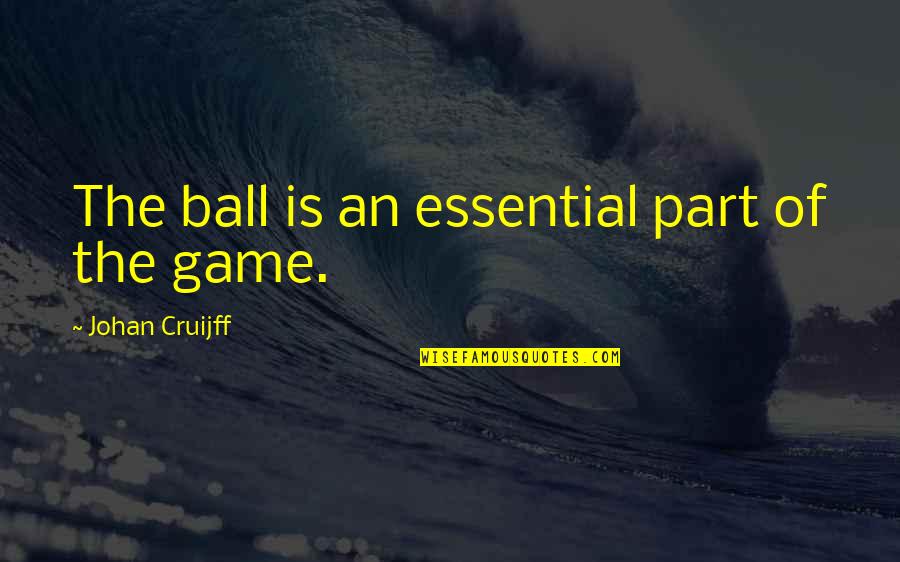 The ball is an essential part of the game. —
Johan Cruijff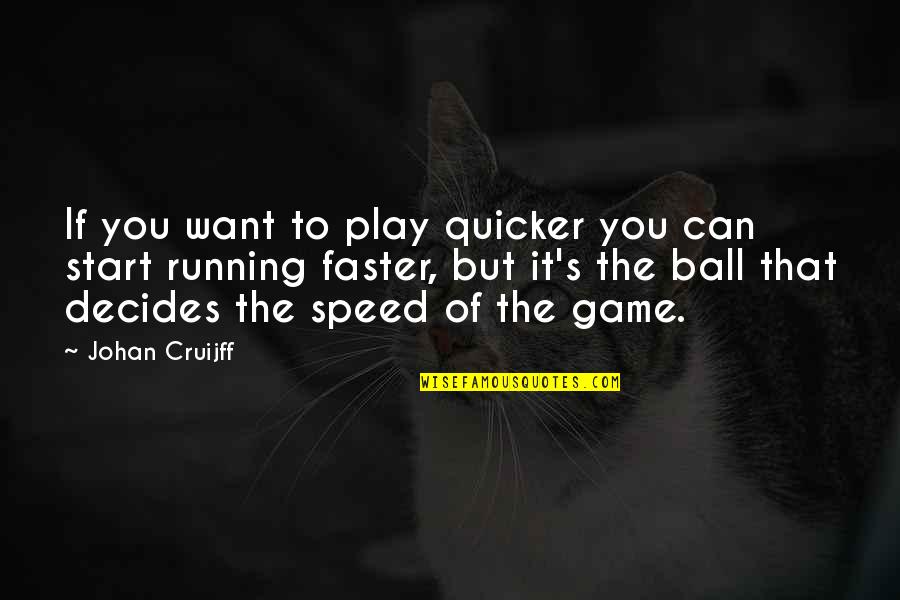 If you want to play quicker you can start running faster, but it's the ball that decides the speed of the game. —
Johan Cruijff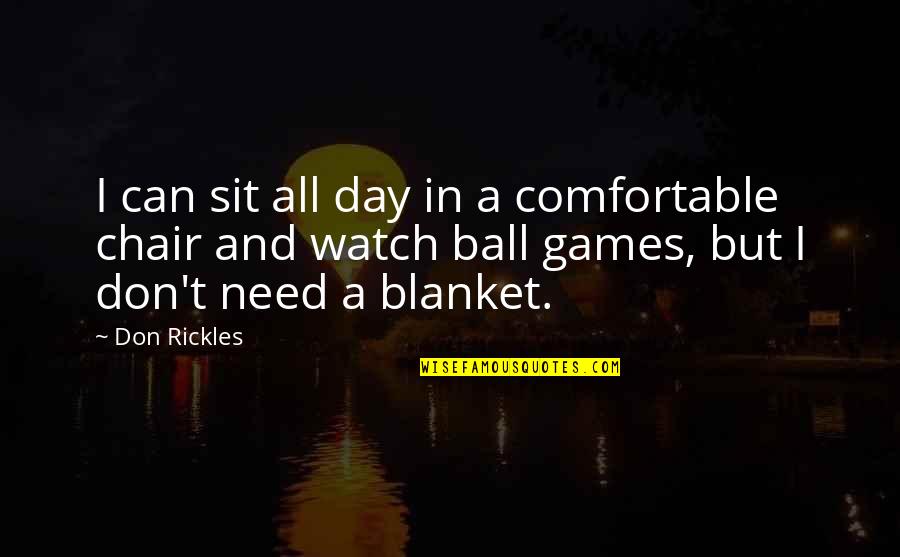 I can sit all day in a comfortable chair and watch
ball games
, but I don't need a blanket. —
Don Rickles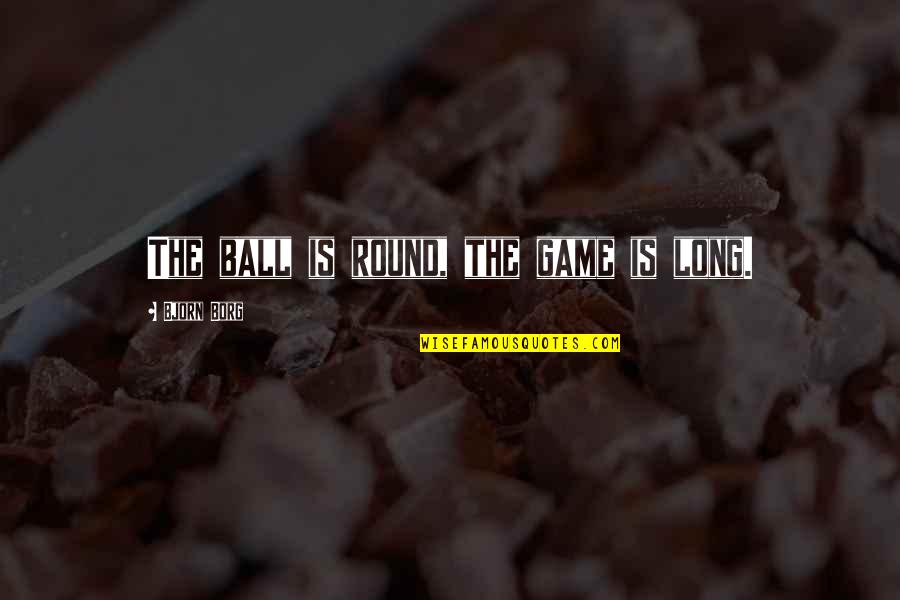 The ball is round, the game is long. —
Bjorn Borg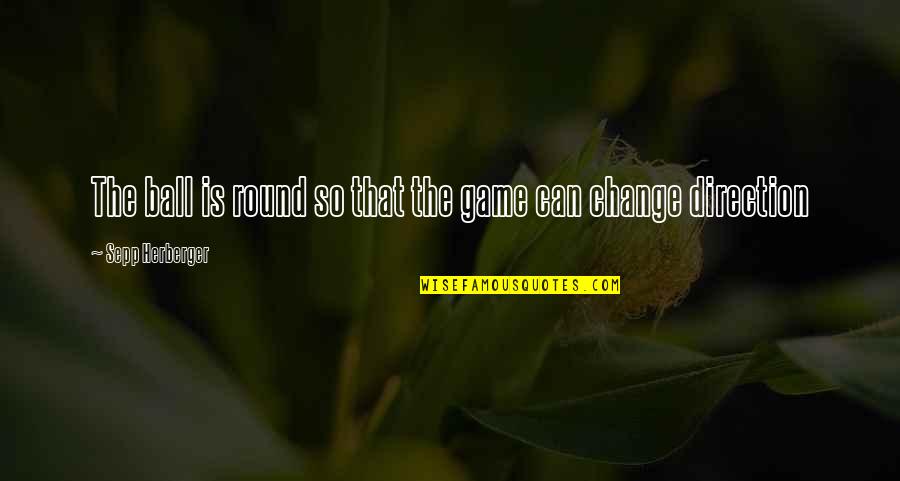 The ball is round so that the game can change direction —
Sepp Herberger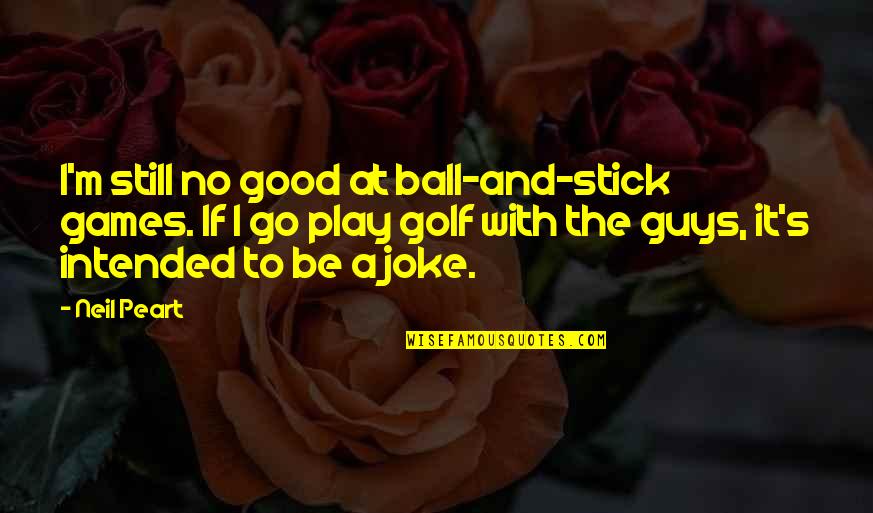 I'm still no good at ball-and-stick games. If I go play golf with the guys, it's intended to be a joke. —
Neil Peart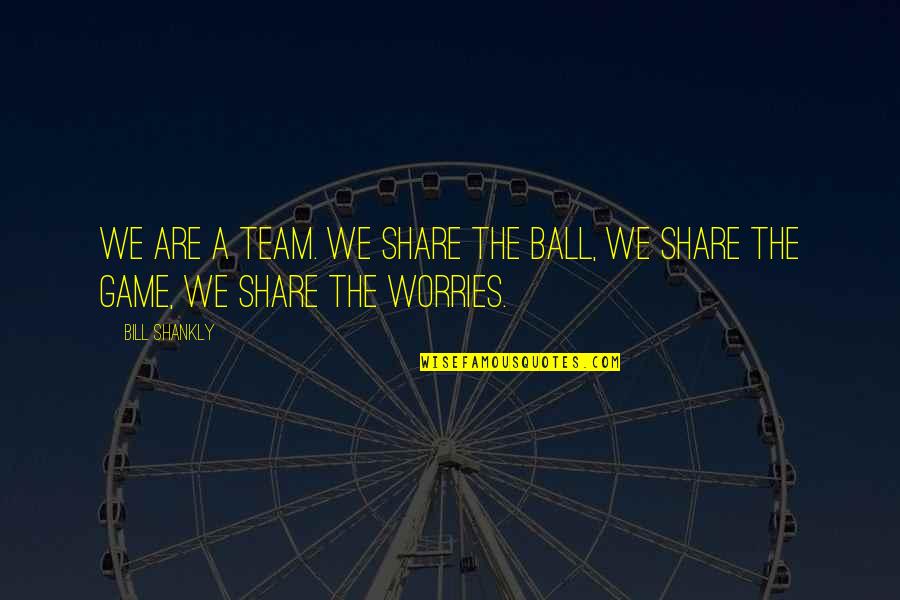 We are a team. We share the ball, we share the game, we share the worries. —
Bill Shankly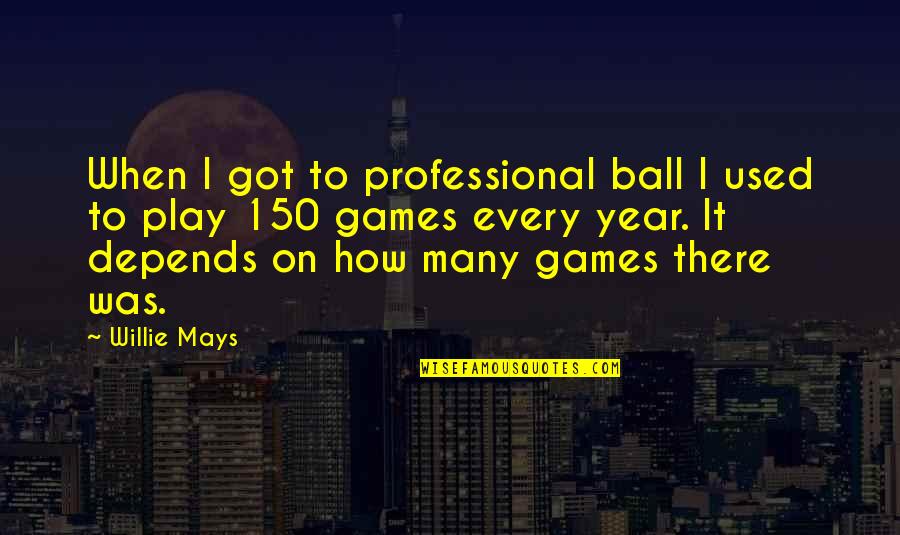 When I got to professional ball I used to play 150 games every year. It depends on how many games there was. —
Willie Mays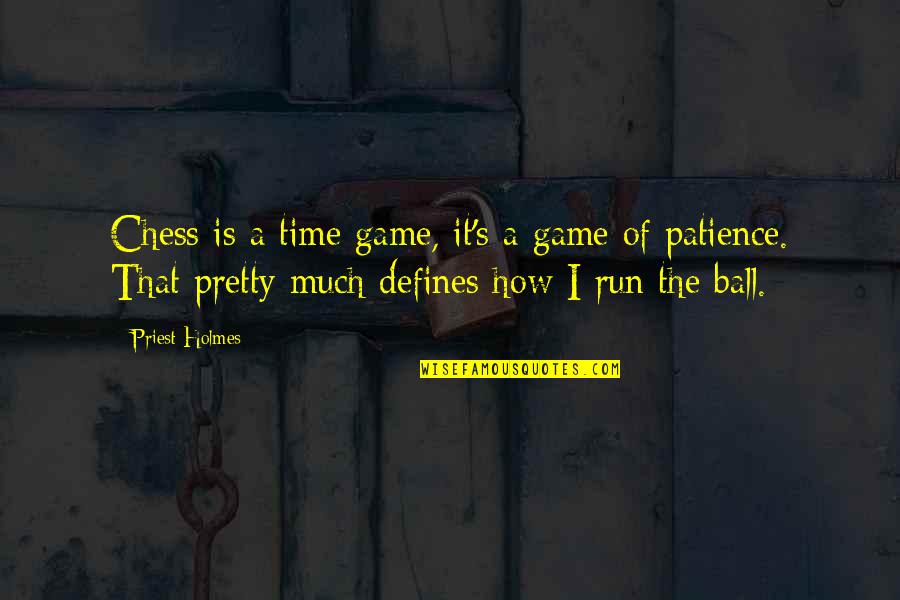 Chess is a time game, it's a game of patience. That pretty much defines how I run the ball. —
Priest Holmes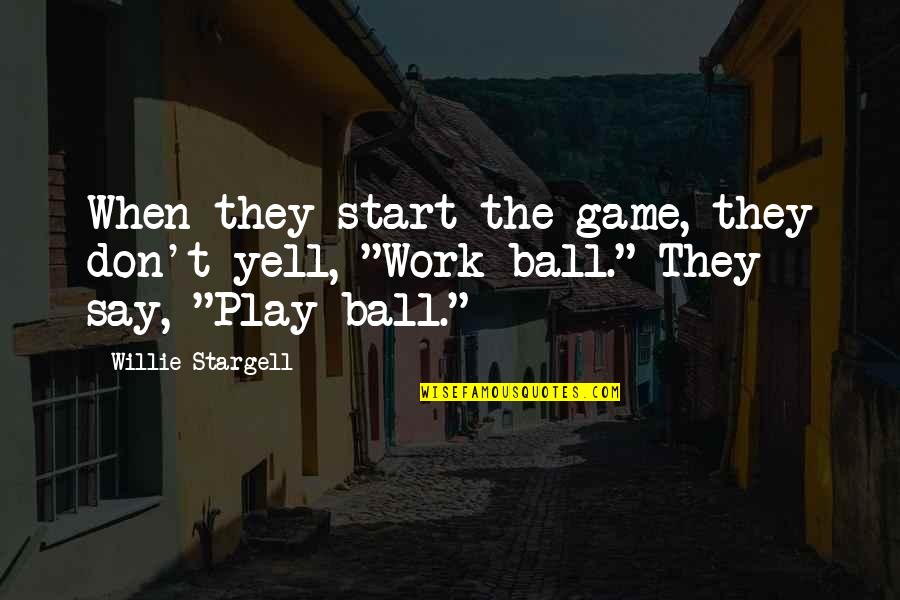 When they start the game, they don't yell, "Work ball." They say, "Play ball." —
Willie Stargell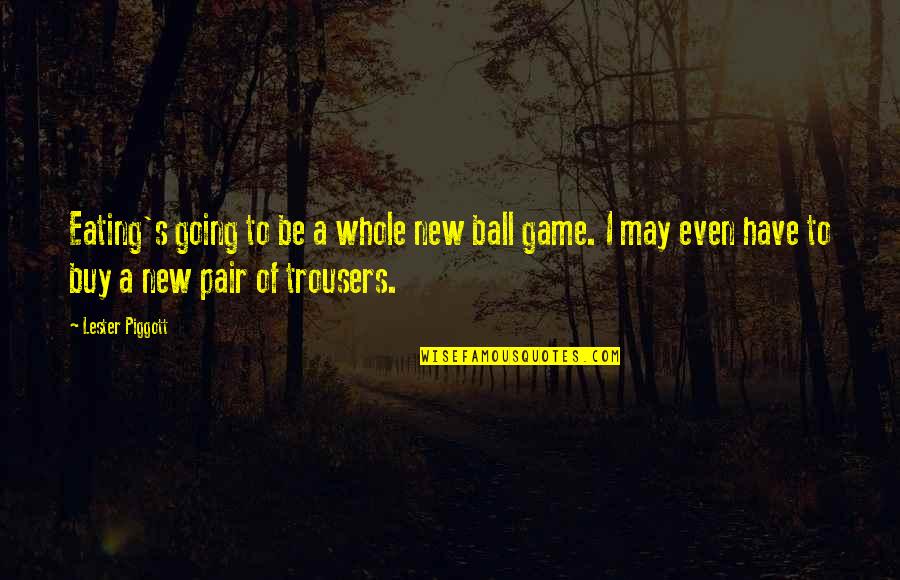 Eating's going to be a whole new ball game. I may even have to buy a new pair of trousers. —
Lester Piggott