Erich Fromm Quotes
Top 100 wise famous quotes and sayings by Erich Fromm
Erich Fromm Famous Quotes & Sayings
Discover top inspirational quotes from Erich Fromm on Wise Famous Quotes.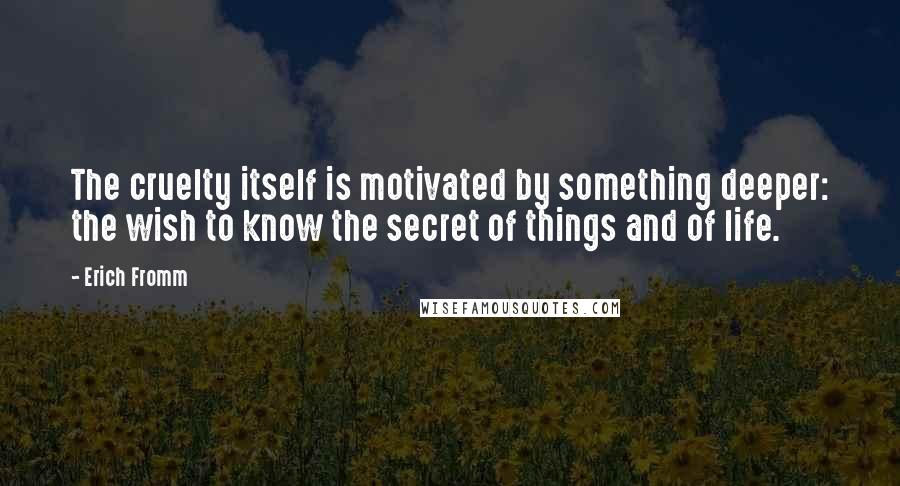 The cruelty itself is motivated by something deeper: the wish to know the secret of things and of life.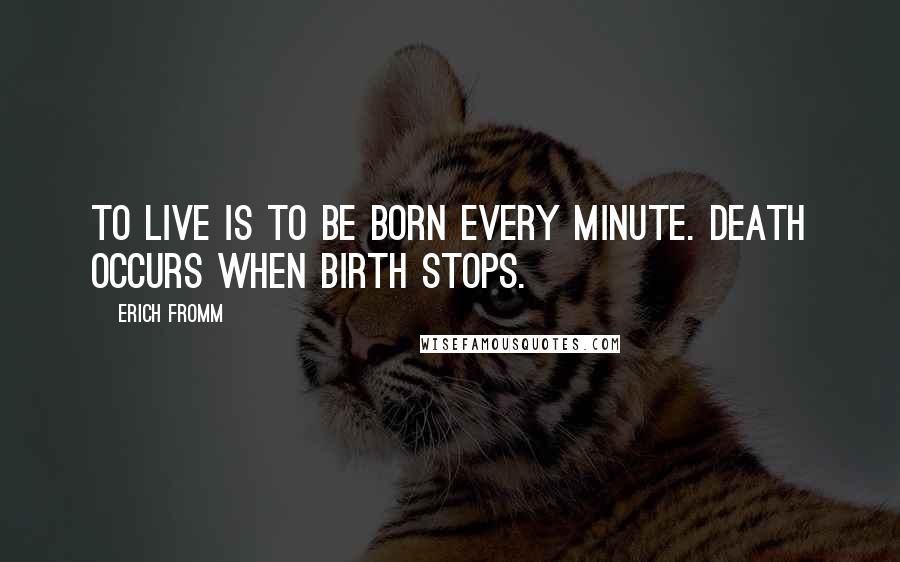 To live is to be born every minute. Death occurs when birth stops.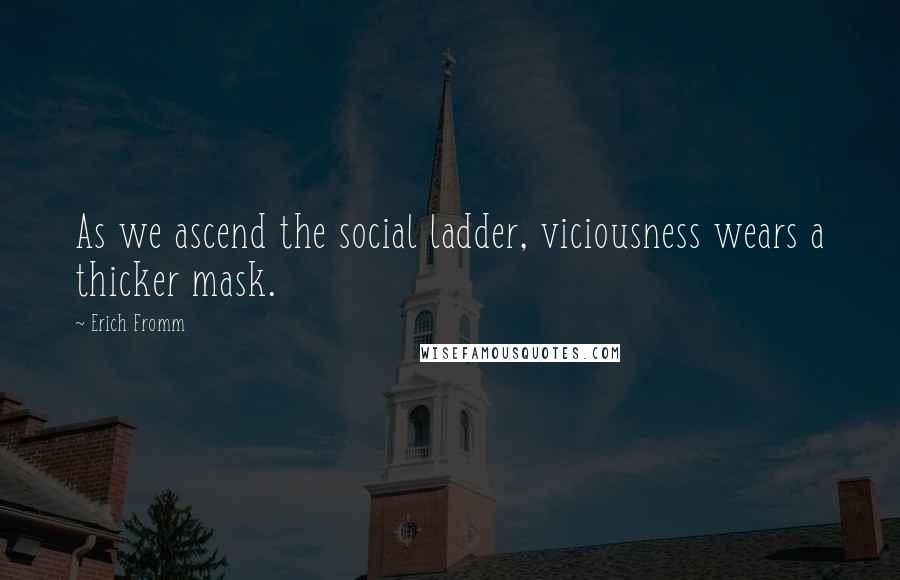 As we ascend the social ladder, viciousness wears a thicker mask.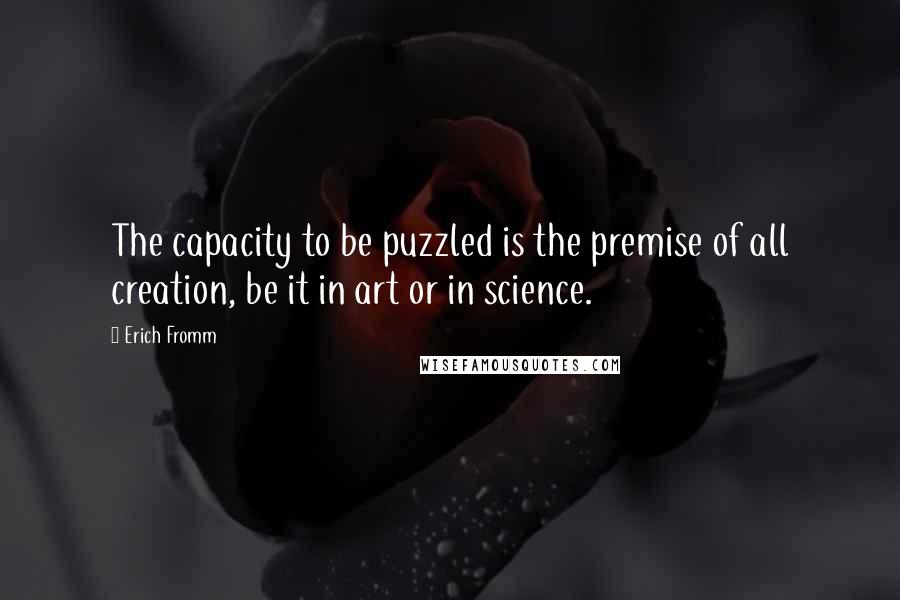 The capacity to be puzzled is the premise of all creation, be it in art or in science.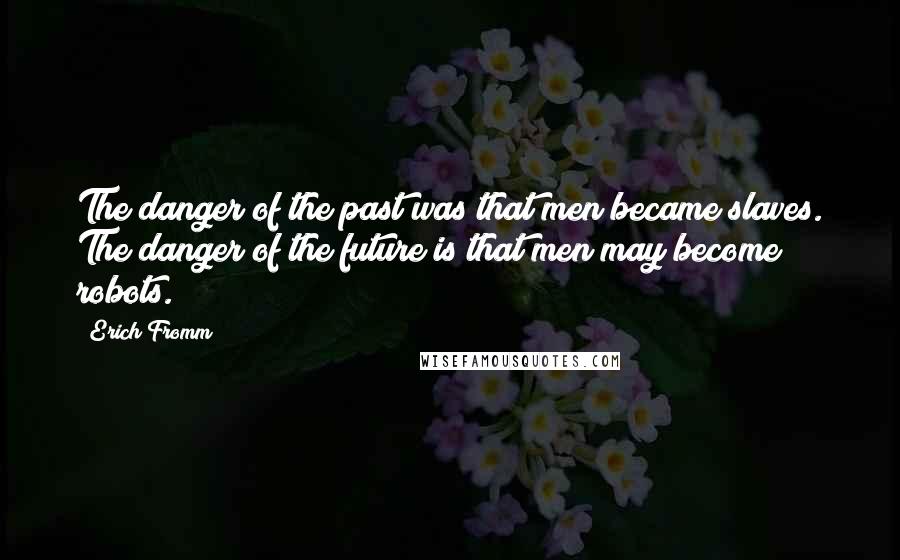 The danger of the past was that men became slaves. The danger of the future is that men may become robots.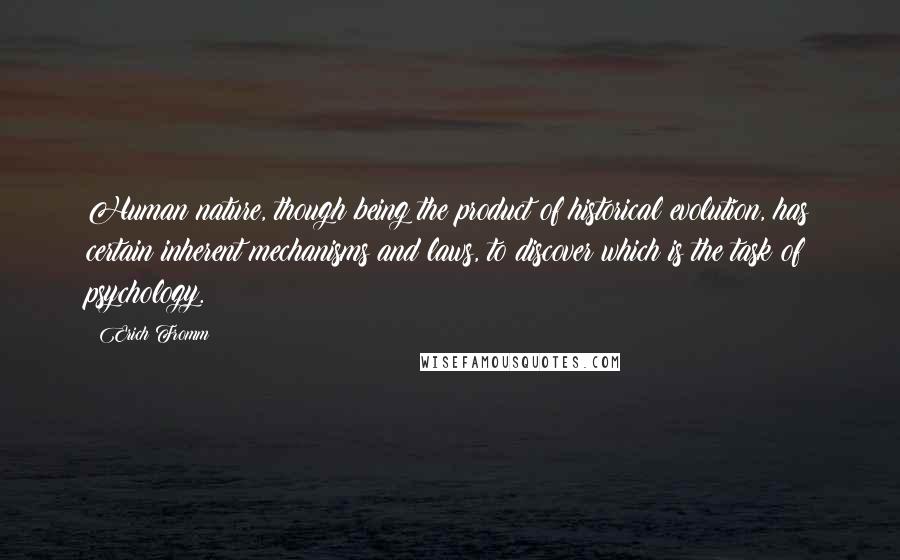 Human nature, though being the product of historical evolution, has certain inherent mechanisms and laws, to discover which is the task of psychology.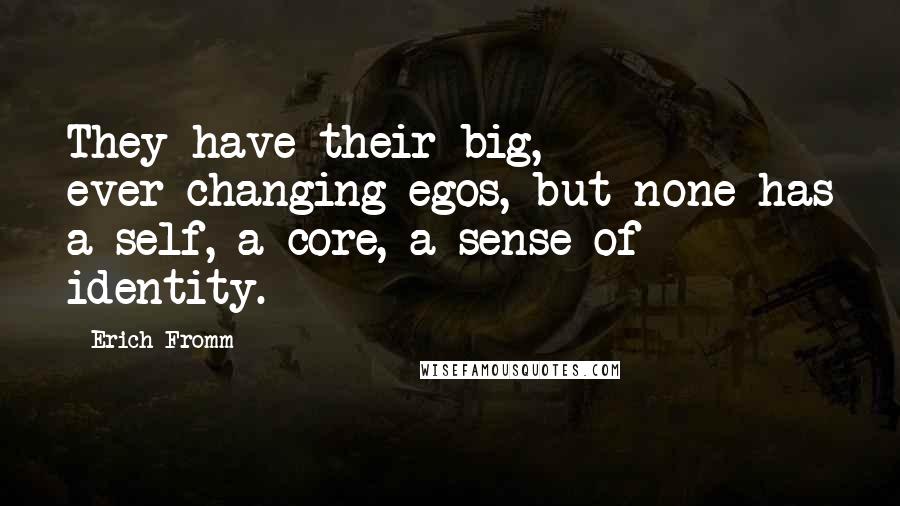 They have their big, ever-changing egos, but none has a self, a core, a sense of identity.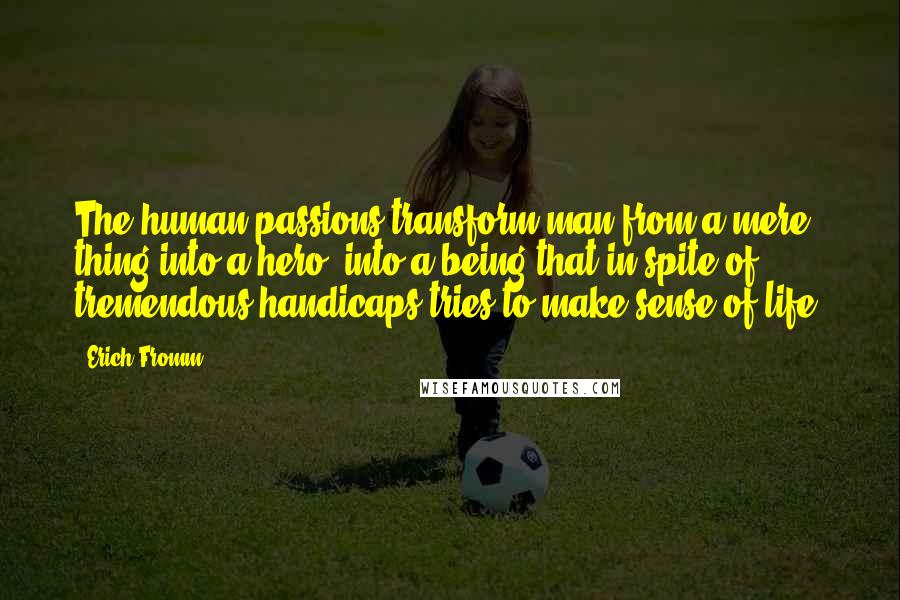 The human passions transform man from a mere thing into a hero, into a being that in spite of tremendous handicaps tries to make sense of life.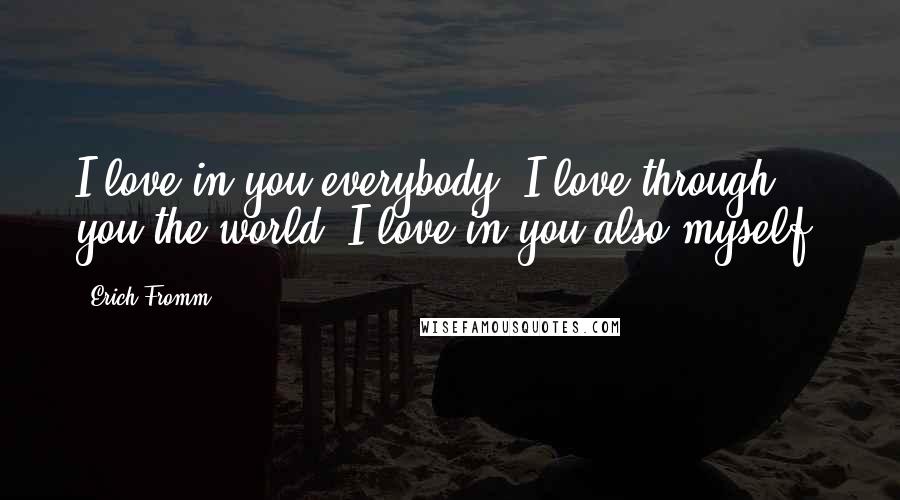 I love in you everybody, I love through you the world, I love in you also myself.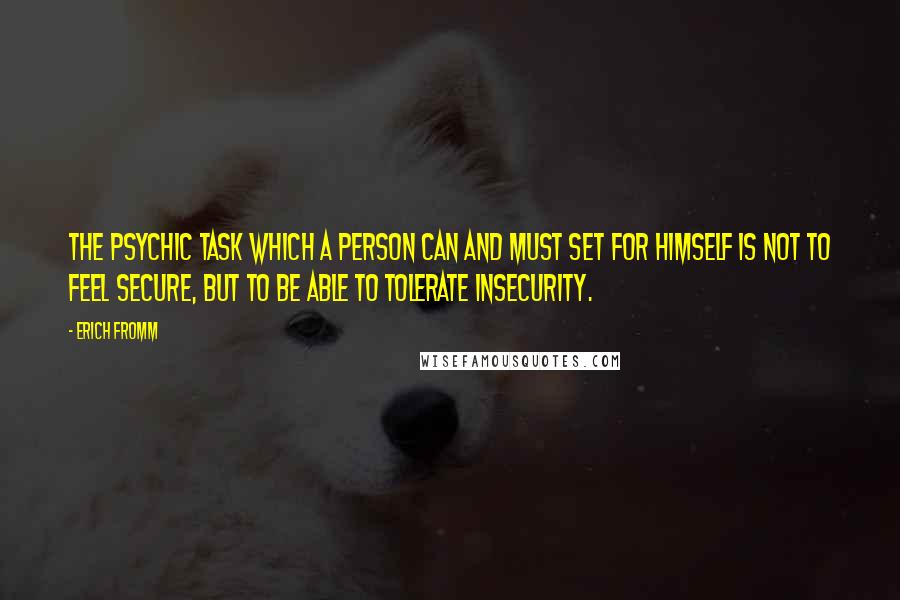 The psychic task which a person can and must set for himself is not to feel secure, but to be able to tolerate insecurity.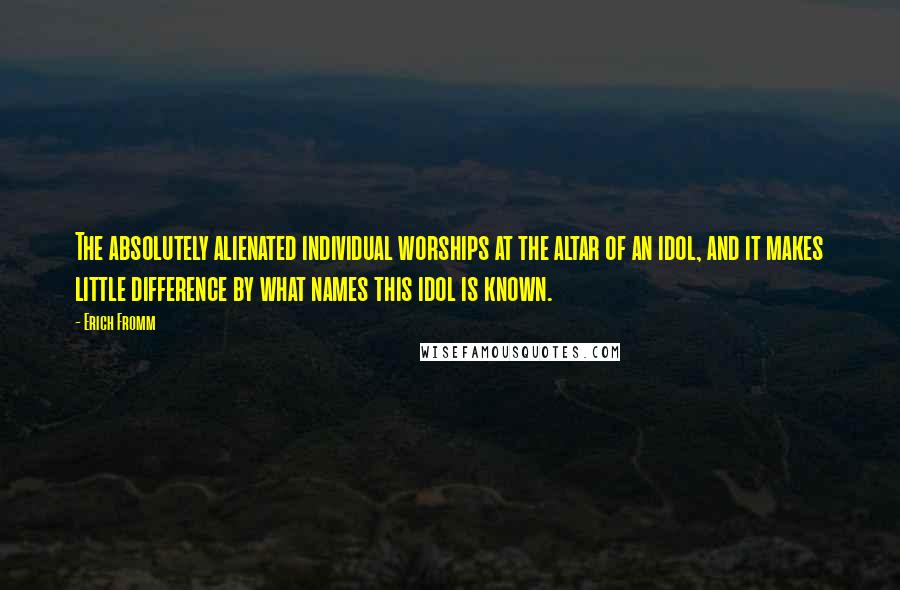 The absolutely alienated individual worships at the altar of an idol, and it makes little difference by what names this idol is known.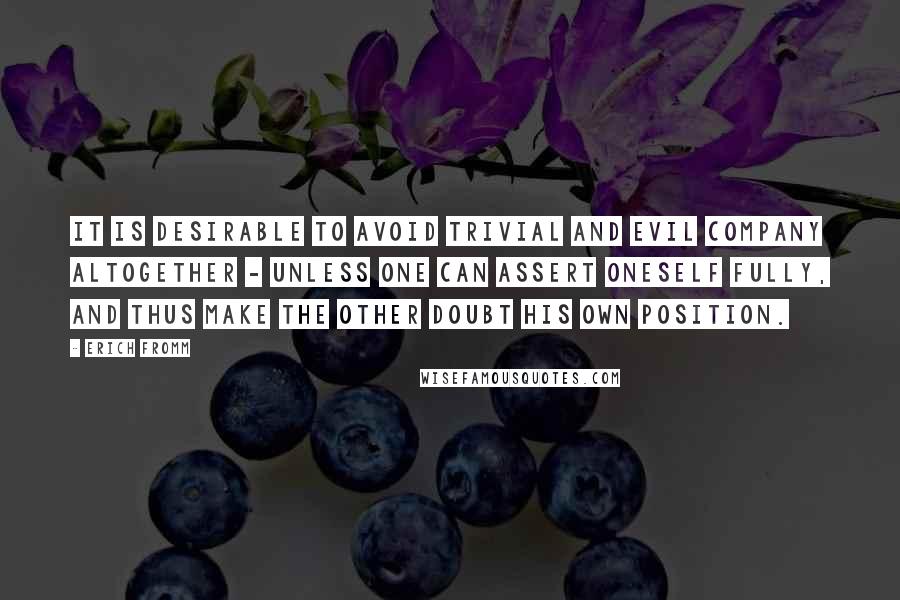 It is desirable to avoid trivial and evil company altogether - unless one can assert oneself fully, and thus make the other doubt his own position.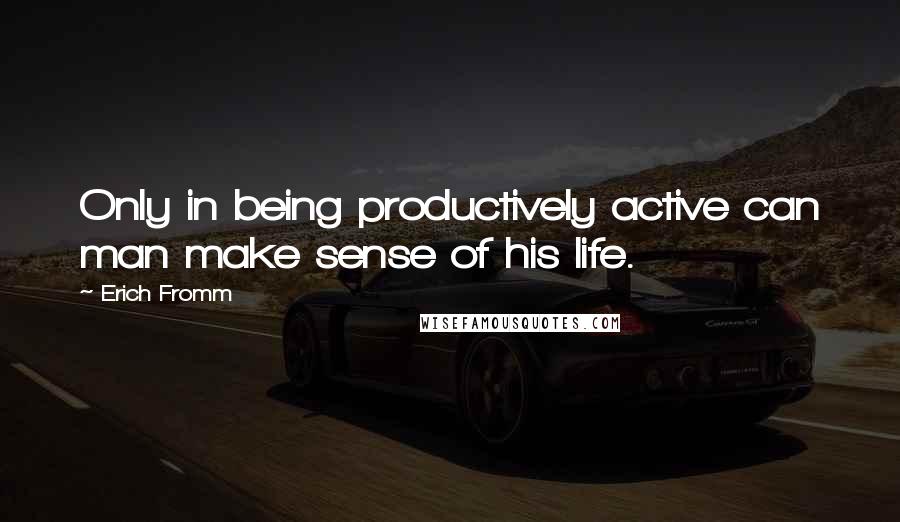 Only in being productively active can man make sense of his life.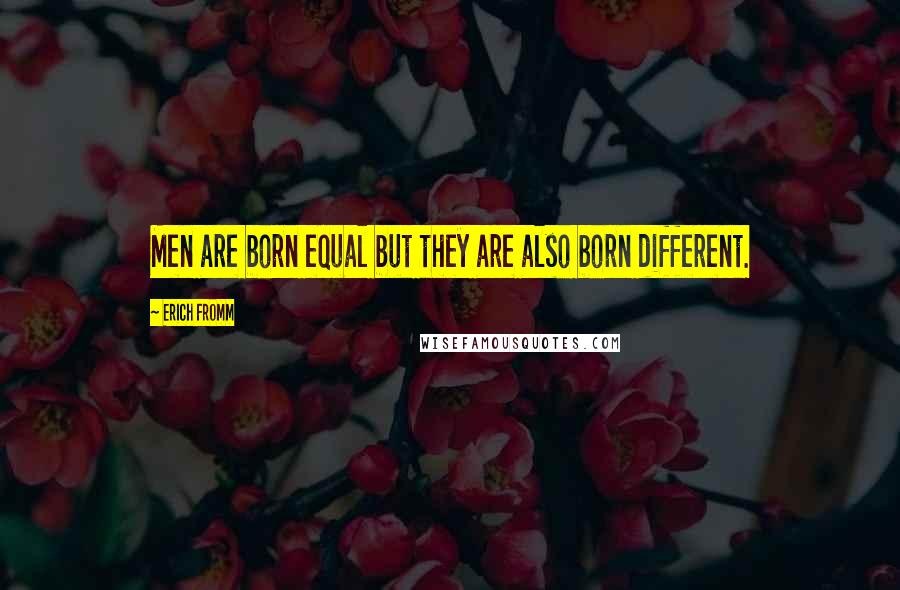 Men are born equal but they are also born different.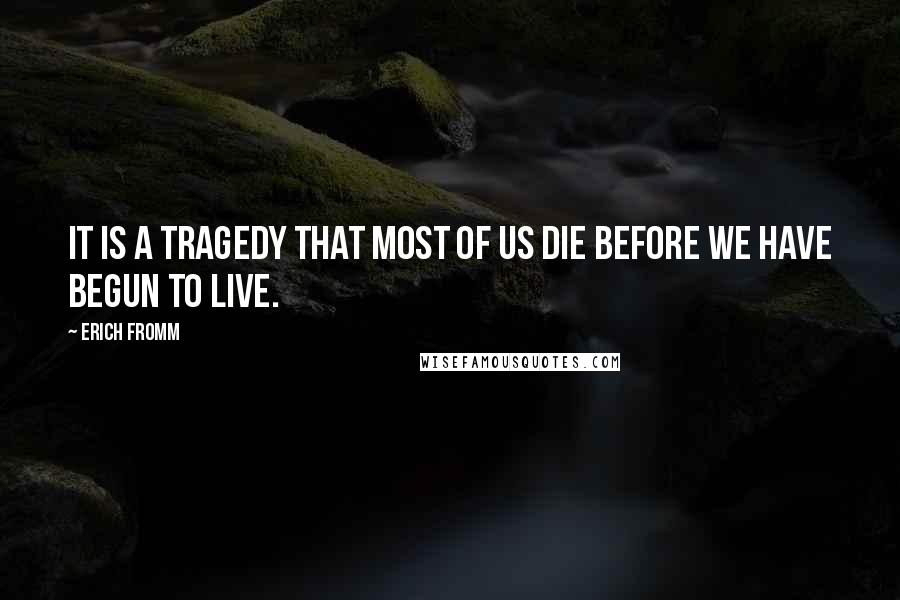 It is a tragedy that most of us die before we have begun to live.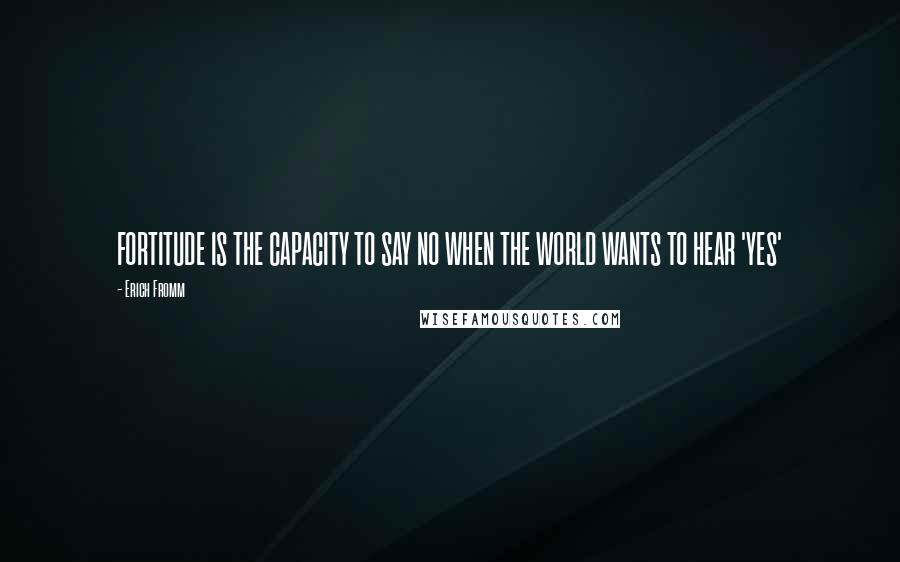 FORTITUDE IS THE CAPACITY TO SAY NO WHEN THE WORLD WANTS TO HEAR 'YES'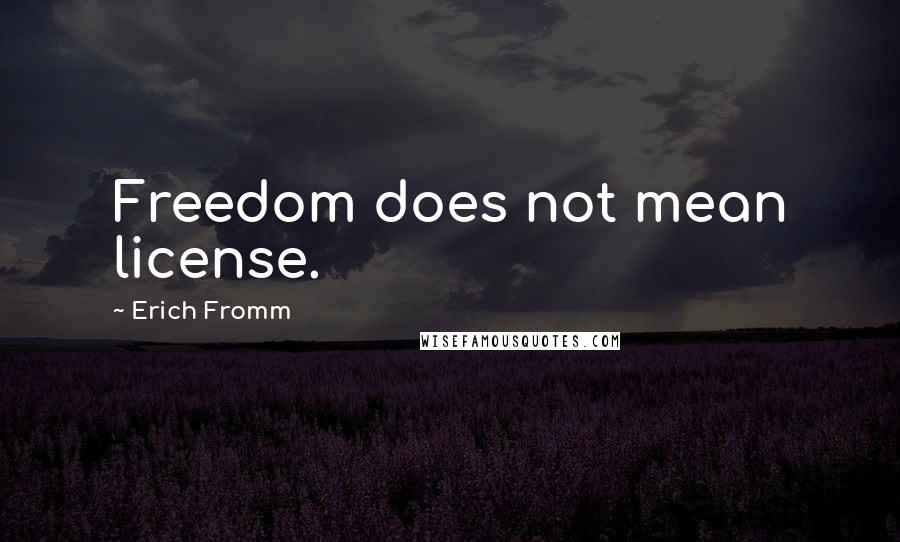 Freedom does not mean license.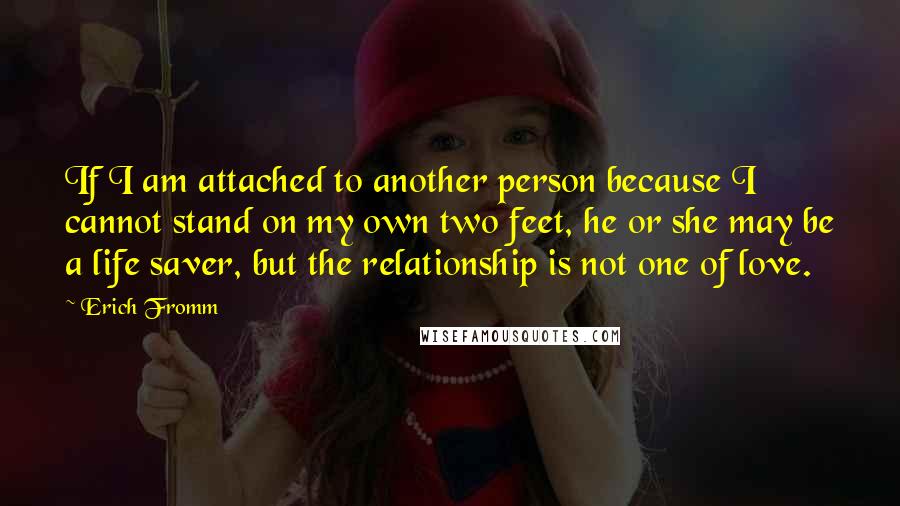 If I am attached to another person because I cannot stand on my own two feet, he or she may be a life saver, but the relationship is not one of love.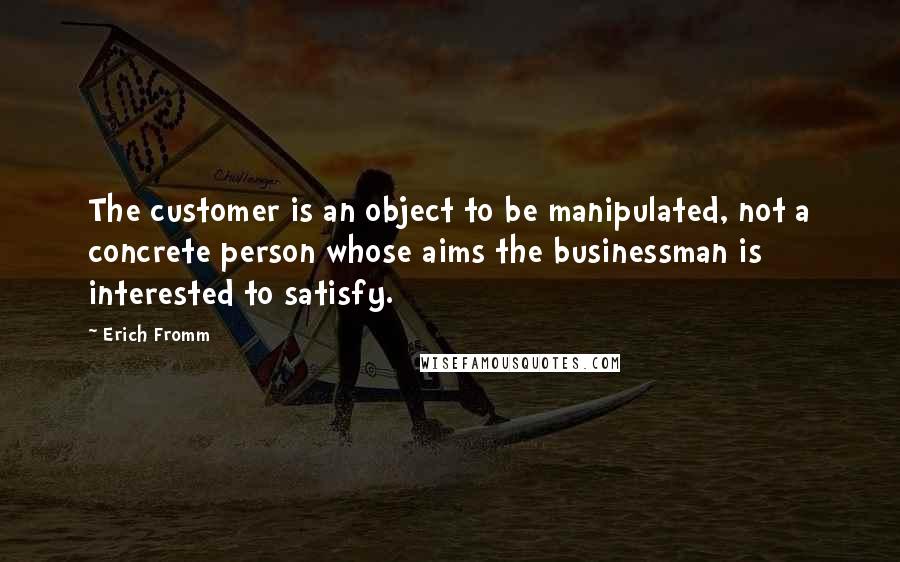 The customer is an object to be manipulated, not a concrete person whose aims the businessman is interested to satisfy.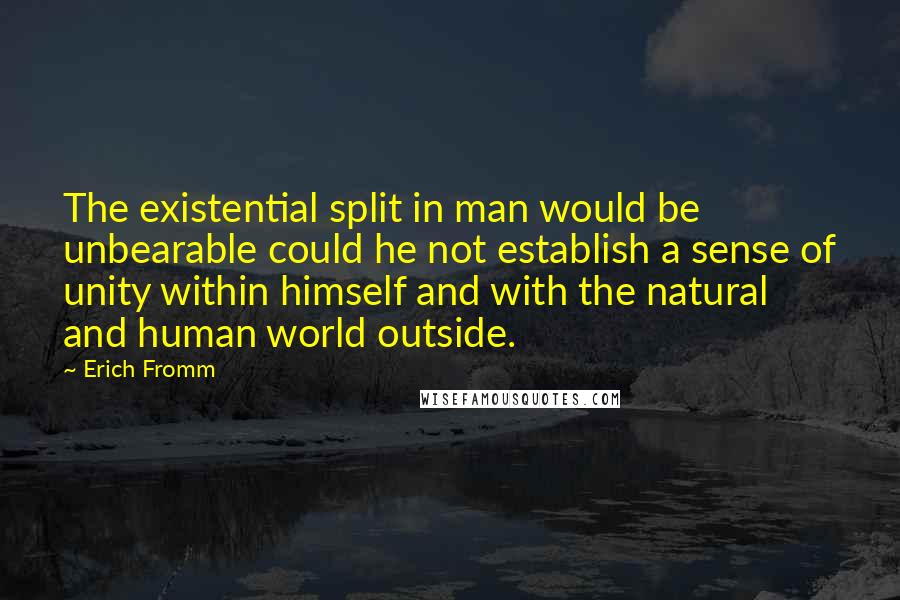 The existential split in man would be unbearable could he not establish a sense of unity within himself and with the natural and human world outside.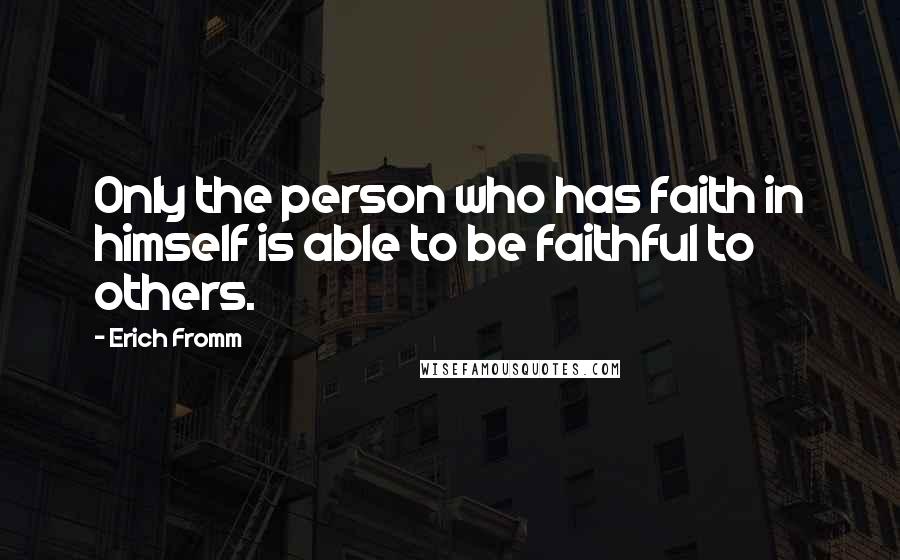 Only the person who has faith in himself is able to be faithful to others.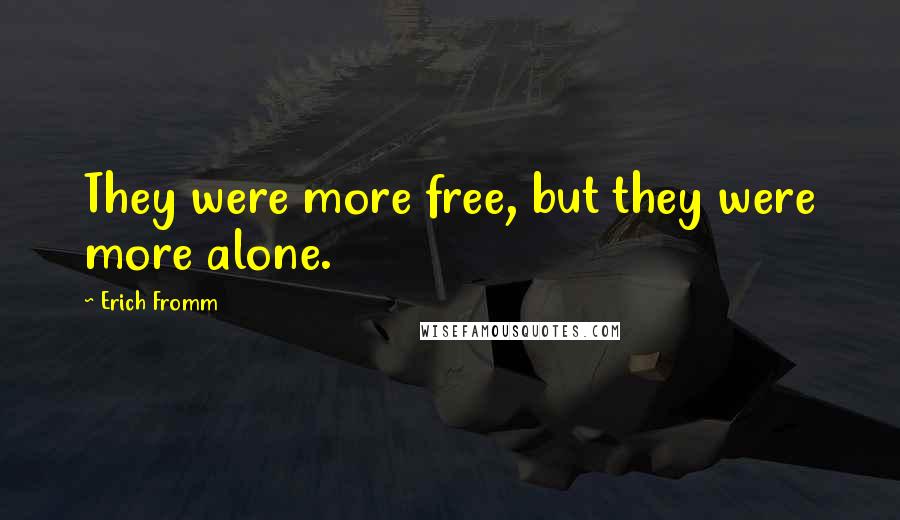 They were more free, but they were more alone.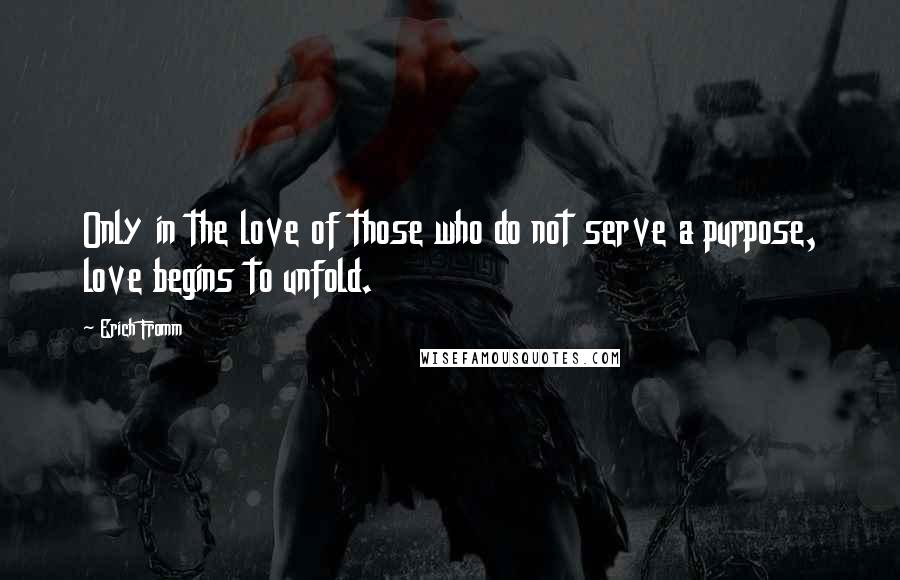 Only in the love of those who do not serve a purpose, love begins to unfold.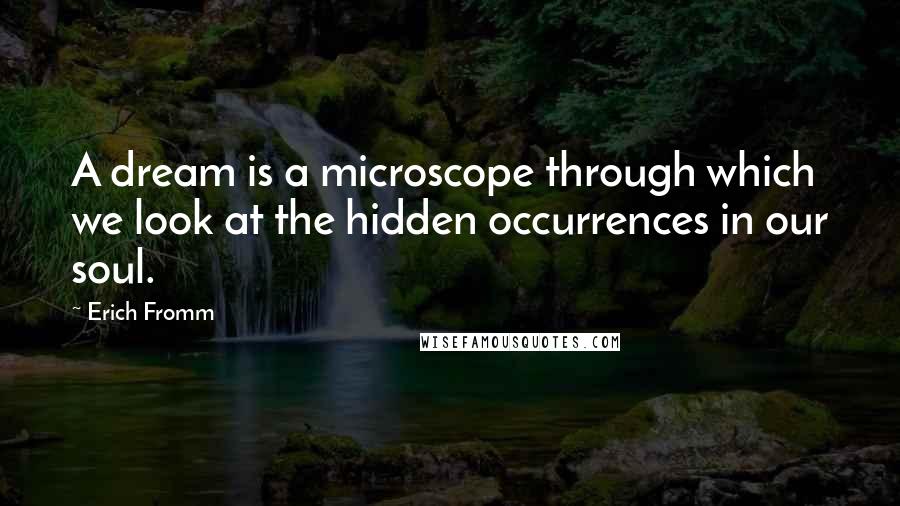 A dream is a microscope through which we look at the hidden occurrences in our soul.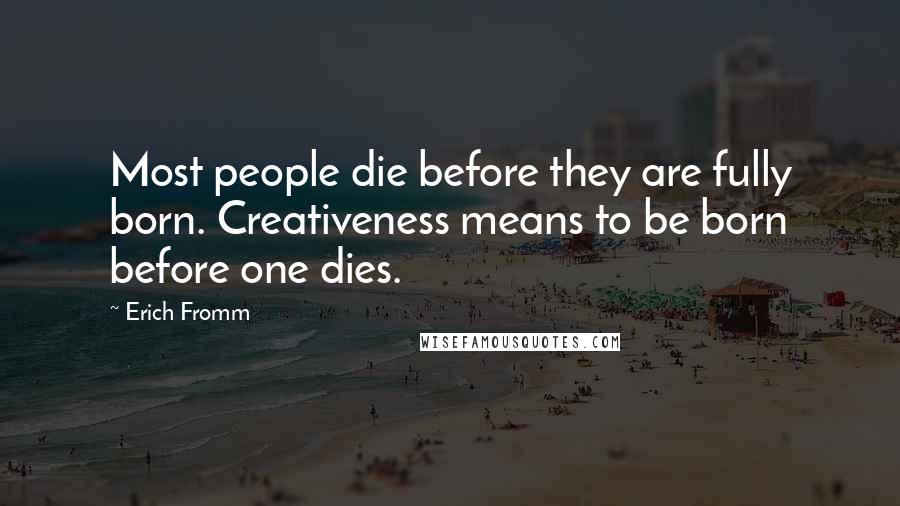 Most people die before they are fully born. Creativeness means to be born before one dies.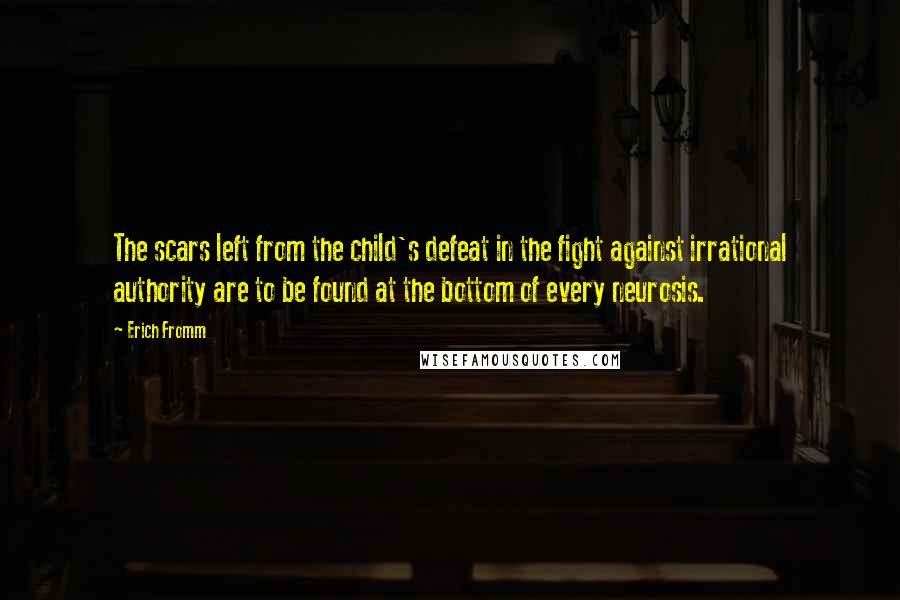 The scars left from the child's defeat in the fight against irrational authority are to be found at the bottom of every neurosis.
To feel completely alone and isolated leads to mental disintegration just as physical starvation leads to death.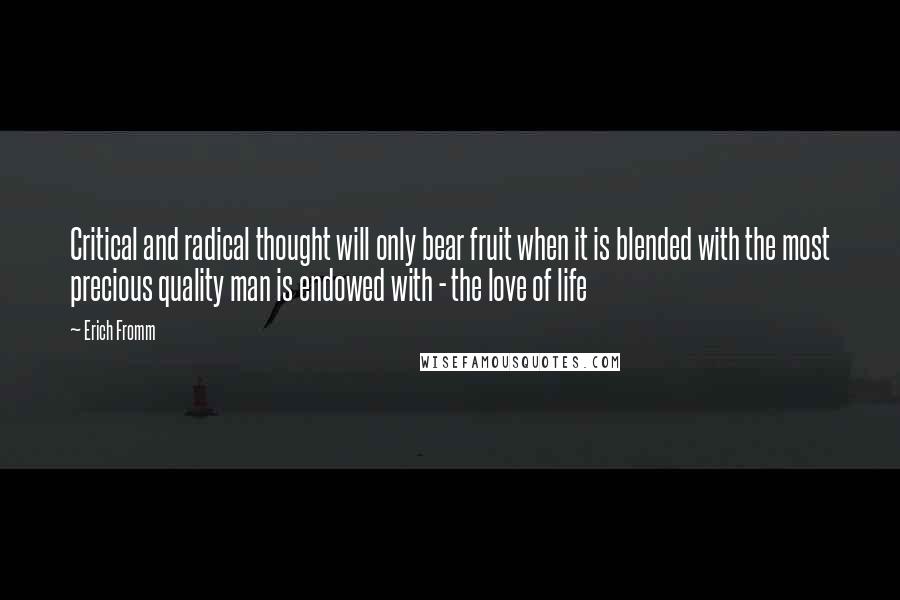 Critical and radical thought will only bear fruit when it is blended with the most precious quality man is endowed with - the love of life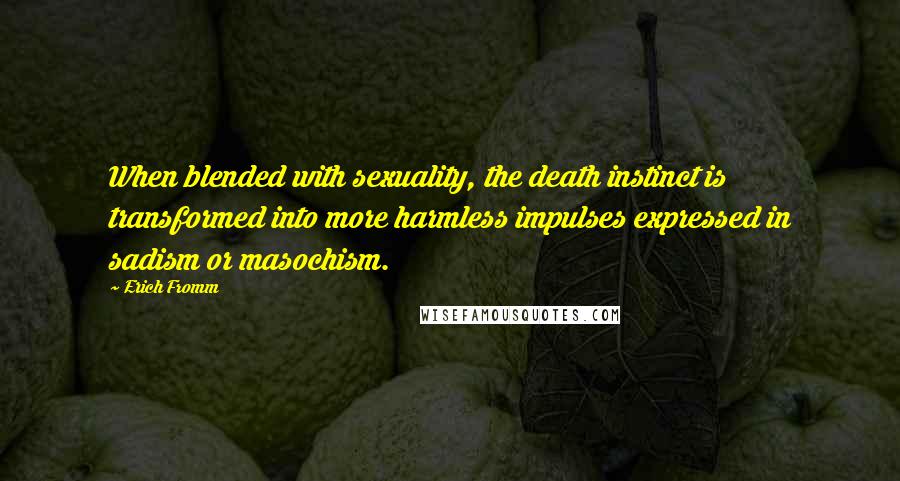 When blended with sexuality, the death instinct is transformed into more harmless impulses expressed in sadism or masochism.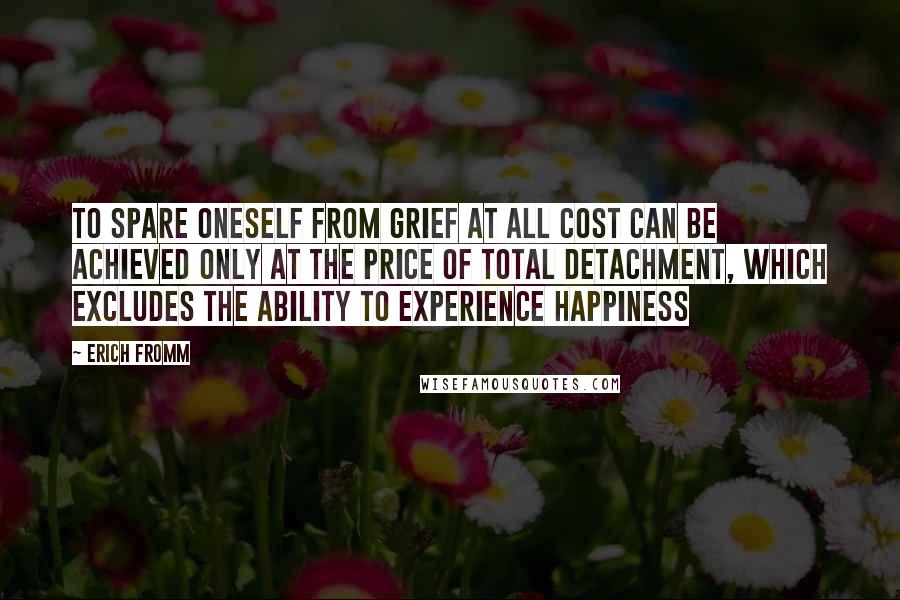 To spare oneself from grief at all cost can be achieved only at the price of total detachment, which excludes the ability to experience happiness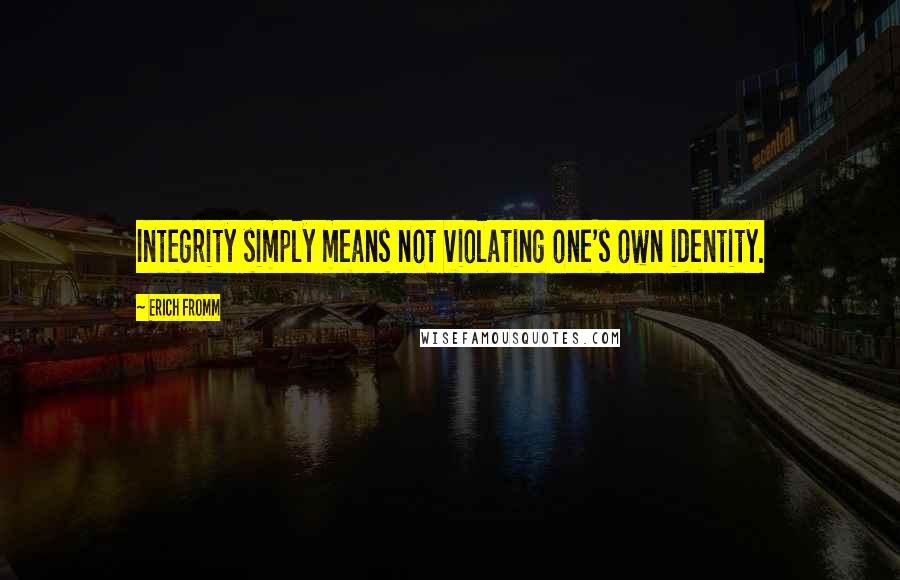 Integrity simply means not violating one's own identity.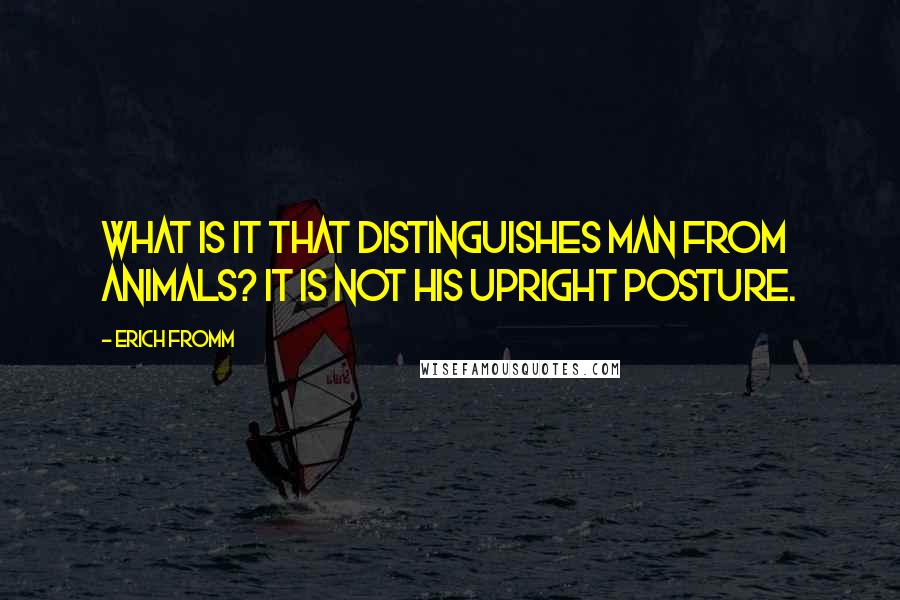 What is it that distinguishes man from animals? It is not his upright posture.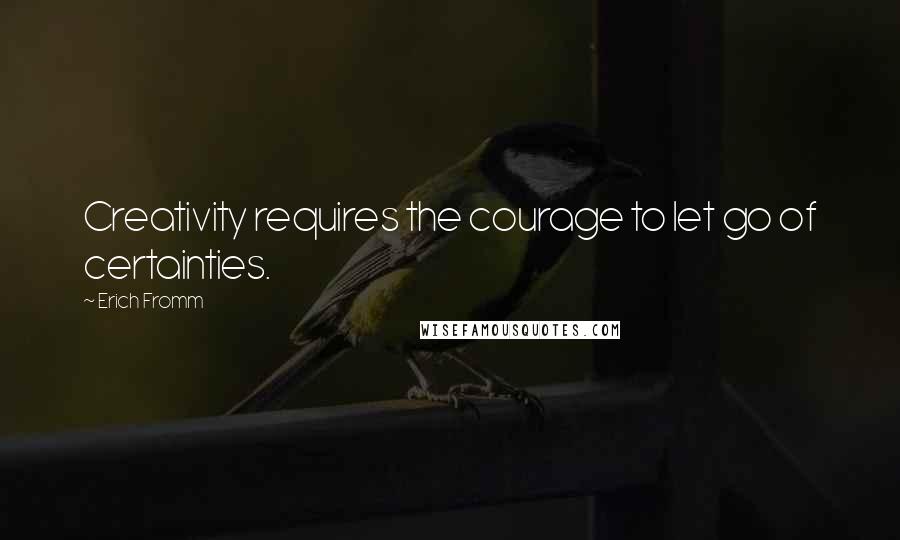 Creativity requires the courage to let go of certainties.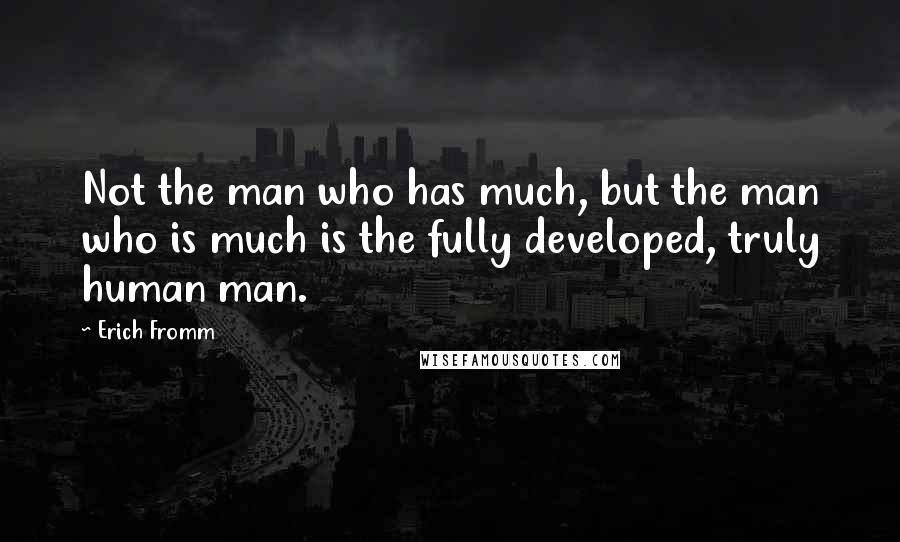 Not the man who has much, but the man who is much is the fully developed, truly human man.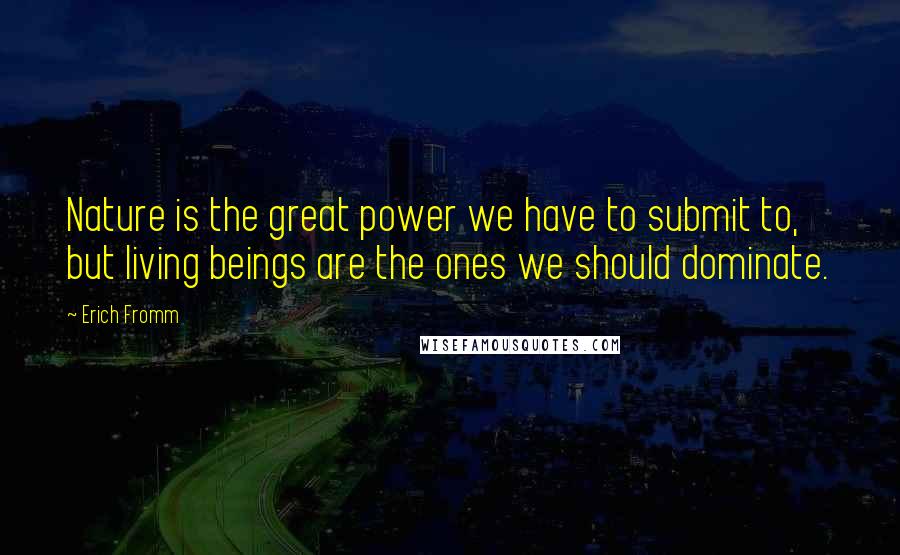 Nature is the great power we have to submit to, but living beings are the ones we should dominate.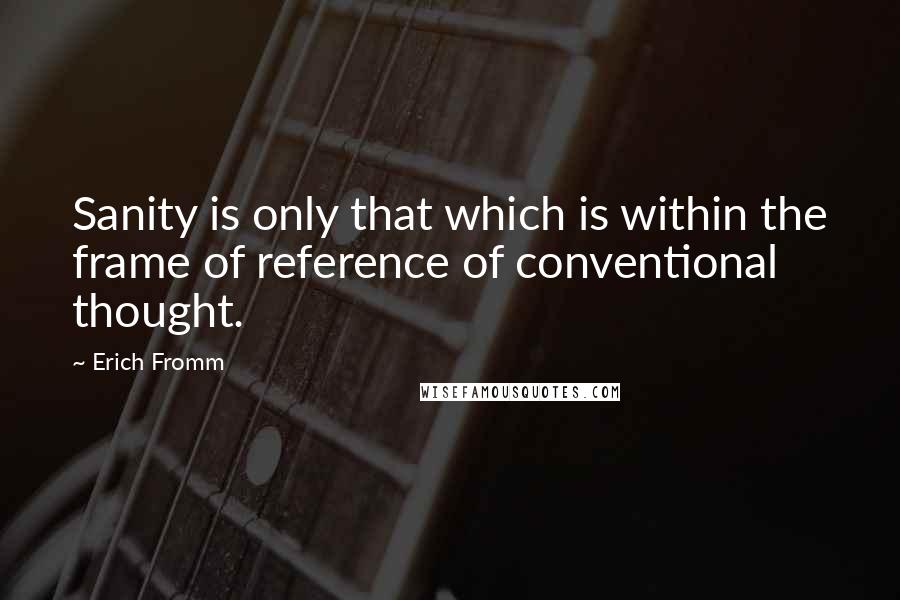 Sanity is only that which is within the frame of reference of conventional thought.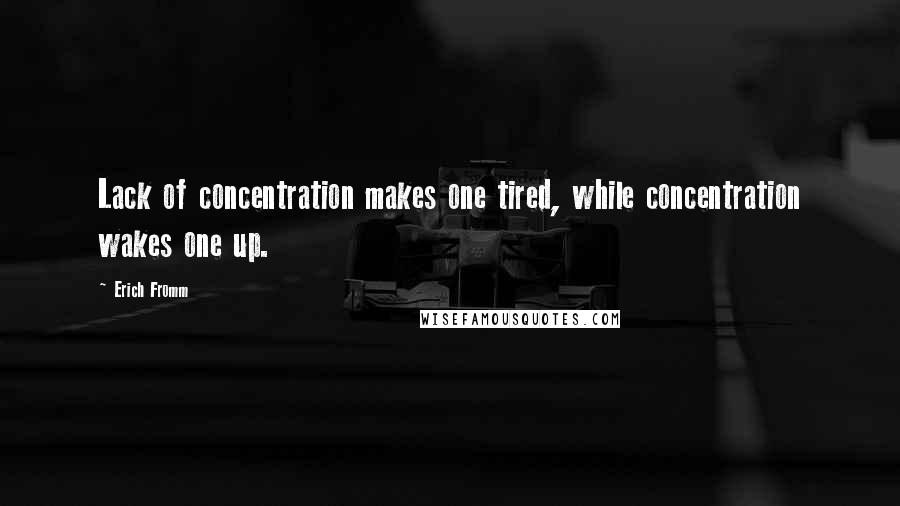 Lack of concentration makes one tired, while concentration wakes one up.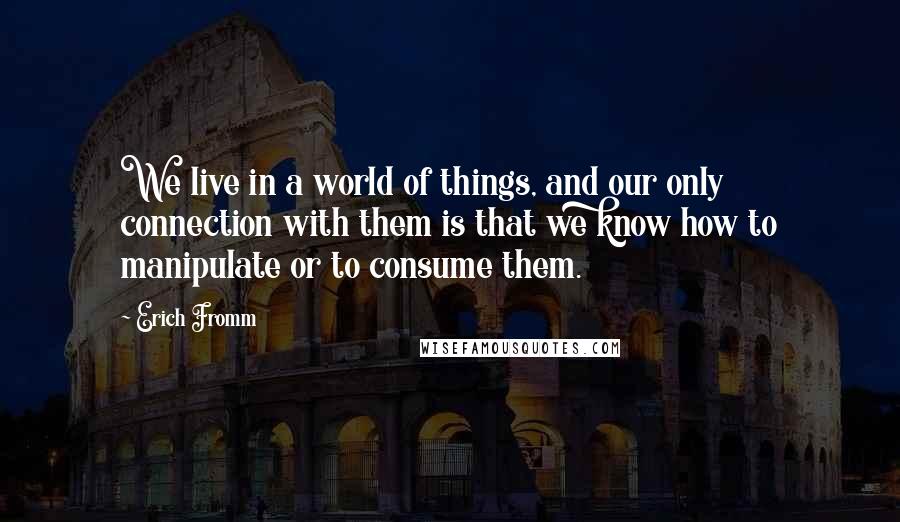 We live in a world of things, and our only connection with them is that we know how to manipulate or to consume them.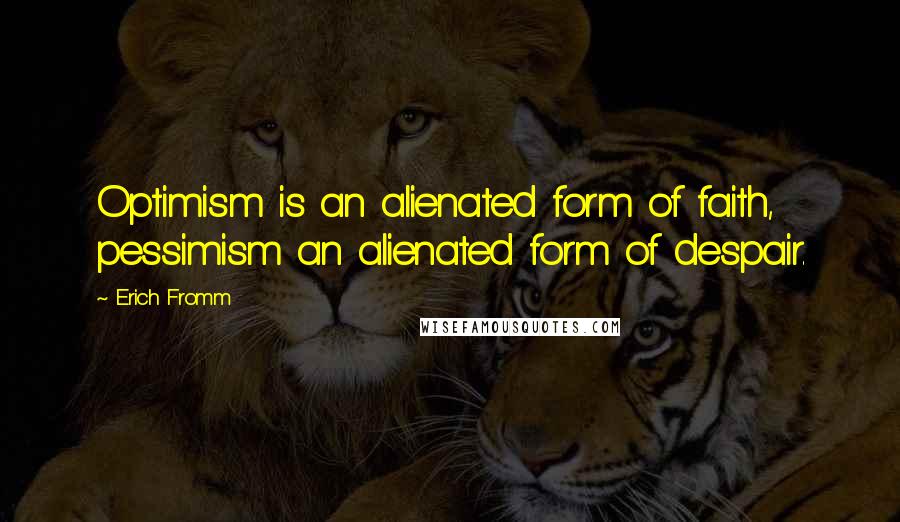 Optimism is an alienated form of faith, pessimism an alienated form of despair.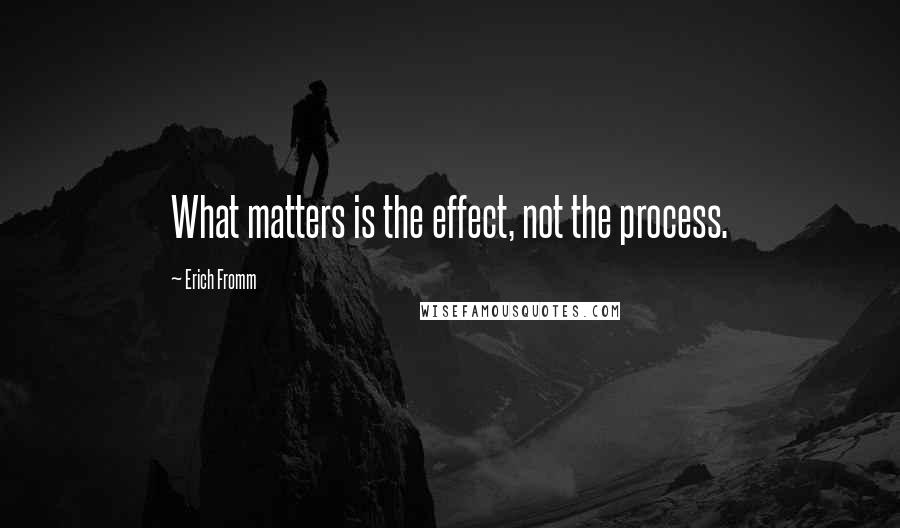 What matters is the effect, not the process.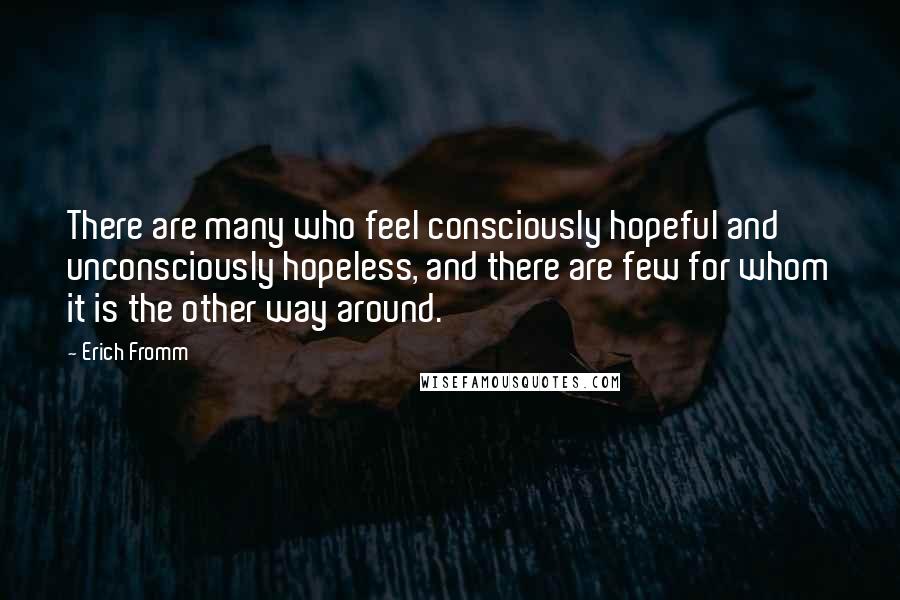 There are many who feel consciously hopeful and unconsciously hopeless, and there are few for whom it is the other way around.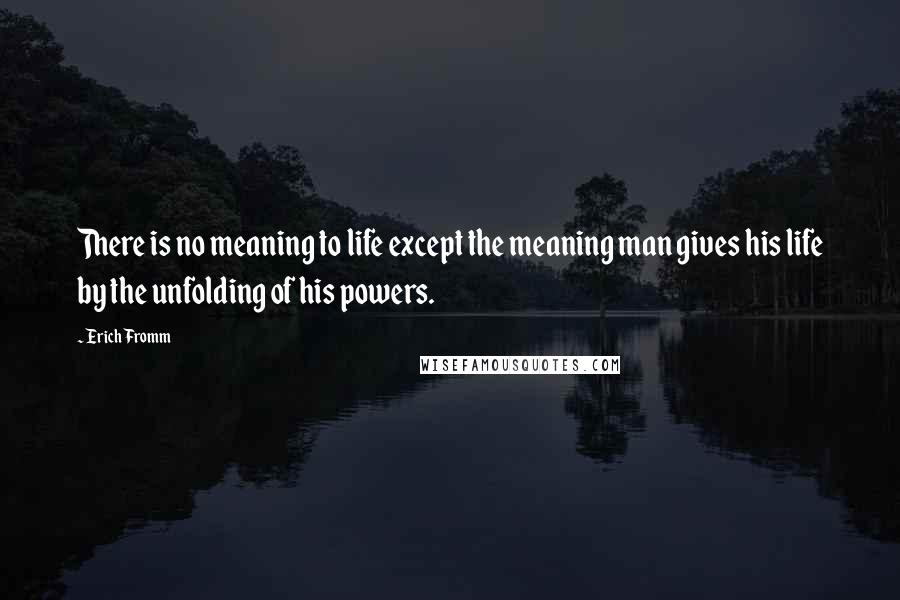 There is no meaning to life except the meaning man gives his life by the unfolding of his powers.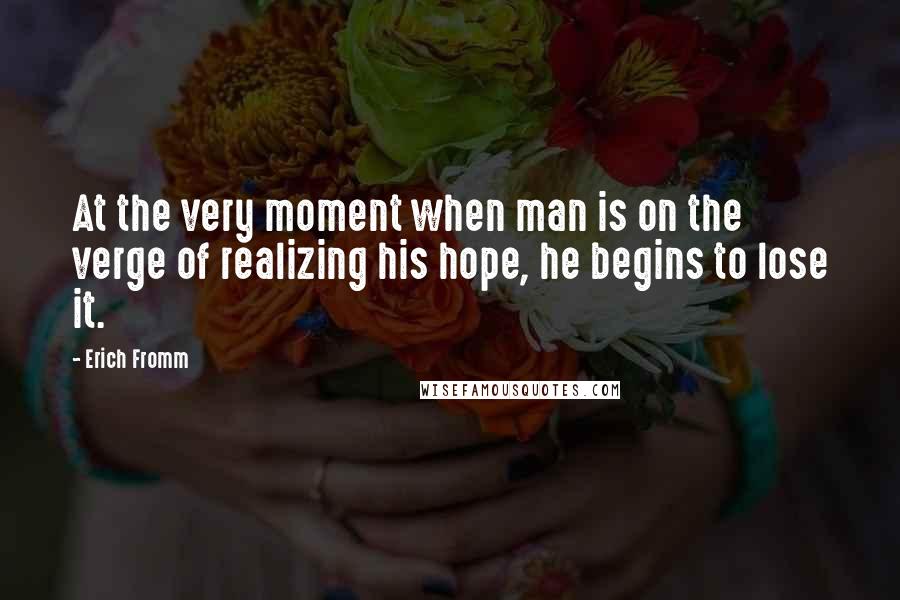 At the very moment when man is on the verge of realizing his hope, he begins to lose it.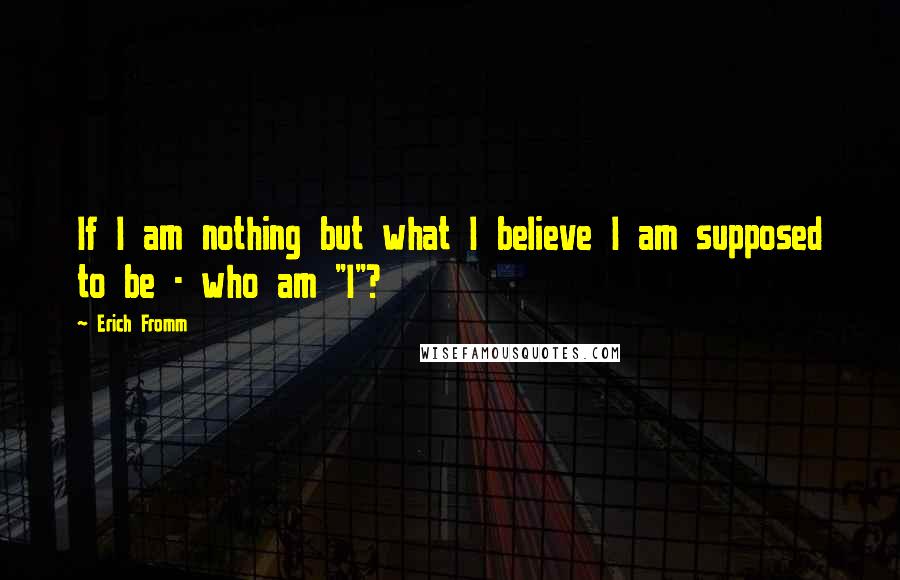 If I am nothing but what I believe I am supposed to be - who am "I"?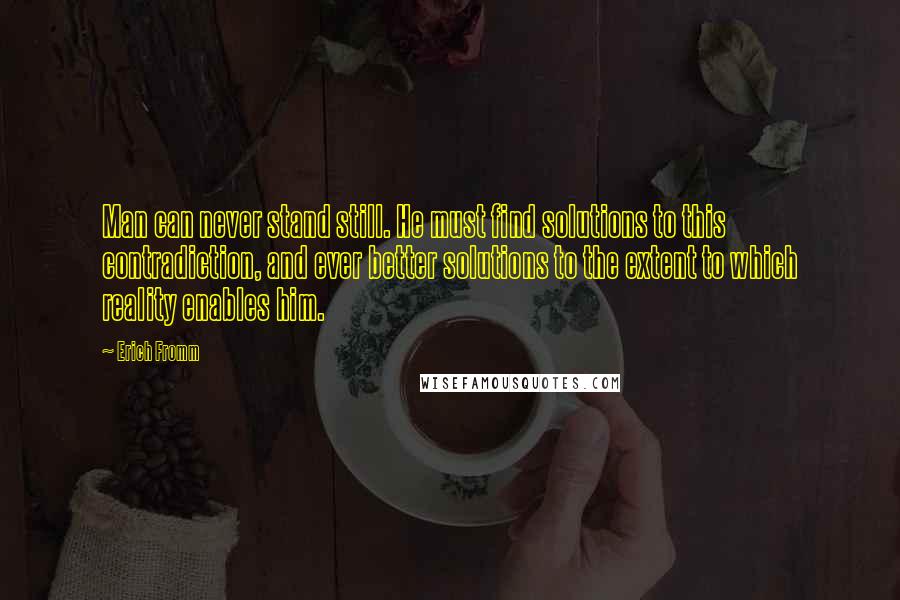 Man can never stand still. He must find solutions to this contradiction, and ever better solutions to the extent to which reality enables him.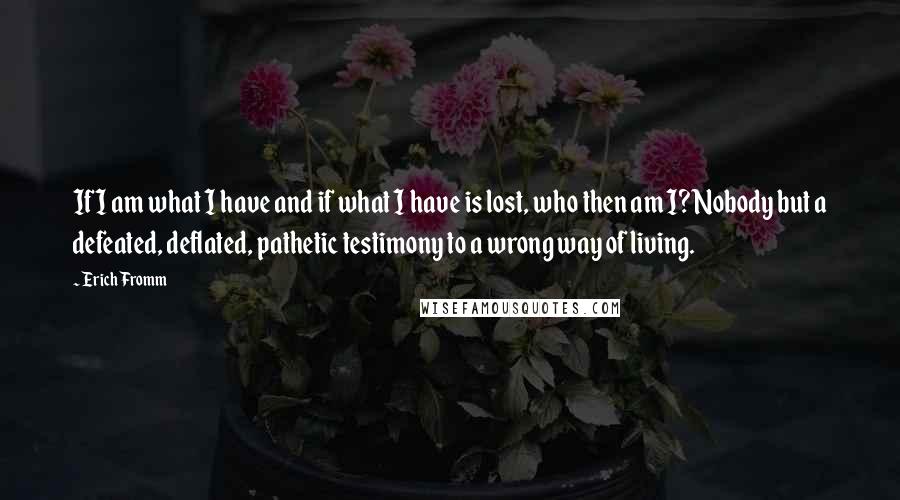 If I am what I have and if what I have is lost, who then am I?
Nobody but a defeated, deflated, pathetic testimony to a wrong way of living.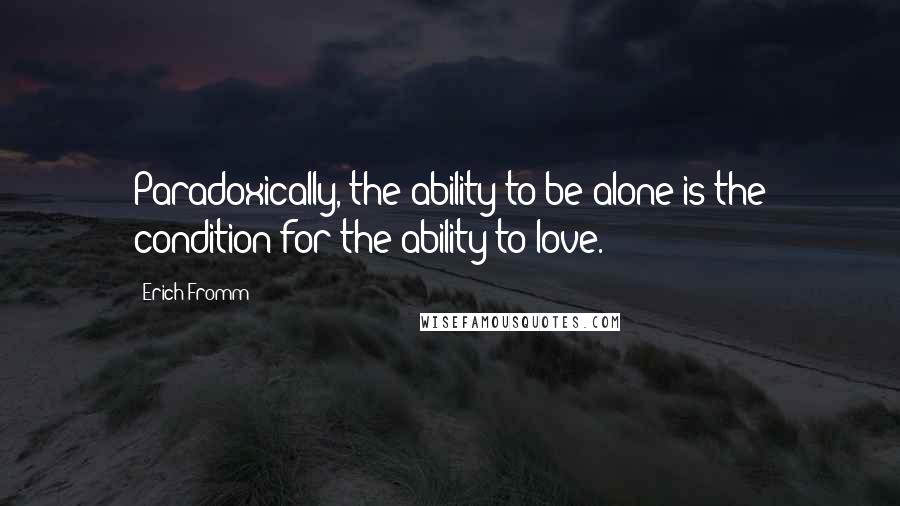 Paradoxically, the ability to be alone is the condition for the ability to love.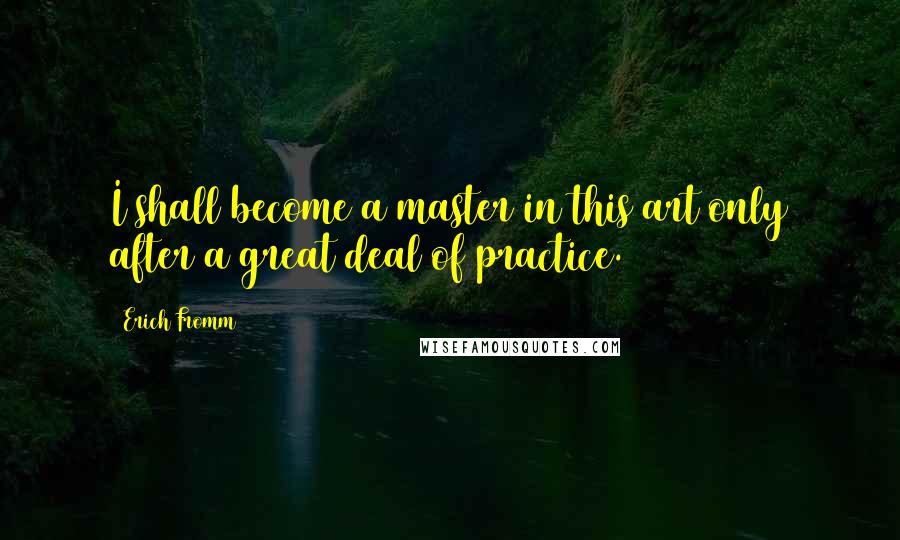 I shall become a master in this art only after a great deal of practice.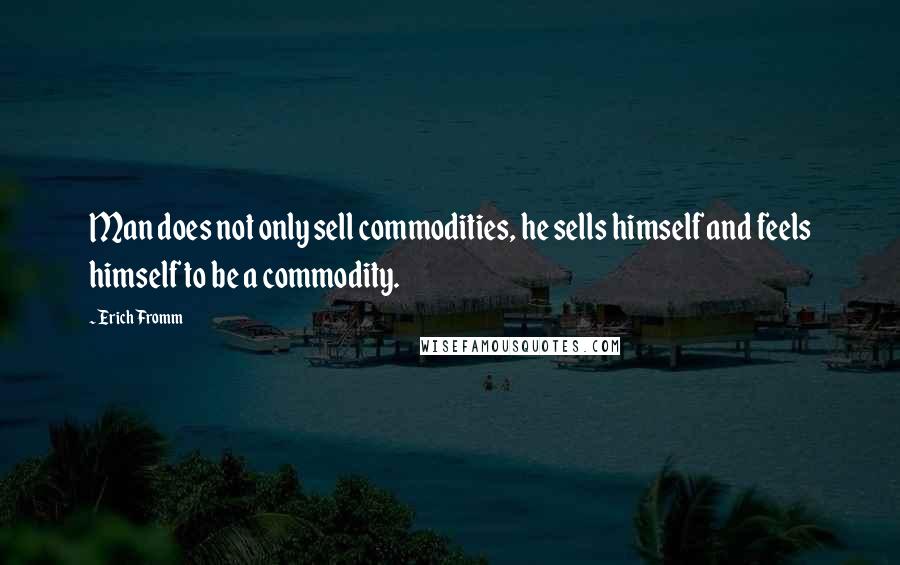 Man does not only sell commodities, he sells himself and feels himself to be a commodity.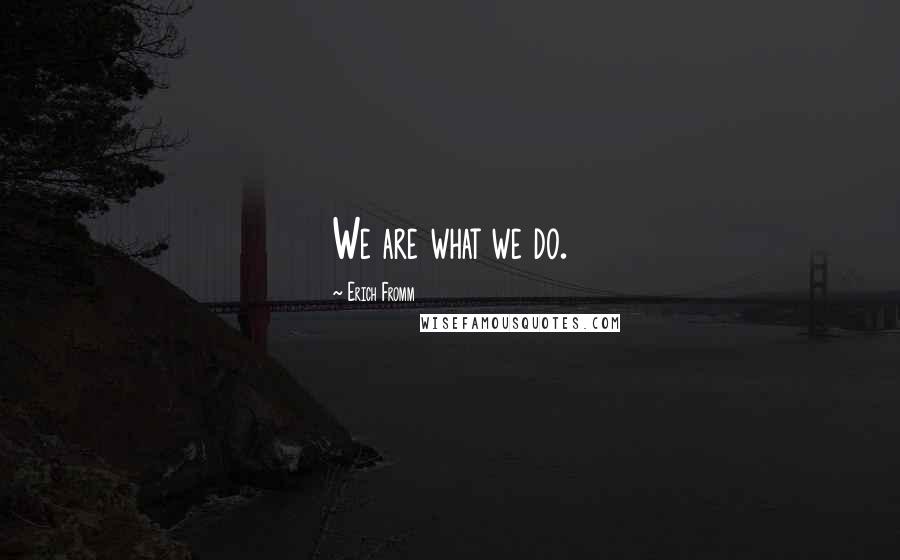 We are what we do.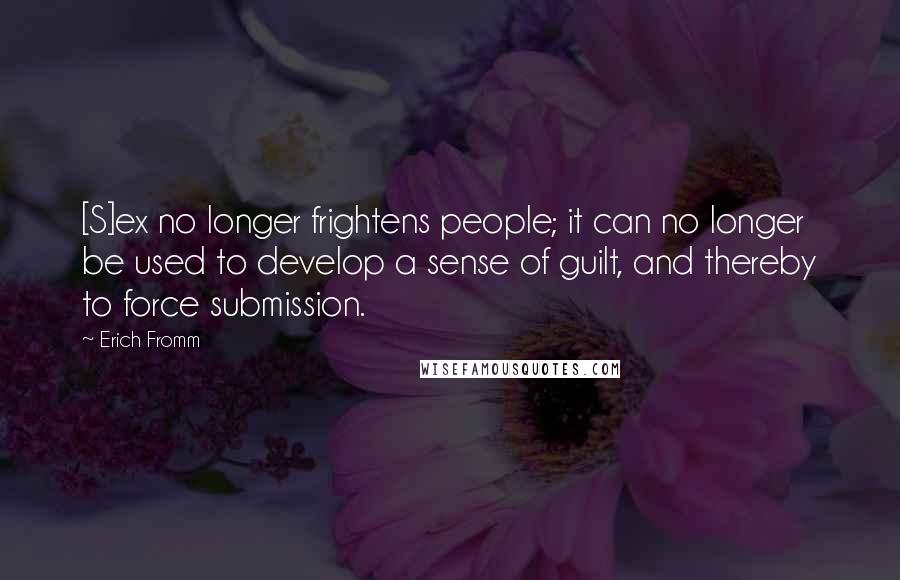 [S]ex no longer frightens people; it can no longer be used to develop a sense of guilt, and thereby to force submission.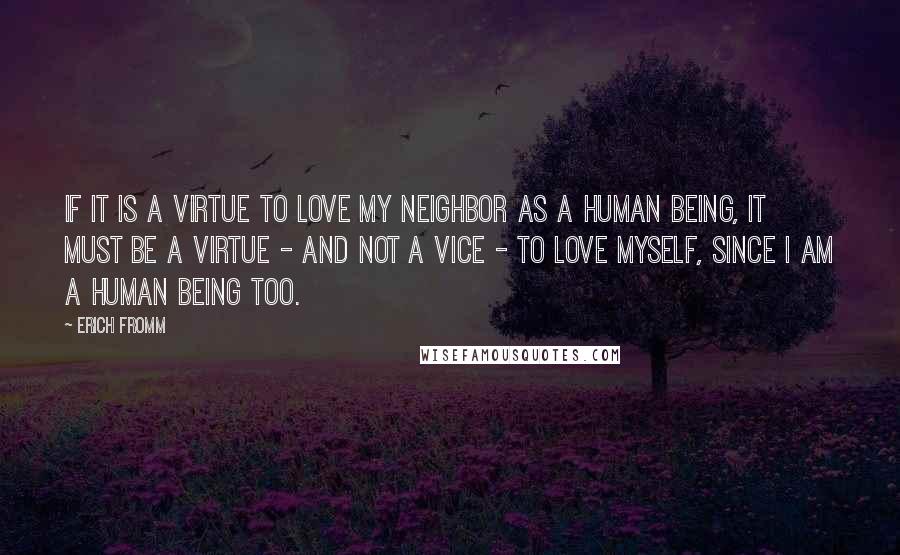 If it is a virtue to love my neighbor as a human being, it must be a virtue - and not a vice - to love myself, since I am a human being too.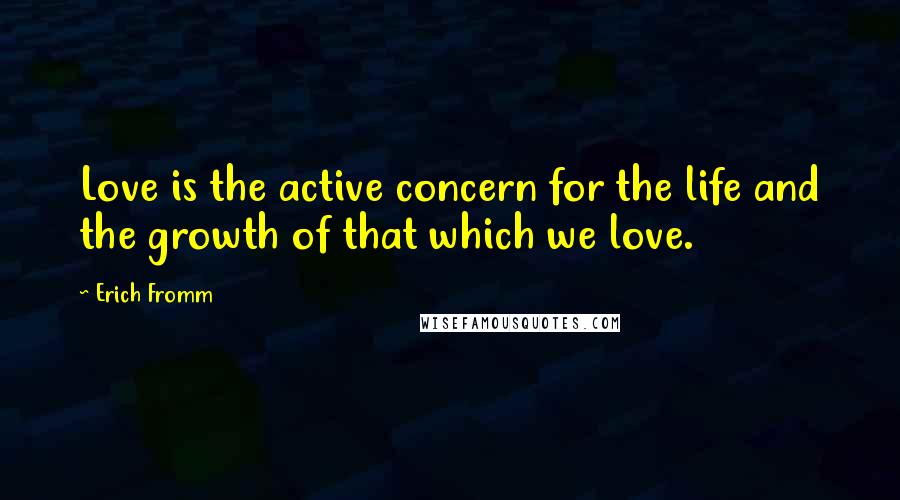 Love is the active concern for the life and the growth of that which we love.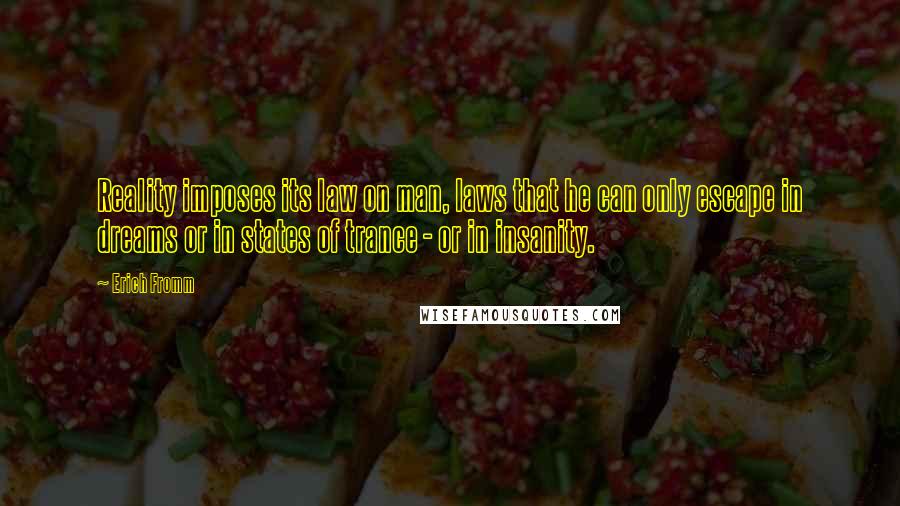 Reality imposes its law on man, laws that he can only escape in dreams or in states of trance - or in insanity.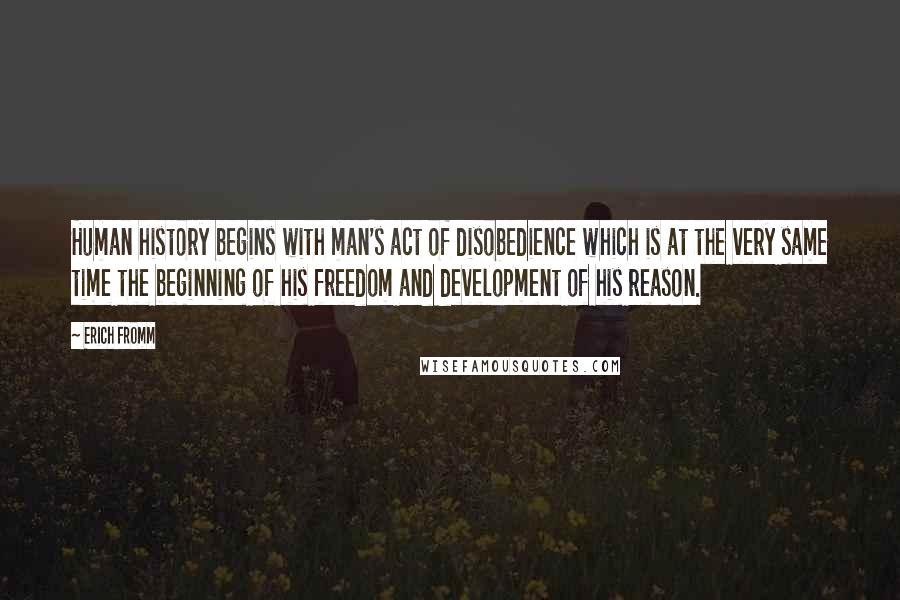 Human history begins with man's act of disobedience which is at the very same time the beginning of his freedom and development of his reason.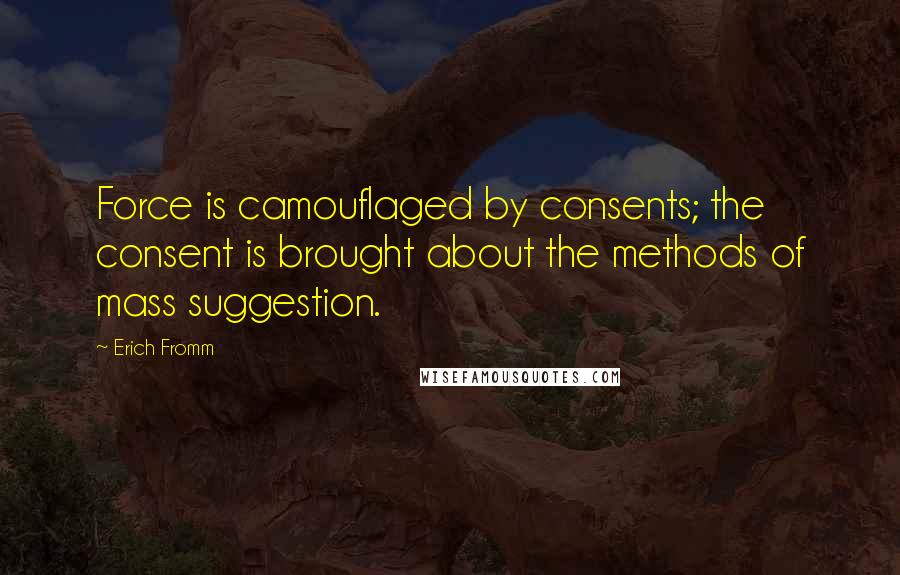 Force is camouflaged by consents; the consent is brought about the methods of mass suggestion.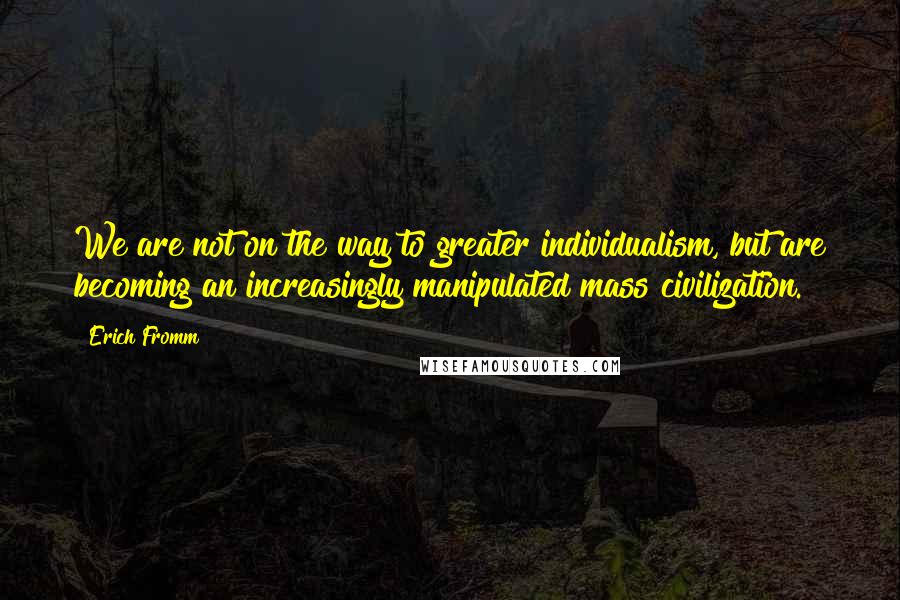 We are not on the way to greater individualism, but are becoming an increasingly manipulated mass civilization.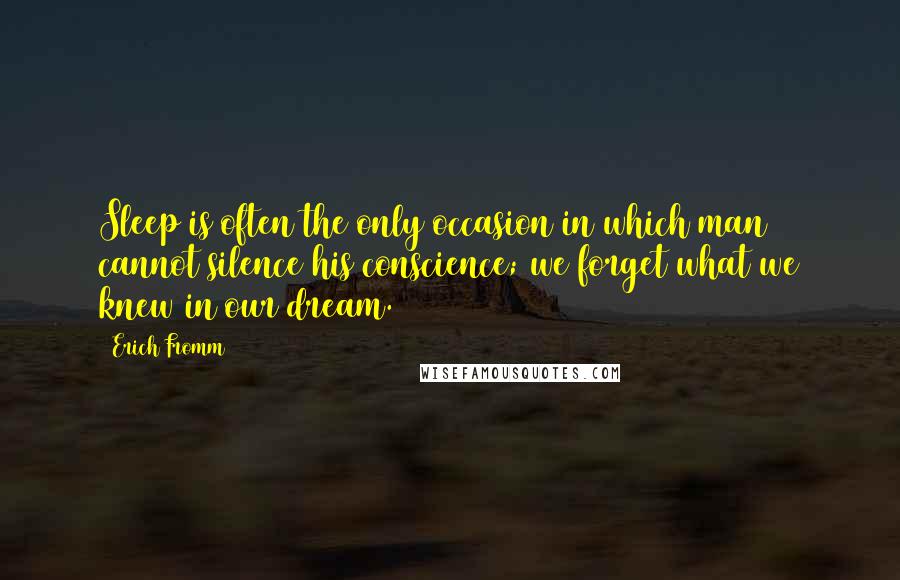 Sleep is often the only occasion in which man cannot silence his conscience; we forget what we knew in our dream.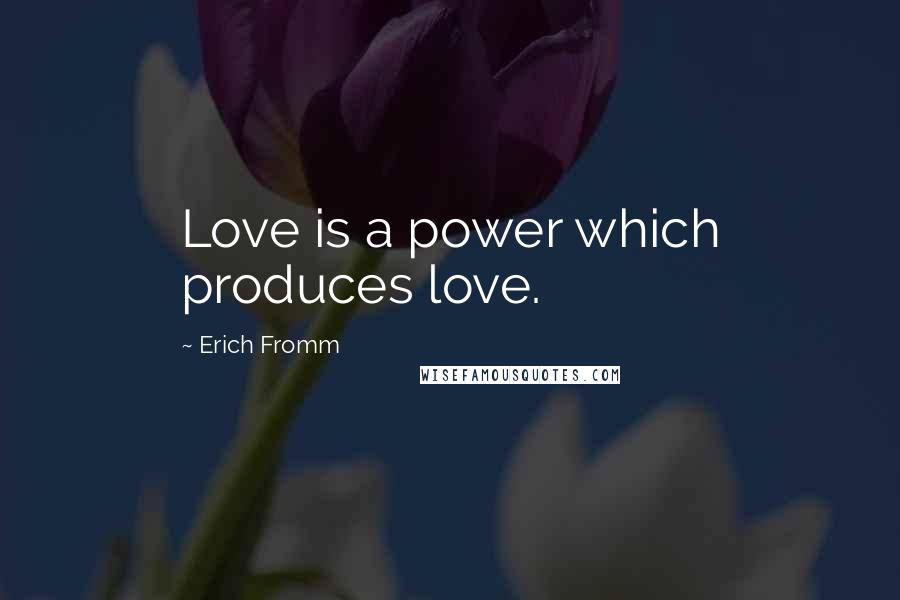 Love is a power which produces love.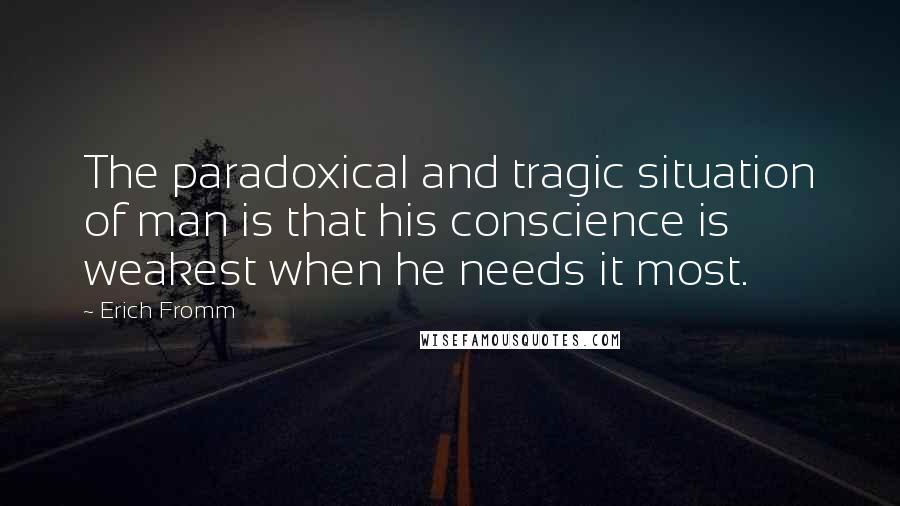 The paradoxical and tragic situation of man is that his conscience is weakest when he needs it most.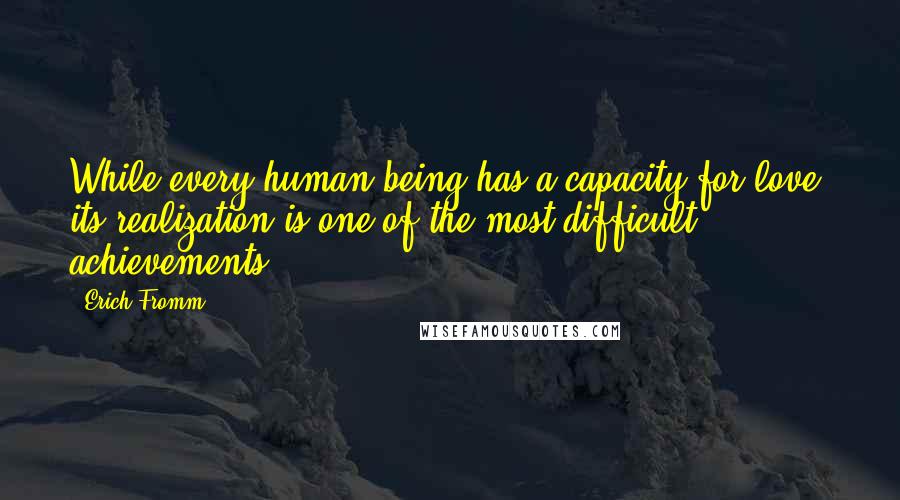 While every human being has a capacity for love, its realization is one of the most difficult achievements.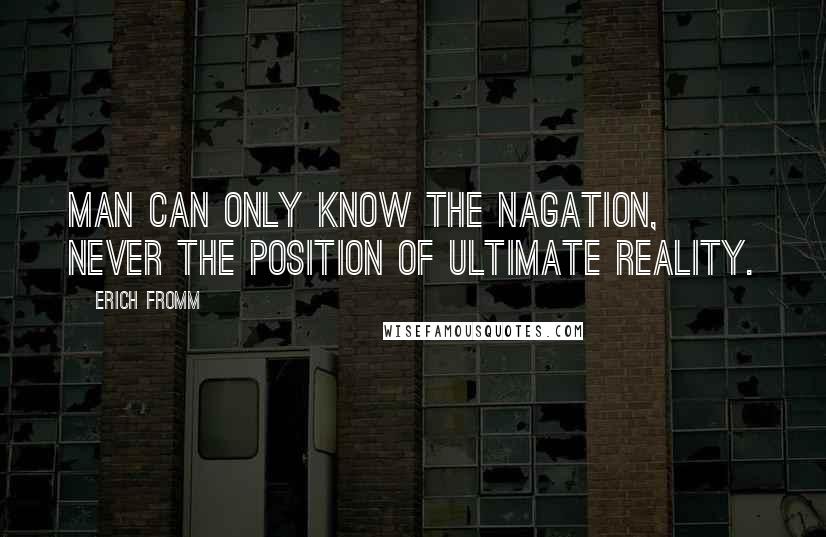 Man can only know the nagation, never the position of ultimate reality.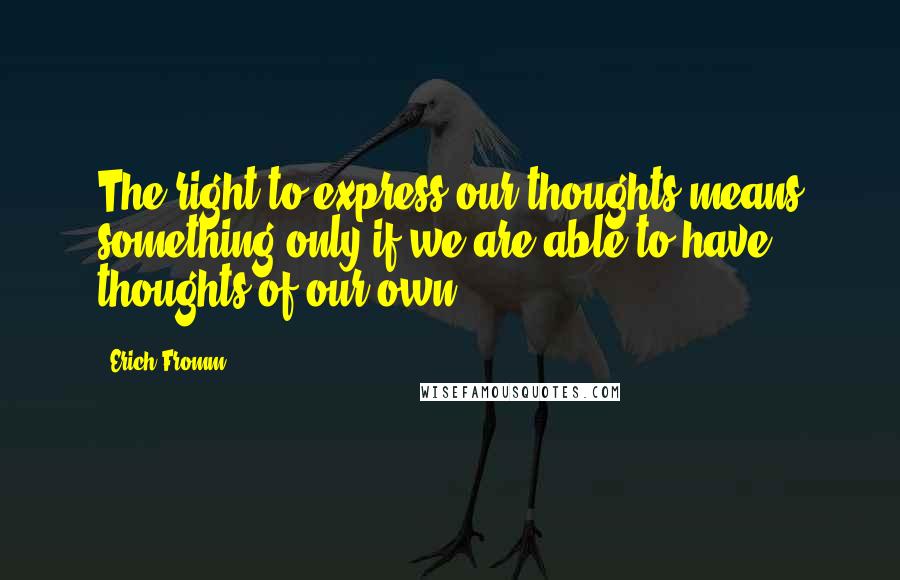 The right to express our thoughts means something only if we are able to have thoughts of our own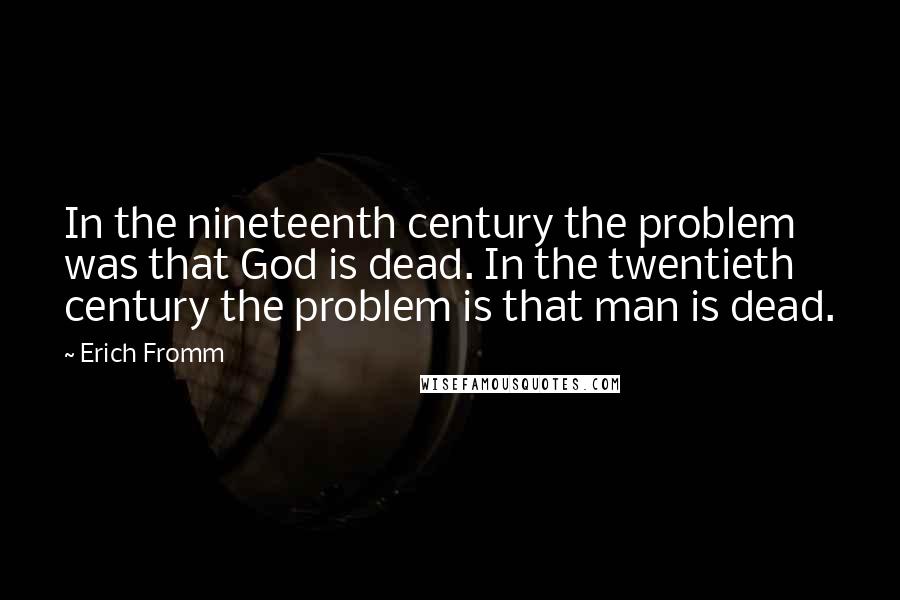 In the nineteenth century the problem was that God is dead. In the twentieth century the problem is that man is dead.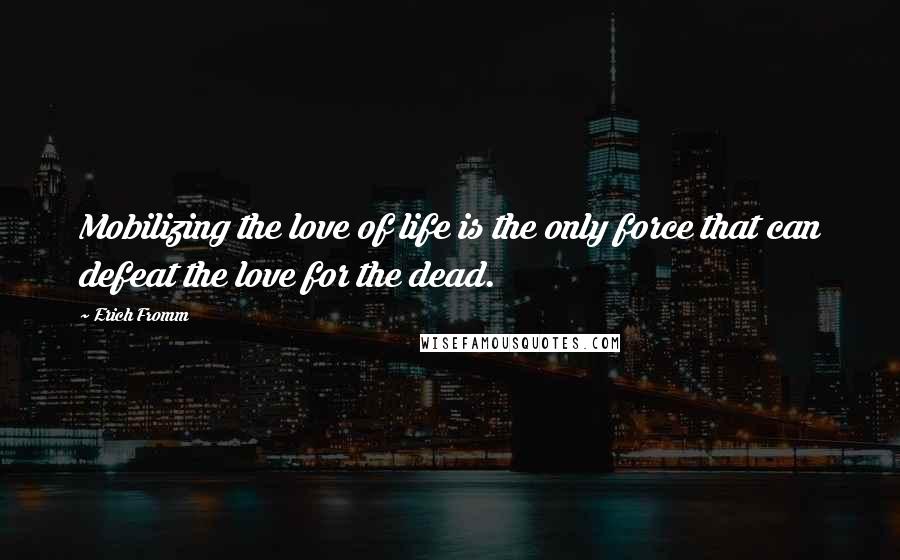 Mobilizing the love of life is the only force that can defeat the love for the dead.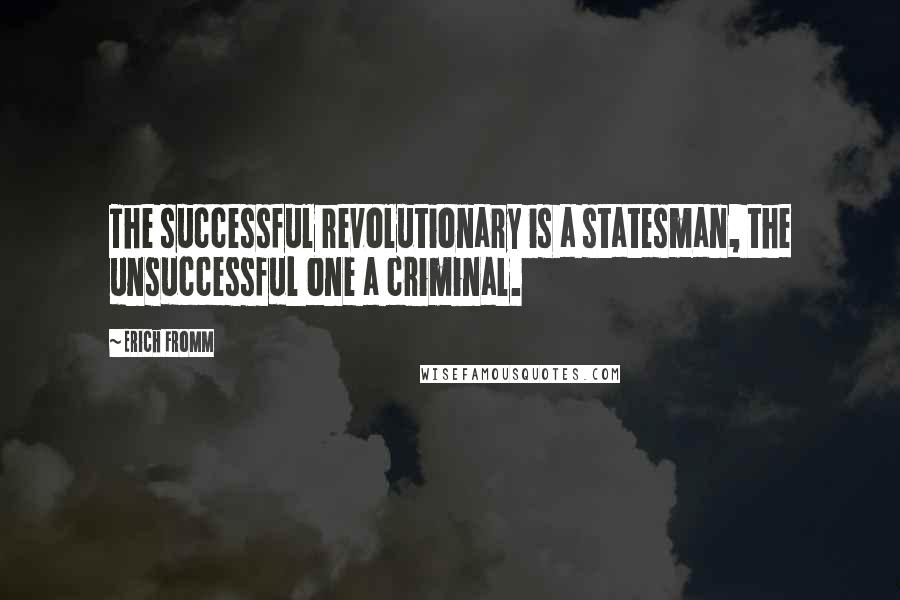 The successful revolutionary is a statesman, the unsuccessful one a criminal.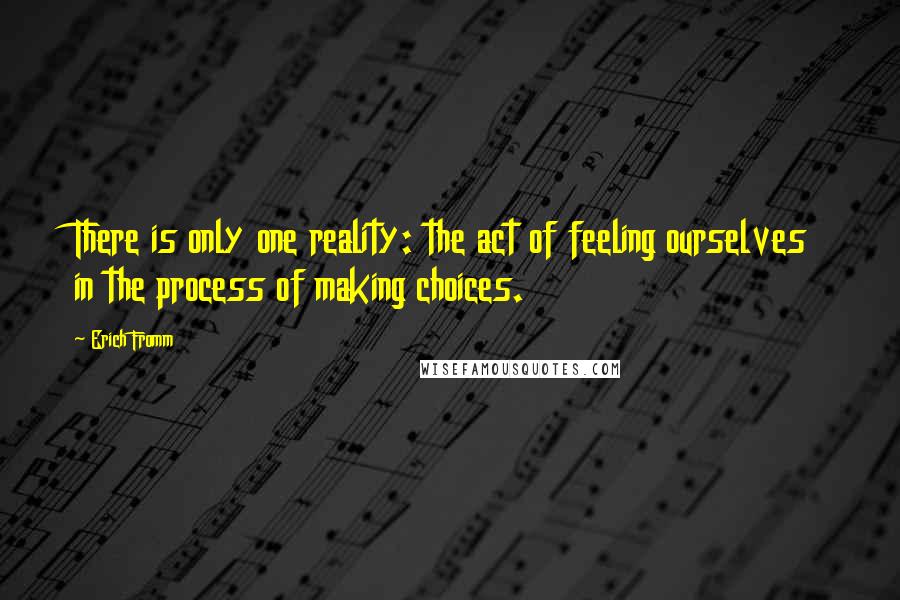 There is only one reality: the act of feeling ourselves in the process of making choices.
God explains to Jonah that the essence of love is to "labor" for something and "to make something grow,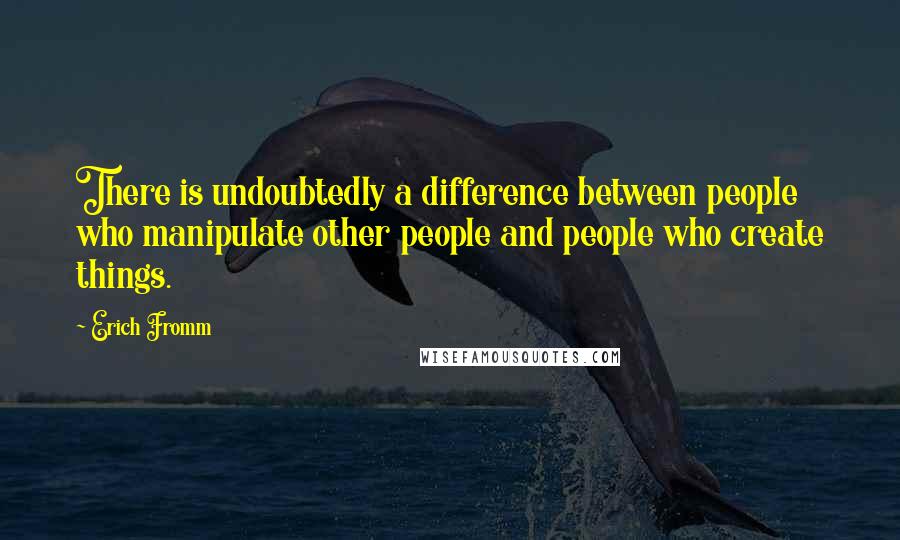 There is undoubtedly a difference between people who manipulate other people and people who create things.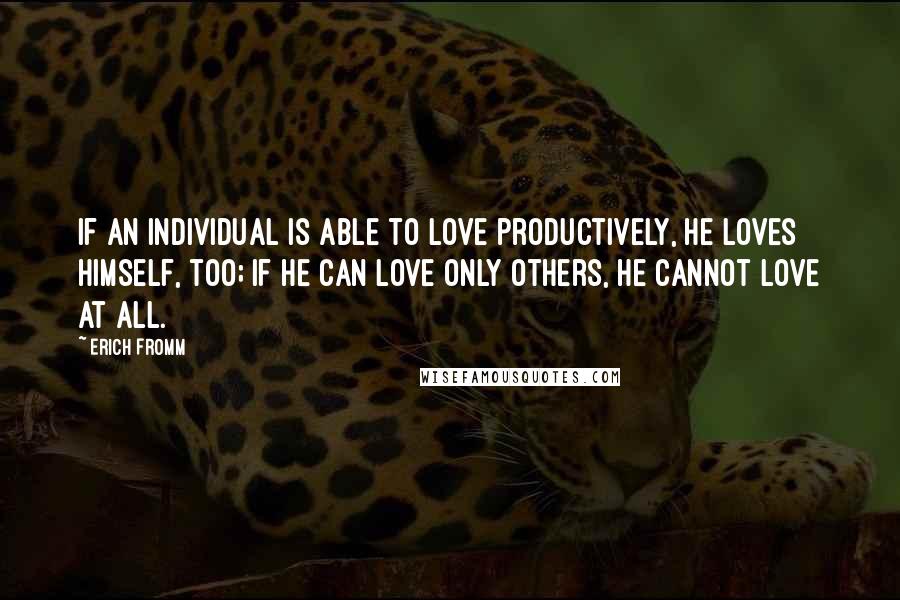 If an individual is able to love productively, he loves himself, too; if he can love only others, he cannot love at all.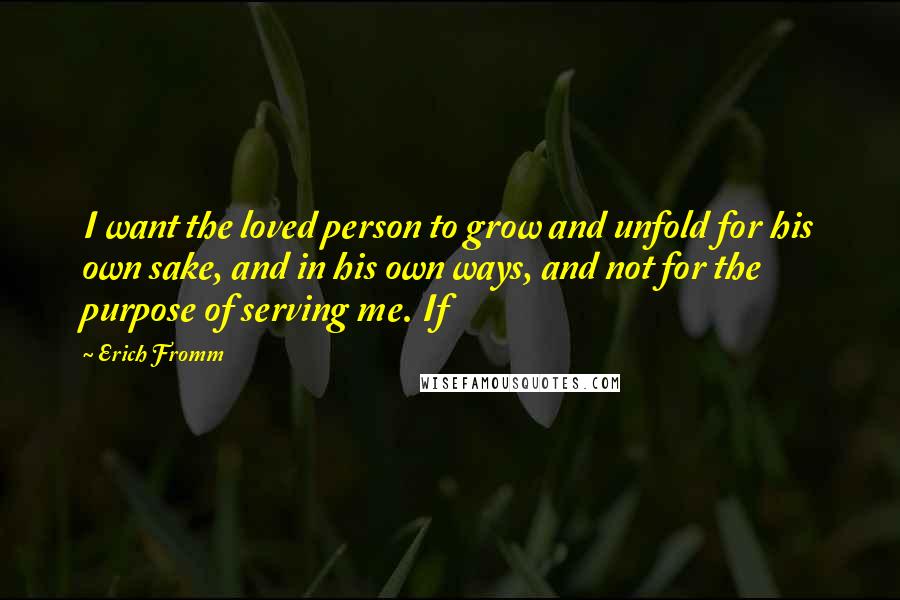 I want the loved person to grow and unfold for his own sake, and in his own ways, and not for the purpose of serving me. If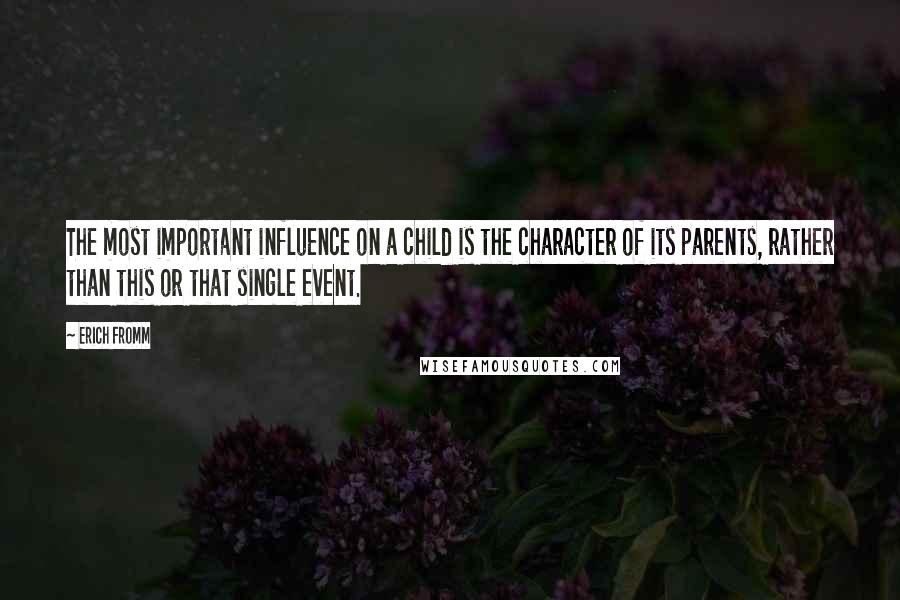 The most important influence on a child is the character of its parents, rather than this or that single event.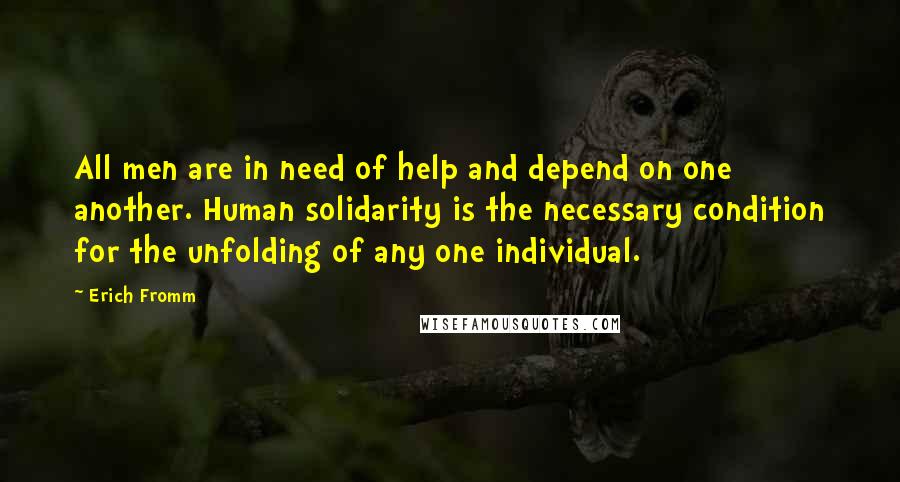 All men are in need of help and depend on one another. Human solidarity is the necessary condition for the unfolding of any one individual.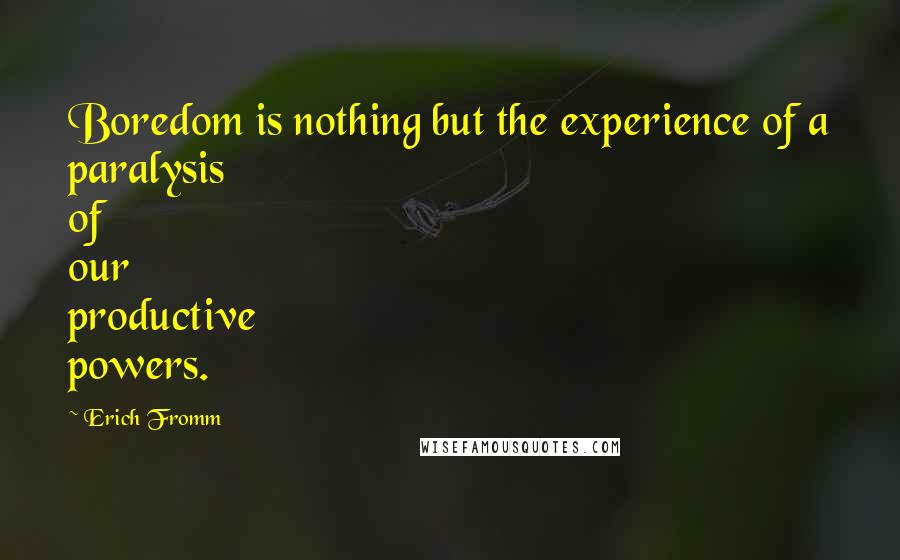 Boredom is nothing but the experience of a paralysis of our productive powers.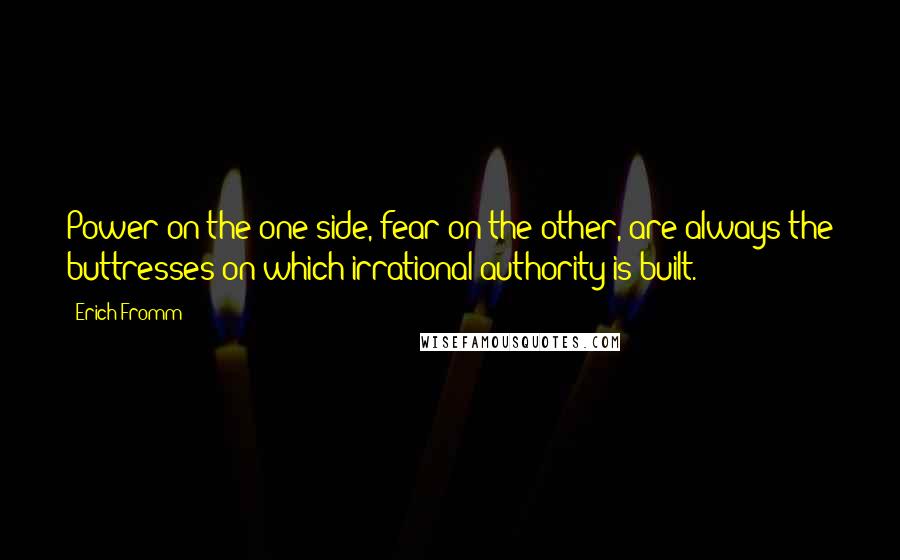 Power on the one side, fear on the other, are always the buttresses on which irrational authority is built.
In the view of the wise, Heaven is man and Earth woman: Earth fosters what Heaven lets fall.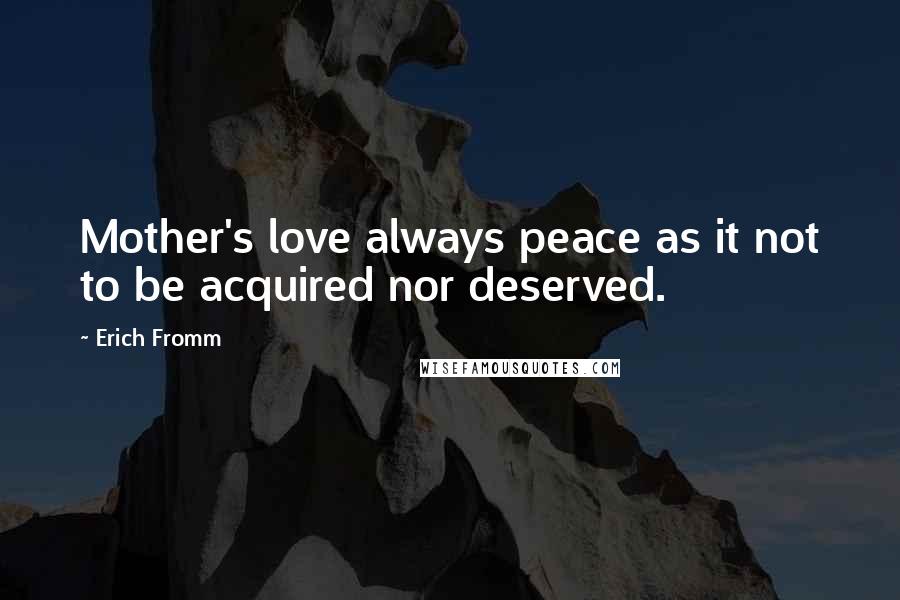 Mother's love always peace as it not to be acquired nor deserved.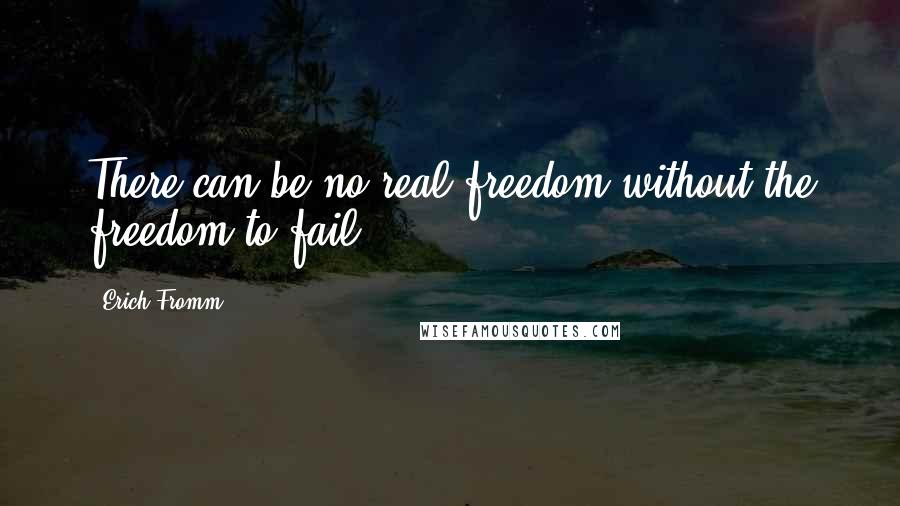 There can be no real freedom without the freedom to fail.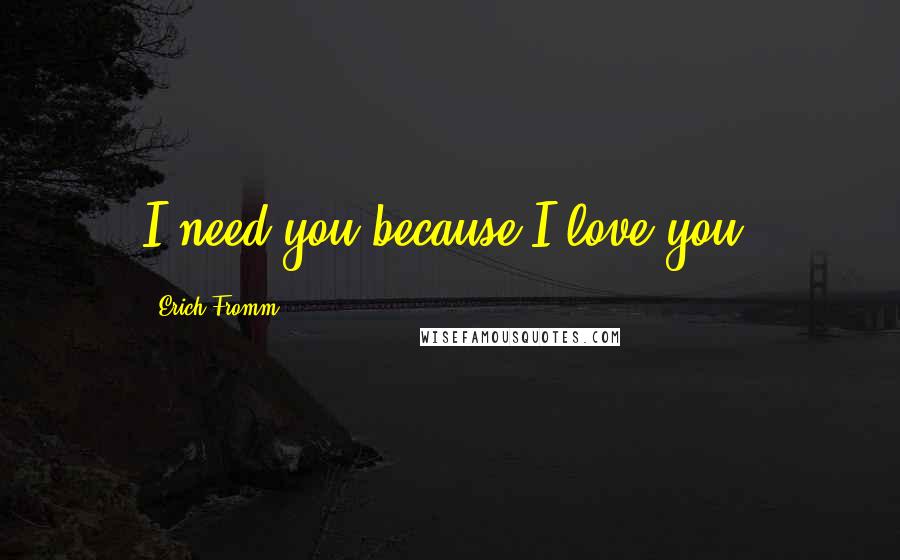 I need you because I love you.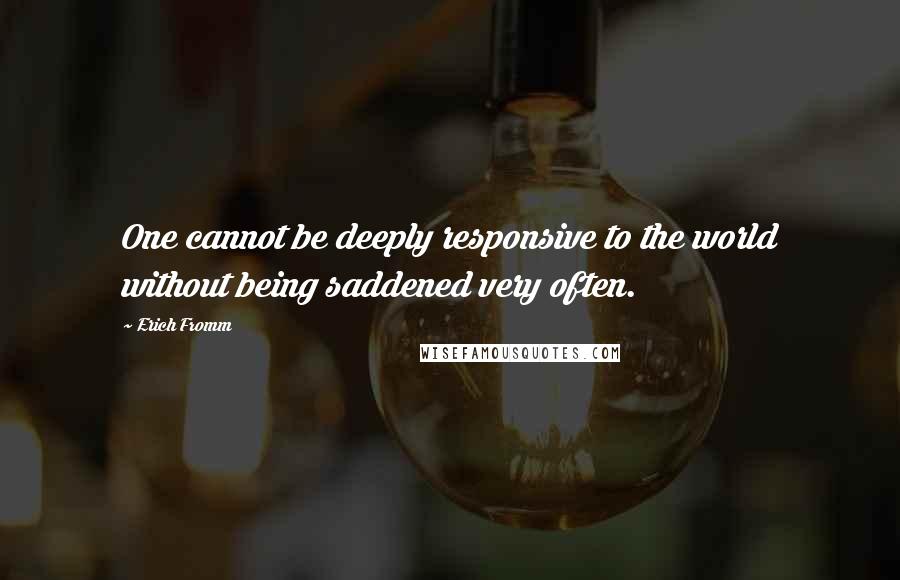 One cannot be deeply responsive to the world without being saddened very often.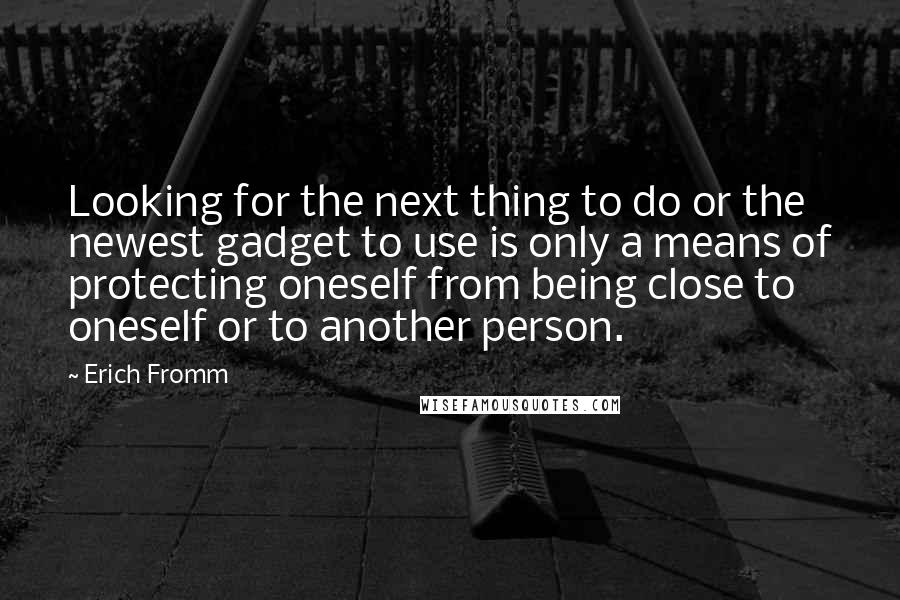 Looking for the next thing to do or the newest gadget to use is only a means of protecting oneself from being close to oneself or to another person.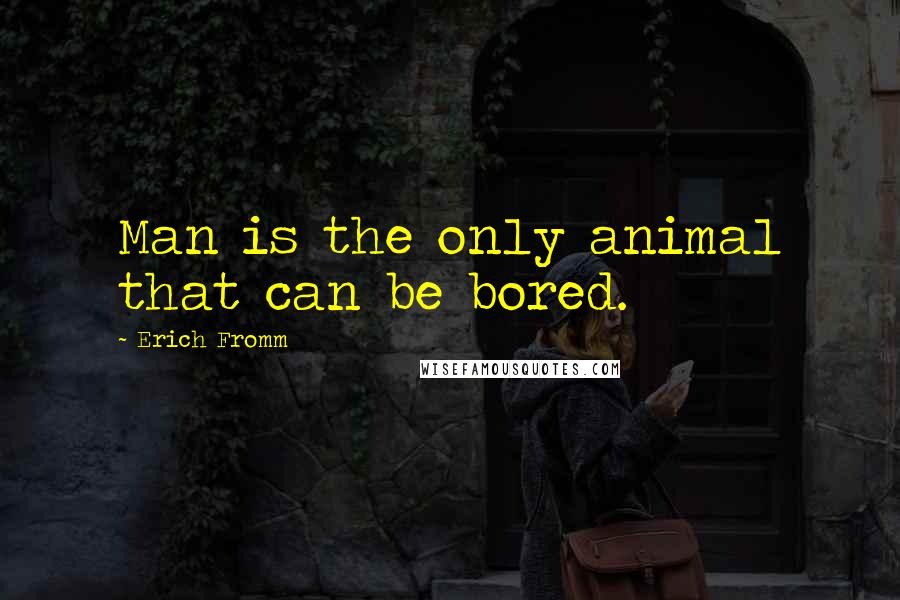 Man is the only animal that can be bored.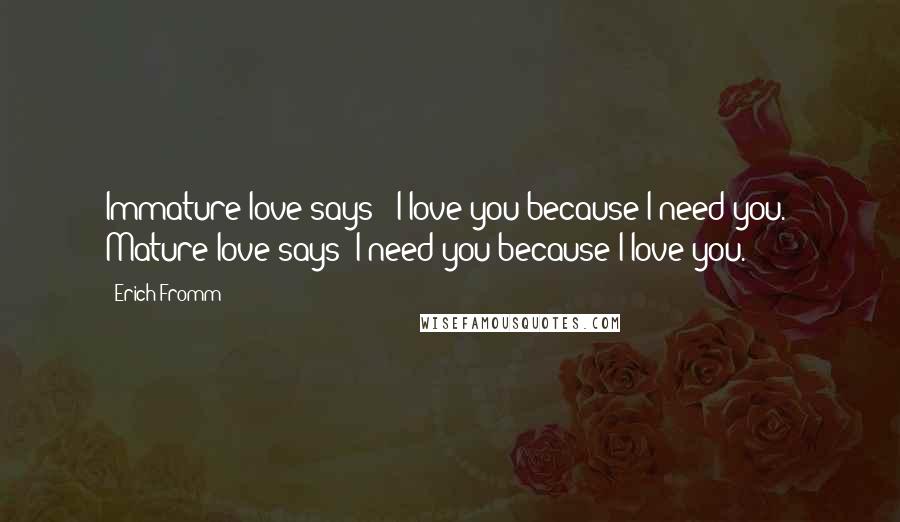 Immature love says: 'I love you because I need you.' Mature love says 'I need you because I love you.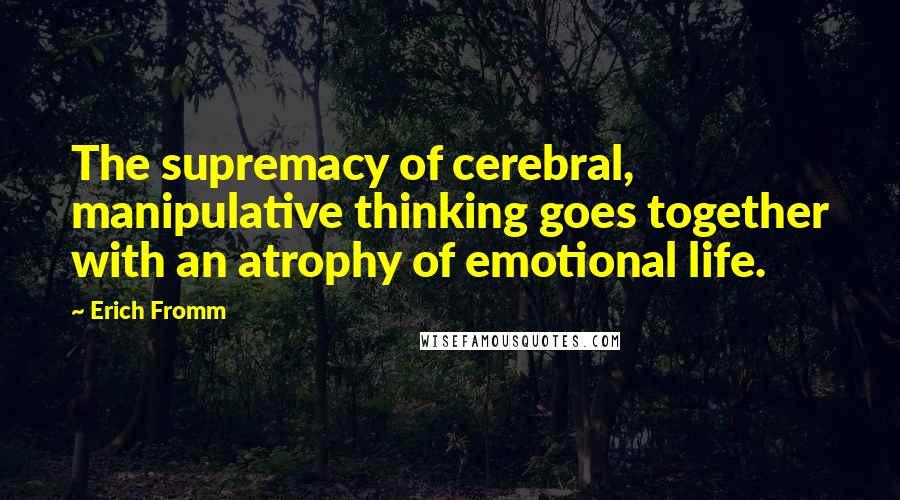 The supremacy of cerebral, manipulative thinking goes together with an atrophy of emotional life.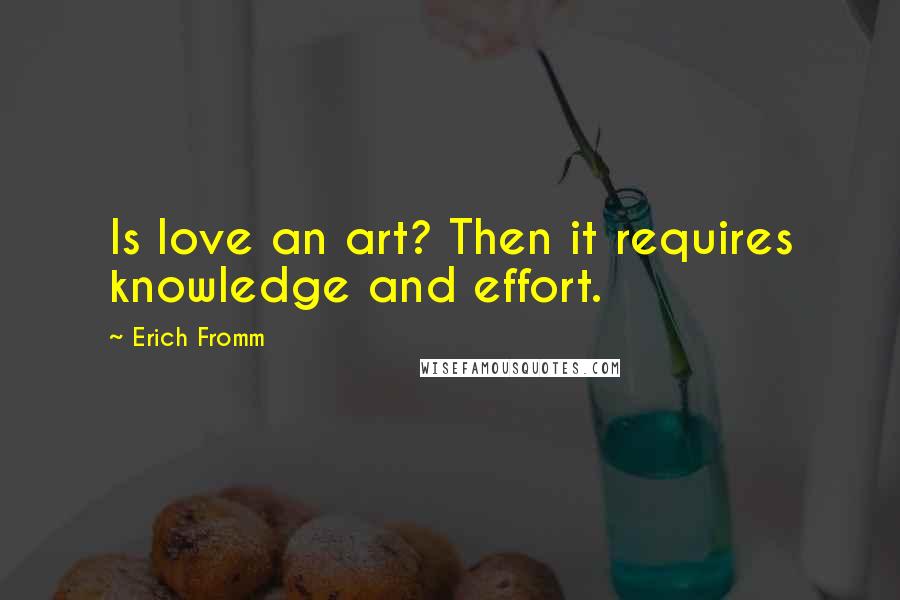 Is love an art? Then it requires knowledge and effort.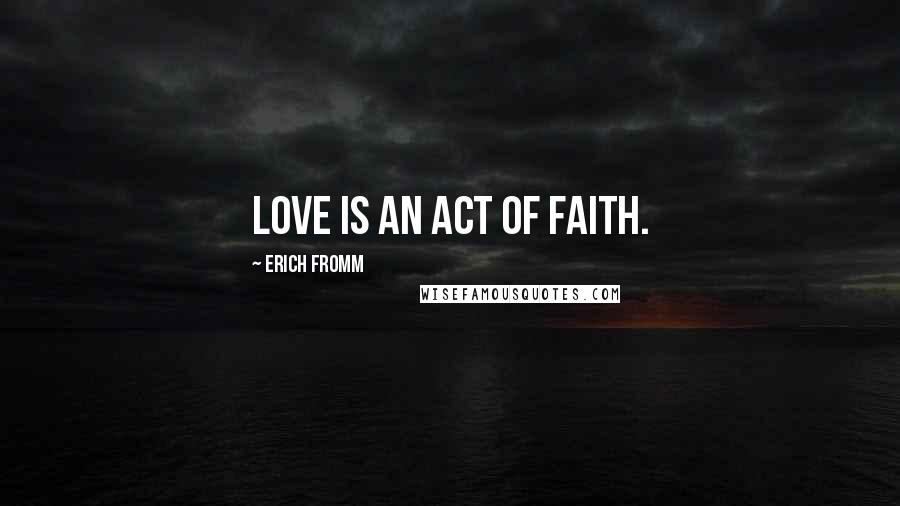 Love is an act of faith.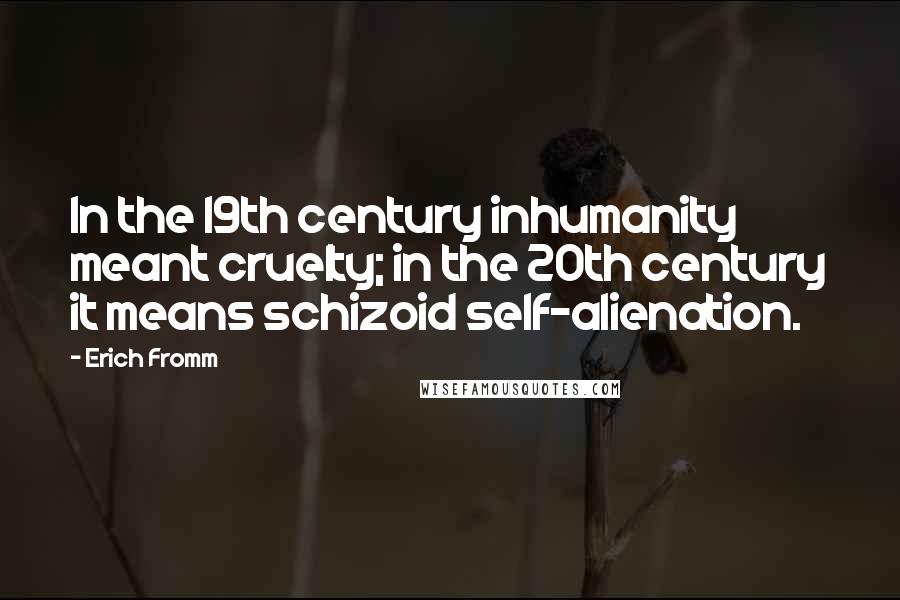 In the 19th century inhumanity meant cruelty; in the 20th century it means schizoid self-alienation.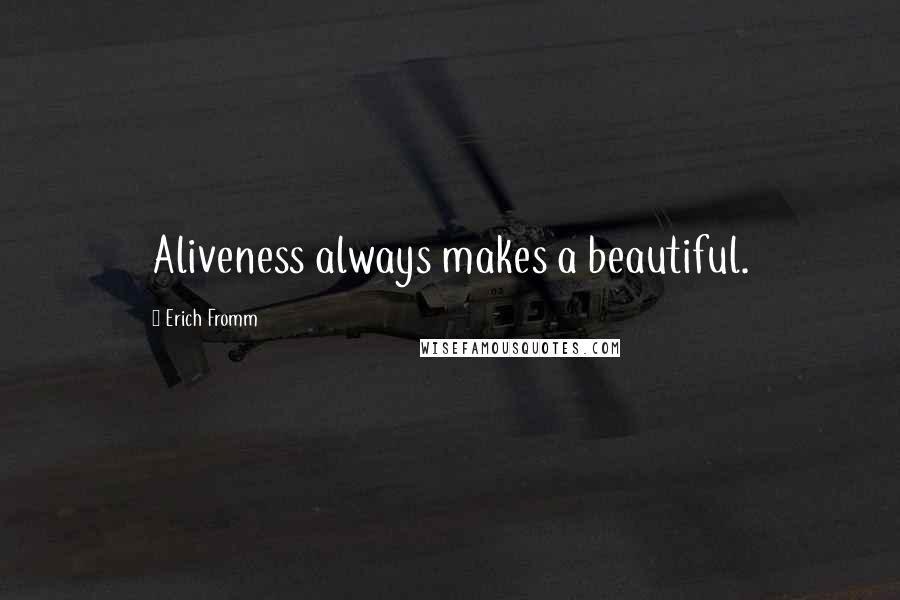 Aliveness always makes a beautiful.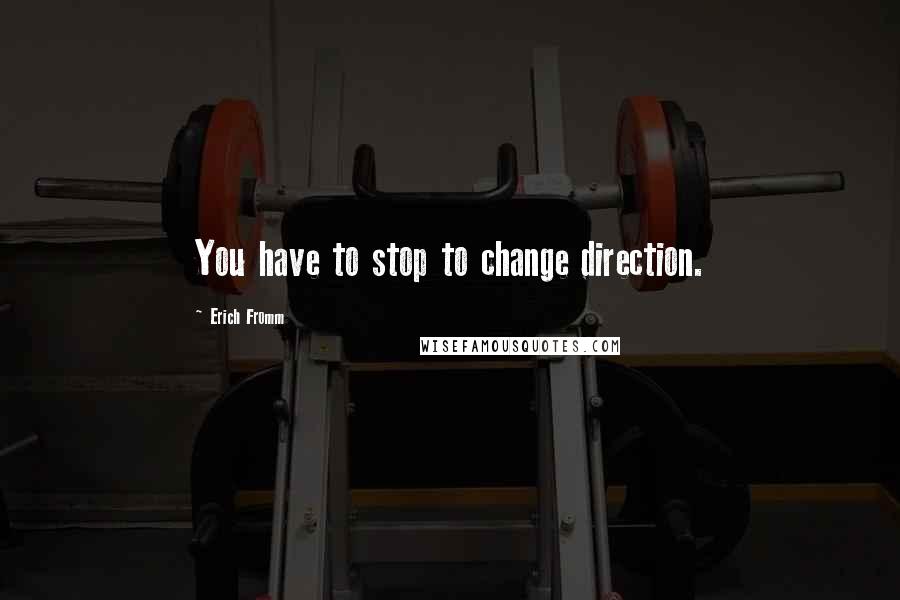 You have to stop to change direction.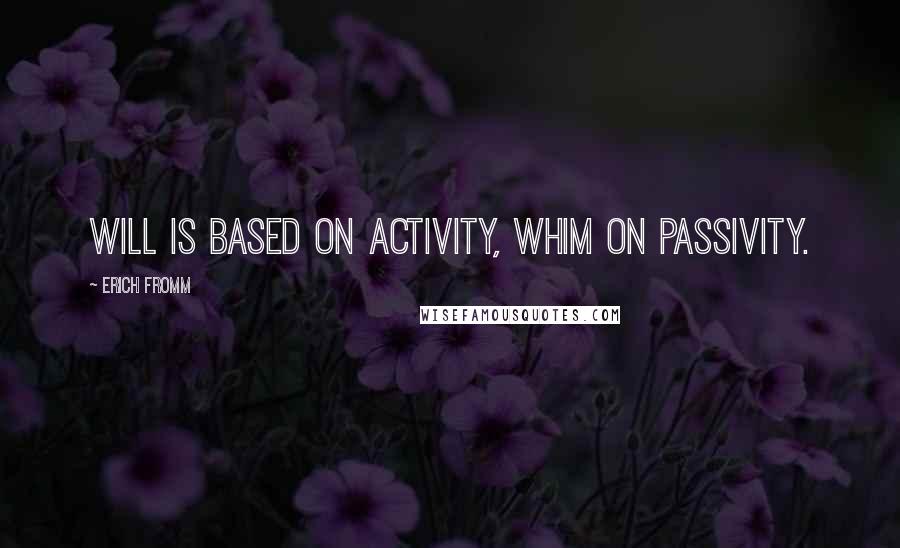 Will is based on activity, whim on passivity.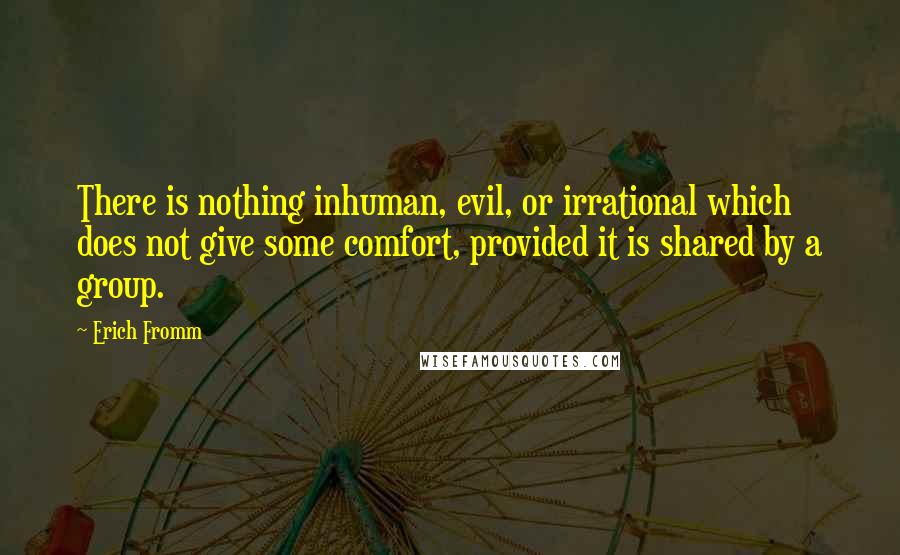 There is nothing inhuman, evil, or irrational which does not give some comfort, provided it is shared by a group.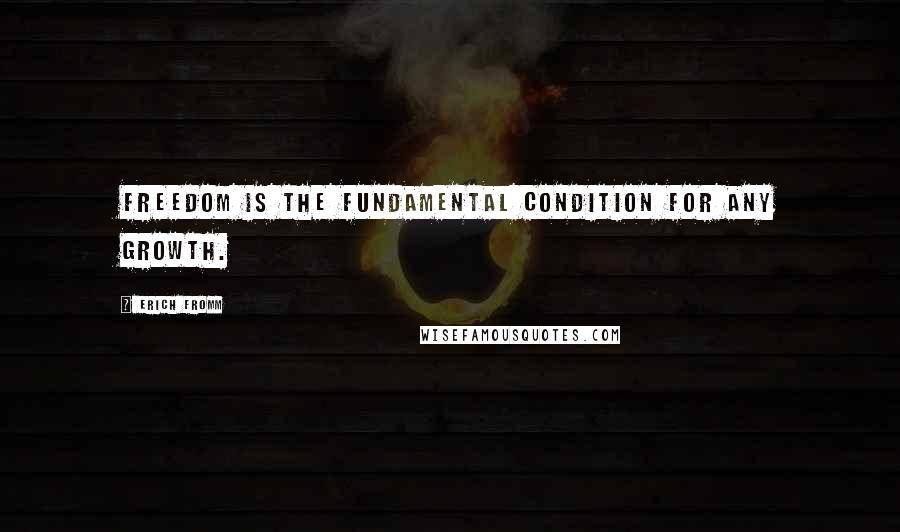 Freedom is the fundamental condition for any growth.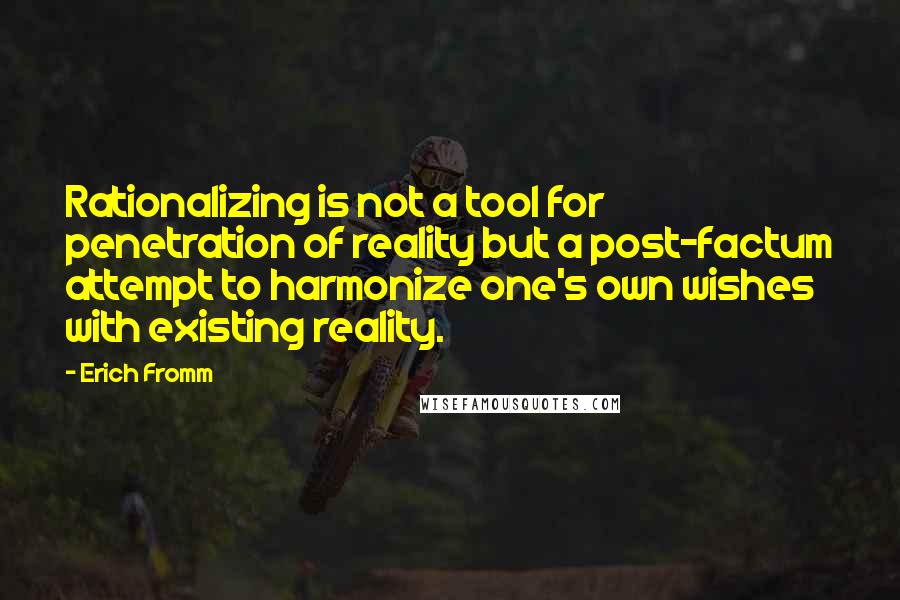 Rationalizing is not a tool for penetration of reality but a post-factum attempt to harmonize one's own wishes with existing reality.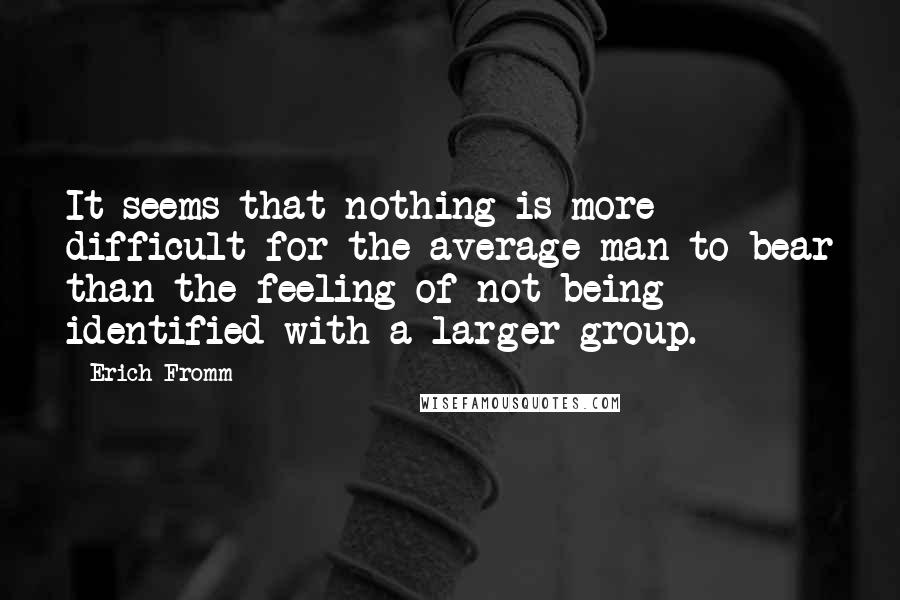 It seems that nothing is more difficult for the average man to bear than the feeling of not being identified with a larger group.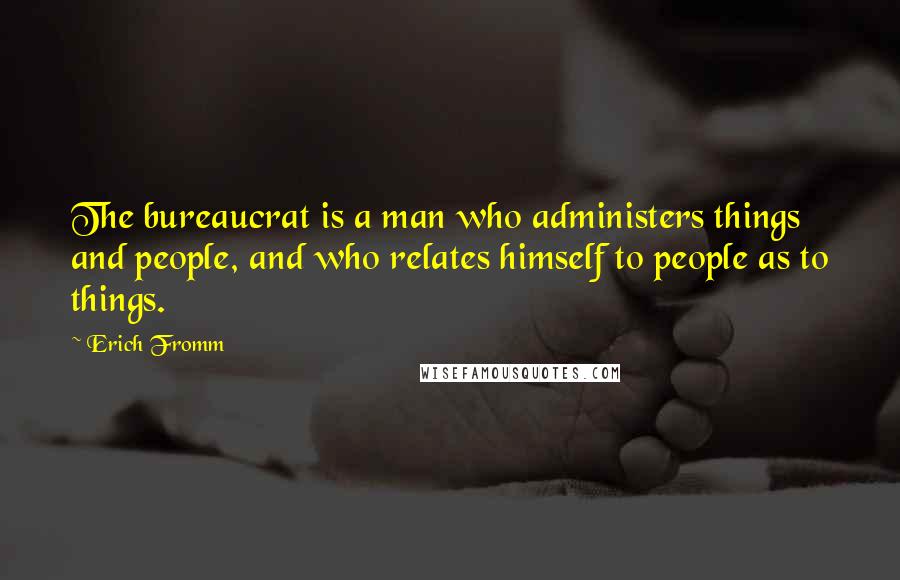 The bureaucrat is a man who administers things and people, and who relates himself to people as to things.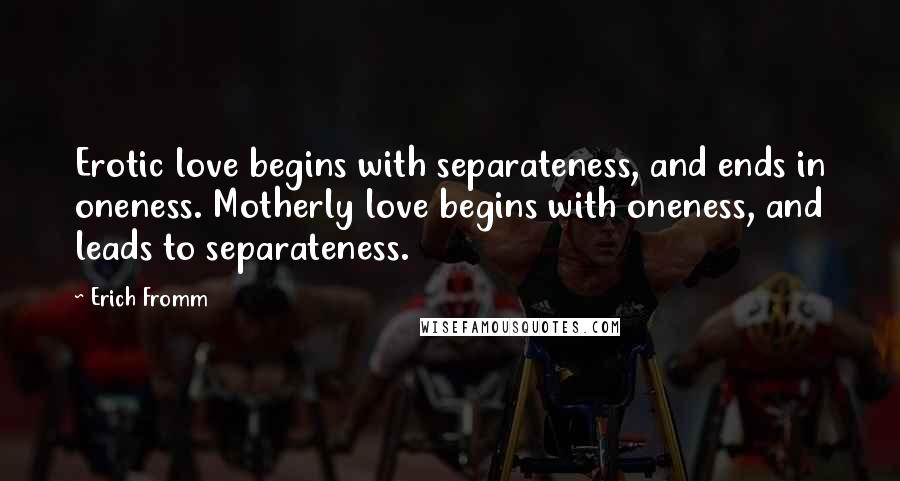 Erotic love begins with separateness, and ends in oneness. Motherly love begins with oneness, and leads to separateness.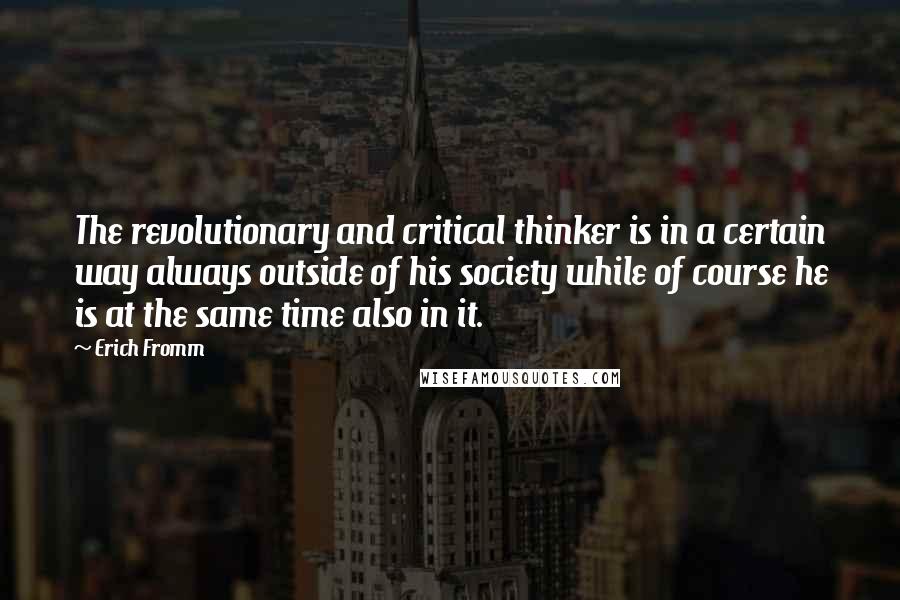 The revolutionary and critical thinker is in a certain way always outside of his society while of course he is at the same time also in it.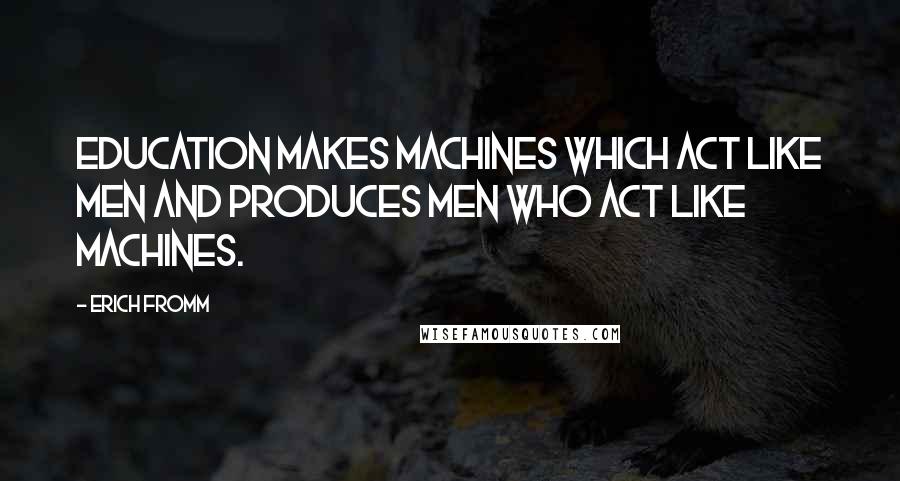 Education makes machines which act like men and produces men who act like machines.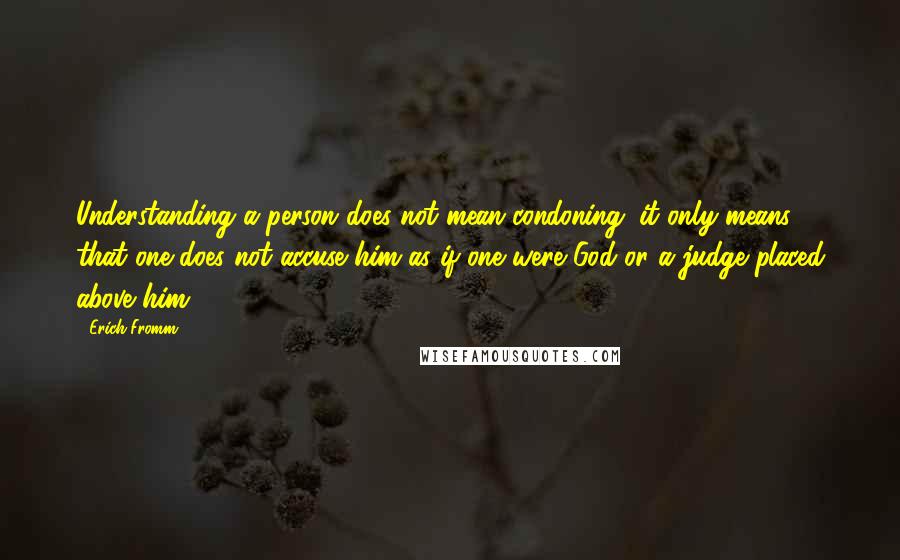 Understanding a person does not mean condoning; it only means that one does not accuse him as if one were God or a judge placed above him.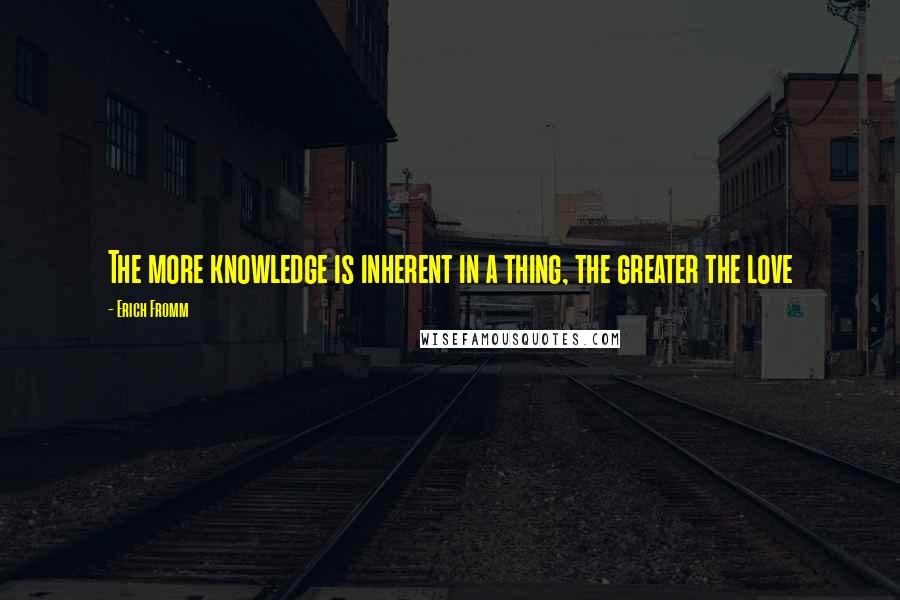 The more knowledge is inherent in a thing, the greater the love